D&B Construction's partnership with Quality Buildings, a commercial framing contractor, began this year through their work on Kennett Pointe, a ground-up mixed-use property currently under construction in Kennett Square, PA.
Elmer Zook, Founder and President of Quality Buildings, has been part of the industry for 18 years now. "We like expanding our client base as well as building new relationships in the construction industry. D&B came on our radar a few years ago as a fast-growing player amongst other GC's," he reflects.
The fruition of Quality Buildings' relationship with D&B began as a culmination of a handful of work connections, including having known our CEO, Dan Gring, through their involvement at Lancaster Berks Next Gen Construction Connect. At Kennett Pointe they supplied a complete furnish and installed a framing package that included manufacturing of pre-fabricating wall panels, floor and roof trusses and installation of the windows and doors.
"Quality Building produces quality work, and they are easy to communicate with. It is always a pleasure working with them, and I would work with them again in a heartbeat," says John Ruza, Senior Superintendent overseeing the jobsite in Kennett Square.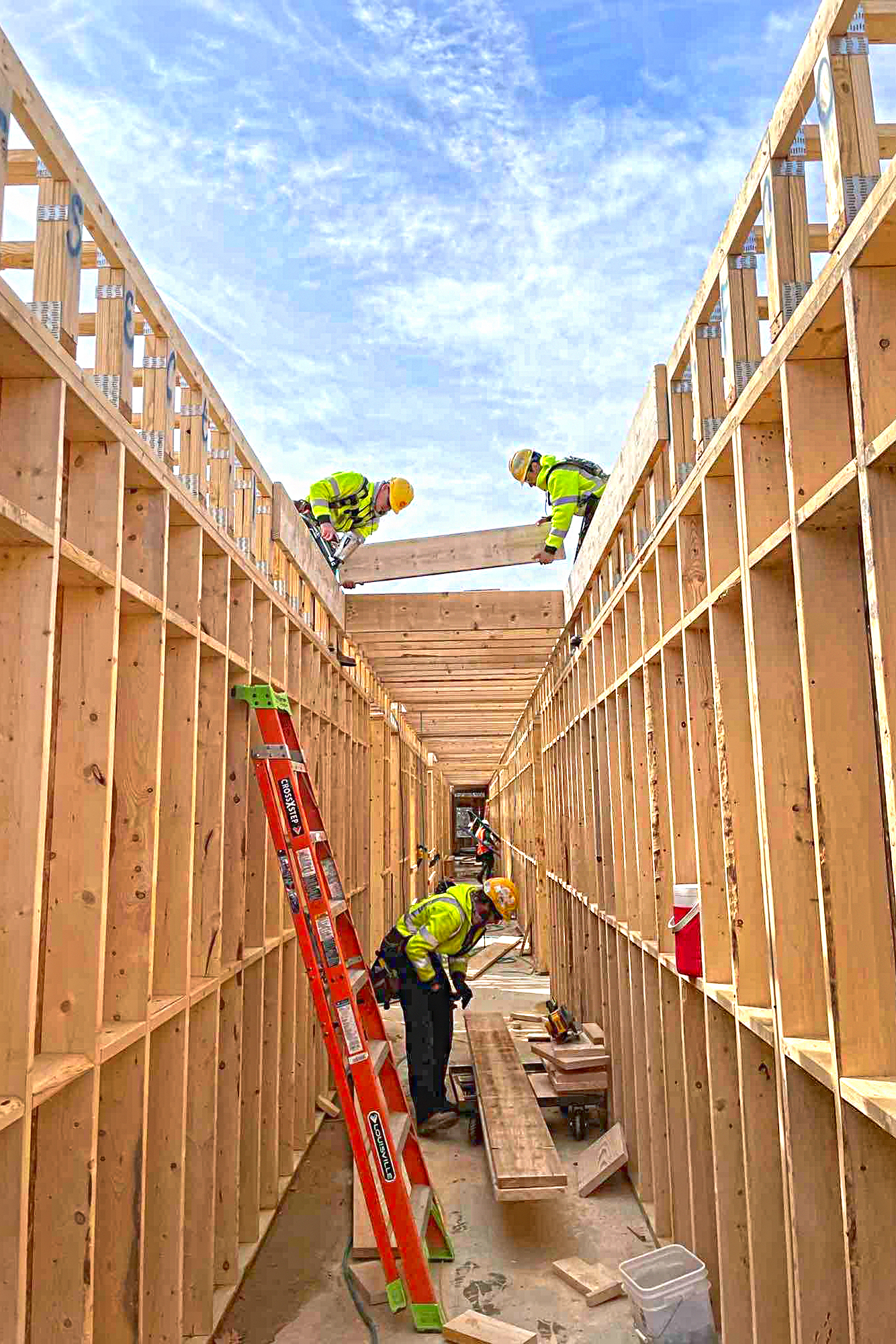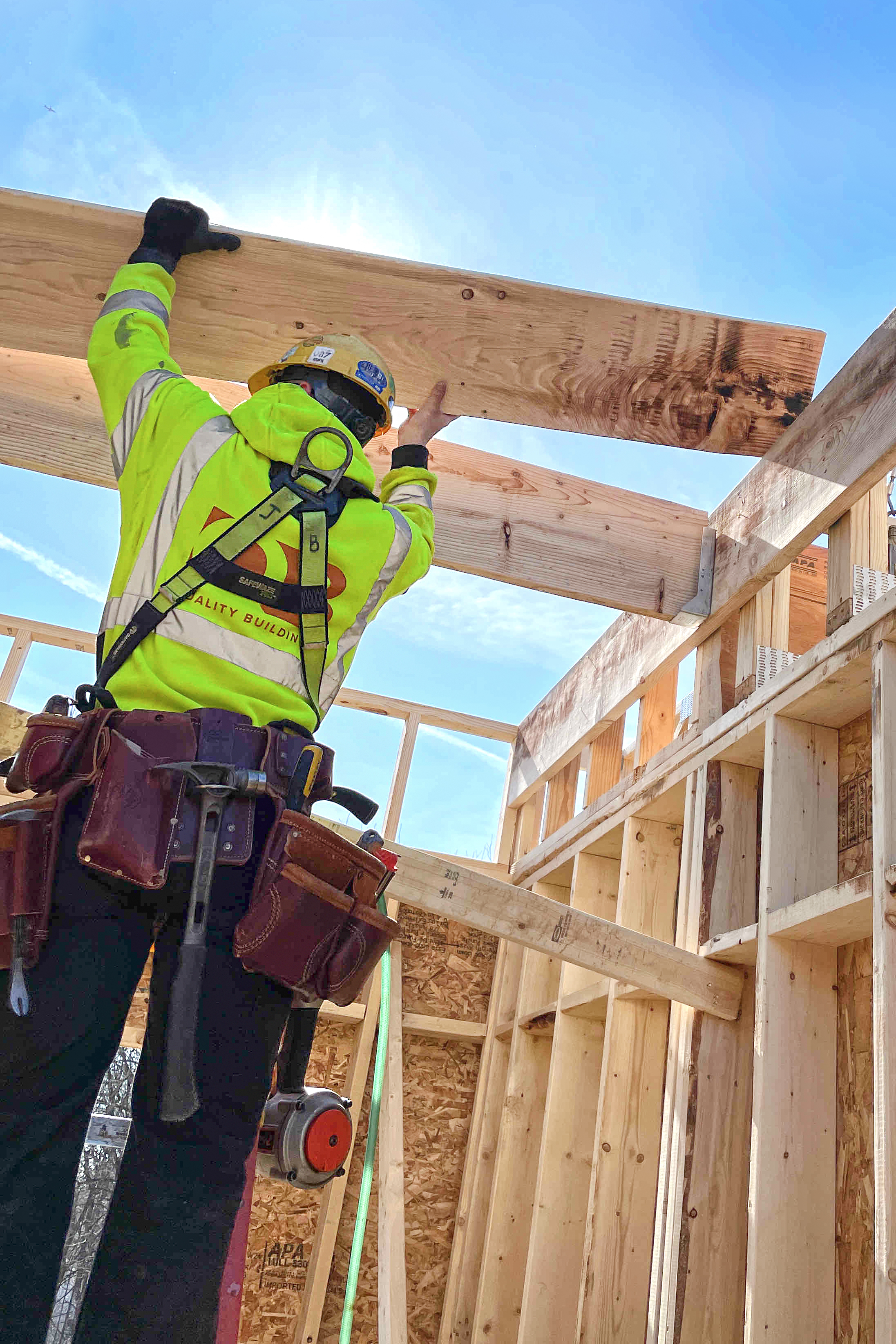 About Quality Buildings:
This turnkey framing contractor was founded in 2008 as a home improvement contractor and Agricultural/Equestrian facilities design and build contractor. They've built many custom designed horse barns and riding arenas in NY, NJ, DE, MD, and VA.
Having experience in design and build as a contractor, coupled with a desire to work closer to home versus constant traveling, commercial framing seemed to fit well with their philosophy of working together as a team with other trades to deliver a well-planned project. In 2014, their sole focus became commercial framing for multi-family apartments, senior living and hotels. Completing between 12-15 projects annually, the company has an annual gross revenue of $20,000,000+ in the multi-family, senior living and hospitality sectors. Quality Buildings started pre-fabricating wall panels out of their own facility and continued to expand.
Today, Quality Buildings specializes in offsite pre-fabricated building components, as well as framing components, wall panels, floor trusses, roof trusses and all needed equipment and labor for a complete framing system. Offering VE options and full 3D modeling capabilities for clash detection, as well as BIM modeling with other trades, they are acknowledged as a leading innovator in wood framing. They also offer structural engineering and Mass Timber construction. Their commitment to provide customers with the finest craftmanship continues to be their anchor 14 years later. Quality Buildings has an employee count of 42, consisting of VDC designers, project managers, pre-fabricated wall panel manufacturing and field carpenters. They also have a steady base of subcontractors they know they can turn to for their larger projects.
"We pride ourselves for having more attention to detail and a higher level of service than our competition," explains Elmer. "We are the experts in wood framing and strive to present ourselves as such. Every department within Quality Buildings has an in-depth knowledge of wood framing. Our designers are the linchpin of our projects being successful and have an extensive hands-on experience with building these projects in the field."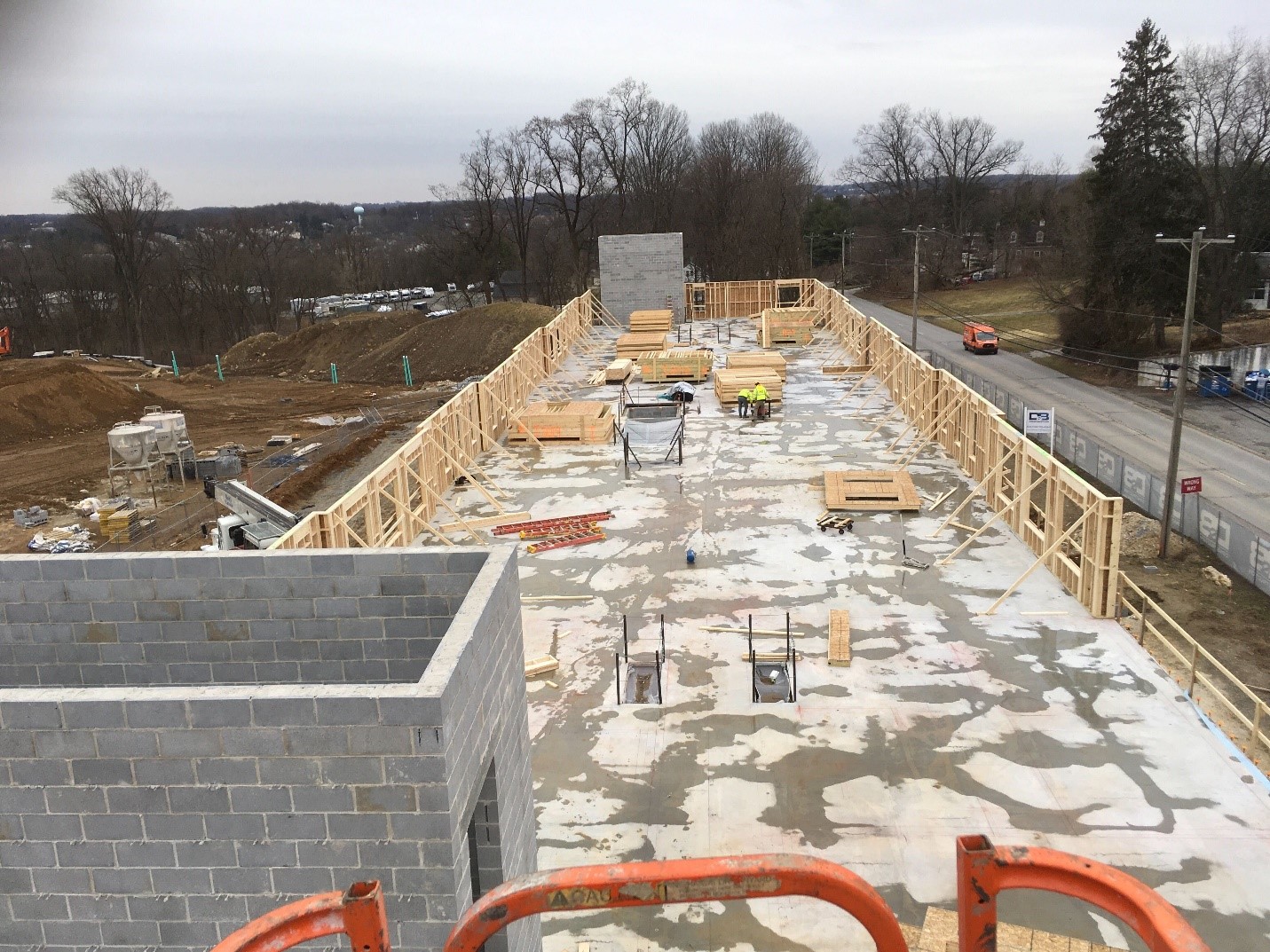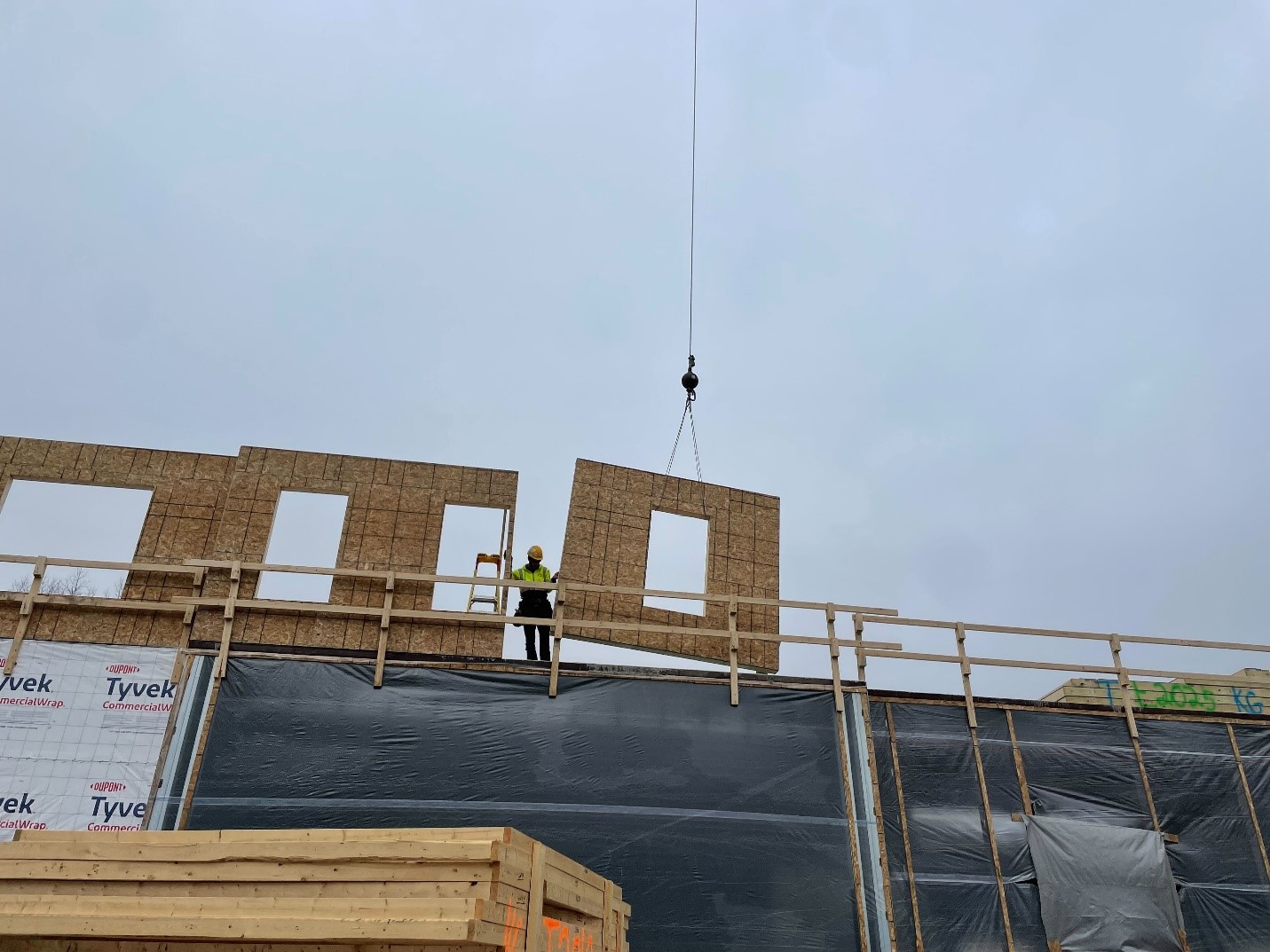 Q&A With Elmer Zook, Founder and President of Quality Buildings
Q: What's the best piece of advice you would give to others looking to get into the industry?
A: "Learn as much as you can about the trade you are a part of and about the trades around you that need your collaboration to do a good job and offer a stellar service.  Care about your craft and treat people with respect."
Q: What do you love most about working in the industry and why?
A: "I love working in the industry and providing a service that goes above and beyond just showing up and swinging a hammer. I love that our team is intentional about getting into the nuts and bolts of a project and finding new and better ways to get the job done."
Q: Anything else you'd like to add?
A: "We appreciate D&B entrusting QB with being your Framing partner on this project and look forward to many more in the future."
D&B Construction's partnership with Earth Engineering Incorporated dates back eight years to 2014. They have completed over 12 projects with D&B Construction since becoming our Trade Partner. These projects range from large multi-family projects on 50 acres of land to large healthcare projects for clients like Tower Health and Children's Hospital of Philadelphia.
EEI performed numerous services on these projects including compaction testing, concrete testing, geotechnical consulting, sinkhole remediation, structural steel inspection, geotechnical investigations, clean fill assessment, and design services. Paul J. Creneti, P.G., Director of the Lehigh Valley division of Earth Engineering Incorporated, has been part of the industry for 26 years now. "Working on these projects with D&B Construction was fulfilling, as they were a collaborative effort with the construction and design team," he reflects.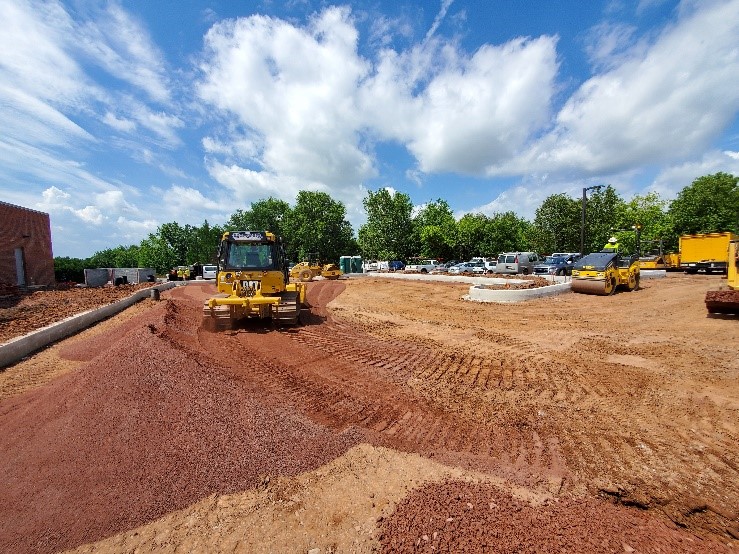 Paul has worked with many members of Team D&B over the years, including our Chief Operating Officer Brennan Reichenbach, Vice President of Pre-Construction Mark Keever, Project Manager Scott Weaver, and Vice President of Construction for Reading and Central PA, Tom Rinaldo. His favorite part of working on a D&B project? "Being part of a project team that has trust with all parties involved." Paul can count on the fact that "quality would never be an issue" whenever he works with Team D&B. "If problems arose during development, the team handled these problems quickly and most appropriately to ensure that sites were being developed properly."
According to our VP of Construction Tom Rinaldo, who has worked with Paul and EEI for the last 15 years on various projects, "they bring undeniable value and knowledge to D&B projects as a valued Trade Partner." Tom most enjoys how knowledgeable their geologists are. "We utilize them to do proctors for us. They help out in a variety of ways, from testing and analysis of soil on job sites to concrete testing. When we completed work for 999 Berkshire Blvd. we had to excavate and remove 10,000 SF of soil and excavated around the entire exterior of the building to remediate soils. Their team's analysis of the unsuitable soil and assistance in finding suitable soil was imperative to the success of this project."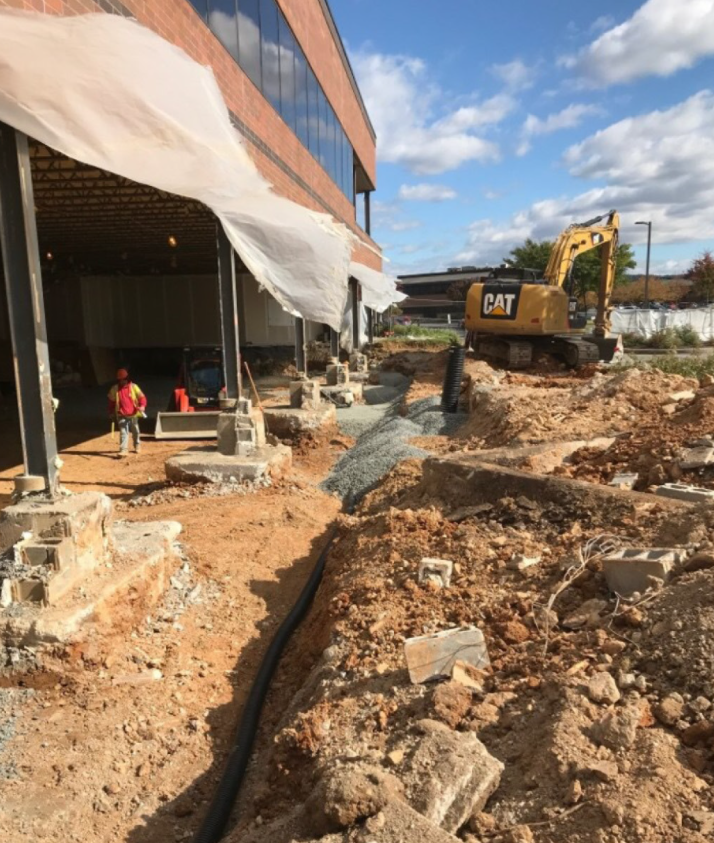 About Earth Engineering Incorporated:
This full service geotechnical / environmental engineering consulting firm was founded in 1990 in Blue Bell, Pennsylvania. By 2003, EEI outgrew this facility and established their Corporate Headquarters in East Norriton, Pennsylvania. Today they have approximately 125 employees and other regional offices in West Berlin, New Jersey, the Lehigh Valley and Central Pennsylvania that allow them to service projects from New York to Maryland.
EEI provides their clients with geotechnical engineering and environmental consulting services. Such services allow them to contribute to the successful development of a wide variety of projects for their clients, as issues such as cost-effectiveness and site development issues are evaluated by their team. This analysis allows EEI to provide clients with the best recommendations on how to proceed with their project.
The predominance of their geotechnical and environmental work is in the private commercial and residential sectors, with a portion of their geo-structural design work in the public sector. EEI takes on approximately 1,200 new projects within a year.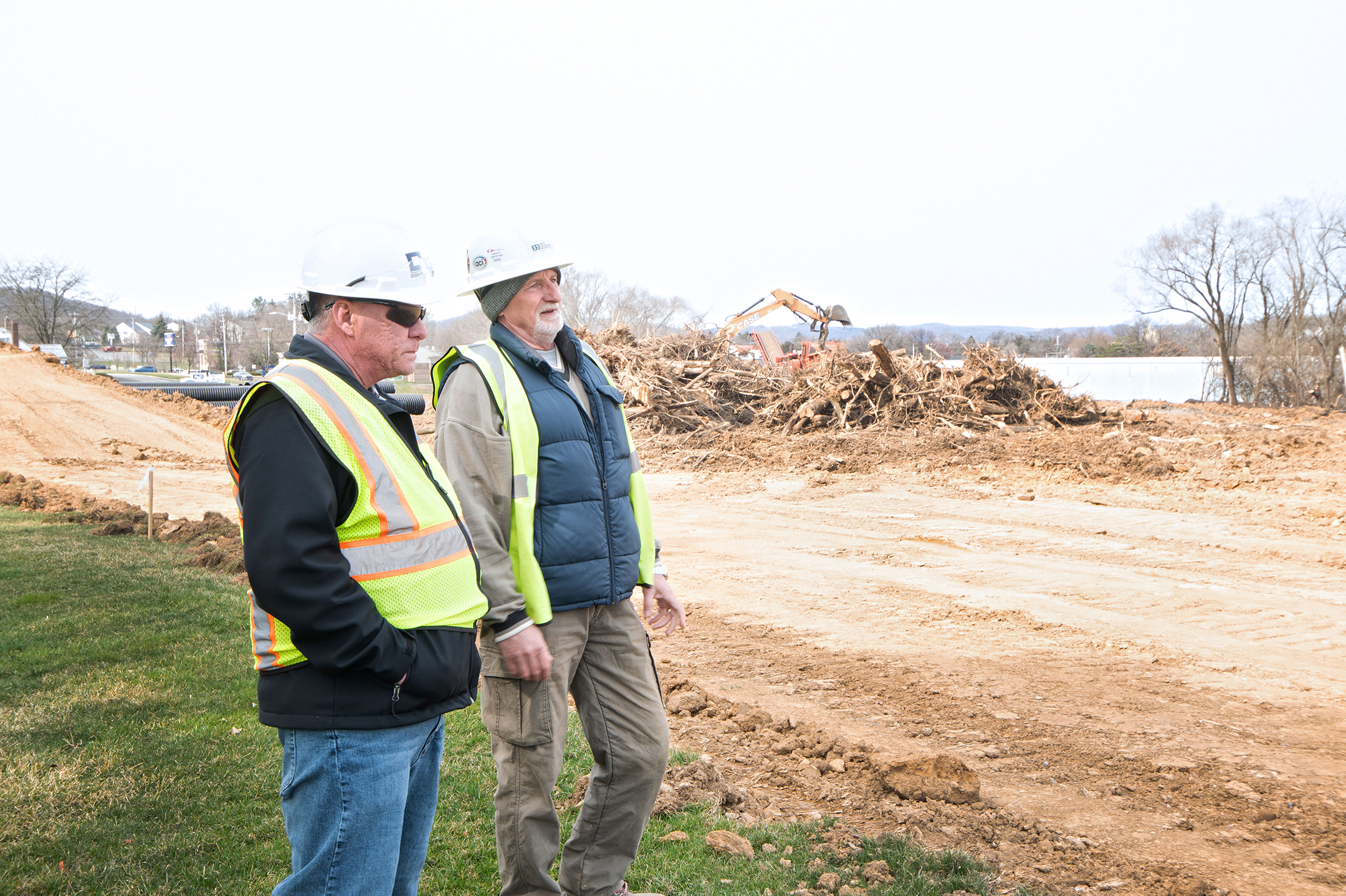 Q&A With Paul Creneti, Director of EEI's Lehigh Valley Division:
Q: What's the best piece of advice you would give to others looking to get into the industry?
A: "Listen to your client's needs while at the same time keeping the project within or below budget. You can accomplish this through quality engineering and quick decisions."
Q: What makes a good leader?
A: "Being true to your corporate values and goals and holding a high standard for others to follow."
Q: What do you love most about your job and why?
A: "Being part of a project team that leads to the successful completion of projects despite countless variables along the way. It's rewarding."
Q: What about a D&B project stands out in comparison to other General Contractors you work with on other job sites?
A: "Quality with a strong focus on the client's needs."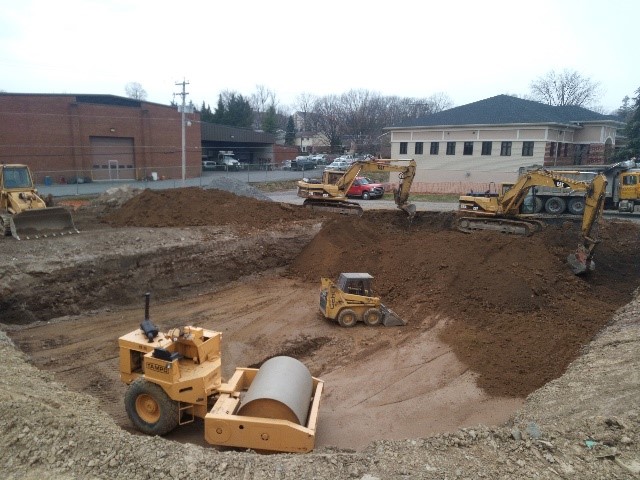 A Look at Some of the Jobs EEI and D&B Have Successfully Worked on Together Over the Years:
Projects Currently Under Construction:
The Reserve at Iroquois Springs
EEI's Geotechnical Engineer, Dan, was just on site last week to check the compaction rating of the soil on this jobsite. View some recent drone footage here.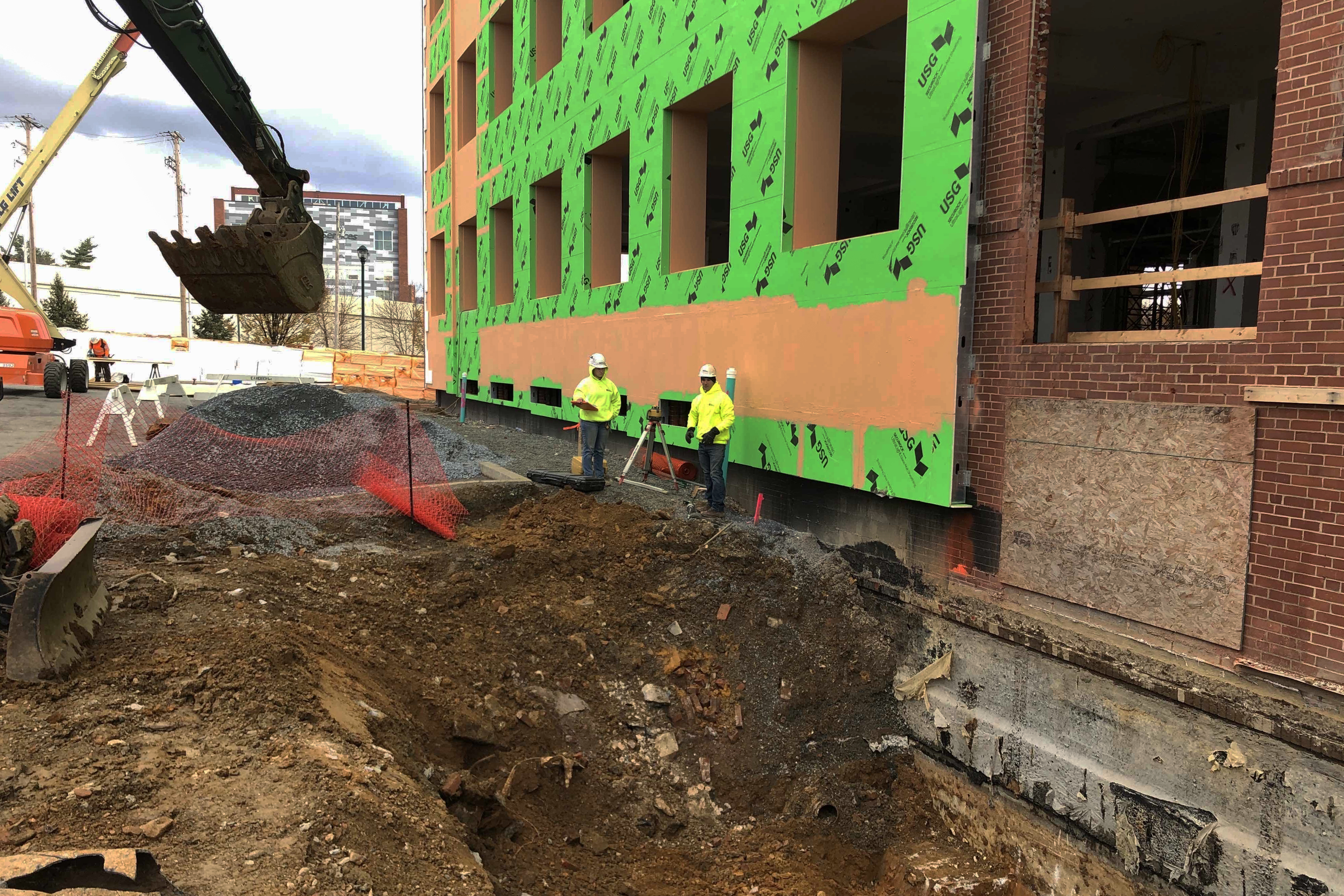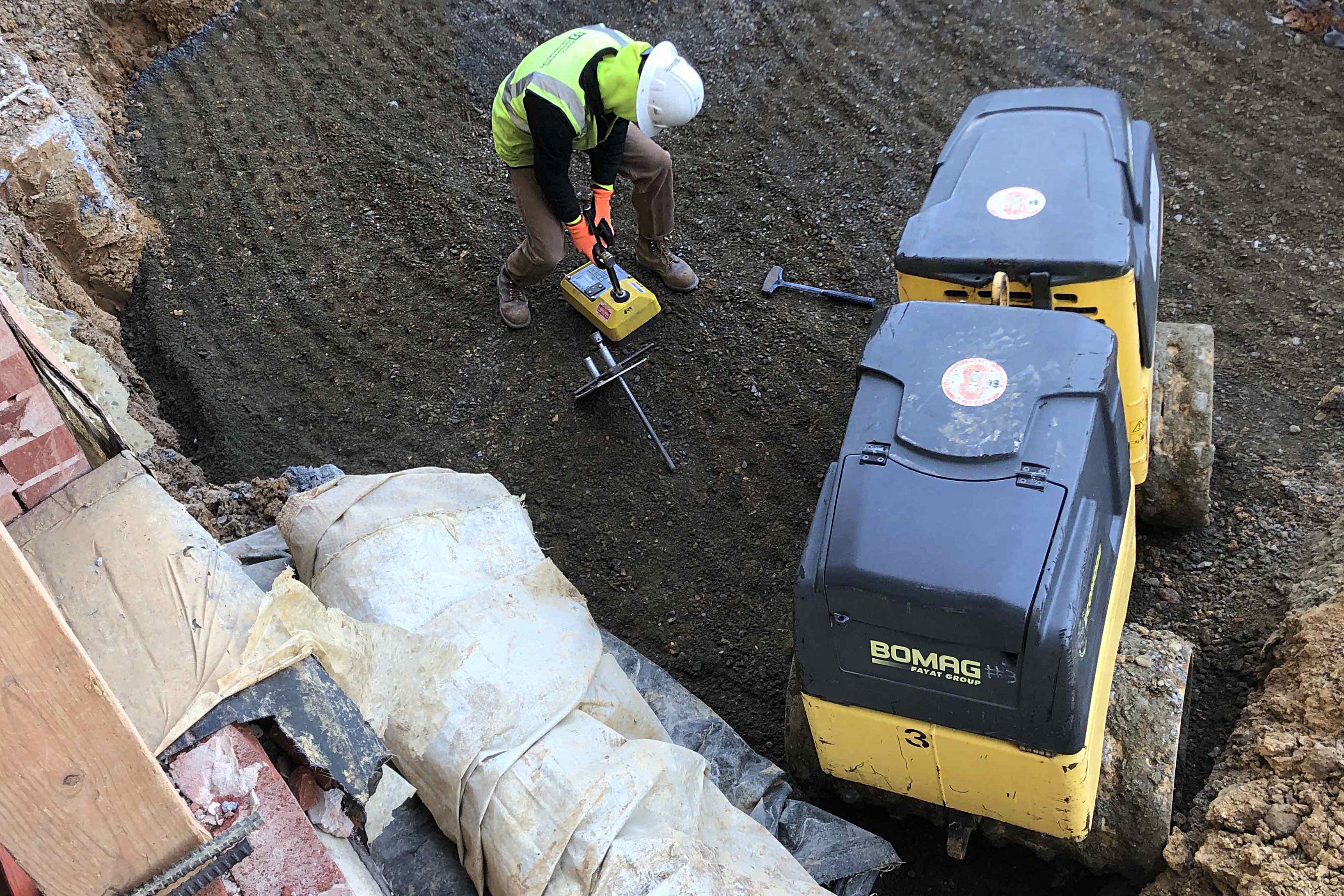 Completed Projects:
Cardiology Consultants of Philadelphia – Paoli, PA Location
Bucks County Orthopedic Specialists – Warrington, PA Location
Tower Health Medical Group Family Medicine – Womelsdorf, PA Location
Riverfront Federal Credit Union
Paramount Contracting, Inc., a commercial wall and ceiling contractor, is based out of Lancaster, PA and serves the Pennsylvania, New Jersey, Delaware, West Virginia, Virginia, and Maryland areas. The company was established as a premier wall and ceiling contracting company by Jeff Mylin in 2005. "The emphasis was always on customer service and building a great team," says a reflective Mylin 16 years later. "We focused on the needs of the customer and providing an end product that our team would be proud of." As a result of this, Paramount has "experienced organic growth as opportunities presented themselves over the years." Today, the company has nearly 100 employees, completes in excess of 300 jobs per year, and specializes in Metal Studs, Drywall, Insulation, EIFS and Acoustical Ceilings, as well as select Carpentry and Specialty items.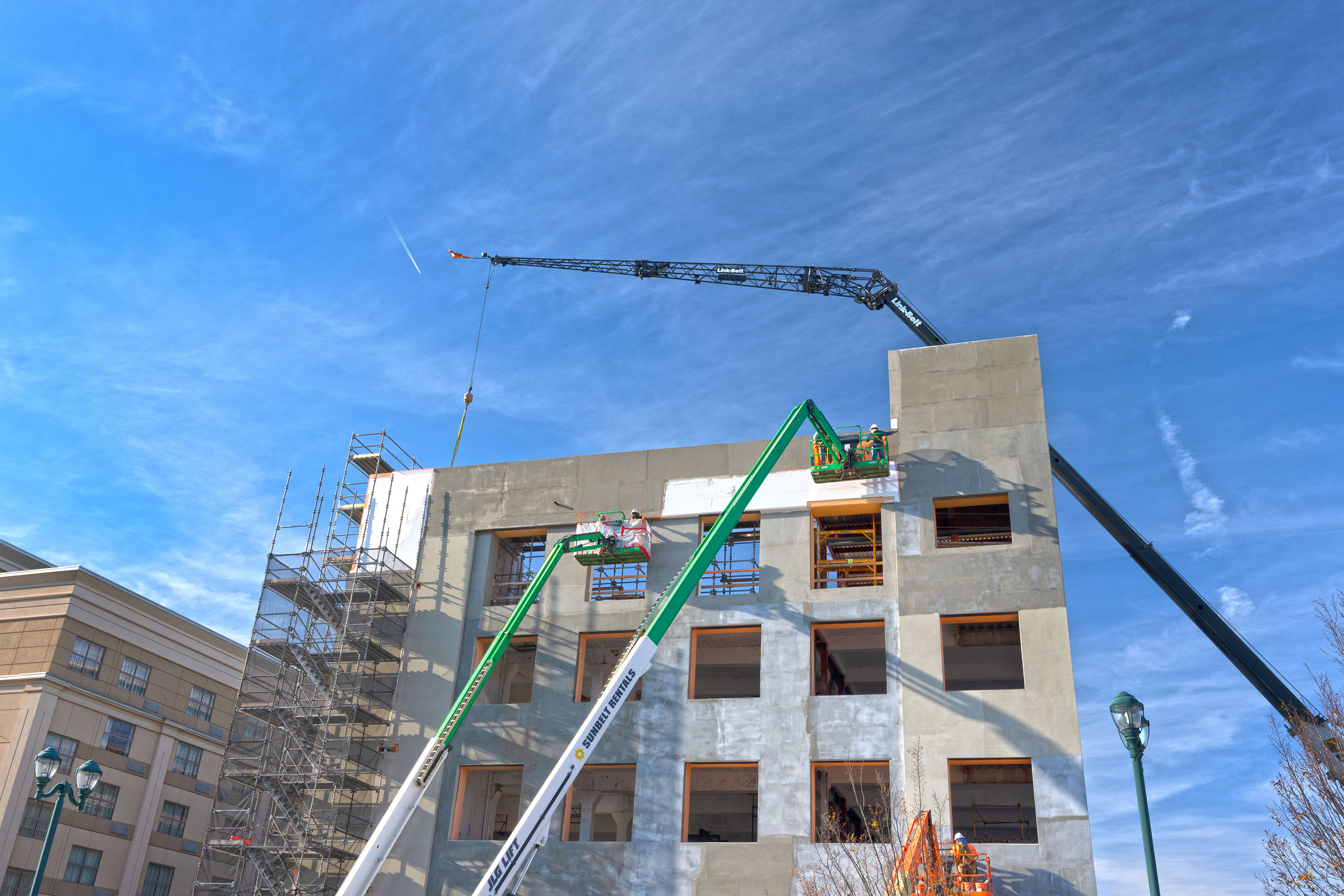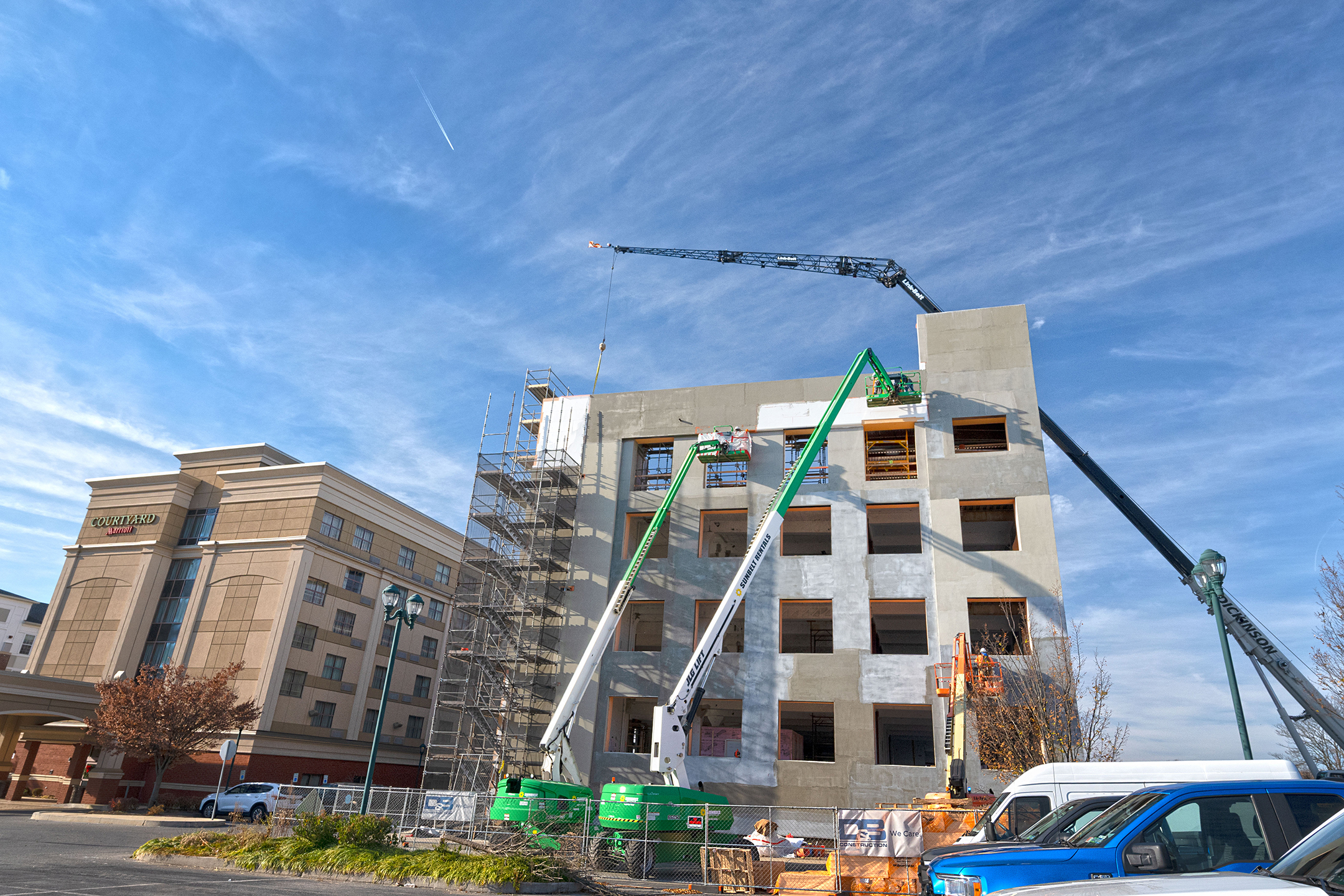 D&B is proud to have been partnering with a company that reciprocates our core values of being a company that cares about everything from the customer to the finished product. Since Paramount became a Trade Partner of D&B Construction's nearly five years ago in 2017 they have worked on more than 10 projects with us, completing everything from insulation, drywall, and exterior sheathings to rough blocking, acoustical ceilings and clouds, and FRP.
Some of the current active projects Paramount is working on with D&B include this mixed-use design-build project in Kennett Square, PA, D&B's new corporate headquarters, and Kreitz Gallen-Schutt Attorney's office fit out, which is just starting up. Other projects worth highlighting from this year include Tower Health's newest satellite office in Womelsdorf and Grove Dental Pediatrics.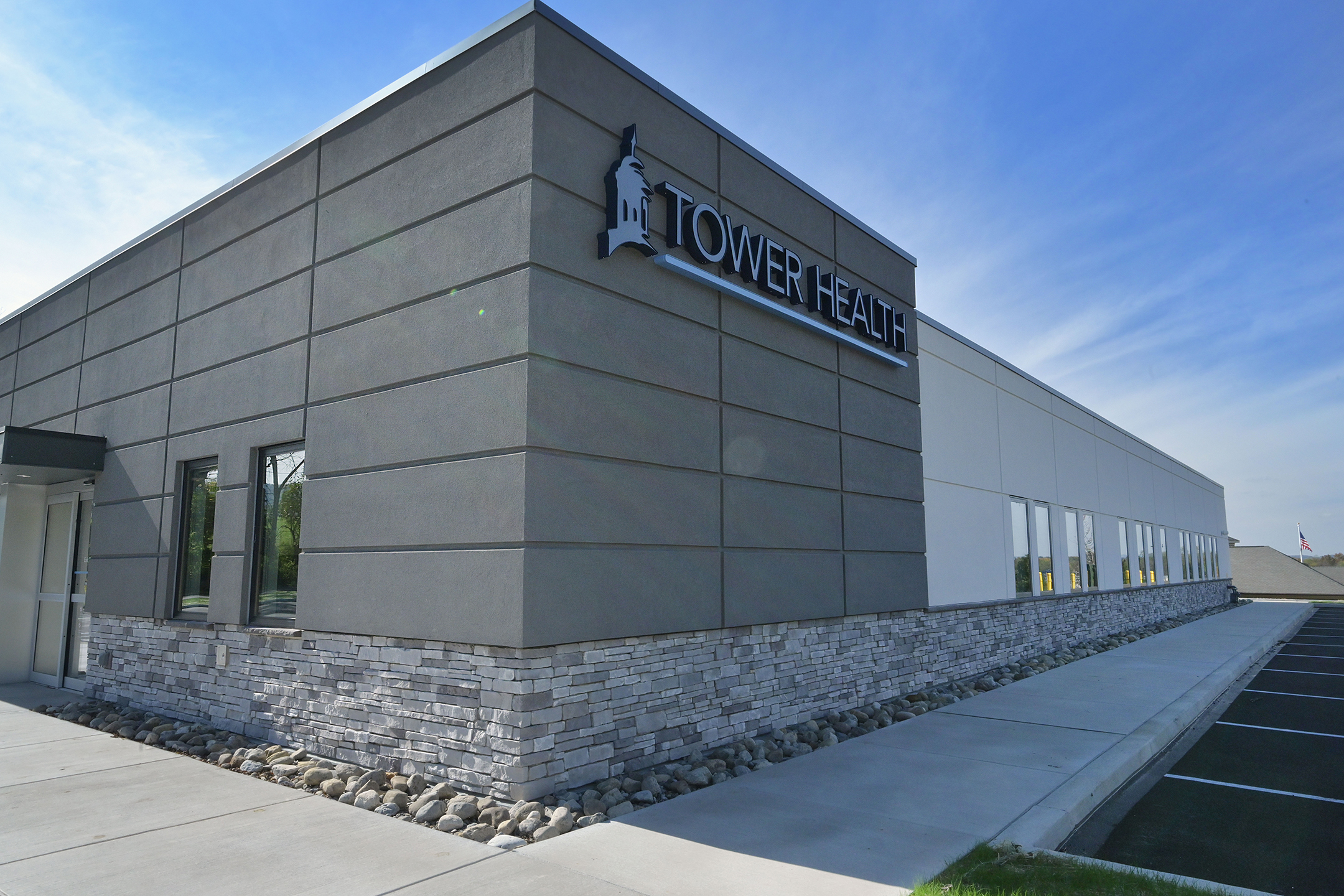 Perhaps the most impressive job that Paramount is working on D&B with is the 80,000 SF adaptive reuse building currently being renovated in the heart of Wyomissing. This five-story building will be the future home of Stratix Systems' headquarters.
Our Project Manager, Andrew, plays an active role in the daily management of what is occurring at the jobsite. This is what he had to say about his experience working with their team on this job: "Paramount has been an integral Trade Partner on our project at 200 N. Park Road in Wyomissing. Their Project Managers and Site Foreman have brought knowledge from previous projects on nearby, similar style buildings that have aided our project in design, constructability and schedule. Their crews have been more than accommodating with a stubborn building that has required much coordination and numerous details from the Architect."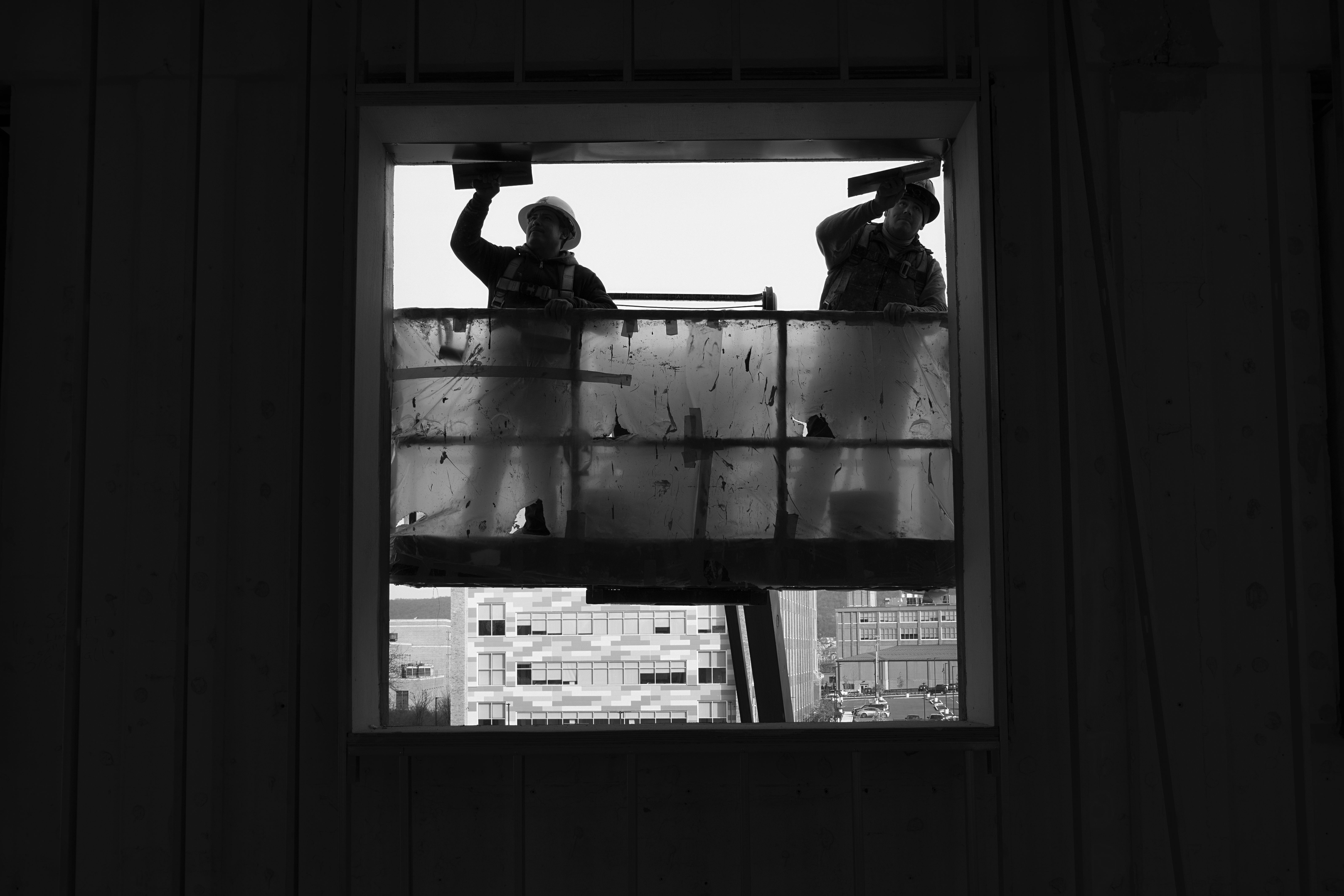 Andrew also had the pleasure of working with Paramount on three other projects, including his first job with D&B nearly one year ago, Kingsview Partners. He looks forward to "continuing our strong relationship with such a great Trade Partner" as we head into completing more jobs with them in the New Year.
Oh, and did we mention the Paramount team has some pretty great cooks, too?! This past October, Paramount was kind enough to host a home-cooked BBQ luncheon at Stratix Systems' future new headquarters for all D&B employees, ownership, the project architect, RHJ Associates, and even invited us to invite other Trade Partners on the job. It was a great day of camaraderie onsite as we all learned about the intricate details of this detailed project. "Their BBQ was the launching point for one of our company's on-site safety training sessions, and attendance was most definitely enhanced as a result of the promise of good food. We were and still are grateful for their efforts," reflect Andrew.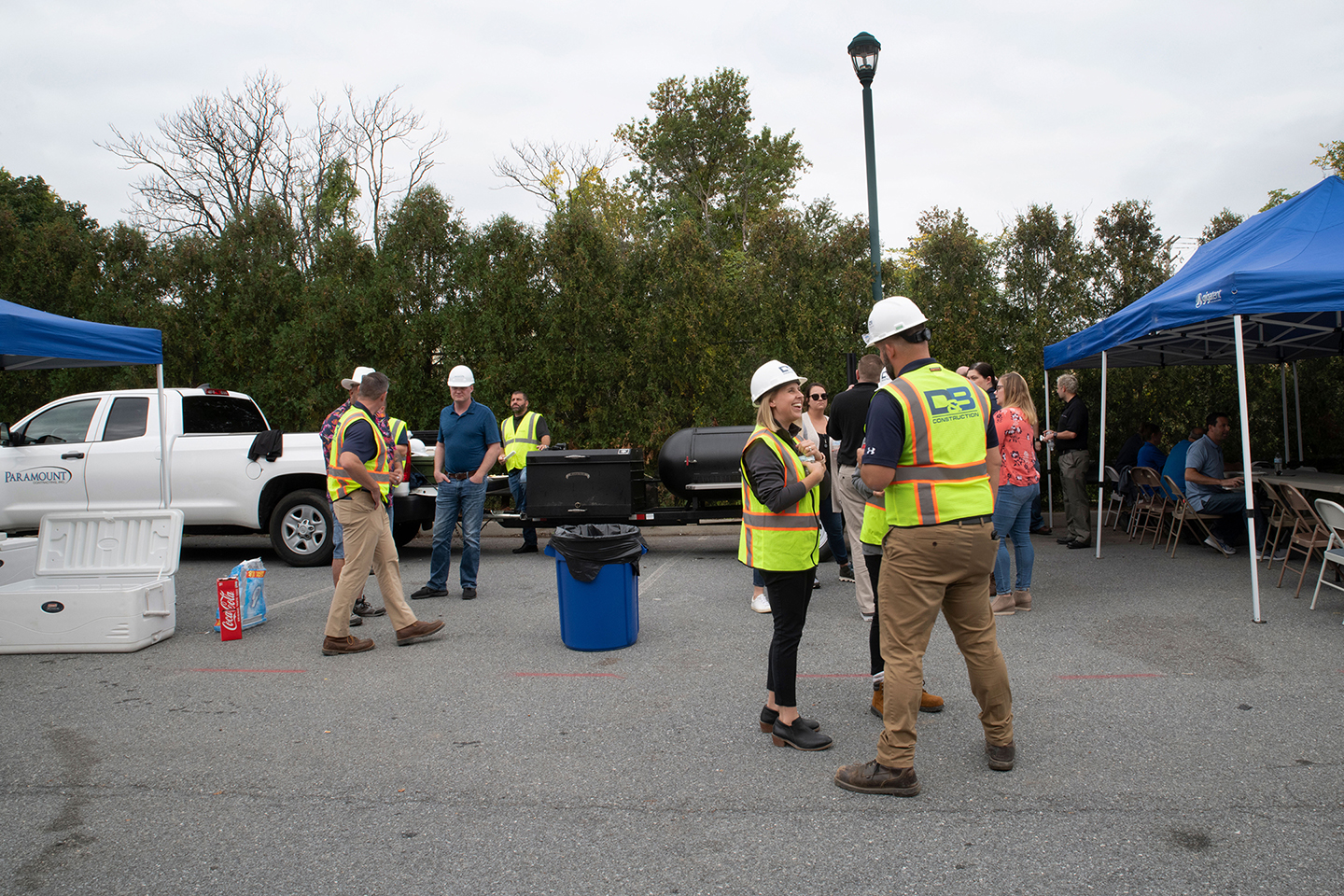 We sat down with Jeff Mylin, President of Paramount Contracting, for a quick Q&A:
Q: Paramount Contracting has completed 4,100 jobs since its inception. What project are you most proud of to date and why?
A: "It is hard to choose just one, but the Ann B. Barshinger Cancer Institute in Lancaster, PA would be near the top. It is a respected facility in our home town and architecturally impressive building."
Q: What's the best piece of advice you would give to others looking to get into the industry?
A: "You have to have a love for the industry. Construction is a tough business with demanding schedules, tight budgets and currently material and labor shortages. Yes, there are many challenges but it also can be very rewarding when seeing the job come to completion. Those of us in this line of work understand how it feels to drive by a finished project and feel a sense of pride that 'we helped build that.'"
Q: You are completing a number of projects with D&B right now. What has your experience been like working with our team?
A: "D&B projects are clean, organized, and safe projects to work on. They communicate clearly with all of the trade teams, which leads to successful projects. We have made a significant investment into bidding to D&B and we feel that has not gone unnoticed. Subcontractor loyalty is obvious, which increases effective teambuilding."
Q: What do you enjoy most about working on a D&B project and why?
A: D&B Superintendents, Project Managers, Engineers, and support/admin staff are always accessible and willing to help. Coordination and scheduling are always well thought out and communicated from planning to completion. The jobs are often local, and our employees enjoy investing in the buildings in their community."
At D&B Construction we like to think of our trade partners as an extension of our team. We are proud to call Paramount Contracting an extension of the D&B family. Every project we have collaborated with them on results in a final product that both teams can be proud of and that our customers can look forward to.
Technology is ever-evolving, and part of this evolution includes the construction industry. In response to COVID-19 and technological advancements, the construction industry has begun to innovate more than ever before. One of the most fascinating practices that is growing in popularity is modular or off-site construction.
Modular or offsite construction is the process in which a building is constructed off-site under controlled conditions using the same materials and built to the same standards as conventionally built facilities. The only difference? It can be built in nearly half the time. Buildings are constructed in modules that can be put together to form the original design, all while still resembling the work of the most sophisticated site-built facility. Why do companies use modular construction? The answer is simple. Modular construction is greener, faster, and safer.
A Greener World with Modular Construction
Since modular construction is a factory-controlled process it generates less waste and creates a site that is less likely to evoke disturbances. A modular construction site also promotes more flexibility and re-use. Modular projects can be disassembled and relocated or refurbished for new use. This reduces the demand for materials and limits the amount of energy used to create a building that meets the new needs. Additionally, a modular site produces less material waste since the building is constructed in a factory and waste is eliminated by recycling material, controlling inventory, and protecting building materials.
Finish Projects in Record Time
Modular construction is also faster than traditional building methods. Construction of modular buildings occur while site and foundation work are both being done. The Modular Building Institute reports that this can reduce construction times by 30%-50%. This can also be credited to the elimination of weather delays. Sixty to ninety percent of construction is completed inside of a factory, leaving no need to worry about inclement weather delaying a project.
Staying Safe with Modular Construction
One of the most important benefits of modular construction is safety. As we know, safety is always a priority in construction, and modular building makes it easier than ever to be safe. A report by McGraw-Hill Construction found that over 1/3 of their respondents (34%) who are currently using modular construction have seen site safety improve. This may be credited to the fact that it is free from weather elements like rain or snow that can cause slips and falls. It also reduces the risk of a worker falling from great heights, which OSHA reports as the cause of 33.5% of construction worker fatalities. Learn more about OSHA and their dedication to safety by reading this article on D&B Construction's blog.
Modular Construction: How It's Done
Modular building is done mostly on the ground level, but if working from height is required permanent scaffolding is used. This permanent scaffolding is different (and safer) from the scaffolding normally used on a traditional job site. Because it is not constantly being moved and reassembled, there is less likelihood for error and accidents.
Modular construction is growing in popularity. According to Fortune Business Insights, the global modular construction market is going to be valued at $114.78 billion USD by 2028. The market was valued at $72.11 Billion USD in 2020. Here are some examples of just how much you can do with modular construction:
The Star Apartments in Los Angeles were built in 2014 on top of a previously existing single-story commercial building. A concrete superstructure was poured over the existing structure. Next, five stories of modules that were built off-site were added on top of the single-story commercial building. The modules were stucco-finished on site. These modules provide 102 apartments and have pre-installed bathrooms, appliances, cabinets, and surface finishes.
An iconic example of modular construction is Habitat 67. Built in 1967, architect Moshe Sadfie's unique cuboid block of 158 apartments caught the eyes of many. The way Sadfie designed Habitat 67 allowed for 15 different kinds of housing, gardens and terraces to fill the voids in between. The complex stack of concrete houses was connected by high-tension rods, steel cables, and welding. Even though it was built in 1967, Habitat 67 shows the true possibilities of modular construction.
This 14-story tower was the world's first example of permanent modular construction. The building has 140 self-contained, prefabricated concrete capsules that each measure 2.3m x 3.8m x 2.1 m. The capsules were each connected to the shaft of the building with just four high-tension bolts, allowing each unit to be replaceable if needed. These capsules were delivered to the site already fitted out with a small bathroom. Owners used the capsules as small living or office spaces, and the interior space of each module can even be extended by connecting to other capsules.
These are three unique examples of modular construction because of their structure. While these extravagant and unique designs are made easier with modular construction, you can also make very basic structures that look identical to buildings that are constructed on-site. The possibilities with modular construction are seemingly endless thanks to its ability to make construction greener, faster, and safer. We look forward to seeing just how far modular construction will go.
Cold weather is upon us as we gear up for another Winter season. It is crucial that all workers in the industry are prepared to work in these cold weather conditions. We prepared Team D&B for the cold months ahead at the start of December during our monthly Safety Meeting. Our Superintendent, Jason, presented a Tool Box Talk on Cold Weather Considerations. Since safety is our standard we wanted to share some of the pointers our team discussed during our latest Safety Meeting:
-Wearing several layers of clothing is always more beneficial than wearing one thick layer when working in cold weather.
-Did you know that forty percent of a person's body heat can be lost from an uncovered head?! Because of this, wearing a warm wool hat or a helmet liner under your hard hat is always a good idea. Be sure to cover your ears and remember to wear gloves, too!
-When it comes to footwear, wear one or two pairs of warm socks. Your footwear should not fit too tightly or it will restrict blood flow and ultimately cause more harm than good.
-In cold, windy weather it is a good idea to wear a face mask or scarf.
-You need energy to keep your muscles warm, making it important to avoid exhaustion and fatigue. Take frequent short breaks in a warm shelter so your body has time to warm up and relax.
-Drink warm, sweet beverages and avoid drinks with caffeine. Eat warm, high calorie food such as pasta dishes for lunch.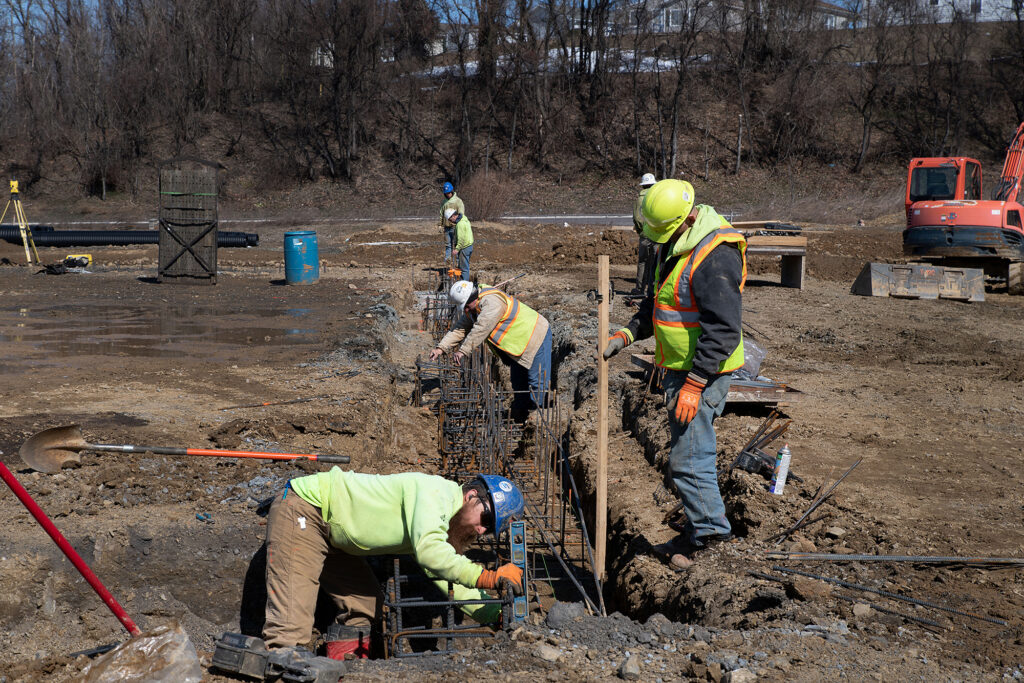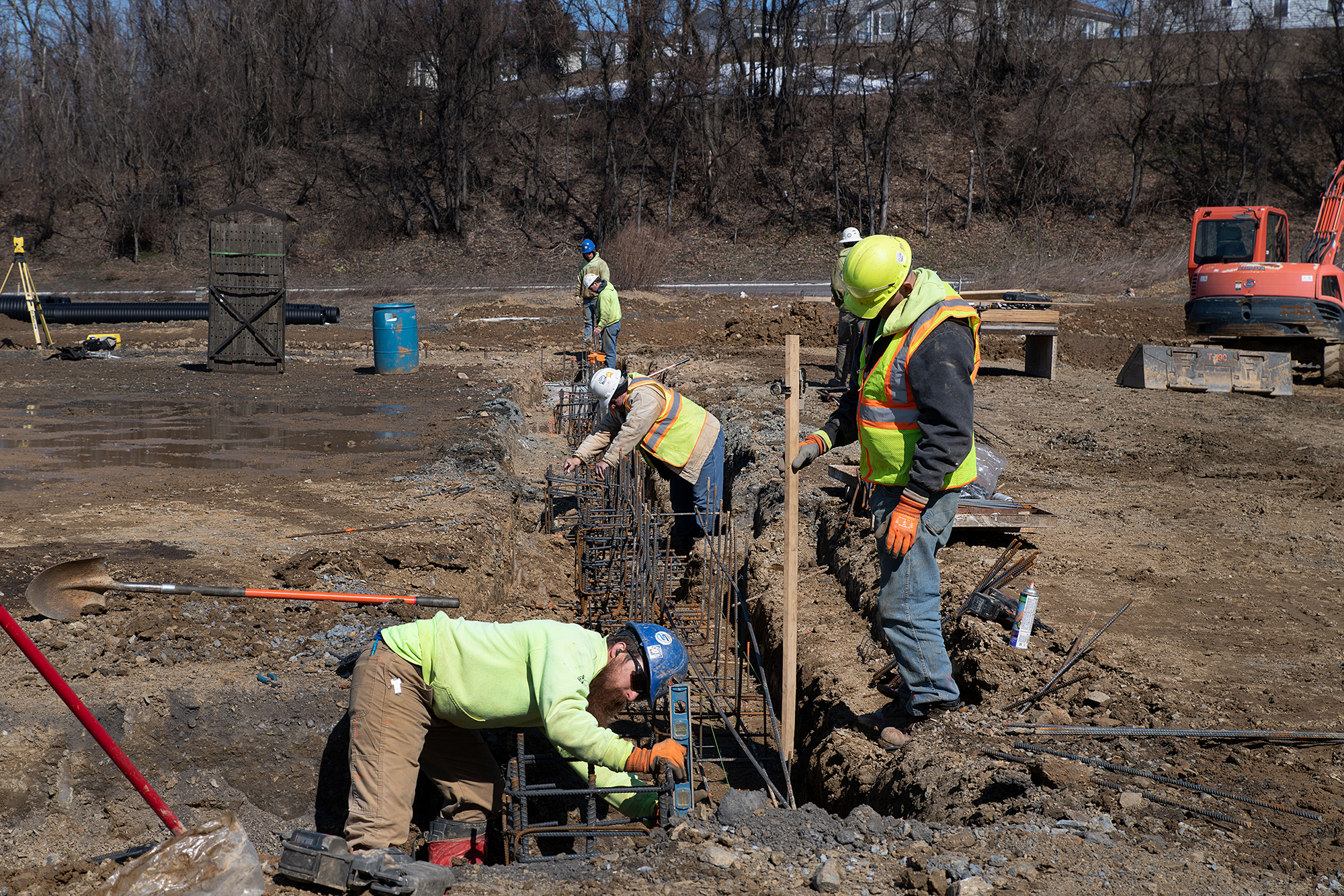 Tom Rinaldo, our Safety Director and Vice President of Construction for Reading and Central PA, also provided us with some helpful insight to common questions people tend to have regarding cold weather safety:
Q: What are some ways you keep warm when working outside in the cold?
A: "Proper attire during the cold weather months is a definite must. You definitely want to have proper socks and footwear. Keeping perspiration away from the skin is a big one. You want socks that wick sweat and perspiration. Wearing synthetic or cotton clothing next to your skin is the best way to wick away any sweat. If you keep that sweat away from your body, you won't get as cold. The reason people's feet get cold is from sweating, which happens even in the winter – especially when working on a construction site. The body can lose up to 85% of its heat through sweating during exercise. I recommend purchasing socks that wick the sweat away from your feet to help you stay a lot warmer. There are several different brands available. I believe Under Armour makes them, and Wick Dry CoolMax by Fox River is another go to brand."
Q:  What different kinds of foods do you eat/drink in the winter to keep you warmer?
A: "You always need to stay hydrated. People don't realize this, but even though it is Winter you still need to drink plenty of water to stay hydrated. You will see me with a thermos of hot soup for lunch instead of a cold sandwich in the winter time."
Q:  Do you make sure you go somewhere warm for breaks in the colder weather? If so, where do you suggest?
A: "We usually tell the guys to go into their vehicles if they are out on an open construction site. If they are on an interior construction site there is usually heat on. At our job sites, we also have temporary heaters on. These are not only to keep the worker's warm, but also for the product we are putting in. Once you get to drywall you have to condition the space." 
Q:  What are some clothing layering methods you use?
A: "A very important factor is keeping the wind off you. When you layer your clothing your cutting the wind out from getting to your body. Having the proper gear, such as boots, gloves, and a hat are very important. Last month we got a new order of hats so our Team has them to put under their hard hat when on the job site."
Tom usually wears three layers under his winter coat: A t-shirt, a long sleeve t-shirt, and a hoodie. He also wears long underwear, wicking Under Armour shirt, and Under Armour bottoms.
Q:  What are some ways that a Site Superintendent can help the men and women on their job sites stay warm? 
A: "Making sure they have the proper attire and making sure they are taking the proper number of breaks, especially when the temperatures get below 20 degrees. We typically have two 15-minute breaks throughout the day, one in the morning and another in the afternoon, in addition to a lunch break. At D&B, we always educate our team on hypothermia at safety meetings and in our safety training. We know that one of the main injuries, according to OSHA, would be slips and falls. This, along with hypothermia, frostbite, ice, cold stress, and winter colds and flus are common winter hazards that we educate the team on."
Q:  What do you recommend someone new to working in the cold weather prepares for?
A: "It is important that they make sure they have the right clothes. They may not be used to spending eight hours out on a construction site, so it is important that they have the proper gear for the elements. 
Q:   Are there any common misconceptions that people think are helpful in the cold, but are harmful?
A: "Coffee might warm you up for a few seconds, but since it contains caffeine it can increase your urination frequency and ultimately dehydrate you. Make sure you drink it in moderation to avoid this."
Q:  Anything else you want to add?
A: "You have to know when your body is telling you to get away from the cold environment. Realizing the signs of cold stress, hypothermia, frostbite, etc. are important. Listen to your body. It will tell you when to stop doing what you're doing."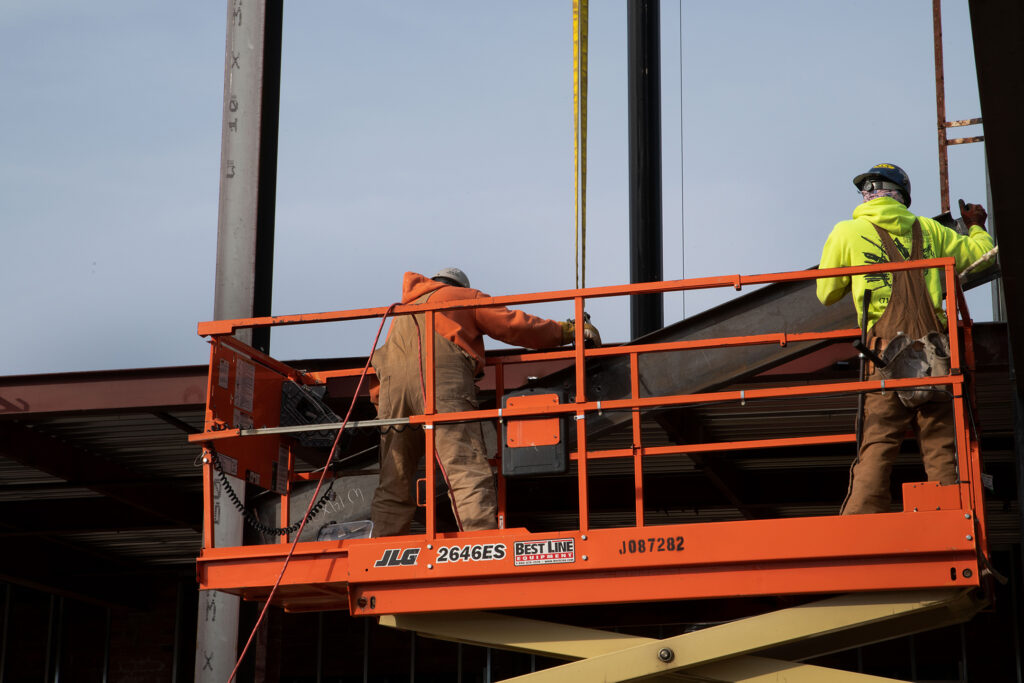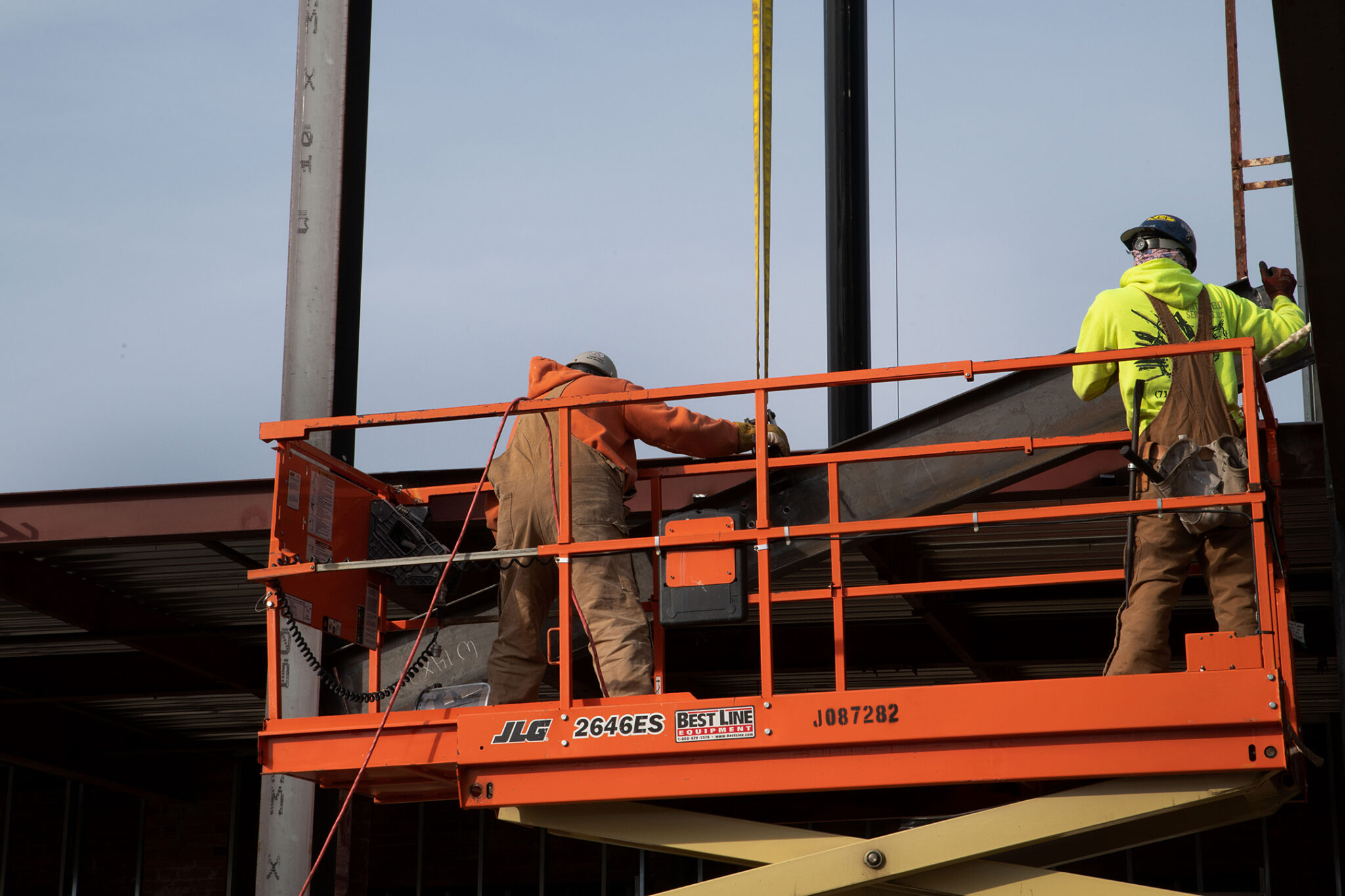 Frostbite and Hypothermia: Two Serious Conditions That May Result from Prolonged Exposure to the Cold
Frostbite is an injury to the skin and underlying tissue. Most often it is found on a person's nose, ears, fingers, or toes. One of the first symptoms are a "pins and needles" sensation followed by numbness or pain in the affected extremities. Hard, pale, and cold skin is a way of distinguishing frostbite. Once the area thaws, the flesh becomes red and very painful.
Below is an infographic illustrating signs of frostbite and some pointers on what you should and shouldn't do if you or someone on your job site is affected: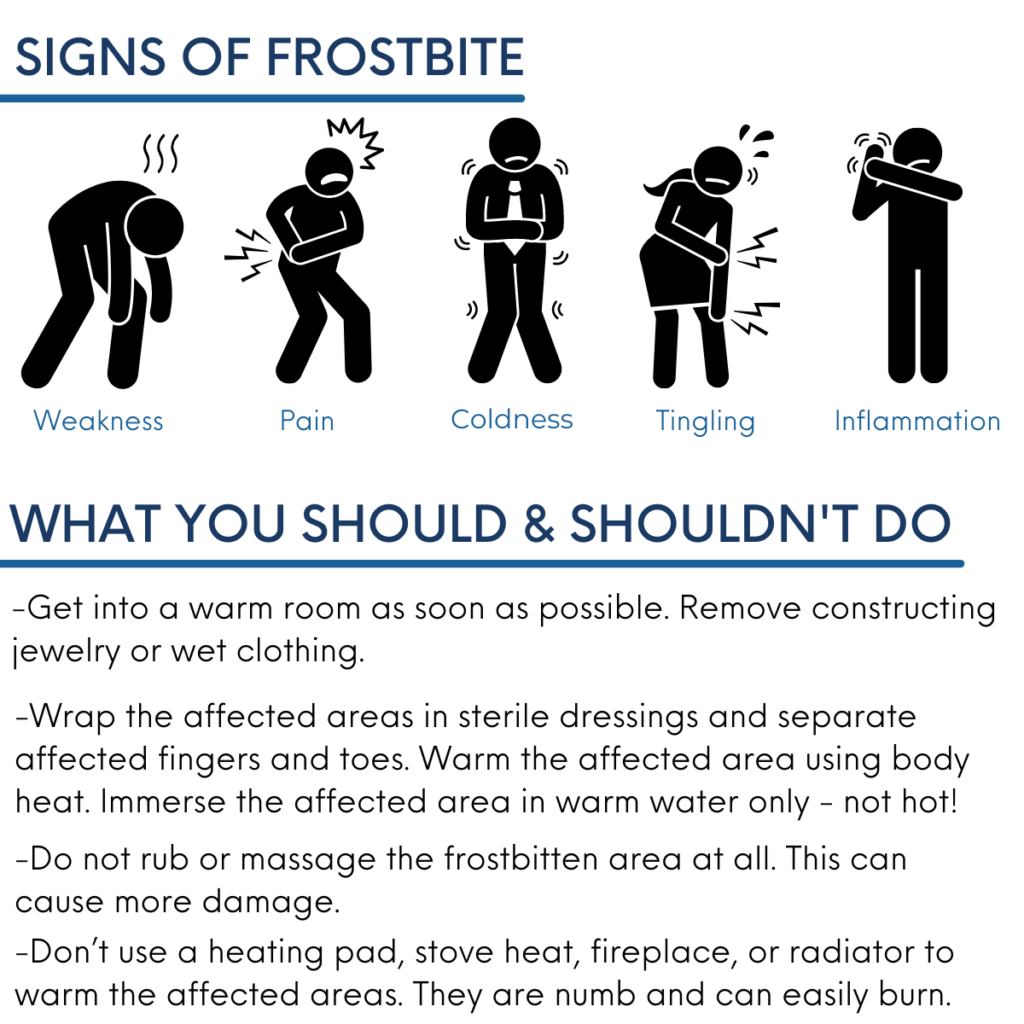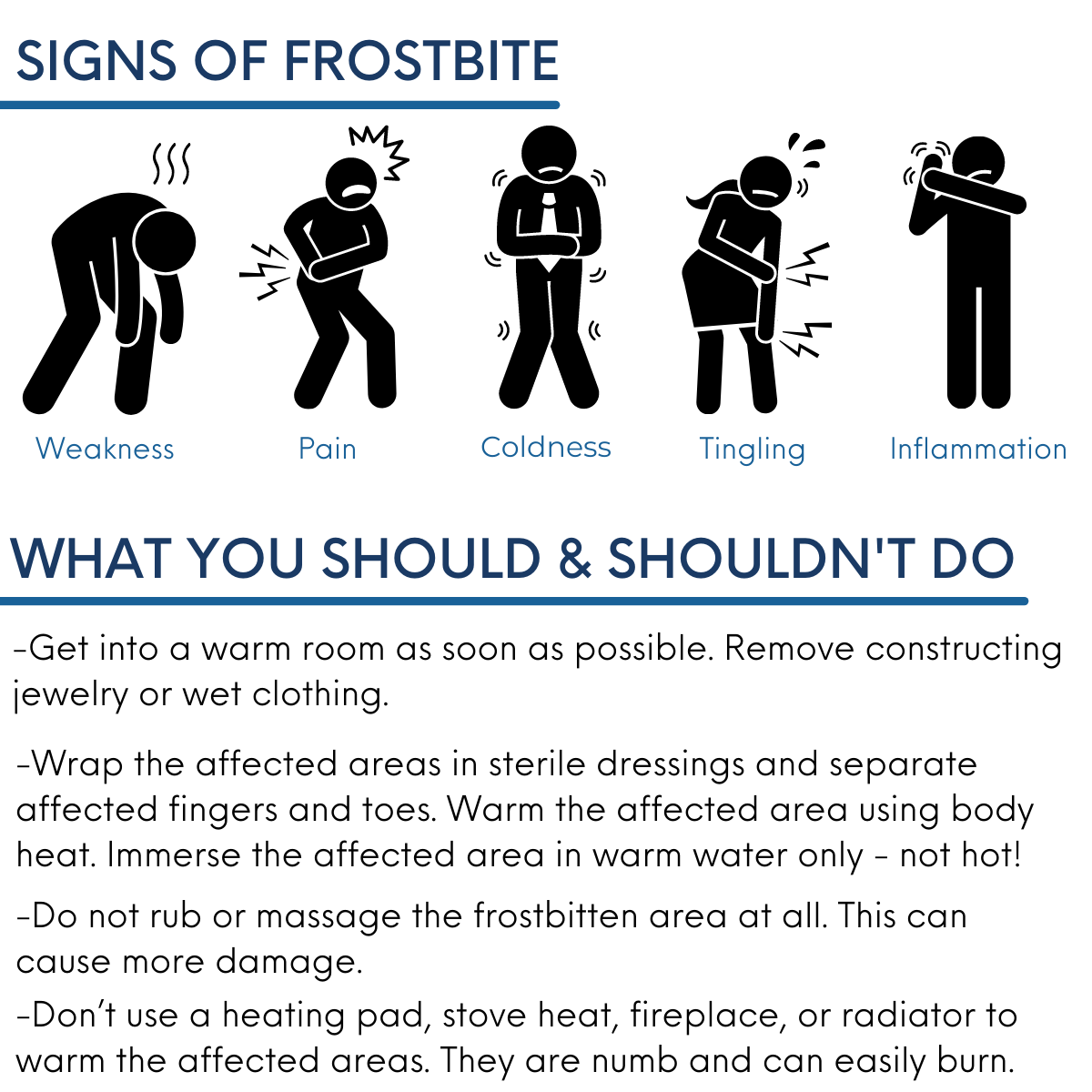 Hypothermia is a medical condition in which the person's core body temperature drops significantly below normal and normal metabolism begins to be impaired. This occurs when the core temperature drops below 95 °F (35 °C). If body temperature falls below 90 °F (32 °C) the condition can become critical and eventually fatal. It is important to note that Hypothermia can still occur at temperatures well above freezing when a victim is submerged in cold water.
Below is an infographic illustrating signs of hypothermia and some pointers on what you should and shouldn't do if you or someone on your job site is affected: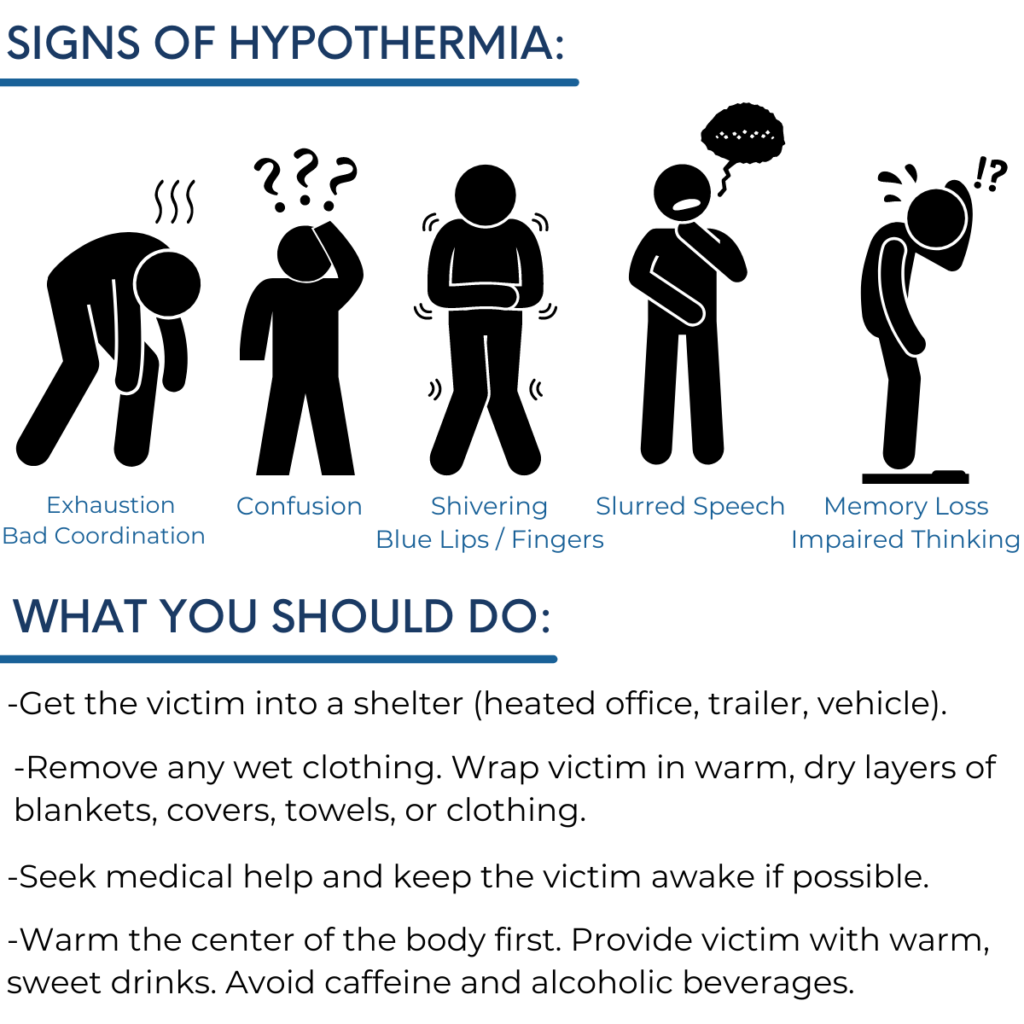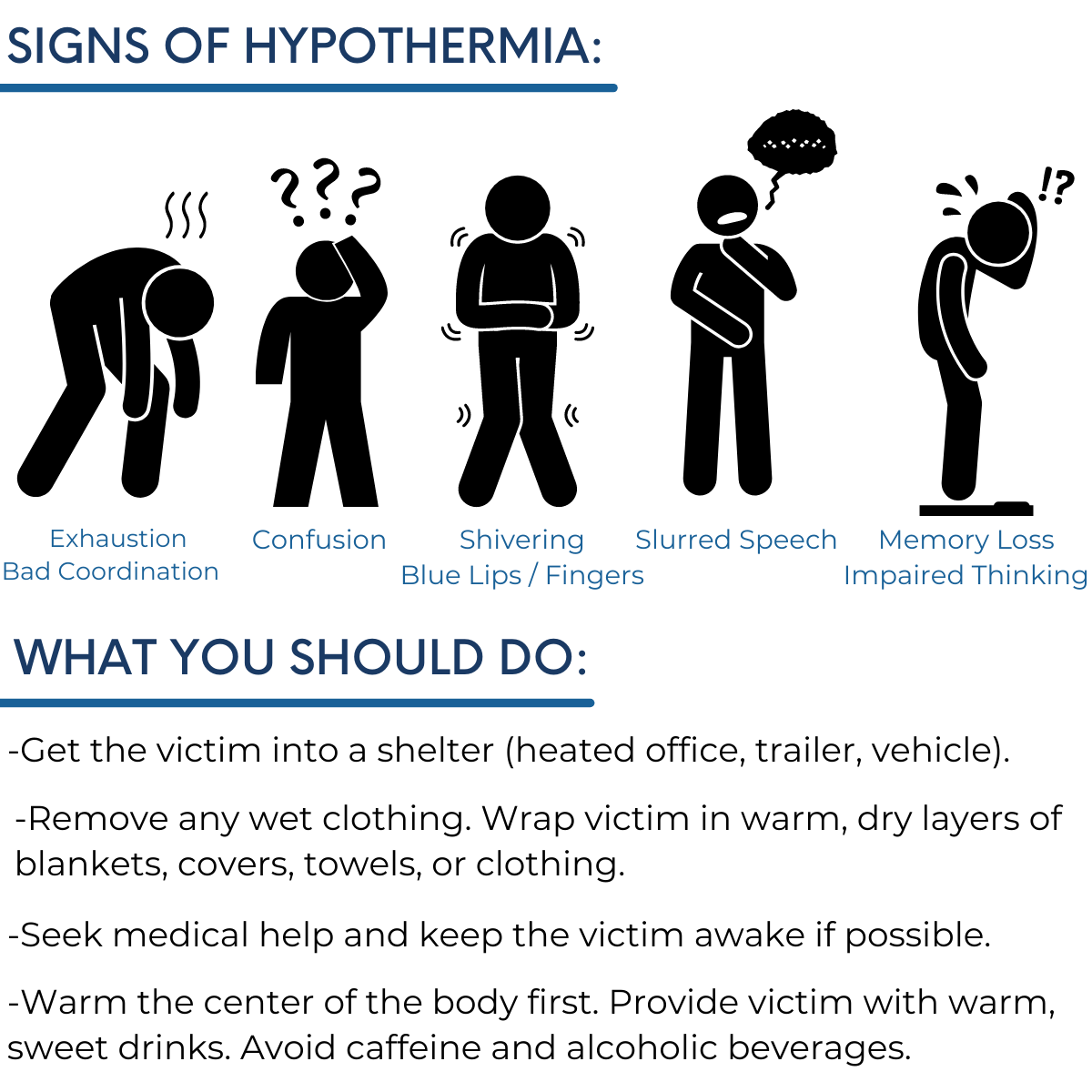 Consider printing out OSHA's Cold Stress Card in both English and Spanish to have on the jobsite for all workers safety. These cards include information on common types of cold stress, such as hypothermia, frostbite, and trench foot (also known as Immersion Foot), as well as ways to prevent it and treat it.
We hope you find this article helpful as you and your team brave the cold winter months! If you have any additional tips, we'd love for you to share in the comments below. 
It's hard to believe it has already been one year since we completed renovations that converted two existing administrative office spaces into a state-of-the-art orthodontic office! Aside from this healthcare project's stunning design, this project was special to us because it was the start of Wyomissing native and local orthodontist Molly Hottenstein's dream of owning her own practice. Molly knew she wanted to be an orthodontist since high school. It was then that she shadowed various doctors because she always knew she wanted to work with people in the medical field. She shadowed an orthodontist and immediately knew it was for her. "I loved the science behind making smiles beautiful… The perfect balance of physics and biology and art. I also loved being able to hang out with cool kids, teenagers and parents all day while really getting to form relationships with them over the course of their treatment. I loved that I could be part of an amazing community and hopefully make a difference in some of their lives," explains Molly.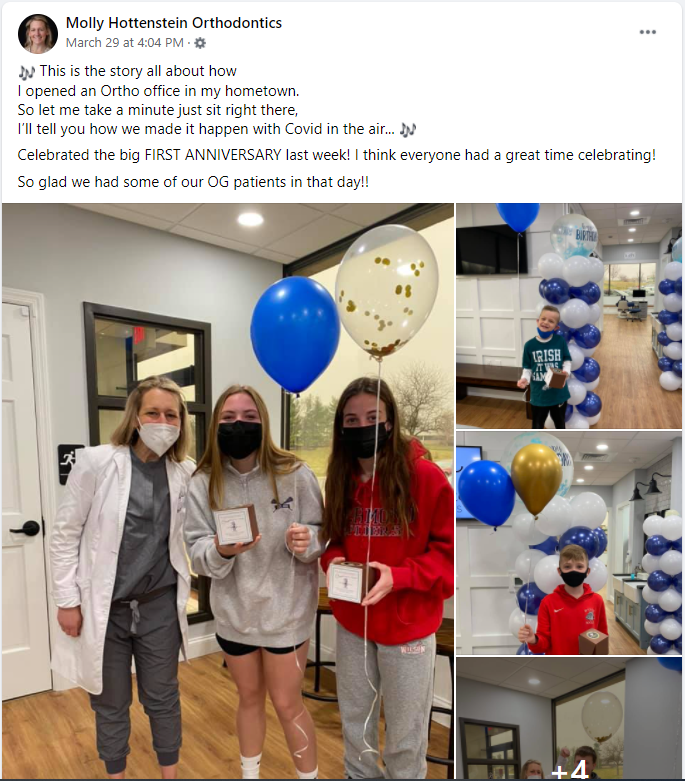 Now, she didn't always plan on opening her own office. That wasn't on the horizon until after she had worked four years as an associate at different offices. "It was then that I realized I wanted to bring something different to Berks County," she recalls. She dreamed of opening an office that offered patients something more personal and a bit slower paced, allowing for more one-on-one time. In doing this, her patients would become her friends and family, not just another case. "I wanted to bring a little 'Disney magic' to my office, making it a place people wanted to come. I wanted them to feel like there was something different about what we were offering, and the only way to do that was to take the plunge and create it." And take the plunge she did! It was the D&B team's pleasure to be able to watch Molly's hard work turn into a reality before her eyes through the construction of her one of a kind office!
Today, Molly Hottenstein Orthodontics is still loving their office as much as (if not more than) the day they first laid eyes on it. We've loved watching them grow since first opening their doors on March 10 of last year, and we are so happy to see them celebrating one year in their office space. Of course, it doesn't take a math whiz to figure out that the date Molly's business opened unfortunately coincided with state-wide shutdowns due to the spread of COVID-19. They actually had to shut down operations just two business days after their grand opening… Definitely not something that Molly was anticipating! In reality Molly and her team were planning two grand openings, one for the dental community and an open house for the entire community as a whole.
Like many local business owners, a lot of perseverance and adaptability from her team had to take place within the last year. We sat down with Molly to reflect on the rollercoaster of emotions that she and her team went through after having to shift gears from "grand opening of their beautiful office space" to "closing down operations due to a global pandemic" in a matter of just 48 hours. Here's what she had to say:
"It was heartbreaking and terrifying. I was six months pregnant and would walk around my empty, beautiful office and cry because I just wanted people to be able to use and enjoy it," recalls Molly. However, she didn't let herself wallow in her pity for long. "After a few weeks of crying, I pulled myself out of the pit" she says with a laugh. "Fortunately, the office is laid out in a way that I can easily keep families separated and manage the flow in and out."
Molly and her team continue to "learn, adapt and grow," just as any start-up would – pandemic or no pandemic. "Honestly, I don't have experience with any other start-up NOT during a pandemic," she says. Molly applauds her staff, who have been "incredible at adapting, learning and being flexible." The team of three has also received amazing support from the community and other dentists throughout the area. With a smile on her face, Molly says: "At this point, I feel like we are thriving despite the difficult timing!"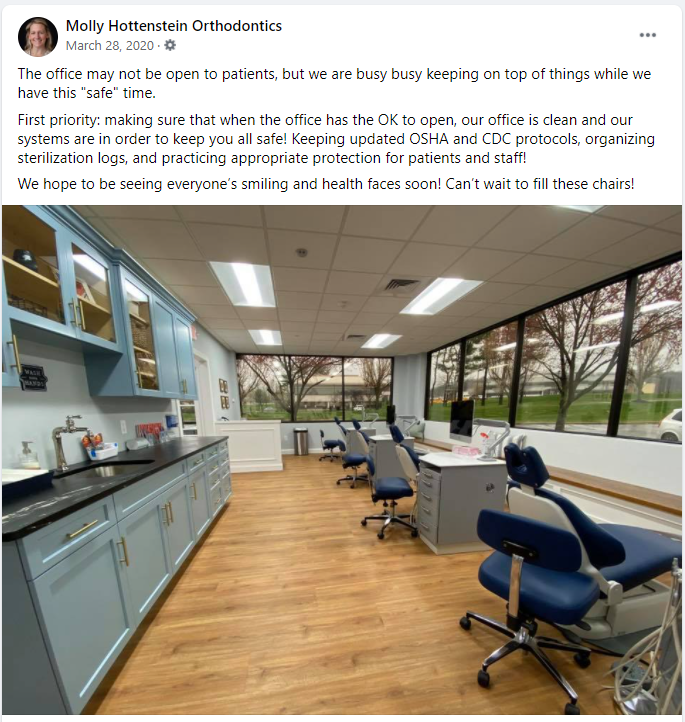 Transforming an Office Space to an Orthodontics Space
What all went into transforming Molly Hottenstein Orthodontics' office space into the area the community knows and loves today? The team at D&B actually renovated two separate spaces and connected them into one larger space. Molly recalls the spaces being "pretty much bare bones" when she first saw them. Even still, she fell in love with a few key elements that our crew kept and highlighted in her new office space. Molly knew she wanted to have a lot of natural light to help keep her office cheerful and bright. "I love spending time outside, and I wanted my staff to not feel like they were stuck in an office all day," she explains. Luckily, the space already had large windows around the exterior walls, and it was a no-brainer that they were here to stay. Another added bonus to these windows? Molly didn't have to worry about decorating bare walls! "I love that nature is my best decoration. The property management group does an amazing job keeping the area landscaped and clean, too," she says.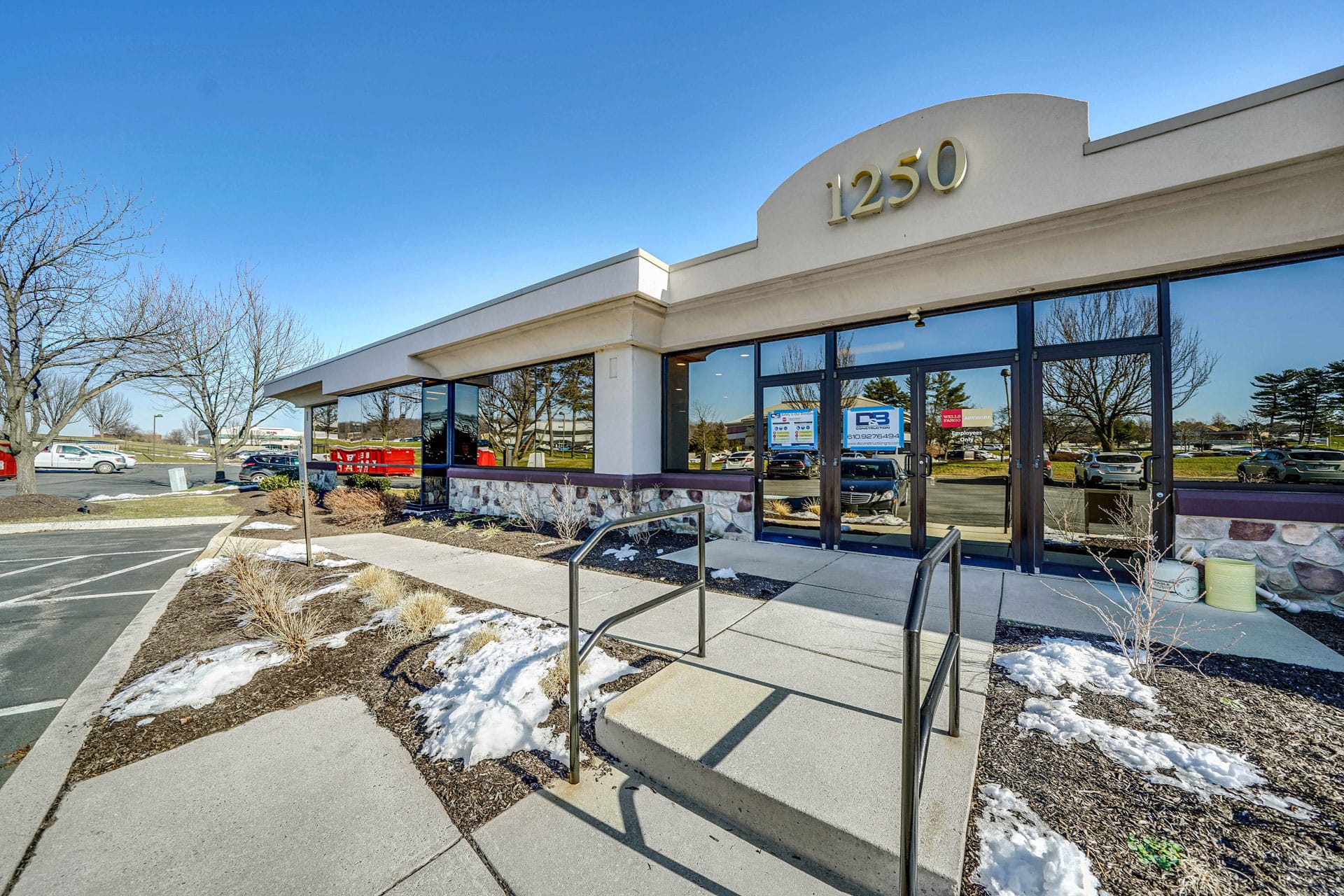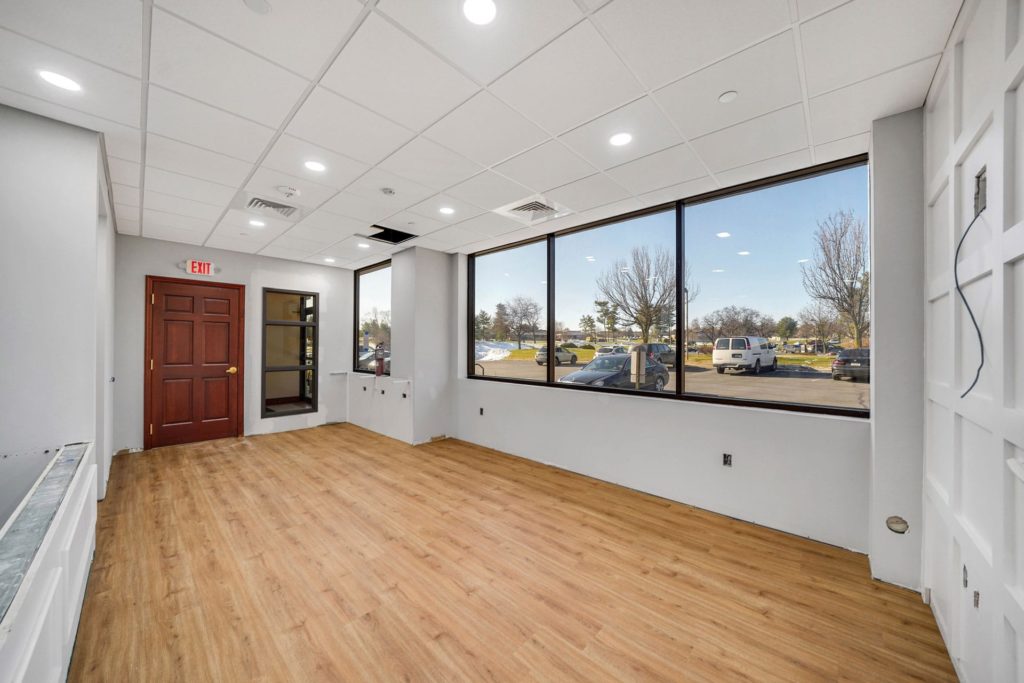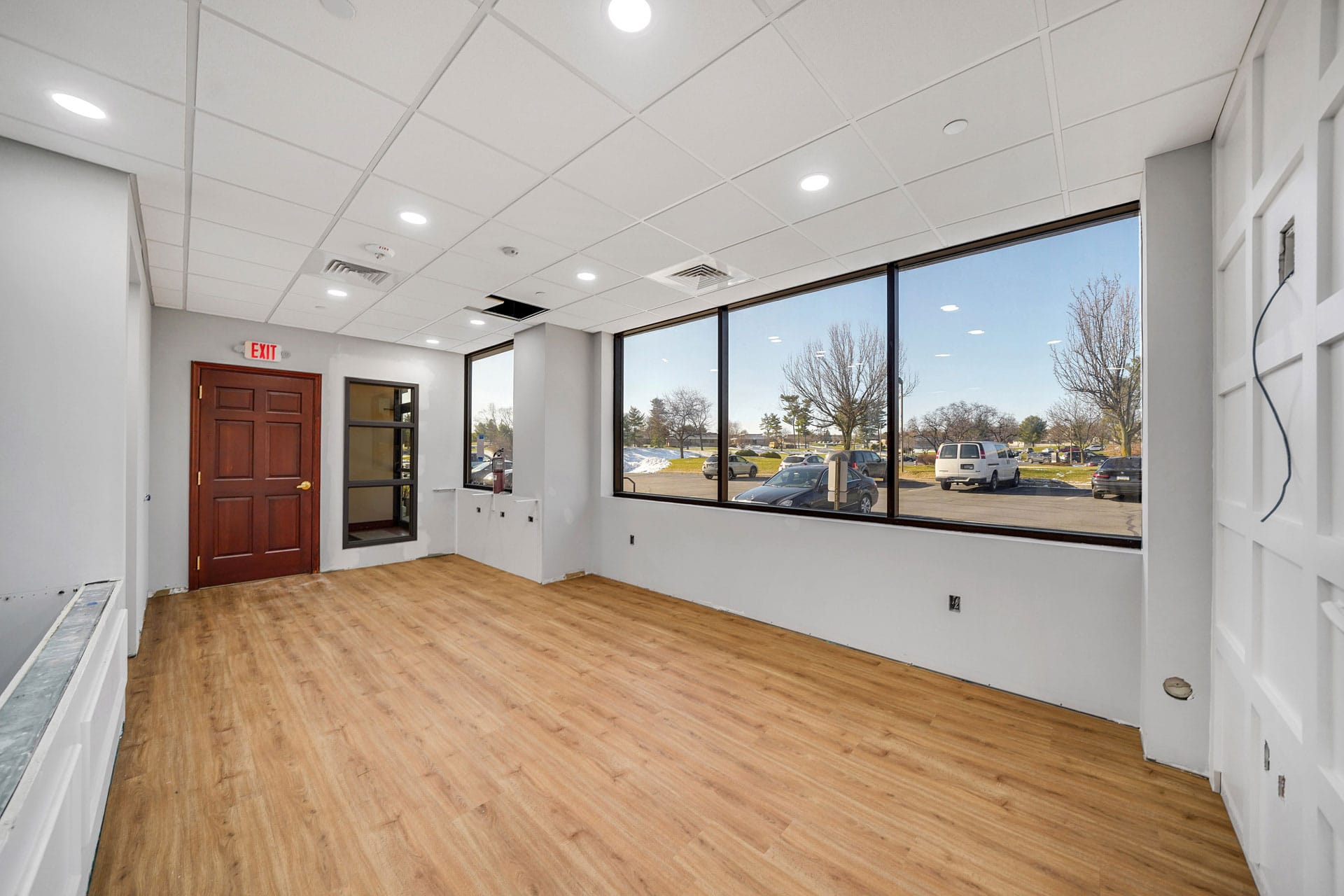 When it came to creating the vision for her office, Molly's husband, Kyle, was by her side! "We always had a very focused vision for the look and feel we wanted for the office," she recalls. "My husband and I are the perfect team because we have very similar taste. I have a very specific vision for the big picture and feel, while he is very particular and good at digging in to the details and making everything perfect."
It also helped that this wasn't their first rodeo. The couple worked together to decorate their home, and Molly's husband even completed their home renovations. "We really wanted to have a professional space that looked and felt more residential. We met with three potential contractors and D&B was the first that completely embraced and understood that!"
Molly and Kyle took care of the design and selection, while the D&B team gave this dynamic duo direction so it was easy for them to find exactly what they were envisioning. Molly recalls spending A LOT of time on Pinterest and Houzz looking at architectural and design aspects so they could gain an understanding of what they loved and wanted to incorporate into the space. Kyle even made an extensive PowerPoint showing all of the images and aspects they loved to illustrate where they wanted to utilize them. From there, D&B helped make the vision possible.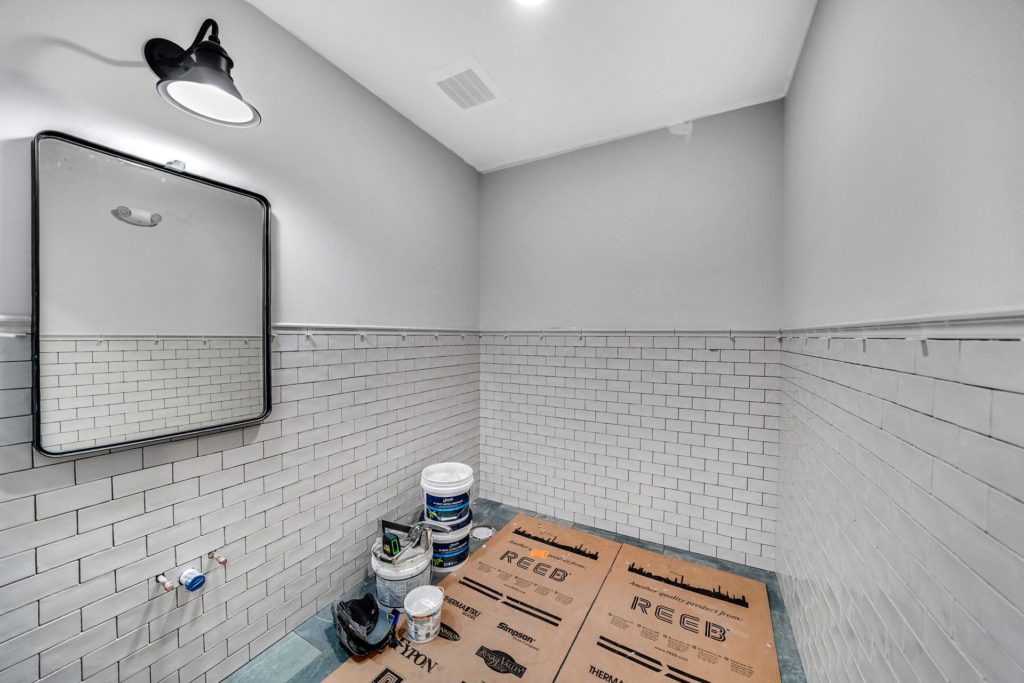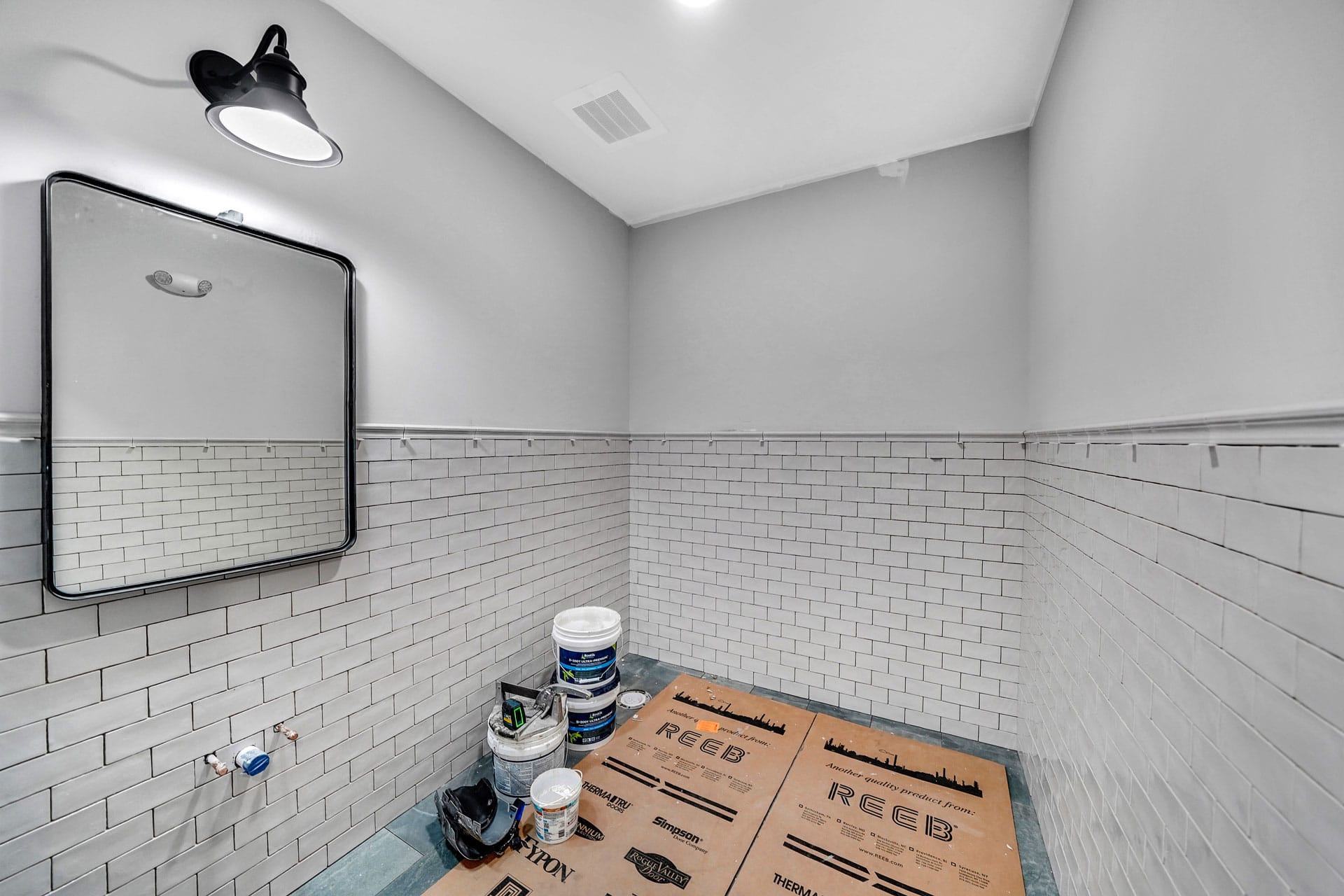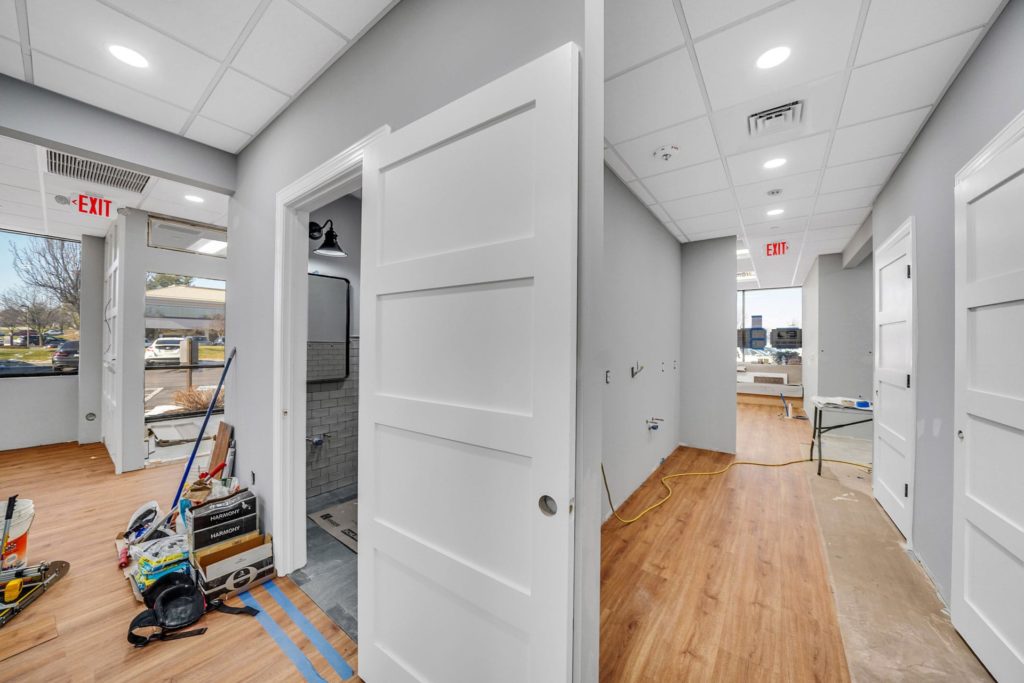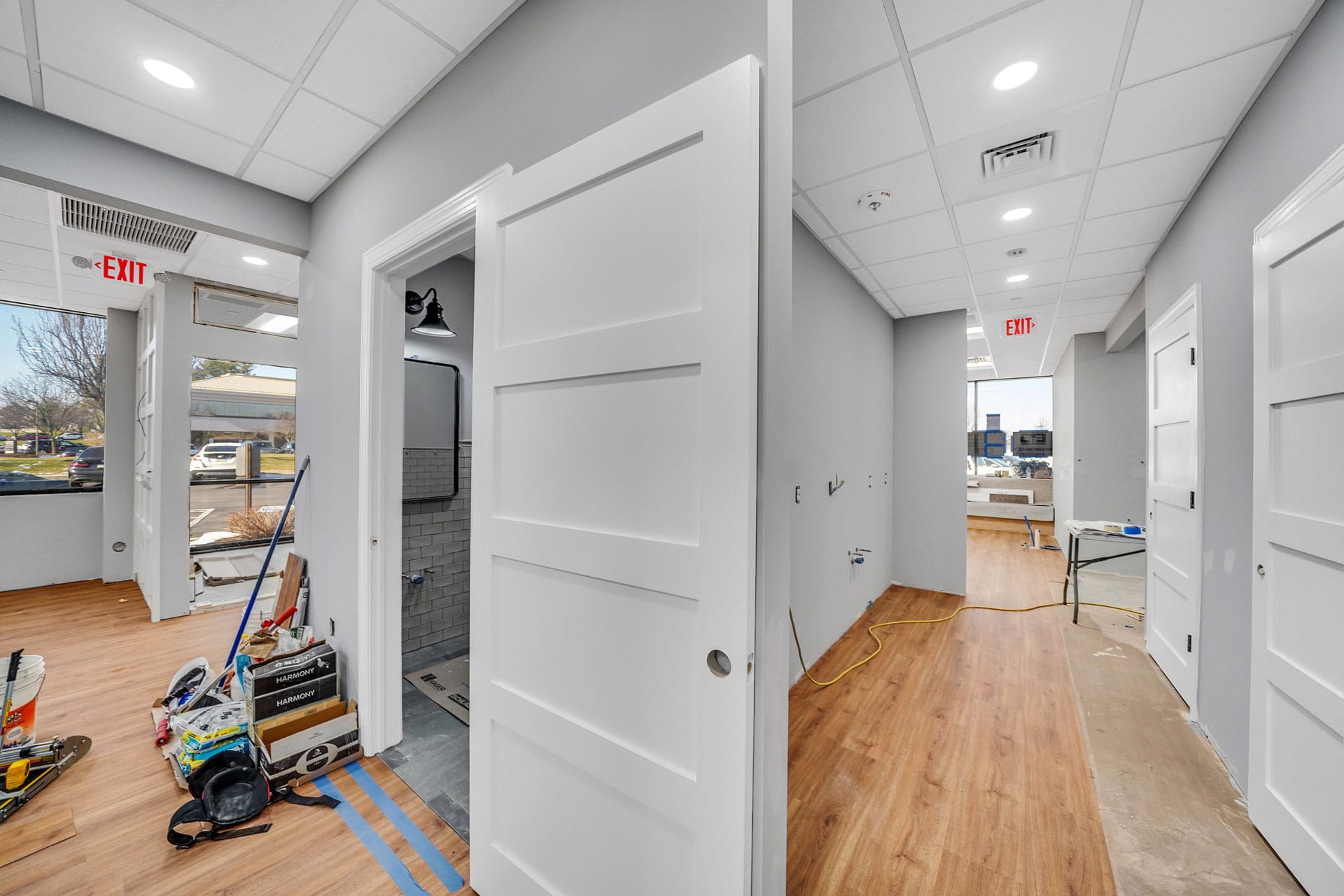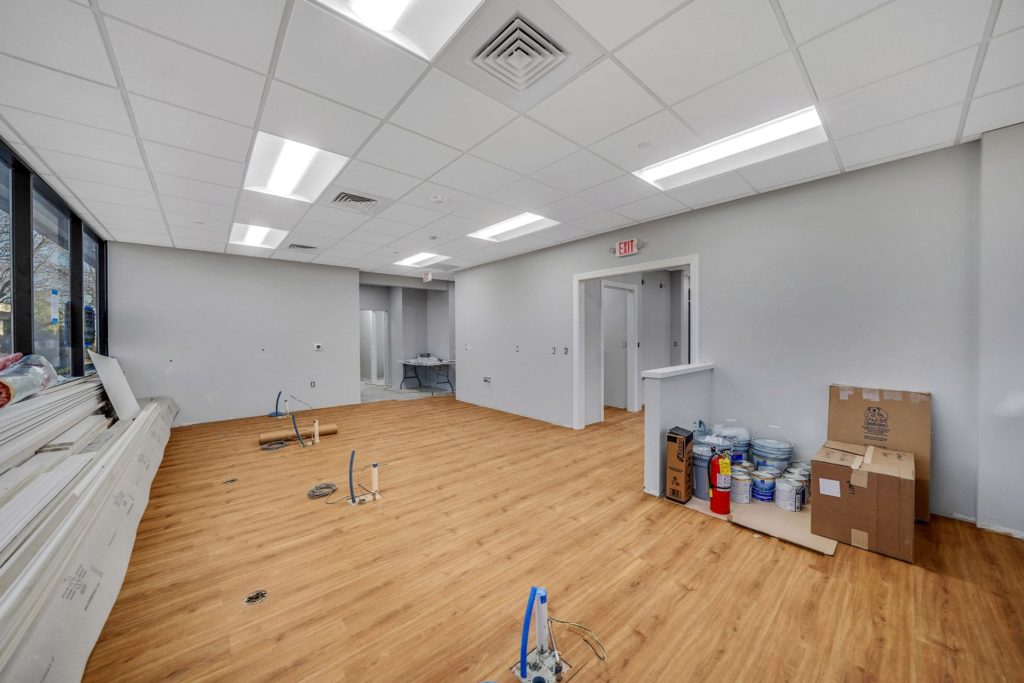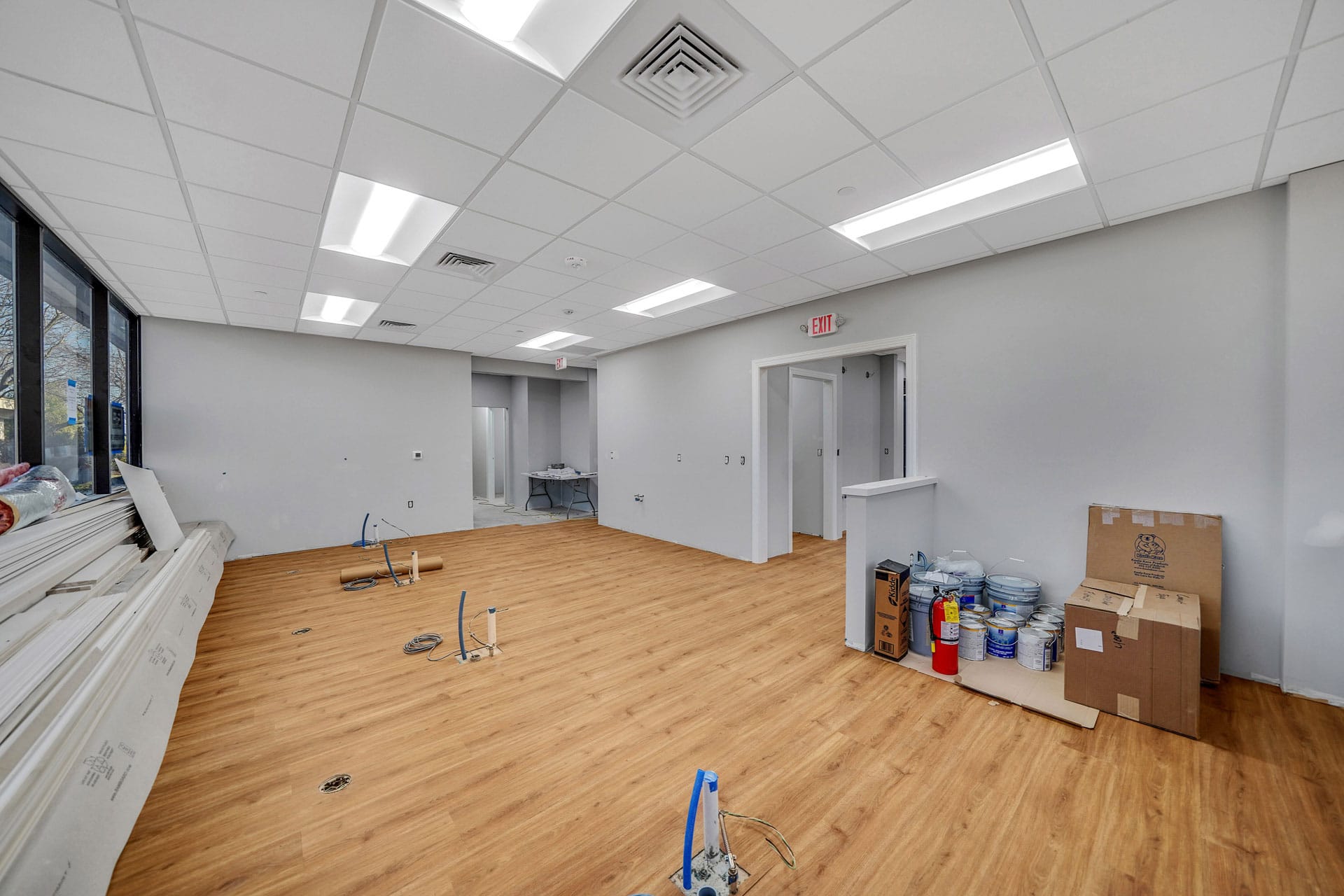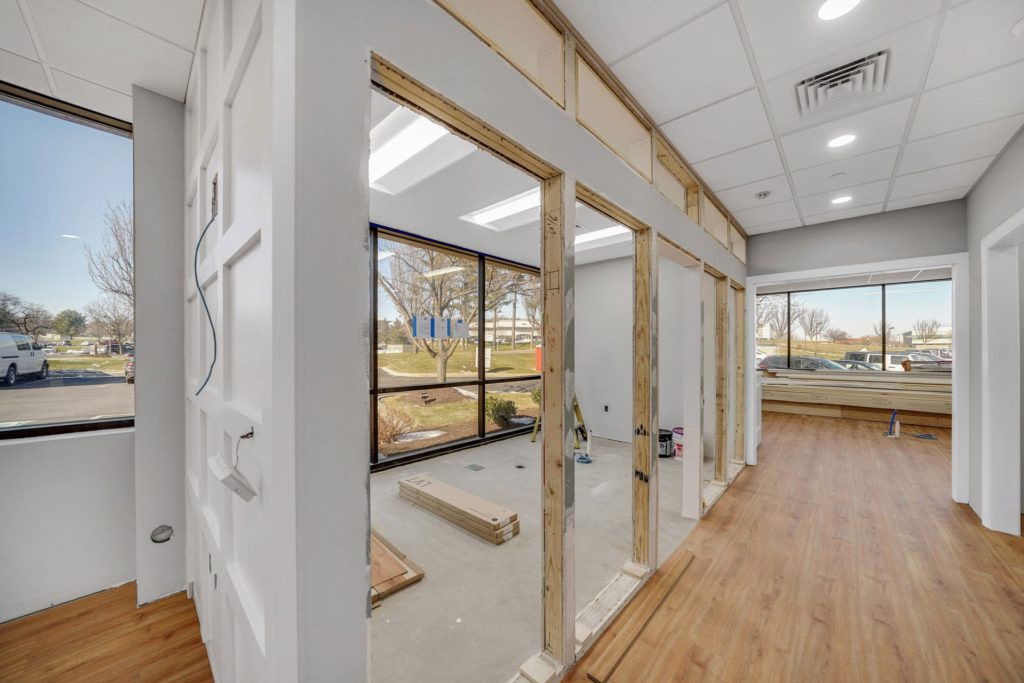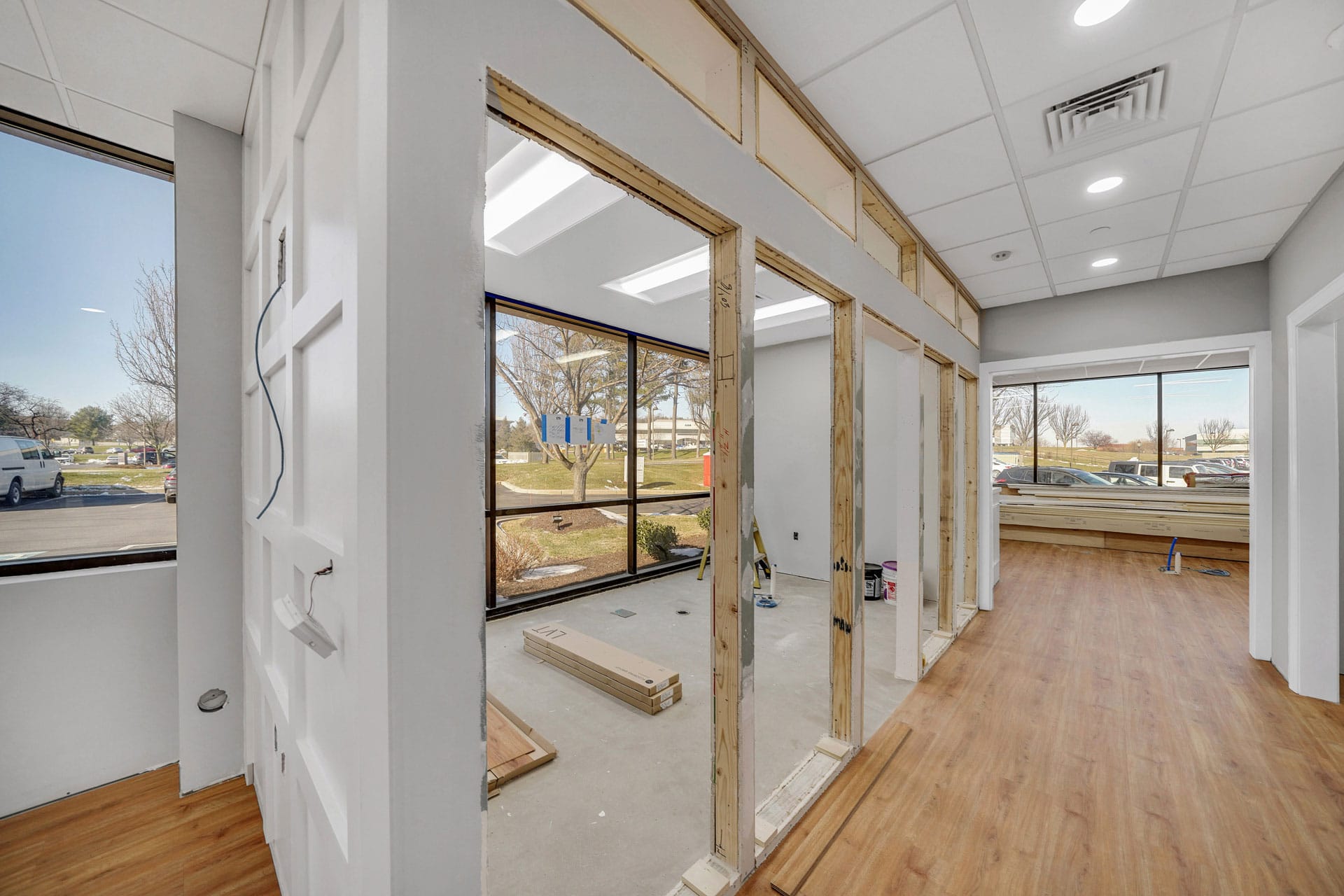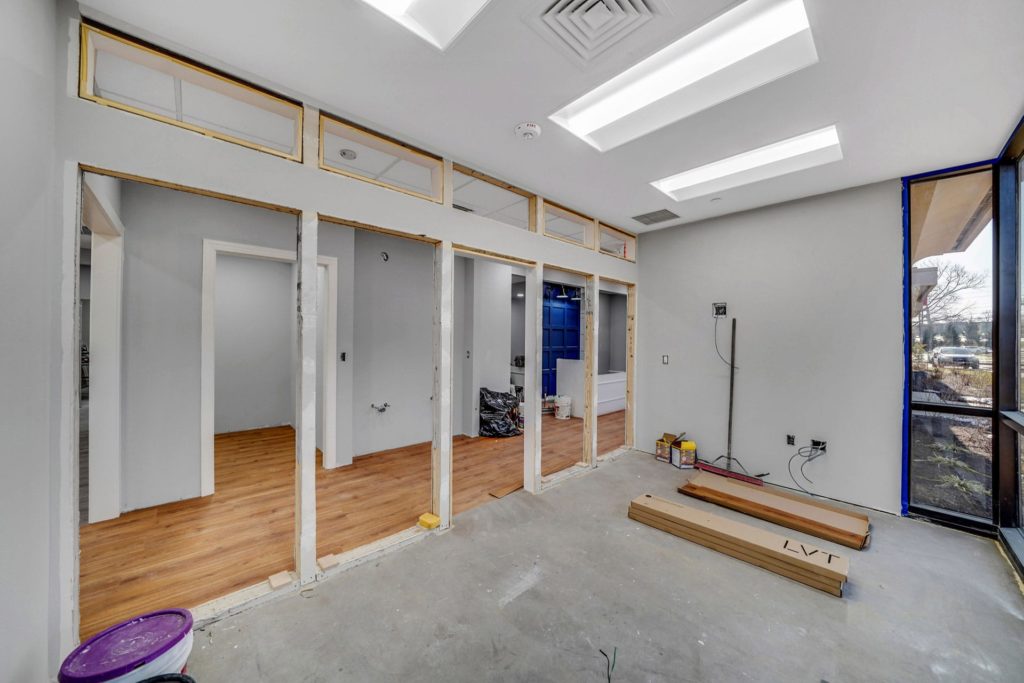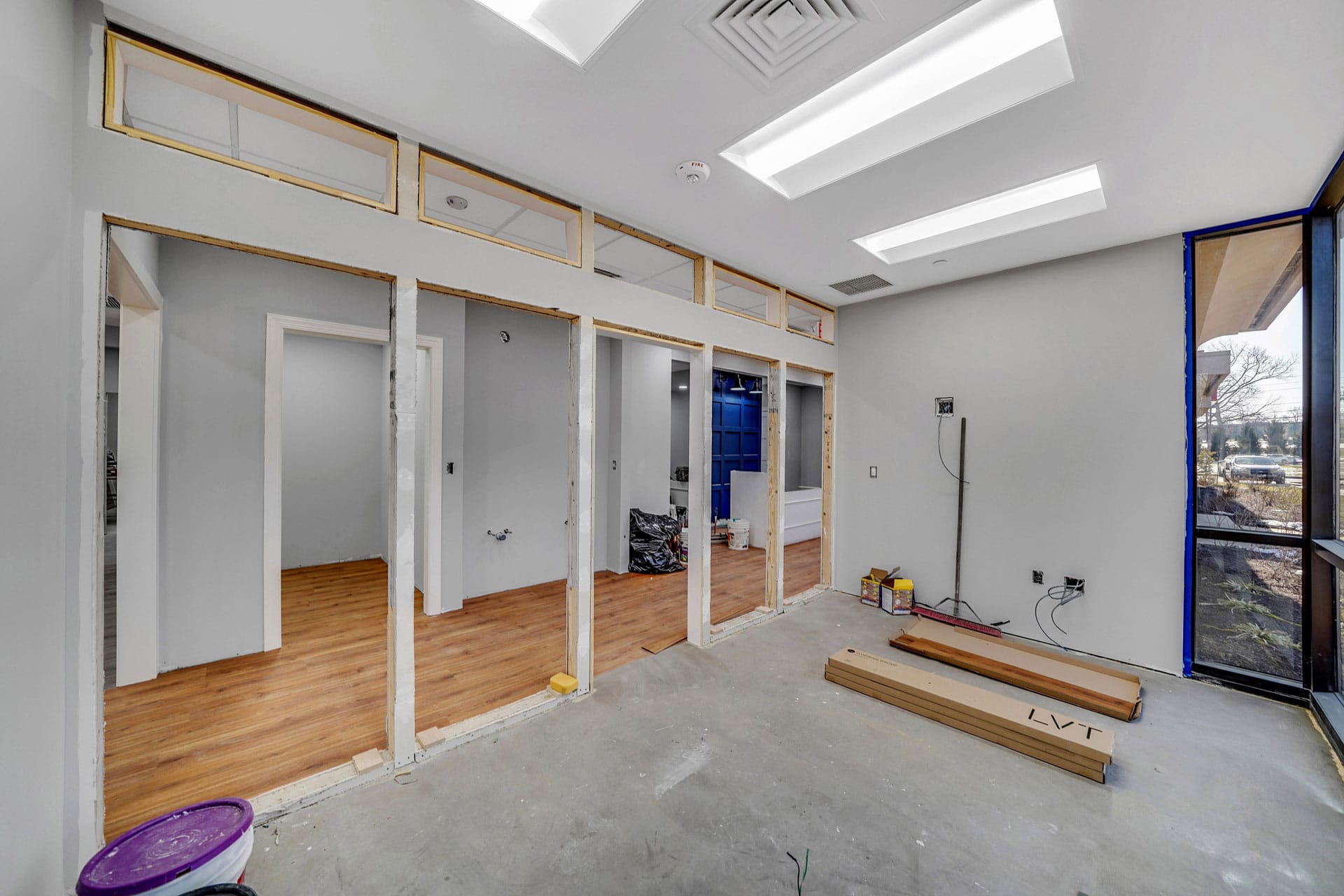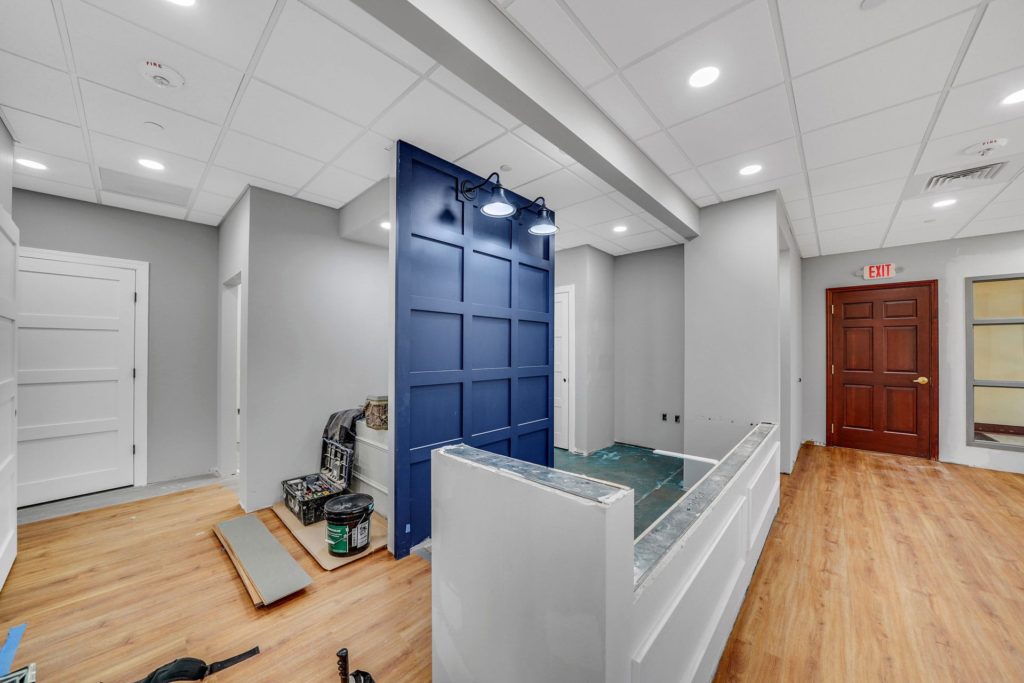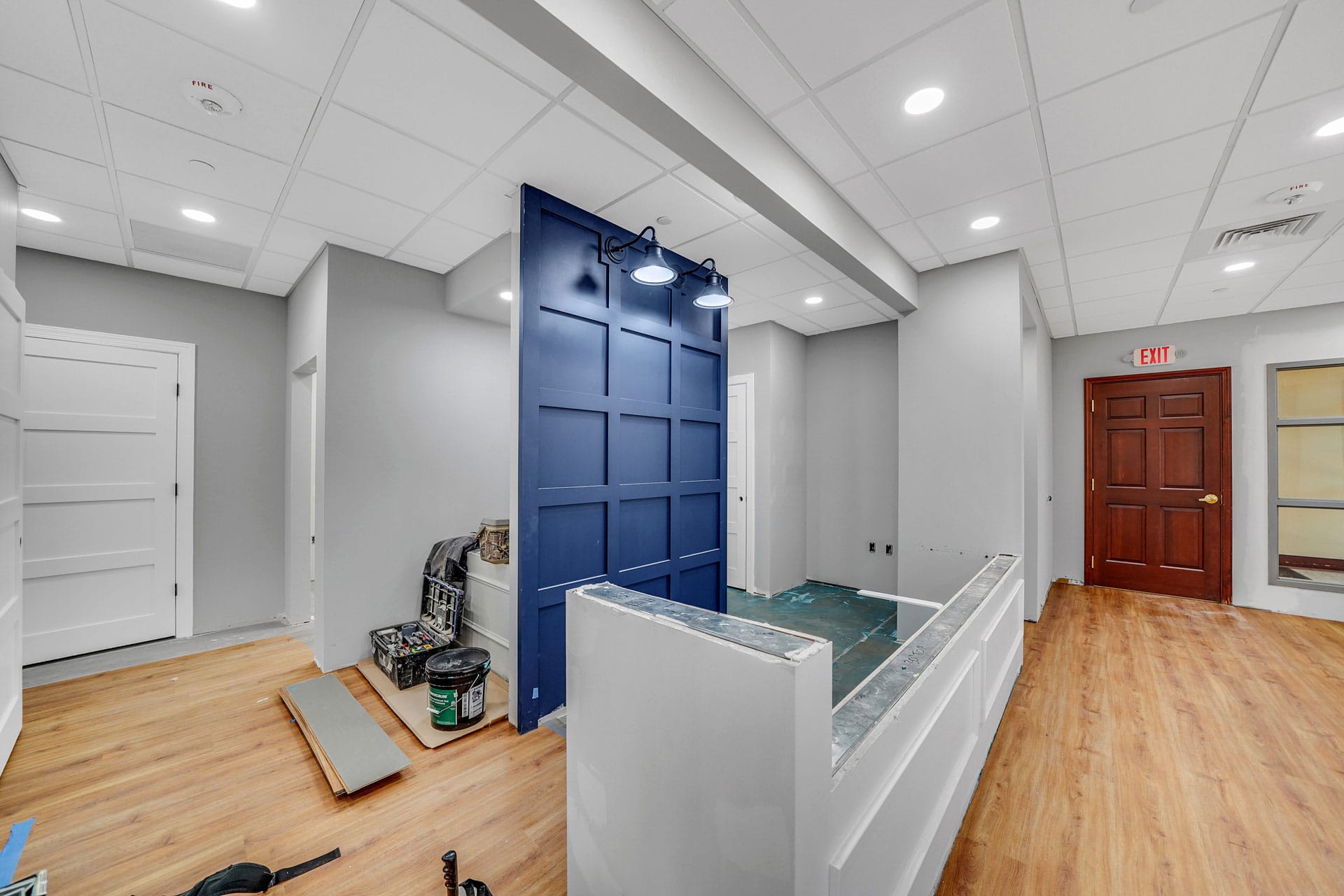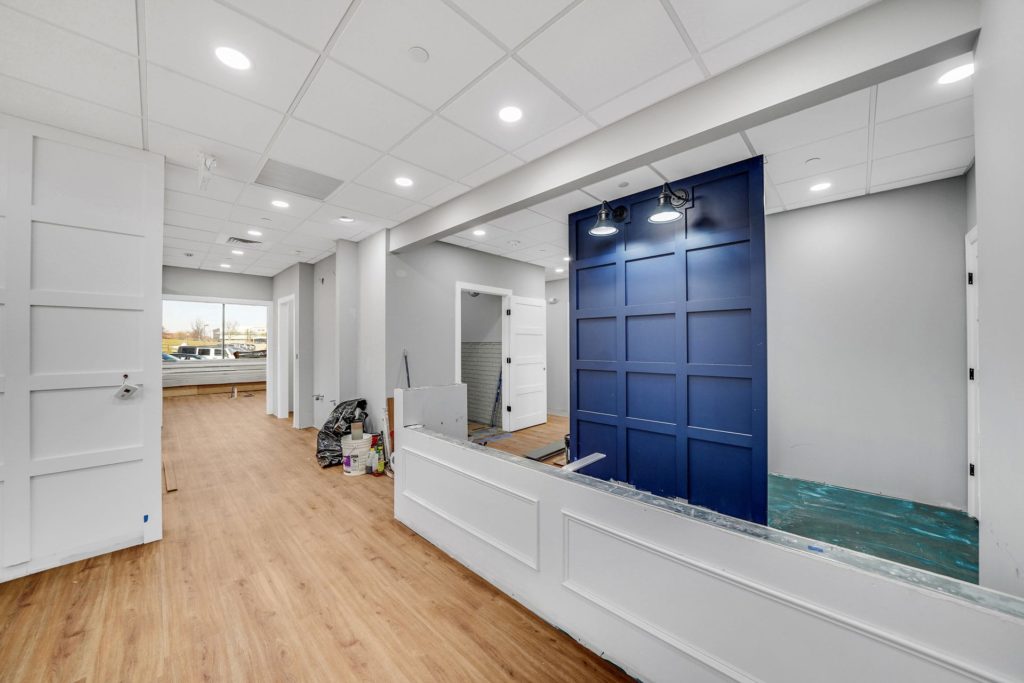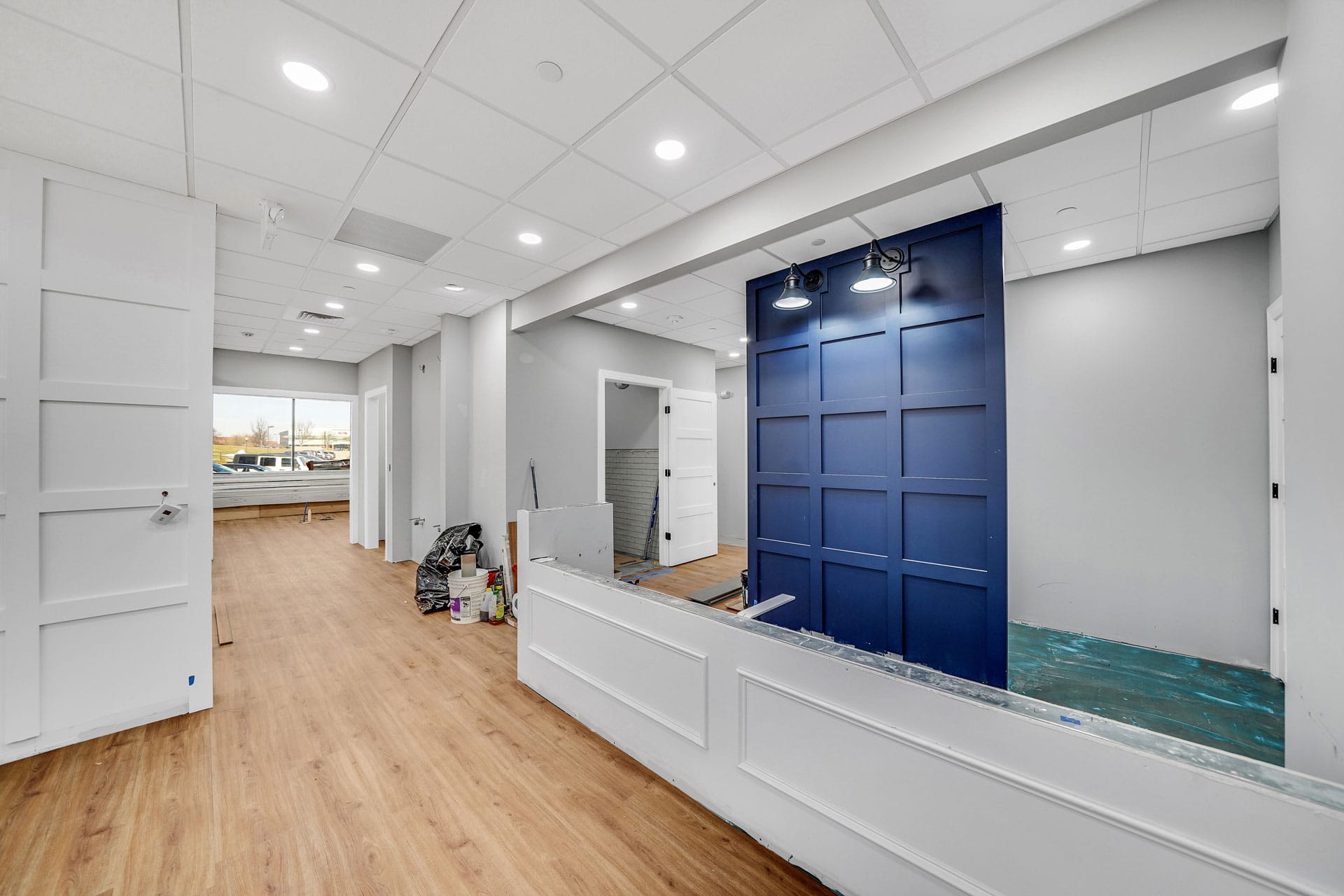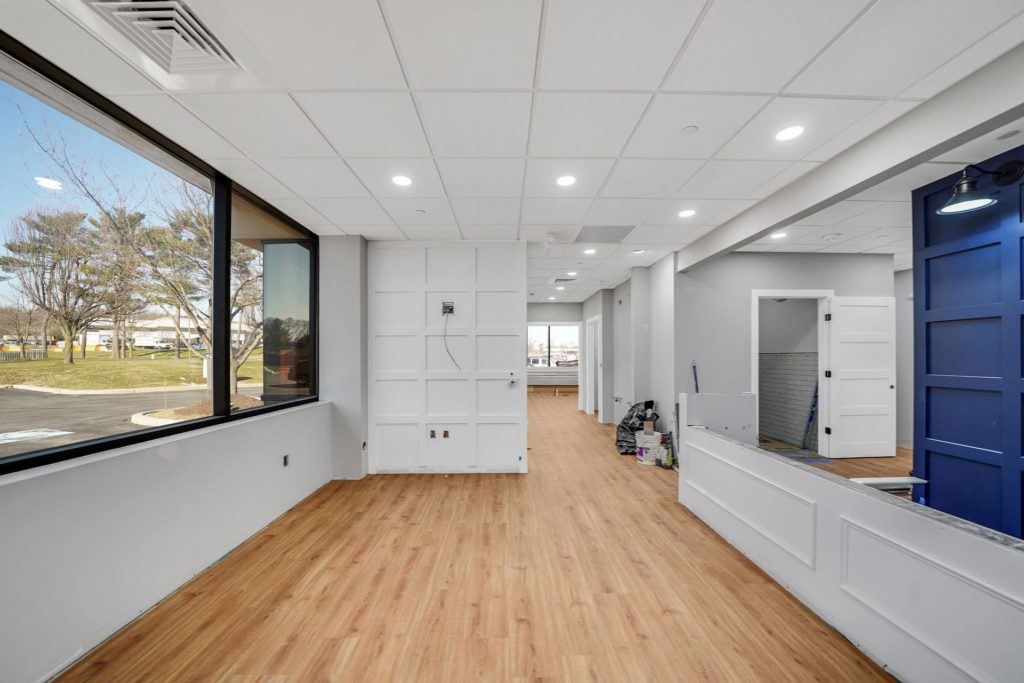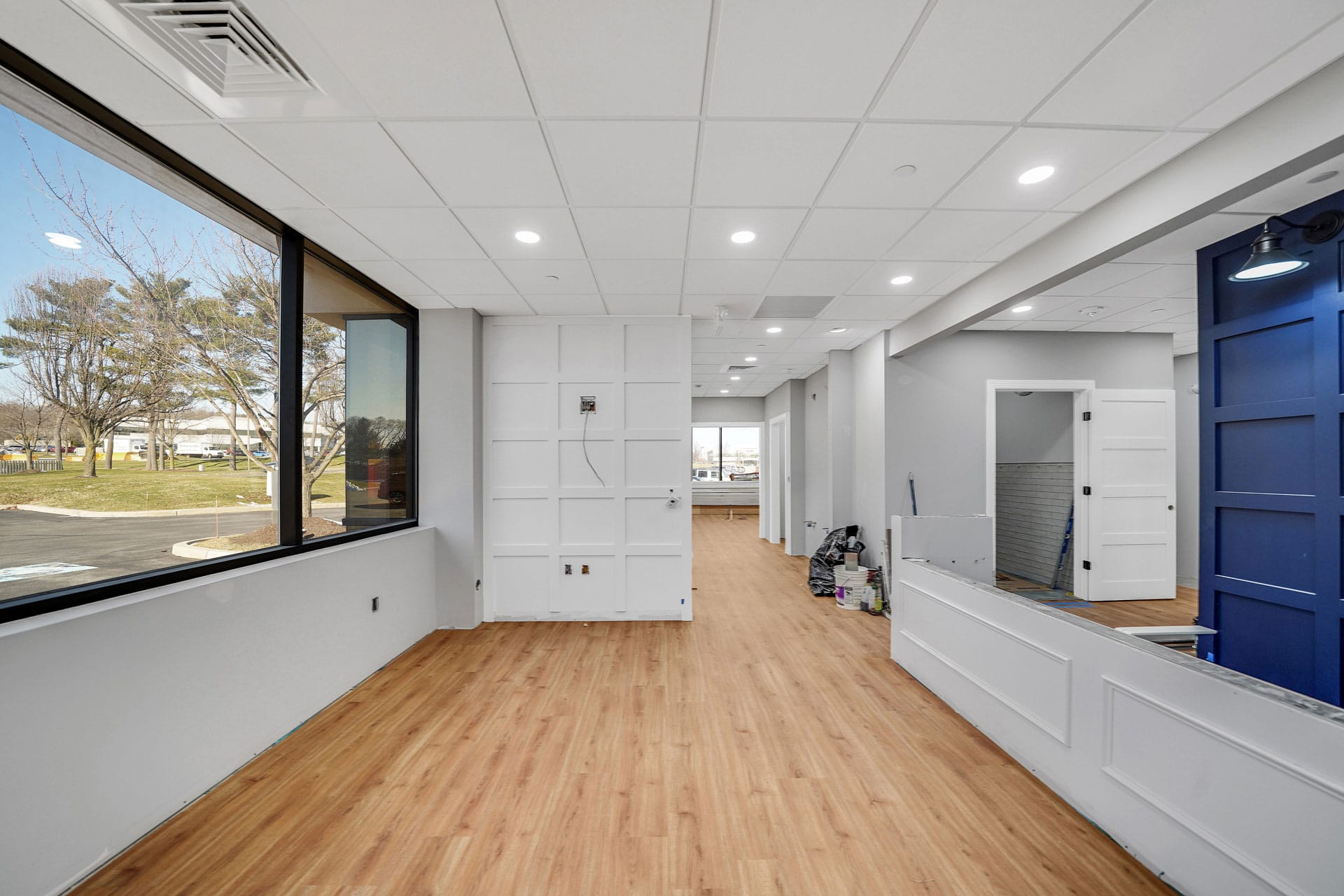 From Rendering to Reality
One of Molly's favorite parts of the construction process was meeting with the subcontractors and seeing how all of the little pieces fit together to start making her vision come to life. Molly's husband, Kyle, enjoyed seeing the progress made every single day and how each small step got them a little closer to the beautiful finish!
"Honestly, Kyle was the most involved with the entire process. He is amazing! This wouldn't have happened without his hard work and dedication, and I am forever grateful for that," Molly says. "Kyle was very hands-on throughout the entire process, and D&B was amazing at staying on schedule and keeping us informed."
Molly and Kyle had known of D&B through friends. "We knew they had done amazing work with different offices, and honestly, we had the most amazing experience with D&B. I can't imagine having it go any better. The amount of detail and communication they had with us was unmatched. I was so impressed with how thorough they were and how well they kept us in the loop and on schedule. My husband and I already talk about how we will use their residential services for our home project when that time comes. In fact, my co-resident even used D&B's Philadelphia office to renovate his office after our experience," says Molly.
Once construction was complete after just five months, Molly was moved in and all ready to go in less than a week! She was in disbelief when she first saw her new office space. "I felt like 'WOW! No way is this mine. It's here. It's done. It's better than I could have imagined,'" recalls Molly.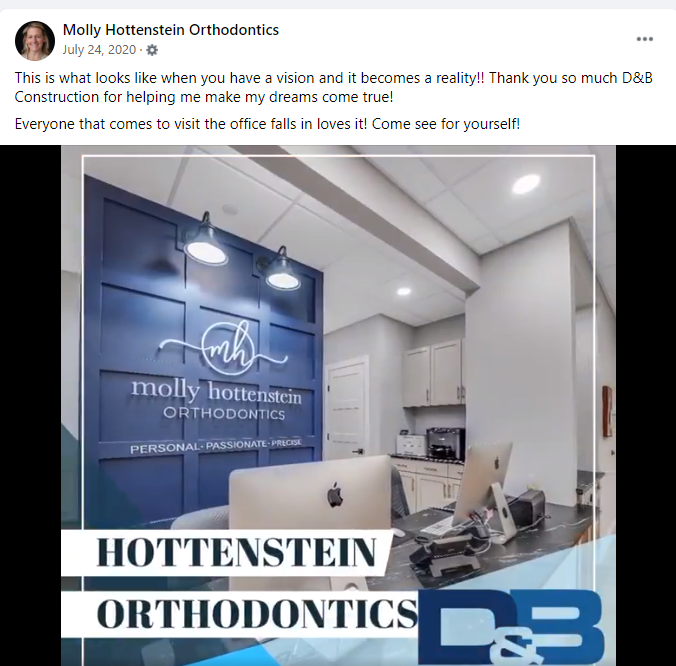 A Little Grit Goes A Long Way
After nine weeks of being closed, Molly and her team were able to open up their office and enjoy the new space! Although they weren't able to have the two grand openings they had been planning and many things they originally envisioned did not look exactly the same due to safety precautions, they were thrilled to be starting this chapter in their new office.
"The team has really grown into the space and gotten into a groove with our patients," says Molly, who has two favorite spaces throughout the office. She loves her doctor's perch because it allows her to be totally present with all of her patients, while also being available to her staff and still able to get work done. Another favorite spot is the consult room, which is the first space that families see. "I am absolutely obsessed with the windows," exclaims Molly. They remind her of her time in college at Villanova. It was here that she fell in love with the beautiful side sun rooms that all of the older Main Line homes had. "I've wanted that look so bad since then, and we made that happen in the office. People LOVE it!"
With confidence Molly reports that "within the first five minutes of arriving, 99% of patients will comment on how much they love the office. They love how inviting, clean and homey it feels. People even take pictures for inspiration for their own projects!" Molly's patients love the farmhouse sinks at the toothbrush station, and parents tend to love the bench at the foot of the clinic chairs because it allows them to enjoy the view outside the window. "We also always get comments on the colors and the counters… Everyone just says it has a good feel."
Katelyn, Head Orthodontic Assistant, and Lyn, Patient Coordinator, appreciate the hominess of the office, just as the patients do. They describe the office as their "home away from home," both feeling so comfortable at the office that they almost feel like they are at home and not at work. The beautiful space definitely makes it easier for them to not dread coming to work!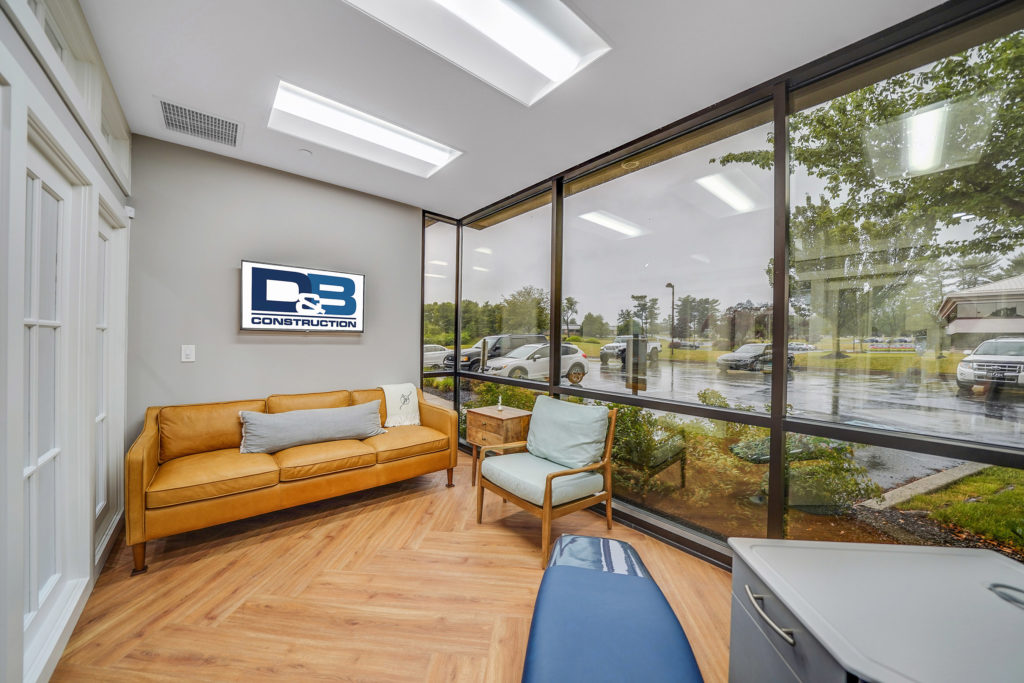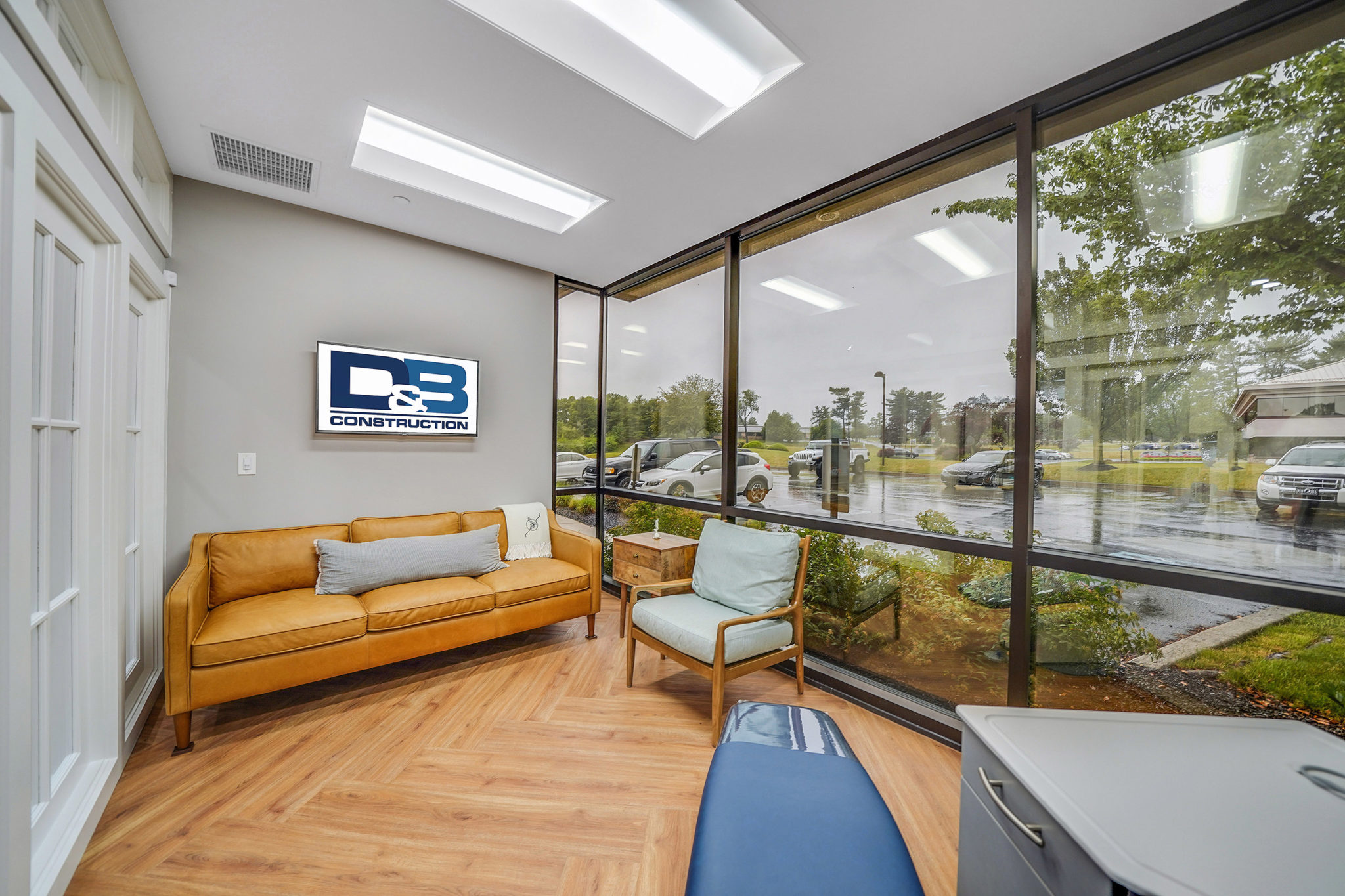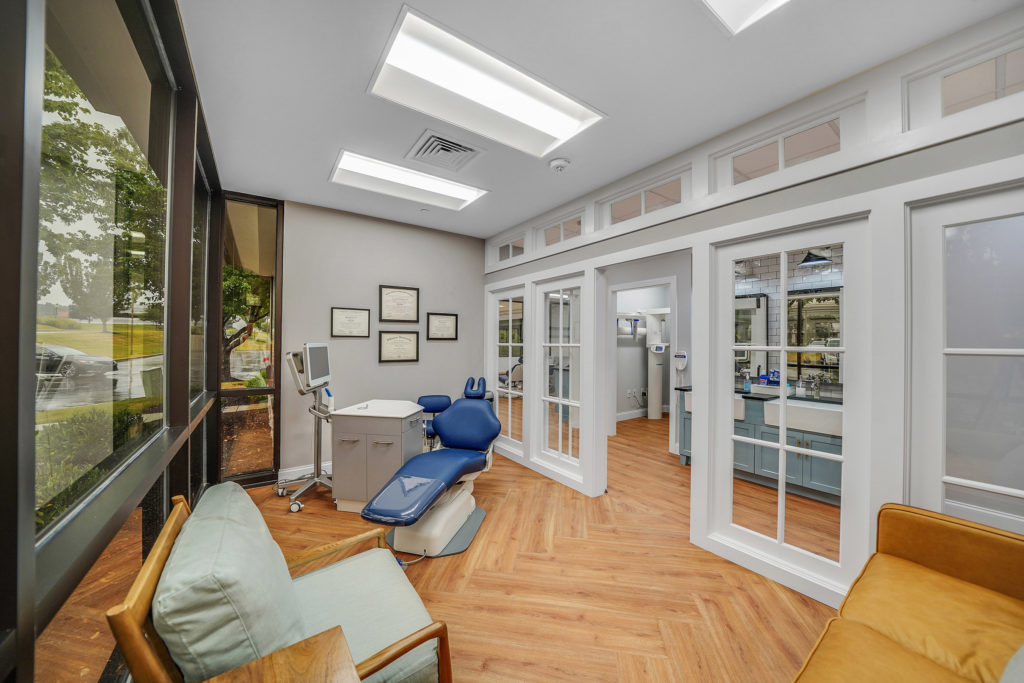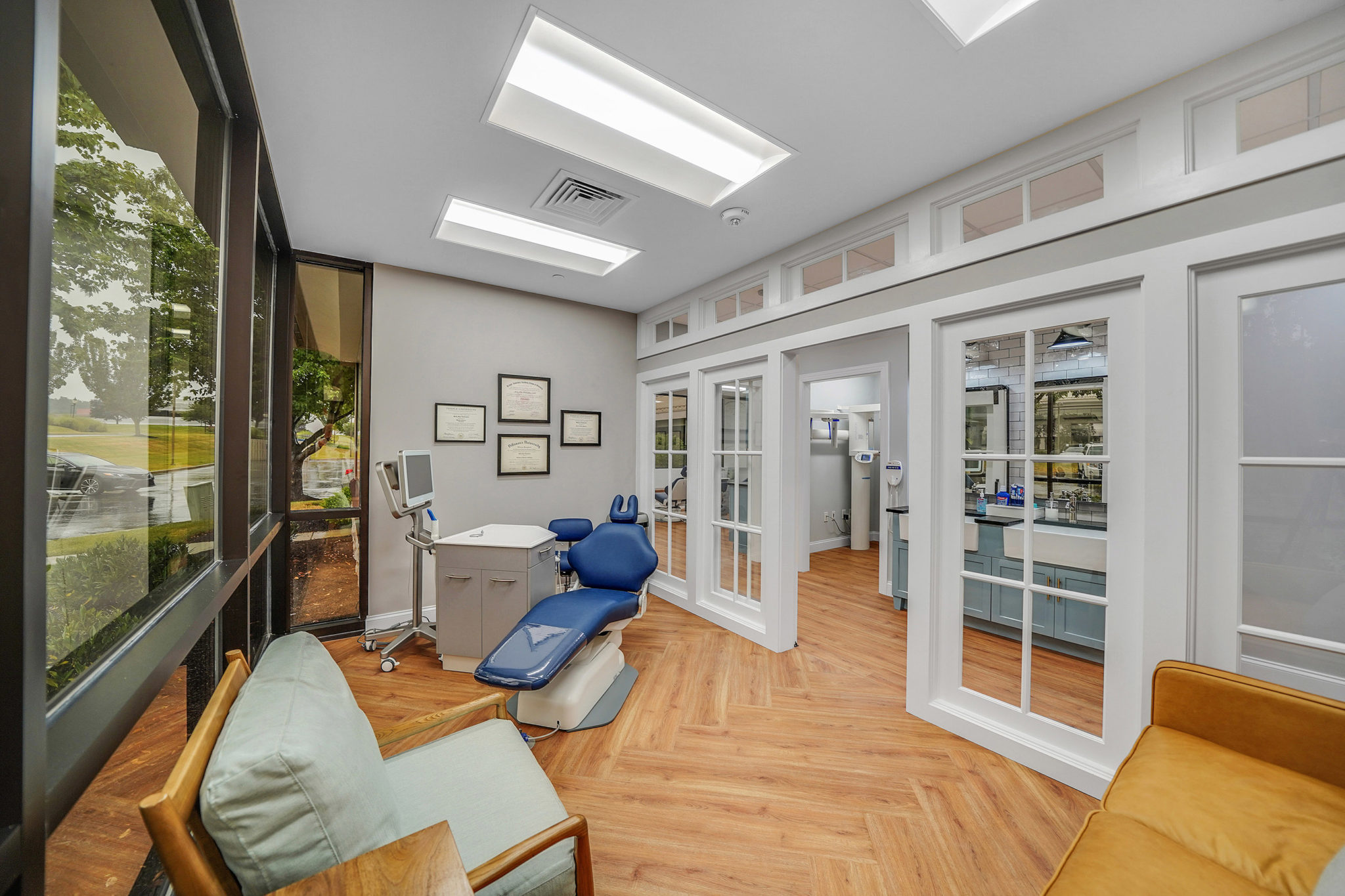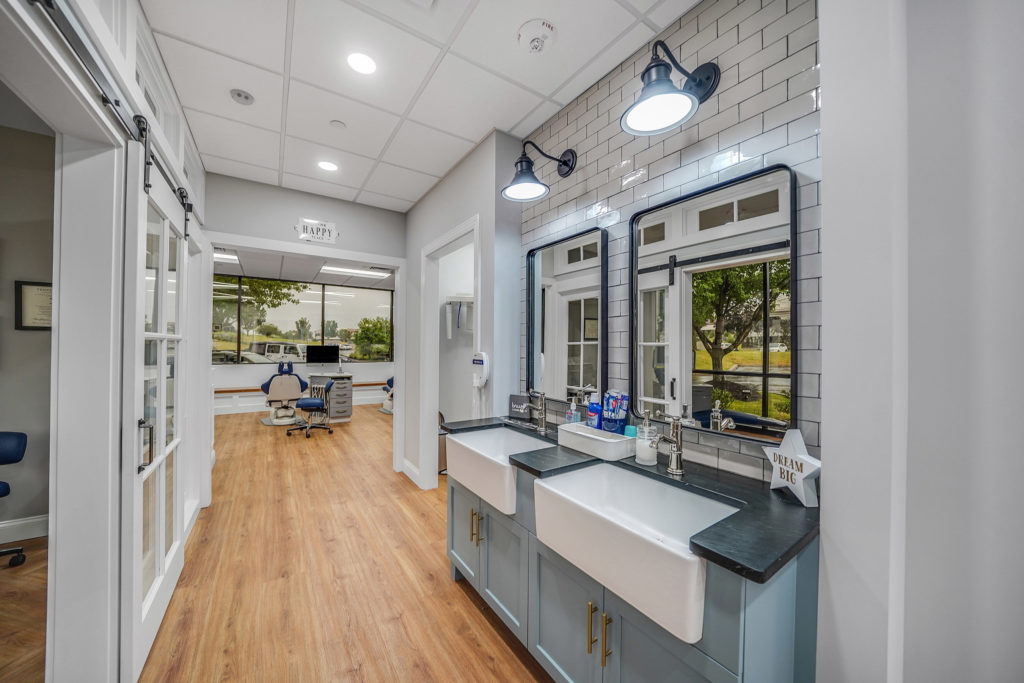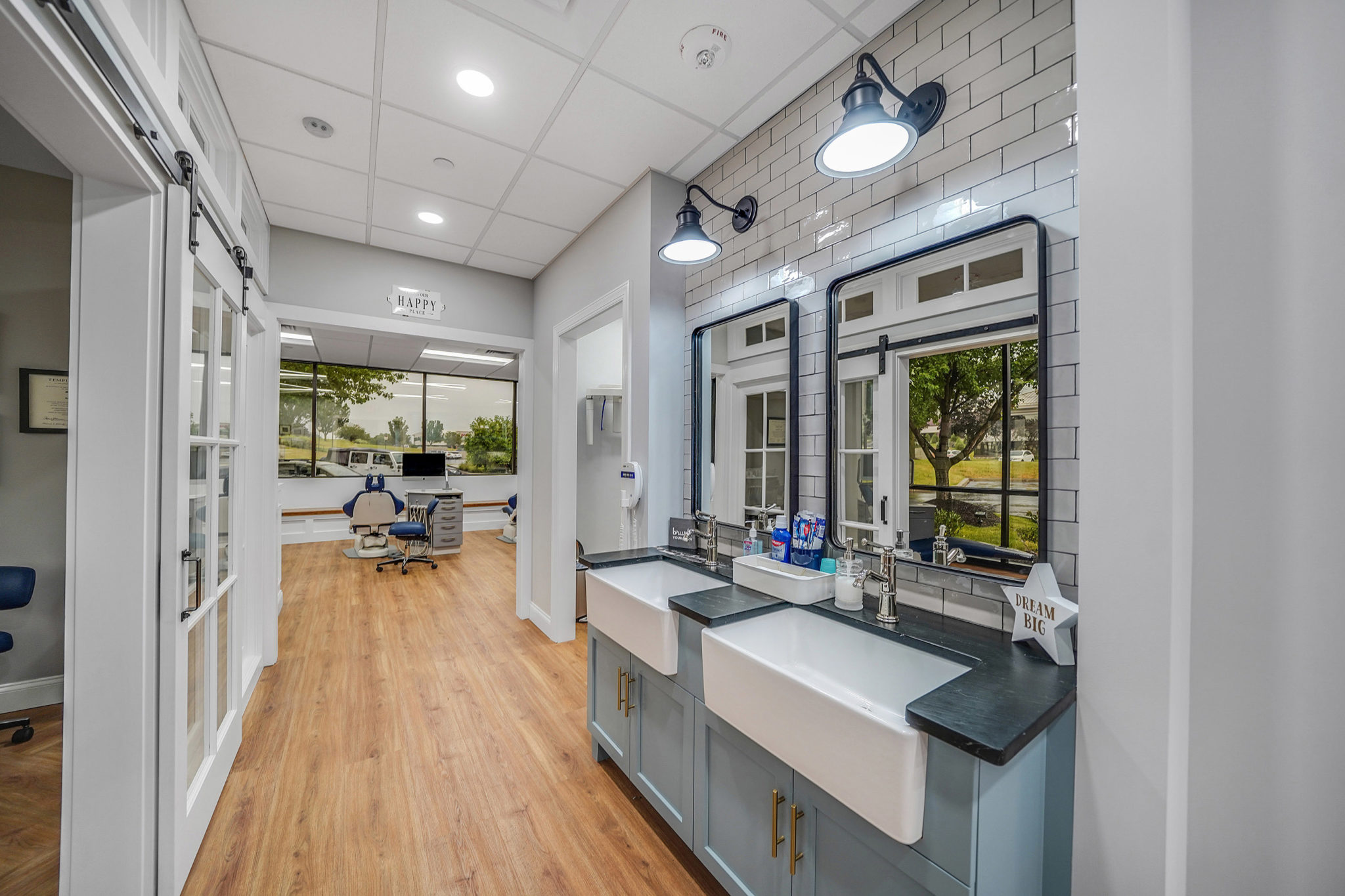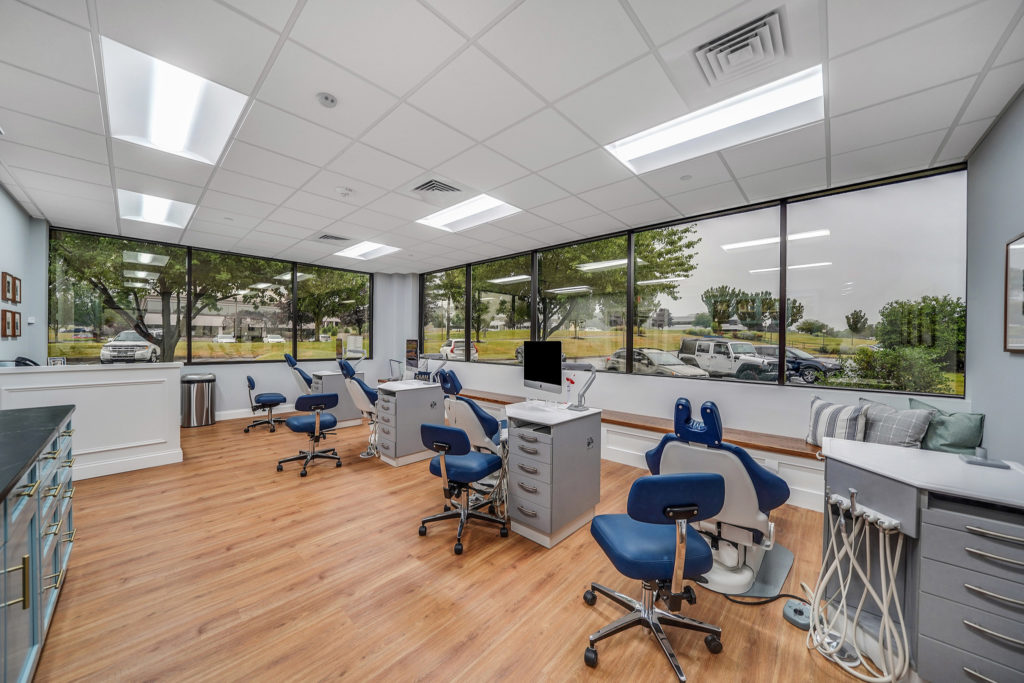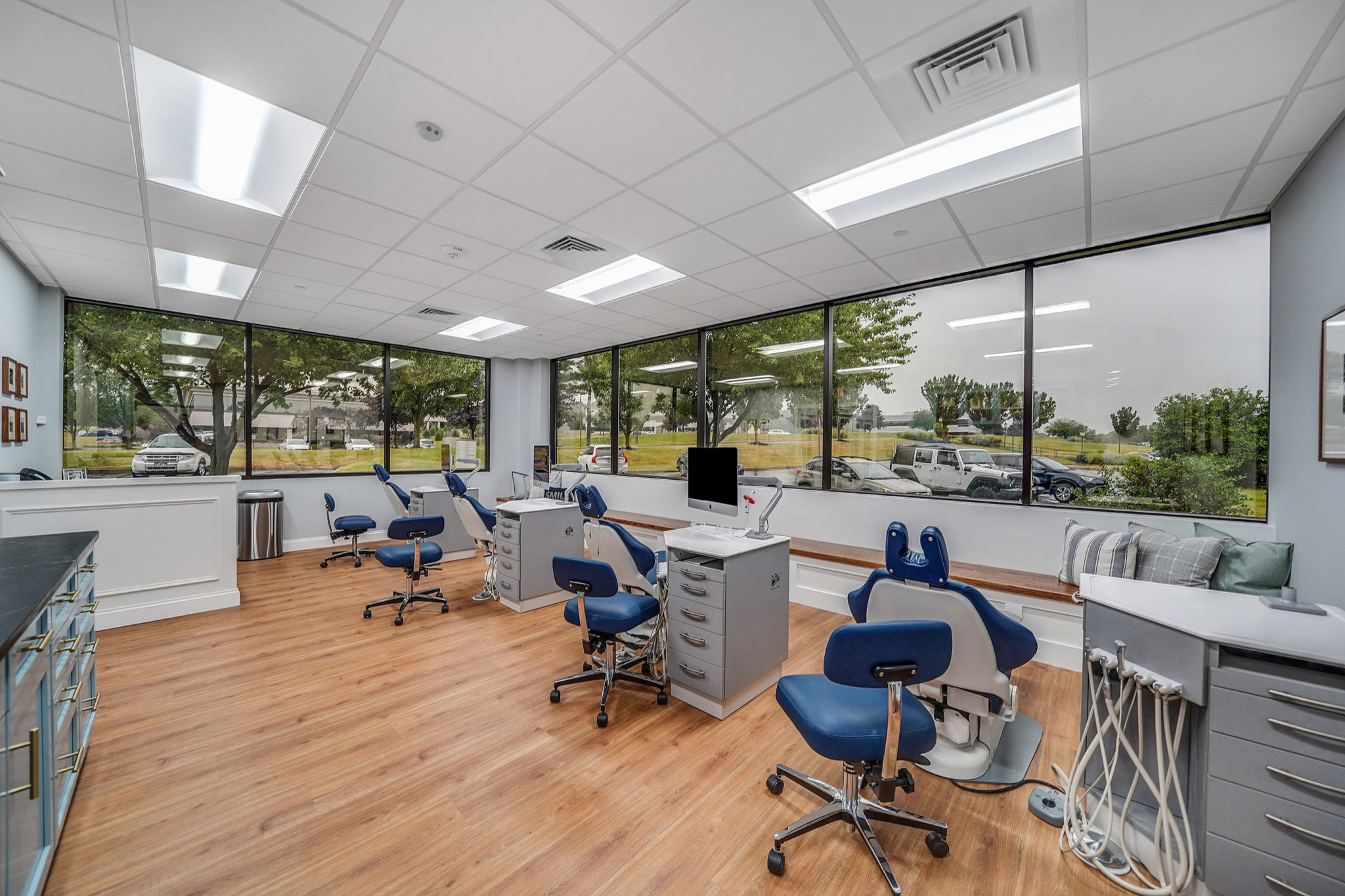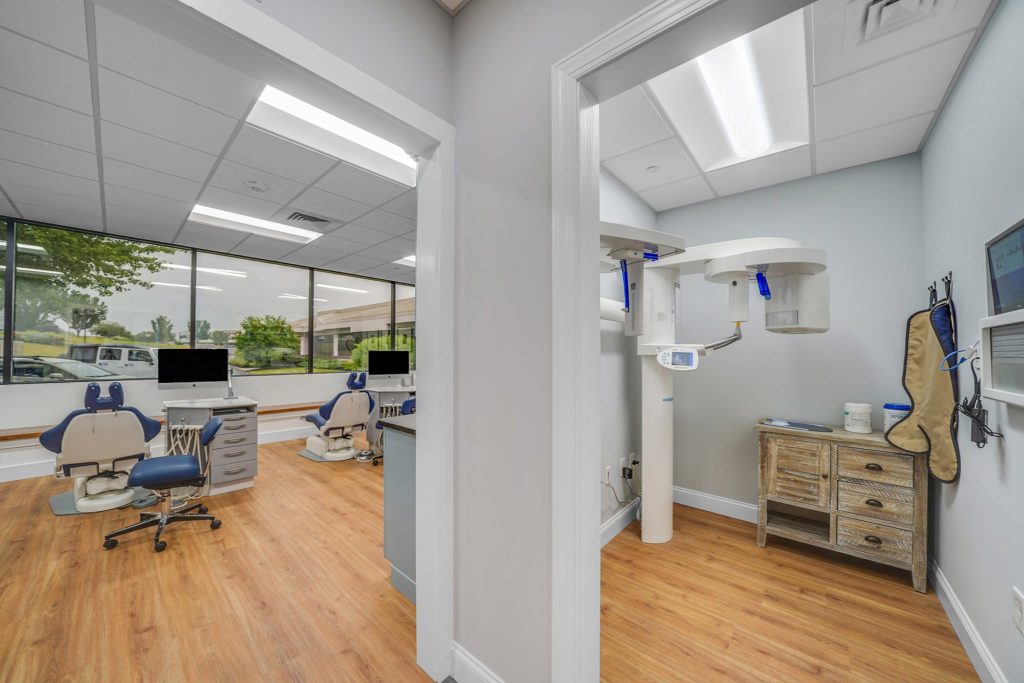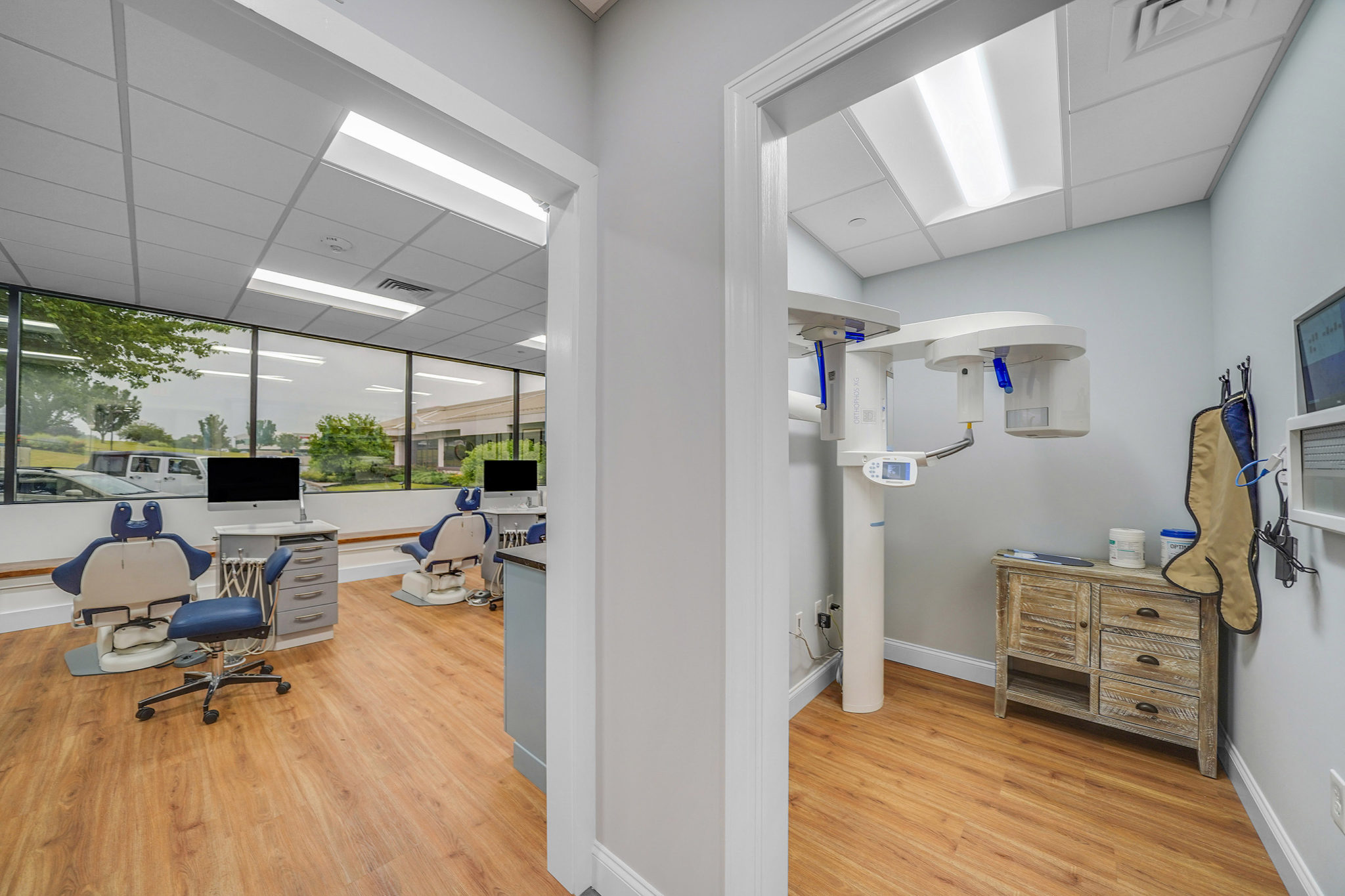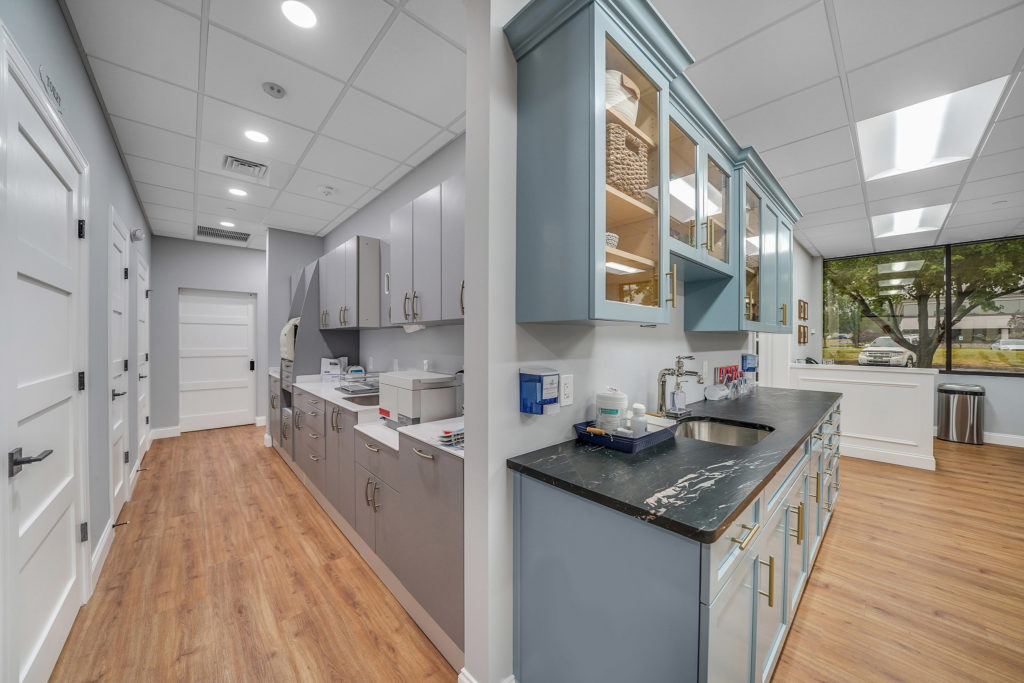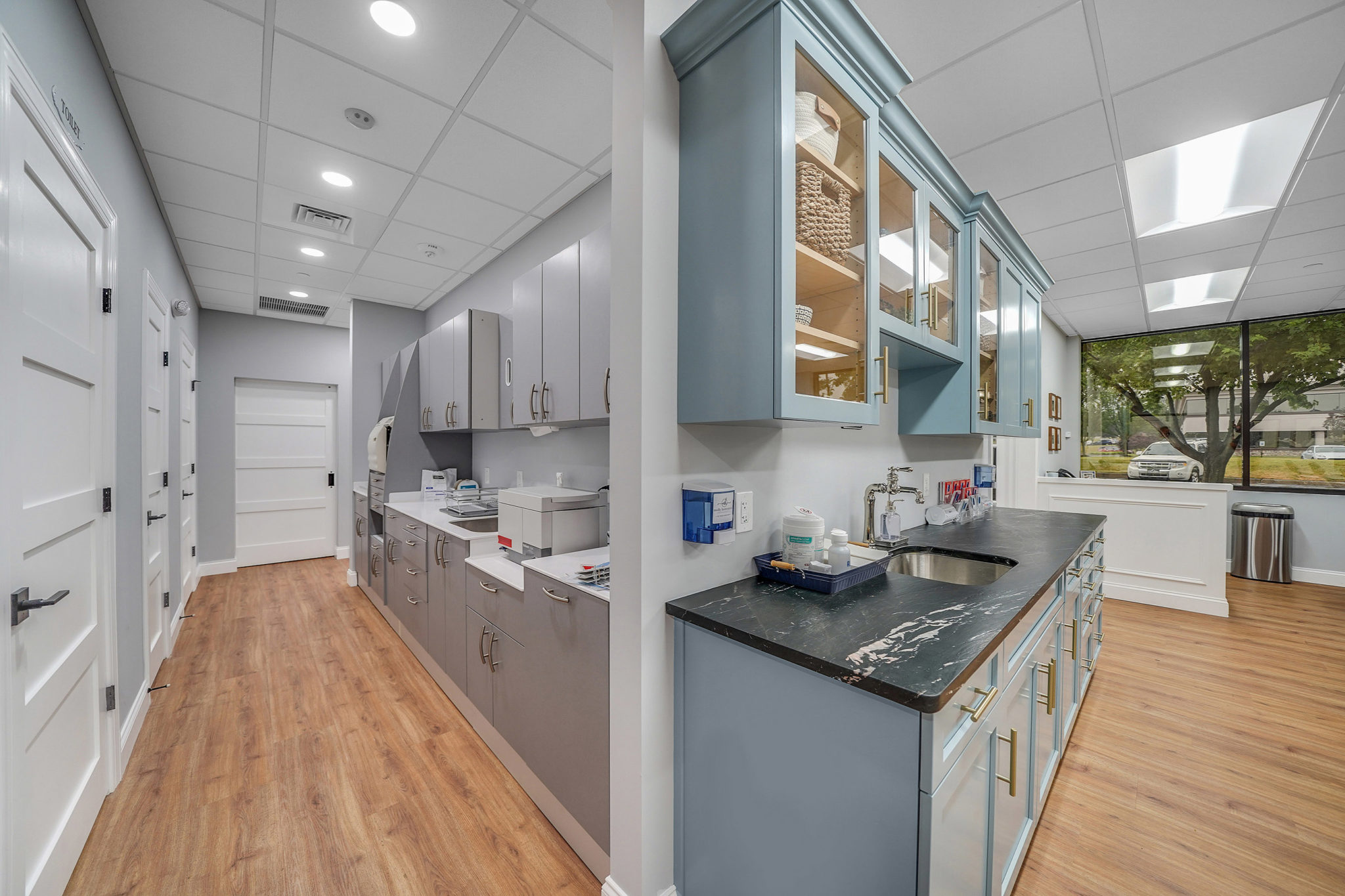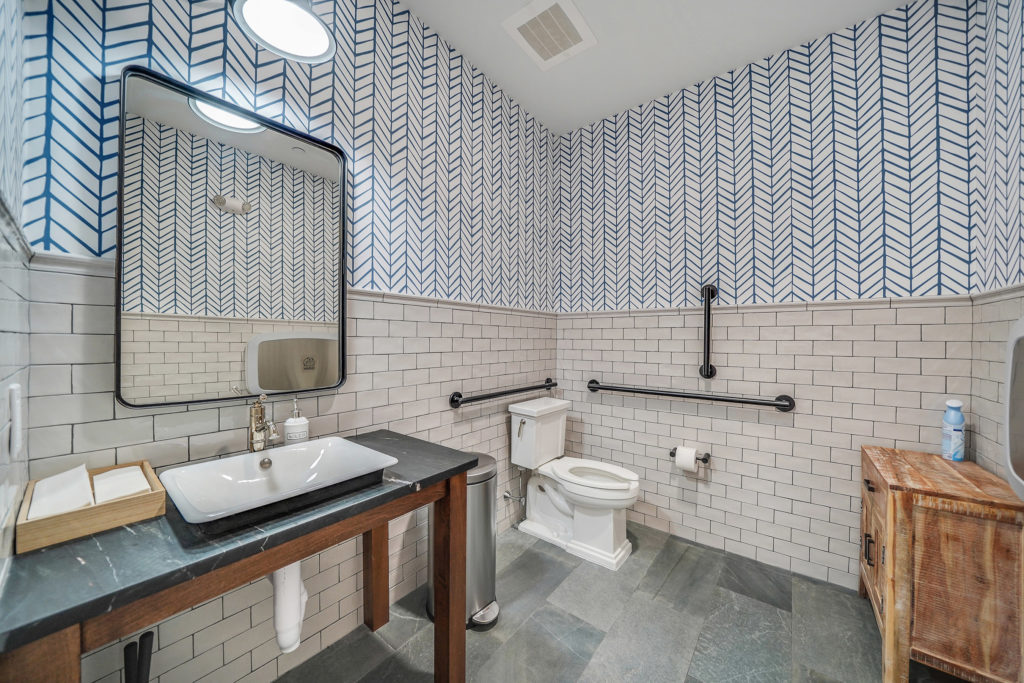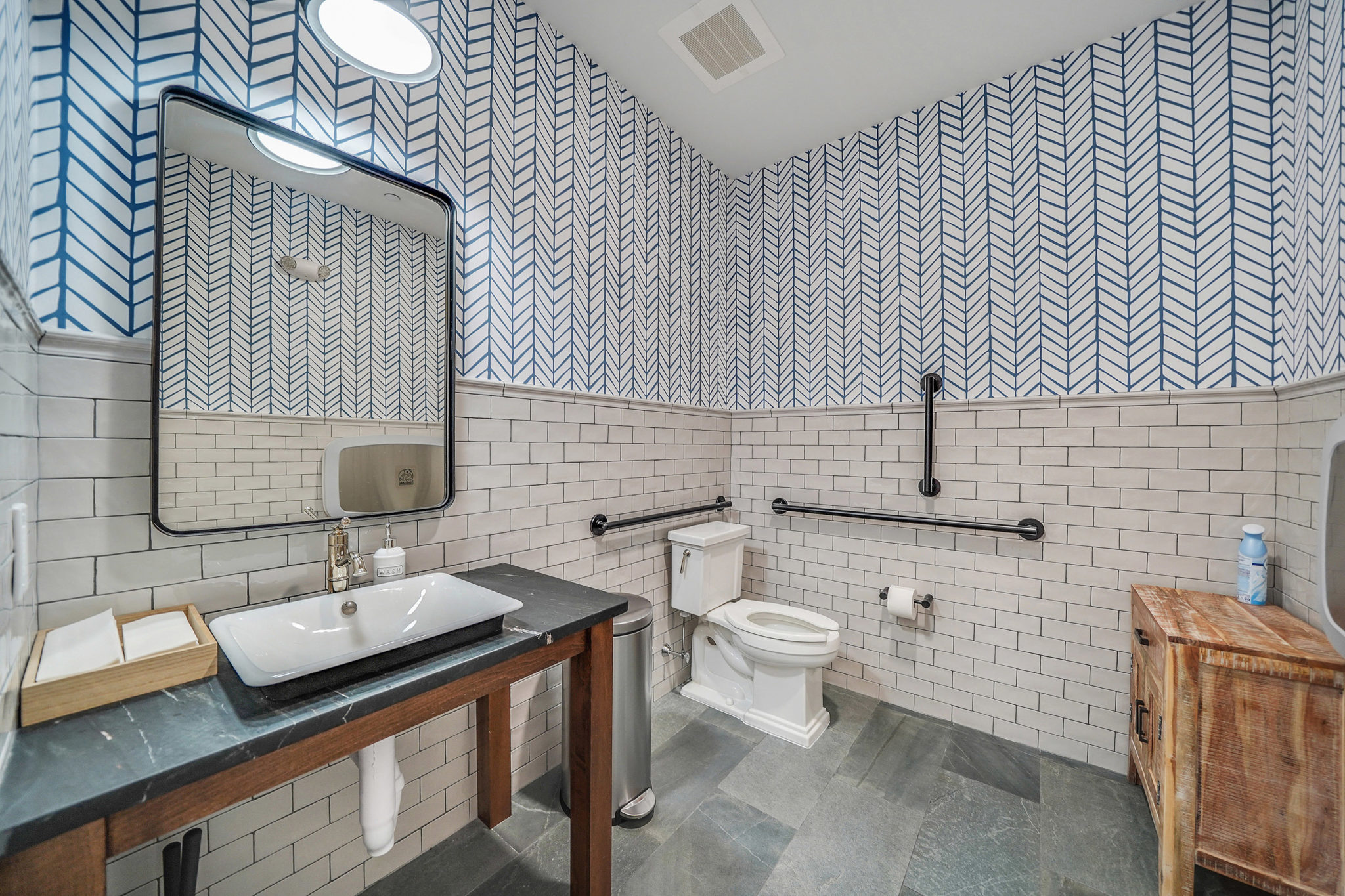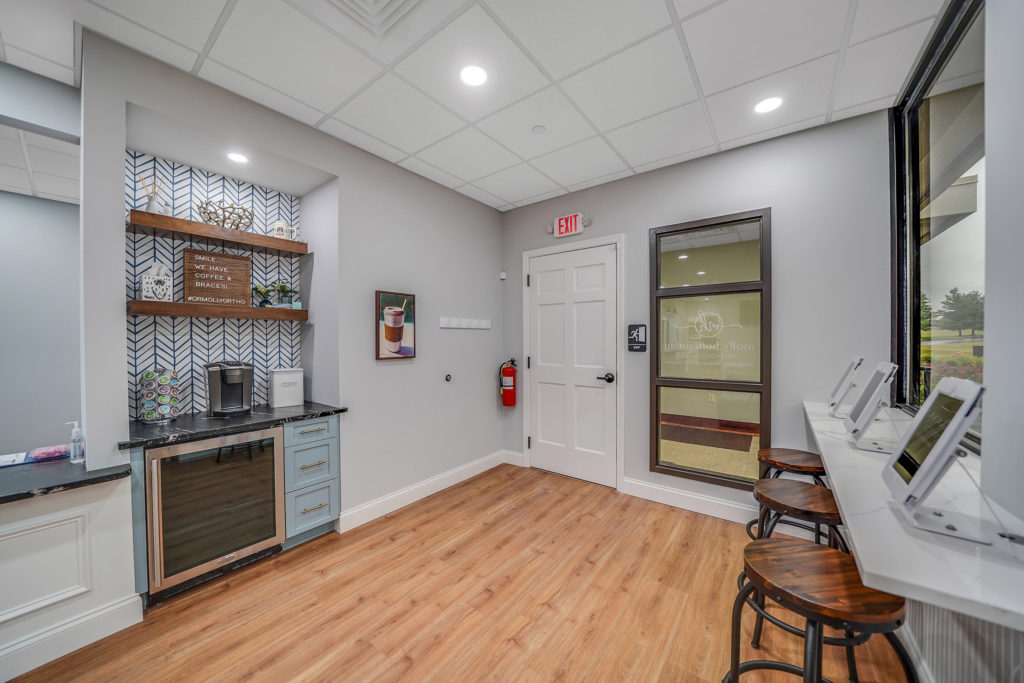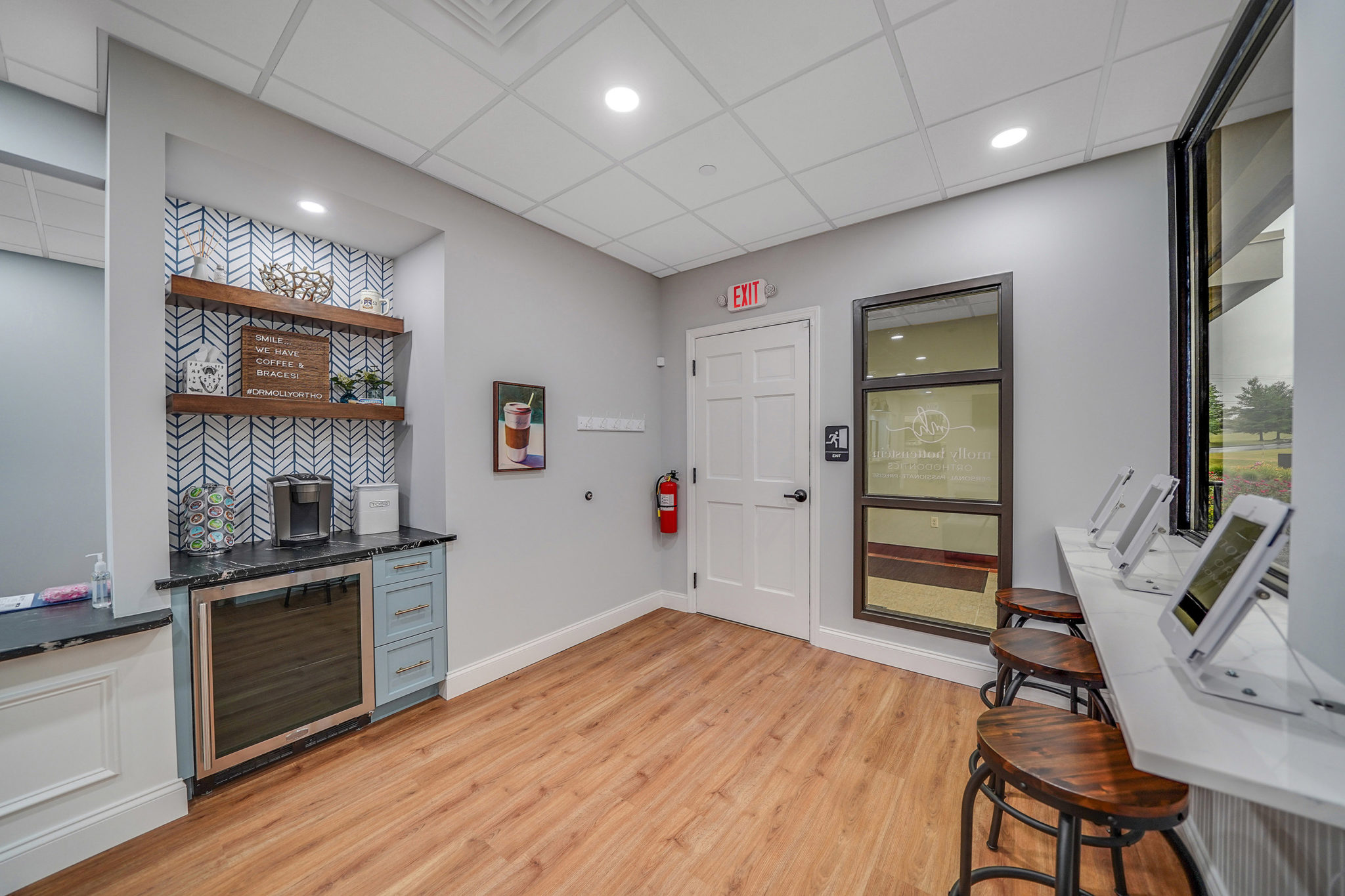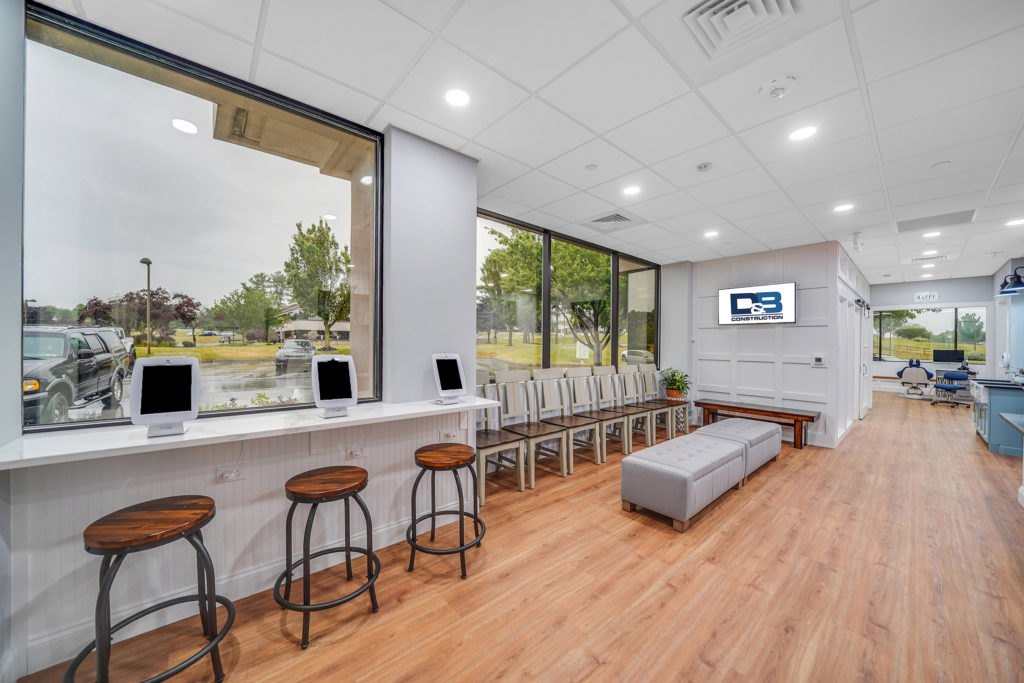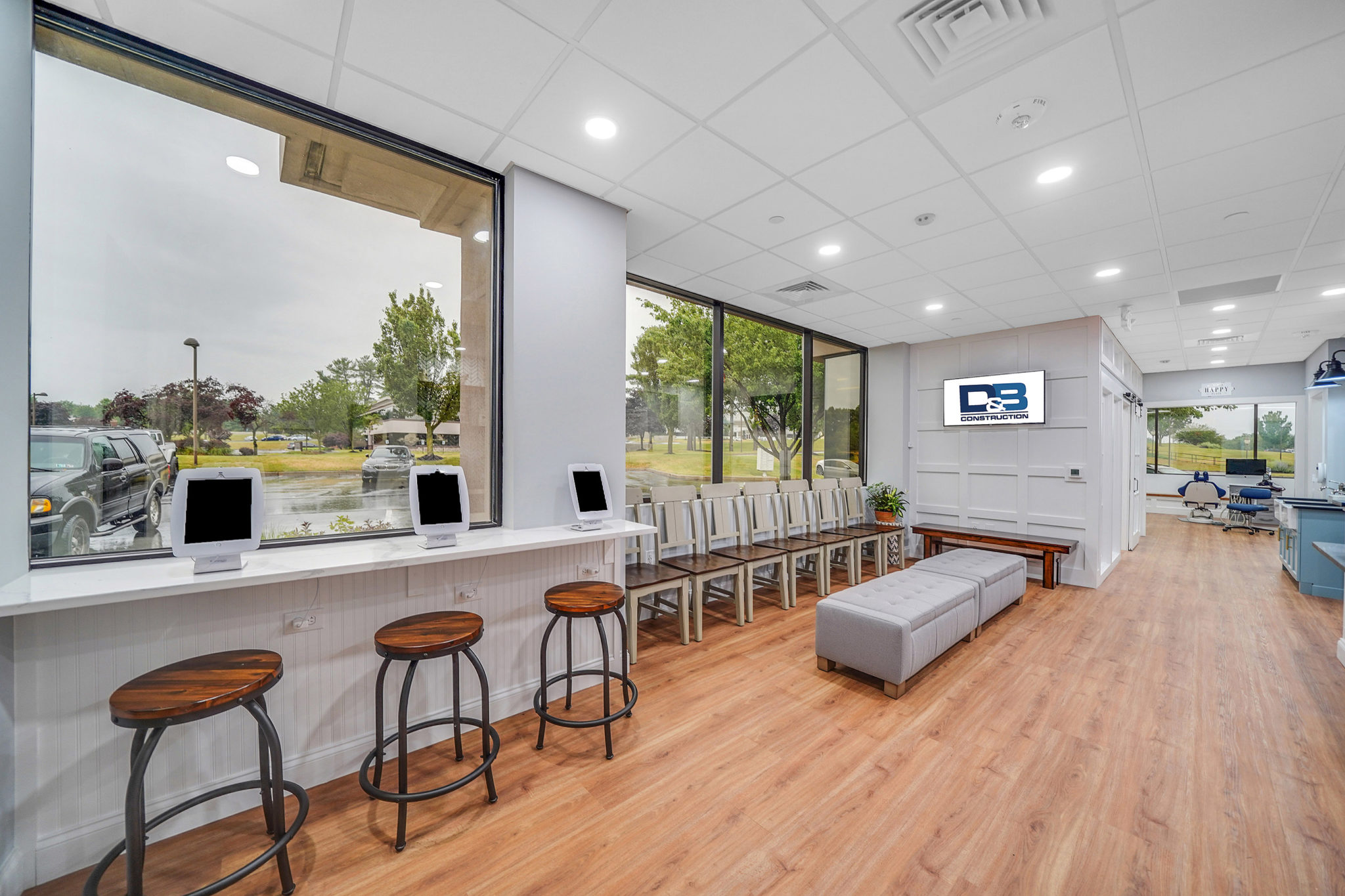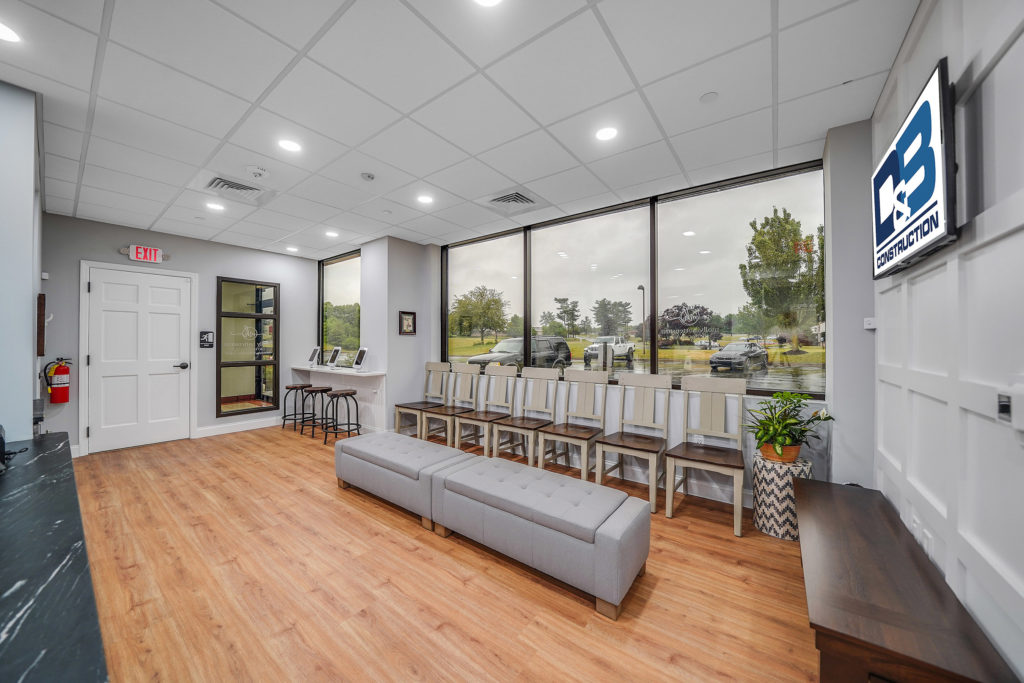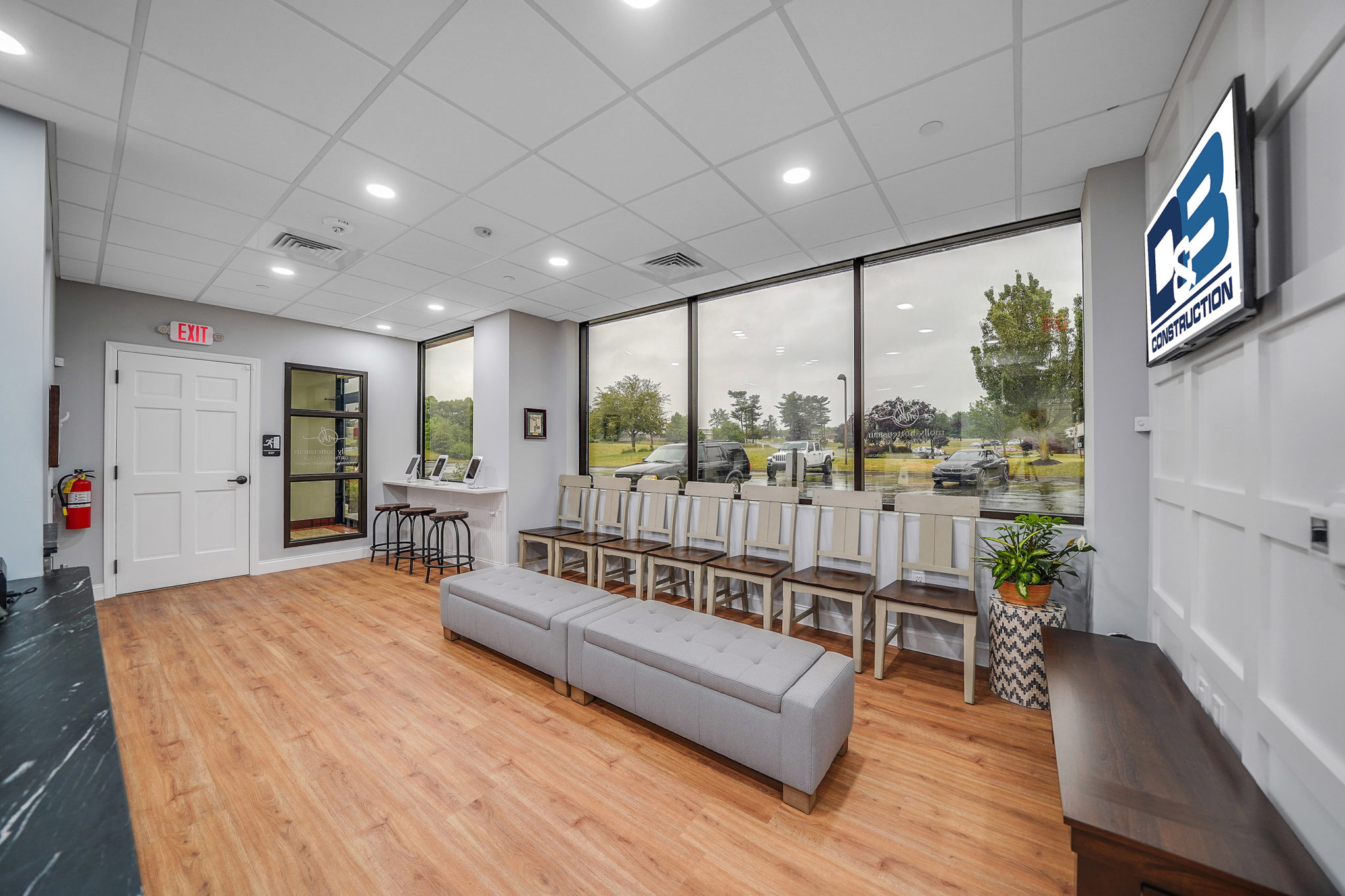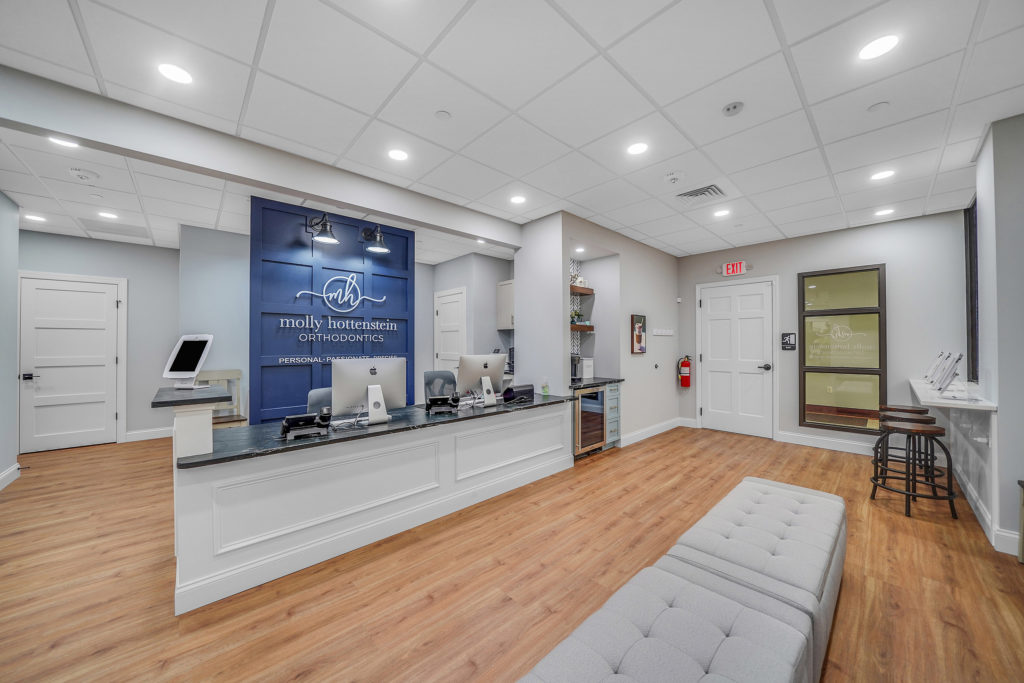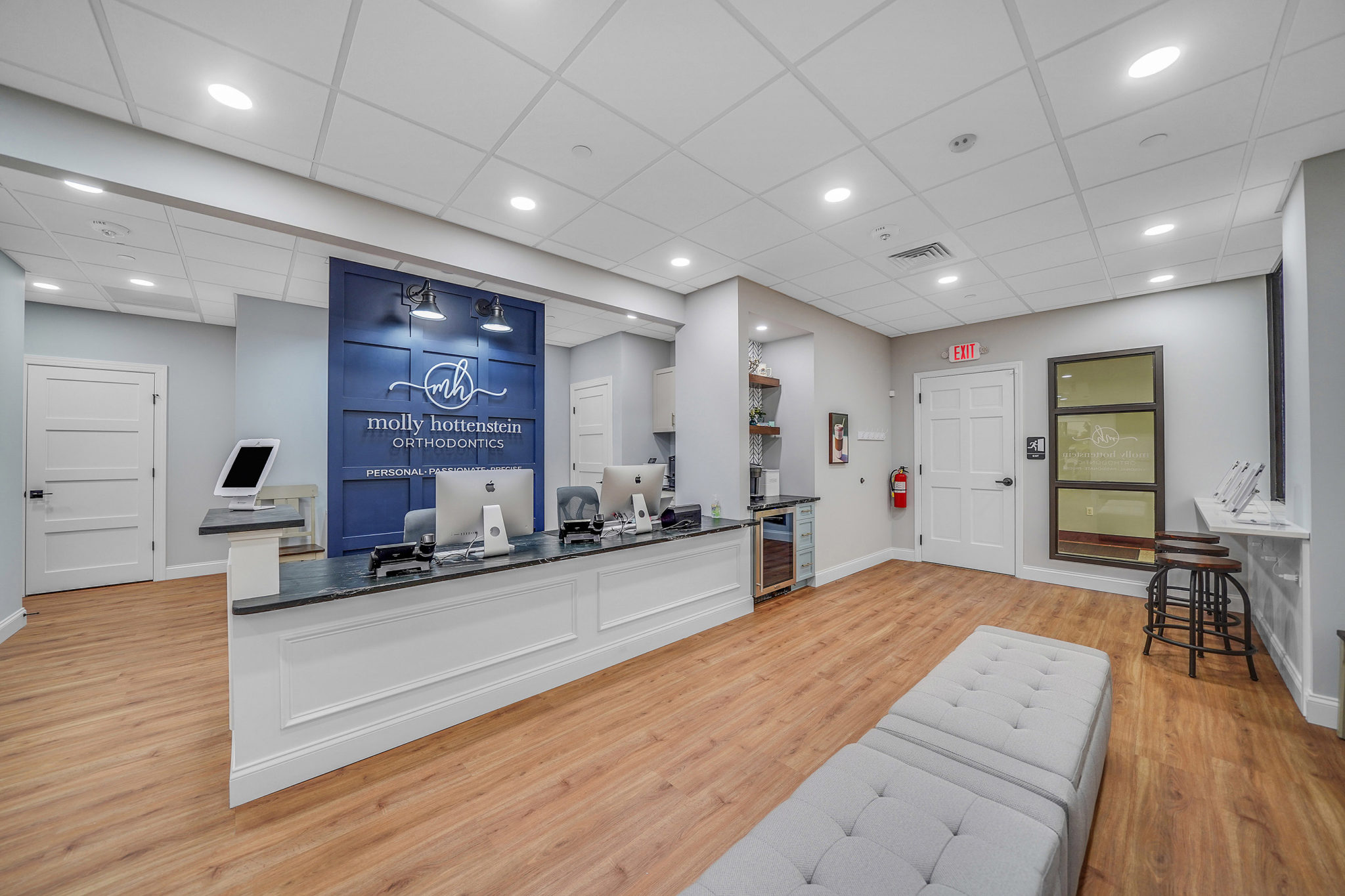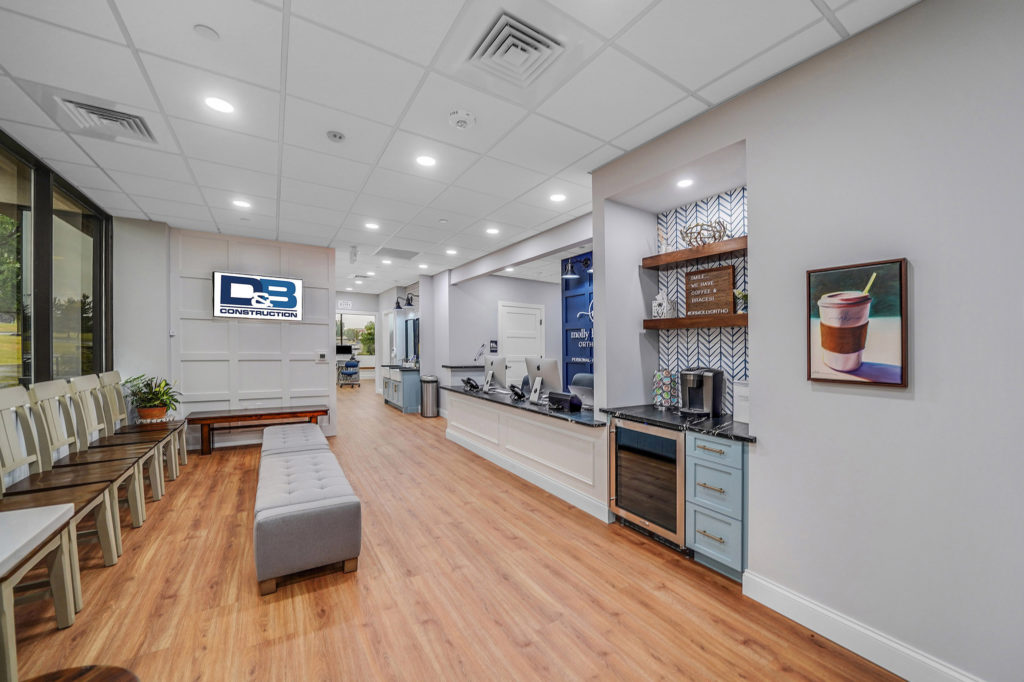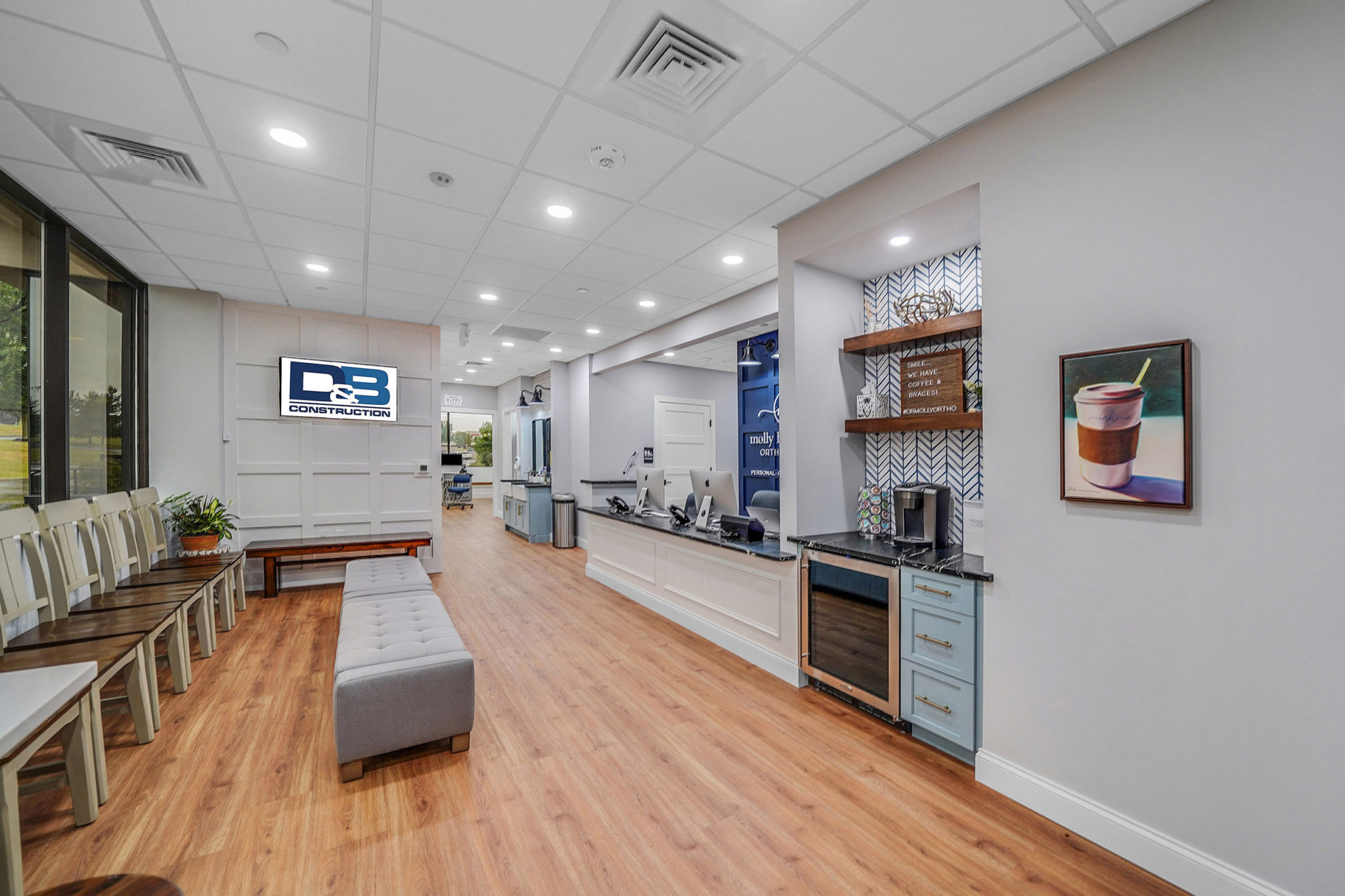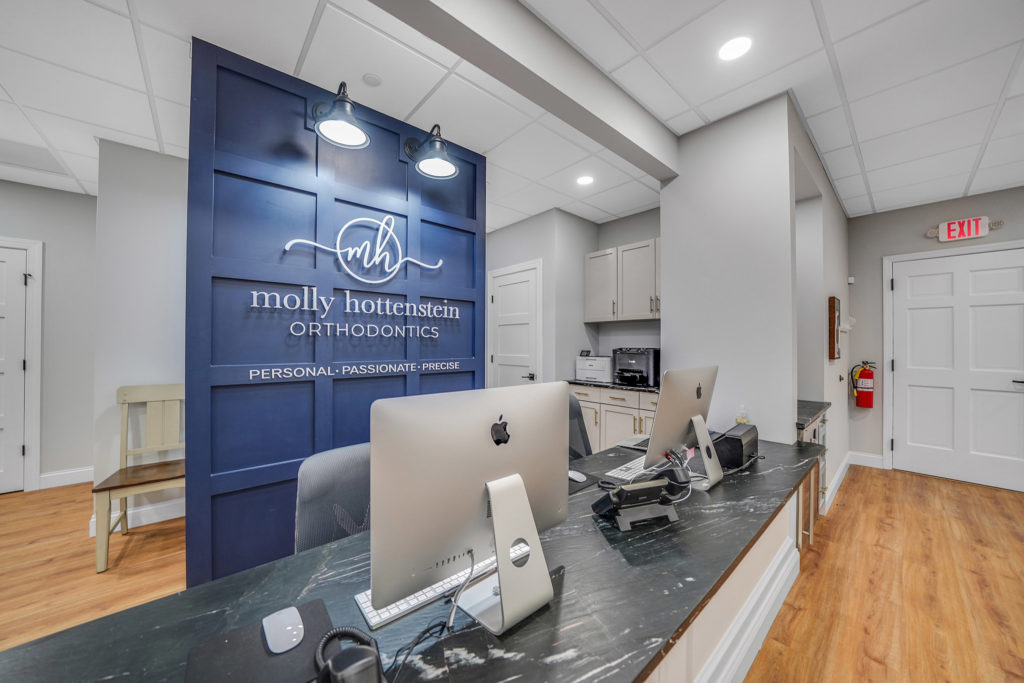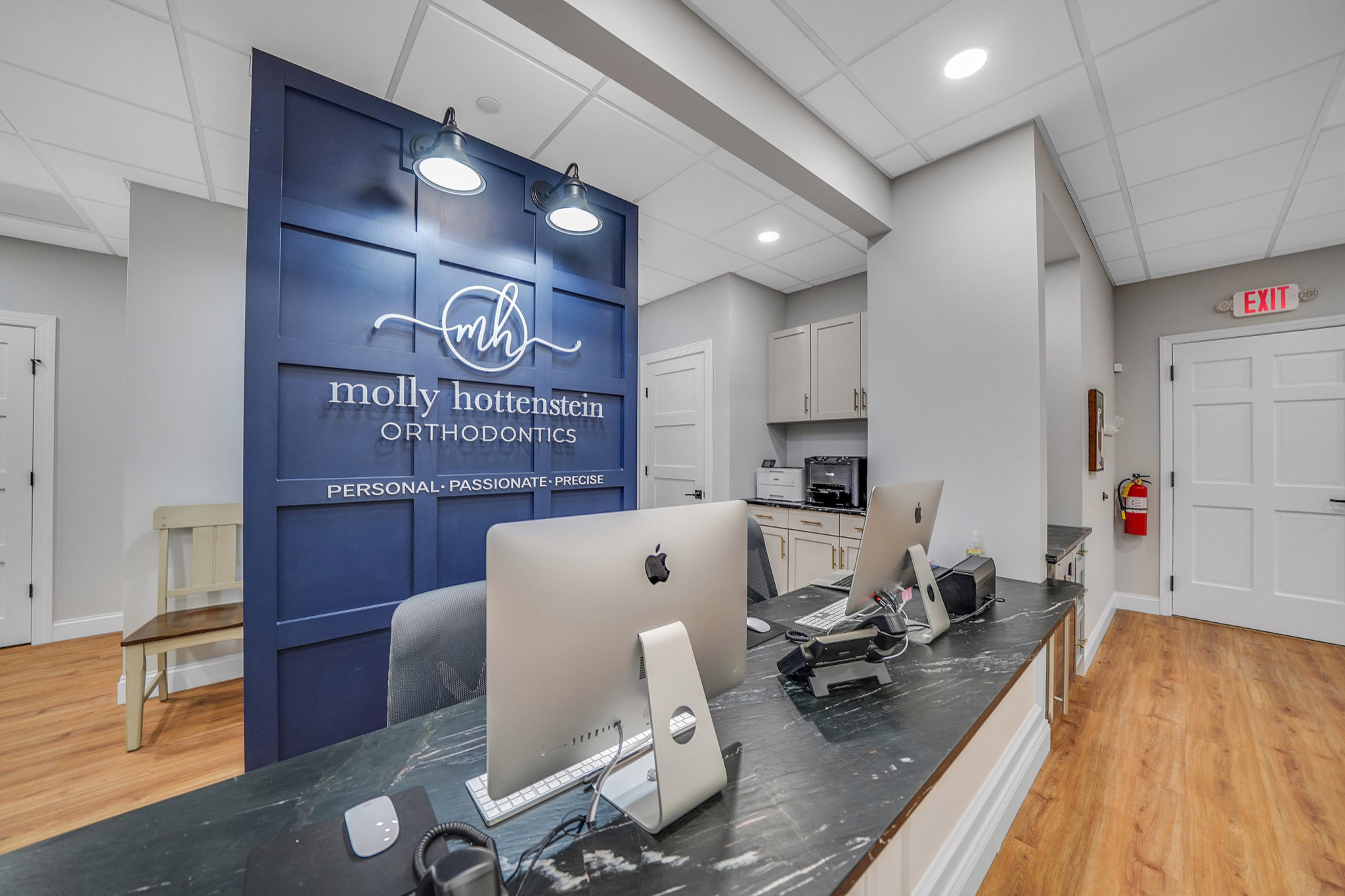 Aside from the overall aesthetic and design of this office space, another aspect that makes it so enjoyable to visit and work at is the atmosphere. Molly's motto is "Personal. Passionate. Precise," and a quick visit to her Facebook or Instagram will show you that her office is big on bringing fun and friendliness back to orthodontics.
"I think the number one key to anything in life is being genuine," says Molly. "You can't force yourself to be something you aren't. To be happy and successful, I knew my office had to be a genuine reflection of who I am. I love to joke and have fun, while also being honest and a good communicator. I don't 'try' to make my office fun… it just happens. My staff members are naturally this way, too. They are naturally kind and focused, and they smile and laugh. I want them to be themselves. The rest just follows," she explains. Molly prefers this natural, organic approach over getting hung up on what her competitors are doing or feeling. "I want people to choose our office because they feel comfortable here. Orthodontics isn't a once and done thing. It's a relationship over a series of a few years," she says. For that reason, she wants people to feel like her practice is the right fit for them. She doesn't want people to come to her because she has contests, prizes, or toys. She wants them to come to her because they trust her and feel comfortable.
"I think people are starting to talk about their experience with us, and we are starting to be a little more known in the area. I hope this is just the start to the forward momentum. I am so thrilled with the outcome and so proud. I feel like the space is a true reflection of who I am and the type of service I am offering," says Molly, with a lovely smile – of course.