D&B Construction's partnership with Quality Buildings, a commercial framing contractor, began this year through their work on Kennett Pointe, a ground-up mixed-use property currently under construction in Kennett Square, PA.
Elmer Zook, Founder and President of Quality Buildings, has been part of the industry for 18 years now. "We like expanding our client base as well as building new relationships in the construction industry. D&B came on our radar a few years ago as a fast-growing player amongst other GC's," he reflects.
The fruition of Quality Buildings' relationship with D&B began as a culmination of a handful of work connections, including having known our CEO, Dan Gring, through their involvement at Lancaster Berks Next Gen Construction Connect. At Kennett Pointe they supplied a complete furnish and installed a framing package that included manufacturing of pre-fabricating wall panels, floor and roof trusses and installation of the windows and doors.
"Quality Building produces quality work, and they are easy to communicate with. It is always a pleasure working with them, and I would work with them again in a heartbeat," says John Ruza, Senior Superintendent overseeing the jobsite in Kennett Square.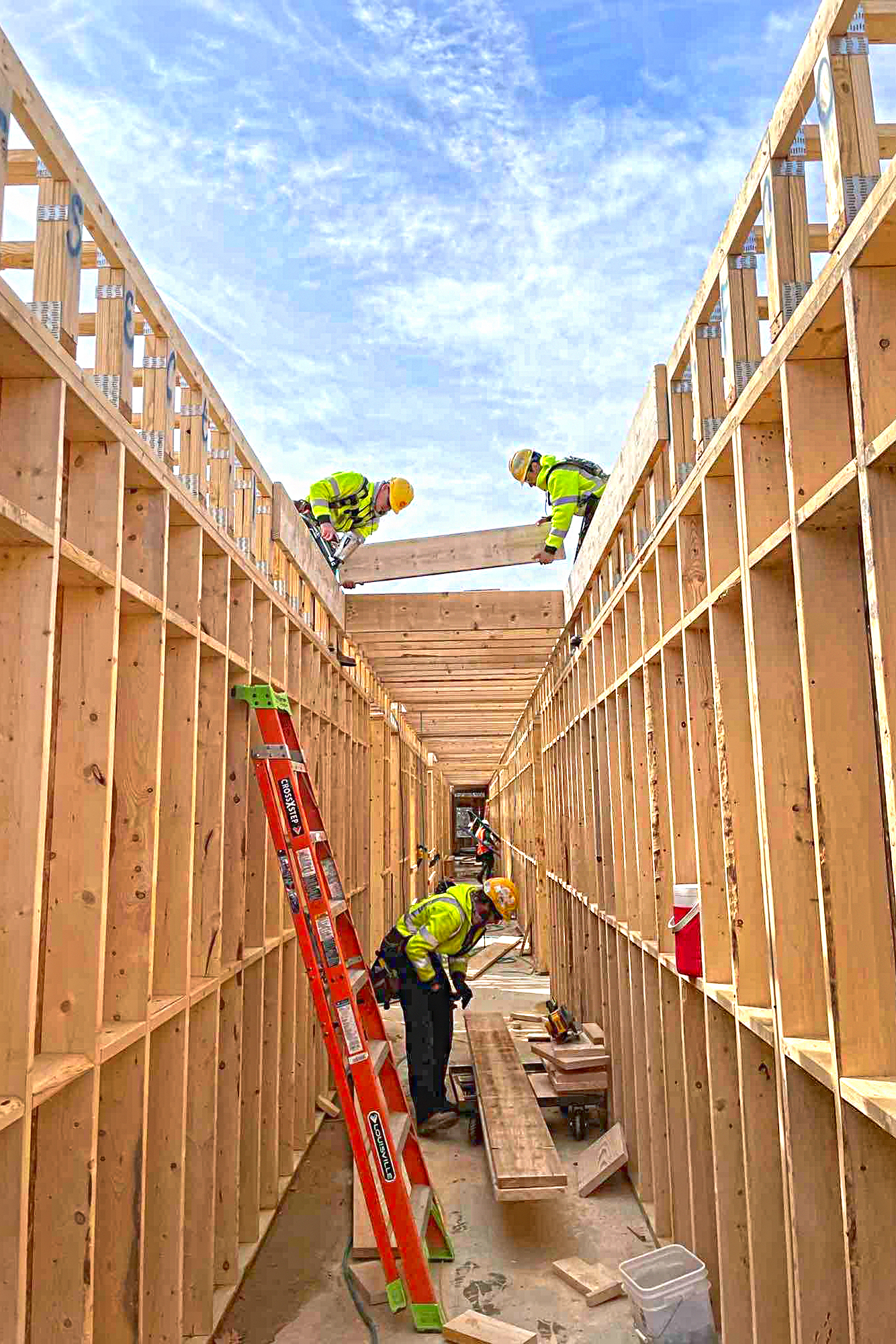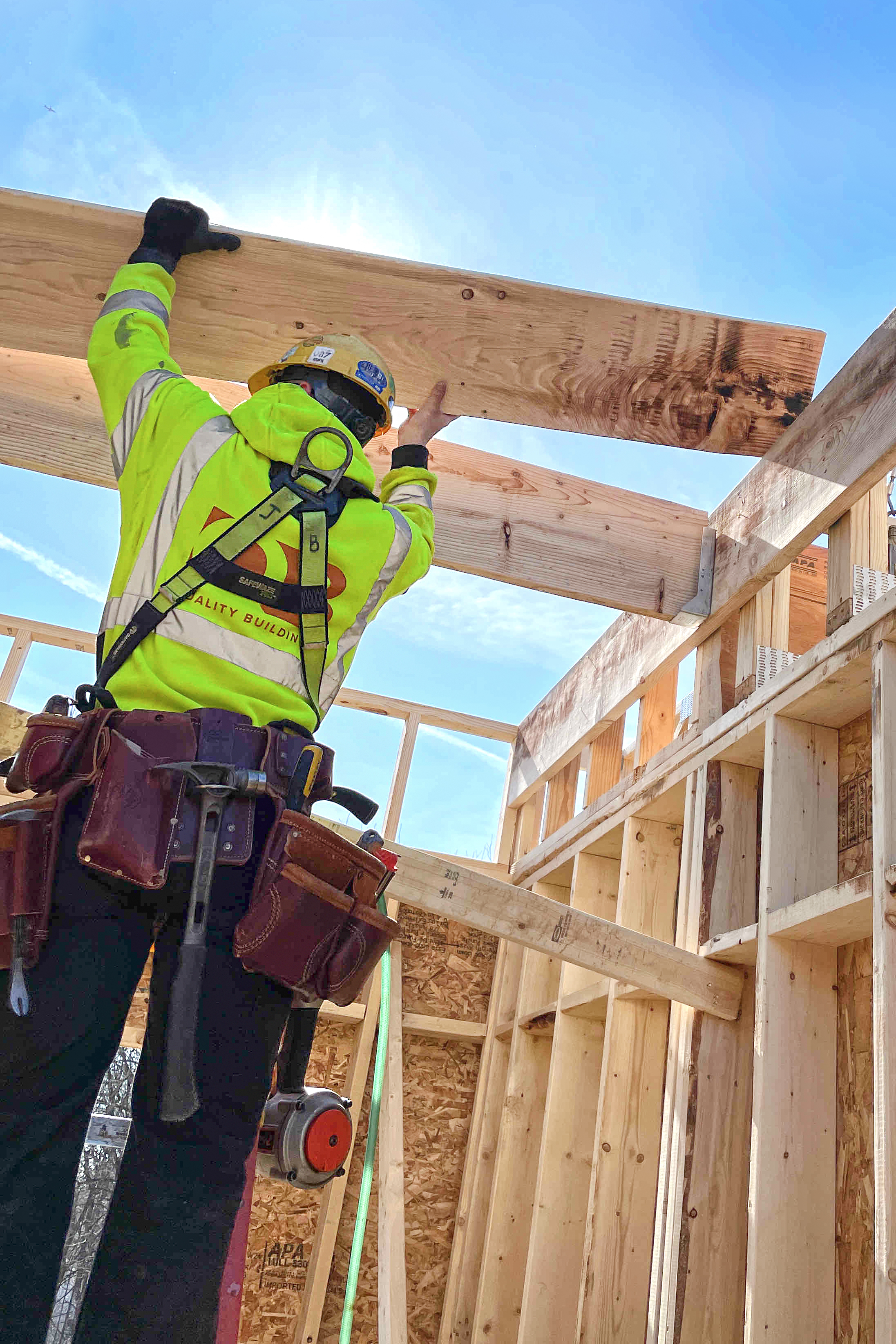 About Quality Buildings:
This turnkey framing contractor was founded in 2008 as a home improvement contractor and Agricultural/Equestrian facilities design and build contractor. They've built many custom designed horse barns and riding arenas in NY, NJ, DE, MD, and VA.
Having experience in design and build as a contractor, coupled with a desire to work closer to home versus constant traveling, commercial framing seemed to fit well with their philosophy of working together as a team with other trades to deliver a well-planned project. In 2014, their sole focus became commercial framing for multi-family apartments, senior living and hotels. Completing between 12-15 projects annually, the company has an annual gross revenue of $20,000,000+ in the multi-family, senior living and hospitality sectors. Quality Buildings started pre-fabricating wall panels out of their own facility and continued to expand.
Today, Quality Buildings specializes in offsite pre-fabricated building components, as well as framing components, wall panels, floor trusses, roof trusses and all needed equipment and labor for a complete framing system. Offering VE options and full 3D modeling capabilities for clash detection, as well as BIM modeling with other trades, they are acknowledged as a leading innovator in wood framing. They also offer structural engineering and Mass Timber construction. Their commitment to provide customers with the finest craftmanship continues to be their anchor 14 years later. Quality Buildings has an employee count of 42, consisting of VDC designers, project managers, pre-fabricated wall panel manufacturing and field carpenters. They also have a steady base of subcontractors they know they can turn to for their larger projects.
"We pride ourselves for having more attention to detail and a higher level of service than our competition," explains Elmer. "We are the experts in wood framing and strive to present ourselves as such. Every department within Quality Buildings has an in-depth knowledge of wood framing. Our designers are the linchpin of our projects being successful and have an extensive hands-on experience with building these projects in the field."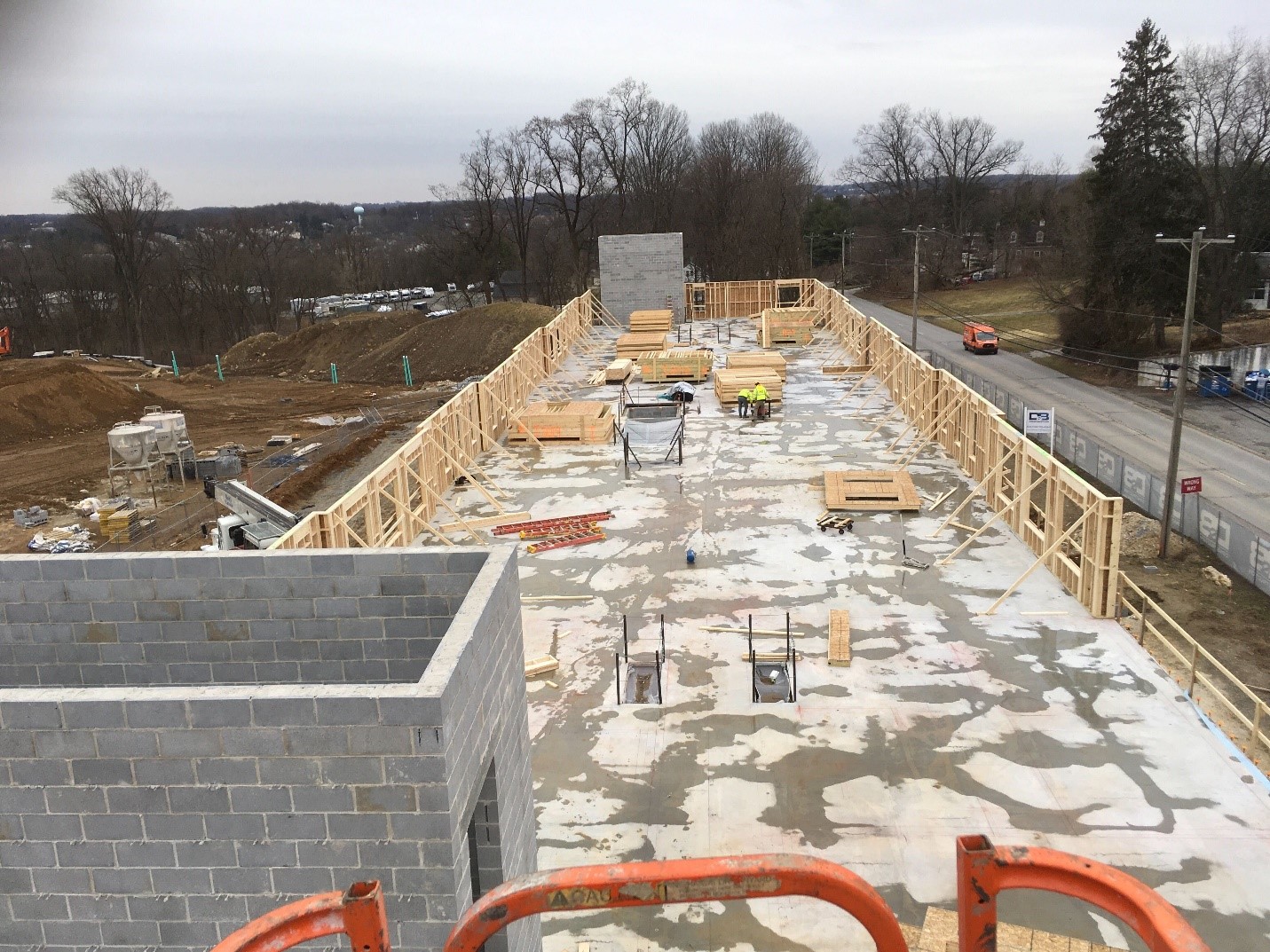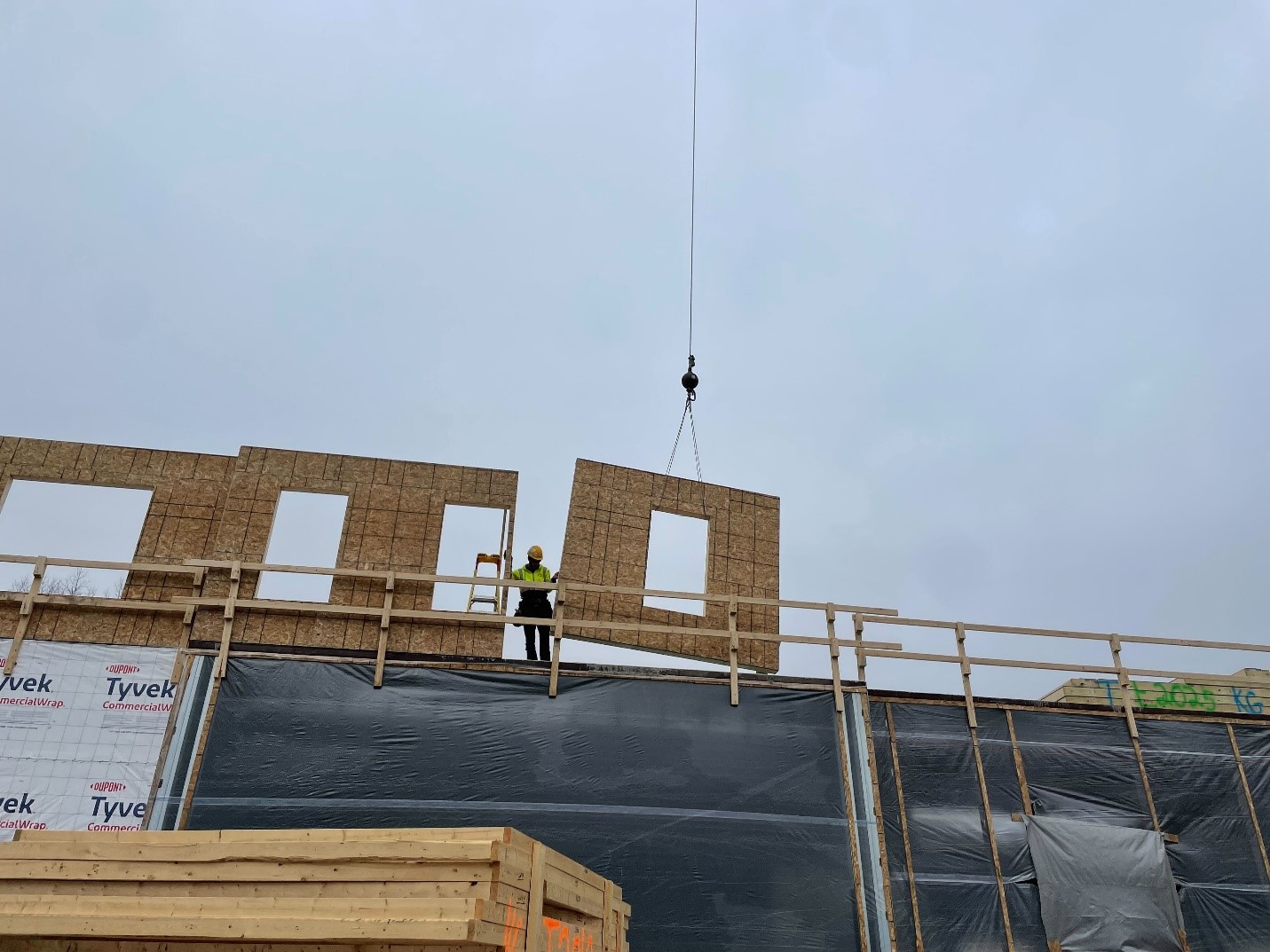 Q&A With Elmer Zook, Founder and President of Quality Buildings
Q: What's the best piece of advice you would give to others looking to get into the industry?
A: "Learn as much as you can about the trade you are a part of and about the trades around you that need your collaboration to do a good job and offer a stellar service.  Care about your craft and treat people with respect."
Q: What do you love most about working in the industry and why?
A: "I love working in the industry and providing a service that goes above and beyond just showing up and swinging a hammer. I love that our team is intentional about getting into the nuts and bolts of a project and finding new and better ways to get the job done."
Q: Anything else you'd like to add?
A: "We appreciate D&B entrusting QB with being your Framing partner on this project and look forward to many more in the future."
Doylestown, PA – On Wednesday, June 8 Berger Rental Communities hosted a groundbreaking ceremony to commemorate construction of an additional 50 new residences at their Butler Square property, located at 409 E. Butler Avenue in Doylestown. The company took ownership of the property, which contains 97 units in the first building with commercial retail space below, in the summer of 2021.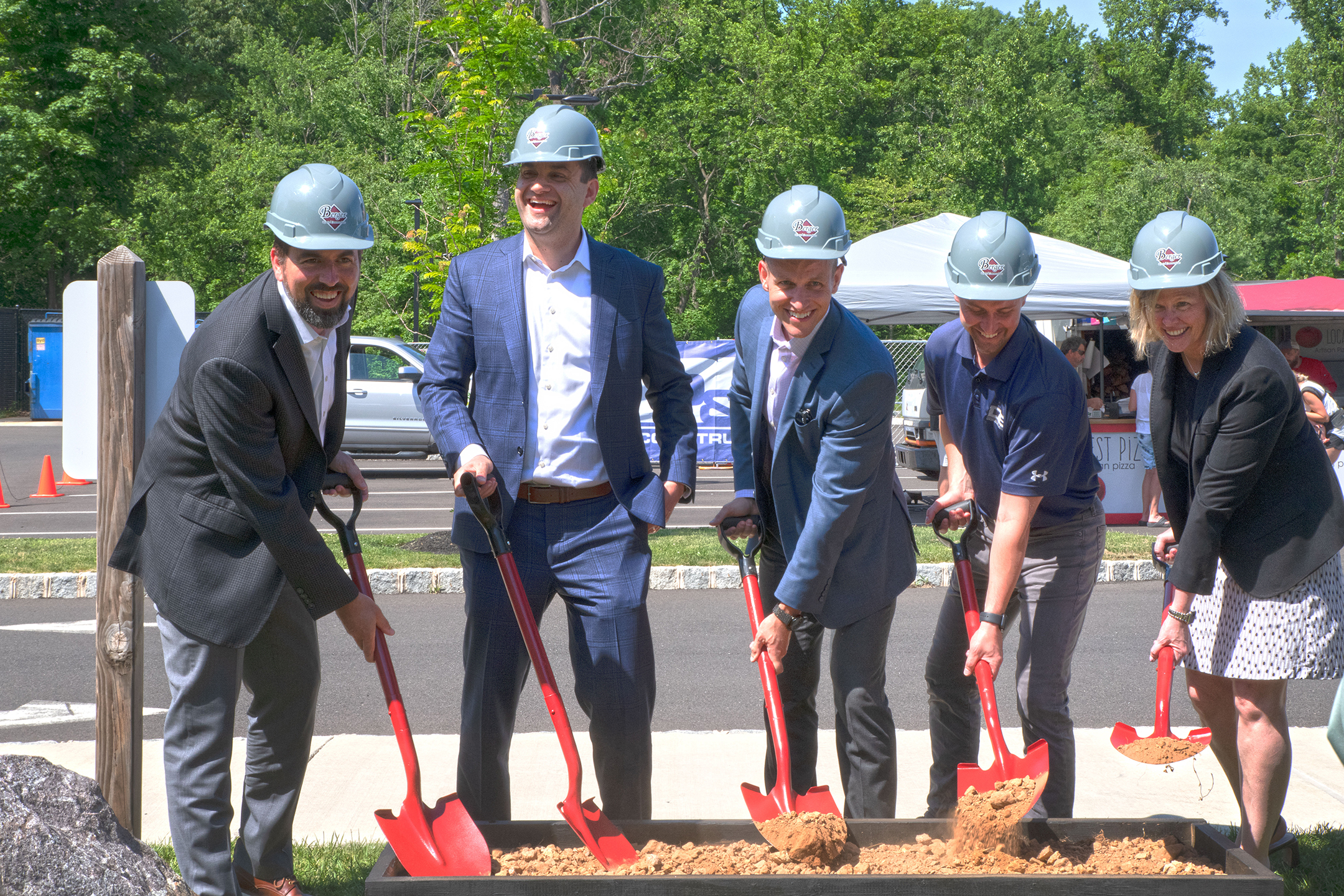 The 50 additional apartments being added to the property will feature new one- and two-bedroom layouts. A package room in the lobby brings added convenience to future residents, and charging stations for electric vehicles will be made available to all residents of Butler Square as the company continues to evolve its communities. Efficiency and modernization are also top of mind inside each apartment, where you will find smart home technology that includes locks and thermostats and designer inspired finishes.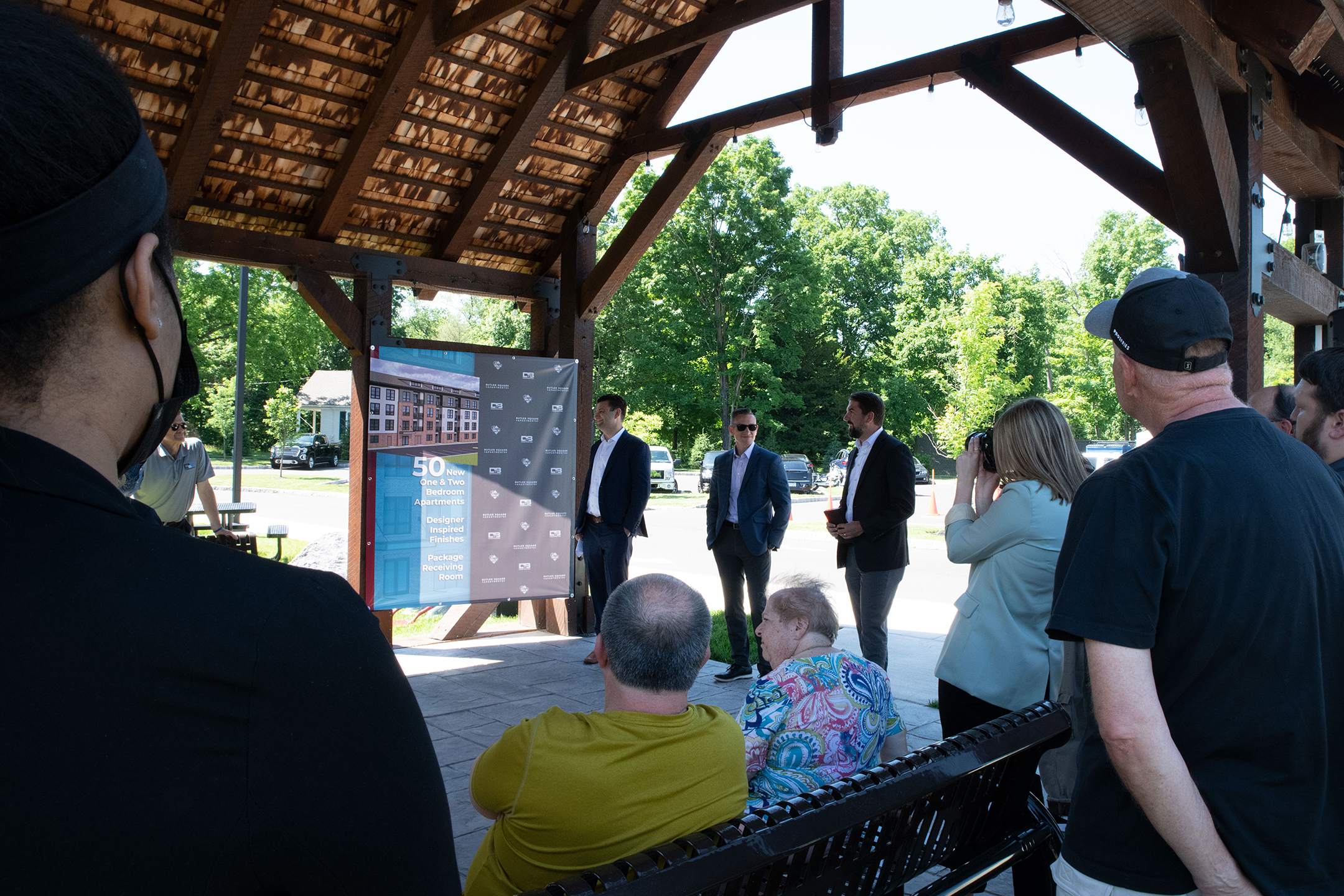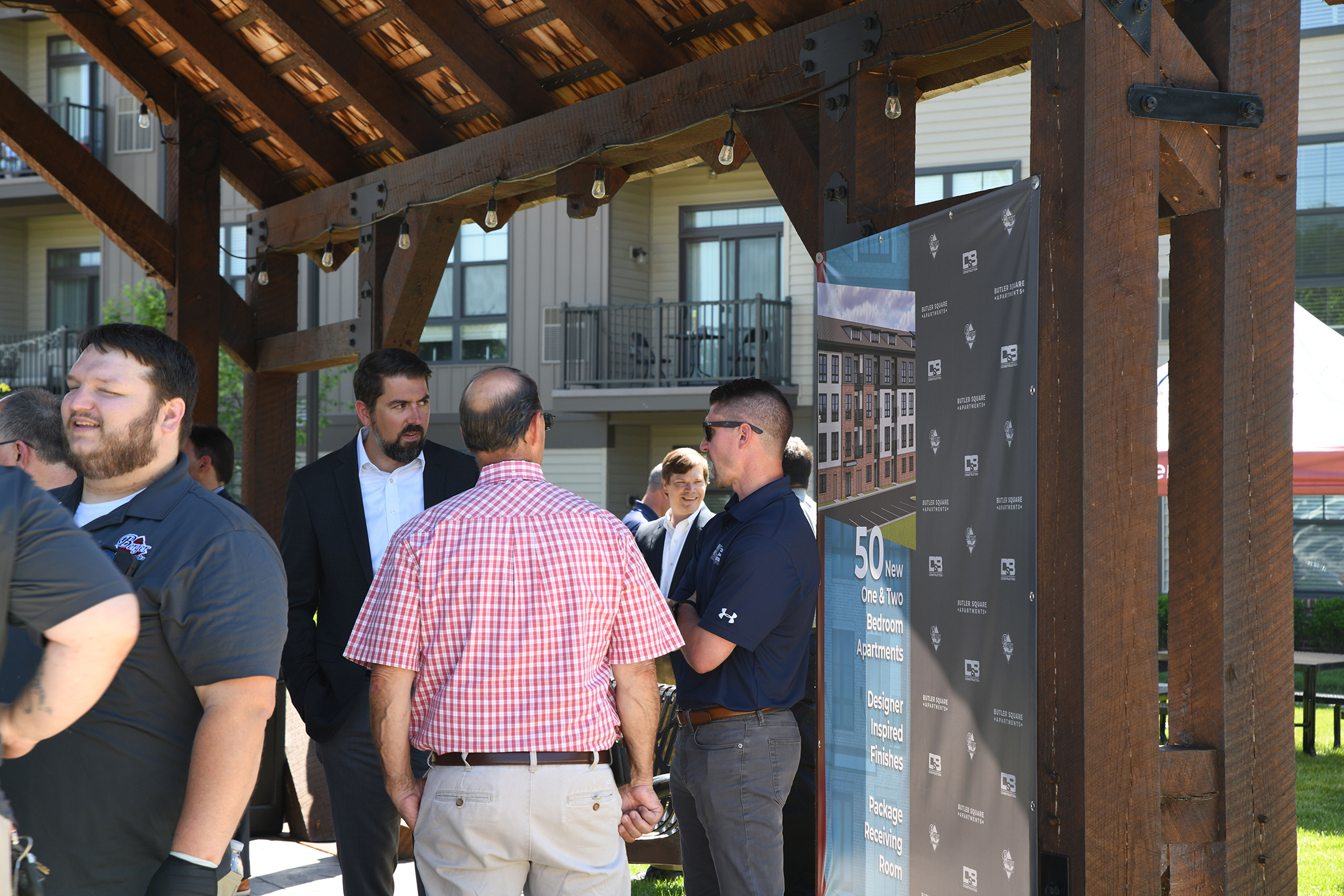 In attendance for the ceremony were members of Berger's team, current residences of the Butler Square property, the general contractor, D&B Construction, the project architect, Architectural Concepts, PC, Peaceable Street Capital, and members of the New Britain Borough, including Council Vice President Mr. John Wolff Jr. The company was also grateful to have their nonprofit and relief fund Hope & Door, whose mission is to help families in crisis avoid homelessness through rental assistance, in attendance. "Our goal here is not just to provide housing, but to accommodate residents through extreme flexibility, and provide the highest level of customer service," said the company's CEO, Dan Berger. The event concluded with a ground breaking to memorialize the day and delicious refreshments from two local food trucks – Local Harvest Pizza and Sweet Pea Ice Cream.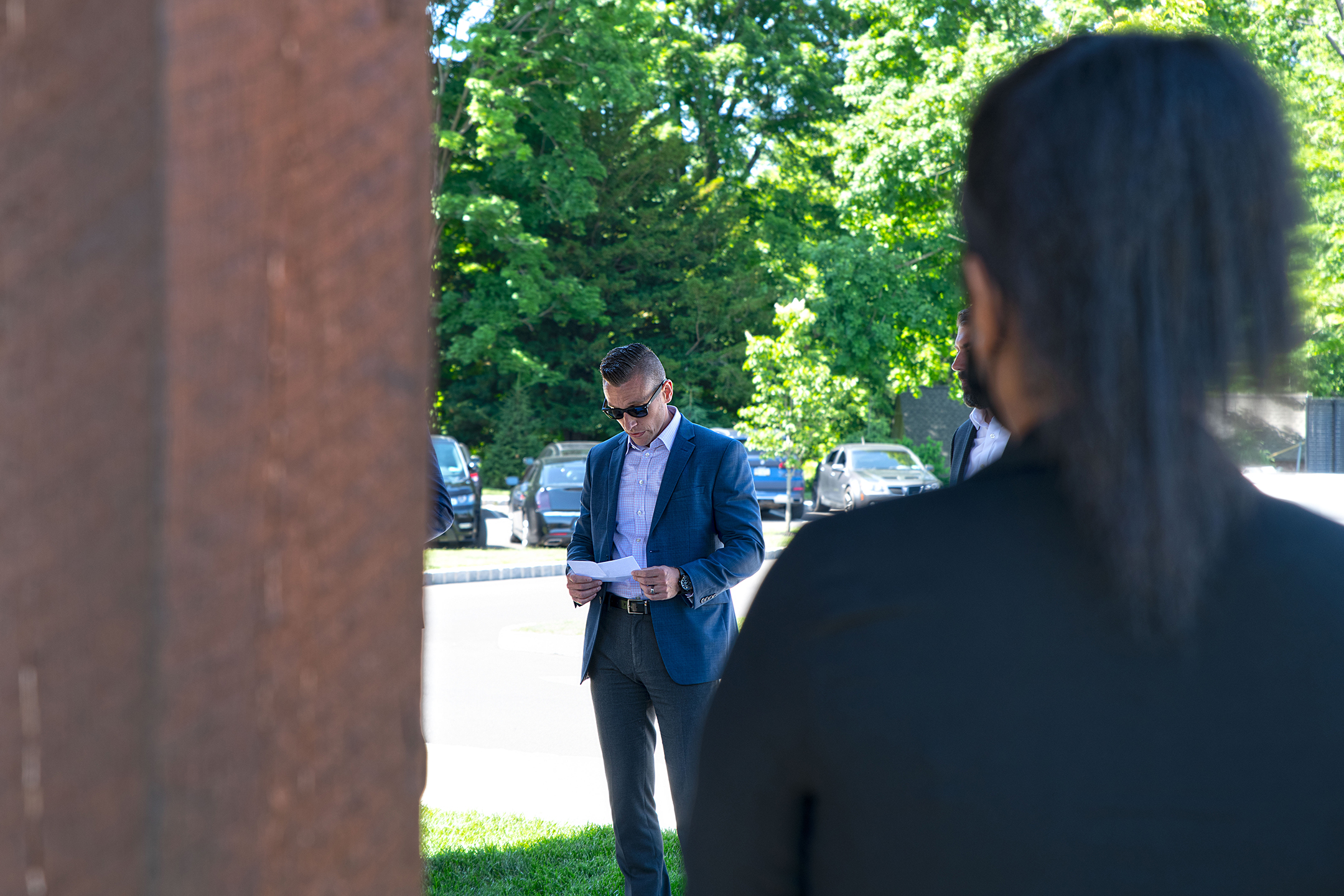 Matt Johnson, Director of Development at Berger, sent his appreciation to the New Britain Borough and D&B Construction during the ceremony, stating: "It truly has been a streamlined process thanks to New Britain Borough. Another great partnership we have is with D&B Construction. When we took ownership of Butler Square it was with the hopes that we could further expand the space and bring more residents to the community. With their help that vision is well on its way to becoming a reality."
This project comes as the company celebrates their 50th anniversary and a year of a tremendous amount of growth, with 50 apartment communities currently under their belt. According to Wayne Everett, Vice President of Acquisitions and Asset Management at Berger Rental Communities, "Through our growth we have been able to combine the personal touch and the entrepreneurial spirit of a smaller company with the sophistication, expertise, and technology of a larger organization."
Dan Gring, Chief Executive Officer of D&B Construction, commented on the fact that Berger Rental Communities embodies the same core values as the general contractor: "At D&B we make a conscious effort to partner with those who share our 'we care' mentality. This extends from everyone to our clients and employees, to our extended team of trade partners and suppliers. Our main core value is 'People and relationships matter most.' Upon meeting the Berger team, we instinctively knew they were an organization centered around people just as we are. Their customer-centric approach easily explains why they continue to rank amongst the top in the nation for customer service in multi-family, and D&B is thrilled to be their partner through this continued growth."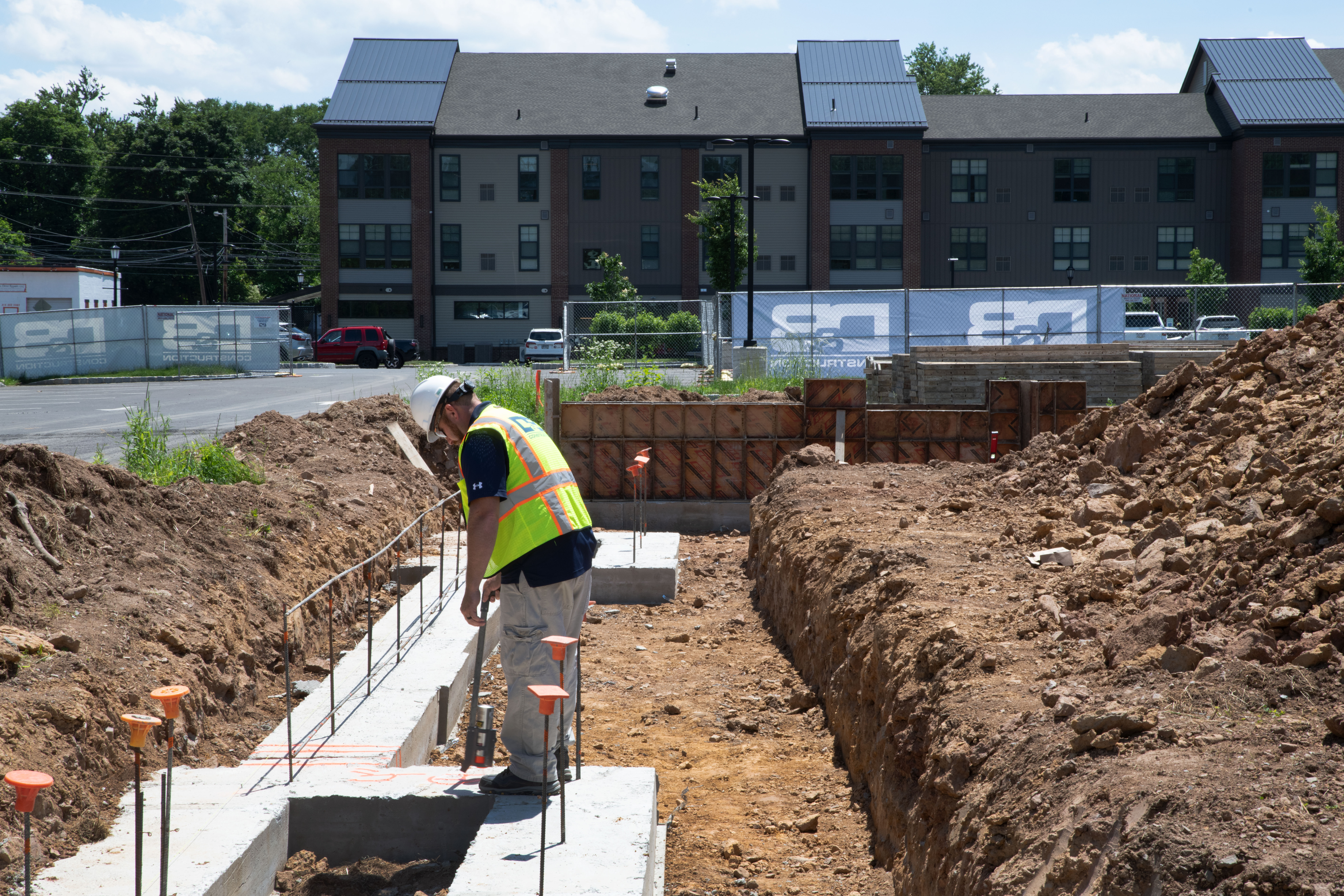 About Berger Rental Communities:
Founded in 1972, Berger Rental Communities has been a multi-family owner and operator for 50 years. At nearly 10,000 apartments, they are one of the top five largest management companies in the state of Pennsylvania, with a portfolio that extends into Maryland and Delaware. Berger is motivated by their philosophy that, "renting shouldn't be hard®". Their focus on service, innovation and culture has earned them the number one ranking in multi-family for customer service in the nation, and they are frequently rated amongst the top places to work in their industry. For more information on Berger Rental Communities visit rentberger.com.
About D&B Construction:
Founded in 2010 by Dan Gring and Brennan Reichenbach, D&B Construction has grown into one of the region's most trusted construction firms. Headquartered in Reading, Pennsylvania the company is driven by a commitment to quality and transparency. They have grown from the two founding members to over 50 employees with an additional office outside of Philadelphia to conveniently serve the Delaware Valley region. Today they are a full-service construction management firm offering a variety of services to commercial clients in the healthcare, multi-family, professional office, retail / hospitality, institutional, and industrial sectors. Delivering an individualized, superior experience to all of our clients, D&B is a team of genuinely good people who love to build and work hard, with their success built upon long-standing relationships anchored in honesty, trust, and fairness. Leveraging vast design and build experience, D&B is the conduit for business owners, corporations, and developers looking to enhance the places in which they work, grow, and invest. Completing projects safely, within budget, and on time to minimize any disruption to business is always top priority. For more information, visit online at: dbconstructiongrp.com.
"Tenant fit out" is a common phrase you will hear used throughout the industry. It refers to the process of making an interior space ready for occupation. Usually, it is common practice in commercial construction to keep the interior space empty so occupants can create the look and feel of their business while determining the level of refurbishment they need. While an office renovation refers to the work needing done to improve an interior design (think aesthetic revamps such as purchasing new furniture or fresh paint), a fit out involves creating a usable area within an empty space.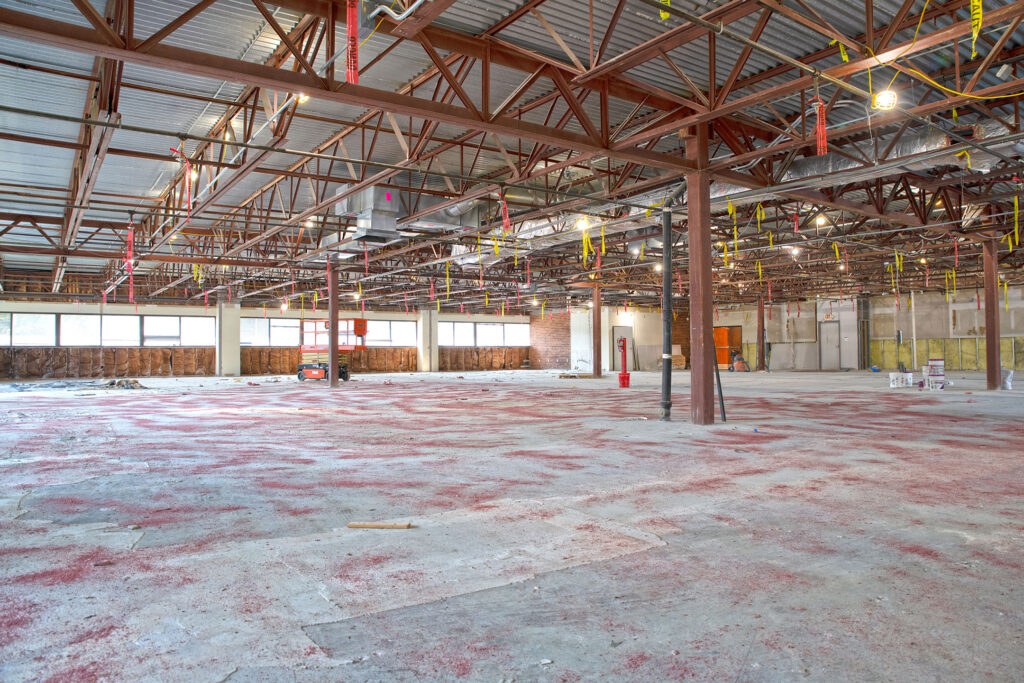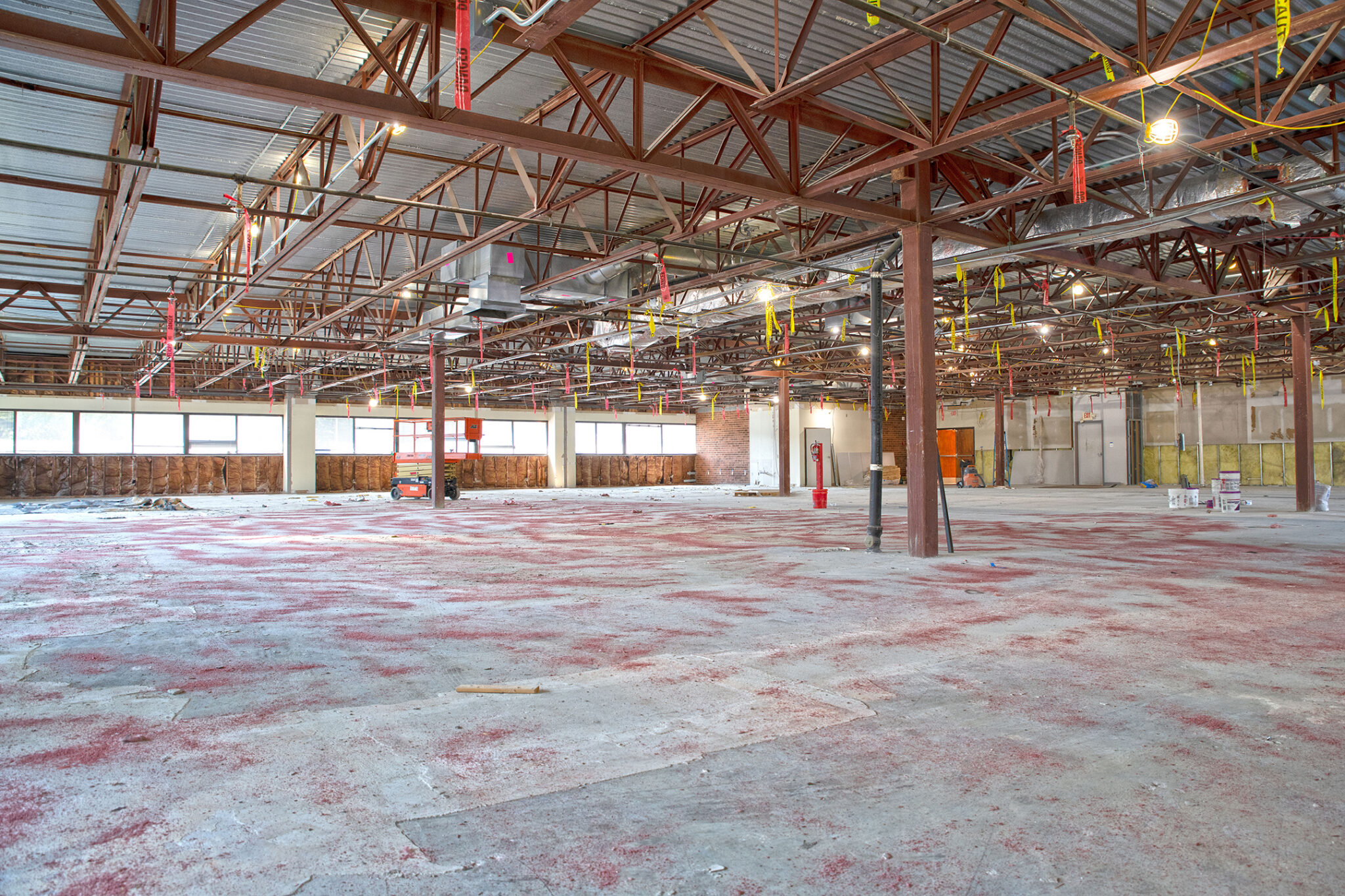 The Different Types of Commercial Fit-Outs
A Category A fit out is the standard for what you will find in commercial space ready for renting, with utilities such as plumbing fixtures and electrical wiring already in place. Typically, features like electrical outlets, HVAC systems, fire protection systems, raised access floors and toilets would need to be installed yet.
On the other hand, a Category B fit out requires installing features that are lacking in a Category A. In sum, this fit out focuses on making the aesthetic design specific to the business. It typically involves installing lighting, flooring, painting, partitioning, window treatments, furniture, and branding to make the office yours.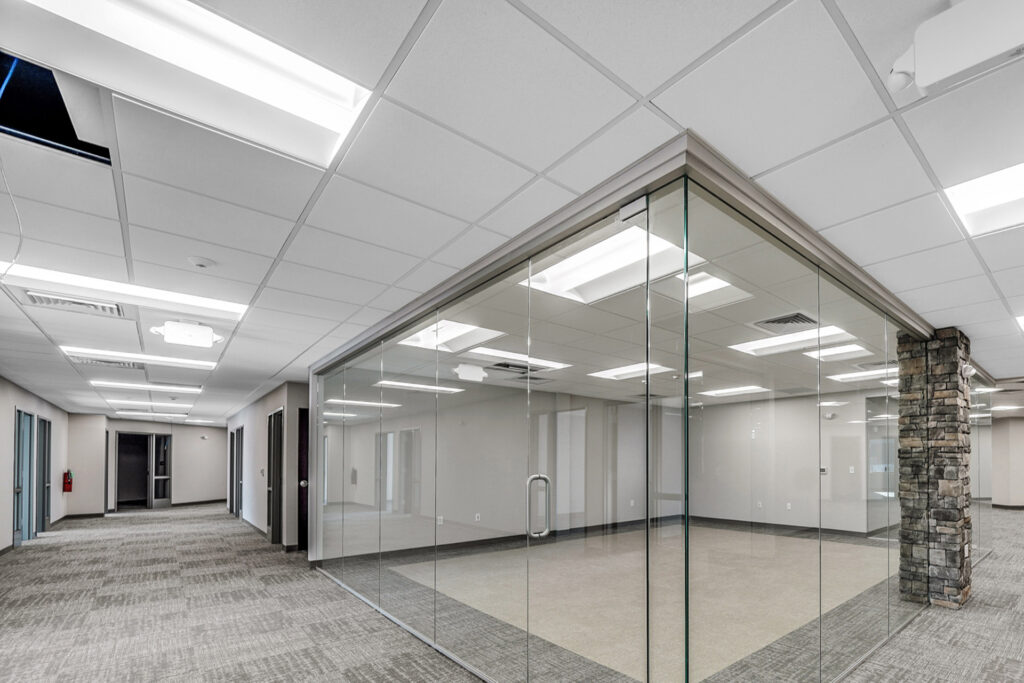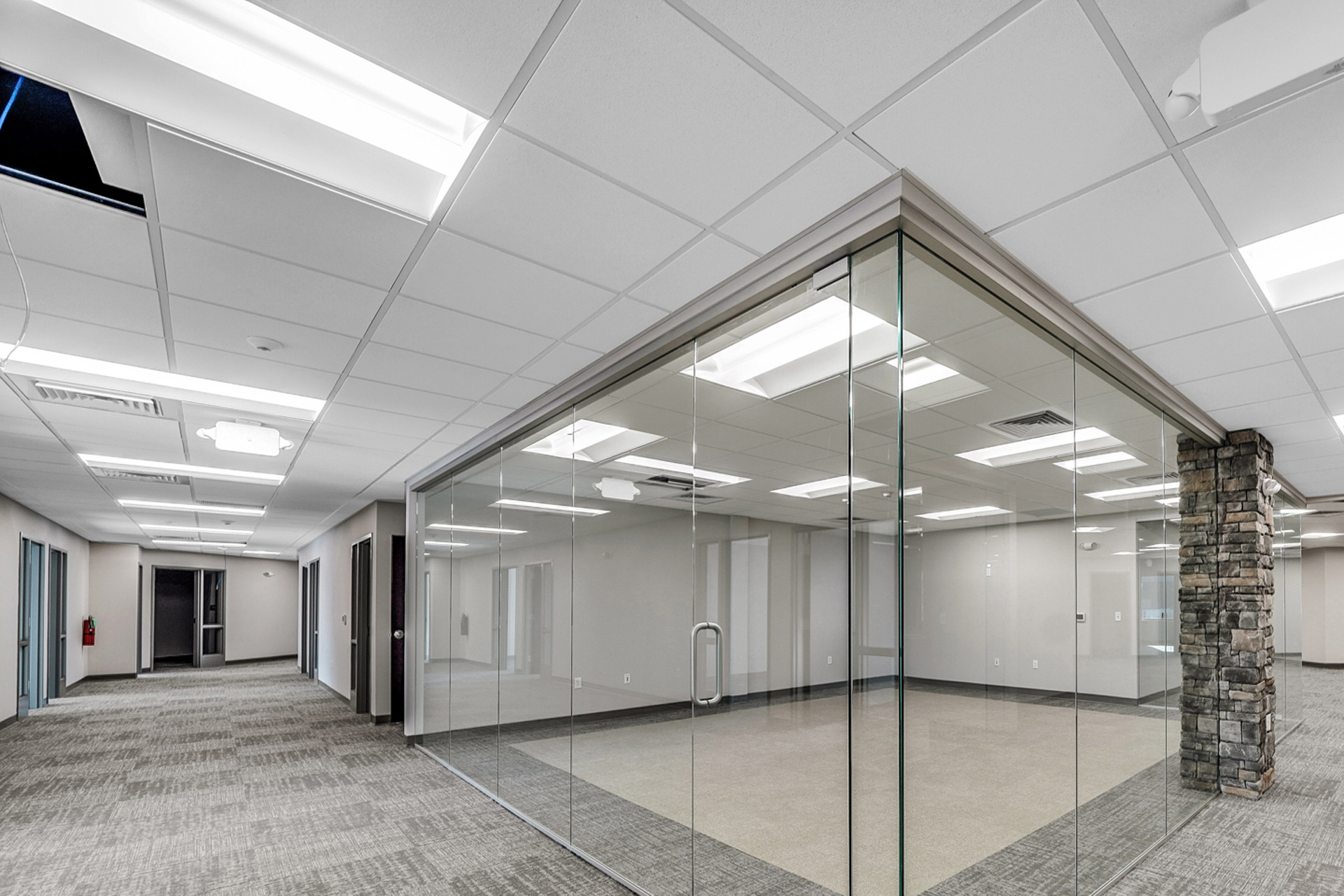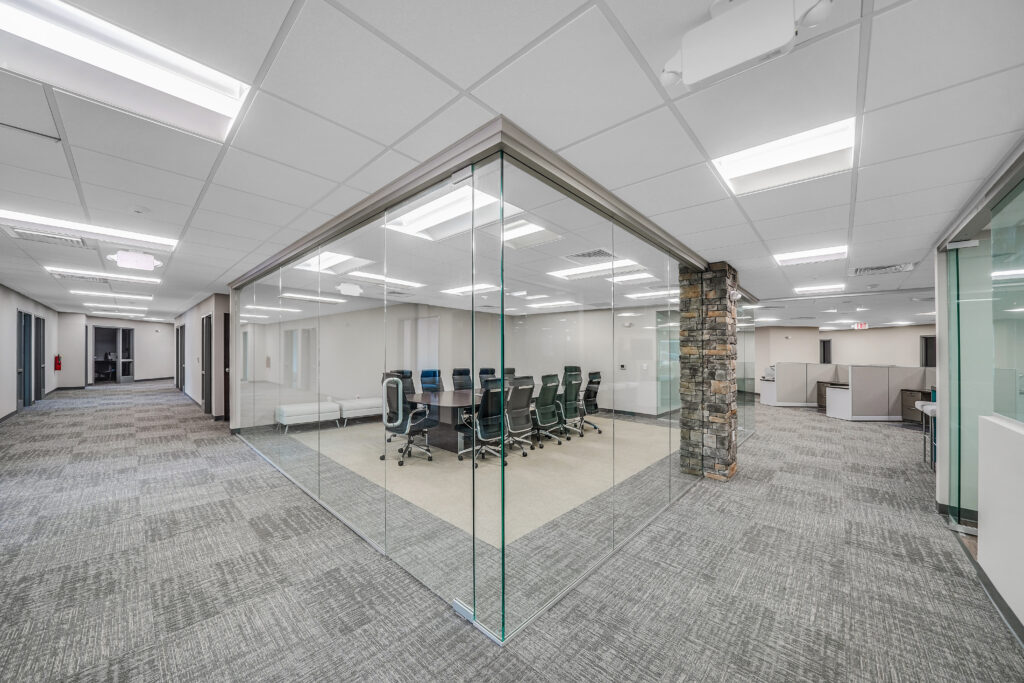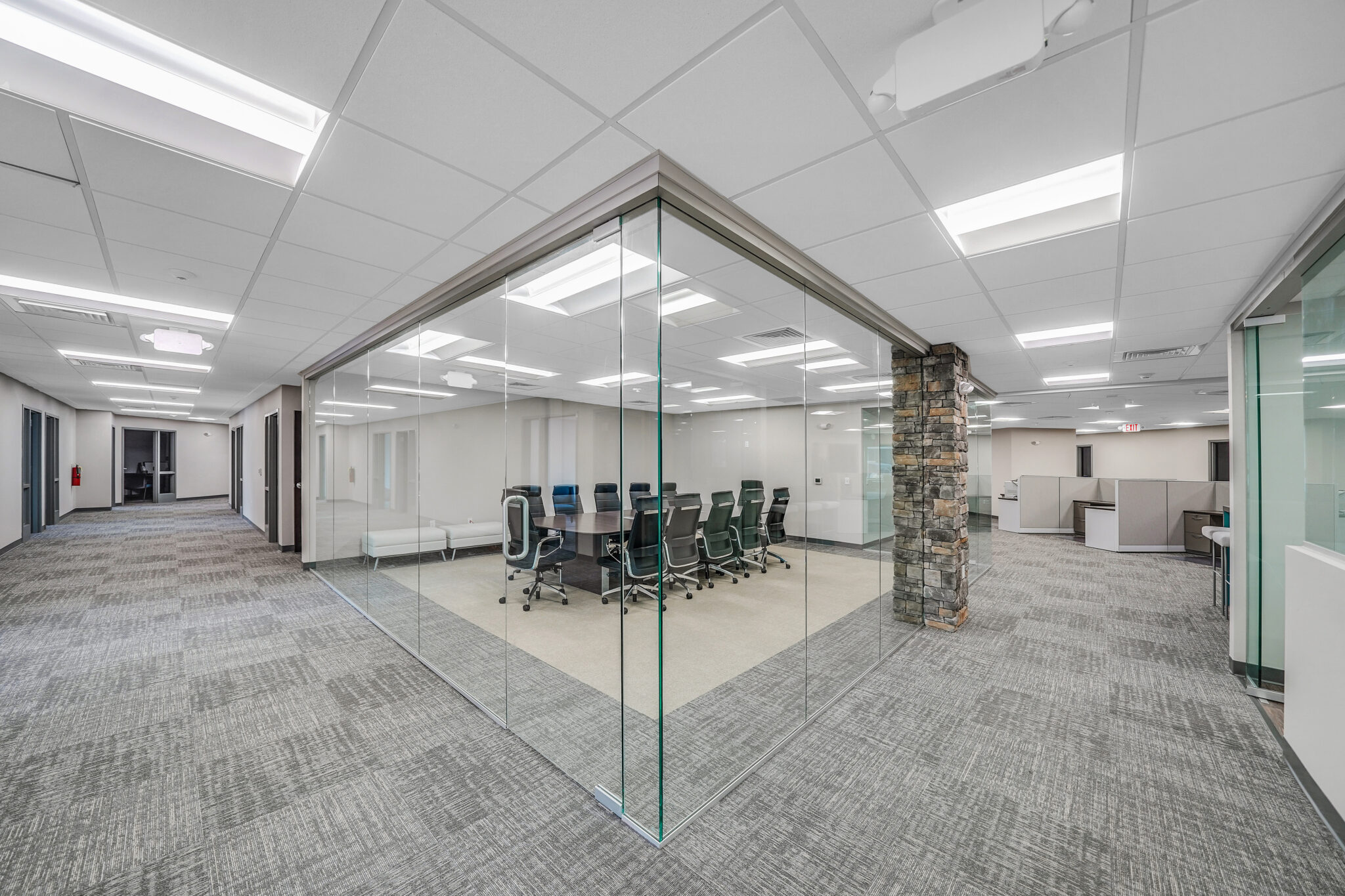 A core and shell fit out refers to a space that already has the framework of the building in place and is ready to be custom fit to its specifications. These fit outs typically include the following tasks:
-Floor installation
-Partition walls
-Ceilings
-Power and Lighting
-Painting
-Furnishings and fixtures (such as casework and millwork)
-Changes or updates that may be needed for structural elements of the space, such as the placement of windows and doors
-Updates that may be needed to HVAC (such as extending into other spaces with ductwork and controls), Electric, Sprinkler systems, etc.
-Cabling and wiring for internet connectivity and communication arrangements (fire alarms and other protection systems)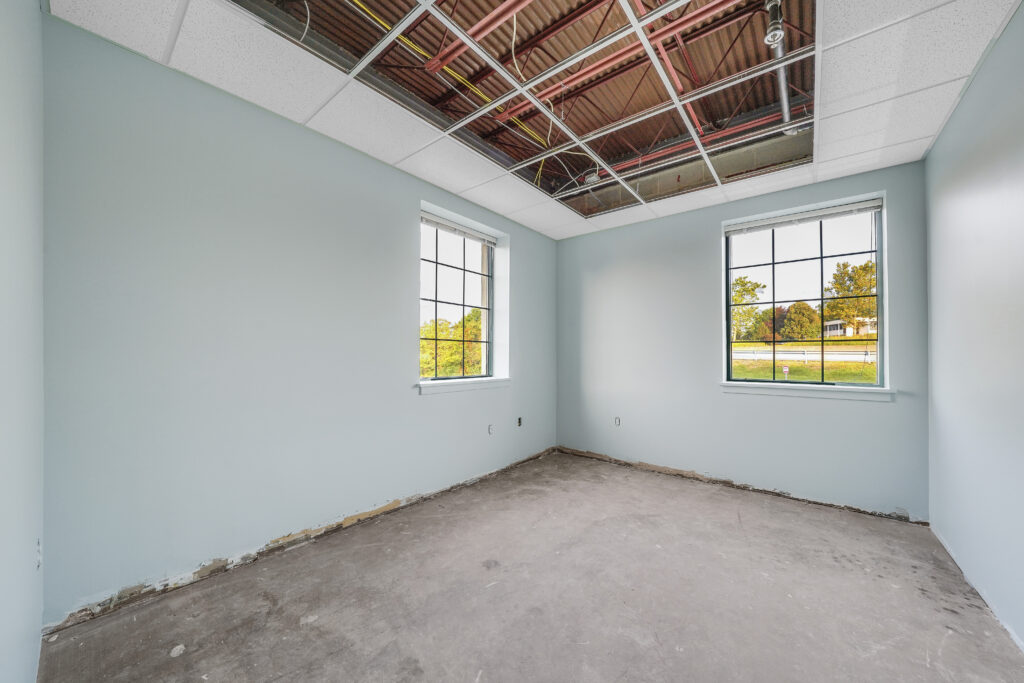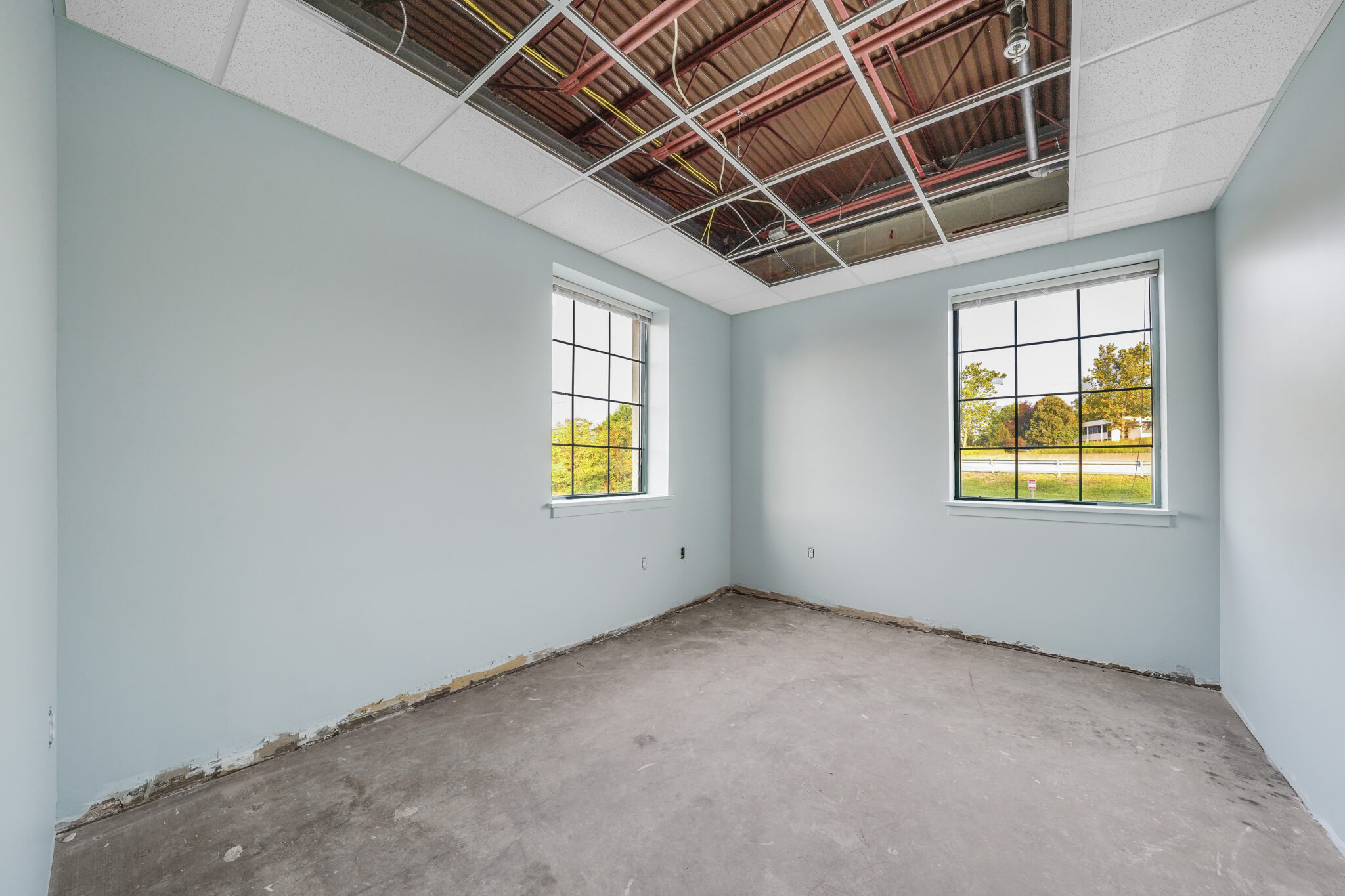 What to Consider When Contemplating an Office Fit-Out for Your Business:
Fitting out an office space for your organization is a big undertaking that – when done correctly – can have a lasting impact for many years to come. It all starts in the pre-construction phase, where the proper planning and design of your space will ensure a smooth project throughout the duration of construction. Here are a few things to consider:
-An office fit out is an organization's opportunity to take a blank canvas and make it their own. Consider how you can organize your space to increase workflow and enhance your staff's performance. Do this by evaluating how the workspace will be used and all that needs to be in it for your team to efficiently complete their jobs.
-Plan for the future. If you ask yourself questions like "How will my business / industry grow and change over the next few years?" and "Will the proposed space be able to accommodate expansion in the future?" you can avoid needing to make renovations sooner than you'd like. As a result, your organization will save money by avoiding having to interrupt business to make changes to your office space.
-Make flexibility top of mind. Consider how technology advances and new trends may impact your office's workflow. Does your space have the flexibility to adapt to such rapid change?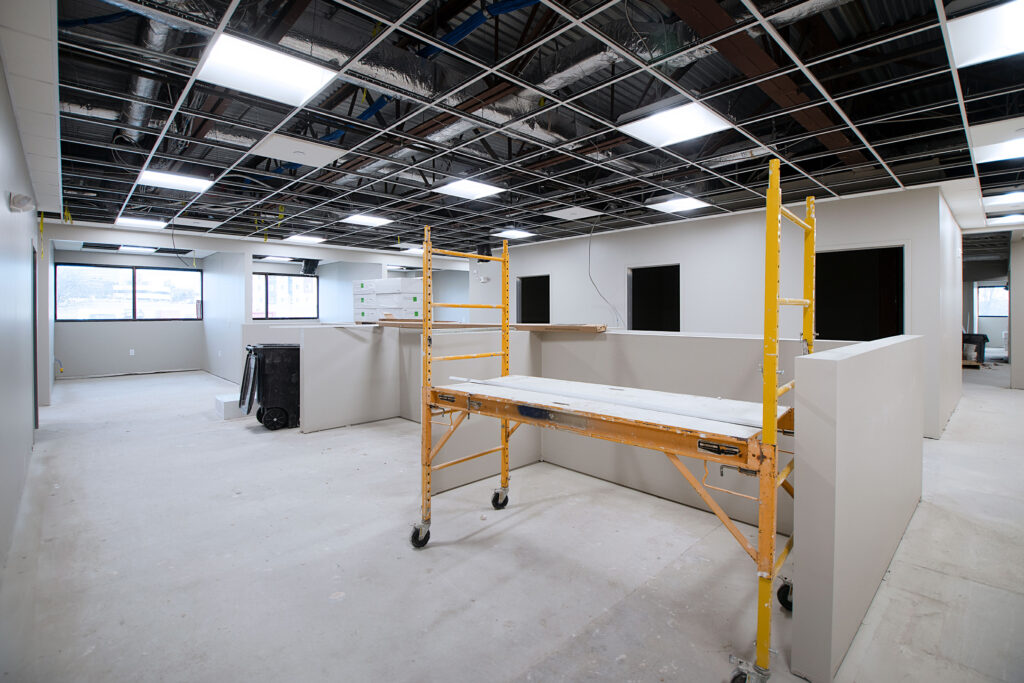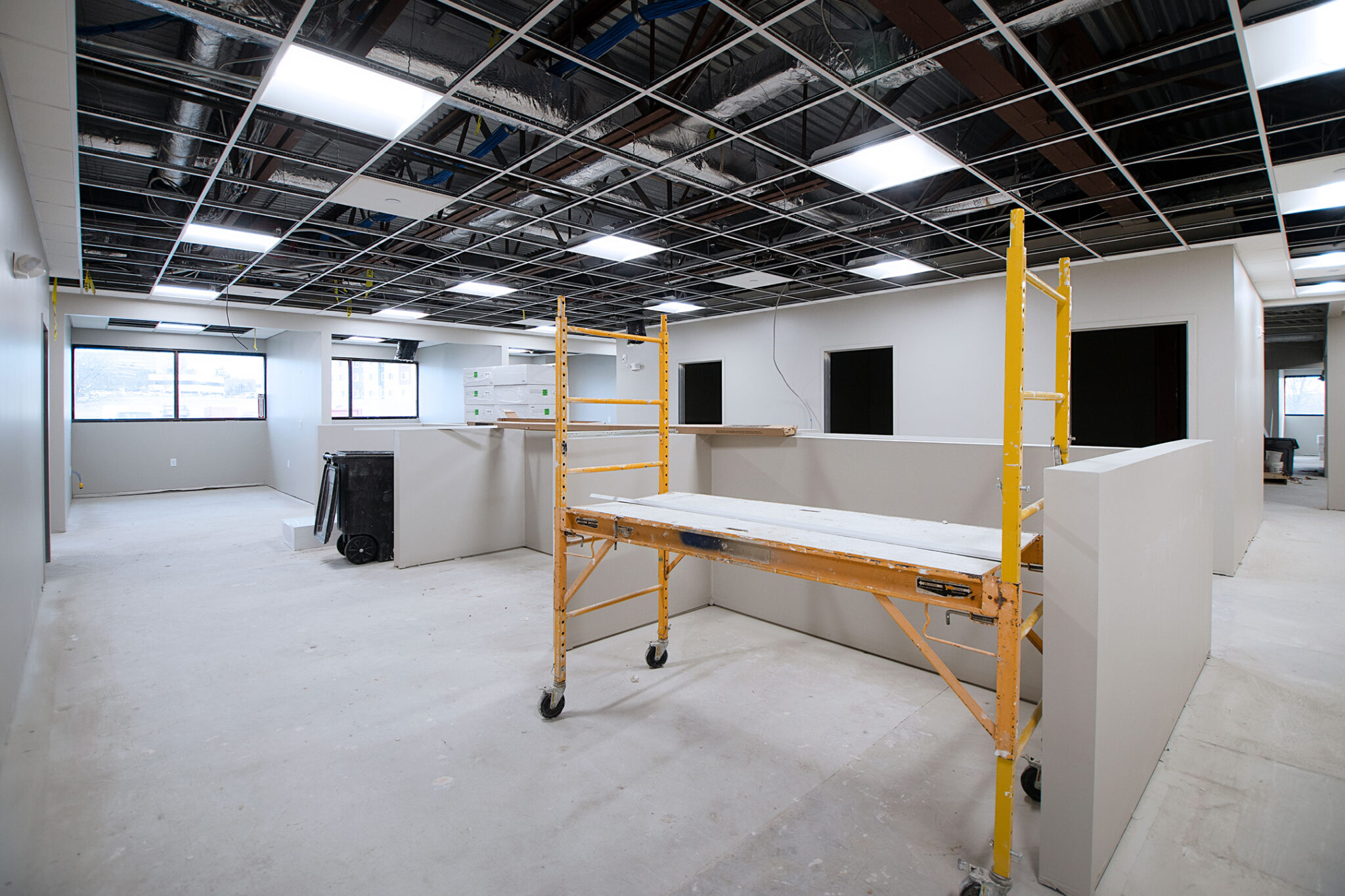 The Right General Contractor Makes all the Difference:
Most importantly, make sure the people you surround yourself with during this process are reliable, organized, and great communicators. A good General Contractor will help you navigate all of the points listed above.
D&B Construction Superintendent, Joseph, is no stranger to Tenant Improvements, regularly completing fit-outs for our clients like Cardiology Consultants of Philadelphia. He shares some tips on what to look for in the right GC for the job:
-Your GC should provide a dedicated project team to oversee your fit out. In order to make sure the job runs as smoothly and efficiently as possible, your GC should lead the project team in meticulously going over your project's logistics and specifications in pre-construction. This may include working with your property management team, building architects and engineers, and other tenants in your building.
-Look for a conscientious GC who is actively working out and updating schedule details to limit any type of disruption or inconvenience to your current operations. A constant open line of communication and attention to detail ensures your project is completed on time.
-Weekly client meetings organized by the contractor of your fit out are a good way to ensure you are always fully aware of your project's progress. Regular touch bases also enable the team to target any changes that you may want to make during the course of construction.
-A good GC will have a well-established relationship and open line of communication with their subcontractors. At D&B, our team works hand in hand with our trade partners to achieve perfection on your project. Our high standard of cleanliness, safety, and quality of work shows through the duration of the project.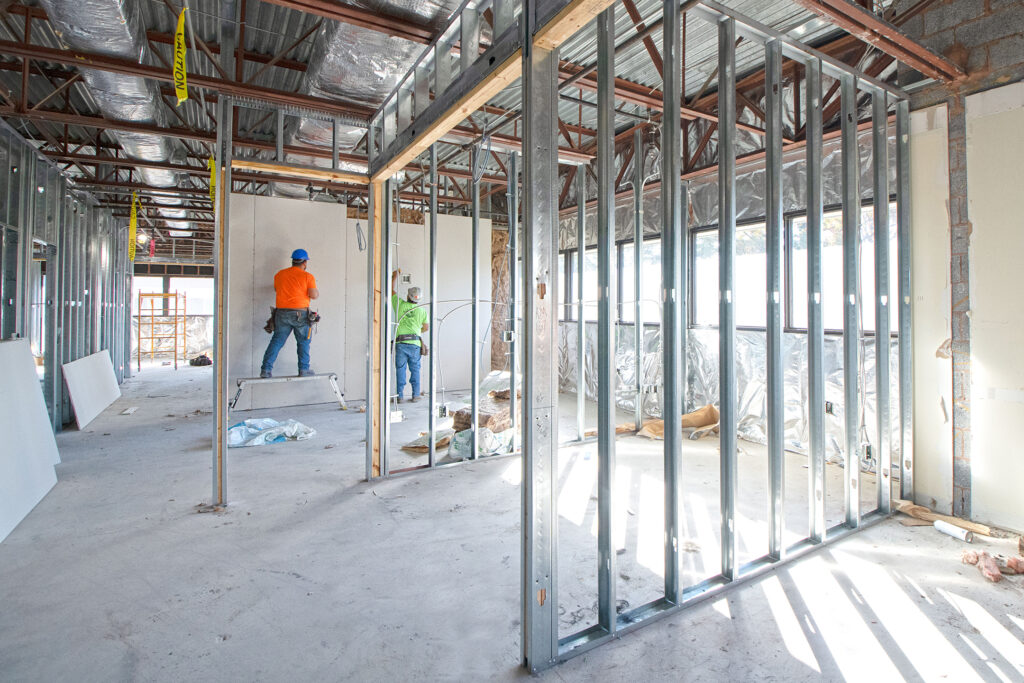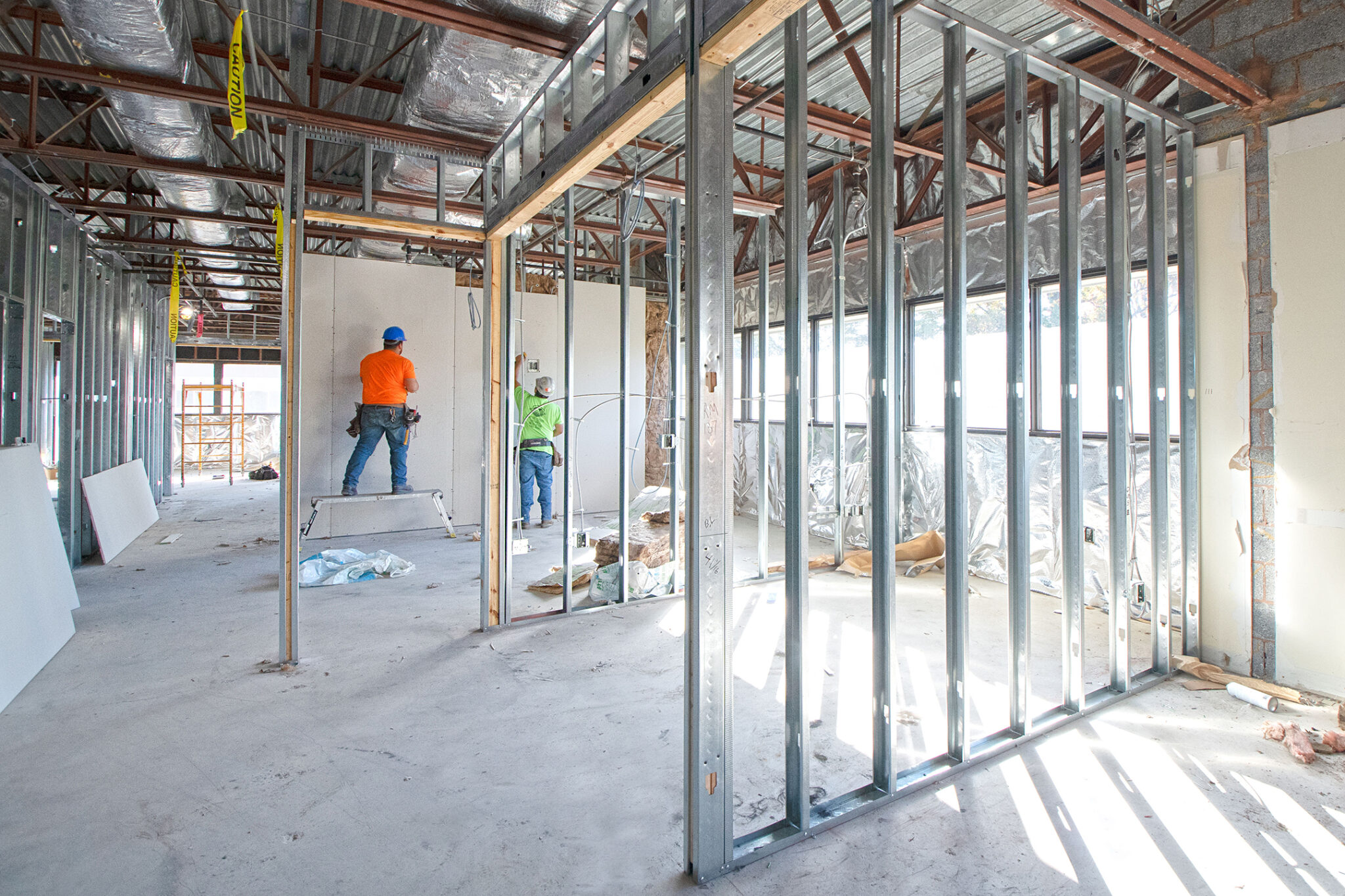 "The bottom line comes down to this," explains Joe: "When the project is completed the client should feel like we exceeded their expectations of the finished product. Starting with the pre-construction team and ending with the final cleaning of the project, we take extreme pride in the work we deliver, as well as the relationships formed with our clients. This makes all the difference."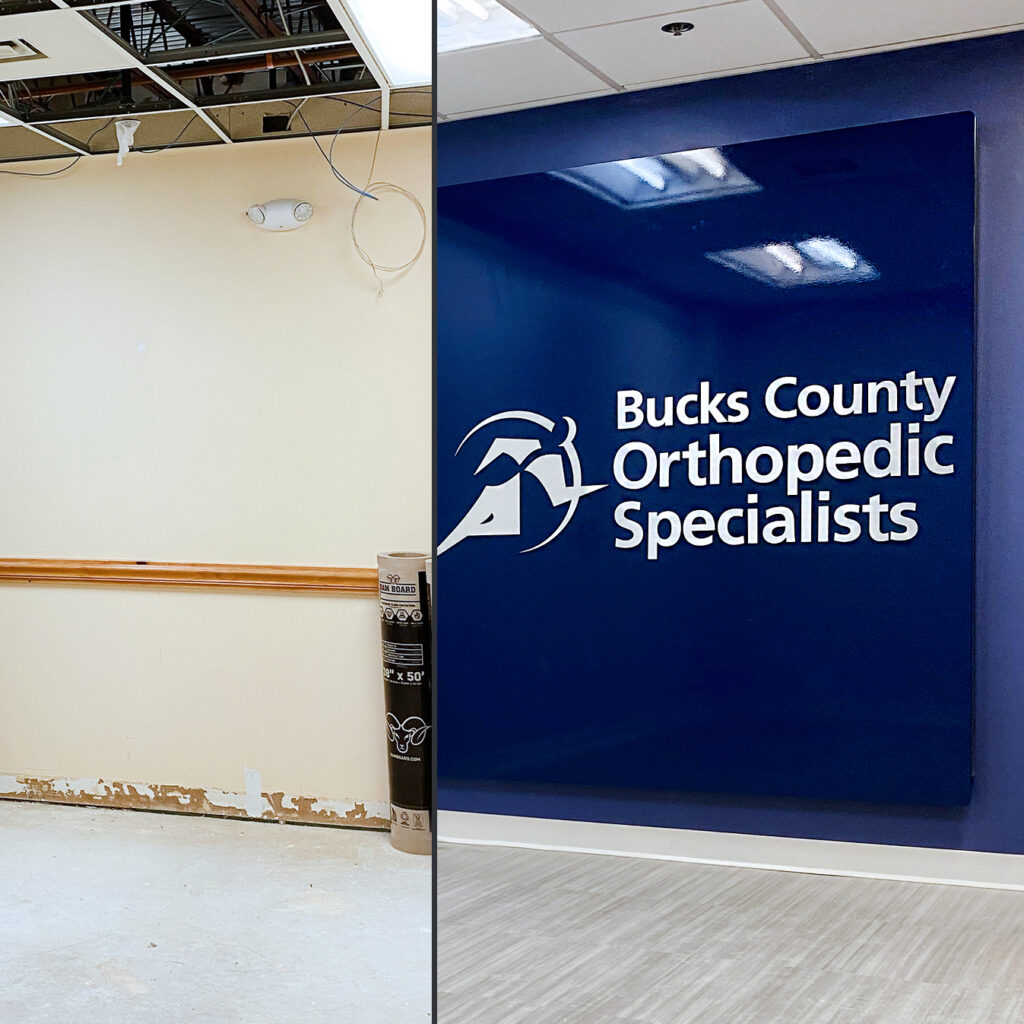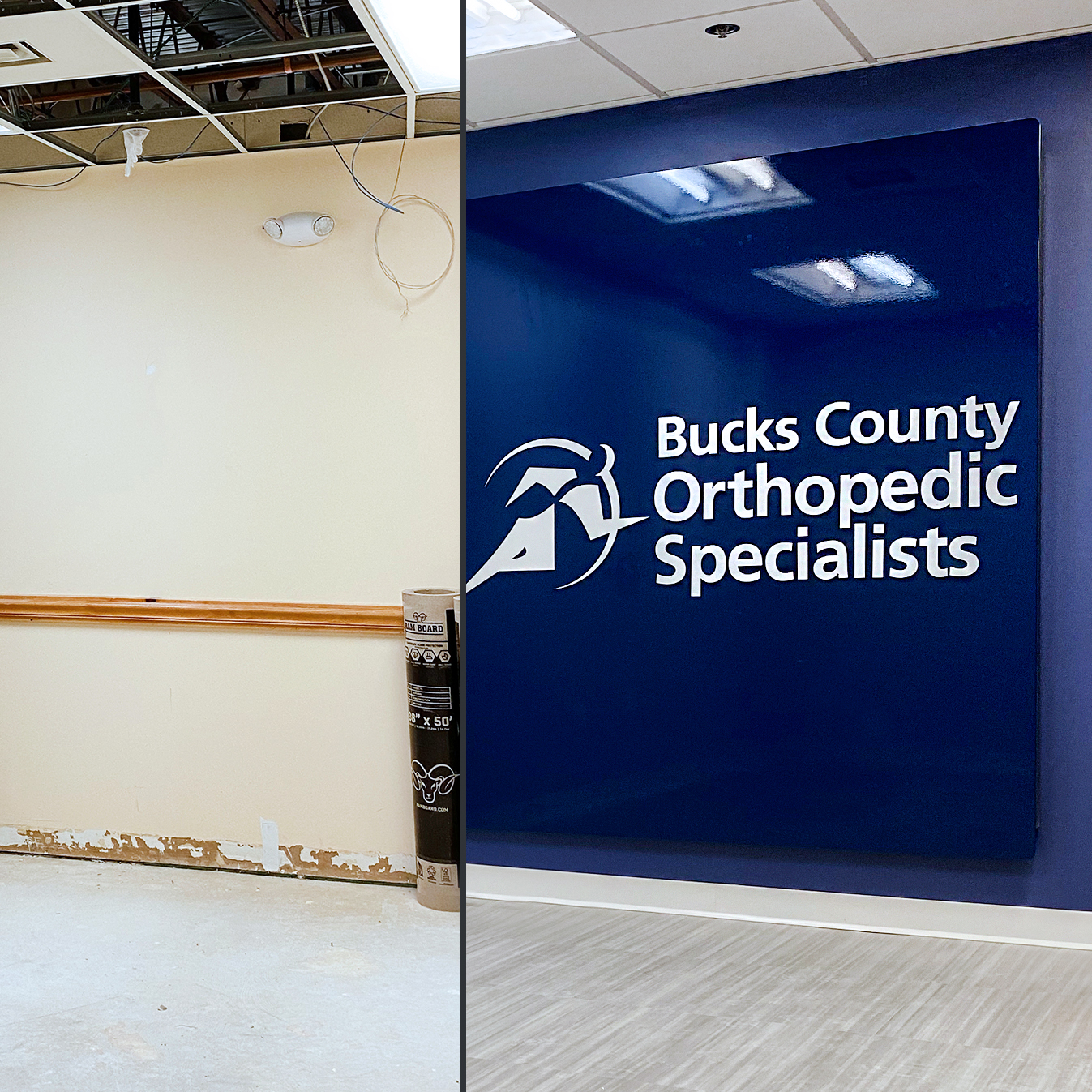 A transitional photo showing the before and after shots throughout one of our many medical office fit outs
for our client, Bucks County Orthopedic Specialists.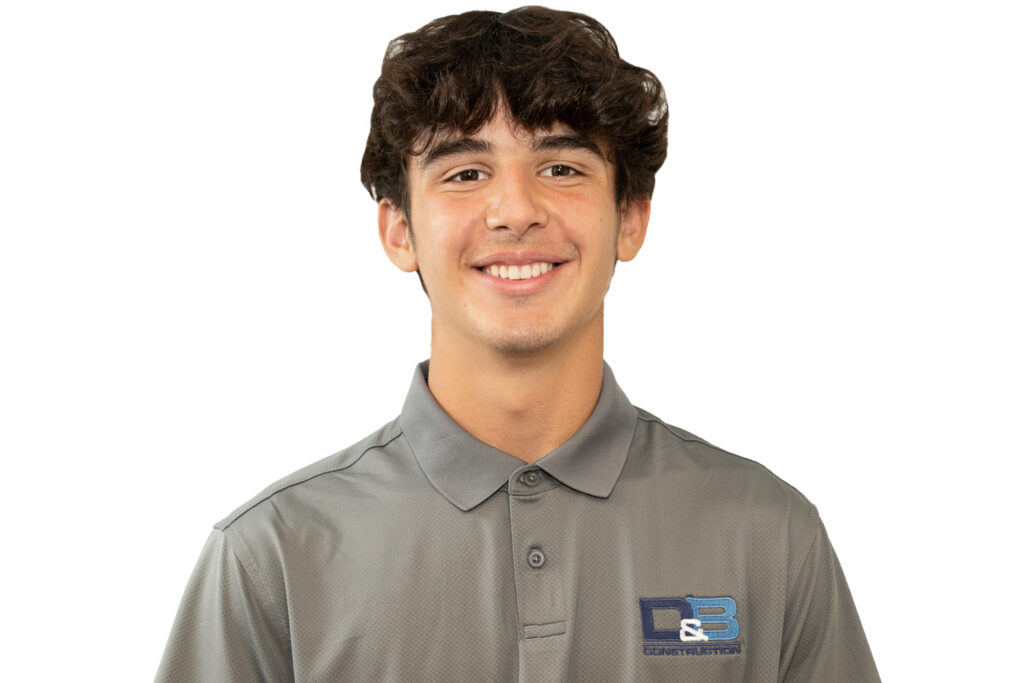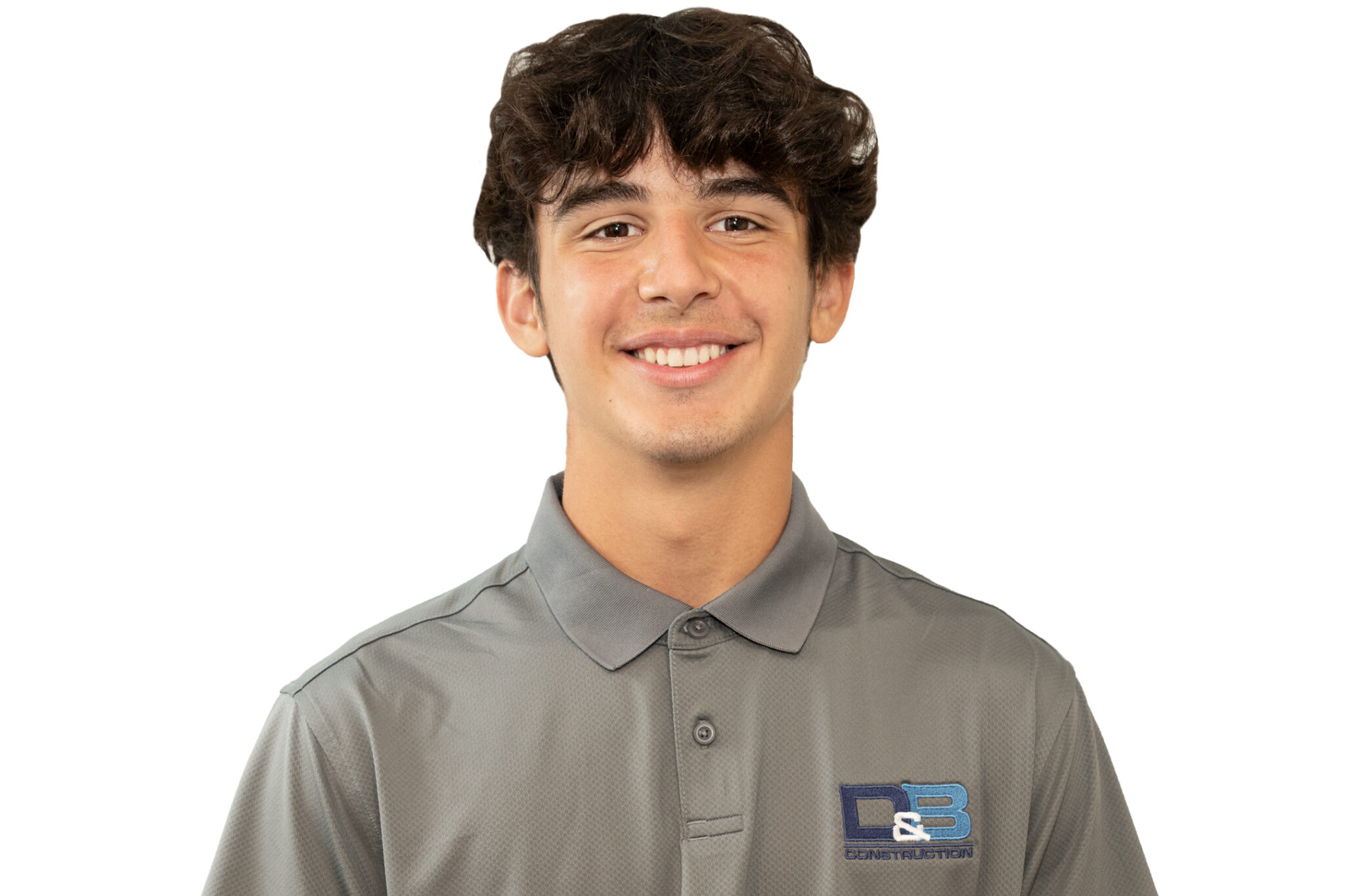 We've had the pleasure of getting to know Luca over the past year as he shadowed members of our team on D&B job sites and in the office. Luca gained valuable hands-on experience from experienced members of our team leading the project for Stratix Systems' new headquarters in Wyomissing. He also got to shadow members of our residential sister company, D&B Elite Custom, and watch a custom home come to life while also seeing finishing touches to a home renovation.
Join us in wishing Luca continued success as he pursues his degree in Civil Engineering at Drexel University! We know he will accomplish great things.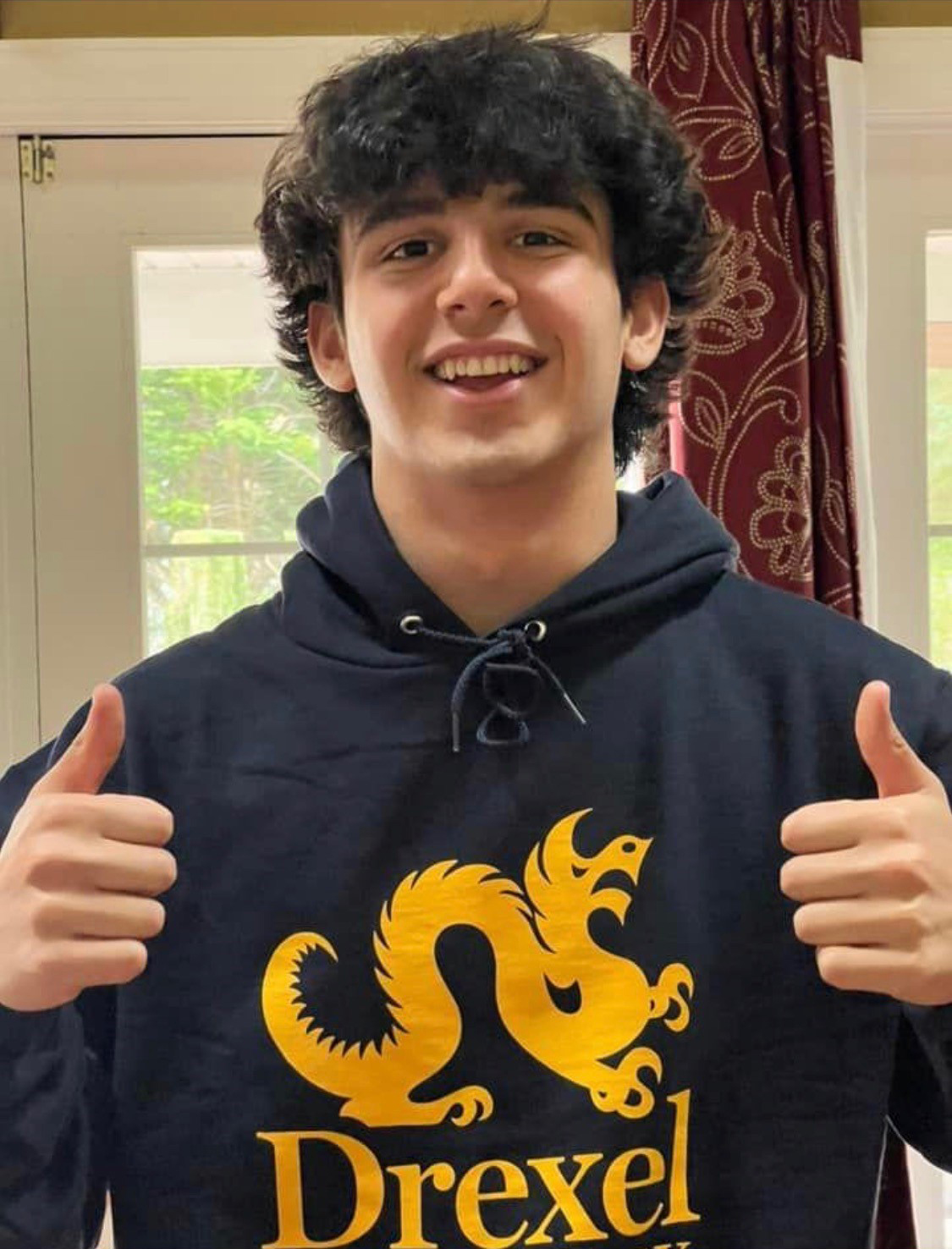 How his days at D&B were spent:
"The majority of my days were spent on jobsites shadowing site superintendents. My responsibilities included communicating with my intern supervisor, site supervisors, signing in on jobs, wearing appropriate safety equipment on site, and completing weekly site inspections when needed."
What he learned:
"A lot of valuable skills and information on how a construction management business runs both in the office and on the site. Some of the skills I learned was the importance of communication on the jobsite and in the office. I was able to sit in on meetings in the office and also saw communication take place on the job site through formal meetings, RFIs, and informal communication when the job superintendent talks with subcontractors onsite."
Some of his favorite memories:
"Some of my favorite memories are coming back to my internship after Winter or Spring break. My supervisors were very excited to see me since they hadn't seen me in over a week, and it was the best feeling. Another favorite thing to do is to look back at the old photos on Procore and see the progress that has been made on the sites I have been attending the company. I have seen rubble turn into an 8,000 SF home."
What he is most proud of:
"Everything that I was able to accomplish from this internship within the past year. Looking back and seeing everything I have done and learned from this amazing experience has been great."
How this internship impacted him:
"This internship has helped me influence my plans for the future. Before this internship, my plan was to attend college to study civil engineering, and although that plan hasn't changed I owe the confidence I now have for this major to this internship with D&B. Being at a company almost every day now for the past year has helped me truly understand my passion. This provides comfort to me because I can finally say with confidence that I know what I am doing in my future. I am very thankful for both this internship program and D&B for providing me with this comfort."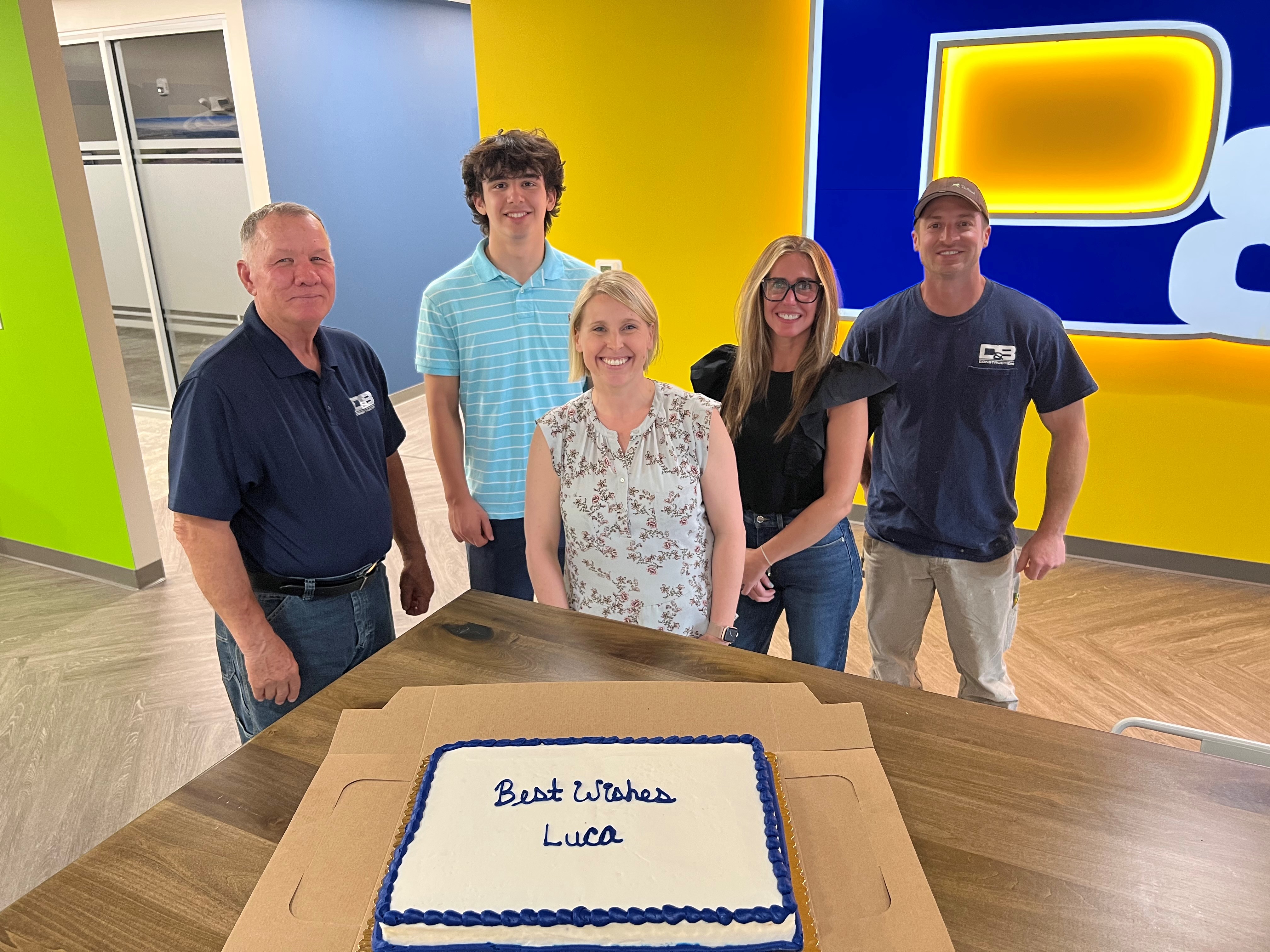 Wyomissing, PA – On Monday, May 9, Stratix Systems and D&B Construction held a topping off ceremony to commemorate the completion of the fifth floor of Stratix Systems' new corporate headquarters at 200 North Park Road, Wyomissing. This 80,000 SF building, which is currently receiving extensive exterior and interior renovations, was part of the original Wyomissing Industries. View coverage from the event here!
Learn more about the details and history of this adaptive reuse project here on our blog.
"Topping Off" is a long-standing tradition among construction workers that commemorates the completion of the building's structure as the final steel beam is placed. In attendance for the topping off ceremony were building owner and future tenant, Stratix Systems, the general contractor, D&B Construction, the project architect, RHJ Associates, the Project Engineer, Martarano Engineering, Inc., the Structural Engineer, Structure Labs, LLC, and the steel trade partner, United Weld Services LLC.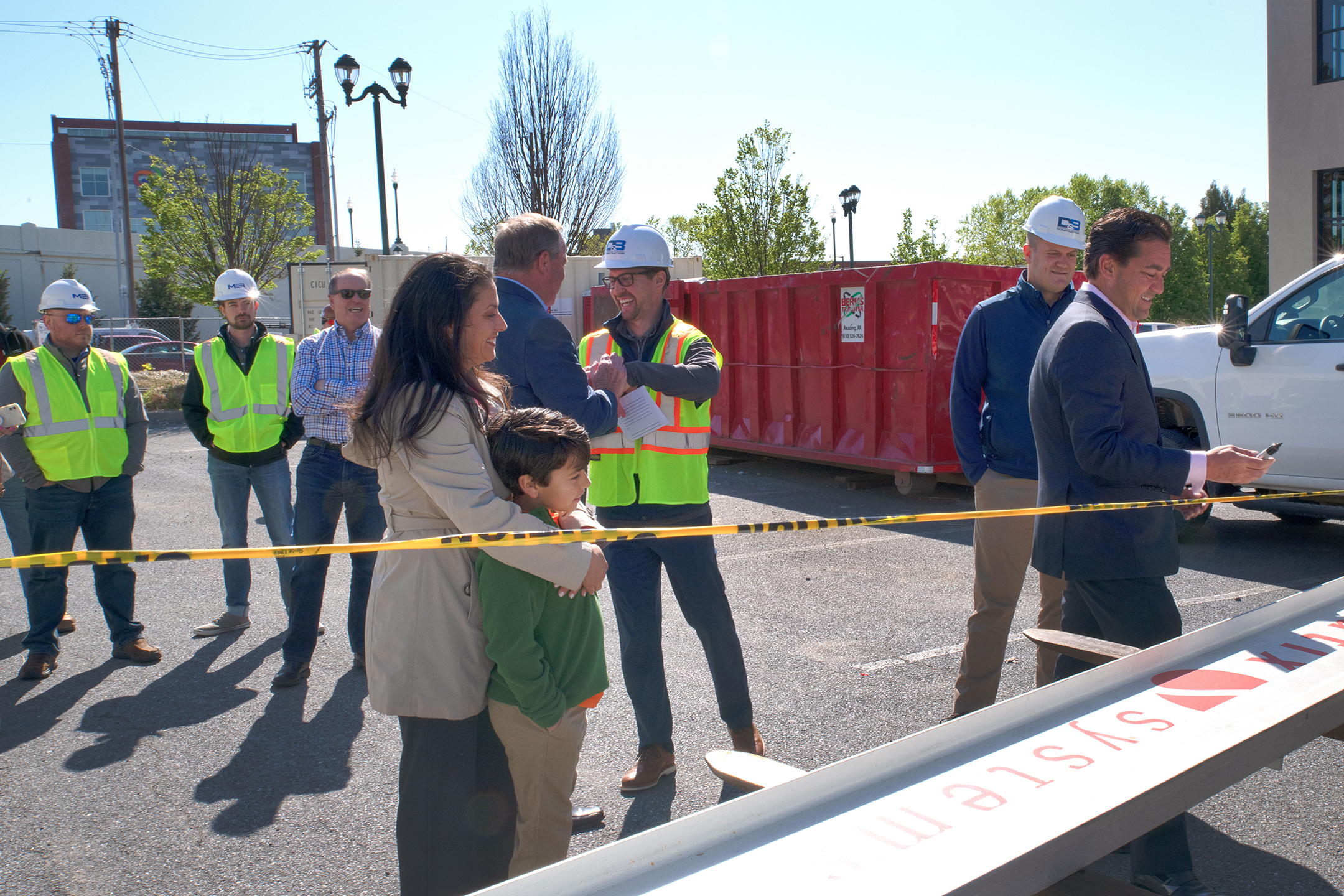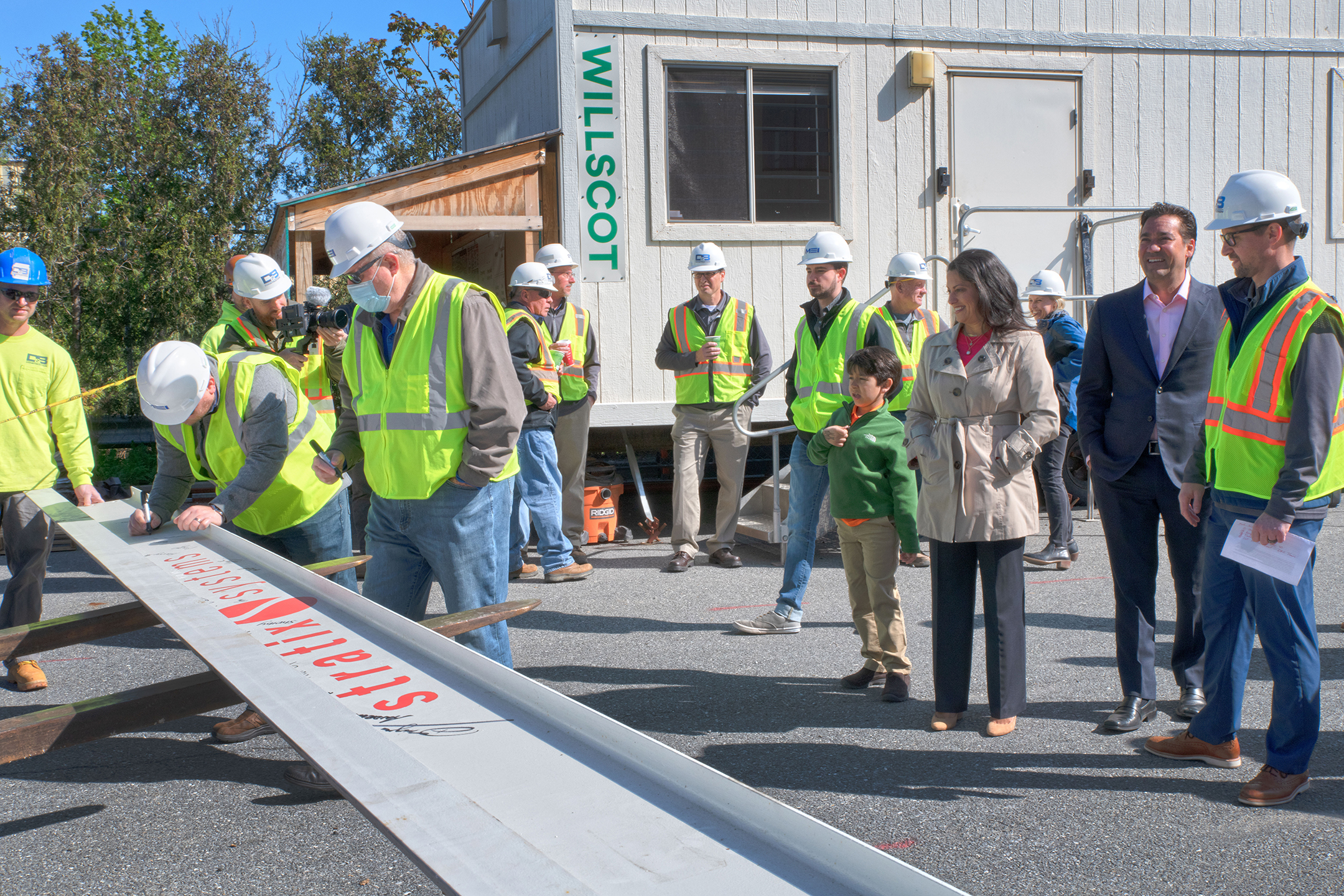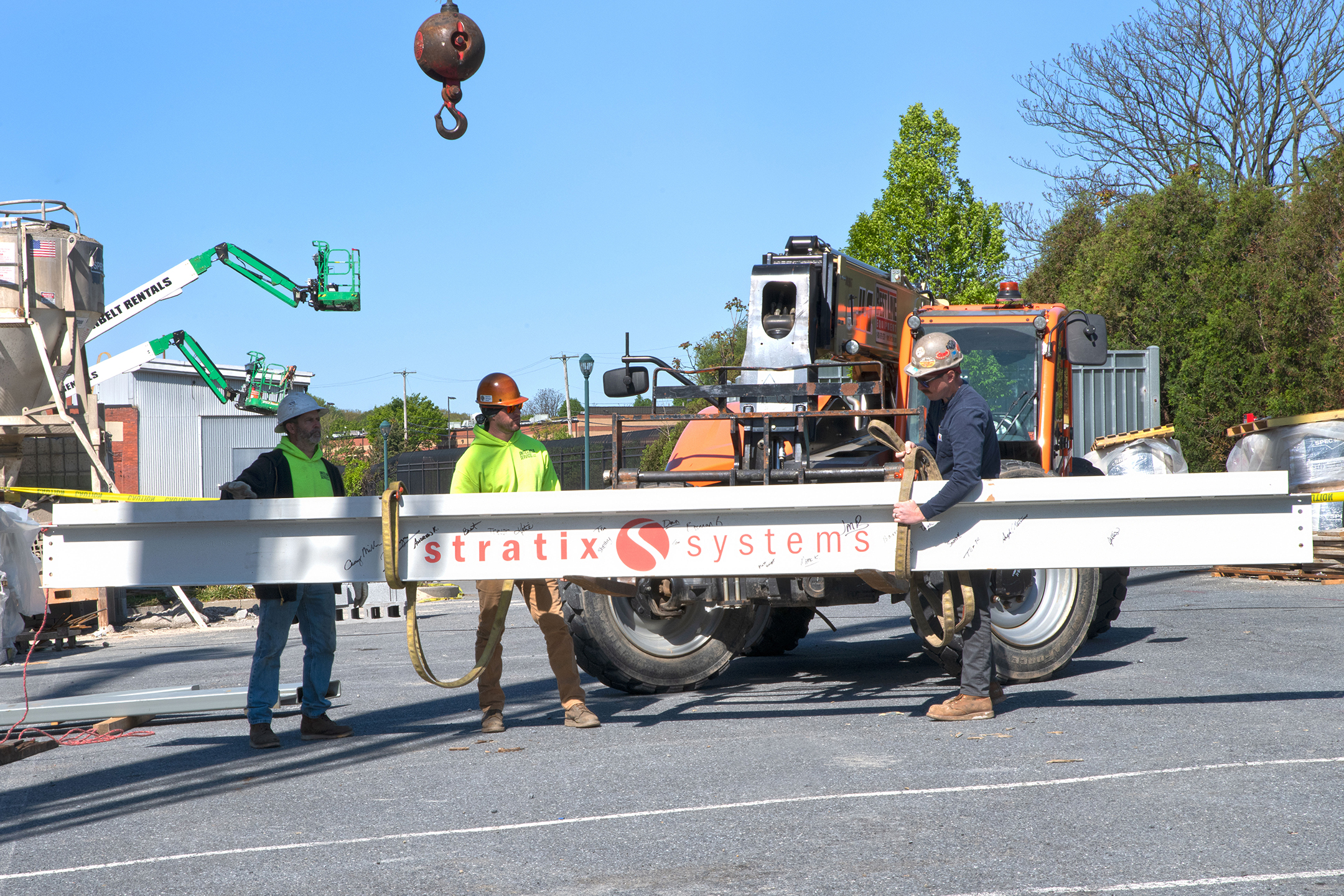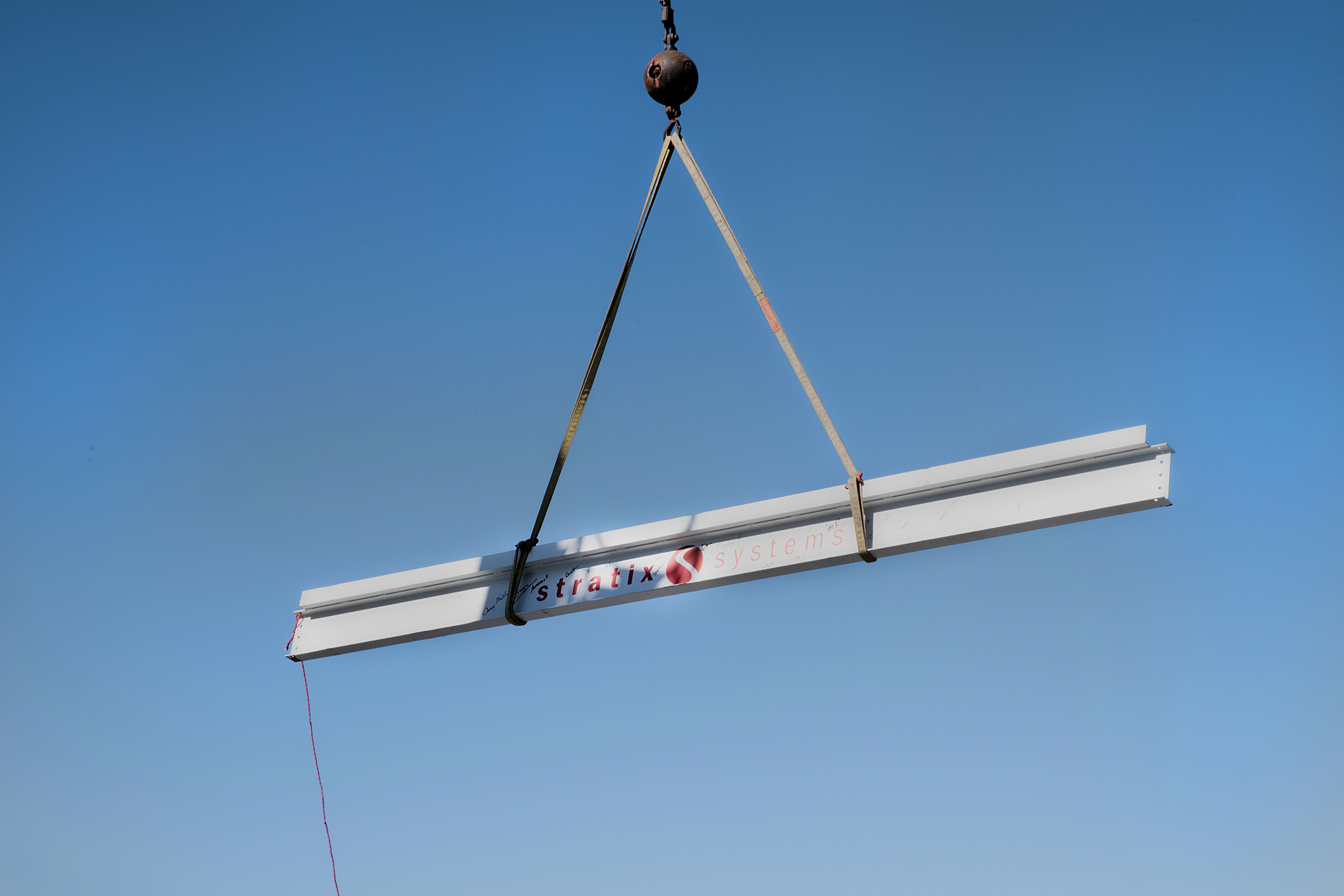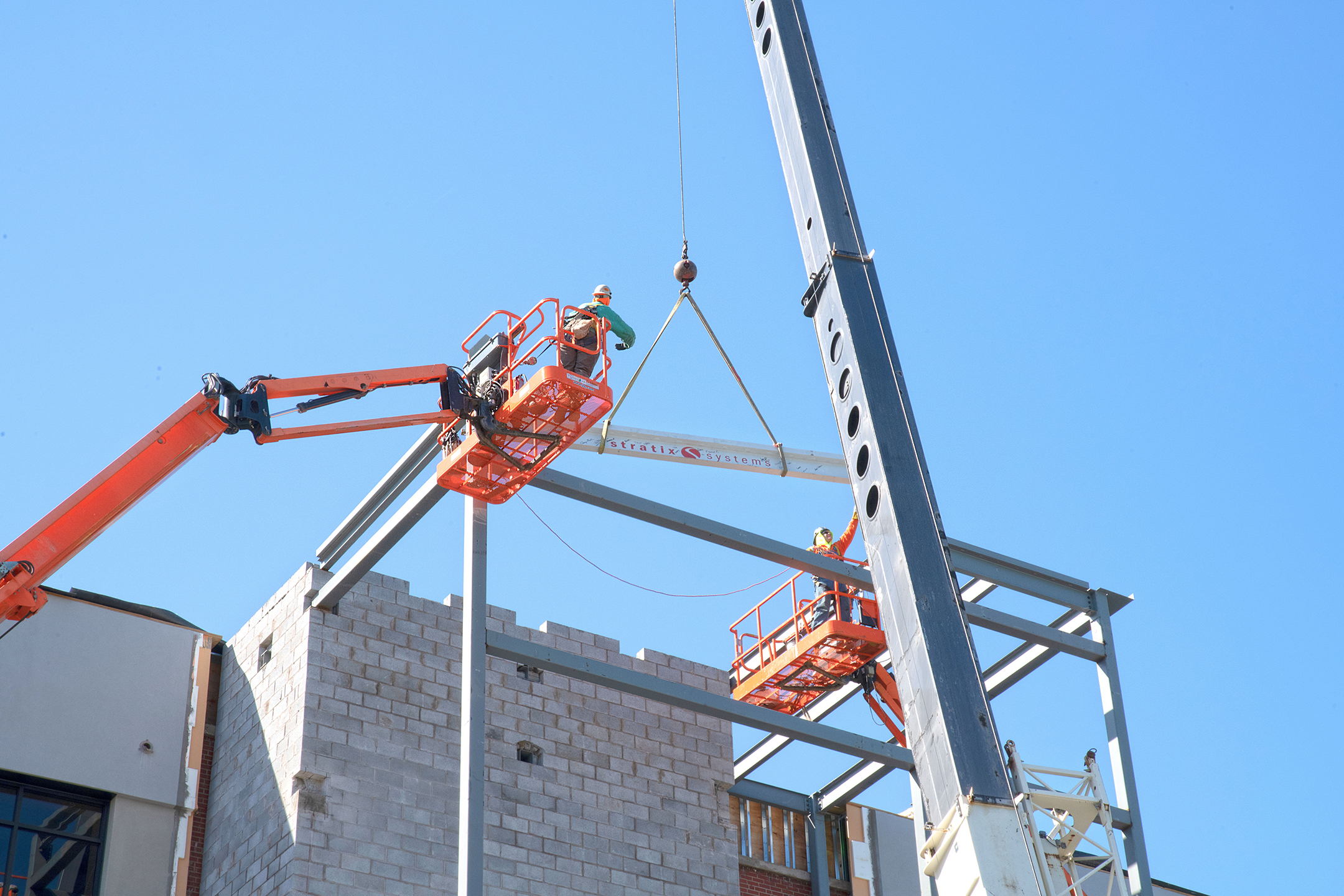 Dan Gring, Chief Executive Officer of D&B Construction, commented on the importance of high-end commercial office renovations such as this one: "Adaptive reuse projects like the Stratix Systems corporate headquarters are important because they revitalize historic buildings, creating a stronger future in the community. We're thrilled to lead the project team."
According to Brent Simone, Stratix Systems president, "We think it's important for us to reinvest in our community. In fact, we're committed to that philosophy. That's why we chose the former Wyomissing Industries property. Not only is it a gorgeous building, one with a significant history for Wyomissing and Berks County, it gives us the size and flexibility to accommodate our growth for many years to come."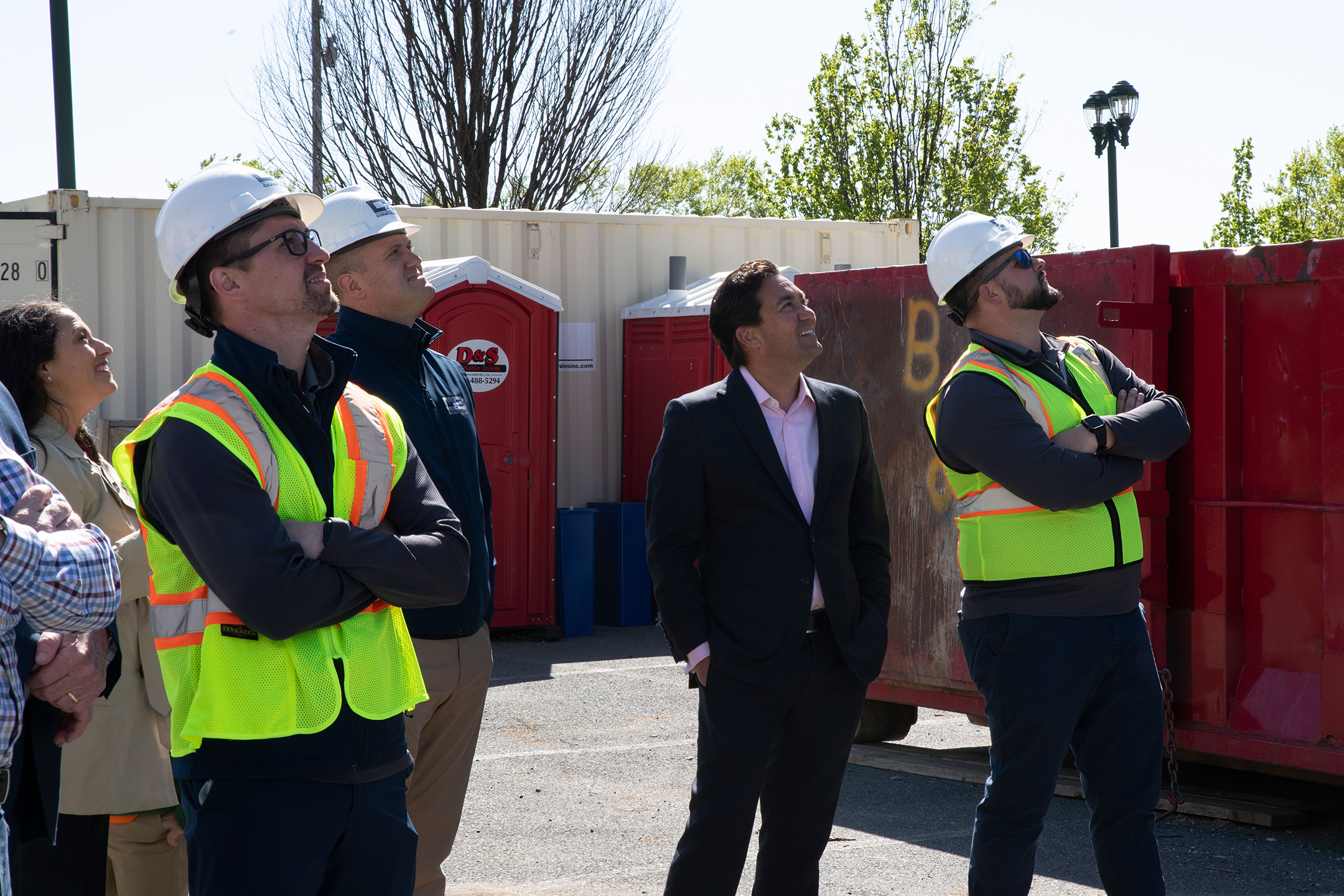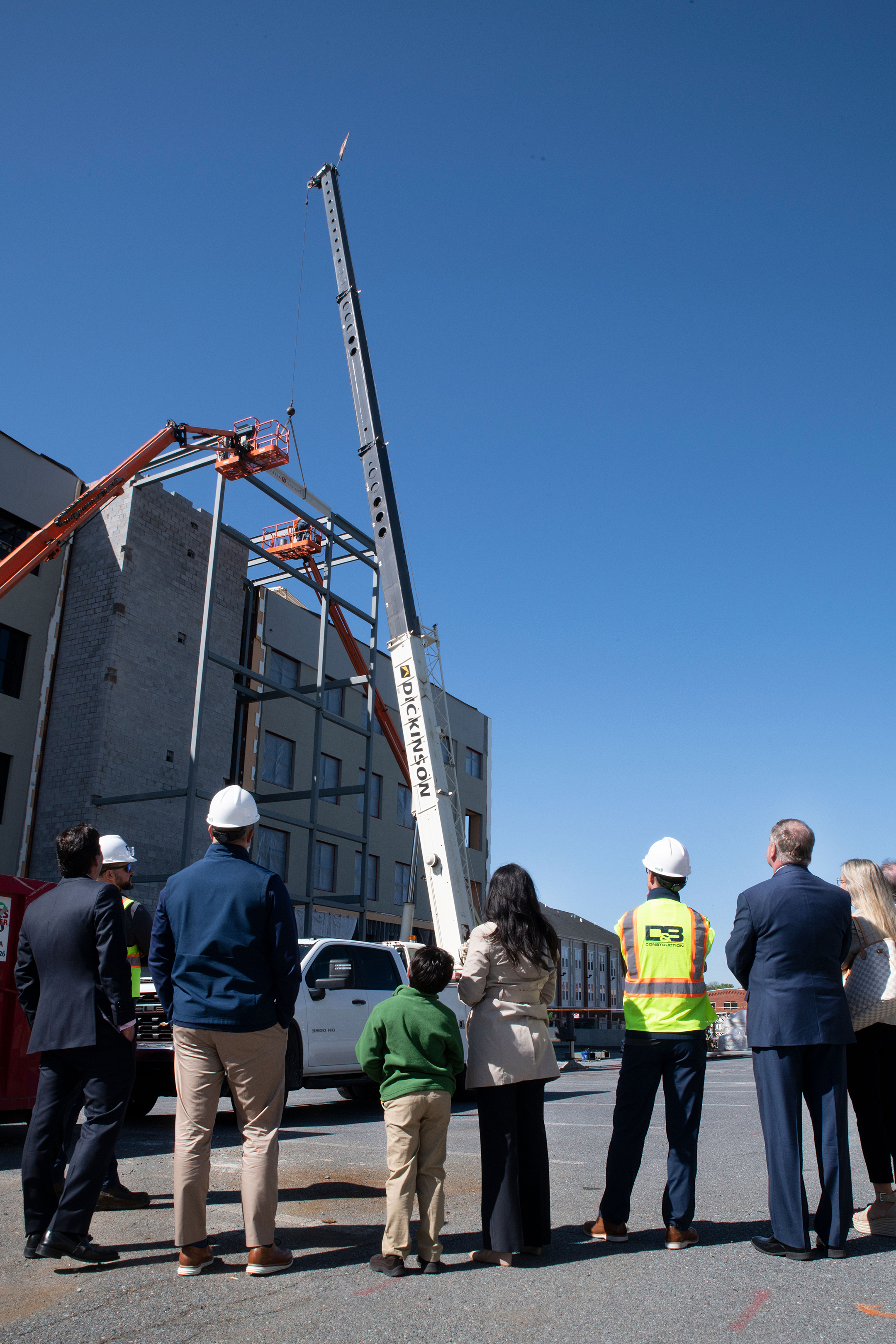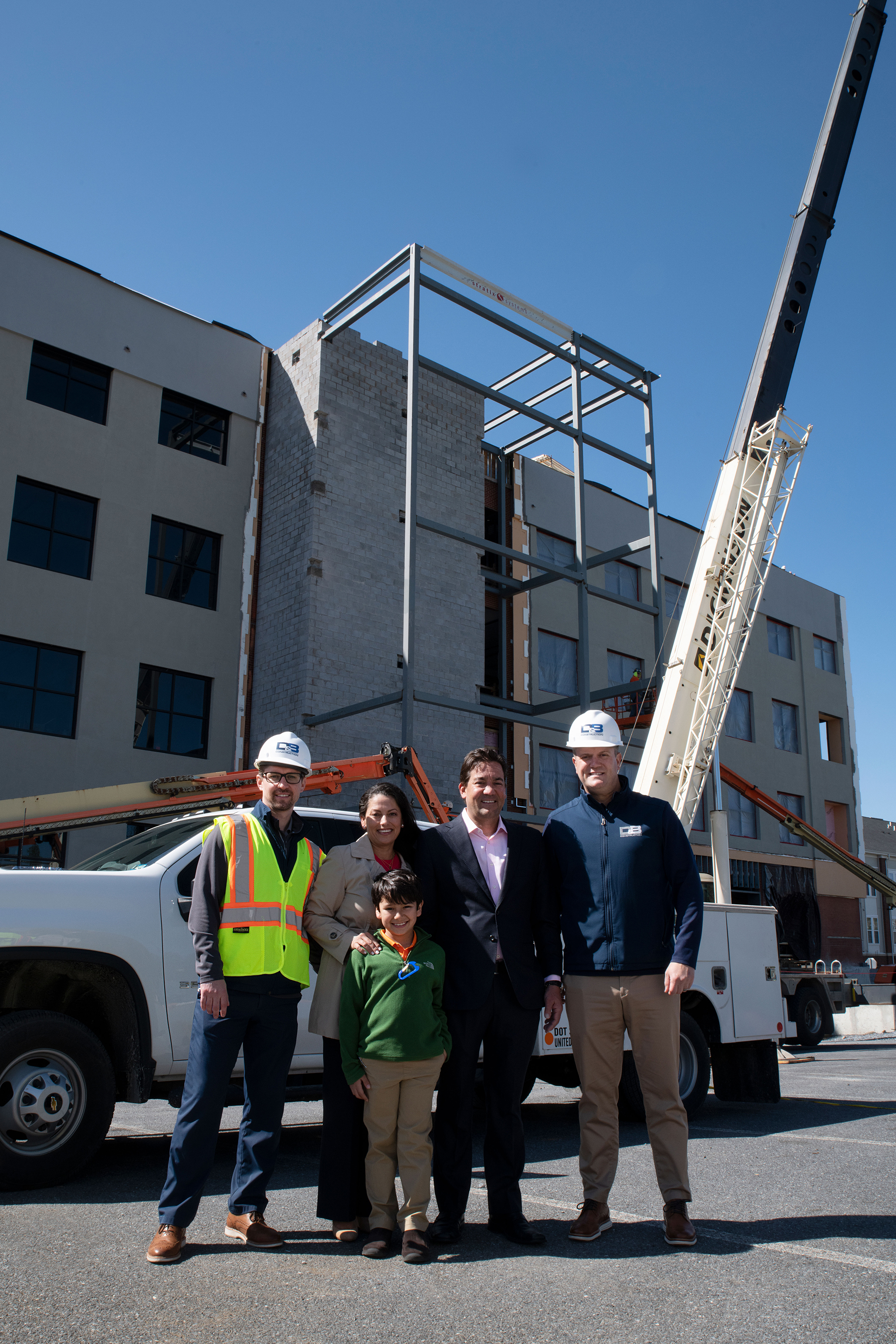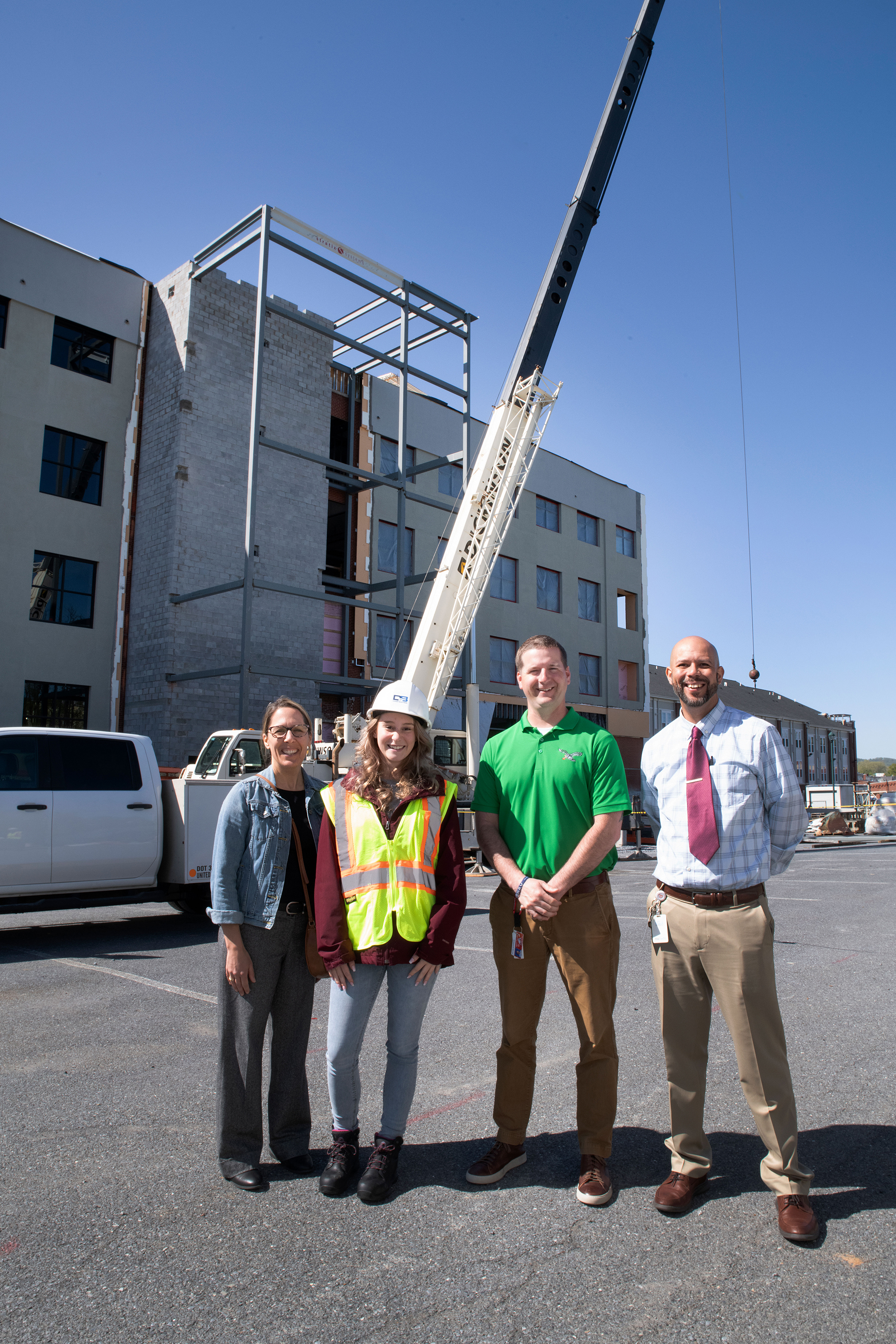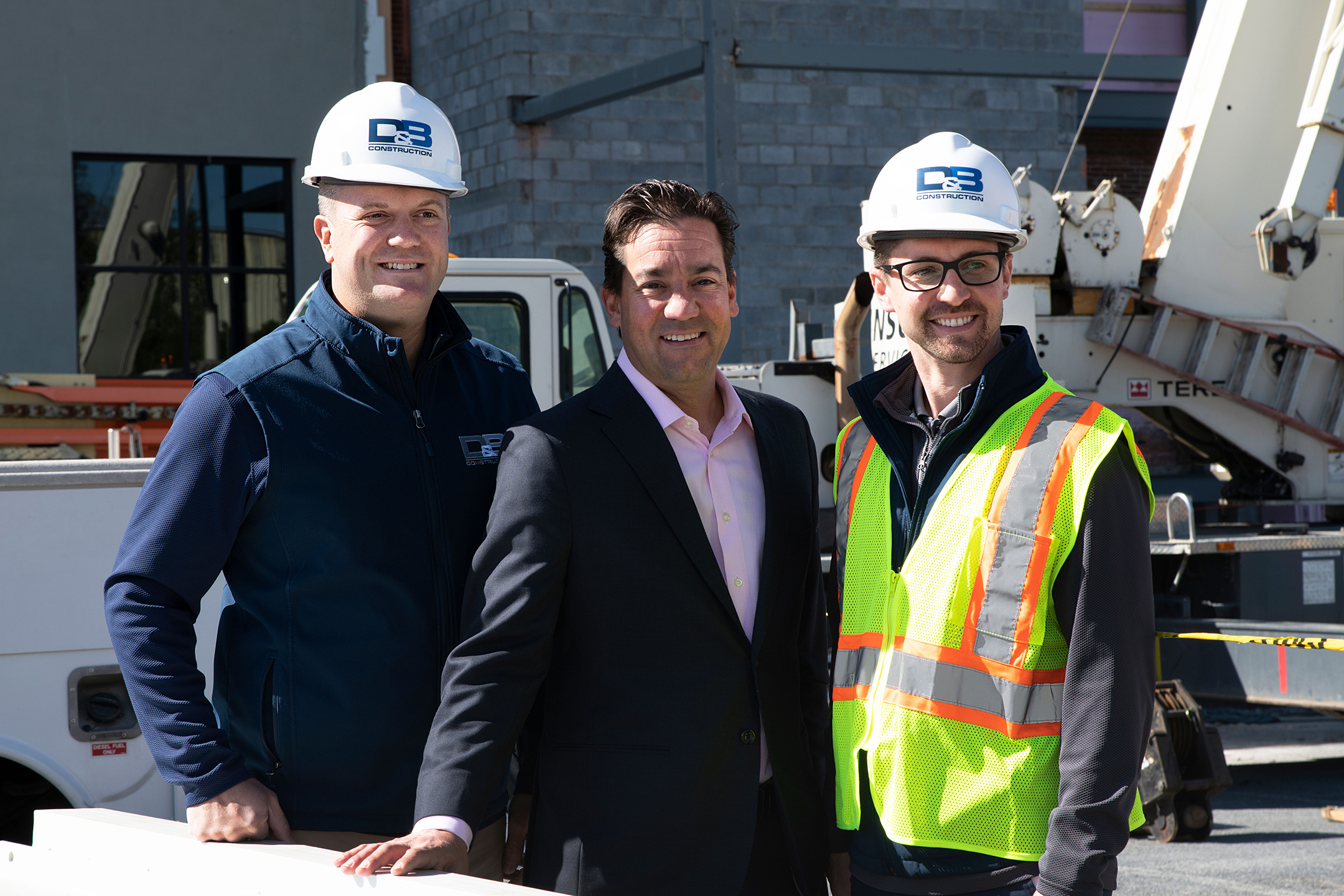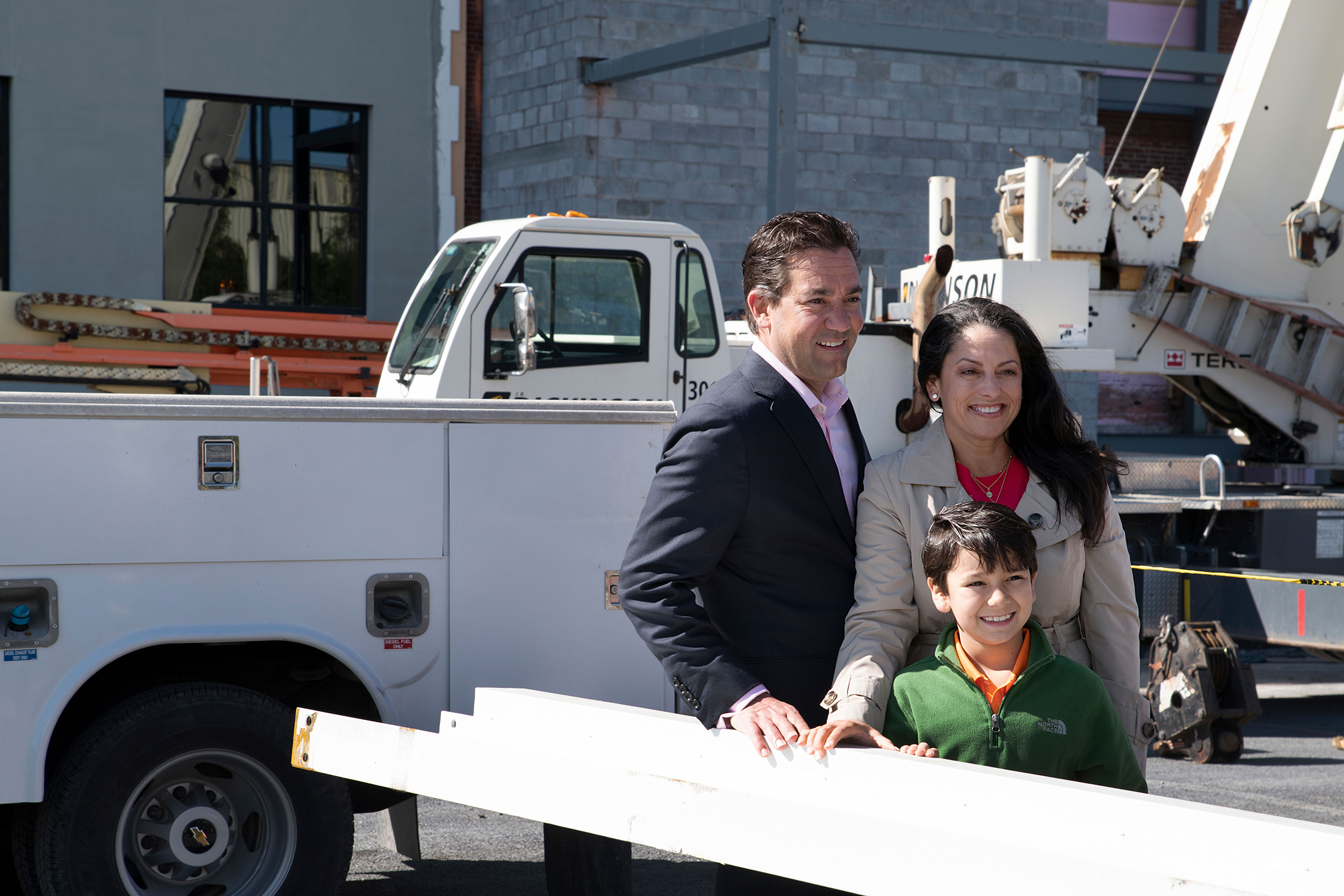 About Stratix Systems:
Stratix Systems is one of the region's leading technology solutions partners. With a history that spans nearly 50 years, more than 130 IT professionals, and offices in Wyomissing, Bethlehem, King of Prussia and York, Pennsylvania, as well as Edison, New Jersey — it's no wonder why Stratix Systems is the partner of choice for over 6,500 organizations throughout Pennsylvania and New Jersey. Very few providers in the country can match the vast array of technology solutions and responsive service available from Stratix Systems. Whatever a client's technology needs — Managed IT Services, Cybersecurity, Imaging & Printing Solutions or Document Management, Stratix Systems has the people, the technologies, the expertise and the experience to deliver the advanced solutions and support clients rely on. Stratix Systems has earned recognition as a member of the prestigious Inc. 5000, as well as recognition as one of the fastest growing companies from both Lehigh Valley Business and the Greater Reading Chamber Alliance. The company has also been recognized by Ricoh USA with Ricoh's Circle of Excellence designation and Ricoh USA's President's Award. Stratix Systems has repeatedly earned certification as a Pros Elite 100 dealer – the only Pros Elite 100 dealer in the region – a certification that recognizes the top-shelf achievement and client service of the top 100 service organizations in the country. Learn more at www.stratixsystems.com.
About D&B Construction:
Founded in 2010 by Dan Gring and Brennan Reichenbach, D&B Construction has grown into one of the region's most trusted construction firms. Headquartered in Reading, Pennsylvania the company is driven by a commitment to quality and transparency. They have grown from the two founding members to over 50 employees with an additional office outside of Philadelphia to conveniently serve the Delaware Valley region. Today they are a full-service construction management firm offering a variety of services to commercial clients in the healthcare, multi-family, professional office, retail / hospitality, institutional, and industrial sectors. Delivering an individualized, superior experience to all of our clients, D&B is a team of genuinely good people who love to build and work hard, with their success built upon long-standing relationships anchored in honesty, trust, and fairness. Leveraging vast design and build experience, D&B is the conduit for business owners, corporations, and developers looking to enhance the places in which they work, grow, and invest. Completing projects safely, within budget, and on time to minimize any disruption to business is always top priority. For more information, visit online at: dbconstructiongrp.com.
Just over a year ago, D&B Construction began demolition of the exterior and interior of an 80,000 SF building in the heart of Wyomissing, PA. The culmination of this design-build core and shell project will reveal a completely renovated building offering five stories of high-end commercial office space. The building will be home to the headquarters of Stratix Systems, a leading technology solutions partner that is rooted in Wyomissing. Three floors totaling 45,000 SF of space will be fit out for Stratix Systems and two floors totaling 30,000 SF will be available for future tenants.

Some highlights of this project include:
-Asbestos abatement and lead paint removal
-The removal of all interior furnishings, finishes, partition walls, and MEP's to make way for all new floor configurations and finishes specific to Stratix's wishes and providing clear space for future tenants
-Removal of sprinkler and fire alarm systems to allow for all new NFPA 13 sprinkler systems, including a new fire pump and fire alarm systems
-Removal of existing exterior insulation finish system and aluminum windows made way for an upgraded EIFS and enlarged aluminum windows restored to their original size.
-Removal of the entire roofing system and entrance vestibules / porticos to make way for a completely new roof system, as well as a five-story storefront entrance with stairs and two passenger elevators
-A freight elevator and loading docks are also being added to the building, while the fifth floor receives an expansion
-Given the intricacies of this project and the fact that safety is our standard at D&B, a full site specific safety plan was created and implemented for this project, including bi-weekly JSA/JHA, weekly site meetings, confined space training and regularly scheduled scaffold inspections.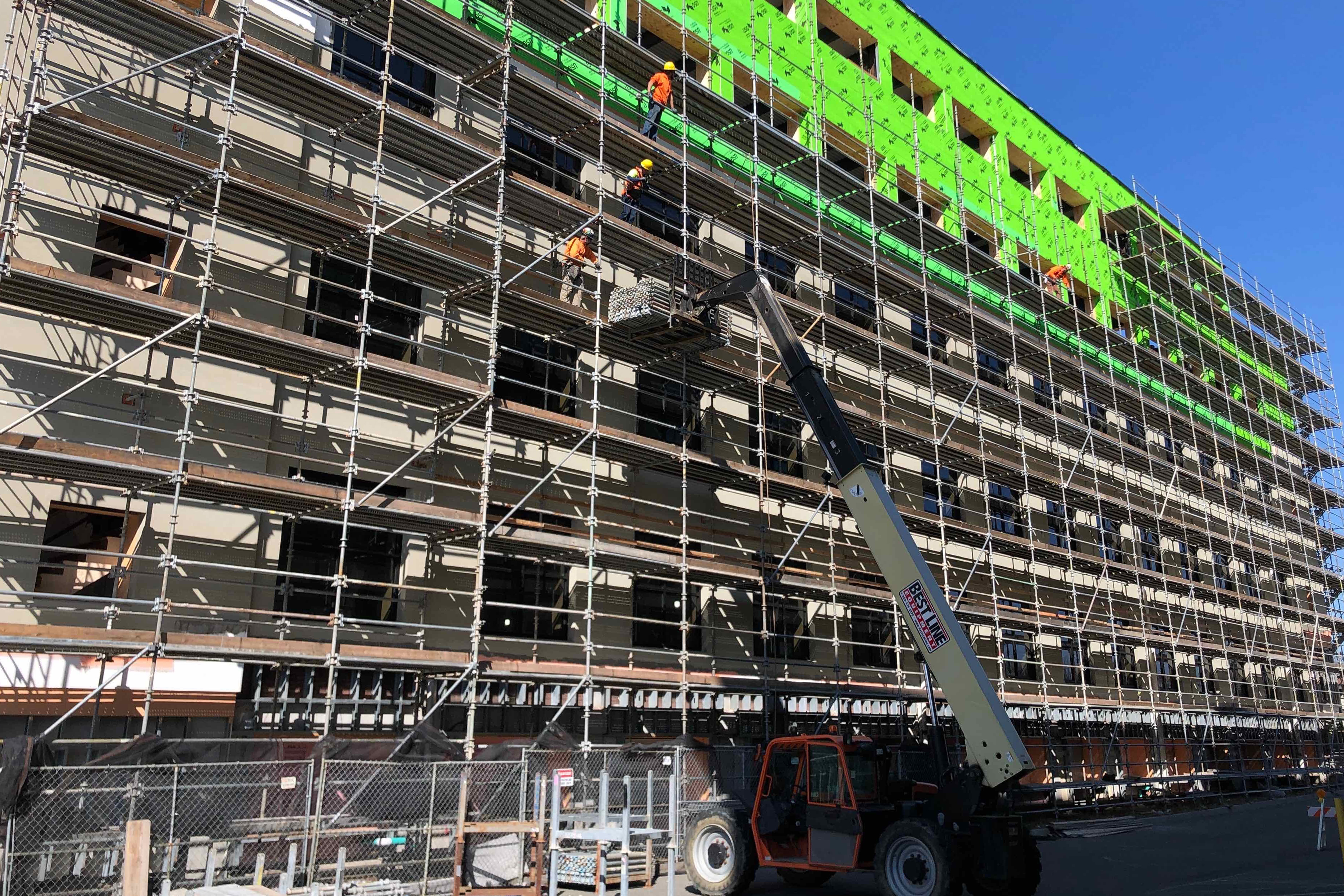 Stepping Back in Time to the Building's Original Pioneers:
Like many adaptive reuse projects, this building comes with a rich history: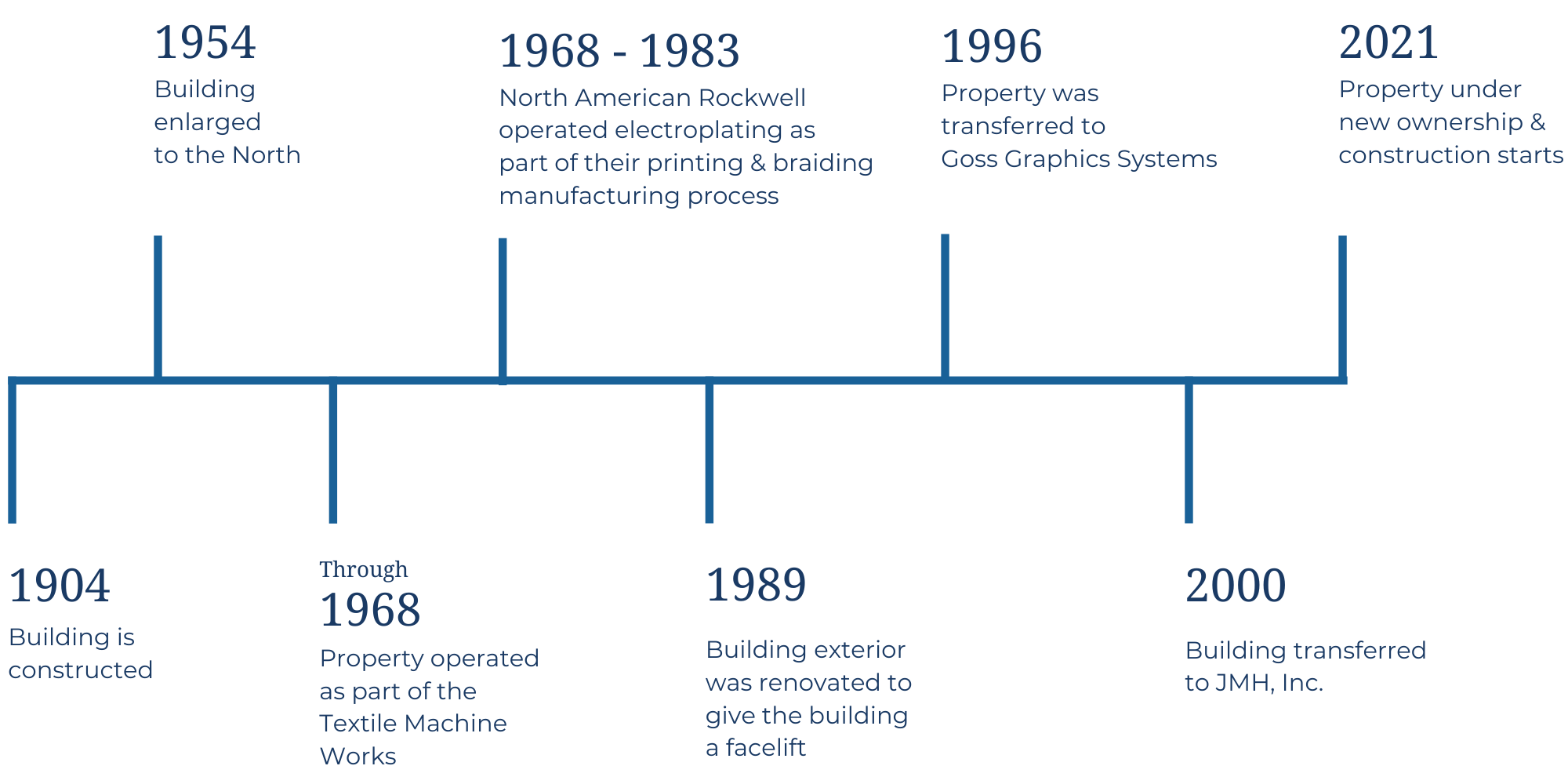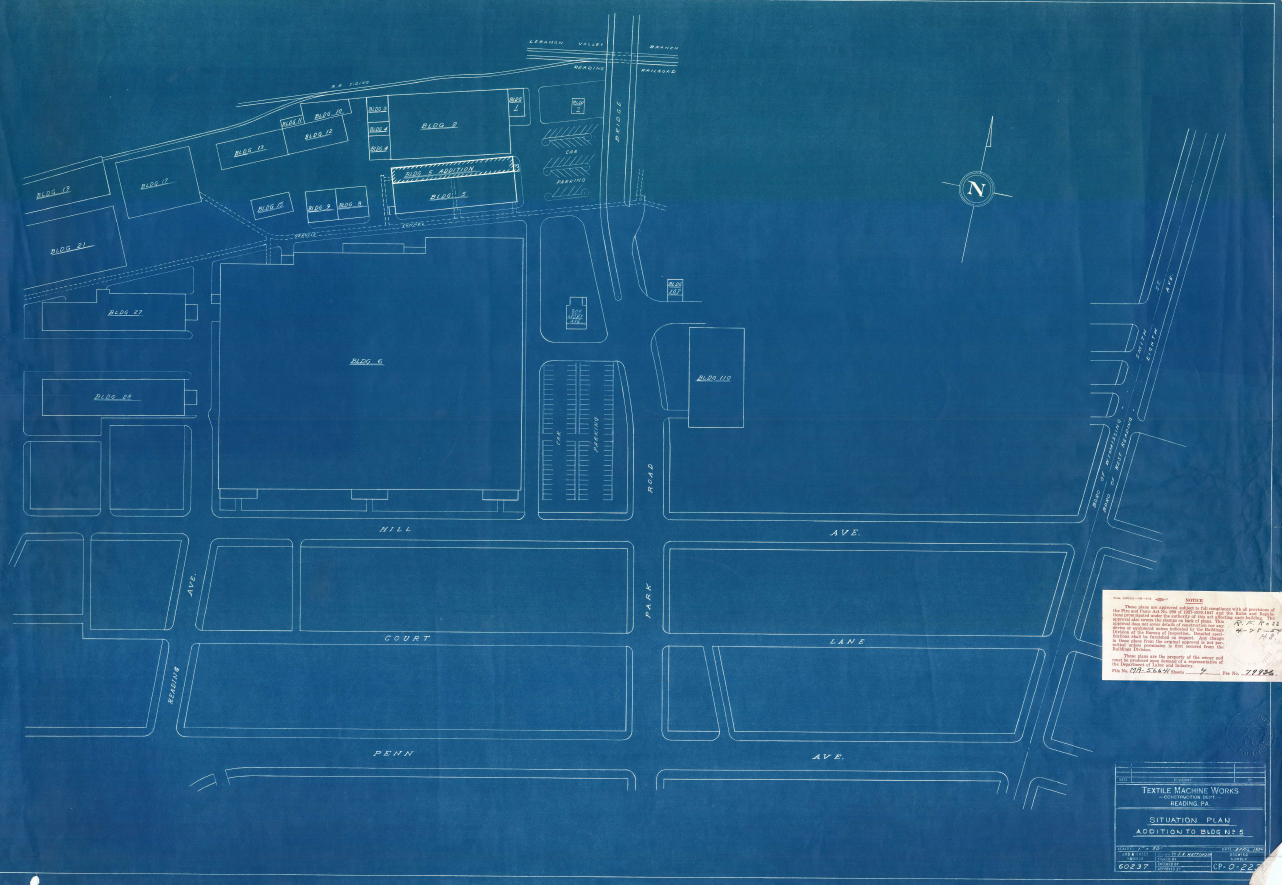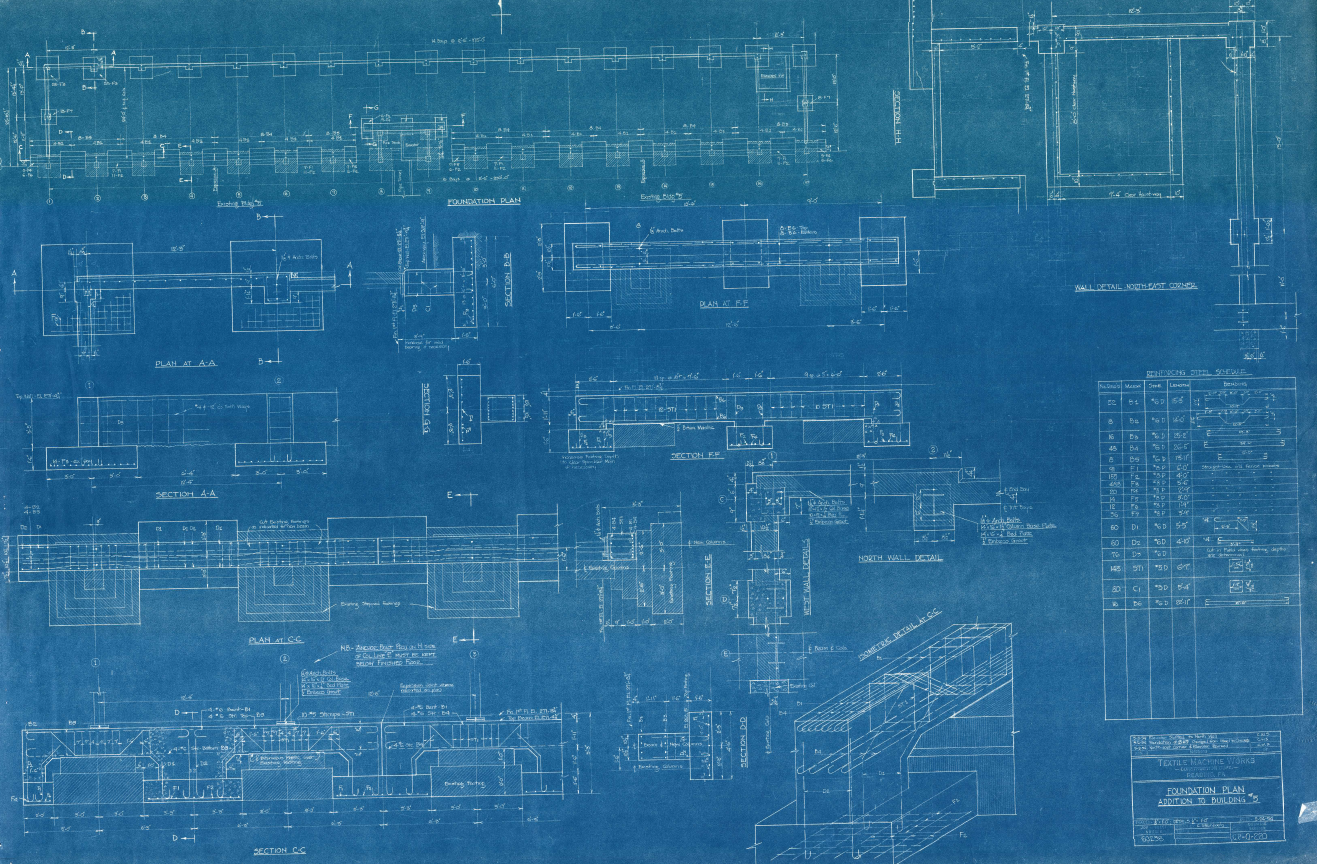 The building was part of the original Wyomissing Industries, a multi-faceted manufacturing enterprise founded by Ferdinand Thun and Henry Janssen in 1906 when they incorporated their three main businesses: the Textile Machine Works (soon to be the future home of Stratix Systems), Narrow Fabric Company (braided products), and the largest full-fashioned knitting mill in the world, the Berkshire Knitting Mills (hosiery and fabrics).
In 1969, following the decline of nylon, the nation's first outlet center was purchased by VF Corporation. The VF Outlet had six million visiting shoppers annual during its peak, and in 1991 Reading was officially declared "The Outlet Capital of the World." Today UGI Energy Services' headquarters, Teleflex, and Tower Health System's collaboration with Drexel University's College of Medicine Branch, along with updated restaurant and retail offerings, can be found at the new Knitting Mills that locals and visitors alike have come to know and love.
Adaptive Reuse: A Delicate Balance of Preserving A Building While Paving the Way for the Future
In addition to D&B employees and the project architect, RHJ Associates, approximately 45 of our dedicated Trade Partners, made up of both individuals and entire organizations, have been collectively working to revitalize this space. One such Trade Partner is Pullman Services, who was on site for about four months completing a variety of tasks involving structural repairs to the existing building and installing temporary lintels so more windows could be cut into the building façade. As part of their structural repairs, Pullman restored deteriorated concrete on over 50 columns and girders in the original portion of the building. Their Foreman, Jamie, referred to the project as a unique job. "I've never seen columns built like this in my 20 years in the industry," he explained.
Some of the Trade Partners on this project have multiple contracts from demolition into core and shell. Once all is said and done, approximately 45,000 man hours will have been spent completing this project between over 100 individuals, ranging from Project Manager to laborer.
Some other key players in the building's transformation include the following Trade Partners:
–EHC Associates completed both interior and exterior demolition, as well as asbestos abatement and lead paint stabilization.
–Paramount Contracting has completed framing and various exterior work, such as the exterior insulation finishing system. (Learn more about our partnership with them here!)
–Shea Roofing is installing the new roof and aluminum clad panels as part of the new exterior finish system
–United Weld Services LLC is erecting steel, which expanded the fifth-floor roof over 26 feet and will be integral in the new entrance lobby
–B&G Glass is installing new windows throughout the building
–Michael C Wall is completing all HVAC work
–H.B. Frazer Company is heading up the electrical work
–Haller Enterprises, Inc. is leading the plumbing work
Anyone that frequently drives over the bridge on Park Road headed towards the Knitting Mills has undoubtedly received a first row look at the transformation taking place on the building's exterior. For those not from the area, here's a look at the transformation: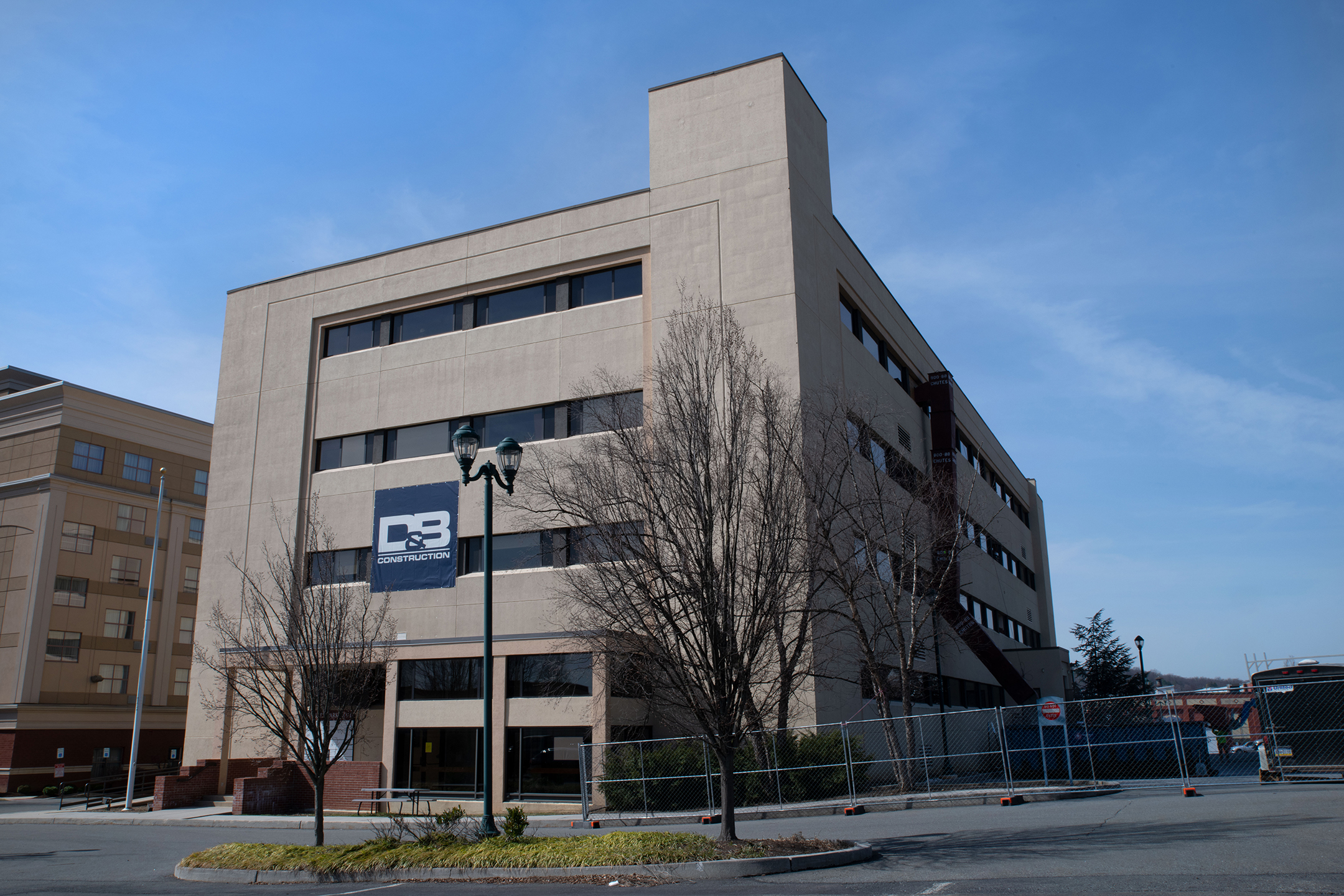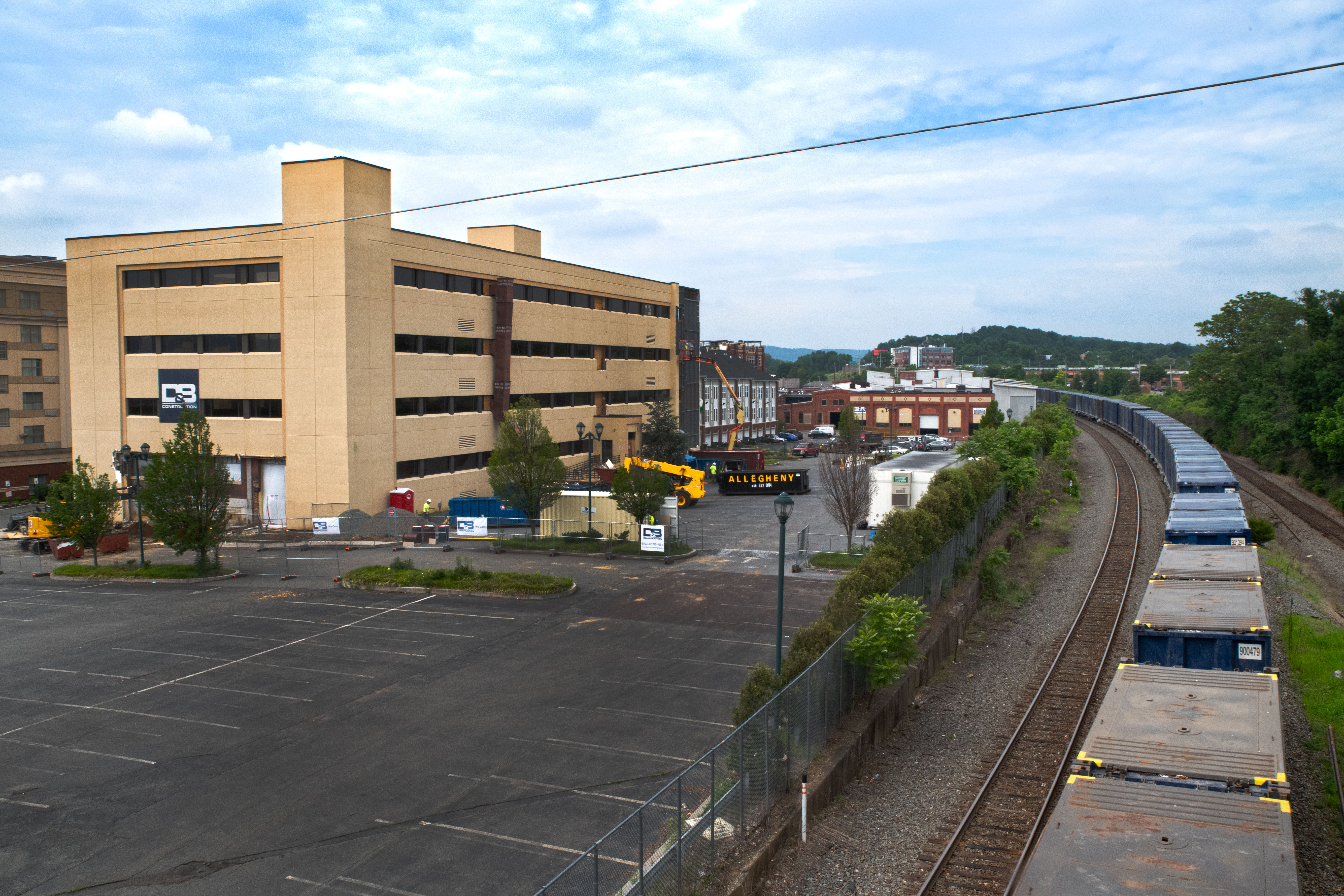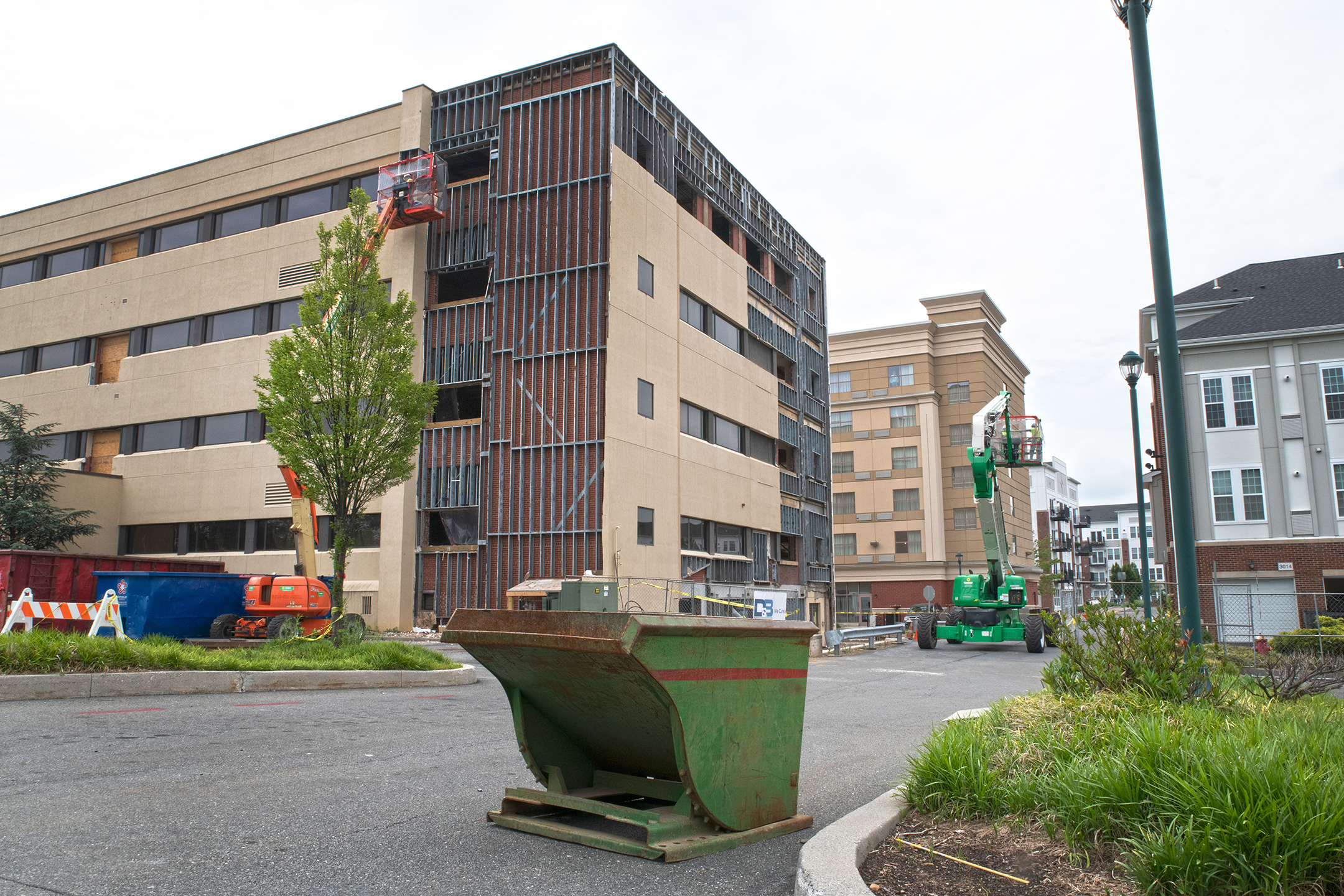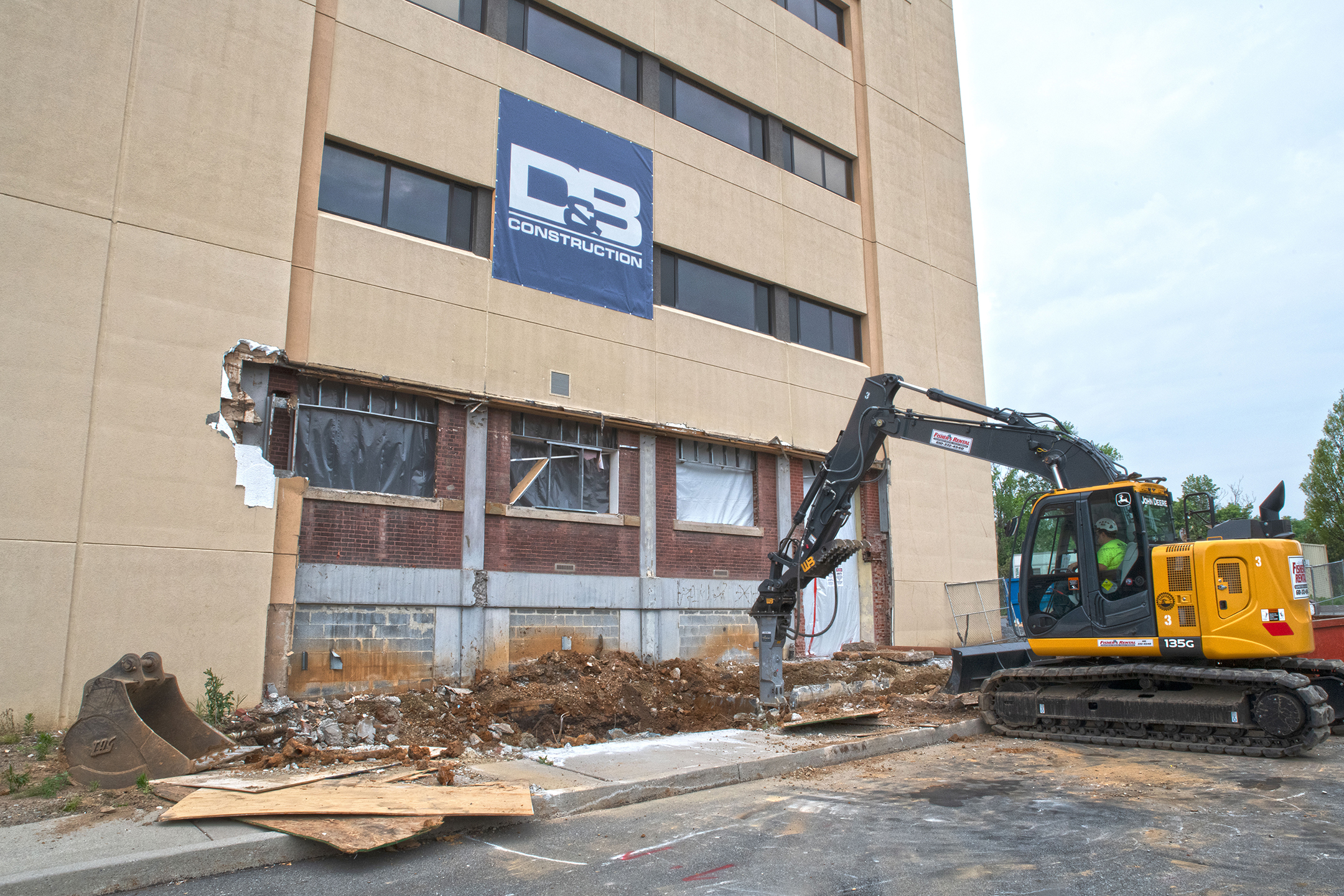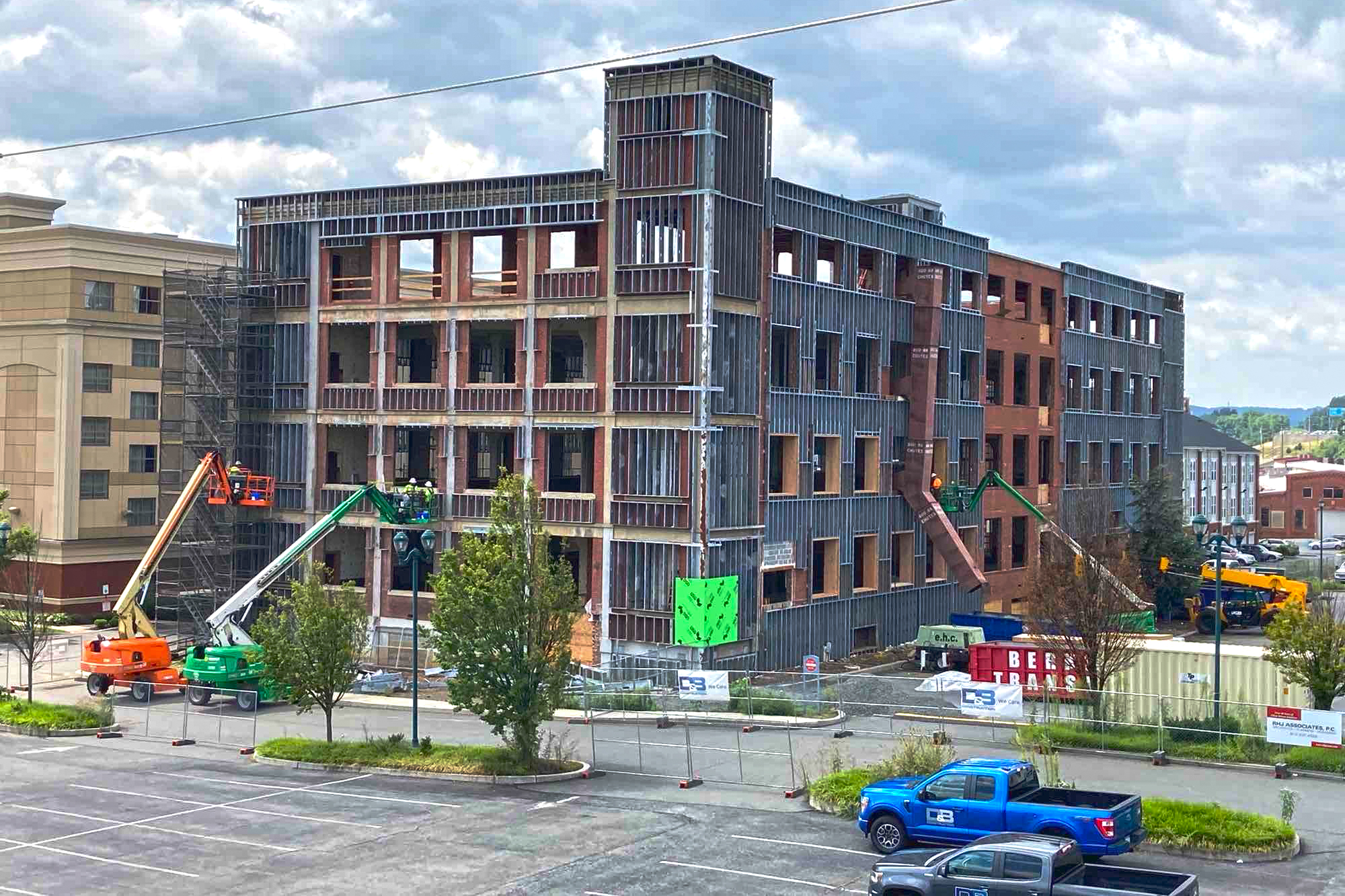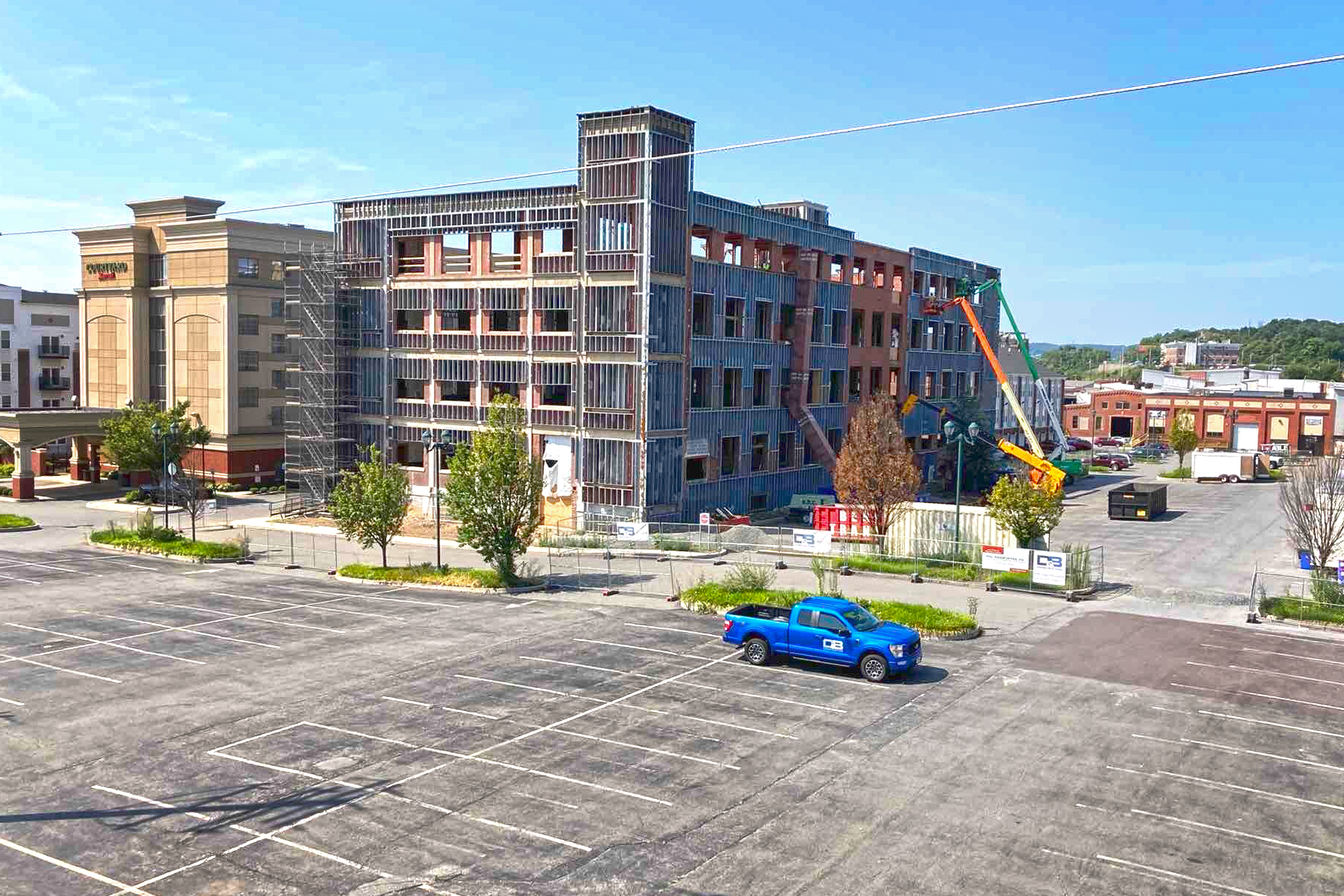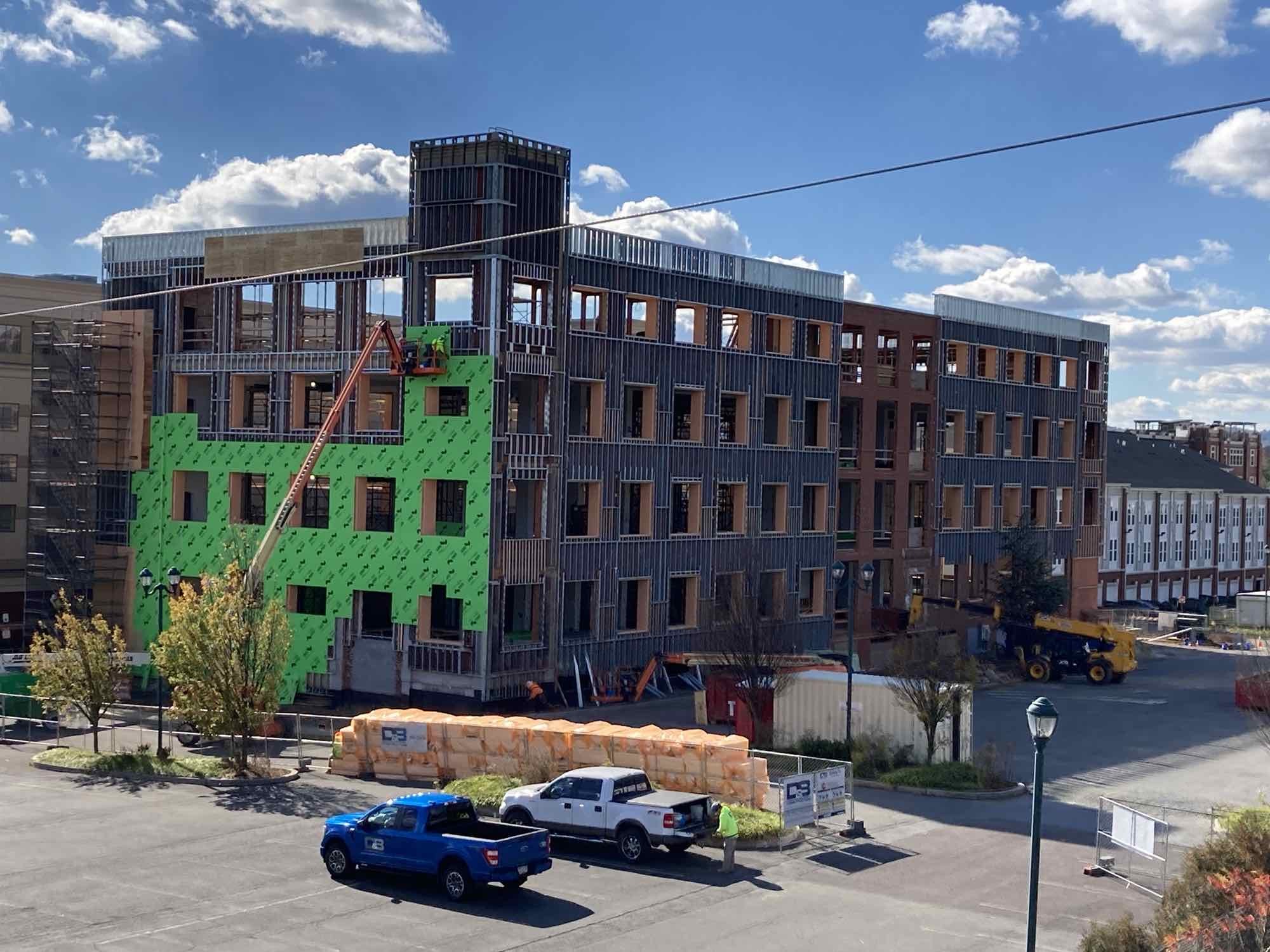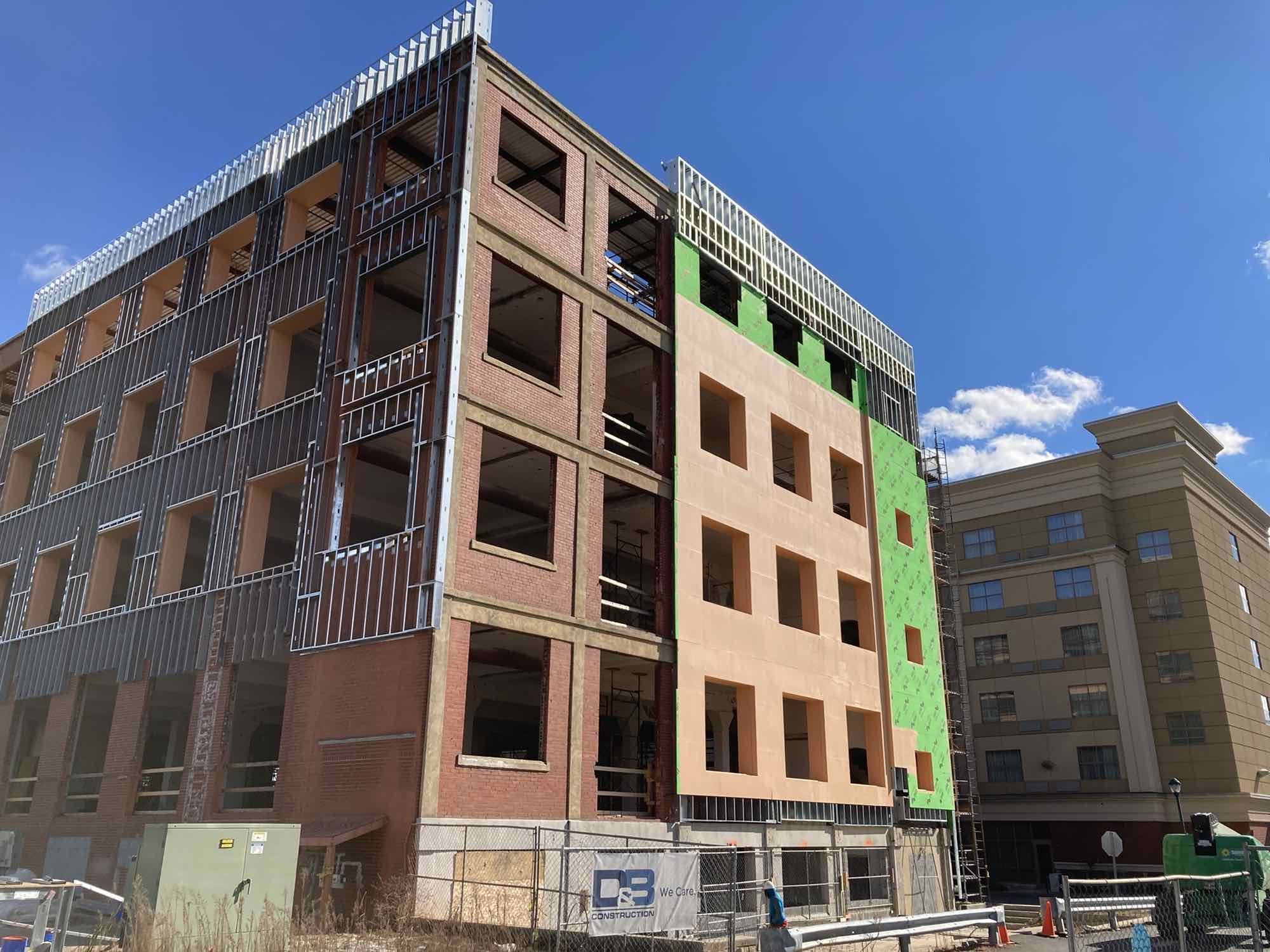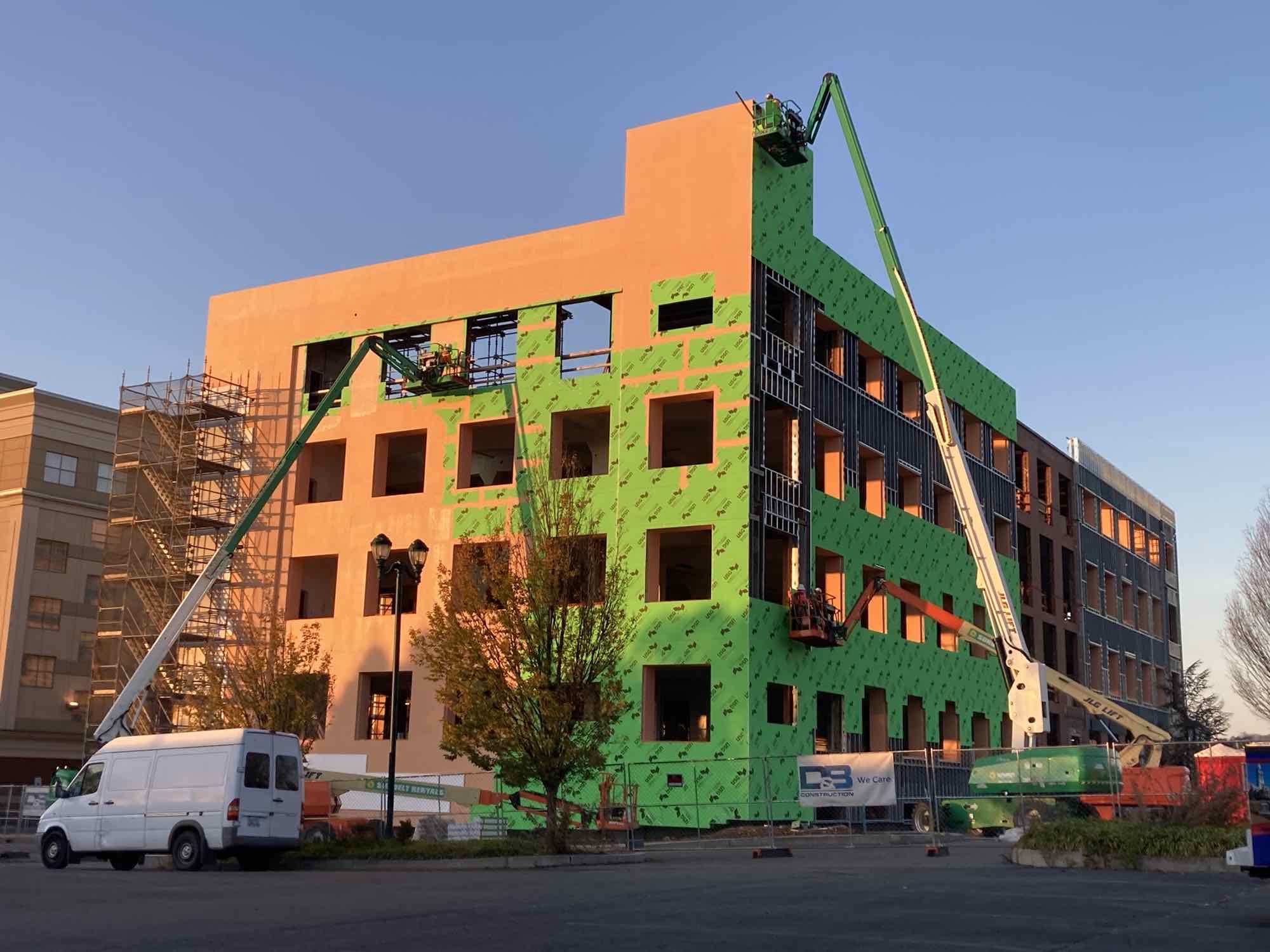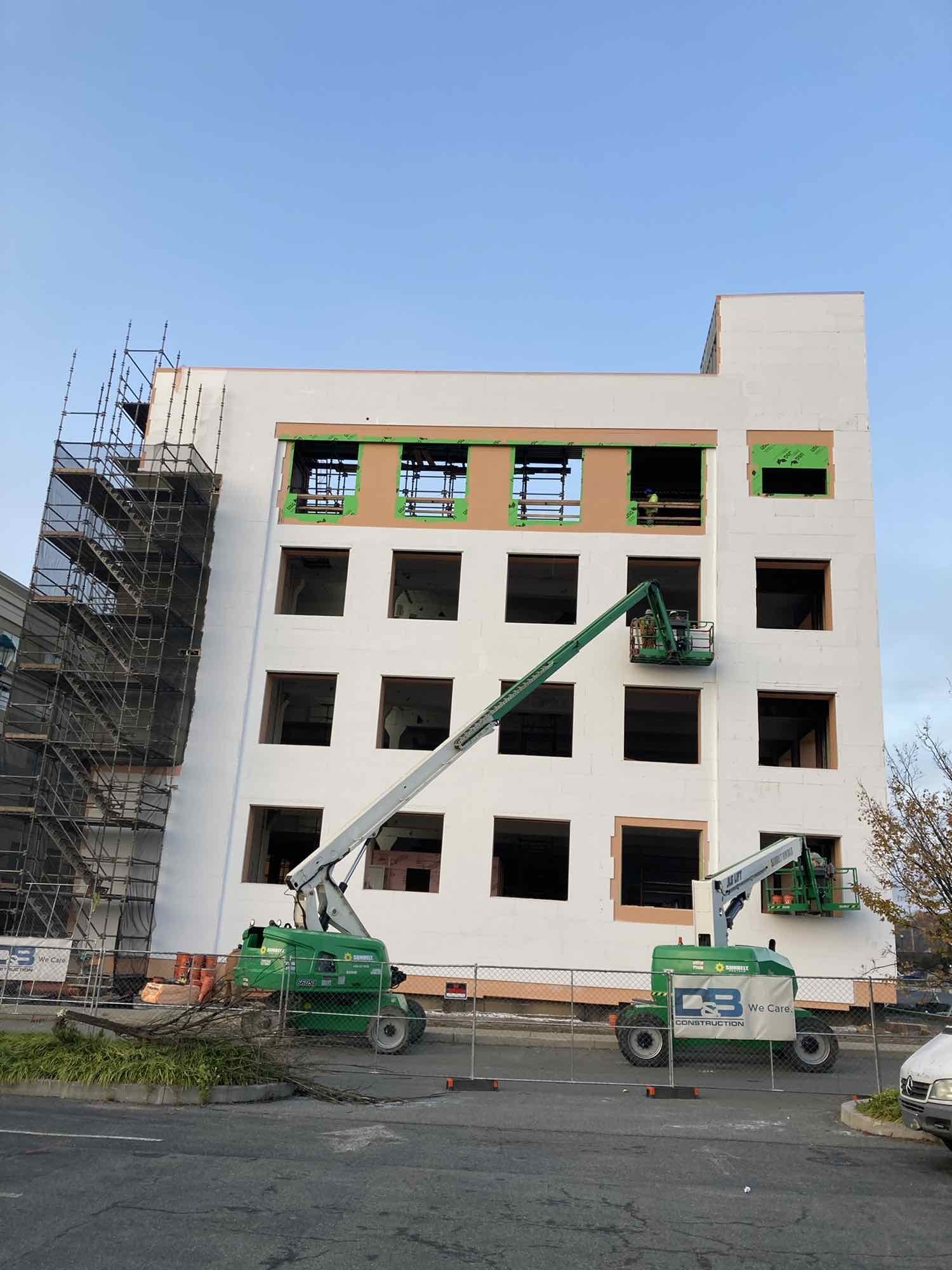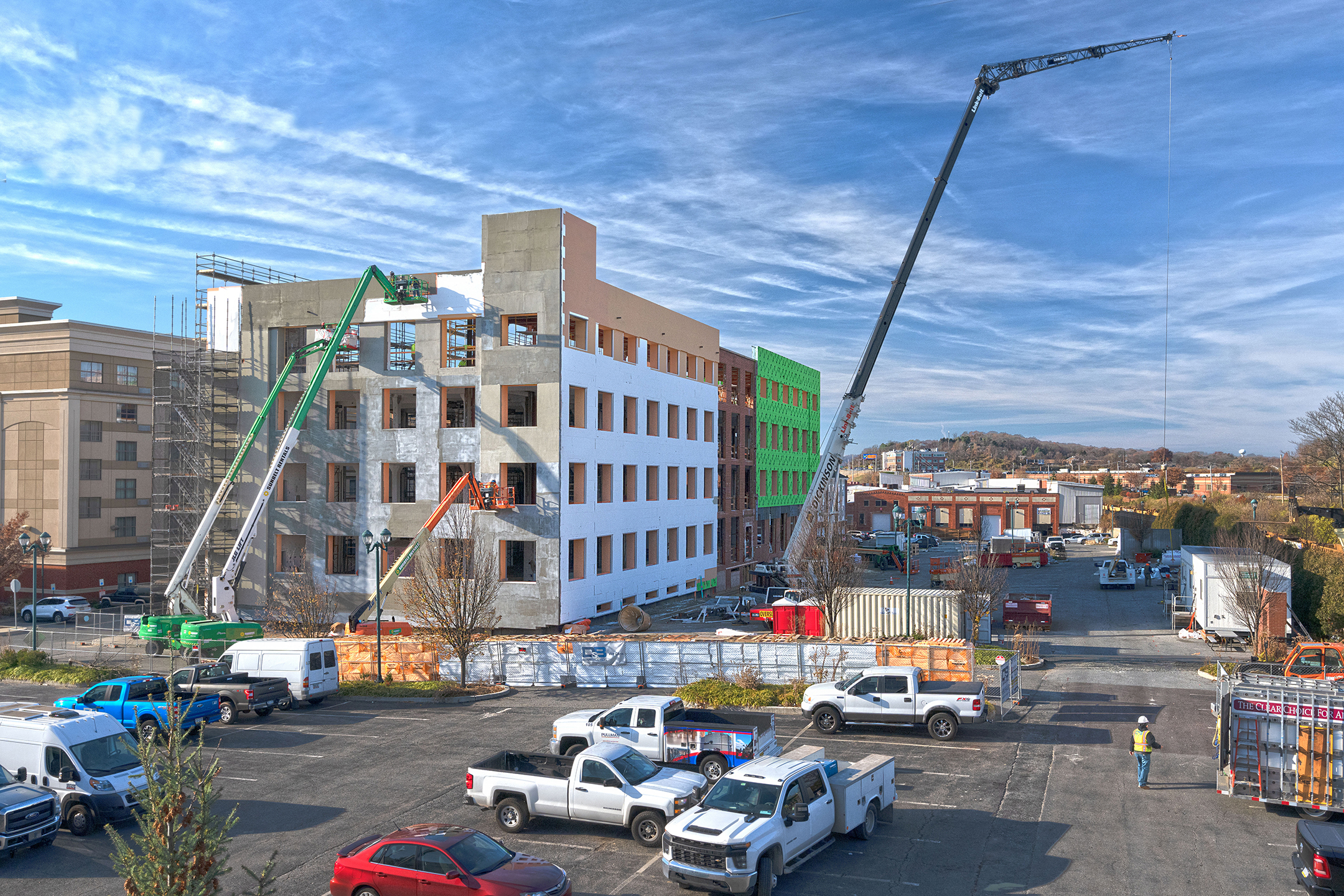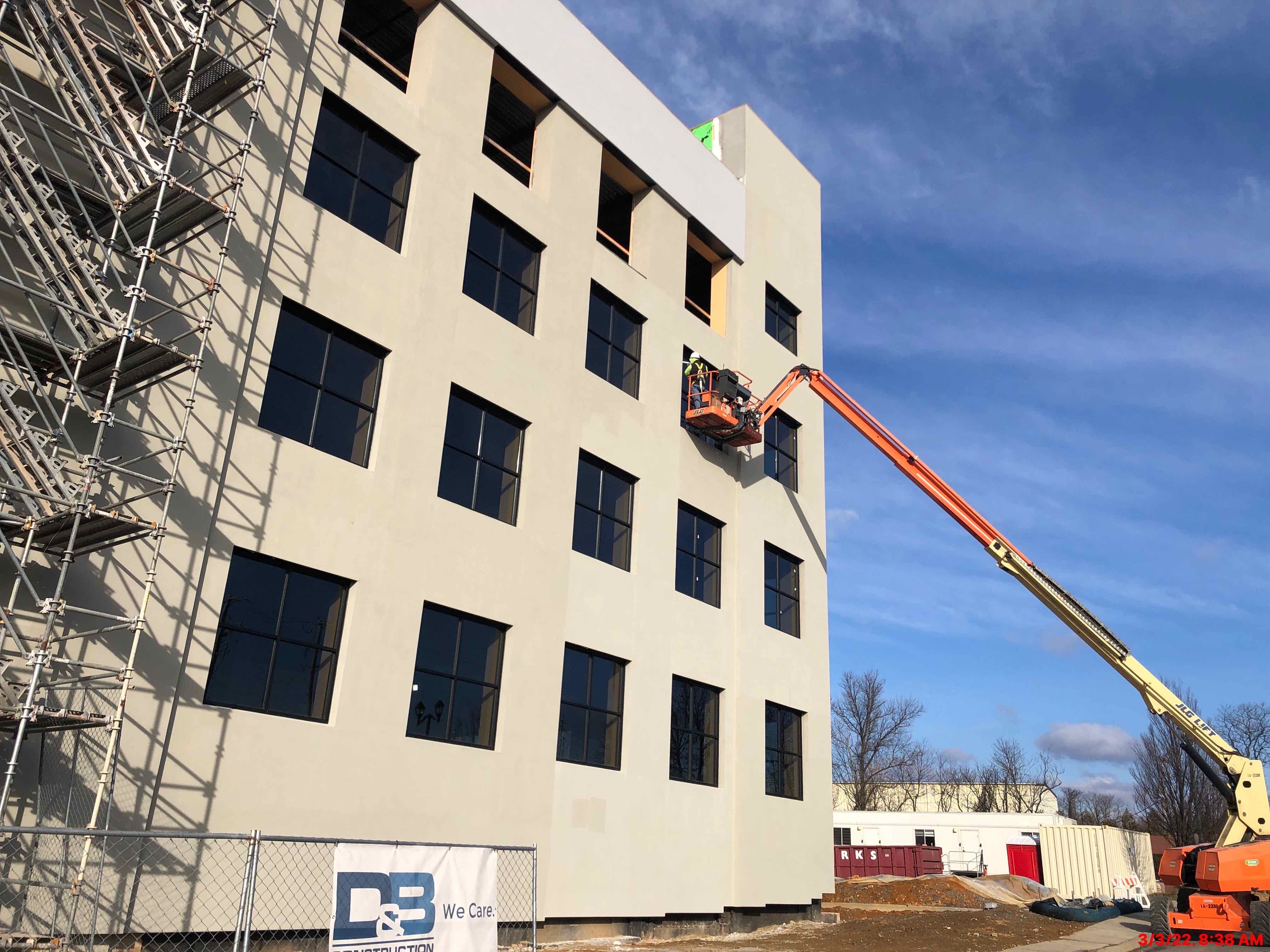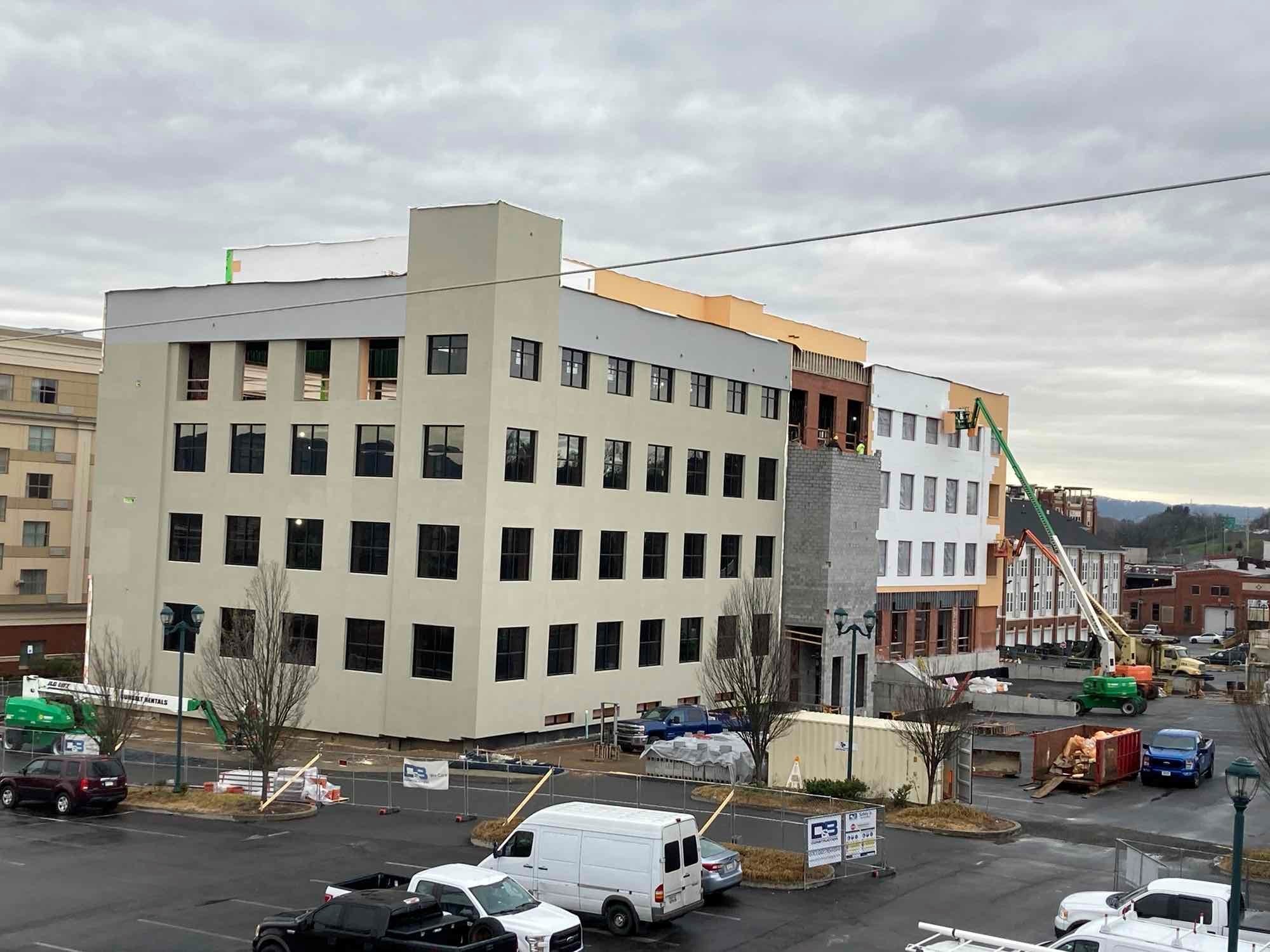 What's Next on the Schedule for Stratix:
Once the new exterior insulation finish system is complete, we will then begin to stencil the brick. The stenciled brick will nicely compliment the other buildings of the Knitting Mills across the street. Here are some photos from a mock up that was completed last August by Paramount Contracting Inc. to give you an idea of what the final exterior will look like: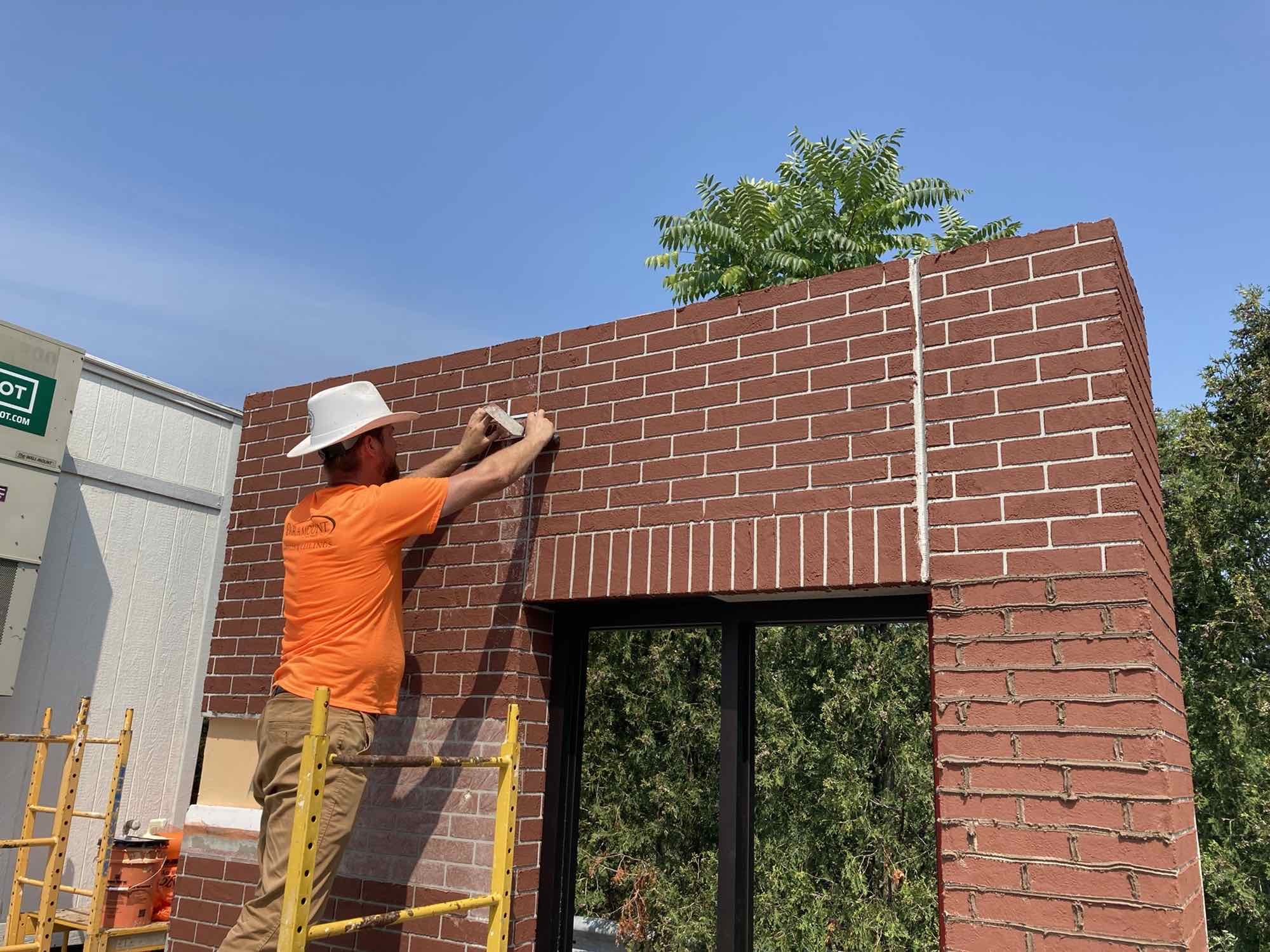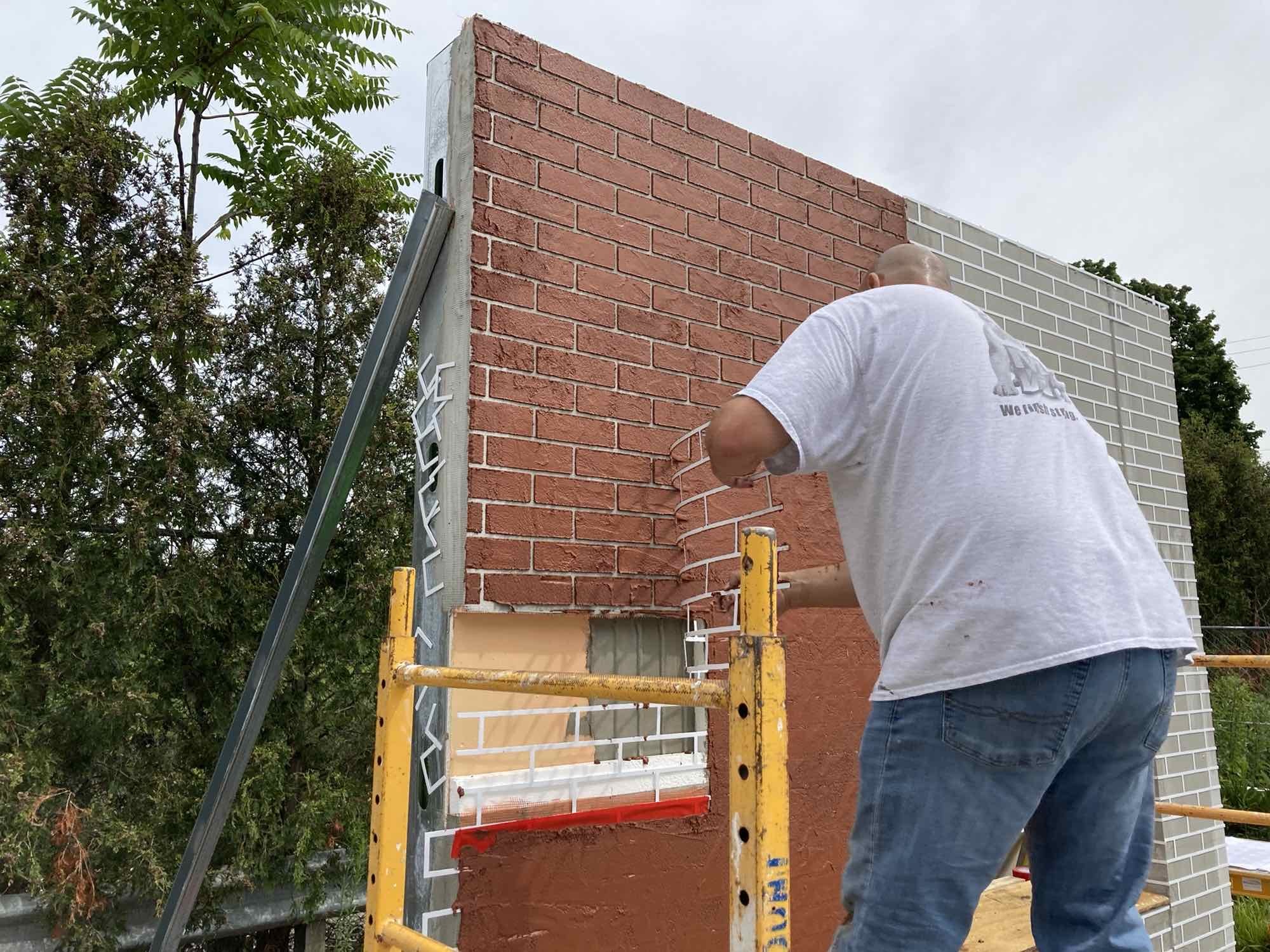 D&B Construction also looks forward to hosting our first topping off ceremony to commemorate the completion of the steel work for this building in May.  "This long-standing tradition of construction workers commemorates the completion of the buildings structure as the final beam is placed," explains Chief Executive Officer of D&B Construction, Dan Gring. "We are happy and excited to be part of projects such as this one that will revitalize such a vital, historic building. The fact that our first topping off ceremony just so happens to be in the hometown of where it all began for our company, where many of our team members not only work but live, is just the icing on the cake. It's a true honor," he states.
D&B Construction's partnership with Earth Engineering Incorporated dates back eight years to 2014. They have completed over 12 projects with D&B Construction since becoming our Trade Partner. These projects range from large multi-family projects on 50 acres of land to large healthcare projects for clients like Tower Health and Children's Hospital of Philadelphia.
EEI performed numerous services on these projects including compaction testing, concrete testing, geotechnical consulting, sinkhole remediation, structural steel inspection, geotechnical investigations, clean fill assessment, and design services. Paul J. Creneti, P.G., Director of the Lehigh Valley division of Earth Engineering Incorporated, has been part of the industry for 26 years now. "Working on these projects with D&B Construction was fulfilling, as they were a collaborative effort with the construction and design team," he reflects.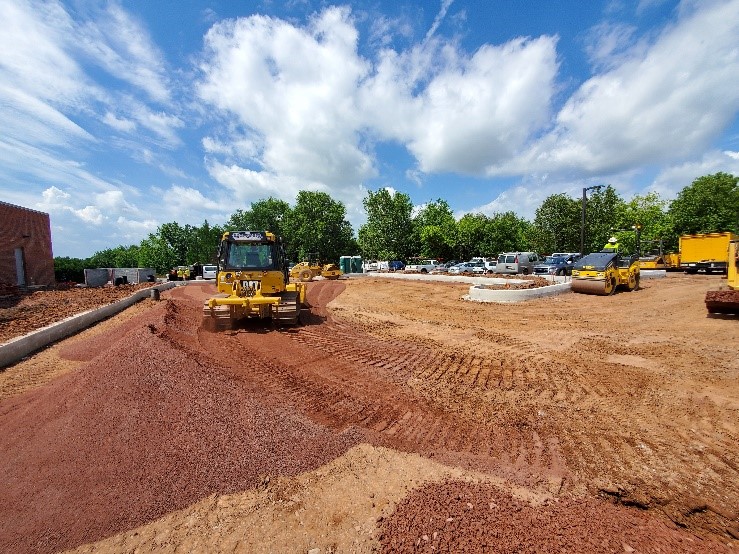 Paul has worked with many members of Team D&B over the years, including our Chief Operating Officer Brennan Reichenbach, Vice President of Pre-Construction Mark Keever, Project Manager Scott Weaver, and Vice President of Construction for Reading and Central PA, Tom Rinaldo. His favorite part of working on a D&B project? "Being part of a project team that has trust with all parties involved." Paul can count on the fact that "quality would never be an issue" whenever he works with Team D&B. "If problems arose during development, the team handled these problems quickly and most appropriately to ensure that sites were being developed properly."
According to our VP of Construction Tom Rinaldo, who has worked with Paul and EEI for the last 15 years on various projects, "they bring undeniable value and knowledge to D&B projects as a valued Trade Partner." Tom most enjoys how knowledgeable their geologists are. "We utilize them to do proctors for us. They help out in a variety of ways, from testing and analysis of soil on job sites to concrete testing. When we completed work for 999 Berkshire Blvd. we had to excavate and remove 10,000 SF of soil and excavated around the entire exterior of the building to remediate soils. Their team's analysis of the unsuitable soil and assistance in finding suitable soil was imperative to the success of this project."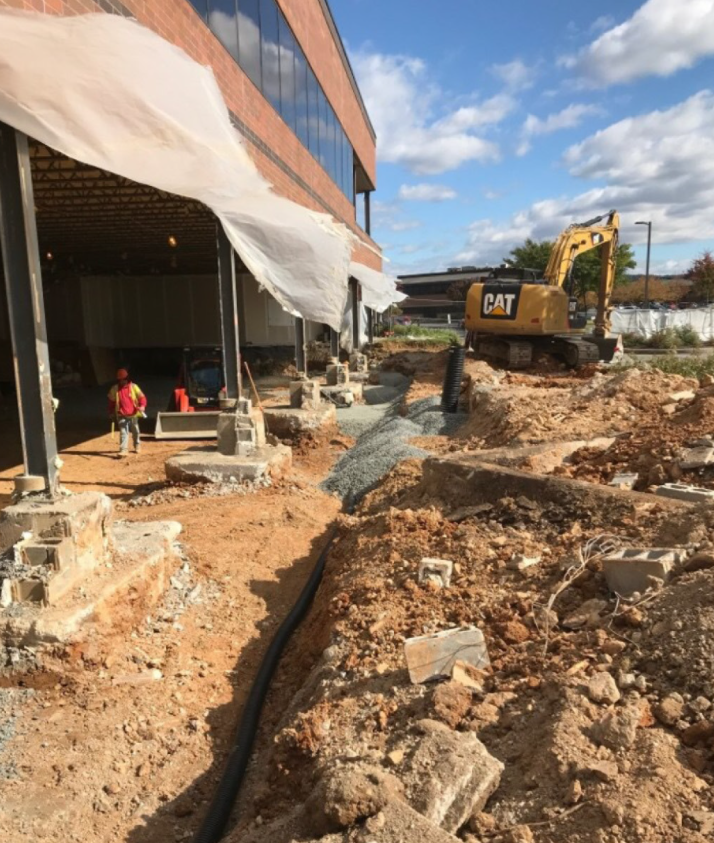 About Earth Engineering Incorporated:
This full service geotechnical / environmental engineering consulting firm was founded in 1990 in Blue Bell, Pennsylvania. By 2003, EEI outgrew this facility and established their Corporate Headquarters in East Norriton, Pennsylvania. Today they have approximately 125 employees and other regional offices in West Berlin, New Jersey, the Lehigh Valley and Central Pennsylvania that allow them to service projects from New York to Maryland.
EEI provides their clients with geotechnical engineering and environmental consulting services. Such services allow them to contribute to the successful development of a wide variety of projects for their clients, as issues such as cost-effectiveness and site development issues are evaluated by their team. This analysis allows EEI to provide clients with the best recommendations on how to proceed with their project.
The predominance of their geotechnical and environmental work is in the private commercial and residential sectors, with a portion of their geo-structural design work in the public sector. EEI takes on approximately 1,200 new projects within a year.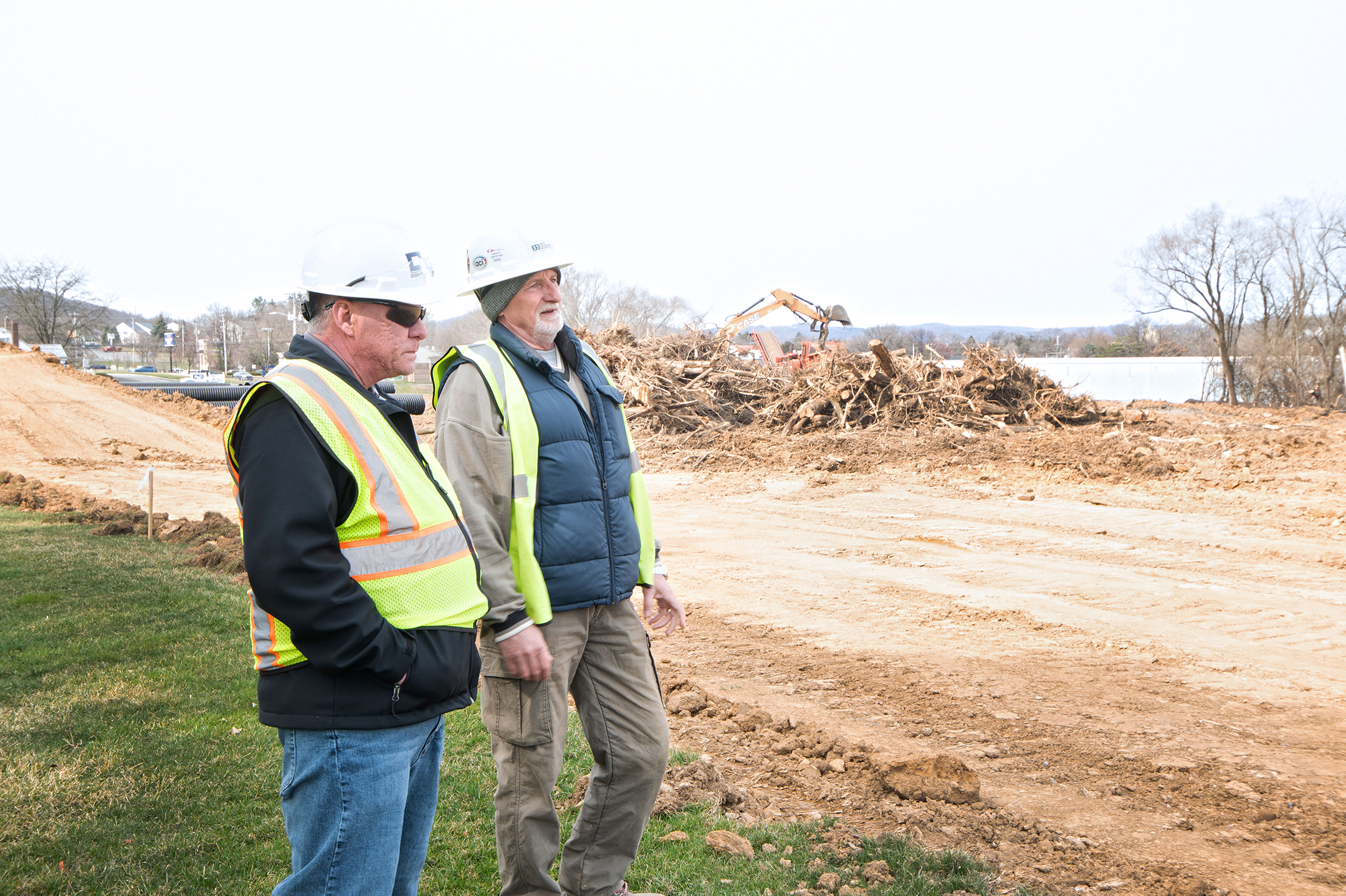 Q&A With Paul Creneti, Director of EEI's Lehigh Valley Division:
Q: What's the best piece of advice you would give to others looking to get into the industry?
A: "Listen to your client's needs while at the same time keeping the project within or below budget. You can accomplish this through quality engineering and quick decisions."
Q: What makes a good leader?
A: "Being true to your corporate values and goals and holding a high standard for others to follow."
Q: What do you love most about your job and why?
A: "Being part of a project team that leads to the successful completion of projects despite countless variables along the way. It's rewarding."
Q: What about a D&B project stands out in comparison to other General Contractors you work with on other job sites?
A: "Quality with a strong focus on the client's needs."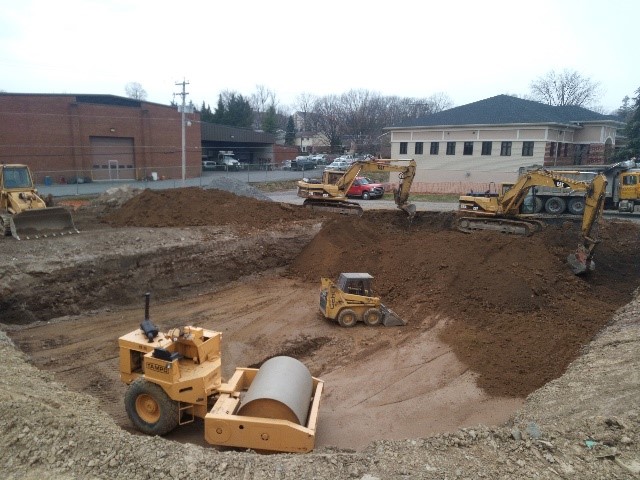 A Look at Some of the Jobs EEI and D&B Have Successfully Worked on Together Over the Years:
Projects Currently Under Construction:
The Reserve at Iroquois Springs
EEI's Geotechnical Engineer, Dan, was just on site last week to check the compaction rating of the soil on this jobsite. View some recent drone footage here.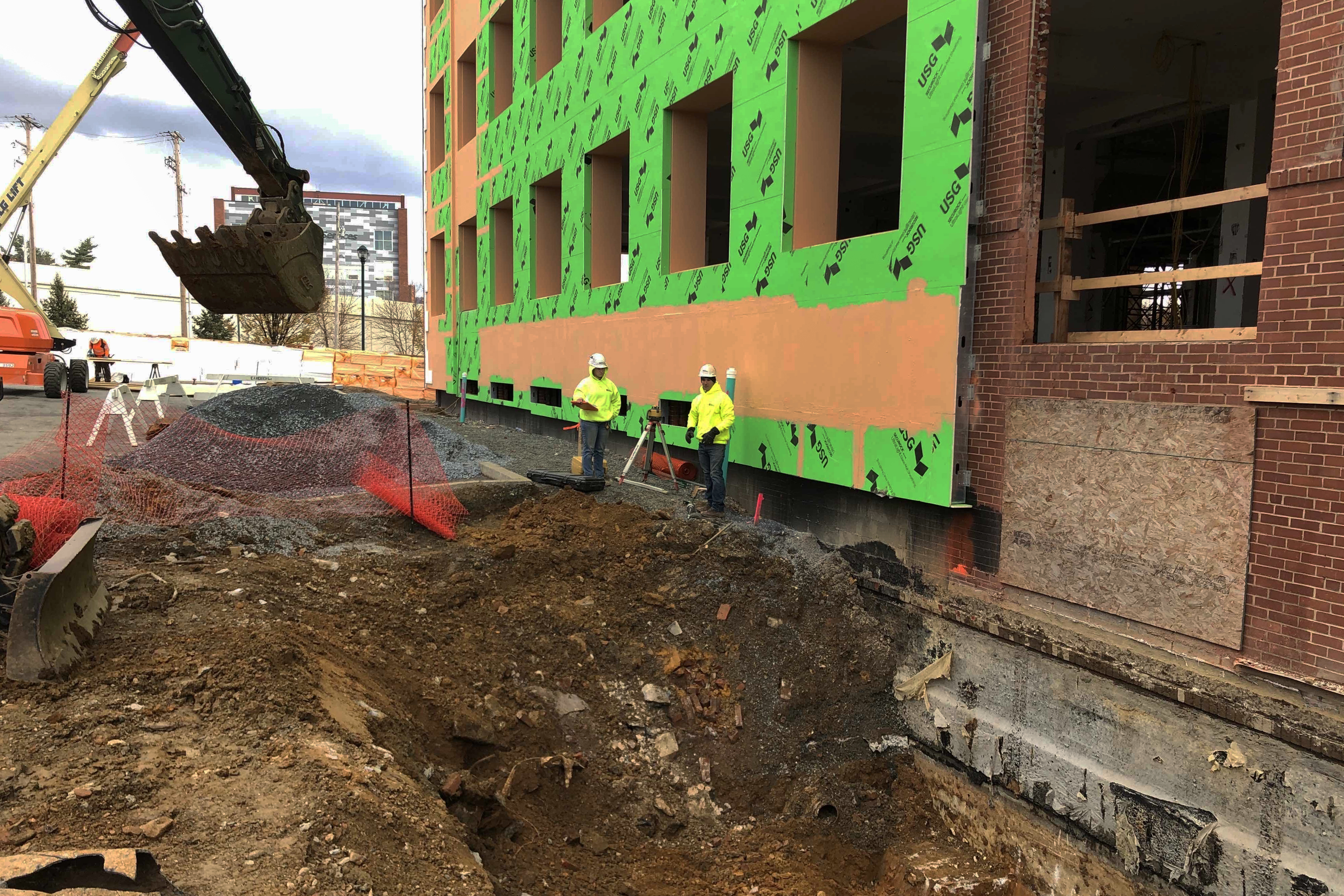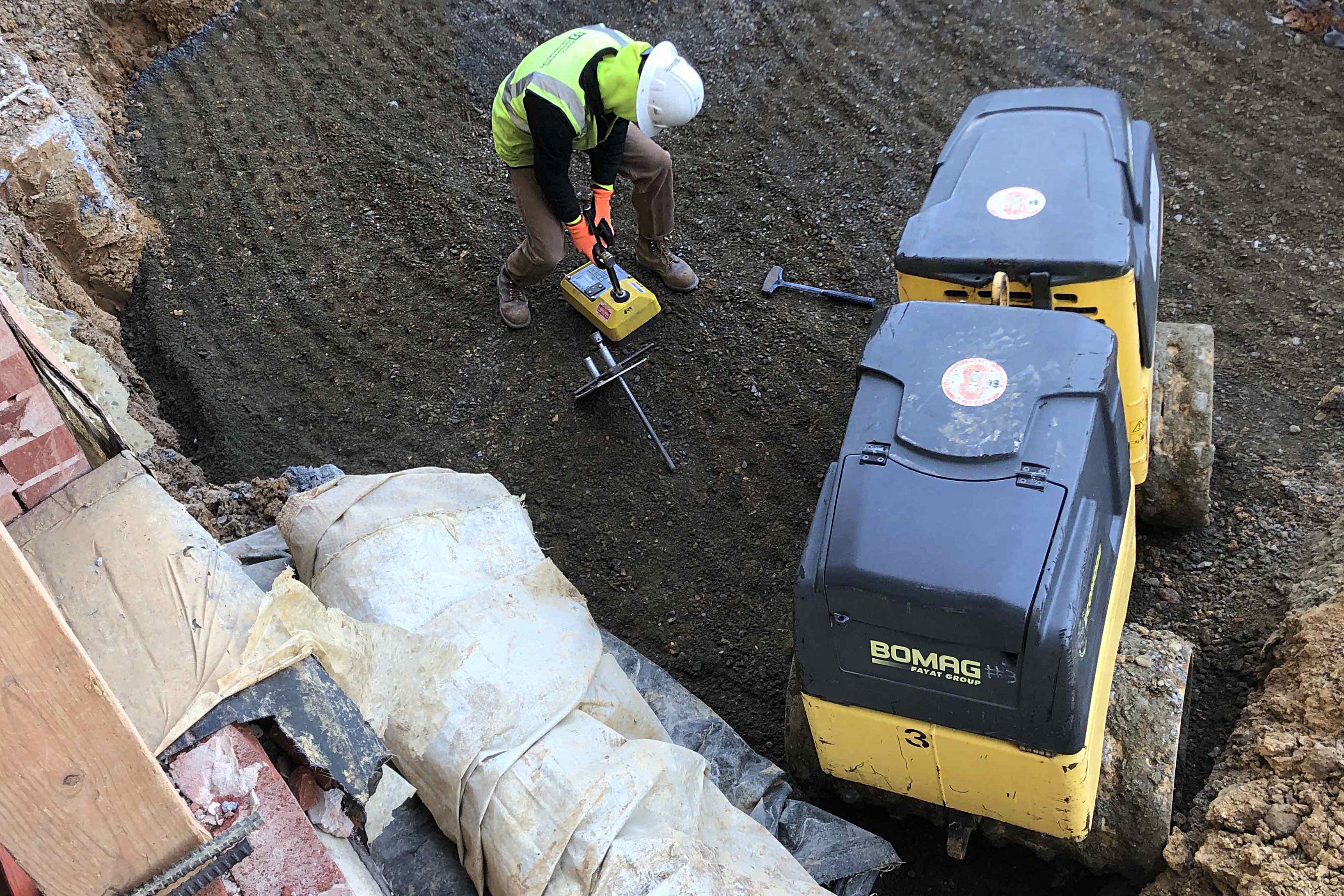 Completed Projects:
Cardiology Consultants of Philadelphia – Paoli, PA Location
Bucks County Orthopedic Specialists – Warrington, PA Location
Tower Health Medical Group Family Medicine – Womelsdorf, PA Location
Riverfront Federal Credit Union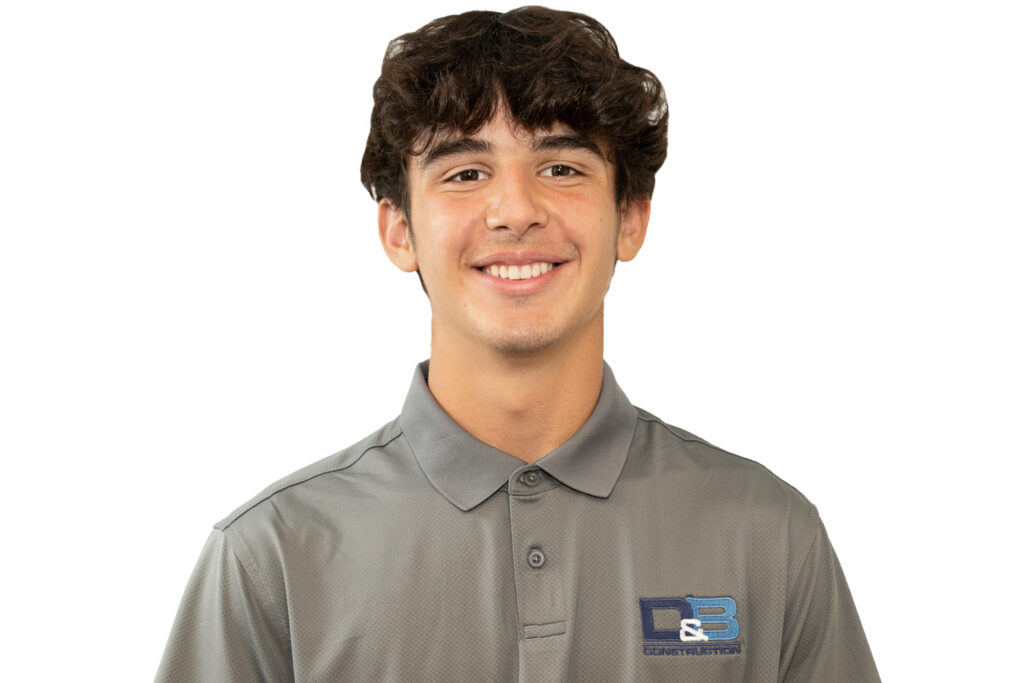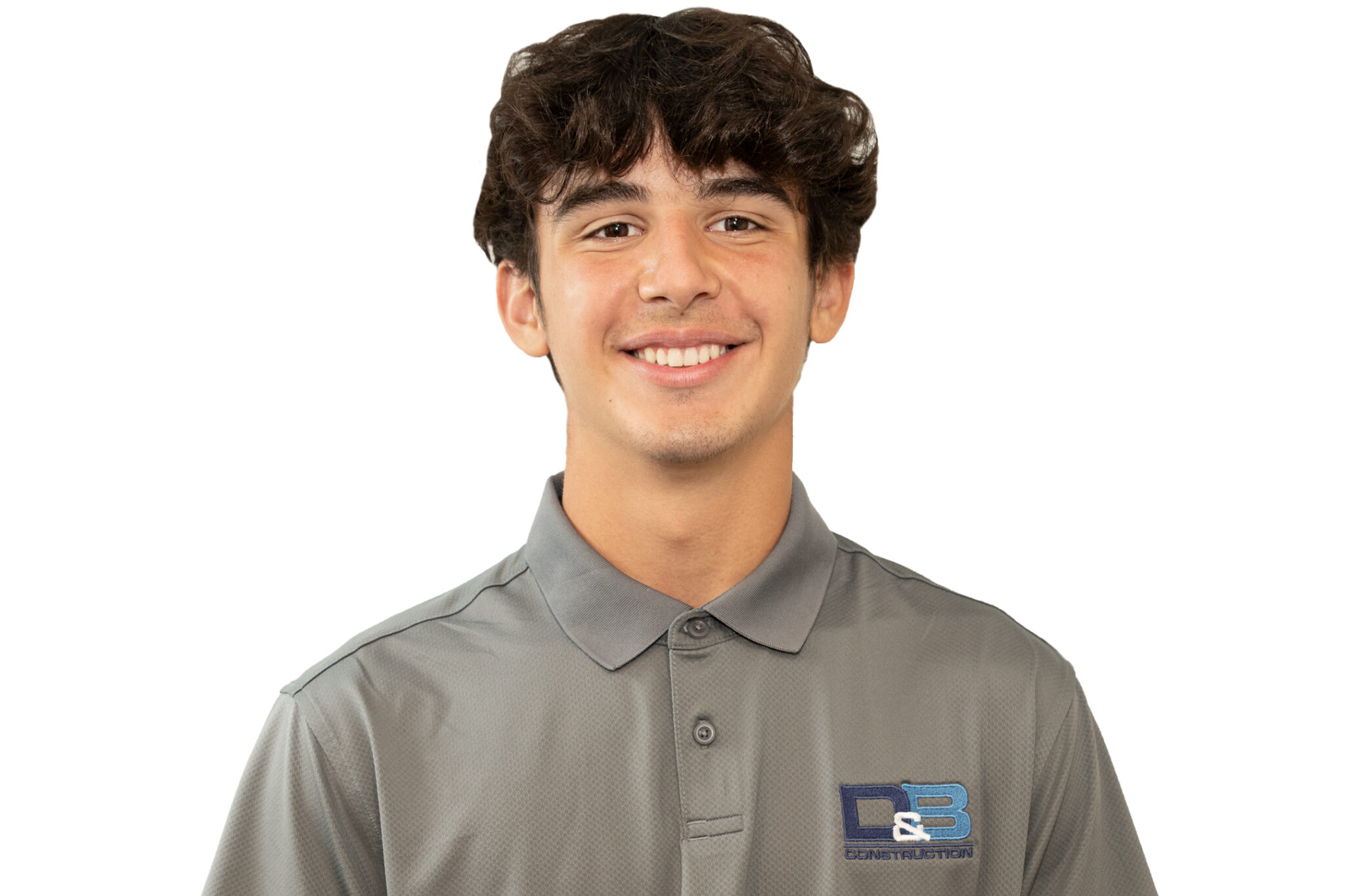 Team D&B is thrilled to be working with the
Wilson School District

's Honors Internship program
once more! In the 2021-2022 school year, we have the pleasure of working with two talented seniors, Luca and Savanna. Our Construction Intern, Luca, has been shadowing team members working on our adaptive-reuse design-build project for Stratix Systems' new headquarters in Wyomissing. He has also been shadowing our residential team, D&B Elite Custom, as we build a custom home from the ground up. This opportunity has allowed Luca the invaluable experience of seeing the differences between commercial and residential construction, which has helped him get a better idea of what he may want to pursue as he heads to college. We sat down with Luca to learn more about his internship experience thus far:
Q: What do most of your days look like on the job-site?
A: "I spend most of my days shadowing and working closely with the commercial Site Superintendent, Barry, at Stratix's job site, as well as shadowing John, the residential Superintendent."
Q: Tell us about a day / task that you enjoyed most at your internship so far and why?
A: "I enjoy looking over project submittals the most because I get to see how different applications on the job were approved."
Q: What are some things you've learned throughout your internship so far?
A: "I learned the importance of safety on a job-site is by far the most important aspect. OSHA safety requirements are the guidelines for construction job-sites. I've also learned that everything must get approved before even starting and this can hold projects up for months. I'm learning about what is on the drawings and how to interpret what is on them. I also have been sitting in meetings and participating in weekly site inspections to really get a grasp of things."
Q: What is one thing you've learned about yourself so far through your internship experience?
A: "That I know more about the construction industry than I thought I did."
Q: What would you say is the most important skill you developed / strengthened at your internship so far?
A: "I learned the importance of listening."
Q: What  are your internship goals for the rest of your time with D&B?
A: "To continue to be able to complete individual tasks and be trusted at completing these tasks."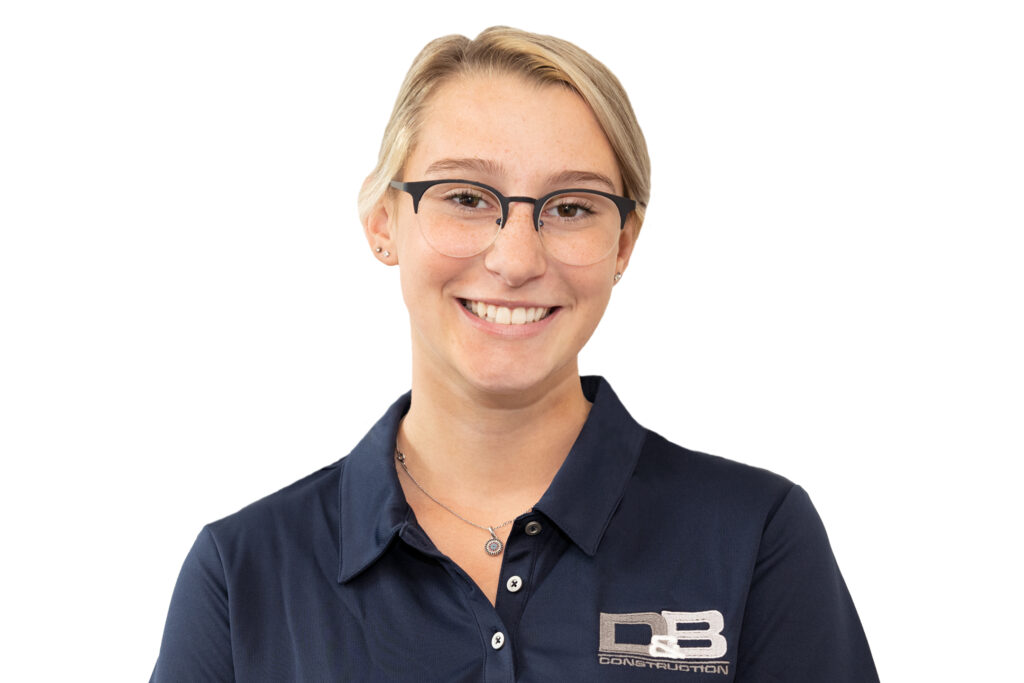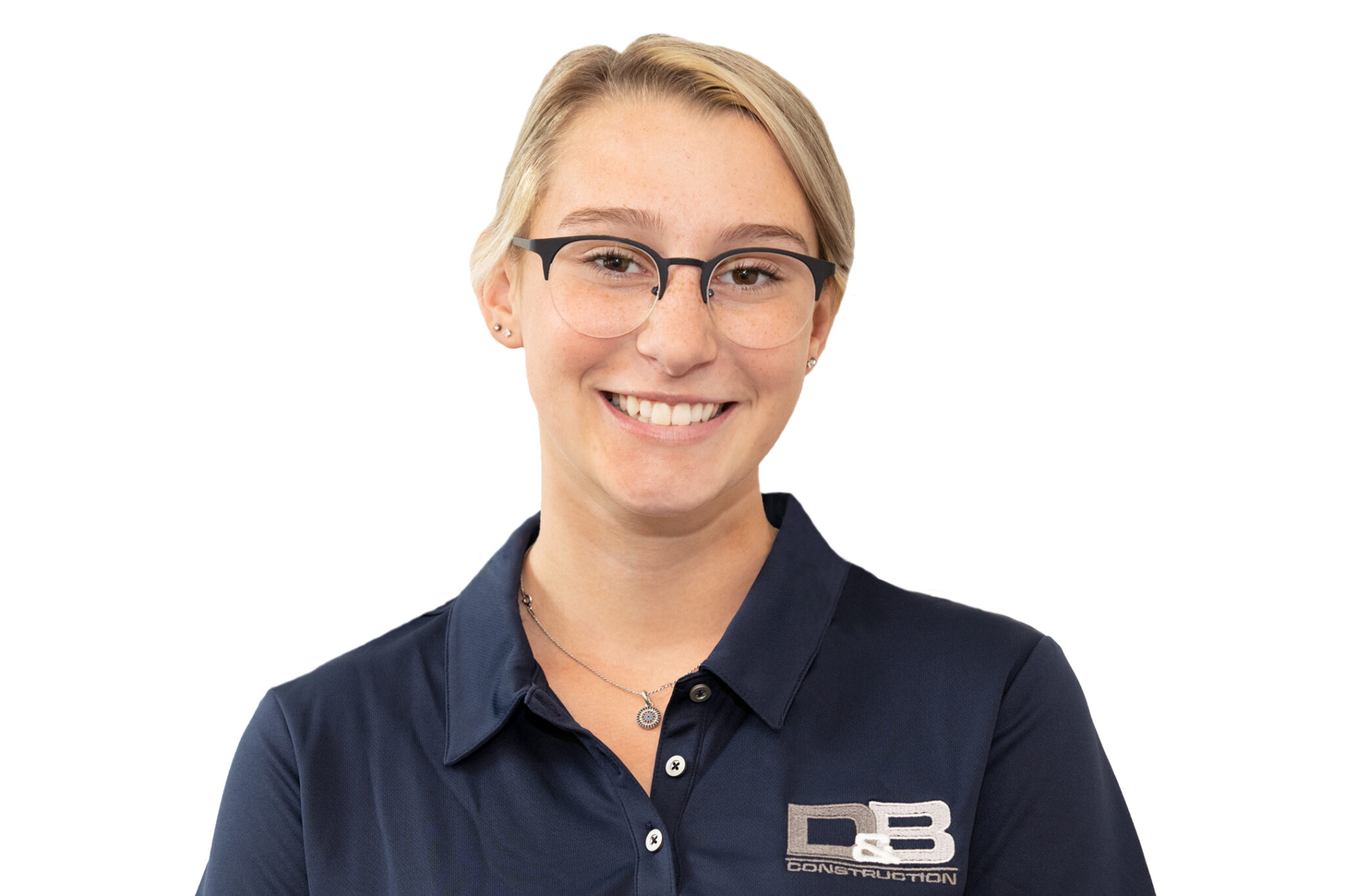 At the beginning of January, we sadly said goodbye to Savanna, but we are so excited to hear about her experience interning with our friends at
RE/MAX of Reading
for the second half of the school year. Savanna shadowed our Marketing and Business Development department to learn the ins and outs of this field, both for our commercial side of the business and our residential side,
D&B Elite Custom
. After completing her internship experience, Savanna reflected on her time working with D&B and how it has prepared her for attending college as a Business Major. Here's a Q&A from Savanna so you can learn more about her experience:
Q: What were your responsibilities throughout this internship?
A: "My responsibilities included researching, writing, and editing articles for blog posts and newsletters. I learned about graphic design and how to create things in design programs like Canva and Adobe. I also learned how to navigate WordPress and the back end of a website, as well as MailChimp. I completed Benchmarking analysis and learned the differences between preparing copy for social media and blogs/newsletters."
Q: Of all your responsibilities, which did you enjoy most and why?
A: "I enjoyed creating things for D&B on Canva. It gave me a chance to be creative and really understand branding. Besides that I also really liked coming up with research for articles and gathering information in general. I liked interviewing people and getting quotes and information. Interviewing people was a great way for me to learn more about some of the staff here at D&B."
Q: How was your overall experience interning with D&B Construction? 
A: "I was lucky to come into a business that was not only friendly and accepting, but that also had knowledgeable people who I could learn a great deal from, especially since this was my first internship experience. I rate my experience 10 out of 10 because coming into this, I had no idea what my internship was going to be like, but being here for a semester allowed me to learn more than I ever expected to about what goes on in a business. I also strongly believe that I gained a lot of hands on experience, from having my own computer and my own documents to work on in the office, to being able to go out to the job sites and take photos."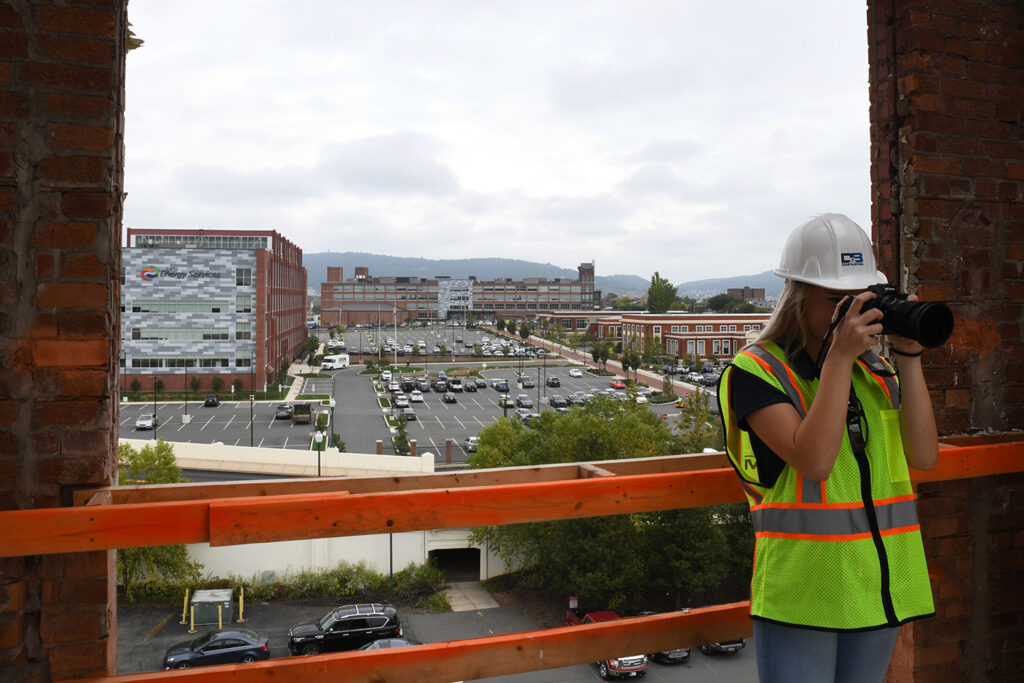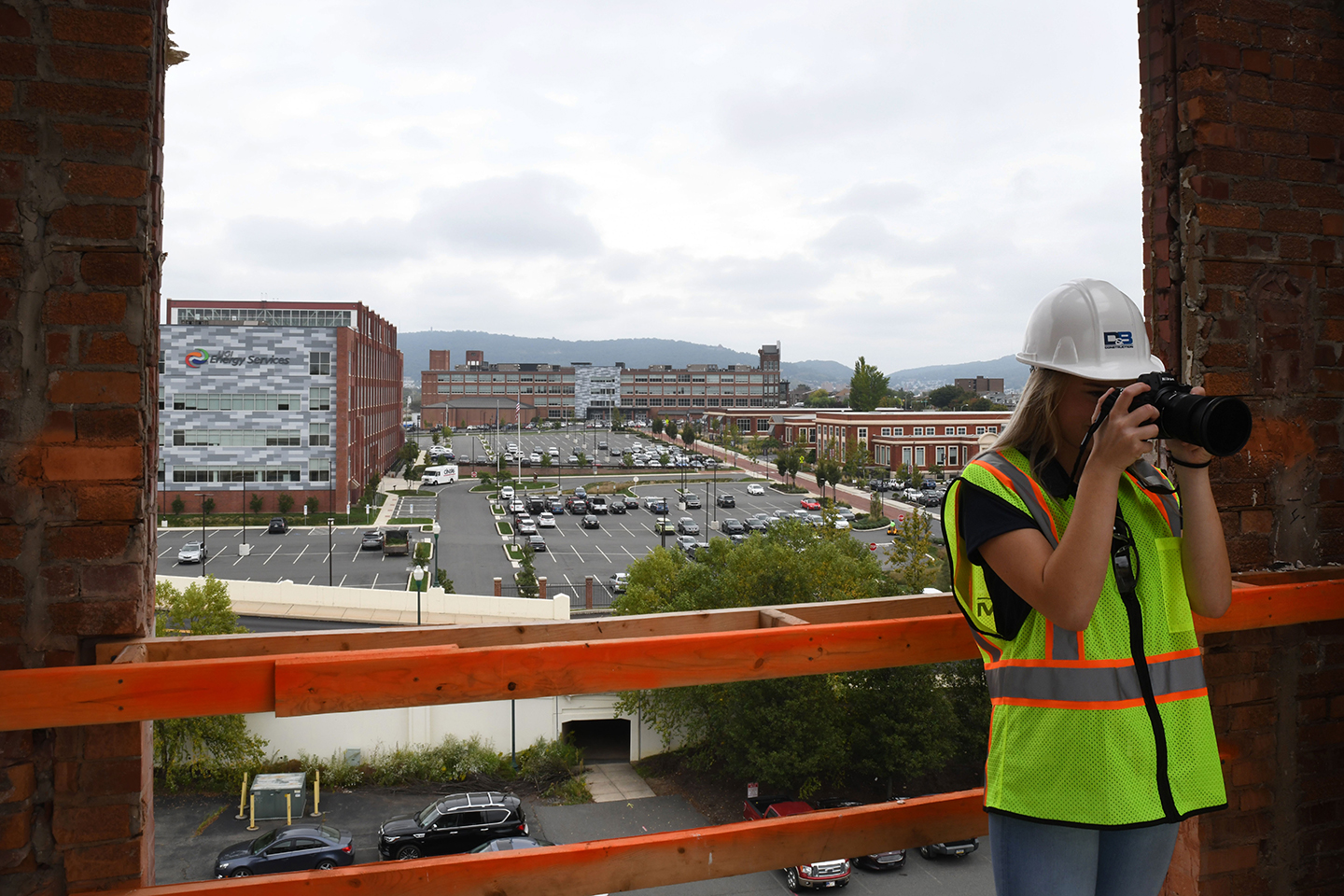 Q: Do you feel this internship enabled you to apply knowledge and skills to prepare for college?
A: "Yes! Since I am in high school, I don't have a focused major just yet, but my internship coordinator, Angela, went through a list of different tasks at the start of my internship. I was able to voice my opinion on what I thought I would be good at, what interested me, and what I wanted to learn more about. This allowed me to use my skills to the best of my ability throughout the internship. For example, I took Honors English all four years of high school, so I was able to write a lot of blogs and articles during this internship. I was given support and encouragement throughout training during my internship. If I didn't know something, that was alright because then I was taught it, and that allowed me to learn new things and gain new skills. I really feel that this internship confirmed that I am on the right path. Through this internship experience I even realized that I would like to do some sort of marketing in my future career."
Q: Do you feel this internship helped prepare you for your future career?
A: "Going into my internship I knew I wanted a business career, but I wasn't completely sure what I wanted to do in the business world. This internship helped me gain knowledge about the business world and what really goes into marketing. It not only gave me an idea of what I want to go for in college, but I also gained experience and have a leg up compared to to my peers since I have an internship on my resume already. Not a lot of high school kids get this experience. This experience is valuable because it not only looks great for future jobs but will help me with getting into college."
Q: What did you learn throughout your internship that you did not expect would be so important?
A: "I learned many things at my internship, but one thing that I didn't think would be that important is branding and how we have the same colors and logos for everything. Another important thing I learned is the importance of having your business being a thought leader in the industry, not just as a company that does construction. I learned so many workforce skills that a classroom can't teach me."
Q: What are you most proud of from the work you produced throughout your internship and why?
A: "I am most proud of the blogs I wrote and posted with the help of my internship coordinator. It is something that I can say I worked on from start to finish and can add to my portfolio."
Q: How would you describe D&B Construction's company culture in three words?
A: "Innovative, thought-leaders, and welcoming."
Paramount Contracting, Inc., a commercial wall and ceiling contractor, is based out of Lancaster, PA and serves the Pennsylvania, New Jersey, Delaware, West Virginia, Virginia, and Maryland areas. The company was established as a premier wall and ceiling contracting company by Jeff Mylin in 2005. "The emphasis was always on customer service and building a great team," says a reflective Mylin 16 years later. "We focused on the needs of the customer and providing an end product that our team would be proud of." As a result of this, Paramount has "experienced organic growth as opportunities presented themselves over the years." Today, the company has nearly 100 employees, completes in excess of 300 jobs per year, and specializes in Metal Studs, Drywall, Insulation, EIFS and Acoustical Ceilings, as well as select Carpentry and Specialty items.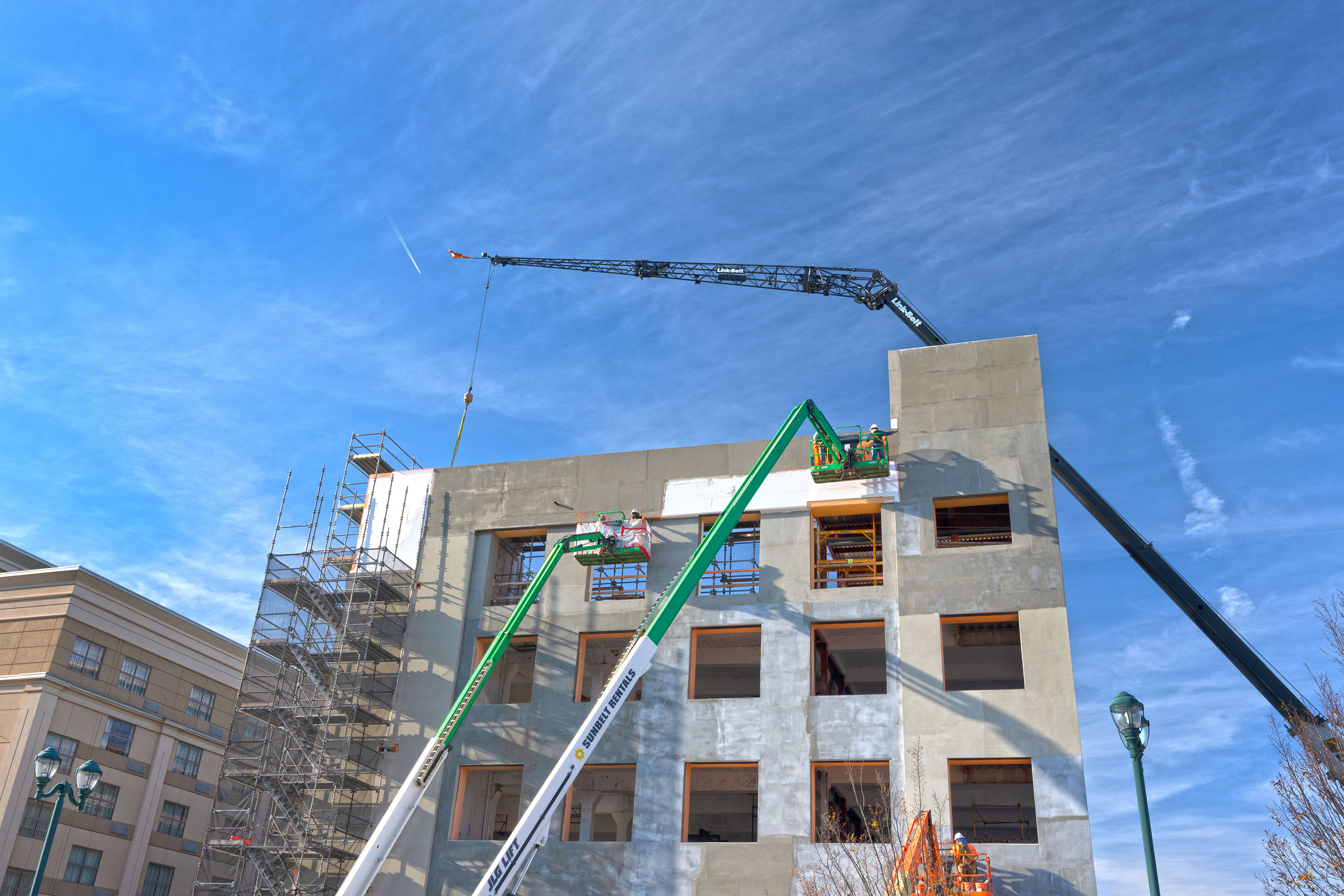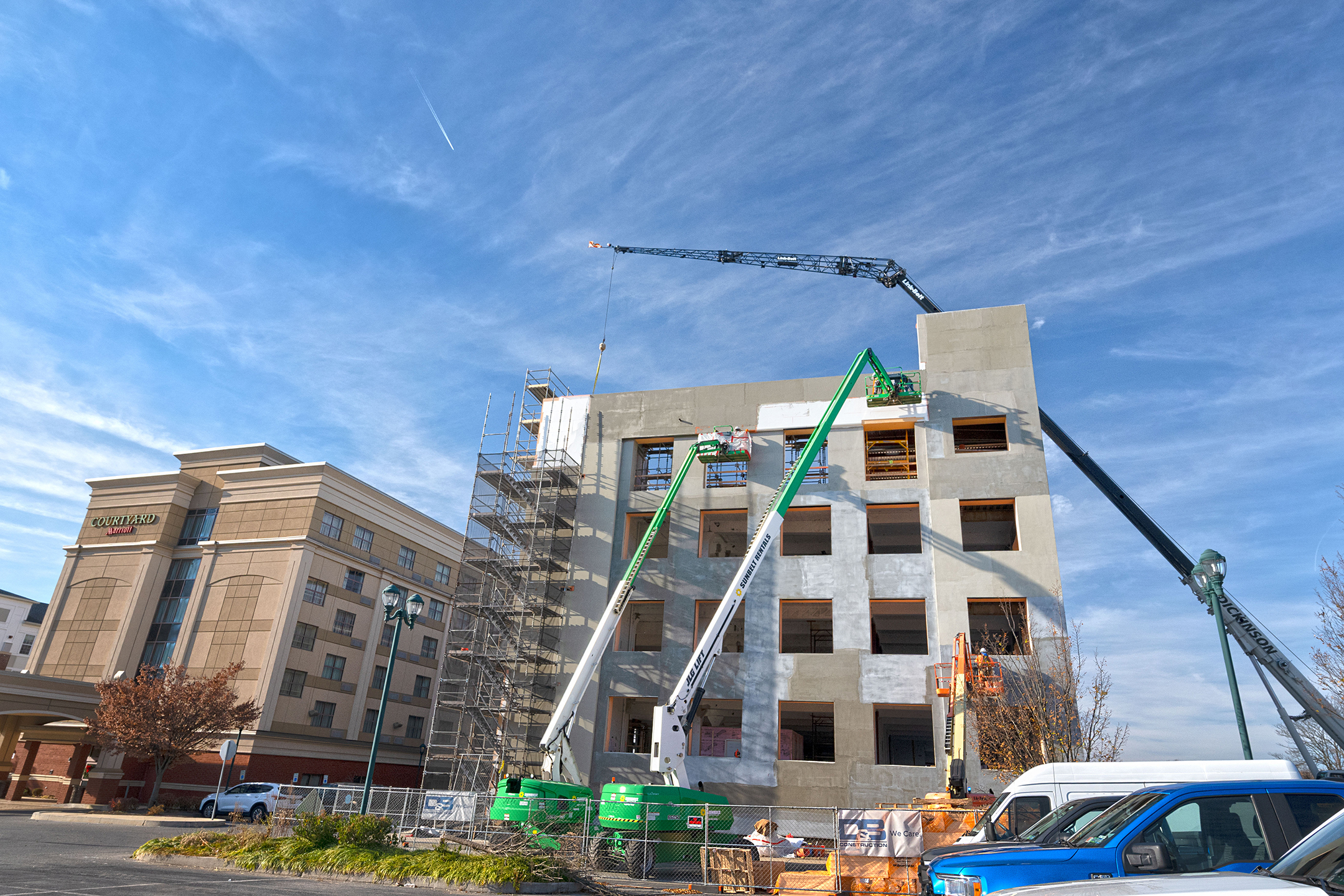 D&B is proud to have been partnering with a company that reciprocates our core values of being a company that cares about everything from the customer to the finished product. Since Paramount became a Trade Partner of D&B Construction's nearly five years ago in 2017 they have worked on more than 10 projects with us, completing everything from insulation, drywall, and exterior sheathings to rough blocking, acoustical ceilings and clouds, and FRP.
Some of the current active projects Paramount is working on with D&B include this mixed-use design-build project in Kennett Square, PA, D&B's new corporate headquarters, and Kreitz Gallen-Schutt Attorney's office fit out, which is just starting up. Other projects worth highlighting from this year include Tower Health's newest satellite office in Womelsdorf and Grove Dental Pediatrics.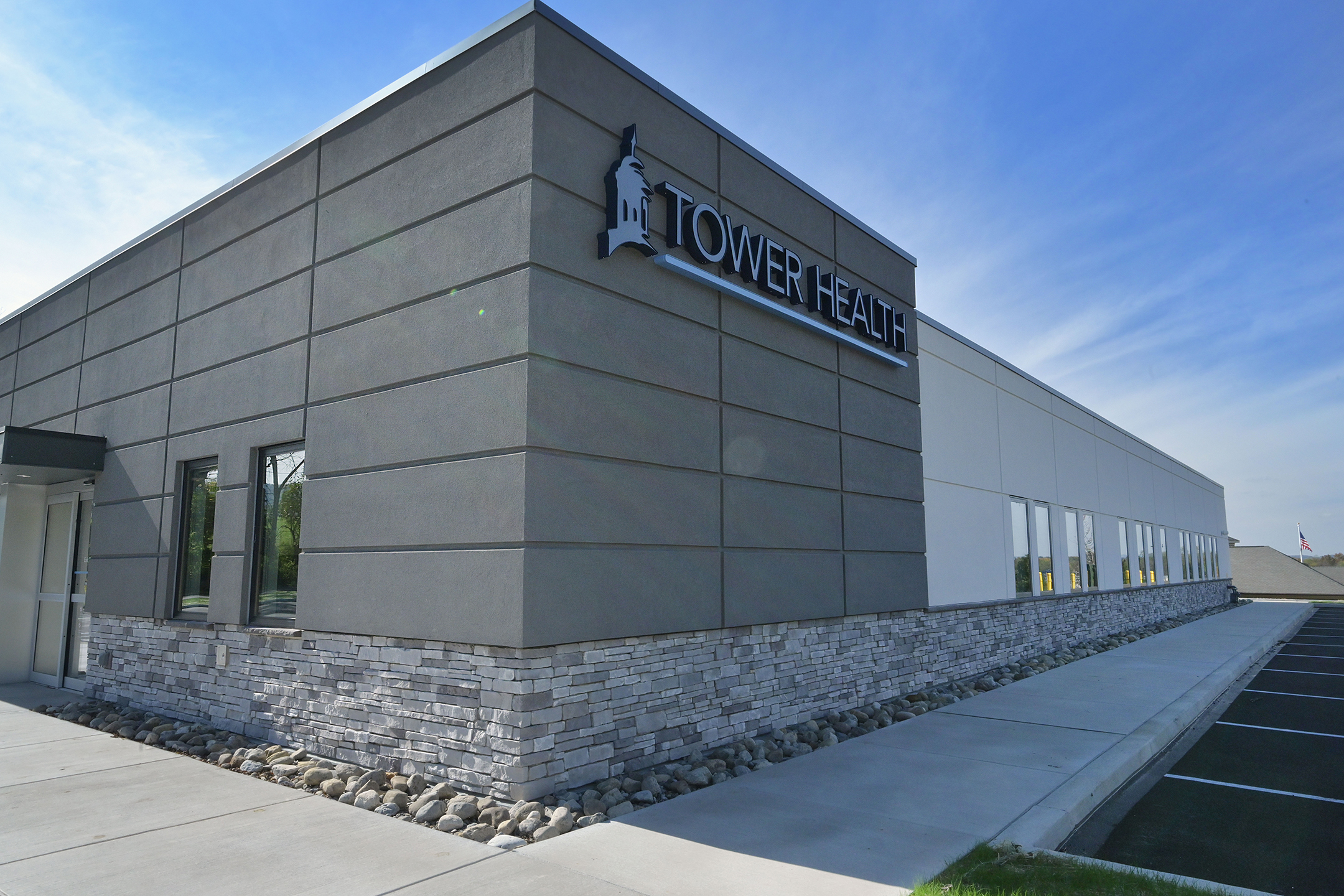 Perhaps the most impressive job that Paramount is working on D&B with is the 80,000 SF adaptive reuse building currently being renovated in the heart of Wyomissing. This five-story building will be the future home of Stratix Systems' headquarters.
Our Project Manager, Andrew, plays an active role in the daily management of what is occurring at the jobsite. This is what he had to say about his experience working with their team on this job: "Paramount has been an integral Trade Partner on our project at 200 N. Park Road in Wyomissing. Their Project Managers and Site Foreman have brought knowledge from previous projects on nearby, similar style buildings that have aided our project in design, constructability and schedule. Their crews have been more than accommodating with a stubborn building that has required much coordination and numerous details from the Architect."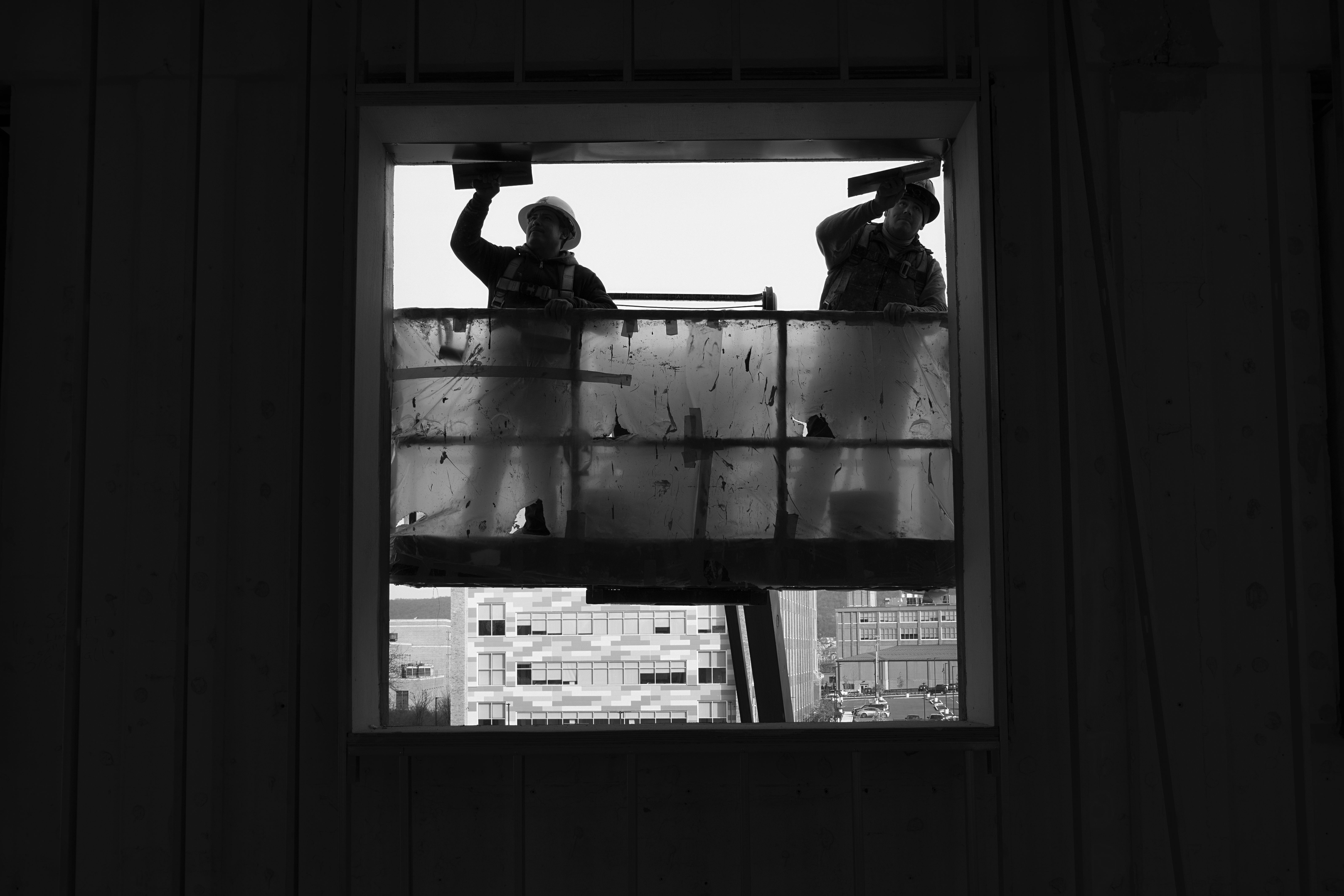 Andrew also had the pleasure of working with Paramount on three other projects, including his first job with D&B nearly one year ago, Kingsview Partners. He looks forward to "continuing our strong relationship with such a great Trade Partner" as we head into completing more jobs with them in the New Year.
Oh, and did we mention the Paramount team has some pretty great cooks, too?! This past October, Paramount was kind enough to host a home-cooked BBQ luncheon at Stratix Systems' future new headquarters for all D&B employees, ownership, the project architect, RHJ Associates, and even invited us to invite other Trade Partners on the job. It was a great day of camaraderie onsite as we all learned about the intricate details of this detailed project. "Their BBQ was the launching point for one of our company's on-site safety training sessions, and attendance was most definitely enhanced as a result of the promise of good food. We were and still are grateful for their efforts," reflect Andrew.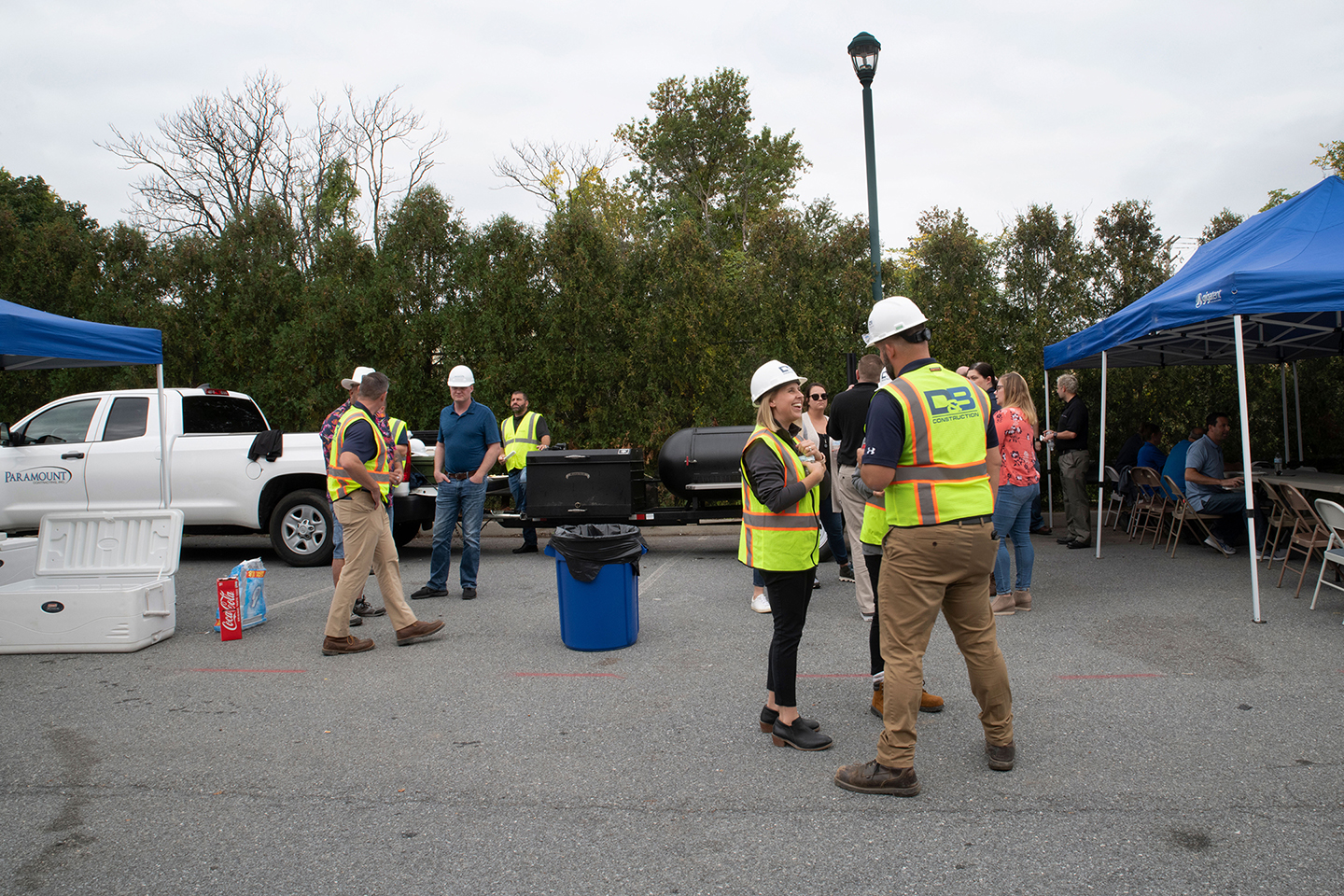 We sat down with Jeff Mylin, President of Paramount Contracting, for a quick Q&A:
Q: Paramount Contracting has completed 4,100 jobs since its inception. What project are you most proud of to date and why?
A: "It is hard to choose just one, but the Ann B. Barshinger Cancer Institute in Lancaster, PA would be near the top. It is a respected facility in our home town and architecturally impressive building."
Q: What's the best piece of advice you would give to others looking to get into the industry?
A: "You have to have a love for the industry. Construction is a tough business with demanding schedules, tight budgets and currently material and labor shortages. Yes, there are many challenges but it also can be very rewarding when seeing the job come to completion. Those of us in this line of work understand how it feels to drive by a finished project and feel a sense of pride that 'we helped build that.'"
Q: You are completing a number of projects with D&B right now. What has your experience been like working with our team?
A: "D&B projects are clean, organized, and safe projects to work on. They communicate clearly with all of the trade teams, which leads to successful projects. We have made a significant investment into bidding to D&B and we feel that has not gone unnoticed. Subcontractor loyalty is obvious, which increases effective teambuilding."
Q: What do you enjoy most about working on a D&B project and why?
A: D&B Superintendents, Project Managers, Engineers, and support/admin staff are always accessible and willing to help. Coordination and scheduling are always well thought out and communicated from planning to completion. The jobs are often local, and our employees enjoy investing in the buildings in their community."
At D&B Construction we like to think of our trade partners as an extension of our team. We are proud to call Paramount Contracting an extension of the D&B family. Every project we have collaborated with them on results in a final product that both teams can be proud of and that our customers can look forward to.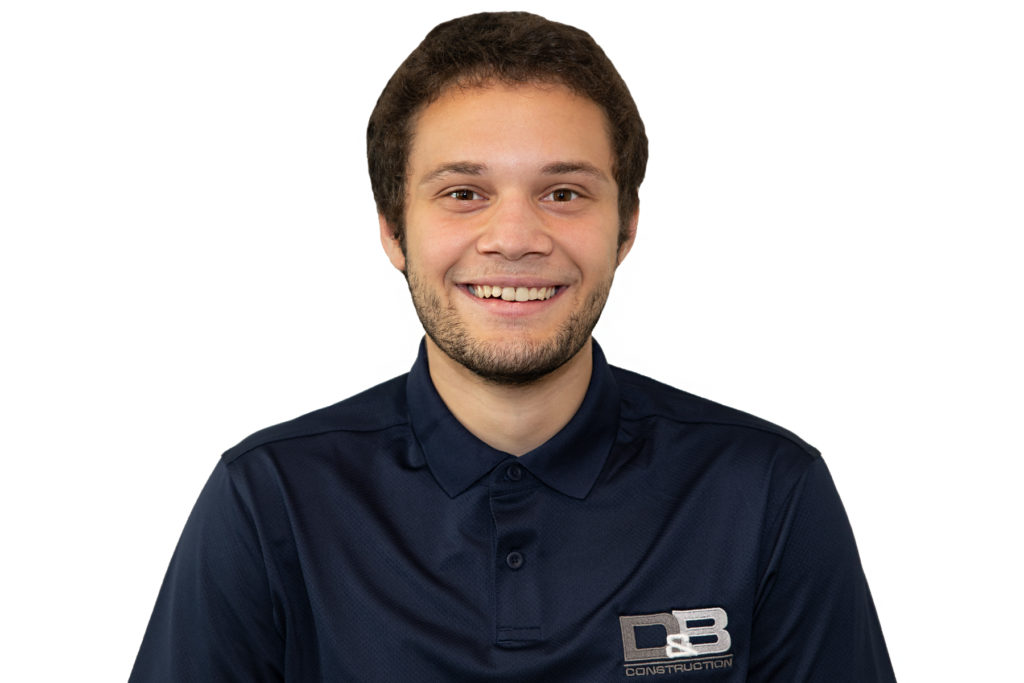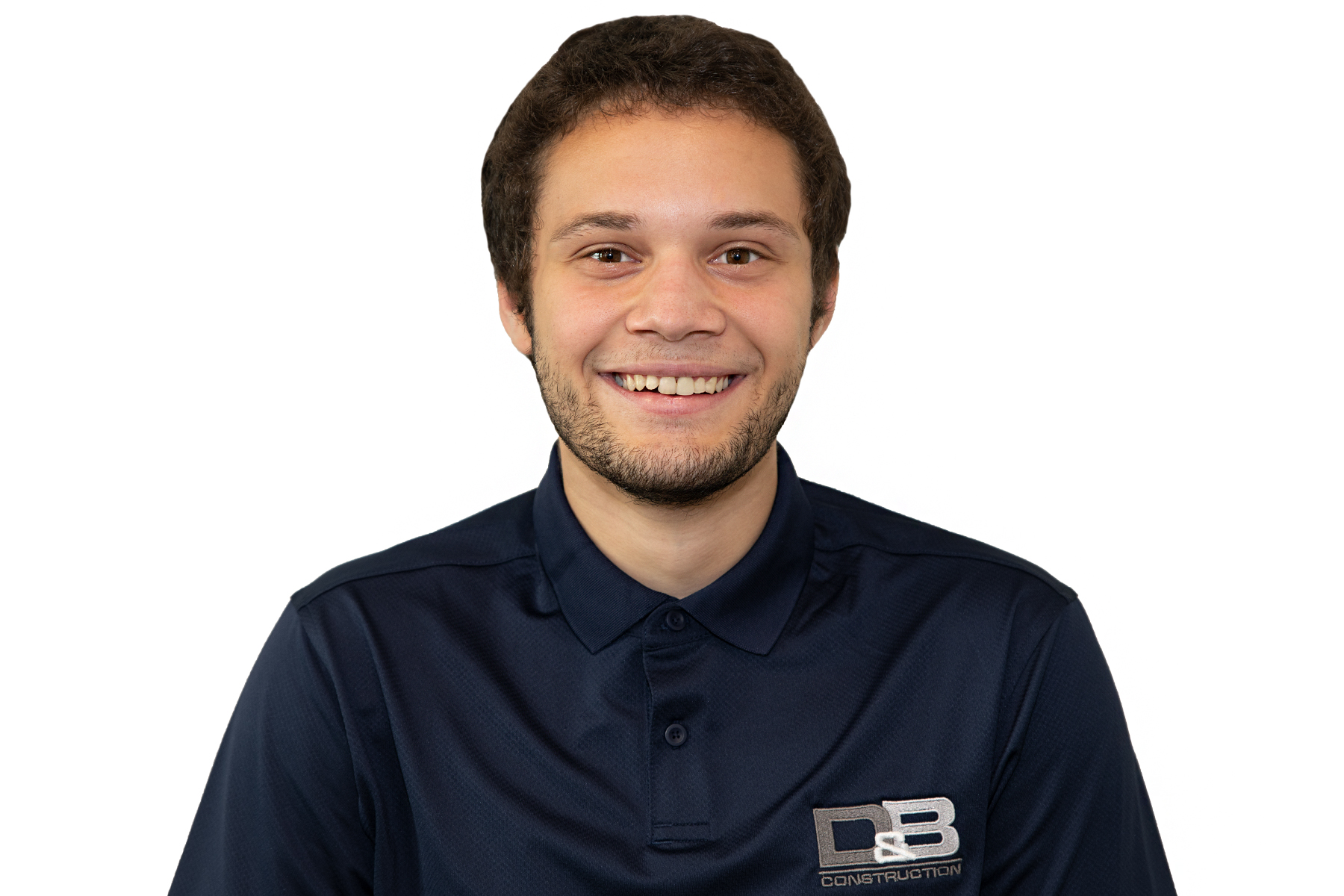 Ben, who will graduate with a degree in Media Effects from Penn State University's Main campus this coming Spring, enjoyed receiving hands-on experience throughout his Summer internship with D&B's corporate Marketing and Business Development team. As a Professional Writing Intern, Ben helped write articles for D&B's blog through gathering research and interviewing team members. He also helped with various business administrative tasks that allowed him to learn to use Customer Relationship Management (CRM) software, our construction management software, Procore, and email marketing tools such as MailChimp, to name a few.
Although the majority of Ben's three months with us was spent in the office, our team made sure to take him on active job sites. Ben was able to go to both commercial and residential job sites so he could see what both sides of the industry are like in person.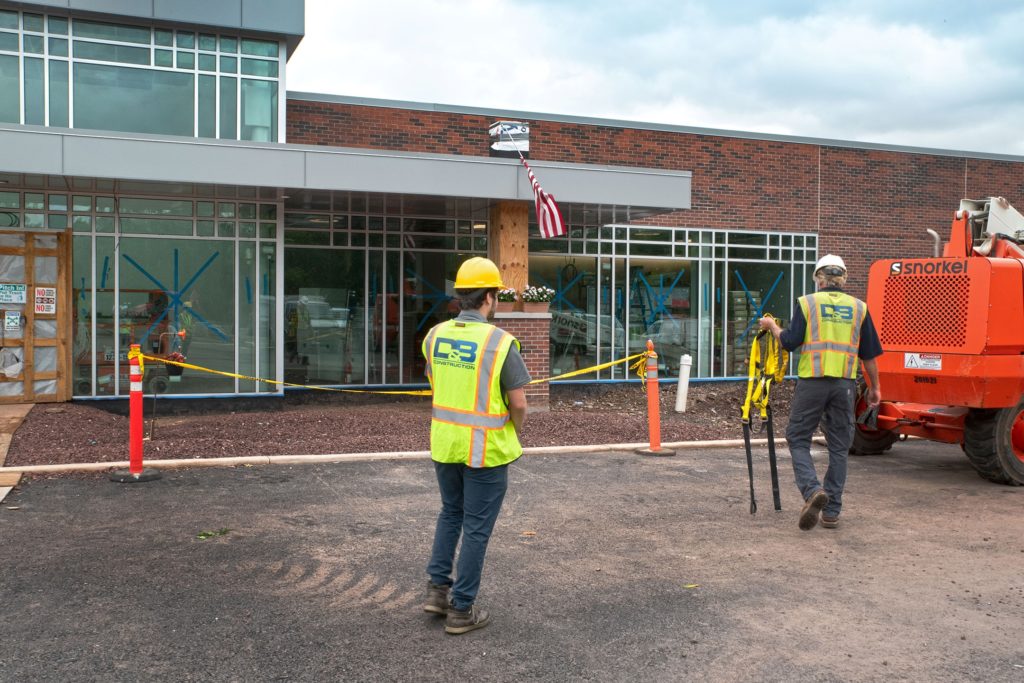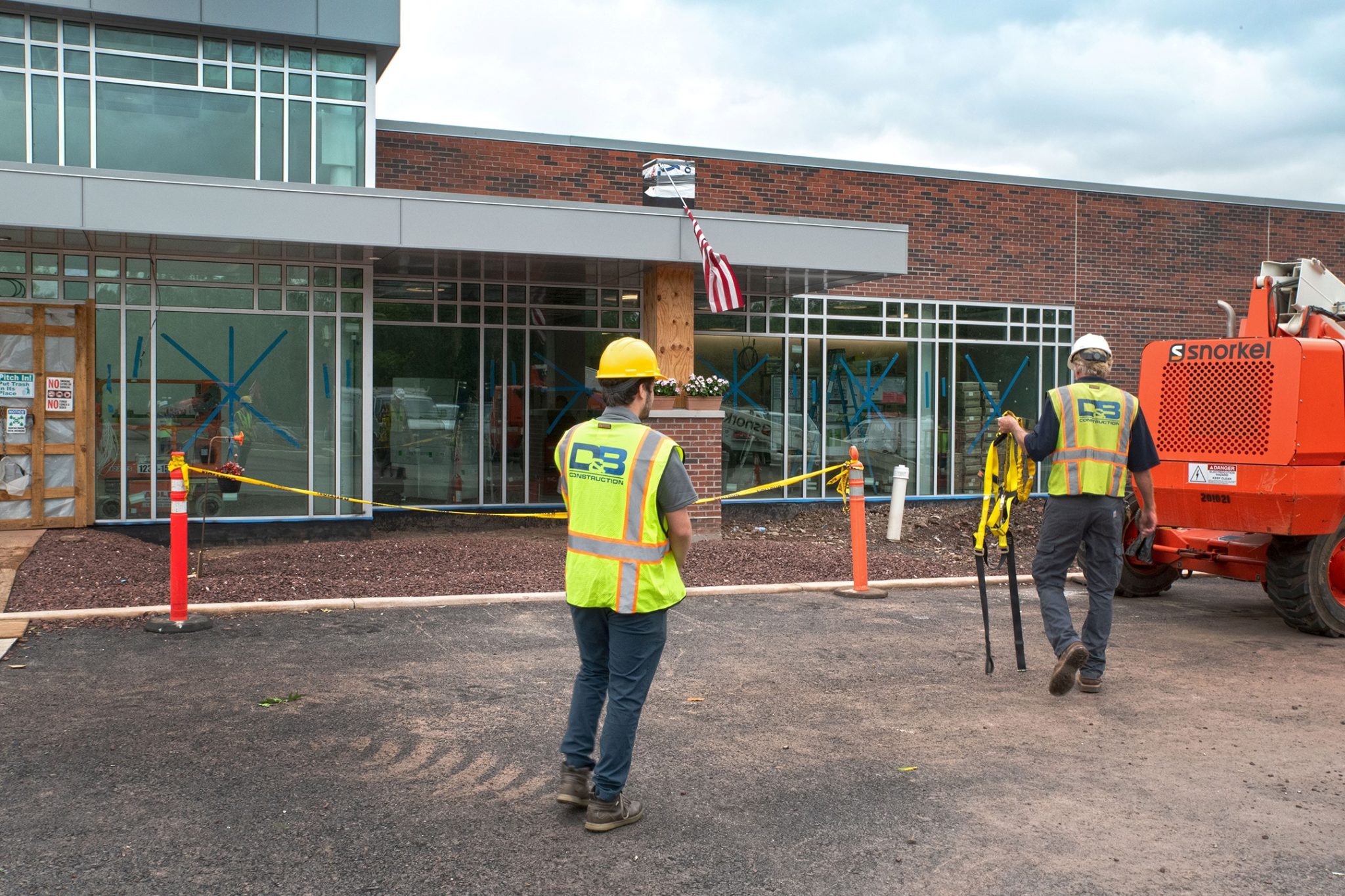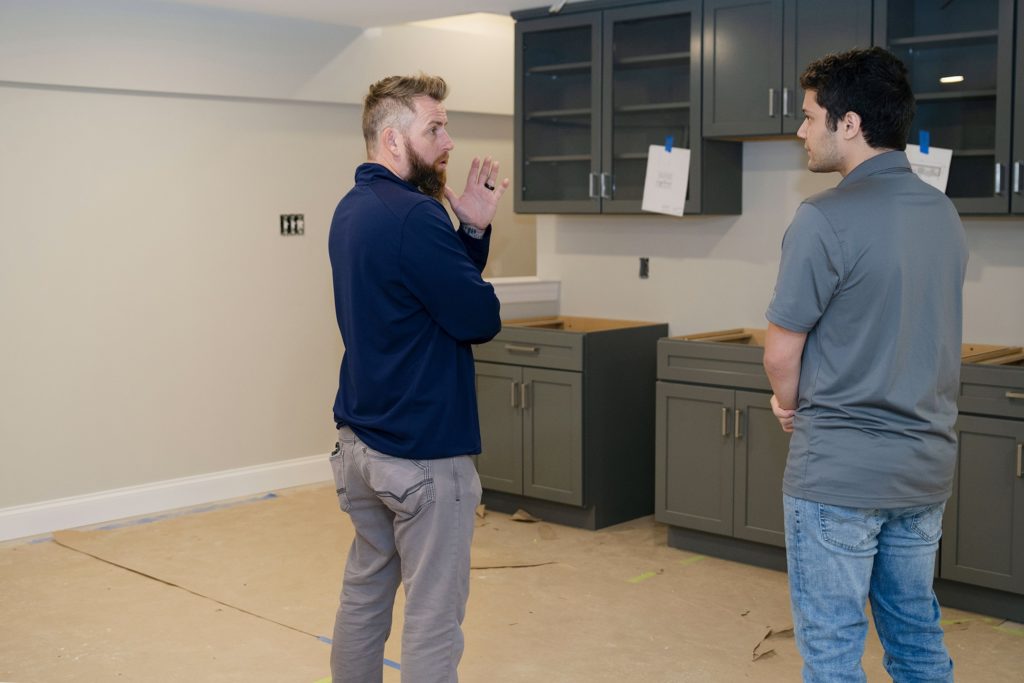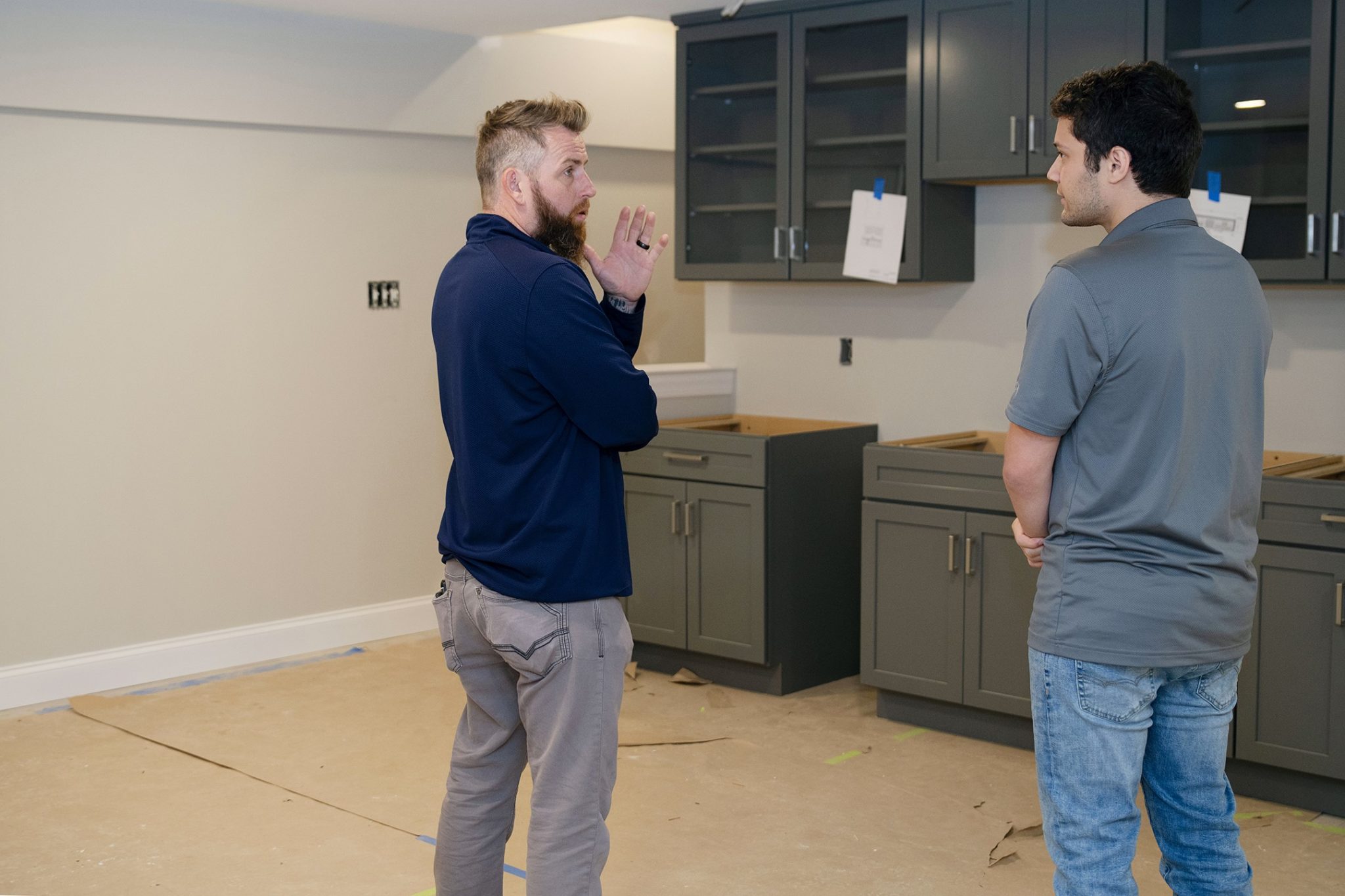 After completing his internship experience, Ben reflected on his time working with D&B, which he described as a "fun and valuable learning experience" for his future. Here's a Q&A from Ben so you can learn more about his experience:
Q: What takeaways, including new skills, techniques, and knowledge did you learn throughout your internship with D&B?
A: "I thoroughly enjoyed learning the ins and outs of construction. The responsibilities I was given aligned with the classes I take at school, and I now have plenty of material that I can include in my portfolio as I start to job hunt post-graduation. I have developed better writing skills throughout the course of my internship. When I look back at rough drafts from my first article versus my rough drafts towards the end of my internship, I can see that I have made a lot of improvement. I learned how to use tools like Canva, which was useful. Ultimately, I was able to experience what it is like to work in marketing in the real world, which was a really good way for me to realize that marketing is a career I think I can pursue."
Q: Did any of the classes you have taken in college directly prepare you for this internship?
A: "Yes! My media effects classes and writing classes prepared me for this internship. For example, my business writing class taught me essential skills to writing professionally. My media effects class taught me many things about how to effectively use social media. Actually, one of my assignments was similar to the benchmarking I did while at D&B, as I was asked to look at a celebrities' Instagram accounts and analyze the good and bad things about them."
Q: Did this internship make you re-consider what you want to do once you graduate college or confirm that you are in the right field?
A: "I have done a lot of thinking about what I will be doing when I graduate and start looking for a job. Even though I am not exactly sure what field it is that I want to work in, learning more about the construction industry and experiencing the environment in the office has definitely made me consider a job in this industry. I have also realized that I truly do enjoy working in Social Media / Marketing. Before this internship I thought that I would like a position like this, but I was never 100% sure. This internship also made me realize that there is nothing to be scared of, and I should go into the real world with all the confidence possible. Working for D&B has been a great step for me in finding a job once I graduate."
Q: What are you most proud of from the work you produced throughout your internship and why?
A: "I am most proud of the articles that I worked on while I was here. I have always had to write for school, but writing for D&B's Blog allowed me to have published work. I am proud to see the articles posted on the website."
Q: How did you enjoy going on the job sites? Was the difference in commercial vs. residential jobs what you expected?
A: "I really enjoyed going to the job sites. It was cool to go on the job sites and see how D&B Construction works. Both residential and commercial job sites were completely new experiences for me. The difference is what I expected. The commercial job sites have a more hectic feel than the residential job sites because there are many more people working at commercial job sites."
Q: What is your most memorable moment throughout your internship and why?
A: "My most memorable moment from my internship was visiting CHOP Souderton. I had never been to a commercial construction site and it was interesting to see the dynamic between the D&B Superintendents and our Trade Partners. I also thought it was really cool to see some of the obstacles they may face while building."
For this quarter's trade partner spotlight, we are taking a visit to Fleetwood, PA, where AP Merkel Inc. has resided since the 1890's. AP Merkel is a four-generation company that offers plumbing, heating, and cooling services. They have come a long way since Augustus P. Merkel first founded the company over 100 years ago. AP Merkel first started out as a company that built farm implements, such as machines that would harvest crops. They are well known for manufacturing grain separators known as threshing machines.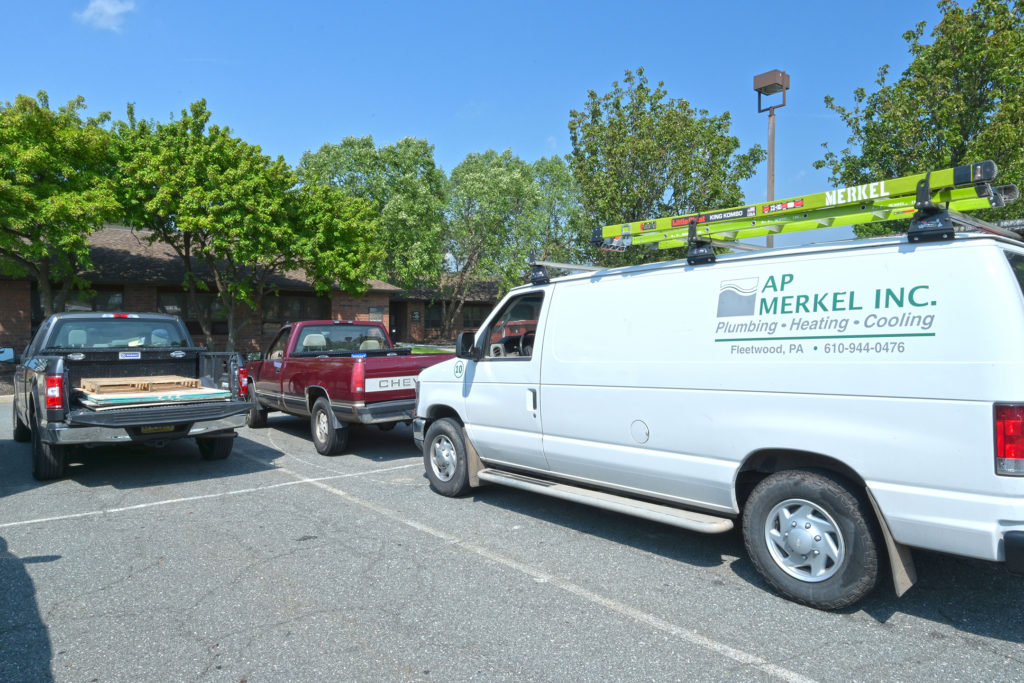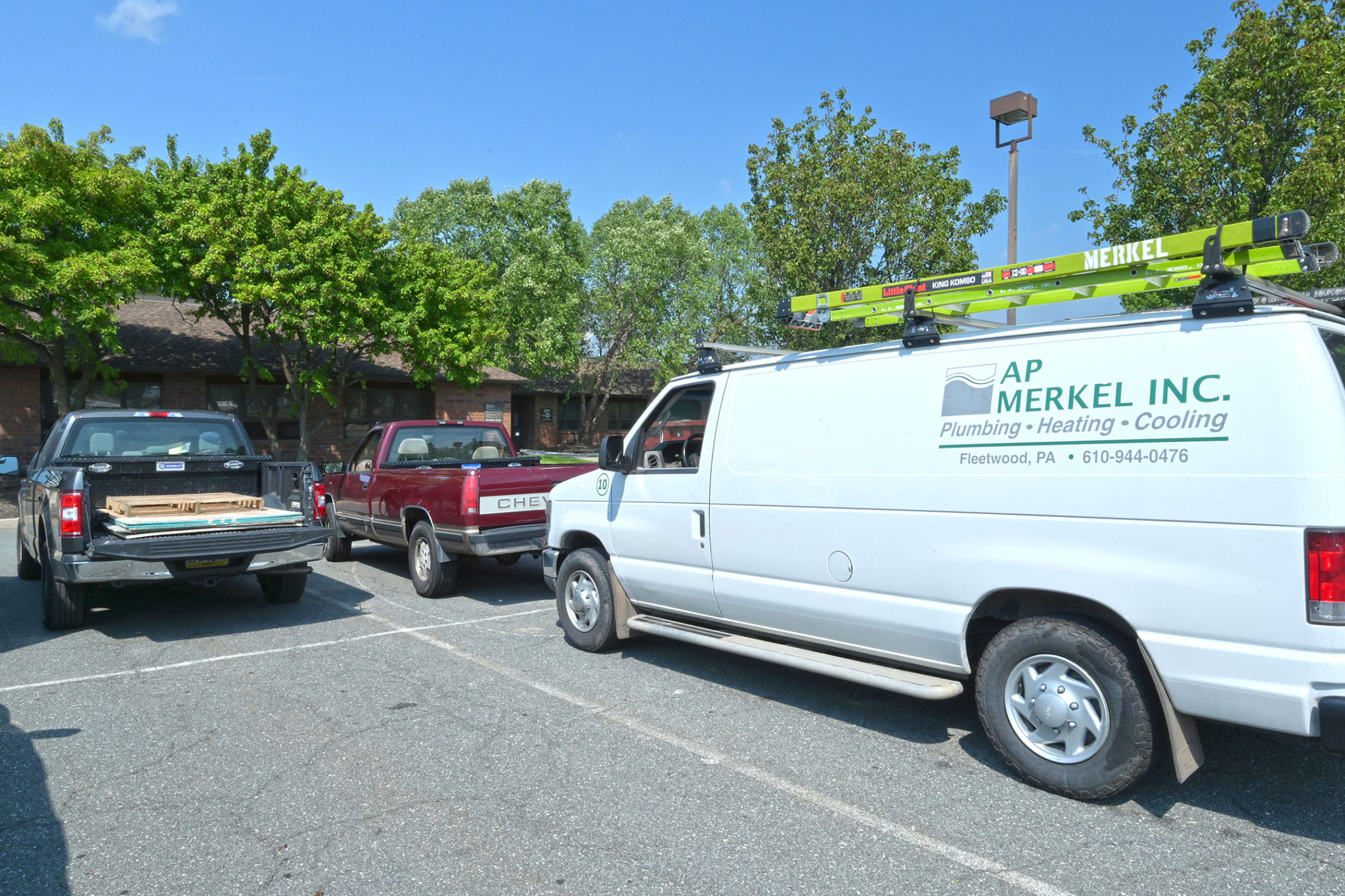 Their transition into the HVAC world all comes down to a smart, strategic business move. "Eventually, all of these farms that AP Merkel was working with needed heat," explains Nate Lobb, an Estimator who has been with the company for 10 years. One thing led to another, and eventually the company added plumbing into their wheelhouse. Approximately 30 employees later, "the rest is history," sums up Nate.
Today the company is run by Pete Merkel, standing President, and busy with approximately 50 commercial jobs a year. Nate is usually efficiently juggling 20 or so jobs at a time, which he enjoys. "I like the diversity of projects we work on. We do everything from senior living, to coffee shops, to dentist offices," he explains. Nate also enjoys working through and overcoming the challenges that come with starting every new project. "Being involved in a job from when it is just a concept in budgeting to when it is complete is something I always enjoy," he says.
Nate, who received his plumbing license about five years ago, grew up in a construction environment. "My dad was always in construction. I had an interest more in the mechanical / HVAC and plumbing side of things," he explains. Nate earned his Environmental Studies degree from Temple University in Philadelphia, PA. While in college, he interned for a company in Philly doing HVAC work and ended up coming back to the Fleetwood area and continuing his career at AP Merkel.
Nate stresses the fact that now is a great time to get involved in the industry. "There is a HUGE need for young, licensed tradespeople. There are few young people getting into this field right now. Get your license when you can, take it seriously, communicate, and you can have a great career," he urges.
One young individual who has impressed Nate is D&B's Superintendent, Ryan Hummel, who he has worked with since D&B Construction and AP Merkel established a relationship within the past year. "He has been really helpful and knows the industry, especially for being a younger guy. Ryan is really on top of it and not afraid to pick up the phone and check on something with us. We can talk through things and work it out. It is clear he takes his job serious," explains Nate.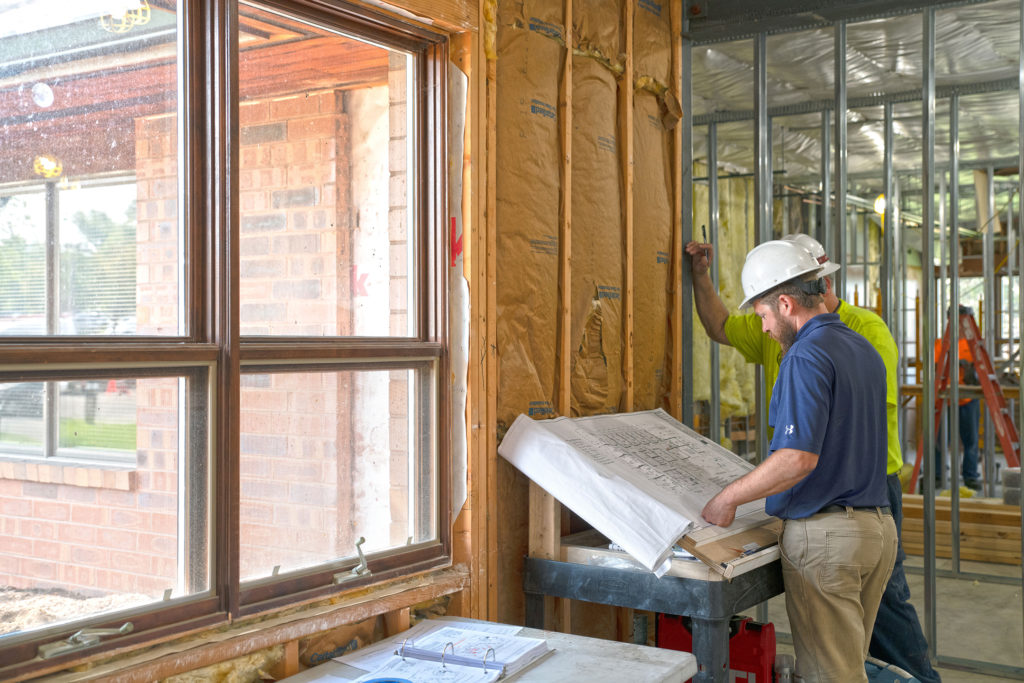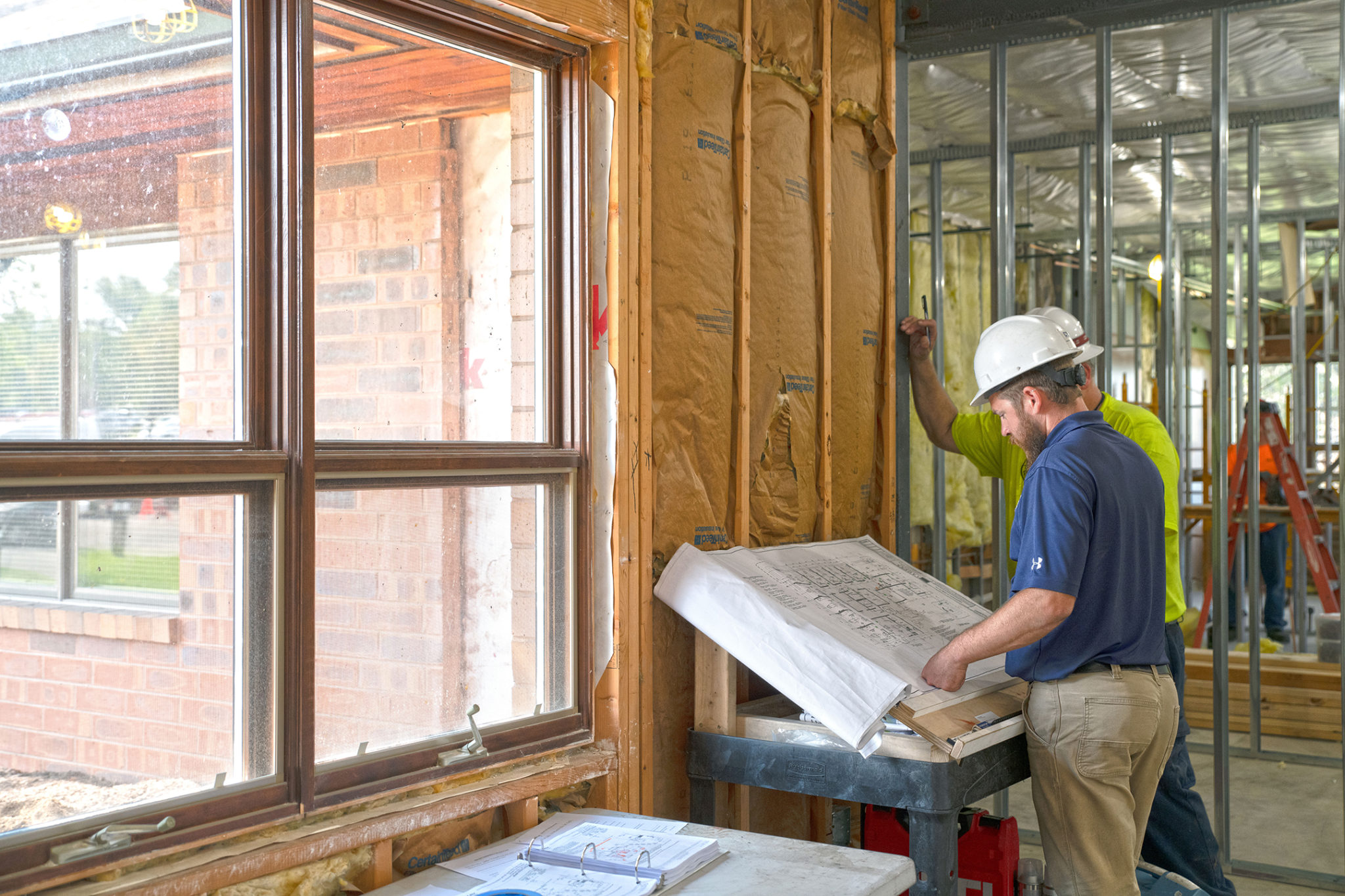 This feeling of open lines of excellent communication is just as strong a value for AP Merkel as it is for Team D&B. When we asked Ryan what he likes about working with AP Merkel, he summed it up simply in one word: "Everything." However, what stands out most to Ryan is "their level of communication and coordination from their office staff to the field staff." His experience working with AP Merkel over the last year has shown him that "they run a tight ship."
An example of this can be found at one of our healthcare projects currently in active construction, Grove Dental Pediatrics. Ryan has worked with Nate and Tom, AP Merkel's Superintendent who has been with the company for around 25 years. "I bid the Grove job, completed estimating, submittals, and the purchasing of equipment and piping, and Tom took it from there and is currently managing the actual job," explains Nate.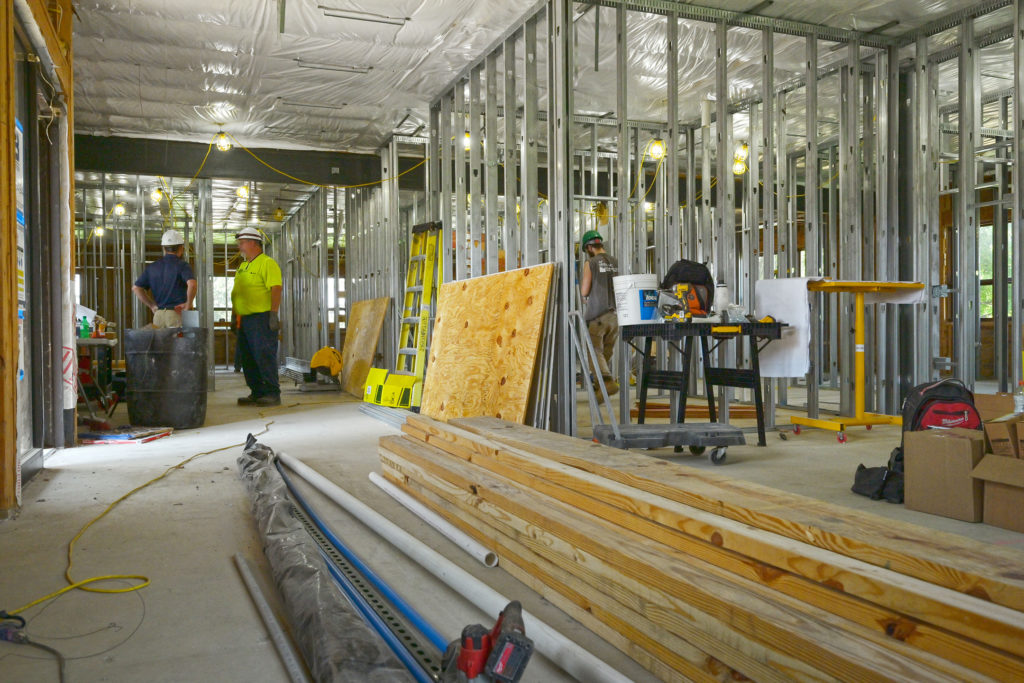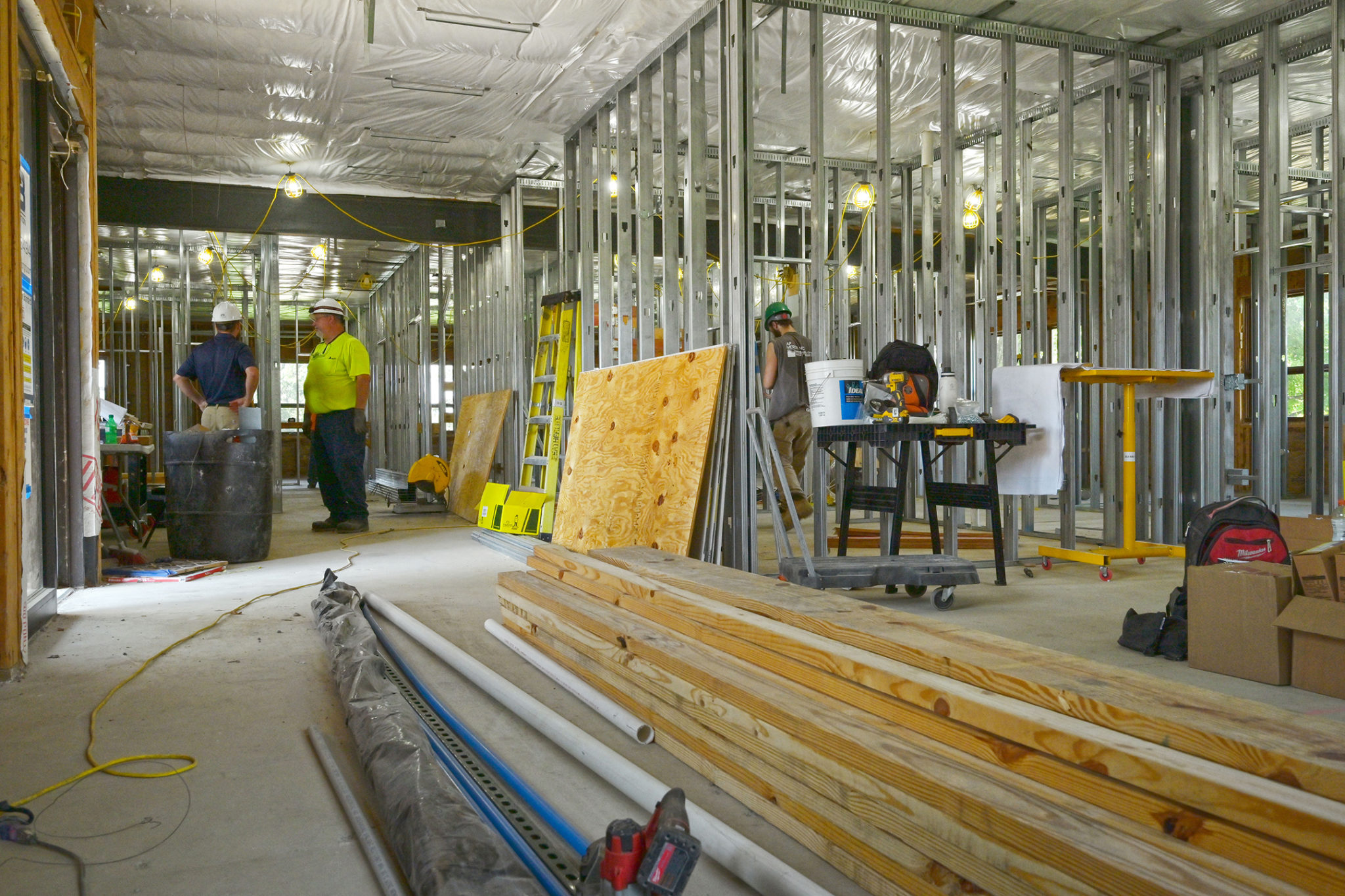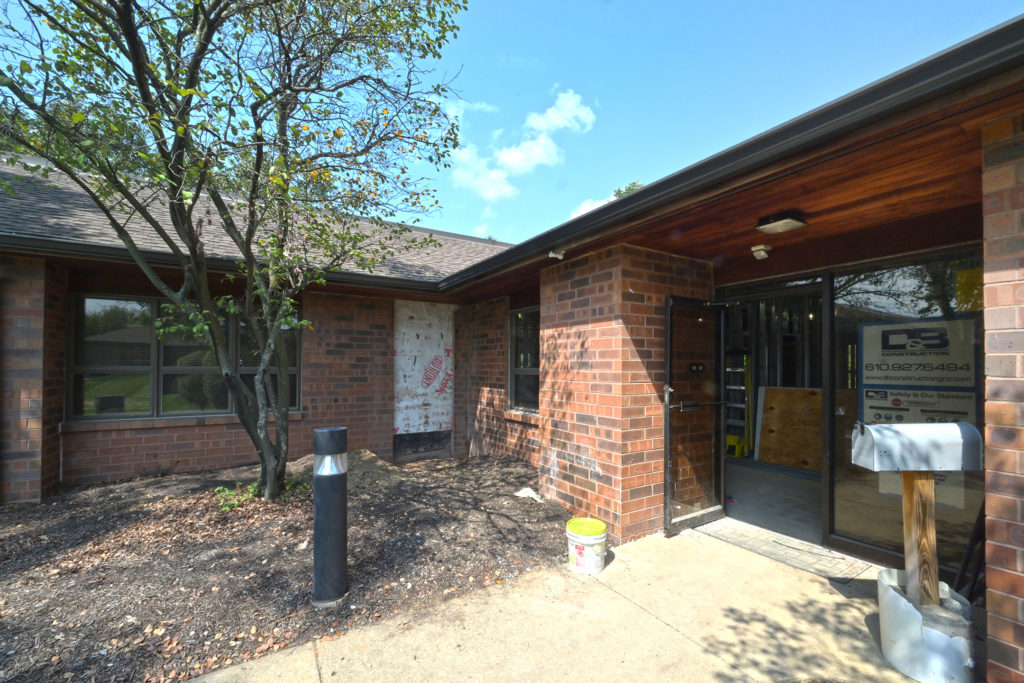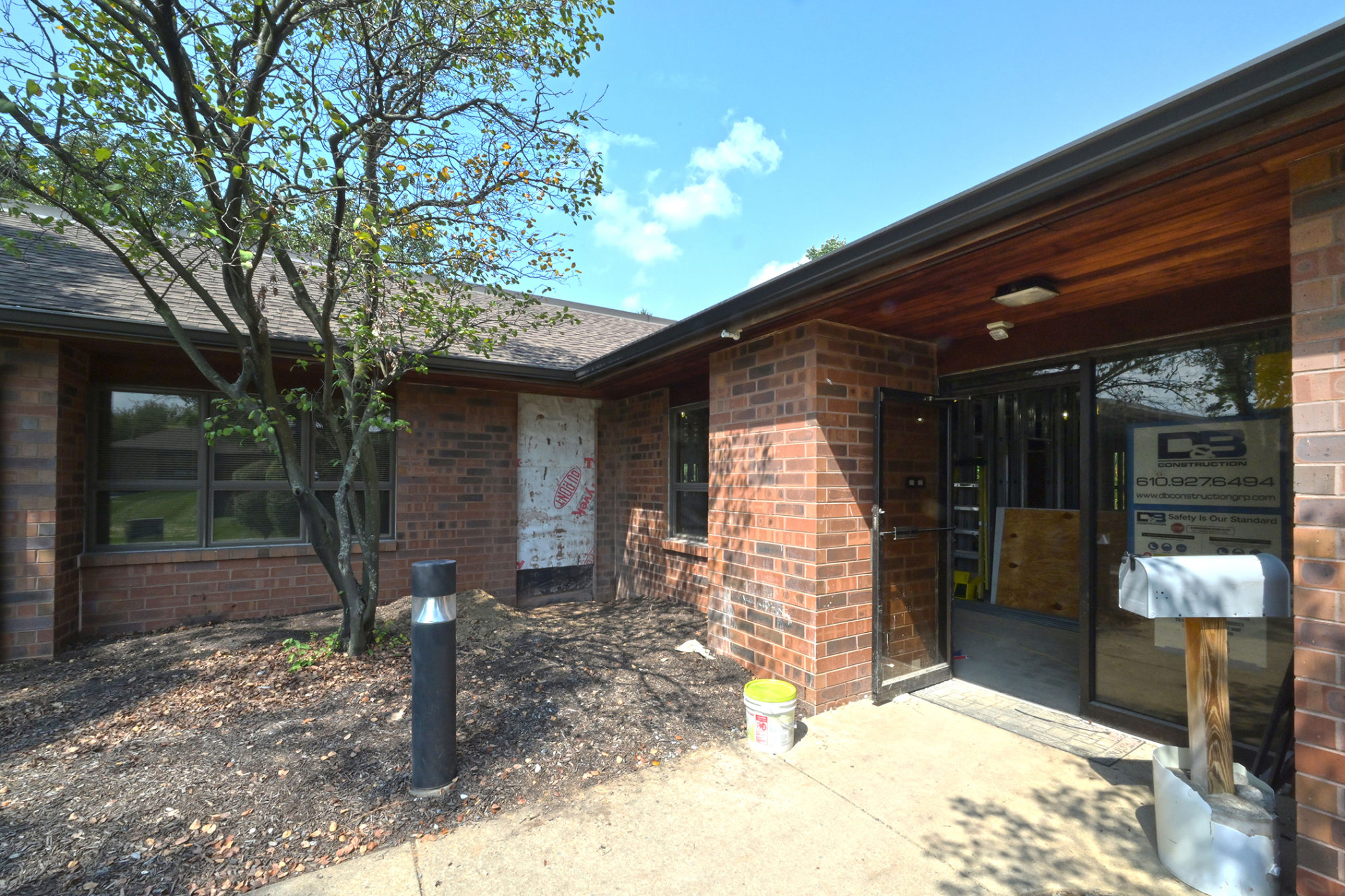 One highlight of this 3,700 SF medical office space? "This project has medical gas piping, which is something we don't deal with that often. This type of piping has to be put in very clean. It has a special fitting with a braised fitting joint. The key is to keep it clean, so when we start to install it we have to flush it with nitrogen gas," explains Nate.
We recently visited this healthcare project in Wyomissing, PA. Here's some photos of AP Merkel team members, Andy, Zach, and Scott, their lead plumber, working to keep the job running smoothly and safely with Team D&B: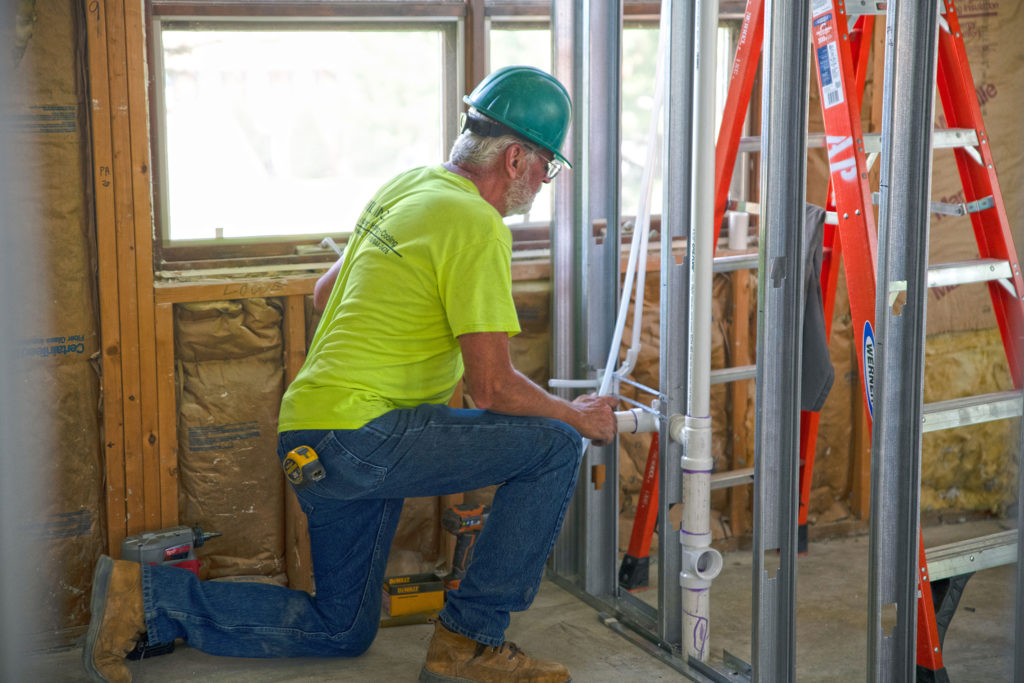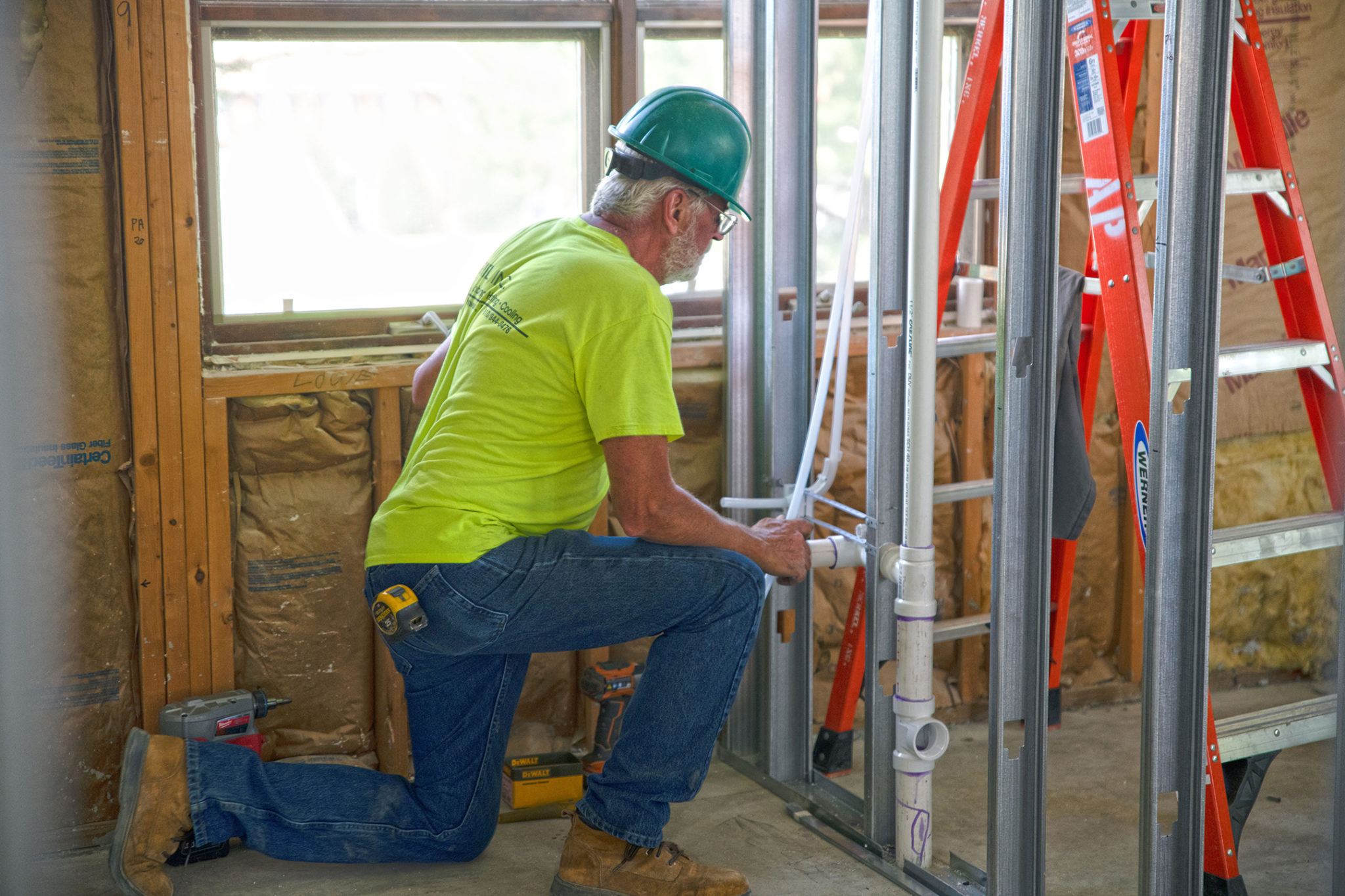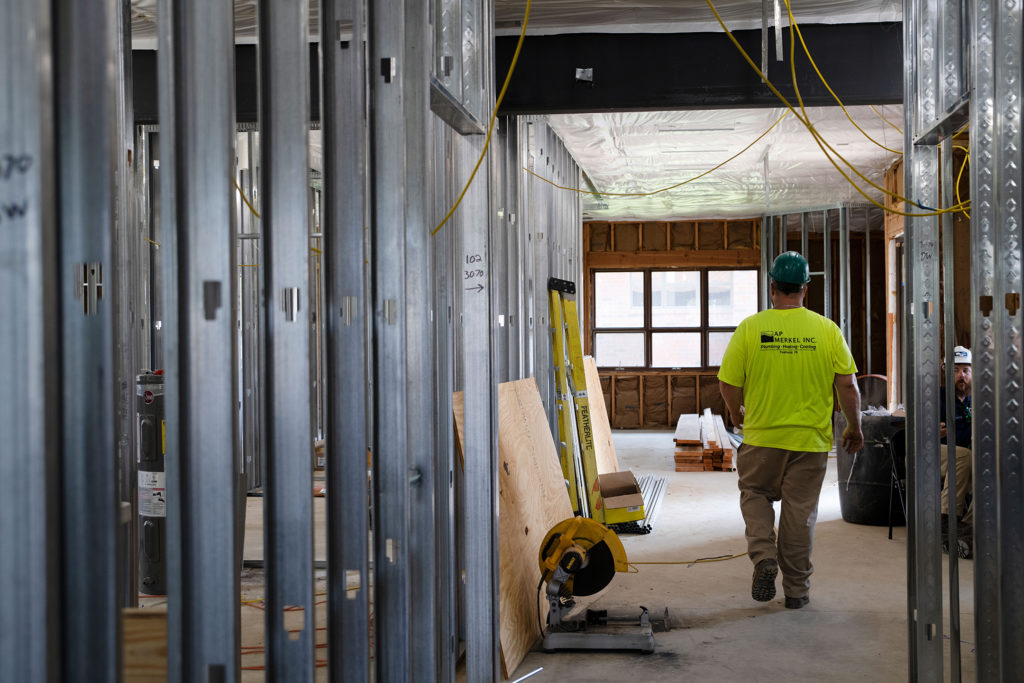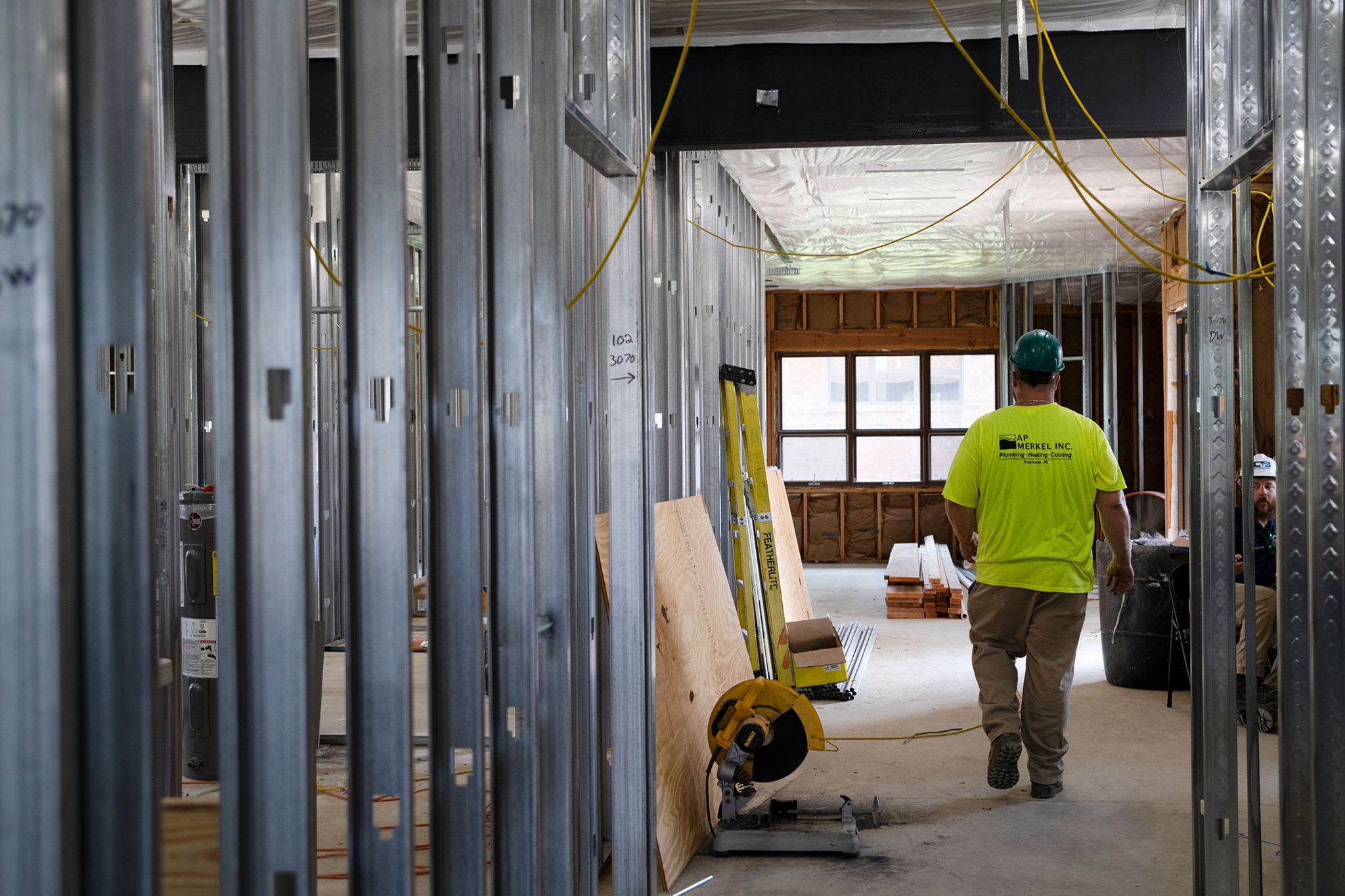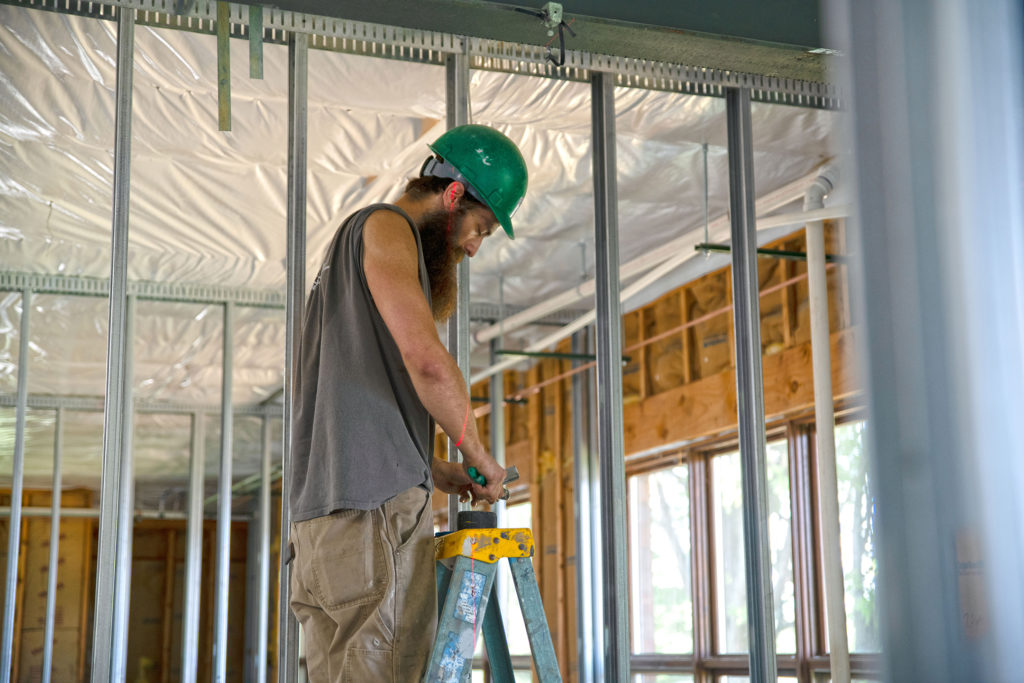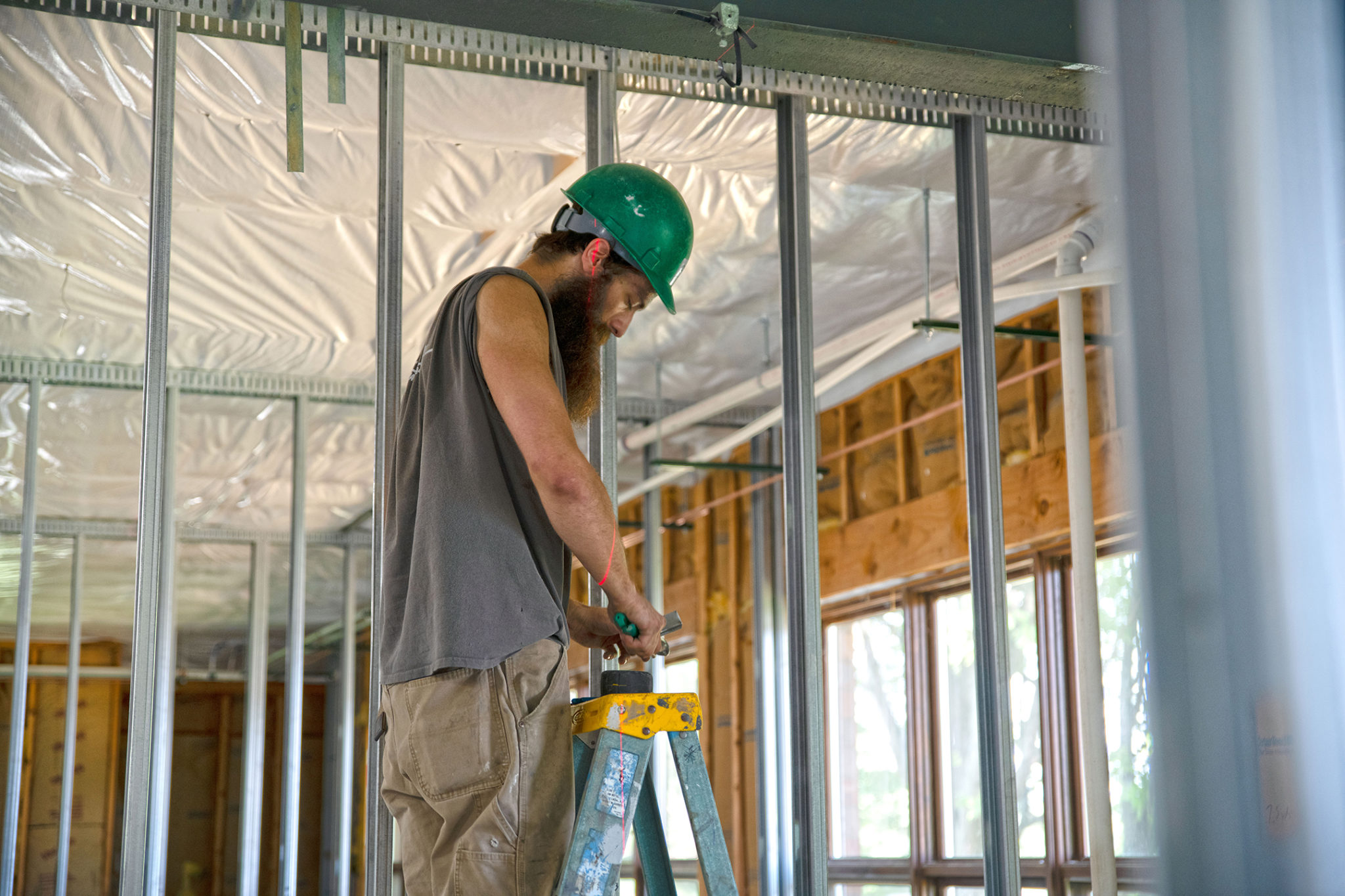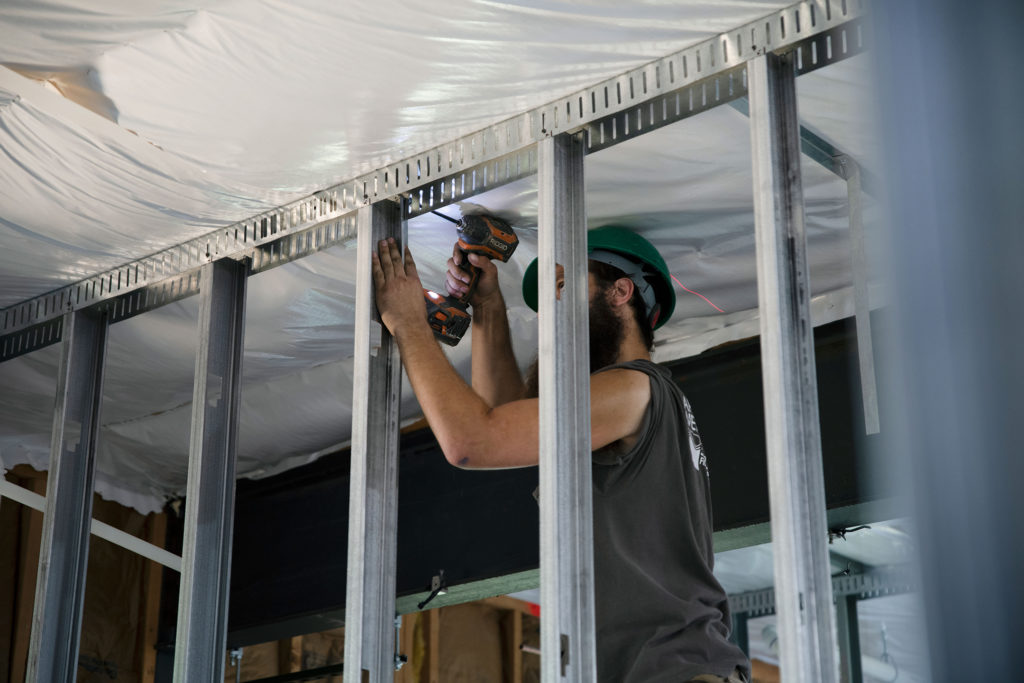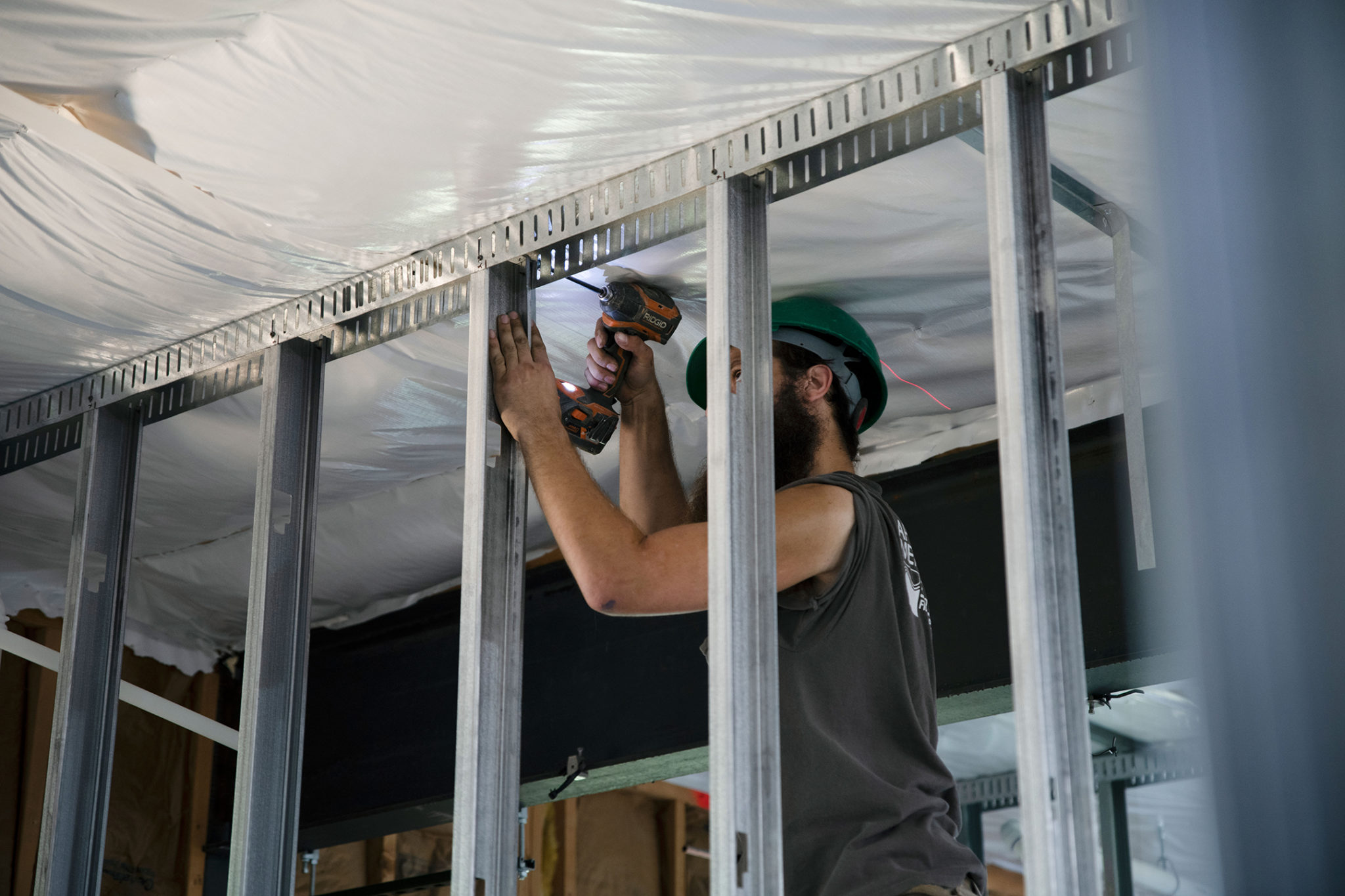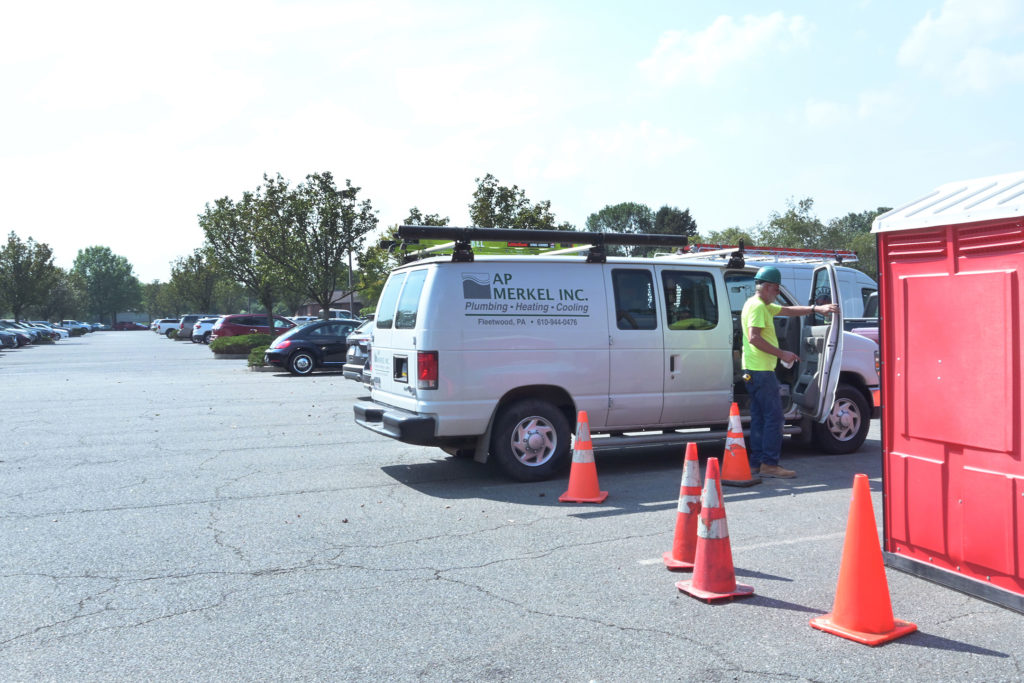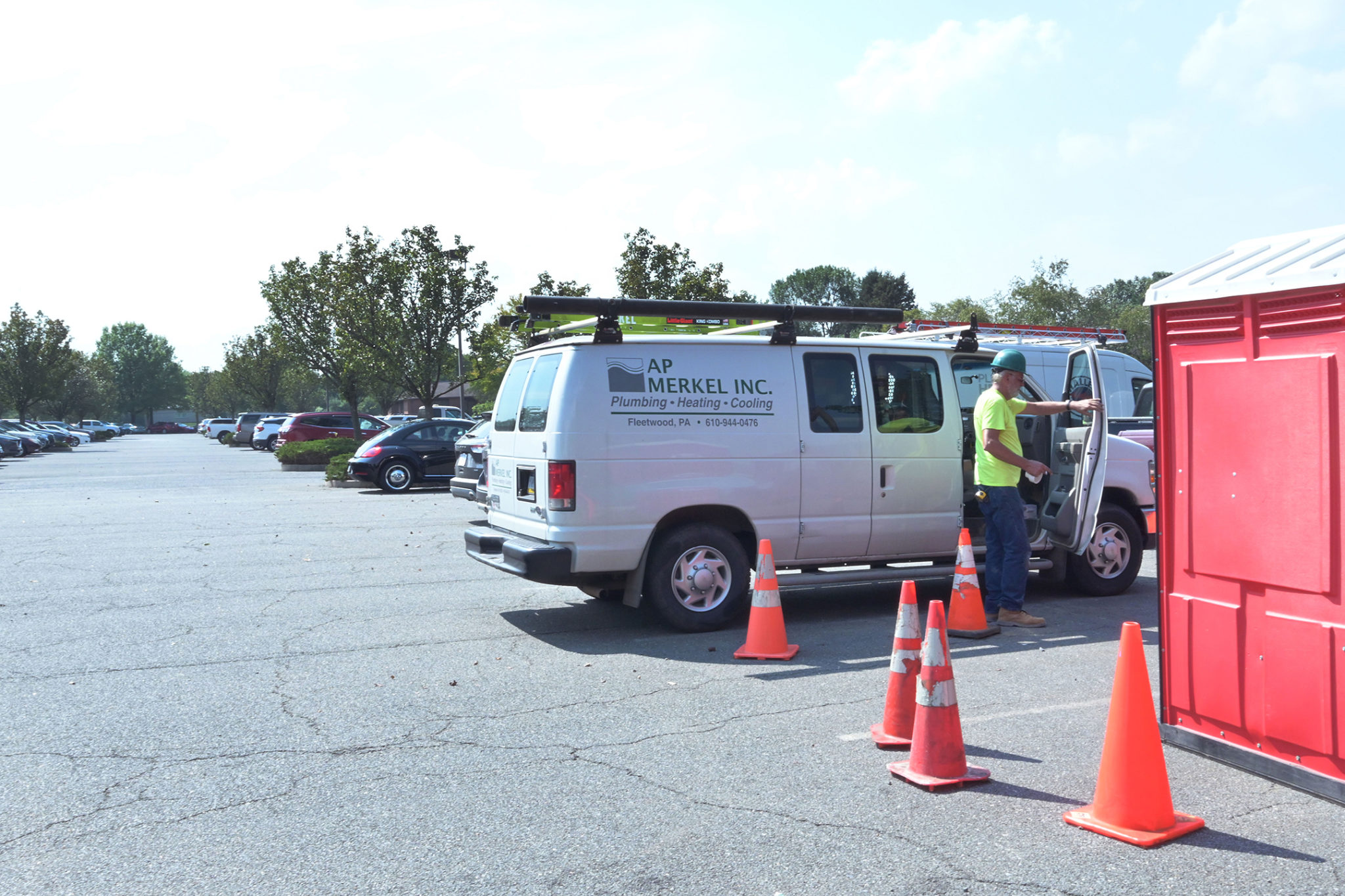 White-sand beaches, warm weather, great food, and high-end luxuries are everything that Miami is known for. The small town of Surfside is no exception with its reputation of being pleasant, quiet, safe, and affordable. As you likely may have heard, Surfside recently become the center of attention for many people after tragedy struck the small town in June.
On June 24th Surfside's 12-story beachfront condo, Champlain Towers South, partially collapsed at about 1:25 AM with its residents inside. As of Monday, July 26th, the last victim's remains were identified. This brought the final death toll to 98 people after tedious efforts were made to account for every resident, and officials have now confirmed that remains for each person considered missing after the collapse have been recovered. The efforts made were the largest emergency unrelated to hurricanes ever conducted in the state, with search and rescue teams from throughout Florida, many other states, and even Israel and Mexico coming together to bring closure to families.
According to the New York Times, this disaster is one of the deadliest structural building failures in American History. Many residents are still in shock. Community Members Peggy Streter and her husband own The Carrot Café located in downtown Surfside. The two have claimed to know about 50 people who lived in the condo. The Streters are not the exception. Miami's building chief, Charles Danger said, "Everybody in Miami knows somebody from that building or knows somebody who knows somebody."
The rest of the building was demolished on Sunday, July 4th in efforts to continue the search. Once all remains were identified of those missing, officials began steering their focus to determining what could have caused the collapse. Since then the building has continued to be in the limelight, as many of the building's records that would help investigators learn why the building fell could not be found, and the not-so-easy conversation over the fate of the site has started to take place. Here's a quick summary of what is known:
Initial Concerns for the Condo
People living in Surfside Condos, which were completed in 1981, had previously voiced their concerns about the structure of the building they called home, so the collapse does not come as a surprise for some. After a DEA building collapsed in Miami almost half a century ago, taking the lives of seven employees and injuring 16 others, two Miami counties instilled new regulations requiring buildings that have stood for 40 years to be investigated for any problems. Since Champlain Towers South was in one of these counties, their mandatory 40-year inspection took place in 2018.
When the condo was inspected by engineer Frank Morabito in 2018, he identified that there was a flaw in the original construction of the building that was causing structural damage. Morabito mentioned the main issue was that the pool deck and outdoor planters had been "laid on a flat structure." Since there was no slope where the pool stood, standing water was not able to drain off the pool deck. Instead, the water would sit on the waterproofed concrete until it evaporated. At the time of inspection, the water-proofing concrete had failed, causing the water to seep through resulting in "major structural damage to the concrete slab below these areas." The report also pointed out distress and fatigue in the concrete, columns, beams, and walls of the parking garage below the pool area.
Morabito's report said that "failure to replace the waterproofing in the near future will cause the extent of the concrete deterioration to expand exponentially." He could not predict that this may lead to the collapse of the building, however he said that repairs to the concrete were needed for "maintaining the structural integrity" of the building. The waterproofing and structural issues of the condo were never addressed by the owner's association.
Fast forward to 2019 when a neighboring luxury tower was being built. Residents of the Champlain Towers South condominium complained that construction would often cause their building to shake. This led to a resident and board member of the condo association, Mara Chouela, voicing her opinion that workers were "digging too close" to the property. She said they "have concerns regarding the structure of our building." Just 28 minutes later, official Rosendo Prieto responded to Chouela stating that "there is nothing for me to check."
There is no concrete evidence that construction of the condo's neighbor contributed to the collapse of the building, and it is still unclear if the lack of action from the owner's association was a major factor in the building's collapse. Cassie Stratton, a resident who was inside the building during the collapse, reportedly told her husband on the phone that she saw the pool cave in first, backing up Morabito's claim that the waterproofing of the pool was necessary to maintain the structure of the building.
The fact remains that residents were concerned for the structure of the condo, and they felt as if no one took the necessary action to redeem the structural integrity of the building.
Expert's Findings
The city of Surfside hired a structural engineer, Allyn Kilsheimer, to inspect the site and determine the cause for the buildings collapse. Kilsheimer says it is "maybe not an individual cause, but two or three things that contributed and/or caused this failure." While the pool could have been a major issue to the structural problems, it is still unclear and there are many theories that will be examined.
In addition to hiring Kilsheimer, another group was hired to lead the charge to uncover what caused the collapse since this was such a big case. The NIST (National Institute of Standards and Technology) will be working constantly to investigate the situation. They say that "a fact-finding investigation of the building performance and emergency response and evacuation procedures will likely result in significant and new knowledge or building code revision recommendations needed to reduce or mitigate public risk and economic losses from future building failures."
How this Tragedy may Impact the Industry
Like many others, we have been wondering what caused this to happen. Matt Knight, Senior Estimator at D&B Construction, has been working in the industry for over 20 years. He has been involved with the construction of many large, well-known buildings, including the 9/11 Memorial.
Matt did not do any research, but from what he saw "the building collapsed from the bottom up," which makes him think "there would be structural cracks in the floor, columns, beams, etc." As we know now, these structural cracks were found by engineers and deemed to be a major structural concern prior to the collapse of the building. Much like Allyn Kilsheimer, Matt believes that it is likely there are multiple causes for the failure of Champlain Towers South.
One of the theories that Matt believes had a big role in the building's collapse was the fact that the condo had been sinking at a rate of two millimeters per year from 1993 to 1999. Scientists also discovered evidence of other areas nearby sinking as well. Matt says that one of the most important things when constructing large buildings is to make sure you are building on good soil. Since the condo was slowly sinking, Matt believes they likely "built on unsuitable soils and never got the compaction they needed." He notes that if soil is not properly compacted so that it is suitable for the building, everything else will eventually fail. "If you are building from the ground up your soil underneath is, of course, most important," he concludes. For now, Matt is waiting to learn more about what caused the failure once the investigations are conclusive.
What we can Conclude and How to Move Forward
At the end of the day, the collapse of Champlain Towers South was a tragedy, however Matt tries to look at how the industry as a whole can learn from what happened. "Usually a lot of good things will come out of a catastrophic failure. For example, we learned a lot from 9/11, and today those World Trade Center Towers are not being built the same way," he says. Matt believes the industry will learn valuable lessons from this, and it will improve how we are constructing buildings overall. He would not be surprised if there will be changes for older building's codes, especially around that area. Matt also proposes the idea of a new law emerging from this that would make building owners, when aware of structural damages, either make the repairs or move everyone out until they do.
While we wait to learn more, one question many still have is whether or not limitations on technology when the condo was built play a factor in the failure of Champlain Towers South? When the condo building was constructed in 1981 many of the rules and regulations that we have today were not in place. Miami was also known for "slipshod construction," and in some cases they were known to take the look-the-other-way approach when enforcing building codes and regulations. While their construction practices were not nearly as good then as they are now, they also did not have access to the technology we have now.
Specifically, VDC (Virtual Design and Construction) and BIM (Building Information Modeling) are tools that Matt says, "could have helped if they had it during original construction". BIM is a tool for 3D modeling and data input of physical objects, while VDC uses BIM models to plan the construction process from beginning to end. Watch a video to learn more about VDC and BIM here. Using technology like BIM and VDC essentially allows you to build the entire project virtually before building it in the real world, which can decrease cost and time put into a project while also increasing safety. We may often take technology like this for granted, but it is interesting to think about what the world of construction would have looked like in the 80's if society had access to these technologies that we can now use every day.
D&B is interested to hear your thoughts. Do you think new technologies will help to prevent disasters like the one in Surfside? What policies and procedures do you think should be put into place to help increase safety and avoid disasters such as this from happening in the future? Let us know in the comments below!
Open floor plans in office spaces first made an appearance in the 1940s and later evolved in the 1960's where they were used as a means of symbolically showing the company's culture. Offices with open floor plans continued to be prevalent during the tech boom of the 1990's, and in 2005 they became a real inspiration for innovation.
In 2005, Google completely renovated their headquarters signaling the "dawn of a new professional era." The project architect, Clive Wilkinson, explained that they got rid of the cubicle because of Google's "We're inventing a new world, why do we need the old world?" attitude. Many companies followed suit in later years, asking to be "Google-fied." Just 10 years after Google's office transformation, Facebook would follow suit, creating an office space that held 2,800 employees across 10 acres. The headquarters would claim to be the largest open floor plan office in the world.
Offices with open floor plans have become a major trend in recent years. Although they all don't span across 10 acres like Google's may, they still pose a timely question as people return to the workplace: Will this office layout and design work in a post COVID-19 world?
As the world rethinks how we work, it will be interesting to see how office layouts as we know them will transform in the upcoming years. Companies currently looking to re-imagine or add onto their office space may currently be weighing the pros and cons that an open floor plan offers. Let's take a look at some of them:
Pros and Cons of an Open Floor Plan
One of the biggest arguments supporting the open floor office design is that it provides the employee with a unique social aspect that other office designs do not offer. The social interactions in an office can provide a large system of support to your employee, helping with the individual's motivation and overall productivity.
Depending on its design, an office can provide a balanced social and cognitive environment for their employees. When optimized, an open floor office design will have a good mix of spaces that are intended for different uses and easily adaptable to fit the employees' specific needs.
One way that our team at D&B likes to incorporate an open floor plan into a re-imagined commercial office space is through installing aesthetically pleasing glass doors throughout. This trend gives companies a modern, sleek and updated look. An example of this look from one of our past clients can be found in Power Kunkle's large conference room.
Although many would argue that open floor plans are here to stay, some would dispute that noise, a lack of privacy, and opportunity for distraction may cause an increase in errors, lack of production, and sometimes stress with this layout design. In 2018, the Harvard Business Report found that "open offices reduce face-to-face interactions by about 70% and increase email and messaging by roughly 50%."
This quick look at the pros and cons of an open floor plan illustrates that this design is not a one size fits all solution. Members of Team D&B believe that transformative office spaces will increase in demand, and it looks like the latest research agrees.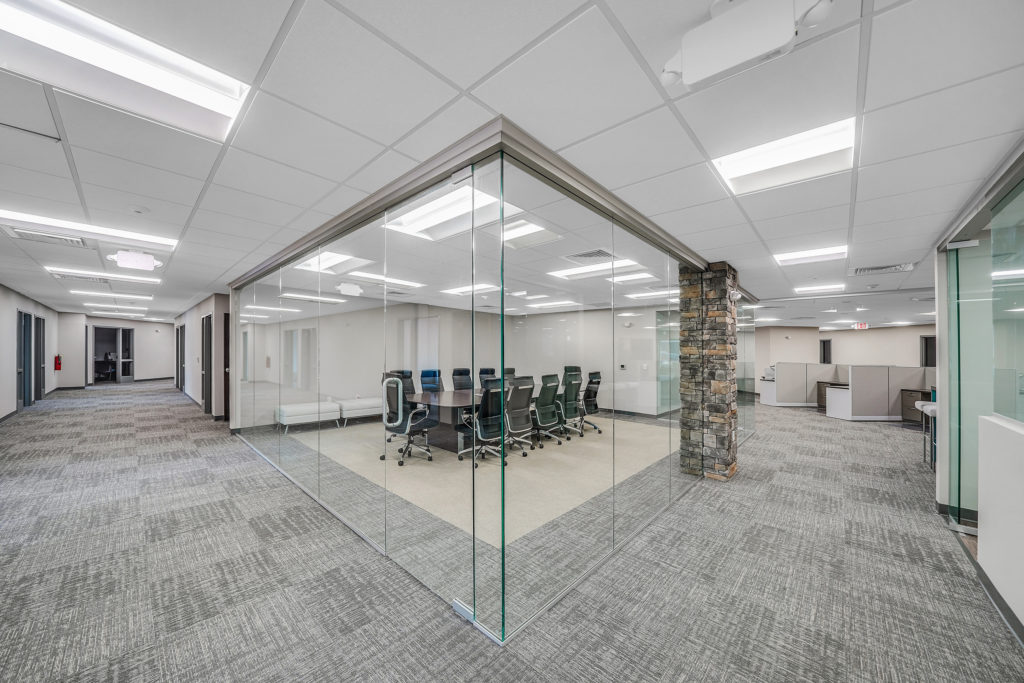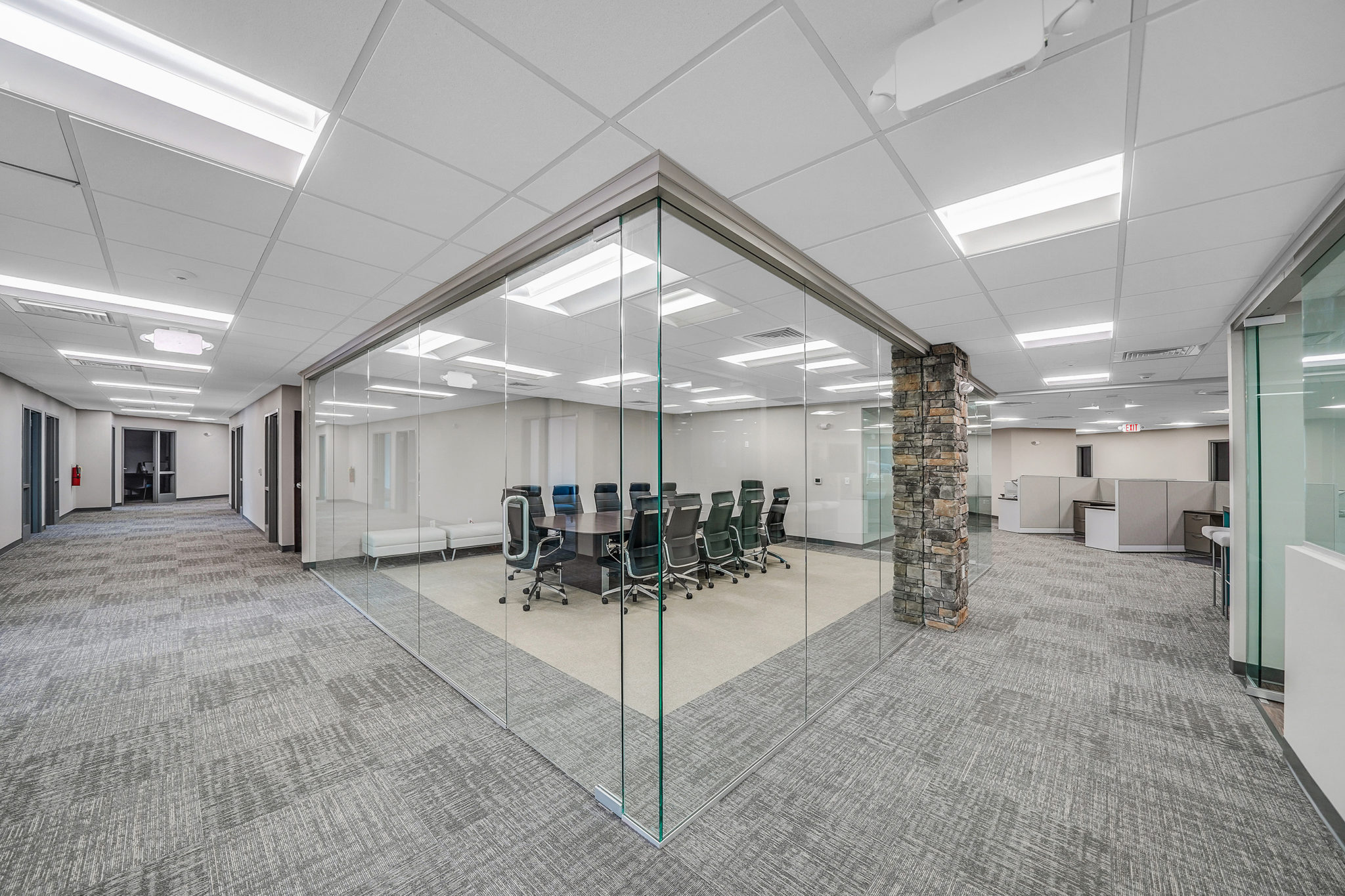 Transformative Offices: The Solution to Future Commercial Office Space
As businesses leaders look to redesign their office space in the near future, they will need to think of how they can cater to different employees and their varying workflows. Some may thrive on collaboration and interaction, an essential component to build company culture, foster relationships, and create a team-oriented atmosphere. On the other hand, there will be times when some employees may be more productive in a quiet environment where they can focus. The solution to these varying needs? A transformative office space.
D&B Construction's Pre-Construction Manager, Bob Martzall, has noticed that "some businesses have been expressing their desire to have flexibility" as they work with D&B as their general contractor. One way they are achieving this goal is through modular walls. Bob explains how "modular walls can provide an office with a great amount of flexibility and safety, as these are walls that you can take down, move, or shift."
On a larger scale, one company that has taken flexibility to a whole new level is Salesforce. In February of this year they announced that employees would "have the option to work remotely full time, even when it's safe to return to the office." Their new guidelines offer employees the option of working full remote, flex time in the office, or completely office-based. Employees who choose to work the "flex" option will have the flexibility of coming into the office between one and three days per week when they need to perform tasks that may prove challenging over a video conference call, such as working on collaborative projects or meetings with clients. So how will this extensive change affect the company's 19 physical offices in North America alone… specifically the recently completed 1,070-foot-high Salesforce Tower in San Francisco? The company has announced that they will be redesigning offices as "community hubs" that will replace rows of desks with multiple collaboration and breakout spaces.
D&B Construction's Philadelphia office recently completed a 10,246 SF commercial office design-build project for Berger Rental Communities at their new West Valley Business Center location in Wayne, PA. Their new collaborative room is one of their employees' favorite spaces. Lesley Yocum, a Project Manager out of D&B Construction's Philadelphia office who also played a major role in designing the client's space, said that they knew they wanted this space throughout the entire design process.
Research looking at today's high-functioning workplaces show that employees are spending much more time on collaborative activities. Lesley agrees – especially right now. "People are returning to a 'new' office layout with more space between their co-workers. Because of this, collab rooms will be utilized as both old fashioned conference rooms and a place where you can go to get 'comfy' and discuss since that's what many people are accustomed to now after working from home for so long."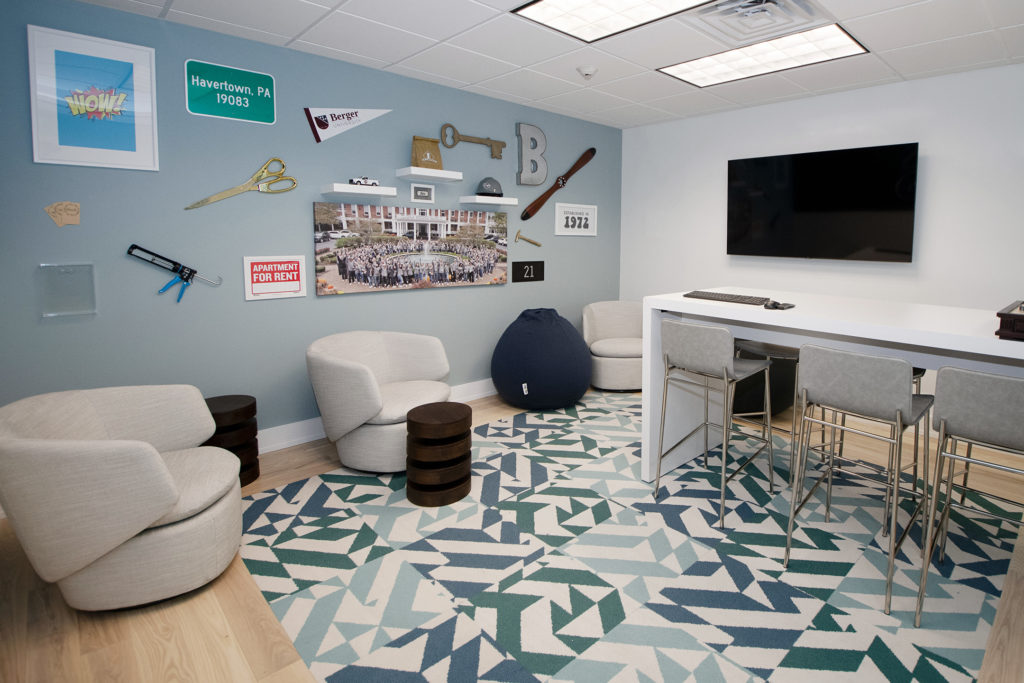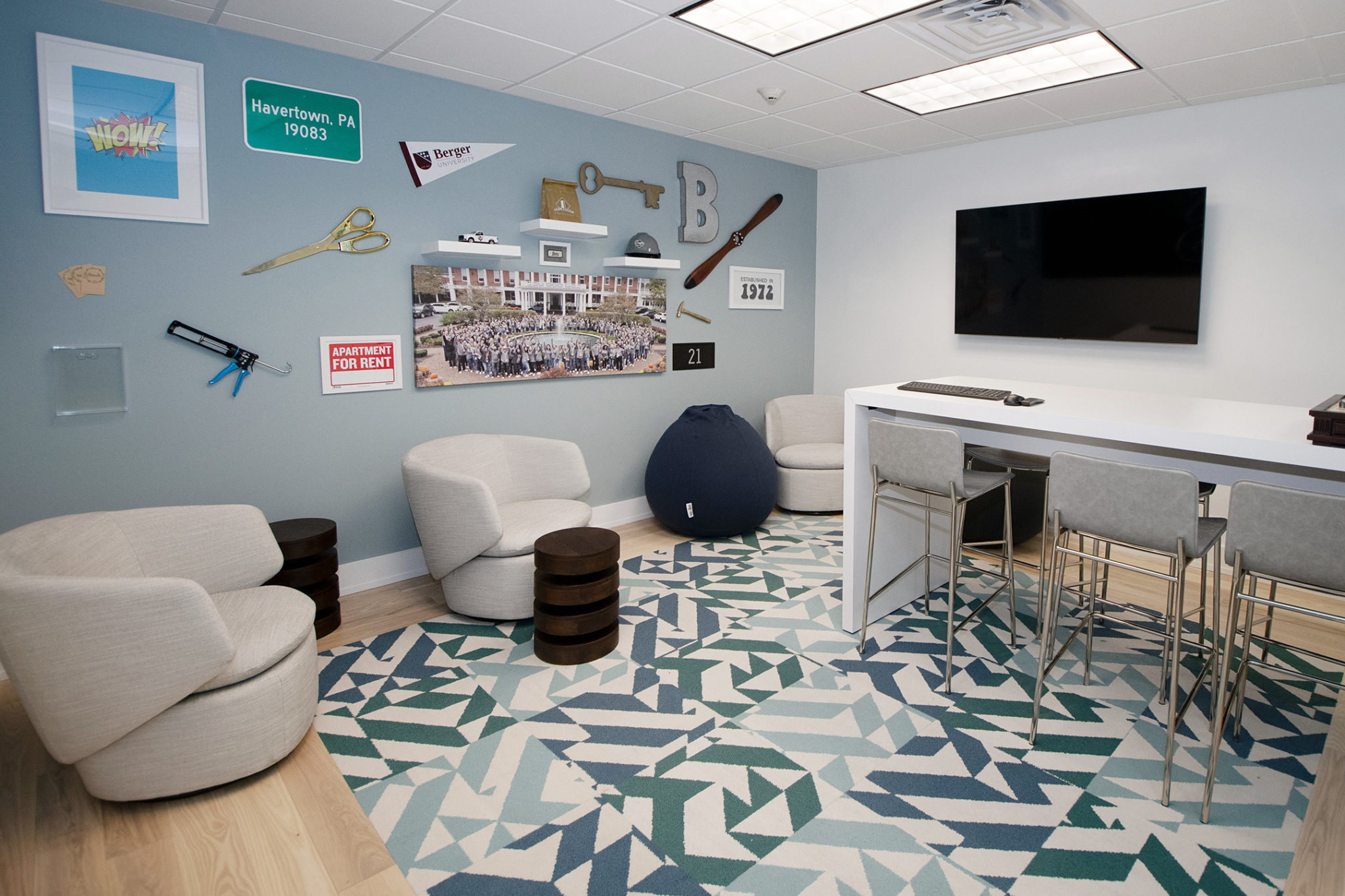 Community Space May Be Key
Unique spaces in open floor offices can include coffee bars, lounge areas, and other spaces designed to make everyone feel welcome, while still encouraging open communication and collaboration. This welcoming environment can be found at D&B Construction's most recently completed project for Riverfront Federal Credit Union, who just held their ribbon cutting ceremony on June 16. The credit union's newest branch and Operations Center features cutting edge technology with a drive thru consisting of three Interactive teller Machines (ITMs) and self-service kiosks offering Video Integrated Realtime Assistance (VIRA). Inside their new 34,000 SF office space, you will find that Riverfront's strong belief in the value of face-to-face banking has not been lost. The interior is set up in a manner that's more interactive than a traditional bank, and members are welcome to relax in a comfortable seating area while they complete financial transactions.  A café will soon be open to the public as well, further promoting a sense of community. Learn more about this project and how it has created a grand customer experience through both technology and in person banking options here.
Embracing Technology for Everyone's Safety
As D&B's recent project with Riverfront Federal Credit Union depicted, and to no one's surprise, an even stronger emphasis will be placed on technology as the future of work evolves. One way we are already seeing this? Our clients want their conference rooms to be decked out with cutting-edge technology that will allow them to host video conference calls in their meeting spaces. Our Pre-Construction Manager, Bob, has already seen rooms with cameras and microphones that are set up to instantly switch over to the person talking and simultaneously broadcast them to the Zoom meeting. A room like this is something businesses may want to seriously consider if they are designing an open-floor plan, especially if they predict to be in a hybrid working environment.
Bob predicts we will see "more hands-free devices and more technology-oriented safety" in the near future. This can include investing in Bluetooth technology throughout conference rooms so employees don't have to touch a speaker or shared phone. Doors can also be fully controlled by an app on your phone or simply don't need to require handles and can instead swing open both ways by pushing them with your shoulder or foot. Hands-free water dispensing systems are another trend that Bob has noticed. Want to be health conscious while also looking out for the environment? Try installing motion lights throughout the office, from conference rooms to bathrooms.
Limiting high touch point areas such as door handles strongly reduces the spread of germs, and for this reason, Bob imagines these current trends are here to stay for a long time. Case and point: The upscale conference room D&B completed for Berger Rental Communities' new headquarters at the end of April included a specific wall mounted camera with multiple speakers in the ceiling, motion lights with sensors throughout all offices, and dimming lights throughout all other areas. View more photos and learn more about this project here.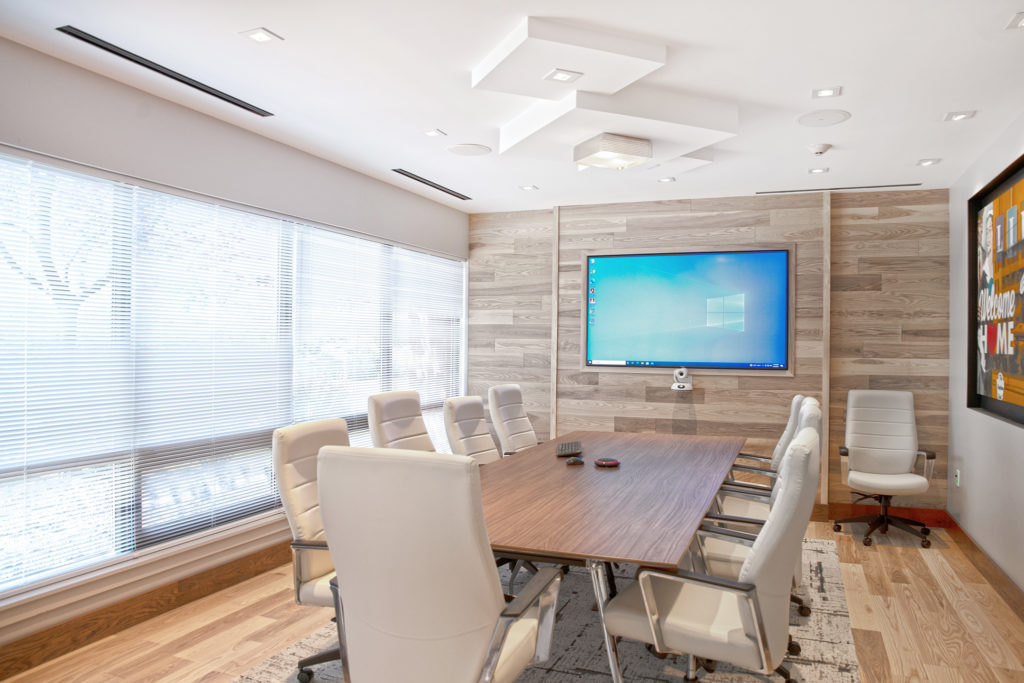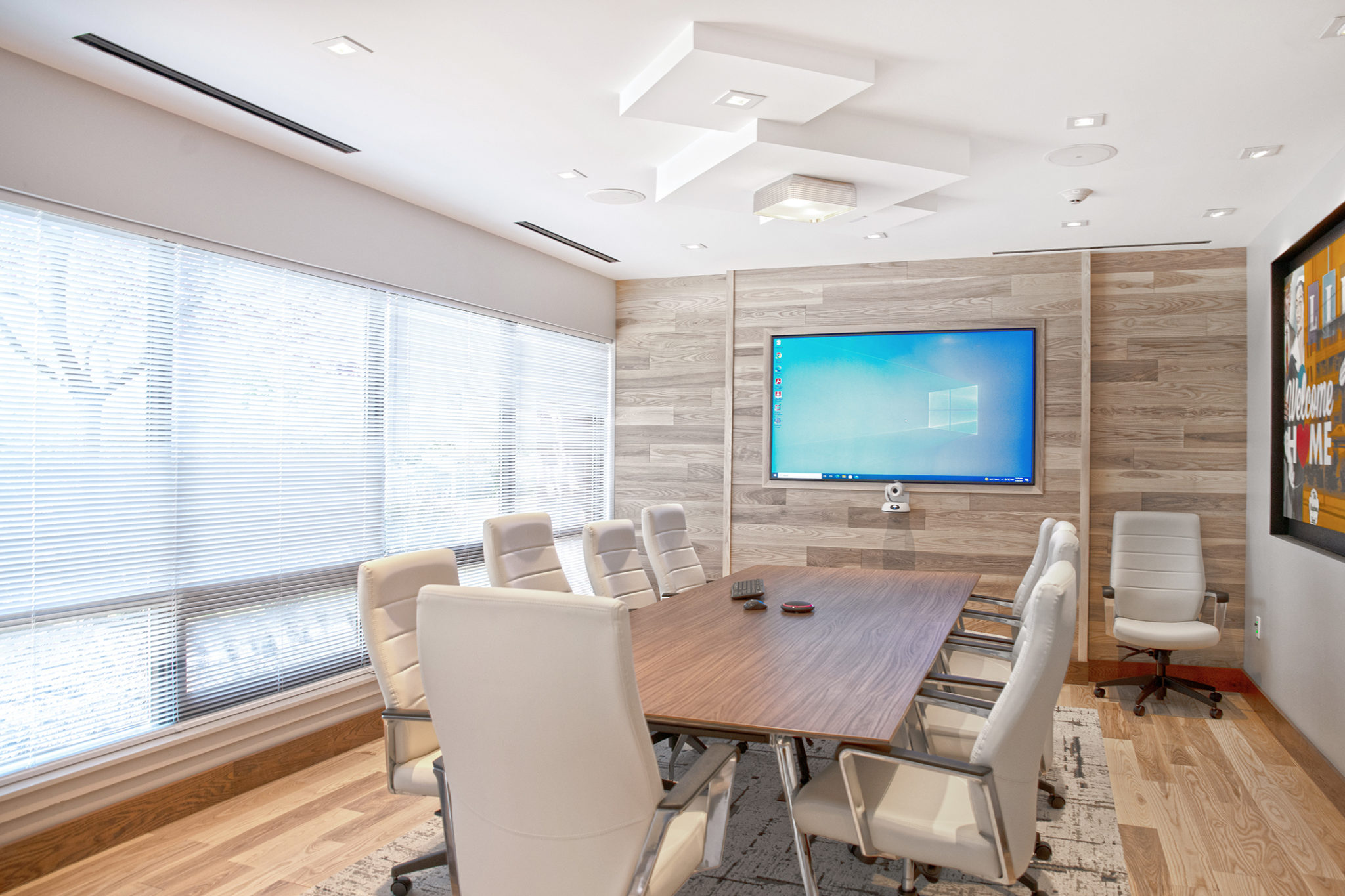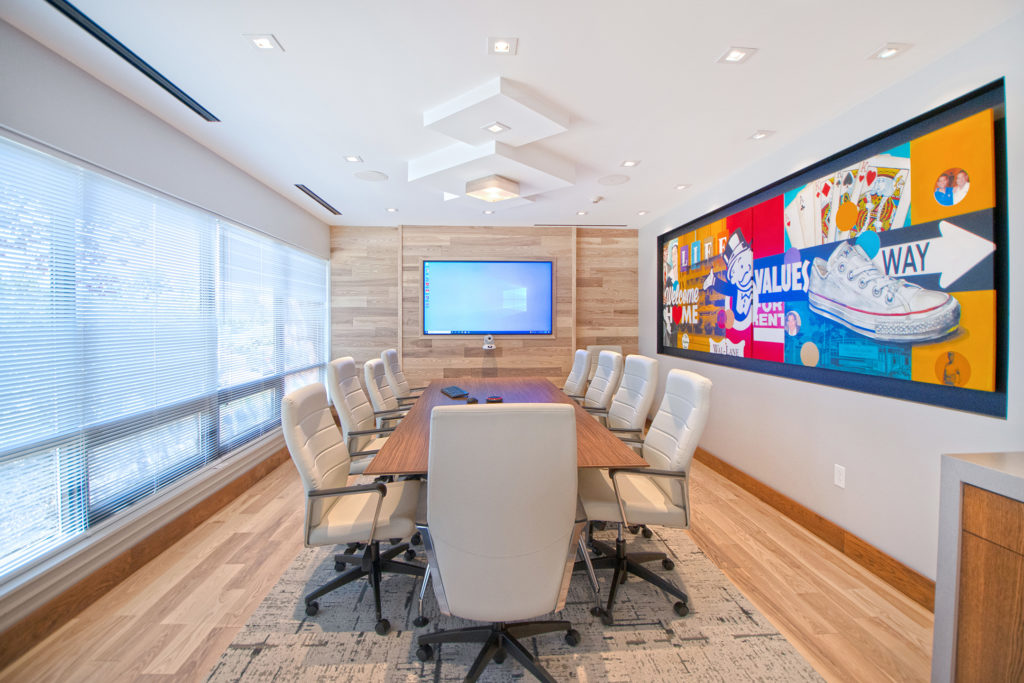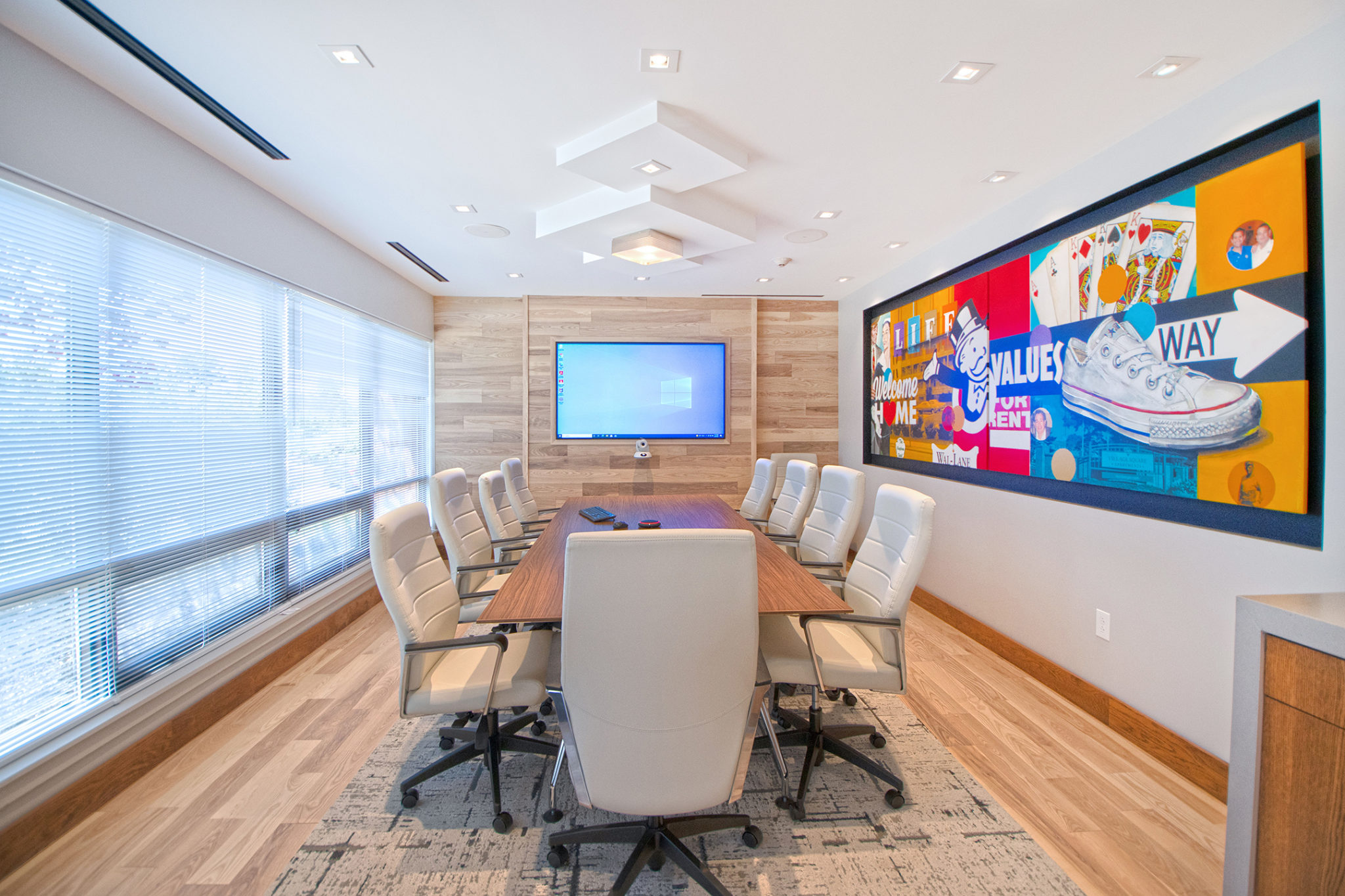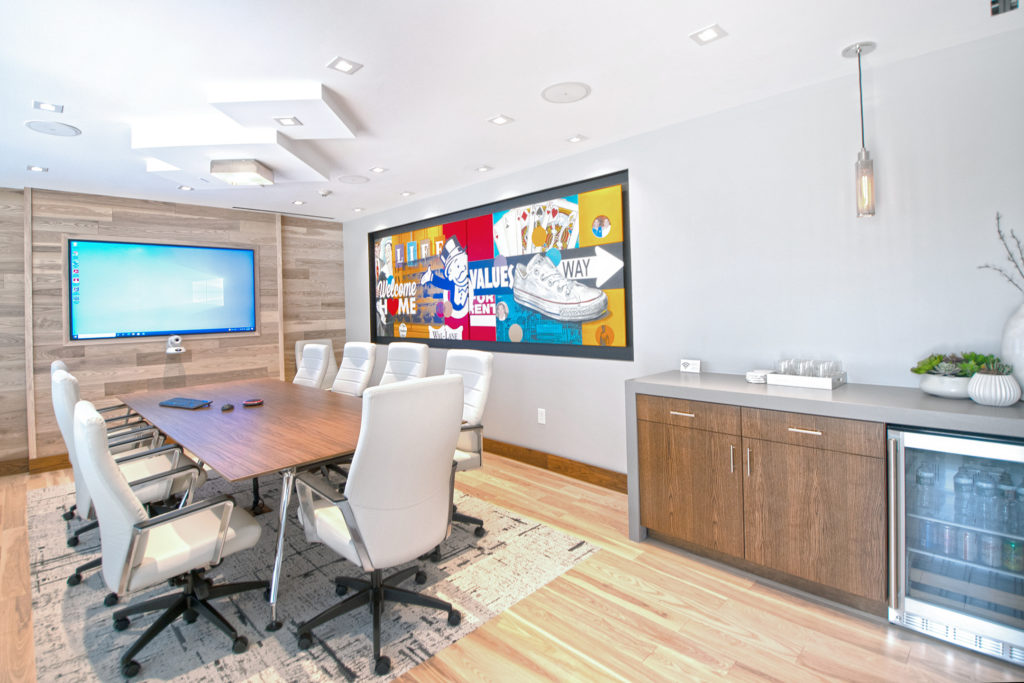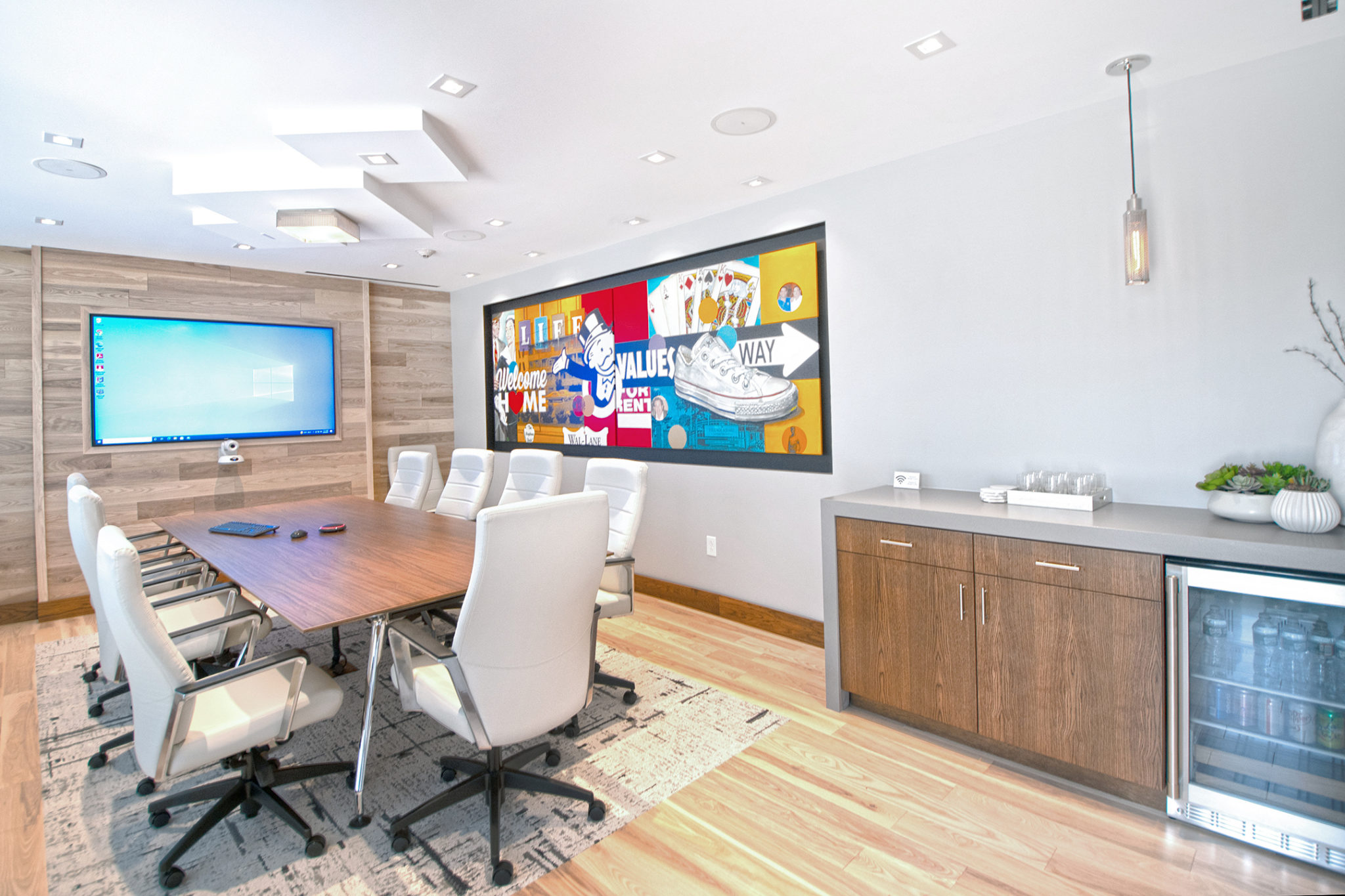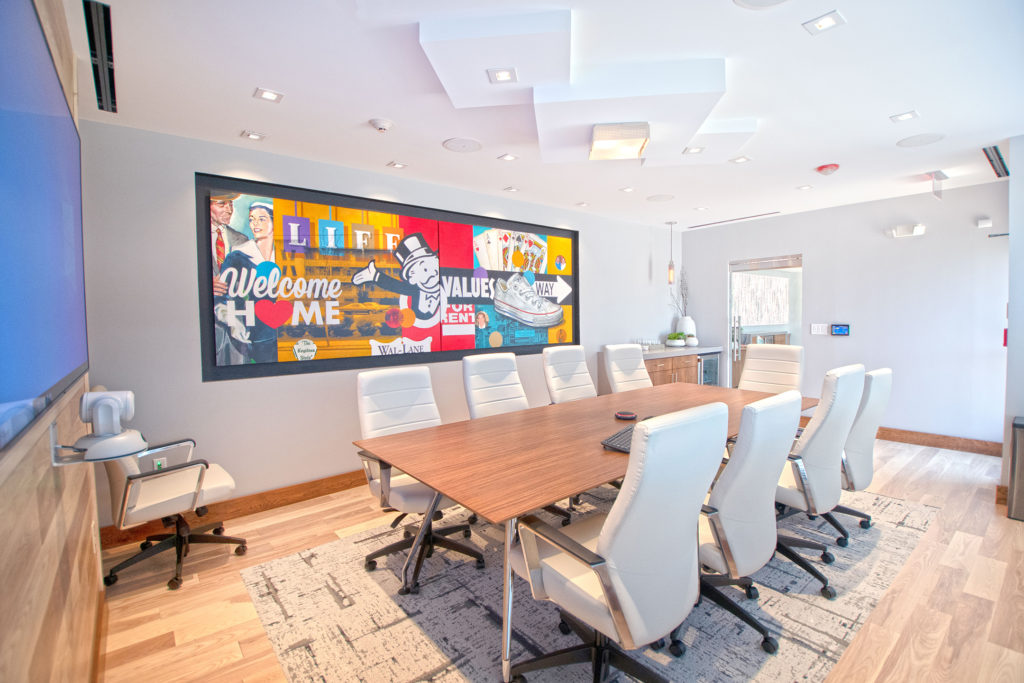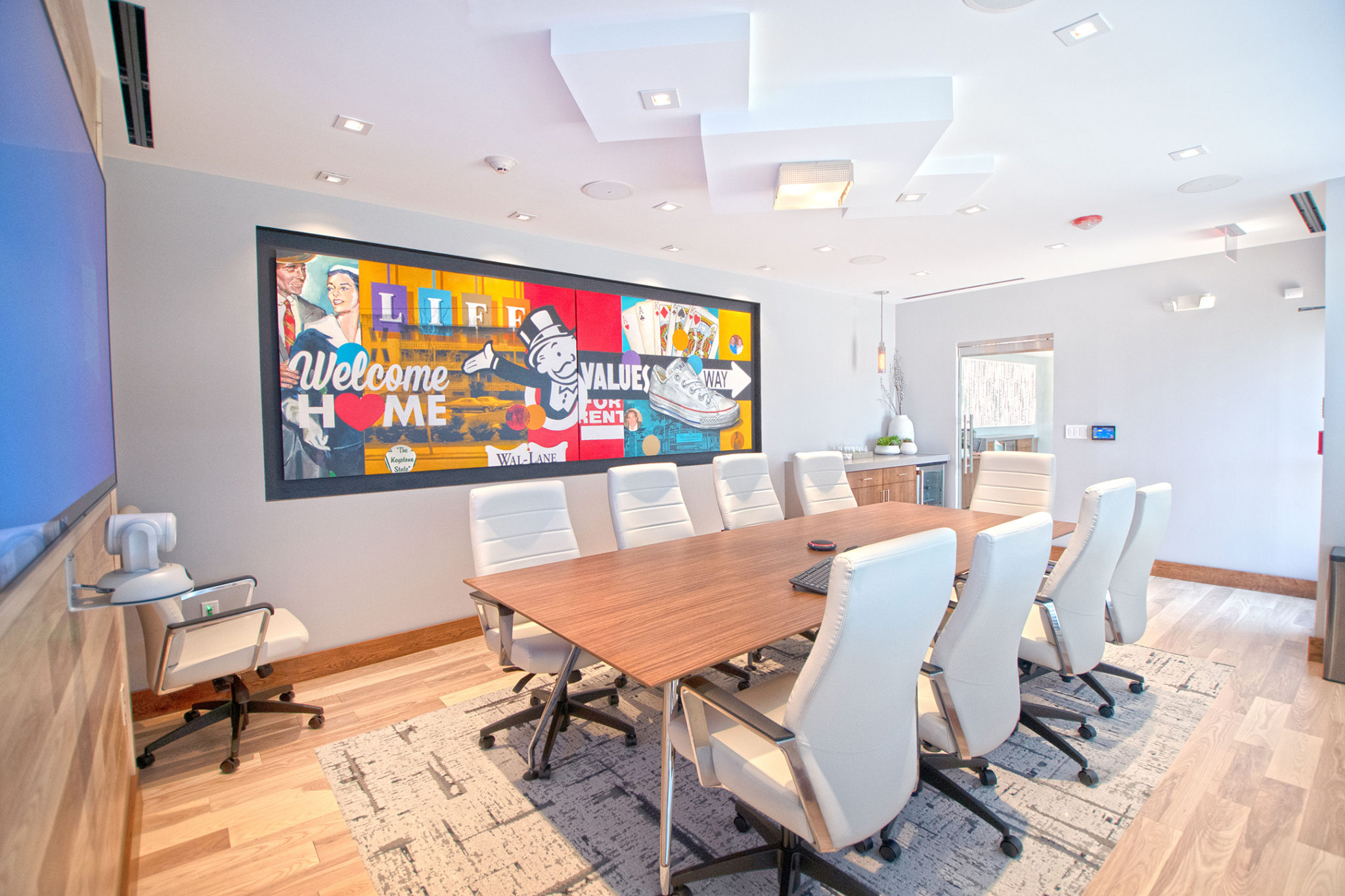 Moving Forward Post Pandemic
A study by USA Today shows that 35% of Americans prefer a home-office hybrid working situation, and 25% of Americans want to go back to the office full time. With over half of the population hoping to return to the office in some capacity, the question of how employers will accommodate for safety concerns and the "new normal" of flex time still looms over many individual's heads.
Bob believes safety will determine many office designs post COVID-19. He thinks that one of the most important things to include in your post COVID-19 office is environmental air filtration systems. This refers to how the air circulates through the office so that it is environmentally friendly, limiting the spread of germs and being sustainable. Bob has seen clients wanting to have this included in their project design.
Having more collaborative rooms may result in a more open floor plan being replaced with more individual office spaces (which may help some individuals feel more at ease with returning to the office). With 36 years of experience in the industry, Bob has noticed that "many offices are shifting away from a cubicle environment and instead building more individual office spaces." He believes that building more office spaces can make it much easier for an employer to provide safe precautions for their employees when necessary, thus explaining this recent trend. These adaptations can make a work environment flexible and safe for everyone involved.
As many companies continue the transition of shifting back into the office, Bob has noticed that companies across all sectors have been trying to get their projects fulfilled by construction companies. He says that this is because "the cost of borrowing is so cheap right now, so the cost of doing business is more economical. The question is, do you need the space?"
The companies who answer yes to this question (and companies such as Salesforce who need to re-imagine their spaces) will be left to map out how their office space should look in a post COVID-19 world. In some way, shape, or form, many businesses will have to change their office footprint in the upcoming years, whether through down-sizing, expanding or renovating their current space to fit future needs. This is something that is weighing heavily on the minds of many employers. Although daunting at first thought, this is an opportunity to create a new blueprint that sets the stage for office spaces for years to come.
After considering the thoughts of our industry experts, years of research, and the current state of the world, how would you design your office's blank slate to best meet the needs of your team?
We'd love to hear your thoughts and ideas in the comments below!
With the prospects of a slightly warmer than average summer looming, it is important that those within the industry, and anyone working long hours outside, brush up on their knowledge of high heat safety. At D&B, safety is our standard. Our Safety Committee meets monthly (and will actually be discussing this relevant topic at our upcoming meeting) to help ensure that all members of our team and trade partners are safe. In the name of safety and looking out for our brothers and sisters in the industry, we wanted to share these helpful tips from  D&B's Safety Director and Construction Manager, Tom Rinaldo:
1. Stay Hydrated
Tom suggests that all D&B employees and trade partners stay well hydrated during the summer by drinking one cup of water every 15 to 20 minutes. On every D&B jobsite, we provide ample amounts of water for our employees and trade partners. It is important to hydrate the night before and after you work on a jobsite. Doing so puts less strain on the body to replace the fluids you have lost while sweating.
If water is not easily accessible or you are looking for an alternative, Tom recommends trying drinks that have electrolytes, like Gatorade. Gatorade contains valuable electrolytes that can help maintain the ionic balance in your body. Gatorade and similar drinks are also able to replace electrolytes that you may have lost while sweating, and having enough electrolytes is vital to keep your body functioning properly while on the jobsite.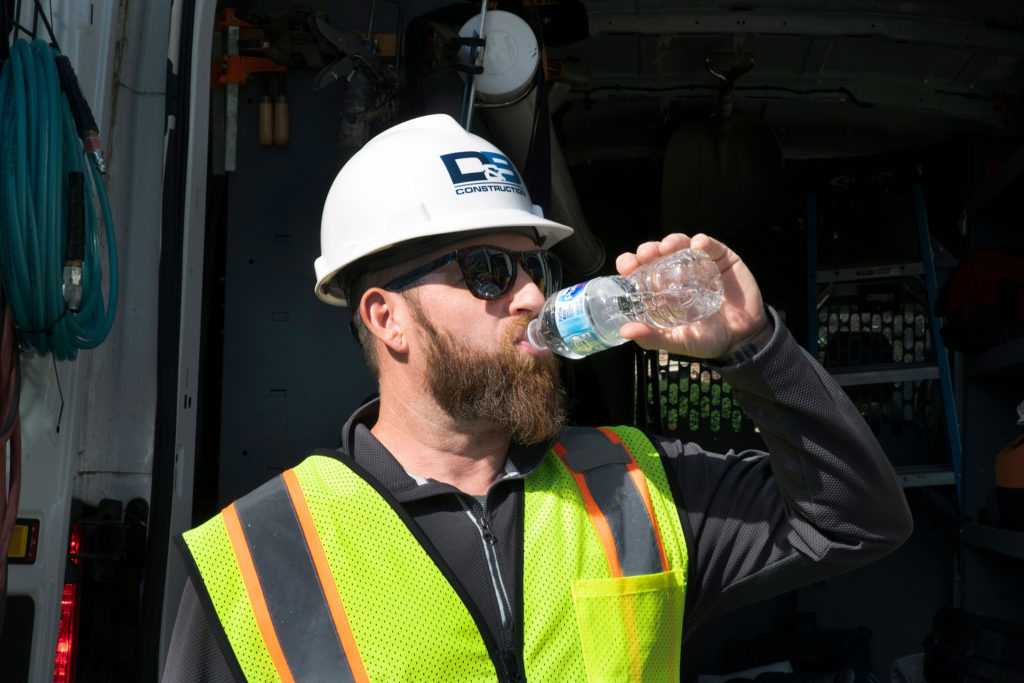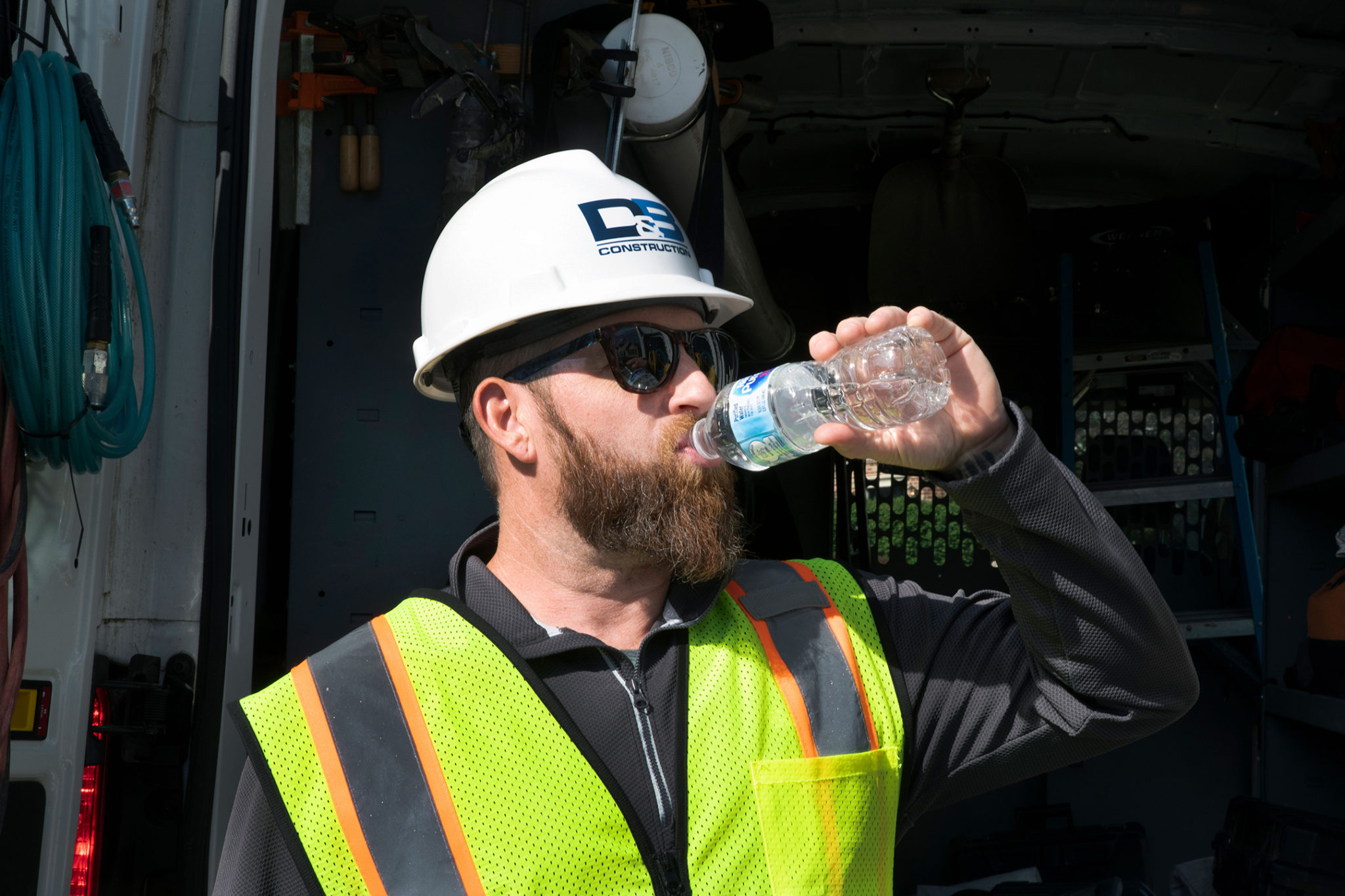 2. Avoid Salty Foods
Tom urges team members to avoid eating salty foods. Why? They dehydrate you. Foods such as pretzels, potato chips, and popcorn can be a great snack, but in the summer months you may want to trade them in for your favorite fruits and veggies.
It can be hard to avoid eating salty foods on the jobsite, especially since the convenience of fast food restaurants can be tempting when you're on the go. Fast foods like McDonald's can be unhealthy – and even unsafe during the summer months – for more reasons than just its high sodium content.
Let's say you're on your way to the jobsite and decide to stop at McDonalds to get a classic Big Mac Meal with fries and a soda. This meal is 1,320 calories; 51 grams of this is fat, 192 grams is carbs, and 1,425 mg is sodium.
Construction workers can burn up to 300 calories per hour while on the job. This is three times as many calories as the average office worker who only burns around 102 calories per hour. Because of this, it is recommended that individuals completing manual labor on the jobsite consume at least 2,500 calories a day. After eating your Big Mac Meal, you have already consumed 79% of your daily fat, 64% of your daily carbs, and 60% of your daily sodium, and you still need to consume 1,180 more calories to obtain the recommended 2,500 calories.
Not only are you consuming too much sodium, but regular consumption of fast food meals such as this can be unhealthy to you and may even influence other workers to follow suit. To stay healthy on the jobsite, we recommend packing protein and complex carbohydrates low on salt, with some healthy snacks (see the next tip for more info on this).
Start your day off right with this easy to make breakfast burrito. For lunch, try saying adios to the usual cold cuts and deli meats high in sodium and nitrates by trading them in for the ultimate trifecta: something delicious, healthy, and safe for your body in the heat. We think this Protein Packed Pasta Salad looks delicious! While you are feeling inspired, check out these 15 tasty and uncomplicated lunches that are packed with protein.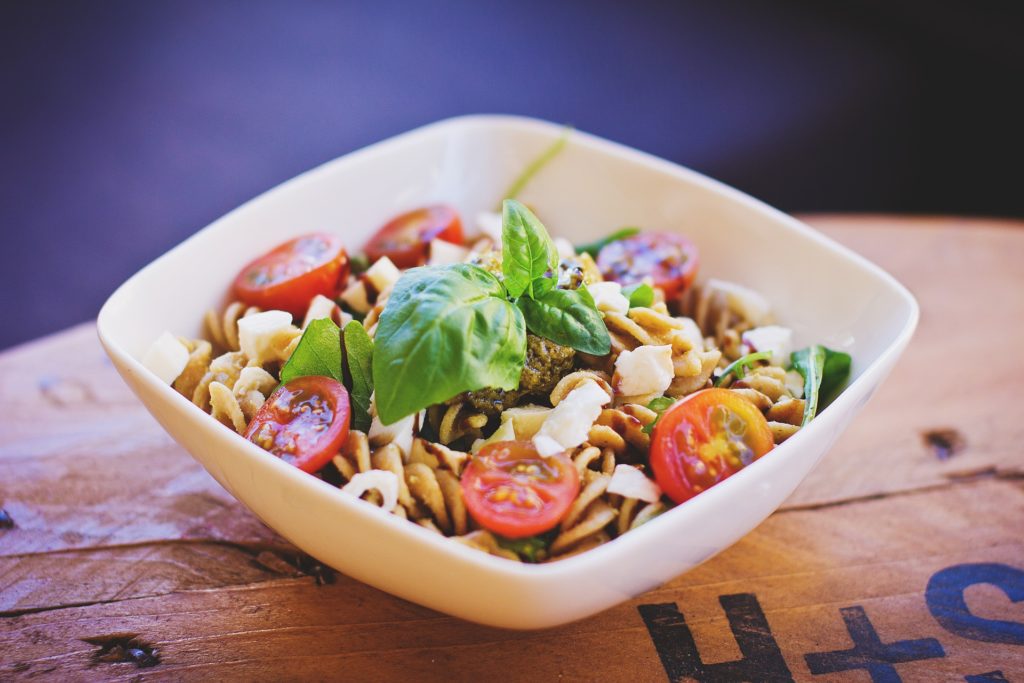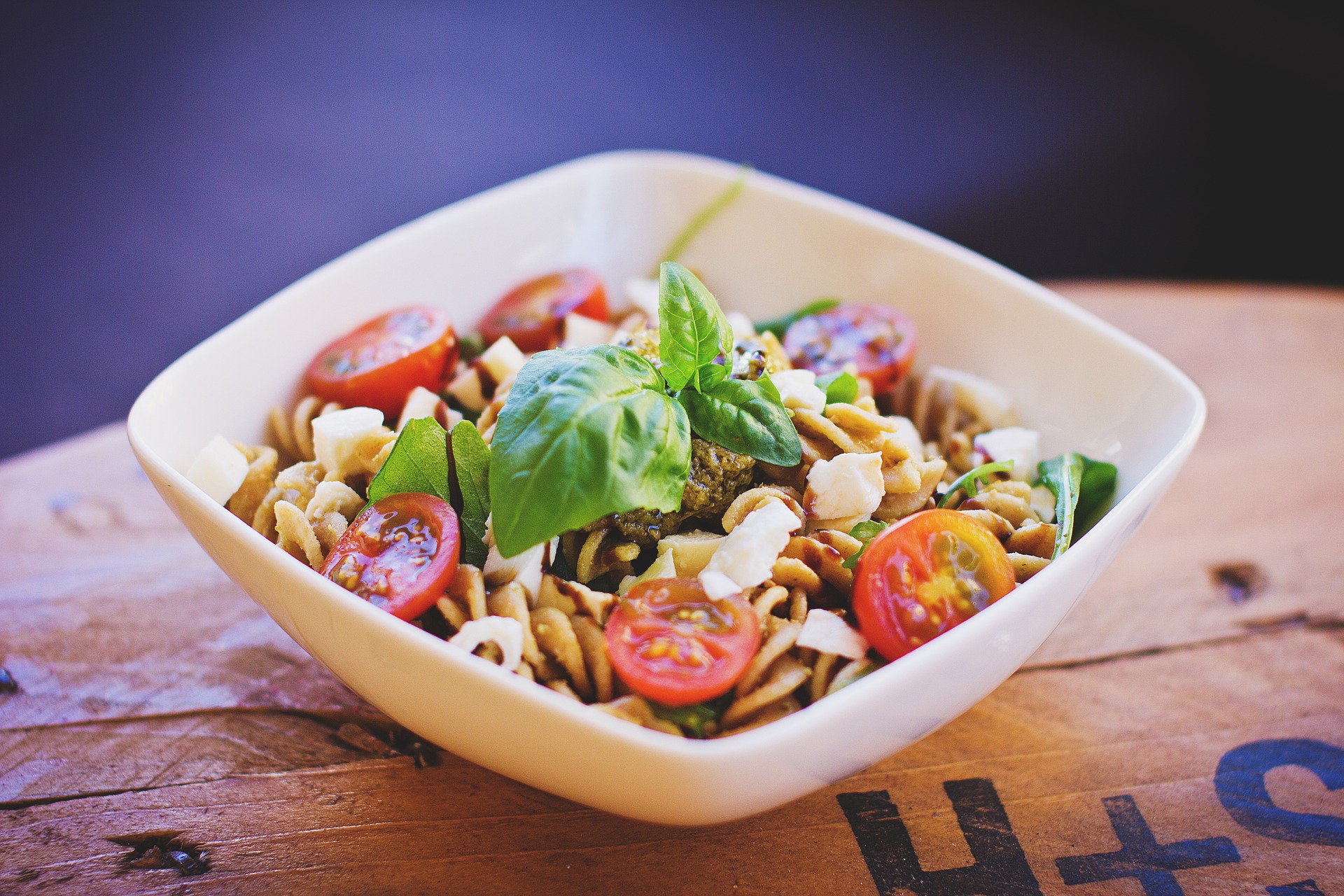 3. Eat Water-Filled Foods
Watermelons, strawberries, oranges, peaches, cucumbers and other fruit are great snacks, especially in the summer while on the jobsite. In addition to drinking water, eating water-filled fruits and other snacks is a great (and healthy) way to stay hydrated.
One great lunch option is a cucumber-watermelon salad with avocado and bell pepper. Aside from being tasty, it is simple, too! All you need to do is cube these foods and add the dressing of your choice.
Another very simple – yet effective – snack that will keep you hydrated is frozen grapes. Find more inspiration for delicious recipes that will help keep you hydrated here and here.
Let us know which recipes you'd like to try and what your go-to healthy lunch is on the jobsite in the comments below!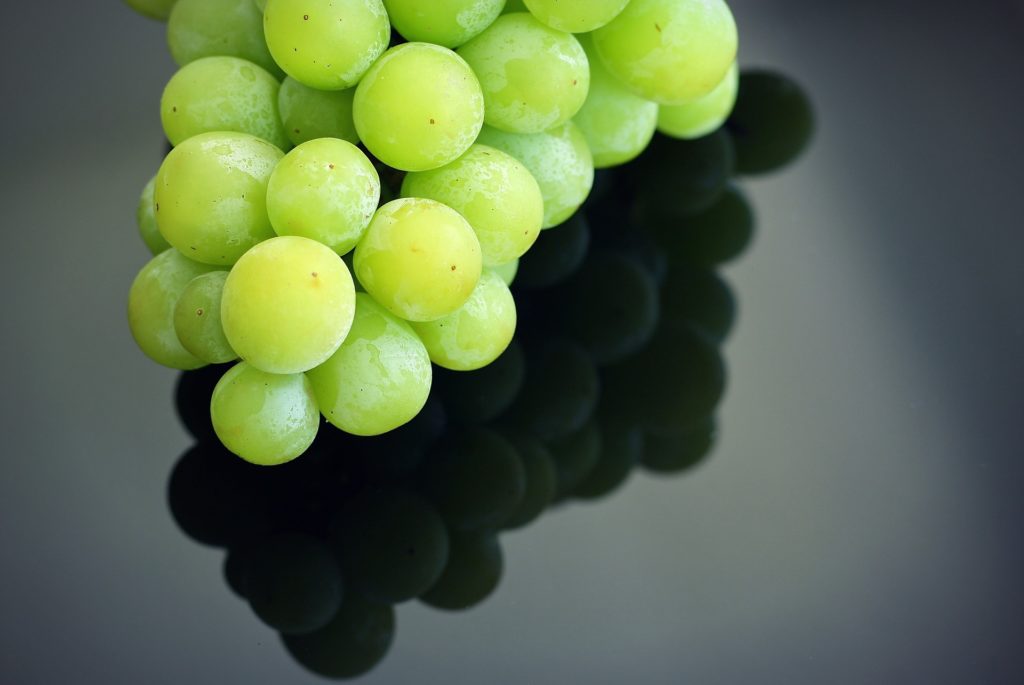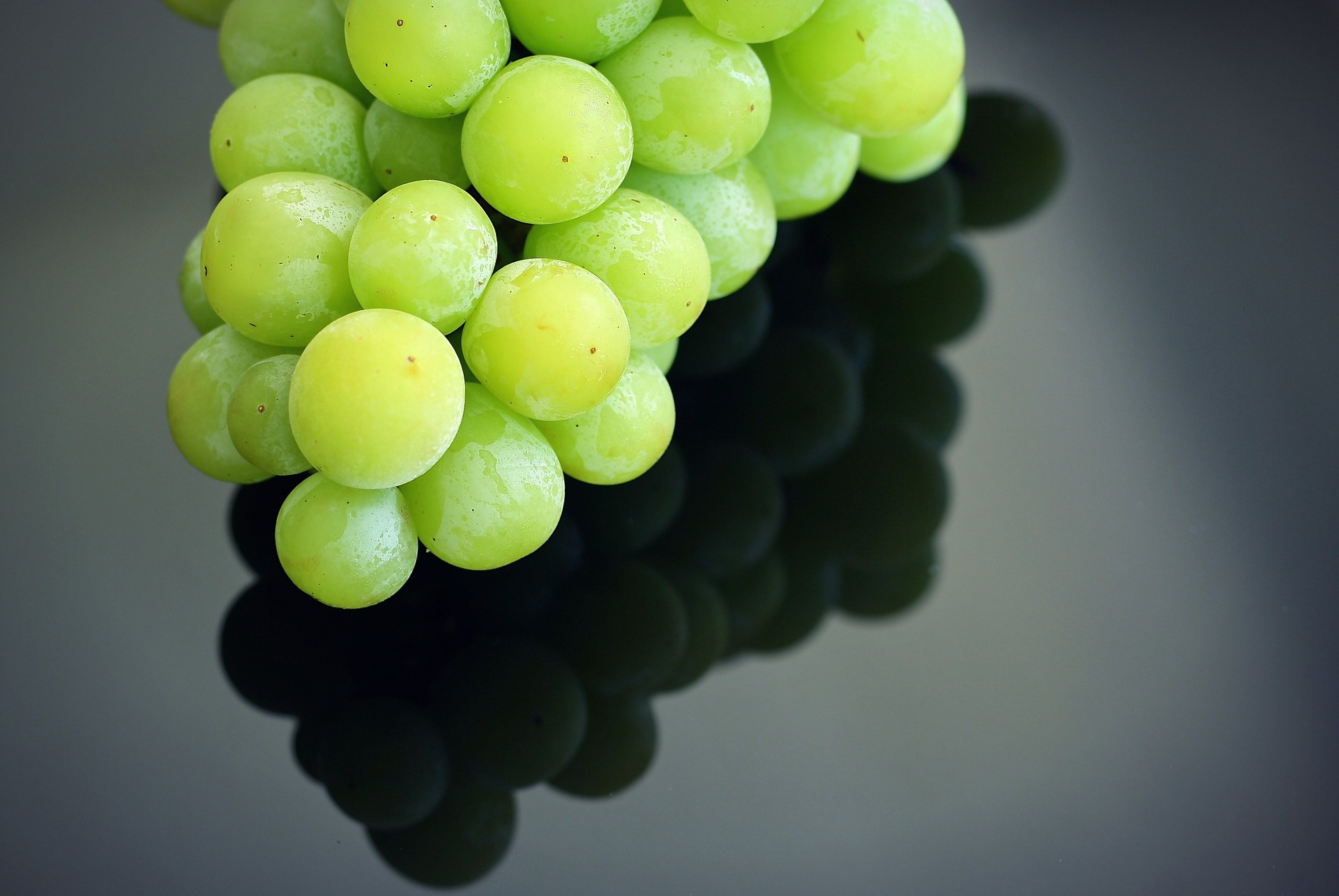 4. Wear Loose, Light Colored Clothes
Darker clothes attract more sunlight. Naturally, this rule applies on the jobsite in the summer. Our Safety Director, Tom, suggests this simple tip that can make quite the difference: wearing loose, light-colored clothes.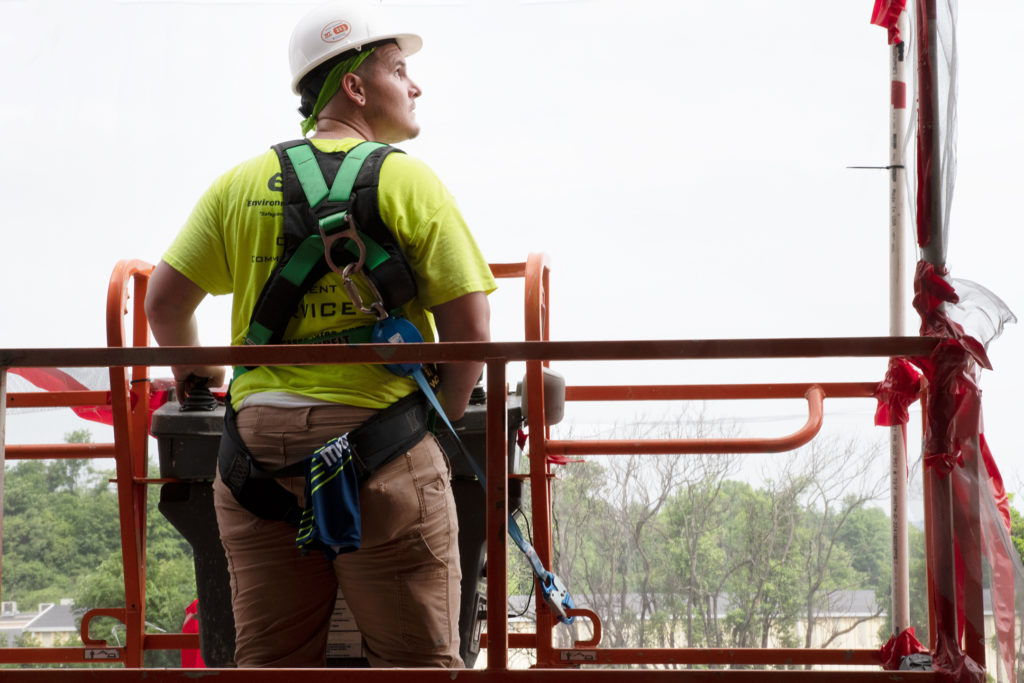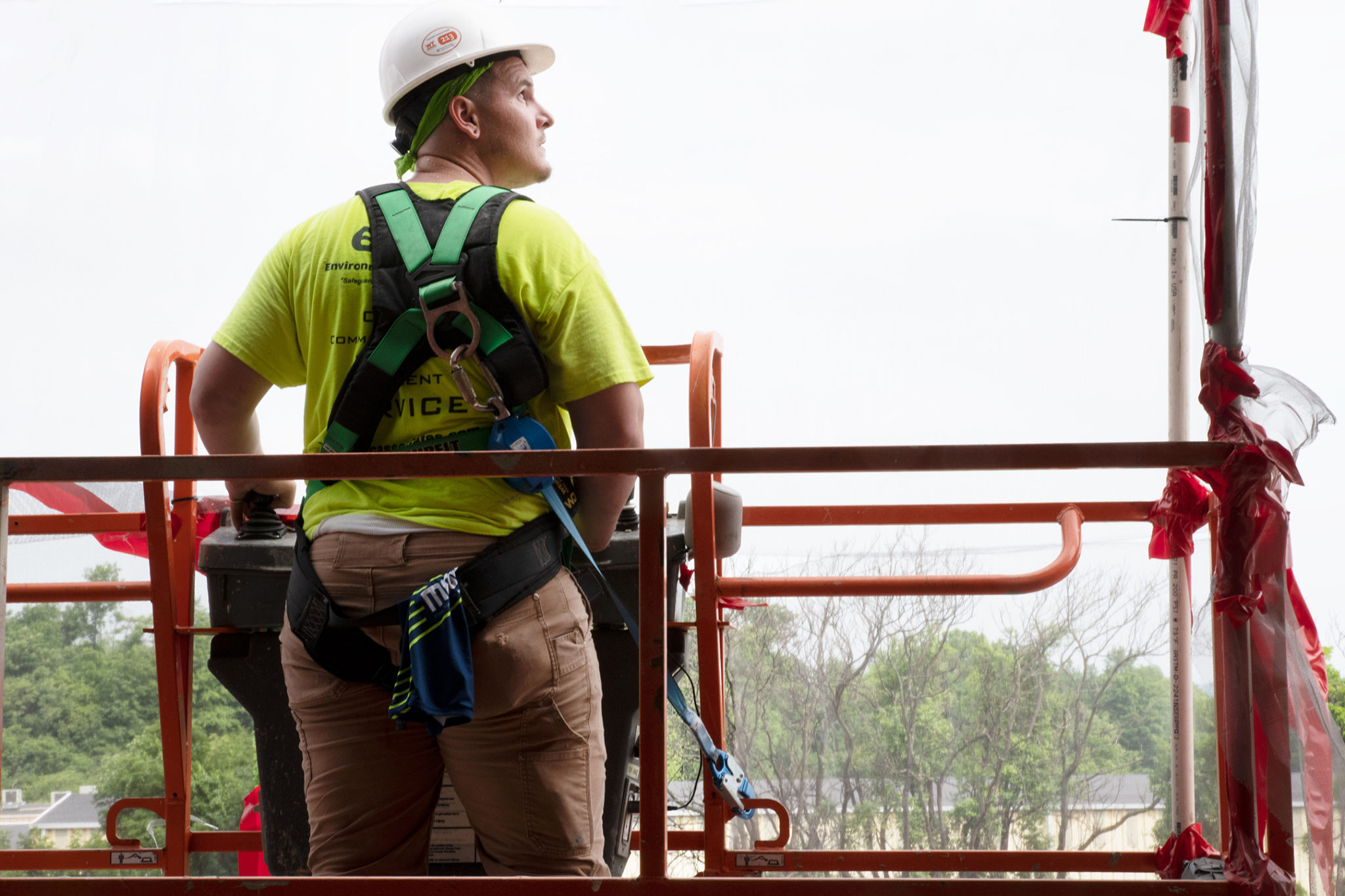 5. Get Some Shade
Potentially the most important tip out of the five, make sure to get some shade. Naturally, jobsites can get extremely hot in the summer months. Our Safety Director encourages all workers to take breaks in the shade to cool down and to be vigilant for signs of exhaustion, both for themselves and their co-workers on the jobsite. Having a buddy system may work well here. It is important to watch for the following signs of heat exhaustion and heat stroke for everyone on the job: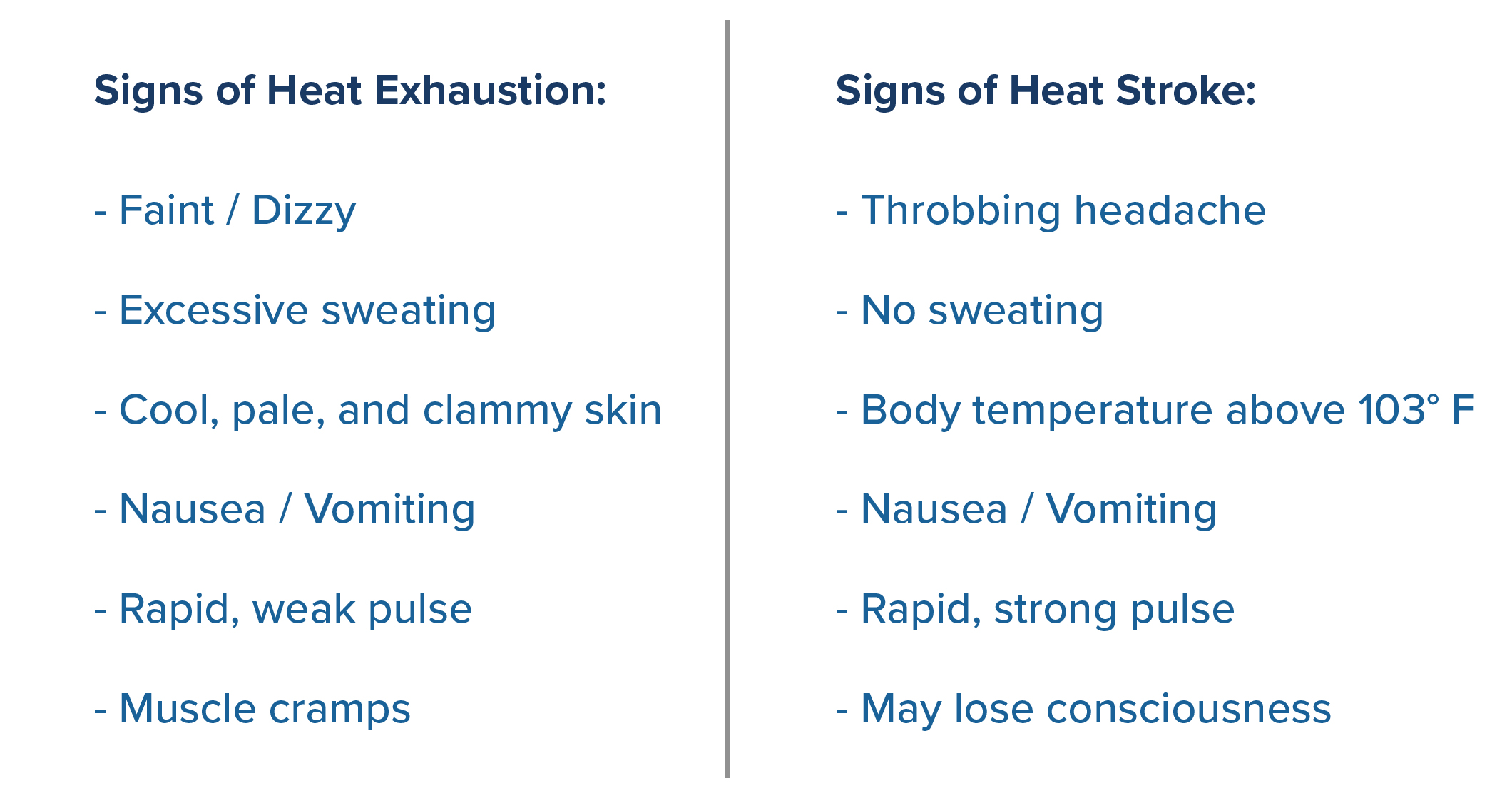 The Benefits of An Acclimatization Plan
Implementing an acclimatization plan is one way to prevent heat exhaustion. Simply put, this allows workers to get used to the high-heat conditions of the summer. This should take place over a one to two-week period. For new workers, the schedule should accommodate for no more than 20% exposure to heat on day one, with an increase of no more than 20% each day. If the worker has had experience on the job, you should do the same sort of process over a four-day period. Start day one at 50%, move to 60% on your second day, and 80% on your third day. By the fourth day you will be at 100% exposure. Tom supports this kind of plan if he feels the situation is right for it, although the tri-state area that D&B covers usually doesn't require this since the seasons are well-balanced.
Trend 1: LEED and Green Building

"A 'Green' building is a building that, in its design, construction or operation, reduces or eliminates negative impacts, and can create positive impacts, on our climate and natural environment. Green buildings preserve precious natural resources and improve our quality of life" (WGBC). In response to the COVID-19 pandemic, Green or LEED construction is changing. The U.S. Green Building Council, creators of the LEED certification, plans to promote healthier and safer air quality indoors with adjusted certification criteria incentivizing the creation cleaner air systems. In 2021, there will be more building materials and components that help get LEED certification. One interesting and somewhat new development is a form of self-healing bio-concrete. This is a compound of concrete and bacteria that produces limestone when exposed to air and water, which helps with the impermeability of the surface. It costs around $240 per cubic meter. For reference, normal concrete usually costs between $200-$300, making it still cost efficient. Green building will continue to grow throughout the next decades and new technology and policy will come out to reinforce it as time goes by.
Trend 2: Modular Construction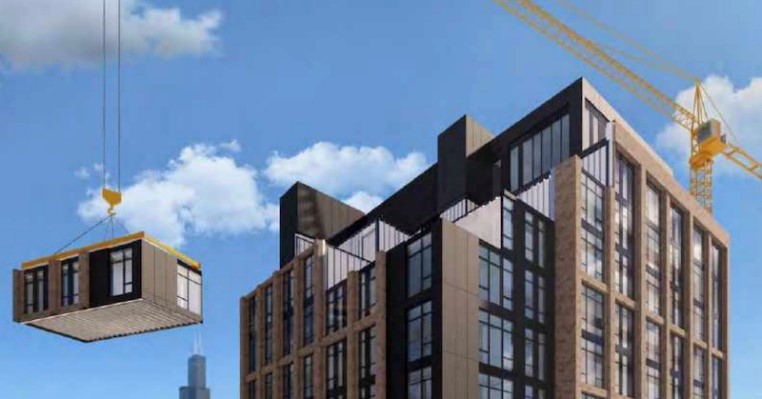 The construction industry is rapidly moving towards modular materials because of its cost and time efficiency. Modular building is anywhere from 20% – 50% faster than traditional construction. It is also around 20% more cost efficient to build modular instead of traditional because of the reduced labor and time costs. Modular building also cuts the waste output almost in half due to optimal fabrication and pre-planned units. Everything is built off the construction site, which reduces the challenges of regular construction such as weather, limited working hours, and space. Overall, modular building is great for symmetrical and repeating buildings where sections can be made and stacked or attached to each other easily like in apartment or office buildings.
Trend 3: Safety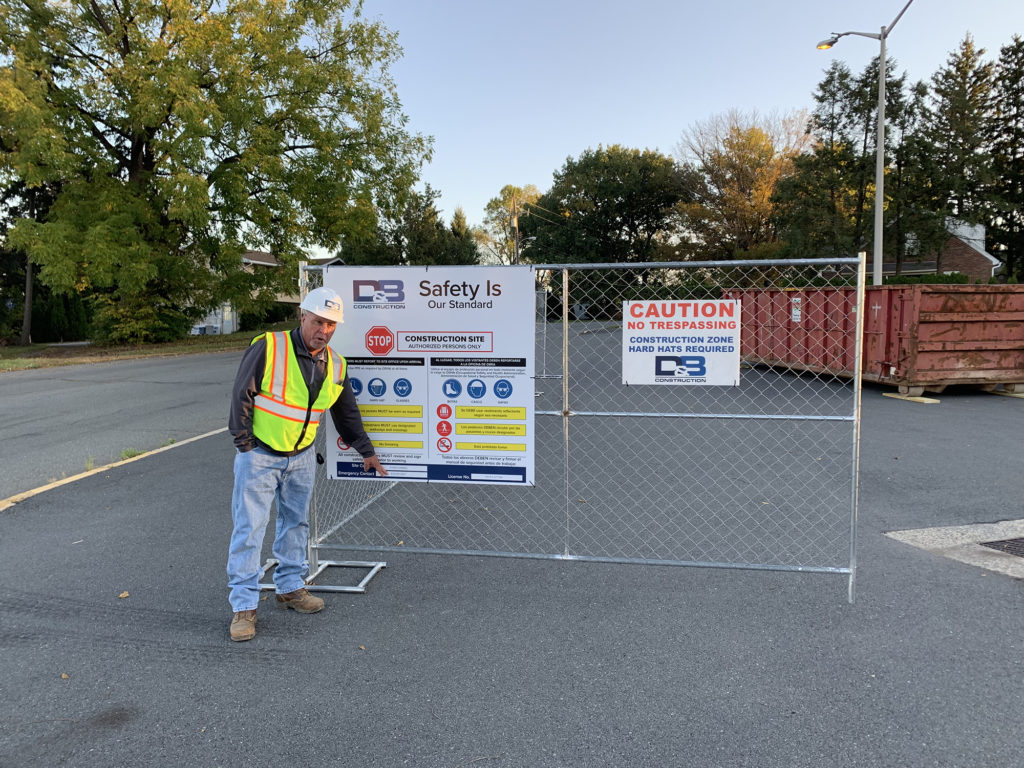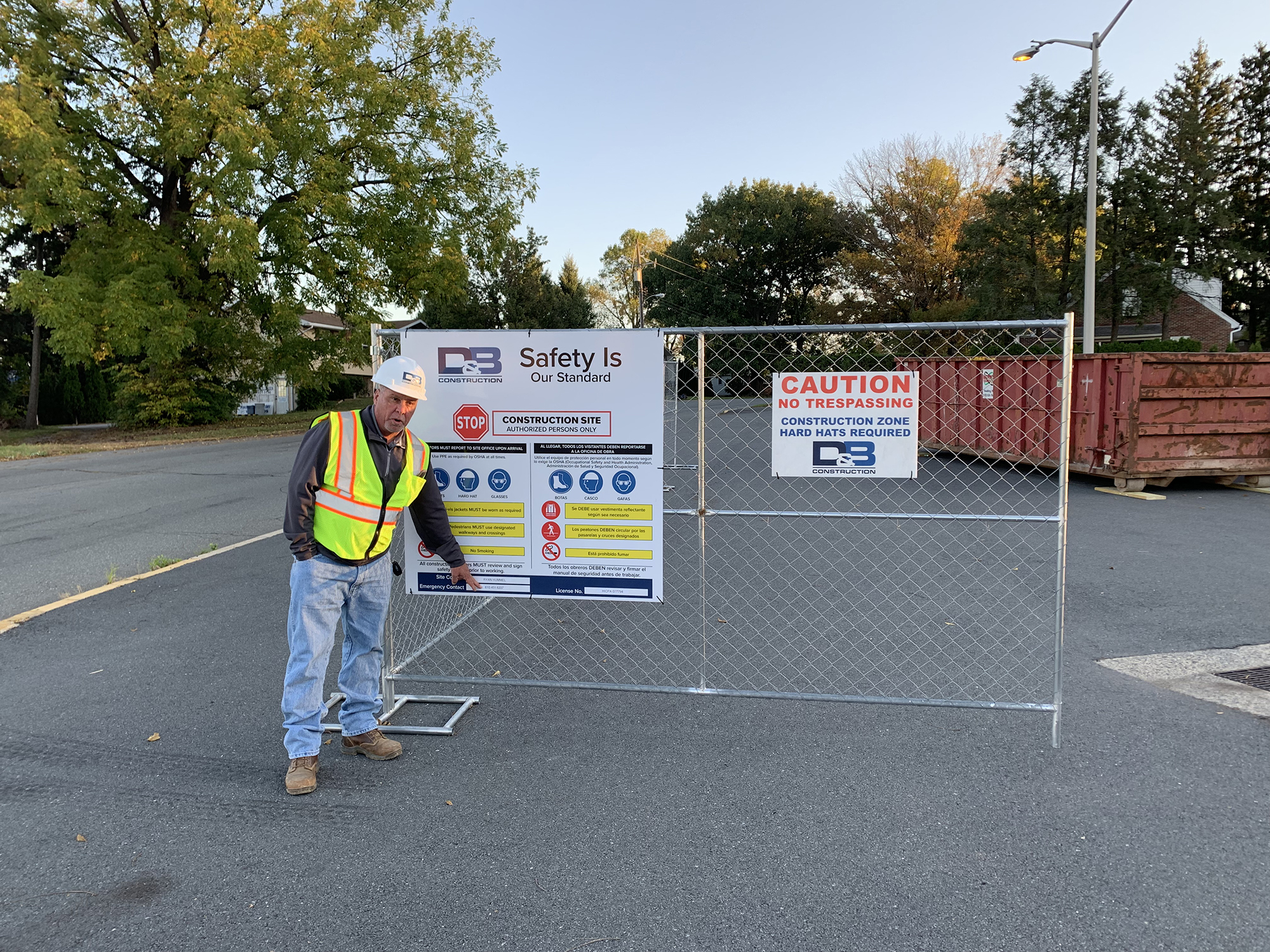 As it should be, safety is a huge trend in 2021. The old workplace safety system focused on recognizing problems and fixing them after someone gets hurt or a problem occurs. The new system getting pushed in the industry is based on prevention through education and training and recognizing issues before anyone gets hurt. This is why we have our Safety Committee meet monthly to discuss different topics of safety. Another large change in the safety category is better technology with Personal Protection Equipment (PPE). With more women entering the field, there is an increased awareness of the need for PPE to properly fit all employees to ensure safety. In addition, because of the COVID-19 pandemic there are policies across most companies including D&B that promote safe environments using masks, social distancing, and sanitization. When the pandemic hit, our team implemented a sign in and sign out sheet at every job site, making it easy for us to accurately perform contact tracing in the event that someone developed COVID-19 symptoms. D&B will continue to enforce this rule across all job sites moving forward. Learn more about our safety standards here.
Trend 4: Multi-Family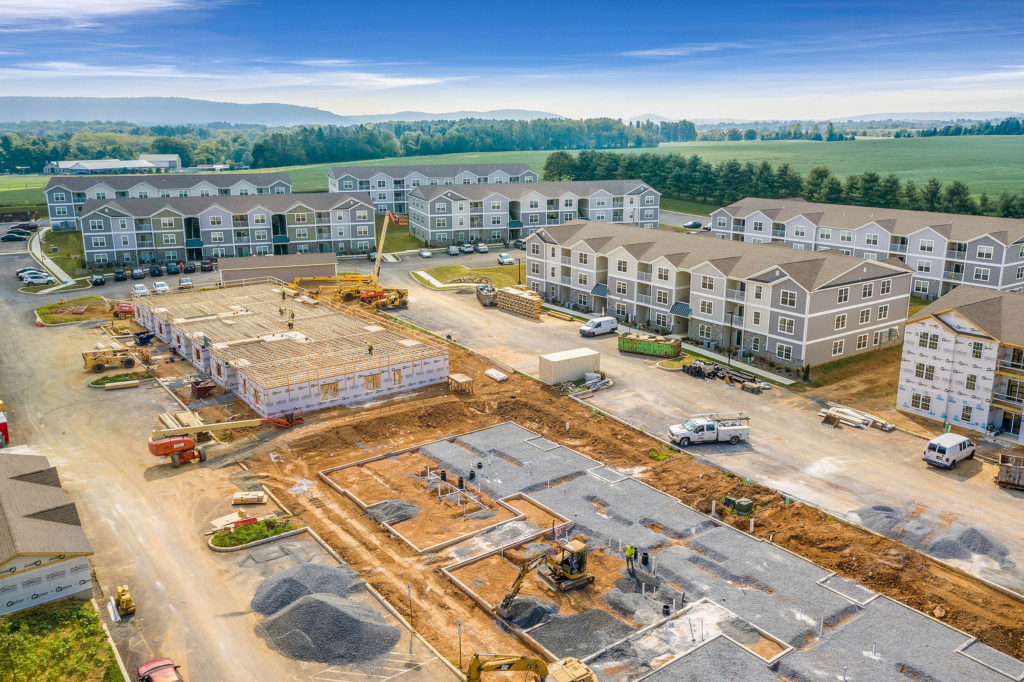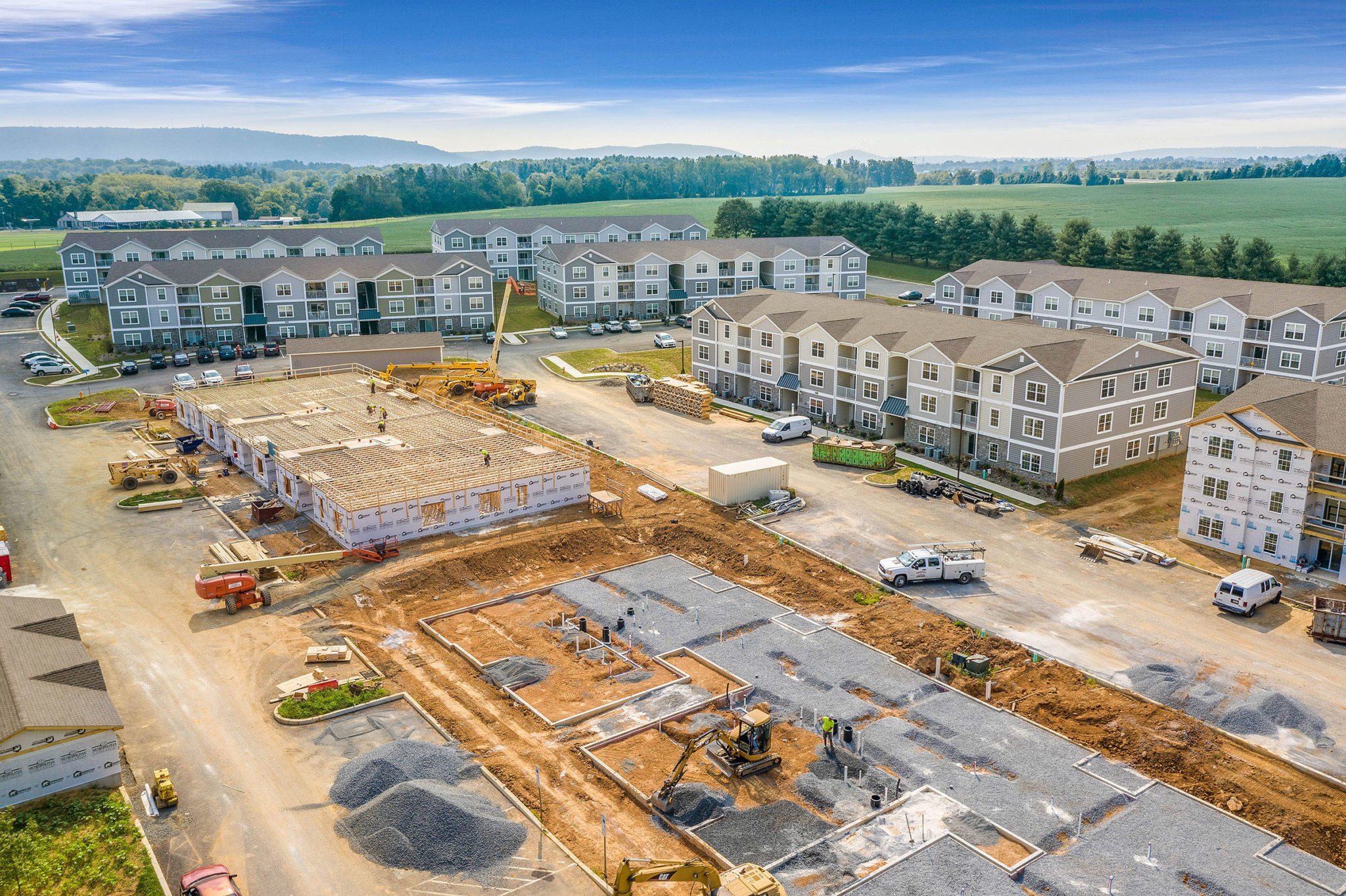 Multi-family construction is one of the fastest growing sectors of the commercial construction industry. Because of the lack of inventory in the housing market and changing demographics, multi-family construction is in high demand and will continue to grow in the following years. More people are looking for smaller, more affordable homes and condominiums with less maintenance than a normal single-family house. Research shows that 33% of people who are reaching age 55 are on their own. This is much different than what was the case 20 years ago. Currently D&B has multiple multi-family jobs under active construction and in the pre-construction phases. Throughout my internship, I shadowed the construction of The Reserve at Gring's Mill, which you can view here.
Written by: D&B Intern, Alex Wolf
Alex culminated this list based on what he learned during his time at D&B. He is a Senior at Wilson High School who began shadowing various D&B employees in September of 2020. Alex will be attending Virginia Tech for Architecture in the Fall. "My internship experience at D&B made me realize that I want to pursue a career in residential remodeling and construction," he explains. "I gained a lot of knowledge about the construction process and enjoyed being able to see entire construction projects from start to finish."
On February 22, 2021, we celebrated our 10 year anniversary! This milestone is something to celebrate. According to historical data from the Bureau of Labor Statistics, the construction industry has one of the lowest business survival rates. About 25% of small construction companies don't survive their first year, and labor statistics also show that 70% of these businesses never make it to their 10th anniversary.
From flipping homes and completing renovations, to building entire custom homes from the ground up, to entering the commercial construction industry and completing over 5 million SF since then… A lot has happened in the last decade. We owe it all to our amazing team members, trade partners, suppliers, clients, friends and family! Thank you for being part of this journey, and we look forward to what's to come in the next decade!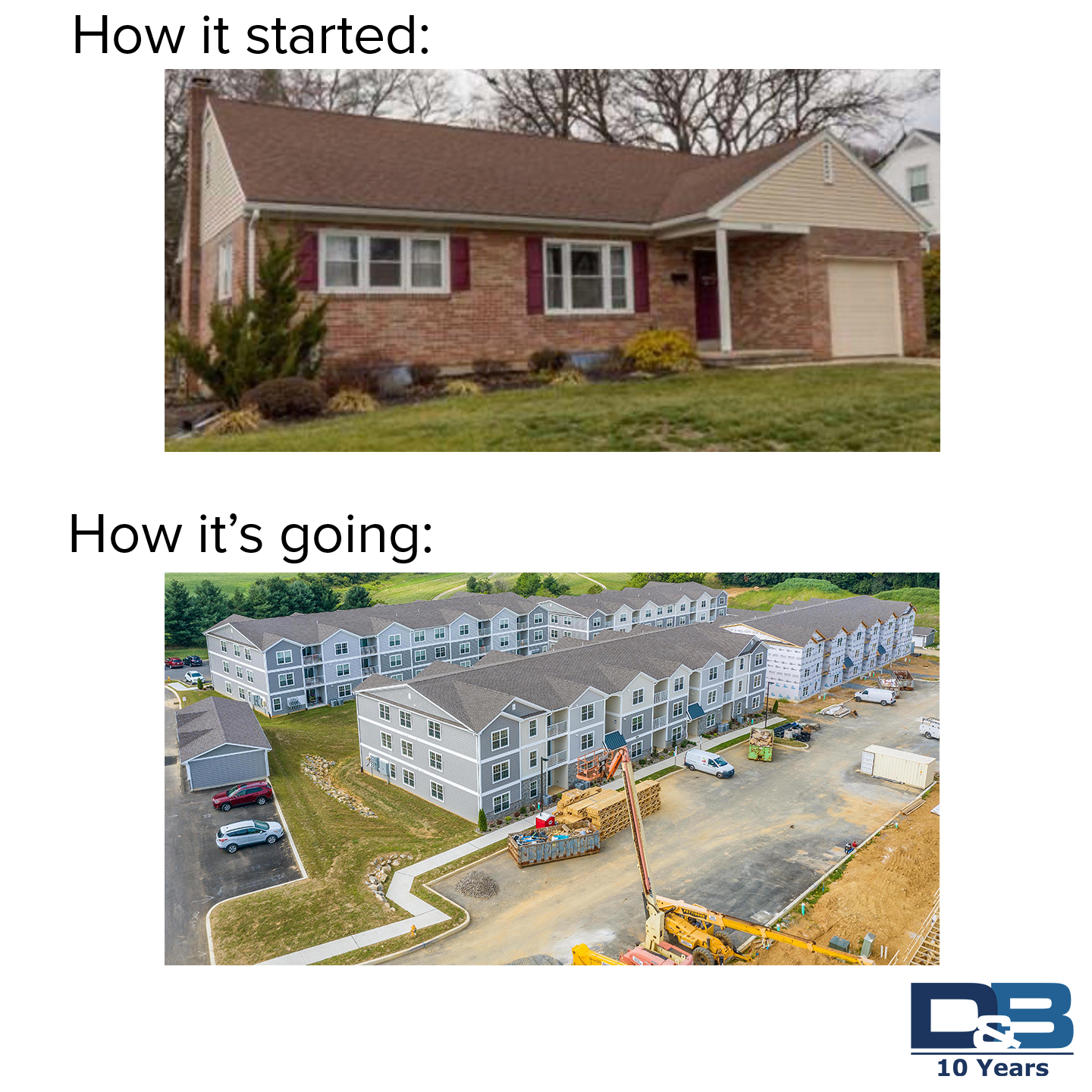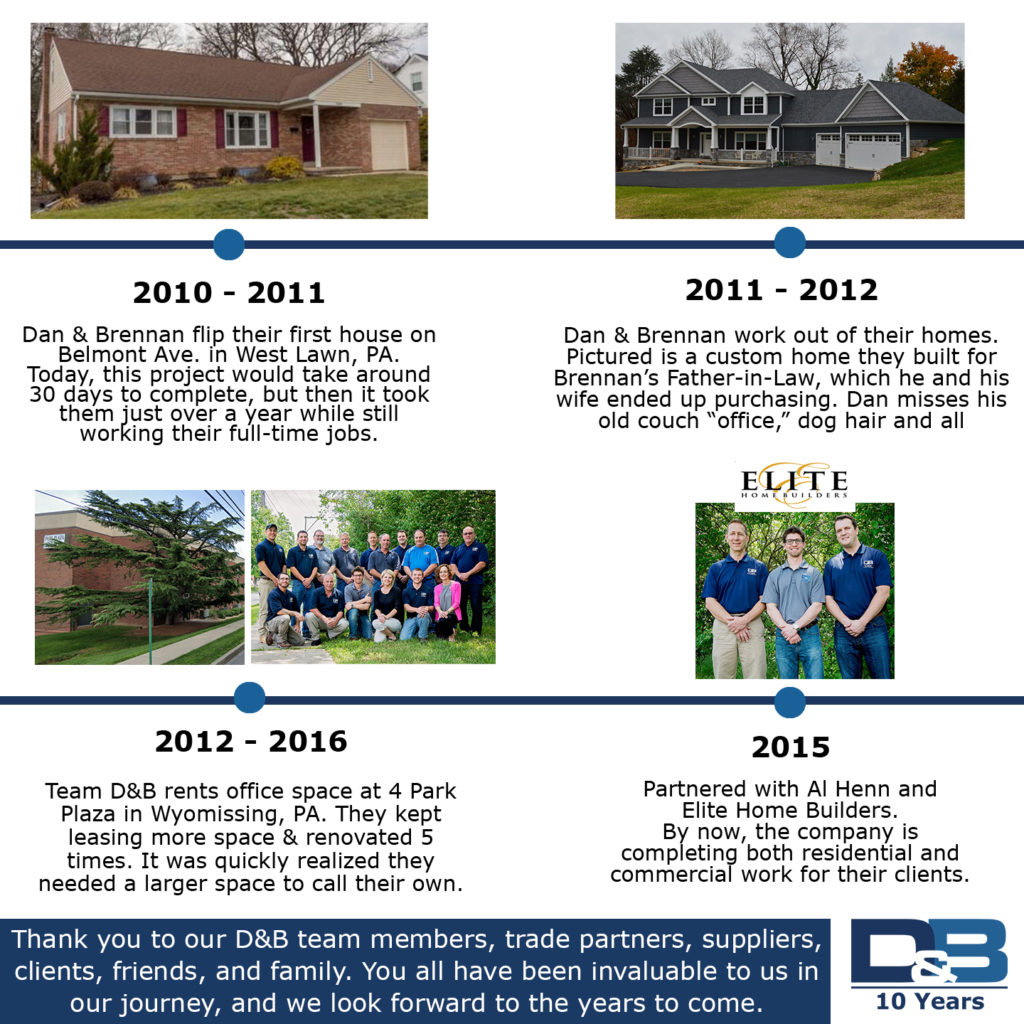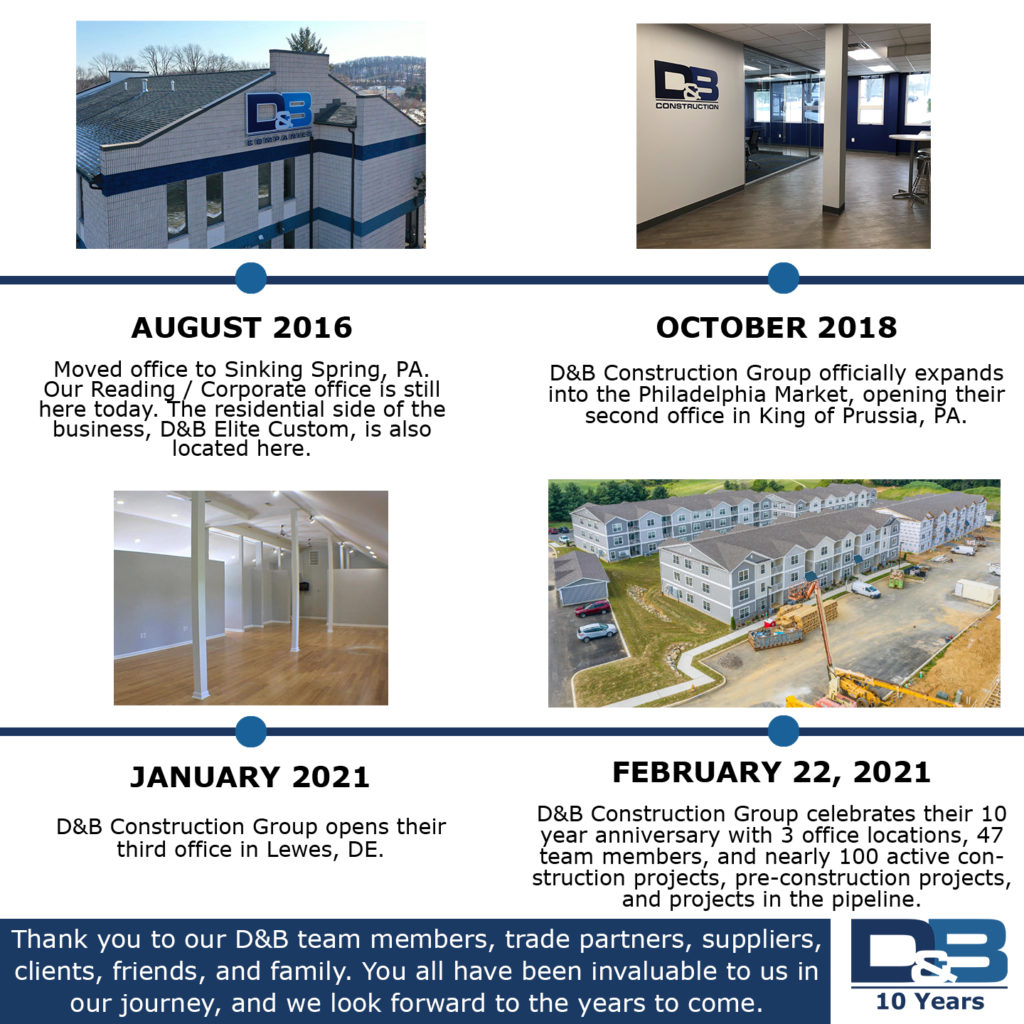 Reflecting on 10 Years
To celebrate this milestone, we asked our team members to share some of their thoughts on what it is like working at D&B Construction, how they have personally grown during their time here, and any fun memories they wanted to share:
Q: Any fun memories or stories that you'd like to share?
"When I first started at D&B we were much smaller, with offices across the hall. I was excited to work for Al, Dan and Brennan because there was an underlying positive energy that was contagious. I remember Brennan bouncing his ball against a wall when he would visit our side, driving us all crazy, and Dan running through the office saying "coming through". When Tom started we made him a make shift desk in the copy room. It was a little rough and we made it work.  If you ever need anything go to Adam, he is our historian and remembers everything! We have grown so much in the five years I have been here, and it has been fun being part of that growth both personally and professionally. I work with the best team! They happily share their knowledge, teach me something every day and challenge me to grow. They are my extended family. I also want to thank Al, Dan and Brennan for giving me an opportunity to be a part of a great team!"
-Beth, Project Coordinator
"When I first started we were limited on office space at the Park Road office. I was sharing an office with three other team members. Within a week, I adapted and found a corner in the room where the printer was. I made a desk from cardboard boxes and an old countertop. Talk about improvising. It actually worked well. HA!"
-Tom, Construction Manager & Safety Director
"I remember the first time I met Dan & Brennan when they first got started 10 years ago. I was on the other side of the job as an inspector for Lower Heidelberg Township. I believe they were constructing a deck, sunroom or an addition somewhere in the Green Valley area. I came across a lot of contractors in my 13 years as a building inspector, but always remembered them from the first meeting. Great guys with a goal of doing it the right way! This 10-year anniversary is a testament to them honoring their commitment to doing things the right way for their clients, employees and themselves!"
-Andrew, Assistant Project Manager
Q: How have you personally grown since first starting at D&B? What have you learned?
"The importance of teamwork. D&B has shown me what can be accomplished when there is a team that will support you from top to bottom."
-Matt, Project Manager
"I have grown my leadership skills tremendously, and I learned that I can actually make a difference."
-Tom, Construction Manager & Safety Director
"I've been here since January of this year, but I feel like it's been much longer. The team has accepted me, and I love the company culture. I have learned a ton about our processes, software and my teammates. The 'go-getter' attitude of our leaders has me extremely excited for the future!"
-Andrew, Assistant Project Manager
Q: How have Dan and Brennan evolved as leaders since you began?
"They are evolving into awesome leaders. The growth that the joint venture of Metro and D&B bring are endless. They always have and always will have each other to bounce ideas off of. Not one decision is made for the company without them both discussing it together."
-Alex, Superintendent
"Dan and Brennan are growing as leaders since I started and will continue to grow with the company."
-Tom, Construction Manager & Safety Director
Q: When you think of your D&B family what is the first thing that comes to mind?
"Teamwork. A commitment to excellence and doing things the right way for the client."
-Andrew, Assistant Project Manager
"Compassion and understanding."
-Matt, Project Manager
"Unbelievable teamwork and teammates."
-Alex, Superintendent
"Teamwork."
-Tom, Construction Manager & Safety Director
"Cooperation."
-Barry, Superintendent
Q: Anything you want to say to the D&B team as a whole?
"Keep up the good work and adapt with the growth."
-Tom, Construction Manager & Safety Director
"I would like to say thanks to everyone. Many people in the company reached out to me when my mother passed, and it means more to me than they know."
-Matt, Project Manager
"Being a part of this team makes me feel so proud. It's a breath of fresh air knowing I can rely on our team for help or ideas. As long as we stick together and use all of our teammates, there is nothing we can't do!"
-Alex, Superintendent
Q: How would you define our company culture in a few words?
"Teamwork. Cohesive. Fun!"
-Andrew, Assistant Project Manager
"Engaging, welcoming, team oriented, rewarding, flexible, motivating and connected."
-Alex, Superintendent
"Teamwork and striving for excellence."
-Matt, Project Manager
"The culture here is unique compared to other companies."
-Tom, Construction Manager & Safety Director
Q: What do you love most about working at D&B?
"The challenge to keep up."
-Barry, Superintendent
"Everyone has been extremely helpful in bringing me up to speed and getting me involved in as much as possible. The work atmosphere is fun, all while getting the tasks accomplished in timely manner. It is a great team with great balance across all facets."
-Andrew, Assistant Project Manager
"The people. Everyone is down to earth and is there to support whenever possible. In times of need, D&B employees have been there to lend a helping hand or provide insight on an issue on a project."
-Matt, Project Manager
"Mentoring the younger team members and watching them grow."
-Tom, Construction Manager & Safety Director
Learn More About D&B
If you follow our social media, you've likely seen our YouTube series reflecting on 10 years to celebrate the company's milestone. Catch each episode here:
Episode 1: Dan and Brennan, and their wives, Urs and Jenny, reflect on the many different office spaces we've had throughout the last decade. Learn more about how we went from an office space in a house Dan and Brennan ended up flipping to three offices located in Reading, Philadelphia, and Lewes, DE.
Episode 2: Dan and Brennan discuss how D&B has grown in the last 10 years and whether or not they expected to be where they are now.
Episode 3: Did you know that Dan and Brennan were teammates long before they started the company? They played soccer together at Elizabethtown College (where they were also roommates). Learn how they have grown over the years and how their partnership complements one another.
Episode 4: This episode focuses on our most important asset – our team! In the words of Dan and Brennan, "Our team is what got us here today." Dan, Brennan, and their wives recognize and celebrate everyone who makes up the D&B family.
Episode 5: Dan and Brennan's family send their congratulations to Team D&B on their 10 year anniversary. Plus, you'll learn what some of the D&B kids love most about visiting their dads and the team at the office.