At D&B Construction we are committed to safety and excellence.  Recently we hosted our annual safety meeting at the "Reserve at Iroquois" multi-family community construction project located in Sinking Spring, PA. The event, which took place on August 31st, 2023, gathered the company's leadership team and employees to reinforce the importance of workplace safety.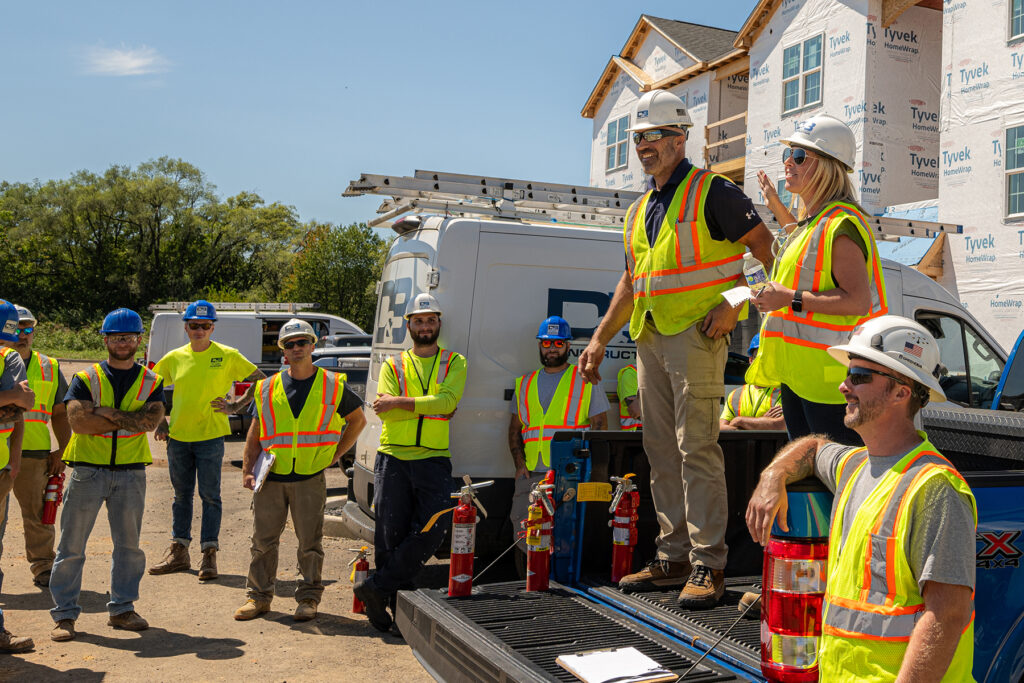 The meeting began with a warm welcome from D&B Construction's Director of Operations Jessica Nelis, who emphasized the significance of safety as a core value of the company. The meeting featured presentations from various members of our safety committee, including discussions on industry best practices, the importance of PPE (Personal Protective Equipment), and incident reporting procedures.
"Safety is not just a priority for us; it's a fundamental part of our company culture. Our goal is to ensure that every employee goes home safely each and every day."
– Jessica Nelis
One of the highlights of the afternoon was the guided tours of the construction site. Employees were divided into groups, and each group was led by superintendents and project managers responsible for overseeing the "Reserve at Iroquois" project. These tours allowed employees to see firsthand the safety measures in place and the ongoing construction progress of this project.
In a creative effort to promote safety, D&B Construction unveiled new "Speed Monitored by GPS" vinyl decals on our fleet of trucks. These eye-catching decals prominently displayed the company's commitment to safety and the "We Care." tagline. The aim is not only to inspire employees but also to send a clear message to the community about our commitment to safety in all aspects of our work.
Another crucial aspect of the safety meeting was the certification of all company fire extinguishers. Ensuring that these life-saving devices are in optimal working condition is vital to the safety of both employees and the construction site itself.
The Reserve at Iroquois project, situated in the heart of Sinking Spring, is a testament to D&B Construction's commitment to quality and safety.  D&B Construction continues to build not only structures but also a safer and brighter future for our employees and the communities we serve.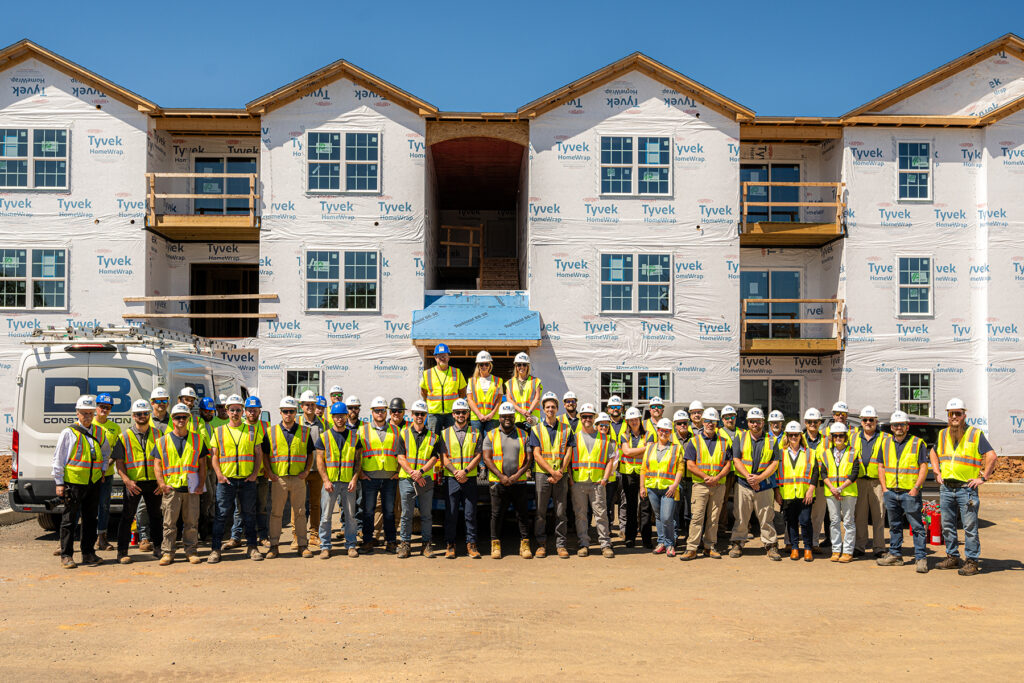 About D&B Construction:
Founded in 2010 by Dan Gring and Brennan Reichenbach, D&B Construction has grown into one of the region's most trusted construction firms. Headquartered in Reading, Pennsylvania the company is driven by a commitment to quality and transparency. They have grown from the two founding members to over 50 employees with an additional office outside of Philadelphia to conveniently serve the Delaware Valley region. Today they are a full-service construction management firm offering a variety of services to commercial clients in the healthcare, multi-family, professional office, retail / hospitality, institutional, and industrial sectors. Delivering an individualized, superior experience to all of our clients, D&B is a team of genuinely good people who love to build and work hard, with their success built upon long-standing relationships anchored in honesty, trust, and fairness. Leveraging vast design and build experience, D&B is the conduit for business owners, corporations, and developers looking to enhance the places in which they work, grow, and invest. Completing projects safely, within budget, and on time to minimize any disruption to business is always top priority. For more information, visit online at: dbconstructiongrp.com.
D&B Construction's partnership with Quality Buildings, a commercial framing contractor, began this year through their work on Kennett Pointe, a ground-up mixed-use property currently under construction in Kennett Square, PA.
Elmer Zook, Founder and President of Quality Buildings, has been part of the industry for 18 years now. "We like expanding our client base as well as building new relationships in the construction industry. D&B came on our radar a few years ago as a fast-growing player amongst other GC's," he reflects.
The fruition of Quality Buildings' relationship with D&B began as a culmination of a handful of work connections, including having known our CEO, Dan Gring, through their involvement at Lancaster Berks Next Gen Construction Connect. At Kennett Pointe they supplied a complete furnish and installed a framing package that included manufacturing of pre-fabricating wall panels, floor and roof trusses and installation of the windows and doors.
"Quality Building produces quality work, and they are easy to communicate with. It is always a pleasure working with them, and I would work with them again in a heartbeat," says John Ruza, Senior Superintendent overseeing the jobsite in Kennett Square.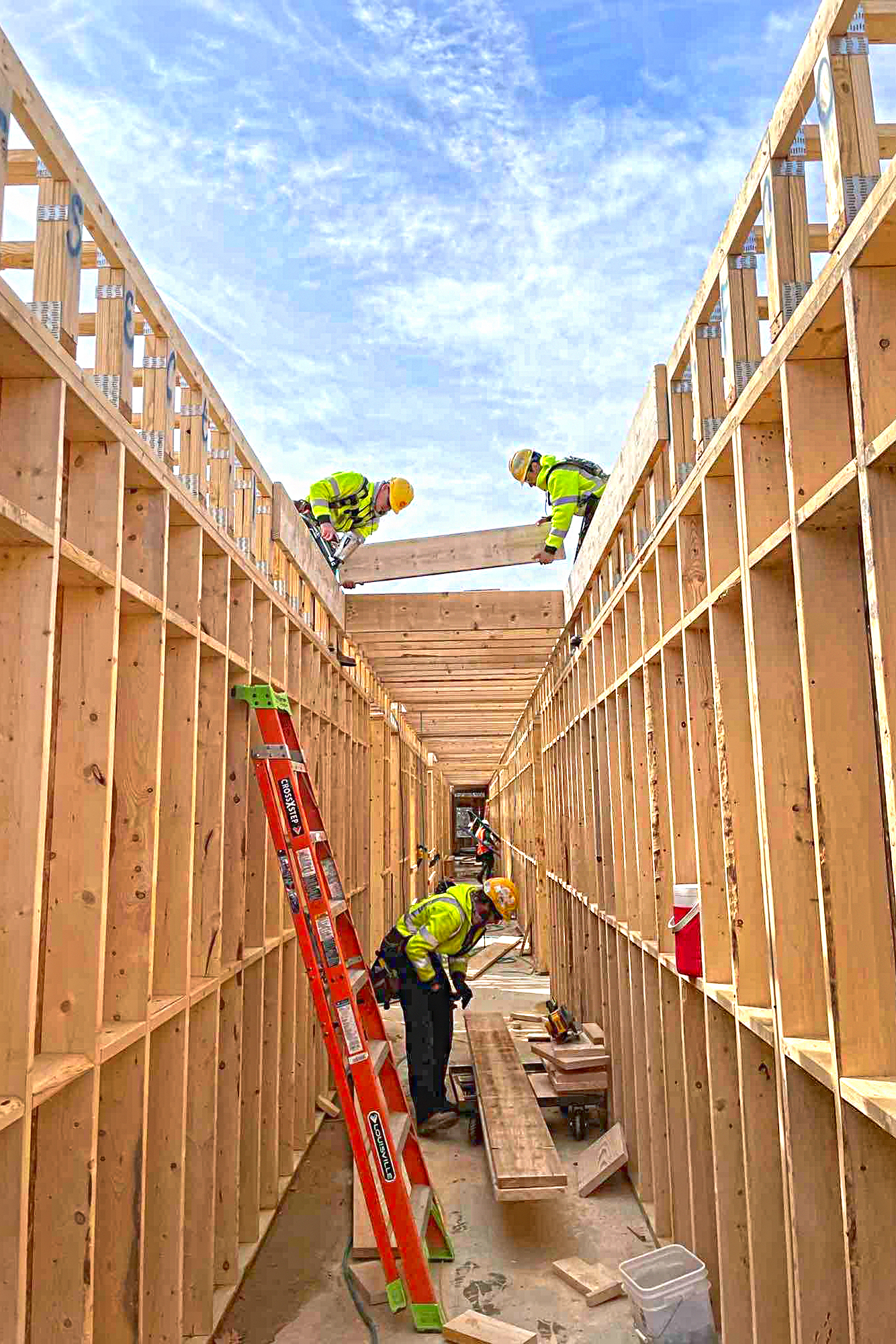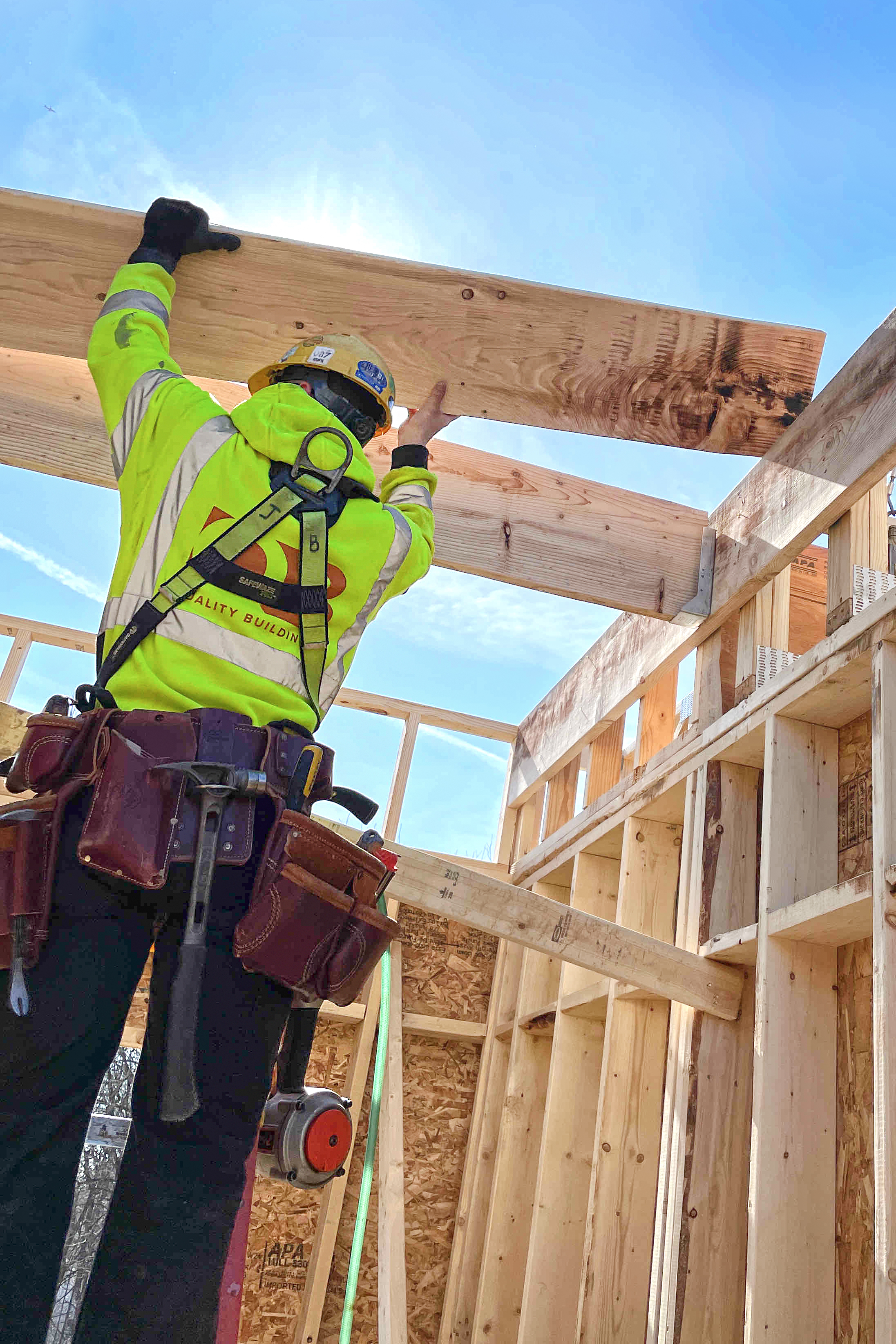 About Quality Buildings:
This turnkey framing contractor was founded in 2008 as a home improvement contractor and Agricultural/Equestrian facilities design and build contractor. They've built many custom designed horse barns and riding arenas in NY, NJ, DE, MD, and VA.
Having experience in design and build as a contractor, coupled with a desire to work closer to home versus constant traveling, commercial framing seemed to fit well with their philosophy of working together as a team with other trades to deliver a well-planned project. In 2014, their sole focus became commercial framing for multi-family apartments, senior living and hotels. Completing between 12-15 projects annually, the company has an annual gross revenue of $20,000,000+ in the multi-family, senior living and hospitality sectors. Quality Buildings started pre-fabricating wall panels out of their own facility and continued to expand.
Today, Quality Buildings specializes in offsite pre-fabricated building components, as well as framing components, wall panels, floor trusses, roof trusses and all needed equipment and labor for a complete framing system. Offering VE options and full 3D modeling capabilities for clash detection, as well as BIM modeling with other trades, they are acknowledged as a leading innovator in wood framing. They also offer structural engineering and Mass Timber construction. Their commitment to provide customers with the finest craftmanship continues to be their anchor 14 years later. Quality Buildings has an employee count of 42, consisting of VDC designers, project managers, pre-fabricated wall panel manufacturing and field carpenters. They also have a steady base of subcontractors they know they can turn to for their larger projects.
"We pride ourselves for having more attention to detail and a higher level of service than our competition," explains Elmer. "We are the experts in wood framing and strive to present ourselves as such. Every department within Quality Buildings has an in-depth knowledge of wood framing. Our designers are the linchpin of our projects being successful and have an extensive hands-on experience with building these projects in the field."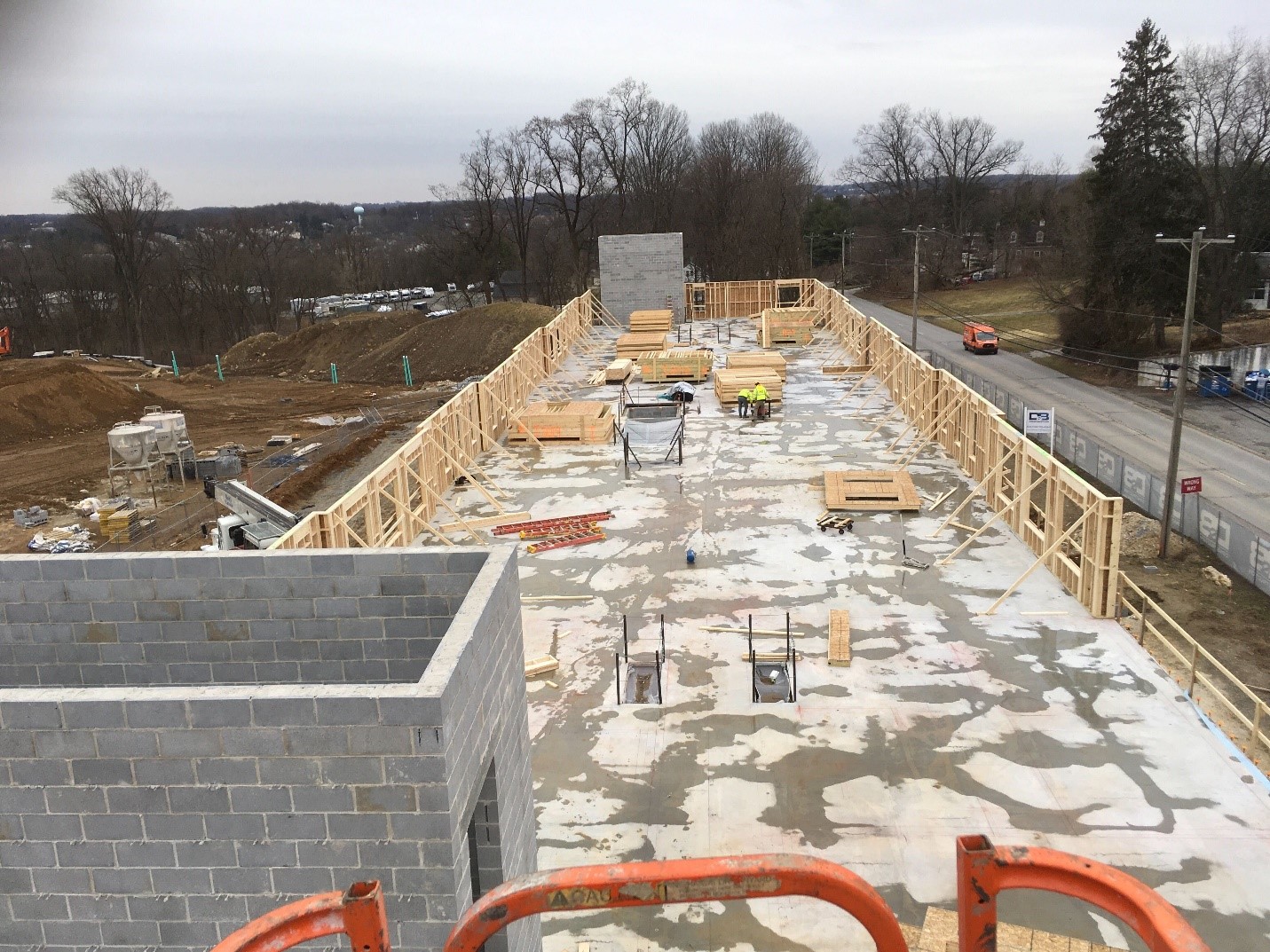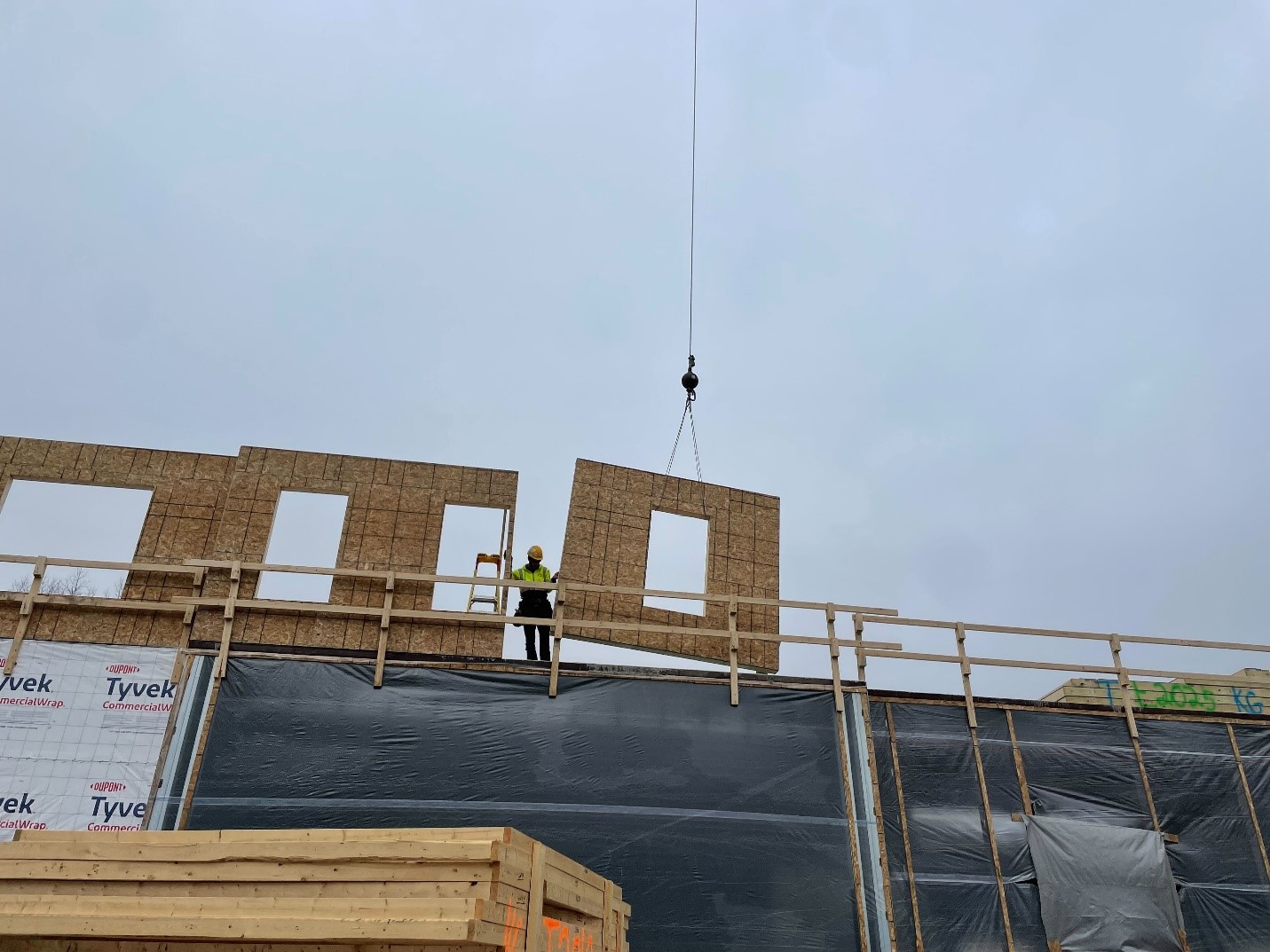 Q&A With Elmer Zook, Founder and President of Quality Buildings
Q: What's the best piece of advice you would give to others looking to get into the industry?
A: "Learn as much as you can about the trade you are a part of and about the trades around you that need your collaboration to do a good job and offer a stellar service.  Care about your craft and treat people with respect."
Q: What do you love most about working in the industry and why?
A: "I love working in the industry and providing a service that goes above and beyond just showing up and swinging a hammer. I love that our team is intentional about getting into the nuts and bolts of a project and finding new and better ways to get the job done."
Q: Anything else you'd like to add?
A: "We appreciate D&B entrusting QB with being your Framing partner on this project and look forward to many more in the future."
Doylestown, PA – On Wednesday, June 8 Berger Rental Communities hosted a groundbreaking ceremony to commemorate construction of an additional 50 new residences at their Butler Square property, located at 409 E. Butler Avenue in Doylestown. The company took ownership of the property, which contains 97 units in the first building with commercial retail space below, in the summer of 2021.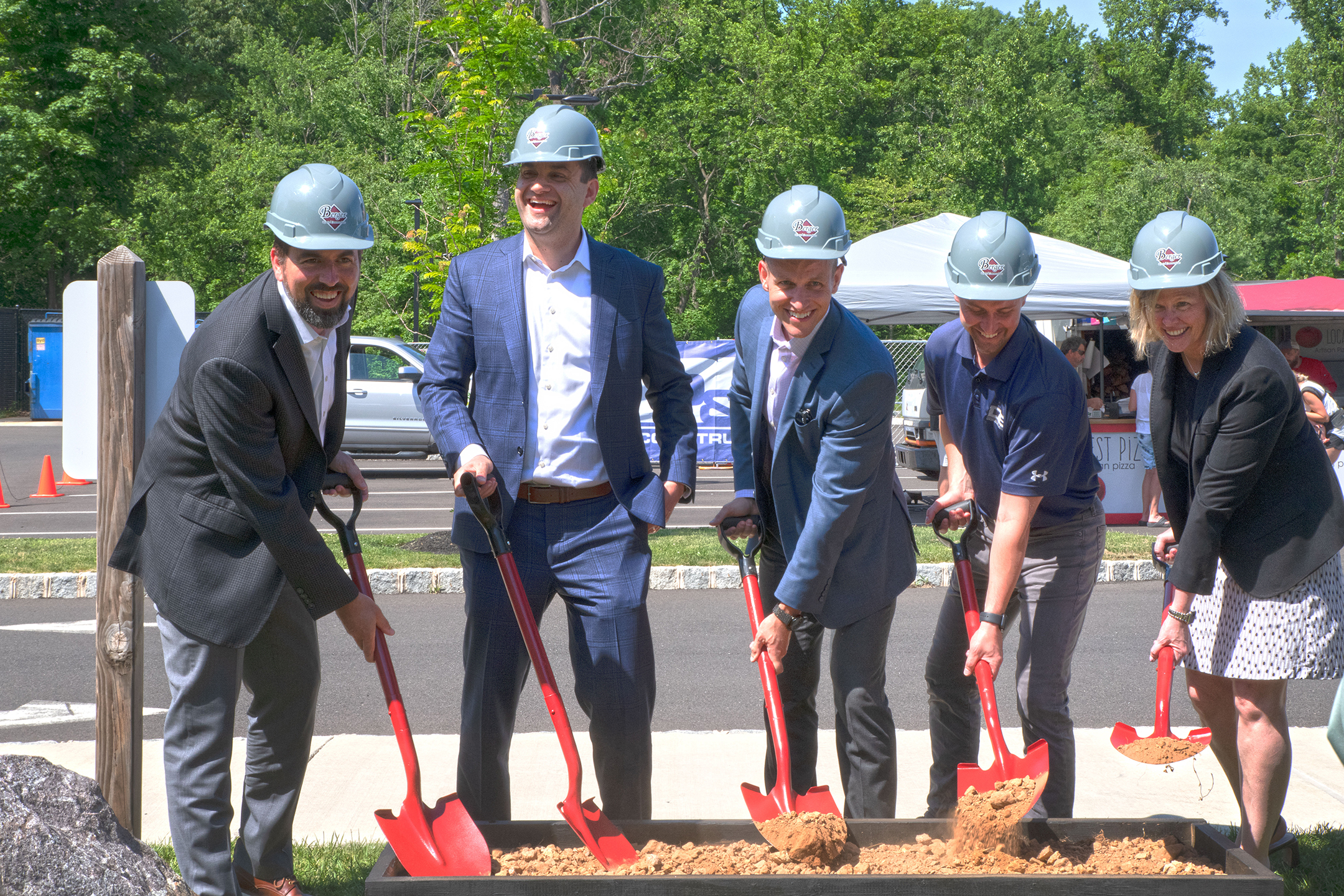 The 50 additional apartments being added to the property will feature new one- and two-bedroom layouts. A package room in the lobby brings added convenience to future residents, and charging stations for electric vehicles will be made available to all residents of Butler Square as the company continues to evolve its communities. Efficiency and modernization are also top of mind inside each apartment, where you will find smart home technology that includes locks and thermostats and designer inspired finishes.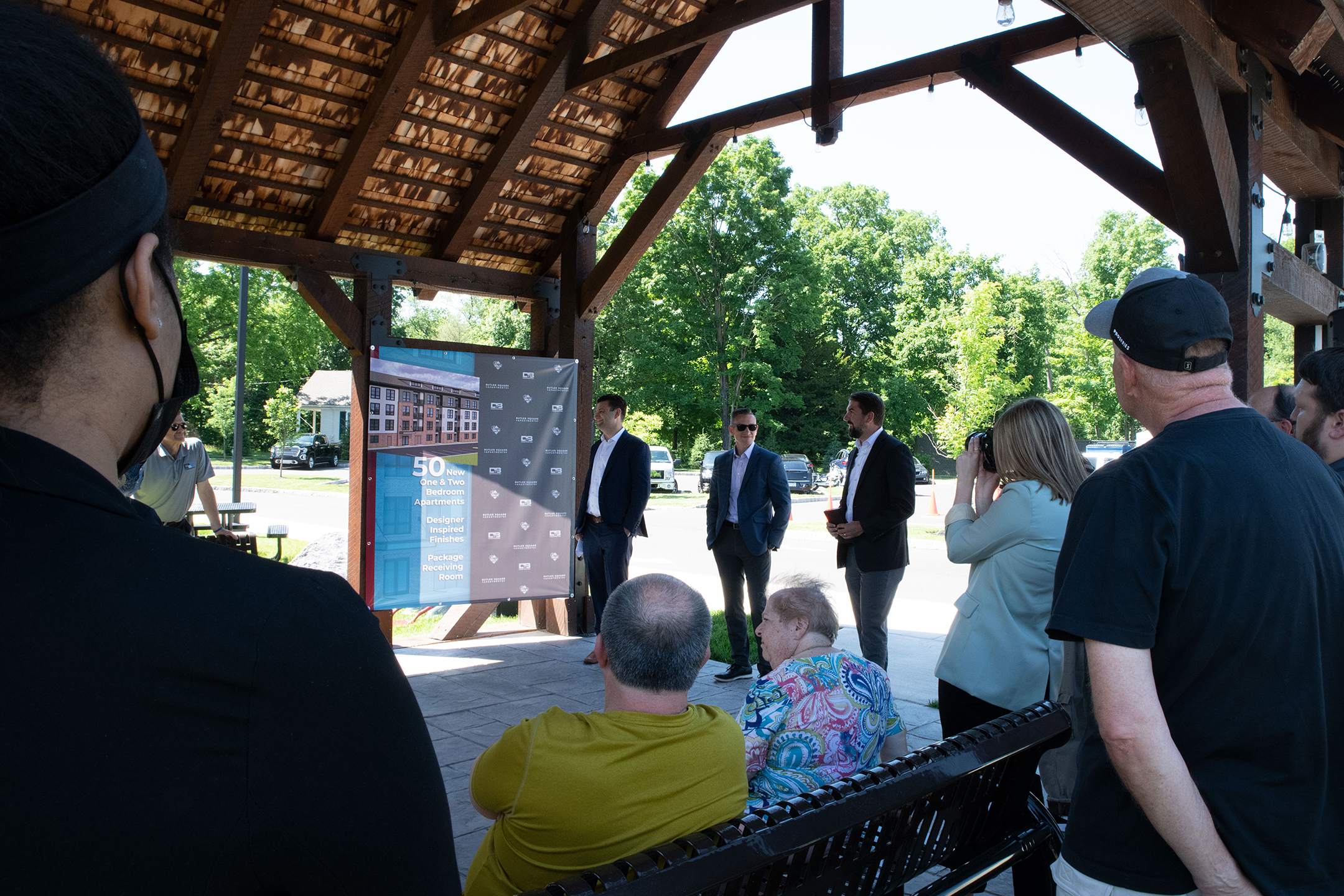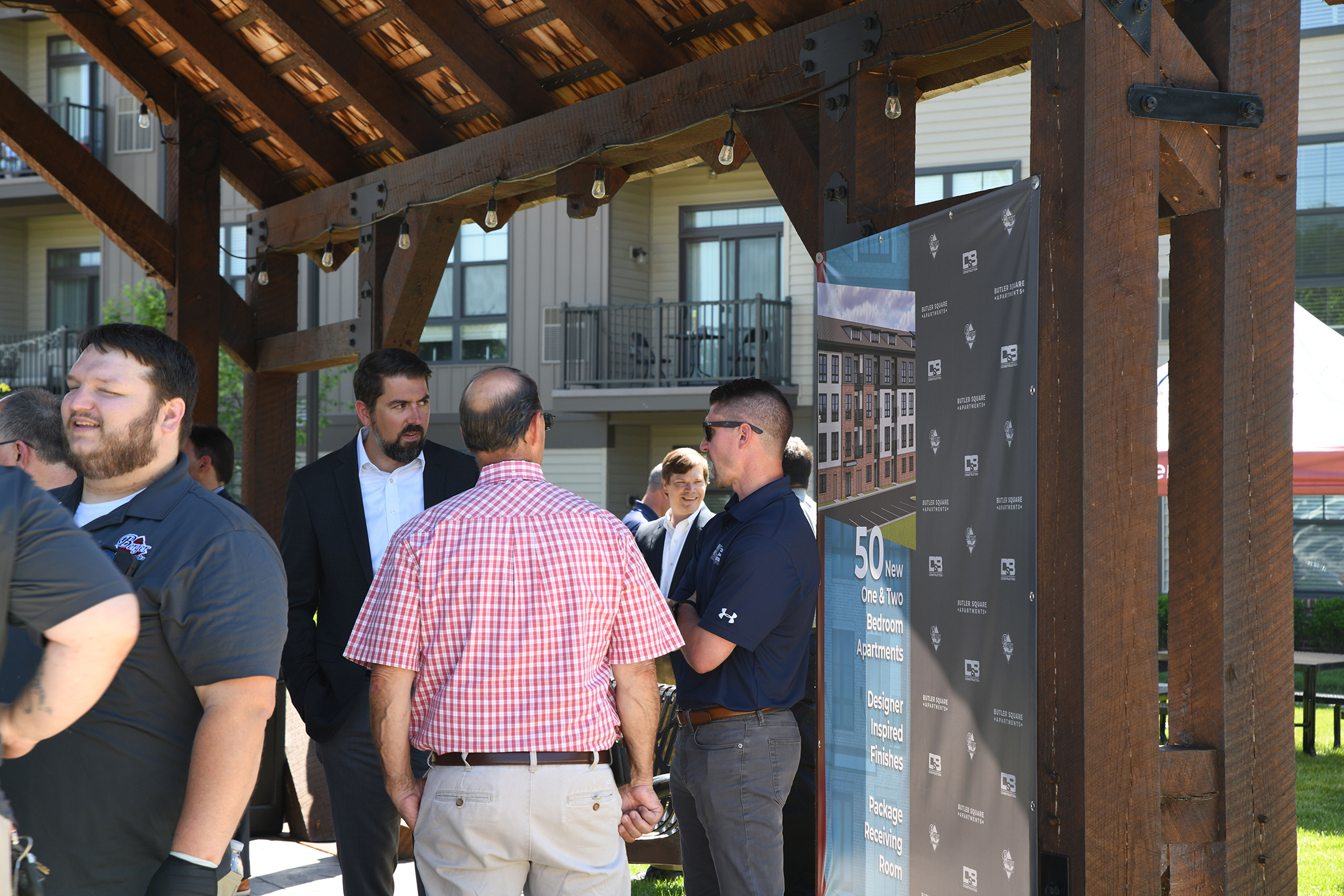 In attendance for the ceremony were members of Berger's team, current residences of the Butler Square property, the general contractor, D&B Construction, the project architect, Architectural Concepts, PC, Peaceable Street Capital, and members of the New Britain Borough, including Council Vice President Mr. John Wolff Jr. The company was also grateful to have their nonprofit and relief fund Hope & Door, whose mission is to help families in crisis avoid homelessness through rental assistance, in attendance. "Our goal here is not just to provide housing, but to accommodate residents through extreme flexibility, and provide the highest level of customer service," said the company's CEO, Dan Berger. The event concluded with a ground breaking to memorialize the day and delicious refreshments from two local food trucks – Local Harvest Pizza and Sweet Pea Ice Cream.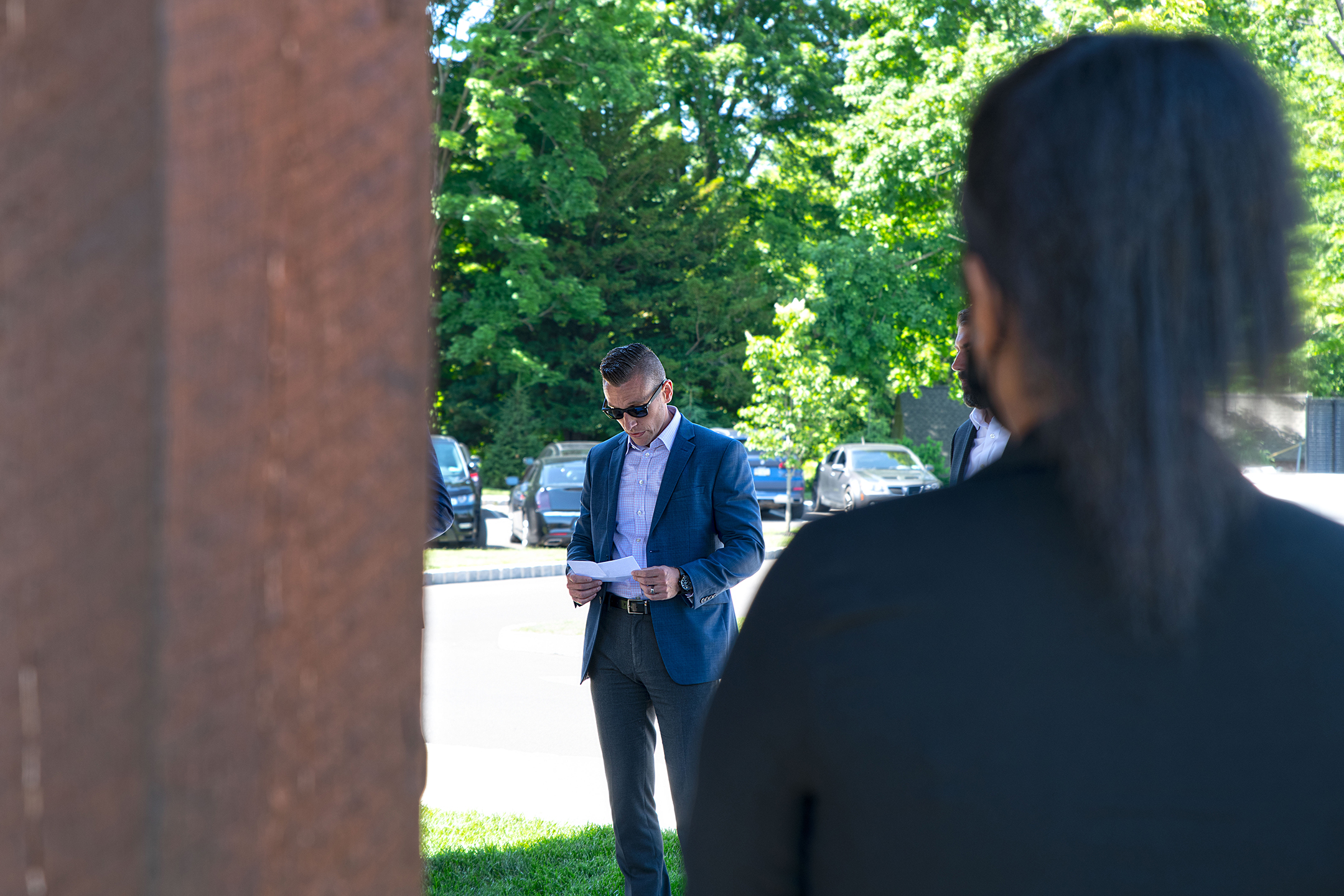 Matt Johnson, Director of Development at Berger, sent his appreciation to the New Britain Borough and D&B Construction during the ceremony, stating: "It truly has been a streamlined process thanks to New Britain Borough. Another great partnership we have is with D&B Construction. When we took ownership of Butler Square it was with the hopes that we could further expand the space and bring more residents to the community. With their help that vision is well on its way to becoming a reality."
This project comes as the company celebrates their 50th anniversary and a year of a tremendous amount of growth, with 50 apartment communities currently under their belt. According to Wayne Everett, Vice President of Acquisitions and Asset Management at Berger Rental Communities, "Through our growth we have been able to combine the personal touch and the entrepreneurial spirit of a smaller company with the sophistication, expertise, and technology of a larger organization."
Dan Gring, Chief Executive Officer of D&B Construction, commented on the fact that Berger Rental Communities embodies the same core values as the general contractor: "At D&B we make a conscious effort to partner with those who share our 'we care' mentality. This extends from everyone to our clients and employees, to our extended team of trade partners and suppliers. Our main core value is 'People and relationships matter most.' Upon meeting the Berger team, we instinctively knew they were an organization centered around people just as we are. Their customer-centric approach easily explains why they continue to rank amongst the top in the nation for customer service in multi-family, and D&B is thrilled to be their partner through this continued growth."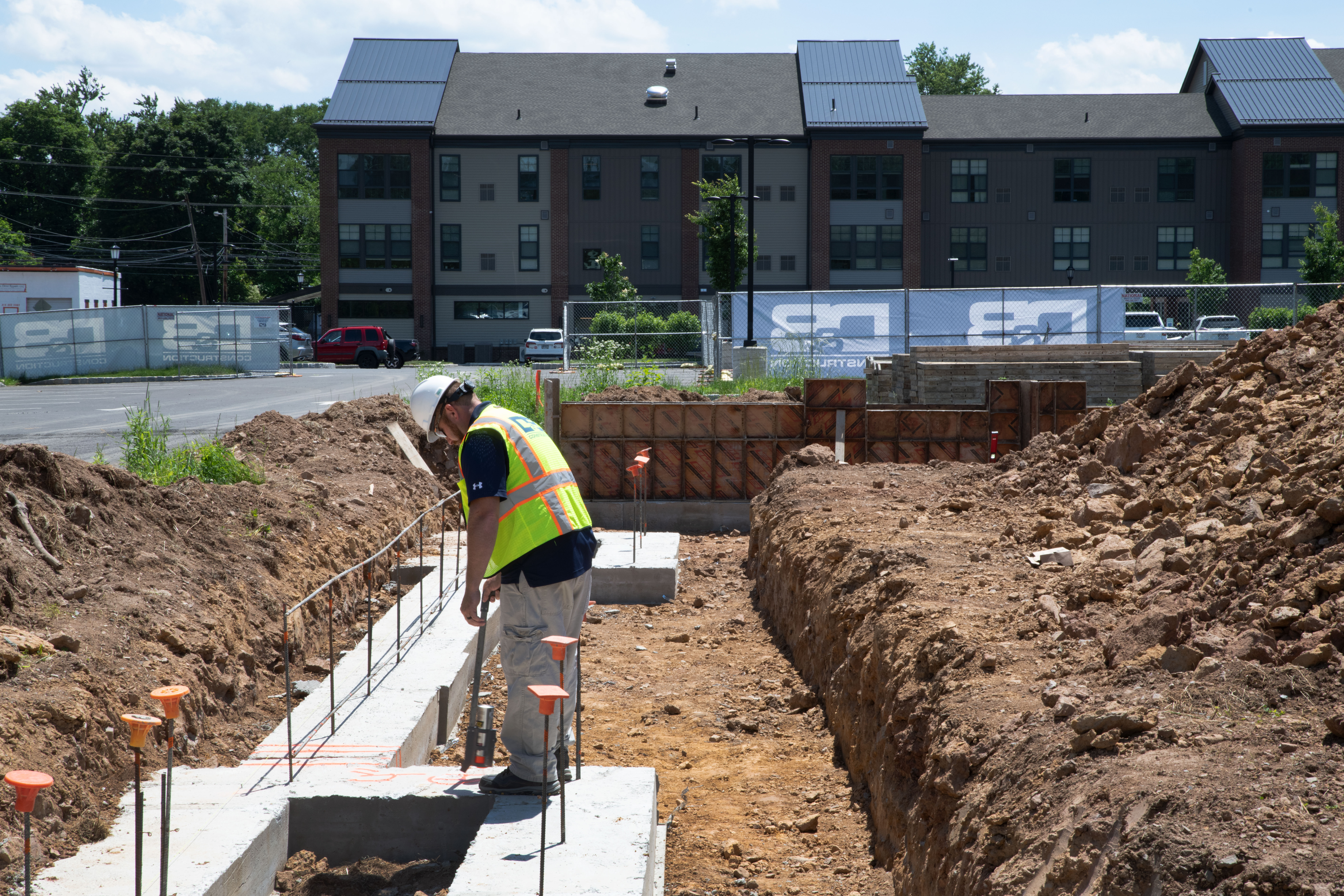 About Berger Rental Communities:
Founded in 1972, Berger Rental Communities has been a multi-family owner and operator for 50 years. At nearly 10,000 apartments, they are one of the top five largest management companies in the state of Pennsylvania, with a portfolio that extends into Maryland and Delaware. Berger is motivated by their philosophy that, "renting shouldn't be hard®". Their focus on service, innovation and culture has earned them the number one ranking in multi-family for customer service in the nation, and they are frequently rated amongst the top places to work in their industry. For more information on Berger Rental Communities visit rentberger.com.
About D&B Construction:
Founded in 2010 by Dan Gring and Brennan Reichenbach, D&B Construction has grown into one of the region's most trusted construction firms. Headquartered in Reading, Pennsylvania the company is driven by a commitment to quality and transparency. They have grown from the two founding members to over 50 employees with an additional office outside of Philadelphia to conveniently serve the Delaware Valley region. Today they are a full-service construction management firm offering a variety of services to commercial clients in the healthcare, multi-family, professional office, retail / hospitality, institutional, and industrial sectors. Delivering an individualized, superior experience to all of our clients, D&B is a team of genuinely good people who love to build and work hard, with their success built upon long-standing relationships anchored in honesty, trust, and fairness. Leveraging vast design and build experience, D&B is the conduit for business owners, corporations, and developers looking to enhance the places in which they work, grow, and invest. Completing projects safely, within budget, and on time to minimize any disruption to business is always top priority. For more information, visit online at: dbconstructiongrp.com.
D&B Construction's partnership with Earth Engineering Incorporated dates back eight years to 2014. They have completed over 12 projects with D&B Construction since becoming our Trade Partner. These projects range from large multi-family projects on 50 acres of land to large healthcare projects for clients like Tower Health and Children's Hospital of Philadelphia.
EEI performed numerous services on these projects including compaction testing, concrete testing, geotechnical consulting, sinkhole remediation, structural steel inspection, geotechnical investigations, clean fill assessment, and design services. Paul J. Creneti, P.G., Director of the Lehigh Valley division of Earth Engineering Incorporated, has been part of the industry for 26 years now. "Working on these projects with D&B Construction was fulfilling, as they were a collaborative effort with the construction and design team," he reflects.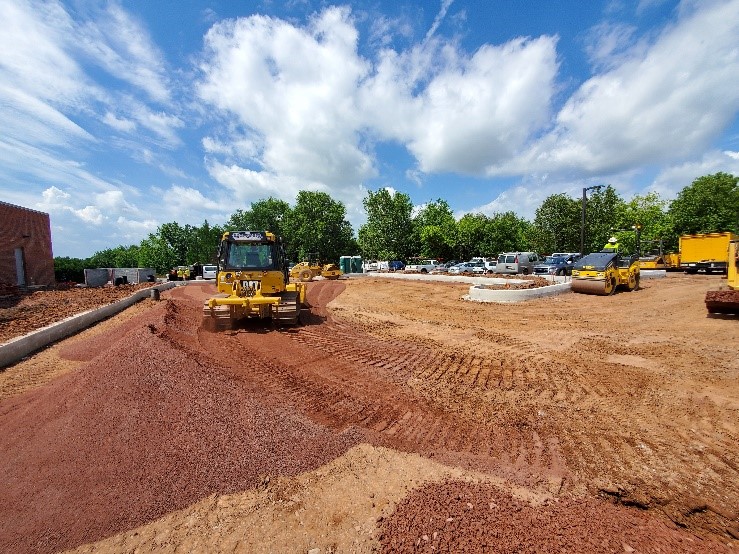 Paul has worked with many members of Team D&B over the years, including our Chief Operating Officer Brennan Reichenbach, Vice President of Pre-Construction Mark Keever, Project Manager Scott Weaver, and Vice President of Construction for Reading and Central PA, Tom Rinaldo. His favorite part of working on a D&B project? "Being part of a project team that has trust with all parties involved." Paul can count on the fact that "quality would never be an issue" whenever he works with Team D&B. "If problems arose during development, the team handled these problems quickly and most appropriately to ensure that sites were being developed properly."
According to our VP of Construction Tom Rinaldo, who has worked with Paul and EEI for the last 15 years on various projects, "they bring undeniable value and knowledge to D&B projects as a valued Trade Partner." Tom most enjoys how knowledgeable their geologists are. "We utilize them to do proctors for us. They help out in a variety of ways, from testing and analysis of soil on job sites to concrete testing. When we completed work for 999 Berkshire Blvd. we had to excavate and remove 10,000 SF of soil and excavated around the entire exterior of the building to remediate soils. Their team's analysis of the unsuitable soil and assistance in finding suitable soil was imperative to the success of this project."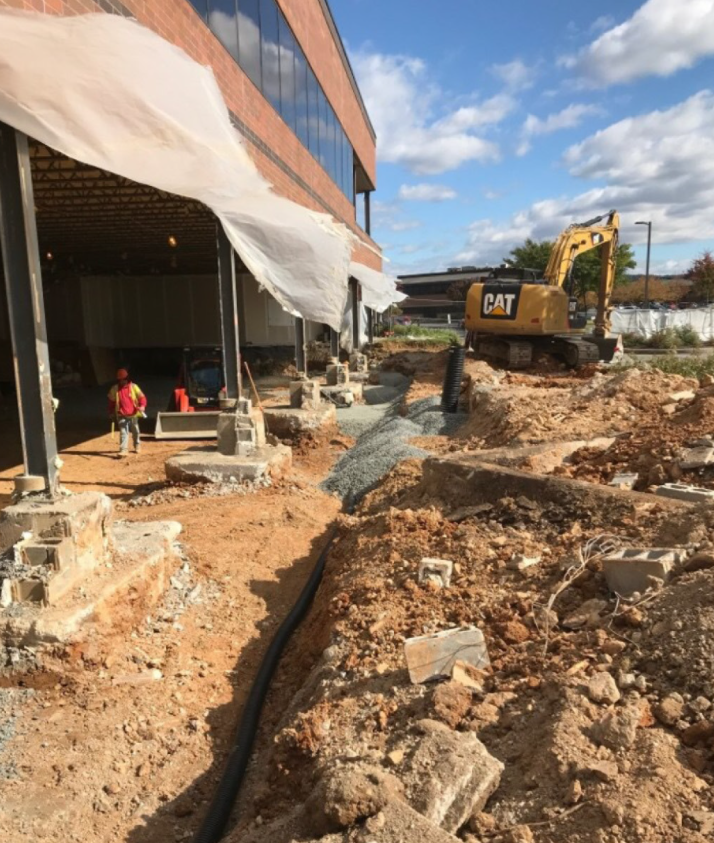 About Earth Engineering Incorporated:
This full service geotechnical / environmental engineering consulting firm was founded in 1990 in Blue Bell, Pennsylvania. By 2003, EEI outgrew this facility and established their Corporate Headquarters in East Norriton, Pennsylvania. Today they have approximately 125 employees and other regional offices in West Berlin, New Jersey, the Lehigh Valley and Central Pennsylvania that allow them to service projects from New York to Maryland.
EEI provides their clients with geotechnical engineering and environmental consulting services. Such services allow them to contribute to the successful development of a wide variety of projects for their clients, as issues such as cost-effectiveness and site development issues are evaluated by their team. This analysis allows EEI to provide clients with the best recommendations on how to proceed with their project.
The predominance of their geotechnical and environmental work is in the private commercial and residential sectors, with a portion of their geo-structural design work in the public sector. EEI takes on approximately 1,200 new projects within a year.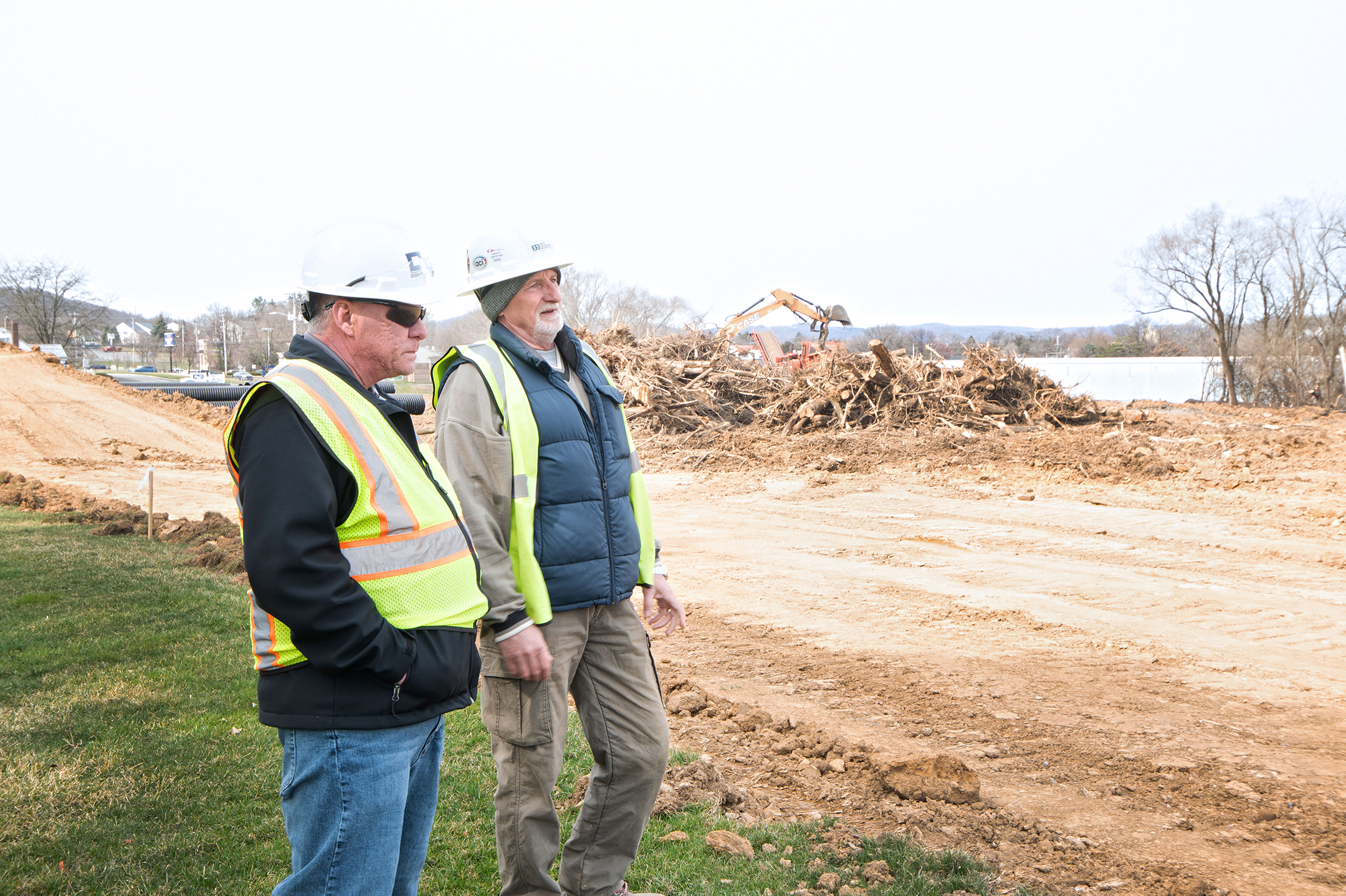 Q&A With Paul Creneti, Director of EEI's Lehigh Valley Division:
Q: What's the best piece of advice you would give to others looking to get into the industry?
A: "Listen to your client's needs while at the same time keeping the project within or below budget. You can accomplish this through quality engineering and quick decisions."
Q: What makes a good leader?
A: "Being true to your corporate values and goals and holding a high standard for others to follow."
Q: What do you love most about your job and why?
A: "Being part of a project team that leads to the successful completion of projects despite countless variables along the way. It's rewarding."
Q: What about a D&B project stands out in comparison to other General Contractors you work with on other job sites?
A: "Quality with a strong focus on the client's needs."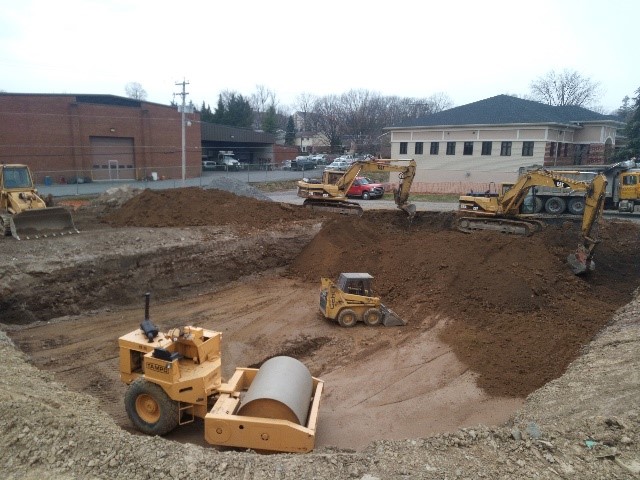 A Look at Some of the Jobs EEI and D&B Have Successfully Worked on Together Over the Years:
Projects Currently Under Construction:
The Reserve at Iroquois Springs
EEI's Geotechnical Engineer, Dan, was just on site last week to check the compaction rating of the soil on this jobsite. View some recent drone footage here.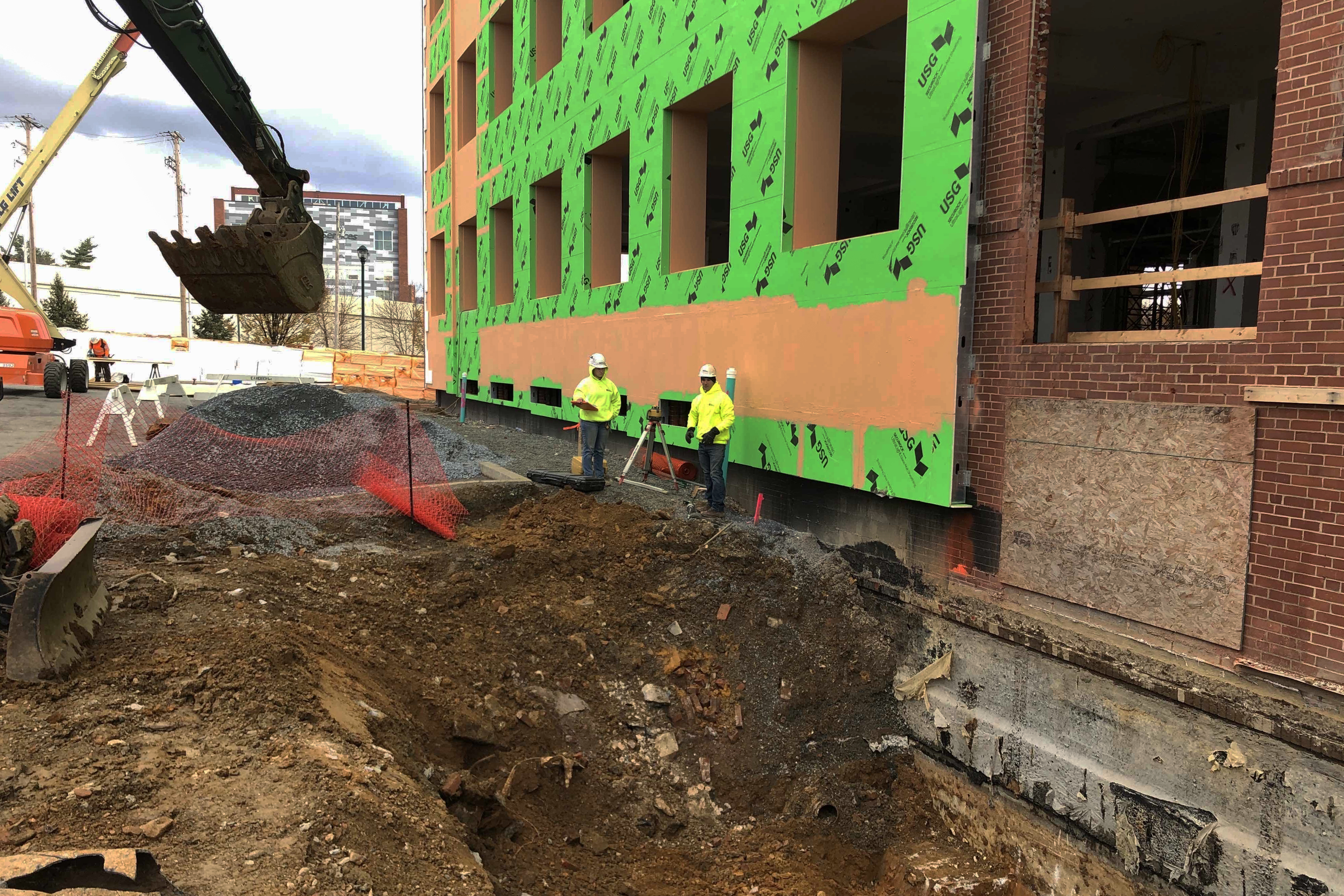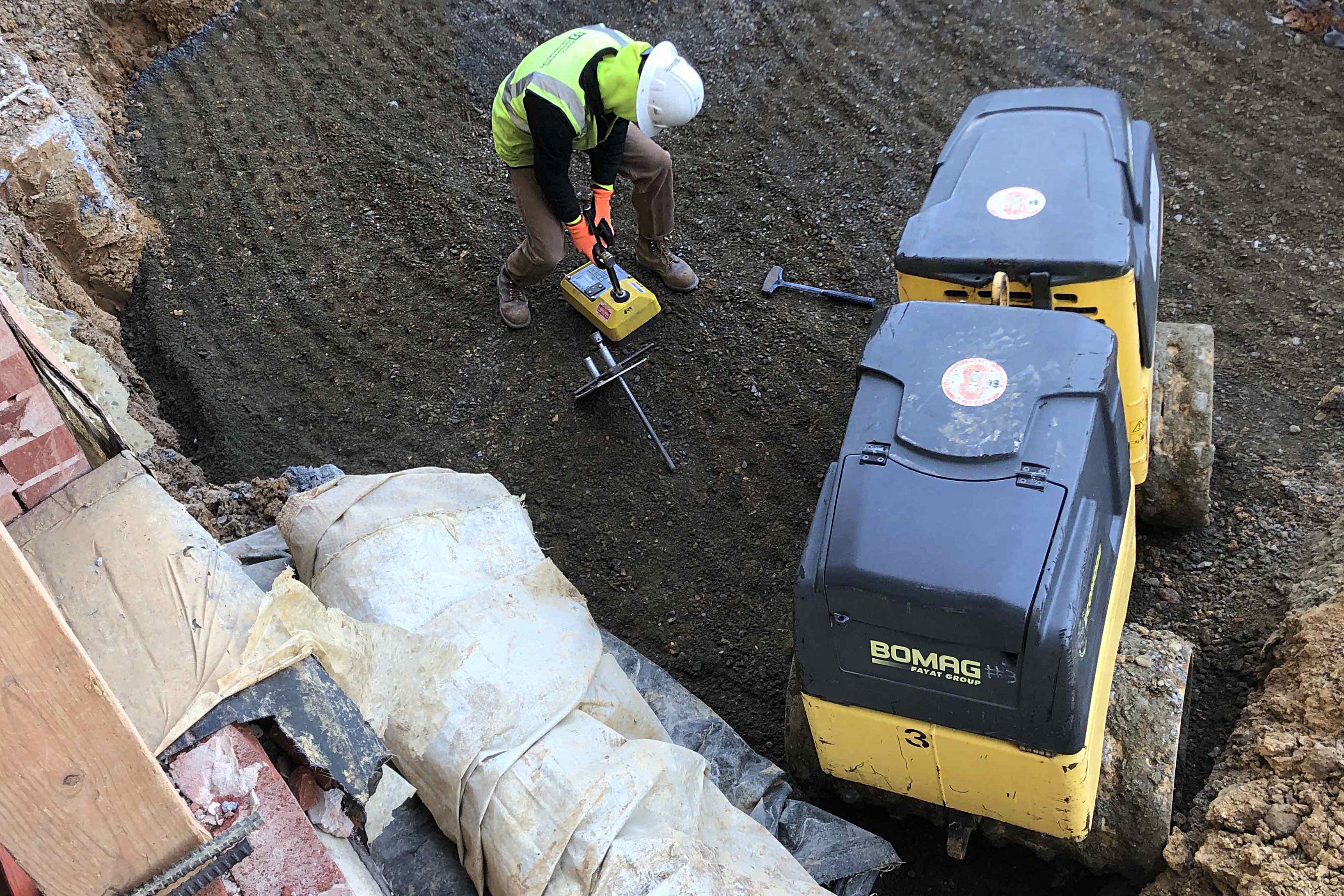 Completed Projects:
Cardiology Consultants of Philadelphia – Paoli, PA Location
Bucks County Orthopedic Specialists – Warrington, PA Location
Tower Health Medical Group Family Medicine – Womelsdorf, PA Location
Riverfront Federal Credit Union
White-sand beaches, warm weather, great food, and high-end luxuries are everything that Miami is known for. The small town of Surfside is no exception with its reputation of being pleasant, quiet, safe, and affordable. As you likely may have heard, Surfside recently become the center of attention for many people after tragedy struck the small town in June.
On June 24th Surfside's 12-story beachfront condo, Champlain Towers South, partially collapsed at about 1:25 AM with its residents inside. As of Monday, July 26th, the last victim's remains were identified. This brought the final death toll to 98 people after tedious efforts were made to account for every resident, and officials have now confirmed that remains for each person considered missing after the collapse have been recovered. The efforts made were the largest emergency unrelated to hurricanes ever conducted in the state, with search and rescue teams from throughout Florida, many other states, and even Israel and Mexico coming together to bring closure to families.
According to the New York Times, this disaster is one of the deadliest structural building failures in American History. Many residents are still in shock. Community Members Peggy Streter and her husband own The Carrot Café located in downtown Surfside. The two have claimed to know about 50 people who lived in the condo. The Streters are not the exception. Miami's building chief, Charles Danger said, "Everybody in Miami knows somebody from that building or knows somebody who knows somebody."
The rest of the building was demolished on Sunday, July 4th in efforts to continue the search. Once all remains were identified of those missing, officials began steering their focus to determining what could have caused the collapse. Since then the building has continued to be in the limelight, as many of the building's records that would help investigators learn why the building fell could not be found, and the not-so-easy conversation over the fate of the site has started to take place. Here's a quick summary of what is known:
Initial Concerns for the Condo
People living in Surfside Condos, which were completed in 1981, had previously voiced their concerns about the structure of the building they called home, so the collapse does not come as a surprise for some. After a DEA building collapsed in Miami almost half a century ago, taking the lives of seven employees and injuring 16 others, two Miami counties instilled new regulations requiring buildings that have stood for 40 years to be investigated for any problems. Since Champlain Towers South was in one of these counties, their mandatory 40-year inspection took place in 2018.
When the condo was inspected by engineer Frank Morabito in 2018, he identified that there was a flaw in the original construction of the building that was causing structural damage. Morabito mentioned the main issue was that the pool deck and outdoor planters had been "laid on a flat structure." Since there was no slope where the pool stood, standing water was not able to drain off the pool deck. Instead, the water would sit on the waterproofed concrete until it evaporated. At the time of inspection, the water-proofing concrete had failed, causing the water to seep through resulting in "major structural damage to the concrete slab below these areas." The report also pointed out distress and fatigue in the concrete, columns, beams, and walls of the parking garage below the pool area.
Morabito's report said that "failure to replace the waterproofing in the near future will cause the extent of the concrete deterioration to expand exponentially." He could not predict that this may lead to the collapse of the building, however he said that repairs to the concrete were needed for "maintaining the structural integrity" of the building. The waterproofing and structural issues of the condo were never addressed by the owner's association.
Fast forward to 2019 when a neighboring luxury tower was being built. Residents of the Champlain Towers South condominium complained that construction would often cause their building to shake. This led to a resident and board member of the condo association, Mara Chouela, voicing her opinion that workers were "digging too close" to the property. She said they "have concerns regarding the structure of our building." Just 28 minutes later, official Rosendo Prieto responded to Chouela stating that "there is nothing for me to check."
There is no concrete evidence that construction of the condo's neighbor contributed to the collapse of the building, and it is still unclear if the lack of action from the owner's association was a major factor in the building's collapse. Cassie Stratton, a resident who was inside the building during the collapse, reportedly told her husband on the phone that she saw the pool cave in first, backing up Morabito's claim that the waterproofing of the pool was necessary to maintain the structure of the building.
The fact remains that residents were concerned for the structure of the condo, and they felt as if no one took the necessary action to redeem the structural integrity of the building.
Expert's Findings
The city of Surfside hired a structural engineer, Allyn Kilsheimer, to inspect the site and determine the cause for the buildings collapse. Kilsheimer says it is "maybe not an individual cause, but two or three things that contributed and/or caused this failure." While the pool could have been a major issue to the structural problems, it is still unclear and there are many theories that will be examined.
In addition to hiring Kilsheimer, another group was hired to lead the charge to uncover what caused the collapse since this was such a big case. The NIST (National Institute of Standards and Technology) will be working constantly to investigate the situation. They say that "a fact-finding investigation of the building performance and emergency response and evacuation procedures will likely result in significant and new knowledge or building code revision recommendations needed to reduce or mitigate public risk and economic losses from future building failures."
How this Tragedy may Impact the Industry
Like many others, we have been wondering what caused this to happen. Matt Knight, Senior Estimator at D&B Construction, has been working in the industry for over 20 years. He has been involved with the construction of many large, well-known buildings, including the 9/11 Memorial.
Matt did not do any research, but from what he saw "the building collapsed from the bottom up," which makes him think "there would be structural cracks in the floor, columns, beams, etc." As we know now, these structural cracks were found by engineers and deemed to be a major structural concern prior to the collapse of the building. Much like Allyn Kilsheimer, Matt believes that it is likely there are multiple causes for the failure of Champlain Towers South.
One of the theories that Matt believes had a big role in the building's collapse was the fact that the condo had been sinking at a rate of two millimeters per year from 1993 to 1999. Scientists also discovered evidence of other areas nearby sinking as well. Matt says that one of the most important things when constructing large buildings is to make sure you are building on good soil. Since the condo was slowly sinking, Matt believes they likely "built on unsuitable soils and never got the compaction they needed." He notes that if soil is not properly compacted so that it is suitable for the building, everything else will eventually fail. "If you are building from the ground up your soil underneath is, of course, most important," he concludes. For now, Matt is waiting to learn more about what caused the failure once the investigations are conclusive.
What we can Conclude and How to Move Forward
At the end of the day, the collapse of Champlain Towers South was a tragedy, however Matt tries to look at how the industry as a whole can learn from what happened. "Usually a lot of good things will come out of a catastrophic failure. For example, we learned a lot from 9/11, and today those World Trade Center Towers are not being built the same way," he says. Matt believes the industry will learn valuable lessons from this, and it will improve how we are constructing buildings overall. He would not be surprised if there will be changes for older building's codes, especially around that area. Matt also proposes the idea of a new law emerging from this that would make building owners, when aware of structural damages, either make the repairs or move everyone out until they do.
While we wait to learn more, one question many still have is whether or not limitations on technology when the condo was built play a factor in the failure of Champlain Towers South? When the condo building was constructed in 1981 many of the rules and regulations that we have today were not in place. Miami was also known for "slipshod construction," and in some cases they were known to take the look-the-other-way approach when enforcing building codes and regulations. While their construction practices were not nearly as good then as they are now, they also did not have access to the technology we have now.
Specifically, VDC (Virtual Design and Construction) and BIM (Building Information Modeling) are tools that Matt says, "could have helped if they had it during original construction". BIM is a tool for 3D modeling and data input of physical objects, while VDC uses BIM models to plan the construction process from beginning to end. Watch a video to learn more about VDC and BIM here. Using technology like BIM and VDC essentially allows you to build the entire project virtually before building it in the real world, which can decrease cost and time put into a project while also increasing safety. We may often take technology like this for granted, but it is interesting to think about what the world of construction would have looked like in the 80's if society had access to these technologies that we can now use every day.
D&B is interested to hear your thoughts. Do you think new technologies will help to prevent disasters like the one in Surfside? What policies and procedures do you think should be put into place to help increase safety and avoid disasters such as this from happening in the future? Let us know in the comments below!
Trend 1: LEED and Green Building

"A 'Green' building is a building that, in its design, construction or operation, reduces or eliminates negative impacts, and can create positive impacts, on our climate and natural environment. Green buildings preserve precious natural resources and improve our quality of life" (WGBC). In response to the COVID-19 pandemic, Green or LEED construction is changing. The U.S. Green Building Council, creators of the LEED certification, plans to promote healthier and safer air quality indoors with adjusted certification criteria incentivizing the creation cleaner air systems. In 2021, there will be more building materials and components that help get LEED certification. One interesting and somewhat new development is a form of self-healing bio-concrete. This is a compound of concrete and bacteria that produces limestone when exposed to air and water, which helps with the impermeability of the surface. It costs around $240 per cubic meter. For reference, normal concrete usually costs between $200-$300, making it still cost efficient. Green building will continue to grow throughout the next decades and new technology and policy will come out to reinforce it as time goes by.
Trend 2: Modular Construction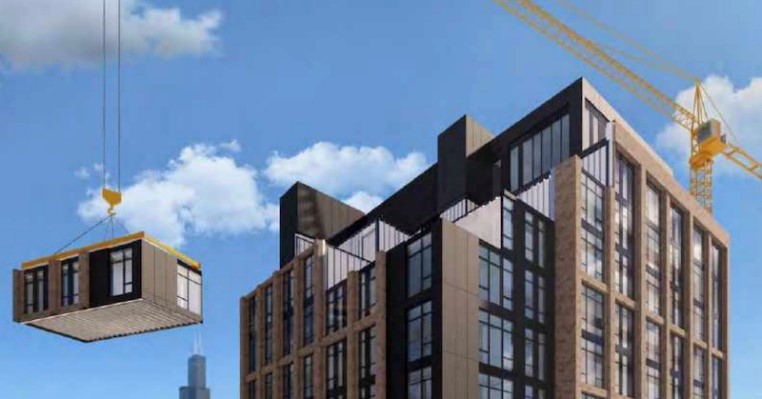 The construction industry is rapidly moving towards modular materials because of its cost and time efficiency. Modular building is anywhere from 20% – 50% faster than traditional construction. It is also around 20% more cost efficient to build modular instead of traditional because of the reduced labor and time costs. Modular building also cuts the waste output almost in half due to optimal fabrication and pre-planned units. Everything is built off the construction site, which reduces the challenges of regular construction such as weather, limited working hours, and space. Overall, modular building is great for symmetrical and repeating buildings where sections can be made and stacked or attached to each other easily like in apartment or office buildings.
Trend 3: Safety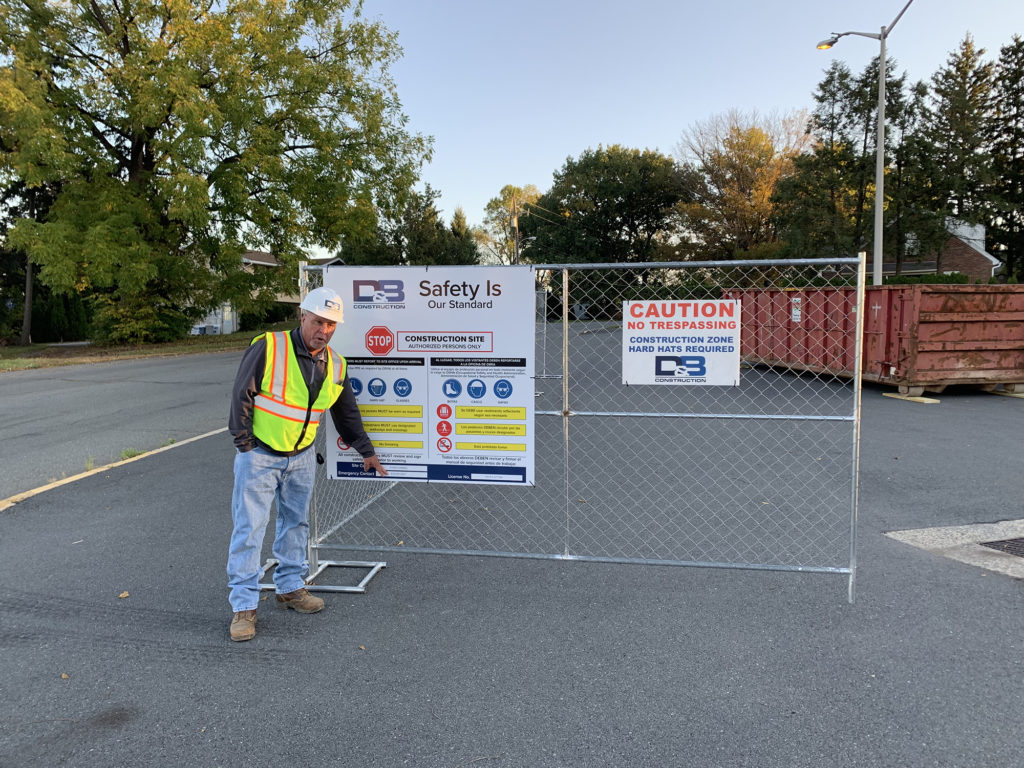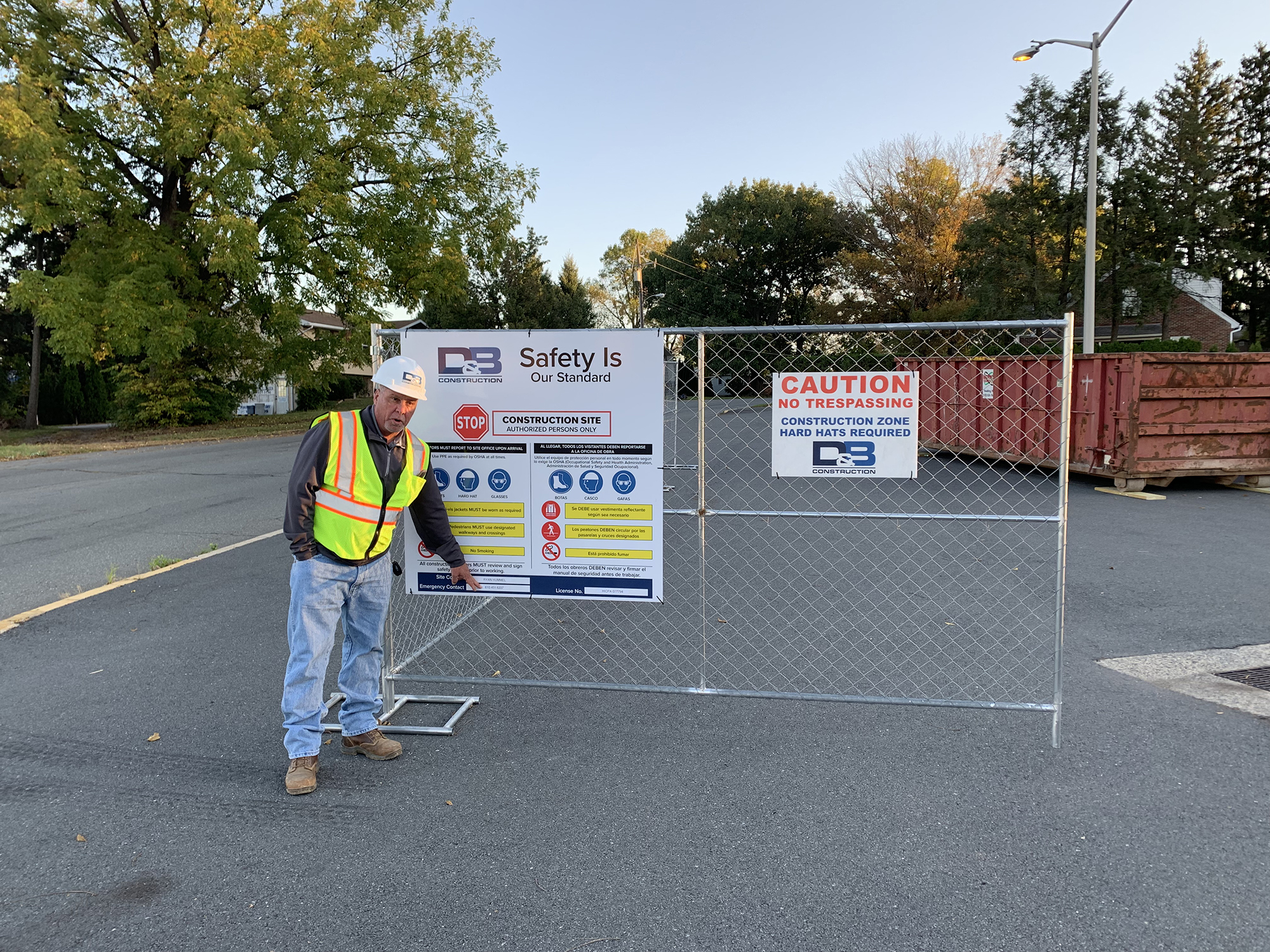 As it should be, safety is a huge trend in 2021. The old workplace safety system focused on recognizing problems and fixing them after someone gets hurt or a problem occurs. The new system getting pushed in the industry is based on prevention through education and training and recognizing issues before anyone gets hurt. This is why we have our Safety Committee meet monthly to discuss different topics of safety. Another large change in the safety category is better technology with Personal Protection Equipment (PPE). With more women entering the field, there is an increased awareness of the need for PPE to properly fit all employees to ensure safety. In addition, because of the COVID-19 pandemic there are policies across most companies including D&B that promote safe environments using masks, social distancing, and sanitization. When the pandemic hit, our team implemented a sign in and sign out sheet at every job site, making it easy for us to accurately perform contact tracing in the event that someone developed COVID-19 symptoms. D&B will continue to enforce this rule across all job sites moving forward. Learn more about our safety standards here.
Trend 4: Multi-Family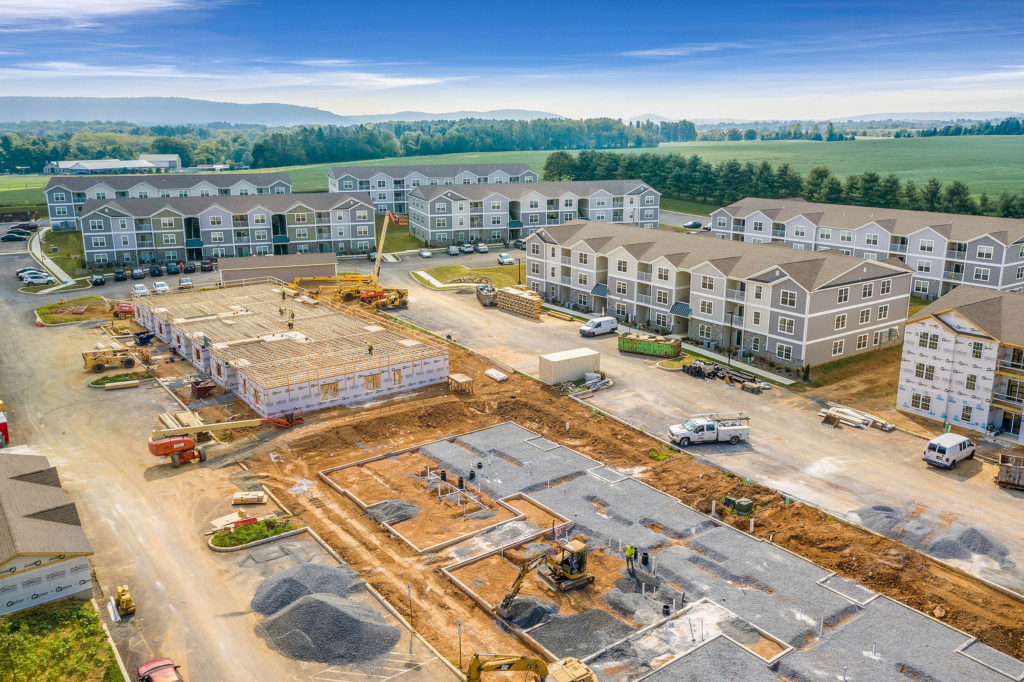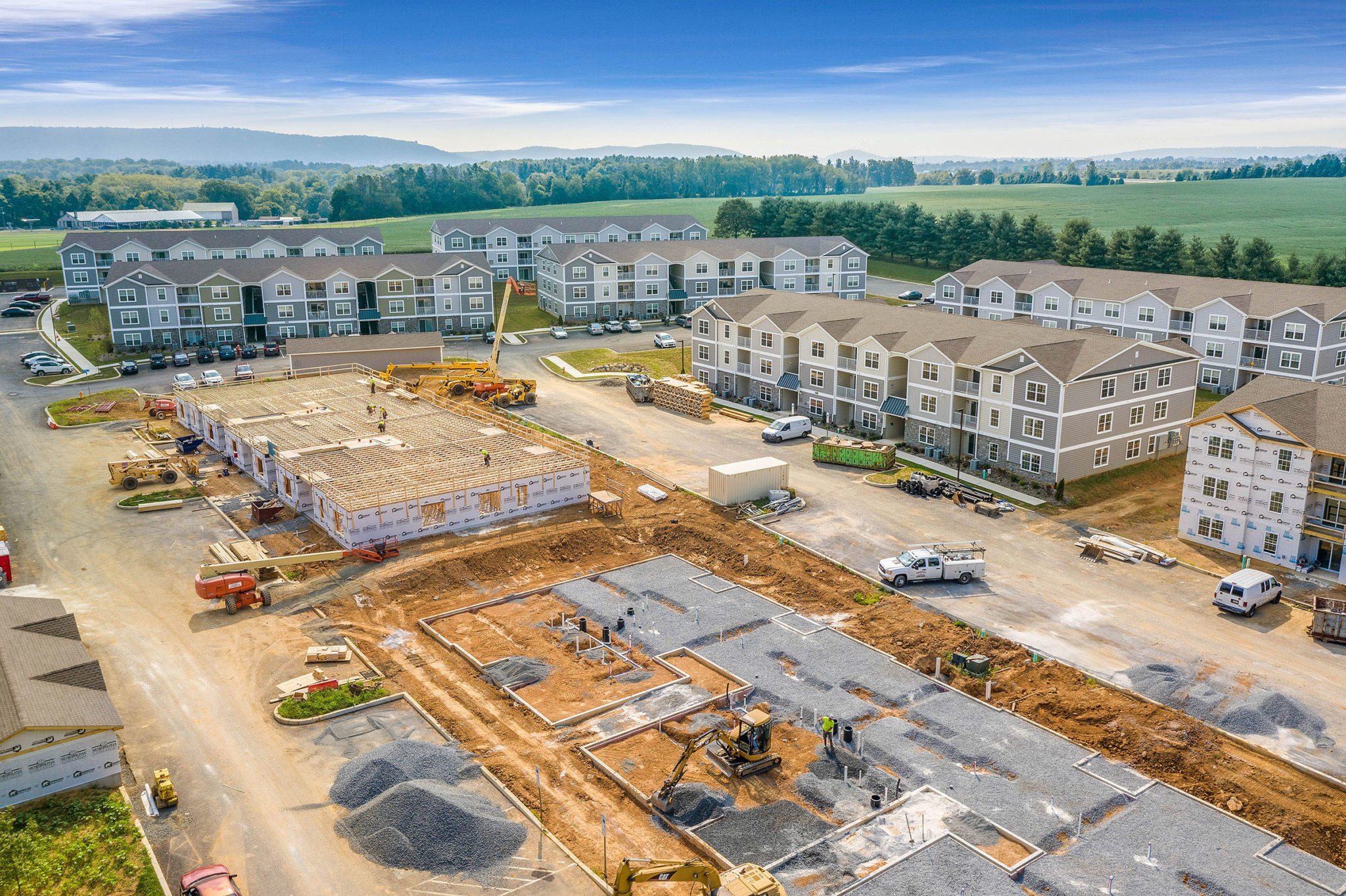 Multi-family construction is one of the fastest growing sectors of the commercial construction industry. Because of the lack of inventory in the housing market and changing demographics, multi-family construction is in high demand and will continue to grow in the following years. More people are looking for smaller, more affordable homes and condominiums with less maintenance than a normal single-family house. Research shows that 33% of people who are reaching age 55 are on their own. This is much different than what was the case 20 years ago. Currently D&B has multiple multi-family jobs under active construction and in the pre-construction phases. Throughout my internship, I shadowed the construction of The Reserve at Gring's Mill, which you can view here.
Written by: D&B Intern, Alex Wolf
Alex culminated this list based on what he learned during his time at D&B. He is a Senior at Wilson High School who began shadowing various D&B employees in September of 2020. Alex will be attending Virginia Tech for Architecture in the Fall. "My internship experience at D&B made me realize that I want to pursue a career in residential remodeling and construction," he explains. "I gained a lot of knowledge about the construction process and enjoyed being able to see entire construction projects from start to finish."