Paramount Contracting, Inc., a commercial wall and ceiling contractor, is based out of Lancaster, PA and serves the Pennsylvania, New Jersey, Delaware, West Virginia, Virginia, and Maryland areas. The company was established as a premier wall and ceiling contracting company by Jeff Mylin in 2005. "The emphasis was always on customer service and building a great team," says a reflective Mylin 16 years later. "We focused on the needs of the customer and providing an end product that our team would be proud of." As a result of this, Paramount has "experienced organic growth as opportunities presented themselves over the years." Today, the company has nearly 100 employees, completes in excess of 300 jobs per year, and specializes in Metal Studs, Drywall, Insulation, EIFS and Acoustical Ceilings, as well as select Carpentry and Specialty items.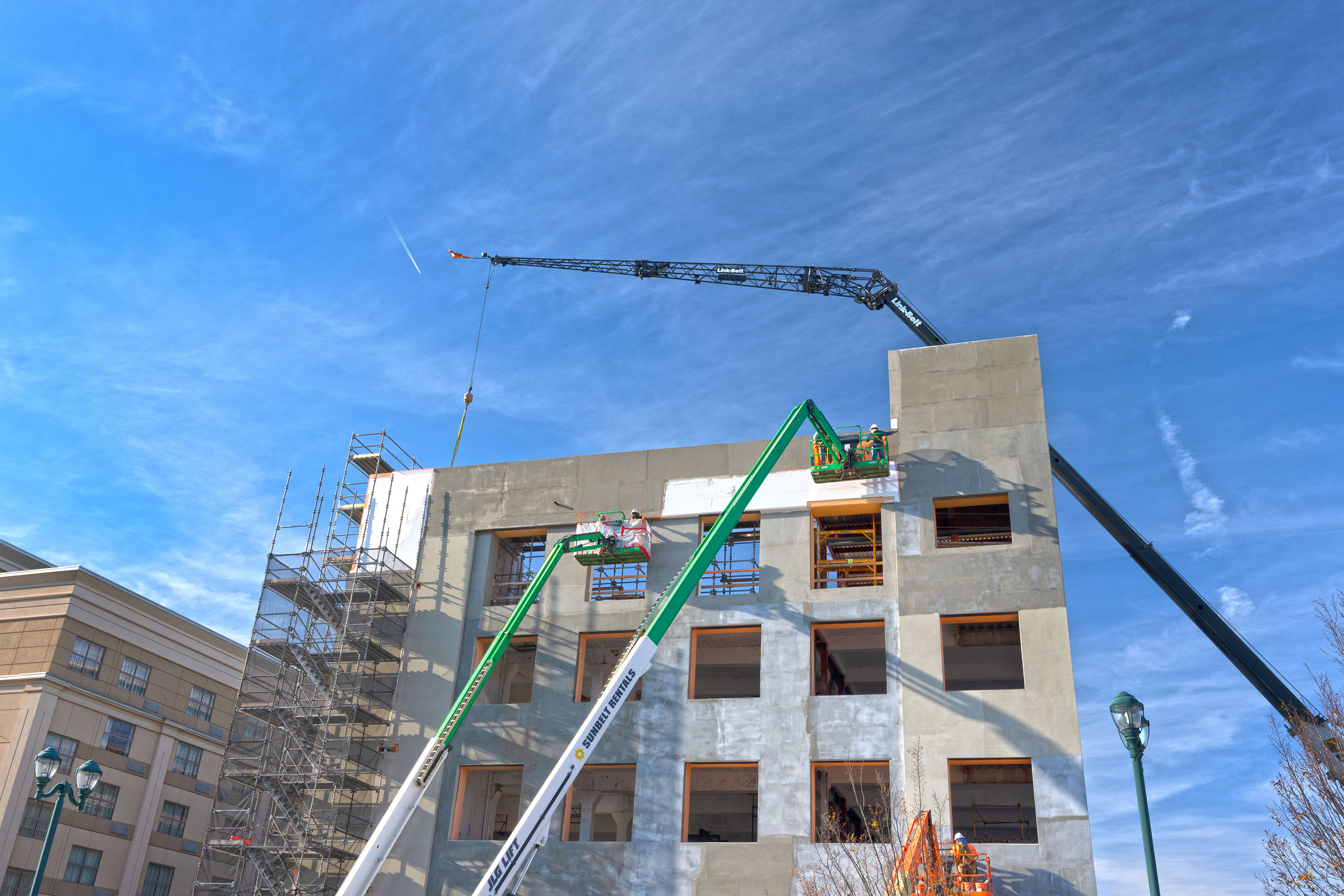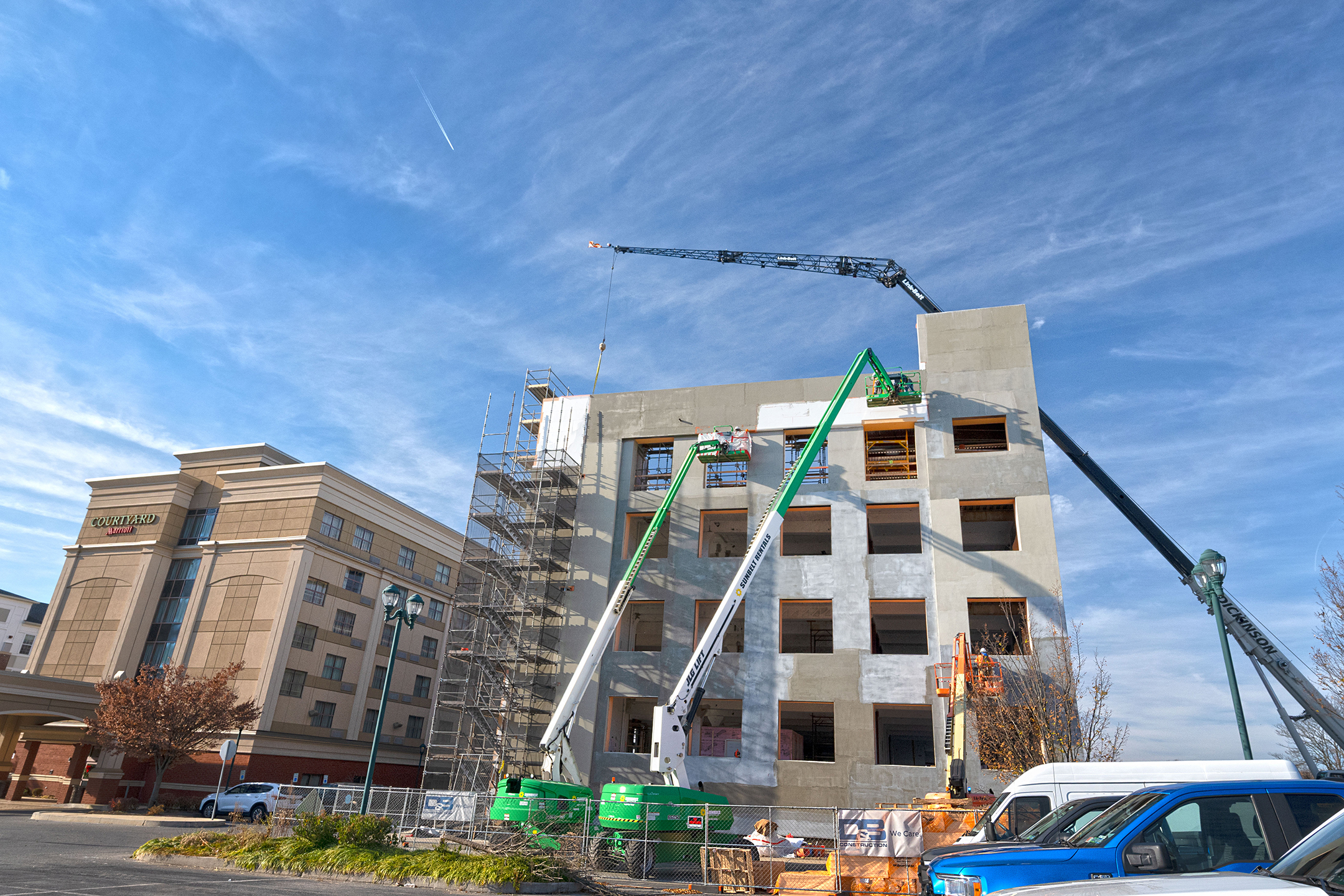 D&B is proud to have been partnering with a company that reciprocates our core values of being a company that cares about everything from the customer to the finished product. Since Paramount became a Trade Partner of D&B Construction's nearly five years ago in 2017 they have worked on more than 10 projects with us, completing everything from insulation, drywall, and exterior sheathings to rough blocking, acoustical ceilings and clouds, and FRP.
Some of the current active projects Paramount is working on with D&B include this mixed-use design-build project in Kennett Square, PA, D&B's new corporate headquarters, and Kreitz Gallen-Schutt Attorney's office fit out, which is just starting up. Other projects worth highlighting from this year include Tower Health's newest satellite office in Womelsdorf and Grove Dental Pediatrics.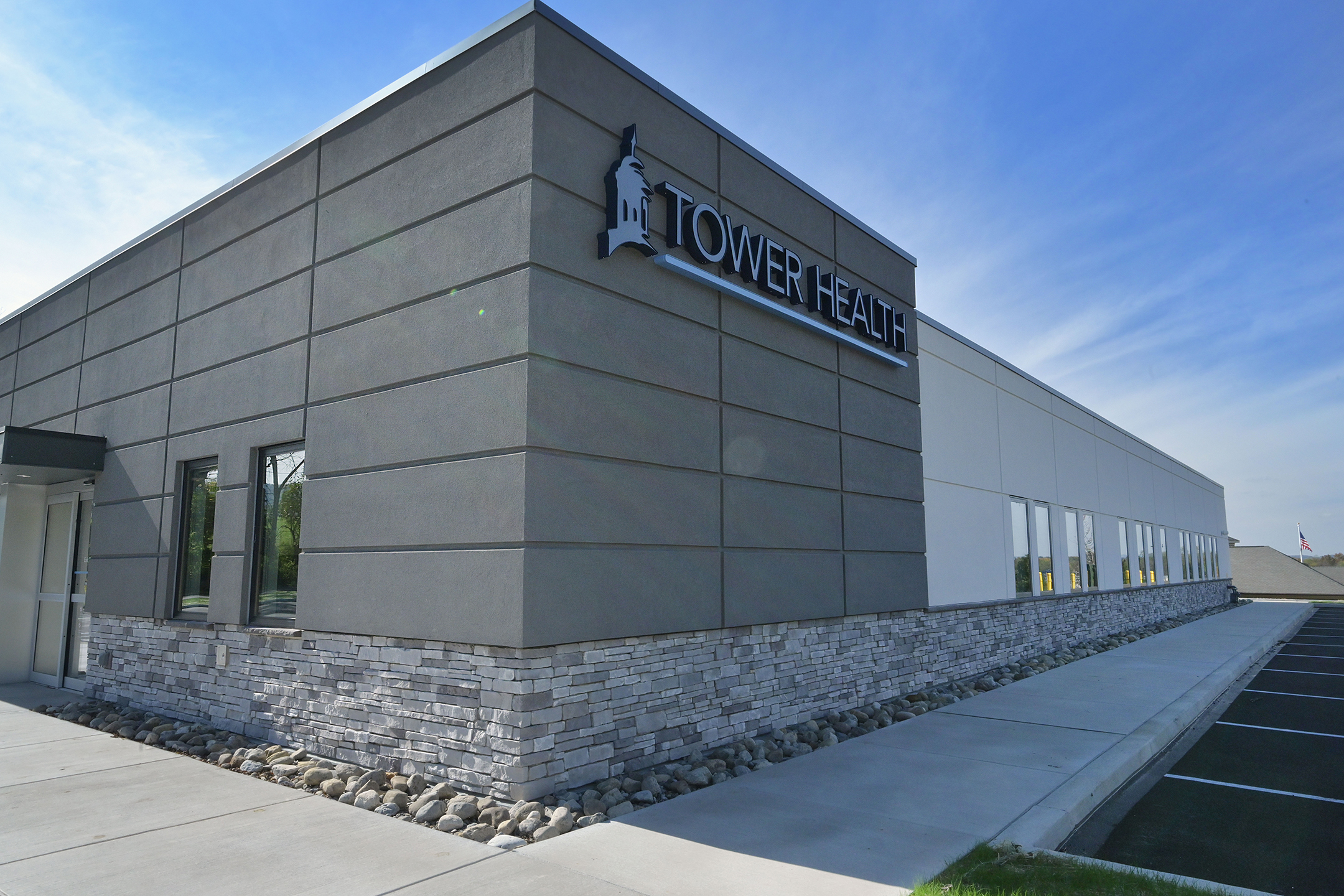 Perhaps the most impressive job that Paramount is working on D&B with is the 80,000 SF adaptive reuse building currently being renovated in the heart of Wyomissing. This five-story building will be the future home of Stratix Systems' headquarters.
Our Project Manager, Andrew, plays an active role in the daily management of what is occurring at the jobsite. This is what he had to say about his experience working with their team on this job: "Paramount has been an integral Trade Partner on our project at 200 N. Park Road in Wyomissing. Their Project Managers and Site Foreman have brought knowledge from previous projects on nearby, similar style buildings that have aided our project in design, constructability and schedule. Their crews have been more than accommodating with a stubborn building that has required much coordination and numerous details from the Architect."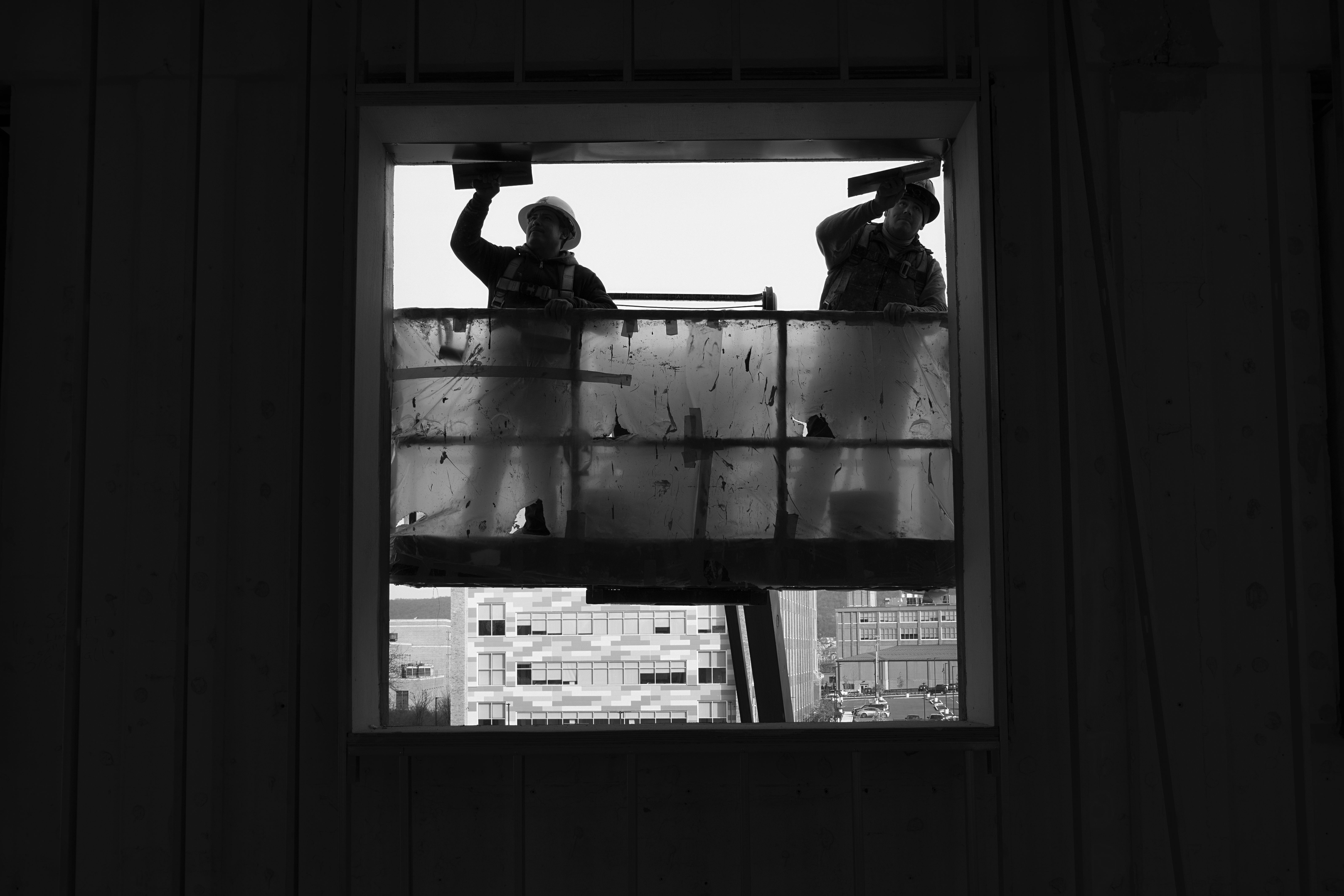 Andrew also had the pleasure of working with Paramount on three other projects, including his first job with D&B nearly one year ago, Kingsview Partners. He looks forward to "continuing our strong relationship with such a great Trade Partner" as we head into completing more jobs with them in the New Year.
Oh, and did we mention the Paramount team has some pretty great cooks, too?! This past October, Paramount was kind enough to host a home-cooked BBQ luncheon at Stratix Systems' future new headquarters for all D&B employees, ownership, the project architect, RHJ Associates, and even invited us to invite other Trade Partners on the job. It was a great day of camaraderie onsite as we all learned about the intricate details of this detailed project. "Their BBQ was the launching point for one of our company's on-site safety training sessions, and attendance was most definitely enhanced as a result of the promise of good food. We were and still are grateful for their efforts," reflect Andrew.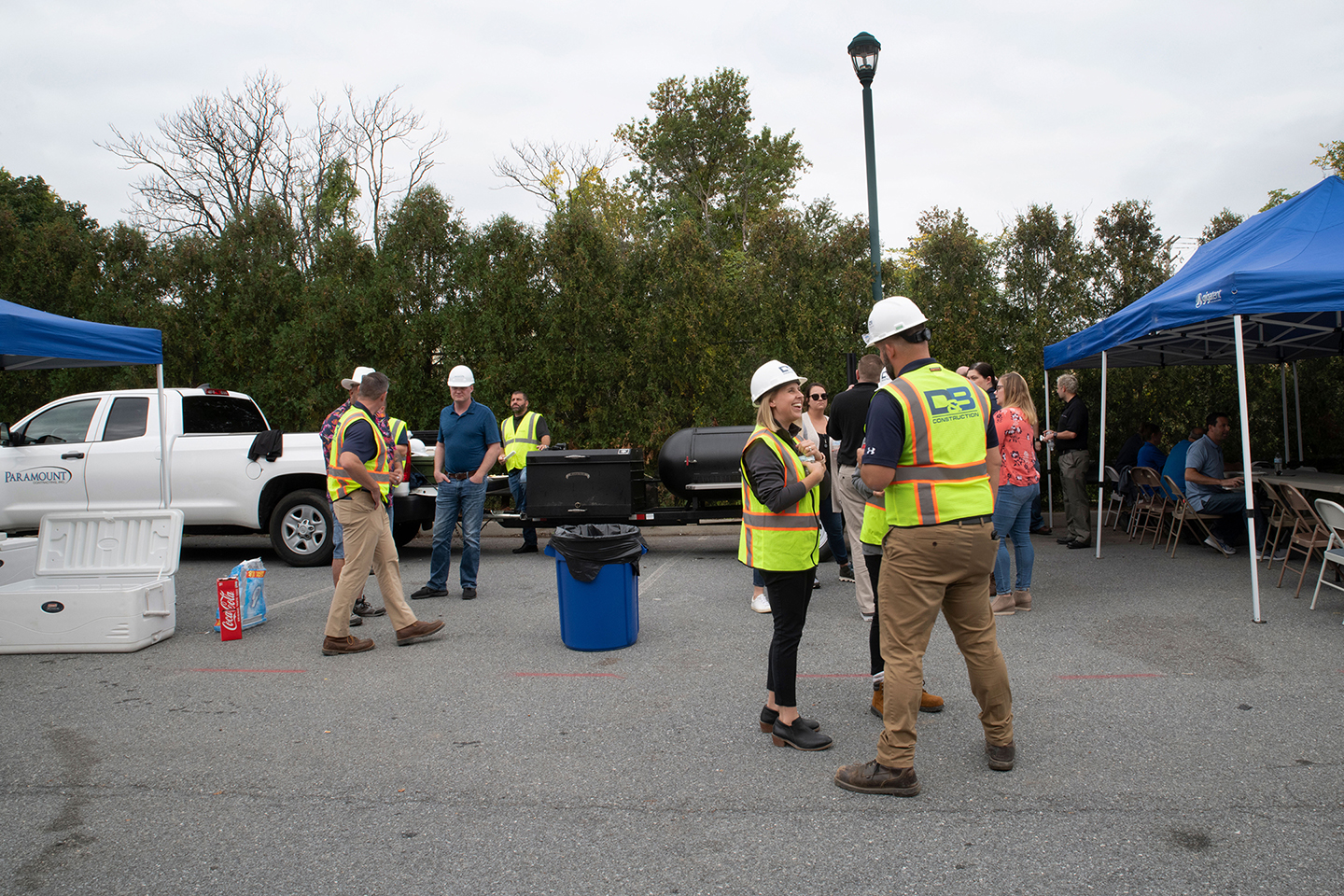 We sat down with Jeff Mylin, President of Paramount Contracting, for a quick Q&A:
Q: Paramount Contracting has completed 4,100 jobs since its inception. What project are you most proud of to date and why?
A: "It is hard to choose just one, but the Ann B. Barshinger Cancer Institute in Lancaster, PA would be near the top. It is a respected facility in our home town and architecturally impressive building."
Q: What's the best piece of advice you would give to others looking to get into the industry?
A: "You have to have a love for the industry. Construction is a tough business with demanding schedules, tight budgets and currently material and labor shortages. Yes, there are many challenges but it also can be very rewarding when seeing the job come to completion. Those of us in this line of work understand how it feels to drive by a finished project and feel a sense of pride that 'we helped build that.'"
Q: You are completing a number of projects with D&B right now. What has your experience been like working with our team?
A: "D&B projects are clean, organized, and safe projects to work on. They communicate clearly with all of the trade teams, which leads to successful projects. We have made a significant investment into bidding to D&B and we feel that has not gone unnoticed. Subcontractor loyalty is obvious, which increases effective teambuilding."
Q: What do you enjoy most about working on a D&B project and why?
A: D&B Superintendents, Project Managers, Engineers, and support/admin staff are always accessible and willing to help. Coordination and scheduling are always well thought out and communicated from planning to completion. The jobs are often local, and our employees enjoy investing in the buildings in their community."
At D&B Construction we like to think of our trade partners as an extension of our team. We are proud to call Paramount Contracting an extension of the D&B family. Every project we have collaborated with them on results in a final product that both teams can be proud of and that our customers can look forward to.
Open floor plans in office spaces first made an appearance in the 1940s and later evolved in the 1960's where they were used as a means of symbolically showing the company's culture. Offices with open floor plans continued to be prevalent during the tech boom of the 1990's, and in 2005 they became a real inspiration for innovation.
In 2005, Google completely renovated their headquarters signaling the "dawn of a new professional era." The project architect, Clive Wilkinson, explained that they got rid of the cubicle because of Google's "We're inventing a new world, why do we need the old world?" attitude. Many companies followed suit in later years, asking to be "Google-fied." Just 10 years after Google's office transformation, Facebook would follow suit, creating an office space that held 2,800 employees across 10 acres. The headquarters would claim to be the largest open floor plan office in the world.
Offices with open floor plans have become a major trend in recent years. Although they all don't span across 10 acres like Google's may, they still pose a timely question as people return to the workplace: Will this office layout and design work in a post COVID-19 world?
As the world rethinks how we work, it will be interesting to see how office layouts as we know them will transform in the upcoming years. Companies currently looking to re-imagine or add onto their office space may currently be weighing the pros and cons that an open floor plan offers. Let's take a look at some of them:
Pros and Cons of an Open Floor Plan
One of the biggest arguments supporting the open floor office design is that it provides the employee with a unique social aspect that other office designs do not offer. The social interactions in an office can provide a large system of support to your employee, helping with the individual's motivation and overall productivity.
Depending on its design, an office can provide a balanced social and cognitive environment for their employees. When optimized, an open floor office design will have a good mix of spaces that are intended for different uses and easily adaptable to fit the employees' specific needs.
One way that our team at D&B likes to incorporate an open floor plan into a re-imagined commercial office space is through installing aesthetically pleasing glass doors throughout. This trend gives companies a modern, sleek and updated look. An example of this look from one of our past clients can be found in Power Kunkle's large conference room.
Although many would argue that open floor plans are here to stay, some would dispute that noise, a lack of privacy, and opportunity for distraction may cause an increase in errors, lack of production, and sometimes stress with this layout design. In 2018, the Harvard Business Report found that "open offices reduce face-to-face interactions by about 70% and increase email and messaging by roughly 50%."
This quick look at the pros and cons of an open floor plan illustrates that this design is not a one size fits all solution. Members of Team D&B believe that transformative office spaces will increase in demand, and it looks like the latest research agrees.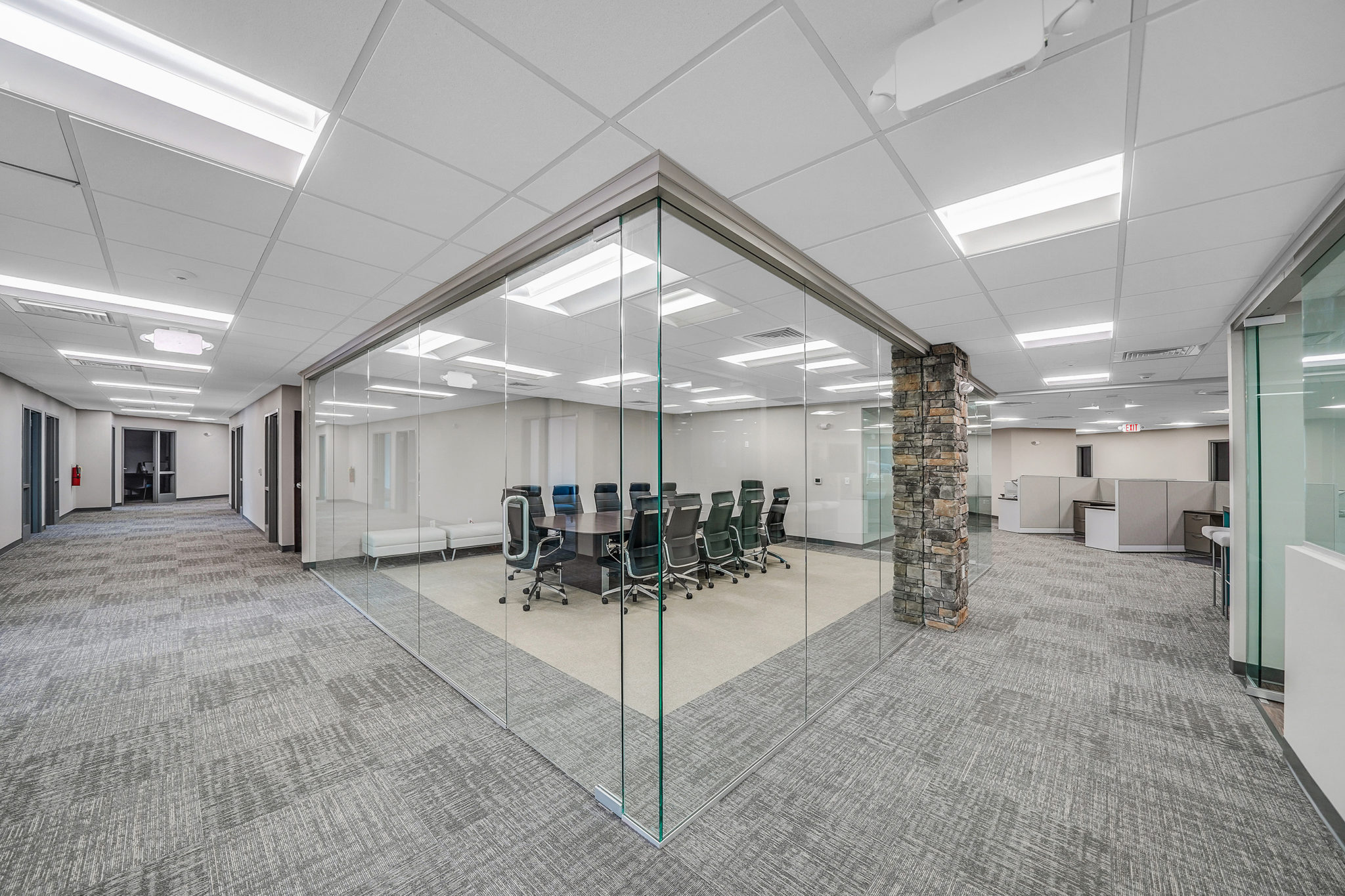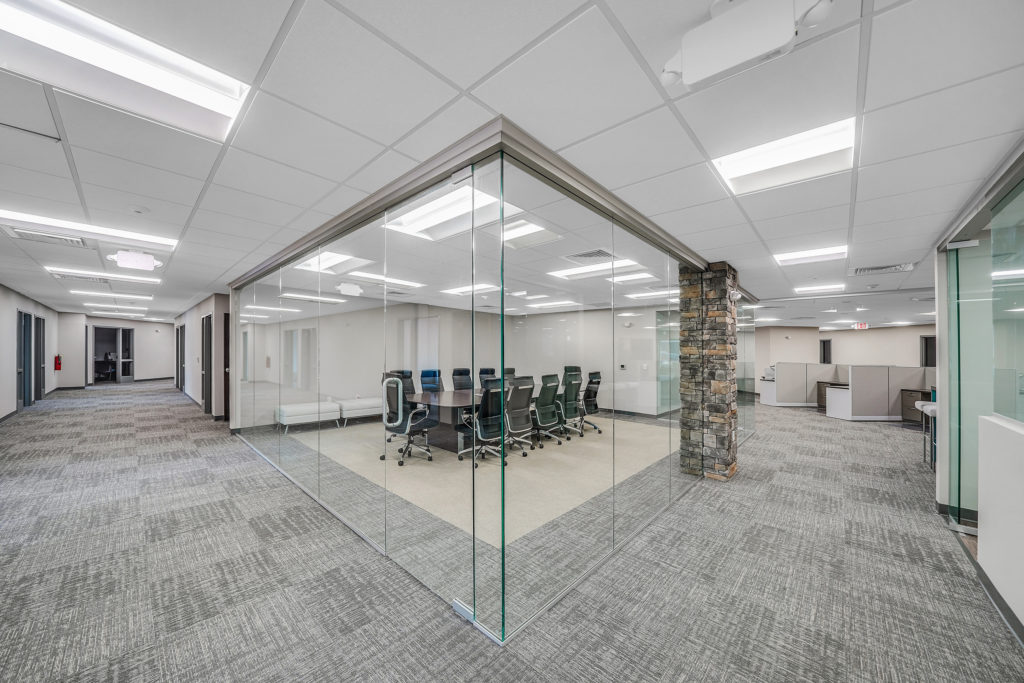 Transformative Offices: The Solution to Future Commercial Office Space
As businesses leaders look to redesign their office space in the near future, they will need to think of how they can cater to different employees and their varying workflows. Some may thrive on collaboration and interaction, an essential component to build company culture, foster relationships, and create a team-oriented atmosphere. On the other hand, there will be times when some employees may be more productive in a quiet environment where they can focus. The solution to these varying needs? A transformative office space.
D&B Construction's Pre-Construction Manager, Bob Martzall, has noticed that "some businesses have been expressing their desire to have flexibility" as they work with D&B as their general contractor. One way they are achieving this goal is through modular walls. Bob explains how "modular walls can provide an office with a great amount of flexibility and safety, as these are walls that you can take down, move, or shift."
On a larger scale, one company that has taken flexibility to a whole new level is Salesforce. In February of this year they announced that employees would "have the option to work remotely full time, even when it's safe to return to the office." Their new guidelines offer employees the option of working full remote, flex time in the office, or completely office-based. Employees who choose to work the "flex" option will have the flexibility of coming into the office between one and three days per week when they need to perform tasks that may prove challenging over a video conference call, such as working on collaborative projects or meetings with clients. So how will this extensive change affect the company's 19 physical offices in North America alone… specifically the recently completed 1,070-foot-high Salesforce Tower in San Francisco? The company has announced that they will be redesigning offices as "community hubs" that will replace rows of desks with multiple collaboration and breakout spaces.
D&B Construction's Philadelphia office recently completed a 10,246 SF commercial office design-build project for Berger Rental Communities at their new West Valley Business Center location in Wayne, PA. Their new collaborative room is one of their employees' favorite spaces. Lesley Yocum, a Project Manager out of D&B Construction's Philadelphia office who also played a major role in designing the client's space, said that they knew they wanted this space throughout the entire design process.
Research looking at today's high-functioning workplaces show that employees are spending much more time on collaborative activities. Lesley agrees – especially right now. "People are returning to a 'new' office layout with more space between their co-workers. Because of this, collab rooms will be utilized as both old fashioned conference rooms and a place where you can go to get 'comfy' and discuss since that's what many people are accustomed to now after working from home for so long."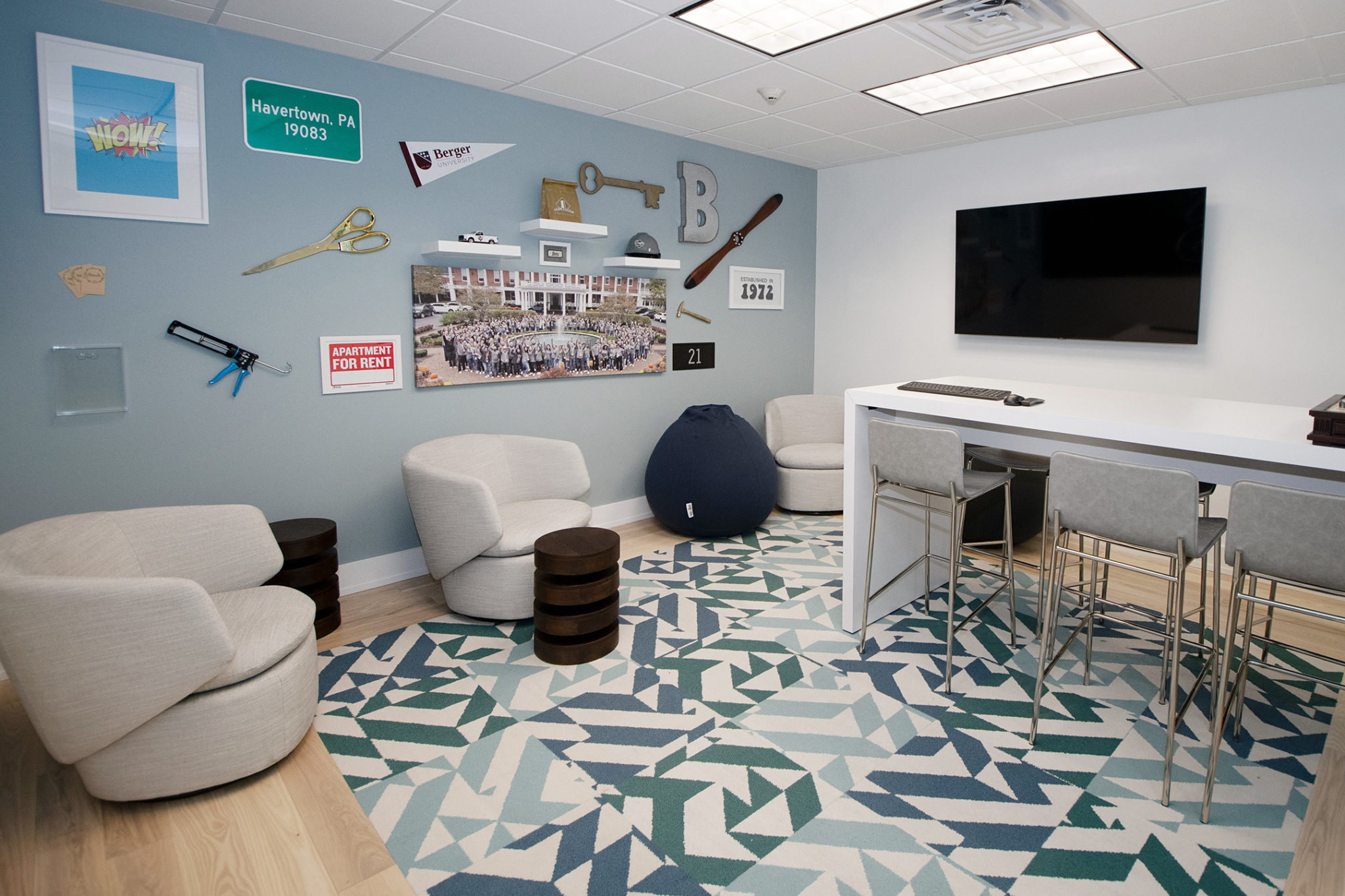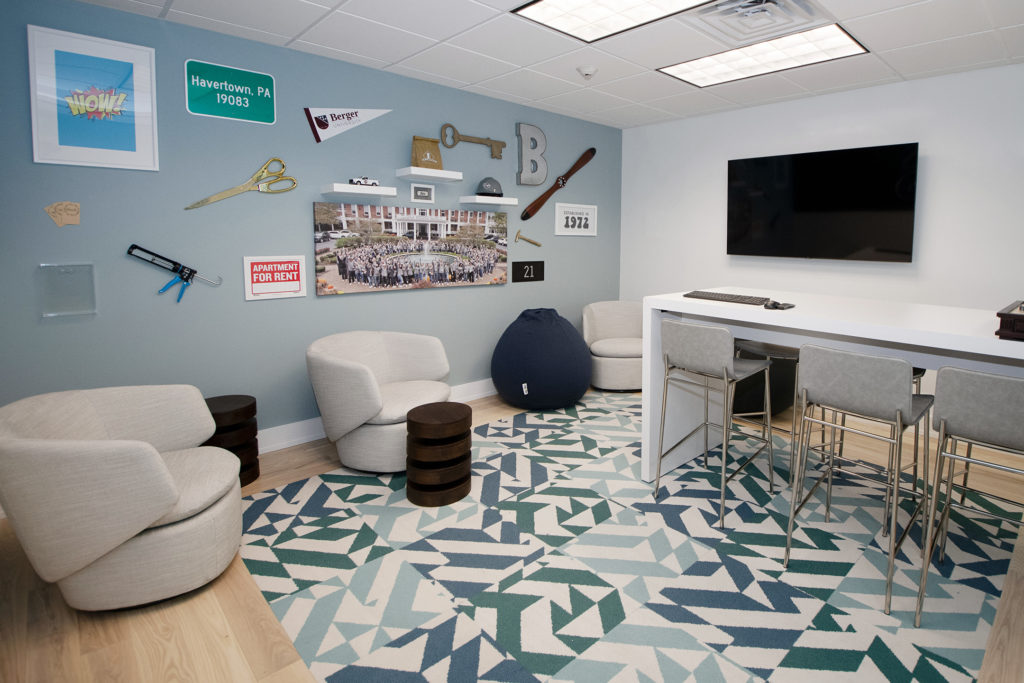 Community Space May Be Key
Unique spaces in open floor offices can include coffee bars, lounge areas, and other spaces designed to make everyone feel welcome, while still encouraging open communication and collaboration. This welcoming environment can be found at D&B Construction's most recently completed project for Riverfront Federal Credit Union, who just held their ribbon cutting ceremony on June 16. The credit union's newest branch and Operations Center features cutting edge technology with a drive thru consisting of three Interactive teller Machines (ITMs) and self-service kiosks offering Video Integrated Realtime Assistance (VIRA). Inside their new 34,000 SF office space, you will find that Riverfront's strong belief in the value of face-to-face banking has not been lost. The interior is set up in a manner that's more interactive than a traditional bank, and members are welcome to relax in a comfortable seating area while they complete financial transactions.  A café will soon be open to the public as well, further promoting a sense of community. Learn more about this project and how it has created a grand customer experience through both technology and in person banking options here.
Embracing Technology for Everyone's Safety
As D&B's recent project with Riverfront Federal Credit Union depicted, and to no one's surprise, an even stronger emphasis will be placed on technology as the future of work evolves. One way we are already seeing this? Our clients want their conference rooms to be decked out with cutting-edge technology that will allow them to host video conference calls in their meeting spaces. Our Pre-Construction Manager, Bob, has already seen rooms with cameras and microphones that are set up to instantly switch over to the person talking and simultaneously broadcast them to the Zoom meeting. A room like this is something businesses may want to seriously consider if they are designing an open-floor plan, especially if they predict to be in a hybrid working environment.
Bob predicts we will see "more hands-free devices and more technology-oriented safety" in the near future. This can include investing in Bluetooth technology throughout conference rooms so employees don't have to touch a speaker or shared phone. Doors can also be fully controlled by an app on your phone or simply don't need to require handles and can instead swing open both ways by pushing them with your shoulder or foot. Hands-free water dispensing systems are another trend that Bob has noticed. Want to be health conscious while also looking out for the environment? Try installing motion lights throughout the office, from conference rooms to bathrooms.
Limiting high touch point areas such as door handles strongly reduces the spread of germs, and for this reason, Bob imagines these current trends are here to stay for a long time. Case and point: The upscale conference room D&B completed for Berger Rental Communities' new headquarters at the end of April included a specific wall mounted camera with multiple speakers in the ceiling, motion lights with sensors throughout all offices, and dimming lights throughout all other areas. View more photos and learn more about this project here.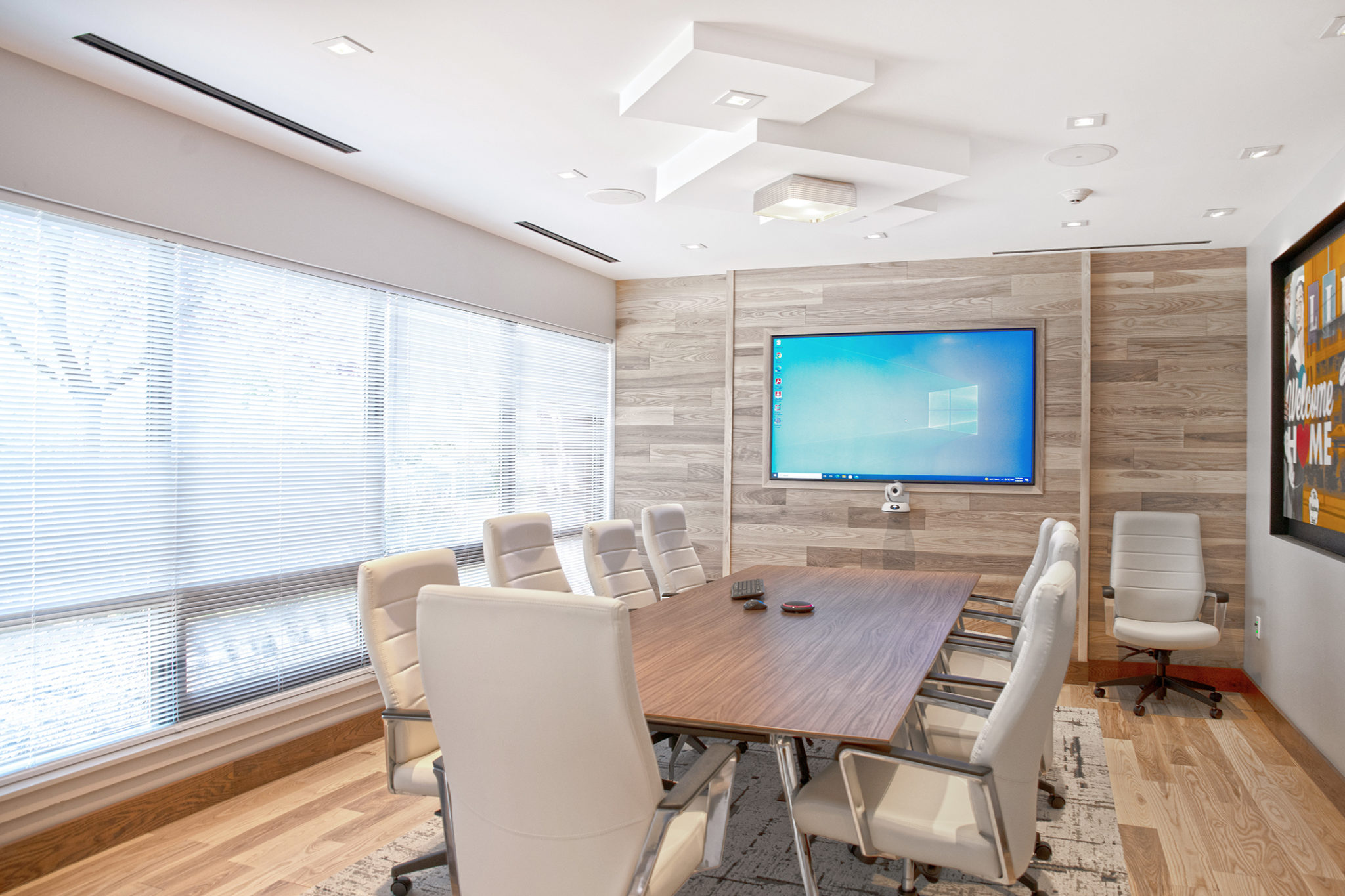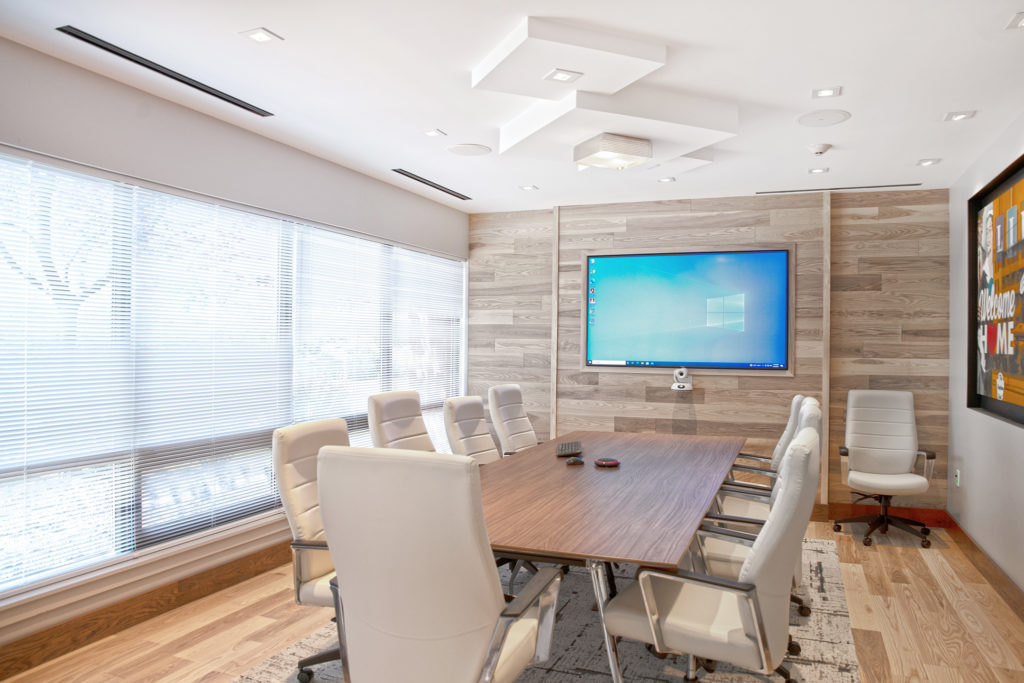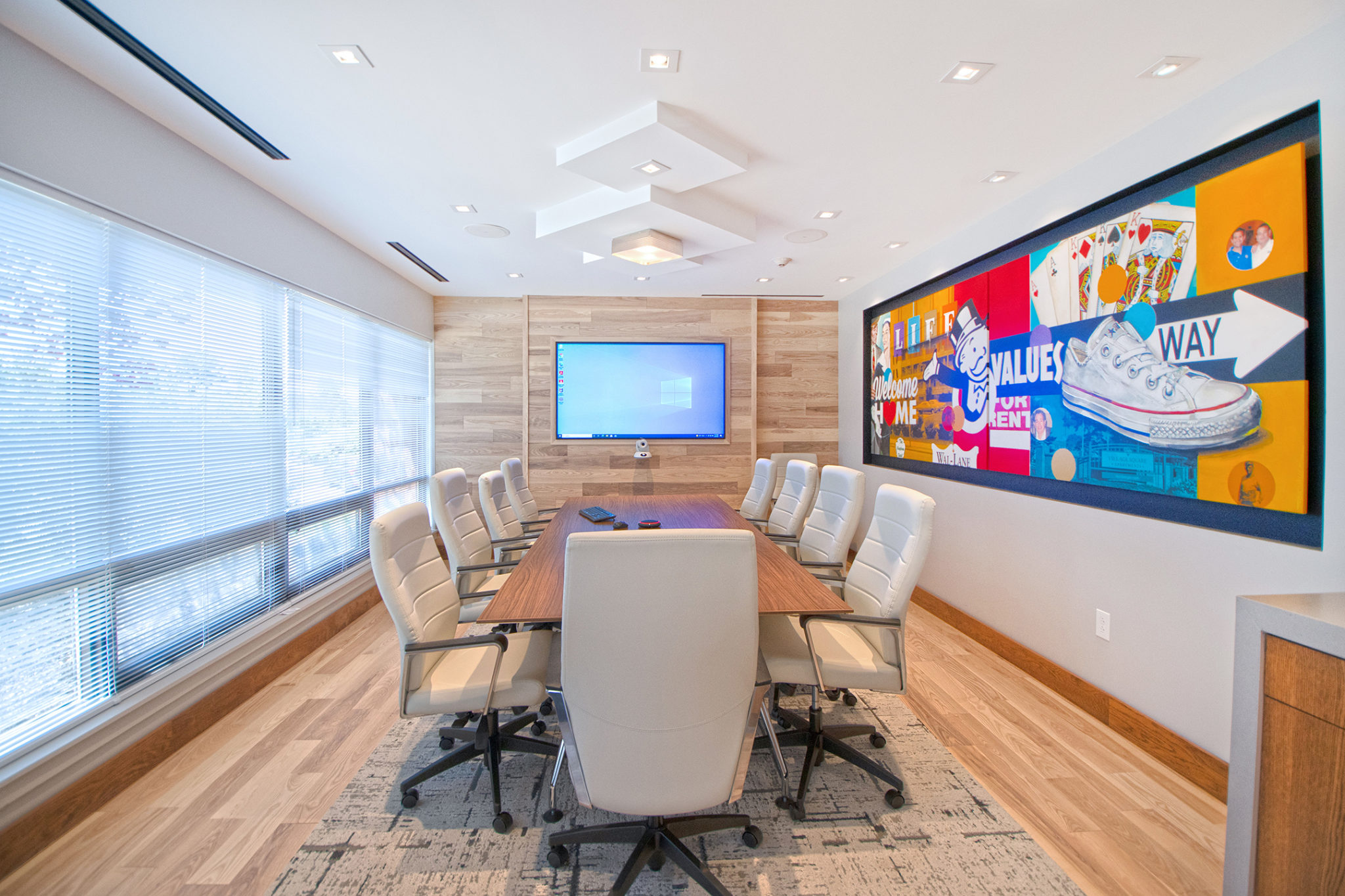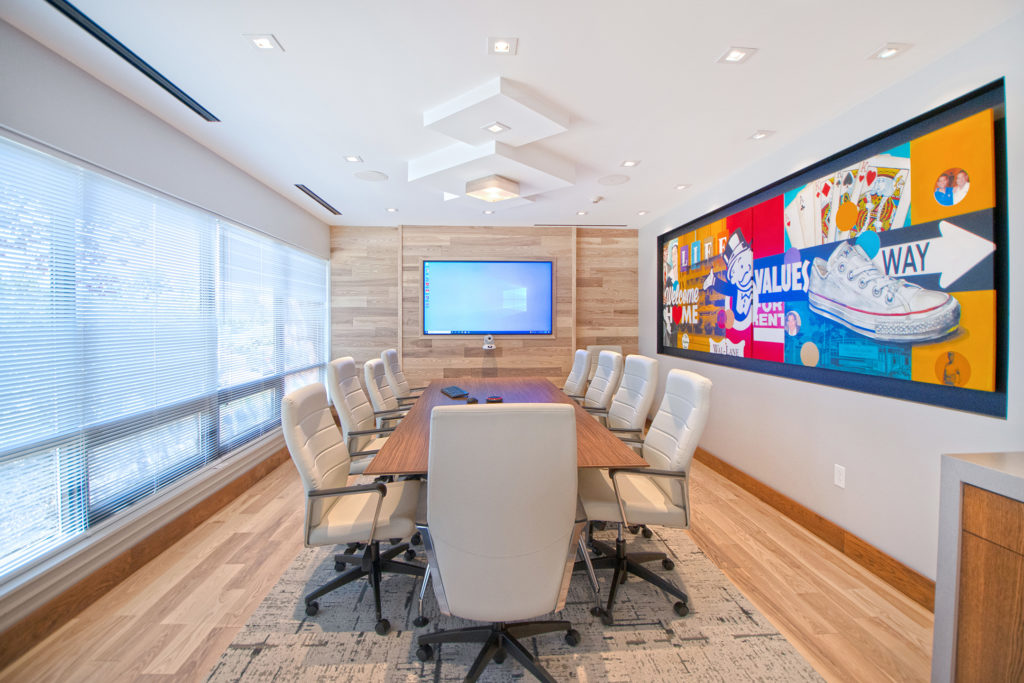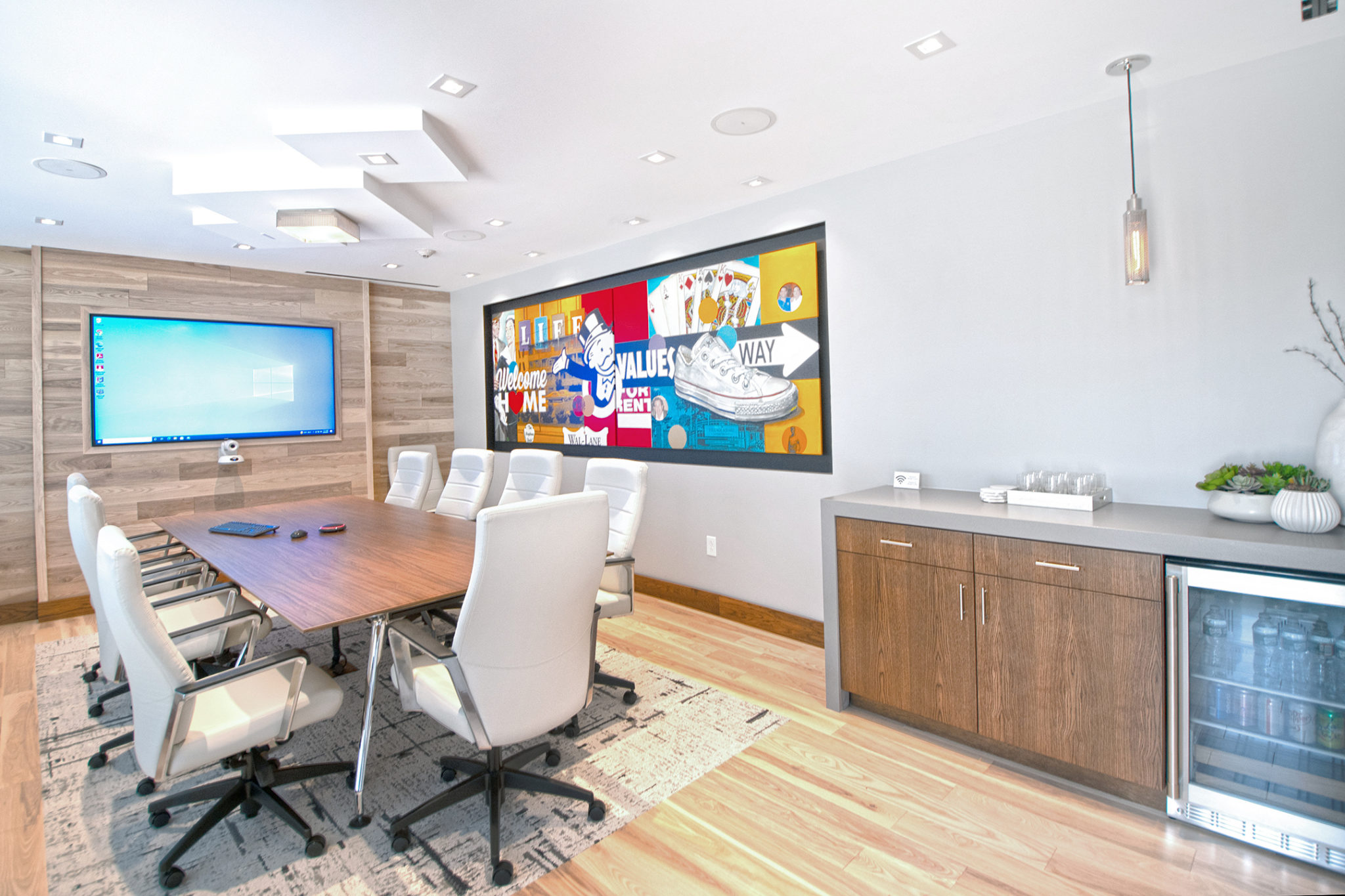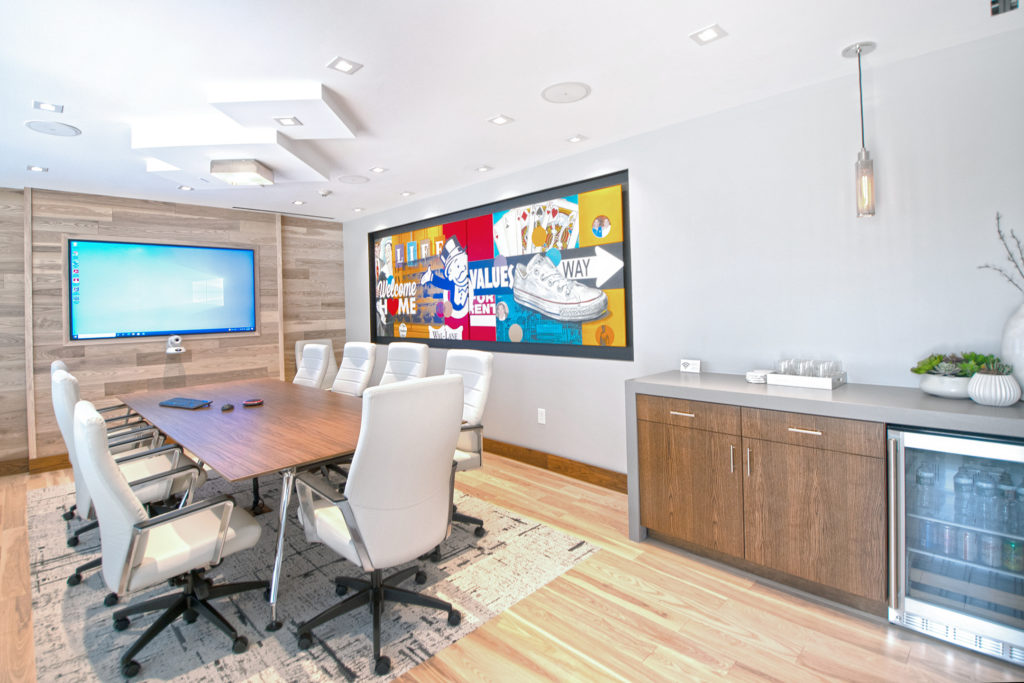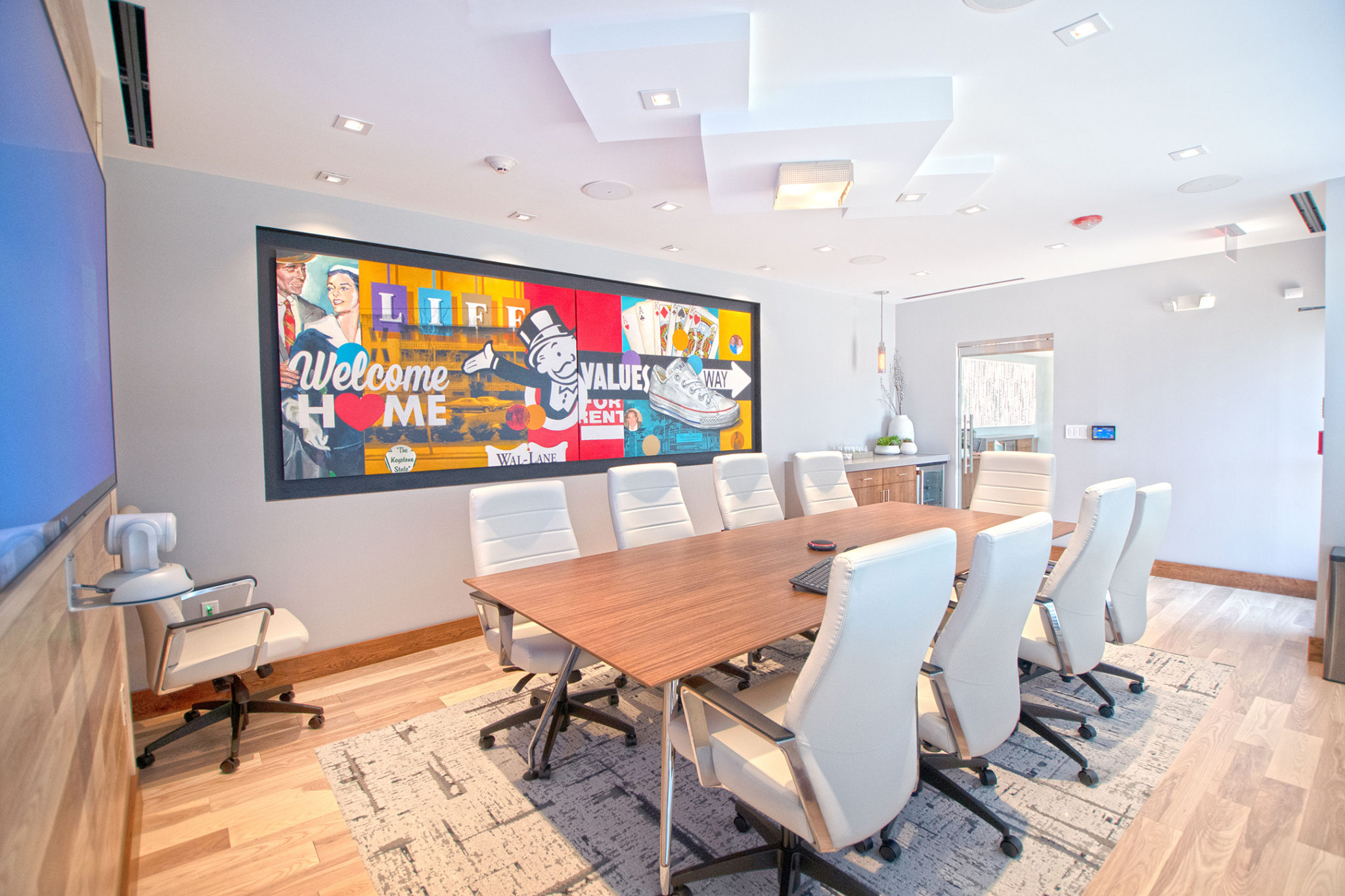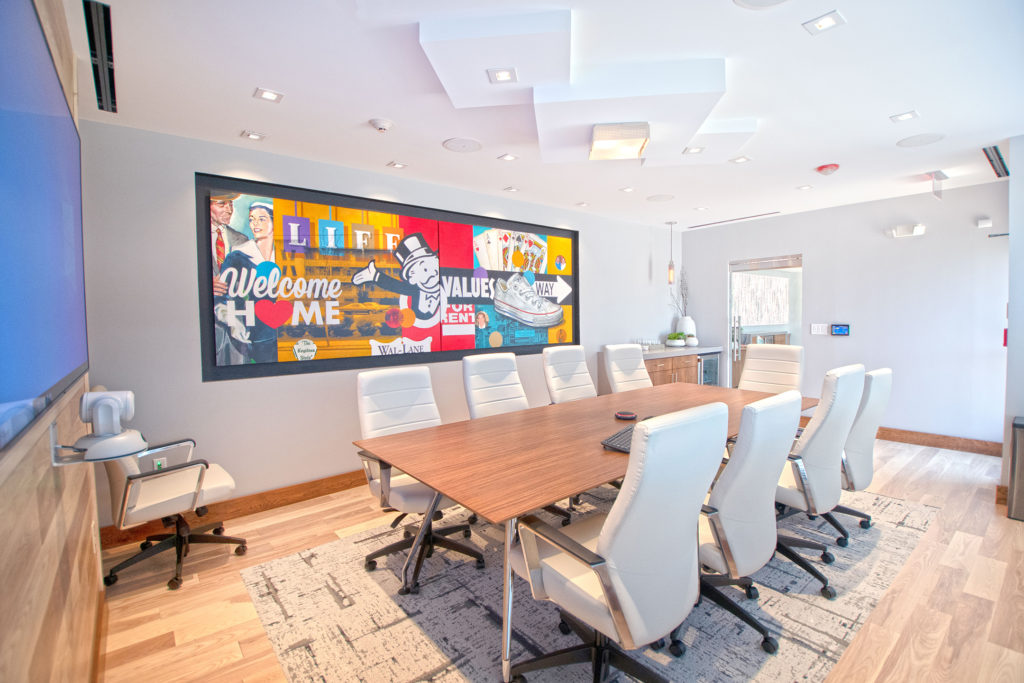 Moving Forward Post Pandemic
A study by USA Today shows that 35% of Americans prefer a home-office hybrid working situation, and 25% of Americans want to go back to the office full time. With over half of the population hoping to return to the office in some capacity, the question of how employers will accommodate for safety concerns and the "new normal" of flex time still looms over many individual's heads.
Bob believes safety will determine many office designs post COVID-19. He thinks that one of the most important things to include in your post COVID-19 office is environmental air filtration systems. This refers to how the air circulates through the office so that it is environmentally friendly, limiting the spread of germs and being sustainable. Bob has seen clients wanting to have this included in their project design.
Having more collaborative rooms may result in a more open floor plan being replaced with more individual office spaces (which may help some individuals feel more at ease with returning to the office). With 36 years of experience in the industry, Bob has noticed that "many offices are shifting away from a cubicle environment and instead building more individual office spaces." He believes that building more office spaces can make it much easier for an employer to provide safe precautions for their employees when necessary, thus explaining this recent trend. These adaptations can make a work environment flexible and safe for everyone involved.
As many companies continue the transition of shifting back into the office, Bob has noticed that companies across all sectors have been trying to get their projects fulfilled by construction companies. He says that this is because "the cost of borrowing is so cheap right now, so the cost of doing business is more economical. The question is, do you need the space?"
The companies who answer yes to this question (and companies such as Salesforce who need to re-imagine their spaces) will be left to map out how their office space should look in a post COVID-19 world. In some way, shape, or form, many businesses will have to change their office footprint in the upcoming years, whether through down-sizing, expanding or renovating their current space to fit future needs. This is something that is weighing heavily on the minds of many employers. Although daunting at first thought, this is an opportunity to create a new blueprint that sets the stage for office spaces for years to come.
After considering the thoughts of our industry experts, years of research, and the current state of the world, how would you design your office's blank slate to best meet the needs of your team?
We'd love to hear your thoughts and ideas in the comments below!