It's no secret that demolition is a big part of the construction process, so we love when the opportunity arises for us to make good use of a property prior to demolition taking place. More often than not, this comes in the form of donating office supplies, such as filing cabinets, that we may find left behind when we get the keys to begin an office fit-out. Most recently, we were able to provide various hands-on training opportunities for Western Berks Fire Department.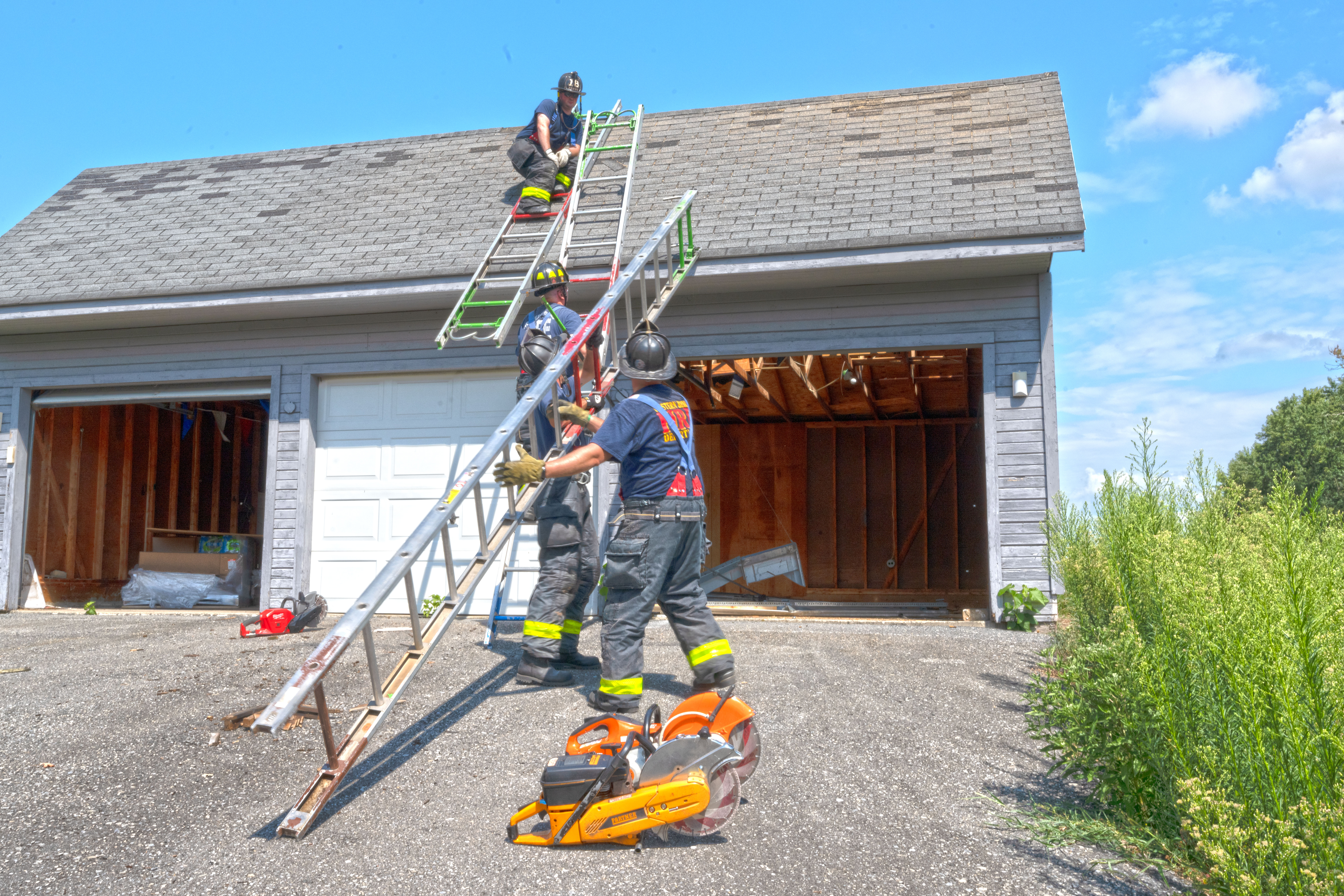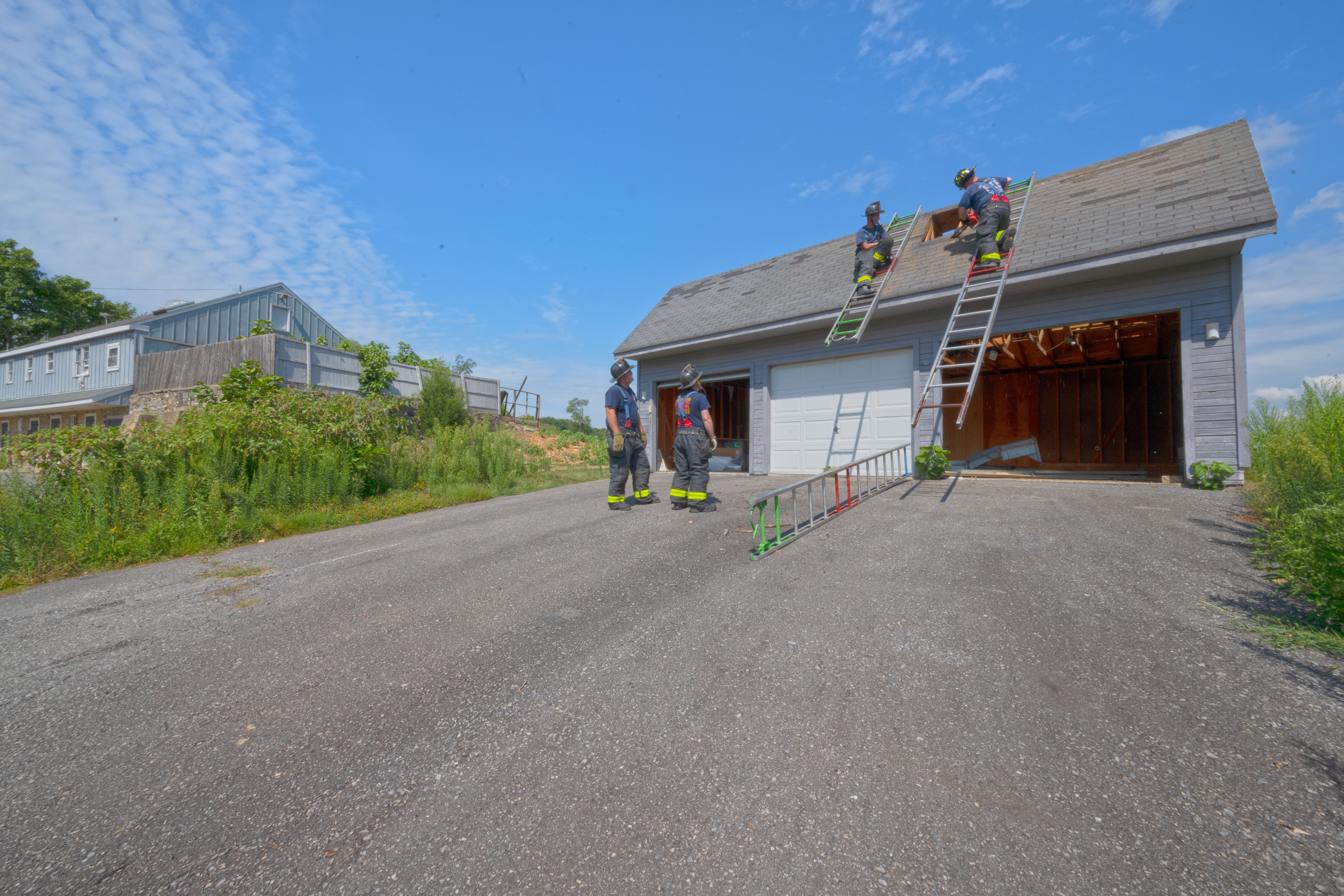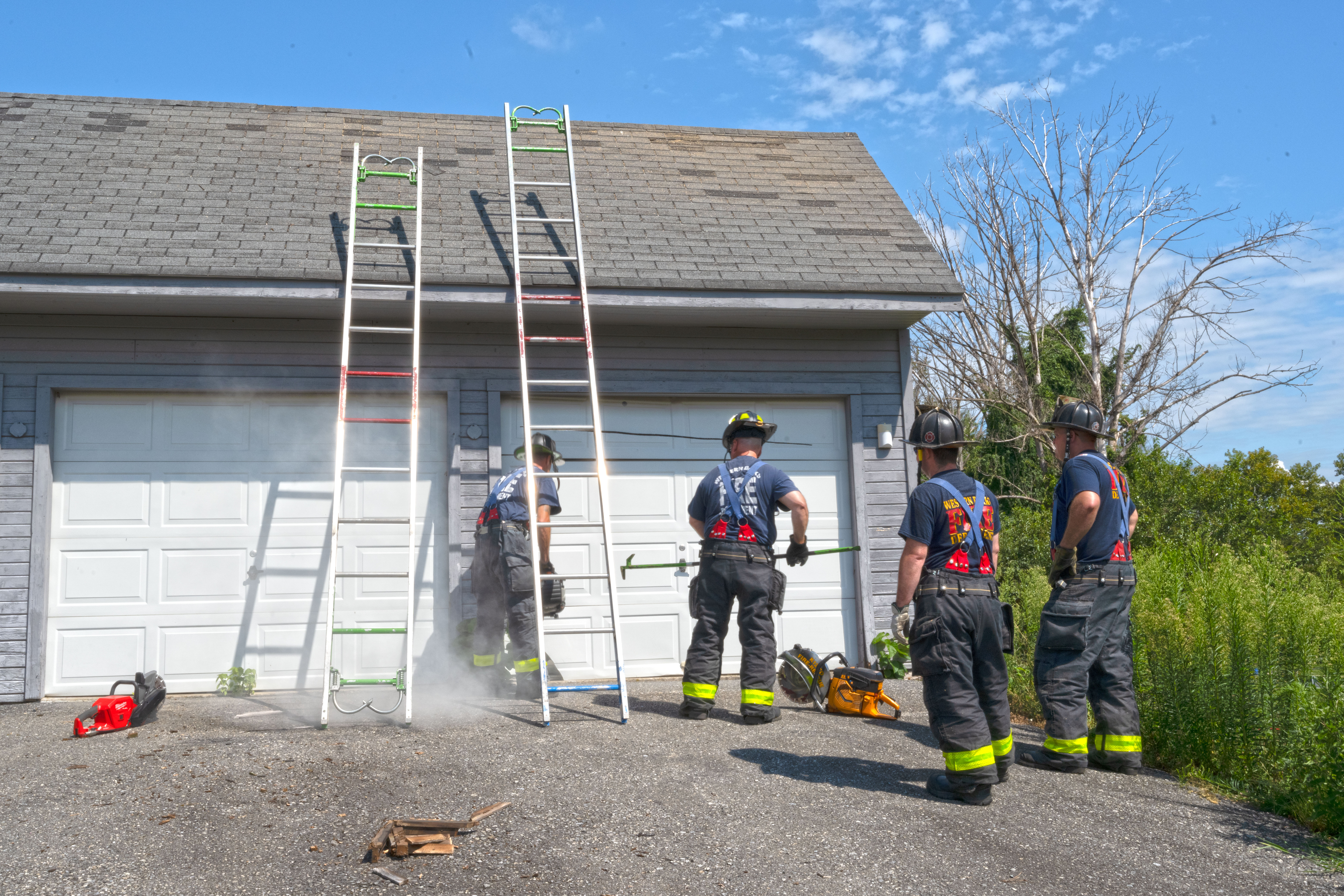 This was all possible thanks to the thoughtfulness of our Superintendent, Jason Holmgren, and the Vice President of our client, The Commonwealth Group, Don Robitzer. Jason, who has a relationship with the department's Fire Commissioner, Jared Renshaw, is leading this project on-site day in and day out. It just so happened that Jared was involved in the planning process with the developer awhile back. Jared and Jason were able to connect at the start of the project and coordinated the opportunity for the department to conduct training at the buildings at the former Village Greens golf course in Sinking Spring.
"I was happy and fortunate to be able to bring my past relationship with Western Berks Regional Fire Department in on a D&B project," explains our Superintendent, Jason. "The training went great! Commissioner Renshaw and his crew were fantastic! We are very lucky to have such a professional department serving the region."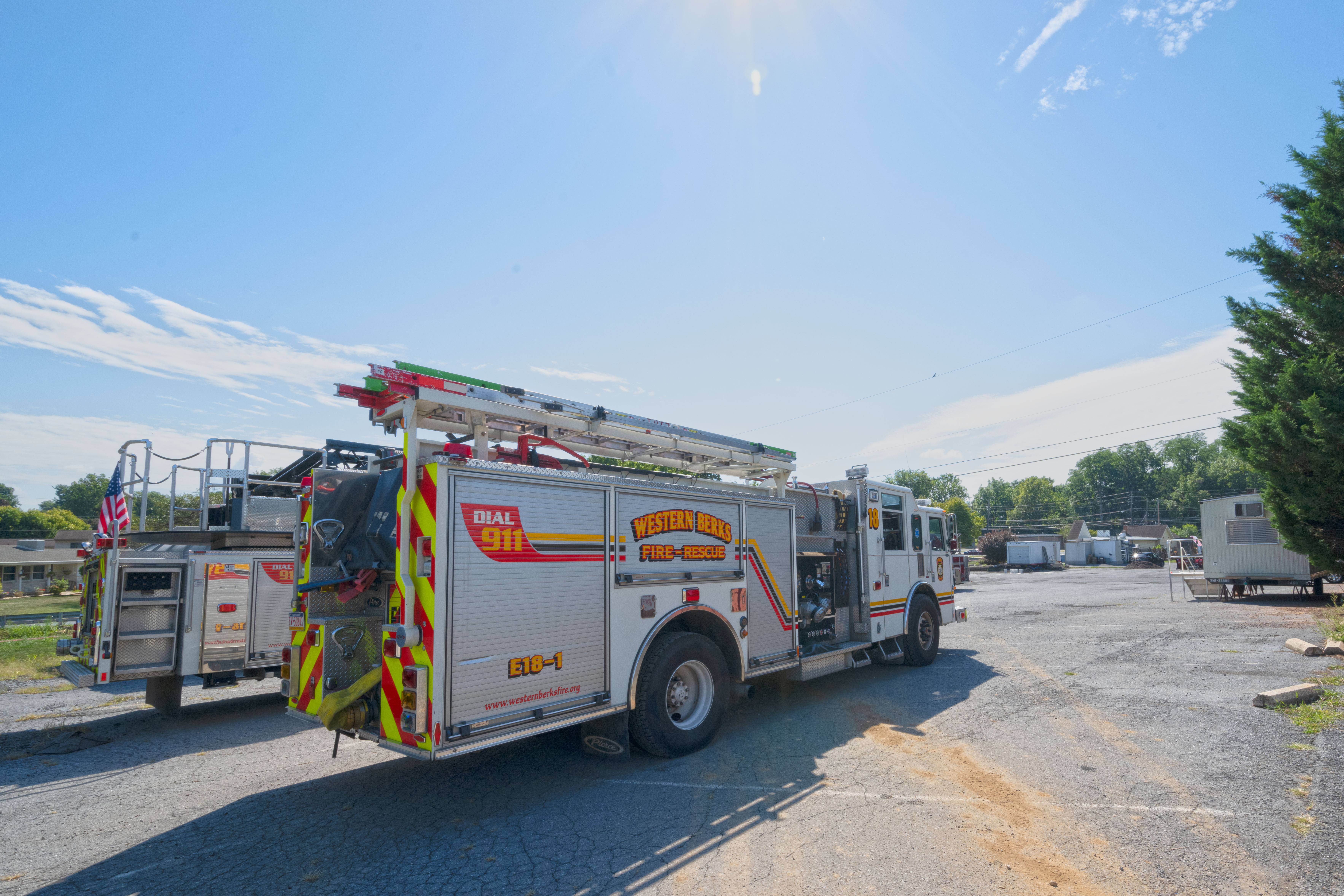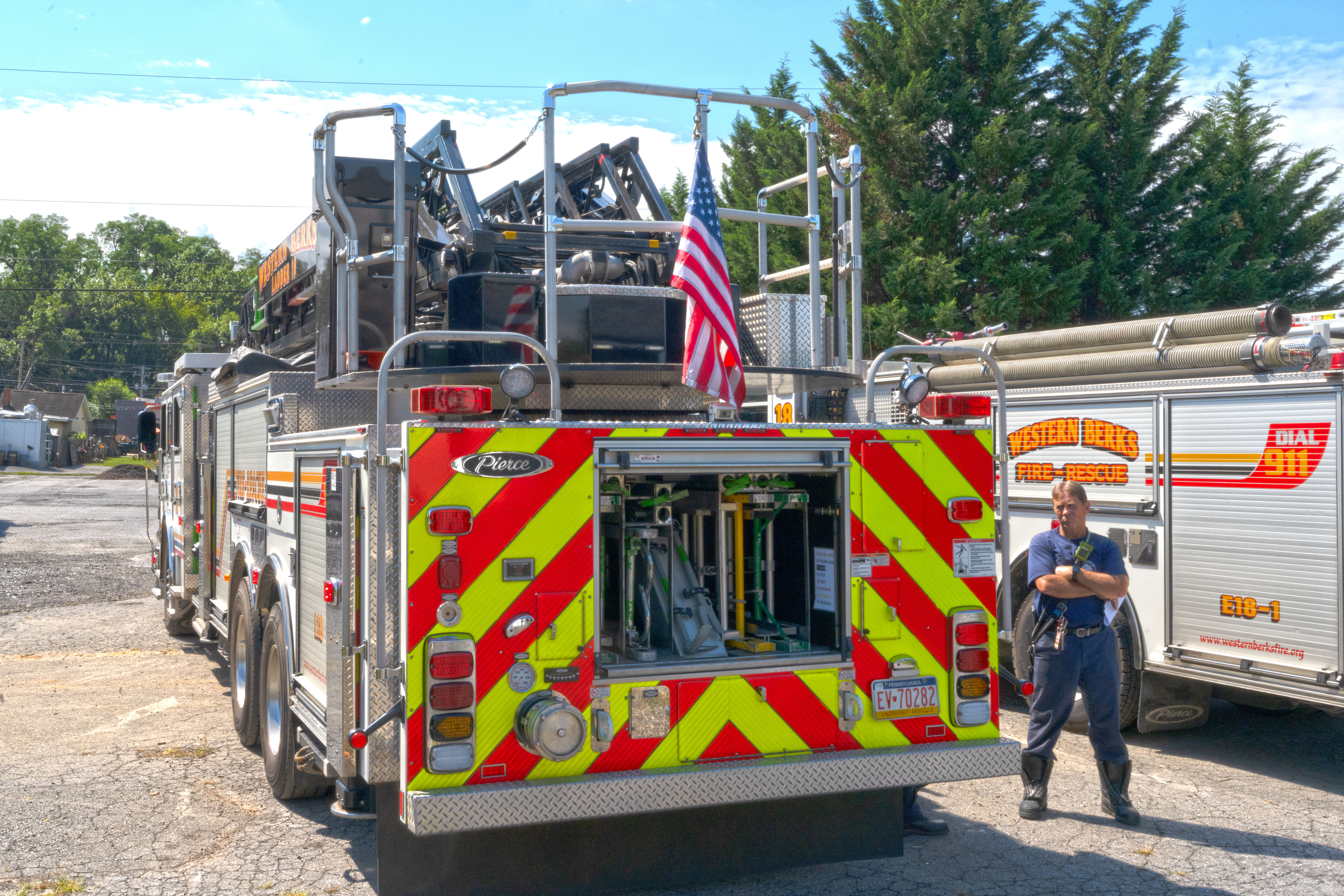 Western Berks Fire has answered over 550 calls so far this year, averaging 78 each month and over 1,000 in a year's time, so this training was invaluable to the department. Both career and volunteer members of the department took advantage of the training opportunity, which took place on multiple occasions over the last few weeks. Those in attendance fine-tuned their skills in the following area: Ground/aerial ladder deployment and placement, deployment and advancement of the 400-foot hose line, cutting garage doors with saws for forcible entry when necessary, and vertical ventilation, which involves using saws to cut through the roof.
"We are always training on these basic, perishable skills, but it's so much more beneficial to do it at acquired structures, as it makes it more realistic," explains Commissioner Renshaw. "Hands-on training like this allows us to be able to hone the skills that we will use on fire and other emergency scenes.  We emphasize being proficient in the basics, as they are the building blocks to being great firefighters. The multiple trainings had a great turn out, with 24 people there one evening.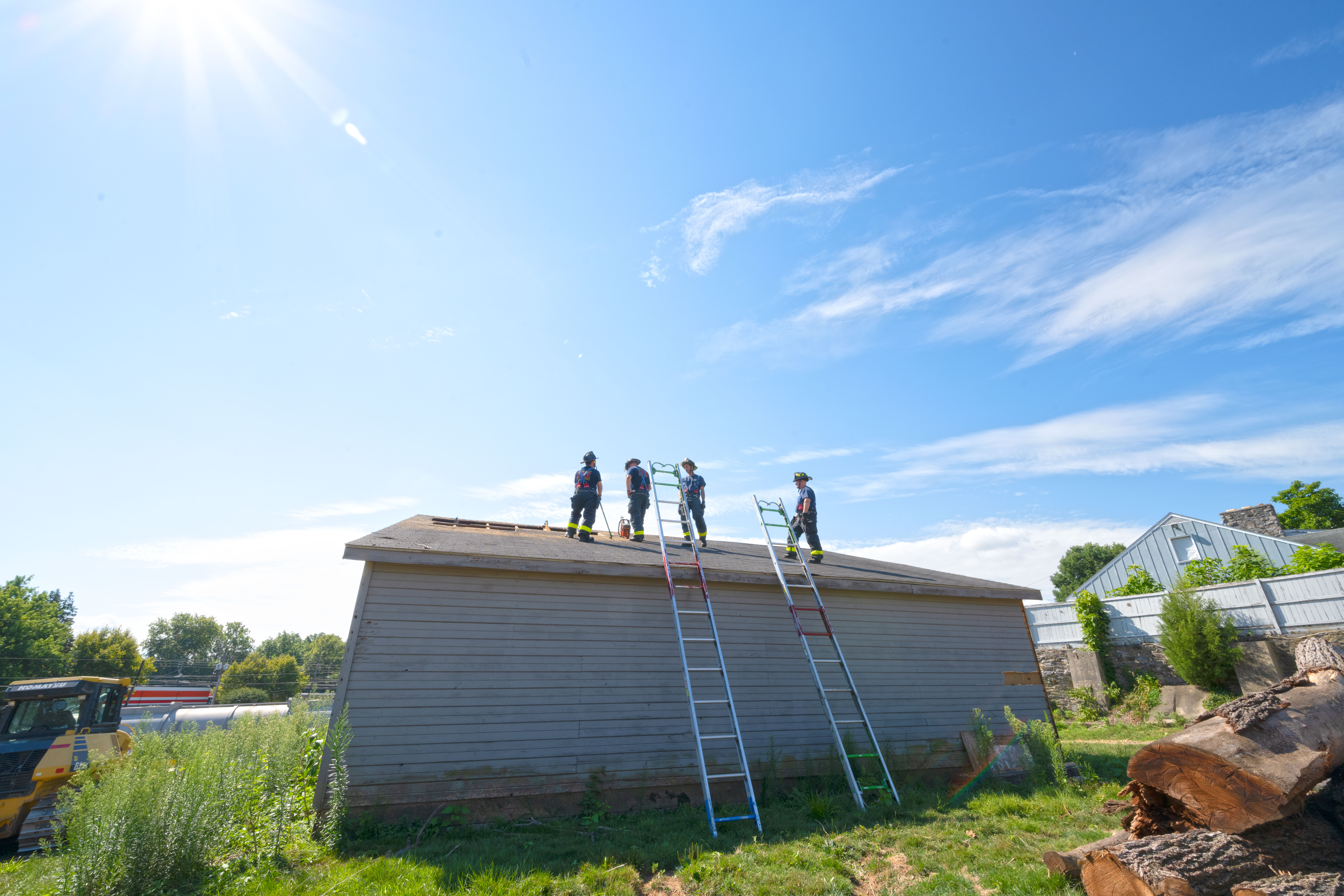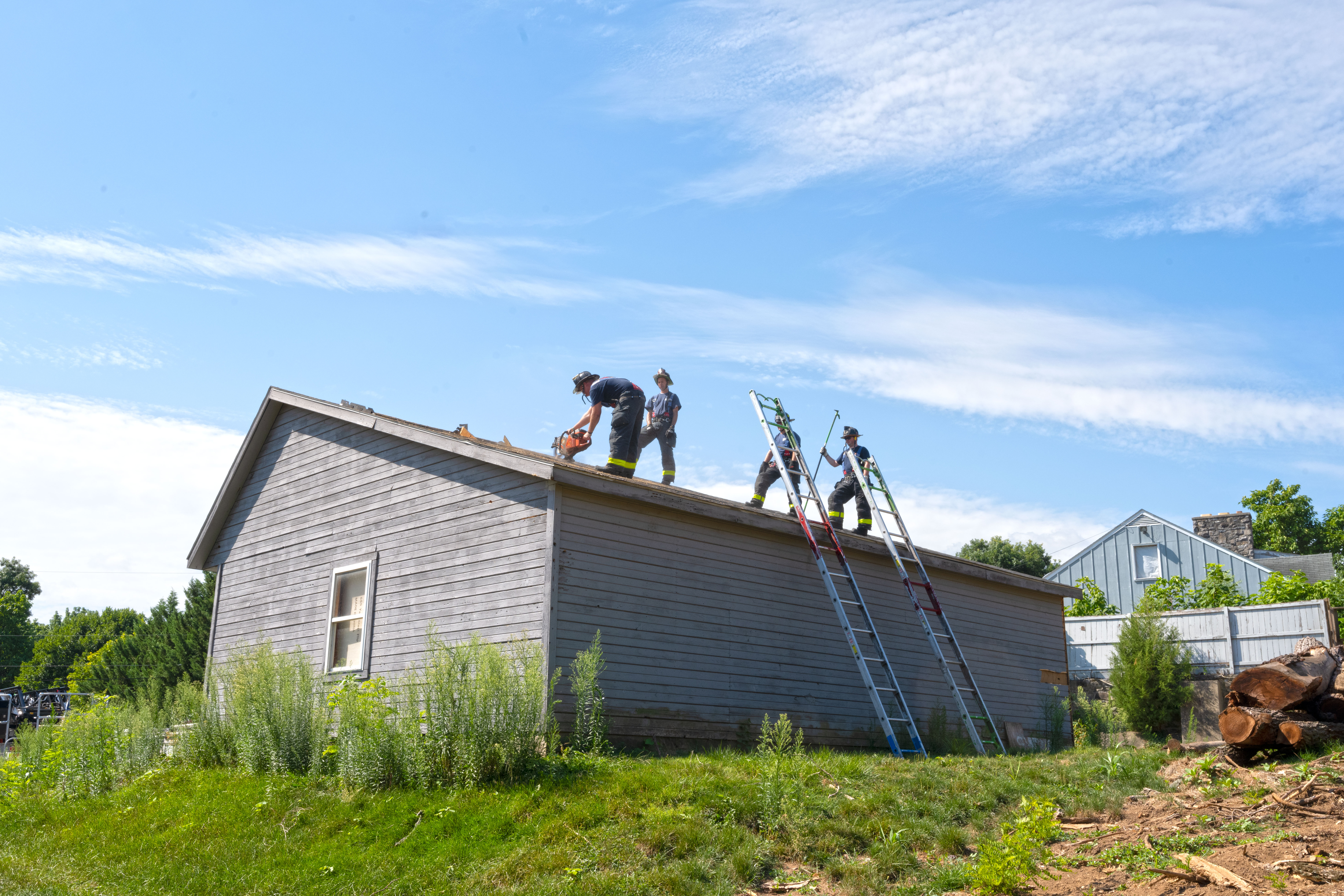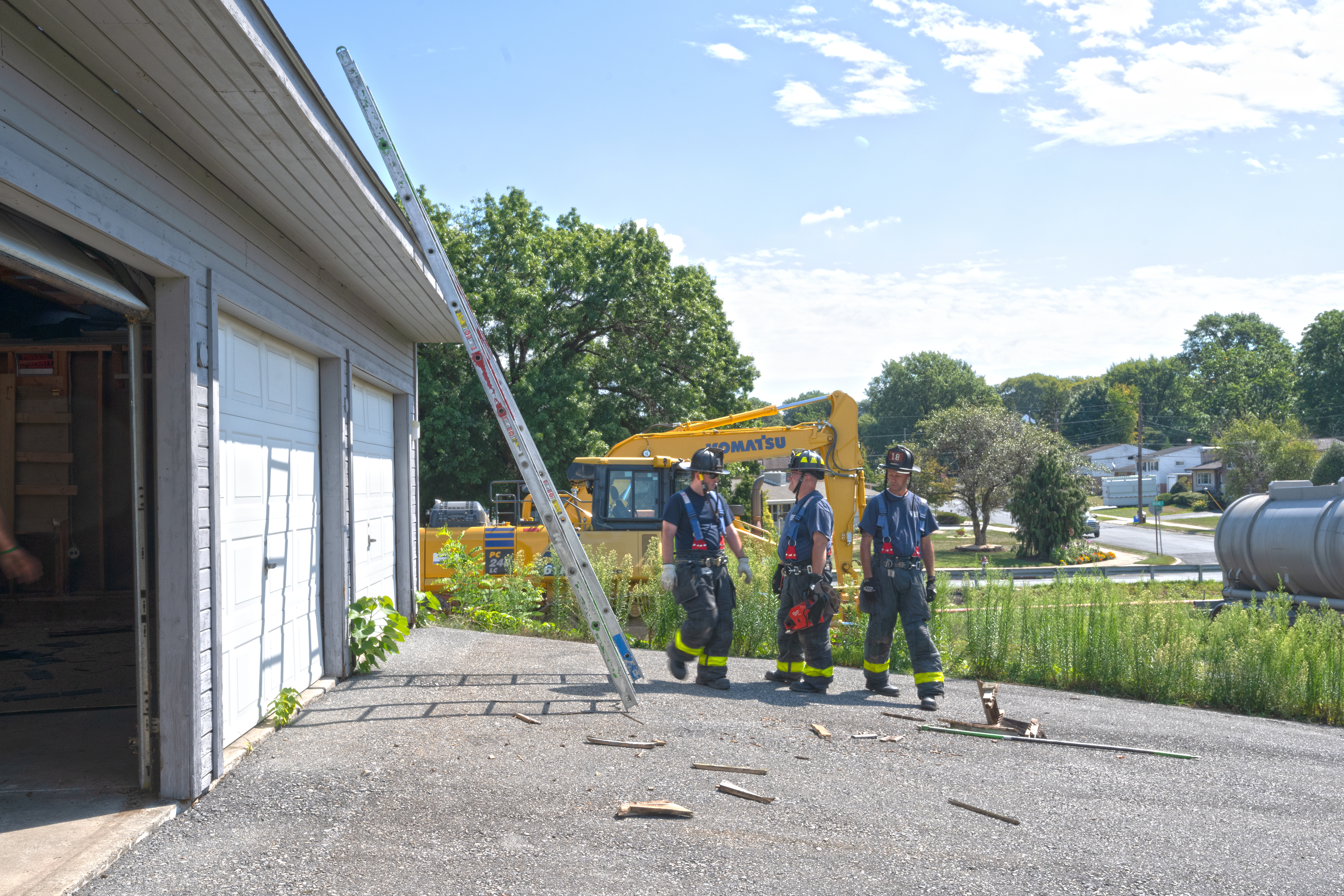 "We would like to thank the developer and also D&B Construction for working with us to facilitate this excellent training opportunity," posted Western Berks Fire Department on their Facebook page.
Western Berks Fire Department was organized and placed in service in 2009. The department serves and protects over 18,000 residents and hundreds of businesses in over 32 square miles throughout Sinking Spring Borough, Wernersville Borough, South Heidelberg Township, and Lower Heidelberg Township. Learn more about their department here, and learn more about what is being constructed at the former Village Greens golf course here on our website.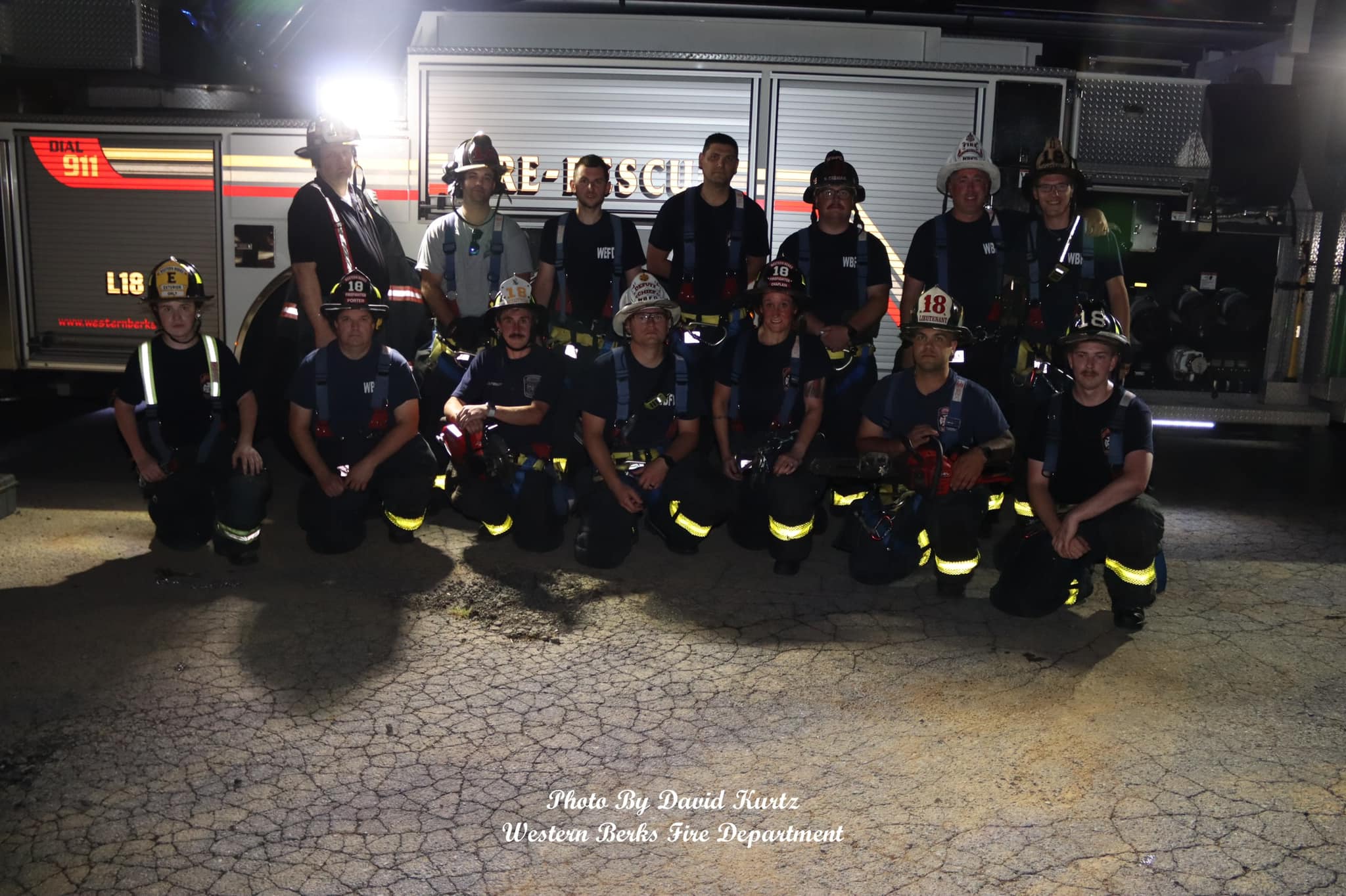 D&B Construction's partnership with Quality Buildings, a commercial framing contractor, began this year through their work on Kennett Pointe, a ground-up mixed-use property currently under construction in Kennett Square, PA.
Elmer Zook, Founder and President of Quality Buildings, has been part of the industry for 18 years now. "We like expanding our client base as well as building new relationships in the construction industry. D&B came on our radar a few years ago as a fast-growing player amongst other GC's," he reflects.
The fruition of Quality Buildings' relationship with D&B began as a culmination of a handful of work connections, including having known our CEO, Dan Gring, through their involvement at Lancaster Berks Next Gen Construction Connect. At Kennett Pointe they supplied a complete furnish and installed a framing package that included manufacturing of pre-fabricating wall panels, floor and roof trusses and installation of the windows and doors.
"Quality Building produces quality work, and they are easy to communicate with. It is always a pleasure working with them, and I would work with them again in a heartbeat," says John Ruza, Senior Superintendent overseeing the jobsite in Kennett Square.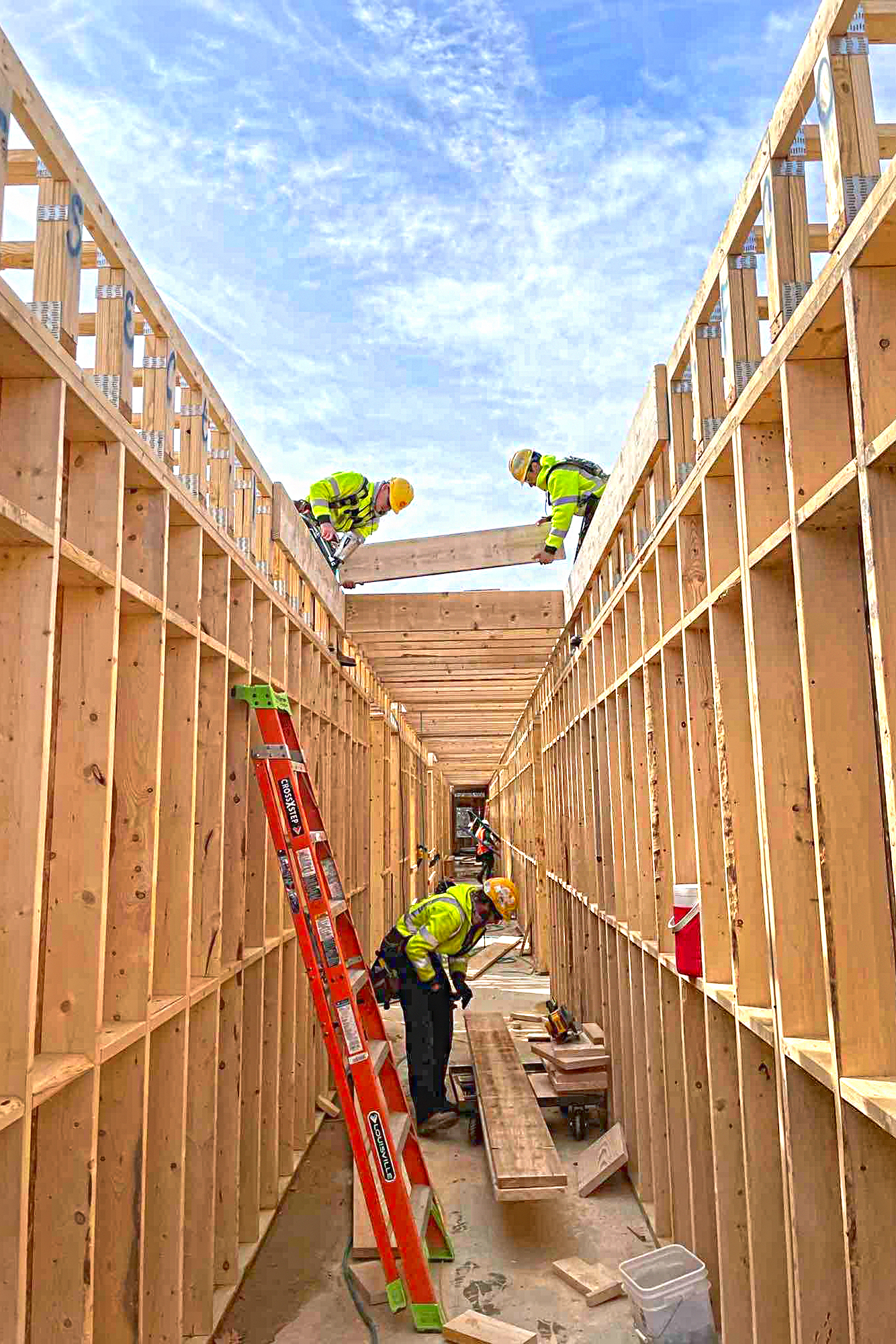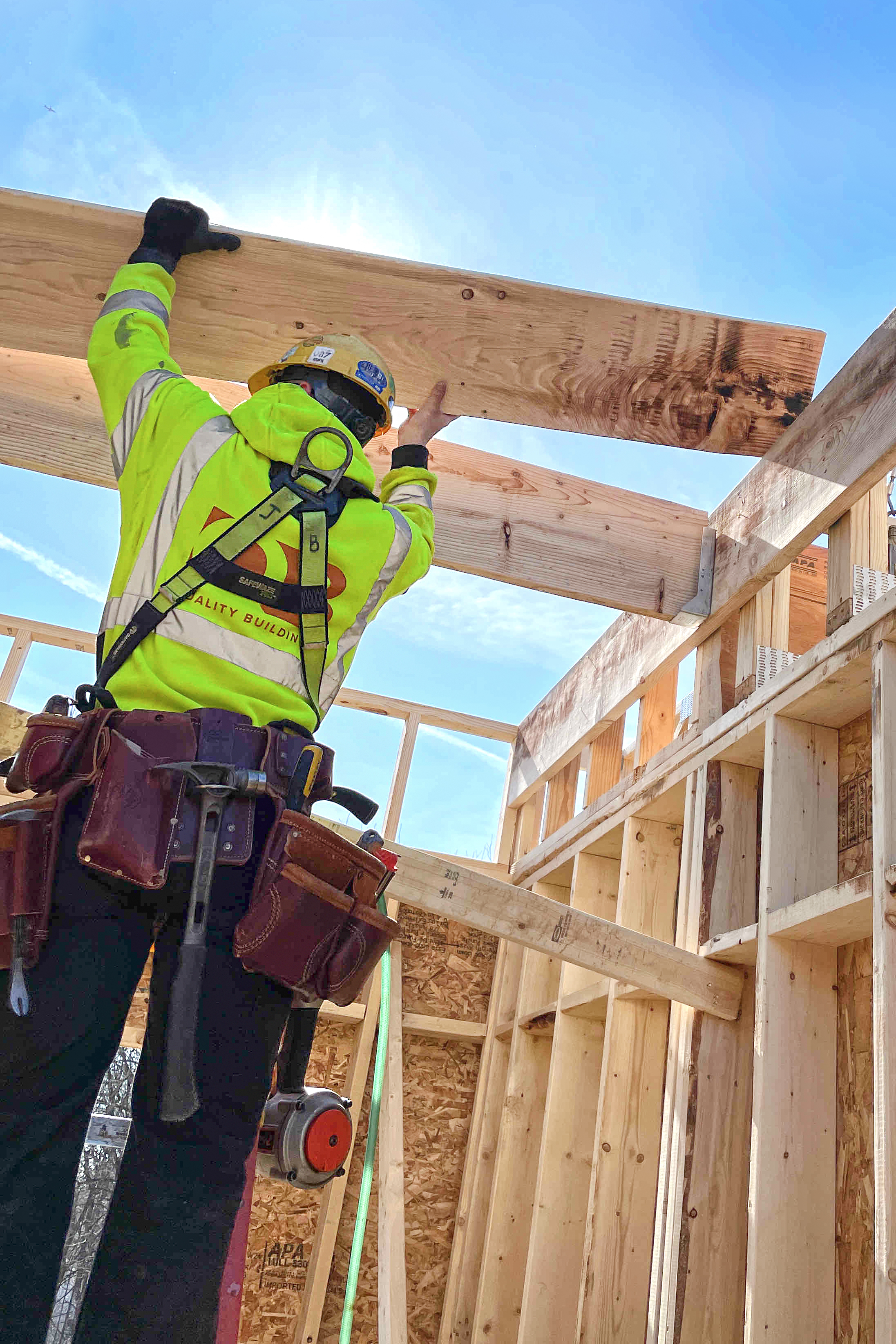 About Quality Buildings:
This turnkey framing contractor was founded in 2008 as a home improvement contractor and Agricultural/Equestrian facilities design and build contractor. They've built many custom designed horse barns and riding arenas in NY, NJ, DE, MD, and VA.
Having experience in design and build as a contractor, coupled with a desire to work closer to home versus constant traveling, commercial framing seemed to fit well with their philosophy of working together as a team with other trades to deliver a well-planned project. In 2014, their sole focus became commercial framing for multi-family apartments, senior living and hotels. Completing between 12-15 projects annually, the company has an annual gross revenue of $20,000,000+ in the multi-family, senior living and hospitality sectors. Quality Buildings started pre-fabricating wall panels out of their own facility and continued to expand.
Today, Quality Buildings specializes in offsite pre-fabricated building components, as well as framing components, wall panels, floor trusses, roof trusses and all needed equipment and labor for a complete framing system. Offering VE options and full 3D modeling capabilities for clash detection, as well as BIM modeling with other trades, they are acknowledged as a leading innovator in wood framing. They also offer structural engineering and Mass Timber construction. Their commitment to provide customers with the finest craftmanship continues to be their anchor 14 years later. Quality Buildings has an employee count of 42, consisting of VDC designers, project managers, pre-fabricated wall panel manufacturing and field carpenters. They also have a steady base of subcontractors they know they can turn to for their larger projects.
"We pride ourselves for having more attention to detail and a higher level of service than our competition," explains Elmer. "We are the experts in wood framing and strive to present ourselves as such. Every department within Quality Buildings has an in-depth knowledge of wood framing. Our designers are the linchpin of our projects being successful and have an extensive hands-on experience with building these projects in the field."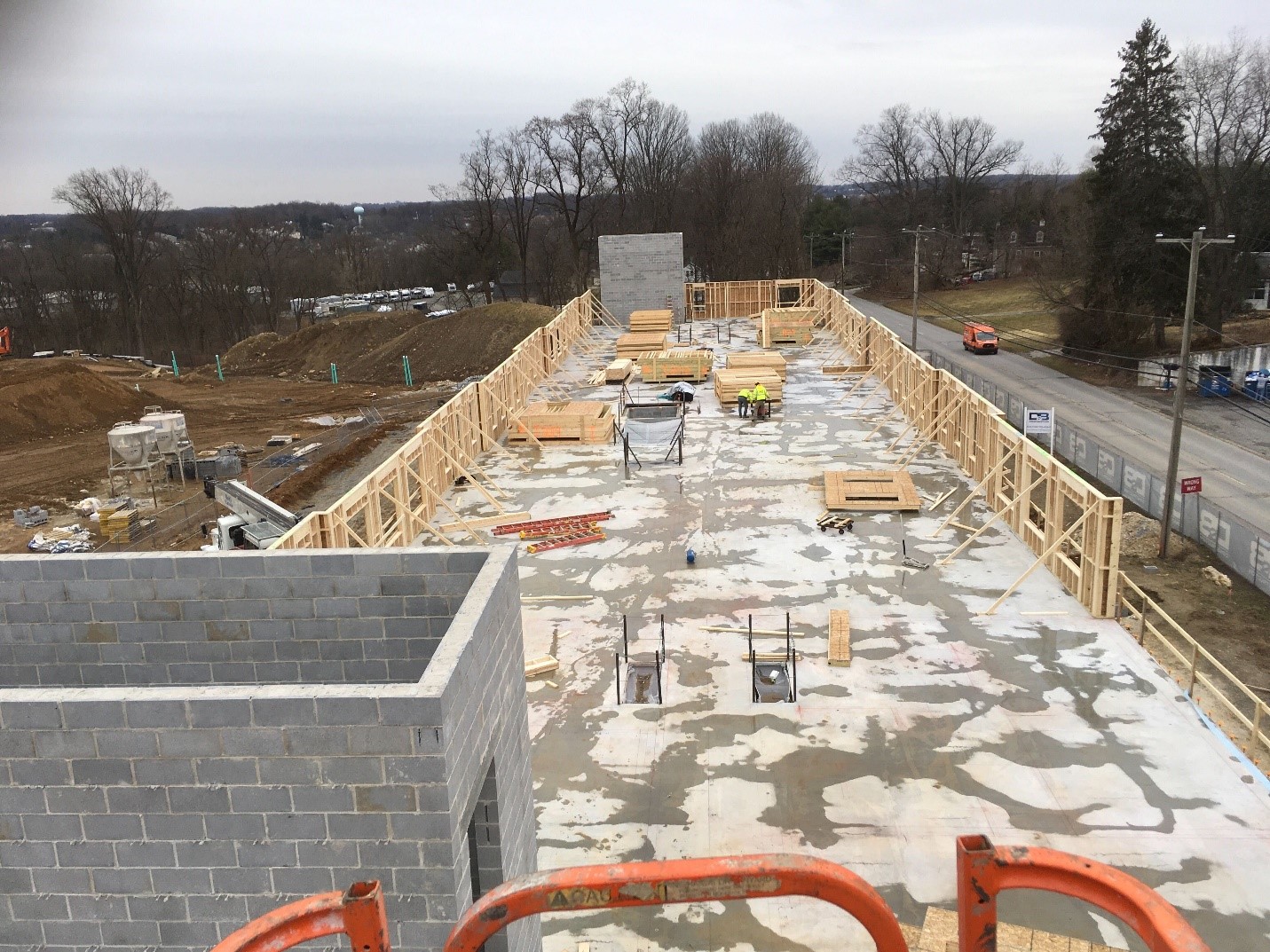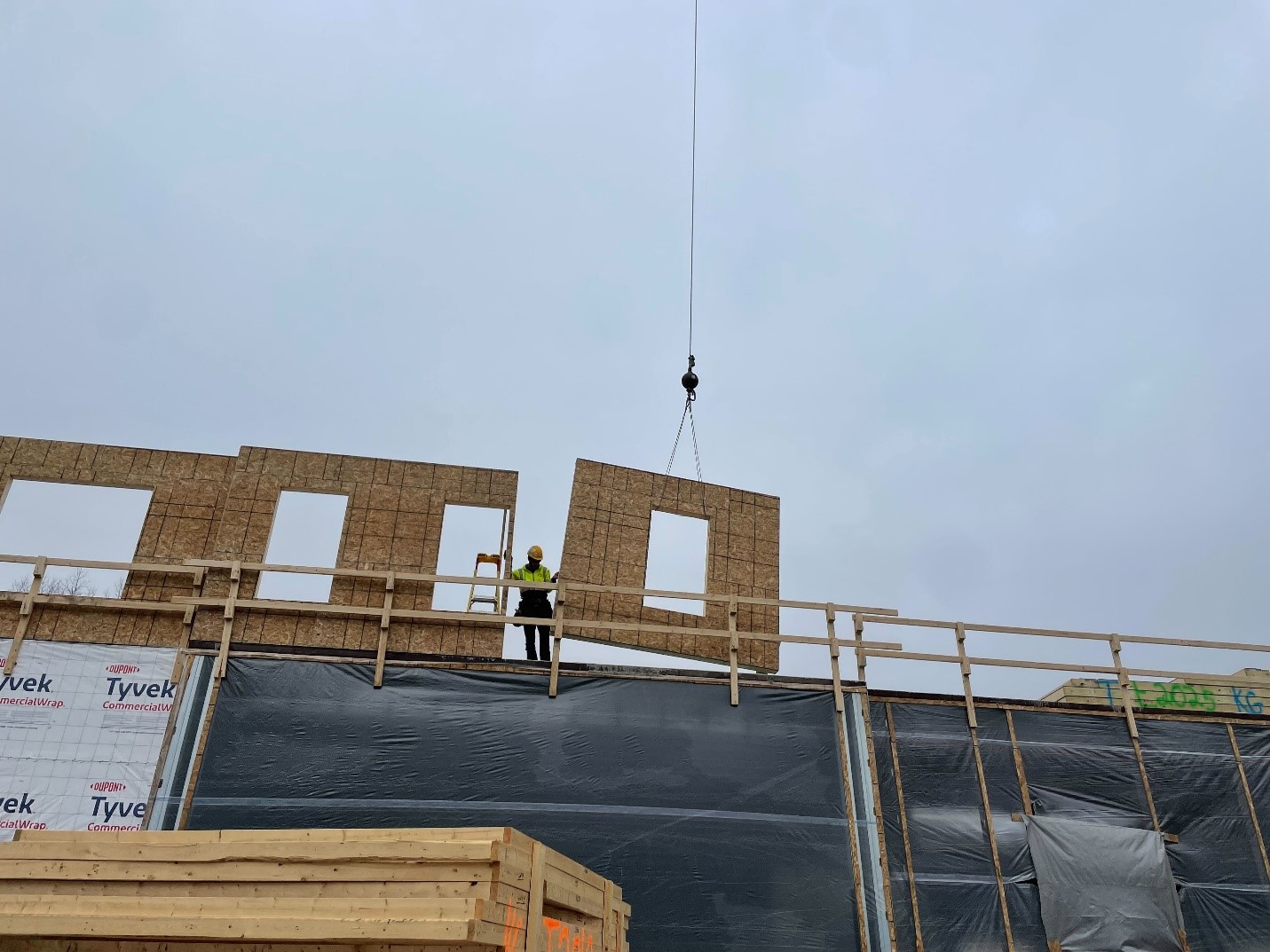 Q&A With Elmer Zook, Founder and President of Quality Buildings
Q: What's the best piece of advice you would give to others looking to get into the industry?
A: "Learn as much as you can about the trade you are a part of and about the trades around you that need your collaboration to do a good job and offer a stellar service.  Care about your craft and treat people with respect."
Q: What do you love most about working in the industry and why?
A: "I love working in the industry and providing a service that goes above and beyond just showing up and swinging a hammer. I love that our team is intentional about getting into the nuts and bolts of a project and finding new and better ways to get the job done."
Q: Anything else you'd like to add?
A: "We appreciate D&B entrusting QB with being your Framing partner on this project and look forward to many more in the future."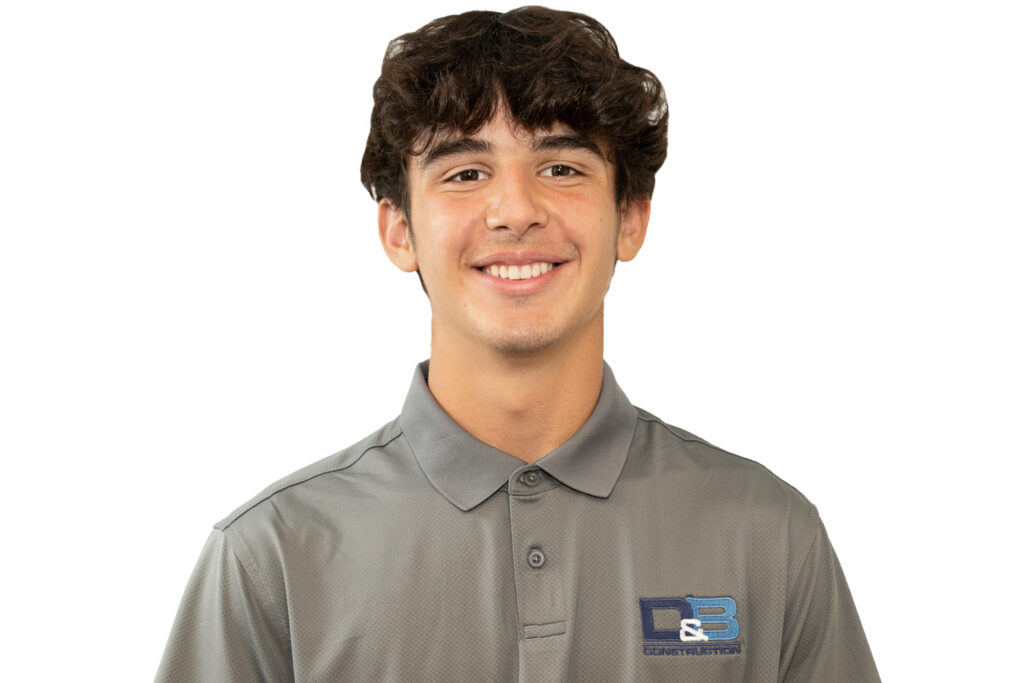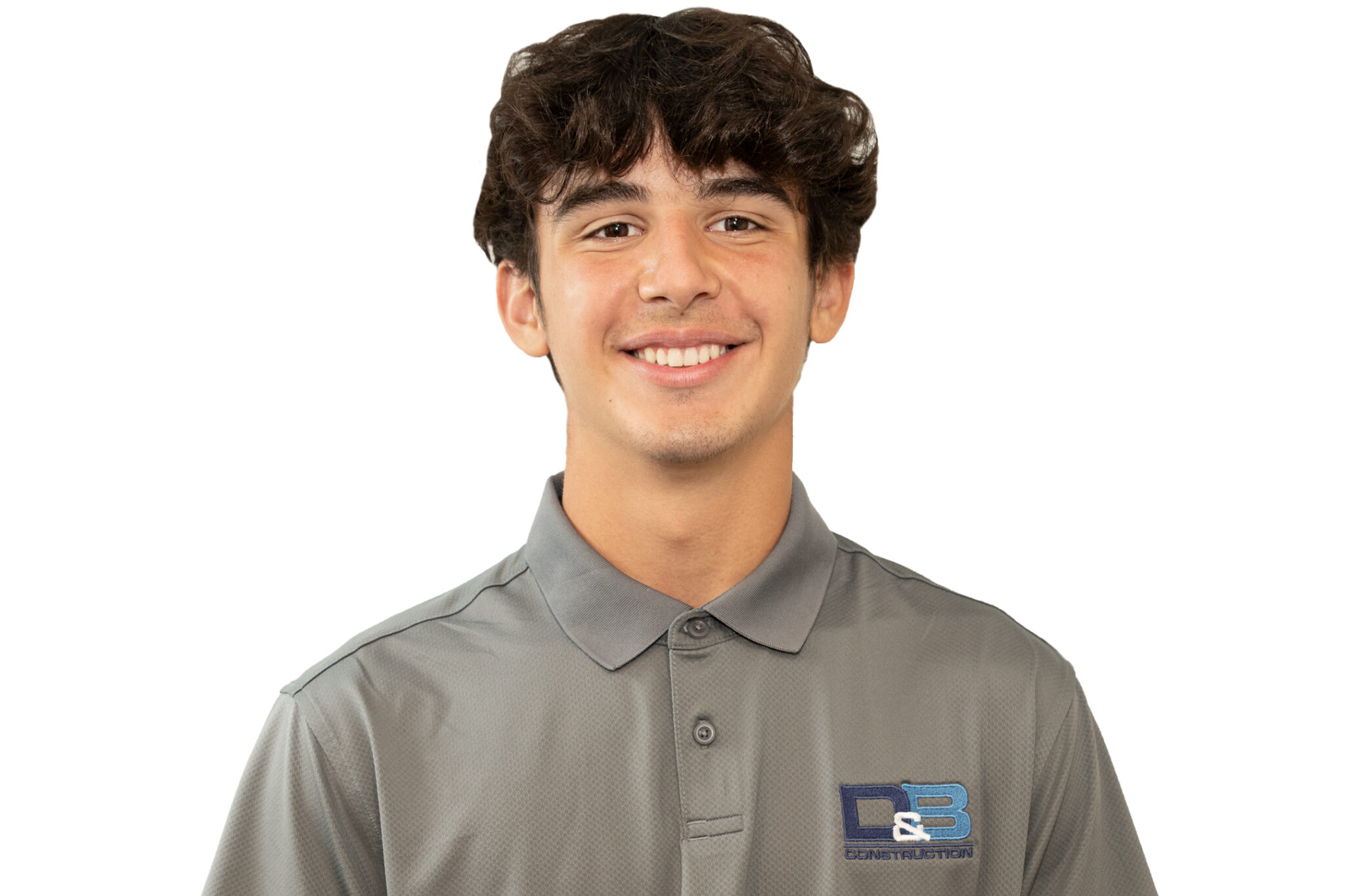 We've had the pleasure of getting to know Luca over the past year as he shadowed members of our team on D&B job sites and in the office. Luca gained valuable hands-on experience from experienced members of our team leading the project for Stratix Systems' new headquarters in Wyomissing. He also got to shadow members of our residential sister company, D&B Elite Custom, and watch a custom home come to life while also seeing finishing touches to a home renovation.
Join us in wishing Luca continued success as he pursues his degree in Civil Engineering at Drexel University! We know he will accomplish great things.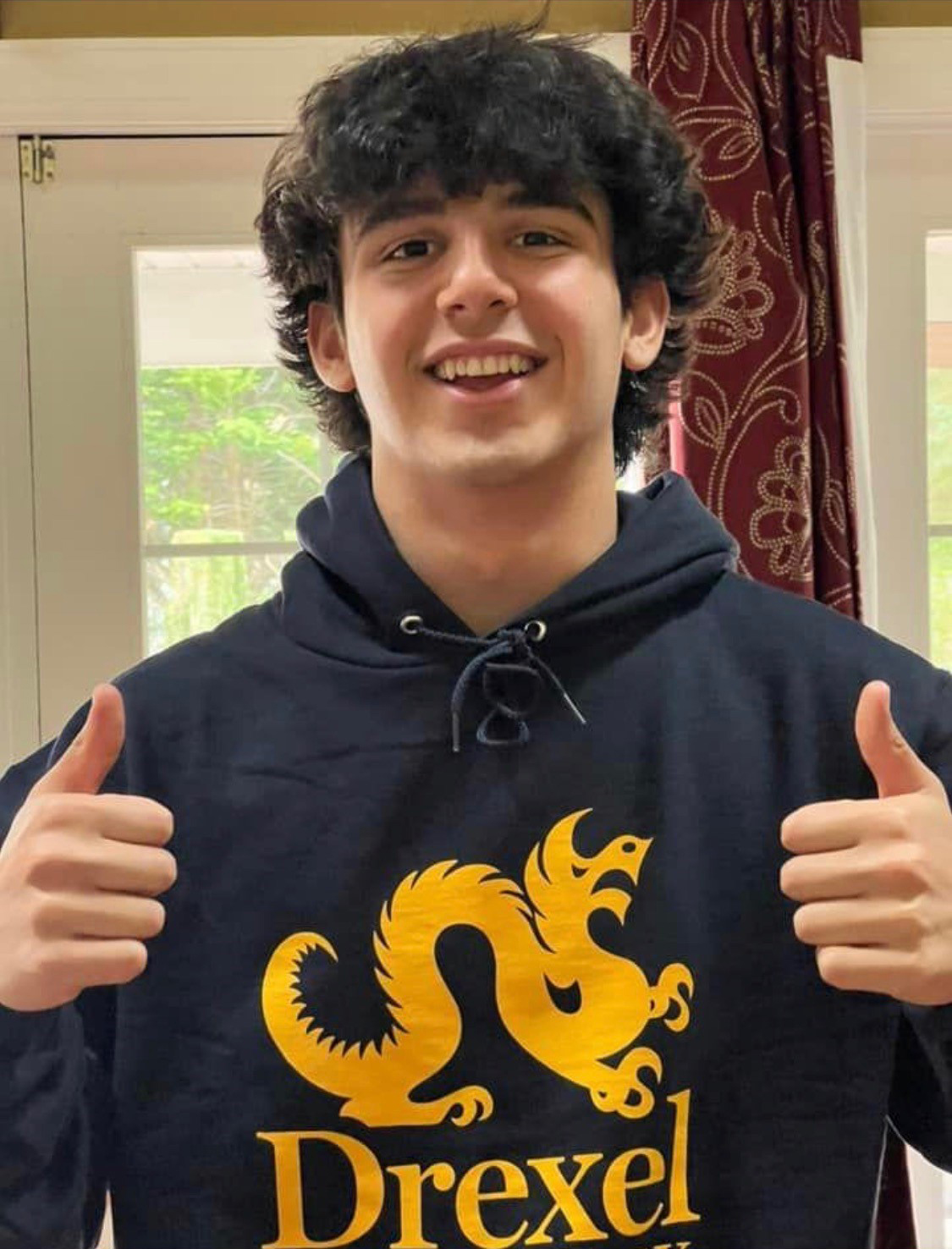 How his days at D&B were spent:
"The majority of my days were spent on jobsites shadowing site superintendents. My responsibilities included communicating with my intern supervisor, site supervisors, signing in on jobs, wearing appropriate safety equipment on site, and completing weekly site inspections when needed."
What he learned:
"A lot of valuable skills and information on how a construction management business runs both in the office and on the site. Some of the skills I learned was the importance of communication on the jobsite and in the office. I was able to sit in on meetings in the office and also saw communication take place on the job site through formal meetings, RFIs, and informal communication when the job superintendent talks with subcontractors onsite."
Some of his favorite memories:
"Some of my favorite memories are coming back to my internship after Winter or Spring break. My supervisors were very excited to see me since they hadn't seen me in over a week, and it was the best feeling. Another favorite thing to do is to look back at the old photos on Procore and see the progress that has been made on the sites I have been attending the company. I have seen rubble turn into an 8,000 SF home."
What he is most proud of:
"Everything that I was able to accomplish from this internship within the past year. Looking back and seeing everything I have done and learned from this amazing experience has been great."
How this internship impacted him:
"This internship has helped me influence my plans for the future. Before this internship, my plan was to attend college to study civil engineering, and although that plan hasn't changed I owe the confidence I now have for this major to this internship with D&B. Being at a company almost every day now for the past year has helped me truly understand my passion. This provides comfort to me because I can finally say with confidence that I know what I am doing in my future. I am very thankful for both this internship program and D&B for providing me with this comfort."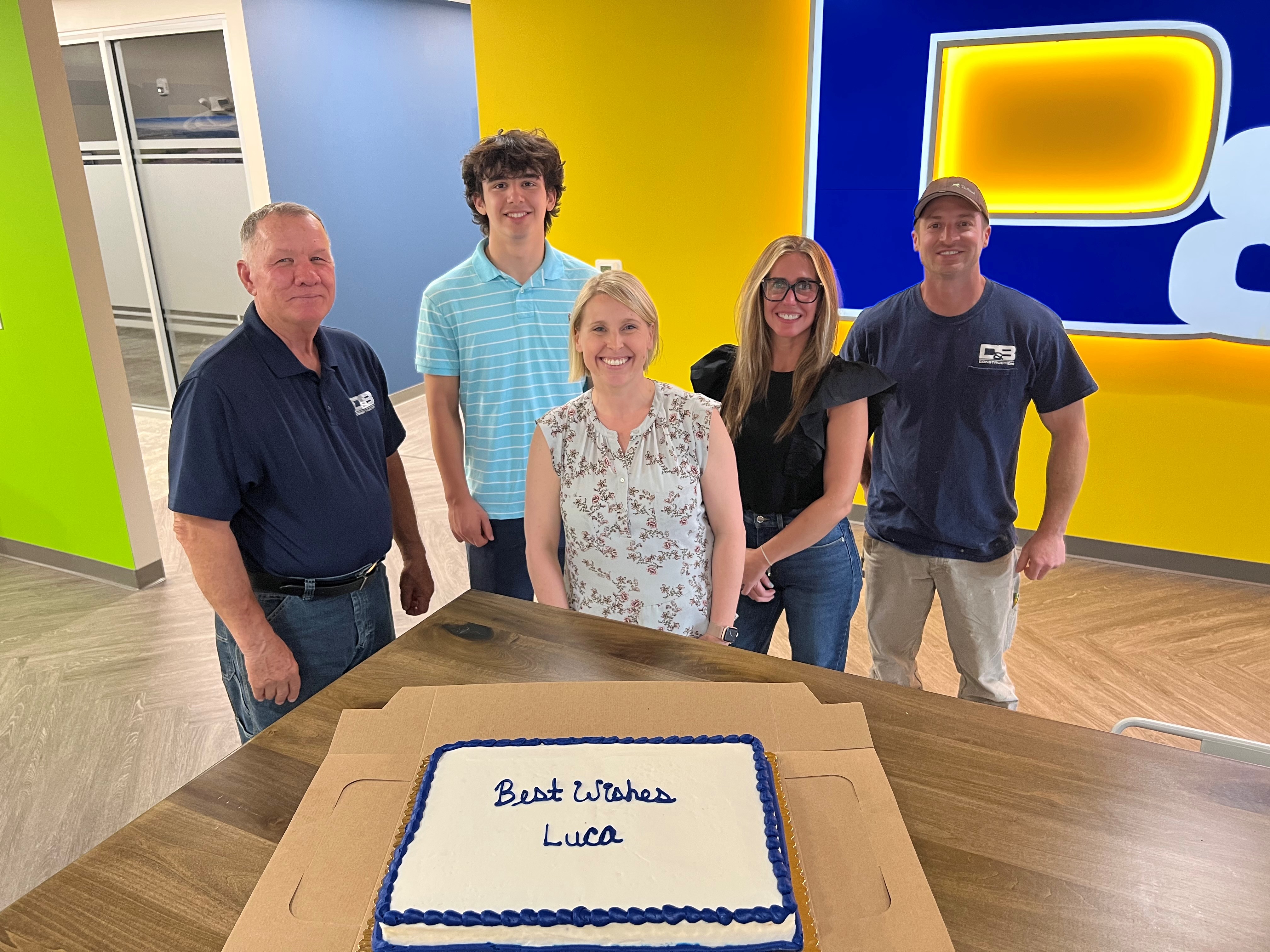 D&B Construction's partnership with Earth Engineering Incorporated dates back eight years to 2014. They have completed over 12 projects with D&B Construction since becoming our Trade Partner. These projects range from large multi-family projects on 50 acres of land to large healthcare projects for clients like Tower Health and Children's Hospital of Philadelphia.
EEI performed numerous services on these projects including compaction testing, concrete testing, geotechnical consulting, sinkhole remediation, structural steel inspection, geotechnical investigations, clean fill assessment, and design services. Paul J. Creneti, P.G., Director of the Lehigh Valley division of Earth Engineering Incorporated, has been part of the industry for 26 years now. "Working on these projects with D&B Construction was fulfilling, as they were a collaborative effort with the construction and design team," he reflects.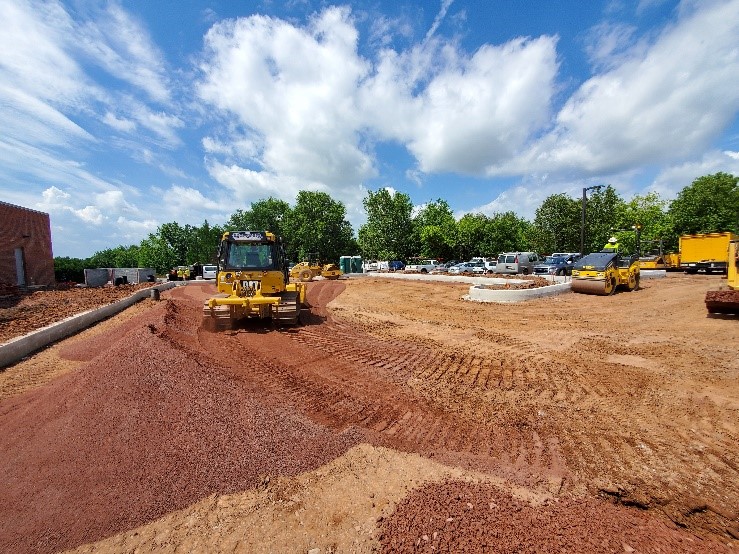 Paul has worked with many members of Team D&B over the years, including our Chief Operating Officer Brennan Reichenbach, Vice President of Pre-Construction Mark Keever, Project Manager Scott Weaver, and Vice President of Construction for Reading and Central PA, Tom Rinaldo. His favorite part of working on a D&B project? "Being part of a project team that has trust with all parties involved." Paul can count on the fact that "quality would never be an issue" whenever he works with Team D&B. "If problems arose during development, the team handled these problems quickly and most appropriately to ensure that sites were being developed properly."
According to our VP of Construction Tom Rinaldo, who has worked with Paul and EEI for the last 15 years on various projects, "they bring undeniable value and knowledge to D&B projects as a valued Trade Partner." Tom most enjoys how knowledgeable their geologists are. "We utilize them to do proctors for us. They help out in a variety of ways, from testing and analysis of soil on job sites to concrete testing. When we completed work for 999 Berkshire Blvd. we had to excavate and remove 10,000 SF of soil and excavated around the entire exterior of the building to remediate soils. Their team's analysis of the unsuitable soil and assistance in finding suitable soil was imperative to the success of this project."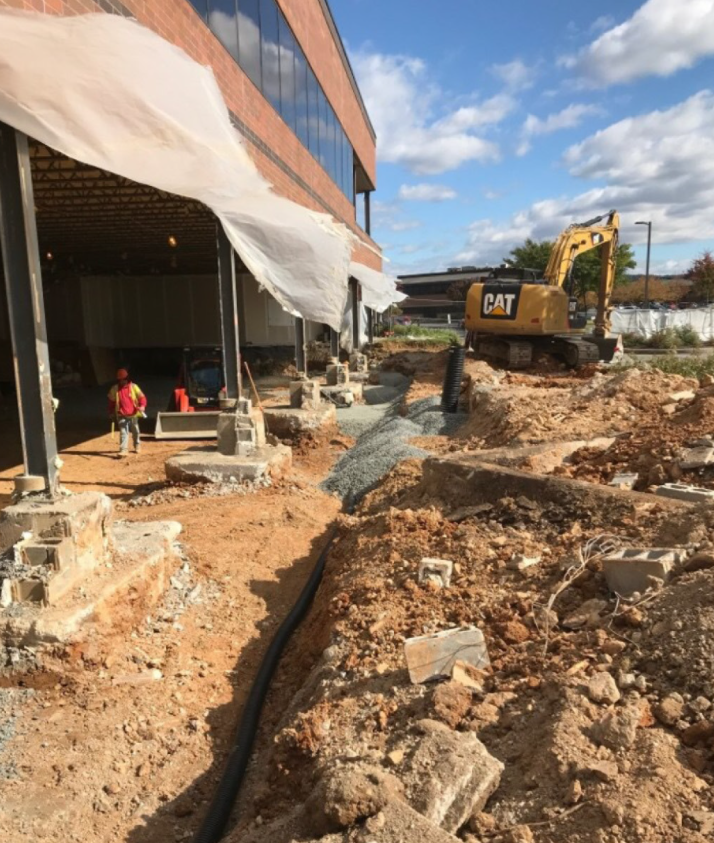 About Earth Engineering Incorporated:
This full service geotechnical / environmental engineering consulting firm was founded in 1990 in Blue Bell, Pennsylvania. By 2003, EEI outgrew this facility and established their Corporate Headquarters in East Norriton, Pennsylvania. Today they have approximately 125 employees and other regional offices in West Berlin, New Jersey, the Lehigh Valley and Central Pennsylvania that allow them to service projects from New York to Maryland.
EEI provides their clients with geotechnical engineering and environmental consulting services. Such services allow them to contribute to the successful development of a wide variety of projects for their clients, as issues such as cost-effectiveness and site development issues are evaluated by their team. This analysis allows EEI to provide clients with the best recommendations on how to proceed with their project.
The predominance of their geotechnical and environmental work is in the private commercial and residential sectors, with a portion of their geo-structural design work in the public sector. EEI takes on approximately 1,200 new projects within a year.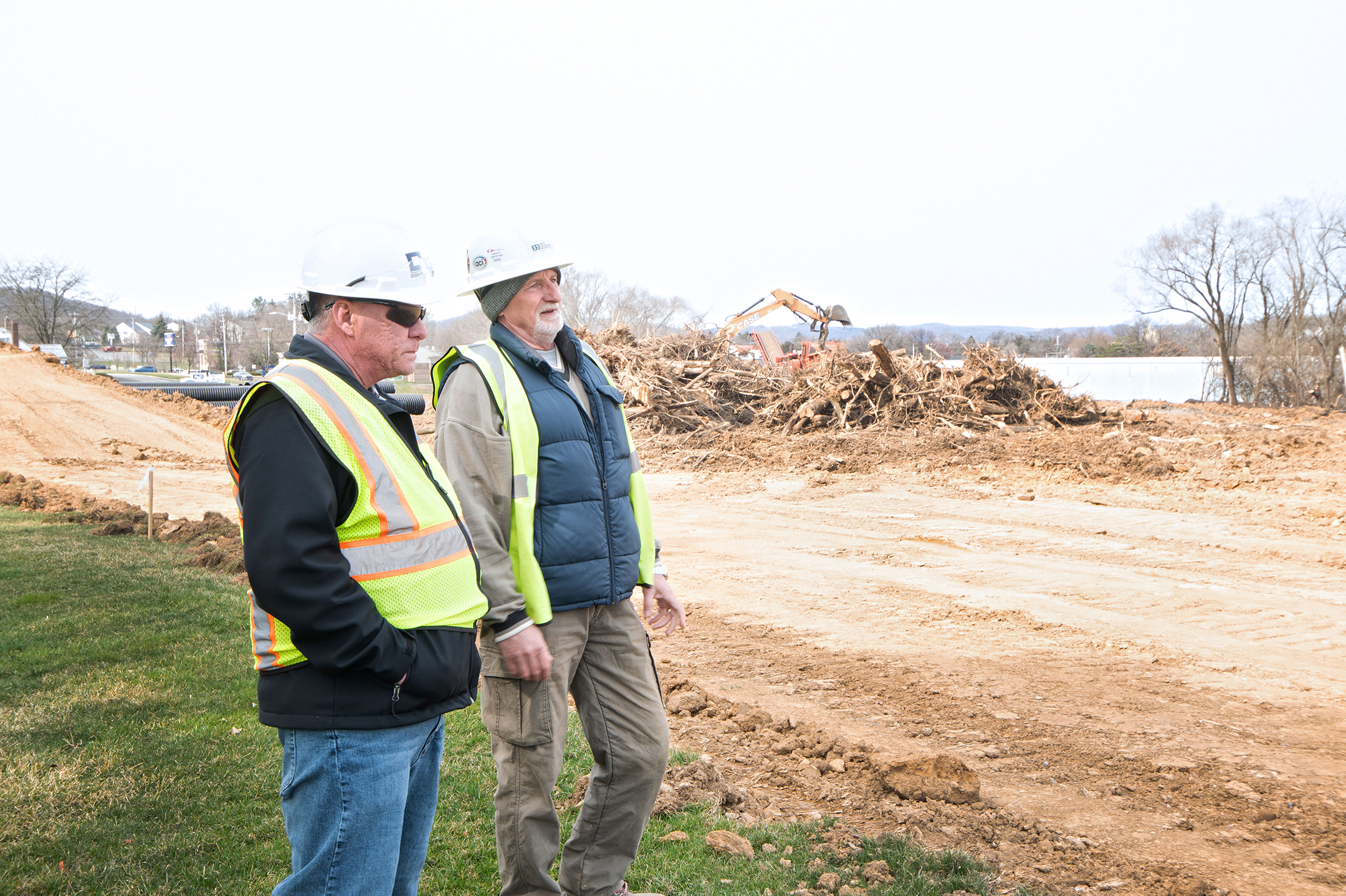 Q&A With Paul Creneti, Director of EEI's Lehigh Valley Division:
Q: What's the best piece of advice you would give to others looking to get into the industry?
A: "Listen to your client's needs while at the same time keeping the project within or below budget. You can accomplish this through quality engineering and quick decisions."
Q: What makes a good leader?
A: "Being true to your corporate values and goals and holding a high standard for others to follow."
Q: What do you love most about your job and why?
A: "Being part of a project team that leads to the successful completion of projects despite countless variables along the way. It's rewarding."
Q: What about a D&B project stands out in comparison to other General Contractors you work with on other job sites?
A: "Quality with a strong focus on the client's needs."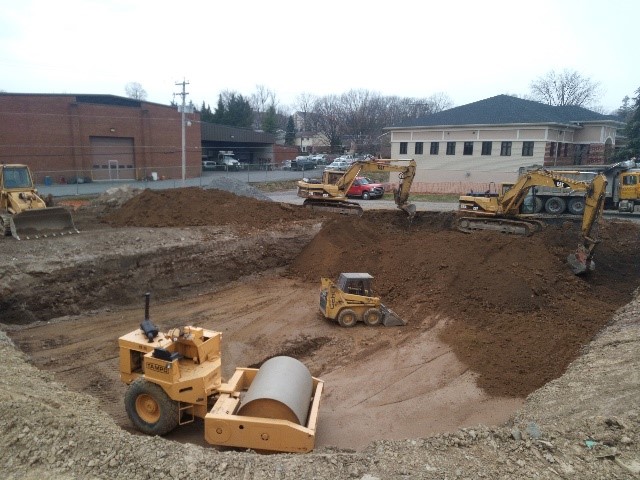 A Look at Some of the Jobs EEI and D&B Have Successfully Worked on Together Over the Years:
Projects Currently Under Construction:
The Reserve at Iroquois Springs
EEI's Geotechnical Engineer, Dan, was just on site last week to check the compaction rating of the soil on this jobsite. View some recent drone footage here.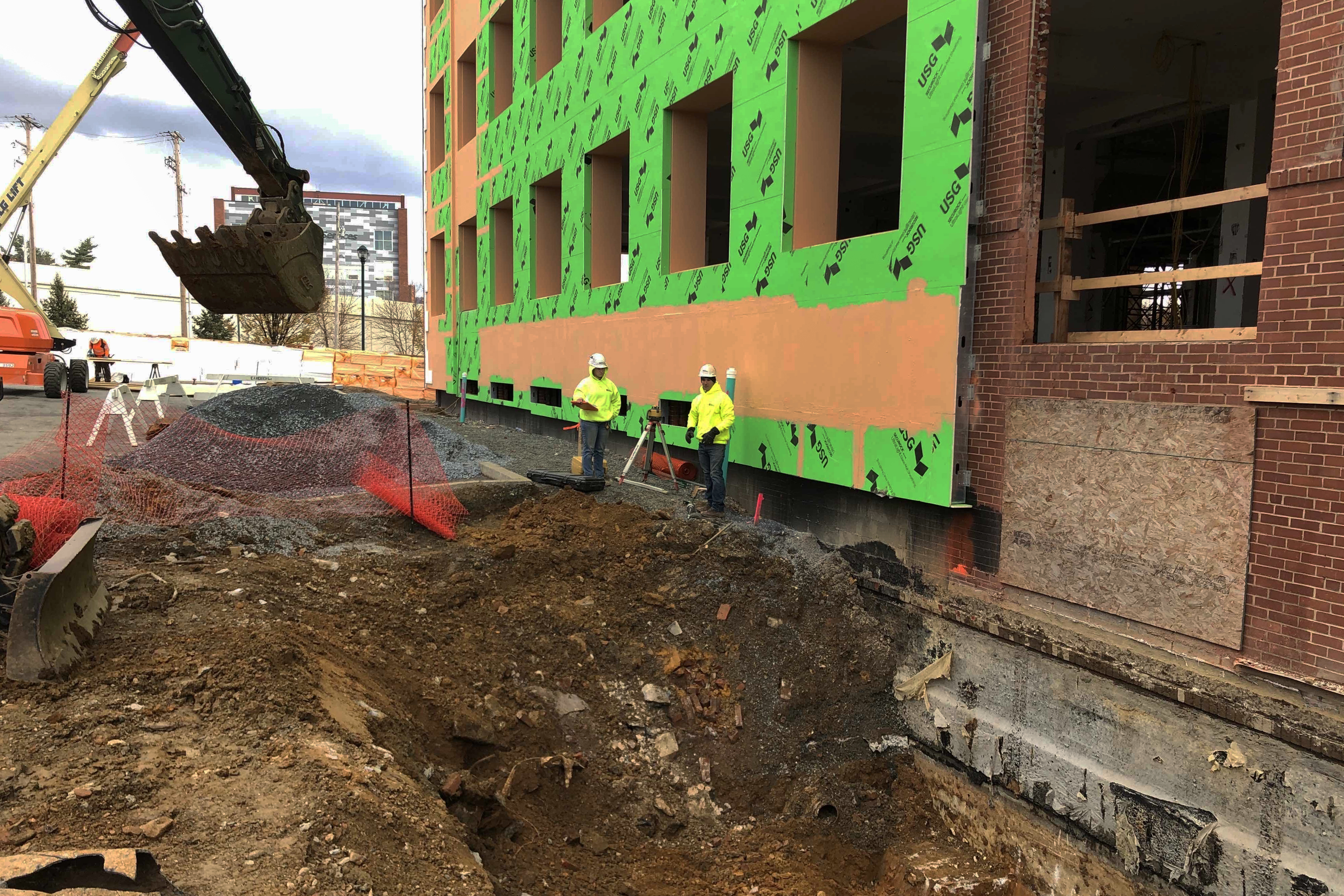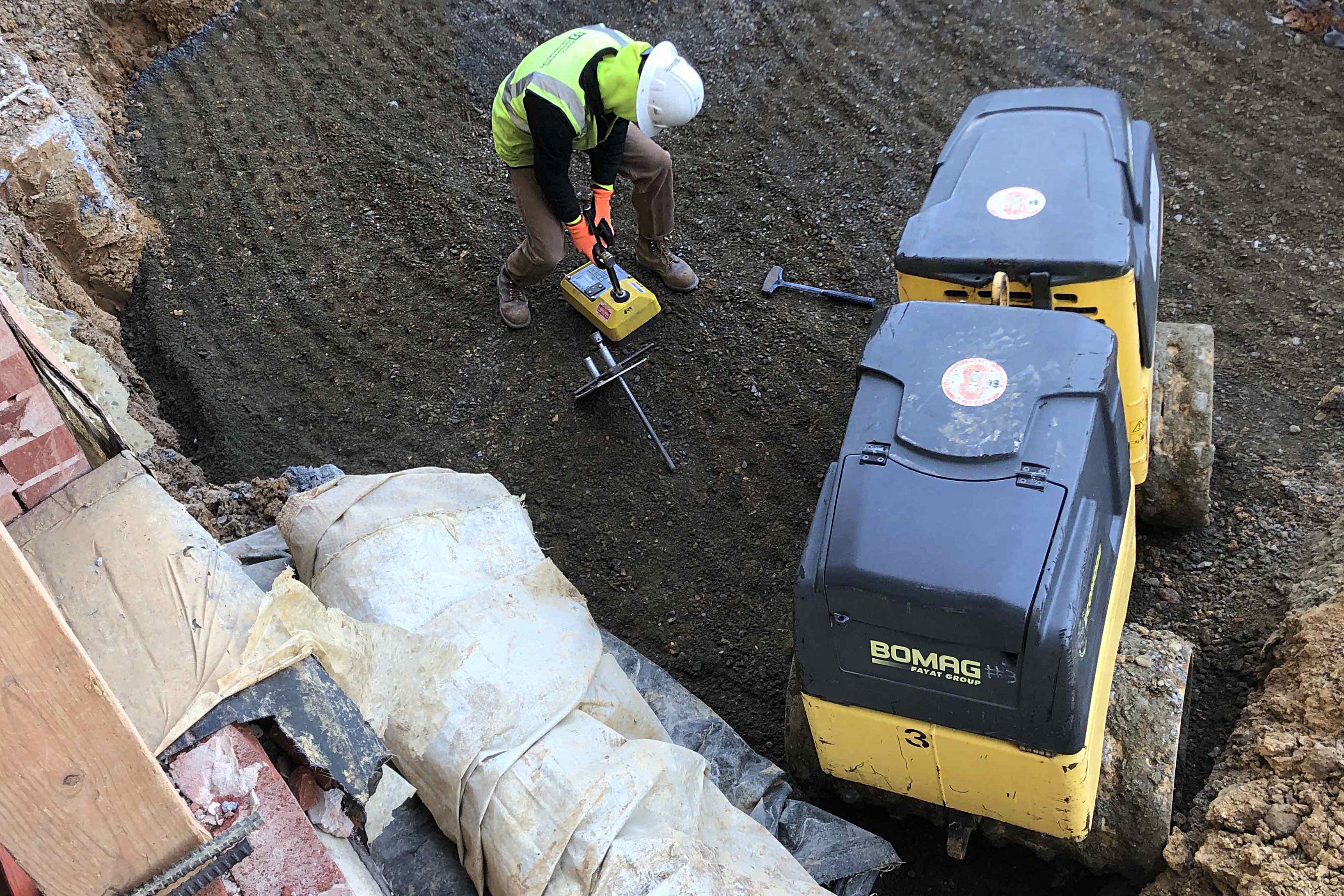 Completed Projects:
Cardiology Consultants of Philadelphia – Paoli, PA Location
Bucks County Orthopedic Specialists – Warrington, PA Location
Tower Health Medical Group Family Medicine – Womelsdorf, PA Location
Riverfront Federal Credit Union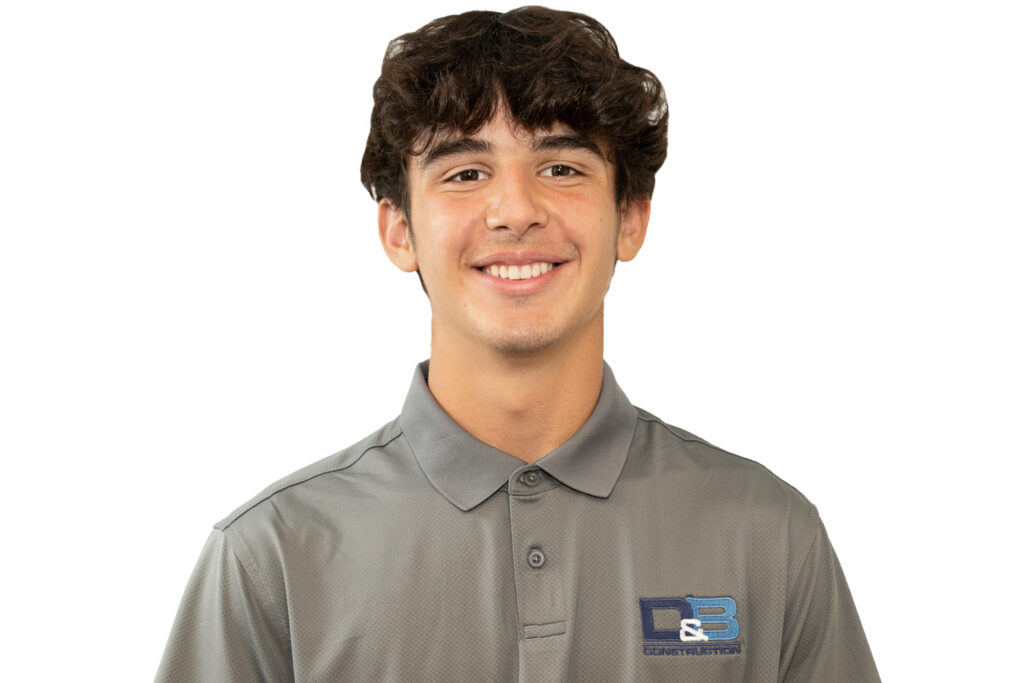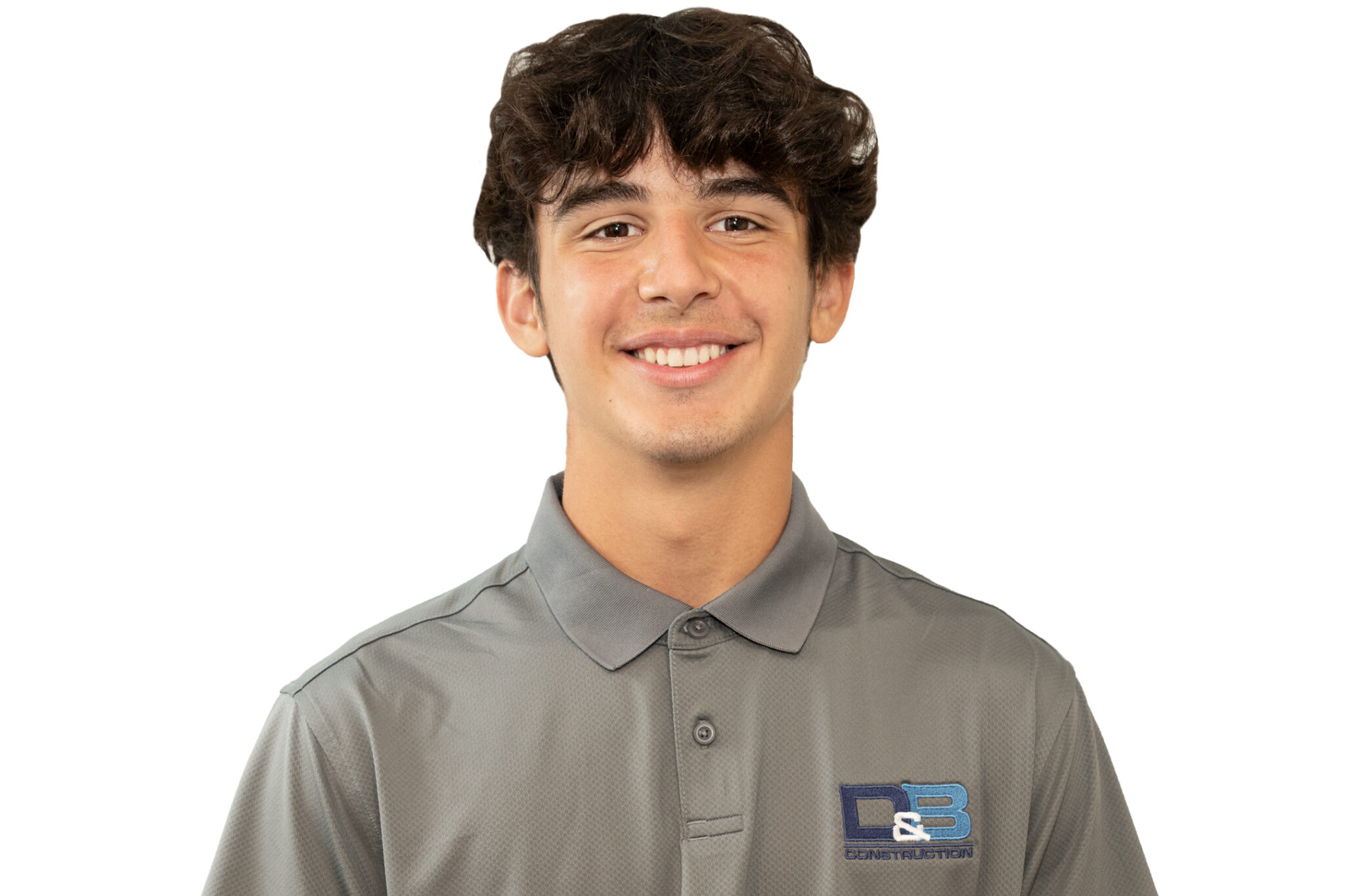 Team D&B is thrilled to be working with the
Wilson School District

's Honors Internship program
once more! In the 2021-2022 school year, we have the pleasure of working with two talented seniors, Luca and Savanna. Our Construction Intern, Luca, has been shadowing team members working on our adaptive-reuse design-build project for Stratix Systems' new headquarters in Wyomissing. He has also been shadowing our residential team, D&B Elite Custom, as we build a custom home from the ground up. This opportunity has allowed Luca the invaluable experience of seeing the differences between commercial and residential construction, which has helped him get a better idea of what he may want to pursue as he heads to college. We sat down with Luca to learn more about his internship experience thus far:
Q: What do most of your days look like on the job-site?
A: "I spend most of my days shadowing and working closely with the commercial Site Superintendent, Barry, at Stratix's job site, as well as shadowing John, the residential Superintendent."
Q: Tell us about a day / task that you enjoyed most at your internship so far and why?
A: "I enjoy looking over project submittals the most because I get to see how different applications on the job were approved."
Q: What are some things you've learned throughout your internship so far?
A: "I learned the importance of safety on a job-site is by far the most important aspect. OSHA safety requirements are the guidelines for construction job-sites. I've also learned that everything must get approved before even starting and this can hold projects up for months. I'm learning about what is on the drawings and how to interpret what is on them. I also have been sitting in meetings and participating in weekly site inspections to really get a grasp of things."
Q: What is one thing you've learned about yourself so far through your internship experience?
A: "That I know more about the construction industry than I thought I did."
Q: What would you say is the most important skill you developed / strengthened at your internship so far?
A: "I learned the importance of listening."
Q: What  are your internship goals for the rest of your time with D&B?
A: "To continue to be able to complete individual tasks and be trusted at completing these tasks."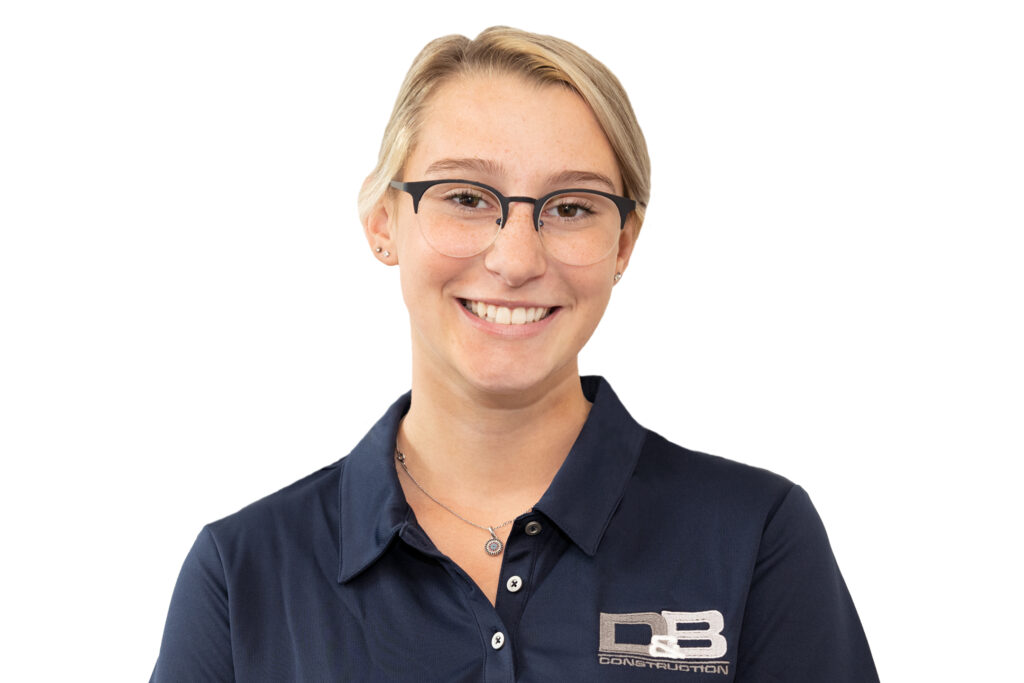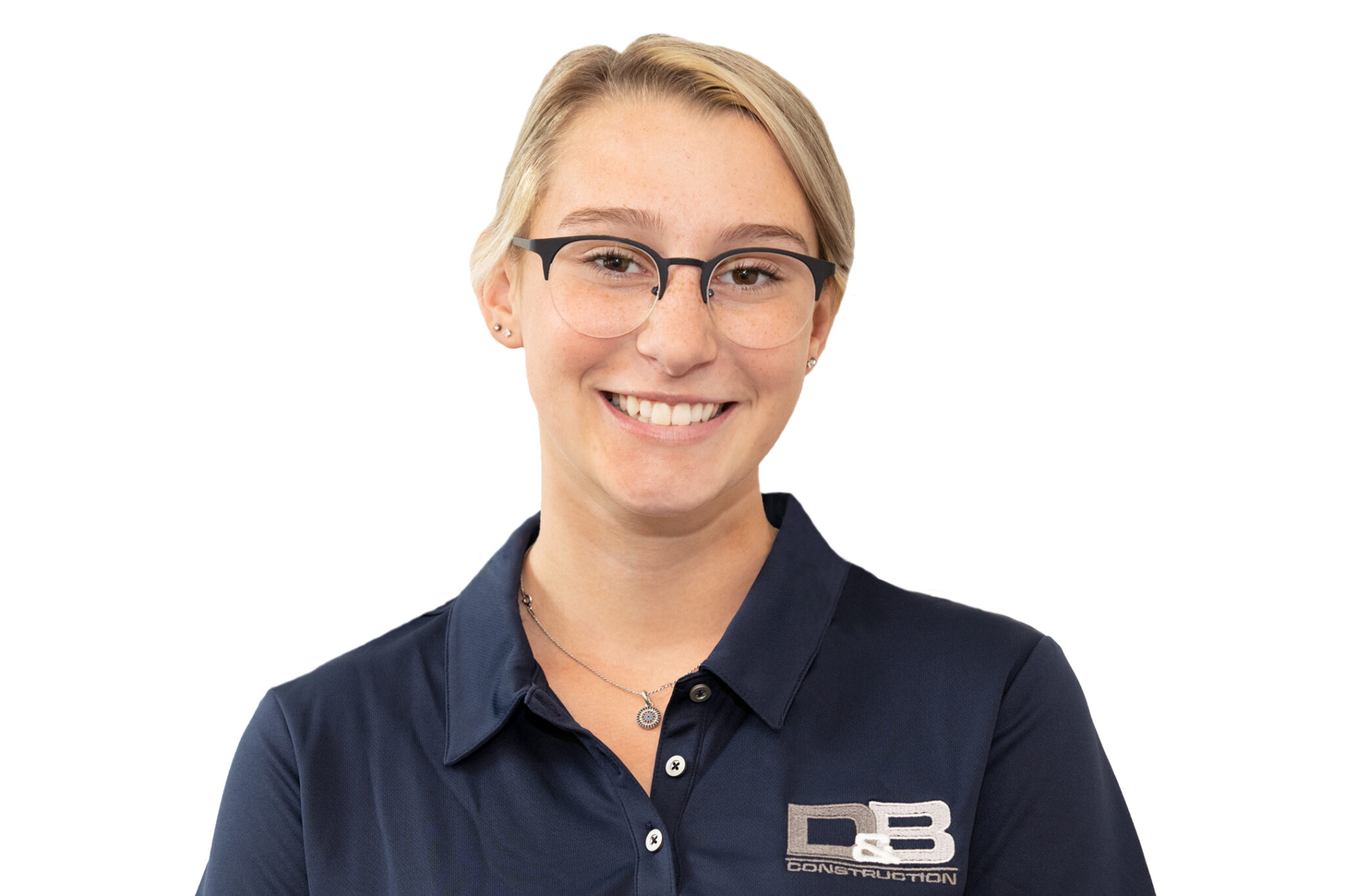 At the beginning of January, we sadly said goodbye to Savanna, but we are so excited to hear about her experience interning with our friends at
RE/MAX of Reading
for the second half of the school year. Savanna shadowed our Marketing and Business Development department to learn the ins and outs of this field, both for our commercial side of the business and our residential side,
D&B Elite Custom
. After completing her internship experience, Savanna reflected on her time working with D&B and how it has prepared her for attending college as a Business Major. Here's a Q&A from Savanna so you can learn more about her experience:
Q: What were your responsibilities throughout this internship?
A: "My responsibilities included researching, writing, and editing articles for blog posts and newsletters. I learned about graphic design and how to create things in design programs like Canva and Adobe. I also learned how to navigate WordPress and the back end of a website, as well as MailChimp. I completed Benchmarking analysis and learned the differences between preparing copy for social media and blogs/newsletters."
Q: Of all your responsibilities, which did you enjoy most and why?
A: "I enjoyed creating things for D&B on Canva. It gave me a chance to be creative and really understand branding. Besides that I also really liked coming up with research for articles and gathering information in general. I liked interviewing people and getting quotes and information. Interviewing people was a great way for me to learn more about some of the staff here at D&B."
Q: How was your overall experience interning with D&B Construction? 
A: "I was lucky to come into a business that was not only friendly and accepting, but that also had knowledgeable people who I could learn a great deal from, especially since this was my first internship experience. I rate my experience 10 out of 10 because coming into this, I had no idea what my internship was going to be like, but being here for a semester allowed me to learn more than I ever expected to about what goes on in a business. I also strongly believe that I gained a lot of hands on experience, from having my own computer and my own documents to work on in the office, to being able to go out to the job sites and take photos."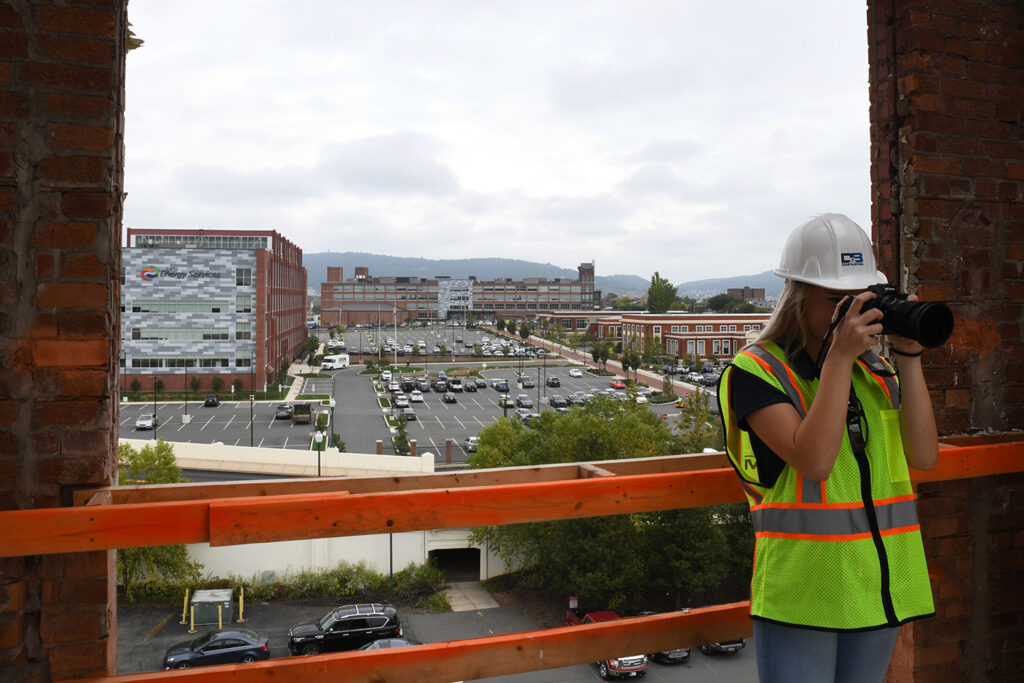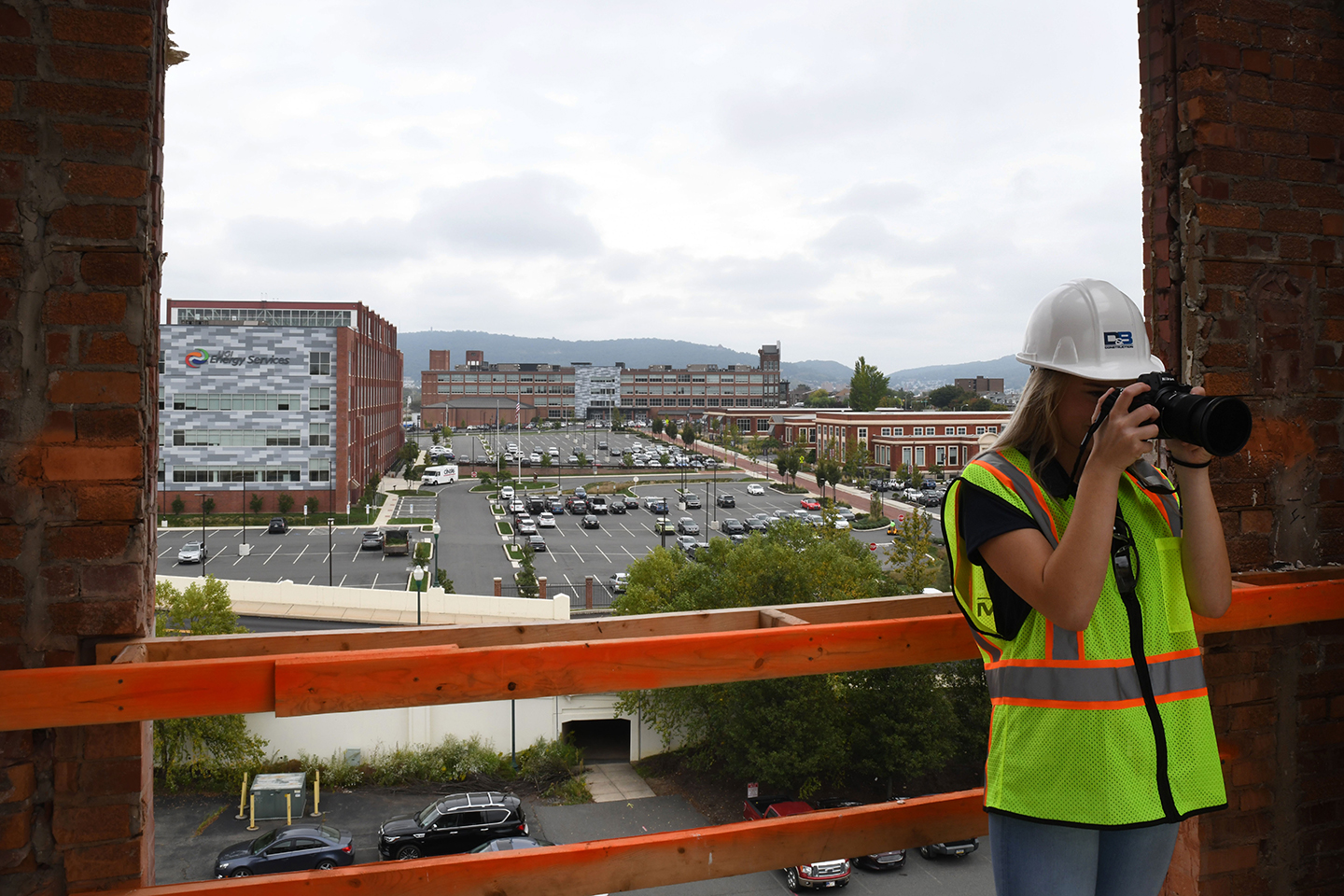 Q: Do you feel this internship enabled you to apply knowledge and skills to prepare for college?
A: "Yes! Since I am in high school, I don't have a focused major just yet, but my internship coordinator, Angela, went through a list of different tasks at the start of my internship. I was able to voice my opinion on what I thought I would be good at, what interested me, and what I wanted to learn more about. This allowed me to use my skills to the best of my ability throughout the internship. For example, I took Honors English all four years of high school, so I was able to write a lot of blogs and articles during this internship. I was given support and encouragement throughout training during my internship. If I didn't know something, that was alright because then I was taught it, and that allowed me to learn new things and gain new skills. I really feel that this internship confirmed that I am on the right path. Through this internship experience I even realized that I would like to do some sort of marketing in my future career."
Q: Do you feel this internship helped prepare you for your future career?
A: "Going into my internship I knew I wanted a business career, but I wasn't completely sure what I wanted to do in the business world. This internship helped me gain knowledge about the business world and what really goes into marketing. It not only gave me an idea of what I want to go for in college, but I also gained experience and have a leg up compared to to my peers since I have an internship on my resume already. Not a lot of high school kids get this experience. This experience is valuable because it not only looks great for future jobs but will help me with getting into college."
Q: What did you learn throughout your internship that you did not expect would be so important?
A: "I learned many things at my internship, but one thing that I didn't think would be that important is branding and how we have the same colors and logos for everything. Another important thing I learned is the importance of having your business being a thought leader in the industry, not just as a company that does construction. I learned so many workforce skills that a classroom can't teach me."
Q: What are you most proud of from the work you produced throughout your internship and why?
A: "I am most proud of the blogs I wrote and posted with the help of my internship coordinator. It is something that I can say I worked on from start to finish and can add to my portfolio."
Q: How would you describe D&B Construction's company culture in three words?
A: "Innovative, thought-leaders, and welcoming."
Concrete is the second most used material on Earth, trailing only water. Because of this and our commitment to safety, we find it important to highlight concrete safety tips. Here are some vital practices that every company should follow to stay safe when working with concrete:
Use Proper PPE To Protect Yourself
PPE is one of the most important elements of safety on any jobsite, but it is especially important when you are working with concrete. Make sure to protect your skin at all times by wearing gloves. Water-proof and alkali-resistant gloves are recommended. A long-sleeved shirt, full-length pants, and shatterproof eye protection are also important when working with wet concrete. If you are standing in the wet concrete, wear water-proof boots that are up high enough on your ankle so that the concrete cannot flow into your shoes. You will also want to always wear a hard hat, especially when pouring concrete in an interior area where the ceiling is not yet complete. Proper ear protection, proper footwear, and face masks or ventilators are also important PPE.
Take Care When Removing Concrete PPE
Be careful when removing concrete PPE, as wet cement could get on your skin. Did you know that wet cement is the #1 cause of occupational skin disease in the United States? To learn more, watch this video, which includes additional concrete safety tips. Concrete burns are a serious and common injury when working with concrete. It is important to always be aware that concrete can find its way into your personal equipment such as gloves, boots and sleeves. To avoid getting burned, remove any clothing splattered in concrete and wash the affected area immediately, not in the next hour. You will then want to keep an eye on your skin to see if a burn is developing. Be careful when you are removing your protective clothing and wash your hands before and after. You should also store your concrete-soiled clothes separately from other clothes and tools. If possible, shower before leaving the jobsite so you can change into new clothes. This will decrease your exposure to crystalline silica, which we discuss more in depth below:

The Dangers of Crystalline Silica
Crystalline silica are very small particles, nearly 100 times smaller than the sand we find on beaches. These particles are present in concrete and other building materials. Even with proper safety precautions, workers who are exposed to crystalline silica may still inhale the dangerous particles.
To be safe, warn workers and mark boundaries of work areas with crystalline silica. It is a best practice to do this because when large amounts of crystalline silica are inhaled, workers are at risk of developing a long-term lung disease known as silicosis. Silicosis can be fatal. The CDC reports that 1,167 people died from silicosis from 2005-2014. Make sure to educate your workers about the risks and harm of crystalline silica by providing proper training that includes information about health effects, work practices, and protective equipment for respirable crystalline silica. You can also learn more about the standards OSHA requires here.
In addition to educating and training your workers about crystalline silica, you should also provide those exposed to crystalline silica with periodic medical examination.  One of the best ways to prevent the inhalation of crystalline silica is to keep dust out of the air. When you are purchasing equipment look to see if there is a dust control, make sure to always maintain and use the dust control system, and if the dust control system is not working do not use the equipment. Using the nearby exhaust ventilation system can help to keep dust from being released into the air. When you are sawing concrete, you can use a saw that provides water to the blade, as this will make the dust particles wet and prevent it from being released into the air.
To learn more about preventing the inhalation of crystalline silica watch this video.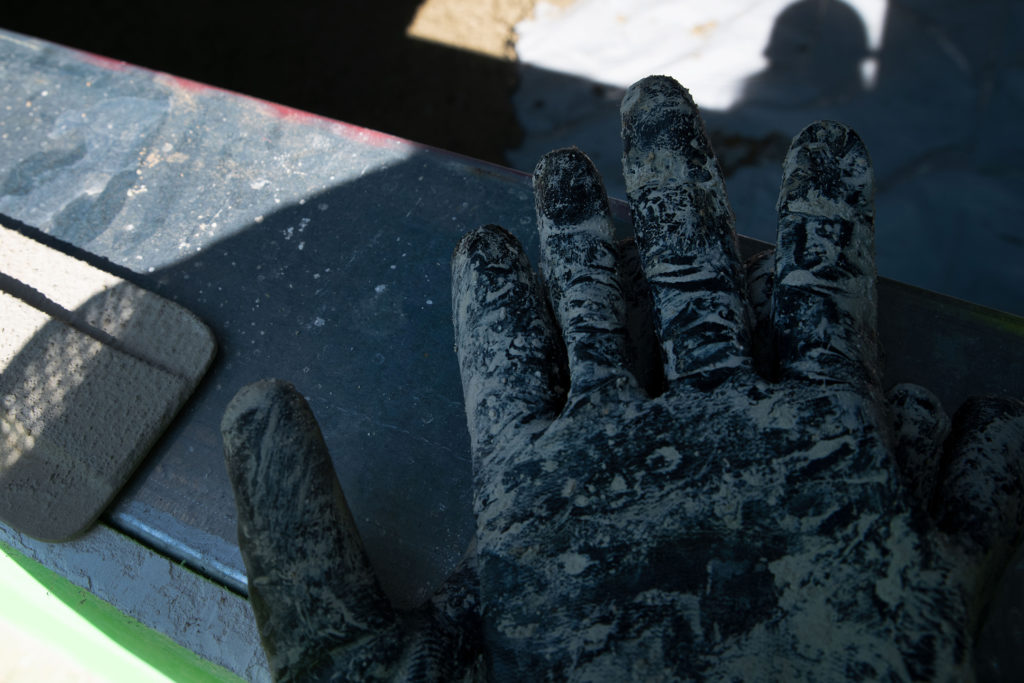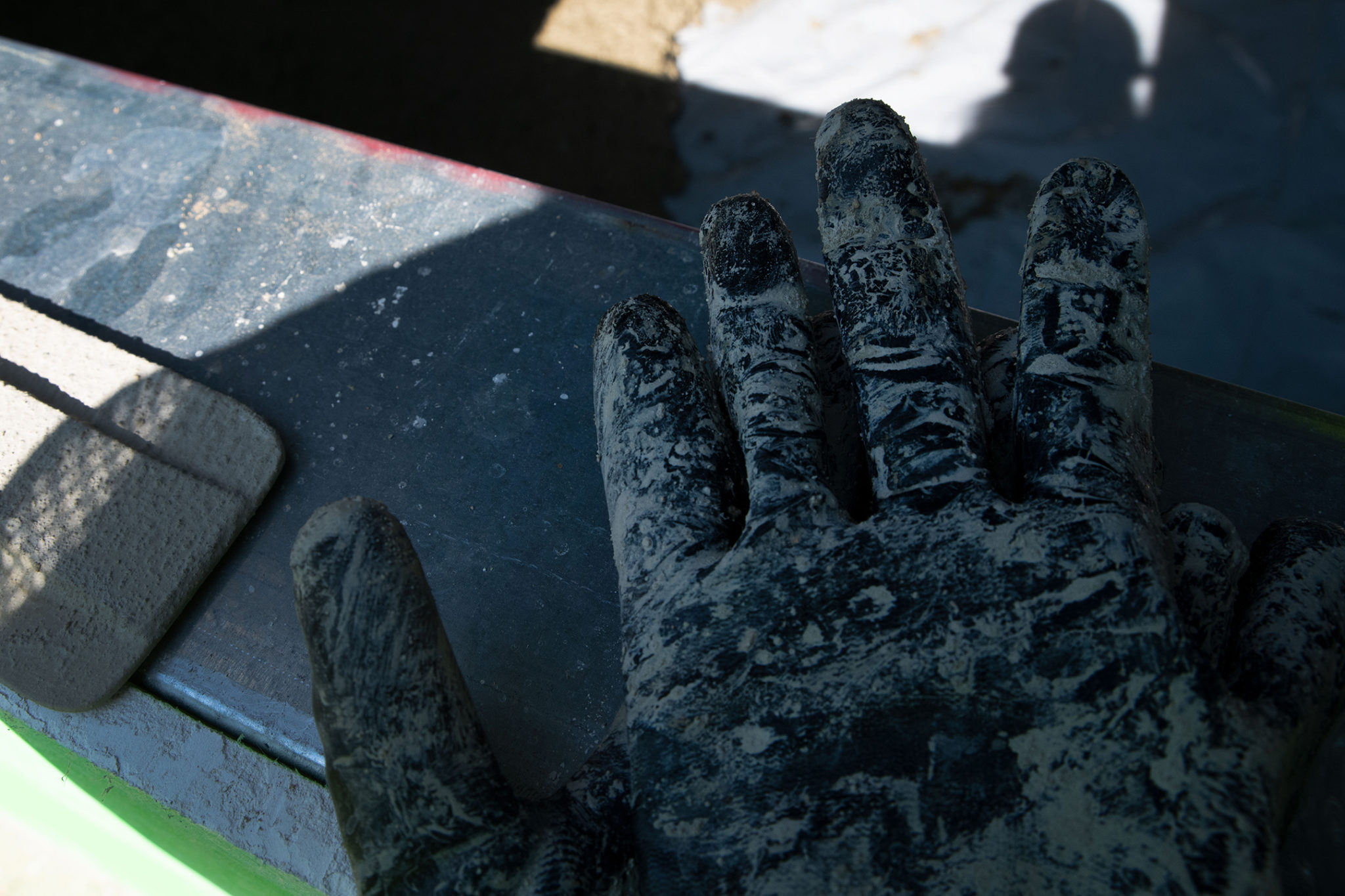 Some Items Should Be Avoided When Working With Concrete
When working with concrete, steer clear of using tobacco products in dusty areas. BioMed Central did a report in 2018 that found silica-exposed smokers had elevated mortality from non-malignant respiratory disease and lung cancers in comparison to non-smokers. The use of tobacco in dusty areas may leave you more likely to inhale crystalline silica. To proactively prevent the inhalation of crystalline silica you should do air monitoring to measure worker's exposure to crystalline silica, as well as to select appropriate engineering controls and respiratory protection. You should perform air monitoring to measure the effectiveness of controls, collecting and analyzing air samples according to the National Institute for Occupational Safety and Health Method Nos. 7500 and 7602.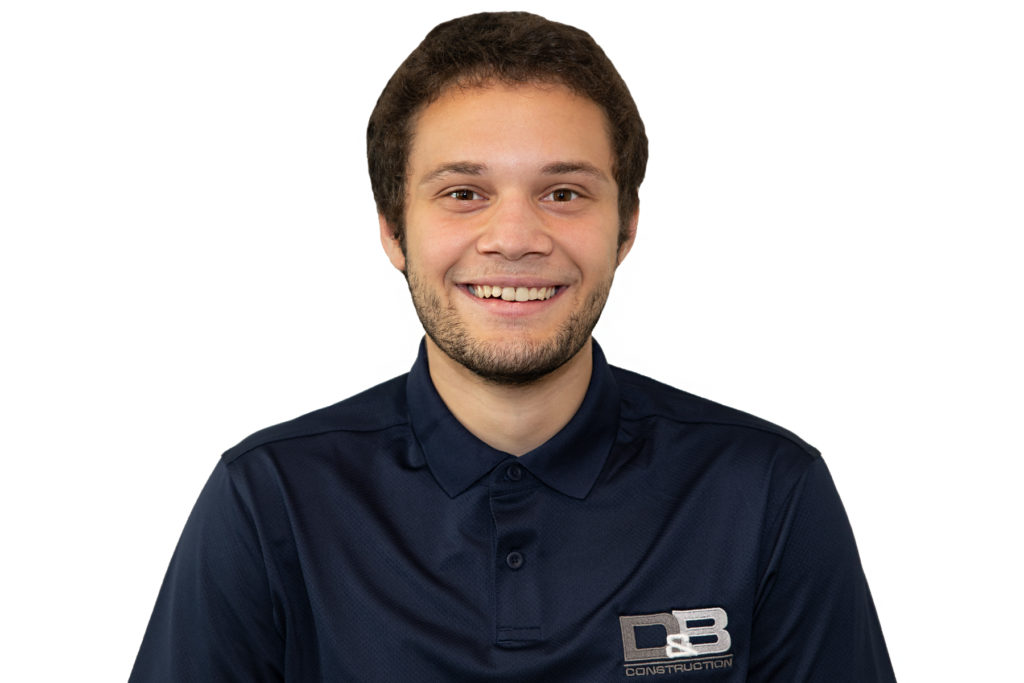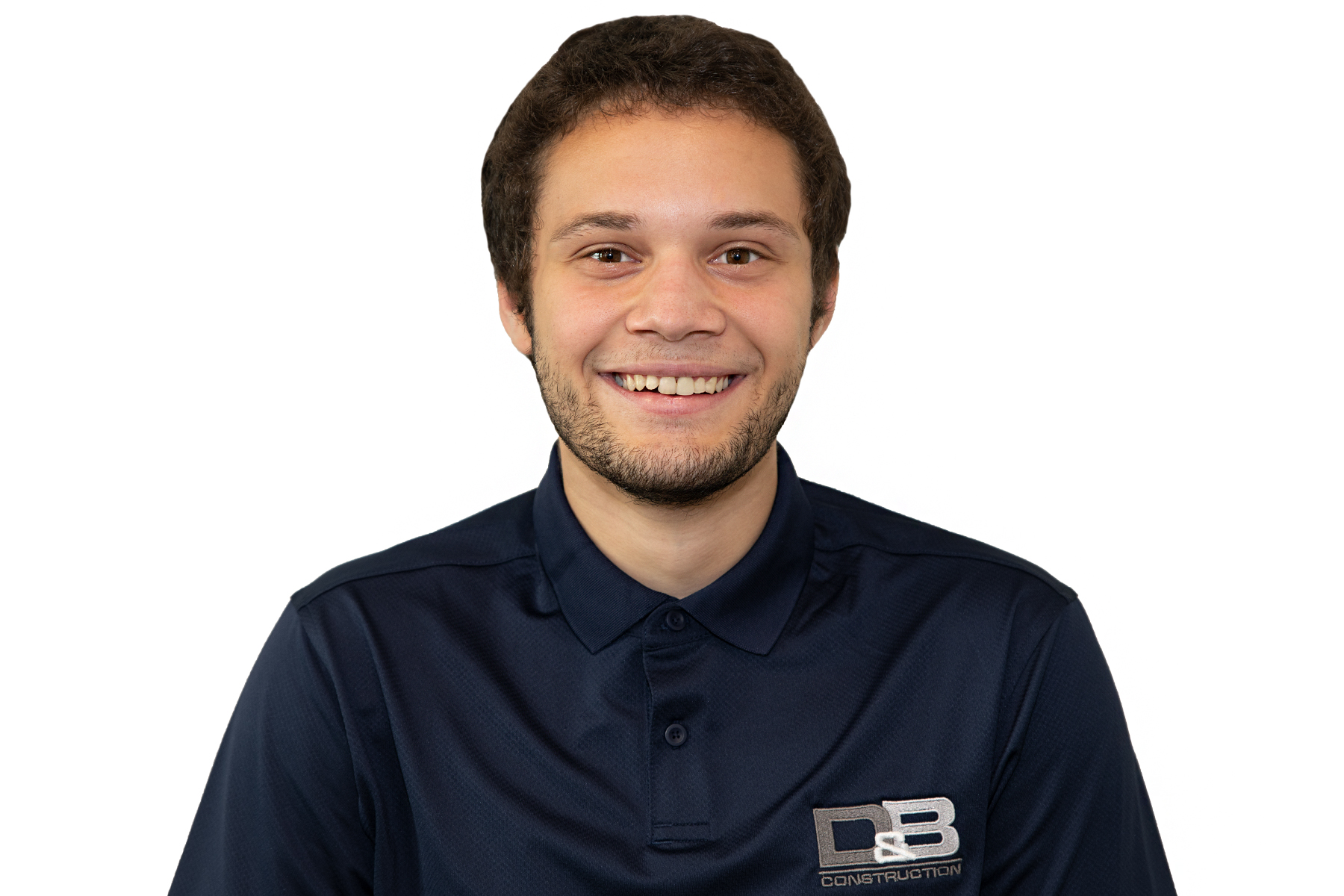 Ben, who will graduate with a degree in Media Effects from Penn State University's Main campus this coming Spring, enjoyed receiving hands-on experience throughout his Summer internship with D&B's corporate Marketing and Business Development team. As a Professional Writing Intern, Ben helped write articles for D&B's blog through gathering research and interviewing team members. He also helped with various business administrative tasks that allowed him to learn to use Customer Relationship Management (CRM) software, our construction management software, Procore, and email marketing tools such as MailChimp, to name a few.
Although the majority of Ben's three months with us was spent in the office, our team made sure to take him on active job sites. Ben was able to go to both commercial and residential job sites so he could see what both sides of the industry are like in person.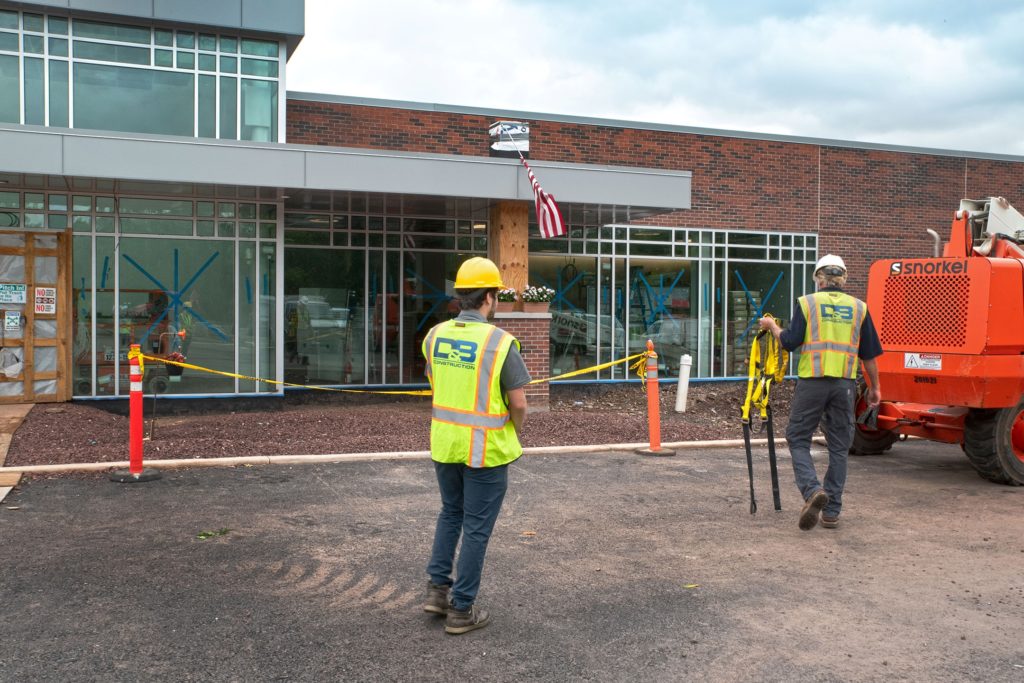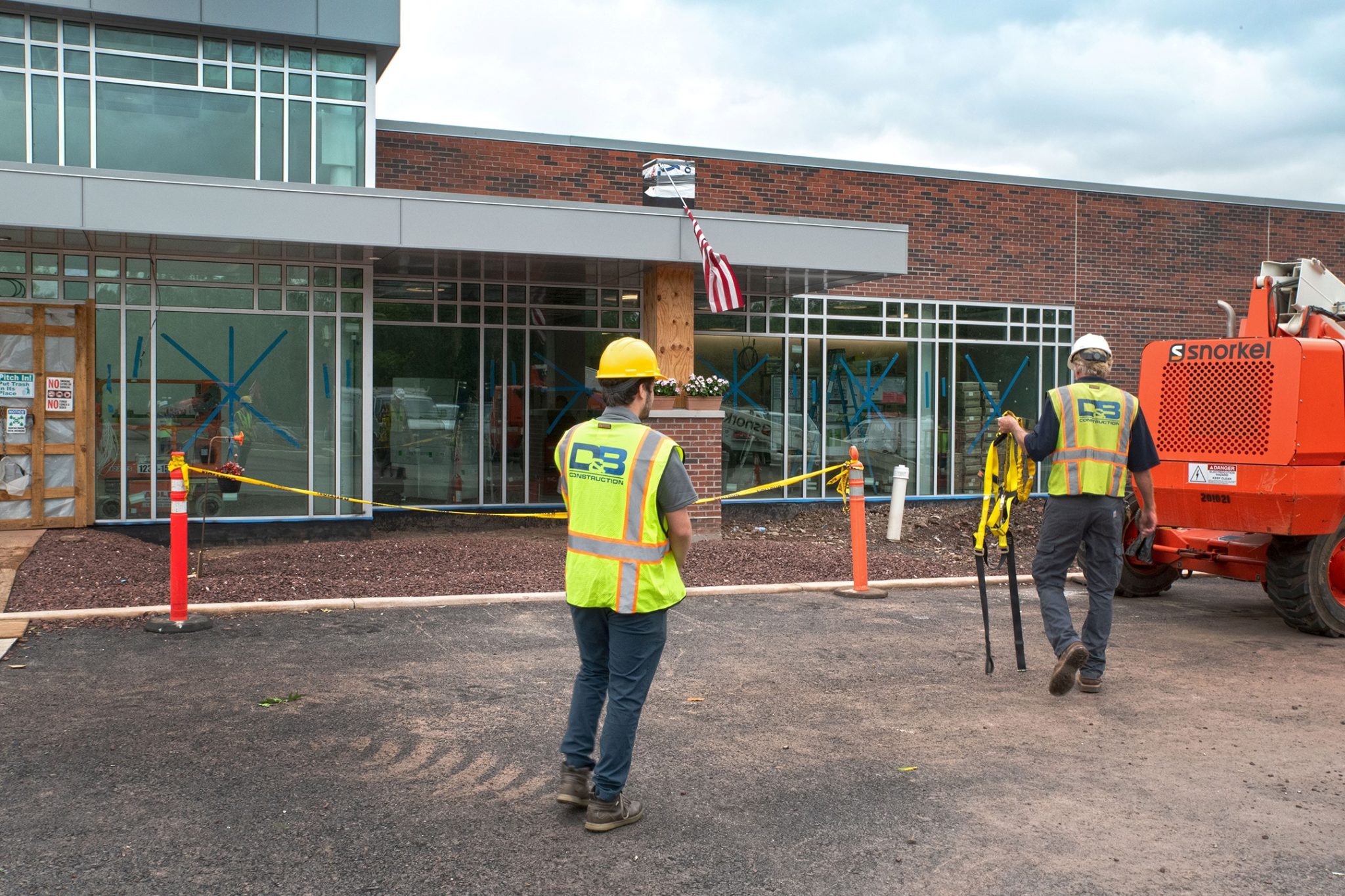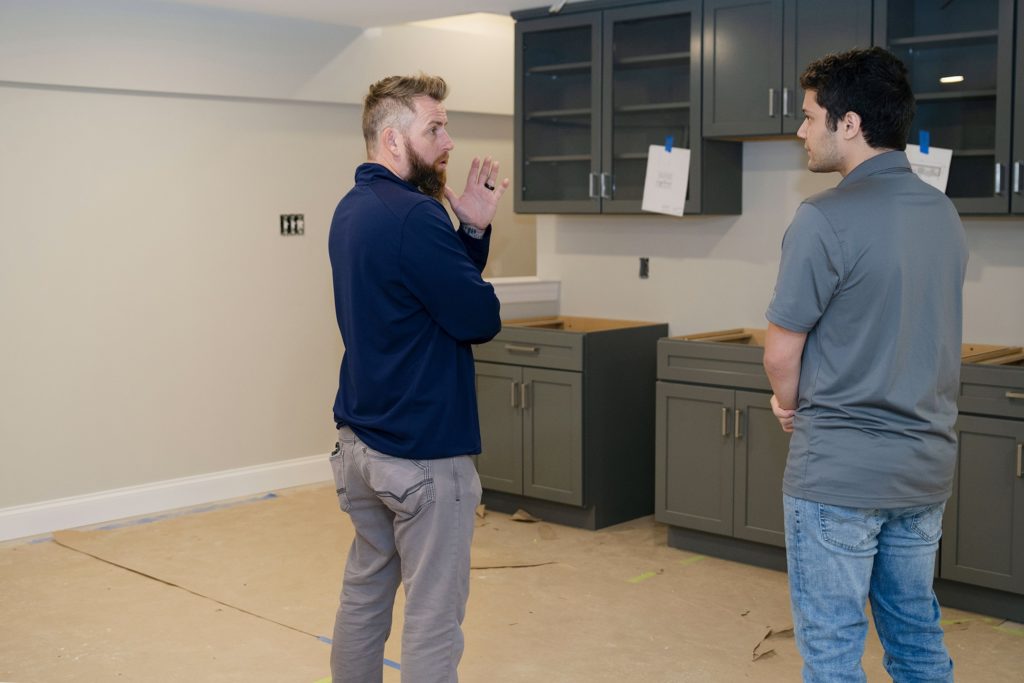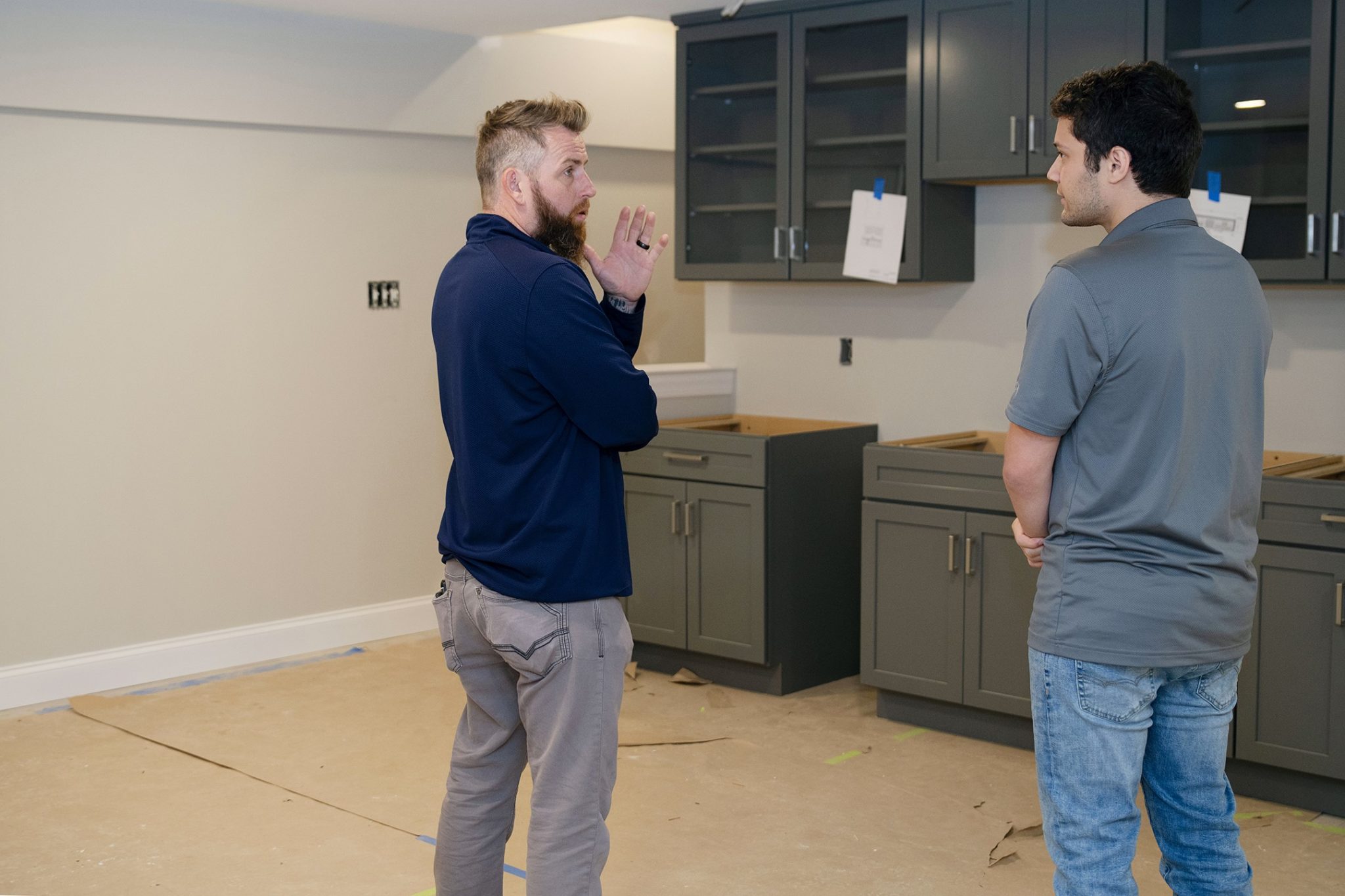 After completing his internship experience, Ben reflected on his time working with D&B, which he described as a "fun and valuable learning experience" for his future. Here's a Q&A from Ben so you can learn more about his experience:
Q: What takeaways, including new skills, techniques, and knowledge did you learn throughout your internship with D&B?
A: "I thoroughly enjoyed learning the ins and outs of construction. The responsibilities I was given aligned with the classes I take at school, and I now have plenty of material that I can include in my portfolio as I start to job hunt post-graduation. I have developed better writing skills throughout the course of my internship. When I look back at rough drafts from my first article versus my rough drafts towards the end of my internship, I can see that I have made a lot of improvement. I learned how to use tools like Canva, which was useful. Ultimately, I was able to experience what it is like to work in marketing in the real world, which was a really good way for me to realize that marketing is a career I think I can pursue."
Q: Did any of the classes you have taken in college directly prepare you for this internship?
A: "Yes! My media effects classes and writing classes prepared me for this internship. For example, my business writing class taught me essential skills to writing professionally. My media effects class taught me many things about how to effectively use social media. Actually, one of my assignments was similar to the benchmarking I did while at D&B, as I was asked to look at a celebrities' Instagram accounts and analyze the good and bad things about them."
Q: Did this internship make you re-consider what you want to do once you graduate college or confirm that you are in the right field?
A: "I have done a lot of thinking about what I will be doing when I graduate and start looking for a job. Even though I am not exactly sure what field it is that I want to work in, learning more about the construction industry and experiencing the environment in the office has definitely made me consider a job in this industry. I have also realized that I truly do enjoy working in Social Media / Marketing. Before this internship I thought that I would like a position like this, but I was never 100% sure. This internship also made me realize that there is nothing to be scared of, and I should go into the real world with all the confidence possible. Working for D&B has been a great step for me in finding a job once I graduate."
Q: What are you most proud of from the work you produced throughout your internship and why?
A: "I am most proud of the articles that I worked on while I was here. I have always had to write for school, but writing for D&B's Blog allowed me to have published work. I am proud to see the articles posted on the website."
Q: How did you enjoy going on the job sites? Was the difference in commercial vs. residential jobs what you expected?
A: "I really enjoyed going to the job sites. It was cool to go on the job sites and see how D&B Construction works. Both residential and commercial job sites were completely new experiences for me. The difference is what I expected. The commercial job sites have a more hectic feel than the residential job sites because there are many more people working at commercial job sites."
Q: What is your most memorable moment throughout your internship and why?
A: "My most memorable moment from my internship was visiting CHOP Souderton. I had never been to a commercial construction site and it was interesting to see the dynamic between the D&B Superintendents and our Trade Partners. I also thought it was really cool to see some of the obstacles they may face while building."
For this quarter's trade partner spotlight, we are taking a visit to Fleetwood, PA, where AP Merkel Inc. has resided since the 1890's. AP Merkel is a four-generation company that offers plumbing, heating, and cooling services. They have come a long way since Augustus P. Merkel first founded the company over 100 years ago. AP Merkel first started out as a company that built farm implements, such as machines that would harvest crops. They are well known for manufacturing grain separators known as threshing machines.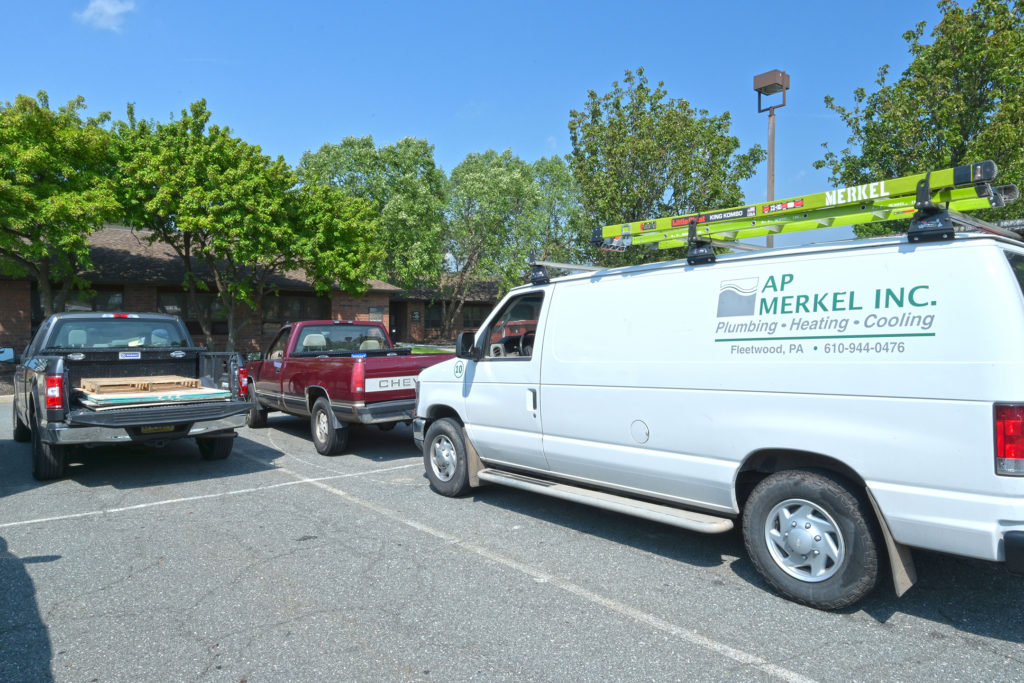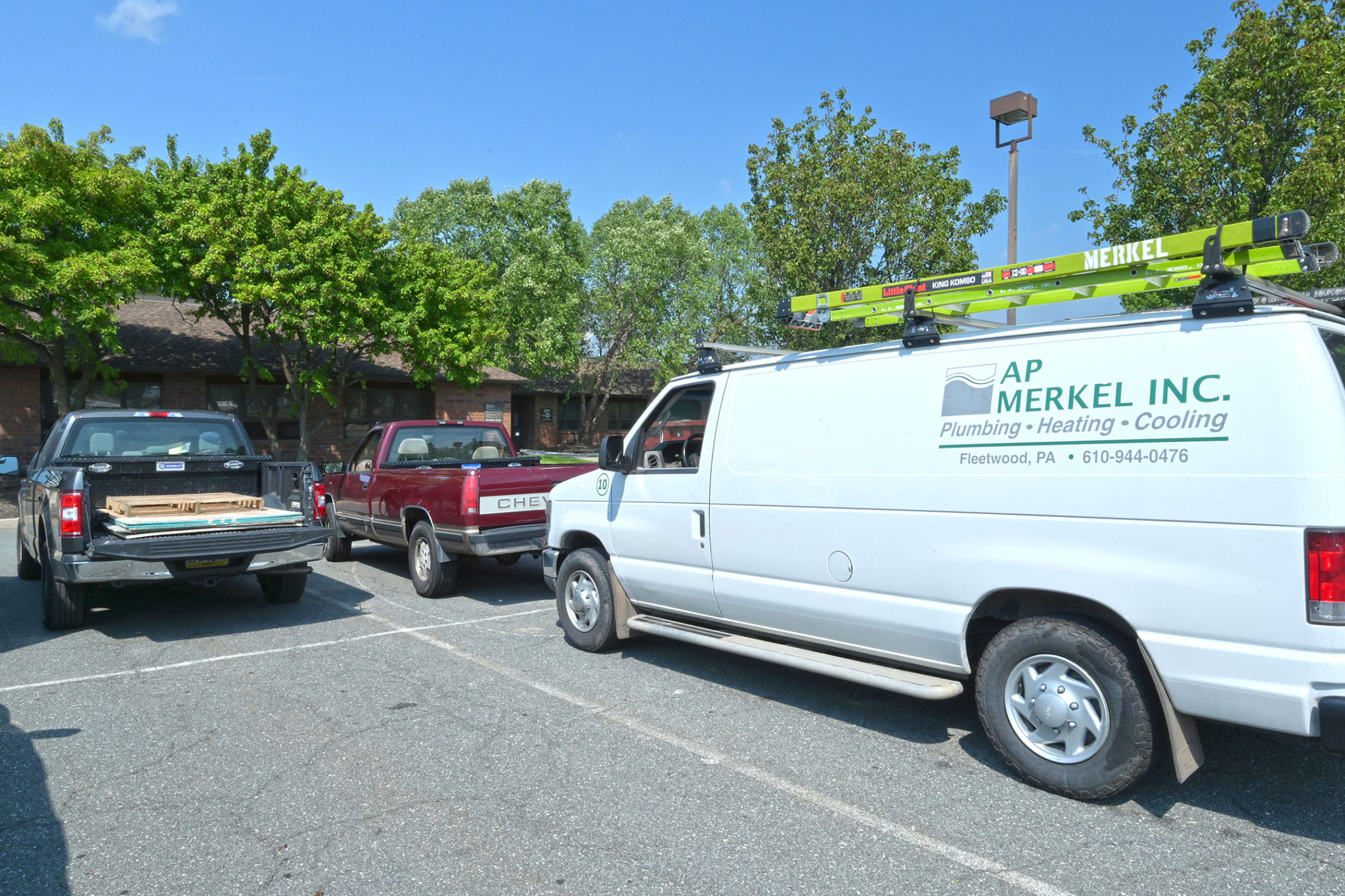 Their transition into the HVAC world all comes down to a smart, strategic business move. "Eventually, all of these farms that AP Merkel was working with needed heat," explains Nate Lobb, an Estimator who has been with the company for 10 years. One thing led to another, and eventually the company added plumbing into their wheelhouse. Approximately 30 employees later, "the rest is history," sums up Nate.
Today the company is run by Pete Merkel, standing President, and busy with approximately 50 commercial jobs a year. Nate is usually efficiently juggling 20 or so jobs at a time, which he enjoys. "I like the diversity of projects we work on. We do everything from senior living, to coffee shops, to dentist offices," he explains. Nate also enjoys working through and overcoming the challenges that come with starting every new project. "Being involved in a job from when it is just a concept in budgeting to when it is complete is something I always enjoy," he says.
Nate, who received his plumbing license about five years ago, grew up in a construction environment. "My dad was always in construction. I had an interest more in the mechanical / HVAC and plumbing side of things," he explains. Nate earned his Environmental Studies degree from Temple University in Philadelphia, PA. While in college, he interned for a company in Philly doing HVAC work and ended up coming back to the Fleetwood area and continuing his career at AP Merkel.
Nate stresses the fact that now is a great time to get involved in the industry. "There is a HUGE need for young, licensed tradespeople. There are few young people getting into this field right now. Get your license when you can, take it seriously, communicate, and you can have a great career," he urges.
One young individual who has impressed Nate is D&B's Superintendent, Ryan Hummel, who he has worked with since D&B Construction and AP Merkel established a relationship within the past year. "He has been really helpful and knows the industry, especially for being a younger guy. Ryan is really on top of it and not afraid to pick up the phone and check on something with us. We can talk through things and work it out. It is clear he takes his job serious," explains Nate.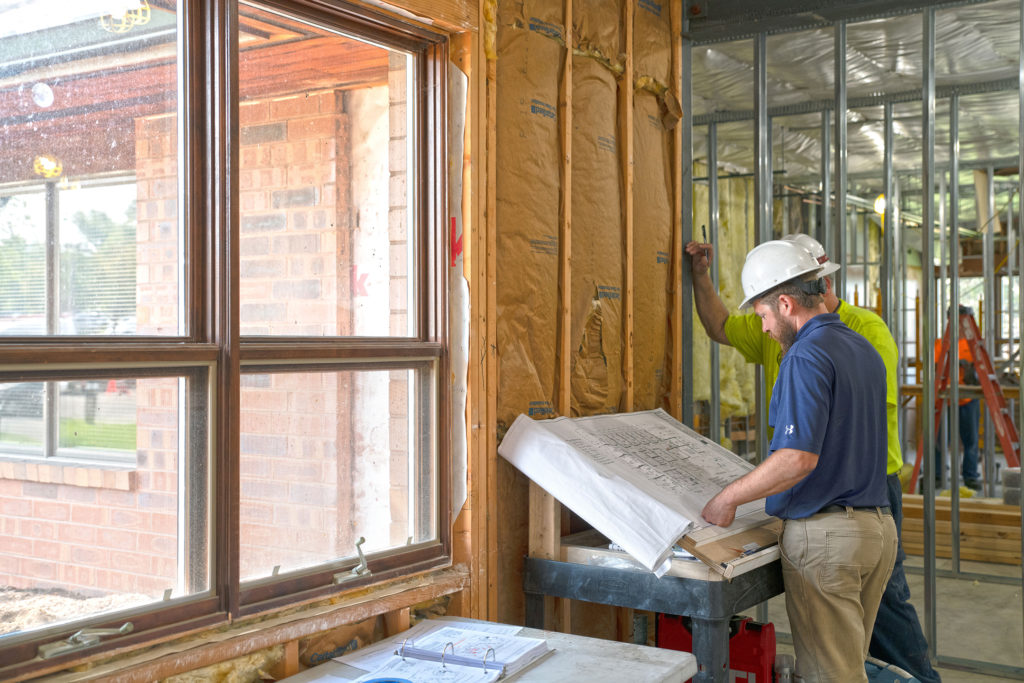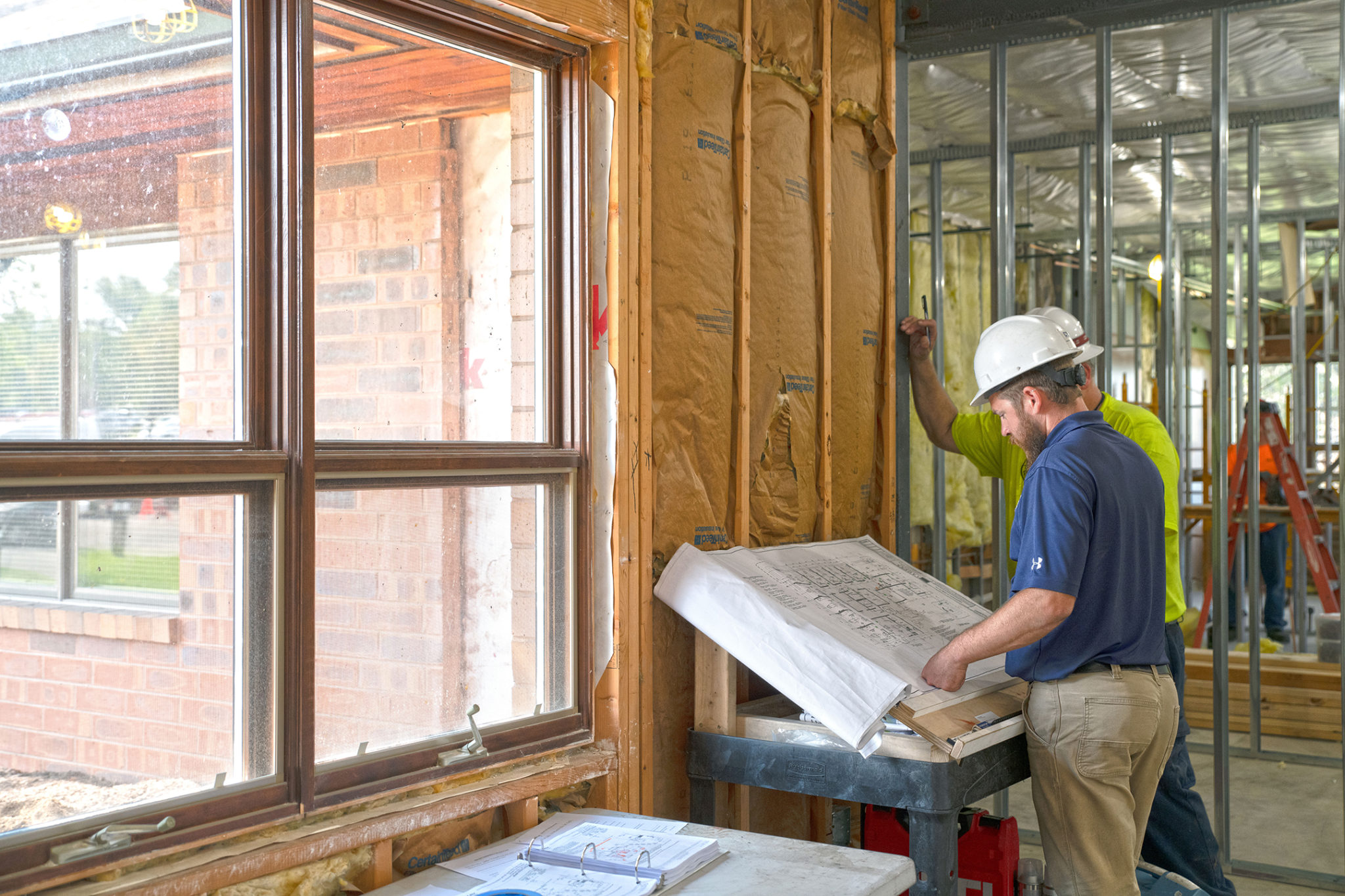 This feeling of open lines of excellent communication is just as strong a value for AP Merkel as it is for Team D&B. When we asked Ryan what he likes about working with AP Merkel, he summed it up simply in one word: "Everything." However, what stands out most to Ryan is "their level of communication and coordination from their office staff to the field staff." His experience working with AP Merkel over the last year has shown him that "they run a tight ship."
An example of this can be found at one of our healthcare projects currently in active construction, Grove Dental Pediatrics. Ryan has worked with Nate and Tom, AP Merkel's Superintendent who has been with the company for around 25 years. "I bid the Grove job, completed estimating, submittals, and the purchasing of equipment and piping, and Tom took it from there and is currently managing the actual job," explains Nate.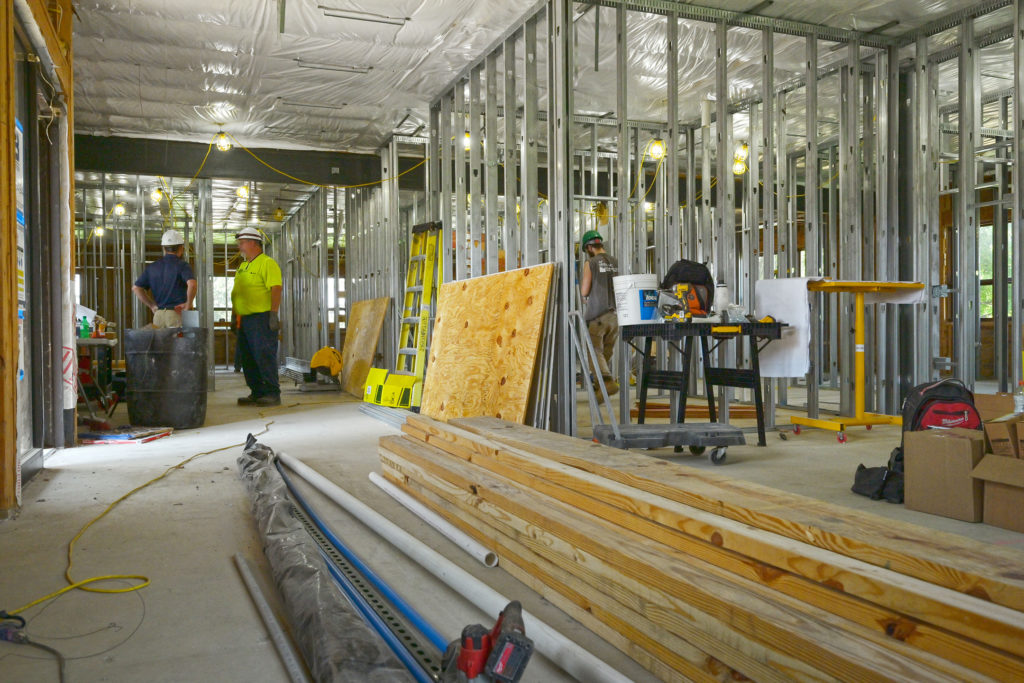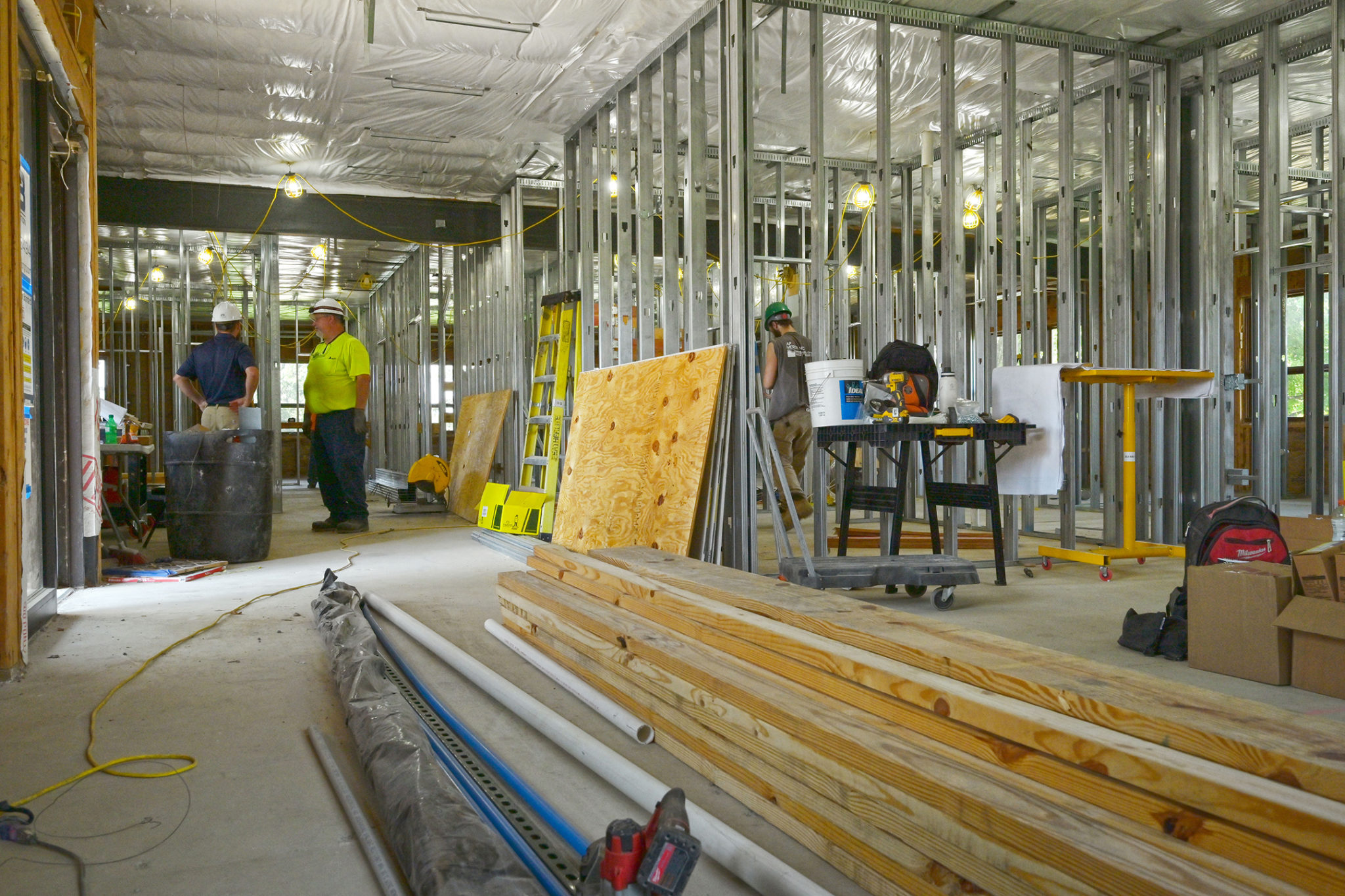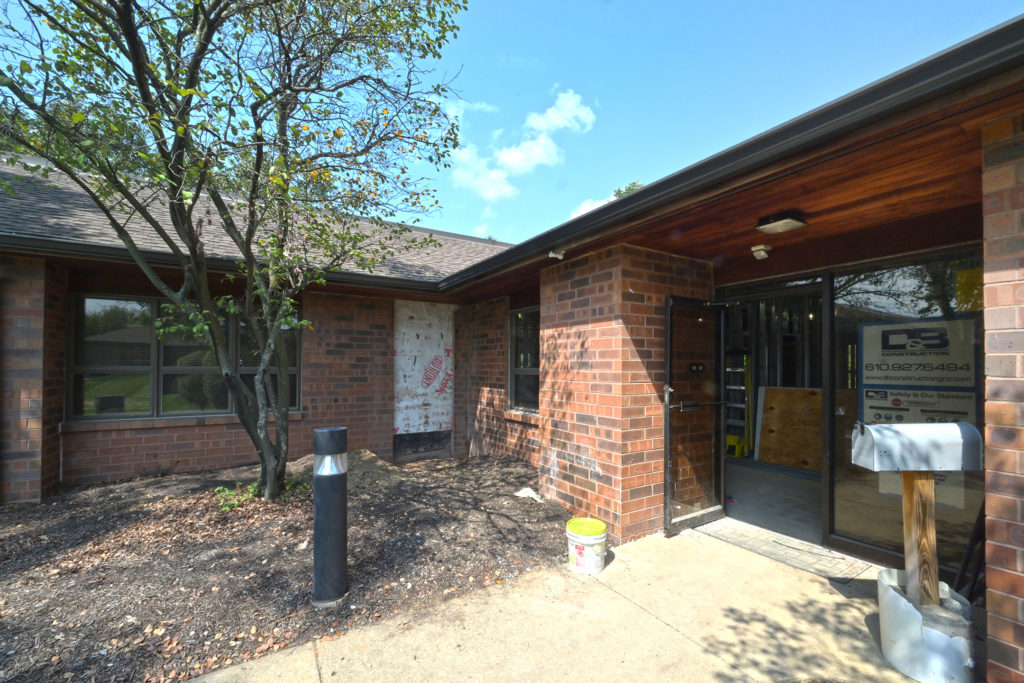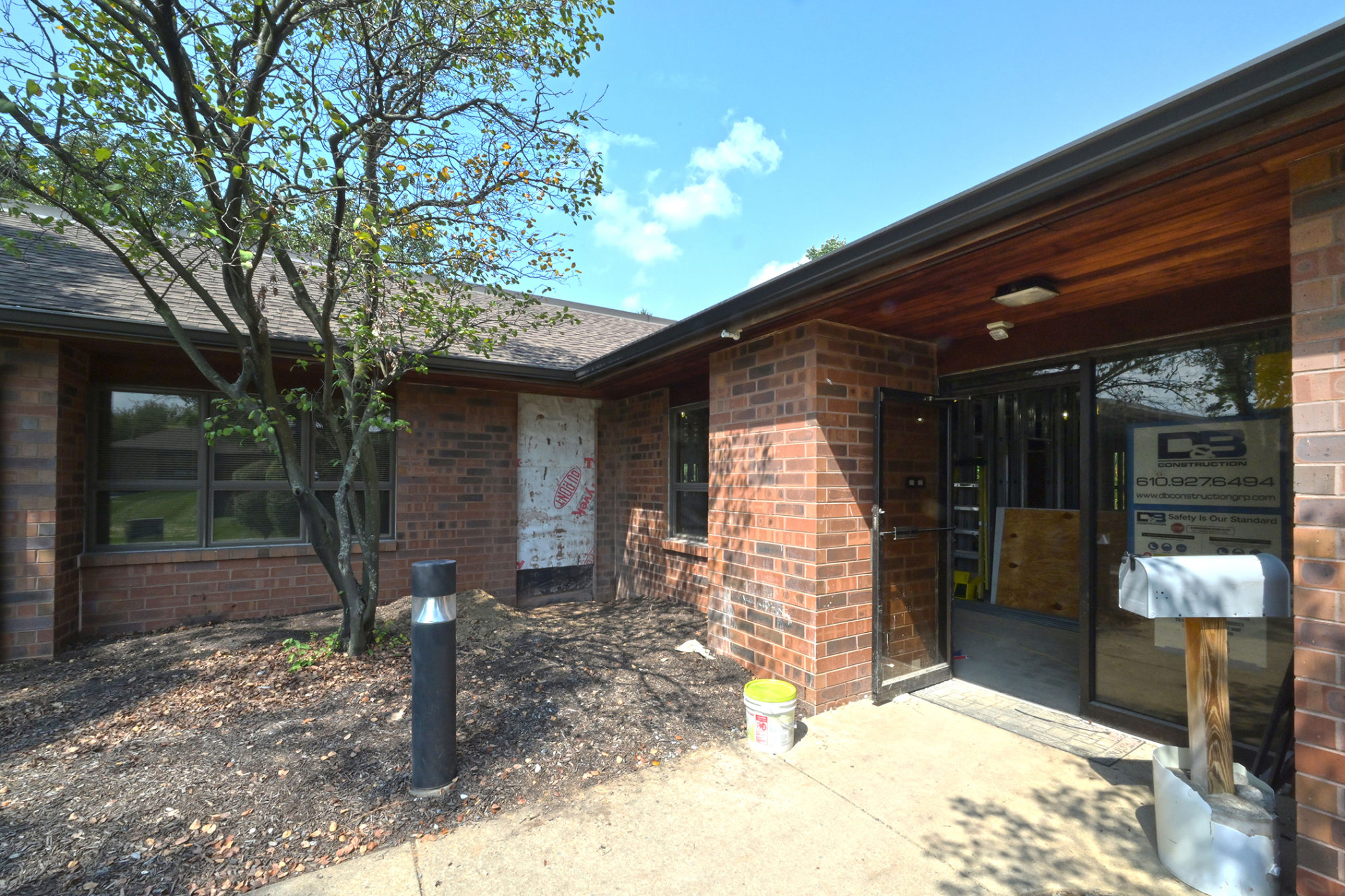 One highlight of this 3,700 SF medical office space? "This project has medical gas piping, which is something we don't deal with that often. This type of piping has to be put in very clean. It has a special fitting with a braised fitting joint. The key is to keep it clean, so when we start to install it we have to flush it with nitrogen gas," explains Nate.
We recently visited this healthcare project in Wyomissing, PA. Here's some photos of AP Merkel team members, Andy, Zach, and Scott, their lead plumber, working to keep the job running smoothly and safely with Team D&B: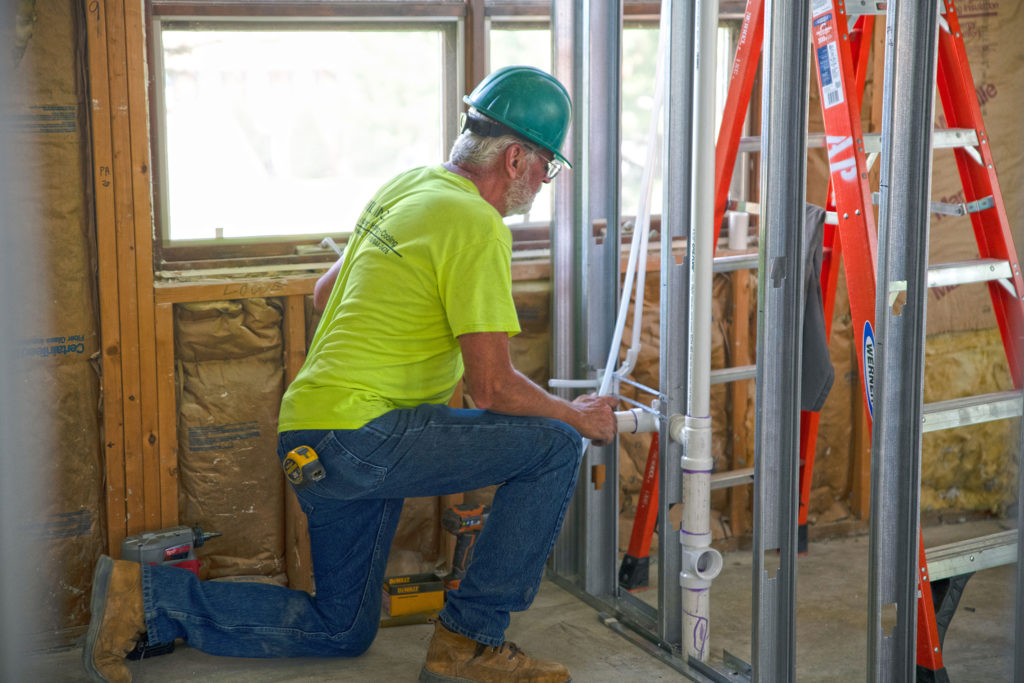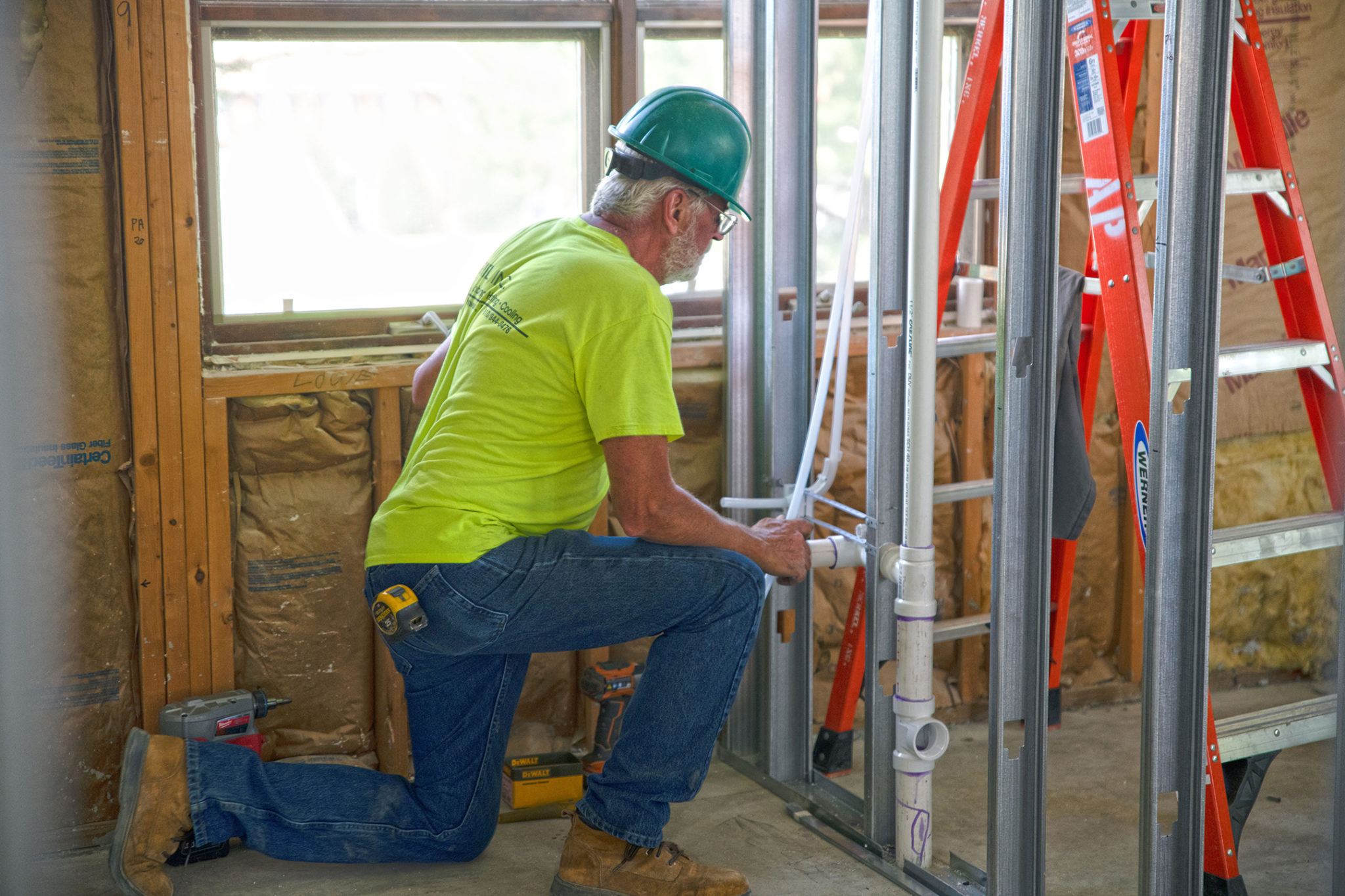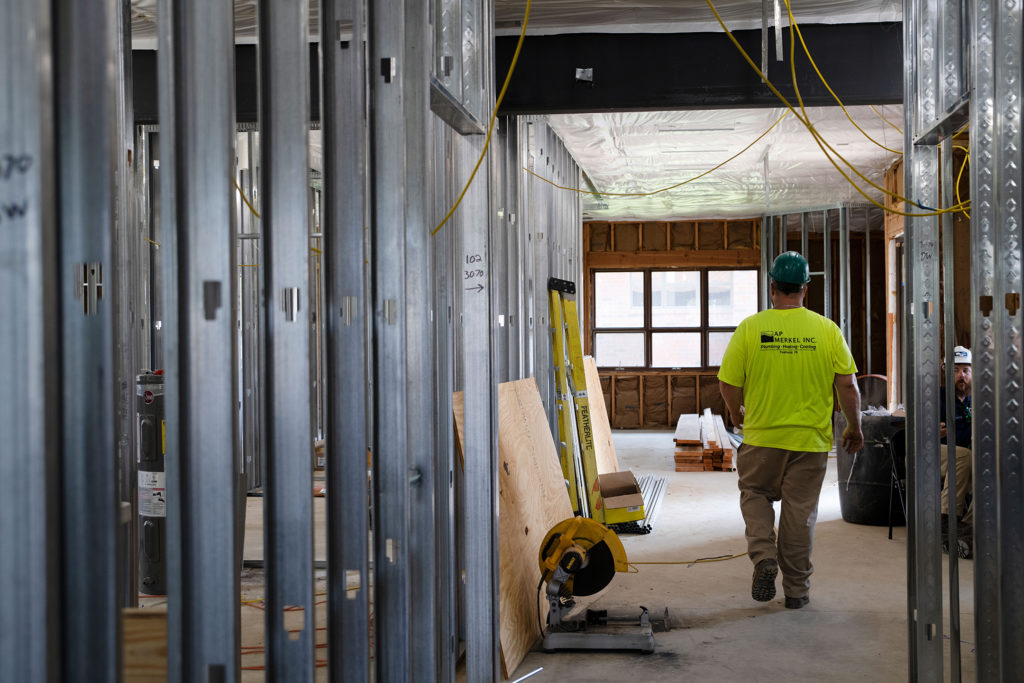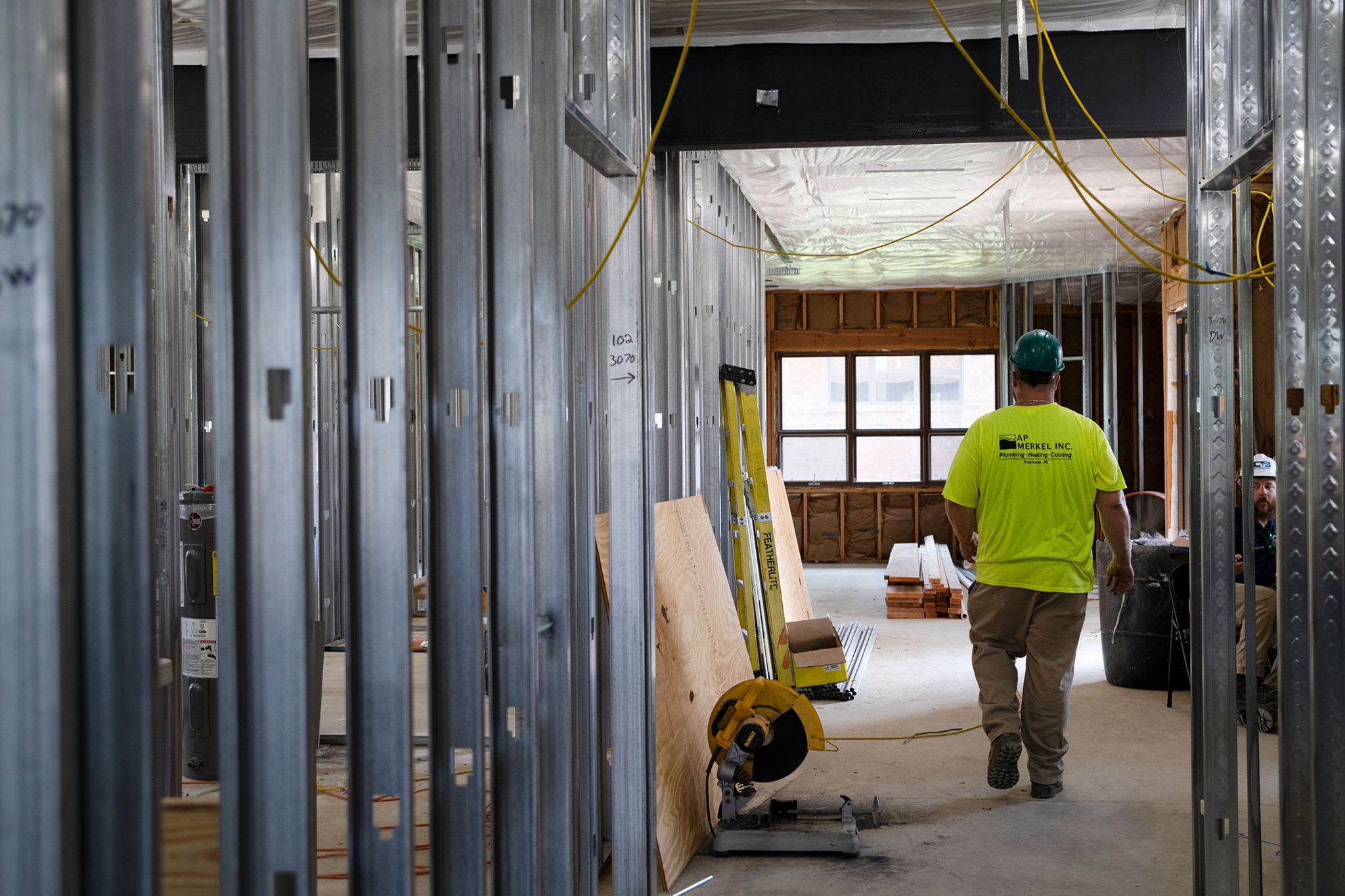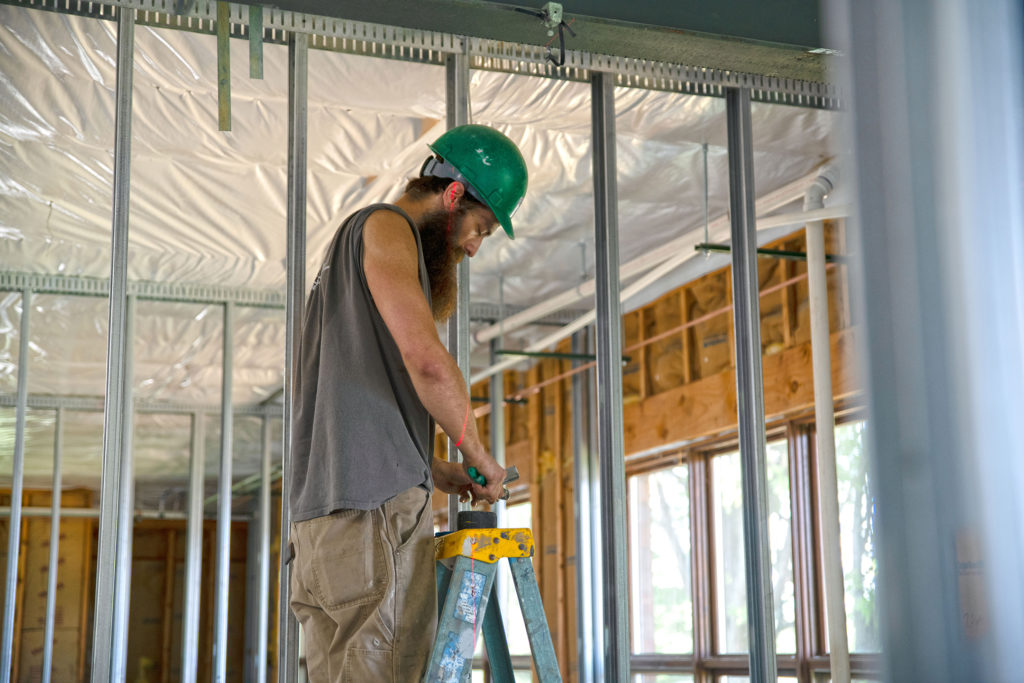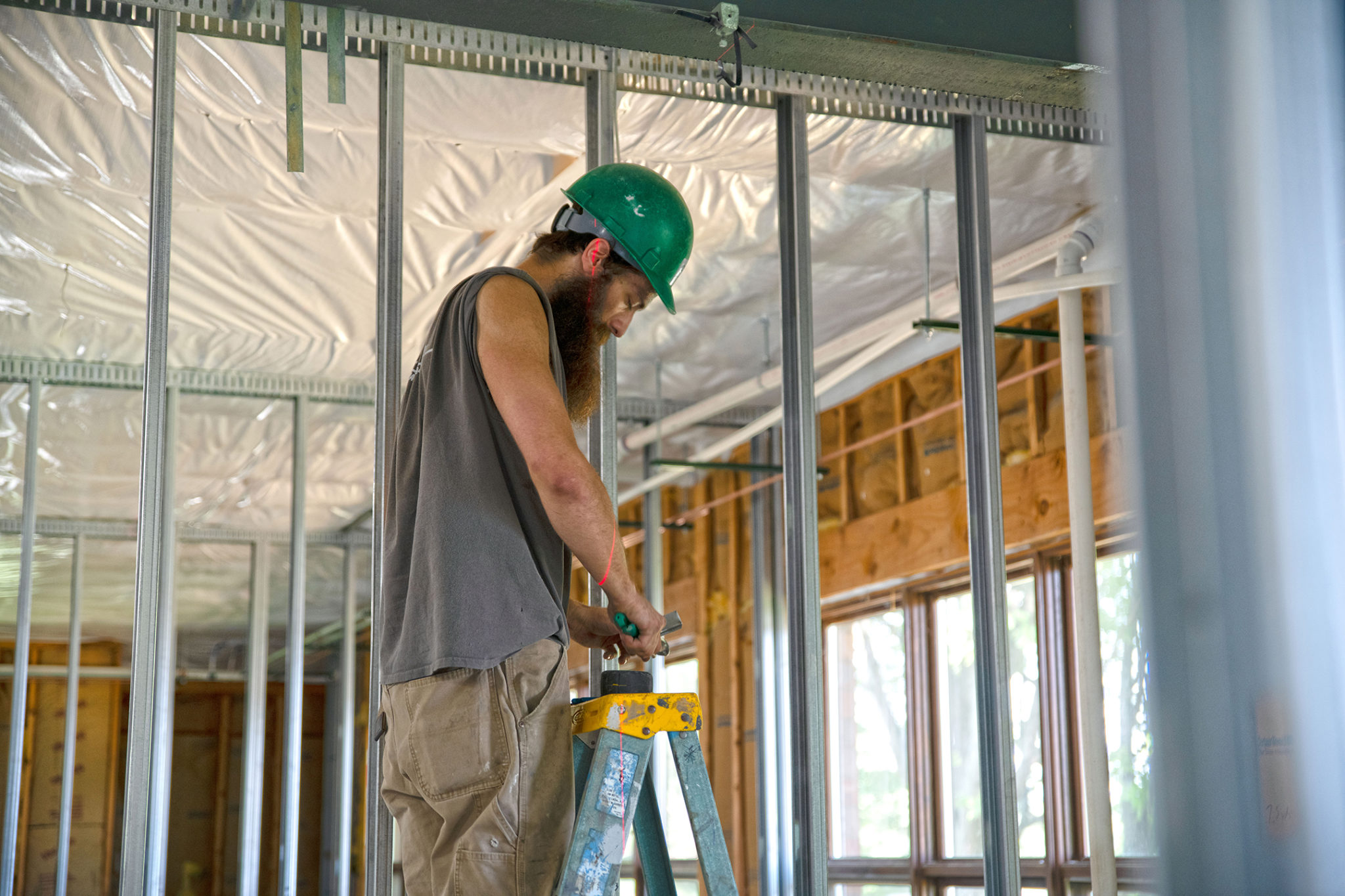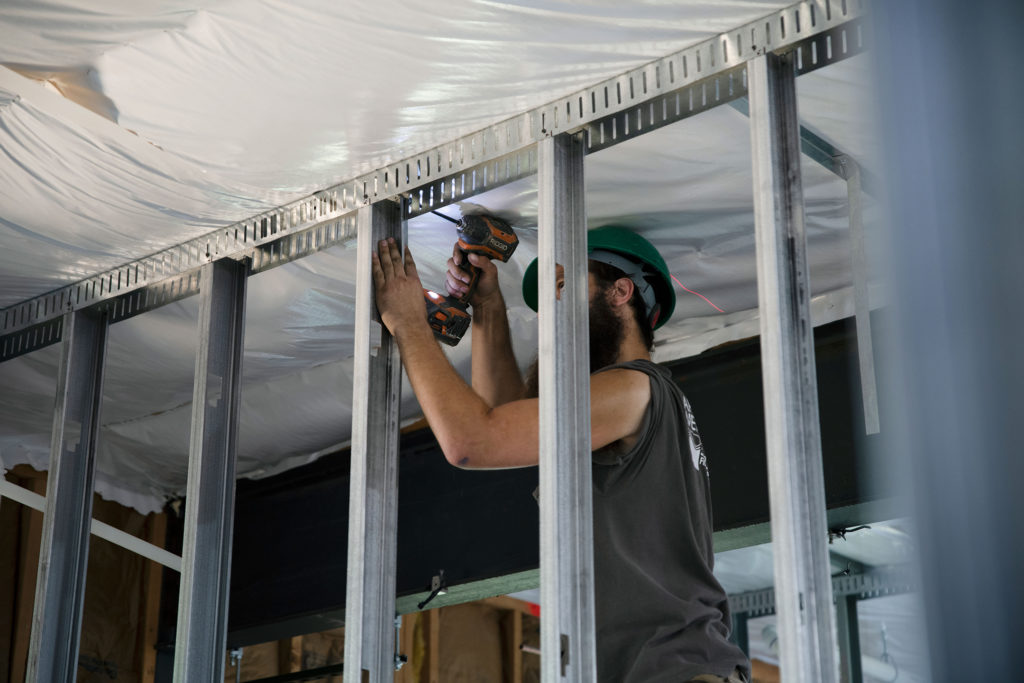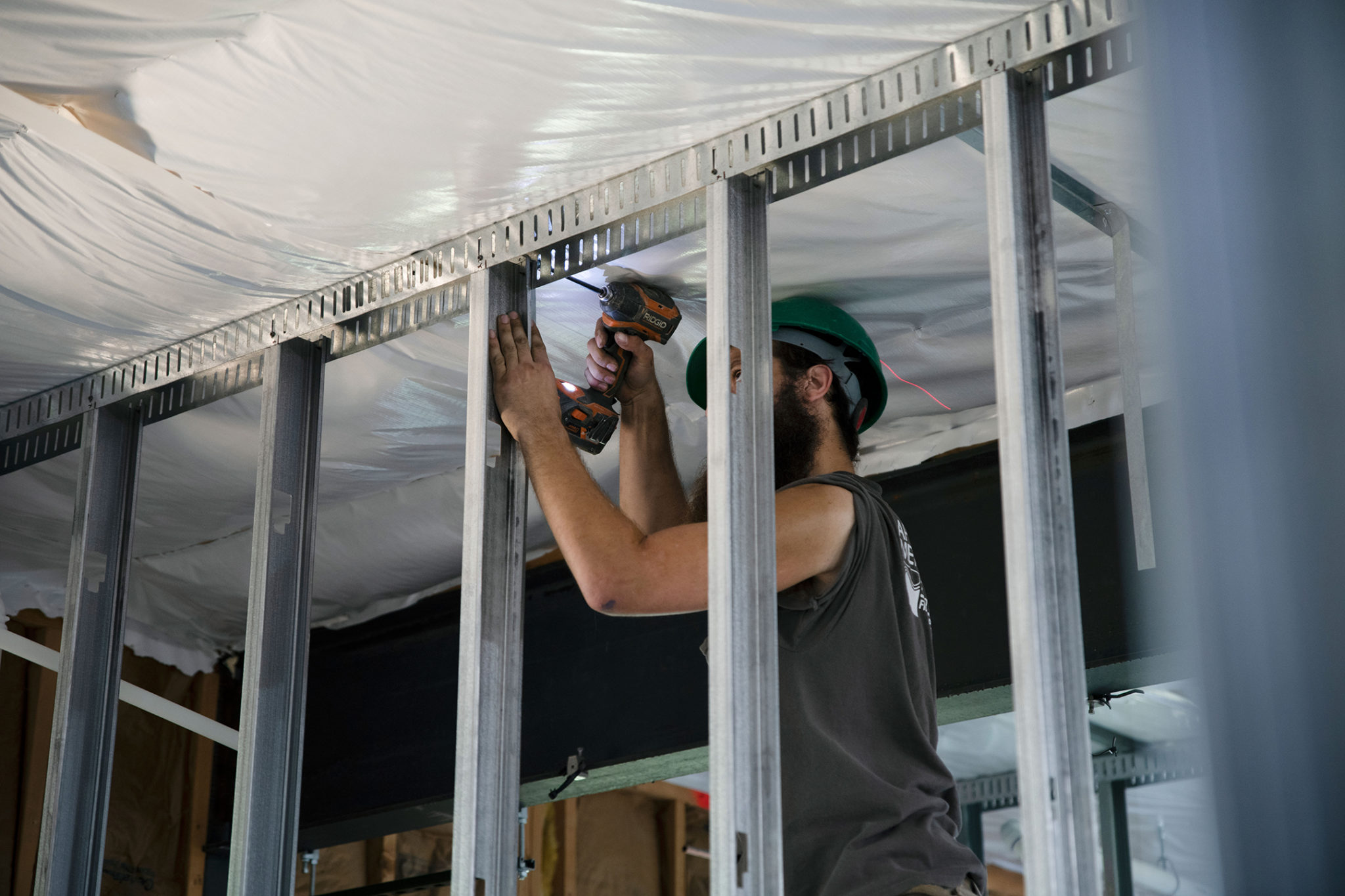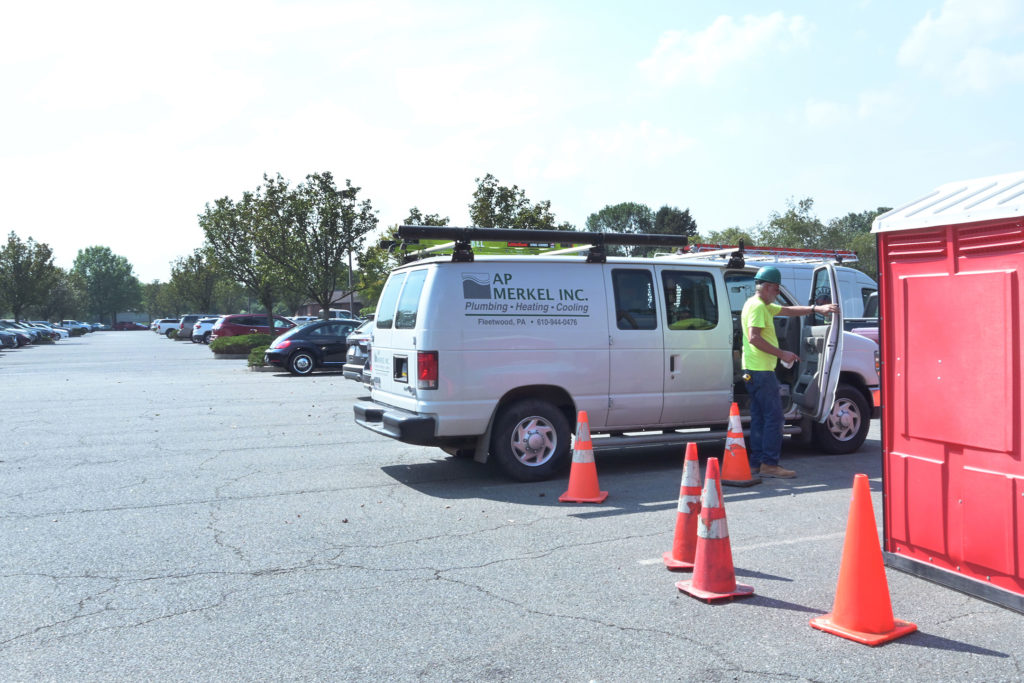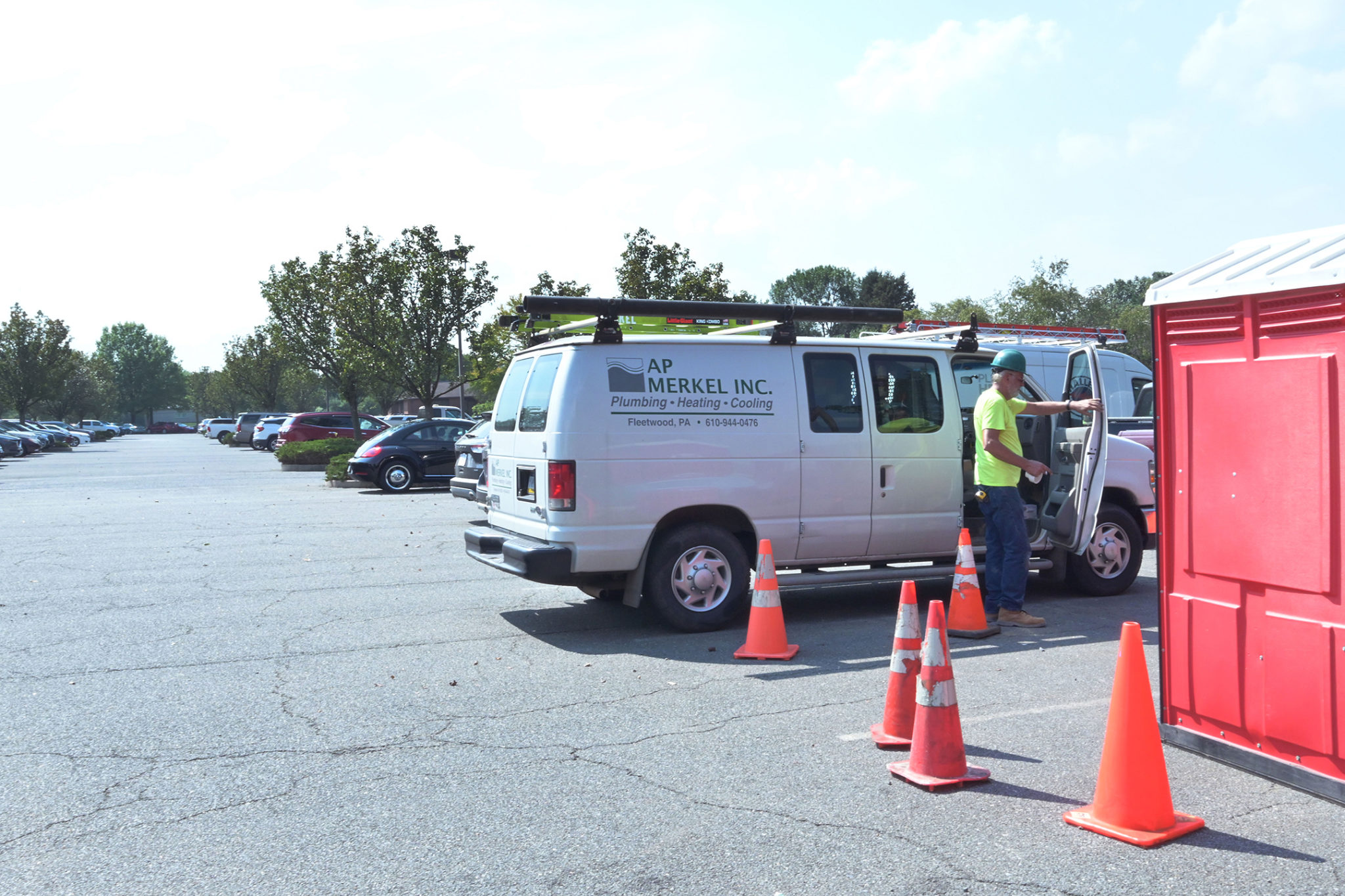 Safe + Sound is a year-round campaign to encourage every workplace to have a safety and health program. It was launched by OSHA in an effort to gain safety awareness. Every year in August, OSHA has a Safe + Sound week, with this year's taking place from Monday, August 9th to Sunday, August 15th.
This nationwide event recognizes the success of workplace health and safety programs and offers information and ideas on how to keep America's workers safe. Seven businesses make up the list of organizers who participate in planning calls, working collaboratively with each other to develop and review Safe + Sound materials and communications, and leverage their own resources to support these efforts. In addition to OSHA, these businesses include large organizations, such as the National Safety Council and . The program also has 225 partners who are membership organizations that are responsible for communication and outreach throughout the year to promote Safe + Sound to their stakeholders.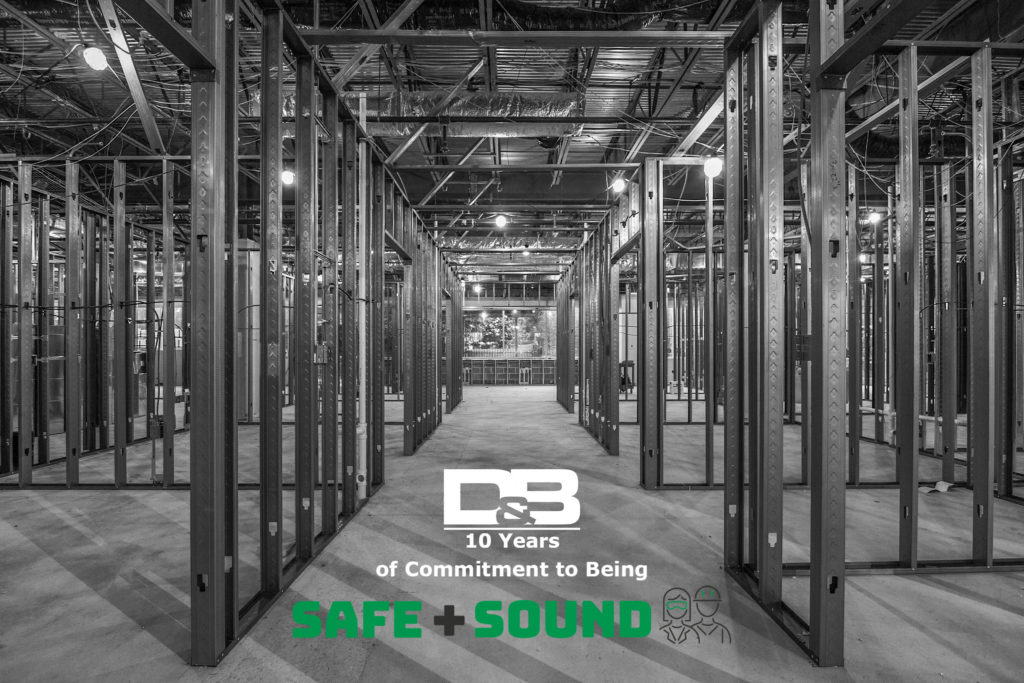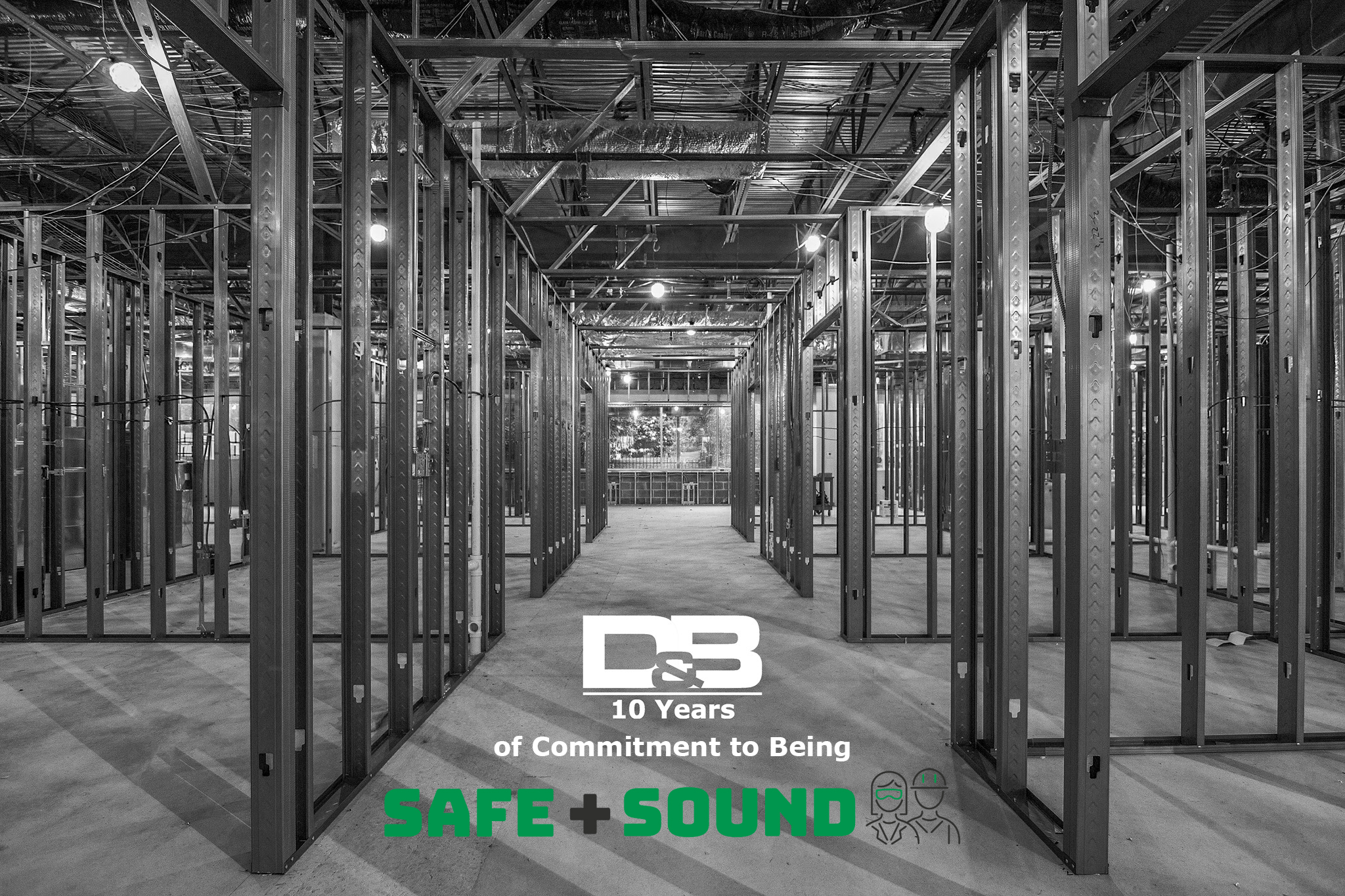 D&B Construction is one of 68 companies throughout PA (and over 1,600 across the nation) who have signed up to participate in Safe + Sound Week 2021. We are excited to show our support and commitment to continue building safer jobsites. People come first at D&B. The safety of our employees, trade partners, and clients is always paramount in every project's preparation and execution. In order to make this happen, safety and health are at the core of everything we do. Learn how here.
The Occupational Safety and Health Administration, better known as OSHA, was created in 1970 to ensure safe and healthy working conditions by setting and enforcing safety standards in addition to providing training, outreach, education, and assistance. You may have heard OSHA refer to the "Fatal Four" when describing the four most common causes of worker deaths on construction sites throughout the United States.
The four most common causes of worker deaths in this industry come from Falls,) which account for 33.5% of construction worker deaths), being struck by an object (11.1%), electrocutions (8.5%) and being caught in / between something accounted for 5.5% of construction worker deaths. According to OSHA, as of 2020 "one in five worker deaths in 2019 were in construction." The "Fatal Four" were responsible for more than half (58.6%) of construction worker deaths. According to OSHA, if these "Fatal Four" causes could be eliminated, they would save 591 workers' lives in America each year.
In 2020, OSHA gathered data on the top 10 instances of safety code violations. Learn what they are below, and hear from our Director of Construction and Safety Director, Tom, on how such issues can be avoided and prevented:
1. Inadequate Fall Prevention – 6,010 violations
What This Means: OSHA states that a violation could include not providing working conditions that are free of known dangers, failure to keep floors in work areas in a clean and dry state, as well as not providing required personal protective equipment at no cost to workers.
Tips on How to Prevent This: Our Safety Director, Tom, encourages the use of safety rails and body harnesses on every job site. "At D&B we provide these on every job site to give our workers the safest environmental possible."
2. Inadequate Hazard Communication – 3,671 violations
What This Means: Simply put, this refers to the failure to inform all people on the job site of potential risks and hazards.
Tips on How to Prevent This: "At D&B we fill out a Job Safety Analysis (JSA) and Job Hazard Analysis (JHA) on all job sites," explains Tom. "This helps us to ensure that we are communicating this vital information with all of our employees and trade partners. Communication is huge in enhancing safety."
3. Unsafe Scaffolding – 2,813 violations
What This Means: Failure to abide to OSHA standards would include improper fall protection / fall arrest systems, unsuitable guardrail height, inadequate footing support, failure to complete inspections, etc.
Tips on How to Prevent This: Work with reputable scaffolding companies that you trust. "At D&B we complete daily and weekly inspections on the scaffolding on our site to ensure we are practicing proper scaffolding safety protocols," says Tom.
4. Failure to control hazardous energy (Lockout / Tagout Violations) – 2,606 violations
What This Means: Failure to address the practices and procedures needed to disable machinery or equipment that may expose workers to hazardous energy.
Tips on How to Prevent This: "There is no better way to ensure this mishap is avoided then by requiring all electricians on your job site to use lockout and tagout procedures on all powered equipment and panel boxes," says Tom.
At D&B, we include the following lockout safety poster on our Safety Board at all jobsites: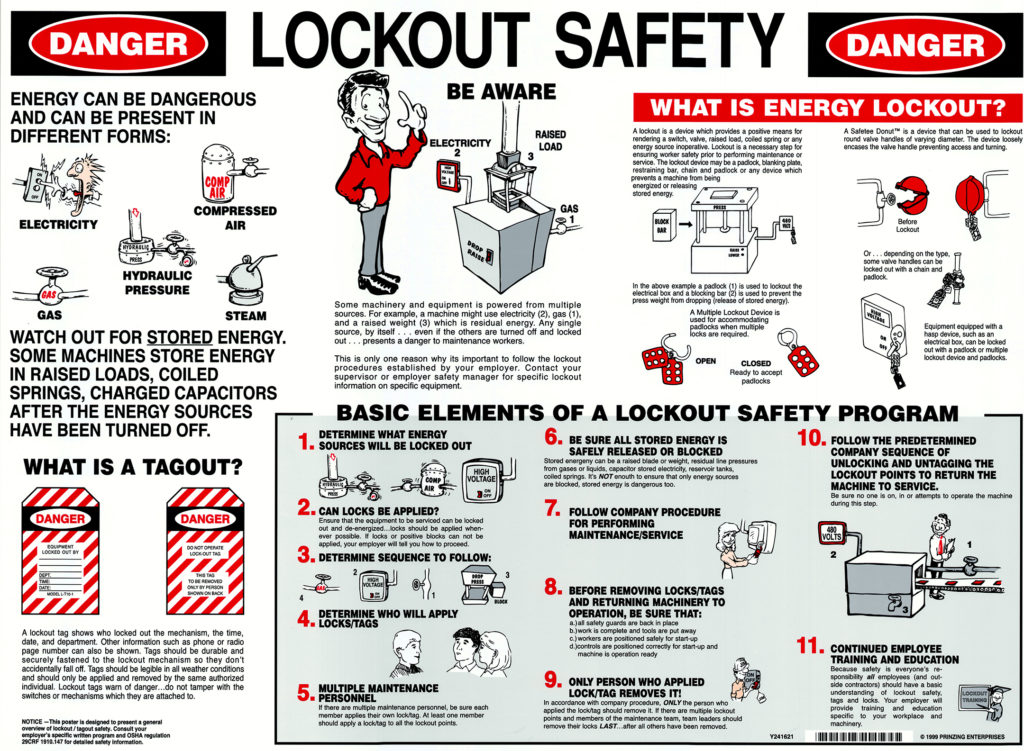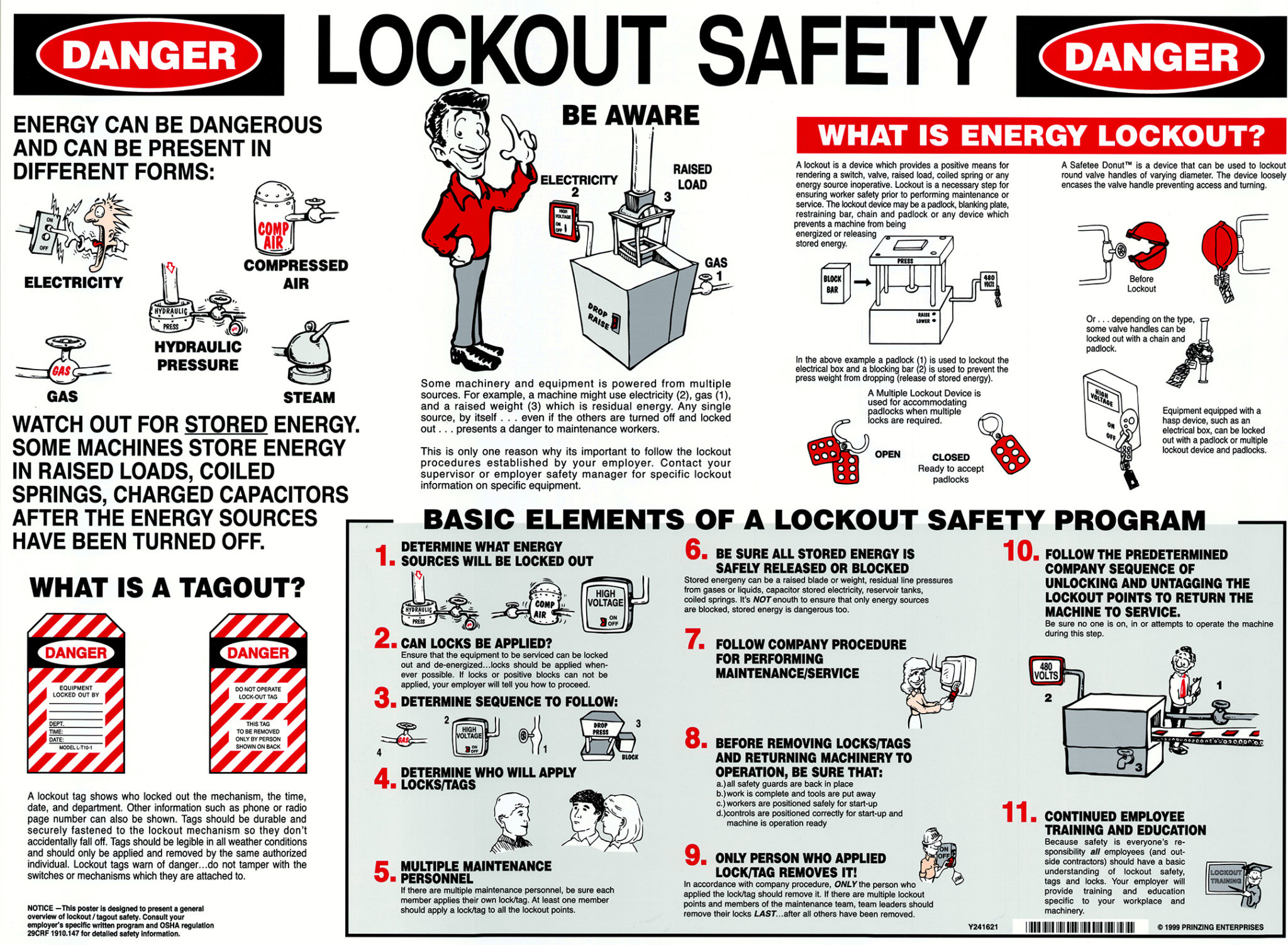 5. Inadequate Respiratory Protection – 2,450 violations
What This Means: A violation would include not providing the proper respiratory protection.
Tips on How to Prevent This: "In addition to providing dust masks to all employees, it is important to utilize clean air machines and air scrubbers such as HEPA filters on your job sites," says Tom. "In any situation where there are environmental hazards present, we as a company will hire a reputable remediation company to ensure the safety and health of all people on the job site. I highly recommend doing this when the elements require it."
6. Unsafe Ladders – 2,345 violations
What This Means: This could include placing a ladder on a box or barrel, using ladders where there is unstable footing or soft ground, exceeding a ladder's maximum load rating, ignoring nearby overhead power lines, moving or shifting the ladder while a person or equipment is on it, using an extension ladder horizontally as a platform, etc.
Tips on How to Prevent This: "Have your Site Superintendents check ladders on a daily and weekly basis. If any ladders are deemed unsafe or defective, they should be removed immediately," says Tom. Unlike hard hats, for example, there is no specific expiration date for ladders. Following proper storage techniques and treating ladders with care can help in making them last longer.
7. Powered Industrial Truck Safety Violations – 2,093 violations
What This Means: This refers to improper vehicle use, lack of training, and a failure to re-certify operators every three years as required.
Tips on How to Prevent This: " At D&B, we make sure all of our Pettibone and Lift operators are certified, and we require lift plans for any kind of crane lifts. This is something I recommend everyone get in the habit of making a standard practice."
8. Inadequate Fall Prevention & Training Requirements – 1,773 violations
What This Means: Failure to provide proper fall prevention training is something that can easily be avoided if proper training and communication on fall prevention is completed on all job sites.
Tips on How to Prevent This: "All D&B Construction field personnel are OSHA certified, and we also hold training sessions throughout the course of the year," explains Tom.
At D&B, we include the following fall protection poster on our Safety Board at all jobsites. This is an easy way to remind everyone on the job site of how to best prevent falls.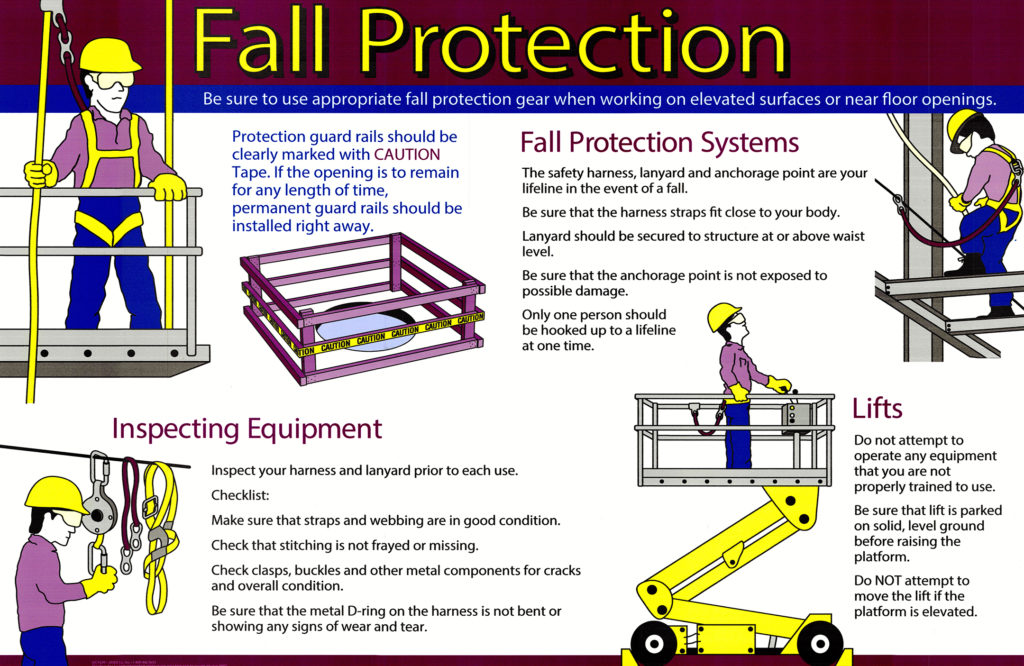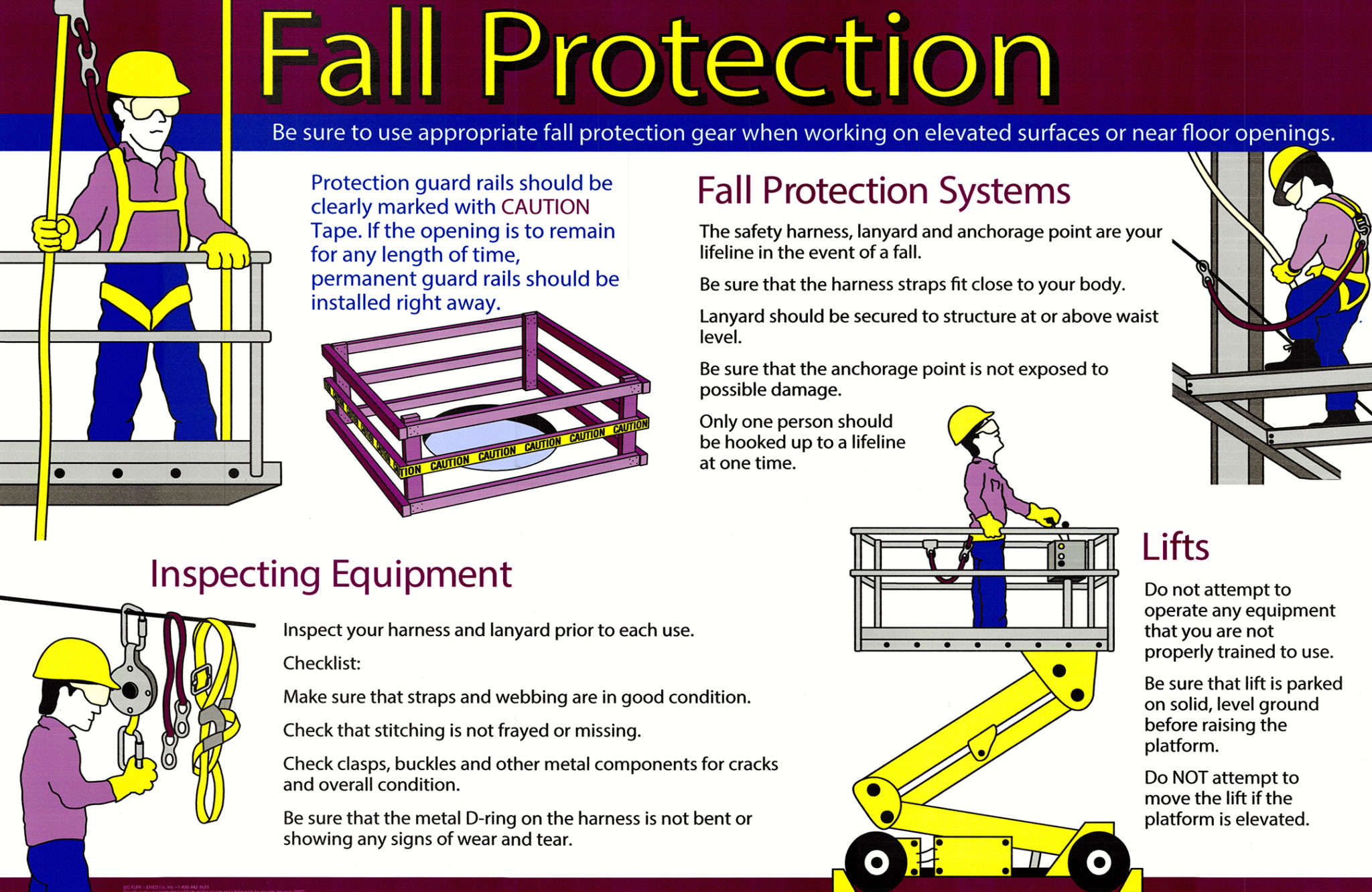 9. Unsafe Machinery and Inadequate Machine Guarding – 1,743 violations
What This Means: Failure to provide one or more methods of machine guarding to ensure the safety of the operator and others in the nearby area can result in an unsafe job site.
Tips on How to Prevent This: "All powered tools are inspected for proper and adequate guarding by a D&B employee, such as the Site Superintendent, before use," says Tom.
10. Inadequate Personal Protective and Lifesaving Equipment, Eye and Face Protection – 1,411 violations
What This Means: Failure to make the appropriate personal protective equipment available to all employees at no cost is something that should not occur anywhere.
Tips on How to Prevent This: "Keep inventory of safety equipment, such as safety glasses and hi-visibility vests, for all of your employees. At D&B, we keep a document that is updated every time a new hire starts so we know the date in which they received all of their issued PPE. This makes it easy for us to keep taps on when hard hats will expire and new ones will need to be re-issued. We also provide respiratory and hearing protection on every job site."
According to the U.S. Bureau of Labor Statistics, the construction industry had 195,600 workplace injuries and 3,600 workplace illnesses in 2019. More specifically, Pennsylvania's non-fatal workplace injury and illness rates were above the national average. The Center for Construction Research and Training's Fatality Map Dashboard also shows that since data started being collected in 2011, Delaware has had 17 fatal injuries in construction, New Jersey has had 145, and Pennsylvania has had 213 fatal injuries. With these statistics in mind the importance of practicing safety is pretty clear.
"Safety Weeks such as this one exist so we can create awareness and reduce the number of fatalities our industry sees," concludes Tom. "Chances are that some of the fatalities seen could have been prevented if better communication and more training took place. That's why our team at D&B is focused on achieving safety every day through daily safety checks on site."
Let us know how you work to prevent incidents on the job site in the comments below, and consider joining D&B and thousands of other companies in taking the pledge to be Safe + Sound – both throughout this week and every day.
It's hard to believe it has already been one year since we completed renovations that converted two existing administrative office spaces into a state-of-the-art orthodontic office! Aside from this healthcare project's stunning design, this project was special to us because it was the start of Wyomissing native and local orthodontist Molly Hottenstein's dream of owning her own practice. Molly knew she wanted to be an orthodontist since high school. It was then that she shadowed various doctors because she always knew she wanted to work with people in the medical field. She shadowed an orthodontist and immediately knew it was for her. "I loved the science behind making smiles beautiful… The perfect balance of physics and biology and art. I also loved being able to hang out with cool kids, teenagers and parents all day while really getting to form relationships with them over the course of their treatment. I loved that I could be part of an amazing community and hopefully make a difference in some of their lives," explains Molly.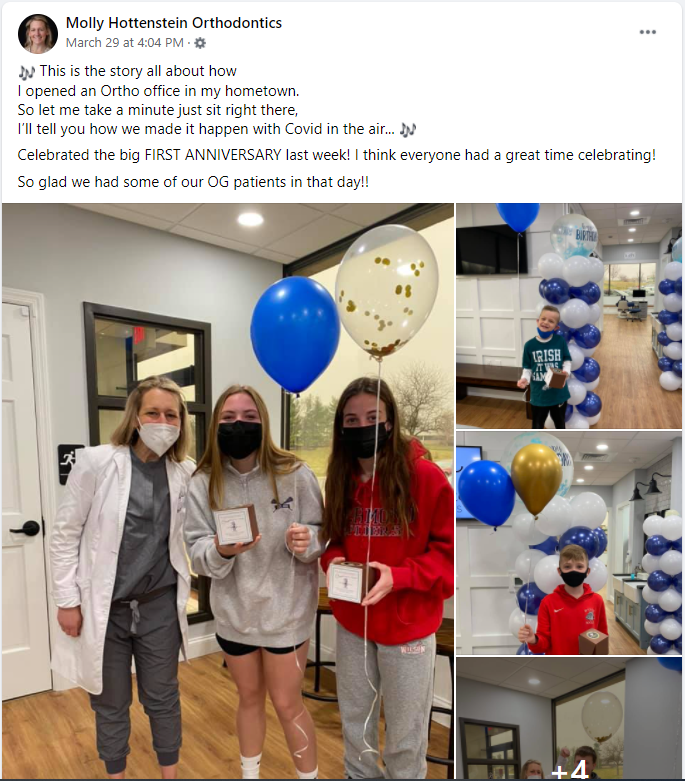 Now, she didn't always plan on opening her own office. That wasn't on the horizon until after she had worked four years as an associate at different offices. "It was then that I realized I wanted to bring something different to Berks County," she recalls. She dreamed of opening an office that offered patients something more personal and a bit slower paced, allowing for more one-on-one time. In doing this, her patients would become her friends and family, not just another case. "I wanted to bring a little 'Disney magic' to my office, making it a place people wanted to come. I wanted them to feel like there was something different about what we were offering, and the only way to do that was to take the plunge and create it." And take the plunge she did! It was the D&B team's pleasure to be able to watch Molly's hard work turn into a reality before her eyes through the construction of her one of a kind office!
Today, Molly Hottenstein Orthodontics is still loving their office as much as (if not more than) the day they first laid eyes on it. We've loved watching them grow since first opening their doors on March 10 of last year, and we are so happy to see them celebrating one year in their office space. Of course, it doesn't take a math whiz to figure out that the date Molly's business opened unfortunately coincided with state-wide shutdowns due to the spread of COVID-19. They actually had to shut down operations just two business days after their grand opening… Definitely not something that Molly was anticipating! In reality Molly and her team were planning two grand openings, one for the dental community and an open house for the entire community as a whole.
Like many local business owners, a lot of perseverance and adaptability from her team had to take place within the last year. We sat down with Molly to reflect on the rollercoaster of emotions that she and her team went through after having to shift gears from "grand opening of their beautiful office space" to "closing down operations due to a global pandemic" in a matter of just 48 hours. Here's what she had to say:
"It was heartbreaking and terrifying. I was six months pregnant and would walk around my empty, beautiful office and cry because I just wanted people to be able to use and enjoy it," recalls Molly. However, she didn't let herself wallow in her pity for long. "After a few weeks of crying, I pulled myself out of the pit" she says with a laugh. "Fortunately, the office is laid out in a way that I can easily keep families separated and manage the flow in and out."
Molly and her team continue to "learn, adapt and grow," just as any start-up would – pandemic or no pandemic. "Honestly, I don't have experience with any other start-up NOT during a pandemic," she says. Molly applauds her staff, who have been "incredible at adapting, learning and being flexible." The team of three has also received amazing support from the community and other dentists throughout the area. With a smile on her face, Molly says: "At this point, I feel like we are thriving despite the difficult timing!"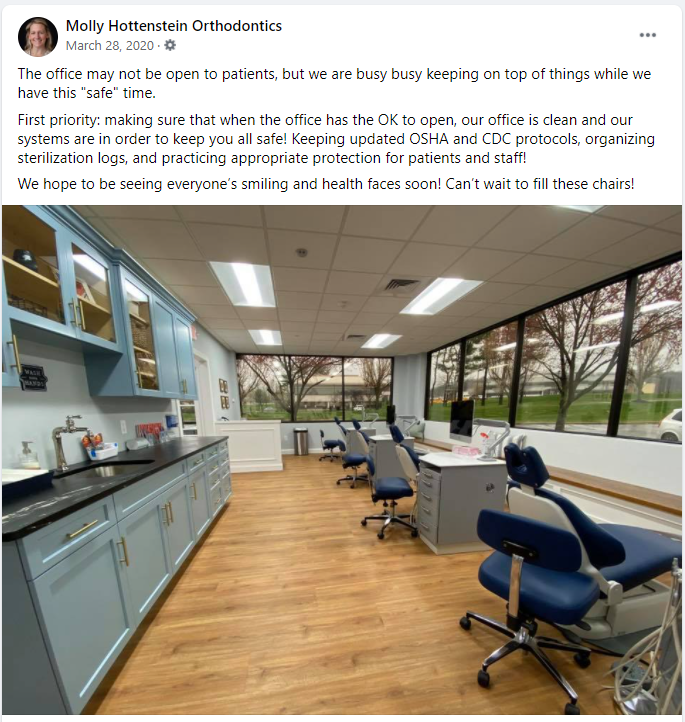 Transforming an Office Space to an Orthodontics Space
What all went into transforming Molly Hottenstein Orthodontics' office space into the area the community knows and loves today? The team at D&B actually renovated two separate spaces and connected them into one larger space. Molly recalls the spaces being "pretty much bare bones" when she first saw them. Even still, she fell in love with a few key elements that our crew kept and highlighted in her new office space. Molly knew she wanted to have a lot of natural light to help keep her office cheerful and bright. "I love spending time outside, and I wanted my staff to not feel like they were stuck in an office all day," she explains. Luckily, the space already had large windows around the exterior walls, and it was a no-brainer that they were here to stay. Another added bonus to these windows? Molly didn't have to worry about decorating bare walls! "I love that nature is my best decoration. The property management group does an amazing job keeping the area landscaped and clean, too," she says.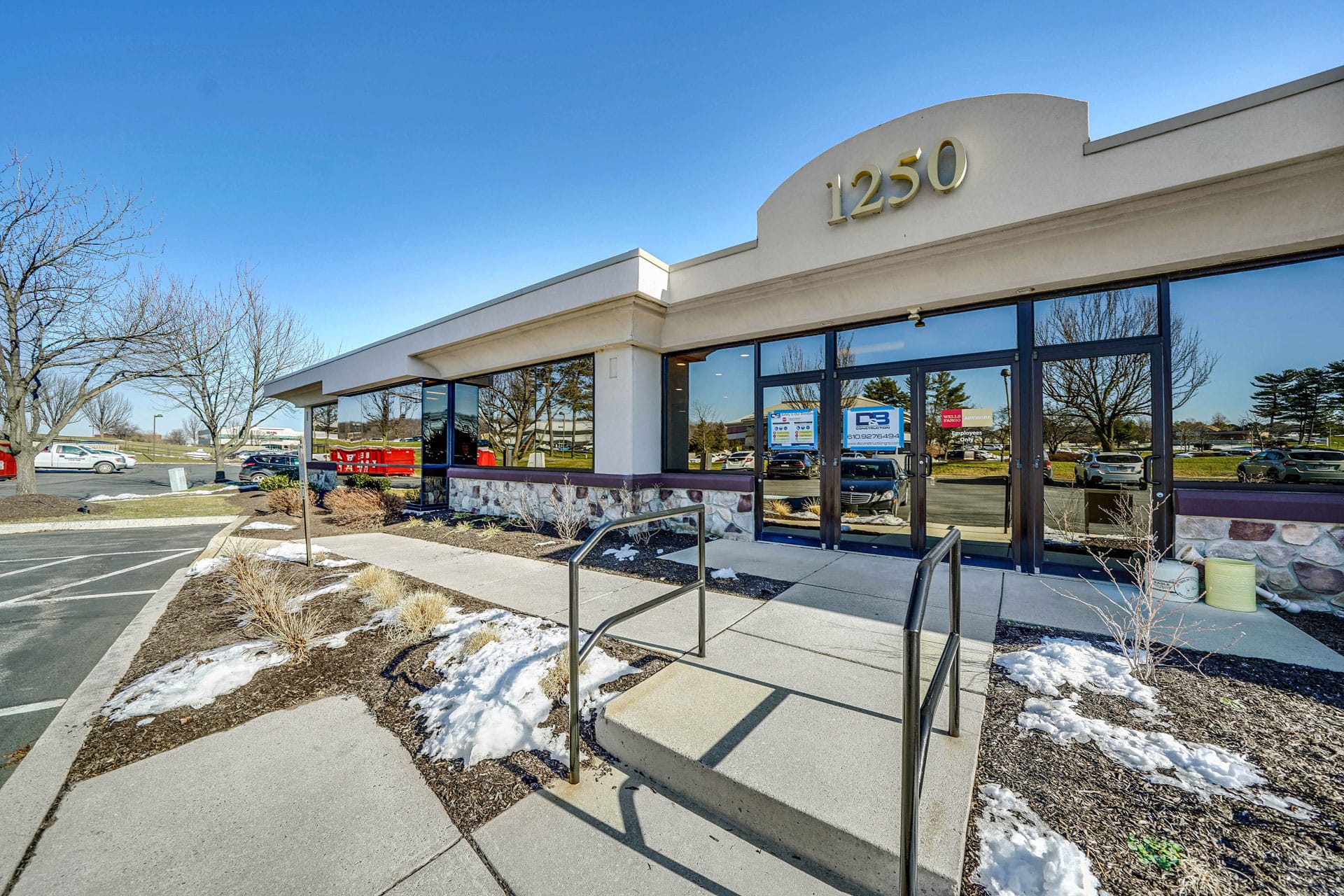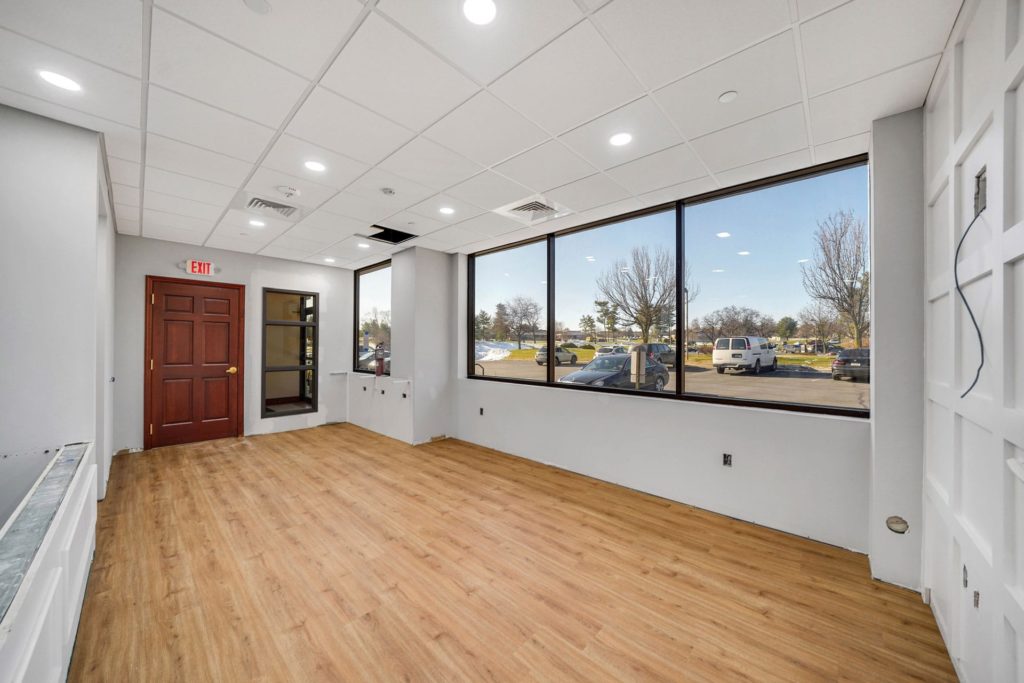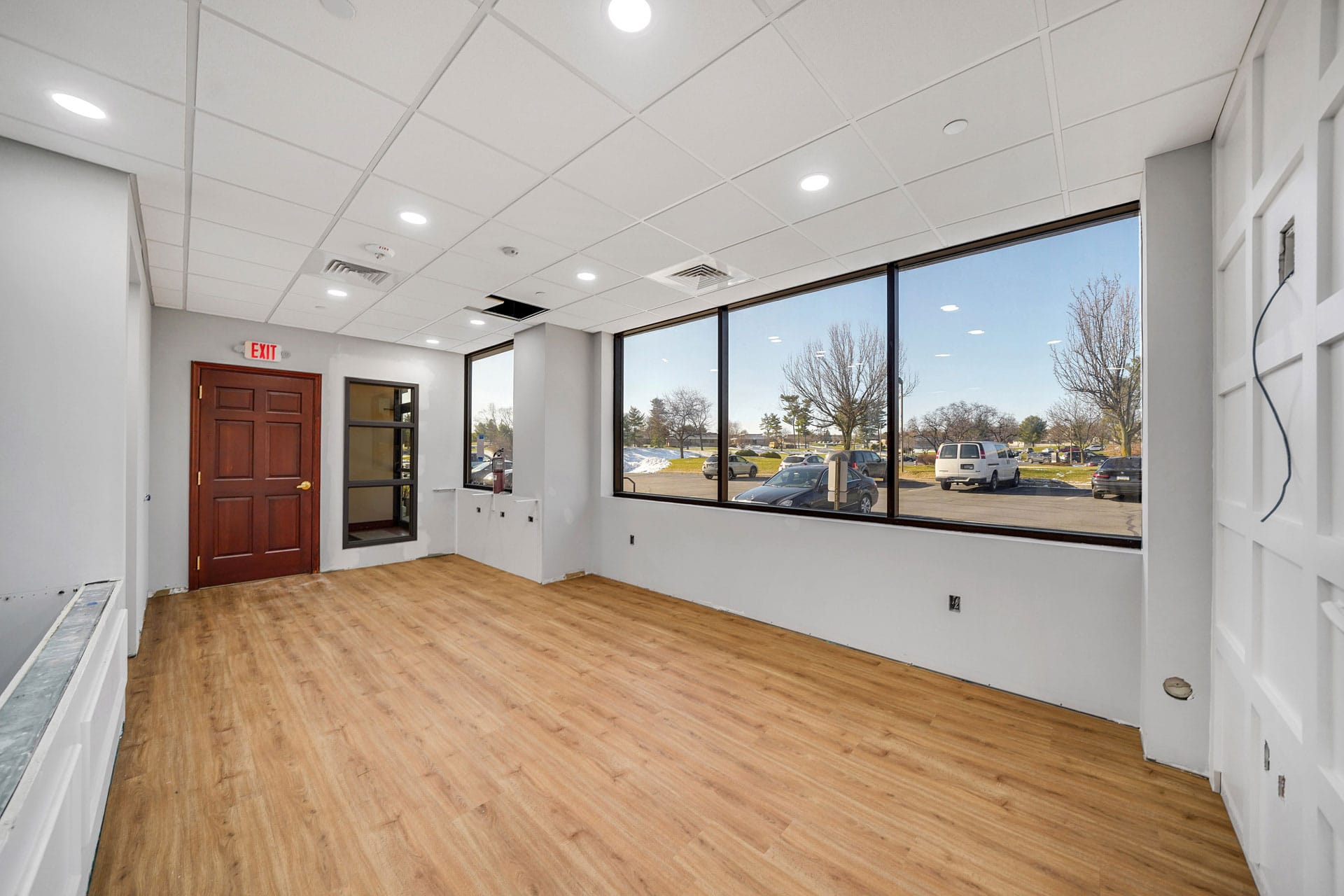 When it came to creating the vision for her office, Molly's husband, Kyle, was by her side! "We always had a very focused vision for the look and feel we wanted for the office," she recalls. "My husband and I are the perfect team because we have very similar taste. I have a very specific vision for the big picture and feel, while he is very particular and good at digging in to the details and making everything perfect."
It also helped that this wasn't their first rodeo. The couple worked together to decorate their home, and Molly's husband even completed their home renovations. "We really wanted to have a professional space that looked and felt more residential. We met with three potential contractors and D&B was the first that completely embraced and understood that!"
Molly and Kyle took care of the design and selection, while the D&B team gave this dynamic duo direction so it was easy for them to find exactly what they were envisioning. Molly recalls spending A LOT of time on Pinterest and Houzz looking at architectural and design aspects so they could gain an understanding of what they loved and wanted to incorporate into the space. Kyle even made an extensive PowerPoint showing all of the images and aspects they loved to illustrate where they wanted to utilize them. From there, D&B helped make the vision possible.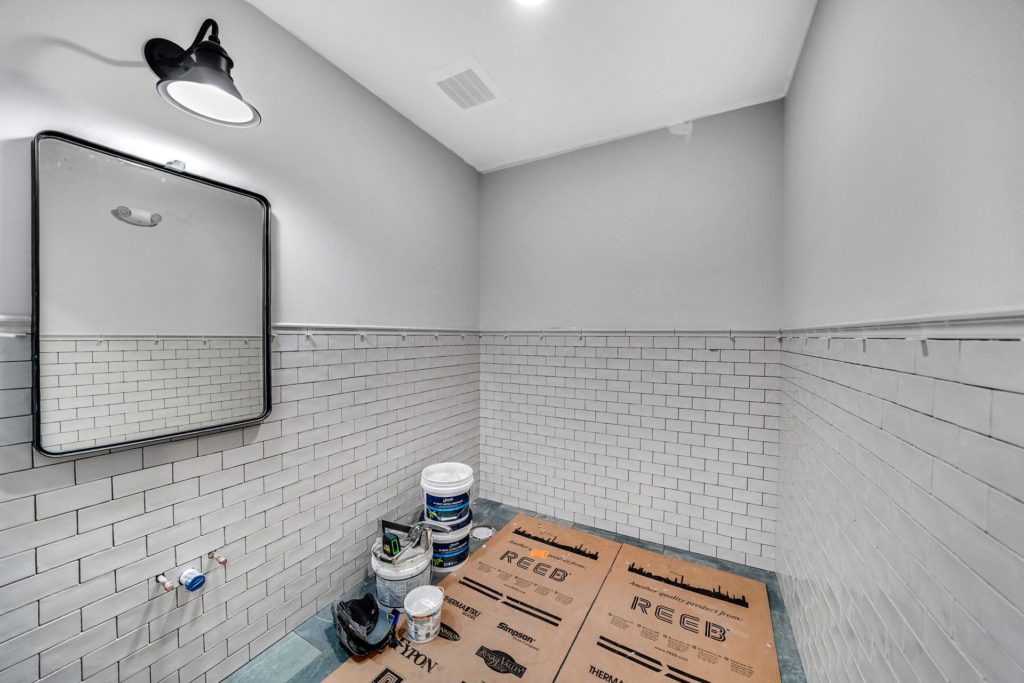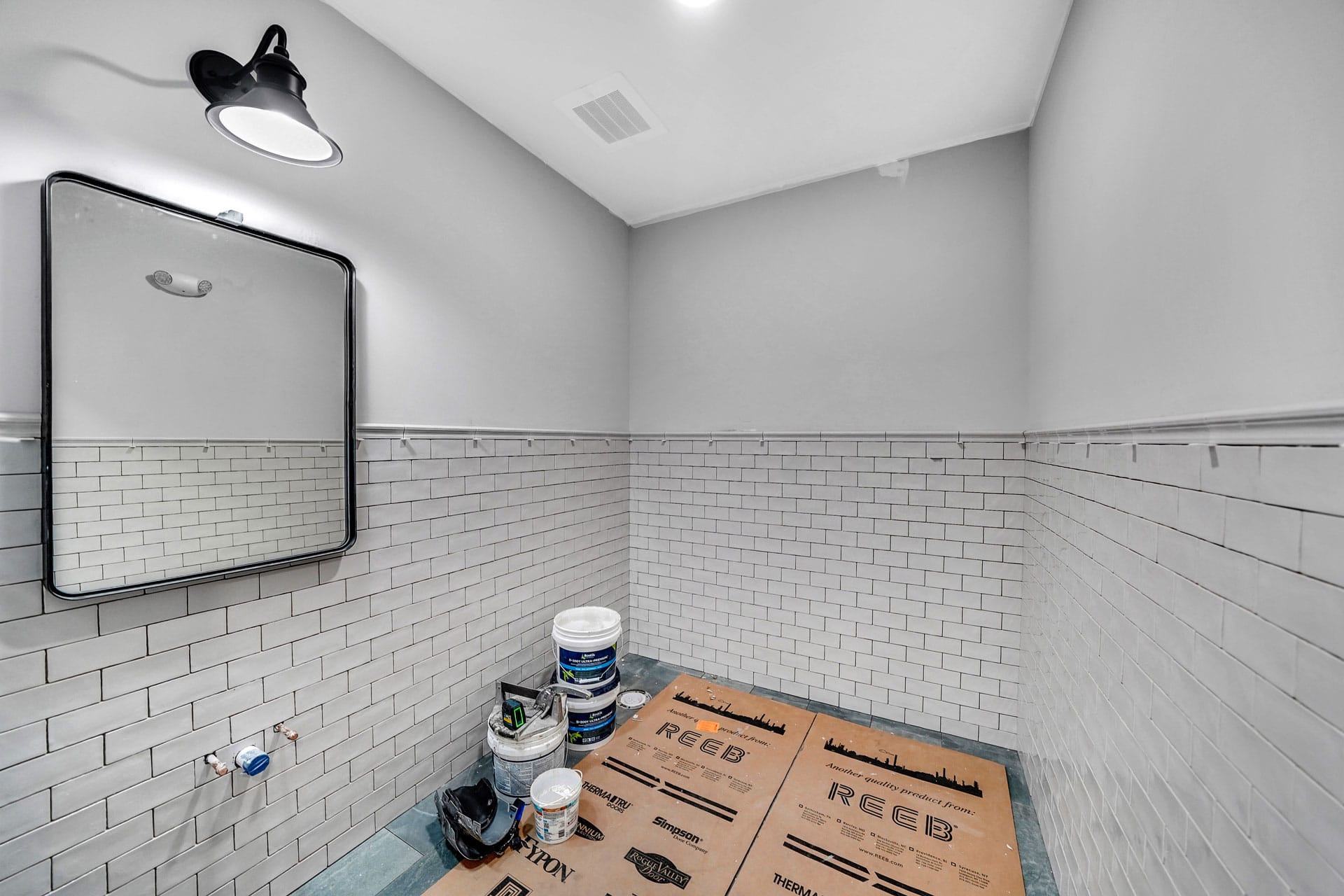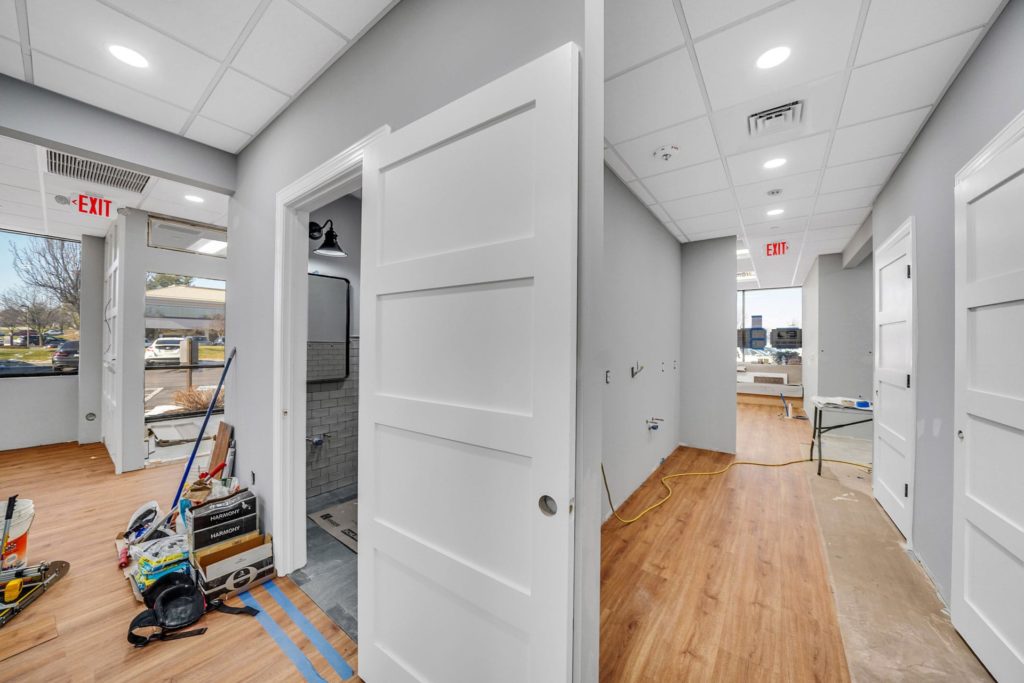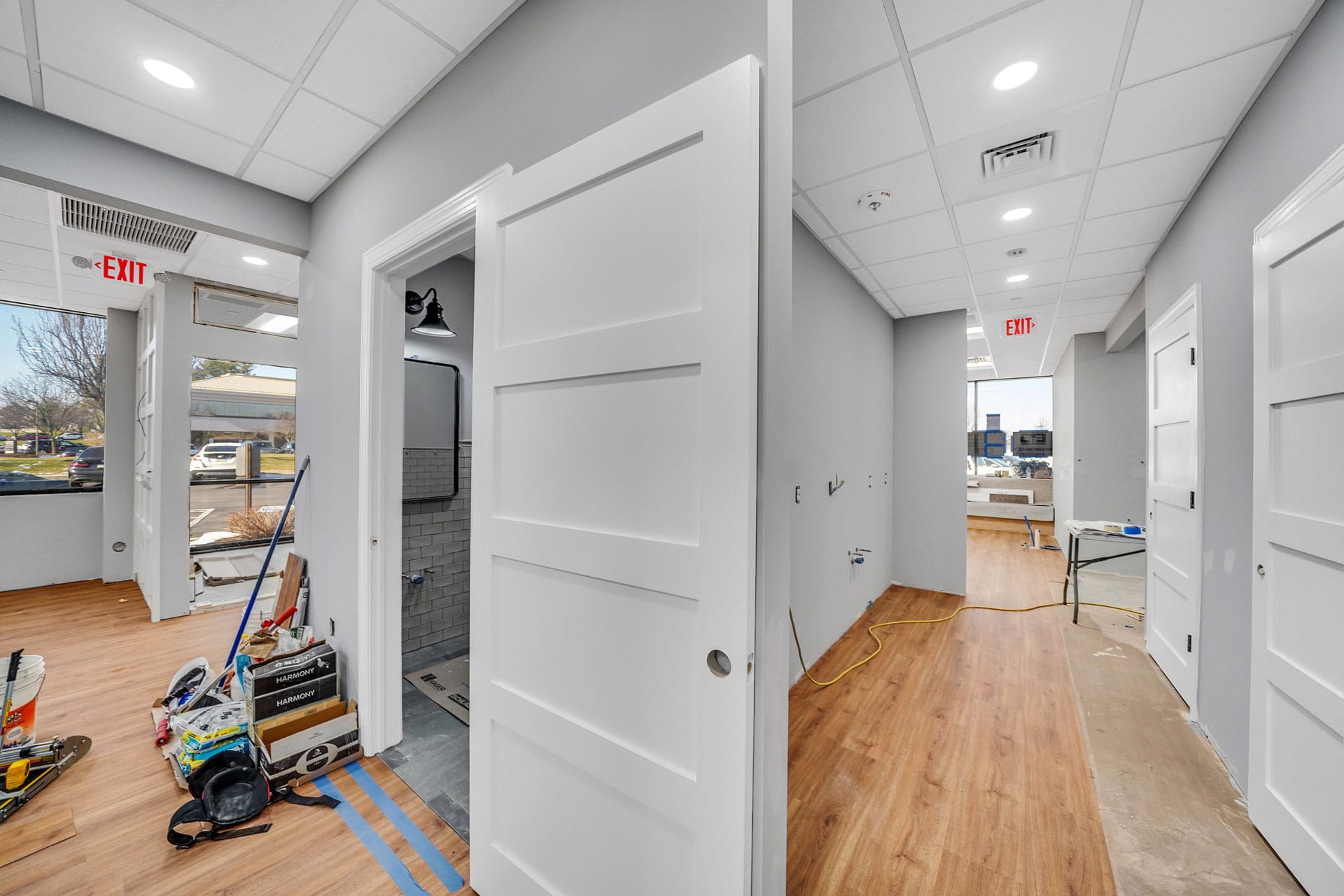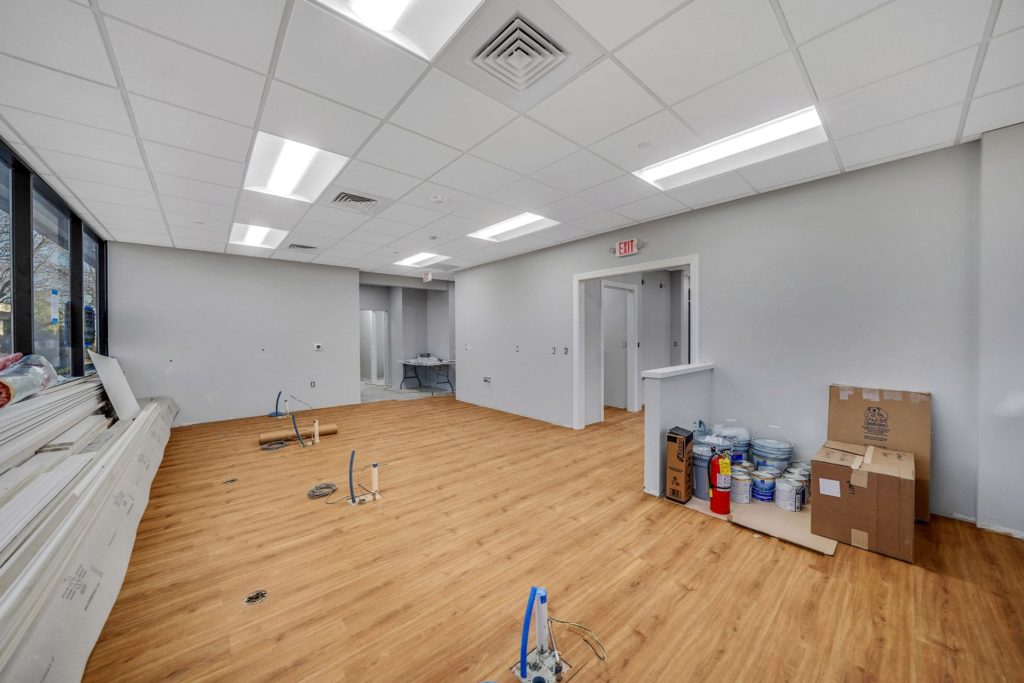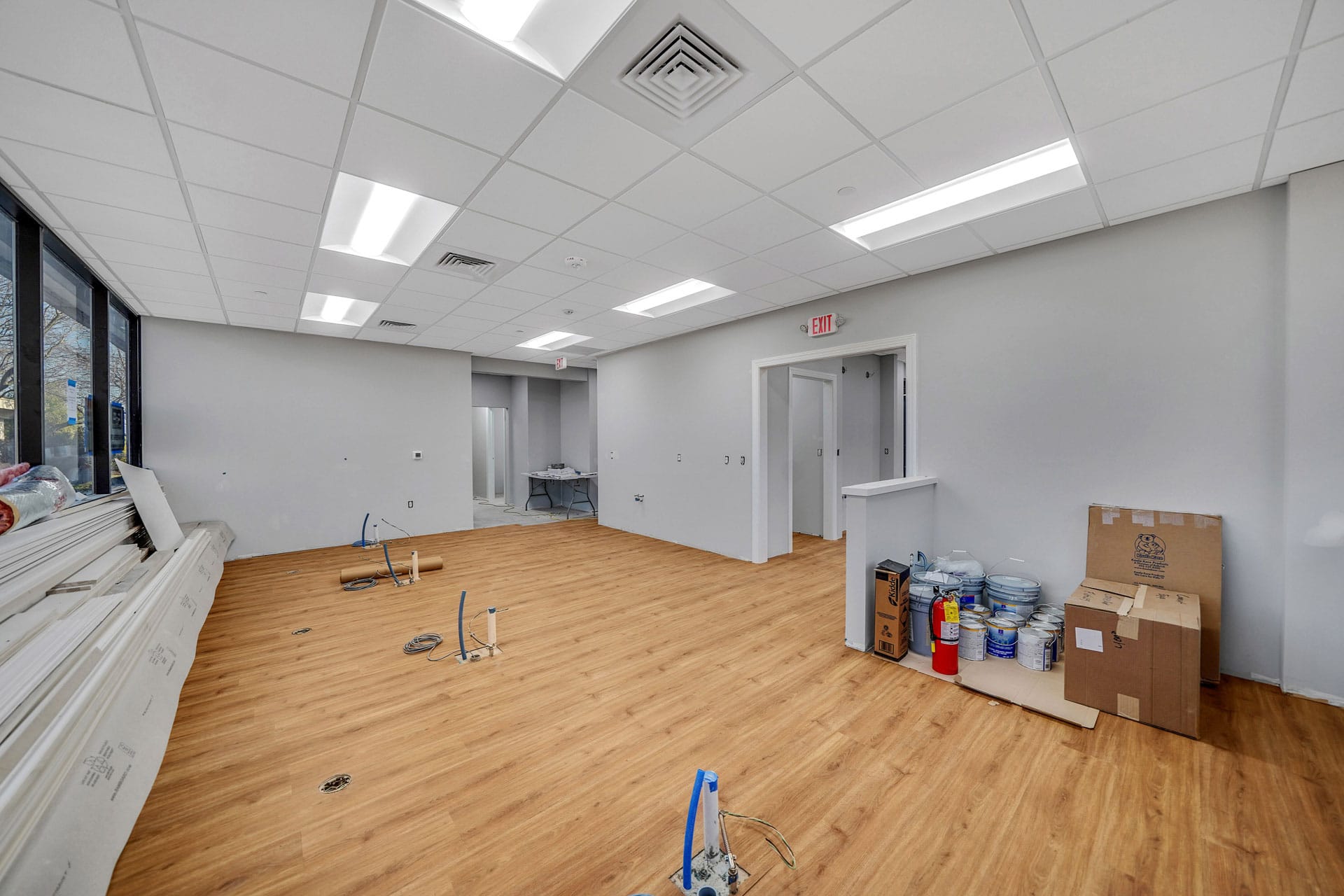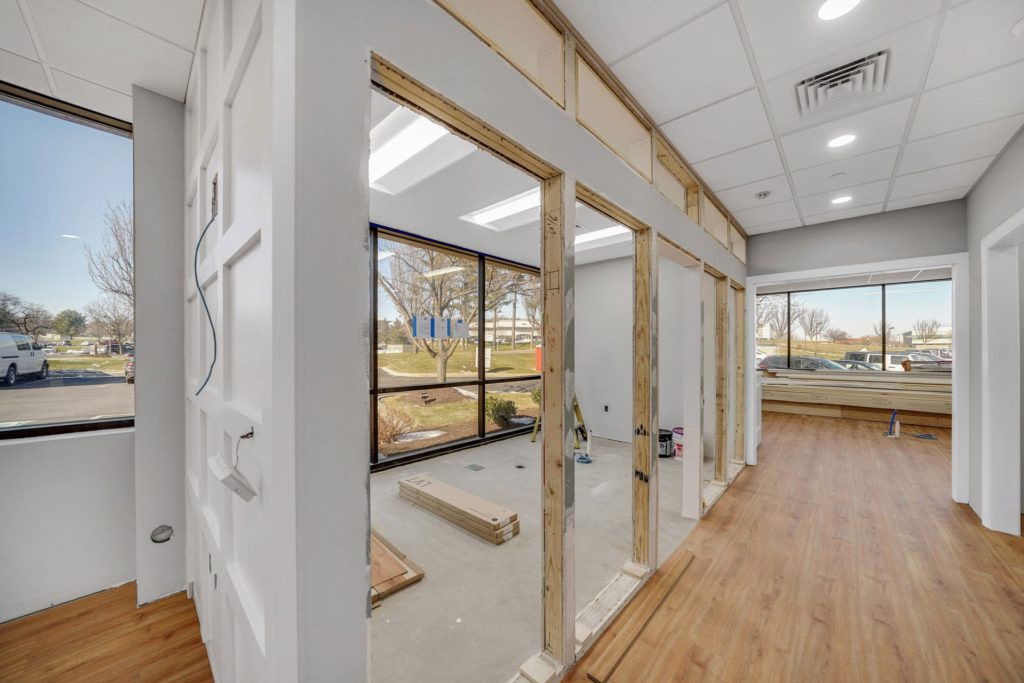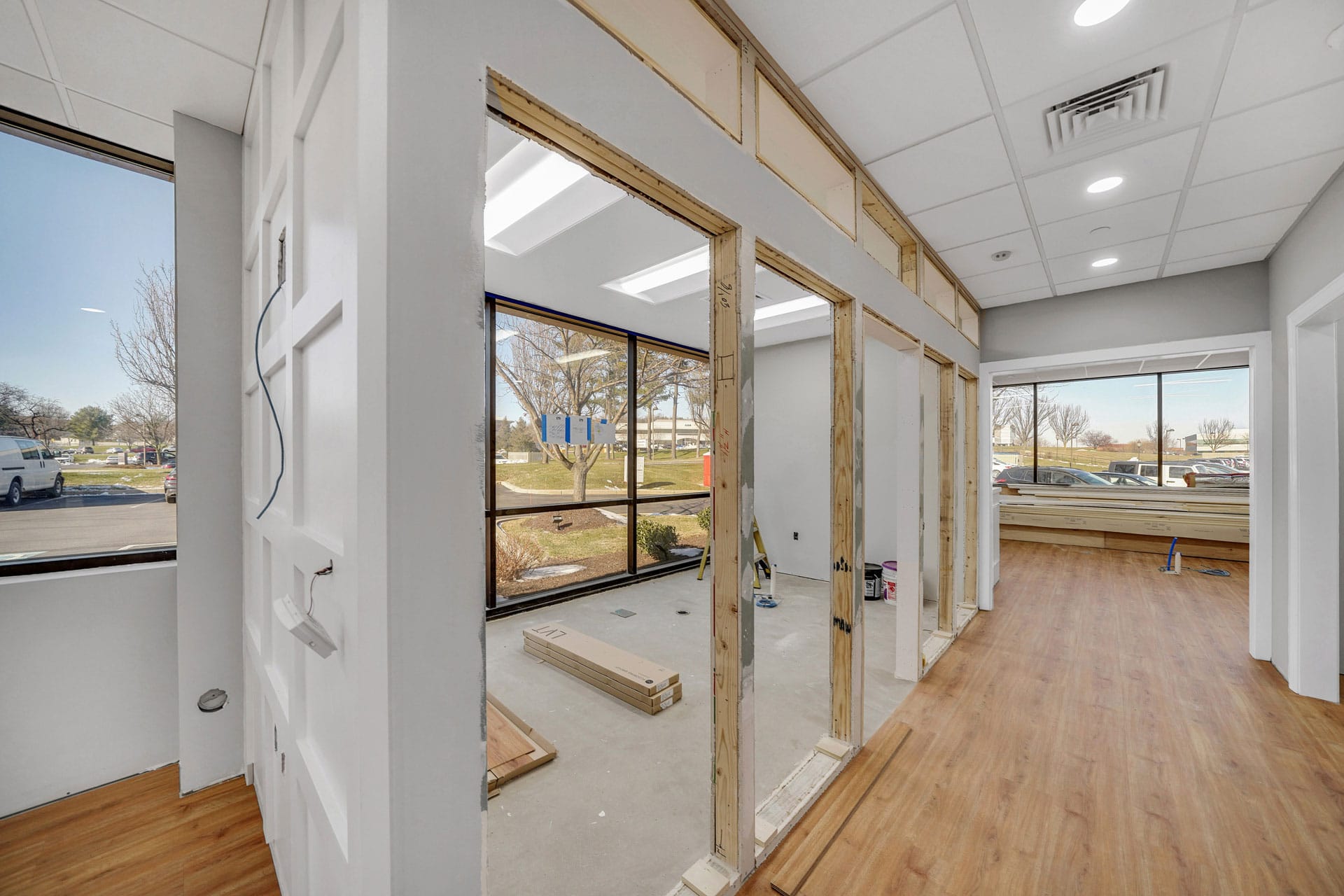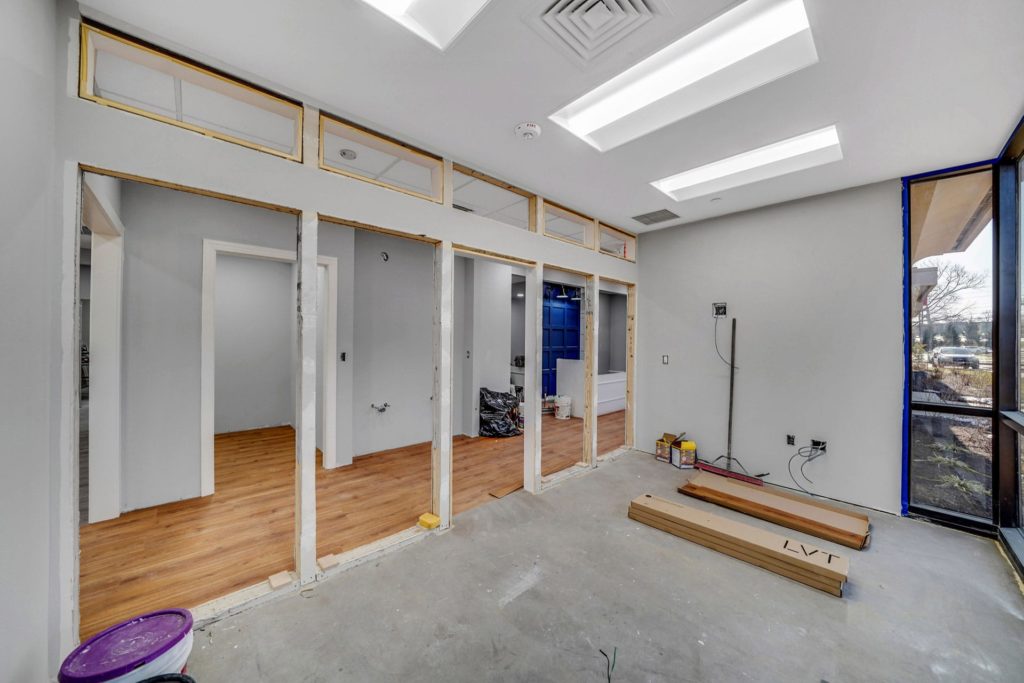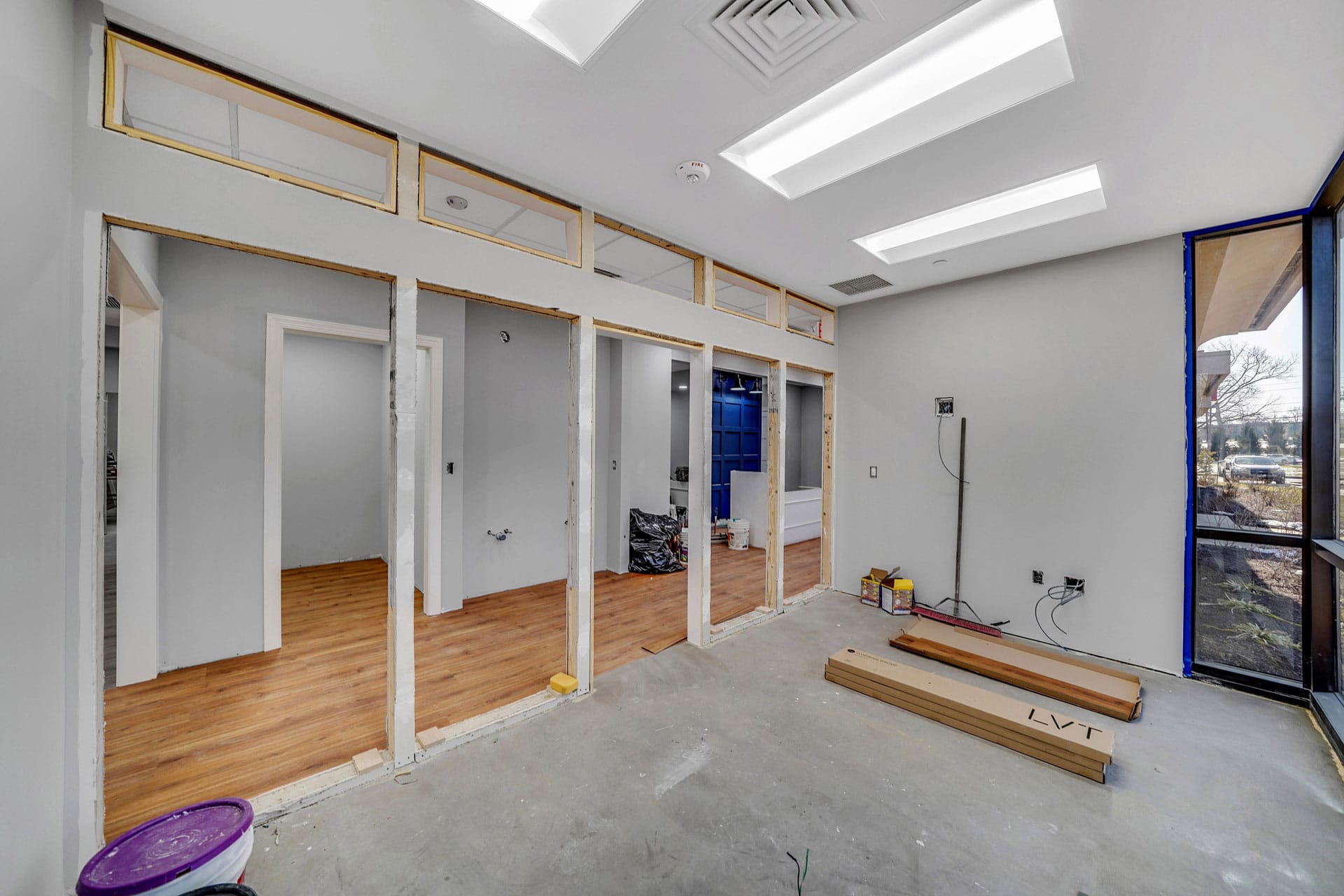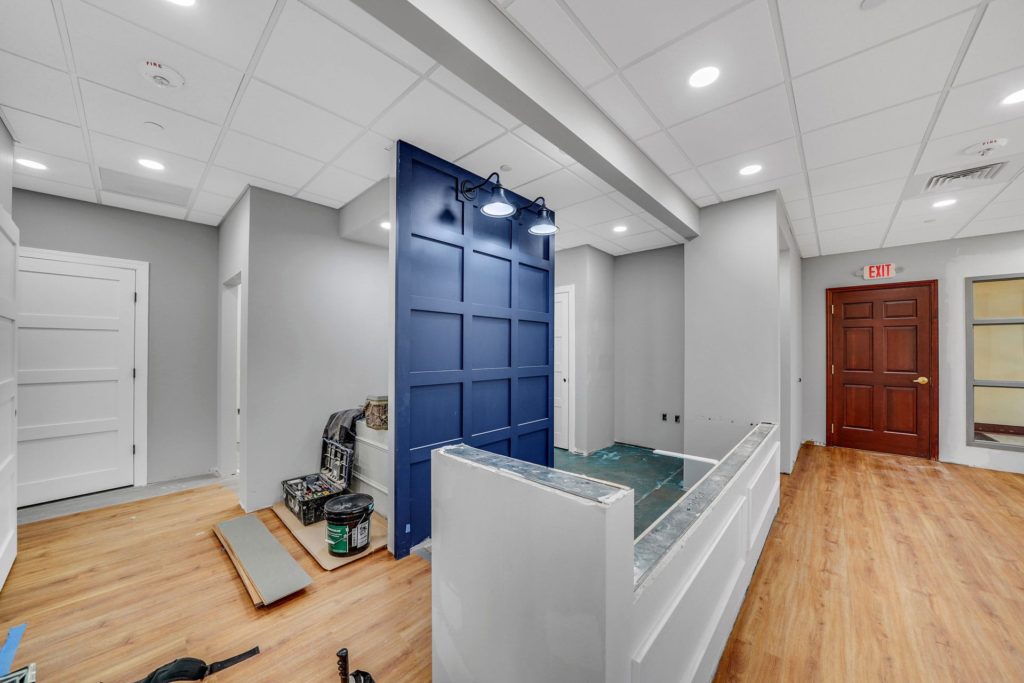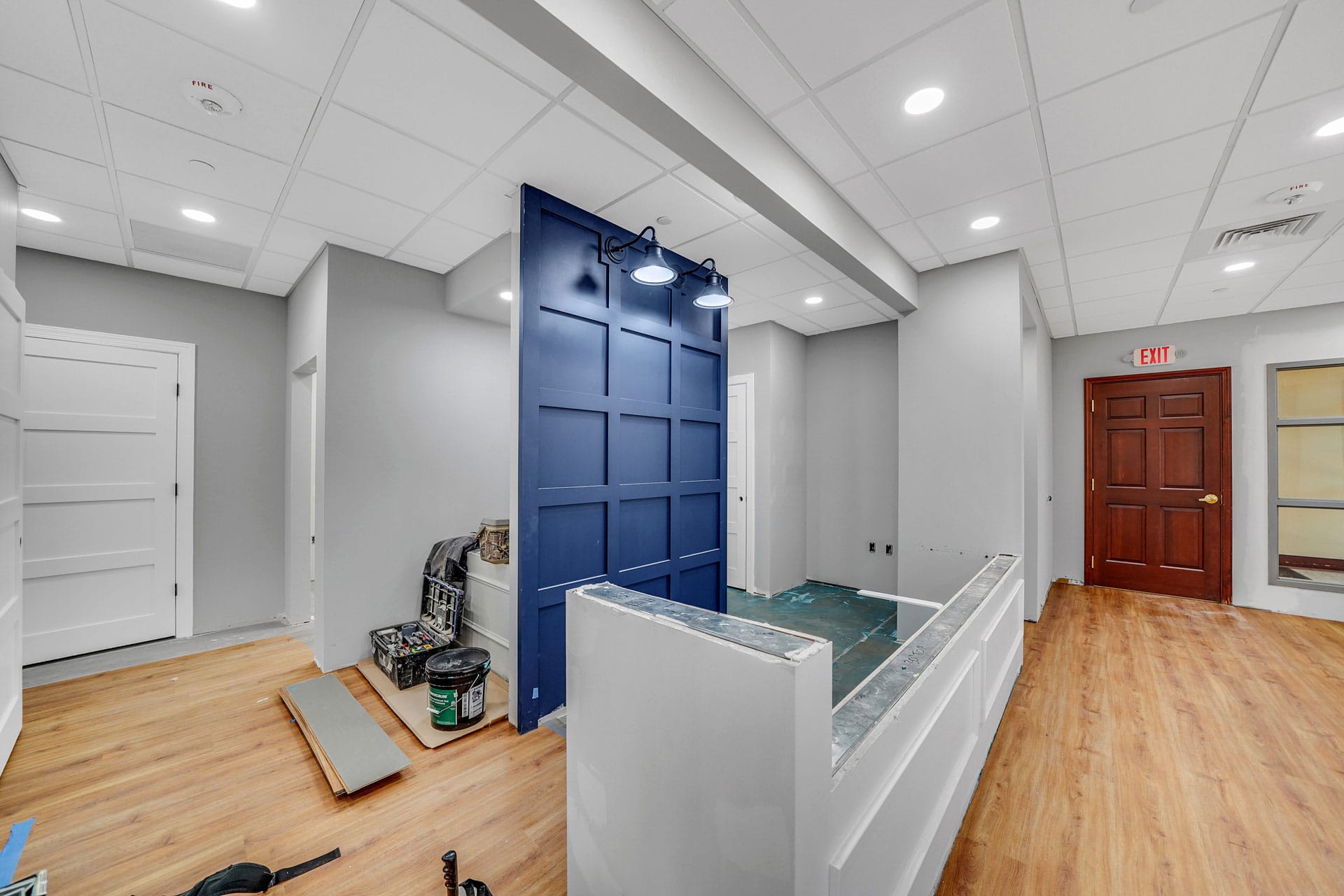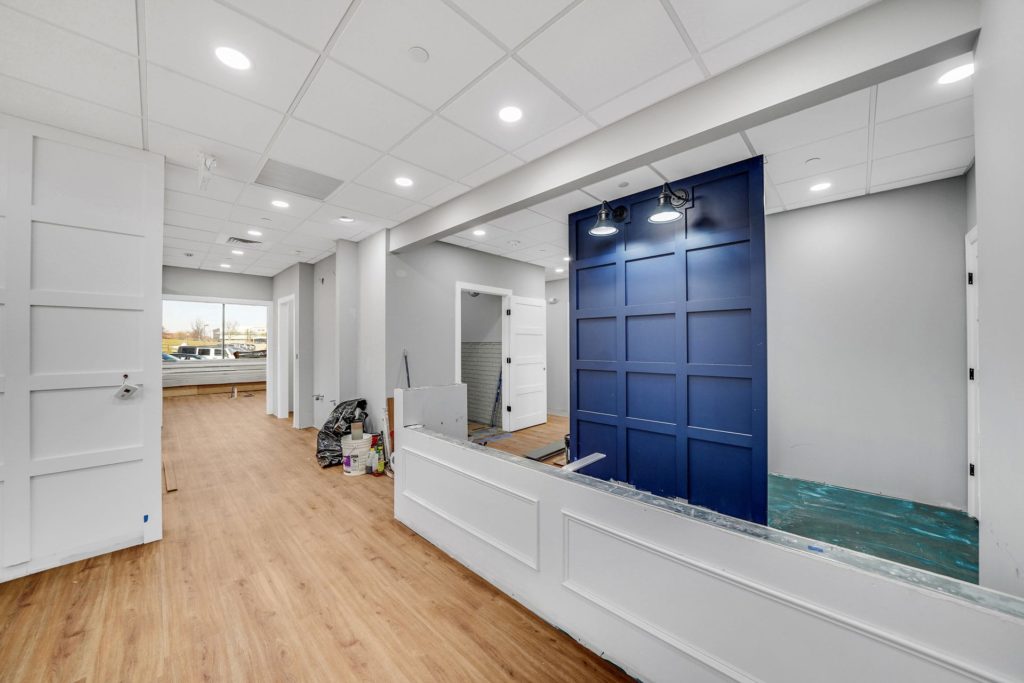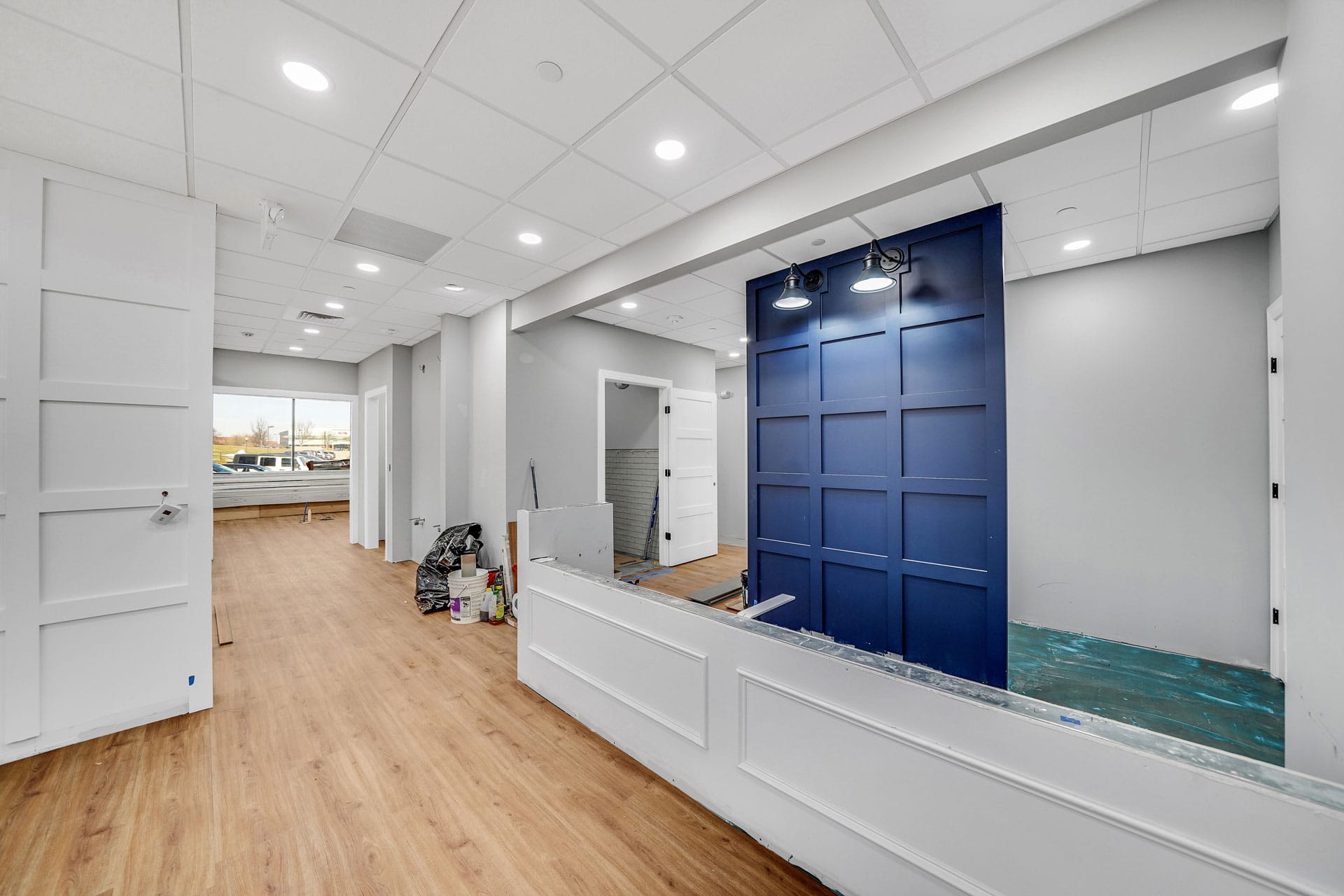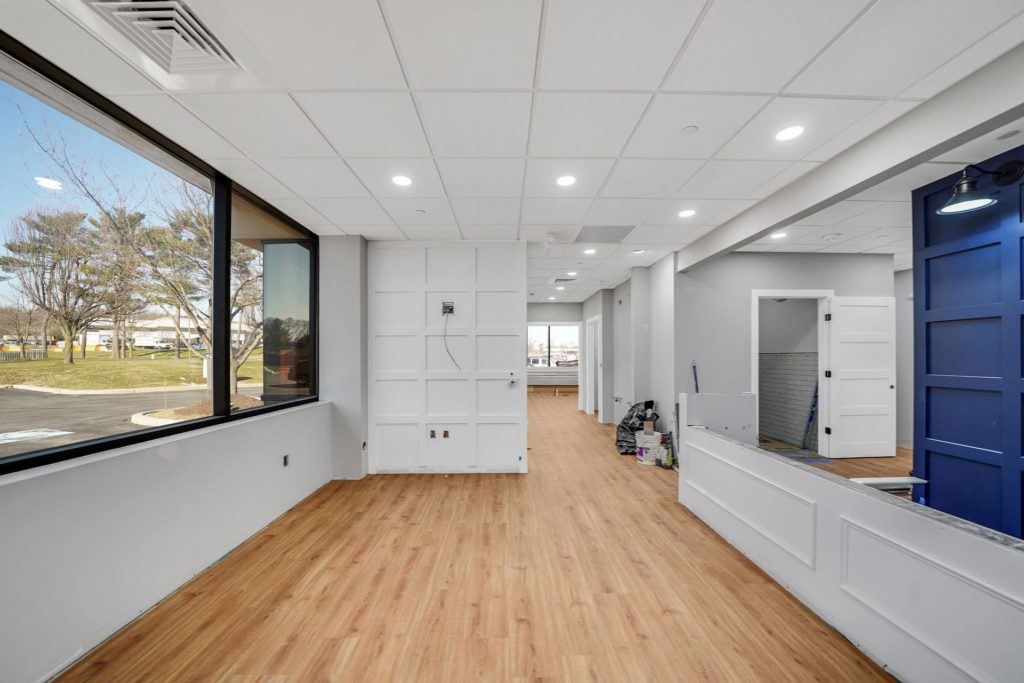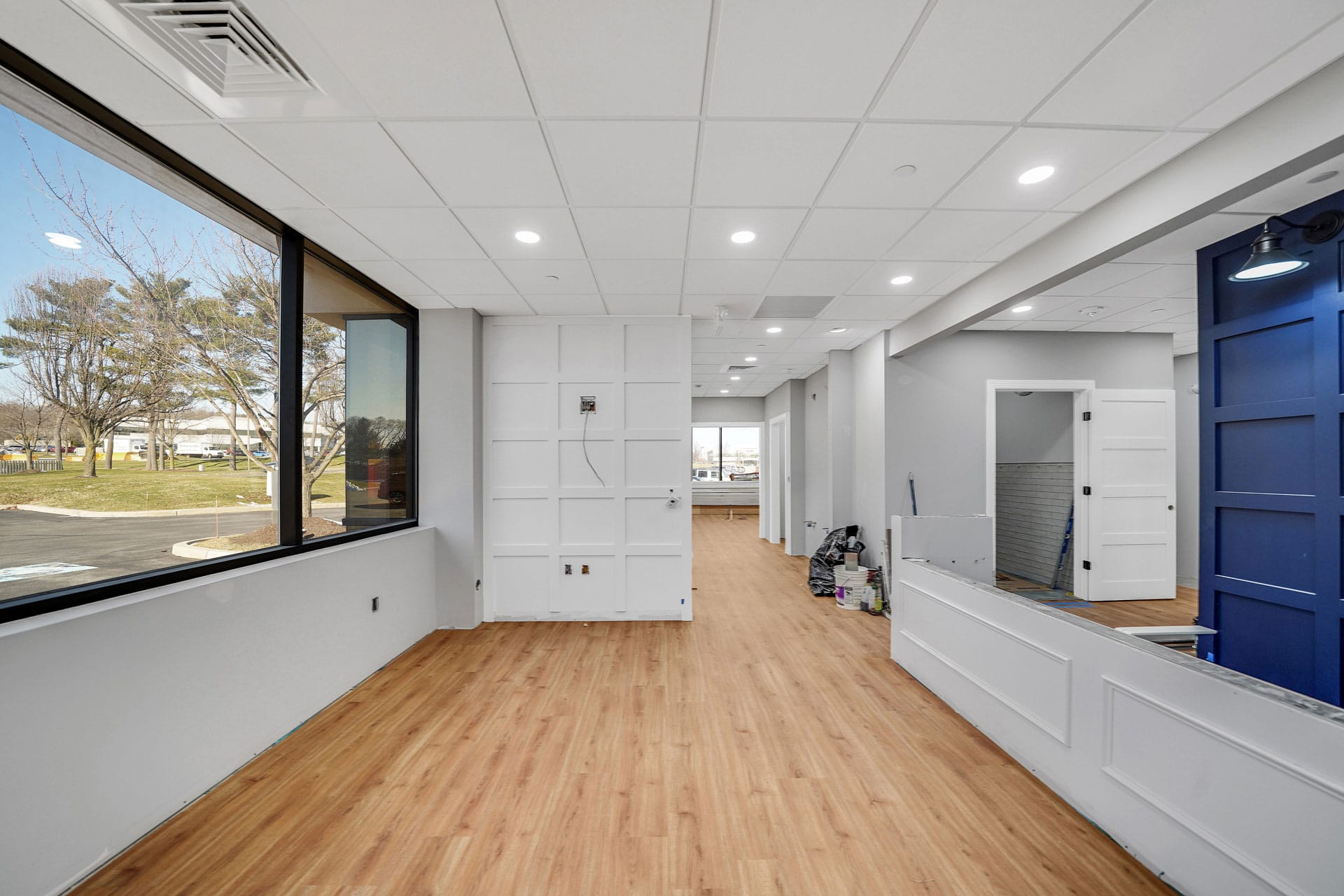 From Rendering to Reality
One of Molly's favorite parts of the construction process was meeting with the subcontractors and seeing how all of the little pieces fit together to start making her vision come to life. Molly's husband, Kyle, enjoyed seeing the progress made every single day and how each small step got them a little closer to the beautiful finish!
"Honestly, Kyle was the most involved with the entire process. He is amazing! This wouldn't have happened without his hard work and dedication, and I am forever grateful for that," Molly says. "Kyle was very hands-on throughout the entire process, and D&B was amazing at staying on schedule and keeping us informed."
Molly and Kyle had known of D&B through friends. "We knew they had done amazing work with different offices, and honestly, we had the most amazing experience with D&B. I can't imagine having it go any better. The amount of detail and communication they had with us was unmatched. I was so impressed with how thorough they were and how well they kept us in the loop and on schedule. My husband and I already talk about how we will use their residential services for our home project when that time comes. In fact, my co-resident even used D&B's Philadelphia office to renovate his office after our experience," says Molly.
Once construction was complete after just five months, Molly was moved in and all ready to go in less than a week! She was in disbelief when she first saw her new office space. "I felt like 'WOW! No way is this mine. It's here. It's done. It's better than I could have imagined,'" recalls Molly.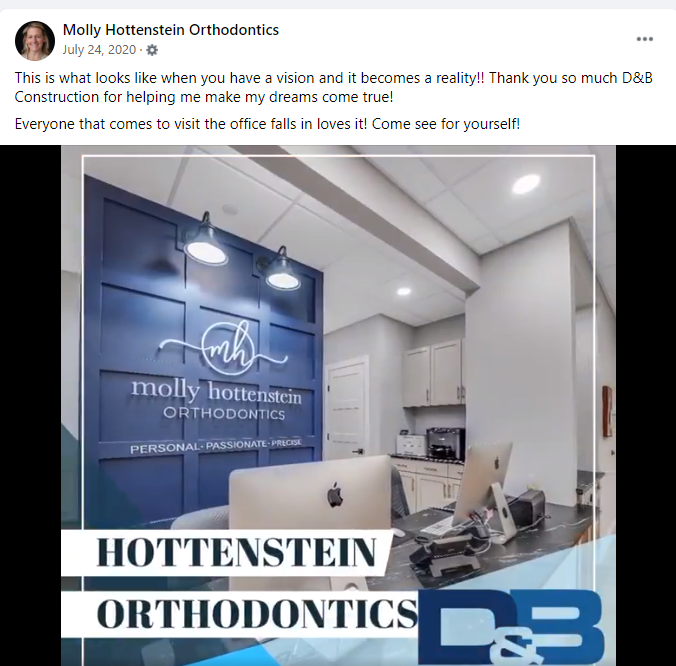 A Little Grit Goes A Long Way
After nine weeks of being closed, Molly and her team were able to open up their office and enjoy the new space! Although they weren't able to have the two grand openings they had been planning and many things they originally envisioned did not look exactly the same due to safety precautions, they were thrilled to be starting this chapter in their new office.
"The team has really grown into the space and gotten into a groove with our patients," says Molly, who has two favorite spaces throughout the office. She loves her doctor's perch because it allows her to be totally present with all of her patients, while also being available to her staff and still able to get work done. Another favorite spot is the consult room, which is the first space that families see. "I am absolutely obsessed with the windows," exclaims Molly. They remind her of her time in college at Villanova. It was here that she fell in love with the beautiful side sun rooms that all of the older Main Line homes had. "I've wanted that look so bad since then, and we made that happen in the office. People LOVE it!"
With confidence Molly reports that "within the first five minutes of arriving, 99% of patients will comment on how much they love the office. They love how inviting, clean and homey it feels. People even take pictures for inspiration for their own projects!" Molly's patients love the farmhouse sinks at the toothbrush station, and parents tend to love the bench at the foot of the clinic chairs because it allows them to enjoy the view outside the window. "We also always get comments on the colors and the counters… Everyone just says it has a good feel."
Katelyn, Head Orthodontic Assistant, and Lyn, Patient Coordinator, appreciate the hominess of the office, just as the patients do. They describe the office as their "home away from home," both feeling so comfortable at the office that they almost feel like they are at home and not at work. The beautiful space definitely makes it easier for them to not dread coming to work!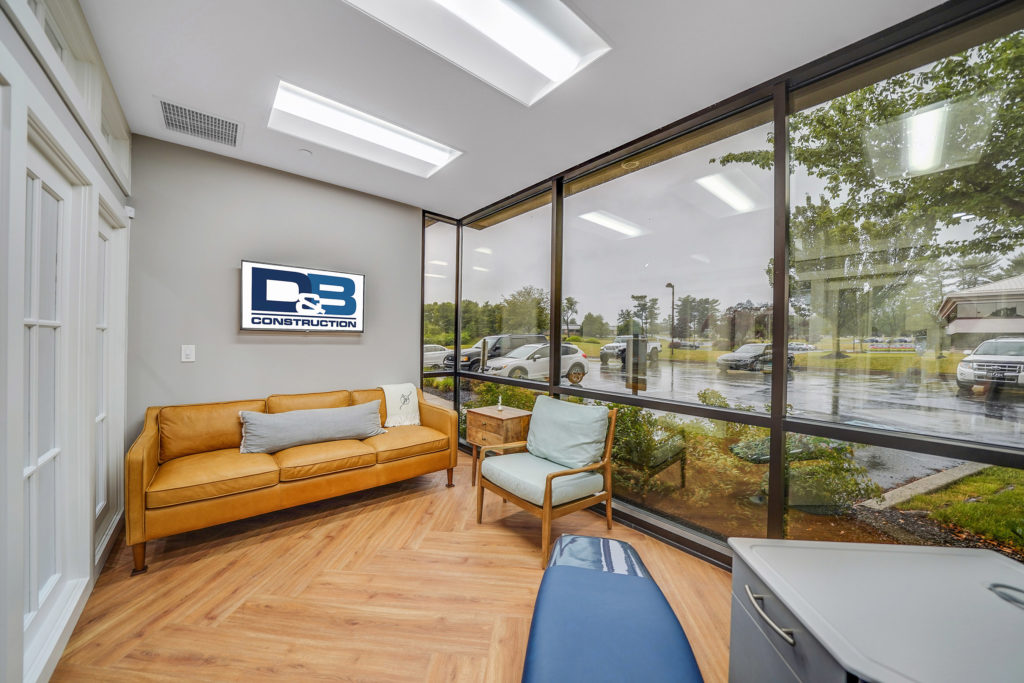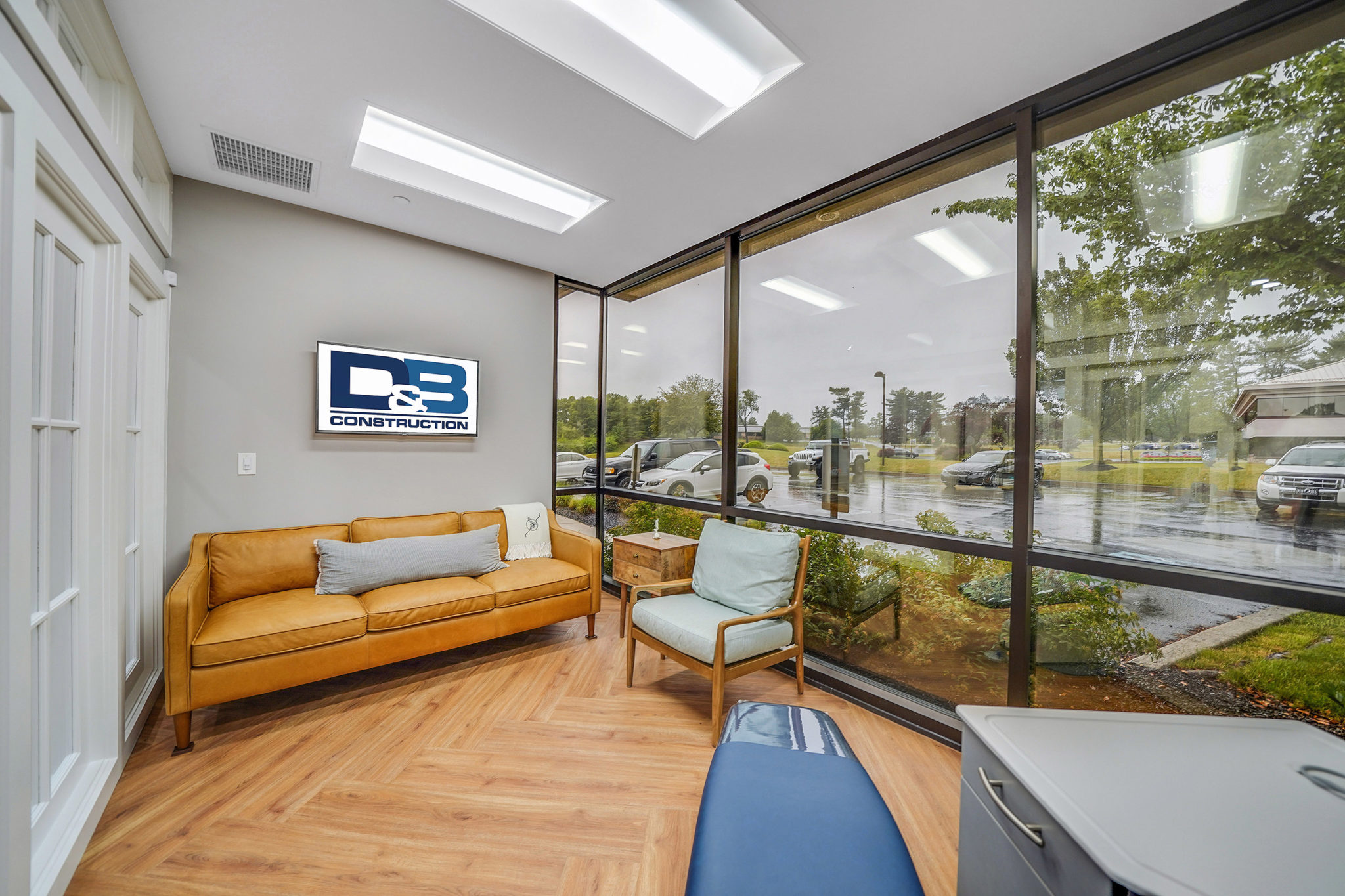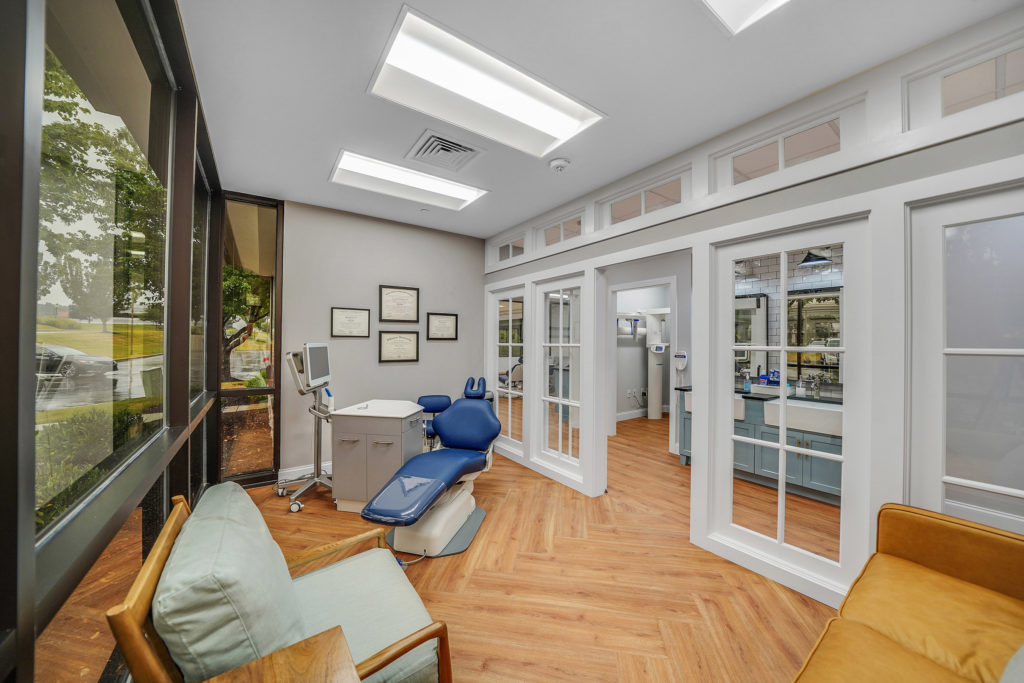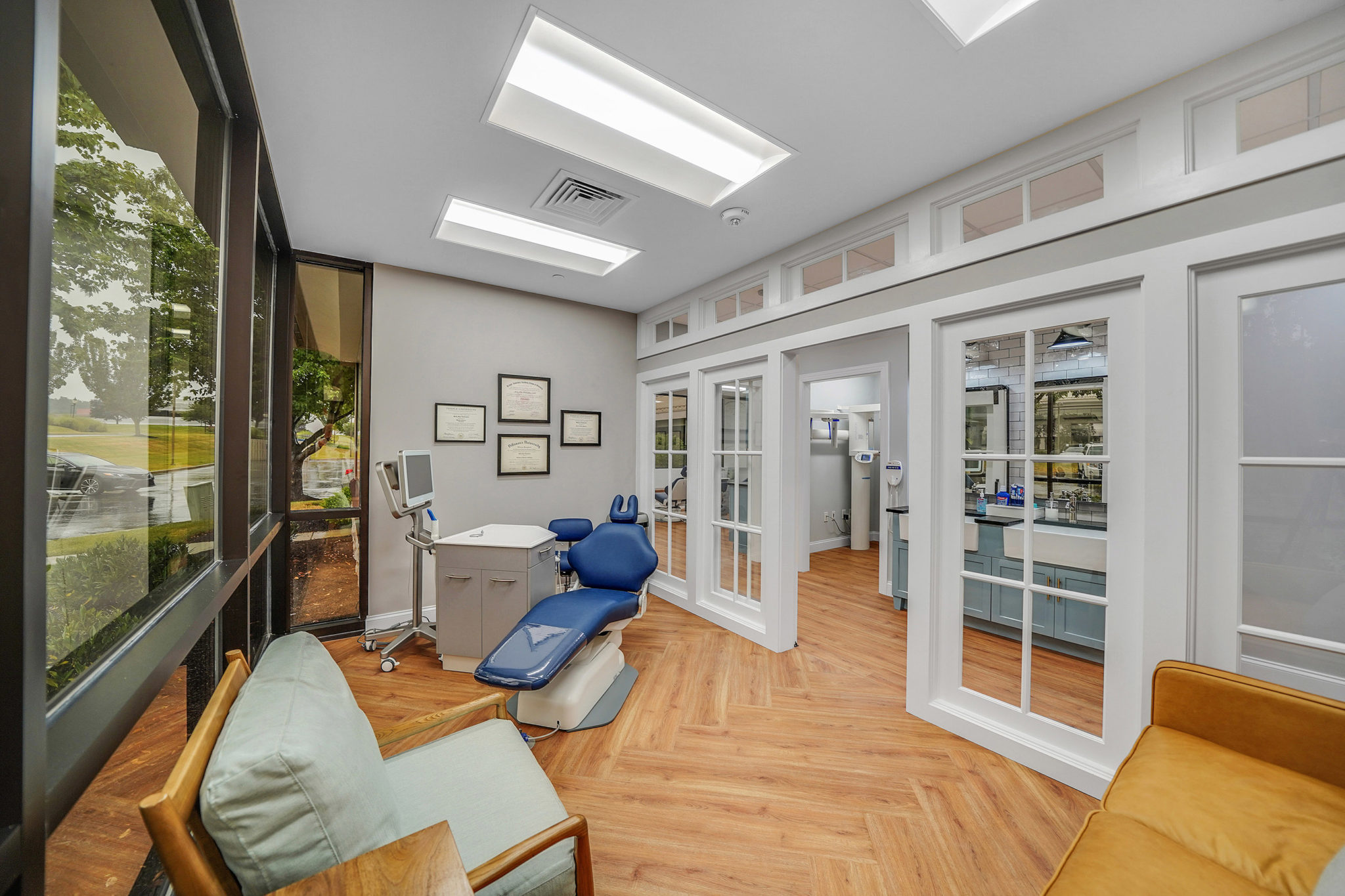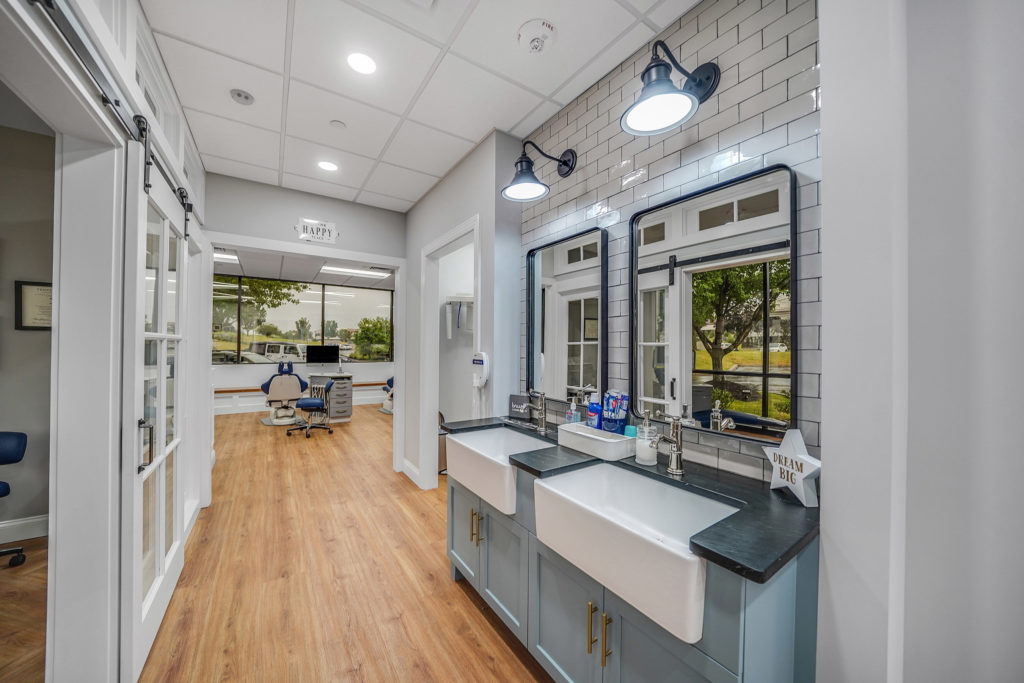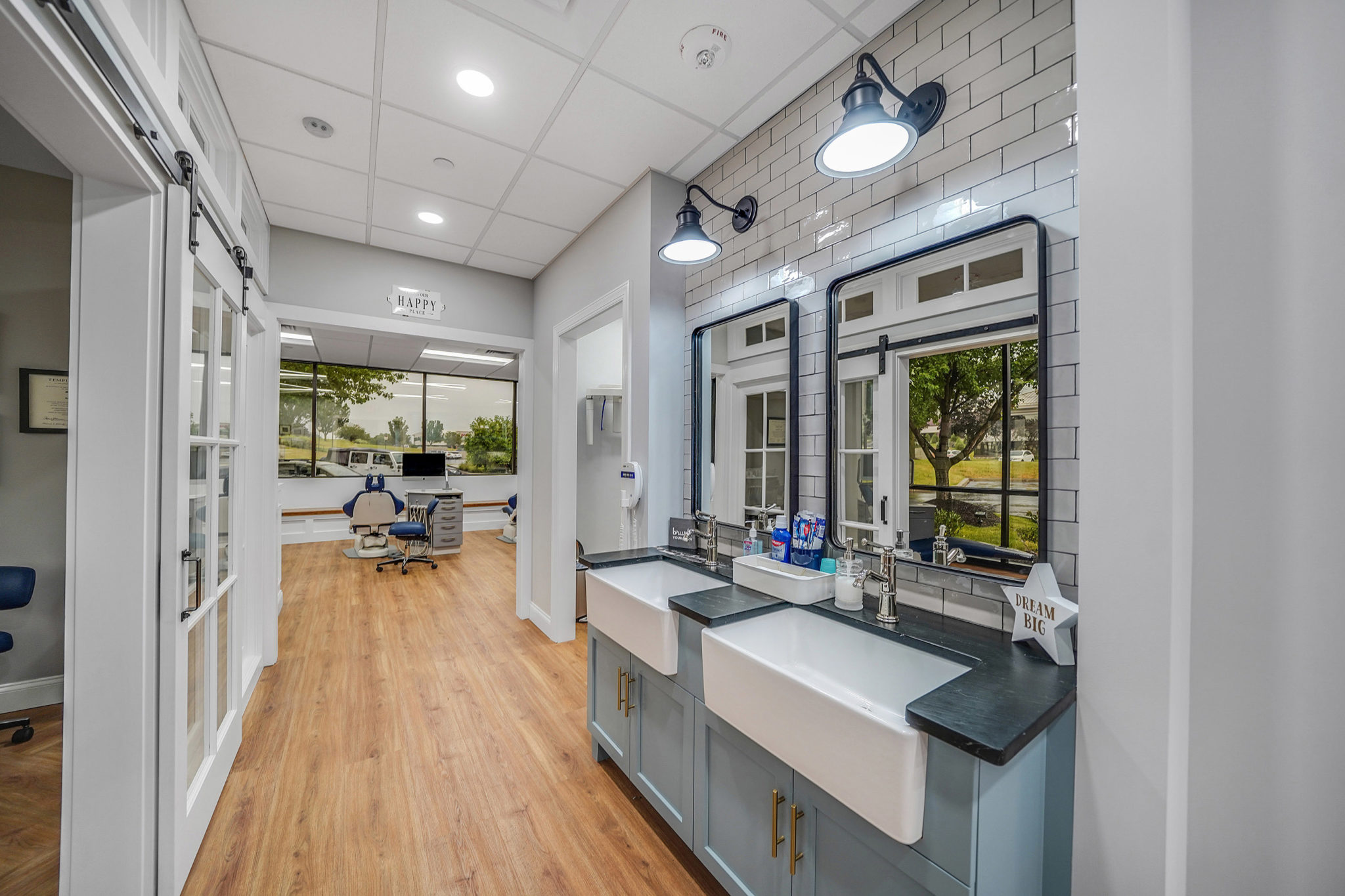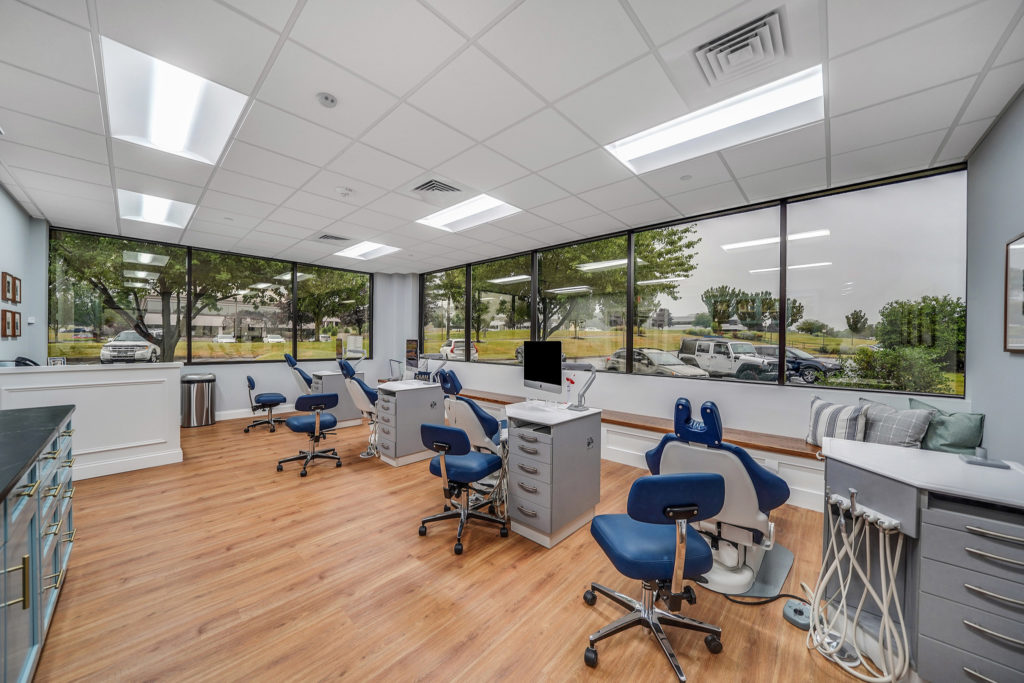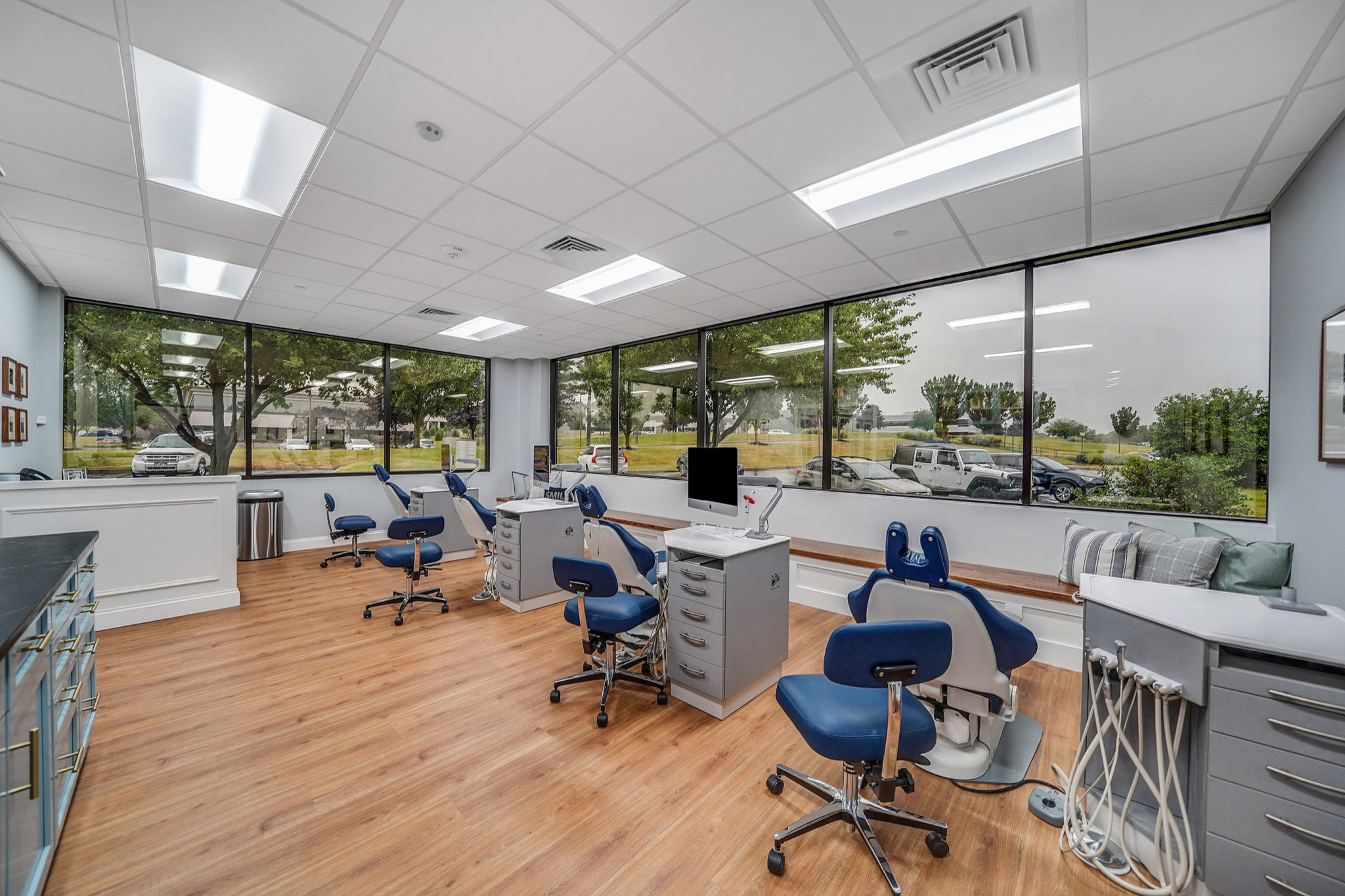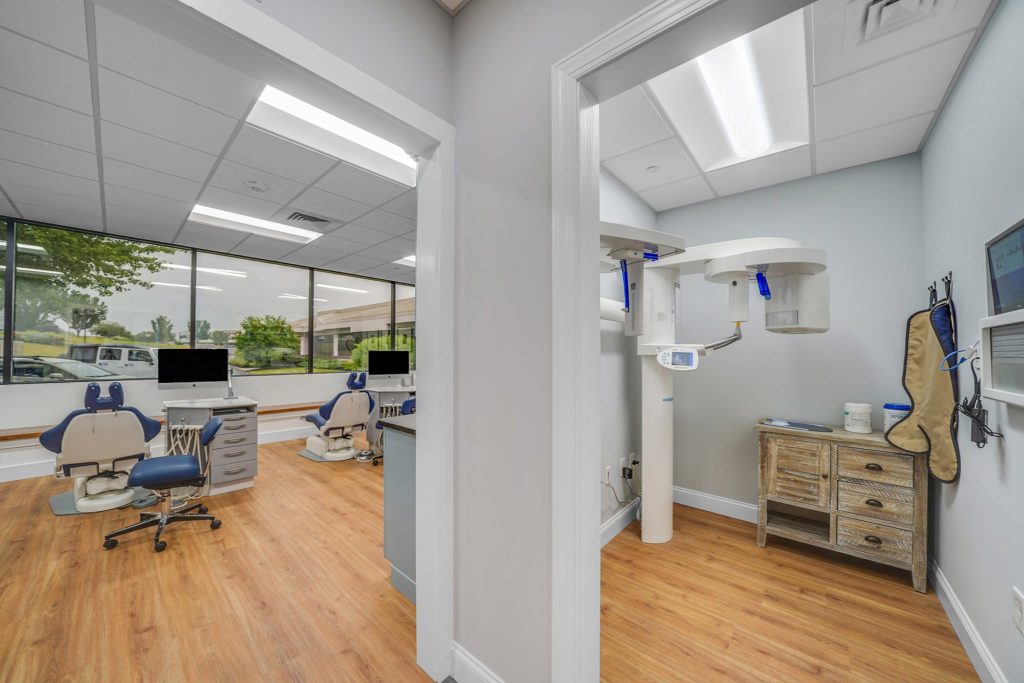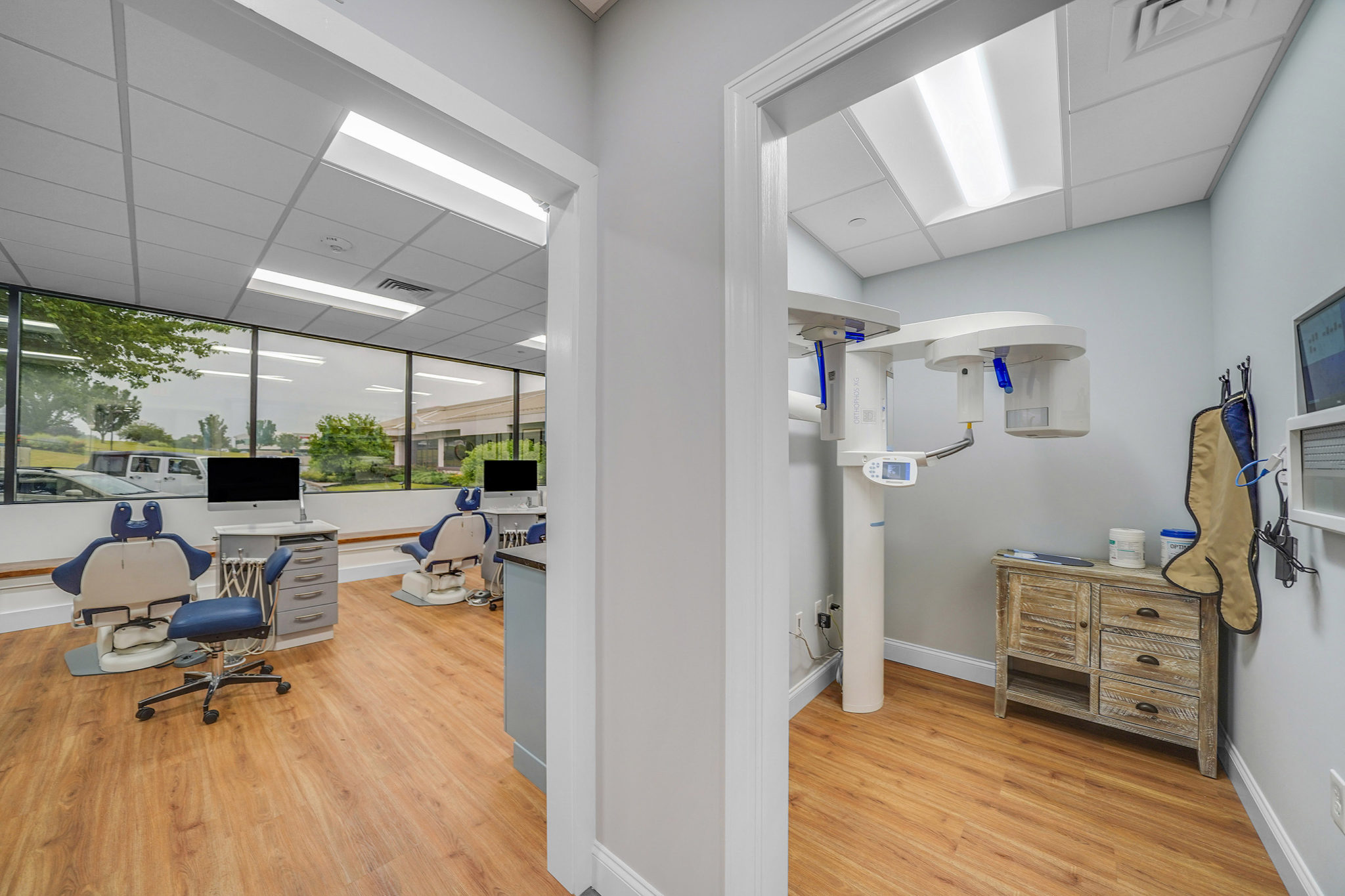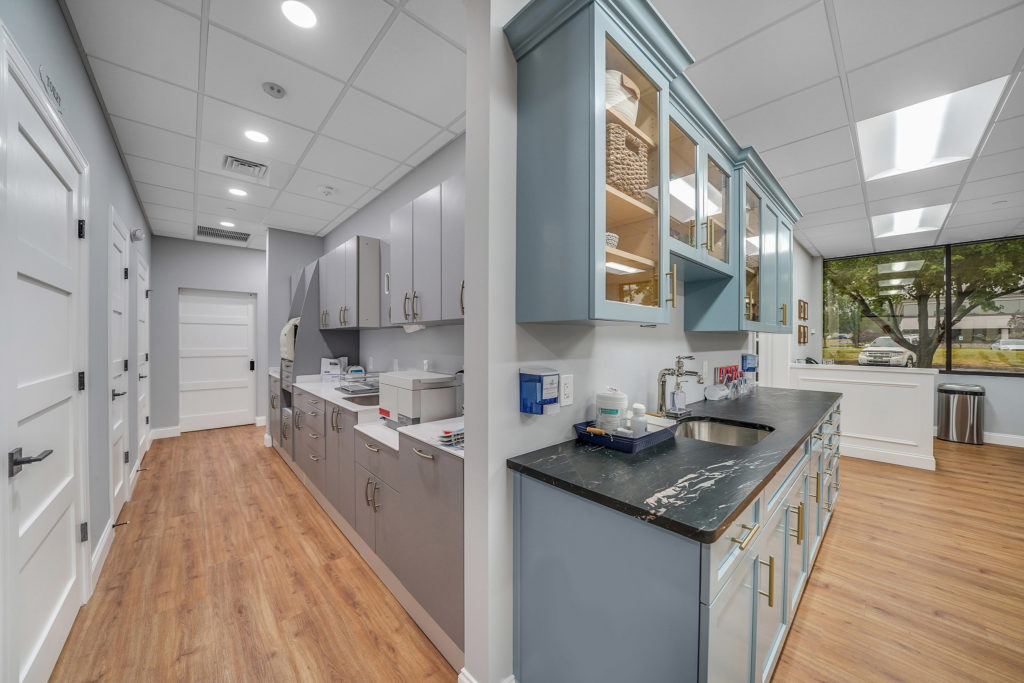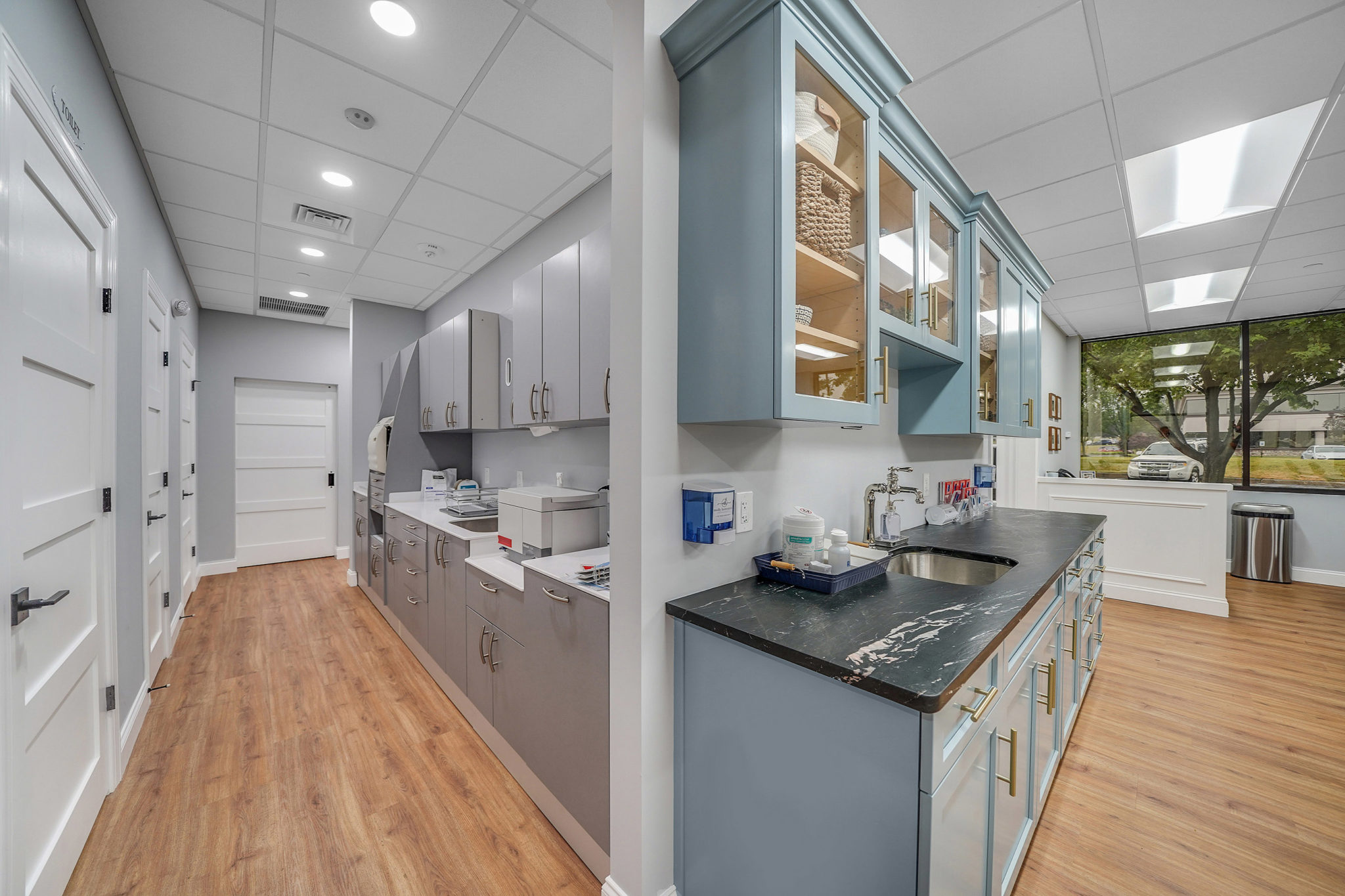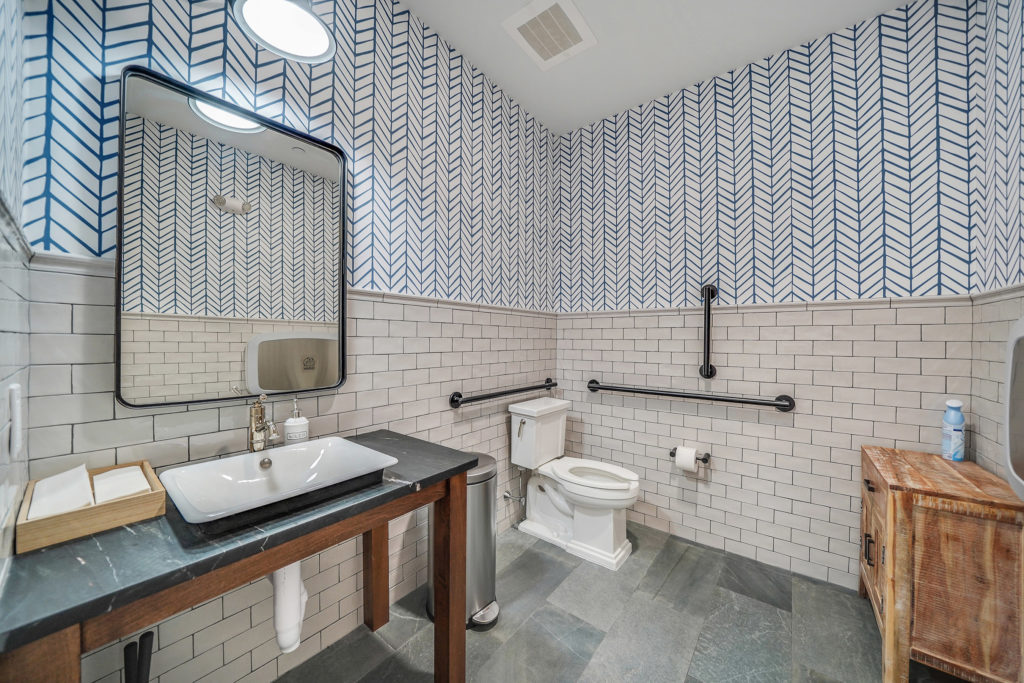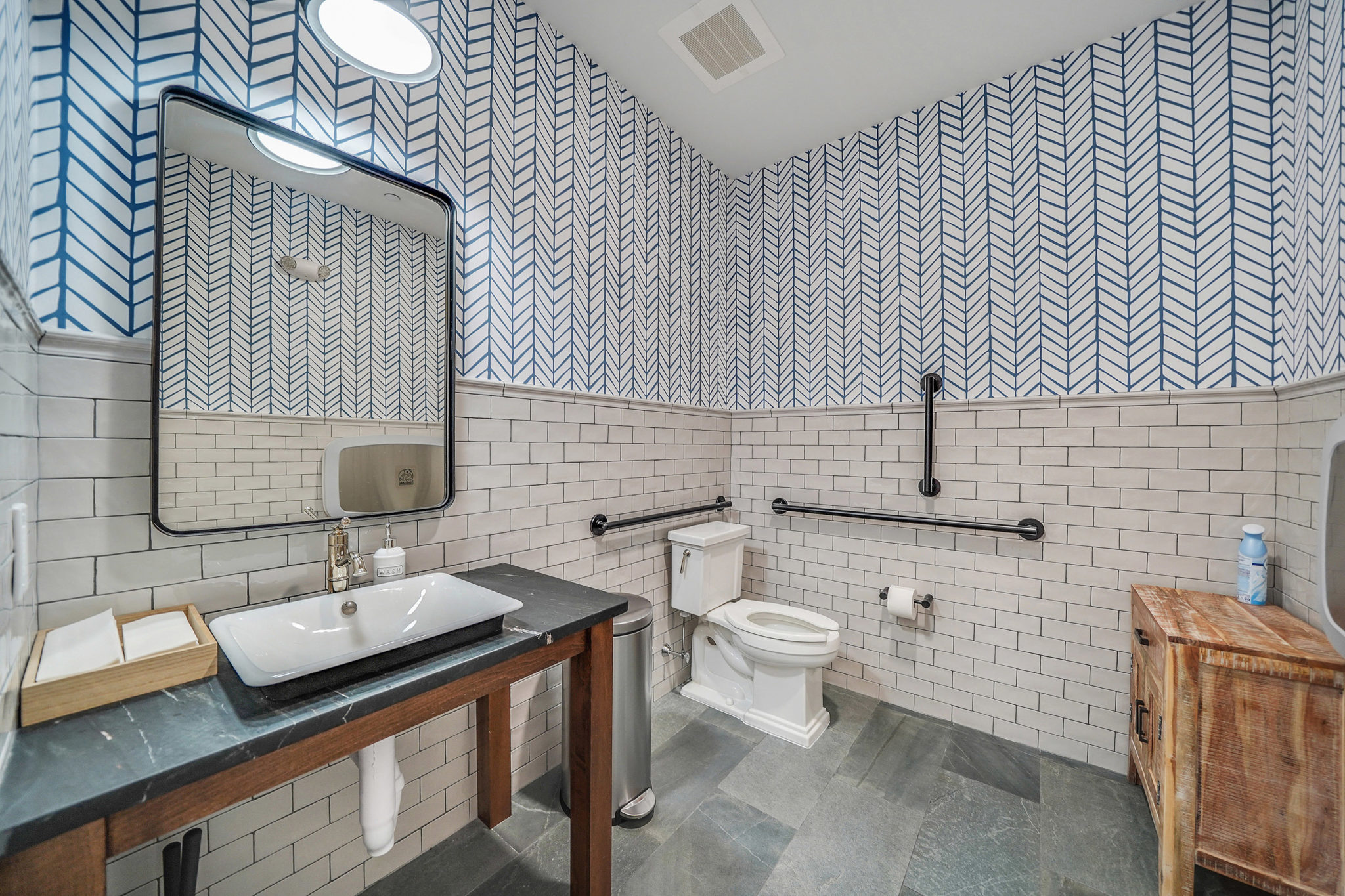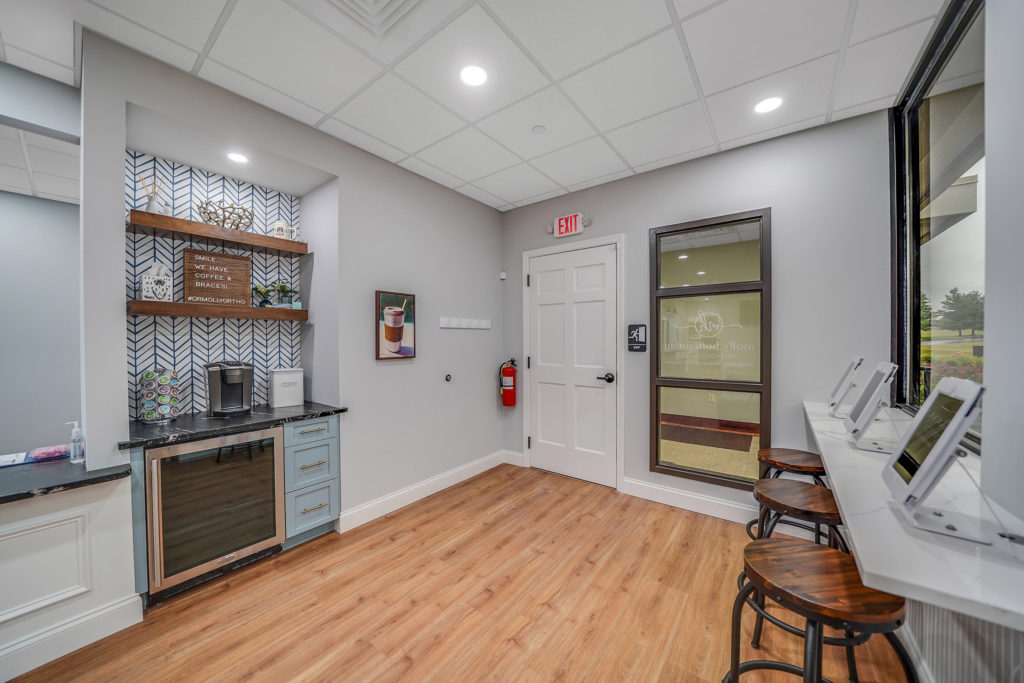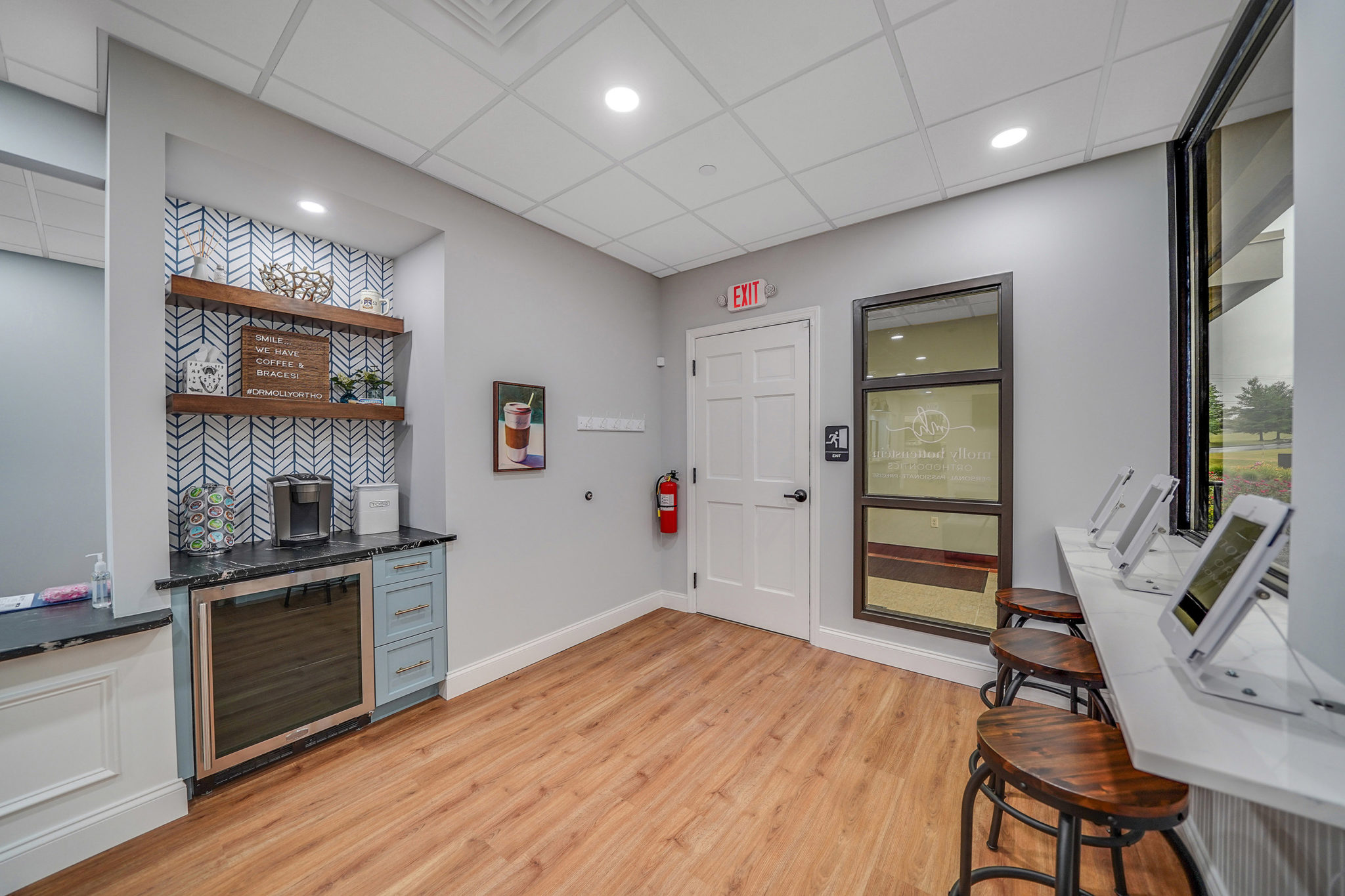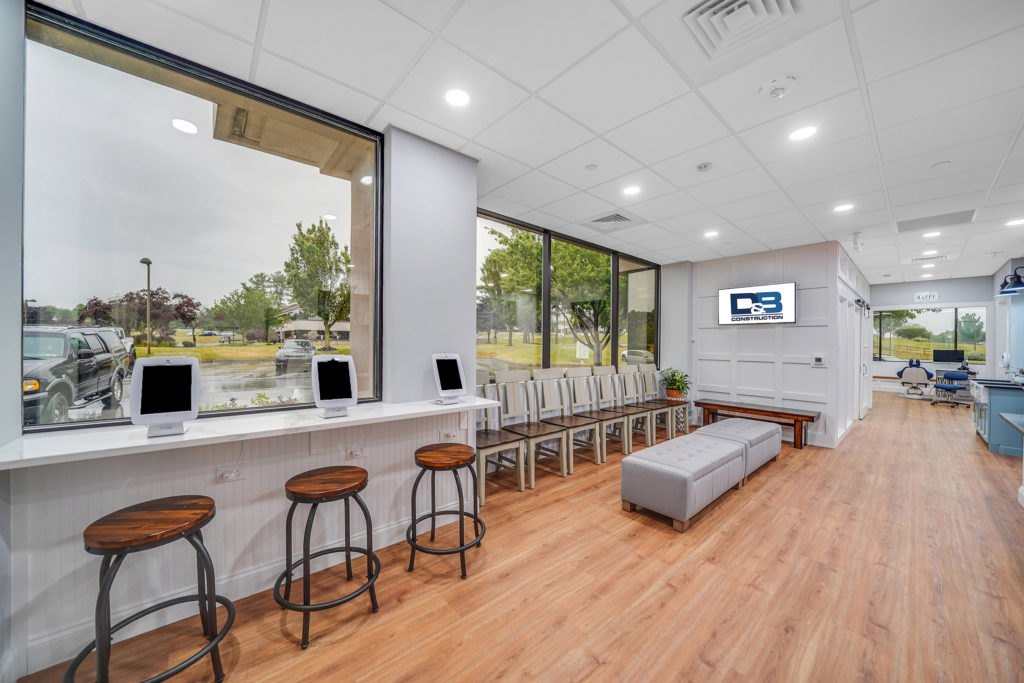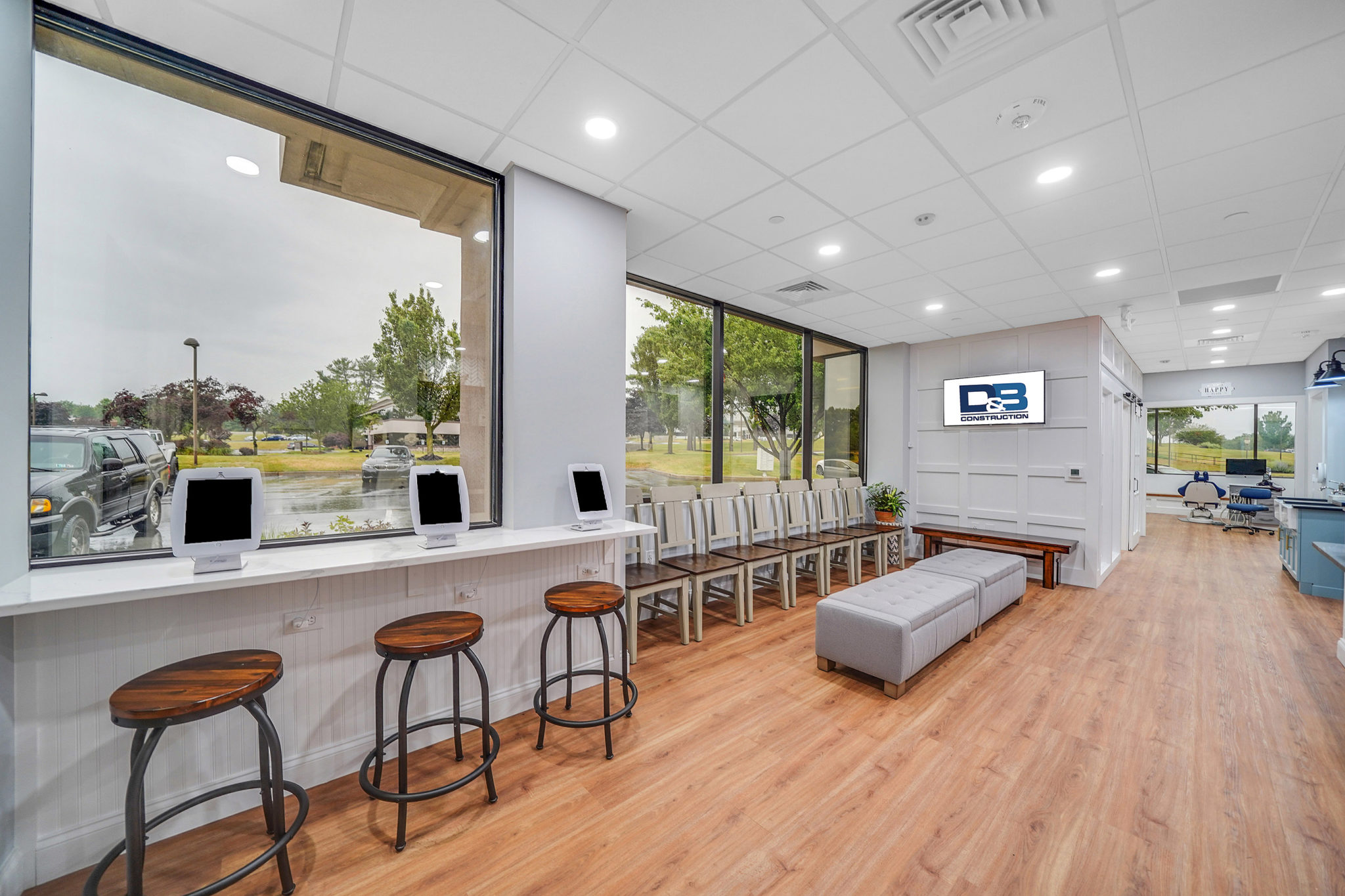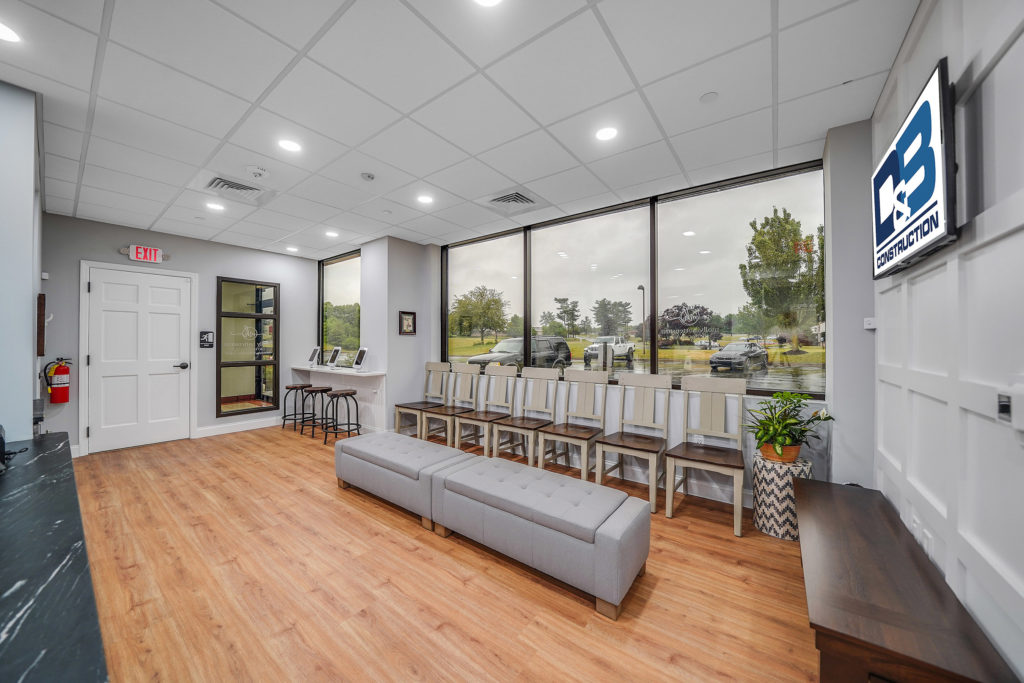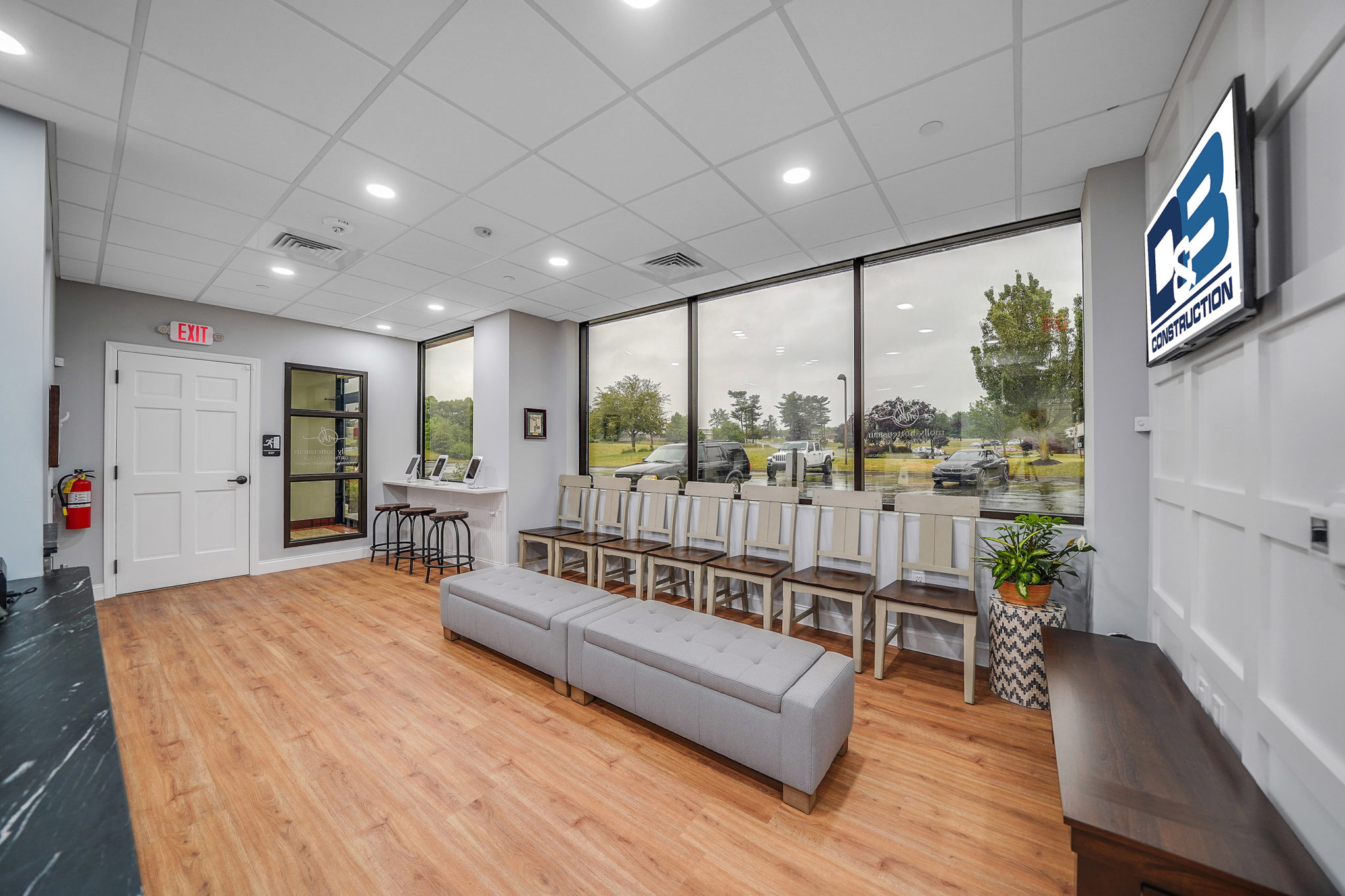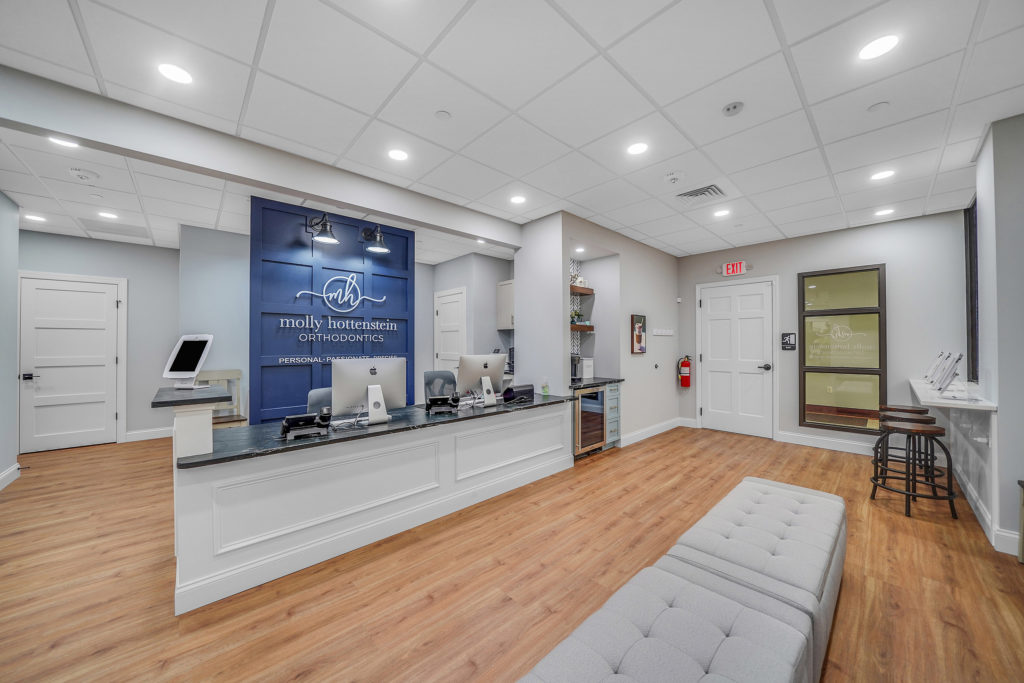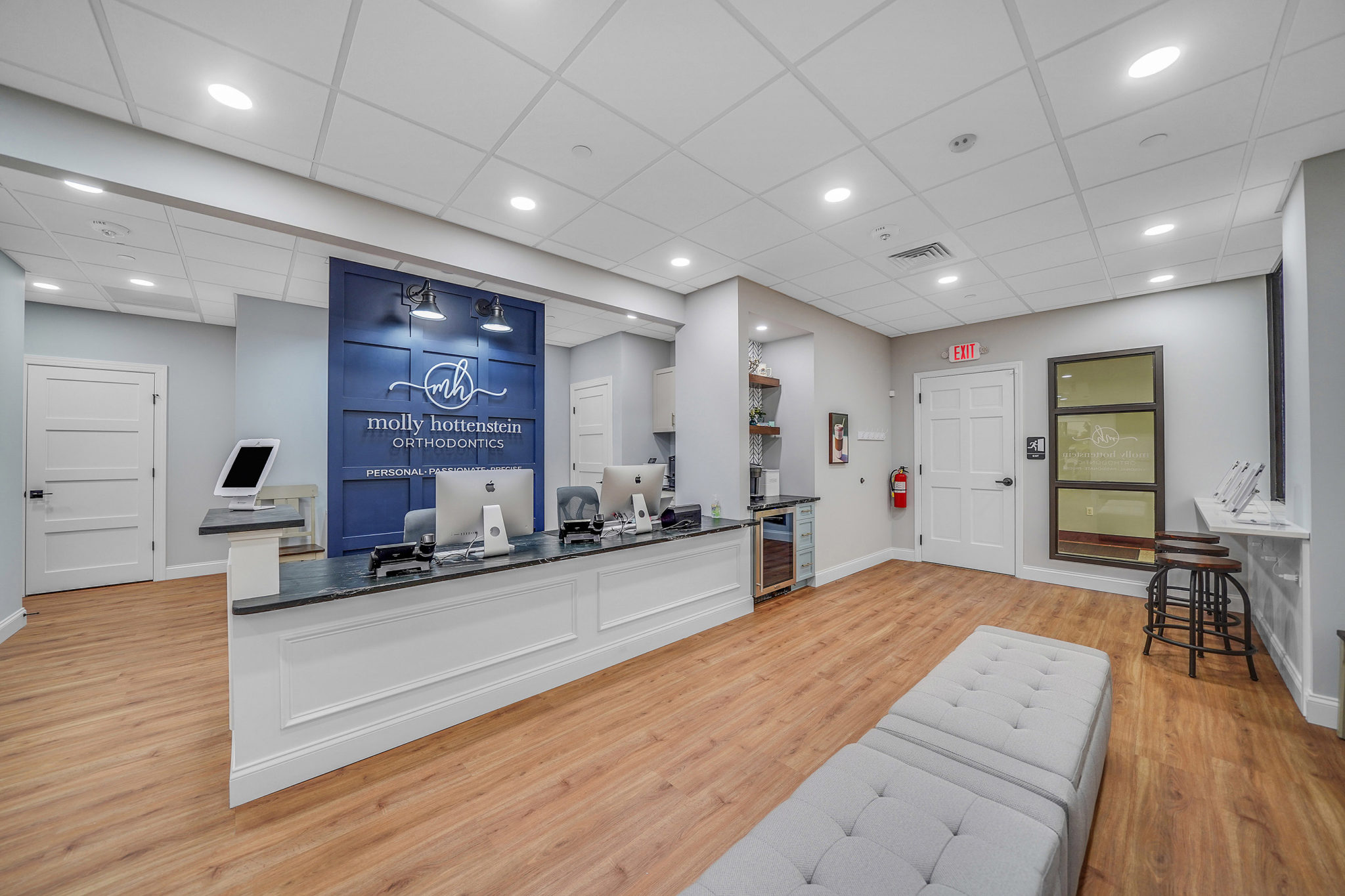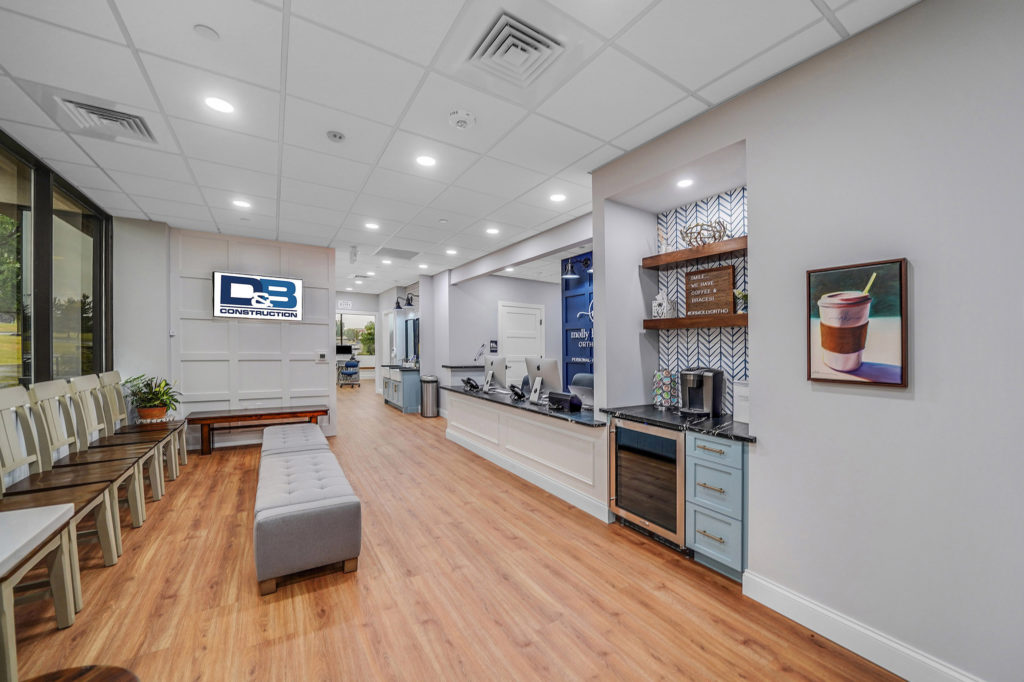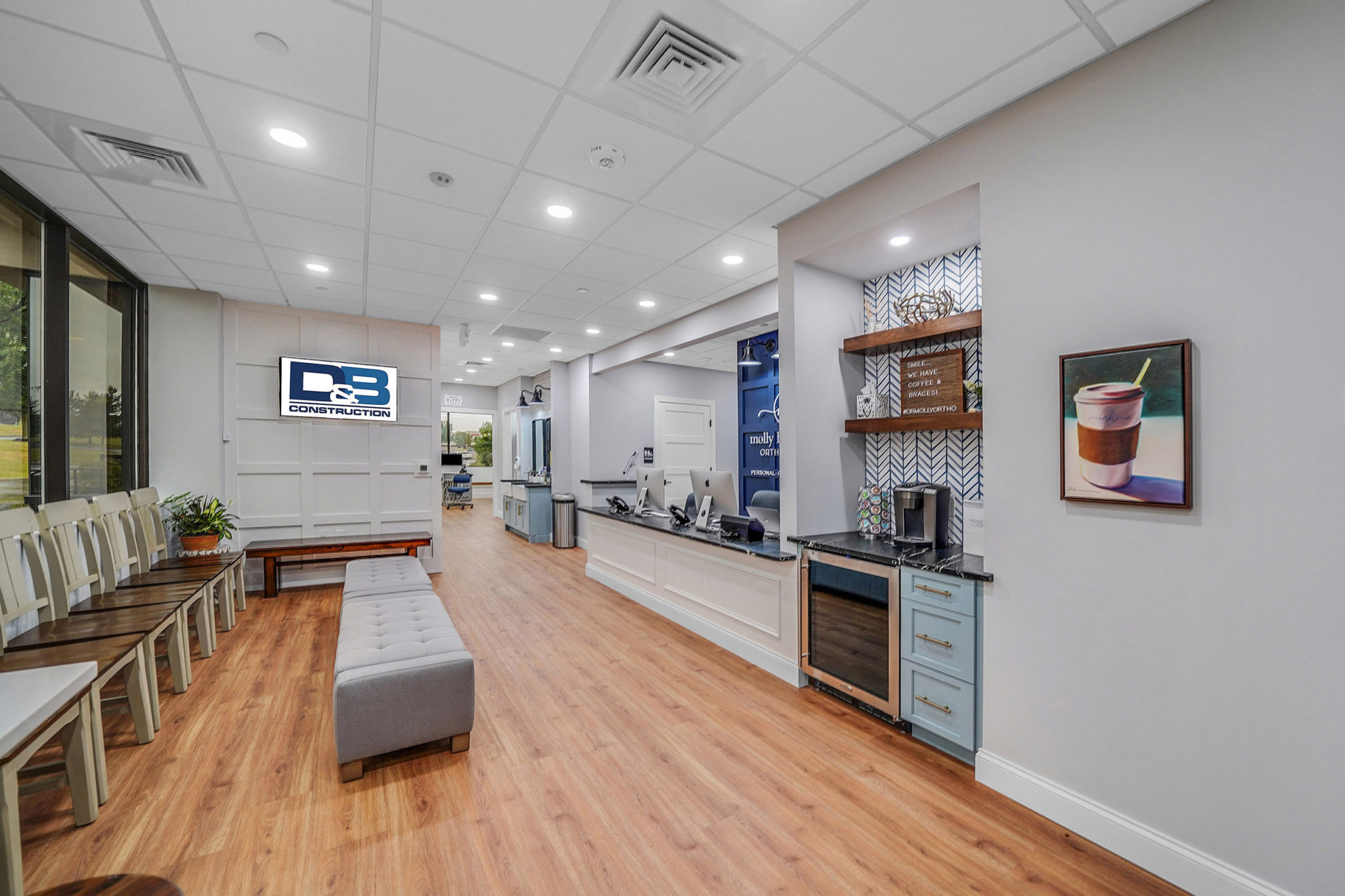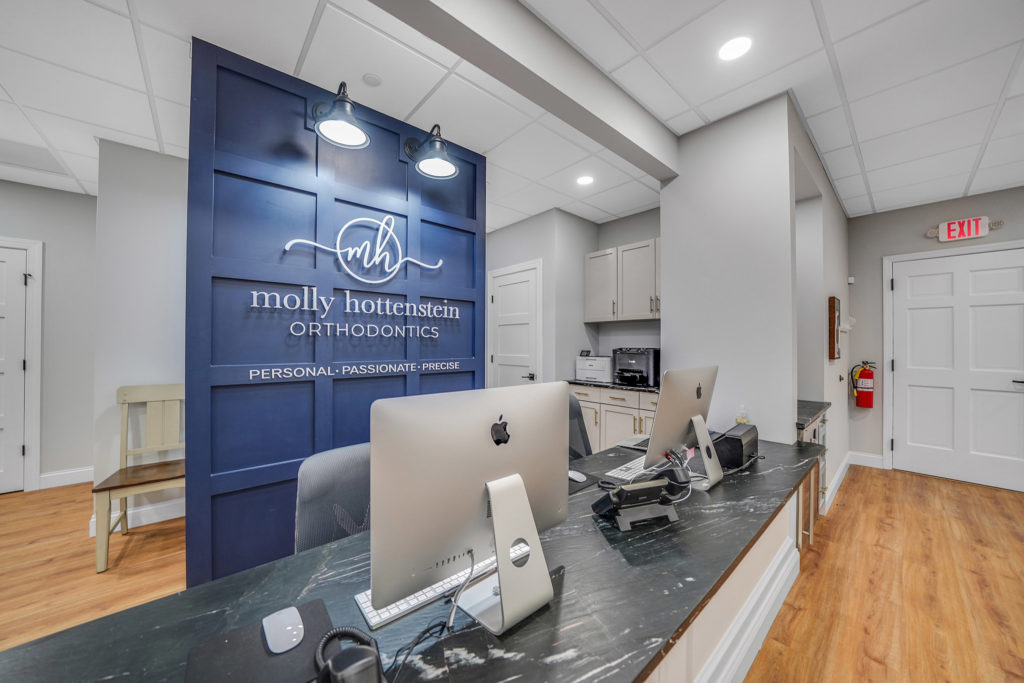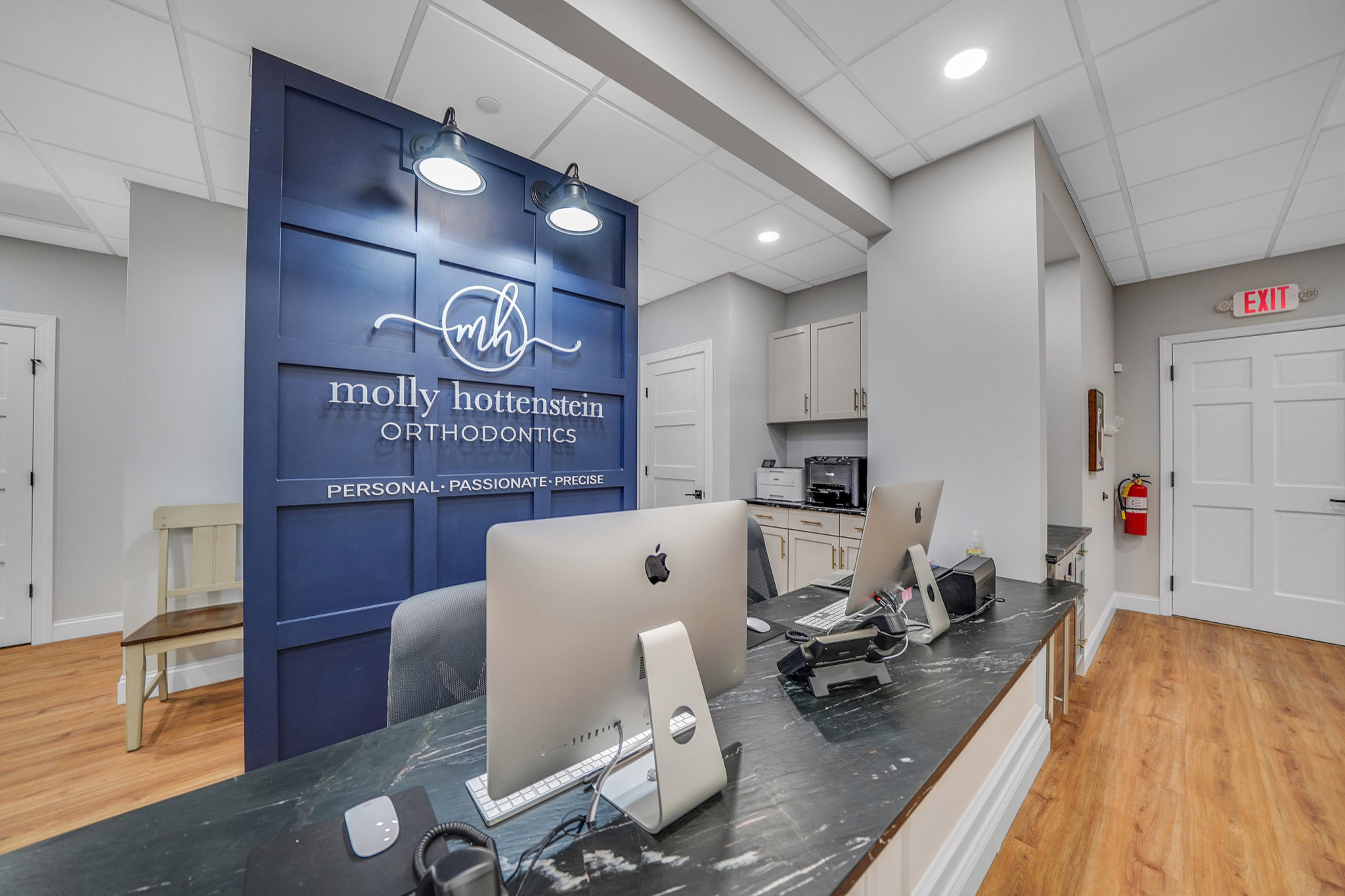 Aside from the overall aesthetic and design of this office space, another aspect that makes it so enjoyable to visit and work at is the atmosphere. Molly's motto is "Personal. Passionate. Precise," and a quick visit to her Facebook or Instagram will show you that her office is big on bringing fun and friendliness back to orthodontics.
"I think the number one key to anything in life is being genuine," says Molly. "You can't force yourself to be something you aren't. To be happy and successful, I knew my office had to be a genuine reflection of who I am. I love to joke and have fun, while also being honest and a good communicator. I don't 'try' to make my office fun… it just happens. My staff members are naturally this way, too. They are naturally kind and focused, and they smile and laugh. I want them to be themselves. The rest just follows," she explains. Molly prefers this natural, organic approach over getting hung up on what her competitors are doing or feeling. "I want people to choose our office because they feel comfortable here. Orthodontics isn't a once and done thing. It's a relationship over a series of a few years," she says. For that reason, she wants people to feel like her practice is the right fit for them. She doesn't want people to come to her because she has contests, prizes, or toys. She wants them to come to her because they trust her and feel comfortable.
"I think people are starting to talk about their experience with us, and we are starting to be a little more known in the area. I hope this is just the start to the forward momentum. I am so thrilled with the outcome and so proud. I feel like the space is a true reflection of who I am and the type of service I am offering," says Molly, with a lovely smile – of course.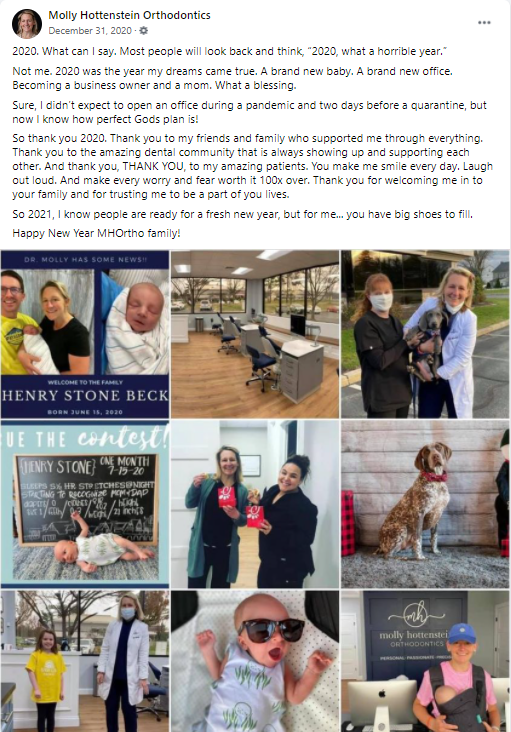 On February 22, 2021, we celebrated our 10 year anniversary! This milestone is something to celebrate. According to historical data from the Bureau of Labor Statistics, the construction industry has one of the lowest business survival rates. About 25% of small construction companies don't survive their first year, and labor statistics also show that 70% of these businesses never make it to their 10th anniversary.
From flipping homes and completing renovations, to building entire custom homes from the ground up, to entering the commercial construction industry and completing over 5 million SF since then… A lot has happened in the last decade. We owe it all to our amazing team members, trade partners, suppliers, clients, friends and family! Thank you for being part of this journey, and we look forward to what's to come in the next decade!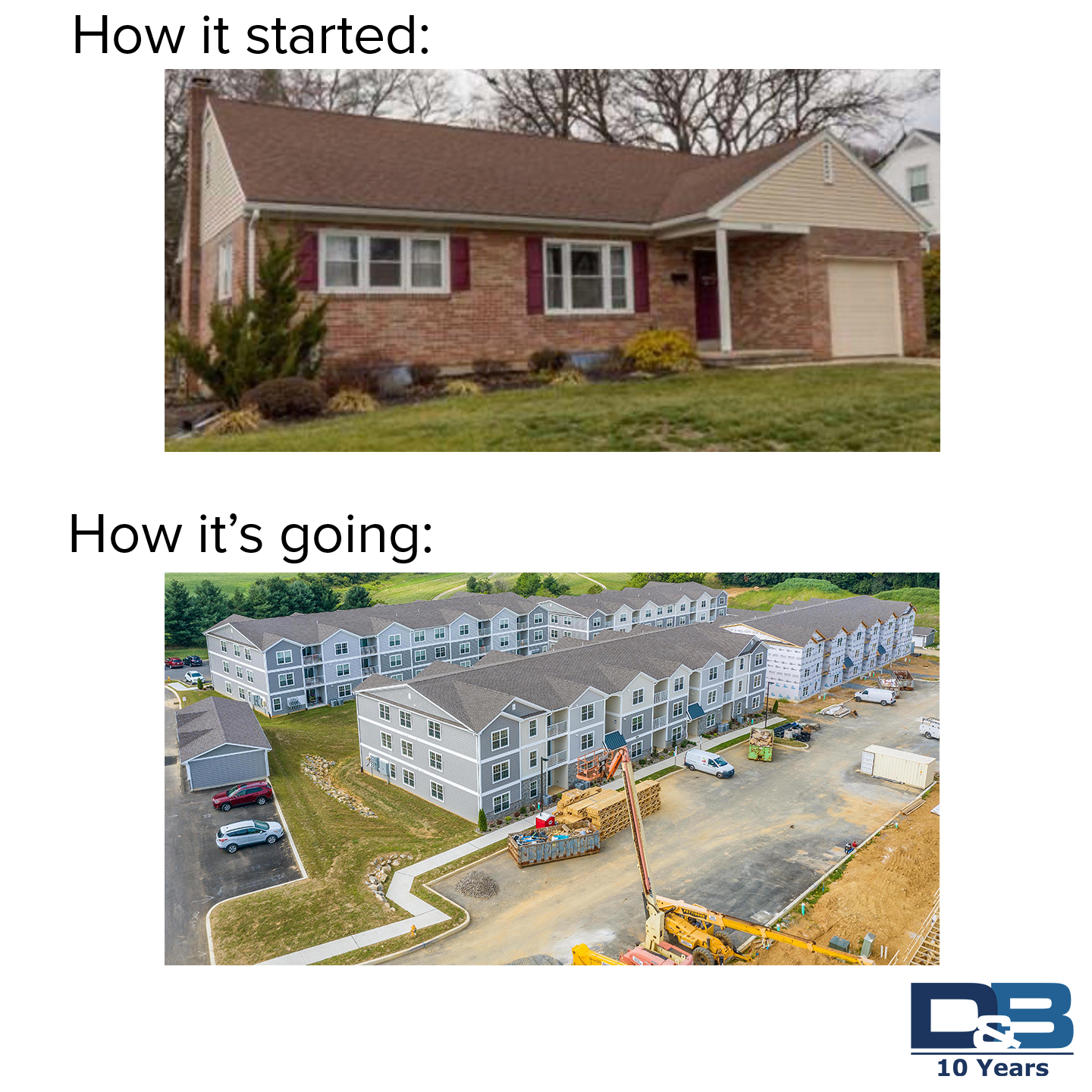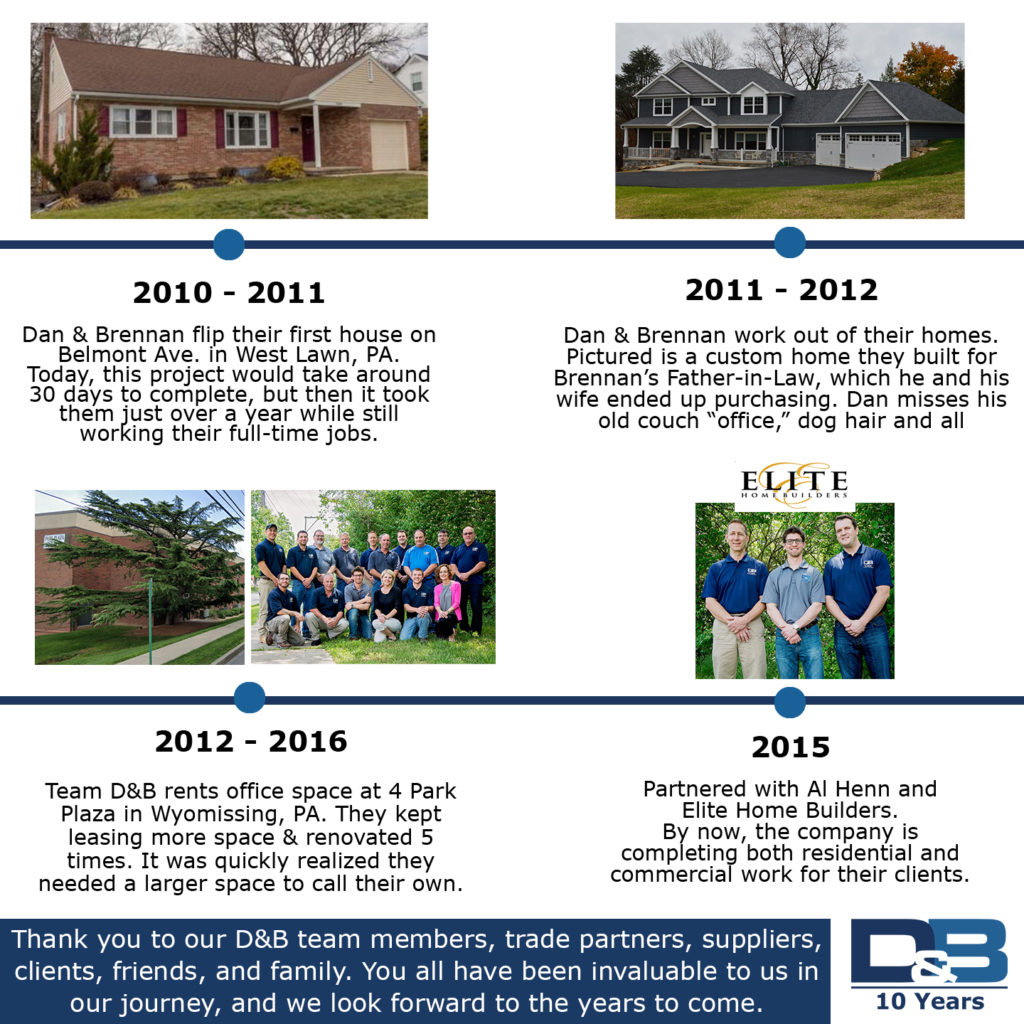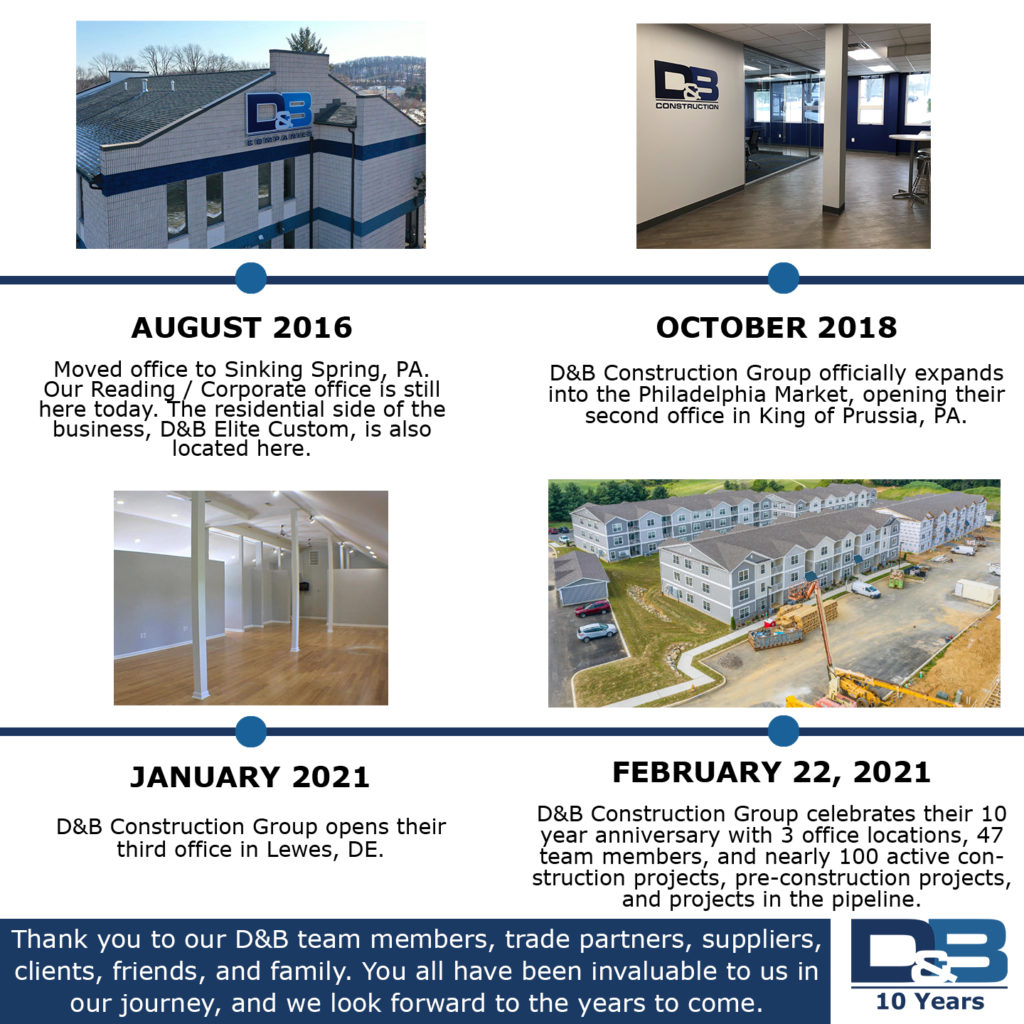 Reflecting on 10 Years
To celebrate this milestone, we asked our team members to share some of their thoughts on what it is like working at D&B Construction, how they have personally grown during their time here, and any fun memories they wanted to share:
Q: Any fun memories or stories that you'd like to share?
"When I first started at D&B we were much smaller, with offices across the hall. I was excited to work for Al, Dan and Brennan because there was an underlying positive energy that was contagious. I remember Brennan bouncing his ball against a wall when he would visit our side, driving us all crazy, and Dan running through the office saying "coming through". When Tom started we made him a make shift desk in the copy room. It was a little rough and we made it work.  If you ever need anything go to Adam, he is our historian and remembers everything! We have grown so much in the five years I have been here, and it has been fun being part of that growth both personally and professionally. I work with the best team! They happily share their knowledge, teach me something every day and challenge me to grow. They are my extended family. I also want to thank Al, Dan and Brennan for giving me an opportunity to be a part of a great team!"
-Beth, Project Coordinator
"When I first started we were limited on office space at the Park Road office. I was sharing an office with three other team members. Within a week, I adapted and found a corner in the room where the printer was. I made a desk from cardboard boxes and an old countertop. Talk about improvising. It actually worked well. HA!"
-Tom, Construction Manager & Safety Director
"I remember the first time I met Dan & Brennan when they first got started 10 years ago. I was on the other side of the job as an inspector for Lower Heidelberg Township. I believe they were constructing a deck, sunroom or an addition somewhere in the Green Valley area. I came across a lot of contractors in my 13 years as a building inspector, but always remembered them from the first meeting. Great guys with a goal of doing it the right way! This 10-year anniversary is a testament to them honoring their commitment to doing things the right way for their clients, employees and themselves!"
-Andrew, Assistant Project Manager
Q: How have you personally grown since first starting at D&B? What have you learned?
"The importance of teamwork. D&B has shown me what can be accomplished when there is a team that will support you from top to bottom."
-Matt, Project Manager
"I have grown my leadership skills tremendously, and I learned that I can actually make a difference."
-Tom, Construction Manager & Safety Director
"I've been here since January of this year, but I feel like it's been much longer. The team has accepted me, and I love the company culture. I have learned a ton about our processes, software and my teammates. The 'go-getter' attitude of our leaders has me extremely excited for the future!"
-Andrew, Assistant Project Manager
Q: How have Dan and Brennan evolved as leaders since you began?
"They are evolving into awesome leaders. The growth that the joint venture of Metro and D&B bring are endless. They always have and always will have each other to bounce ideas off of. Not one decision is made for the company without them both discussing it together."
-Alex, Superintendent
"Dan and Brennan are growing as leaders since I started and will continue to grow with the company."
-Tom, Vice President of Construction for the Reading Division
Q: When you think of your D&B family what is the first thing that comes to mind?
"Teamwork. A commitment to excellence and doing things the right way for the client."
-Andrew, Assistant Project Manager
"Compassion and understanding."
-Matt, Project Manager
"Unbelievable teamwork and teammates."
-Alex, Superintendent
"Teamwork."
-Tom, Construction Manager & Safety Director
"Cooperation."
-Barry, Superintendent
Q: Anything you want to say to the D&B team as a whole?
"Keep up the good work and adapt with the growth."
-Tom, Vice President of Construction for the Reading Division
"I would like to say thanks to everyone. Many people in the company reached out to me when my mother passed, and it means more to me than they know."
-Matt, Project Manager
"Being a part of this team makes me feel so proud. It's a breath of fresh air knowing I can rely on our team for help or ideas. As long as we stick together and use all of our teammates, there is nothing we can't do!"
-Alex, Superintendent
Q: How would you define our company culture in a few words?
"Teamwork. Cohesive. Fun!"
-Andrew, Assistant Project Manager
"Engaging, welcoming, team oriented, rewarding, flexible, motivating and connected."
-Alex, Superintendent
"Teamwork and striving for excellence."
-Matt, Project Manager
"The culture here is unique compared to other companies."
-Tom, Vice President of Construction for the Reading Division
Q: What do you love most about working at D&B?
"The challenge to keep up."
-Barry, Superintendent
"Everyone has been extremely helpful in bringing me up to speed and getting me involved in as much as possible. The work atmosphere is fun, all while getting the tasks accomplished in timely manner. It is a great team with great balance across all facets."
-Andrew, Assistant Project Manager
"The people. Everyone is down to earth and is there to support whenever possible. In times of need, D&B employees have been there to lend a helping hand or provide insight on an issue on a project."
-Matt, Project Manager
"Mentoring the younger team members and watching them grow."
-Tom, Vice President of Construction for the Reading Division
Learn More About D&B
If you follow our social media, you've likely seen our YouTube series reflecting on 10 years to celebrate the company's milestone. Catch each episode here:
Episode 1: Dan and Brennan, and their wives, Urs and Jenny, reflect on the many different office spaces we've had throughout the last decade. Learn more about how we went from an office space in a house Dan and Brennan ended up flipping to where we are today.
Episode 2: Dan and Brennan discuss how D&B has grown in the last 10 years and whether or not they expected to be where they are now.
Episode 3: Did you know that Dan and Brennan were teammates long before they started the company? They played soccer together at Elizabethtown College (where they were also roommates). Learn how they have grown over the years and how their partnership complements one another.
Episode 4: This episode focuses on our most important asset – our team! In the words of Dan and Brennan, "Our team is what got us here today." Dan, Brennan, and their wives recognize and celebrate everyone who makes up the D&B family.
Episode 5: Dan and Brennan's family send their congratulations to Team D&B on their 10 year anniversary. Plus, you'll learn what some of the D&B kids love most about visiting their dads and the team at the office.