Paramount Contracting, Inc., a commercial wall and ceiling contractor, is based out of Lancaster, PA and serves the Pennsylvania, New Jersey, Delaware, West Virginia, Virginia, and Maryland areas. The company was established as a premier wall and ceiling contracting company by Jeff Mylin in 2005. "The emphasis was always on customer service and building a great team," says a reflective Mylin 16 years later. "We focused on the needs of the customer and providing an end product that our team would be proud of." As a result of this, Paramount has "experienced organic growth as opportunities presented themselves over the years." Today, the company has nearly 100 employees, completes in excess of 300 jobs per year, and specializes in Metal Studs, Drywall, Insulation, EIFS and Acoustical Ceilings, as well as select Carpentry and Specialty items.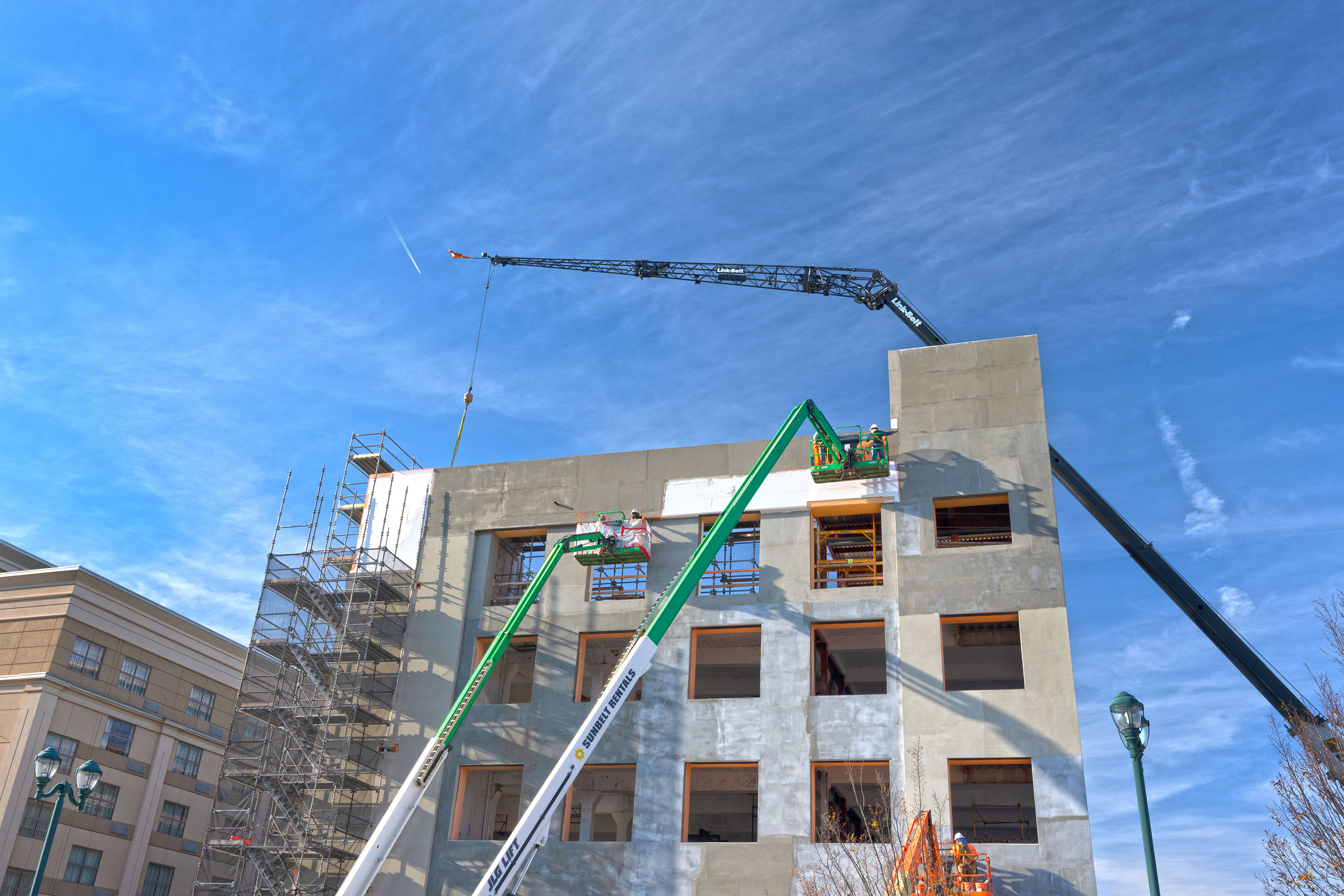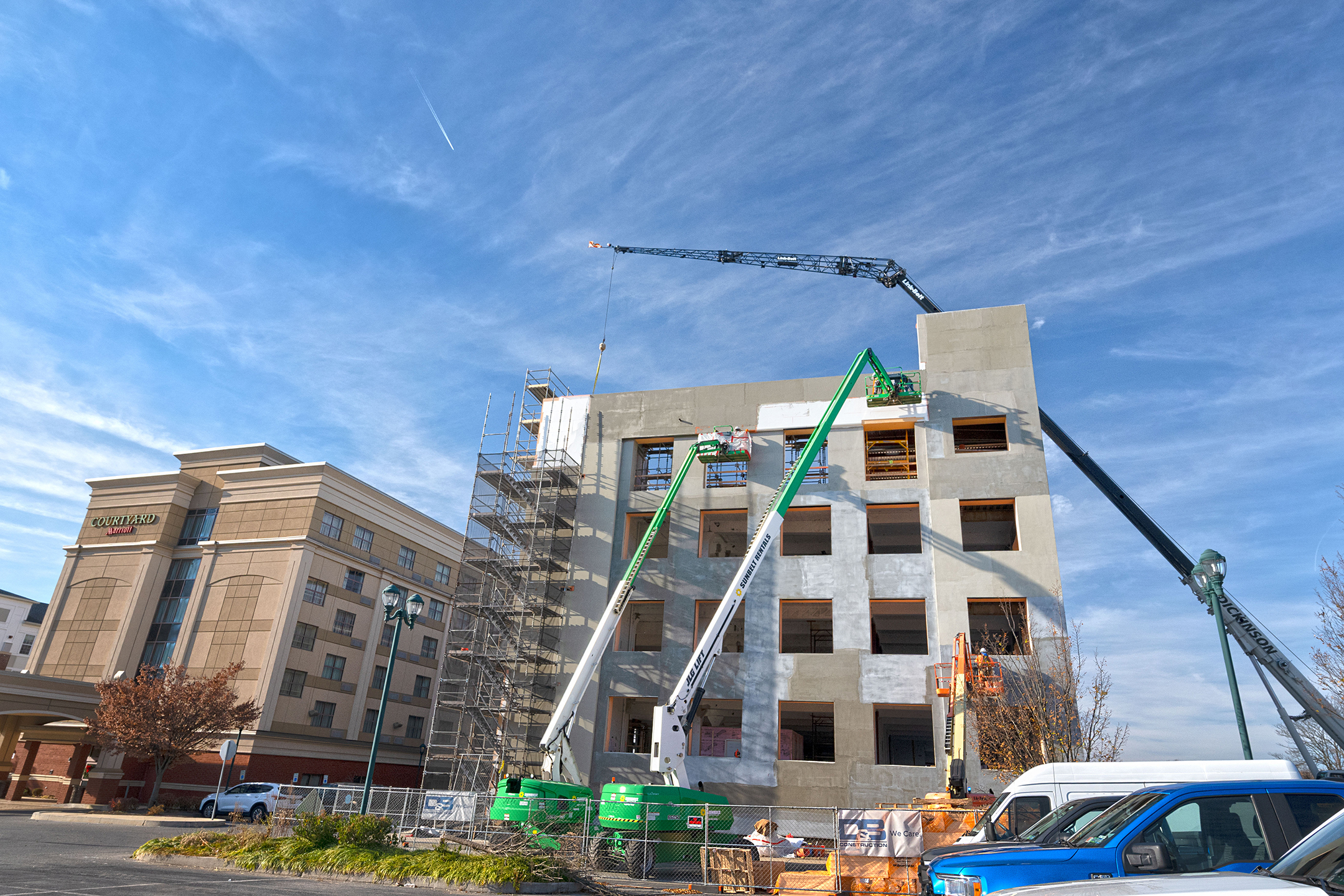 D&B is proud to have been partnering with a company that reciprocates our core values of being a company that cares about everything from the customer to the finished product. Since Paramount became a Trade Partner of D&B Construction's nearly five years ago in 2017 they have worked on more than 10 projects with us, completing everything from insulation, drywall, and exterior sheathings to rough blocking, acoustical ceilings and clouds, and FRP.
Some of the current active projects Paramount is working on with D&B include this mixed-use design-build project in Kennett Square, PA, D&B's new corporate headquarters, and Kreitz Gallen-Schutt Attorney's office fit out, which is just starting up. Other projects worth highlighting from this year include Tower Health's newest satellite office in Womelsdorf and Grove Dental Pediatrics.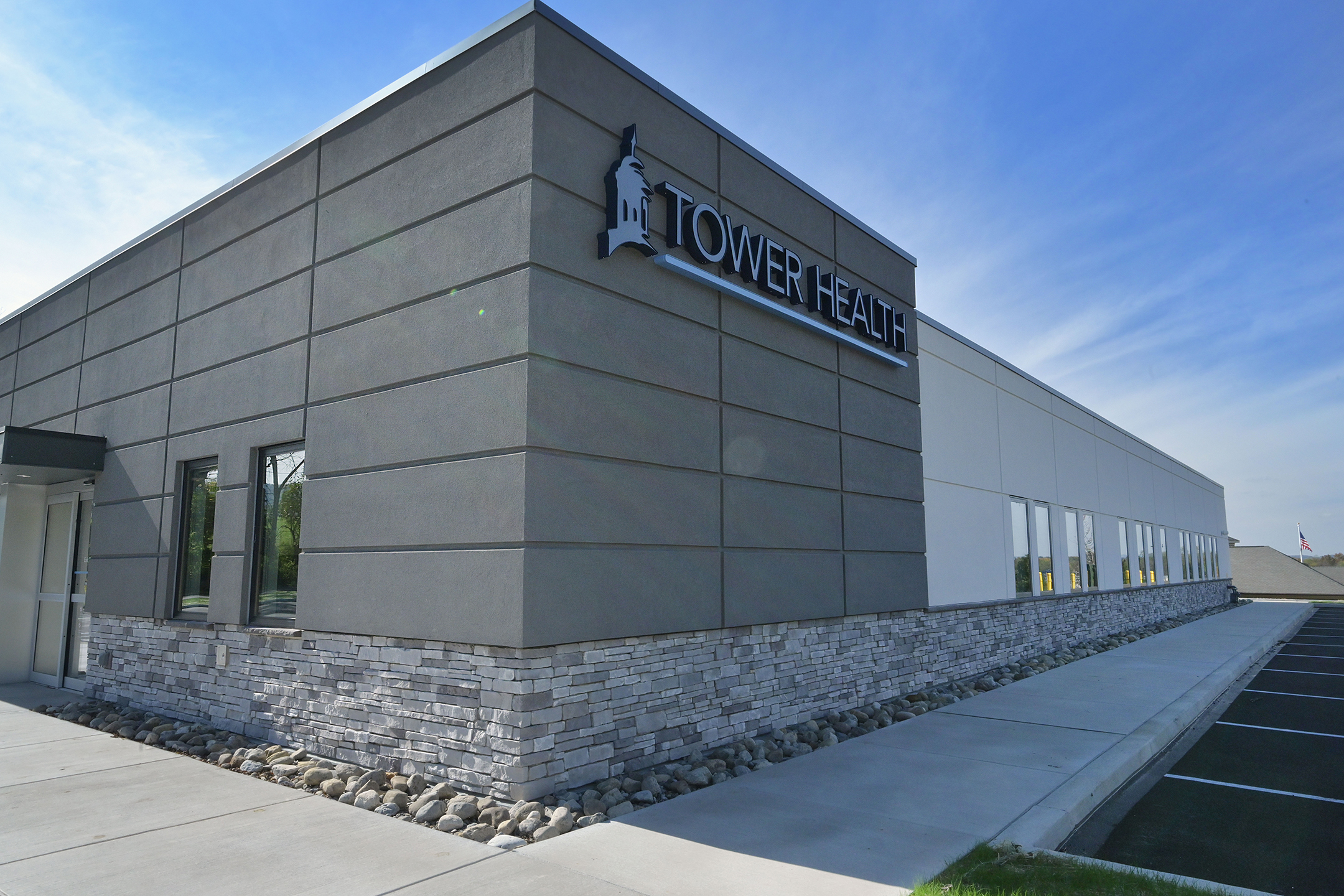 Perhaps the most impressive job that Paramount is working on D&B with is the 80,000 SF adaptive reuse building currently being renovated in the heart of Wyomissing. This five-story building will be the future home of Stratix Systems' headquarters.
Our Project Manager, Andrew, plays an active role in the daily management of what is occurring at the jobsite. This is what he had to say about his experience working with their team on this job: "Paramount has been an integral Trade Partner on our project at 200 N. Park Road in Wyomissing. Their Project Managers and Site Foreman have brought knowledge from previous projects on nearby, similar style buildings that have aided our project in design, constructability and schedule. Their crews have been more than accommodating with a stubborn building that has required much coordination and numerous details from the Architect."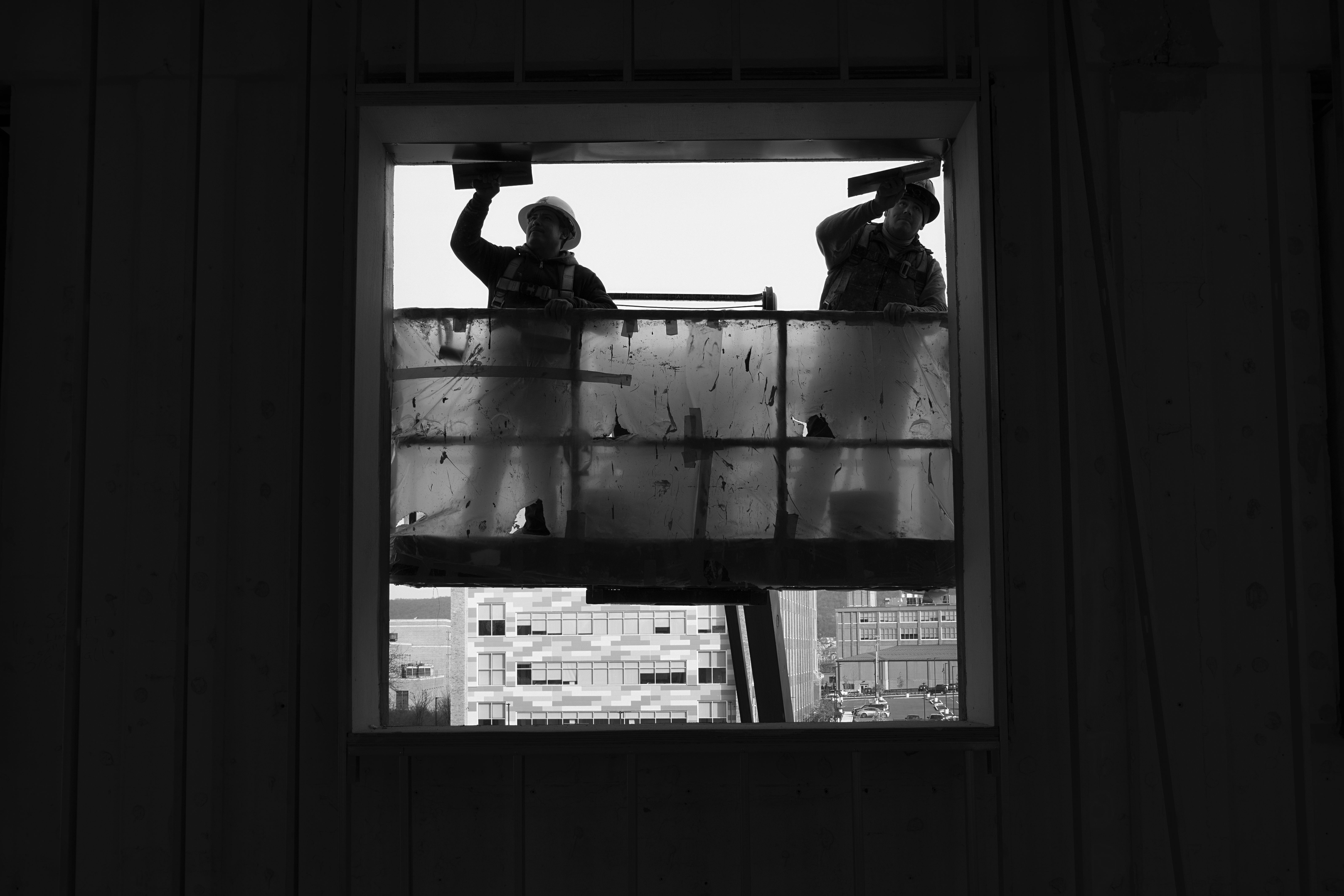 Andrew also had the pleasure of working with Paramount on three other projects, including his first job with D&B nearly one year ago, Kingsview Partners. He looks forward to "continuing our strong relationship with such a great Trade Partner" as we head into completing more jobs with them in the New Year.
Oh, and did we mention the Paramount team has some pretty great cooks, too?! This past October, Paramount was kind enough to host a home-cooked BBQ luncheon at Stratix Systems' future new headquarters for all D&B employees, ownership, the project architect, RHJ Associates, and even invited us to invite other Trade Partners on the job. It was a great day of camaraderie onsite as we all learned about the intricate details of this detailed project. "Their BBQ was the launching point for one of our company's on-site safety training sessions, and attendance was most definitely enhanced as a result of the promise of good food. We were and still are grateful for their efforts," reflect Andrew.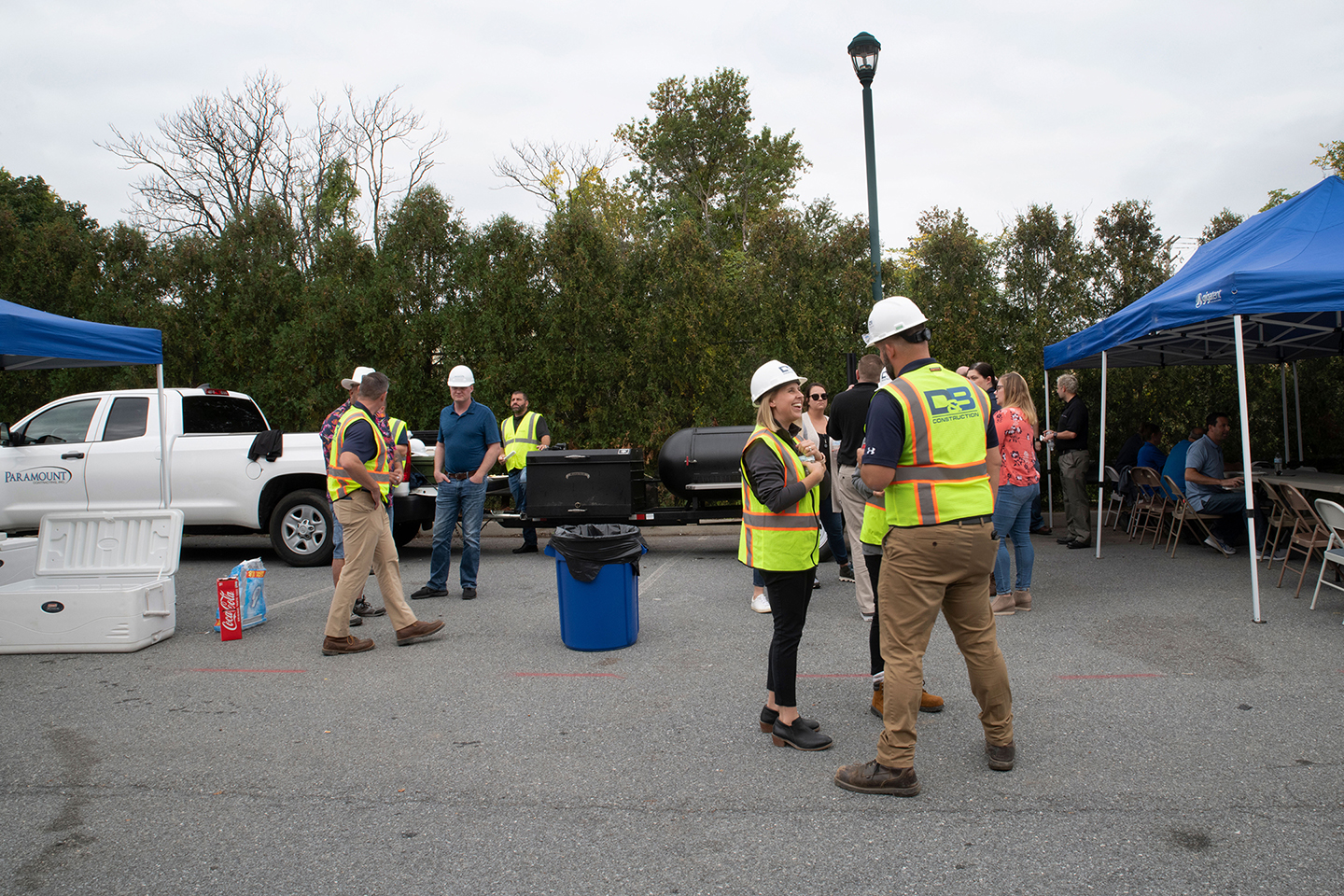 We sat down with Jeff Mylin, President of Paramount Contracting, for a quick Q&A:
Q: Paramount Contracting has completed 4,100 jobs since its inception. What project are you most proud of to date and why?
A: "It is hard to choose just one, but the Ann B. Barshinger Cancer Institute in Lancaster, PA would be near the top. It is a respected facility in our home town and architecturally impressive building."
Q: What's the best piece of advice you would give to others looking to get into the industry?
A: "You have to have a love for the industry. Construction is a tough business with demanding schedules, tight budgets and currently material and labor shortages. Yes, there are many challenges but it also can be very rewarding when seeing the job come to completion. Those of us in this line of work understand how it feels to drive by a finished project and feel a sense of pride that 'we helped build that.'"
Q: You are completing a number of projects with D&B right now. What has your experience been like working with our team?
A: "D&B projects are clean, organized, and safe projects to work on. They communicate clearly with all of the trade teams, which leads to successful projects. We have made a significant investment into bidding to D&B and we feel that has not gone unnoticed. Subcontractor loyalty is obvious, which increases effective teambuilding."
Q: What do you enjoy most about working on a D&B project and why?
A: D&B Superintendents, Project Managers, Engineers, and support/admin staff are always accessible and willing to help. Coordination and scheduling are always well thought out and communicated from planning to completion. The jobs are often local, and our employees enjoy investing in the buildings in their community."
At D&B Construction we like to think of our trade partners as an extension of our team. We are proud to call Paramount Contracting an extension of the D&B family. Every project we have collaborated with them on results in a final product that both teams can be proud of and that our customers can look forward to.