"Tenant fit out" is a common phrase you will hear used throughout the industry. It refers to the process of making an interior space ready for occupation. Usually, it is common practice in commercial construction to keep the interior space empty so occupants can create the look and feel of their business while determining the level of refurbishment they need. While an office renovation refers to the work needing done to improve an interior design (think aesthetic revamps such as purchasing new furniture or fresh paint), a fit out involves creating a usable area within an empty space.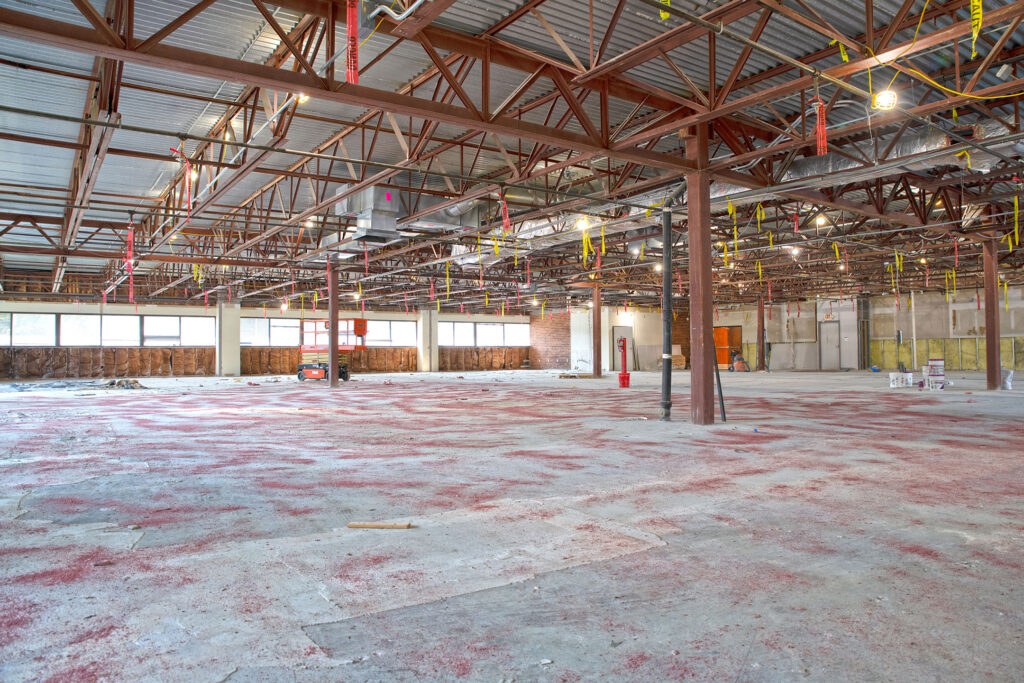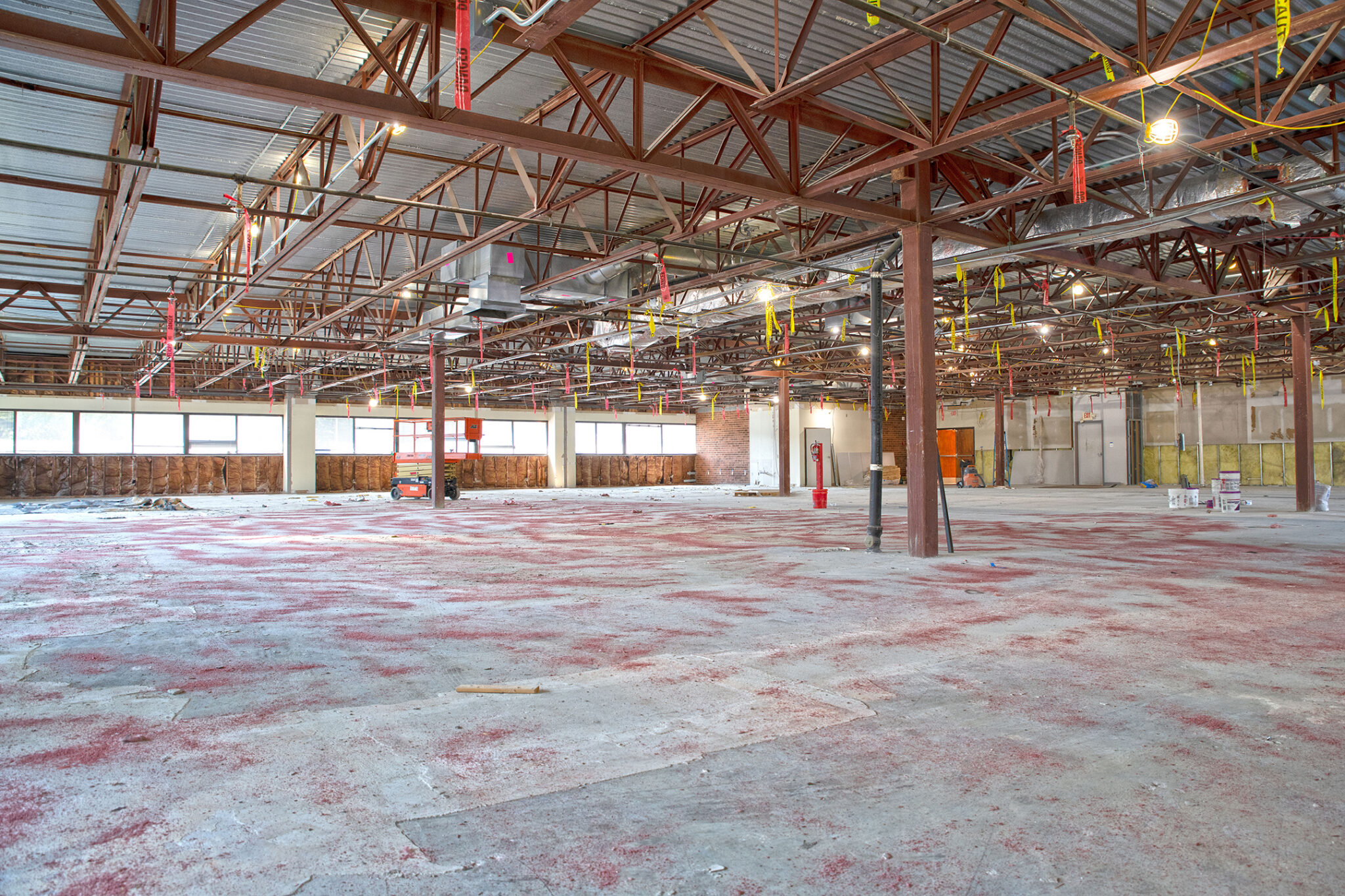 The Different Types of Commercial Fit-Outs
A Category A fit out is the standard for what you will find in commercial space ready for renting, with utilities such as plumbing fixtures and electrical wiring already in place. Typically, features like electrical outlets, HVAC systems, fire protection systems, raised access floors and toilets would need to be installed yet.
On the other hand, a Category B fit out requires installing features that are lacking in a Category A. In sum, this fit out focuses on making the aesthetic design specific to the business. It typically involves installing lighting, flooring, painting, partitioning, window treatments, furniture, and branding to make the office yours.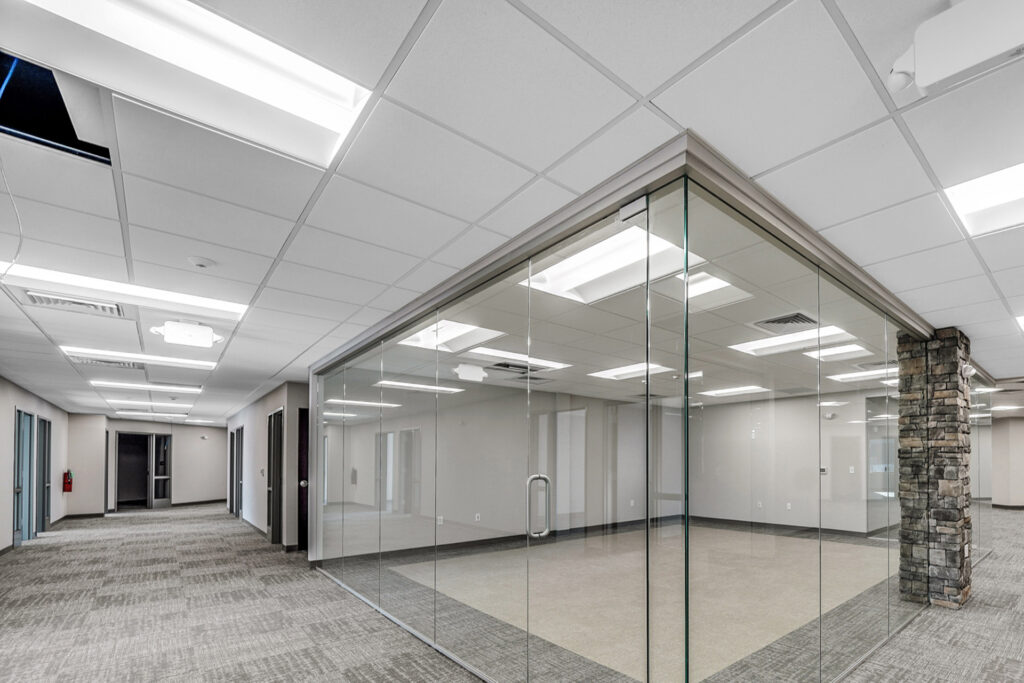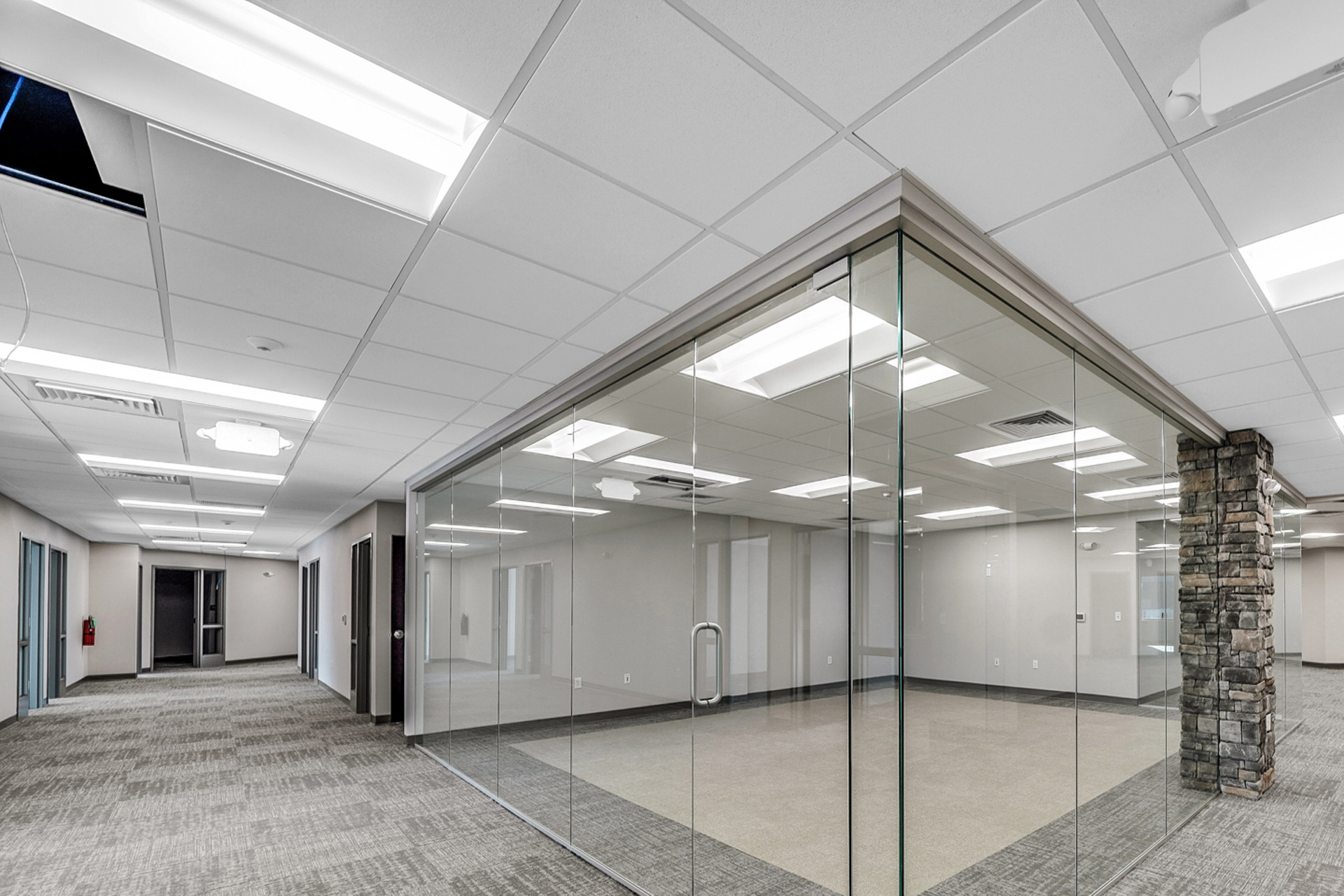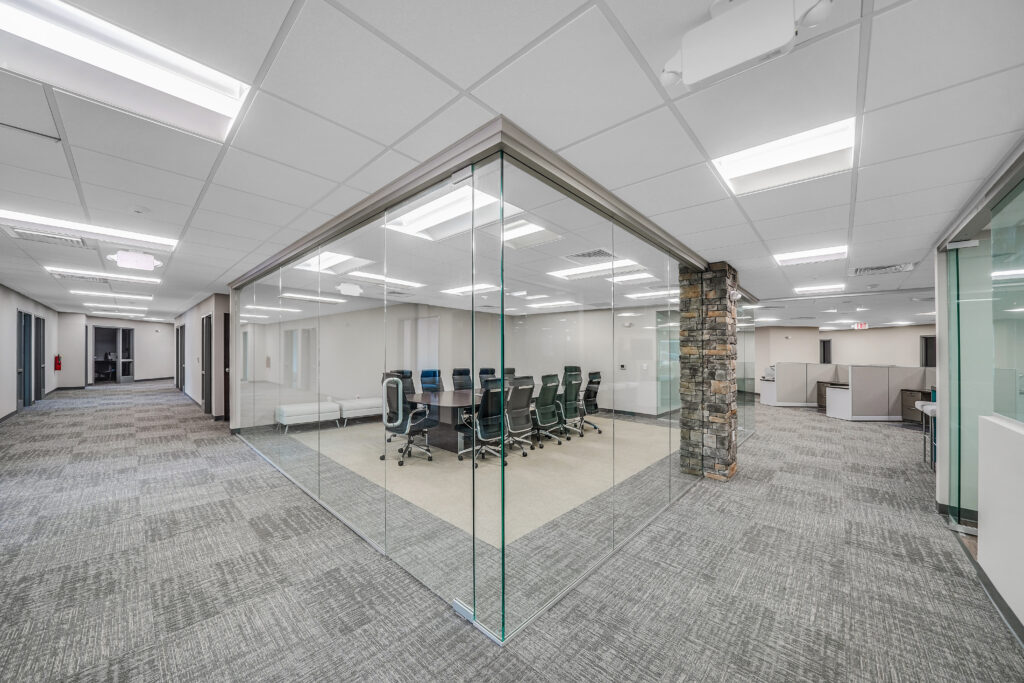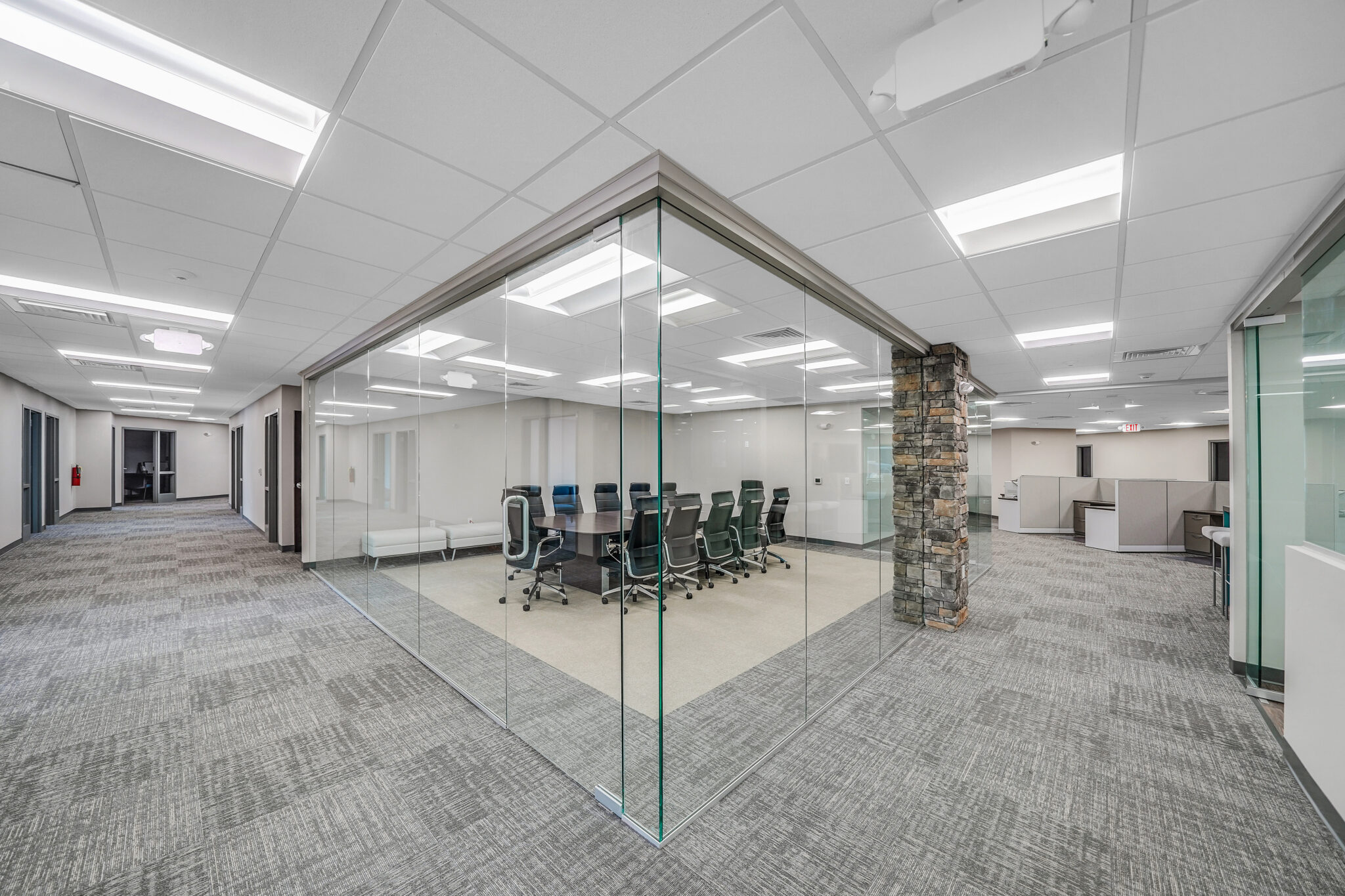 A core and shell fit out refers to a space that already has the framework of the building in place and is ready to be custom fit to its specifications. These fit outs typically include the following tasks:
-Floor installation
-Partition walls
-Ceilings
-Power and Lighting
-Painting
-Furnishings and fixtures (such as casework and millwork)
-Changes or updates that may be needed for structural elements of the space, such as the placement of windows and doors
-Updates that may be needed to HVAC (such as extending into other spaces with ductwork and controls), Electric, Sprinkler systems, etc.
-Cabling and wiring for internet connectivity and communication arrangements (fire alarms and other protection systems)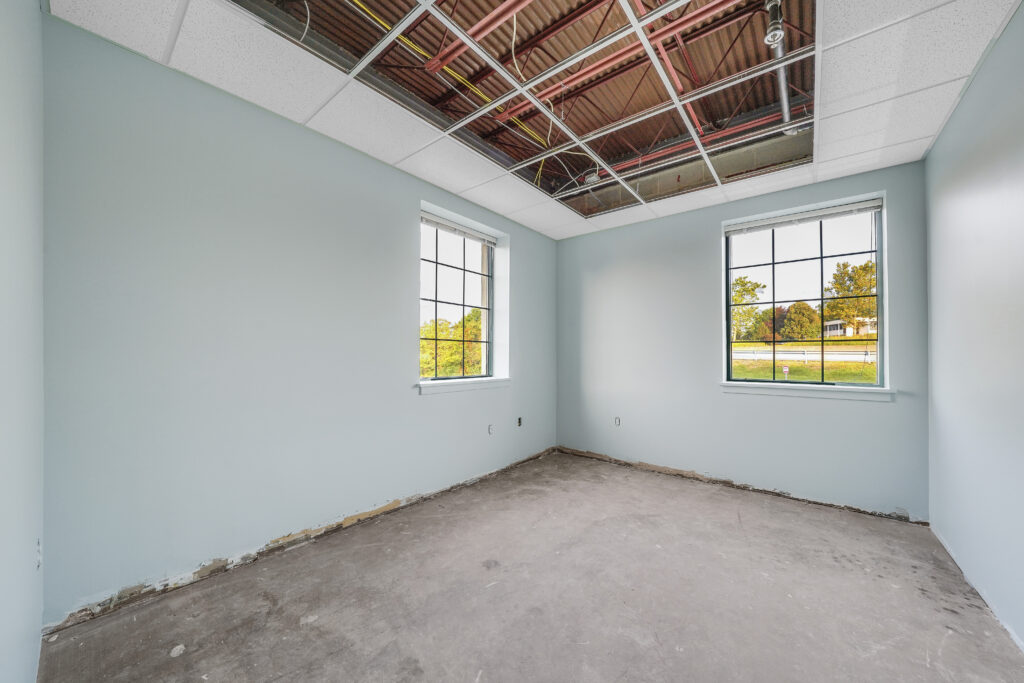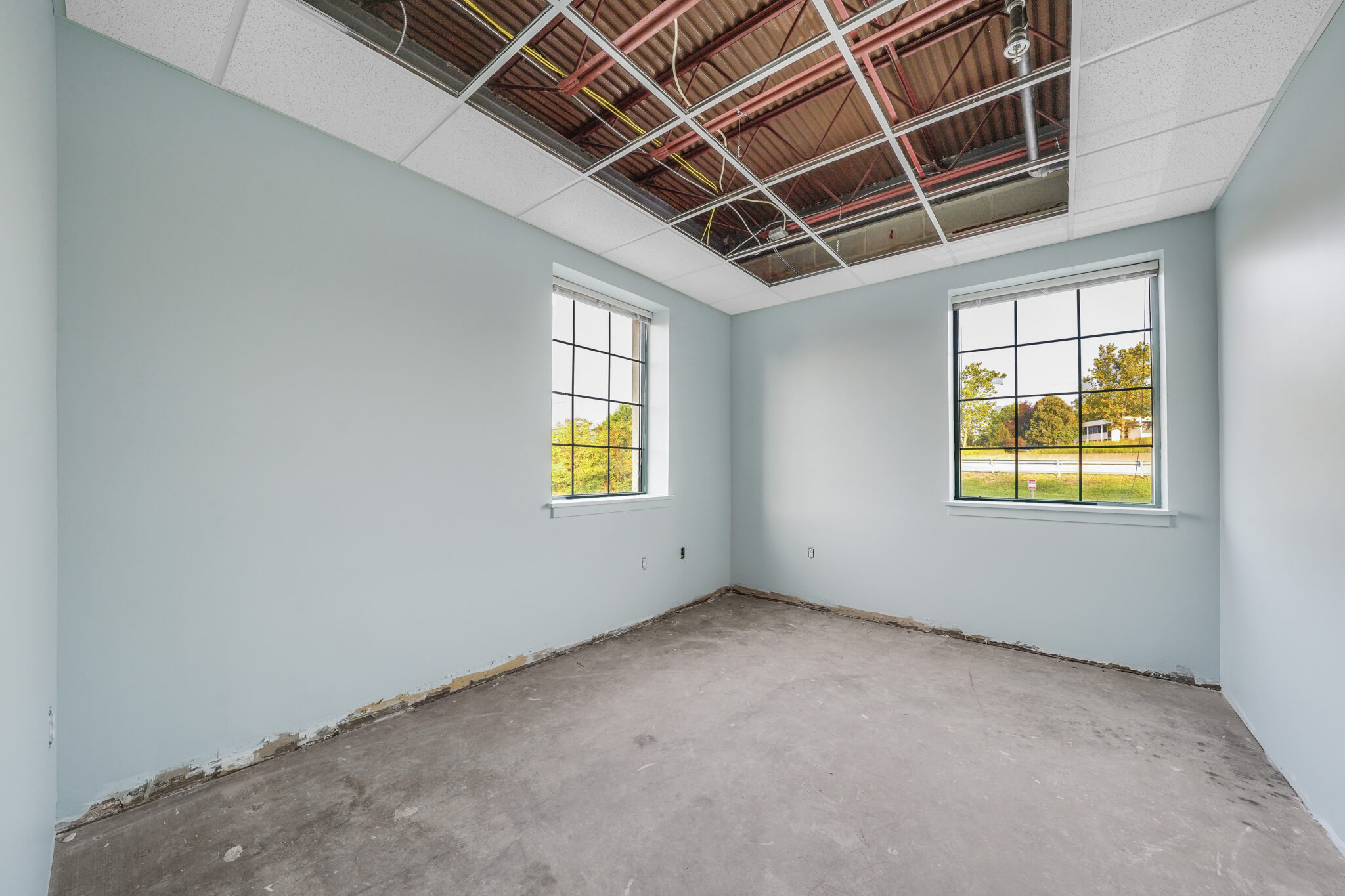 What to Consider When Contemplating an Office Fit-Out for Your Business:
Fitting out an office space for your organization is a big undertaking that – when done correctly – can have a lasting impact for many years to come. It all starts in the pre-construction phase, where the proper planning and design of your space will ensure a smooth project throughout the duration of construction. Here are a few things to consider:
-An office fit out is an organization's opportunity to take a blank canvas and make it their own. Consider how you can organize your space to increase workflow and enhance your staff's performance. Do this by evaluating how the workspace will be used and all that needs to be in it for your team to efficiently complete their jobs.
-Plan for the future. If you ask yourself questions like "How will my business / industry grow and change over the next few years?" and "Will the proposed space be able to accommodate expansion in the future?" you can avoid needing to make renovations sooner than you'd like. As a result, your organization will save money by avoiding having to interrupt business to make changes to your office space.
-Make flexibility top of mind. Consider how technology advances and new trends may impact your office's workflow. Does your space have the flexibility to adapt to such rapid change?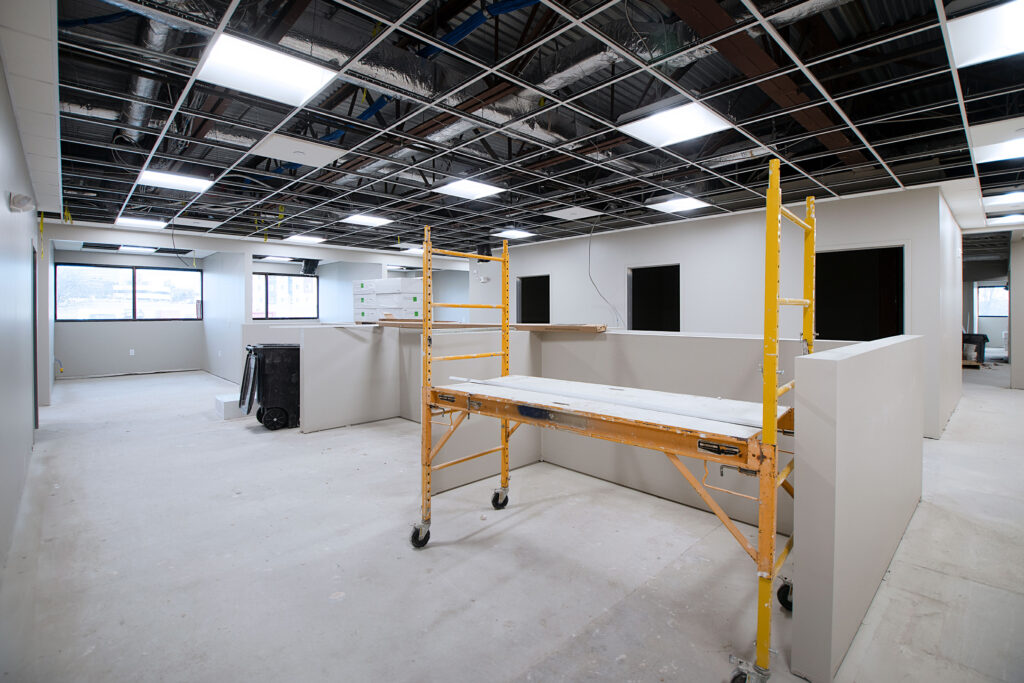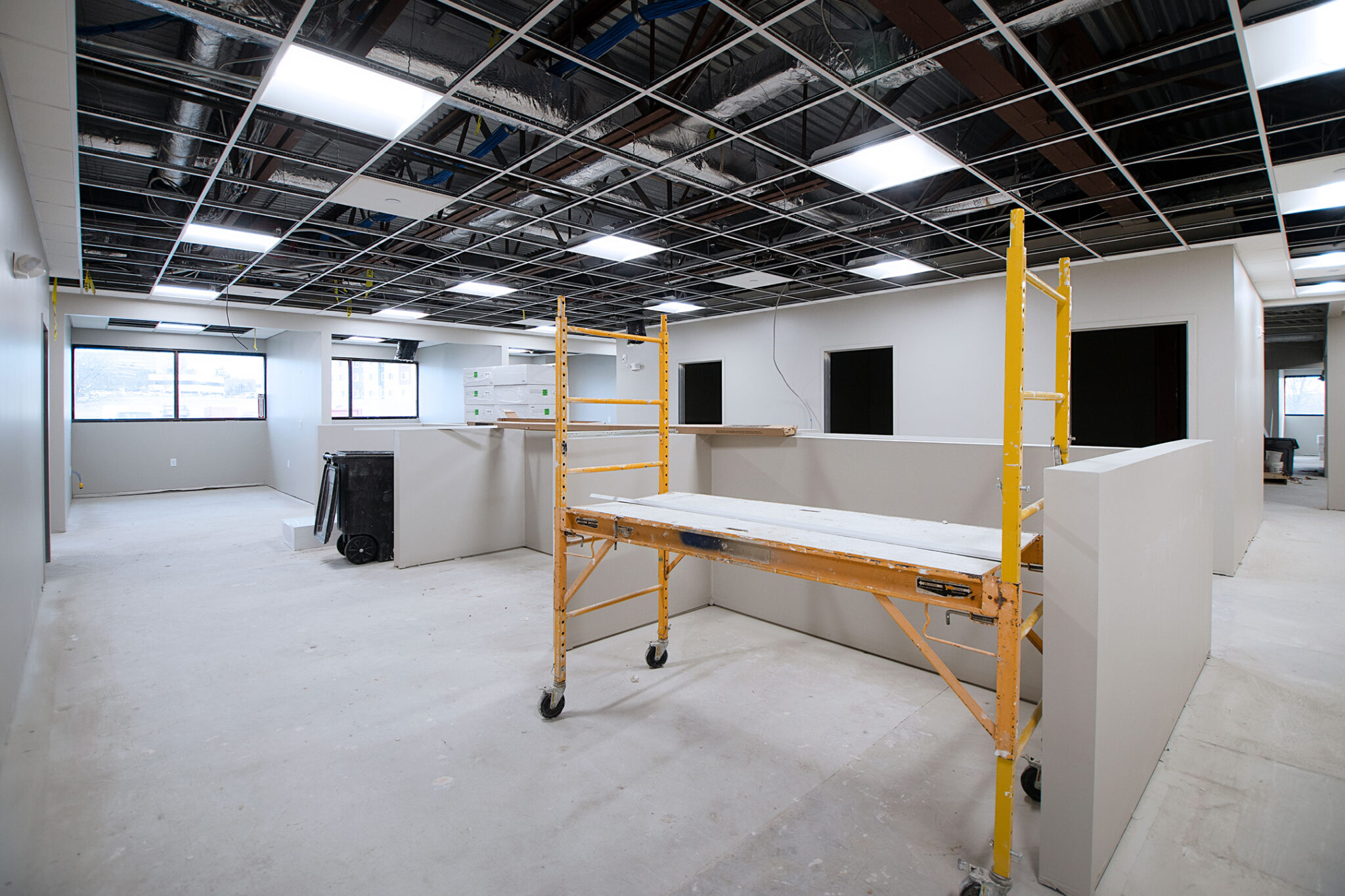 The Right General Contractor Makes all the Difference:
Most importantly, make sure the people you surround yourself with during this process are reliable, organized, and great communicators. A good General Contractor will help you navigate all of the points listed above.
D&B Construction Superintendent, Joseph, is no stranger to Tenant Improvements, regularly completing fit-outs for our clients like Cardiology Consultants of Philadelphia. He shares some tips on what to look for in the right GC for the job:
-Your GC should provide a dedicated project team to oversee your fit out. In order to make sure the job runs as smoothly and efficiently as possible, your GC should lead the project team in meticulously going over your project's logistics and specifications in pre-construction. This may include working with your property management team, building architects and engineers, and other tenants in your building.
-Look for a conscientious GC who is actively working out and updating schedule details to limit any type of disruption or inconvenience to your current operations. A constant open line of communication and attention to detail ensures your project is completed on time.
-Weekly client meetings organized by the contractor of your fit out are a good way to ensure you are always fully aware of your project's progress. Regular touch bases also enable the team to target any changes that you may want to make during the course of construction.
-A good GC will have a well-established relationship and open line of communication with their subcontractors. At D&B, our team works hand in hand with our trade partners to achieve perfection on your project. Our high standard of cleanliness, safety, and quality of work shows through the duration of the project.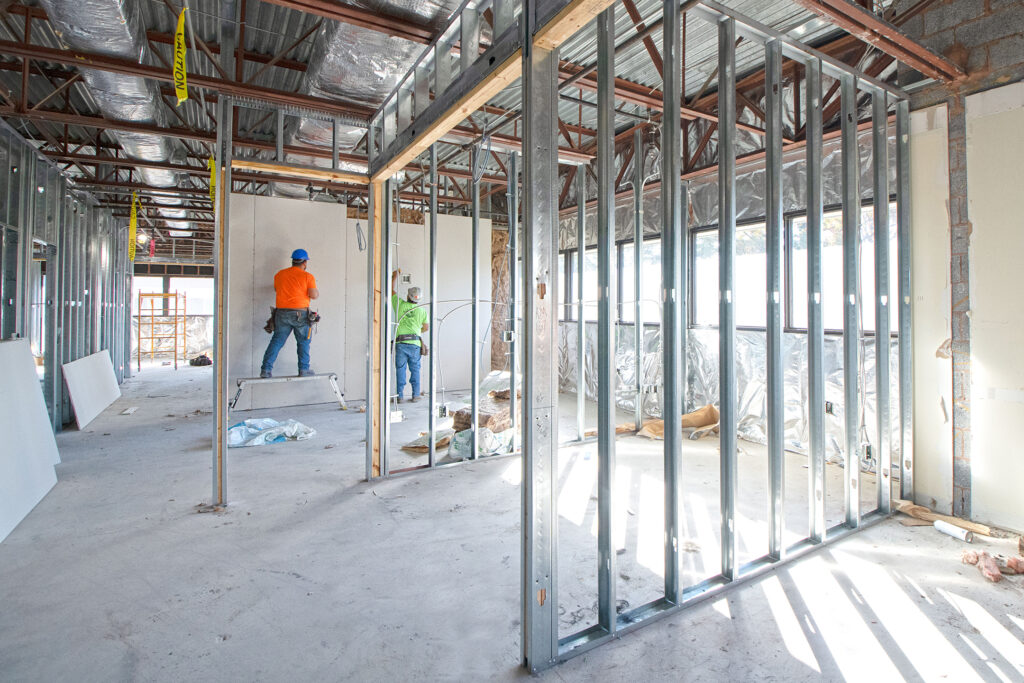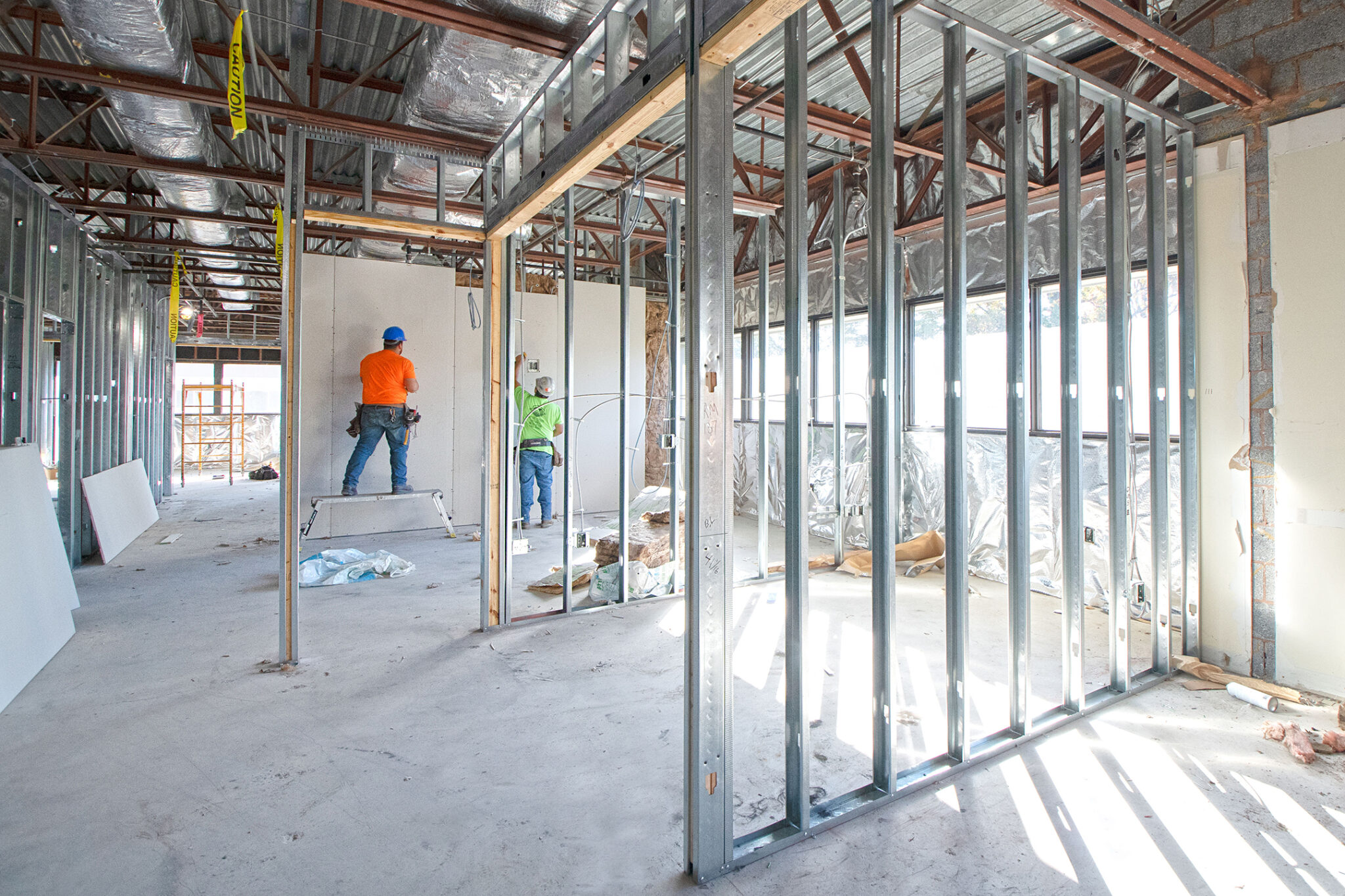 "The bottom line comes down to this," explains Joe: "When the project is completed the client should feel like we exceeded their expectations of the finished product. Starting with the pre-construction team and ending with the final cleaning of the project, we take extreme pride in the work we deliver, as well as the relationships formed with our clients. This makes all the difference."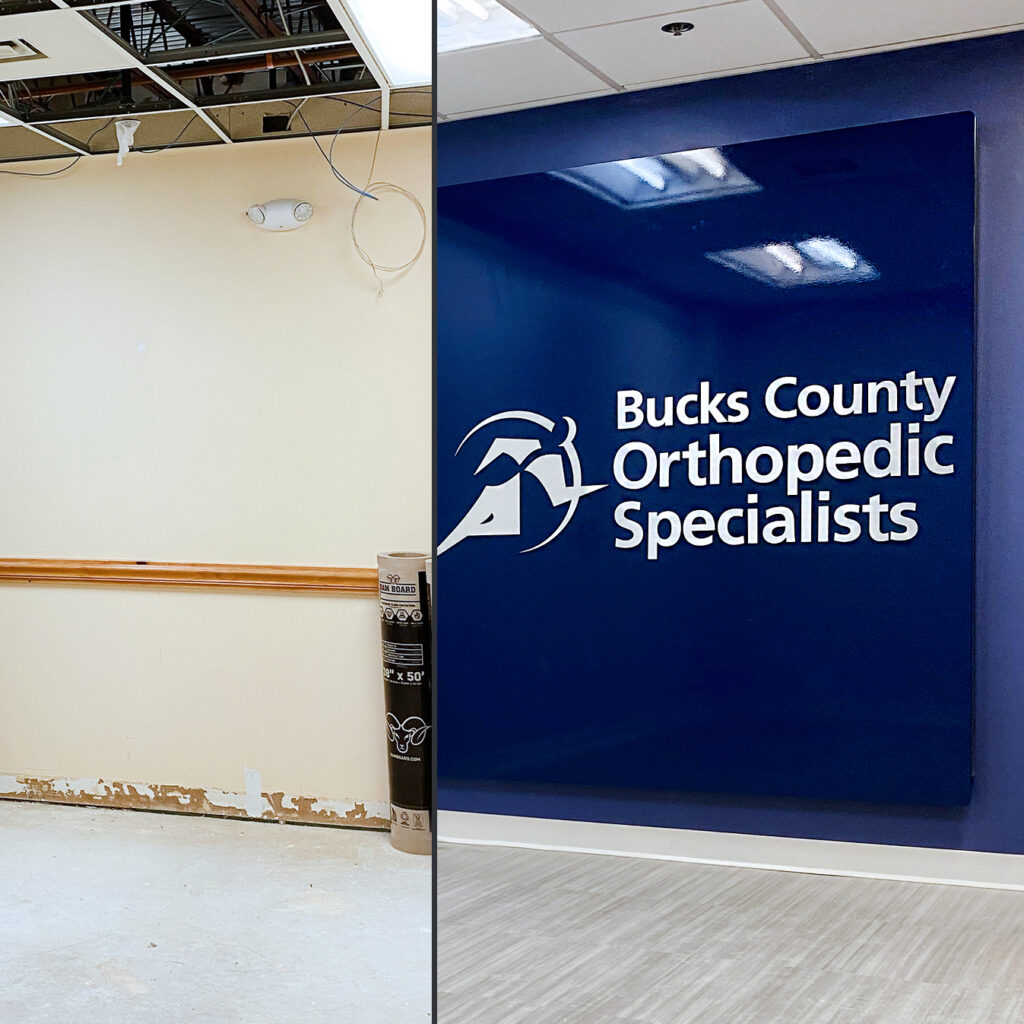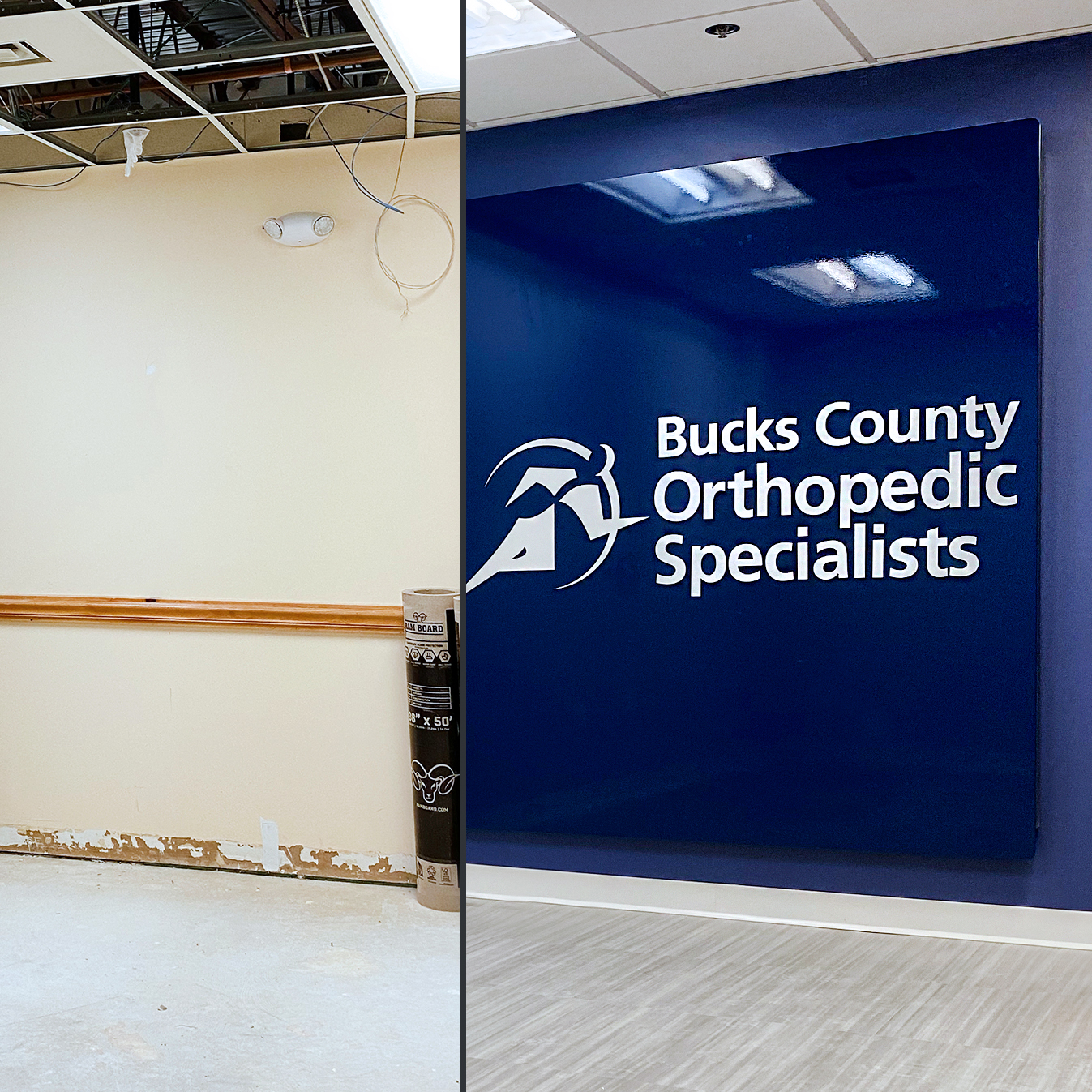 A transitional photo showing the before and after shots throughout one of our many medical office fit outs
for our client, Bucks County Orthopedic Specialists.
Open floor plans in office spaces first made an appearance in the 1940s and later evolved in the 1960's where they were used as a means of symbolically showing the company's culture. Offices with open floor plans continued to be prevalent during the tech boom of the 1990's, and in 2005 they became a real inspiration for innovation.
In 2005, Google completely renovated their headquarters signaling the "dawn of a new professional era." The project architect, Clive Wilkinson, explained that they got rid of the cubicle because of Google's "We're inventing a new world, why do we need the old world?" attitude. Many companies followed suit in later years, asking to be "Google-fied." Just 10 years after Google's office transformation, Facebook would follow suit, creating an office space that held 2,800 employees across 10 acres. The headquarters would claim to be the largest open floor plan office in the world.
Offices with open floor plans have become a major trend in recent years. Although they all don't span across 10 acres like Google's may, they still pose a timely question as people return to the workplace: Will this office layout and design work in a post COVID-19 world?
As the world rethinks how we work, it will be interesting to see how office layouts as we know them will transform in the upcoming years. Companies currently looking to re-imagine or add onto their office space may currently be weighing the pros and cons that an open floor plan offers. Let's take a look at some of them:
Pros and Cons of an Open Floor Plan
One of the biggest arguments supporting the open floor office design is that it provides the employee with a unique social aspect that other office designs do not offer. The social interactions in an office can provide a large system of support to your employee, helping with the individual's motivation and overall productivity.
Depending on its design, an office can provide a balanced social and cognitive environment for their employees. When optimized, an open floor office design will have a good mix of spaces that are intended for different uses and easily adaptable to fit the employees' specific needs.
One way that our team at D&B likes to incorporate an open floor plan into a re-imagined commercial office space is through installing aesthetically pleasing glass doors throughout. This trend gives companies a modern, sleek and updated look. An example of this look from one of our past clients can be found in Power Kunkle's large conference room.
Although many would argue that open floor plans are here to stay, some would dispute that noise, a lack of privacy, and opportunity for distraction may cause an increase in errors, lack of production, and sometimes stress with this layout design. In 2018, the Harvard Business Report found that "open offices reduce face-to-face interactions by about 70% and increase email and messaging by roughly 50%."
This quick look at the pros and cons of an open floor plan illustrates that this design is not a one size fits all solution. Members of Team D&B believe that transformative office spaces will increase in demand, and it looks like the latest research agrees.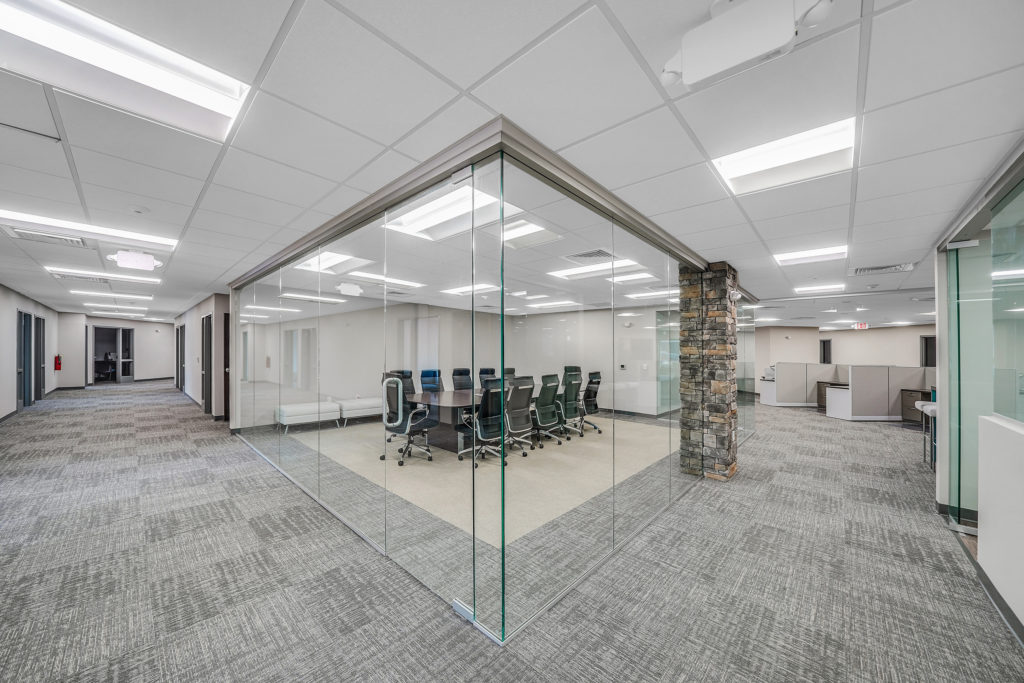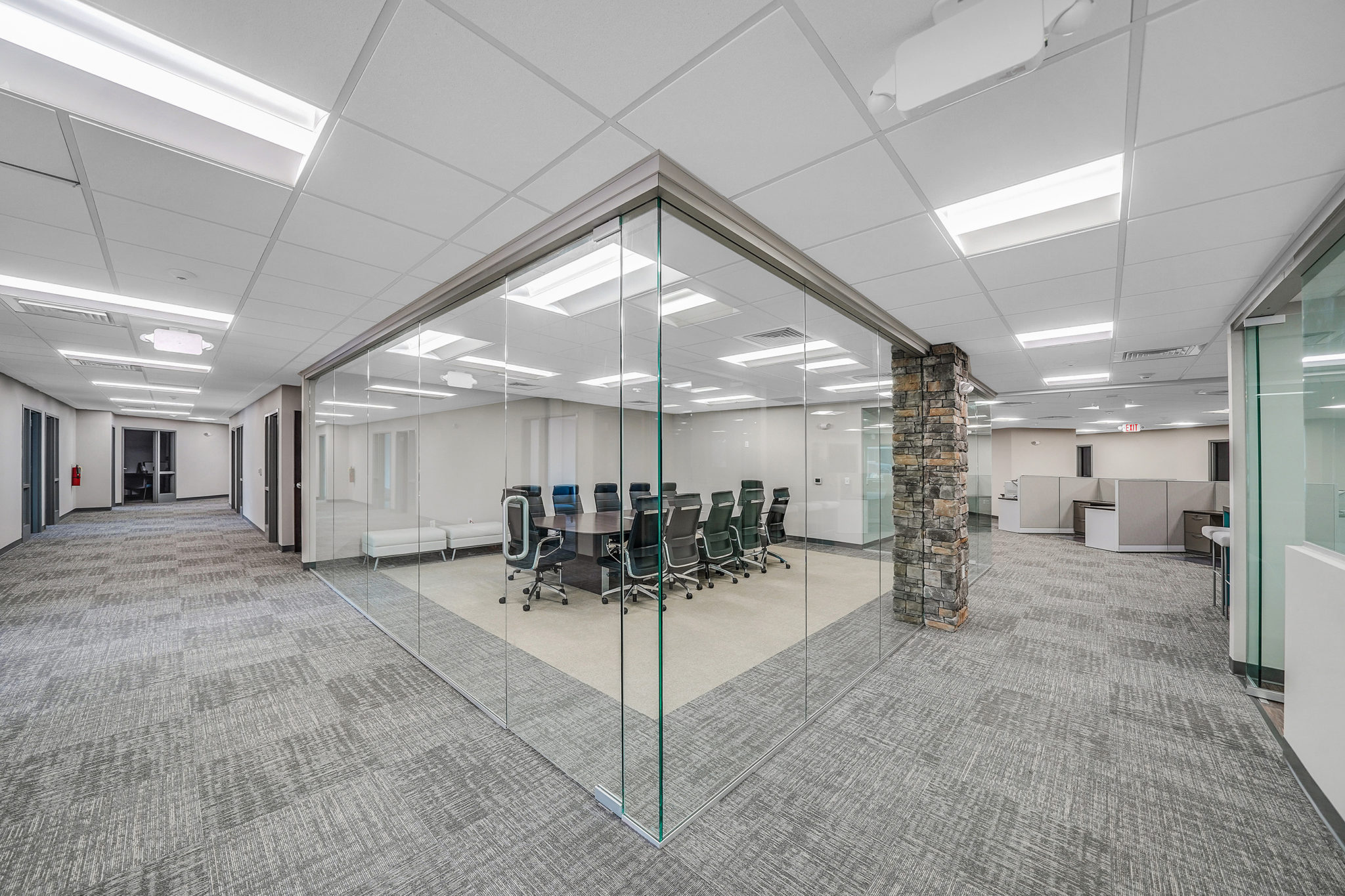 Transformative Offices: The Solution to Future Commercial Office Space
As businesses leaders look to redesign their office space in the near future, they will need to think of how they can cater to different employees and their varying workflows. Some may thrive on collaboration and interaction, an essential component to build company culture, foster relationships, and create a team-oriented atmosphere. On the other hand, there will be times when some employees may be more productive in a quiet environment where they can focus. The solution to these varying needs? A transformative office space.
D&B Construction's Pre-Construction Manager, Bob Martzall, has noticed that "some businesses have been expressing their desire to have flexibility" as they work with D&B as their general contractor. One way they are achieving this goal is through modular walls. Bob explains how "modular walls can provide an office with a great amount of flexibility and safety, as these are walls that you can take down, move, or shift."
On a larger scale, one company that has taken flexibility to a whole new level is Salesforce. In February of this year they announced that employees would "have the option to work remotely full time, even when it's safe to return to the office." Their new guidelines offer employees the option of working full remote, flex time in the office, or completely office-based. Employees who choose to work the "flex" option will have the flexibility of coming into the office between one and three days per week when they need to perform tasks that may prove challenging over a video conference call, such as working on collaborative projects or meetings with clients. So how will this extensive change affect the company's 19 physical offices in North America alone… specifically the recently completed 1,070-foot-high Salesforce Tower in San Francisco? The company has announced that they will be redesigning offices as "community hubs" that will replace rows of desks with multiple collaboration and breakout spaces.
D&B Construction's Philadelphia office recently completed a 10,246 SF commercial office design-build project for Berger Rental Communities at their new West Valley Business Center location in Wayne, PA. Their new collaborative room is one of their employees' favorite spaces. Lesley Yocum, a Project Manager out of D&B Construction's Philadelphia office who also played a major role in designing the client's space, said that they knew they wanted this space throughout the entire design process.
Research looking at today's high-functioning workplaces show that employees are spending much more time on collaborative activities. Lesley agrees – especially right now. "People are returning to a 'new' office layout with more space between their co-workers. Because of this, collab rooms will be utilized as both old fashioned conference rooms and a place where you can go to get 'comfy' and discuss since that's what many people are accustomed to now after working from home for so long."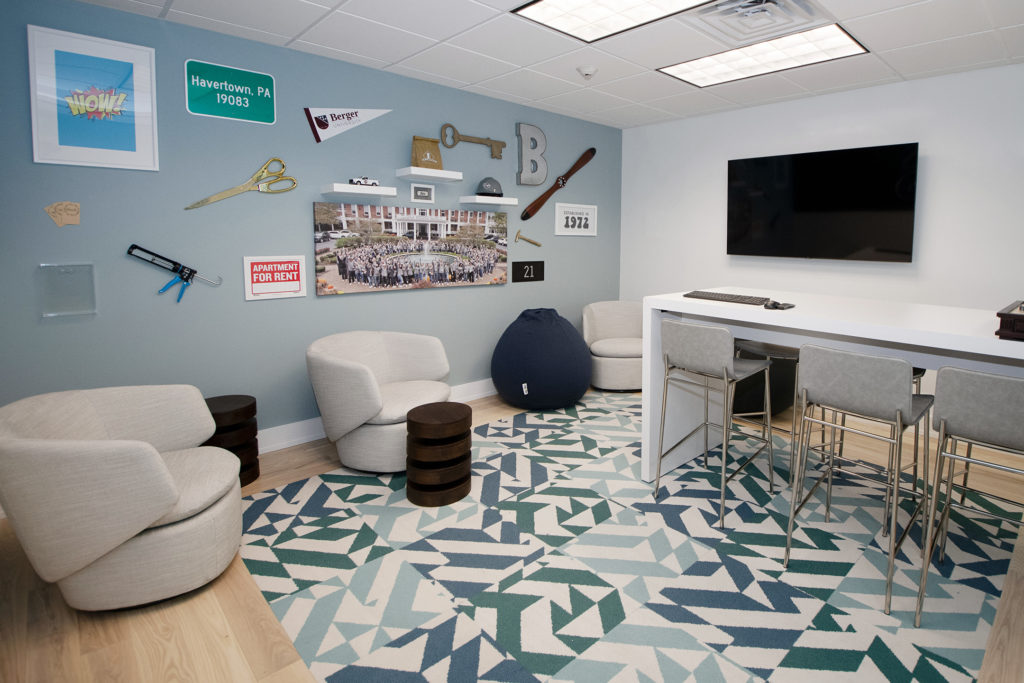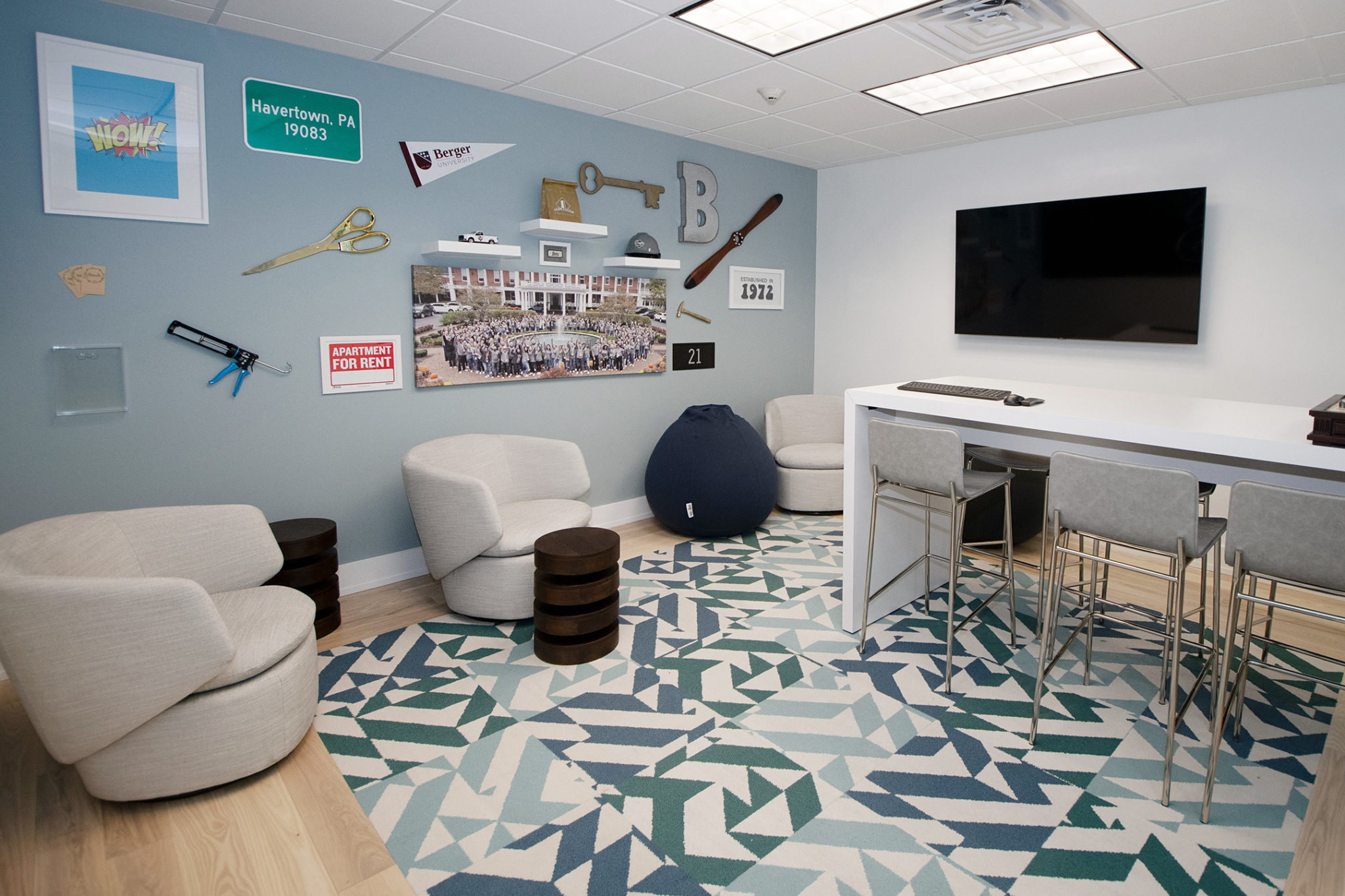 Community Space May Be Key
Unique spaces in open floor offices can include coffee bars, lounge areas, and other spaces designed to make everyone feel welcome, while still encouraging open communication and collaboration. This welcoming environment can be found at D&B Construction's most recently completed project for Riverfront Federal Credit Union, who just held their ribbon cutting ceremony on June 16. The credit union's newest branch and Operations Center features cutting edge technology with a drive thru consisting of three Interactive teller Machines (ITMs) and self-service kiosks offering Video Integrated Realtime Assistance (VIRA). Inside their new 34,000 SF office space, you will find that Riverfront's strong belief in the value of face-to-face banking has not been lost. The interior is set up in a manner that's more interactive than a traditional bank, and members are welcome to relax in a comfortable seating area while they complete financial transactions.  A café will soon be open to the public as well, further promoting a sense of community. Learn more about this project and how it has created a grand customer experience through both technology and in person banking options here.
Embracing Technology for Everyone's Safety
As D&B's recent project with Riverfront Federal Credit Union depicted, and to no one's surprise, an even stronger emphasis will be placed on technology as the future of work evolves. One way we are already seeing this? Our clients want their conference rooms to be decked out with cutting-edge technology that will allow them to host video conference calls in their meeting spaces. Our Pre-Construction Manager, Bob, has already seen rooms with cameras and microphones that are set up to instantly switch over to the person talking and simultaneously broadcast them to the Zoom meeting. A room like this is something businesses may want to seriously consider if they are designing an open-floor plan, especially if they predict to be in a hybrid working environment.
Bob predicts we will see "more hands-free devices and more technology-oriented safety" in the near future. This can include investing in Bluetooth technology throughout conference rooms so employees don't have to touch a speaker or shared phone. Doors can also be fully controlled by an app on your phone or simply don't need to require handles and can instead swing open both ways by pushing them with your shoulder or foot. Hands-free water dispensing systems are another trend that Bob has noticed. Want to be health conscious while also looking out for the environment? Try installing motion lights throughout the office, from conference rooms to bathrooms.
Limiting high touch point areas such as door handles strongly reduces the spread of germs, and for this reason, Bob imagines these current trends are here to stay for a long time. Case and point: The upscale conference room D&B completed for Berger Rental Communities' new headquarters at the end of April included a specific wall mounted camera with multiple speakers in the ceiling, motion lights with sensors throughout all offices, and dimming lights throughout all other areas. View more photos and learn more about this project here.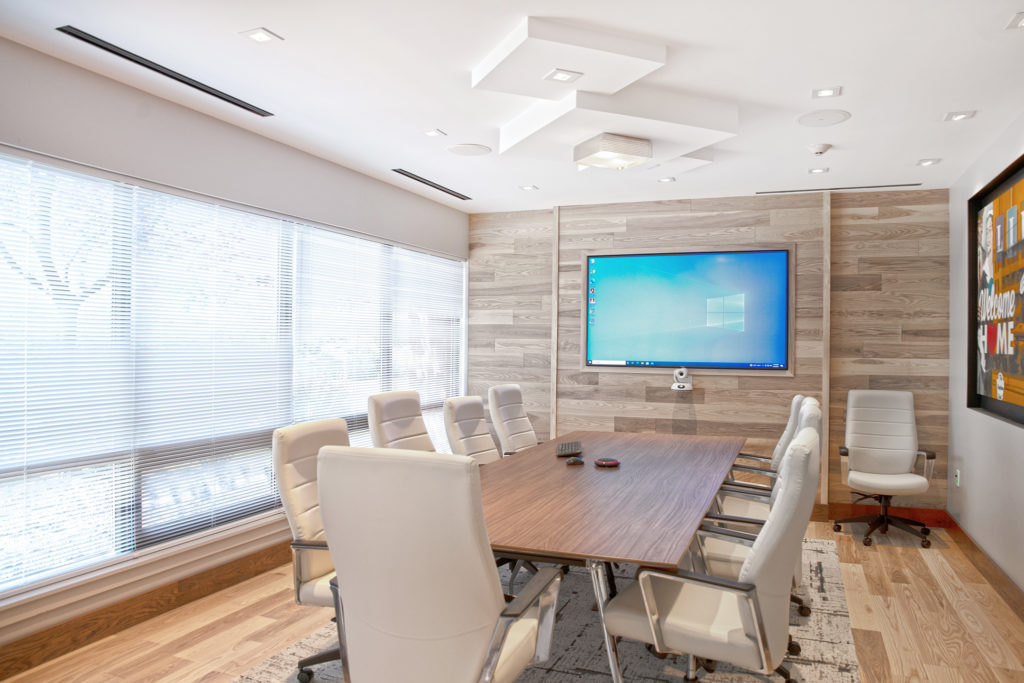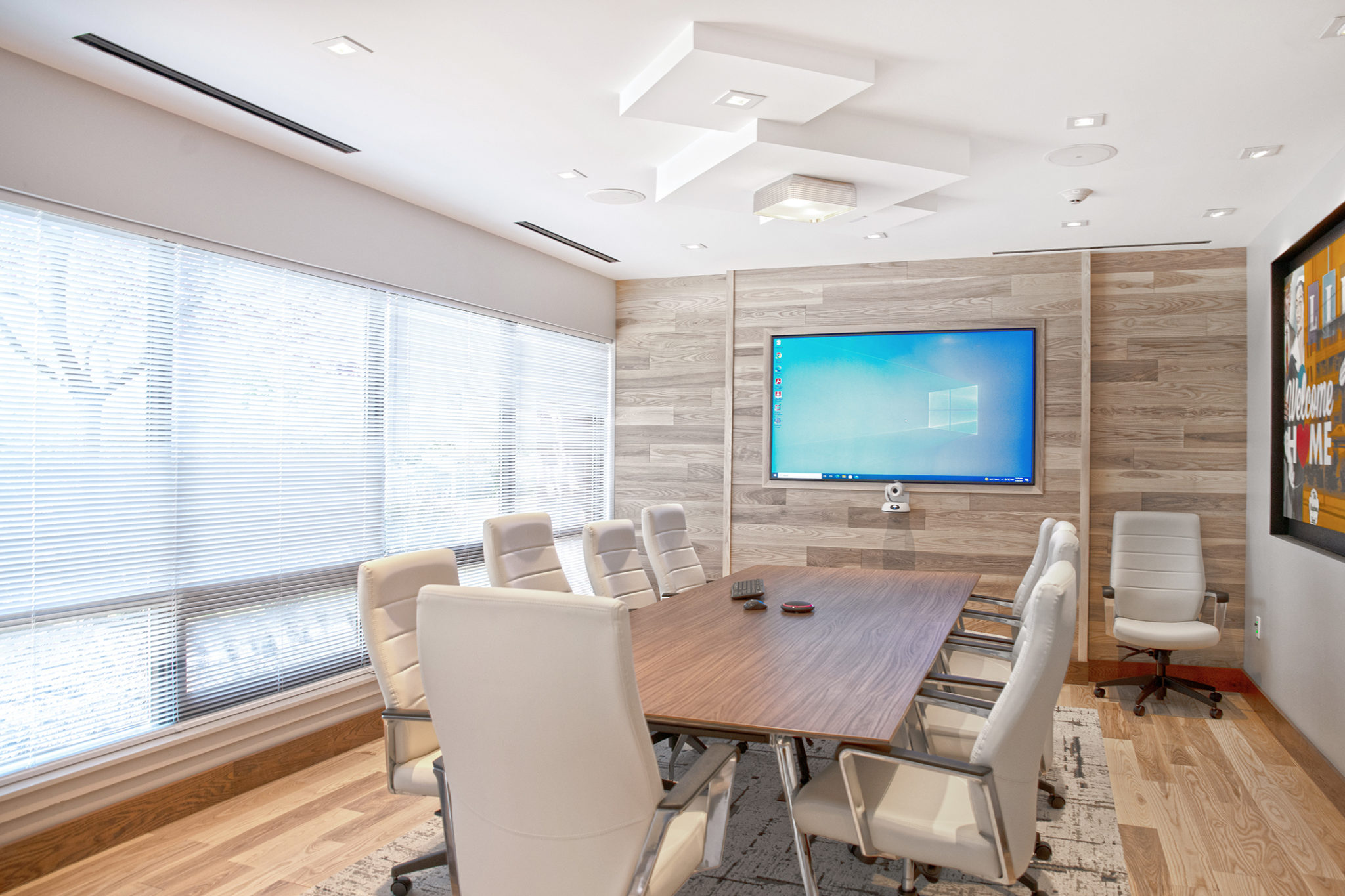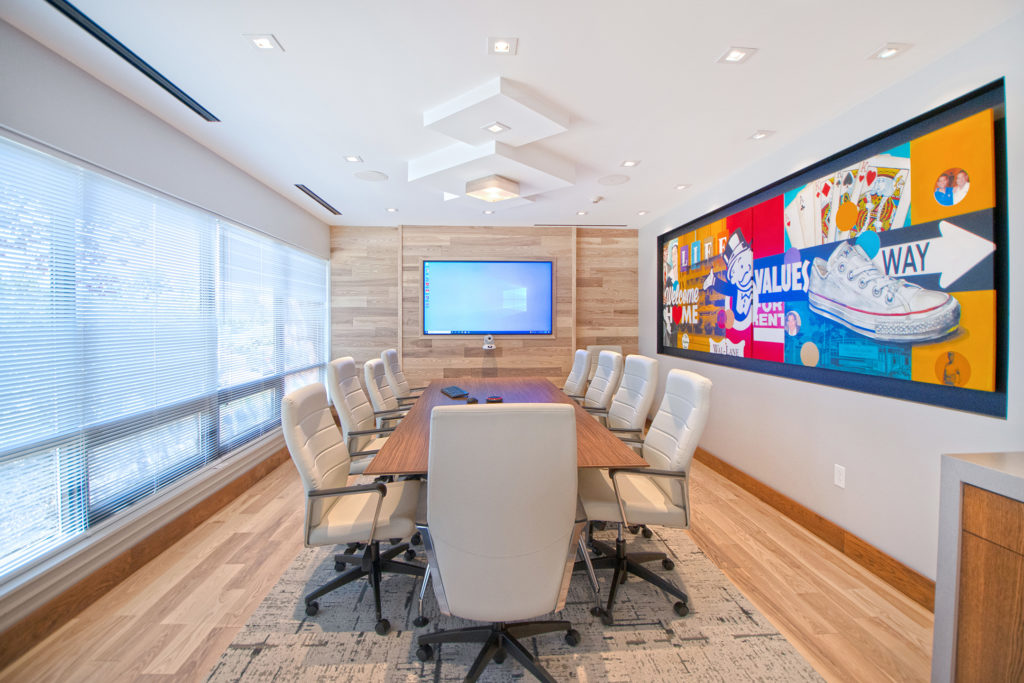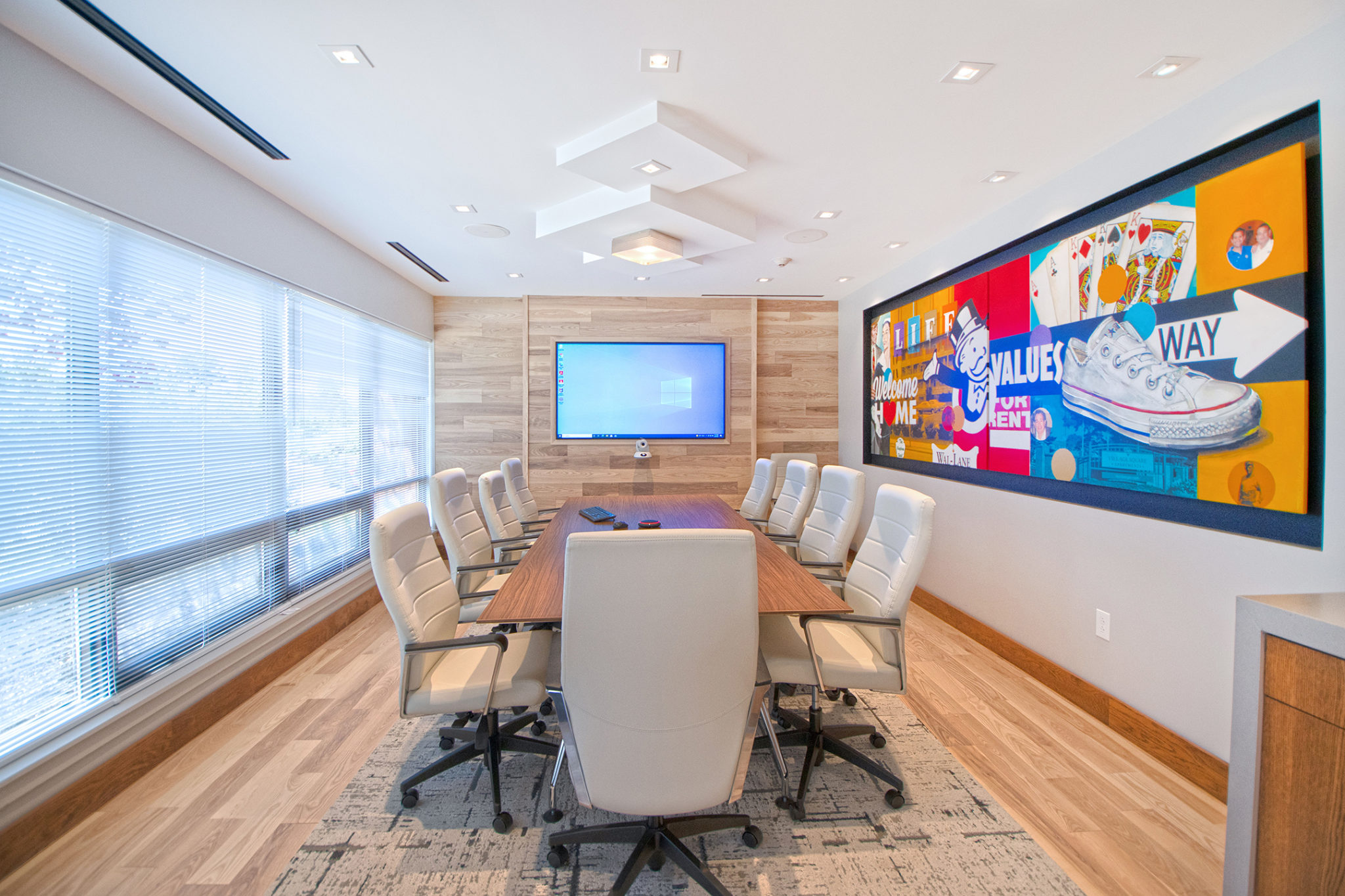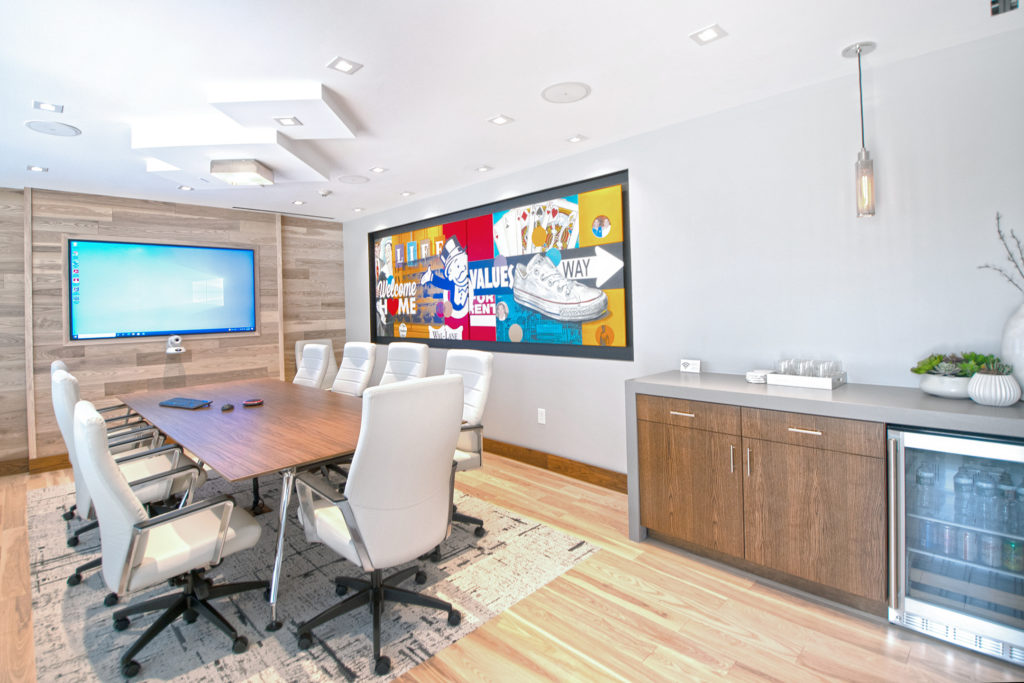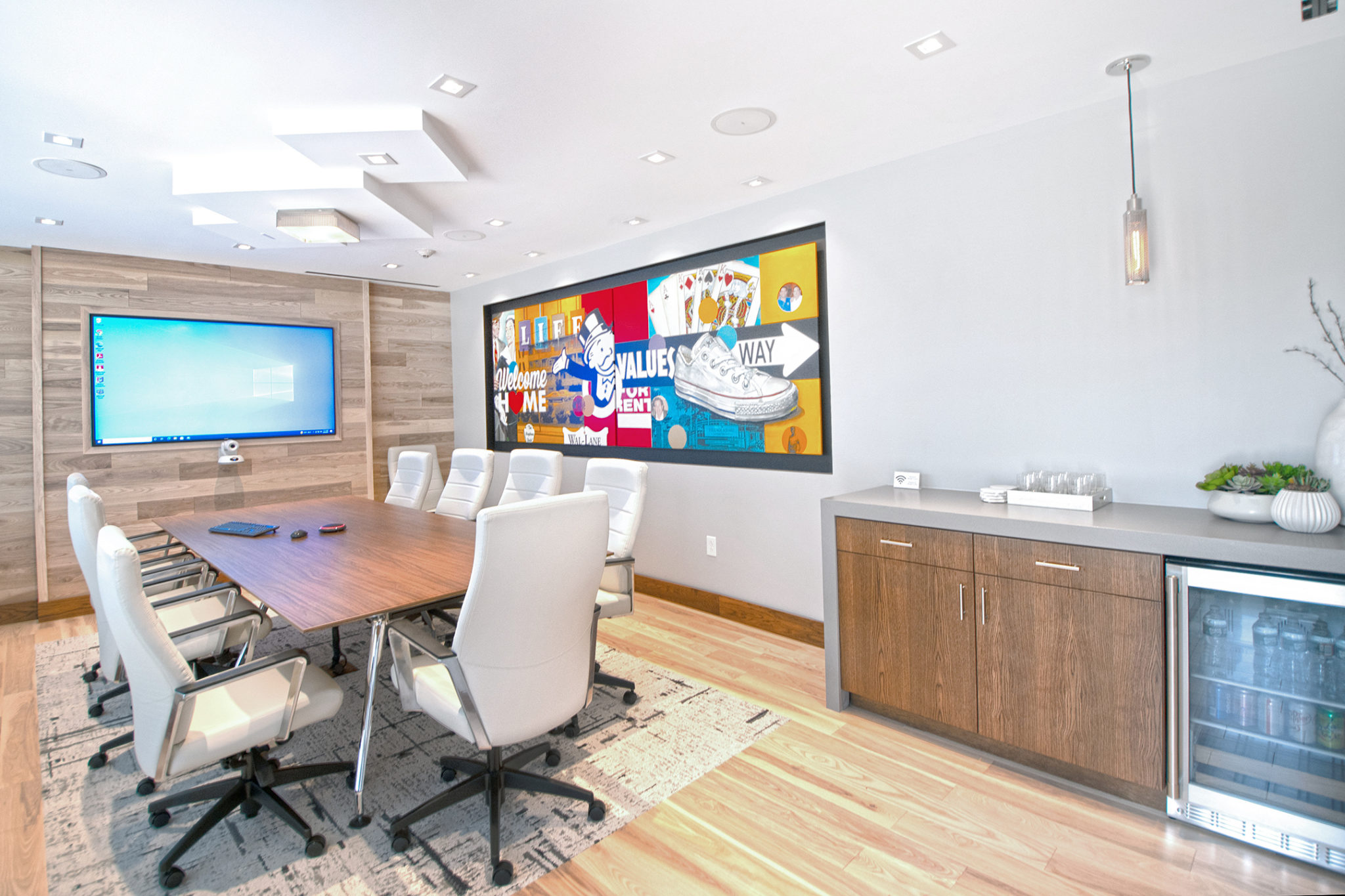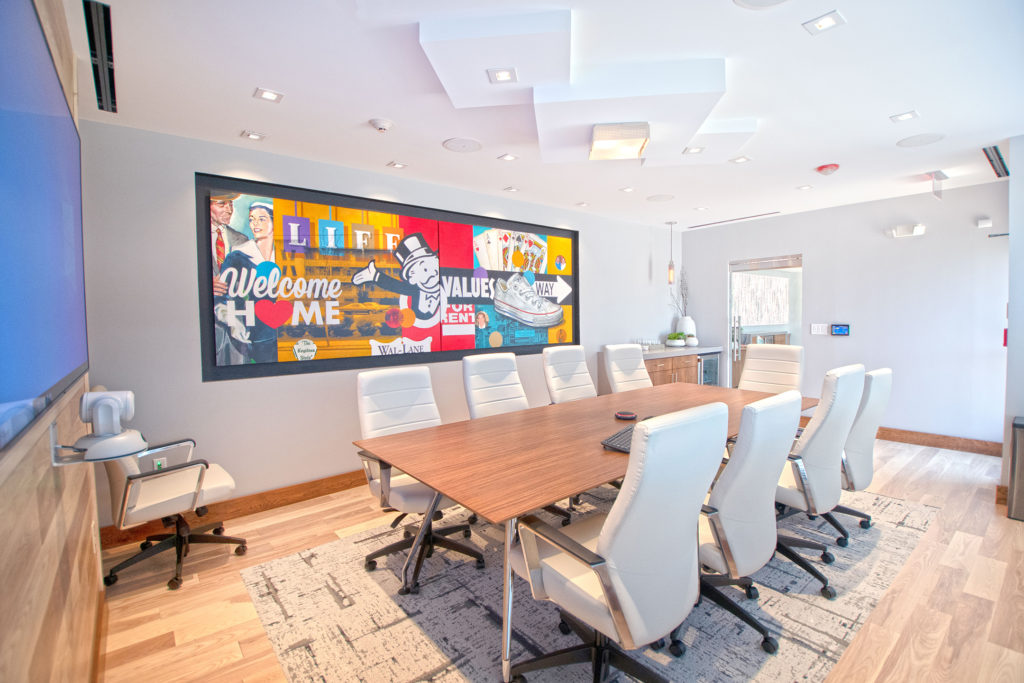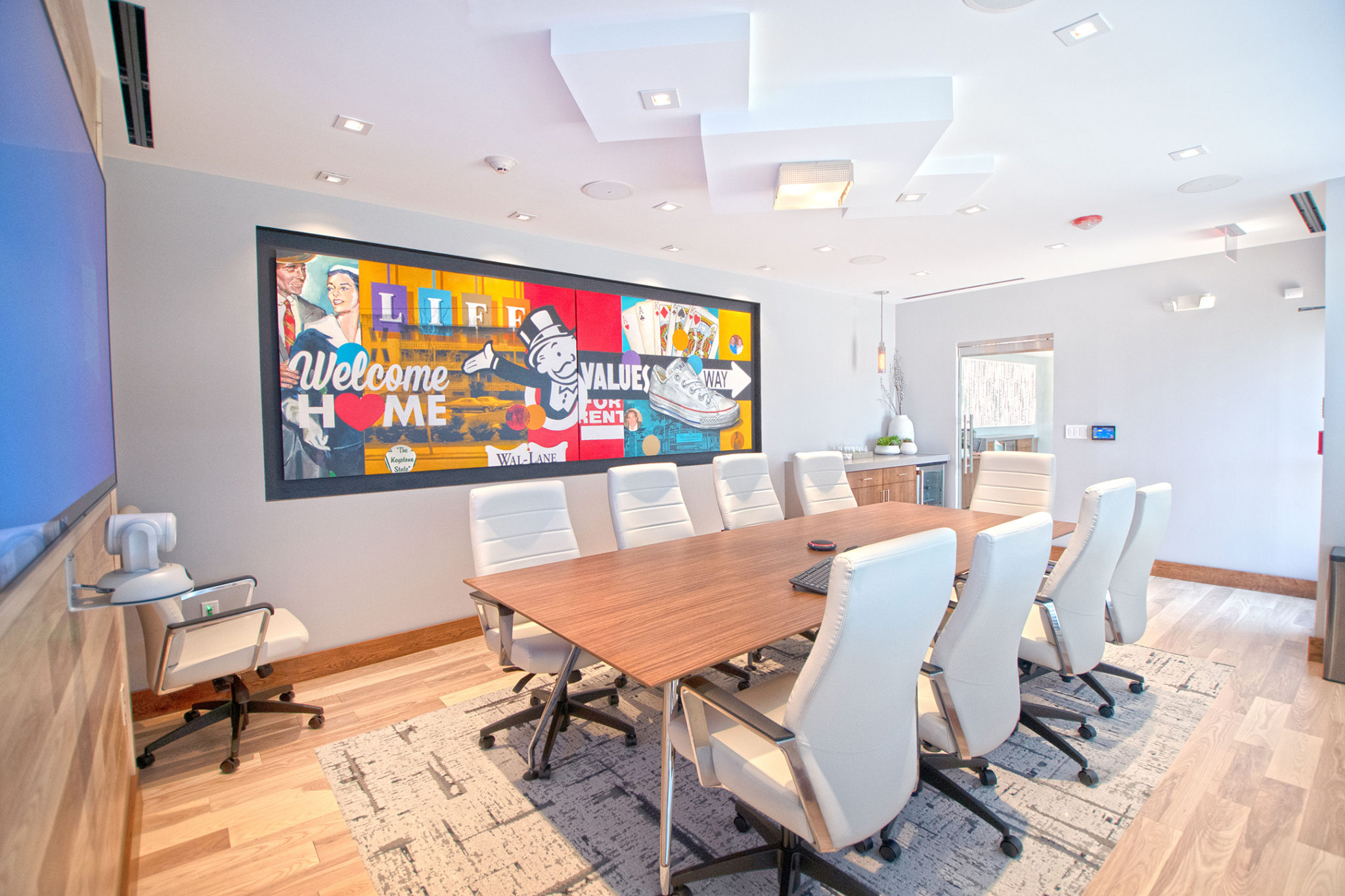 Moving Forward Post Pandemic
A study by USA Today shows that 35% of Americans prefer a home-office hybrid working situation, and 25% of Americans want to go back to the office full time. With over half of the population hoping to return to the office in some capacity, the question of how employers will accommodate for safety concerns and the "new normal" of flex time still looms over many individual's heads.
Bob believes safety will determine many office designs post COVID-19. He thinks that one of the most important things to include in your post COVID-19 office is environmental air filtration systems. This refers to how the air circulates through the office so that it is environmentally friendly, limiting the spread of germs and being sustainable. Bob has seen clients wanting to have this included in their project design.
Having more collaborative rooms may result in a more open floor plan being replaced with more individual office spaces (which may help some individuals feel more at ease with returning to the office). With 36 years of experience in the industry, Bob has noticed that "many offices are shifting away from a cubicle environment and instead building more individual office spaces." He believes that building more office spaces can make it much easier for an employer to provide safe precautions for their employees when necessary, thus explaining this recent trend. These adaptations can make a work environment flexible and safe for everyone involved.
As many companies continue the transition of shifting back into the office, Bob has noticed that companies across all sectors have been trying to get their projects fulfilled by construction companies. He says that this is because "the cost of borrowing is so cheap right now, so the cost of doing business is more economical. The question is, do you need the space?"
The companies who answer yes to this question (and companies such as Salesforce who need to re-imagine their spaces) will be left to map out how their office space should look in a post COVID-19 world. In some way, shape, or form, many businesses will have to change their office footprint in the upcoming years, whether through down-sizing, expanding or renovating their current space to fit future needs. This is something that is weighing heavily on the minds of many employers. Although daunting at first thought, this is an opportunity to create a new blueprint that sets the stage for office spaces for years to come.
After considering the thoughts of our industry experts, years of research, and the current state of the world, how would you design your office's blank slate to best meet the needs of your team?
We'd love to hear your thoughts and ideas in the comments below!