Technology is ever-evolving, and part of this evolution includes the construction industry. In response to COVID-19 and technological advancements, the construction industry has begun to innovate more than ever before. One of the most fascinating practices that is growing in popularity is modular or off-site construction.
Modular or offsite construction is the process in which a building is constructed off-site under controlled conditions using the same materials and built to the same standards as conventionally built facilities. The only difference? It can be built in nearly half the time. Buildings are constructed in modules that can be put together to form the original design, all while still resembling the work of the most sophisticated site-built facility. Why do companies use modular construction? The answer is simple. Modular construction is greener, faster, and safer.
A Greener World with Modular Construction
Since modular construction is a factory-controlled process it generates less waste and creates a site that is less likely to evoke disturbances. A modular construction site also promotes more flexibility and re-use. Modular projects can be disassembled and relocated or refurbished for new use. This reduces the demand for materials and limits the amount of energy used to create a building that meets the new needs. Additionally, a modular site produces less material waste since the building is constructed in a factory and waste is eliminated by recycling material, controlling inventory, and protecting building materials.
Finish Projects in Record Time
Modular construction is also faster than traditional building methods. Construction of modular buildings occur while site and foundation work are both being done. The Modular Building Institute reports that this can reduce construction times by 30%-50%. This can also be credited to the elimination of weather delays. Sixty to ninety percent of construction is completed inside of a factory, leaving no need to worry about inclement weather delaying a project.
Staying Safe with Modular Construction
One of the most important benefits of modular construction is safety. As we know, safety is always a priority in construction, and modular building makes it easier than ever to be safe. A report by McGraw-Hill Construction found that over 1/3 of their respondents (34%) who are currently using modular construction have seen site safety improve. This may be credited to the fact that it is free from weather elements like rain or snow that can cause slips and falls. It also reduces the risk of a worker falling from great heights, which OSHA reports as the cause of 33.5% of construction worker fatalities. Learn more about OSHA and their dedication to safety by reading this article on D&B Construction's blog.
Modular Construction: How It's Done
Modular building is done mostly on the ground level, but if working from height is required permanent scaffolding is used. This permanent scaffolding is different (and safer) from the scaffolding normally used on a traditional job site. Because it is not constantly being moved and reassembled, there is less likelihood for error and accidents.
Modular construction is growing in popularity. According to Fortune Business Insights, the global modular construction market is going to be valued at $114.78 billion USD by 2028. The market was valued at $72.11 Billion USD in 2020. Here are some examples of just how much you can do with modular construction:
The Star Apartments in Los Angeles were built in 2014 on top of a previously existing single-story commercial building. A concrete superstructure was poured over the existing structure. Next, five stories of modules that were built off-site were added on top of the single-story commercial building. The modules were stucco-finished on site. These modules provide 102 apartments and have pre-installed bathrooms, appliances, cabinets, and surface finishes.
An iconic example of modular construction is Habitat 67. Built in 1967, architect Moshe Sadfie's unique cuboid block of 158 apartments caught the eyes of many. The way Sadfie designed Habitat 67 allowed for 15 different kinds of housing, gardens and terraces to fill the voids in between. The complex stack of concrete houses was connected by high-tension rods, steel cables, and welding. Even though it was built in 1967, Habitat 67 shows the true possibilities of modular construction.
This 14-story tower was the world's first example of permanent modular construction. The building has 140 self-contained, prefabricated concrete capsules that each measure 2.3m x 3.8m x 2.1 m. The capsules were each connected to the shaft of the building with just four high-tension bolts, allowing each unit to be replaceable if needed. These capsules were delivered to the site already fitted out with a small bathroom. Owners used the capsules as small living or office spaces, and the interior space of each module can even be extended by connecting to other capsules.
These are three unique examples of modular construction because of their structure. While these extravagant and unique designs are made easier with modular construction, you can also make very basic structures that look identical to buildings that are constructed on-site. The possibilities with modular construction are seemingly endless thanks to its ability to make construction greener, faster, and safer. We look forward to seeing just how far modular construction will go.
As the world seeks ways to be more environmentally friendly, many big industries have made changes to be sustainable. Construction has joined in on these efforts, paving the way for a more sustainable future.
Our industry has the unique opportunity to significantly impact climate change for the better since a large amount of energy and material is used in the construction process. The goal for construction is to become sustainable by reducing its impact on the environment through the construction of green buildings, utilizing sustainable materials, and employing energy efficiency. How are companies in the industry achieving these goals? Let's take a look:
Green Buildings and LEED
Green buildings are buildings that have been constructed with respect to environmental sustainability. They first came about in the 1970's, eventually gaining more popularity in the 90's when the first Green Building Council was formed.
The generally accepted definition for a green building is "the planning, design, construction, and operations of a building with several crucial considerations: energy use, water use, indoor environment quality, material selection, and finally how the building affects its site." One of the most direct ways that construction is sustainable is through LEED, the most widely used green building rating system in the world. The effectiveness of a green building is coded by the LEED Green Building Rating System.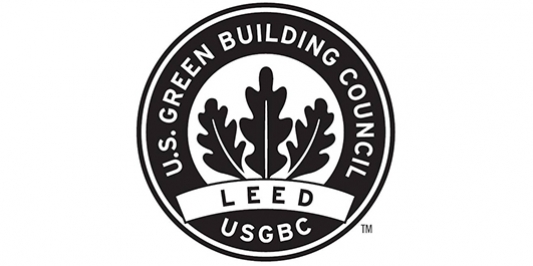 Before LEED was established in the mid to late 90's, there were green building projects, however there was no way to know if they were being implemented effectively. Nowadays, LEED will give out plaques to buildings which have been constructed to be sustainable. There are more than 60,000 buildings that participate in LEED today, occupying up to 1.7 million square feet.
Individuals throughout the industry can also earn a certification from LEED, which is exactly what one of our team members has done. D&B Construction's Operations Manager, Jessica Nelis, obtained her LEED AP, ID+C (focused on interior design and construction) certification around 2010. Jess says, "I became a LEED accredited professional because I knew it would be important and relevant moving forward." Jess provides a unique perspective on environmental consciousness that we take seriously here at D&B Construction.
Not only are green buildings environmentally friendly, it has been discovered that green buildings promote healthier living. Research shows that people who live or work in a green building experience proven psychological benefits. For example, in a green office building cognitive function scores rose by 61 percent. It is also reported that employees were 44 percent better at making decisions towards achieving workplace goals. In addition, at the Akron Children's Hospital, 56 percent of people were satisfied with the cheerfulness of the hospital after its own green building renovations. There were also decreased reports of Seasonal Affective Disorder.
According to a report conducted by Grand View Research, the green building materials market has been a vital part of the construction industry's green footprint, like Jess thought, and is expected to be worth $364.6 billion by 2022 (compared to an estimated $238 billion in 2020).
It's clear to see why demand for the use of green materials has been a recent trend in the construction industry. Because of this demand, innovative green materials have become very popular.
Trending Sustainable Materials
Sustainable construction is achieved through using sustainable materials such as bamboo, eco-friendly insulation, and even smart glass windows.
If you want to be more sustainable, you could consider bamboo flooring for your project. Bamboo is a great alternative because it looks like wood but has a harvesting cycle of only three years, 22 years shorter than that of a tree. If you choose to use bamboo, you are helping to slow the rate of deforestation by allowing time for trees to grow back.
If insulation adequately cuts down on the energy used for heating and cooling, it could be sustainable. However, this can be counteracted if batts, fillers, and sprays that are not sustainable are used on the insulation. What is the eco-friendly option gaining popularity lately? Hemp insulation. It has all the same properties of normal insulation, but it is a sustainable option. Because it can be compressed, hemp can even provide more superior insulation than your typical insulation.
Another recent movement in sustainable construction is the use of smart glass windows. They were invented in the early 2000's but have only recently become a building trend. Smart glass changes its heating properties based on the temperature outside, affecting how the heat and air conditioning is run through the building. During the hot summer months, a smart glass window will become translucent to block heating wavelengths that would allow you to run the air conditioning less and vice versa.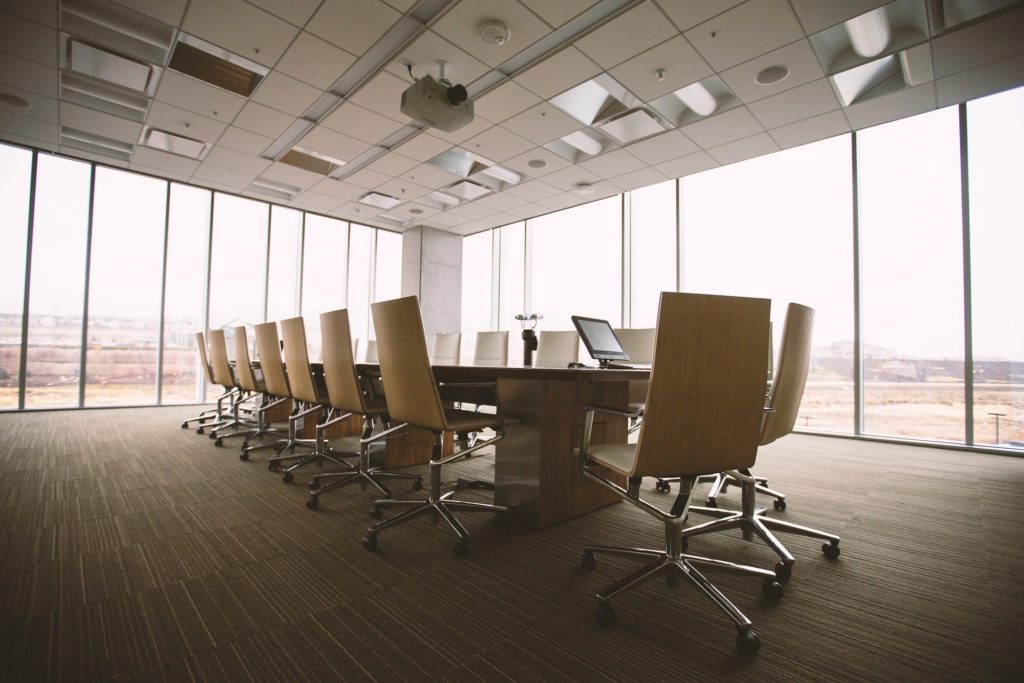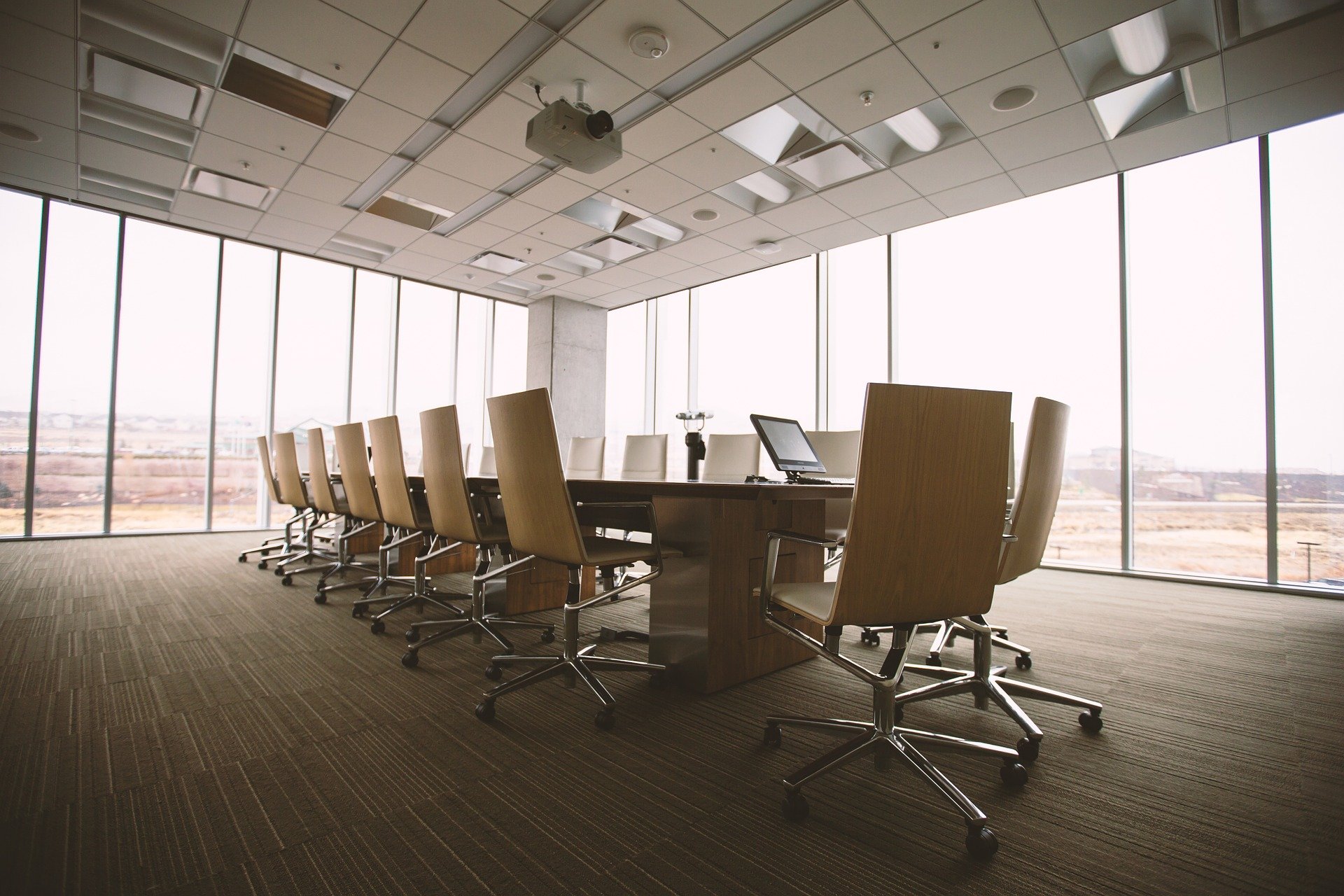 There are several options available if you wish to replace your windows with smart glass windows. These options vary in pricing and components of their smart glass technology. First, there are dynamic smart windows, produced by View Smart Windows. This is the "luxury" option, costing $50 to $100 per square foot, in comparison to a normal window which costs $10 to $15 per square foot. This high-end option replaces your normal windows and is even equipped with Wi-Fi control through their downloadable app.
A more cost-effective option is Invisishade's self-adhesive and smart glass windows. Invisishade offers a "plug-and-play" adhesive film kit which transforms your normal window into smart glass. A sample of their self-adhesive film kit would cost $99, or $249 for a pack of three. The final price of their product varies on size and scope of the project, however Invisishade would offer a discount on bulk .
Smart Glass Windows may seem as if they are an expensive solution for sustainability due to its pricing when compared to normal glass windows. However, manufacturers claim that you can save up to 20% on your monthly energy costs because of their tinting properties. Smart glass allows you to save money on your monthly bills while also making the property look more aesthetically pleasing by eliminating the need for blinds.
Upcoming Trends: Self-mending Concrete
Be on the lookout for an emergence of living materials being used to complete green building projects in 2022. Living materials are biological compounds that grow and are ready to produce full-scale production. An example of a promising living material we have not seen much of yet is self-mending concrete. This concrete is full of bacteria that bind the materials around them into a new material form. This material can grow itself into the pores of concrete, essentially being able to rebuild the concrete on its own. The bacteria inside of this concrete can live for up to 200 years. Scientists say that in theory the bacteria would then be able to extend the concrete's life for that long as well. Seeing as normal concrete lives for 50 to 70 years, this self-sustaining concrete would be much more useful in the long run. We have only begun to scrape the surface of possibilities for this self-mending concrete, but as we learn more it may prove to be a revolutionary material in construction.
New forms of concrete are a key component to sustainability since it is the second most used material on Earth, with only water exceeding it. One of the trends that will become increasingly popular is 3D printing with concrete. This year a 3D printed home community was constructed in Austin, Texas by ICON. It consisted of four homes, all listed on the market for $450,000. The company that built the houses used 3D printing technology to create the first floor of all four homes while the rest of the homes were built conventionally. Houses of this size can be constructed in just five to seven days. The homes were built using cement-based material LavaCrete, a material designed to cope with extreme weather. LavaCrete lived up to its claim when the houses withstood a 7.4 magnitude earthquake with no damages.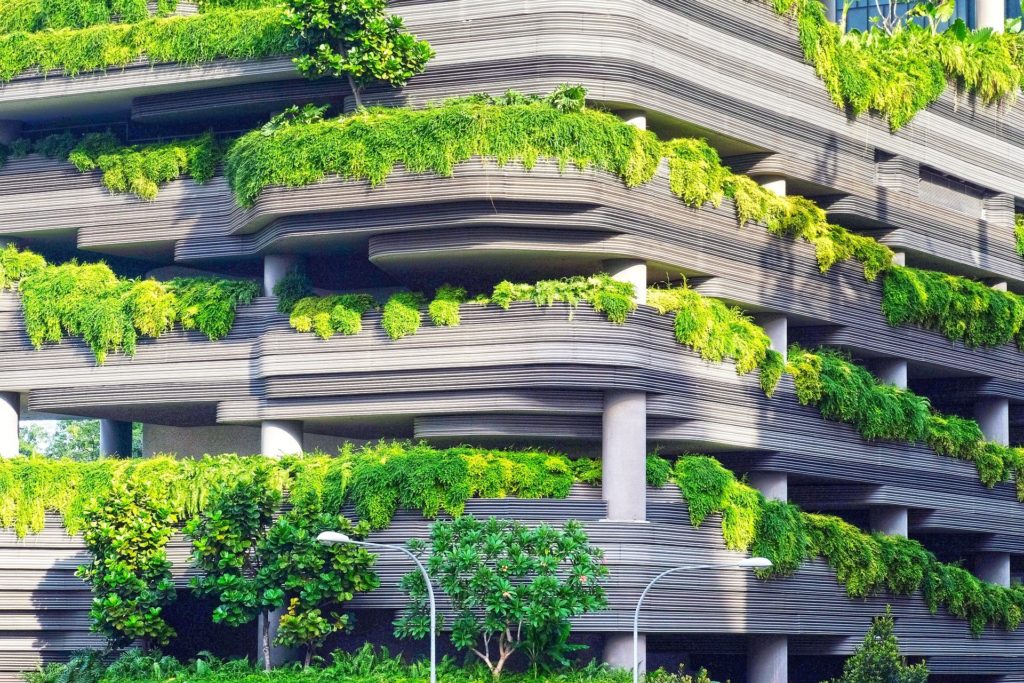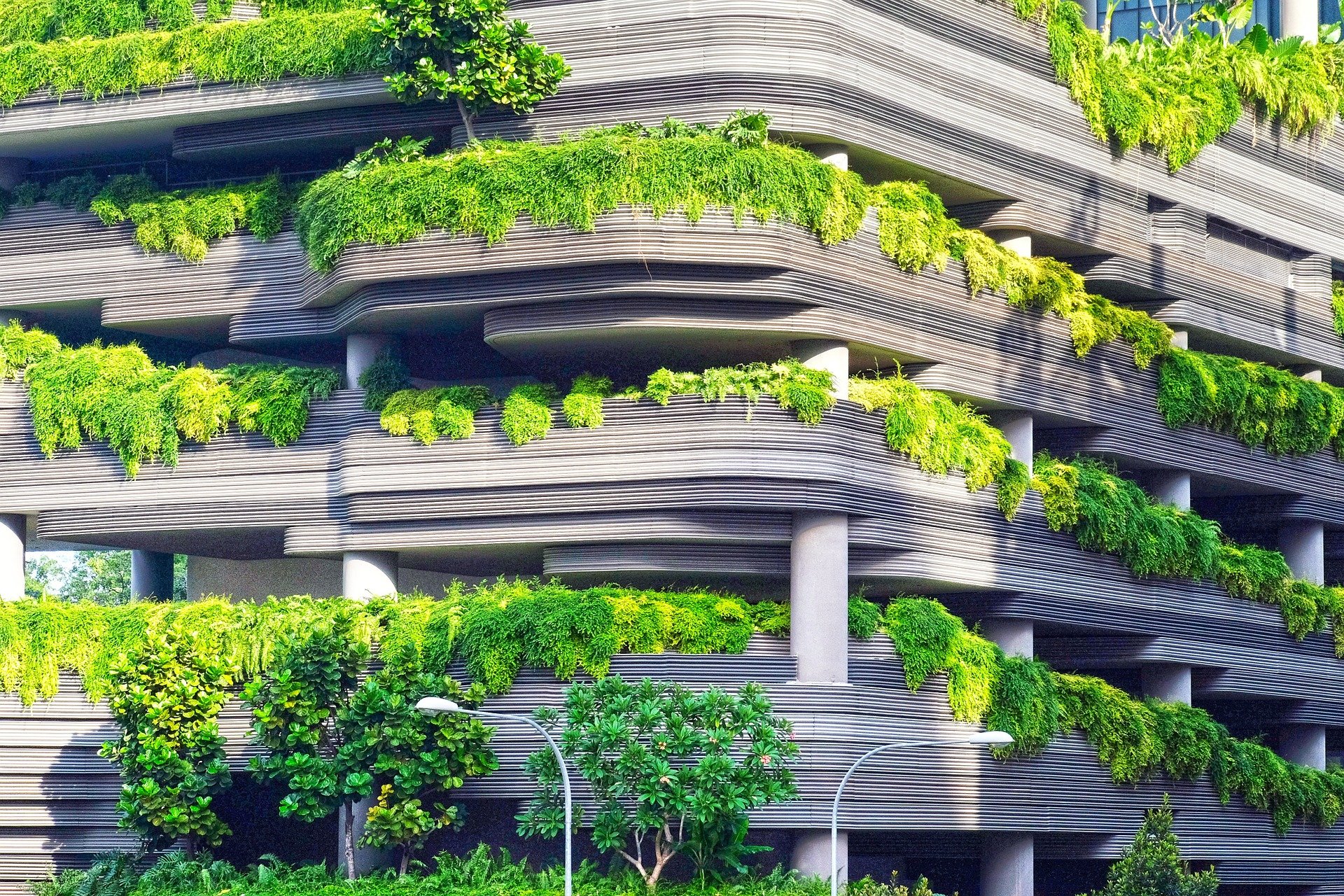 The Austin homes are not a unique case. There is also a 3D printed home community being built in Coachella, California. By 2022, this community is going to have 15 houses, each of which will be 1,450 square feet and feature three bedrooms, two bathrooms, a terrace, and a swimming pool. Sustainable real estate development group Palari and construction technology company Mighty Buildings will work together to complete the project.
The potential this unique industry has does not stop at high-end homes… nor does it stop on this planet. ICON, the same company that built the Austin, Texas community of 3D printed homes, is currently working in the research and development phase with NASA to create a space-based construction system. Their goal is to construct 3D printed buildings on the Moon and Mars.
The industry has already evolved as people are beginning to purchase and live in 3D printed homes. Meet a previously homeless Texas man who became one of America's first inhabitants of a 3D printed home. The best thing about 3D printed concrete for homes is that it is environmentally friendly. This form of building uses the exact amount of material needed to complete the project, allowing for less materials like concrete to be used to construct the building, therefore benefitting the environment.
The potential that 3D printing concrete has is immense and is something worth following as they make progress over the next few years. Stay up to date with 3D printing news here.
Open floor plans in office spaces first made an appearance in the 1940s and later evolved in the 1960's where they were used as a means of symbolically showing the company's culture. Offices with open floor plans continued to be prevalent during the tech boom of the 1990's, and in 2005 they became a real inspiration for innovation.
In 2005, Google completely renovated their headquarters signaling the "dawn of a new professional era." The project architect, Clive Wilkinson, explained that they got rid of the cubicle because of Google's "We're inventing a new world, why do we need the old world?" attitude. Many companies followed suit in later years, asking to be "Google-fied." Just 10 years after Google's office transformation, Facebook would follow suit, creating an office space that held 2,800 employees across 10 acres. The headquarters would claim to be the largest open floor plan office in the world.
Offices with open floor plans have become a major trend in recent years. Although they all don't span across 10 acres like Google's may, they still pose a timely question as people return to the workplace: Will this office layout and design work in a post COVID-19 world?
As the world rethinks how we work, it will be interesting to see how office layouts as we know them will transform in the upcoming years. Companies currently looking to re-imagine or add onto their office space may currently be weighing the pros and cons that an open floor plan offers. Let's take a look at some of them:
Pros and Cons of an Open Floor Plan
One of the biggest arguments supporting the open floor office design is that it provides the employee with a unique social aspect that other office designs do not offer. The social interactions in an office can provide a large system of support to your employee, helping with the individual's motivation and overall productivity.
Depending on its design, an office can provide a balanced social and cognitive environment for their employees. When optimized, an open floor office design will have a good mix of spaces that are intended for different uses and easily adaptable to fit the employees' specific needs.
One way that our team at D&B likes to incorporate an open floor plan into a re-imagined commercial office space is through installing aesthetically pleasing glass doors throughout. This trend gives companies a modern, sleek and updated look. An example of this look from one of our past clients can be found in Power Kunkle's large conference room.
Although many would argue that open floor plans are here to stay, some would dispute that noise, a lack of privacy, and opportunity for distraction may cause an increase in errors, lack of production, and sometimes stress with this layout design. In 2018, the Harvard Business Report found that "open offices reduce face-to-face interactions by about 70% and increase email and messaging by roughly 50%."
This quick look at the pros and cons of an open floor plan illustrates that this design is not a one size fits all solution. Members of Team D&B believe that transformative office spaces will increase in demand, and it looks like the latest research agrees.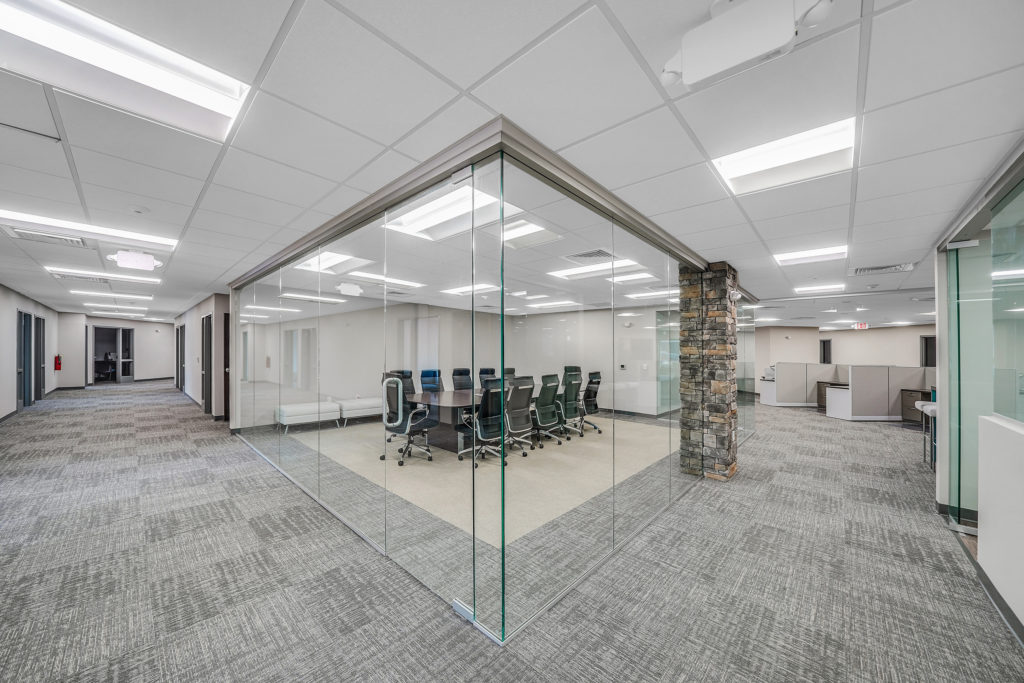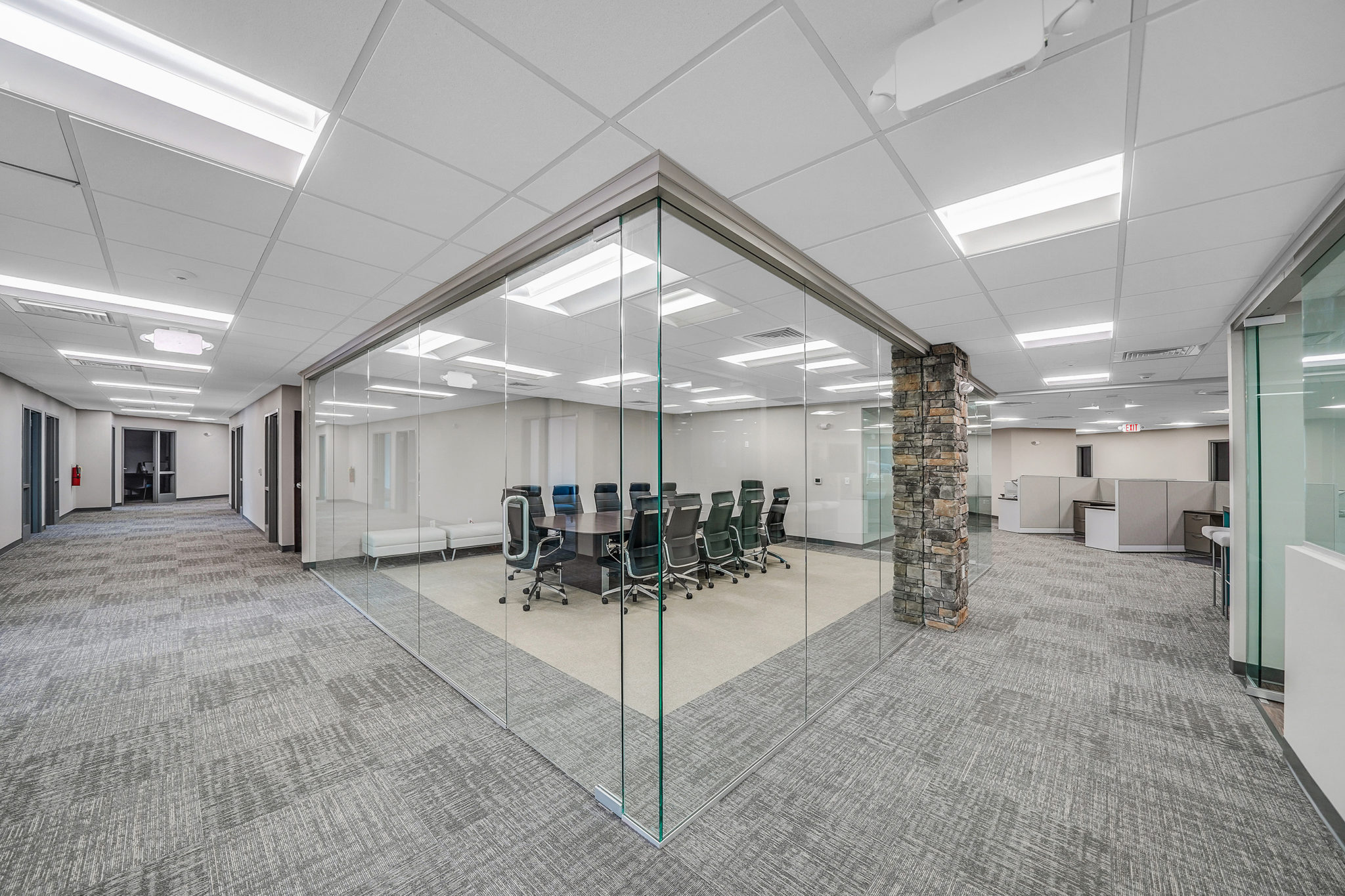 Transformative Offices: The Solution to Future Commercial Office Space
As businesses leaders look to redesign their office space in the near future, they will need to think of how they can cater to different employees and their varying workflows. Some may thrive on collaboration and interaction, an essential component to build company culture, foster relationships, and create a team-oriented atmosphere. On the other hand, there will be times when some employees may be more productive in a quiet environment where they can focus. The solution to these varying needs? A transformative office space.
D&B Construction's Pre-Construction Manager, Bob Martzall, has noticed that "some businesses have been expressing their desire to have flexibility" as they work with D&B as their general contractor. One way they are achieving this goal is through modular walls. Bob explains how "modular walls can provide an office with a great amount of flexibility and safety, as these are walls that you can take down, move, or shift."
On a larger scale, one company that has taken flexibility to a whole new level is Salesforce. In February of this year they announced that employees would "have the option to work remotely full time, even when it's safe to return to the office." Their new guidelines offer employees the option of working full remote, flex time in the office, or completely office-based. Employees who choose to work the "flex" option will have the flexibility of coming into the office between one and three days per week when they need to perform tasks that may prove challenging over a video conference call, such as working on collaborative projects or meetings with clients. So how will this extensive change affect the company's 19 physical offices in North America alone… specifically the recently completed 1,070-foot-high Salesforce Tower in San Francisco? The company has announced that they will be redesigning offices as "community hubs" that will replace rows of desks with multiple collaboration and breakout spaces.
D&B Construction's Philadelphia office recently completed a 10,246 SF commercial office design-build project for Berger Rental Communities at their new West Valley Business Center location in Wayne, PA. Their new collaborative room is one of their employees' favorite spaces. Lesley Yocum, a Project Manager out of D&B Construction's Philadelphia office who also played a major role in designing the client's space, said that they knew they wanted this space throughout the entire design process.
Research looking at today's high-functioning workplaces show that employees are spending much more time on collaborative activities. Lesley agrees – especially right now. "People are returning to a 'new' office layout with more space between their co-workers. Because of this, collab rooms will be utilized as both old fashioned conference rooms and a place where you can go to get 'comfy' and discuss since that's what many people are accustomed to now after working from home for so long."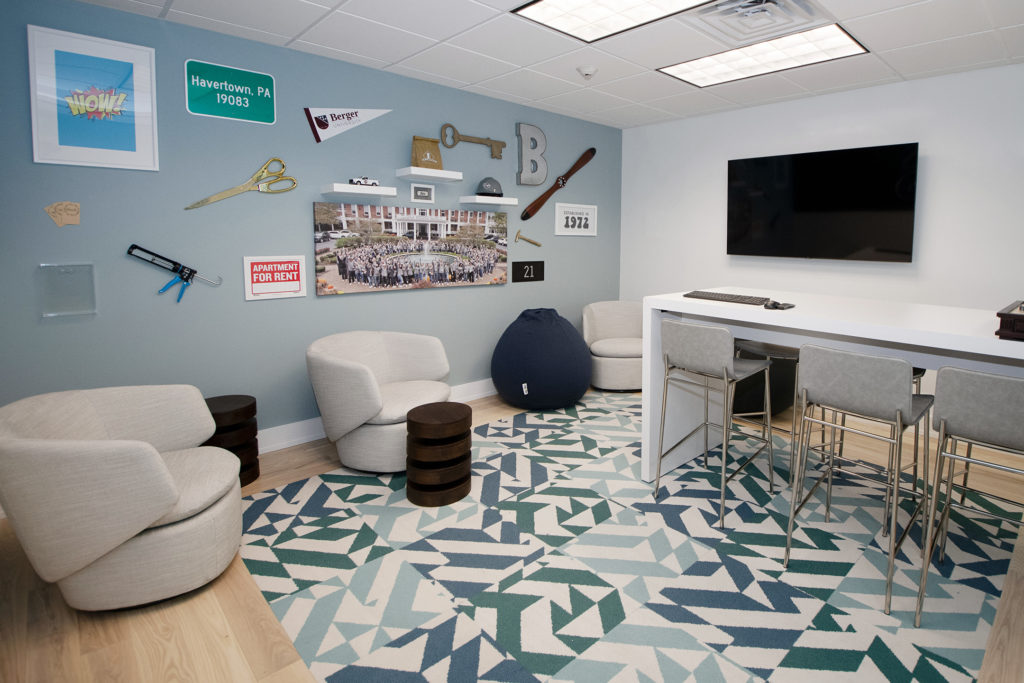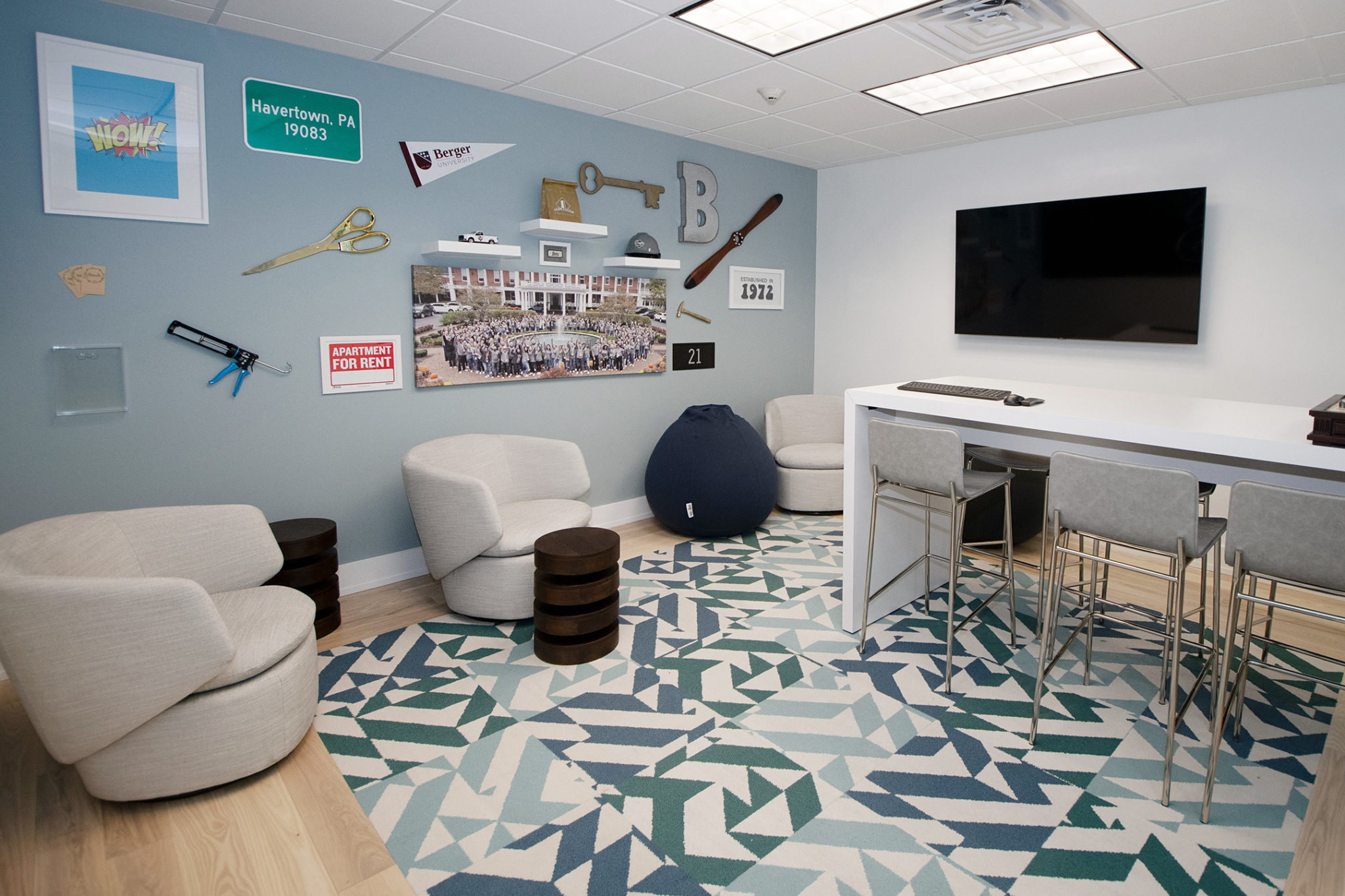 Community Space May Be Key
Unique spaces in open floor offices can include coffee bars, lounge areas, and other spaces designed to make everyone feel welcome, while still encouraging open communication and collaboration. This welcoming environment can be found at D&B Construction's most recently completed project for Riverfront Federal Credit Union, who just held their ribbon cutting ceremony on June 16. The credit union's newest branch and Operations Center features cutting edge technology with a drive thru consisting of three Interactive teller Machines (ITMs) and self-service kiosks offering Video Integrated Realtime Assistance (VIRA). Inside their new 34,000 SF office space, you will find that Riverfront's strong belief in the value of face-to-face banking has not been lost. The interior is set up in a manner that's more interactive than a traditional bank, and members are welcome to relax in a comfortable seating area while they complete financial transactions.  A café will soon be open to the public as well, further promoting a sense of community. Learn more about this project and how it has created a grand customer experience through both technology and in person banking options here.
Embracing Technology for Everyone's Safety
As D&B's recent project with Riverfront Federal Credit Union depicted, and to no one's surprise, an even stronger emphasis will be placed on technology as the future of work evolves. One way we are already seeing this? Our clients want their conference rooms to be decked out with cutting-edge technology that will allow them to host video conference calls in their meeting spaces. Our Pre-Construction Manager, Bob, has already seen rooms with cameras and microphones that are set up to instantly switch over to the person talking and simultaneously broadcast them to the Zoom meeting. A room like this is something businesses may want to seriously consider if they are designing an open-floor plan, especially if they predict to be in a hybrid working environment.
Bob predicts we will see "more hands-free devices and more technology-oriented safety" in the near future. This can include investing in Bluetooth technology throughout conference rooms so employees don't have to touch a speaker or shared phone. Doors can also be fully controlled by an app on your phone or simply don't need to require handles and can instead swing open both ways by pushing them with your shoulder or foot. Hands-free water dispensing systems are another trend that Bob has noticed. Want to be health conscious while also looking out for the environment? Try installing motion lights throughout the office, from conference rooms to bathrooms.
Limiting high touch point areas such as door handles strongly reduces the spread of germs, and for this reason, Bob imagines these current trends are here to stay for a long time. Case and point: The upscale conference room D&B completed for Berger Rental Communities' new headquarters at the end of April included a specific wall mounted camera with multiple speakers in the ceiling, motion lights with sensors throughout all offices, and dimming lights throughout all other areas. View more photos and learn more about this project here.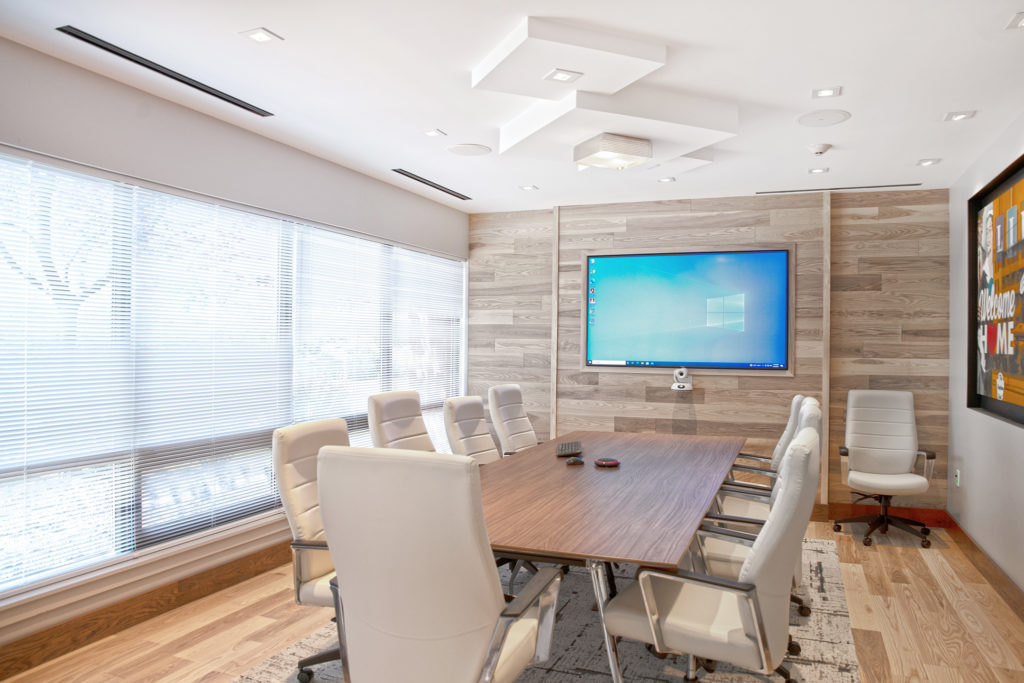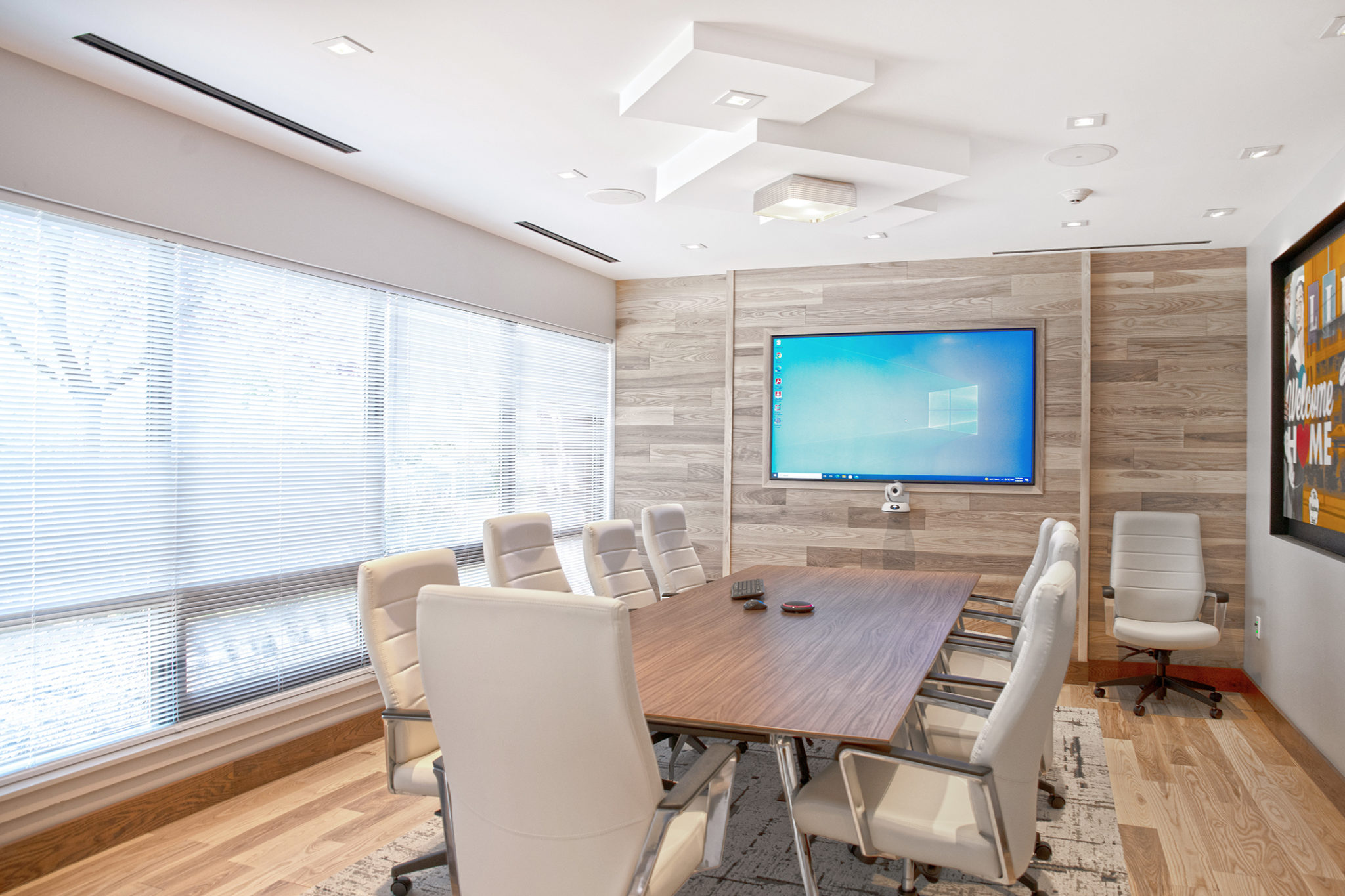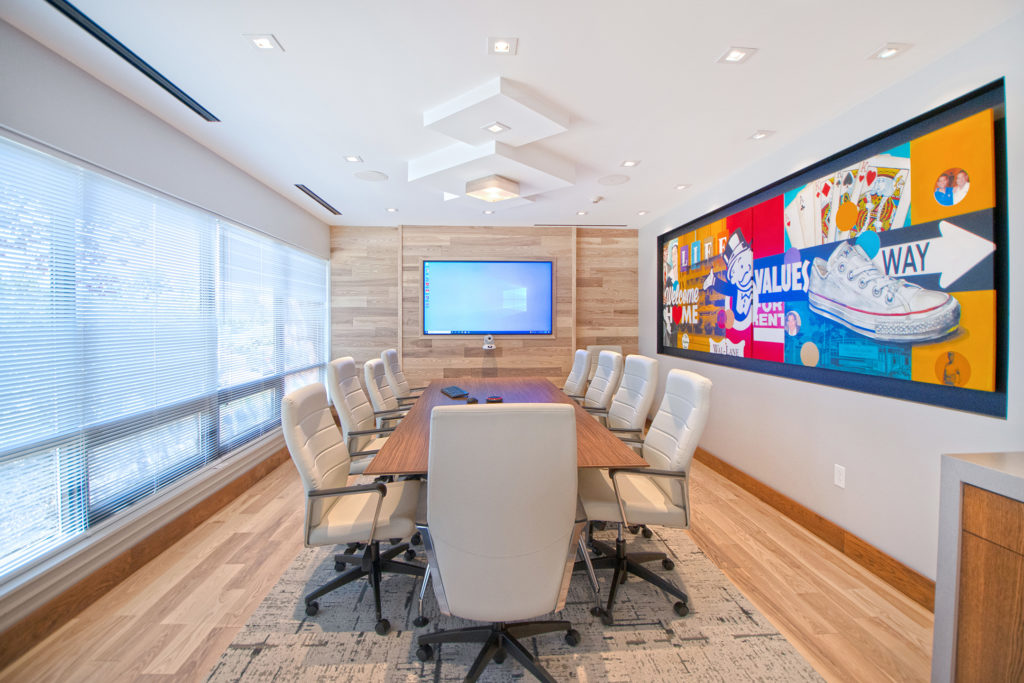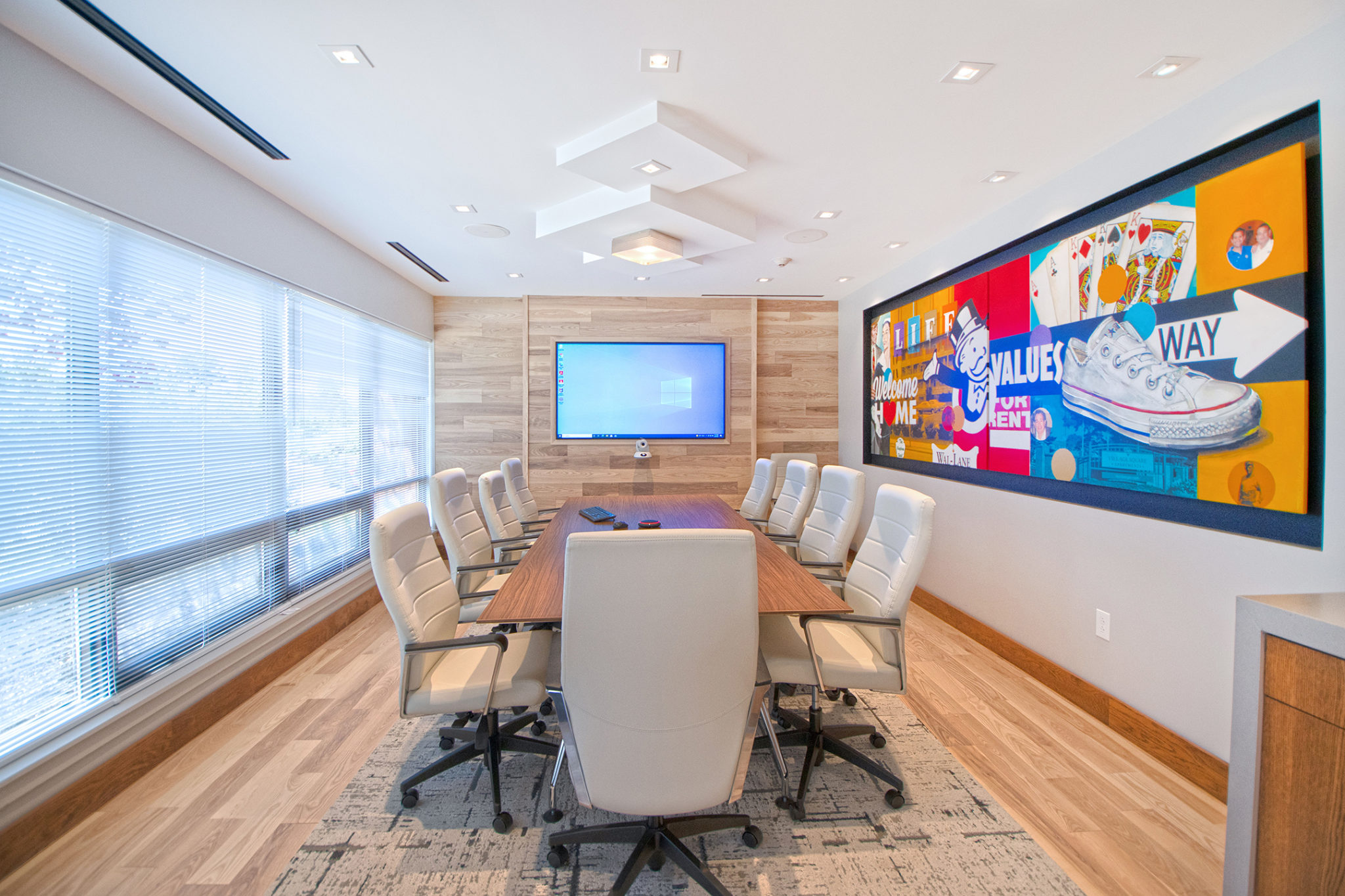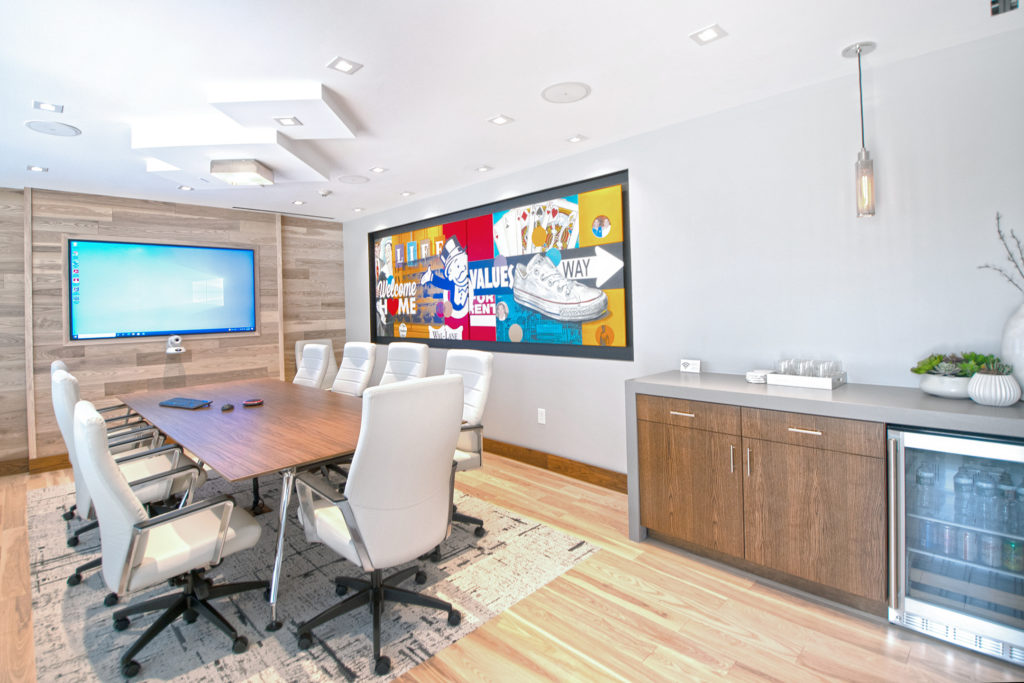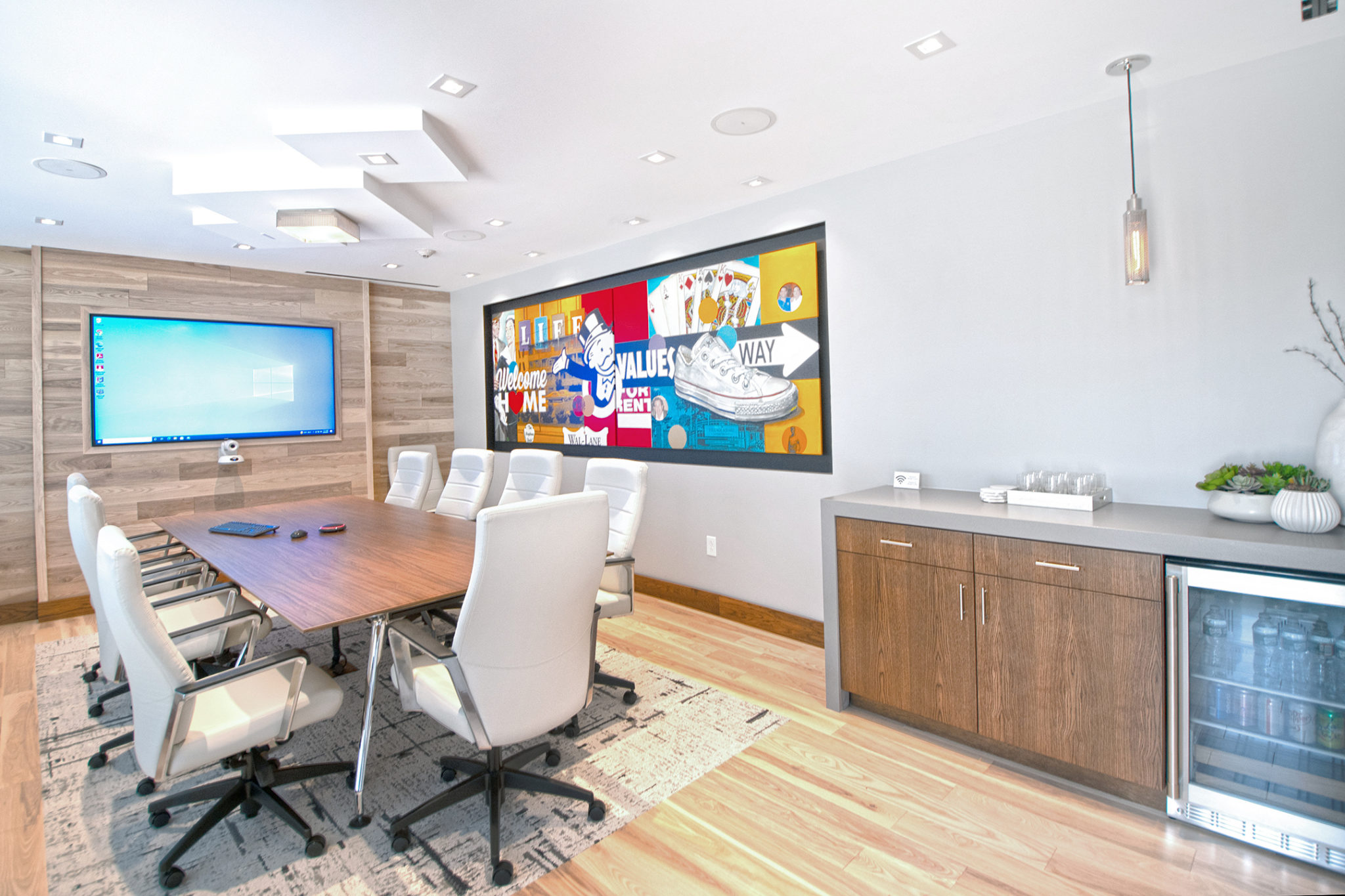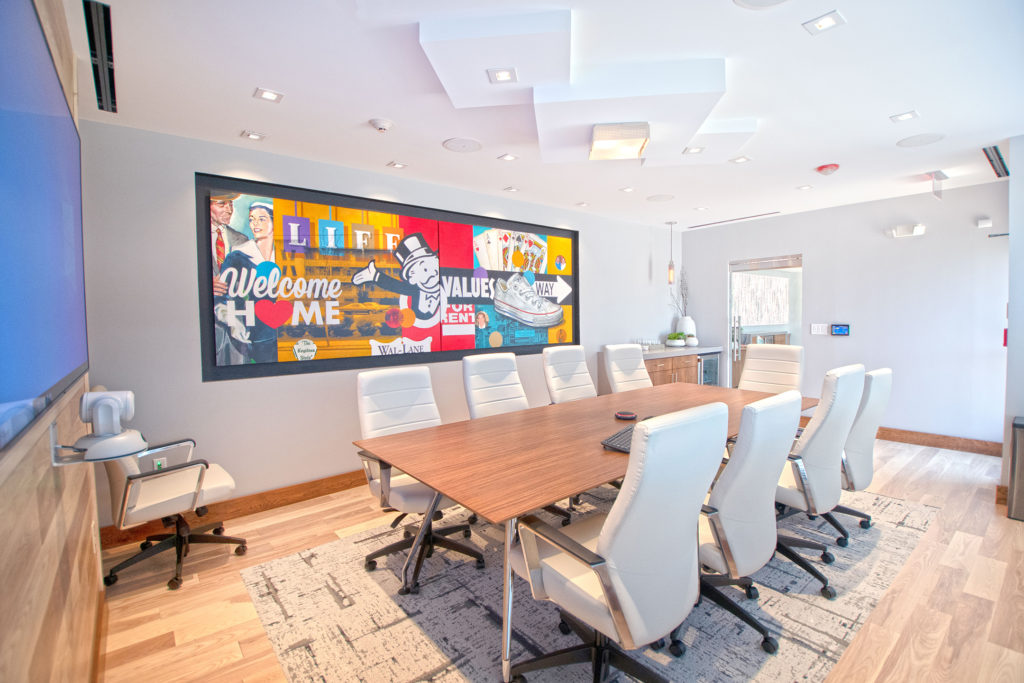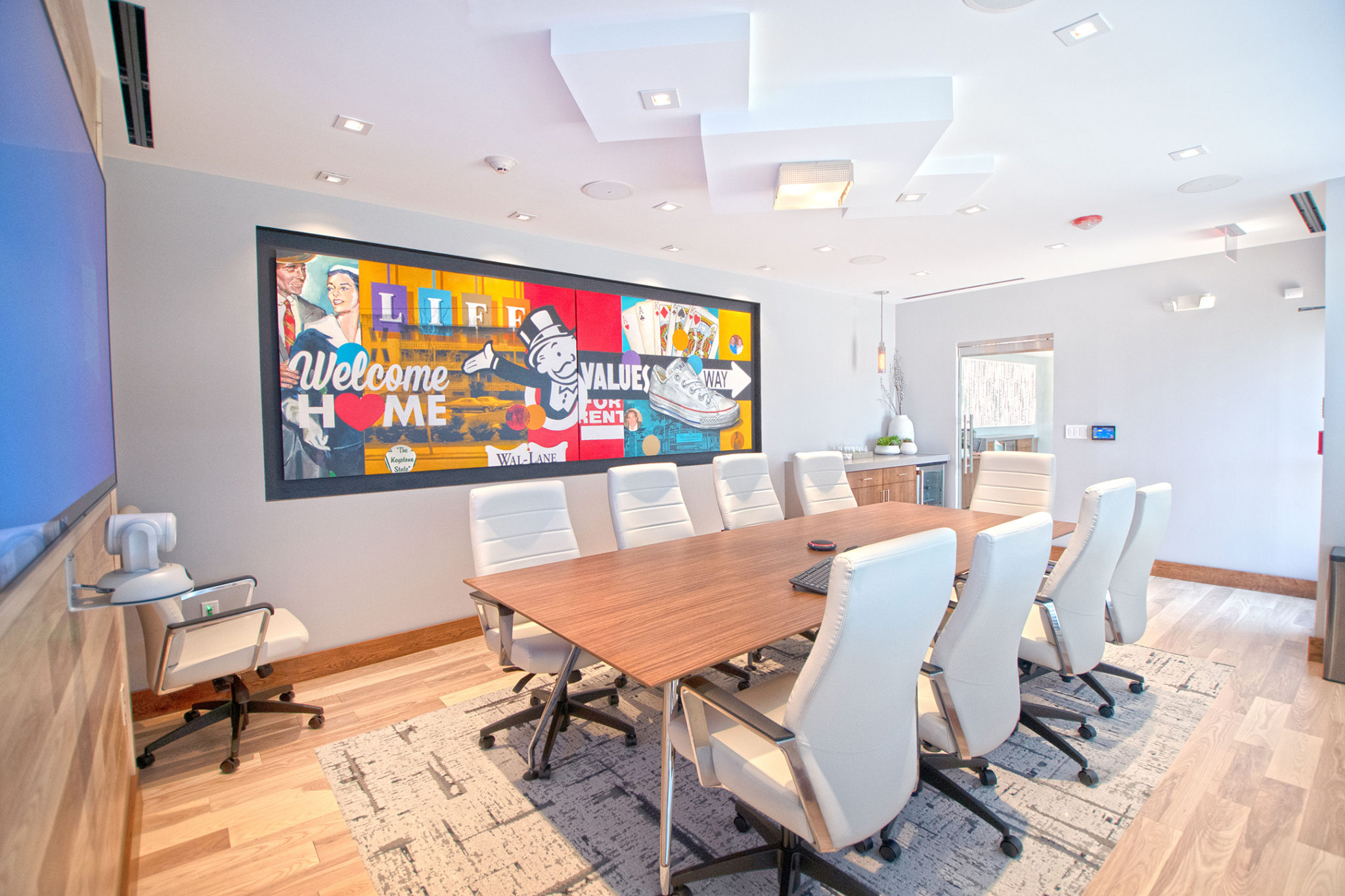 Moving Forward Post Pandemic
A study by USA Today shows that 35% of Americans prefer a home-office hybrid working situation, and 25% of Americans want to go back to the office full time. With over half of the population hoping to return to the office in some capacity, the question of how employers will accommodate for safety concerns and the "new normal" of flex time still looms over many individual's heads.
Bob believes safety will determine many office designs post COVID-19. He thinks that one of the most important things to include in your post COVID-19 office is environmental air filtration systems. This refers to how the air circulates through the office so that it is environmentally friendly, limiting the spread of germs and being sustainable. Bob has seen clients wanting to have this included in their project design.
Having more collaborative rooms may result in a more open floor plan being replaced with more individual office spaces (which may help some individuals feel more at ease with returning to the office). With 36 years of experience in the industry, Bob has noticed that "many offices are shifting away from a cubicle environment and instead building more individual office spaces." He believes that building more office spaces can make it much easier for an employer to provide safe precautions for their employees when necessary, thus explaining this recent trend. These adaptations can make a work environment flexible and safe for everyone involved.
As many companies continue the transition of shifting back into the office, Bob has noticed that companies across all sectors have been trying to get their projects fulfilled by construction companies. He says that this is because "the cost of borrowing is so cheap right now, so the cost of doing business is more economical. The question is, do you need the space?"
The companies who answer yes to this question (and companies such as Salesforce who need to re-imagine their spaces) will be left to map out how their office space should look in a post COVID-19 world. In some way, shape, or form, many businesses will have to change their office footprint in the upcoming years, whether through down-sizing, expanding or renovating their current space to fit future needs. This is something that is weighing heavily on the minds of many employers. Although daunting at first thought, this is an opportunity to create a new blueprint that sets the stage for office spaces for years to come.
After considering the thoughts of our industry experts, years of research, and the current state of the world, how would you design your office's blank slate to best meet the needs of your team?
We'd love to hear your thoughts and ideas in the comments below!