On February 22, 2021, we celebrated our 10 year anniversary! This milestone is something to celebrate. According to historical data from the Bureau of Labor Statistics, the construction industry has one of the lowest business survival rates. About 25% of small construction companies don't survive their first year, and labor statistics also show that 70% of these businesses never make it to their 10th anniversary.
From flipping homes and completing renovations, to building entire custom homes from the ground up, to entering the commercial construction industry and completing over 5 million SF since then… A lot has happened in the last decade. We owe it all to our amazing team members, trade partners, suppliers, clients, friends and family! Thank you for being part of this journey, and we look forward to what's to come in the next decade!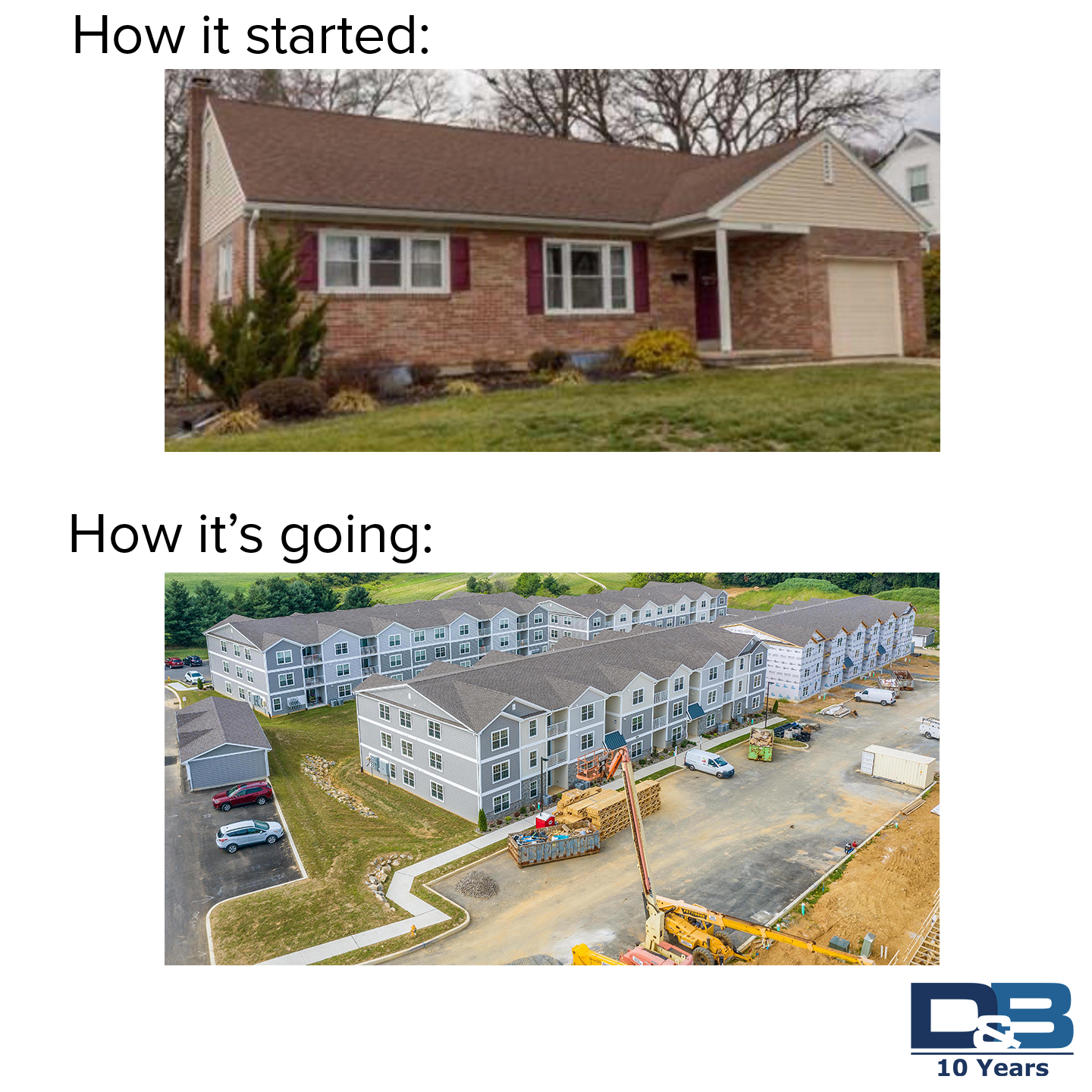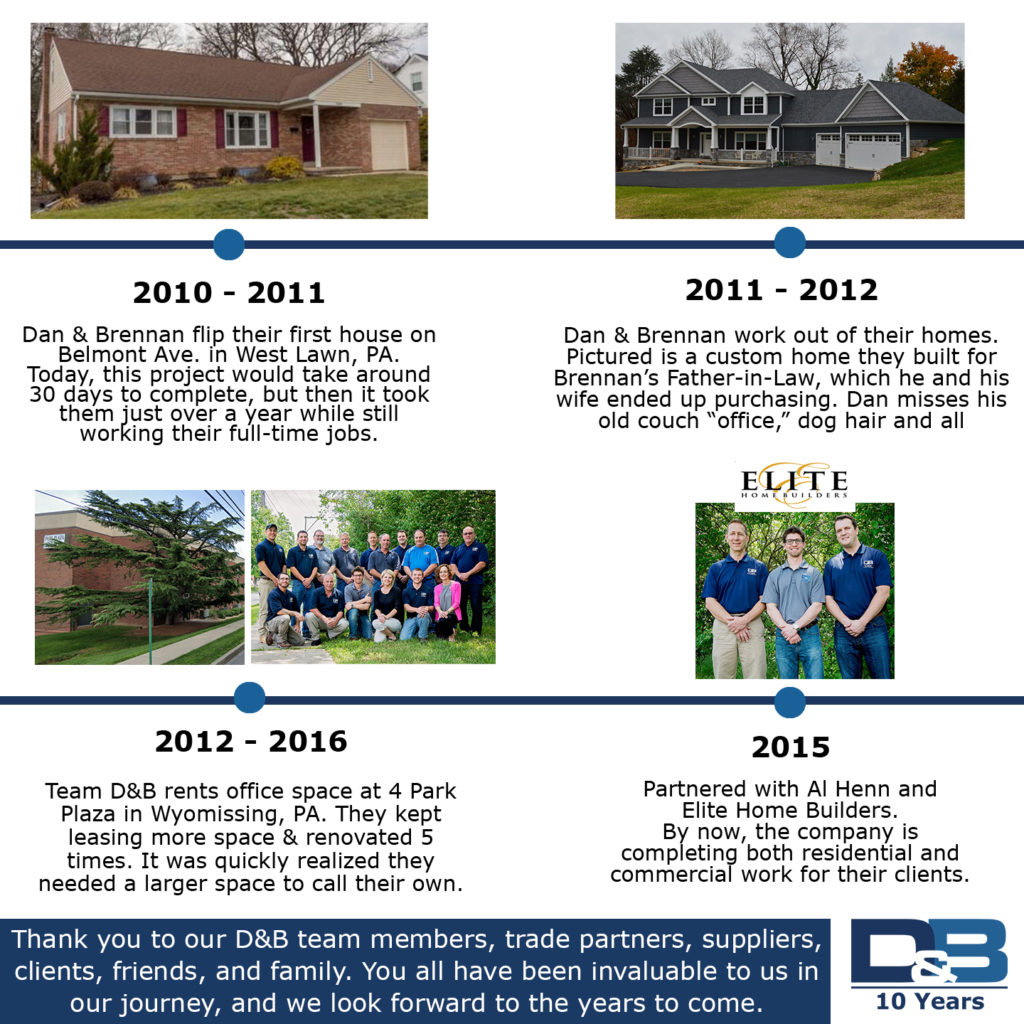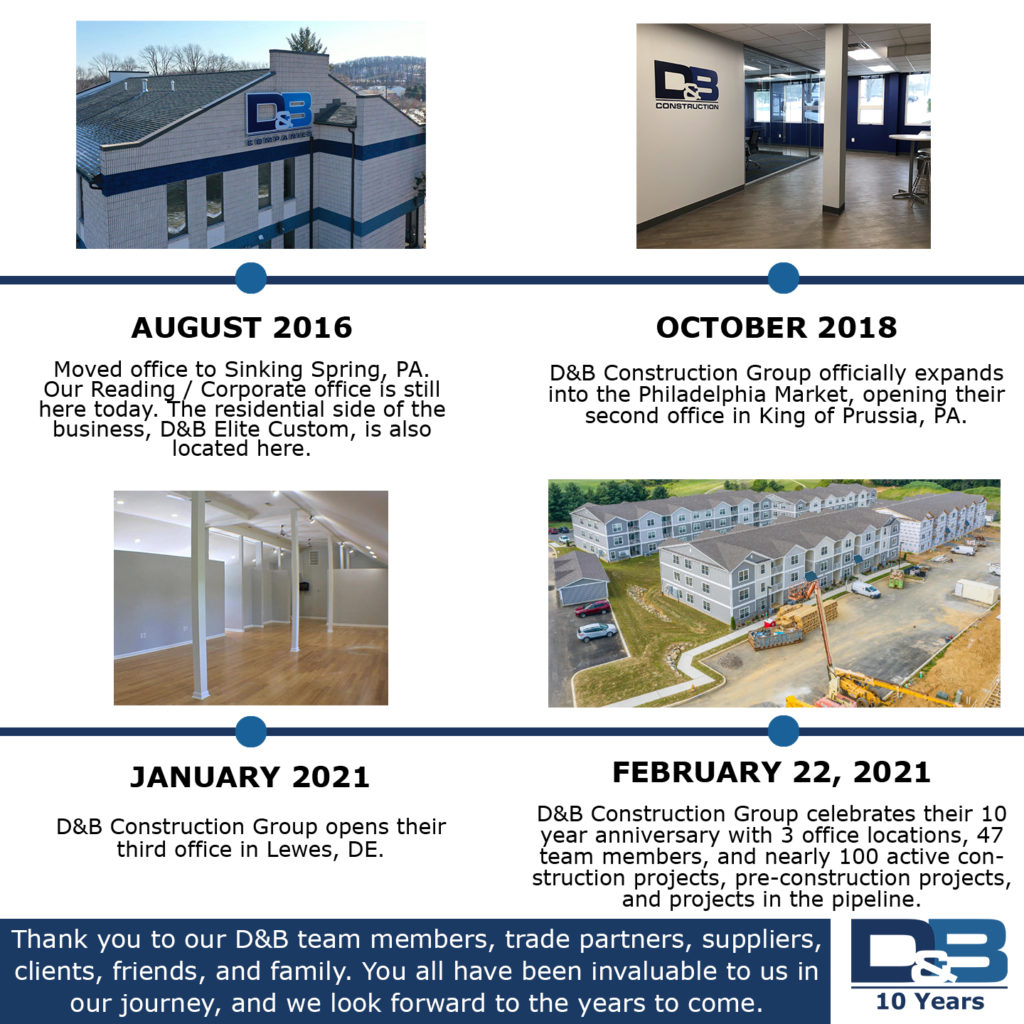 Reflecting on 10 Years
To celebrate this milestone, we asked our team members to share some of their thoughts on what it is like working at D&B Construction, how they have personally grown during their time here, and any fun memories they wanted to share:
Q: Any fun memories or stories that you'd like to share?
"When I first started at D&B we were much smaller, with offices across the hall. I was excited to work for Al, Dan and Brennan because there was an underlying positive energy that was contagious. I remember Brennan bouncing his ball against a wall when he would visit our side, driving us all crazy, and Dan running through the office saying "coming through". When Tom started we made him a make shift desk in the copy room. It was a little rough and we made it work.  If you ever need anything go to Adam, he is our historian and remembers everything! We have grown so much in the five years I have been here, and it has been fun being part of that growth both personally and professionally. I work with the best team! They happily share their knowledge, teach me something every day and challenge me to grow. They are my extended family. I also want to thank Al, Dan and Brennan for giving me an opportunity to be a part of a great team!"
-Beth, Project Coordinator
"When I first started we were limited on office space at the Park Road office. I was sharing an office with three other team members. Within a week, I adapted and found a corner in the room where the printer was. I made a desk from cardboard boxes and an old countertop. Talk about improvising. It actually worked well. HA!"
-Tom, Construction Manager & Safety Director
"I remember the first time I met Dan & Brennan when they first got started 10 years ago. I was on the other side of the job as an inspector for Lower Heidelberg Township. I believe they were constructing a deck, sunroom or an addition somewhere in the Green Valley area. I came across a lot of contractors in my 13 years as a building inspector, but always remembered them from the first meeting. Great guys with a goal of doing it the right way! This 10-year anniversary is a testament to them honoring their commitment to doing things the right way for their clients, employees and themselves!"
-Andrew, Assistant Project Manager
Q: How have you personally grown since first starting at D&B? What have you learned?
"The importance of teamwork. D&B has shown me what can be accomplished when there is a team that will support you from top to bottom."
-Matt, Project Manager
"I have grown my leadership skills tremendously, and I learned that I can actually make a difference."
-Tom, Construction Manager & Safety Director
"I've been here since January of this year, but I feel like it's been much longer. The team has accepted me, and I love the company culture. I have learned a ton about our processes, software and my teammates. The 'go-getter' attitude of our leaders has me extremely excited for the future!"
-Andrew, Assistant Project Manager
Q: How have Dan and Brennan evolved as leaders since you began?
"They are evolving into awesome leaders. The growth that the joint venture of Metro and D&B bring are endless. They always have and always will have each other to bounce ideas off of. Not one decision is made for the company without them both discussing it together."
-Alex, Superintendent
"Dan and Brennan are growing as leaders since I started and will continue to grow with the company."
-Tom, Vice President of Construction for the Reading Division
Q: When you think of your D&B family what is the first thing that comes to mind?
"Teamwork. A commitment to excellence and doing things the right way for the client."
-Andrew, Assistant Project Manager
"Compassion and understanding."
-Matt, Project Manager
"Unbelievable teamwork and teammates."
-Alex, Superintendent
"Teamwork."
-Tom, Construction Manager & Safety Director
"Cooperation."
-Barry, Superintendent
Q: Anything you want to say to the D&B team as a whole?
"Keep up the good work and adapt with the growth."
-Tom, Vice President of Construction for the Reading Division
"I would like to say thanks to everyone. Many people in the company reached out to me when my mother passed, and it means more to me than they know."
-Matt, Project Manager
"Being a part of this team makes me feel so proud. It's a breath of fresh air knowing I can rely on our team for help or ideas. As long as we stick together and use all of our teammates, there is nothing we can't do!"
-Alex, Superintendent
Q: How would you define our company culture in a few words?
"Teamwork. Cohesive. Fun!"
-Andrew, Assistant Project Manager
"Engaging, welcoming, team oriented, rewarding, flexible, motivating and connected."
-Alex, Superintendent
"Teamwork and striving for excellence."
-Matt, Project Manager
"The culture here is unique compared to other companies."
-Tom, Vice President of Construction for the Reading Division
Q: What do you love most about working at D&B?
"The challenge to keep up."
-Barry, Superintendent
"Everyone has been extremely helpful in bringing me up to speed and getting me involved in as much as possible. The work atmosphere is fun, all while getting the tasks accomplished in timely manner. It is a great team with great balance across all facets."
-Andrew, Assistant Project Manager
"The people. Everyone is down to earth and is there to support whenever possible. In times of need, D&B employees have been there to lend a helping hand or provide insight on an issue on a project."
-Matt, Project Manager
"Mentoring the younger team members and watching them grow."
-Tom, Vice President of Construction for the Reading Division
Learn More About D&B
If you follow our social media, you've likely seen our YouTube series reflecting on 10 years to celebrate the company's milestone. Catch each episode here:
Episode 1: Dan and Brennan, and their wives, Urs and Jenny, reflect on the many different office spaces we've had throughout the last decade. Learn more about how we went from an office space in a house Dan and Brennan ended up flipping to where we are today.
Episode 2: Dan and Brennan discuss how D&B has grown in the last 10 years and whether or not they expected to be where they are now.
Episode 3: Did you know that Dan and Brennan were teammates long before they started the company? They played soccer together at Elizabethtown College (where they were also roommates). Learn how they have grown over the years and how their partnership complements one another.
Episode 4: This episode focuses on our most important asset – our team! In the words of Dan and Brennan, "Our team is what got us here today." Dan, Brennan, and their wives recognize and celebrate everyone who makes up the D&B family.
Episode 5: Dan and Brennan's family send their congratulations to Team D&B on their 10 year anniversary. Plus, you'll learn what some of the D&B kids love most about visiting their dads and the team at the office.