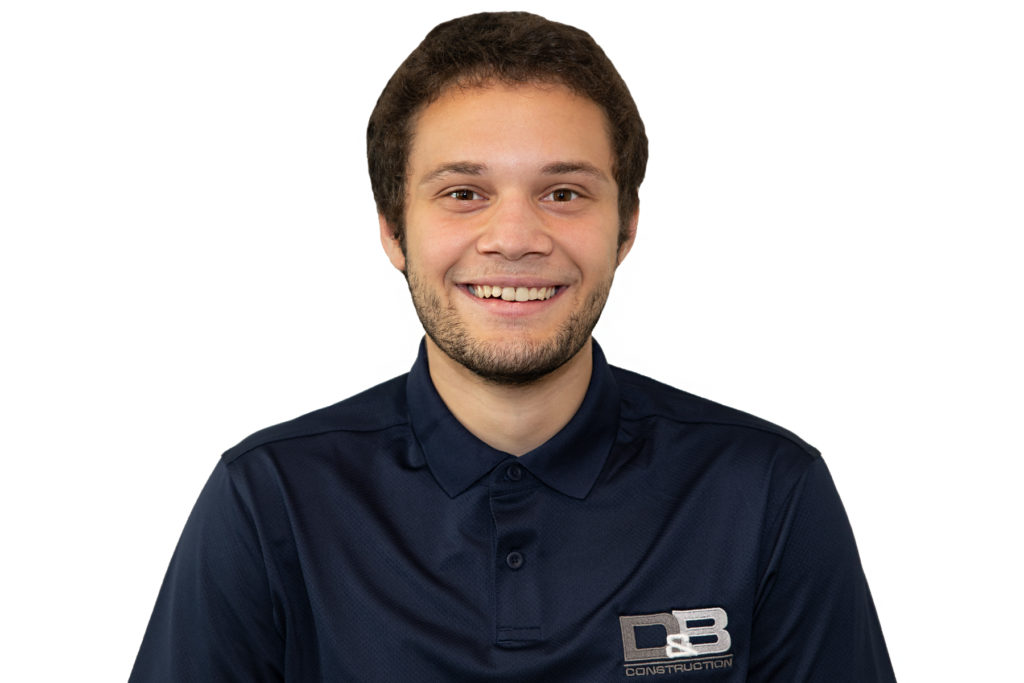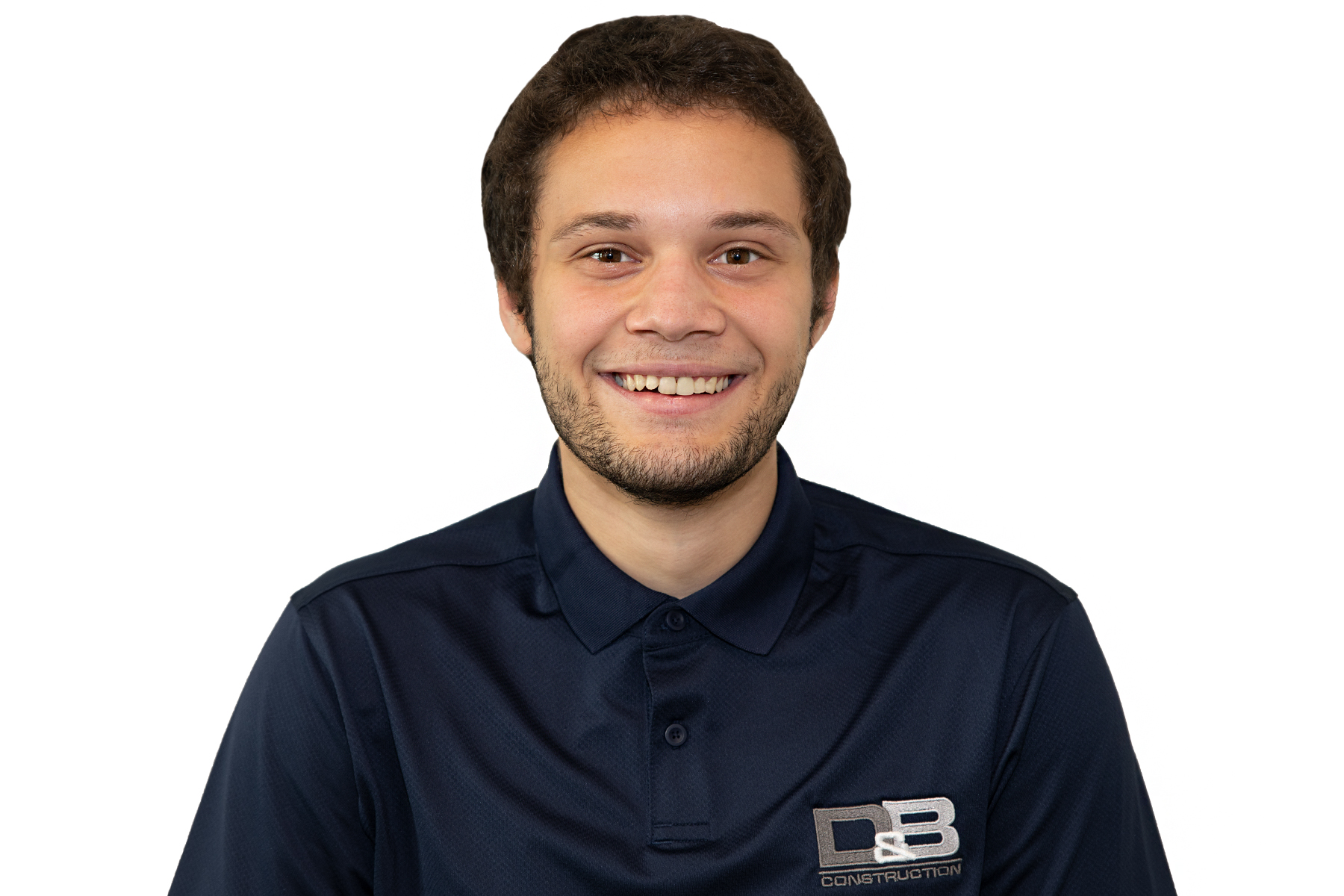 Ben, who will graduate with a degree in Media Effects from Penn State University's Main campus this coming Spring, enjoyed receiving hands-on experience throughout his Summer internship with D&B's corporate Marketing and Business Development team. As a Professional Writing Intern, Ben helped write articles for D&B's blog through gathering research and interviewing team members. He also helped with various business administrative tasks that allowed him to learn to use Customer Relationship Management (CRM) software, our construction management software, Procore, and email marketing tools such as MailChimp, to name a few.
Although the majority of Ben's three months with us was spent in the office, our team made sure to take him on active job sites. Ben was able to go to both commercial and residential job sites so he could see what both sides of the industry are like in person.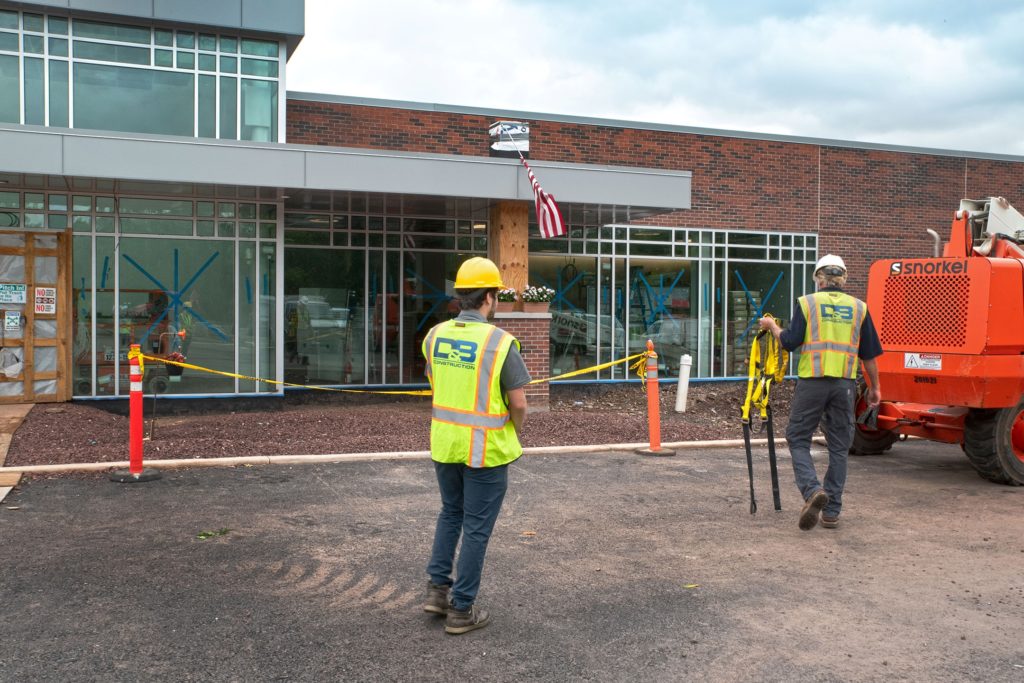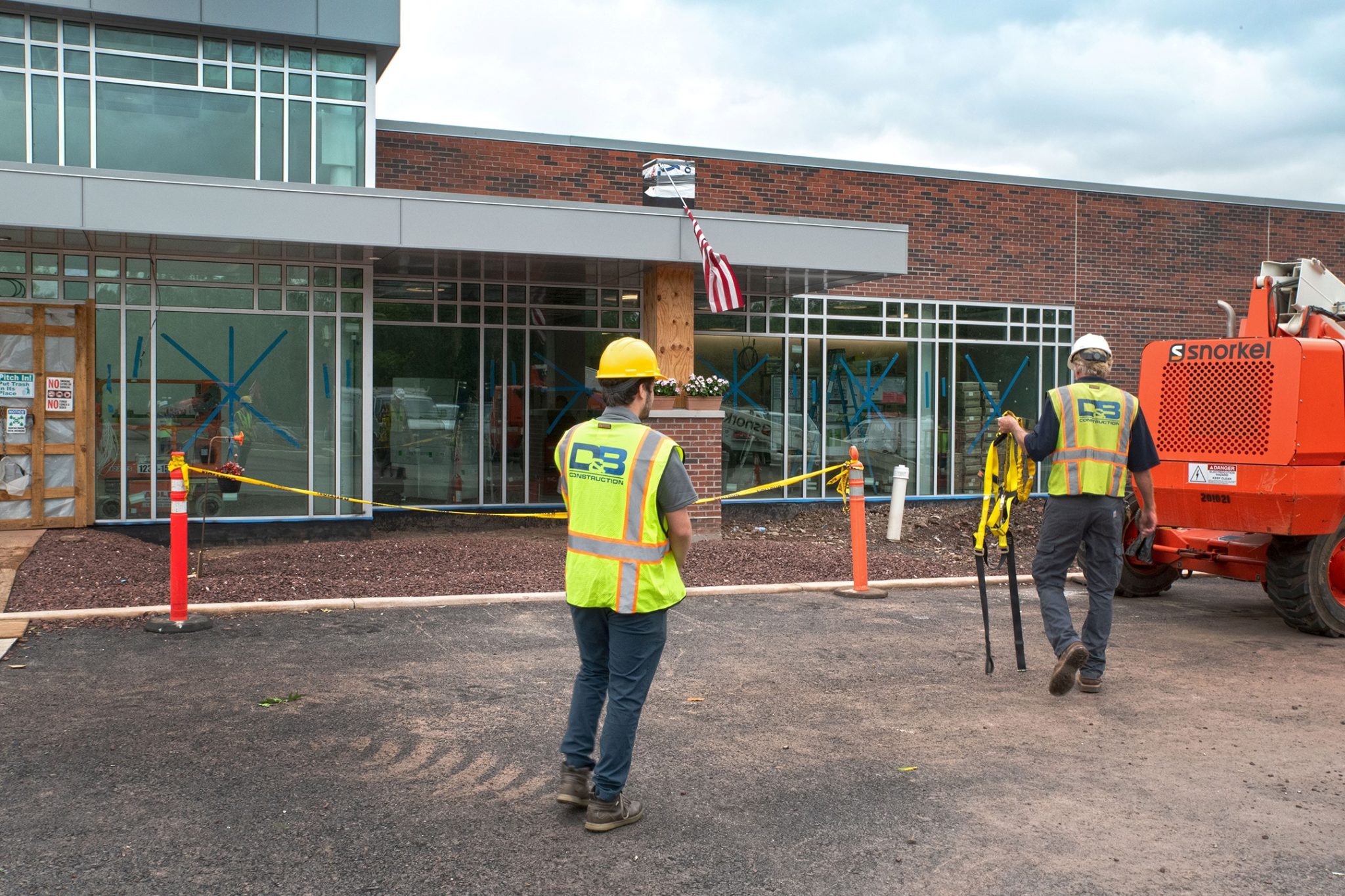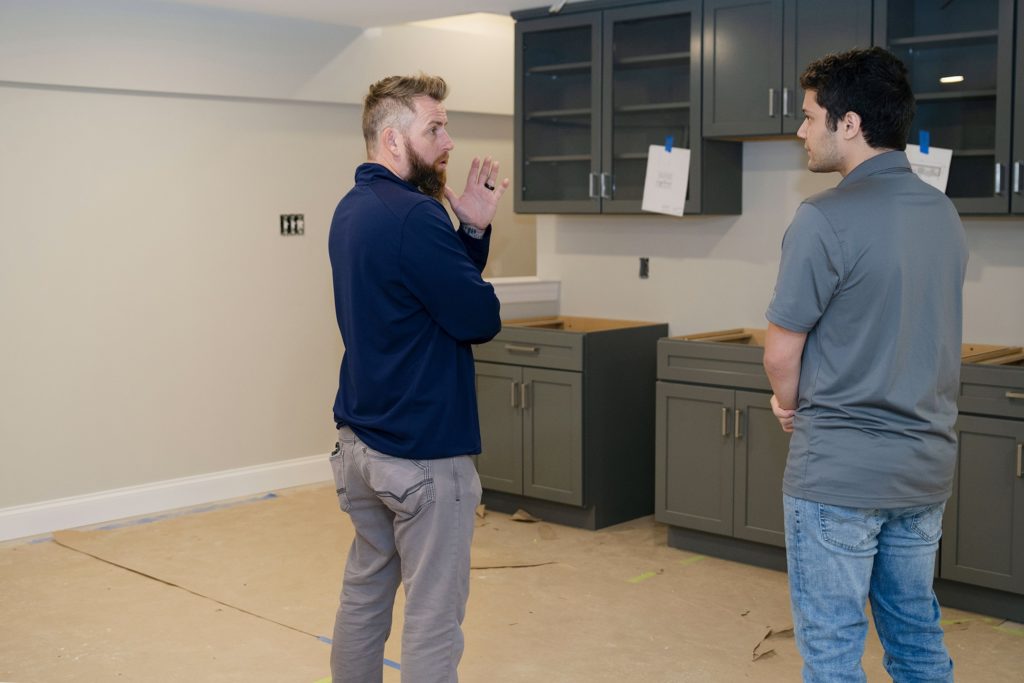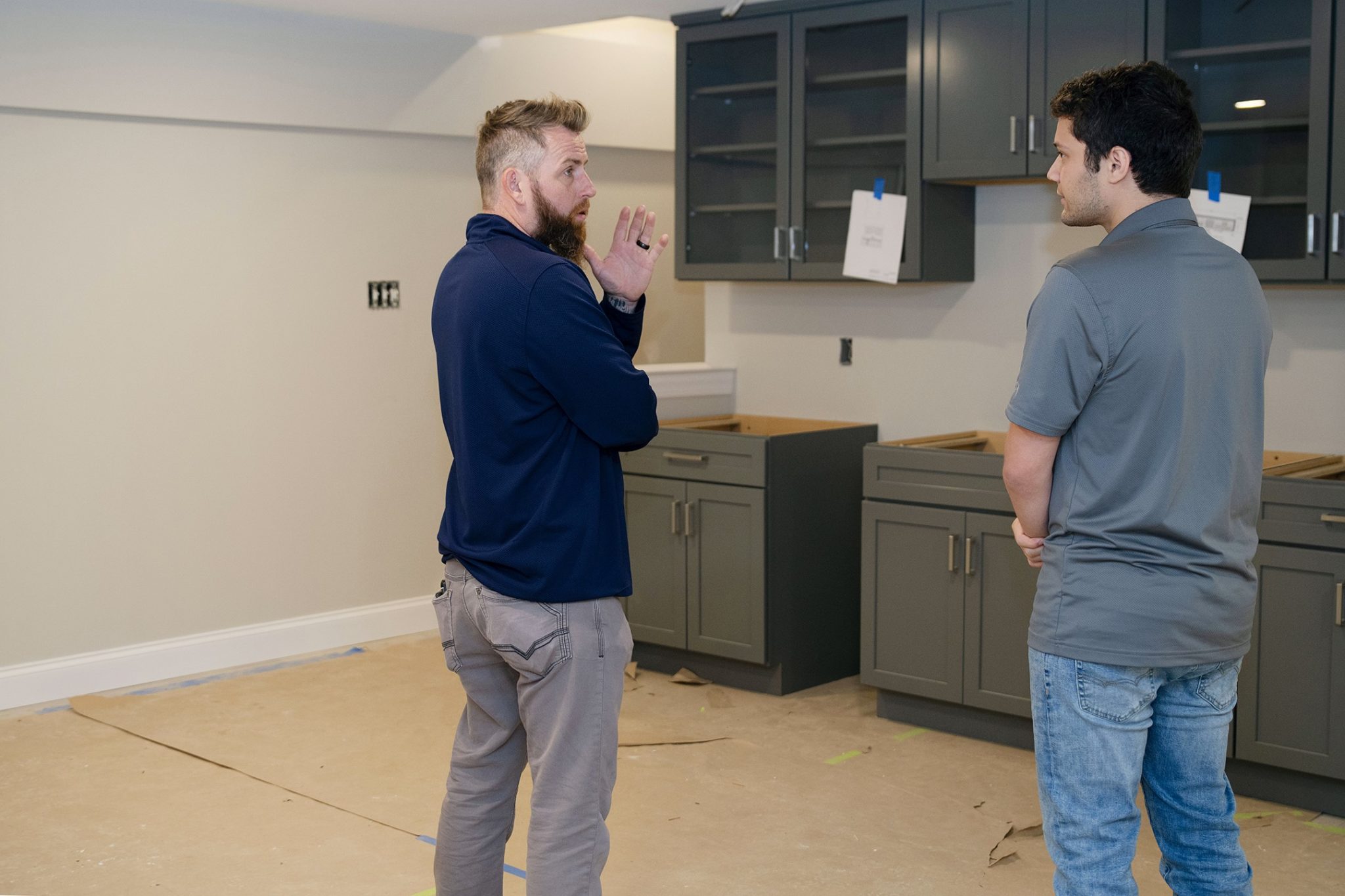 After completing his internship experience, Ben reflected on his time working with D&B, which he described as a "fun and valuable learning experience" for his future. Here's a Q&A from Ben so you can learn more about his experience:
Q: What takeaways, including new skills, techniques, and knowledge did you learn throughout your internship with D&B?
A: "I thoroughly enjoyed learning the ins and outs of construction. The responsibilities I was given aligned with the classes I take at school, and I now have plenty of material that I can include in my portfolio as I start to job hunt post-graduation. I have developed better writing skills throughout the course of my internship. When I look back at rough drafts from my first article versus my rough drafts towards the end of my internship, I can see that I have made a lot of improvement. I learned how to use tools like Canva, which was useful. Ultimately, I was able to experience what it is like to work in marketing in the real world, which was a really good way for me to realize that marketing is a career I think I can pursue."
Q: Did any of the classes you have taken in college directly prepare you for this internship?
A: "Yes! My media effects classes and writing classes prepared me for this internship. For example, my business writing class taught me essential skills to writing professionally. My media effects class taught me many things about how to effectively use social media. Actually, one of my assignments was similar to the benchmarking I did while at D&B, as I was asked to look at a celebrities' Instagram accounts and analyze the good and bad things about them."
Q: Did this internship make you re-consider what you want to do once you graduate college or confirm that you are in the right field?
A: "I have done a lot of thinking about what I will be doing when I graduate and start looking for a job. Even though I am not exactly sure what field it is that I want to work in, learning more about the construction industry and experiencing the environment in the office has definitely made me consider a job in this industry. I have also realized that I truly do enjoy working in Social Media / Marketing. Before this internship I thought that I would like a position like this, but I was never 100% sure. This internship also made me realize that there is nothing to be scared of, and I should go into the real world with all the confidence possible. Working for D&B has been a great step for me in finding a job once I graduate."
Q: What are you most proud of from the work you produced throughout your internship and why?
A: "I am most proud of the articles that I worked on while I was here. I have always had to write for school, but writing for D&B's Blog allowed me to have published work. I am proud to see the articles posted on the website."
Q: How did you enjoy going on the job sites? Was the difference in commercial vs. residential jobs what you expected?
A: "I really enjoyed going to the job sites. It was cool to go on the job sites and see how D&B Construction works. Both residential and commercial job sites were completely new experiences for me. The difference is what I expected. The commercial job sites have a more hectic feel than the residential job sites because there are many more people working at commercial job sites."
Q: What is your most memorable moment throughout your internship and why?
A: "My most memorable moment from my internship was visiting CHOP Souderton. I had never been to a commercial construction site and it was interesting to see the dynamic between the D&B Superintendents and our Trade Partners. I also thought it was really cool to see some of the obstacles they may face while building."
For this quarter's trade partner spotlight, we are taking a visit to Fleetwood, PA, where AP Merkel Inc. has resided since the 1890's. AP Merkel is a four-generation company that offers plumbing, heating, and cooling services. They have come a long way since Augustus P. Merkel first founded the company over 100 years ago. AP Merkel first started out as a company that built farm implements, such as machines that would harvest crops. They are well known for manufacturing grain separators known as threshing machines.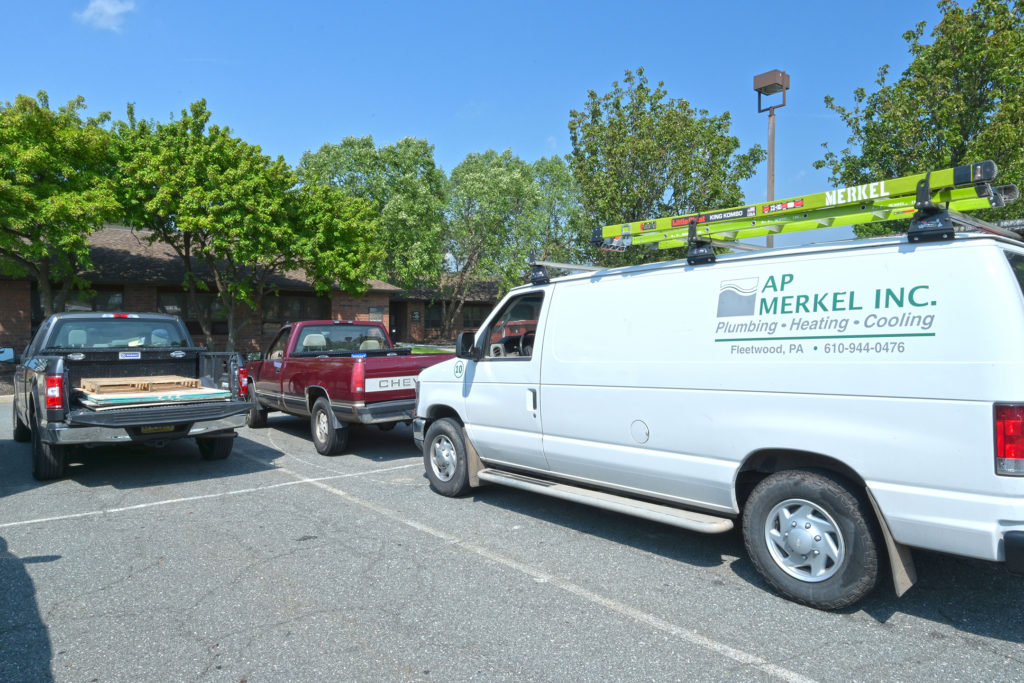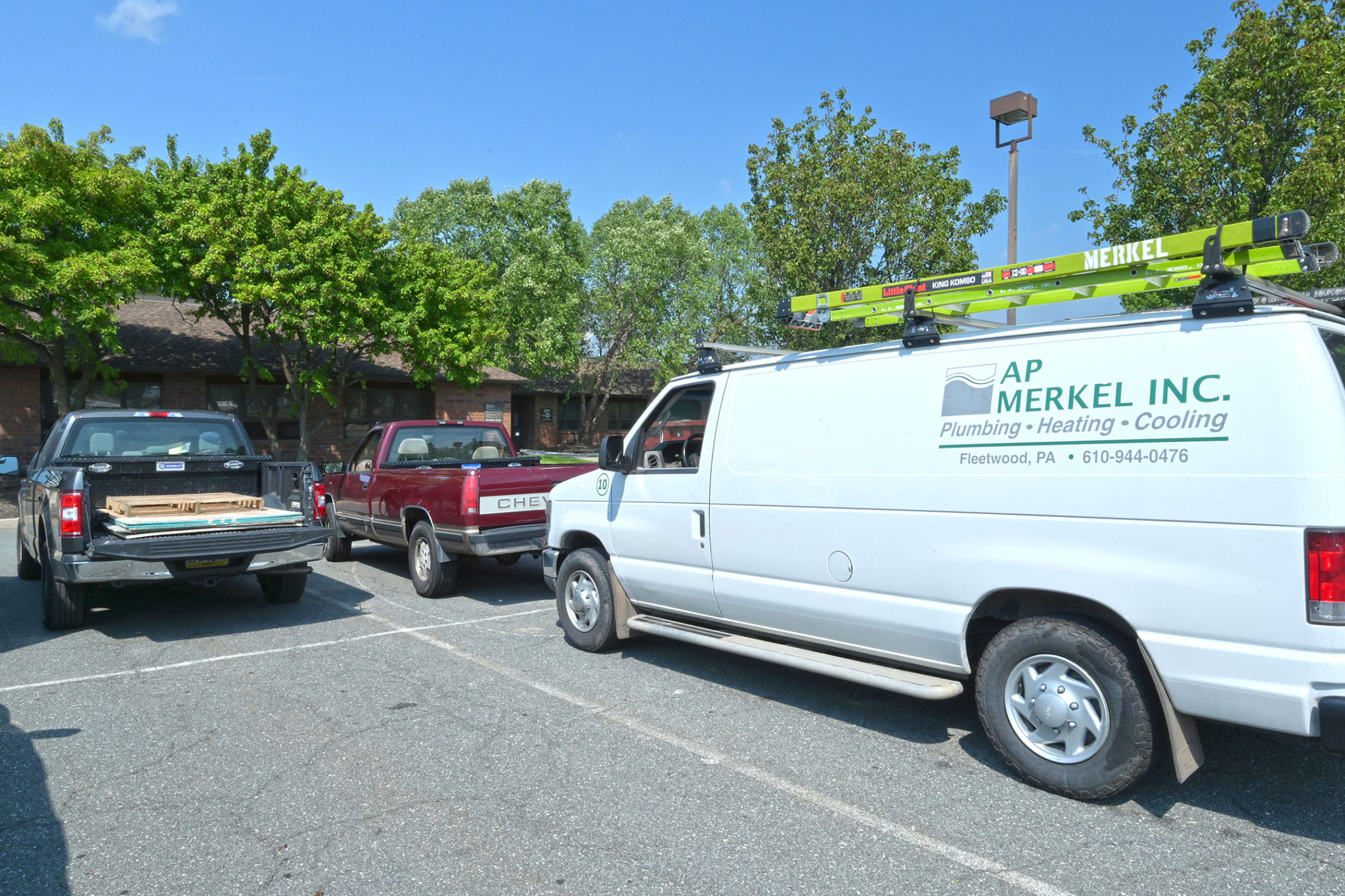 Their transition into the HVAC world all comes down to a smart, strategic business move. "Eventually, all of these farms that AP Merkel was working with needed heat," explains Nate Lobb, an Estimator who has been with the company for 10 years. One thing led to another, and eventually the company added plumbing into their wheelhouse. Approximately 30 employees later, "the rest is history," sums up Nate.
Today the company is run by Pete Merkel, standing President, and busy with approximately 50 commercial jobs a year. Nate is usually efficiently juggling 20 or so jobs at a time, which he enjoys. "I like the diversity of projects we work on. We do everything from senior living, to coffee shops, to dentist offices," he explains. Nate also enjoys working through and overcoming the challenges that come with starting every new project. "Being involved in a job from when it is just a concept in budgeting to when it is complete is something I always enjoy," he says.
Nate, who received his plumbing license about five years ago, grew up in a construction environment. "My dad was always in construction. I had an interest more in the mechanical / HVAC and plumbing side of things," he explains. Nate earned his Environmental Studies degree from Temple University in Philadelphia, PA. While in college, he interned for a company in Philly doing HVAC work and ended up coming back to the Fleetwood area and continuing his career at AP Merkel.
Nate stresses the fact that now is a great time to get involved in the industry. "There is a HUGE need for young, licensed tradespeople. There are few young people getting into this field right now. Get your license when you can, take it seriously, communicate, and you can have a great career," he urges.
One young individual who has impressed Nate is D&B's Superintendent, Ryan Hummel, who he has worked with since D&B Construction and AP Merkel established a relationship within the past year. "He has been really helpful and knows the industry, especially for being a younger guy. Ryan is really on top of it and not afraid to pick up the phone and check on something with us. We can talk through things and work it out. It is clear he takes his job serious," explains Nate.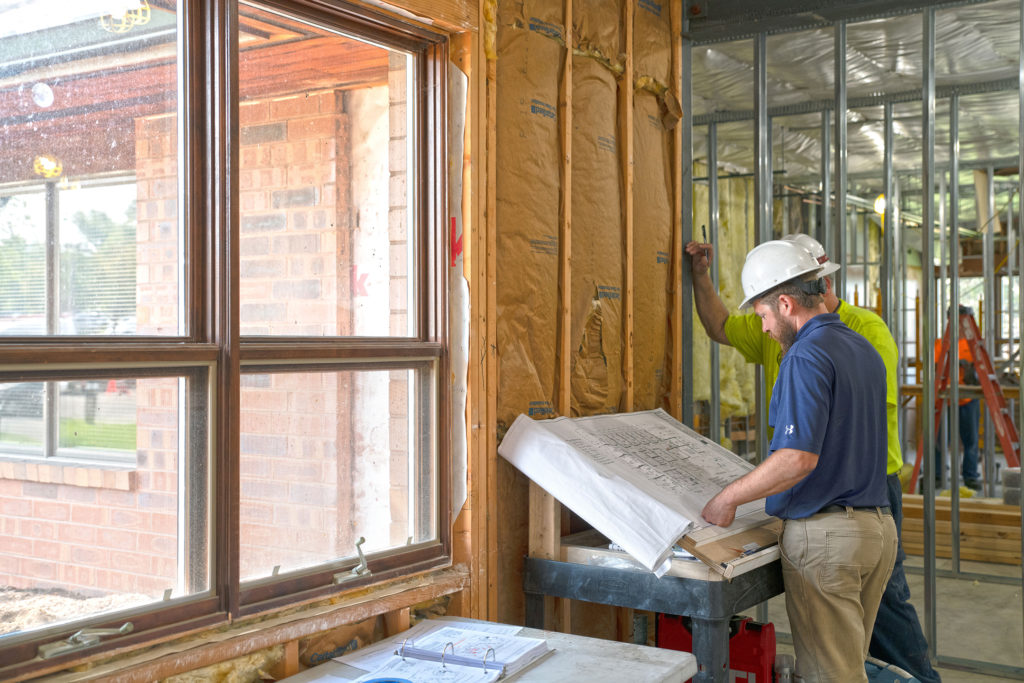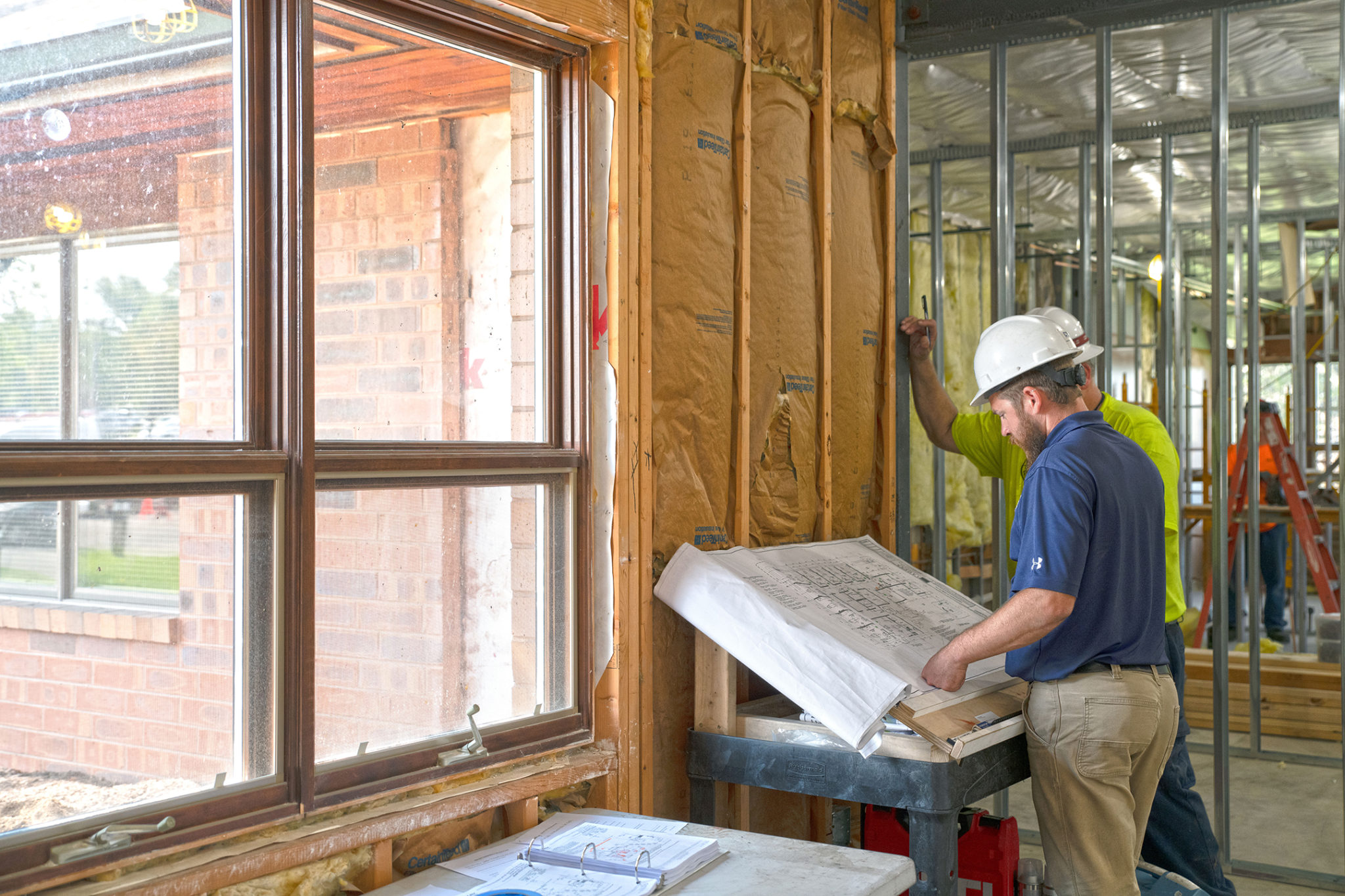 This feeling of open lines of excellent communication is just as strong a value for AP Merkel as it is for Team D&B. When we asked Ryan what he likes about working with AP Merkel, he summed it up simply in one word: "Everything." However, what stands out most to Ryan is "their level of communication and coordination from their office staff to the field staff." His experience working with AP Merkel over the last year has shown him that "they run a tight ship."
An example of this can be found at one of our healthcare projects currently in active construction, Grove Dental Pediatrics. Ryan has worked with Nate and Tom, AP Merkel's Superintendent who has been with the company for around 25 years. "I bid the Grove job, completed estimating, submittals, and the purchasing of equipment and piping, and Tom took it from there and is currently managing the actual job," explains Nate.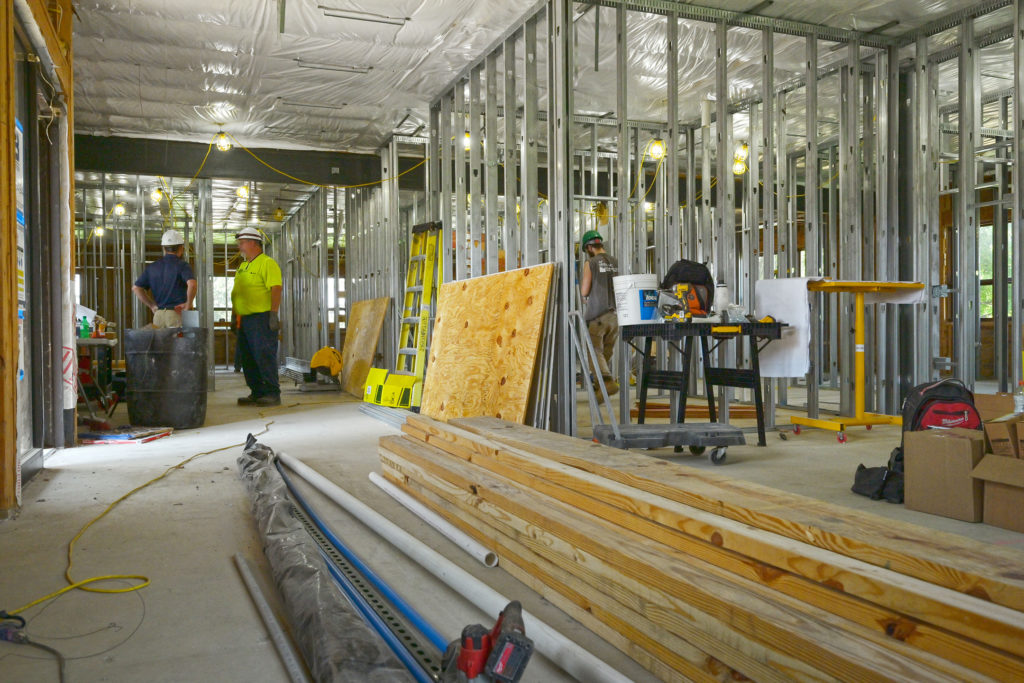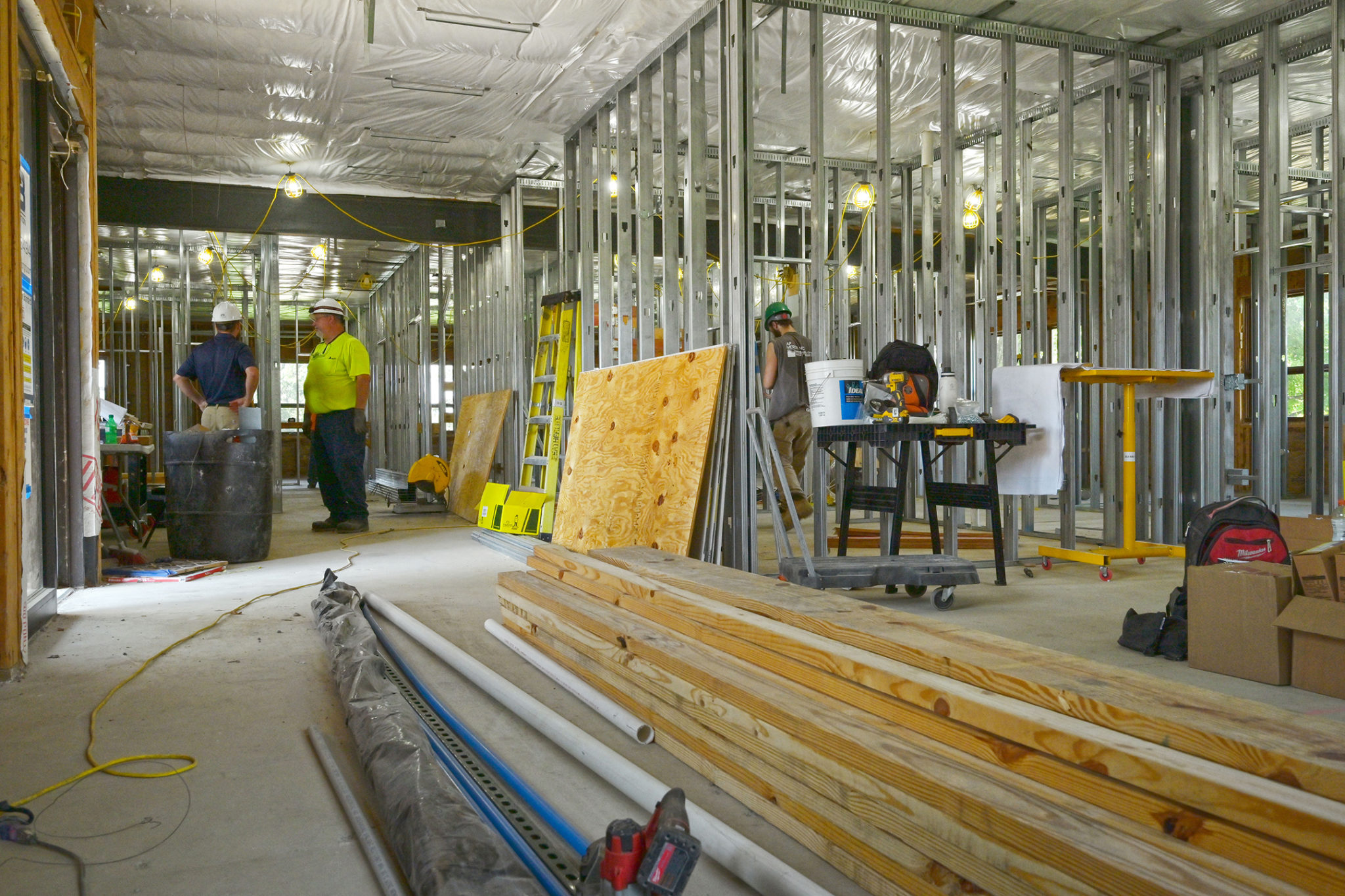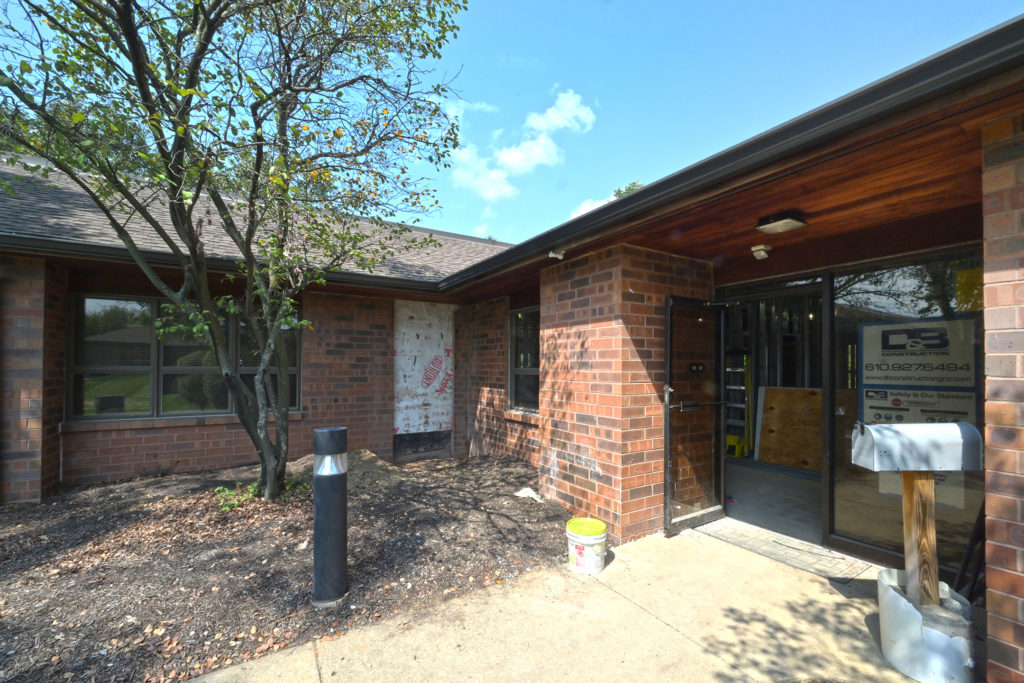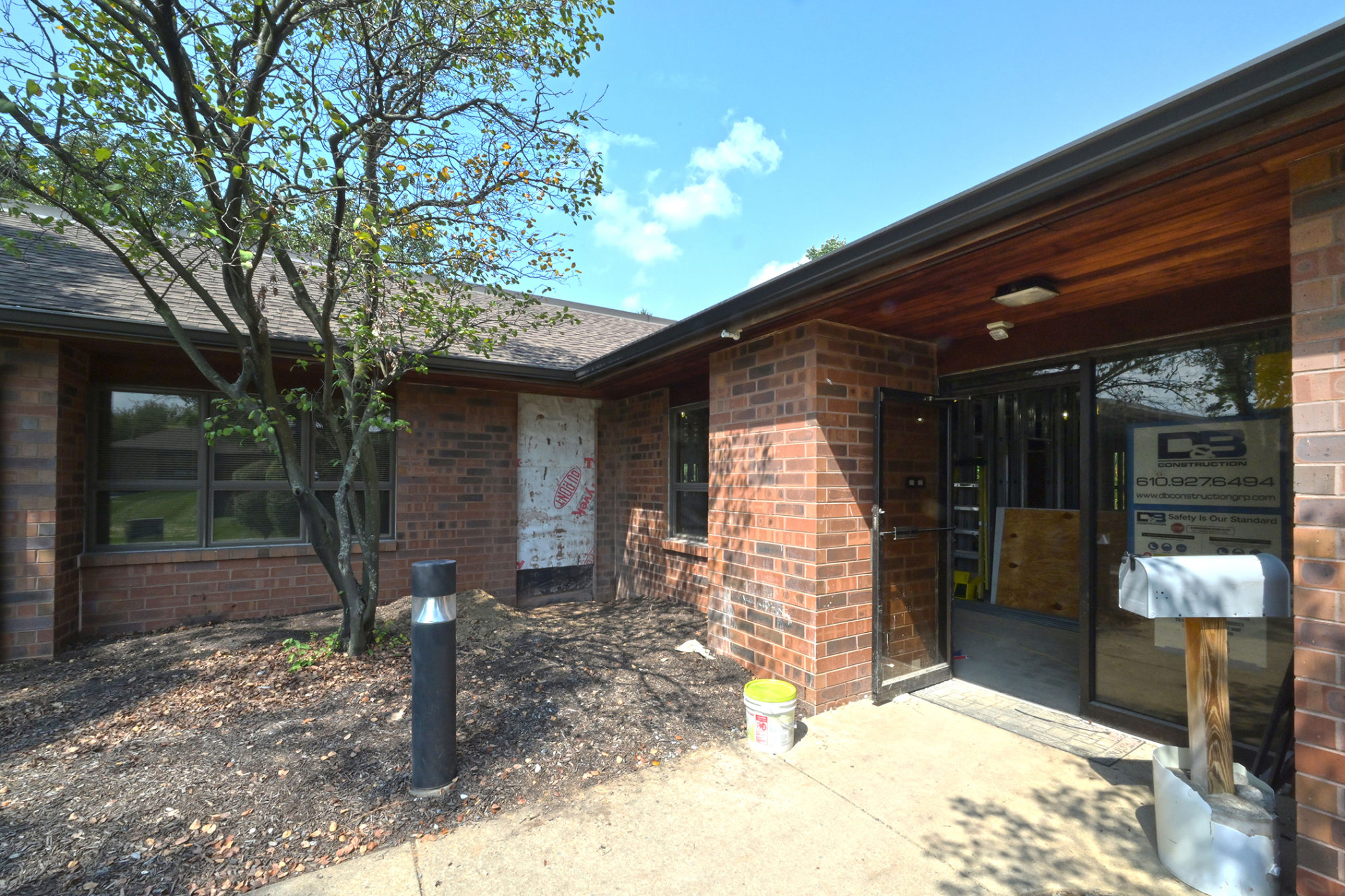 One highlight of this 3,700 SF medical office space? "This project has medical gas piping, which is something we don't deal with that often. This type of piping has to be put in very clean. It has a special fitting with a braised fitting joint. The key is to keep it clean, so when we start to install it we have to flush it with nitrogen gas," explains Nate.
We recently visited this healthcare project in Wyomissing, PA. Here's some photos of AP Merkel team members, Andy, Zach, and Scott, their lead plumber, working to keep the job running smoothly and safely with Team D&B: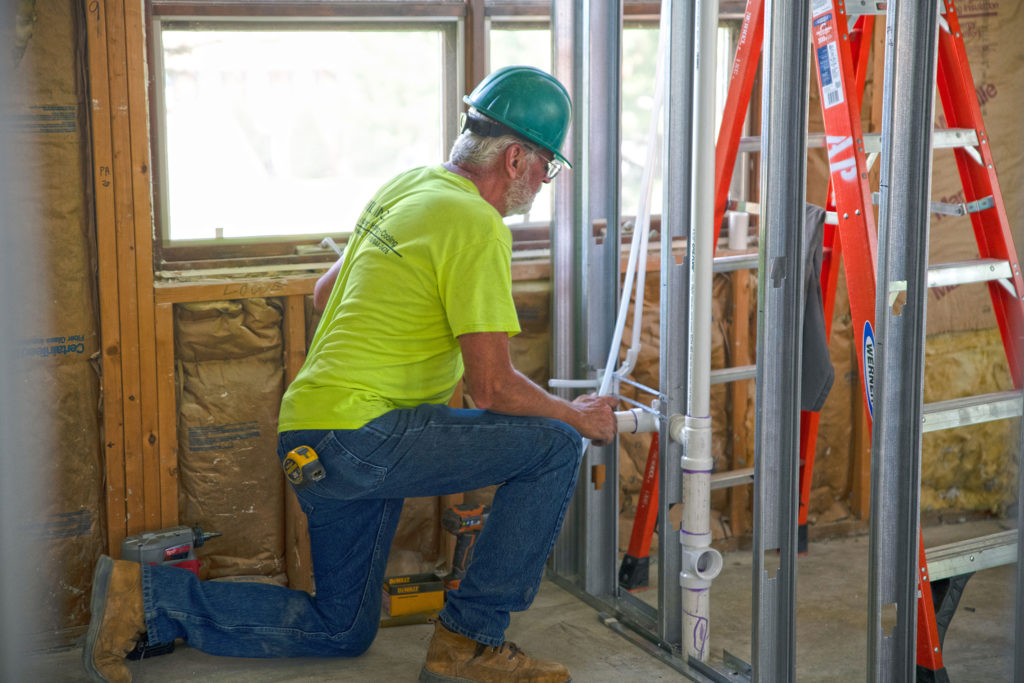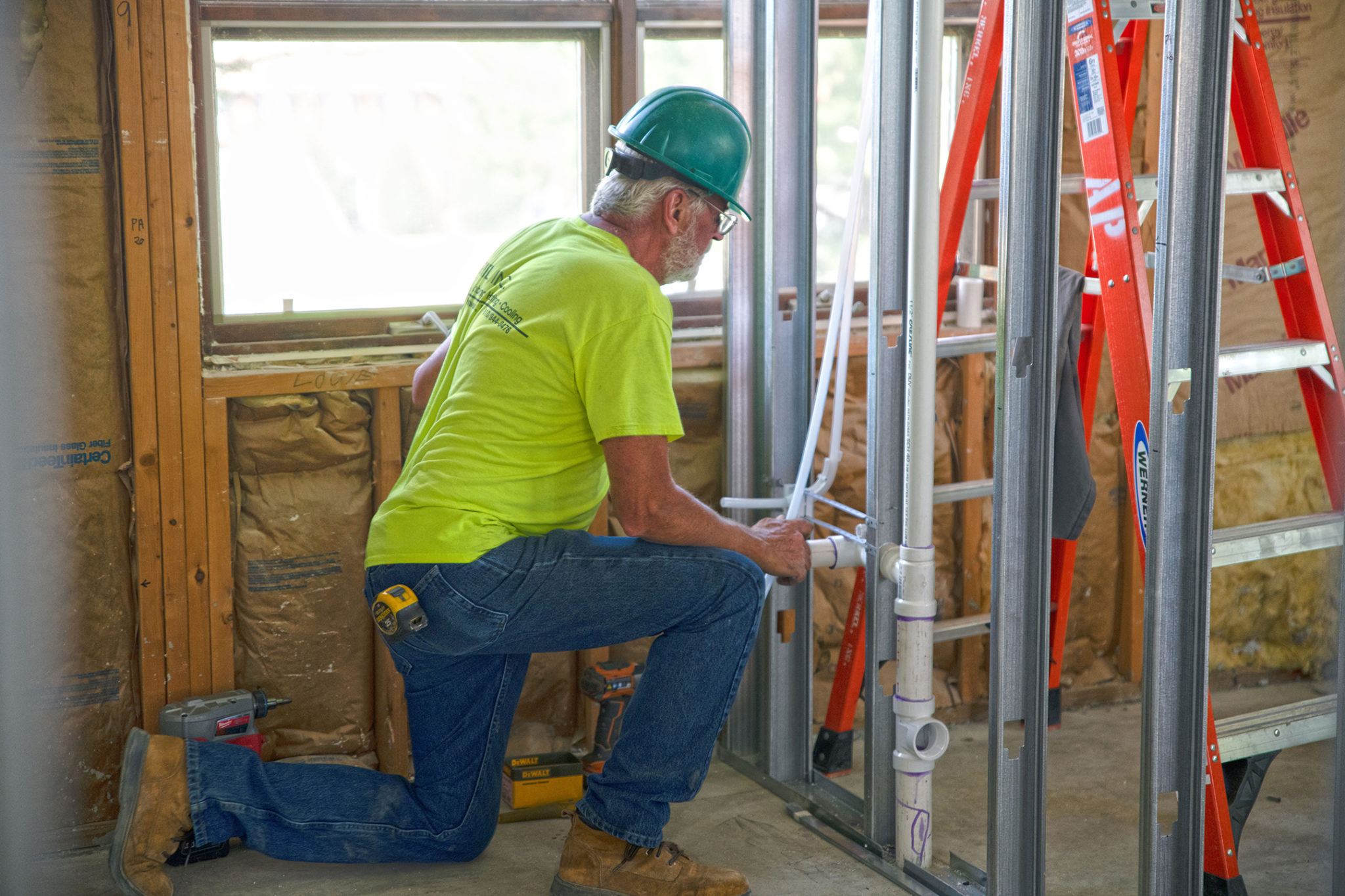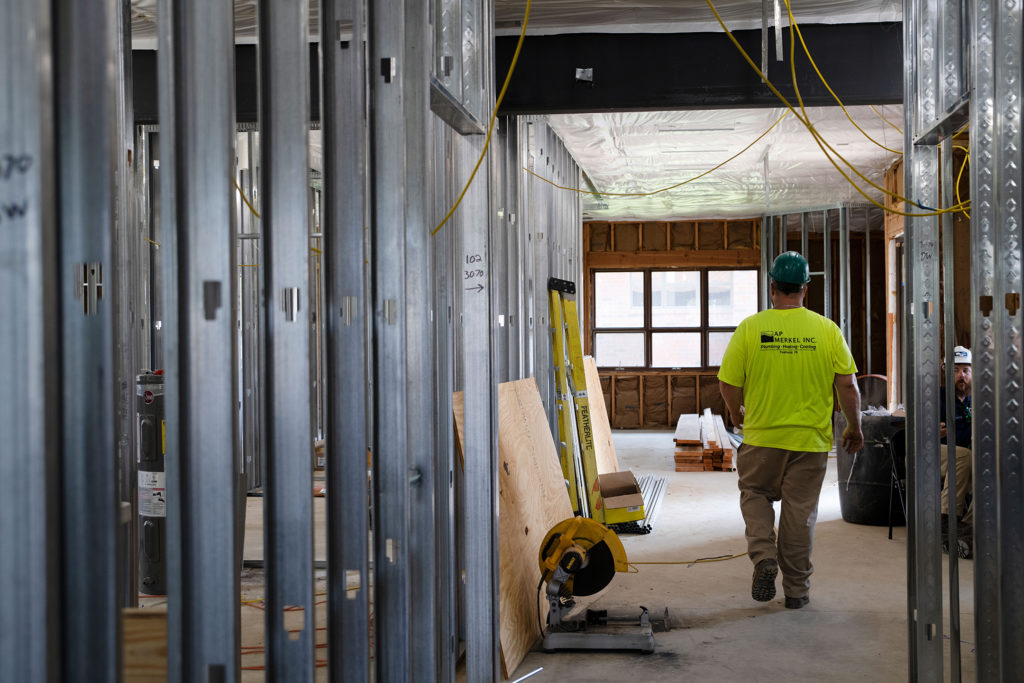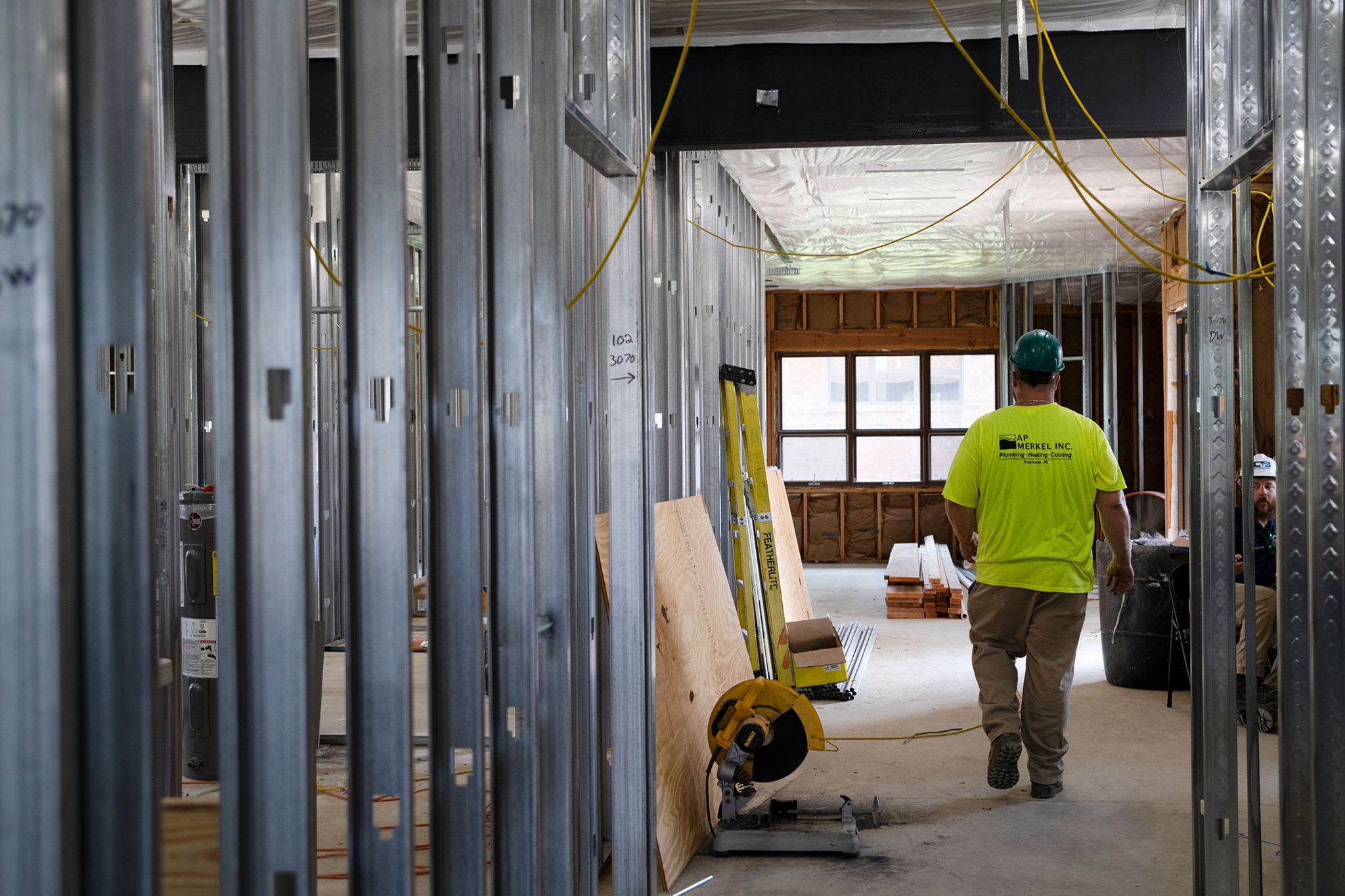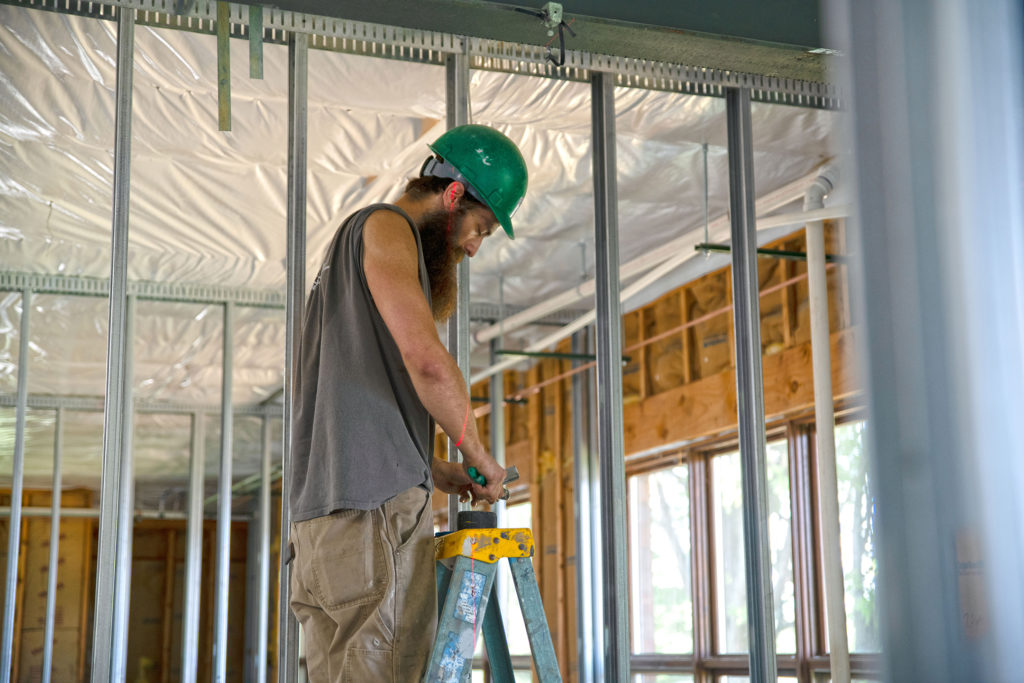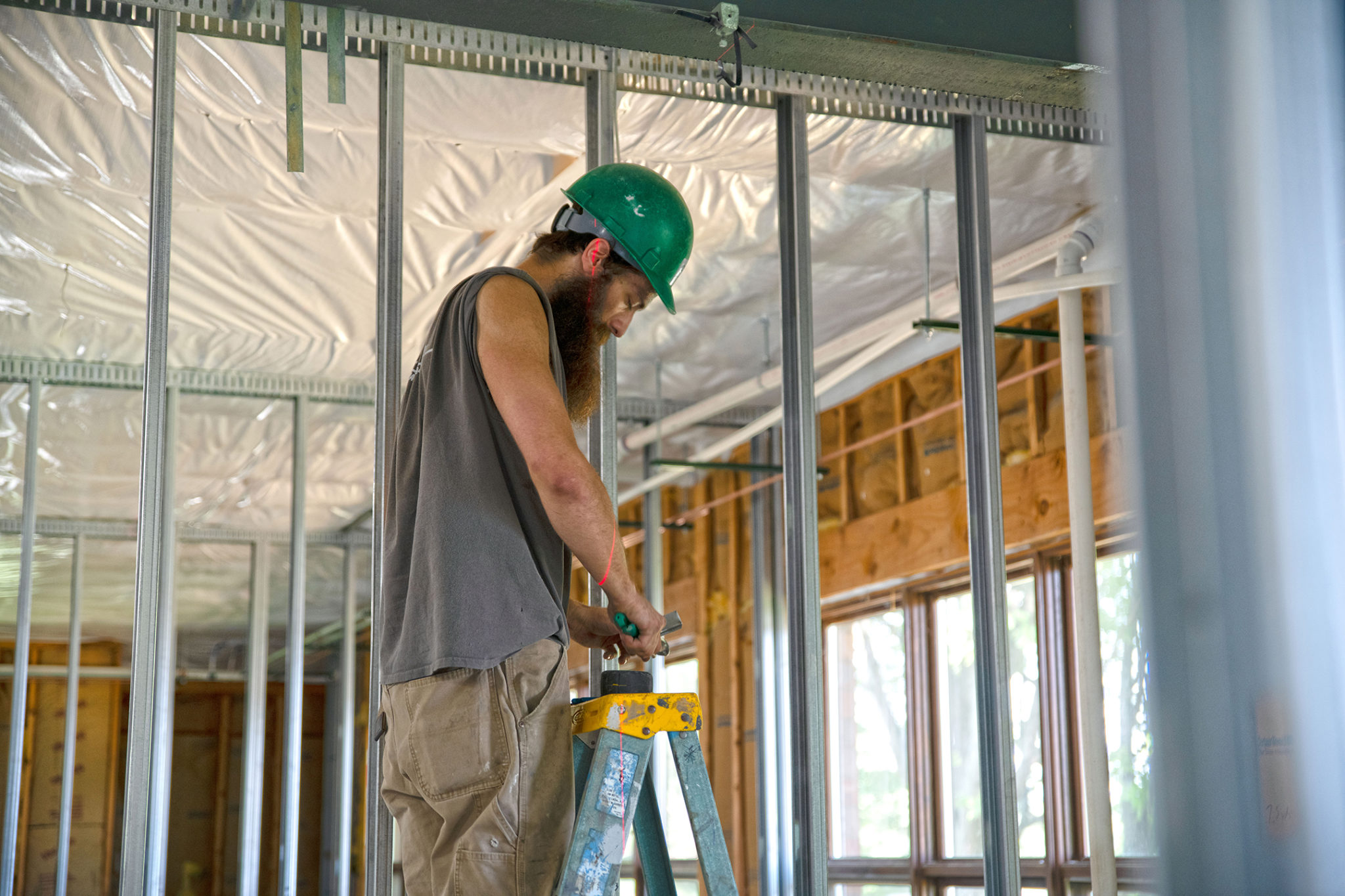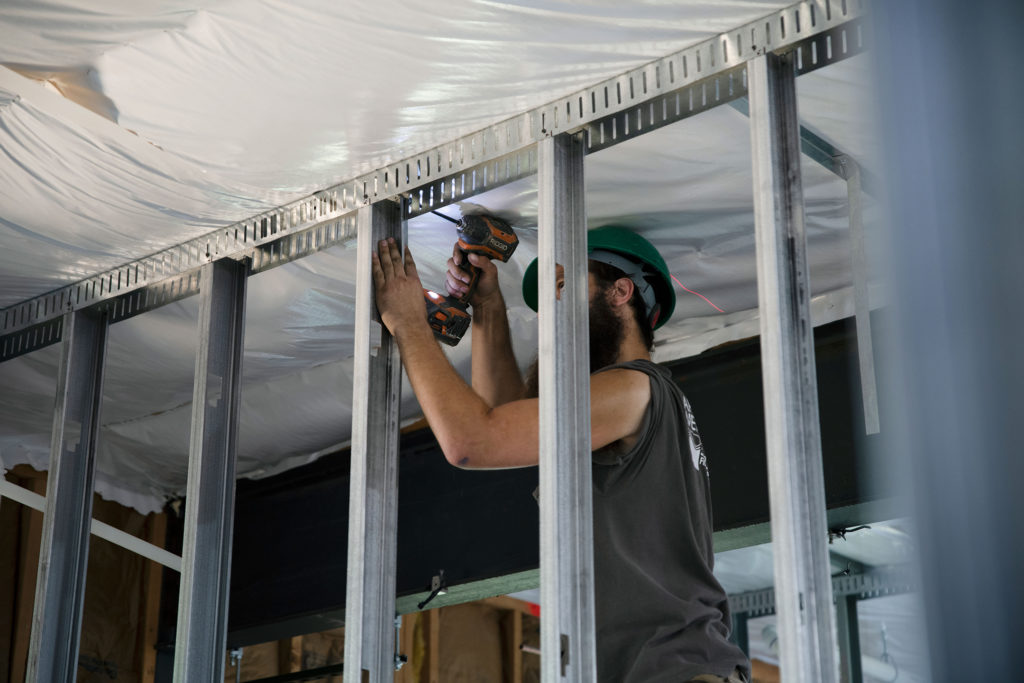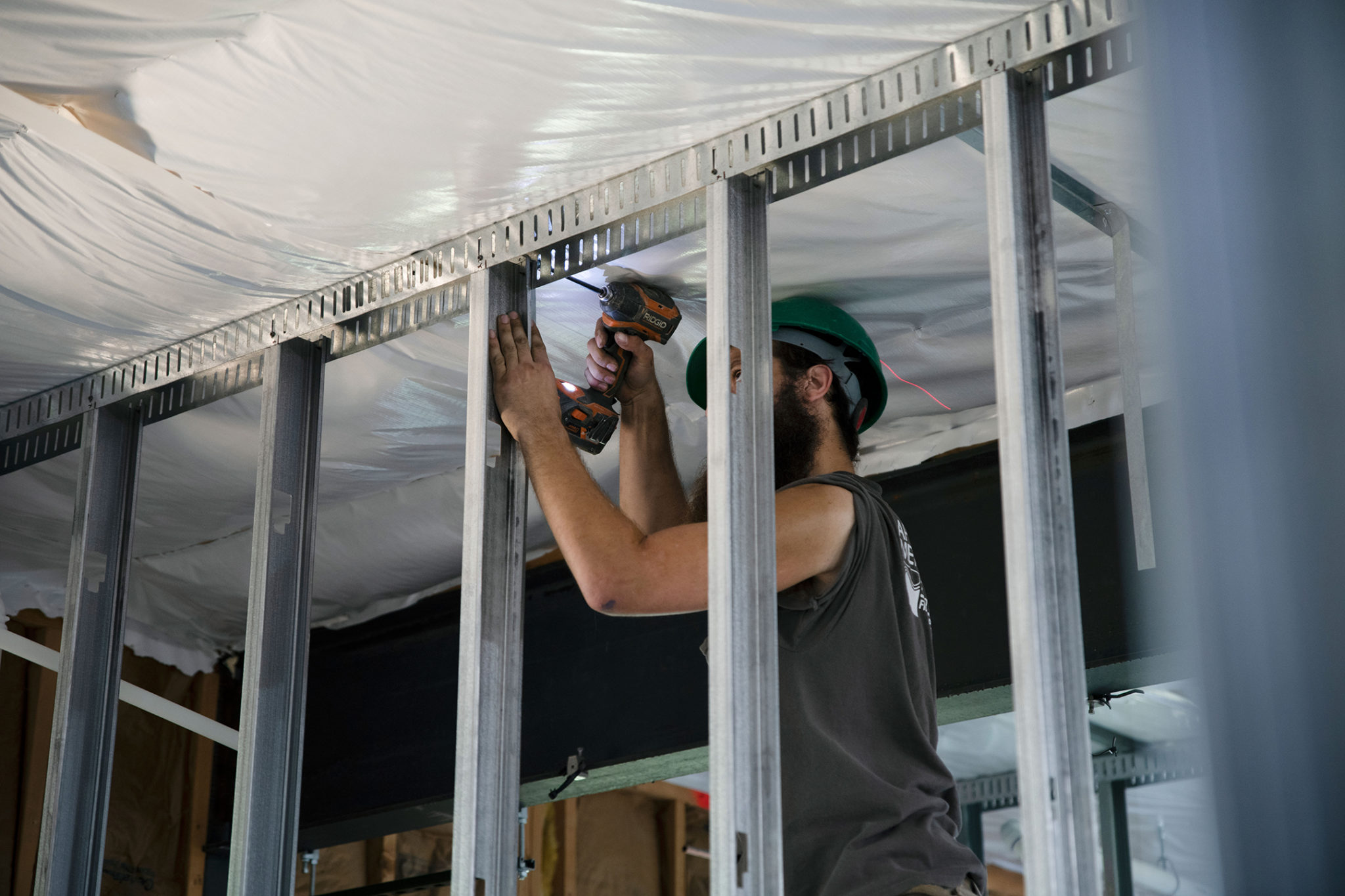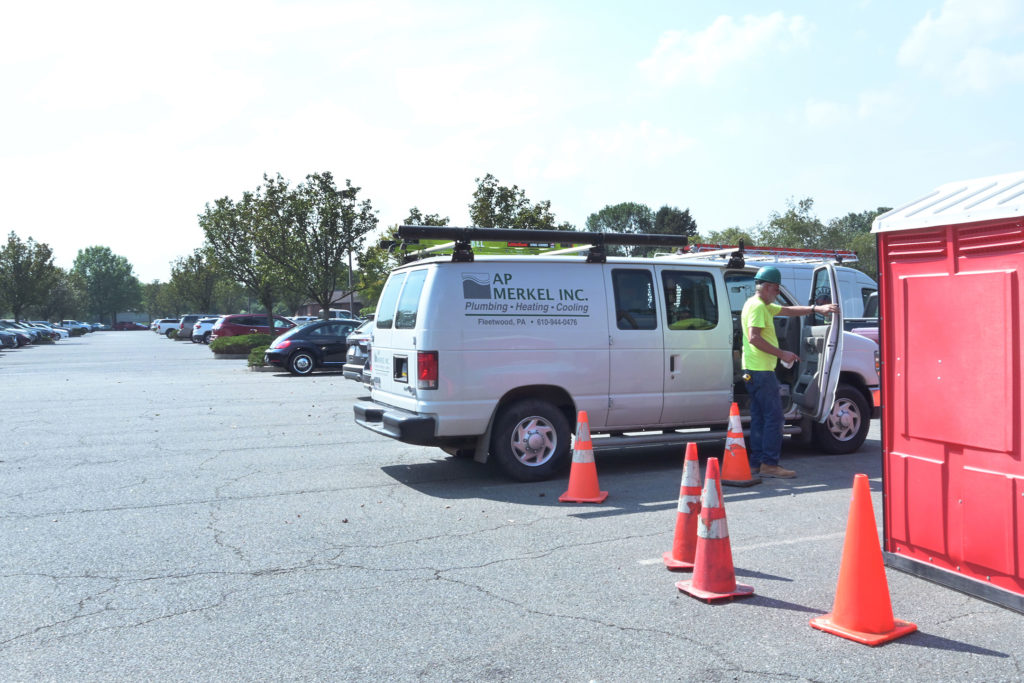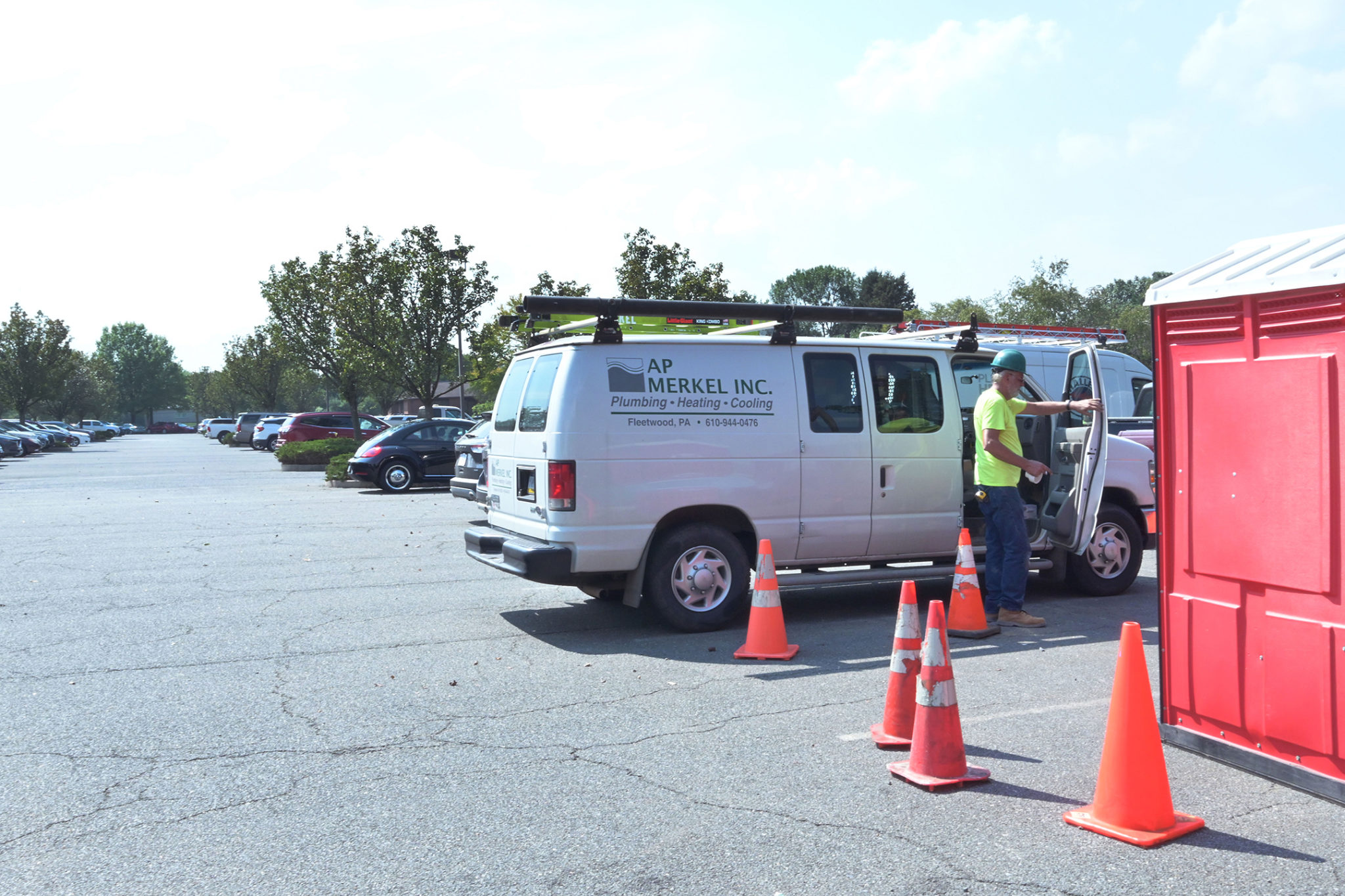 Safe + Sound is a year-round campaign to encourage every workplace to have a safety and health program. It was launched by OSHA in an effort to gain safety awareness. Every year in August, OSHA has a Safe + Sound week, with this year's taking place from Monday, August 9th to Sunday, August 15th.
This nationwide event recognizes the success of workplace health and safety programs and offers information and ideas on how to keep America's workers safe. Seven businesses make up the list of organizers who participate in planning calls, working collaboratively with each other to develop and review Safe + Sound materials and communications, and leverage their own resources to support these efforts. In addition to OSHA, these businesses include large organizations, such as the National Safety Council and . The program also has 225 partners who are membership organizations that are responsible for communication and outreach throughout the year to promote Safe + Sound to their stakeholders.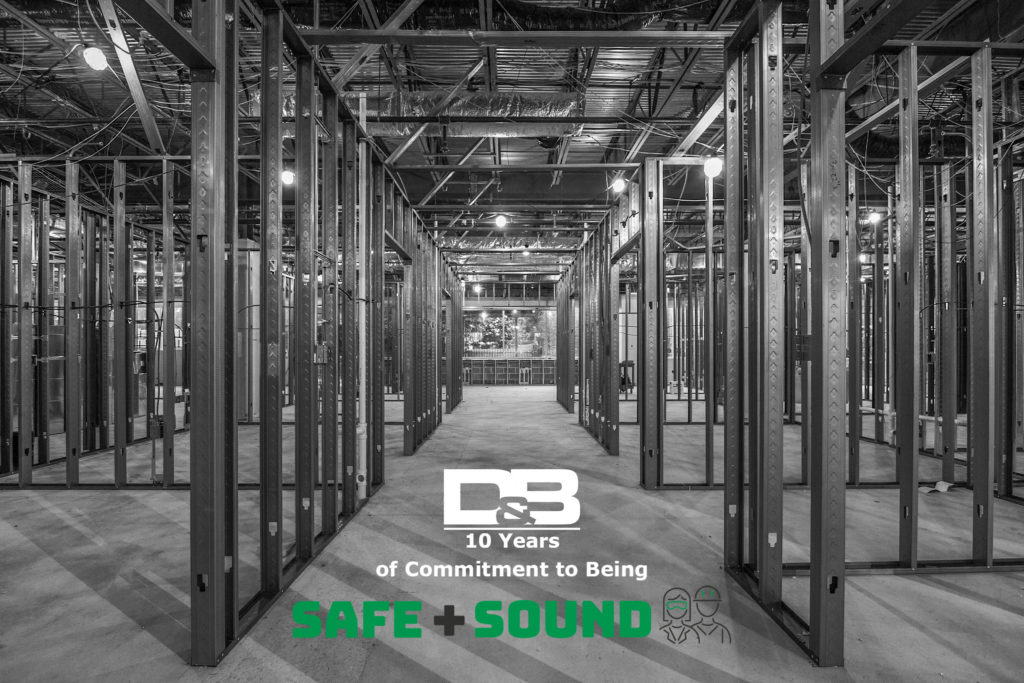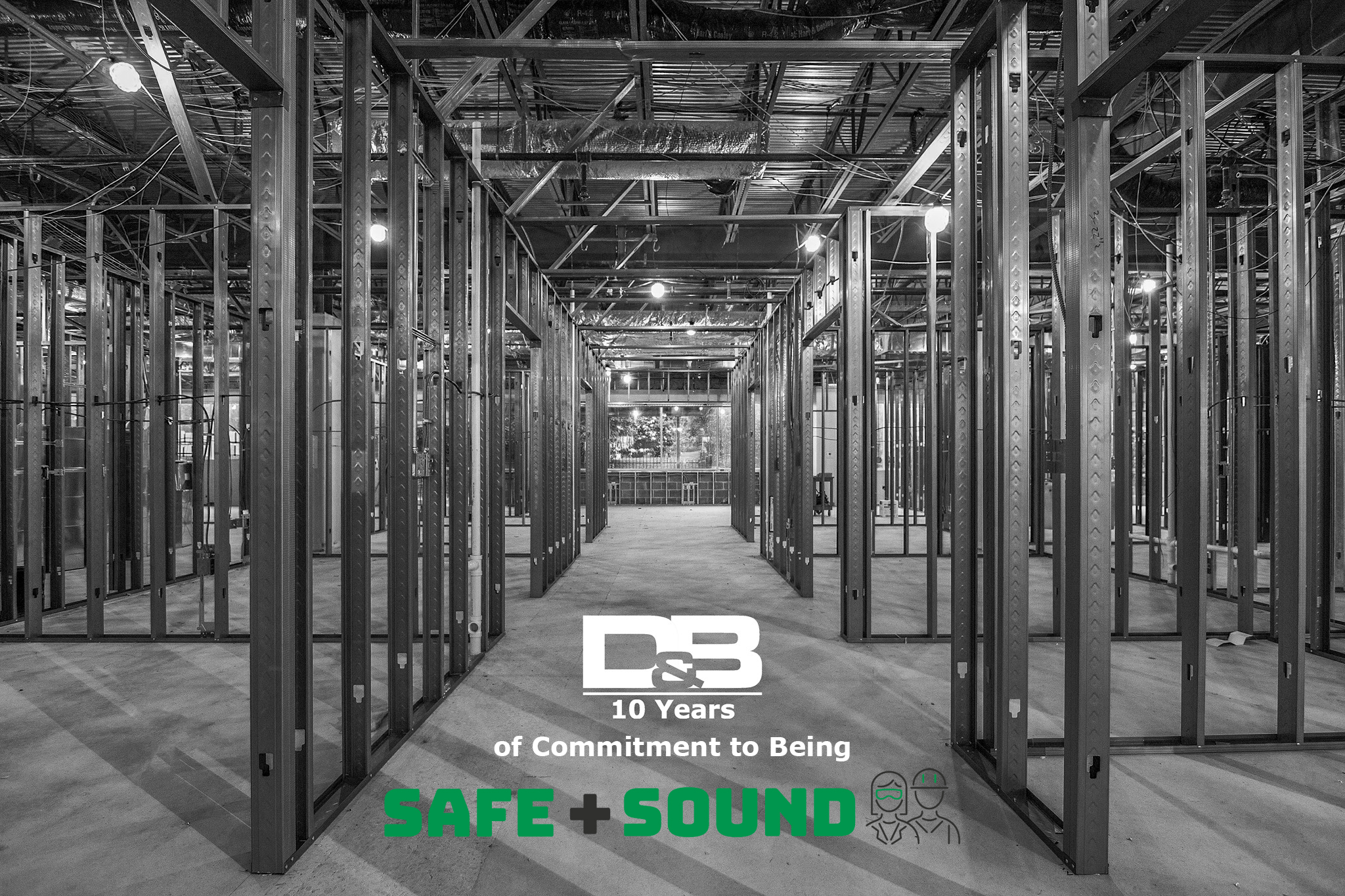 D&B Construction is one of 68 companies throughout PA (and over 1,600 across the nation) who have signed up to participate in Safe + Sound Week 2021. We are excited to show our support and commitment to continue building safer jobsites. People come first at D&B. The safety of our employees, trade partners, and clients is always paramount in every project's preparation and execution. In order to make this happen, safety and health are at the core of everything we do. Learn how here.
The Occupational Safety and Health Administration, better known as OSHA, was created in 1970 to ensure safe and healthy working conditions by setting and enforcing safety standards in addition to providing training, outreach, education, and assistance. You may have heard OSHA refer to the "Fatal Four" when describing the four most common causes of worker deaths on construction sites throughout the United States.
The four most common causes of worker deaths in this industry come from Falls,) which account for 33.5% of construction worker deaths), being struck by an object (11.1%), electrocutions (8.5%) and being caught in / between something accounted for 5.5% of construction worker deaths. According to OSHA, as of 2020 "one in five worker deaths in 2019 were in construction." The "Fatal Four" were responsible for more than half (58.6%) of construction worker deaths. According to OSHA, if these "Fatal Four" causes could be eliminated, they would save 591 workers' lives in America each year.
In 2020, OSHA gathered data on the top 10 instances of safety code violations. Learn what they are below, and hear from our Director of Construction and Safety Director, Tom, on how such issues can be avoided and prevented:
1. Inadequate Fall Prevention – 6,010 violations
What This Means: OSHA states that a violation could include not providing working conditions that are free of known dangers, failure to keep floors in work areas in a clean and dry state, as well as not providing required personal protective equipment at no cost to workers.
Tips on How to Prevent This: Our Safety Director, Tom, encourages the use of safety rails and body harnesses on every job site. "At D&B we provide these on every job site to give our workers the safest environmental possible."
2. Inadequate Hazard Communication – 3,671 violations
What This Means: Simply put, this refers to the failure to inform all people on the job site of potential risks and hazards.
Tips on How to Prevent This: "At D&B we fill out a Job Safety Analysis (JSA) and Job Hazard Analysis (JHA) on all job sites," explains Tom. "This helps us to ensure that we are communicating this vital information with all of our employees and trade partners. Communication is huge in enhancing safety."
3. Unsafe Scaffolding – 2,813 violations
What This Means: Failure to abide to OSHA standards would include improper fall protection / fall arrest systems, unsuitable guardrail height, inadequate footing support, failure to complete inspections, etc.
Tips on How to Prevent This: Work with reputable scaffolding companies that you trust. "At D&B we complete daily and weekly inspections on the scaffolding on our site to ensure we are practicing proper scaffolding safety protocols," says Tom.
4. Failure to control hazardous energy (Lockout / Tagout Violations) – 2,606 violations
What This Means: Failure to address the practices and procedures needed to disable machinery or equipment that may expose workers to hazardous energy.
Tips on How to Prevent This: "There is no better way to ensure this mishap is avoided then by requiring all electricians on your job site to use lockout and tagout procedures on all powered equipment and panel boxes," says Tom.
At D&B, we include the following lockout safety poster on our Safety Board at all jobsites: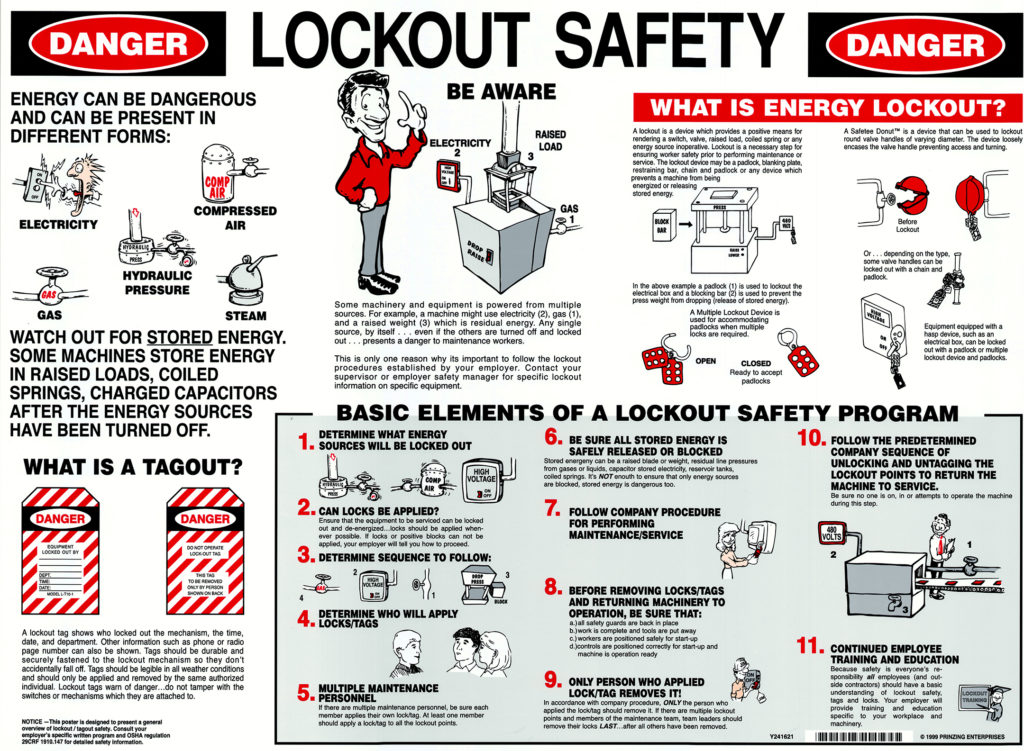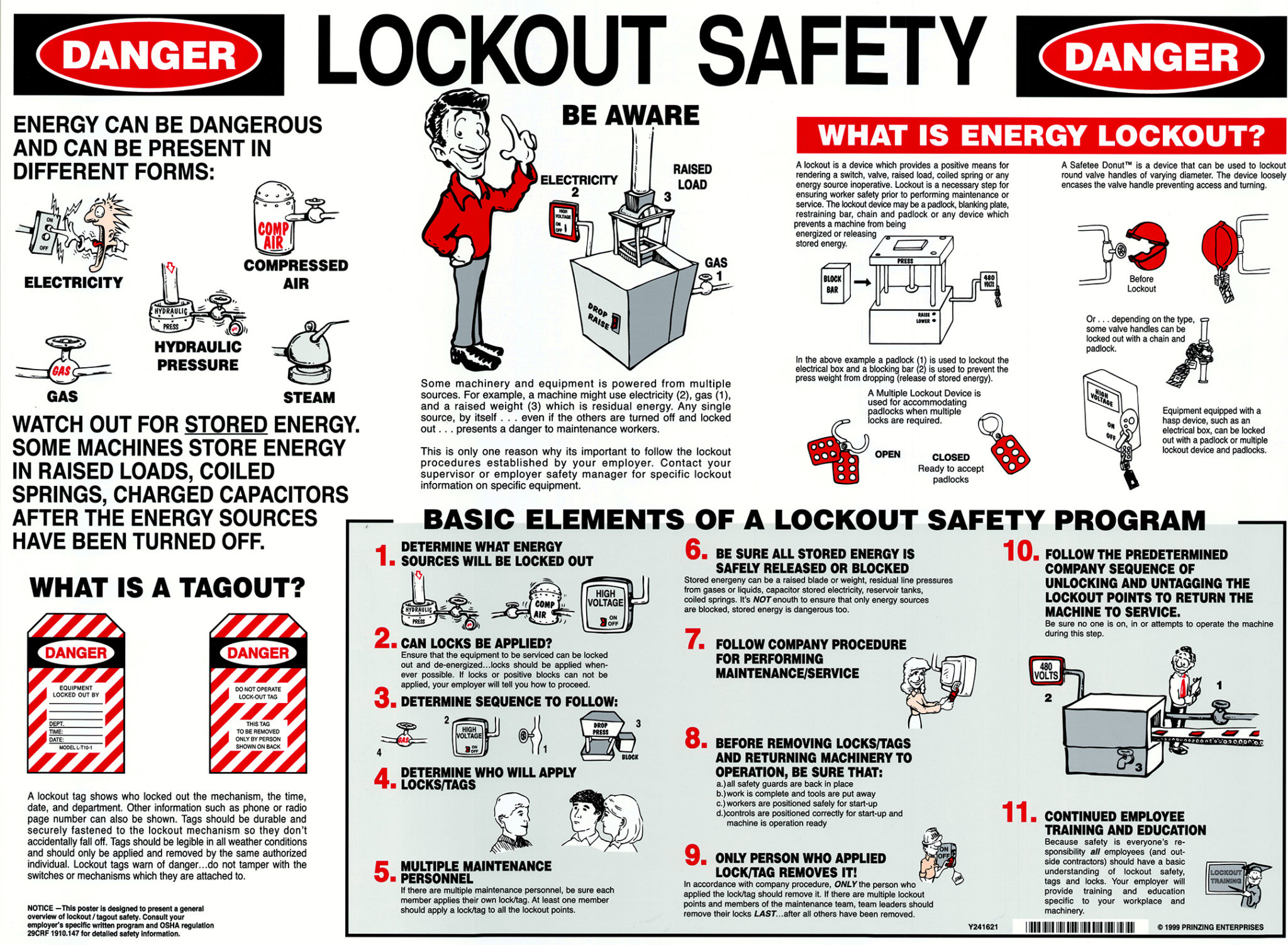 5. Inadequate Respiratory Protection – 2,450 violations
What This Means: A violation would include not providing the proper respiratory protection.
Tips on How to Prevent This: "In addition to providing dust masks to all employees, it is important to utilize clean air machines and air scrubbers such as HEPA filters on your job sites," says Tom. "In any situation where there are environmental hazards present, we as a company will hire a reputable remediation company to ensure the safety and health of all people on the job site. I highly recommend doing this when the elements require it."
6. Unsafe Ladders – 2,345 violations
What This Means: This could include placing a ladder on a box or barrel, using ladders where there is unstable footing or soft ground, exceeding a ladder's maximum load rating, ignoring nearby overhead power lines, moving or shifting the ladder while a person or equipment is on it, using an extension ladder horizontally as a platform, etc.
Tips on How to Prevent This: "Have your Site Superintendents check ladders on a daily and weekly basis. If any ladders are deemed unsafe or defective, they should be removed immediately," says Tom. Unlike hard hats, for example, there is no specific expiration date for ladders. Following proper storage techniques and treating ladders with care can help in making them last longer.
7. Powered Industrial Truck Safety Violations – 2,093 violations
What This Means: This refers to improper vehicle use, lack of training, and a failure to re-certify operators every three years as required.
Tips on How to Prevent This: " At D&B, we make sure all of our Pettibone and Lift operators are certified, and we require lift plans for any kind of crane lifts. This is something I recommend everyone get in the habit of making a standard practice."
8. Inadequate Fall Prevention & Training Requirements – 1,773 violations
What This Means: Failure to provide proper fall prevention training is something that can easily be avoided if proper training and communication on fall prevention is completed on all job sites.
Tips on How to Prevent This: "All D&B Construction field personnel are OSHA certified, and we also hold training sessions throughout the course of the year," explains Tom.
At D&B, we include the following fall protection poster on our Safety Board at all jobsites. This is an easy way to remind everyone on the job site of how to best prevent falls.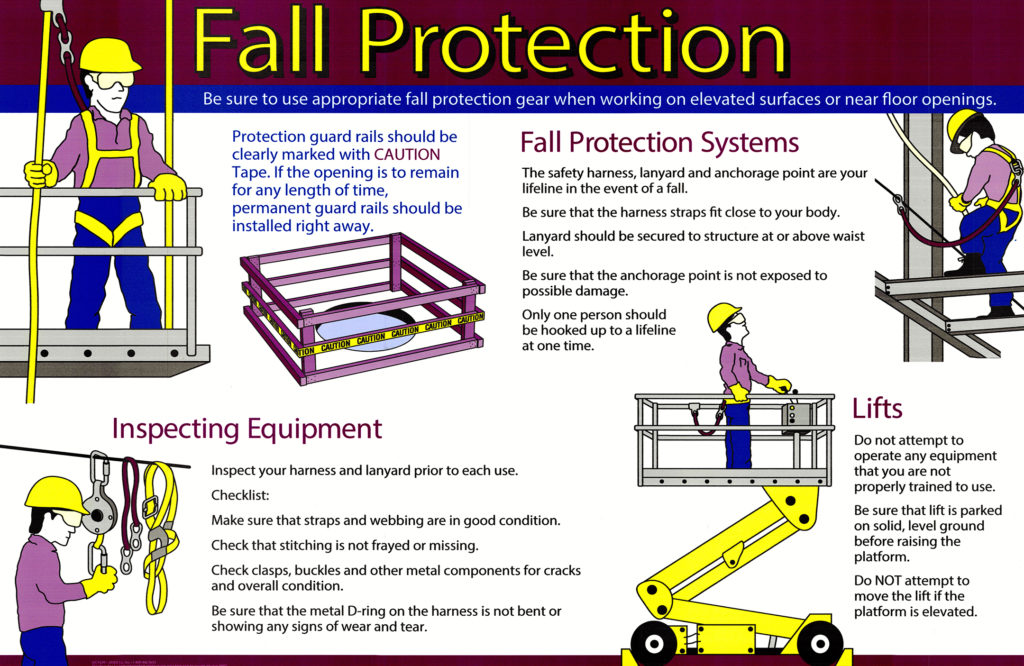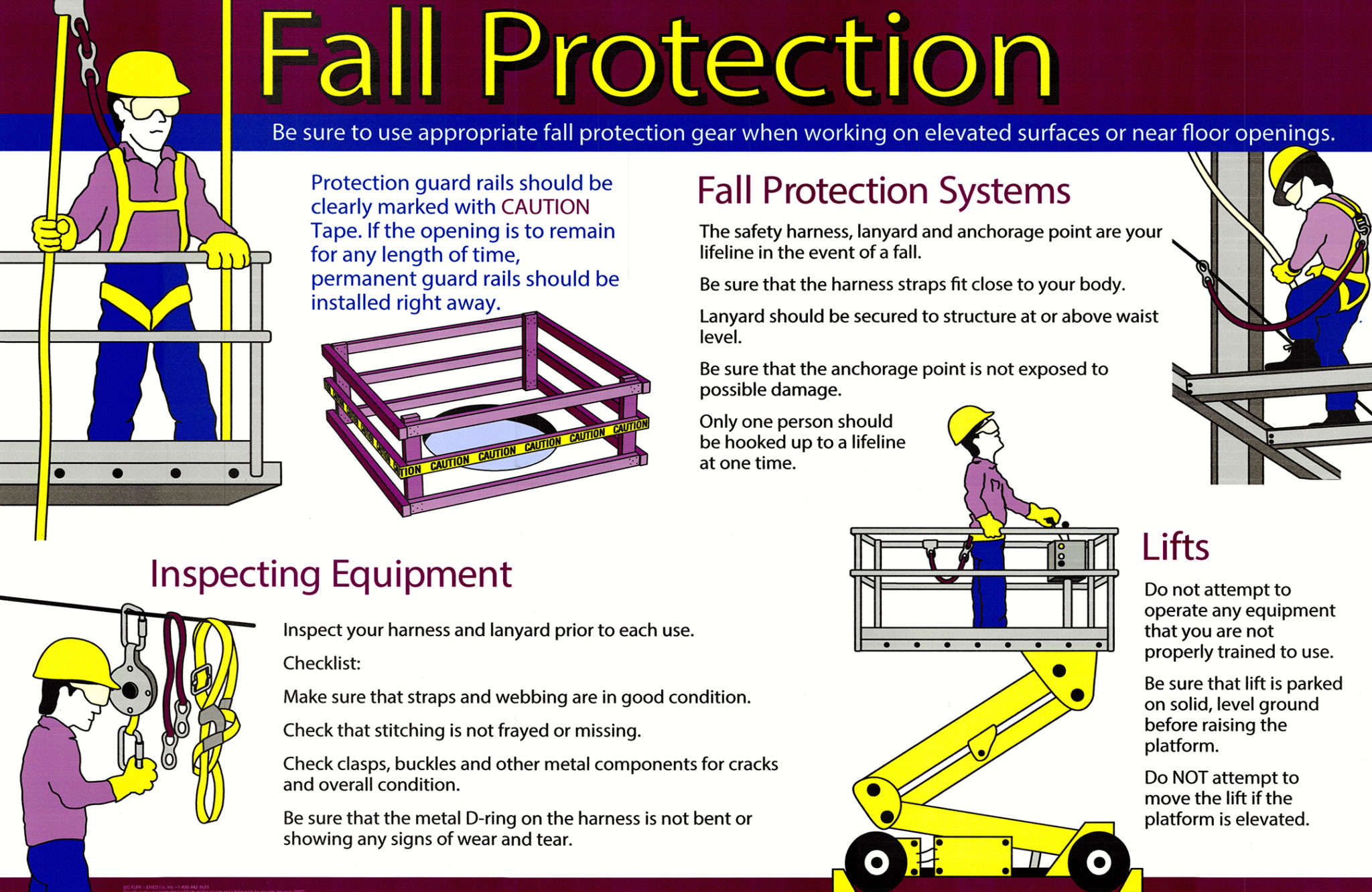 9. Unsafe Machinery and Inadequate Machine Guarding – 1,743 violations
What This Means: Failure to provide one or more methods of machine guarding to ensure the safety of the operator and others in the nearby area can result in an unsafe job site.
Tips on How to Prevent This: "All powered tools are inspected for proper and adequate guarding by a D&B employee, such as the Site Superintendent, before use," says Tom.
10. Inadequate Personal Protective and Lifesaving Equipment, Eye and Face Protection – 1,411 violations
What This Means: Failure to make the appropriate personal protective equipment available to all employees at no cost is something that should not occur anywhere.
Tips on How to Prevent This: "Keep inventory of safety equipment, such as safety glasses and hi-visibility vests, for all of your employees. At D&B, we keep a document that is updated every time a new hire starts so we know the date in which they received all of their issued PPE. This makes it easy for us to keep taps on when hard hats will expire and new ones will need to be re-issued. We also provide respiratory and hearing protection on every job site."
According to the U.S. Bureau of Labor Statistics, the construction industry had 195,600 workplace injuries and 3,600 workplace illnesses in 2019. More specifically, Pennsylvania's non-fatal workplace injury and illness rates were above the national average. The Center for Construction Research and Training's Fatality Map Dashboard also shows that since data started being collected in 2011, Delaware has had 17 fatal injuries in construction, New Jersey has had 145, and Pennsylvania has had 213 fatal injuries. With these statistics in mind the importance of practicing safety is pretty clear.
"Safety Weeks such as this one exist so we can create awareness and reduce the number of fatalities our industry sees," concludes Tom. "Chances are that some of the fatalities seen could have been prevented if better communication and more training took place. That's why our team at D&B is focused on achieving safety every day through daily safety checks on site."
Let us know how you work to prevent incidents on the job site in the comments below, and consider joining D&B and thousands of other companies in taking the pledge to be Safe + Sound – both throughout this week and every day.
White-sand beaches, warm weather, great food, and high-end luxuries are everything that Miami is known for. The small town of Surfside is no exception with its reputation of being pleasant, quiet, safe, and affordable. As you likely may have heard, Surfside recently become the center of attention for many people after tragedy struck the small town in June.
On June 24th Surfside's 12-story beachfront condo, Champlain Towers South, partially collapsed at about 1:25 AM with its residents inside. As of Monday, July 26th, the last victim's remains were identified. This brought the final death toll to 98 people after tedious efforts were made to account for every resident, and officials have now confirmed that remains for each person considered missing after the collapse have been recovered. The efforts made were the largest emergency unrelated to hurricanes ever conducted in the state, with search and rescue teams from throughout Florida, many other states, and even Israel and Mexico coming together to bring closure to families.
According to the New York Times, this disaster is one of the deadliest structural building failures in American History. Many residents are still in shock. Community Members Peggy Streter and her husband own The Carrot Café located in downtown Surfside. The two have claimed to know about 50 people who lived in the condo. The Streters are not the exception. Miami's building chief, Charles Danger said, "Everybody in Miami knows somebody from that building or knows somebody who knows somebody."
The rest of the building was demolished on Sunday, July 4th in efforts to continue the search. Once all remains were identified of those missing, officials began steering their focus to determining what could have caused the collapse. Since then the building has continued to be in the limelight, as many of the building's records that would help investigators learn why the building fell could not be found, and the not-so-easy conversation over the fate of the site has started to take place. Here's a quick summary of what is known:
Initial Concerns for the Condo
People living in Surfside Condos, which were completed in 1981, had previously voiced their concerns about the structure of the building they called home, so the collapse does not come as a surprise for some. After a DEA building collapsed in Miami almost half a century ago, taking the lives of seven employees and injuring 16 others, two Miami counties instilled new regulations requiring buildings that have stood for 40 years to be investigated for any problems. Since Champlain Towers South was in one of these counties, their mandatory 40-year inspection took place in 2018.
When the condo was inspected by engineer Frank Morabito in 2018, he identified that there was a flaw in the original construction of the building that was causing structural damage. Morabito mentioned the main issue was that the pool deck and outdoor planters had been "laid on a flat structure." Since there was no slope where the pool stood, standing water was not able to drain off the pool deck. Instead, the water would sit on the waterproofed concrete until it evaporated. At the time of inspection, the water-proofing concrete had failed, causing the water to seep through resulting in "major structural damage to the concrete slab below these areas." The report also pointed out distress and fatigue in the concrete, columns, beams, and walls of the parking garage below the pool area.
Morabito's report said that "failure to replace the waterproofing in the near future will cause the extent of the concrete deterioration to expand exponentially." He could not predict that this may lead to the collapse of the building, however he said that repairs to the concrete were needed for "maintaining the structural integrity" of the building. The waterproofing and structural issues of the condo were never addressed by the owner's association.
Fast forward to 2019 when a neighboring luxury tower was being built. Residents of the Champlain Towers South condominium complained that construction would often cause their building to shake. This led to a resident and board member of the condo association, Mara Chouela, voicing her opinion that workers were "digging too close" to the property. She said they "have concerns regarding the structure of our building." Just 28 minutes later, official Rosendo Prieto responded to Chouela stating that "there is nothing for me to check."
There is no concrete evidence that construction of the condo's neighbor contributed to the collapse of the building, and it is still unclear if the lack of action from the owner's association was a major factor in the building's collapse. Cassie Stratton, a resident who was inside the building during the collapse, reportedly told her husband on the phone that she saw the pool cave in first, backing up Morabito's claim that the waterproofing of the pool was necessary to maintain the structure of the building.
The fact remains that residents were concerned for the structure of the condo, and they felt as if no one took the necessary action to redeem the structural integrity of the building.
Expert's Findings
The city of Surfside hired a structural engineer, Allyn Kilsheimer, to inspect the site and determine the cause for the buildings collapse. Kilsheimer says it is "maybe not an individual cause, but two or three things that contributed and/or caused this failure." While the pool could have been a major issue to the structural problems, it is still unclear and there are many theories that will be examined.
In addition to hiring Kilsheimer, another group was hired to lead the charge to uncover what caused the collapse since this was such a big case. The NIST (National Institute of Standards and Technology) will be working constantly to investigate the situation. They say that "a fact-finding investigation of the building performance and emergency response and evacuation procedures will likely result in significant and new knowledge or building code revision recommendations needed to reduce or mitigate public risk and economic losses from future building failures."
How this Tragedy may Impact the Industry
Like many others, we have been wondering what caused this to happen. Matt Knight, Senior Estimator at D&B Construction, has been working in the industry for over 20 years. He has been involved with the construction of many large, well-known buildings, including the 9/11 Memorial.
Matt did not do any research, but from what he saw "the building collapsed from the bottom up," which makes him think "there would be structural cracks in the floor, columns, beams, etc." As we know now, these structural cracks were found by engineers and deemed to be a major structural concern prior to the collapse of the building. Much like Allyn Kilsheimer, Matt believes that it is likely there are multiple causes for the failure of Champlain Towers South.
One of the theories that Matt believes had a big role in the building's collapse was the fact that the condo had been sinking at a rate of two millimeters per year from 1993 to 1999. Scientists also discovered evidence of other areas nearby sinking as well. Matt says that one of the most important things when constructing large buildings is to make sure you are building on good soil. Since the condo was slowly sinking, Matt believes they likely "built on unsuitable soils and never got the compaction they needed." He notes that if soil is not properly compacted so that it is suitable for the building, everything else will eventually fail. "If you are building from the ground up your soil underneath is, of course, most important," he concludes. For now, Matt is waiting to learn more about what caused the failure once the investigations are conclusive.
What we can Conclude and How to Move Forward
At the end of the day, the collapse of Champlain Towers South was a tragedy, however Matt tries to look at how the industry as a whole can learn from what happened. "Usually a lot of good things will come out of a catastrophic failure. For example, we learned a lot from 9/11, and today those World Trade Center Towers are not being built the same way," he says. Matt believes the industry will learn valuable lessons from this, and it will improve how we are constructing buildings overall. He would not be surprised if there will be changes for older building's codes, especially around that area. Matt also proposes the idea of a new law emerging from this that would make building owners, when aware of structural damages, either make the repairs or move everyone out until they do.
While we wait to learn more, one question many still have is whether or not limitations on technology when the condo was built play a factor in the failure of Champlain Towers South? When the condo building was constructed in 1981 many of the rules and regulations that we have today were not in place. Miami was also known for "slipshod construction," and in some cases they were known to take the look-the-other-way approach when enforcing building codes and regulations. While their construction practices were not nearly as good then as they are now, they also did not have access to the technology we have now.
Specifically, VDC (Virtual Design and Construction) and BIM (Building Information Modeling) are tools that Matt says, "could have helped if they had it during original construction". BIM is a tool for 3D modeling and data input of physical objects, while VDC uses BIM models to plan the construction process from beginning to end. Watch a video to learn more about VDC and BIM here. Using technology like BIM and VDC essentially allows you to build the entire project virtually before building it in the real world, which can decrease cost and time put into a project while also increasing safety. We may often take technology like this for granted, but it is interesting to think about what the world of construction would have looked like in the 80's if society had access to these technologies that we can now use every day.
D&B is interested to hear your thoughts. Do you think new technologies will help to prevent disasters like the one in Surfside? What policies and procedures do you think should be put into place to help increase safety and avoid disasters such as this from happening in the future? Let us know in the comments below!
Open floor plans in office spaces first made an appearance in the 1940s and later evolved in the 1960's where they were used as a means of symbolically showing the company's culture. Offices with open floor plans continued to be prevalent during the tech boom of the 1990's, and in 2005 they became a real inspiration for innovation.
In 2005, Google completely renovated their headquarters signaling the "dawn of a new professional era." The project architect, Clive Wilkinson, explained that they got rid of the cubicle because of Google's "We're inventing a new world, why do we need the old world?" attitude. Many companies followed suit in later years, asking to be "Google-fied." Just 10 years after Google's office transformation, Facebook would follow suit, creating an office space that held 2,800 employees across 10 acres. The headquarters would claim to be the largest open floor plan office in the world.
Offices with open floor plans have become a major trend in recent years. Although they all don't span across 10 acres like Google's may, they still pose a timely question as people return to the workplace: Will this office layout and design work in a post COVID-19 world?
As the world rethinks how we work, it will be interesting to see how office layouts as we know them will transform in the upcoming years. Companies currently looking to re-imagine or add onto their office space may currently be weighing the pros and cons that an open floor plan offers. Let's take a look at some of them:
Pros and Cons of an Open Floor Plan
One of the biggest arguments supporting the open floor office design is that it provides the employee with a unique social aspect that other office designs do not offer. The social interactions in an office can provide a large system of support to your employee, helping with the individual's motivation and overall productivity.
Depending on its design, an office can provide a balanced social and cognitive environment for their employees. When optimized, an open floor office design will have a good mix of spaces that are intended for different uses and easily adaptable to fit the employees' specific needs.
One way that our team at D&B likes to incorporate an open floor plan into a re-imagined commercial office space is through installing aesthetically pleasing glass doors throughout. This trend gives companies a modern, sleek and updated look. An example of this look from one of our past clients can be found in Power Kunkle's large conference room.
Although many would argue that open floor plans are here to stay, some would dispute that noise, a lack of privacy, and opportunity for distraction may cause an increase in errors, lack of production, and sometimes stress with this layout design. In 2018, the Harvard Business Report found that "open offices reduce face-to-face interactions by about 70% and increase email and messaging by roughly 50%."
This quick look at the pros and cons of an open floor plan illustrates that this design is not a one size fits all solution. Members of Team D&B believe that transformative office spaces will increase in demand, and it looks like the latest research agrees.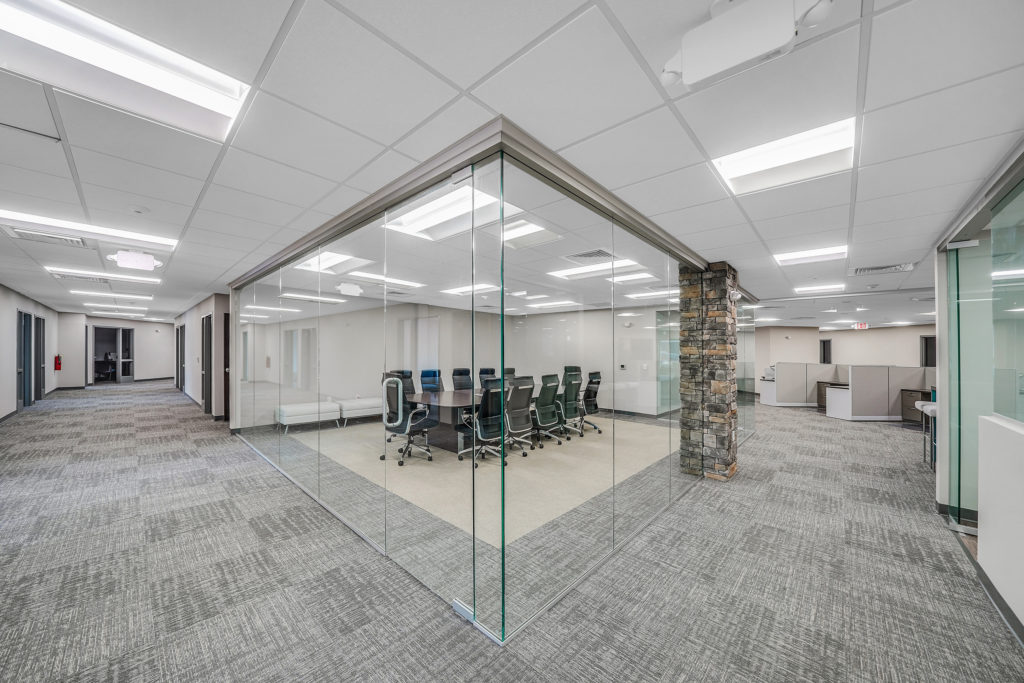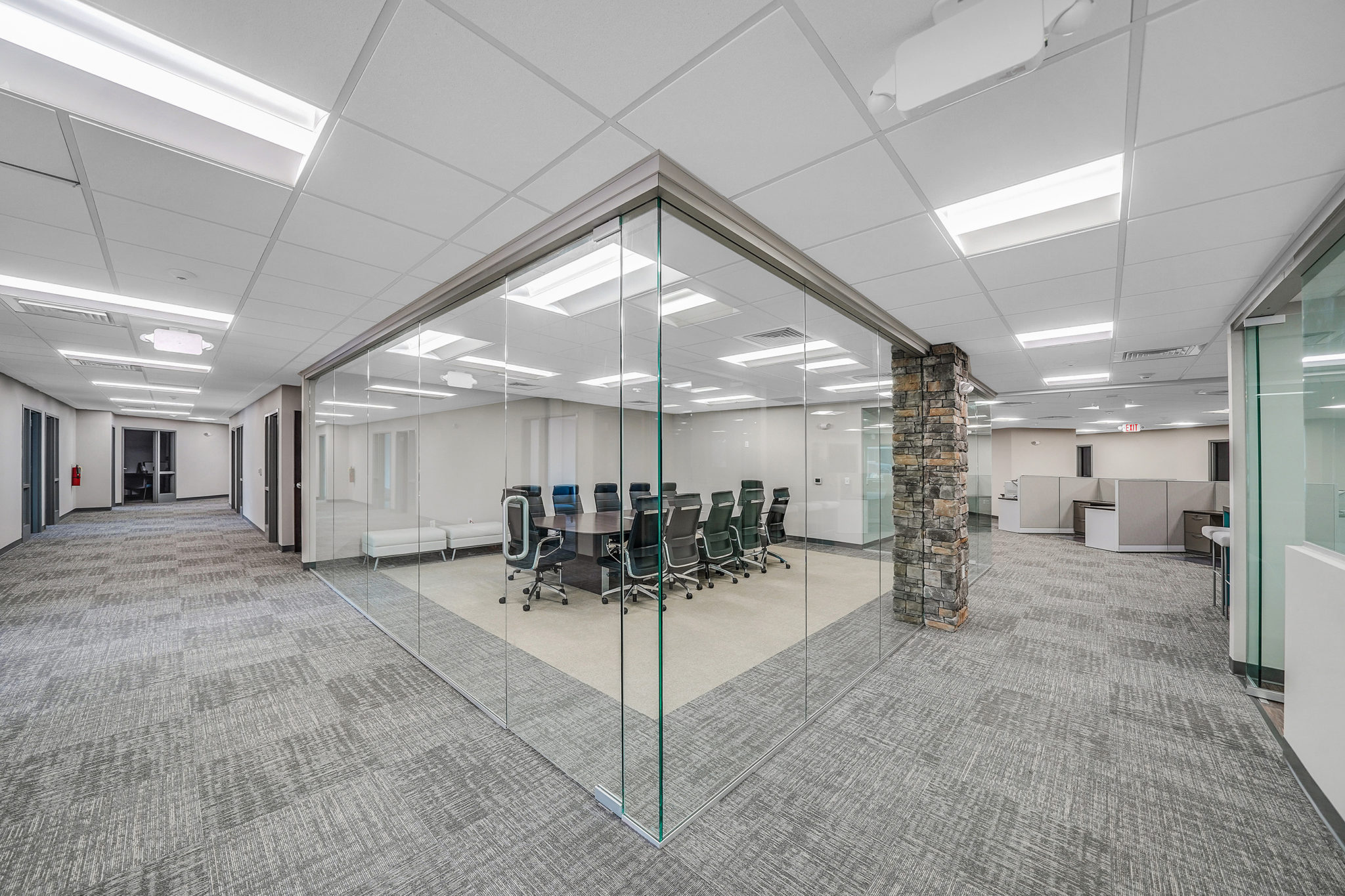 Transformative Offices: The Solution to Future Commercial Office Space
As businesses leaders look to redesign their office space in the near future, they will need to think of how they can cater to different employees and their varying workflows. Some may thrive on collaboration and interaction, an essential component to build company culture, foster relationships, and create a team-oriented atmosphere. On the other hand, there will be times when some employees may be more productive in a quiet environment where they can focus. The solution to these varying needs? A transformative office space.
D&B Construction's Pre-Construction Manager, Bob Martzall, has noticed that "some businesses have been expressing their desire to have flexibility" as they work with D&B as their general contractor. One way they are achieving this goal is through modular walls. Bob explains how "modular walls can provide an office with a great amount of flexibility and safety, as these are walls that you can take down, move, or shift."
On a larger scale, one company that has taken flexibility to a whole new level is Salesforce. In February of this year they announced that employees would "have the option to work remotely full time, even when it's safe to return to the office." Their new guidelines offer employees the option of working full remote, flex time in the office, or completely office-based. Employees who choose to work the "flex" option will have the flexibility of coming into the office between one and three days per week when they need to perform tasks that may prove challenging over a video conference call, such as working on collaborative projects or meetings with clients. So how will this extensive change affect the company's 19 physical offices in North America alone… specifically the recently completed 1,070-foot-high Salesforce Tower in San Francisco? The company has announced that they will be redesigning offices as "community hubs" that will replace rows of desks with multiple collaboration and breakout spaces.
D&B Construction's Philadelphia office recently completed a 10,246 SF commercial office design-build project for Berger Rental Communities at their new West Valley Business Center location in Wayne, PA. Their new collaborative room is one of their employees' favorite spaces. Lesley Yocum, a Project Manager out of D&B Construction's Philadelphia office who also played a major role in designing the client's space, said that they knew they wanted this space throughout the entire design process.
Research looking at today's high-functioning workplaces show that employees are spending much more time on collaborative activities. Lesley agrees – especially right now. "People are returning to a 'new' office layout with more space between their co-workers. Because of this, collab rooms will be utilized as both old fashioned conference rooms and a place where you can go to get 'comfy' and discuss since that's what many people are accustomed to now after working from home for so long."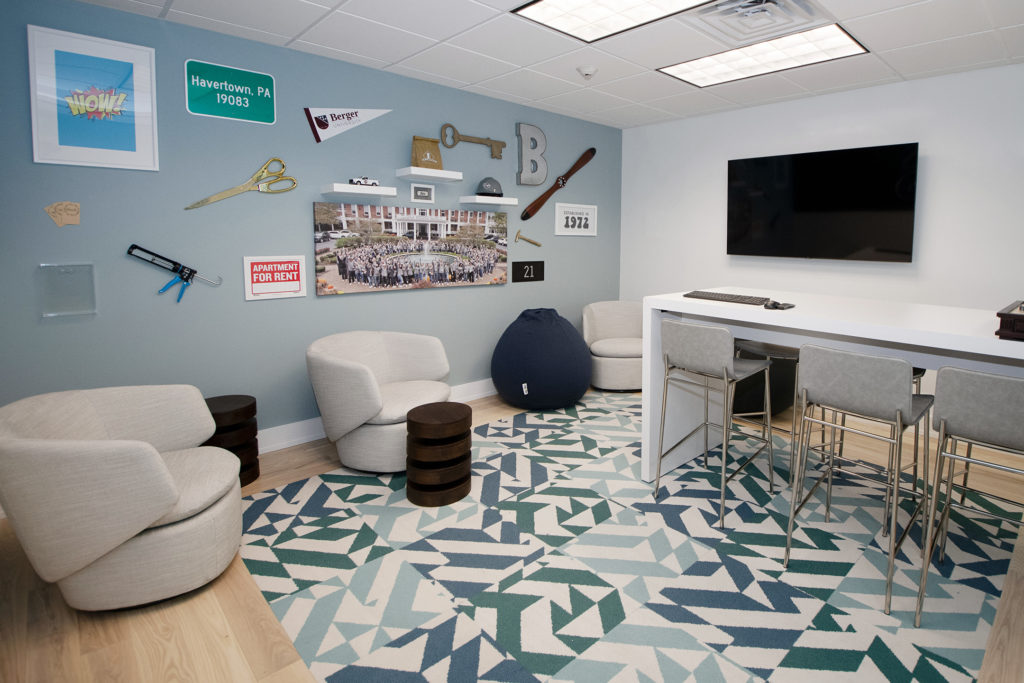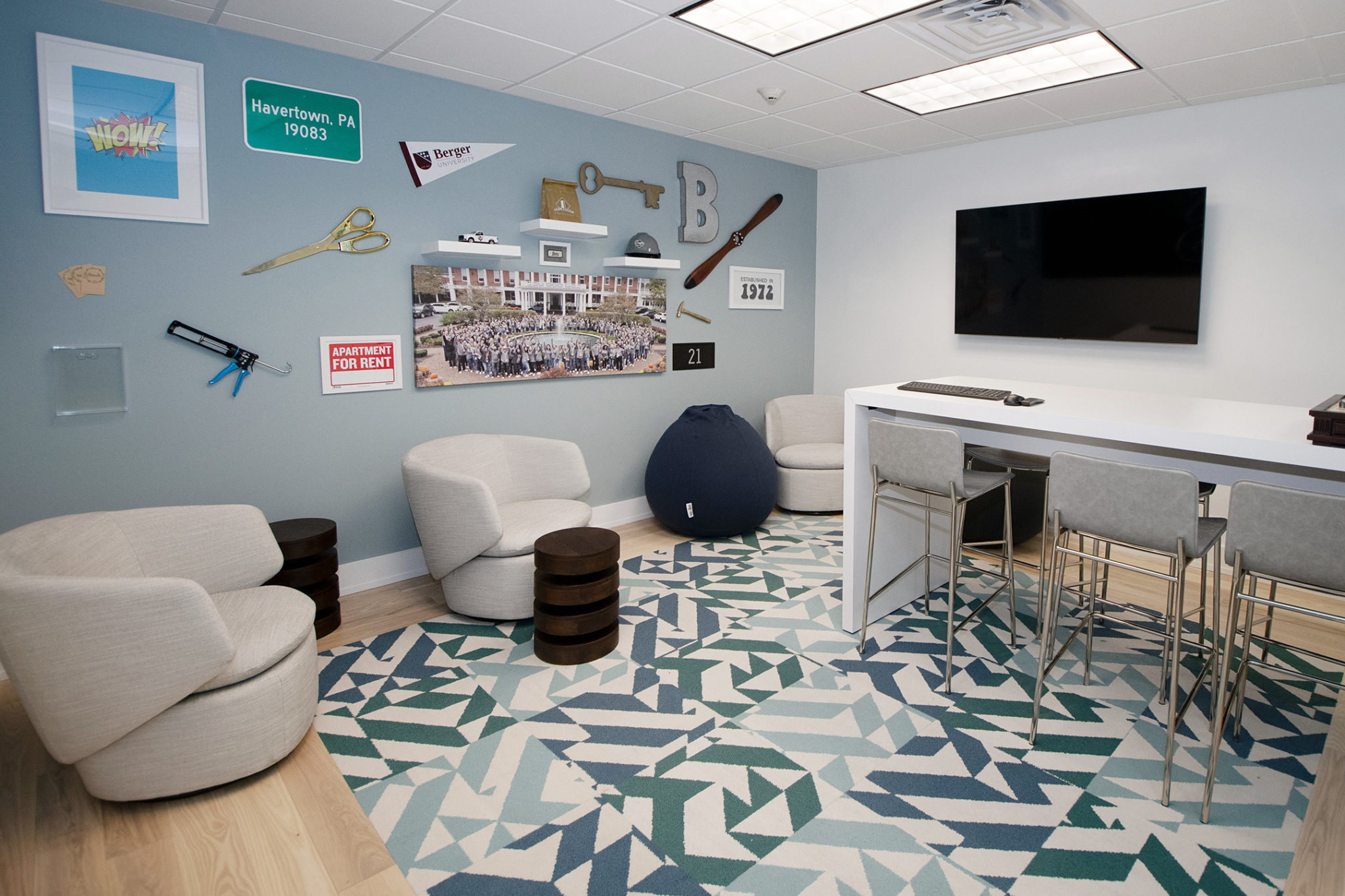 Community Space May Be Key
Unique spaces in open floor offices can include coffee bars, lounge areas, and other spaces designed to make everyone feel welcome, while still encouraging open communication and collaboration. This welcoming environment can be found at D&B Construction's most recently completed project for Riverfront Federal Credit Union, who just held their ribbon cutting ceremony on June 16. The credit union's newest branch and Operations Center features cutting edge technology with a drive thru consisting of three Interactive teller Machines (ITMs) and self-service kiosks offering Video Integrated Realtime Assistance (VIRA). Inside their new 34,000 SF office space, you will find that Riverfront's strong belief in the value of face-to-face banking has not been lost. The interior is set up in a manner that's more interactive than a traditional bank, and members are welcome to relax in a comfortable seating area while they complete financial transactions.  A café will soon be open to the public as well, further promoting a sense of community. Learn more about this project and how it has created a grand customer experience through both technology and in person banking options here.
Embracing Technology for Everyone's Safety
As D&B's recent project with Riverfront Federal Credit Union depicted, and to no one's surprise, an even stronger emphasis will be placed on technology as the future of work evolves. One way we are already seeing this? Our clients want their conference rooms to be decked out with cutting-edge technology that will allow them to host video conference calls in their meeting spaces. Our Pre-Construction Manager, Bob, has already seen rooms with cameras and microphones that are set up to instantly switch over to the person talking and simultaneously broadcast them to the Zoom meeting. A room like this is something businesses may want to seriously consider if they are designing an open-floor plan, especially if they predict to be in a hybrid working environment.
Bob predicts we will see "more hands-free devices and more technology-oriented safety" in the near future. This can include investing in Bluetooth technology throughout conference rooms so employees don't have to touch a speaker or shared phone. Doors can also be fully controlled by an app on your phone or simply don't need to require handles and can instead swing open both ways by pushing them with your shoulder or foot. Hands-free water dispensing systems are another trend that Bob has noticed. Want to be health conscious while also looking out for the environment? Try installing motion lights throughout the office, from conference rooms to bathrooms.
Limiting high touch point areas such as door handles strongly reduces the spread of germs, and for this reason, Bob imagines these current trends are here to stay for a long time. Case and point: The upscale conference room D&B completed for Berger Rental Communities' new headquarters at the end of April included a specific wall mounted camera with multiple speakers in the ceiling, motion lights with sensors throughout all offices, and dimming lights throughout all other areas. View more photos and learn more about this project here.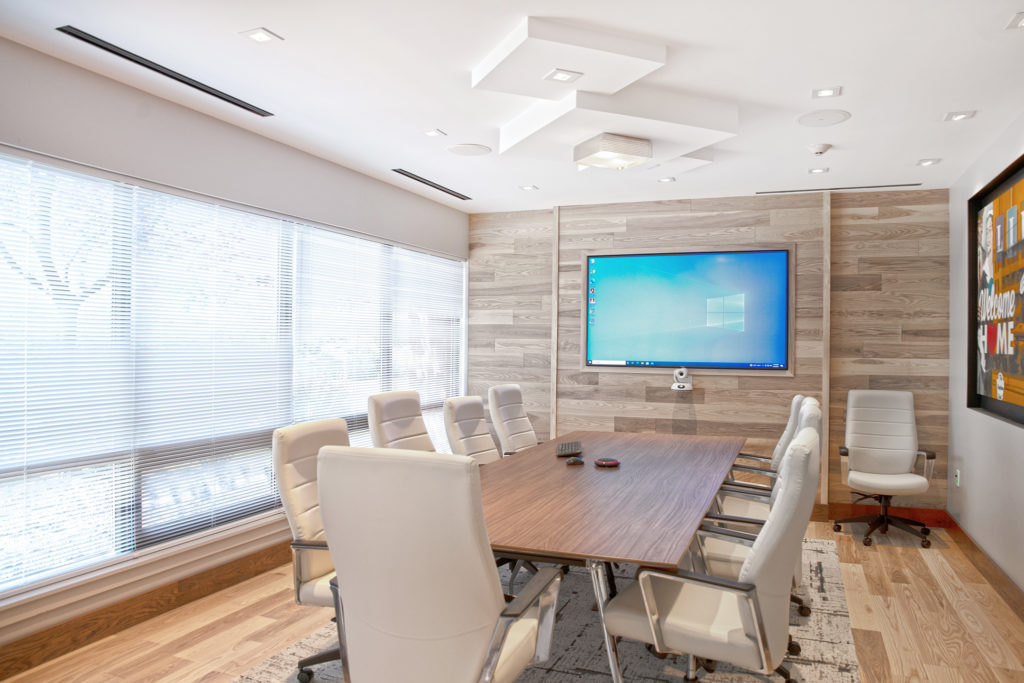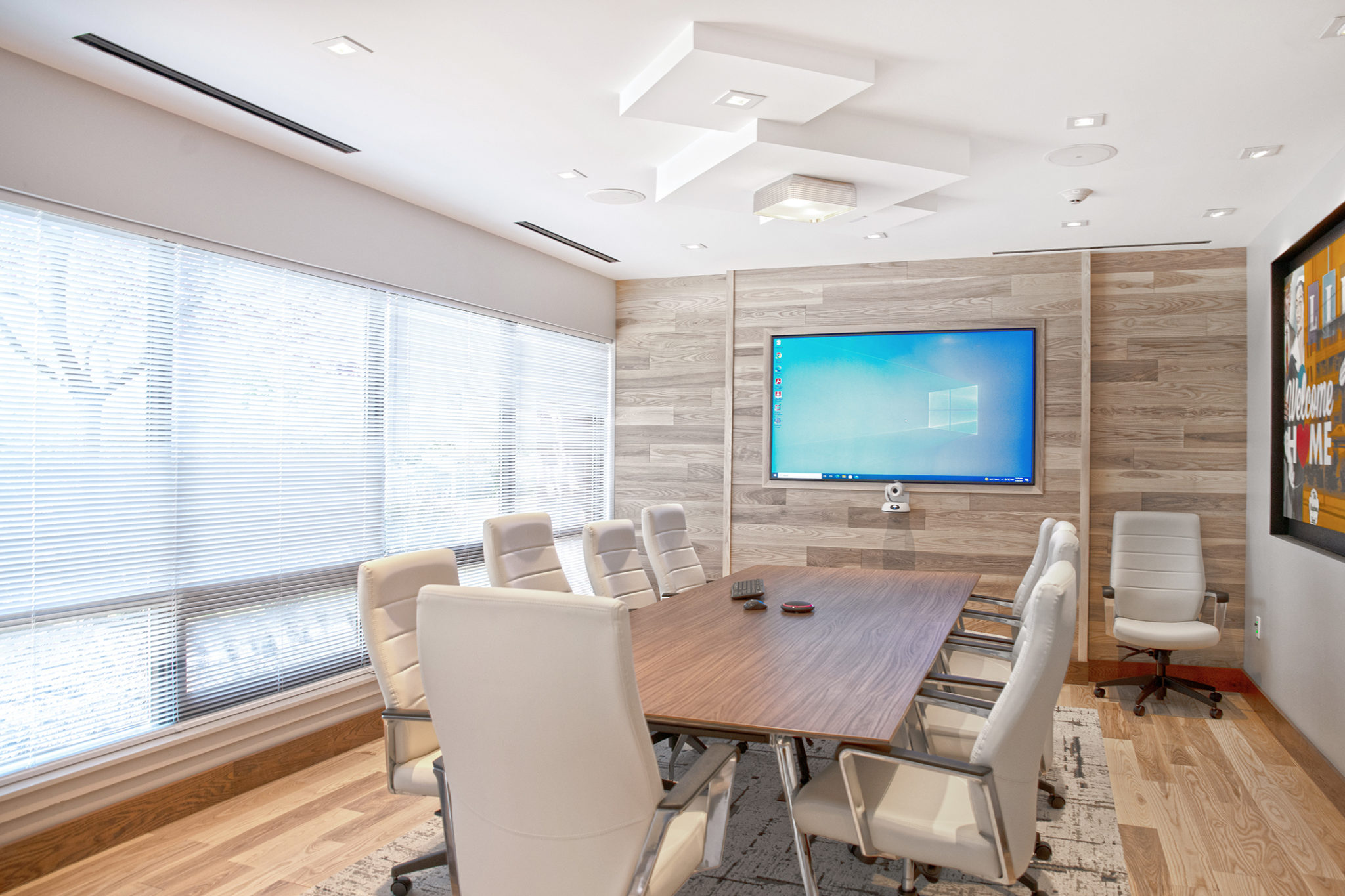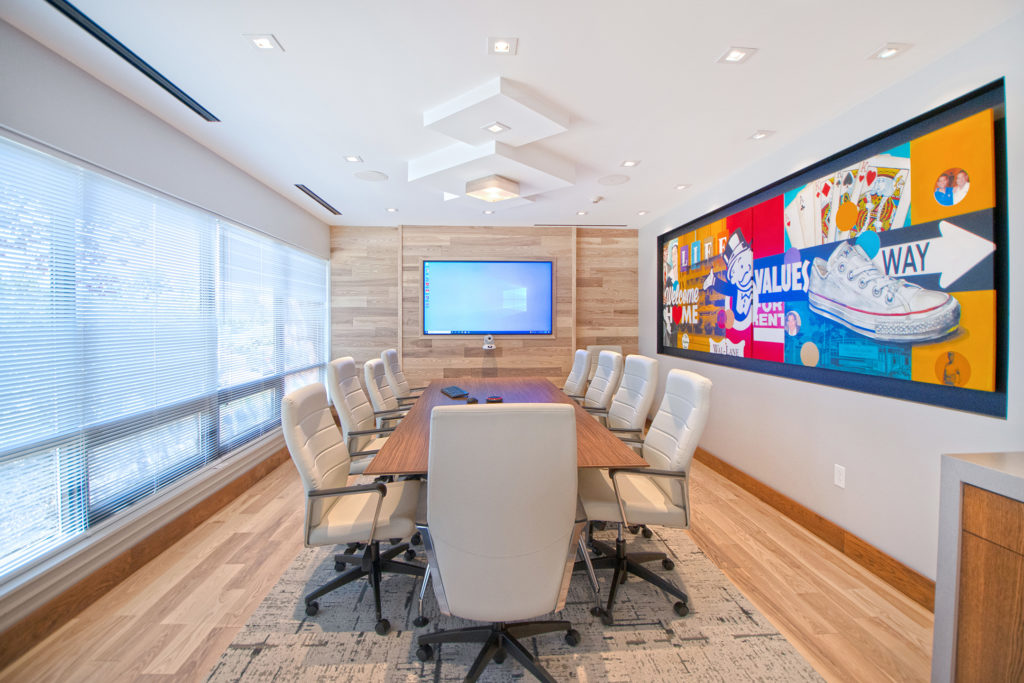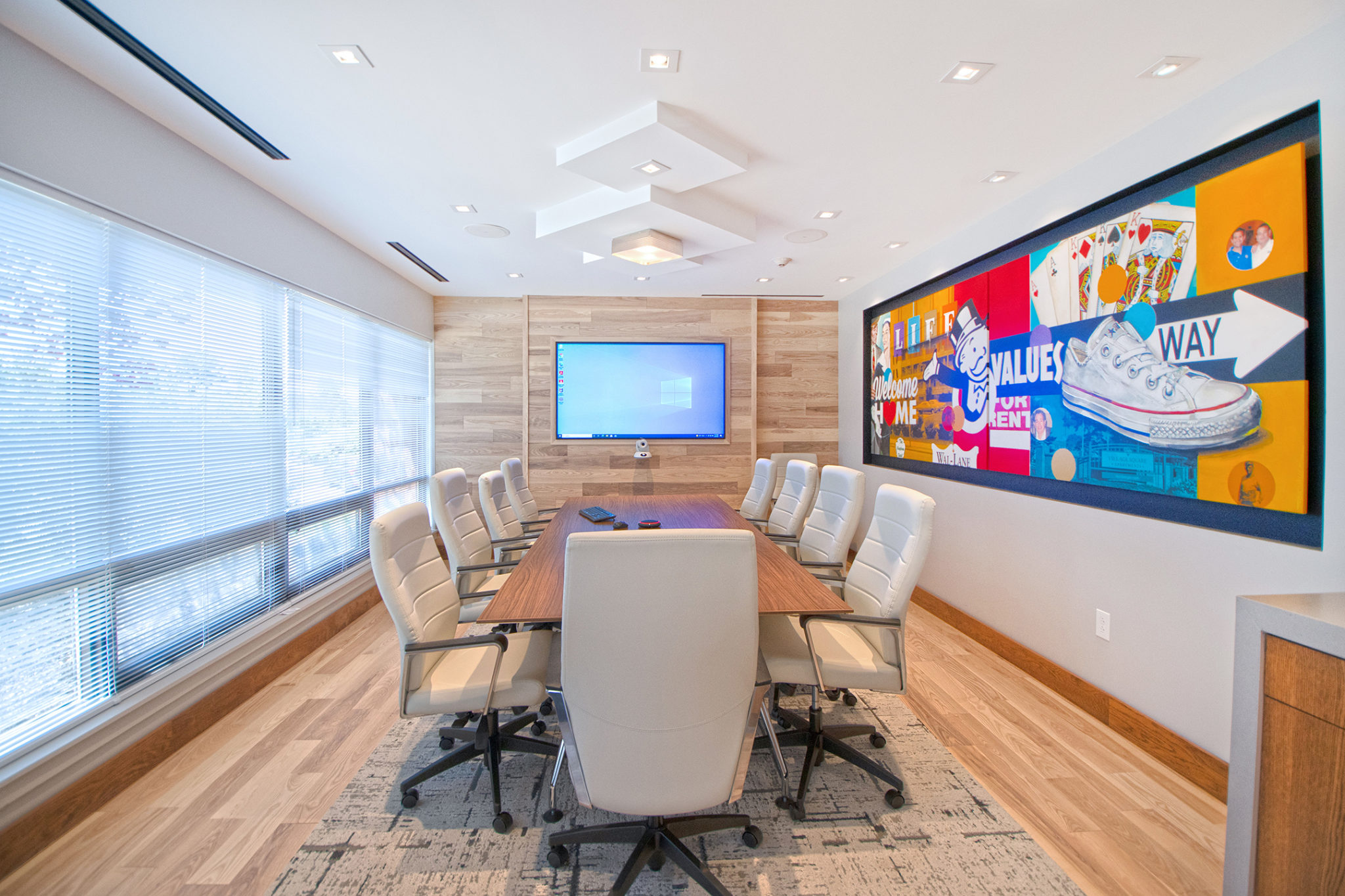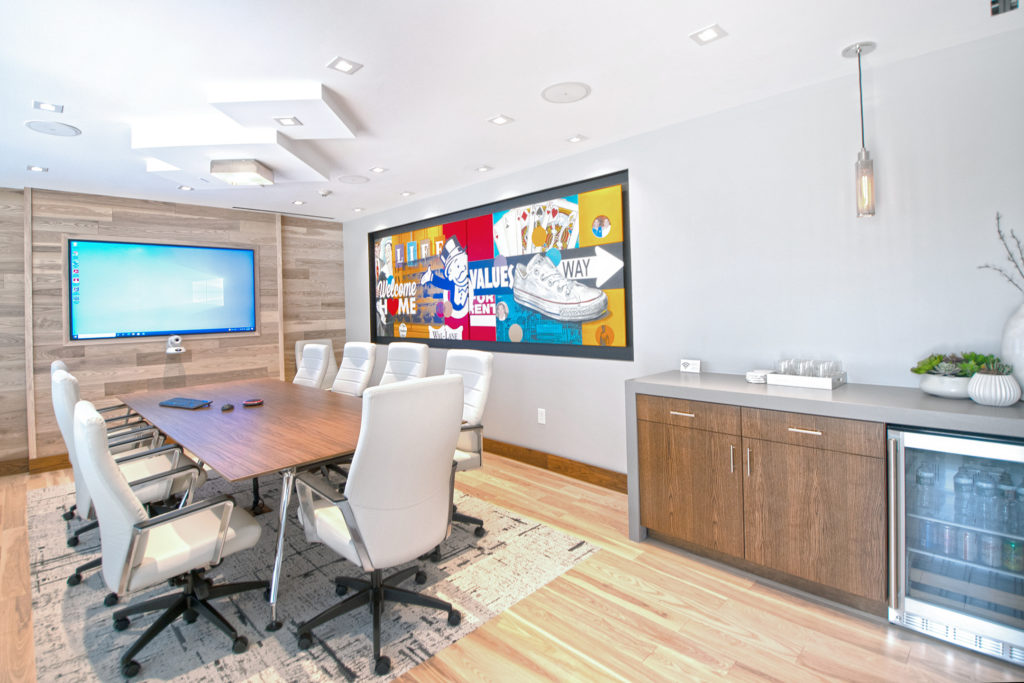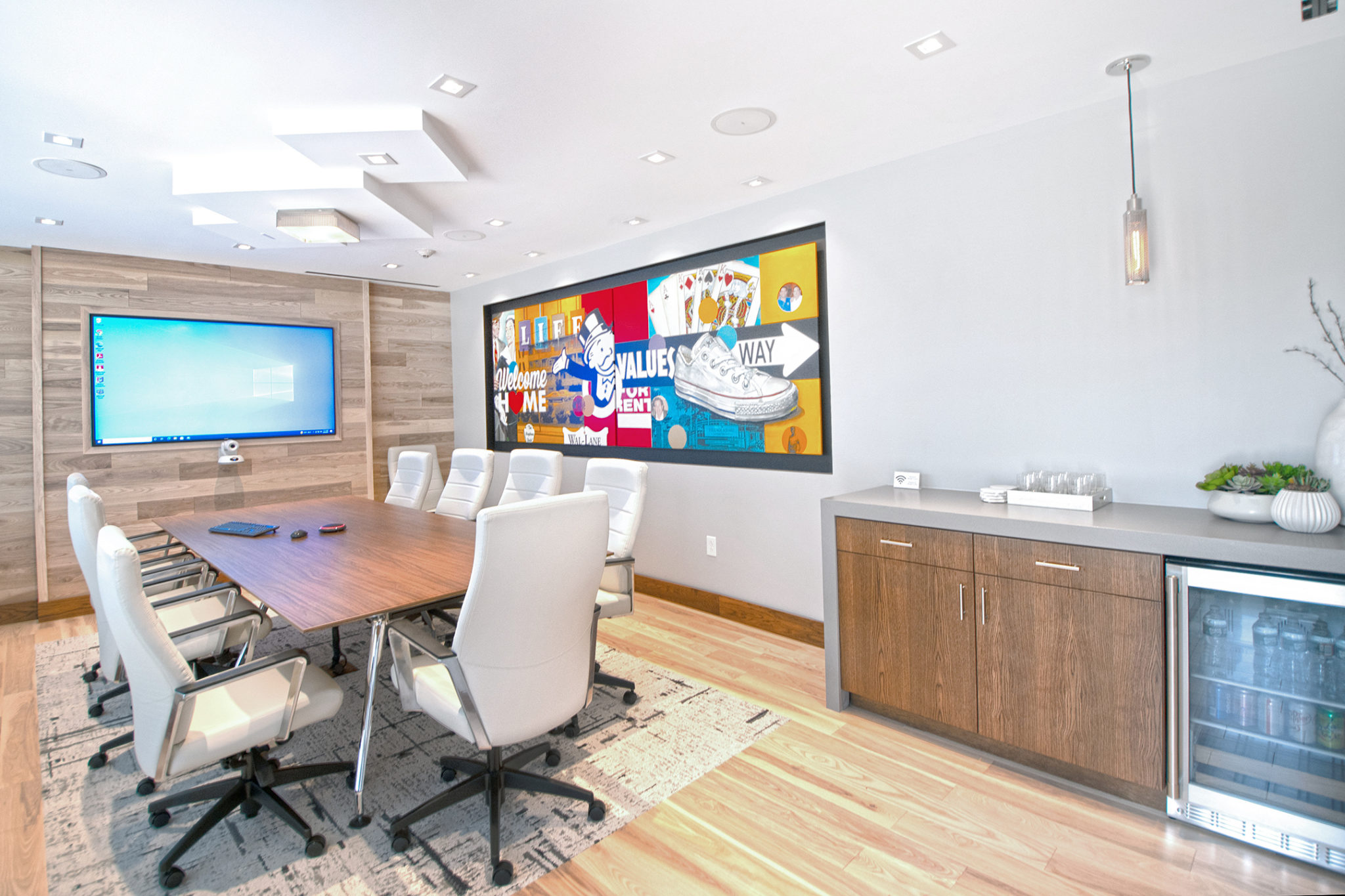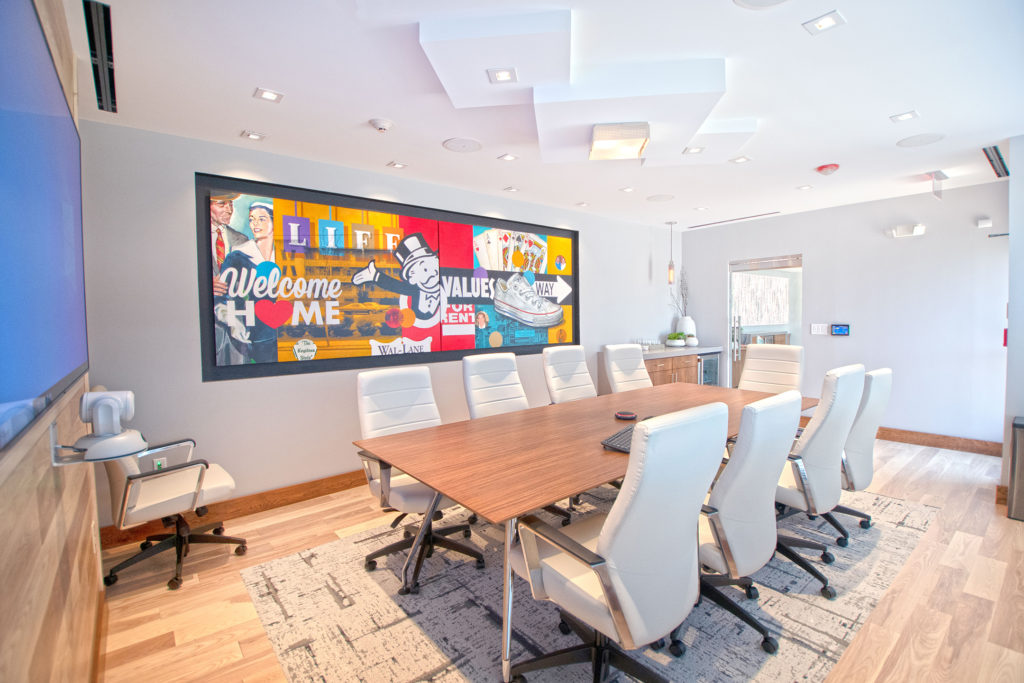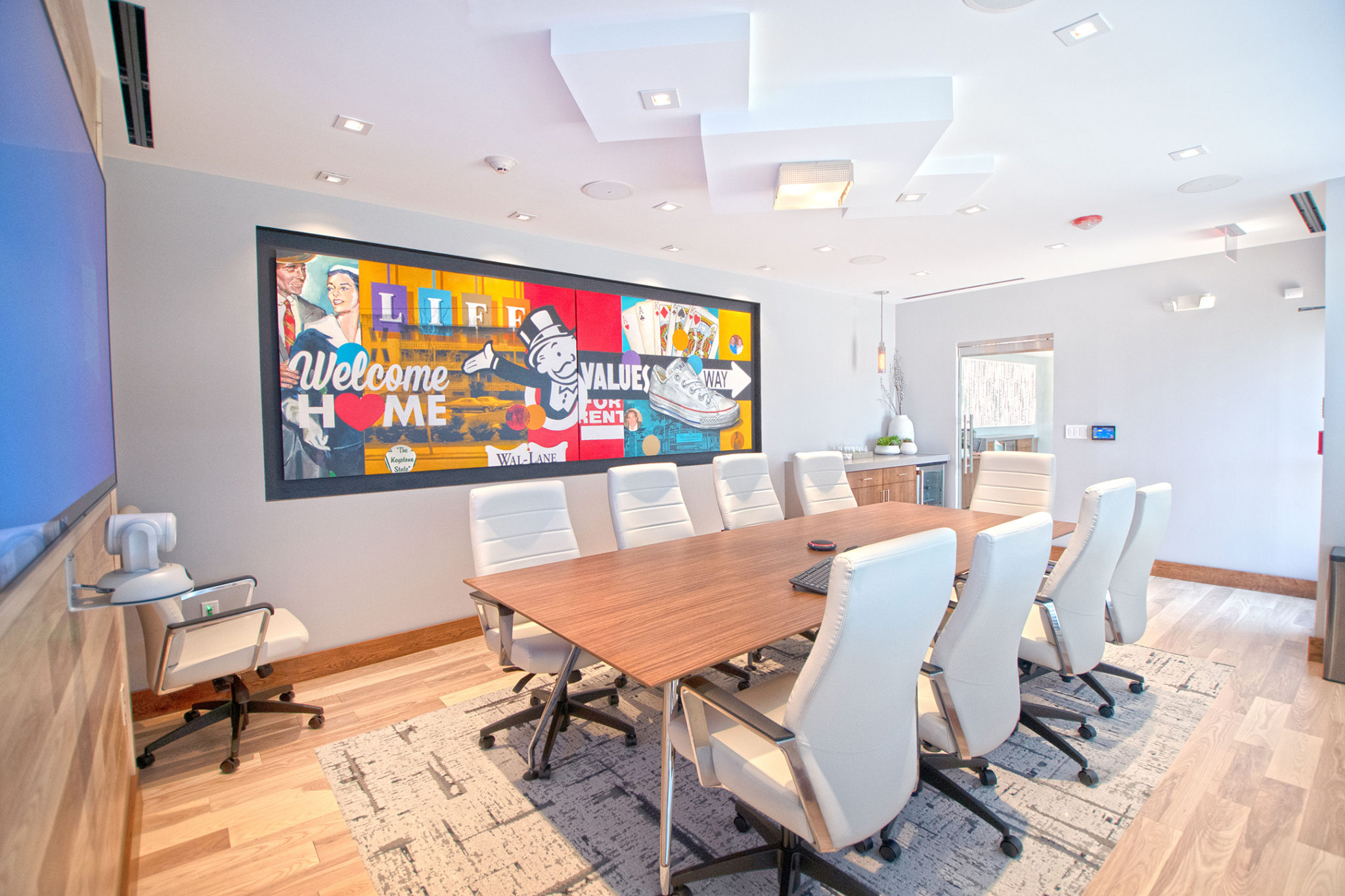 Moving Forward Post Pandemic
A study by USA Today shows that 35% of Americans prefer a home-office hybrid working situation, and 25% of Americans want to go back to the office full time. With over half of the population hoping to return to the office in some capacity, the question of how employers will accommodate for safety concerns and the "new normal" of flex time still looms over many individual's heads.
Bob believes safety will determine many office designs post COVID-19. He thinks that one of the most important things to include in your post COVID-19 office is environmental air filtration systems. This refers to how the air circulates through the office so that it is environmentally friendly, limiting the spread of germs and being sustainable. Bob has seen clients wanting to have this included in their project design.
Having more collaborative rooms may result in a more open floor plan being replaced with more individual office spaces (which may help some individuals feel more at ease with returning to the office). With 36 years of experience in the industry, Bob has noticed that "many offices are shifting away from a cubicle environment and instead building more individual office spaces." He believes that building more office spaces can make it much easier for an employer to provide safe precautions for their employees when necessary, thus explaining this recent trend. These adaptations can make a work environment flexible and safe for everyone involved.
As many companies continue the transition of shifting back into the office, Bob has noticed that companies across all sectors have been trying to get their projects fulfilled by construction companies. He says that this is because "the cost of borrowing is so cheap right now, so the cost of doing business is more economical. The question is, do you need the space?"
The companies who answer yes to this question (and companies such as Salesforce who need to re-imagine their spaces) will be left to map out how their office space should look in a post COVID-19 world. In some way, shape, or form, many businesses will have to change their office footprint in the upcoming years, whether through down-sizing, expanding or renovating their current space to fit future needs. This is something that is weighing heavily on the minds of many employers. Although daunting at first thought, this is an opportunity to create a new blueprint that sets the stage for office spaces for years to come.
After considering the thoughts of our industry experts, years of research, and the current state of the world, how would you design your office's blank slate to best meet the needs of your team?
We'd love to hear your thoughts and ideas in the comments below!
Our first Trade Partner Spotlight features Gillespie Electric, Inc. Located in East Greenville, PA this full-service electrical contracting company has been a recognized industry leader known for its reliability for over 40 years.
We recently drove out to Souderton, PA to check out the new 12,500 SF community health center quickly taking shape for the Children's Hospital of Philadelphia. Every time we visit we are greeted by the smile of D&B's Superintendent on the jobsite, John. He always has a positive energy about him, but when we visited on June 23rd he was literally excited to show us the work that Gillespie Electric, Inc. just completed. We'll show you as well so you can see what John was talking about: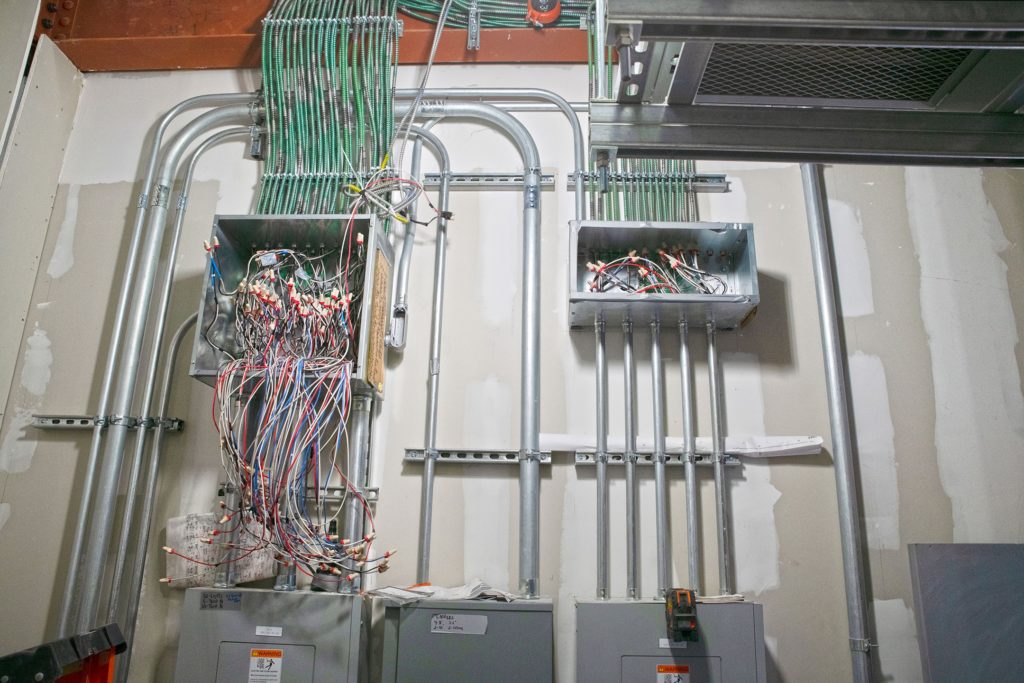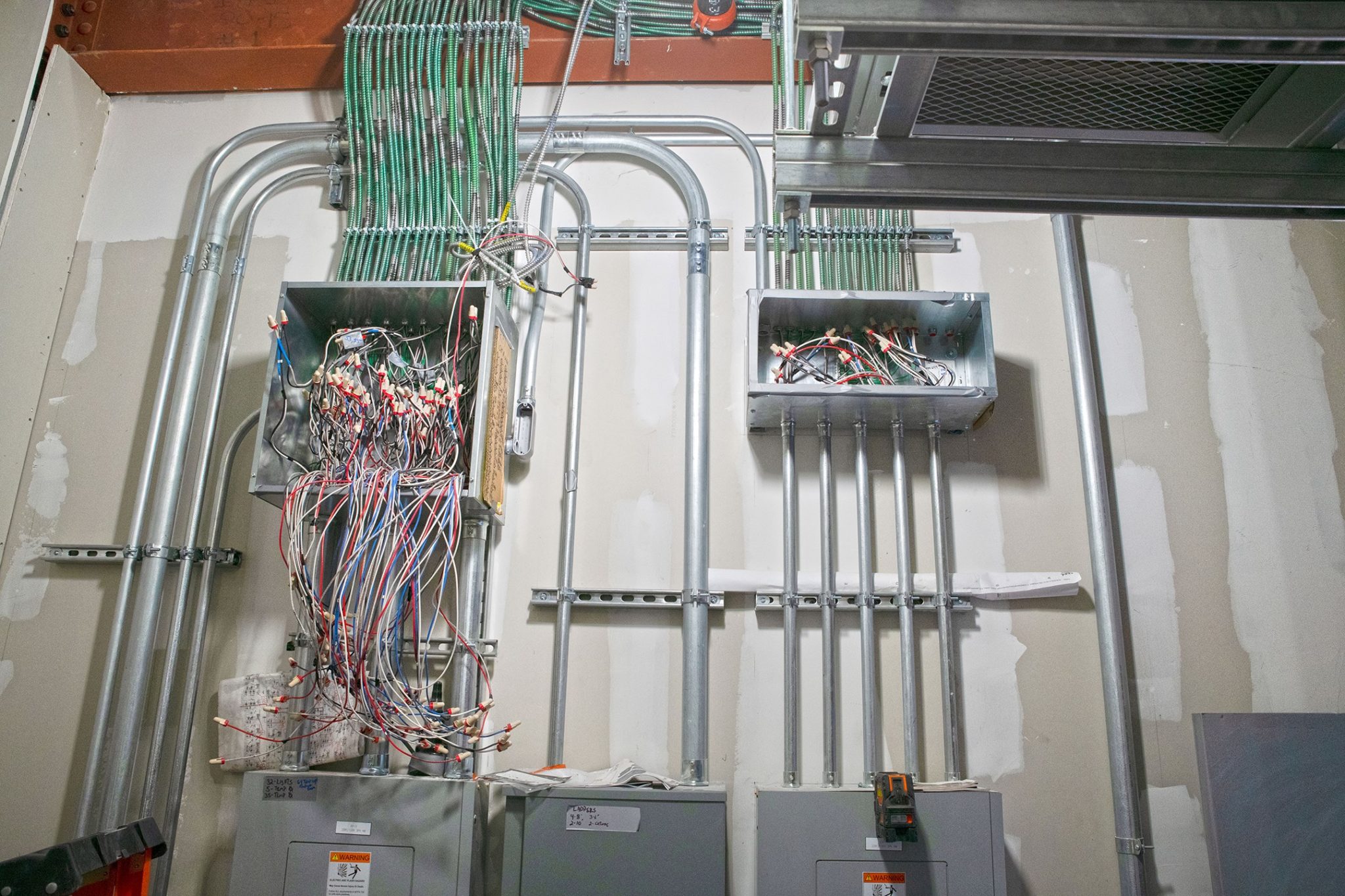 Although new to Team D&B, John has been in the industry working on a variety of large construction projects over the last 34 years (including the delicious Steak 48 on Broad Street in Philadelphia). John described the work the Gillespie team completed as a "quality standardized performance" and claimed he has never seen such well-executed work from electricians. "This demonstrates the quality and care that these guys have to make this job beautiful," says John with a smile as he admires their work once more.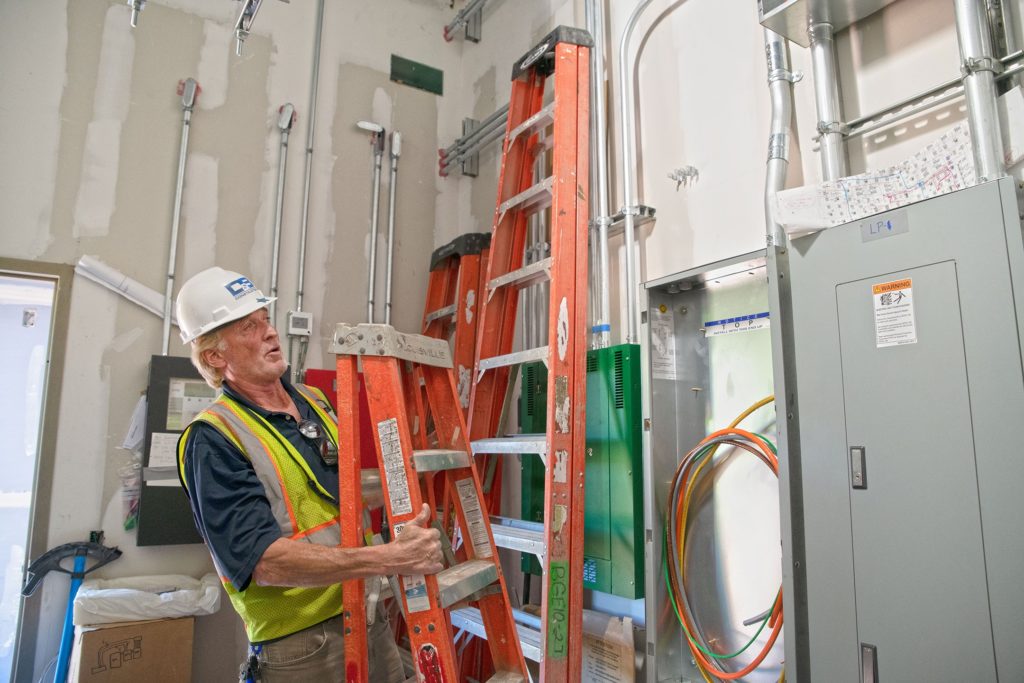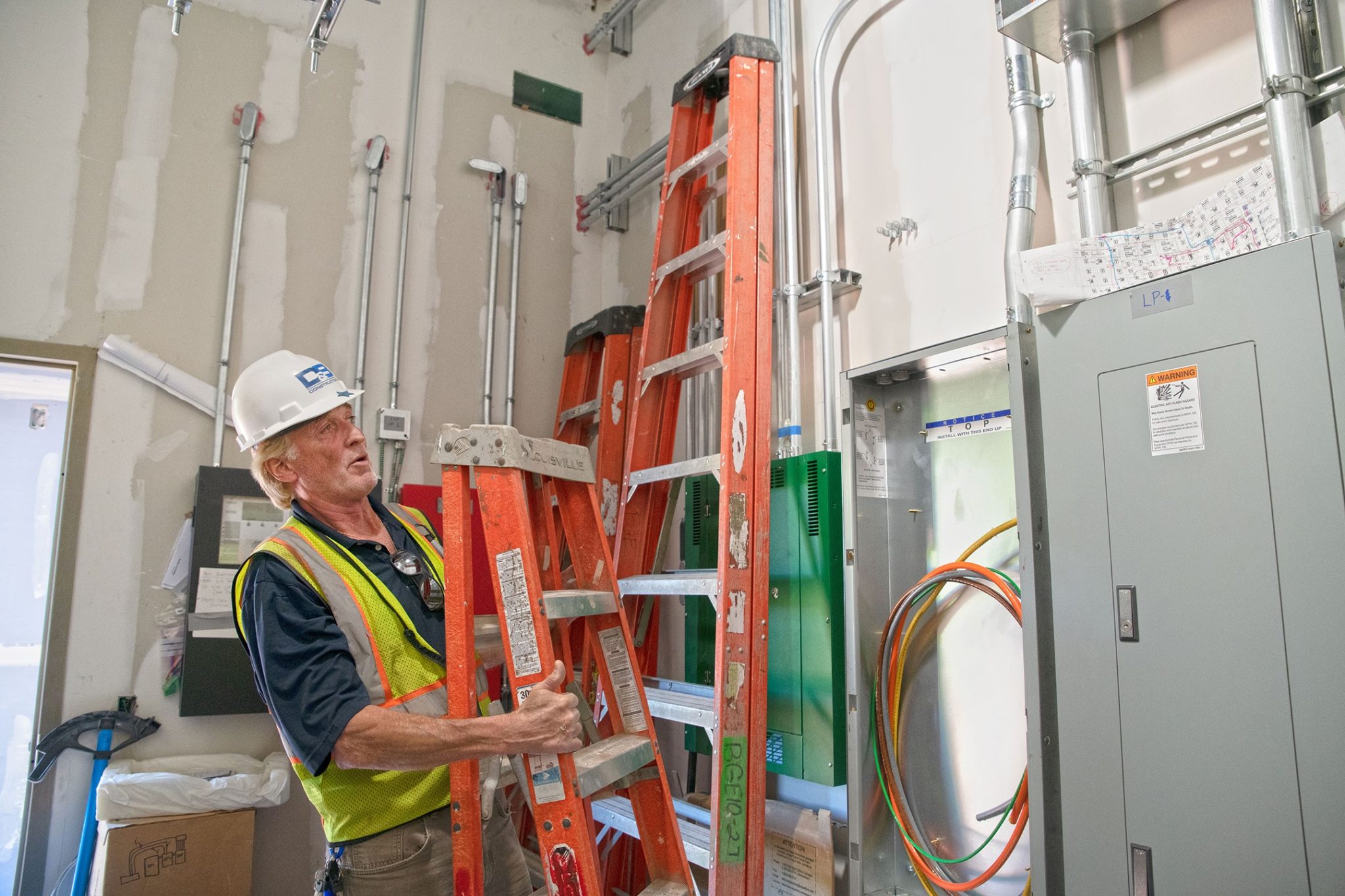 According to Gillespie Electric's Project Manager, Keith Lewis, who has worked on this healthcare project with D&B Construction since it began, they "have been on and off site since this project first broke ground last year and will be on site until the job is complete in a few months." Over 350 receptacles and 15,000 linear feet of HFC Hospital grade MC are being installed on this project. "All of the lights are LED and we are installing a back-up generator for all of the vaccine refrigerators," explains Keith.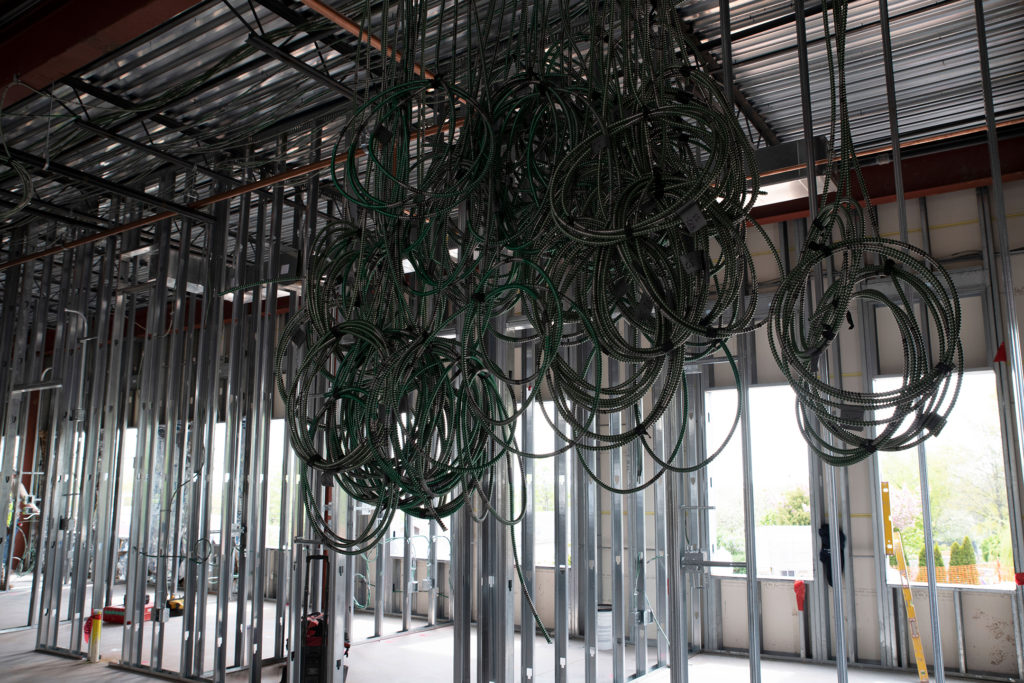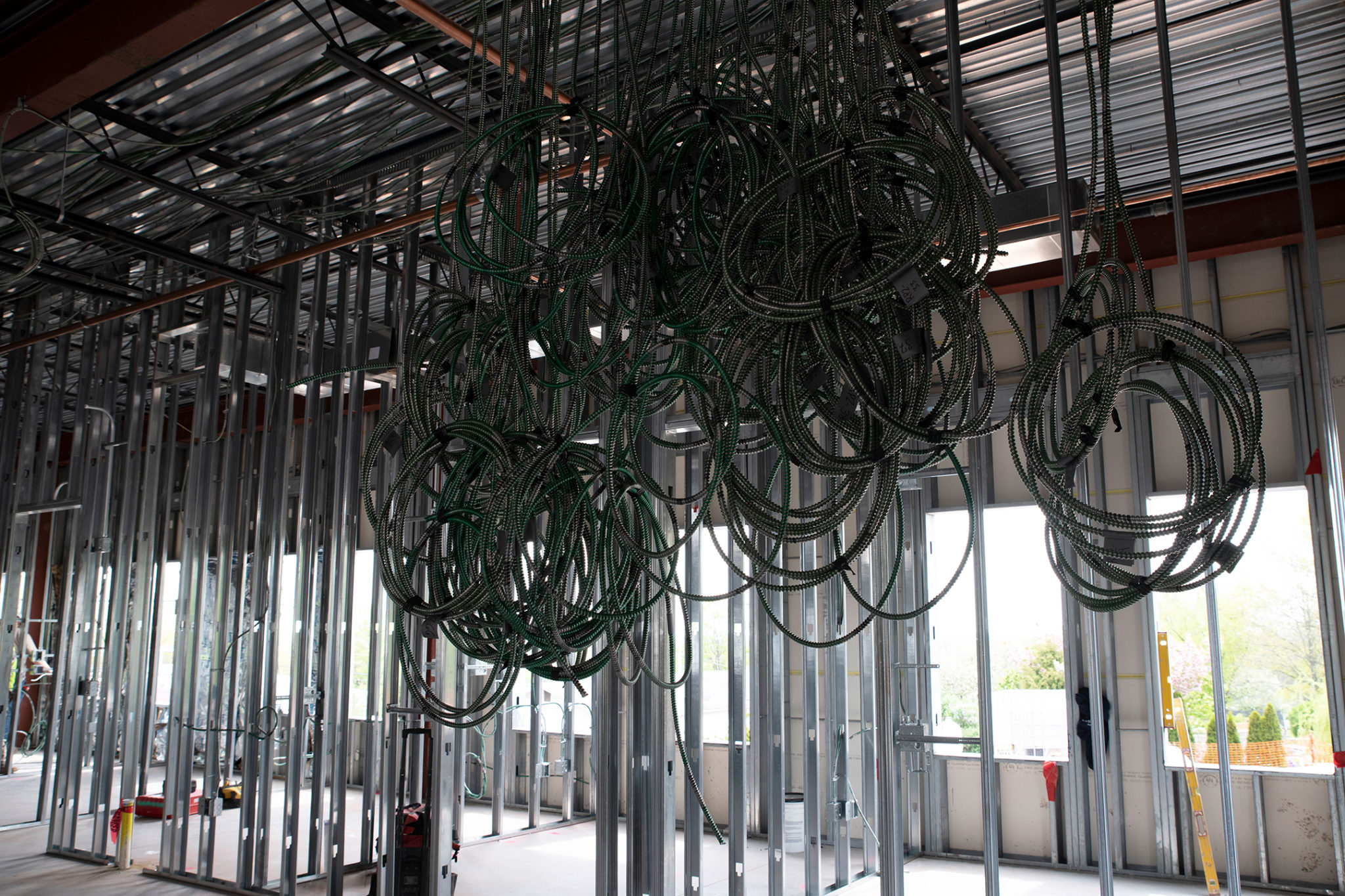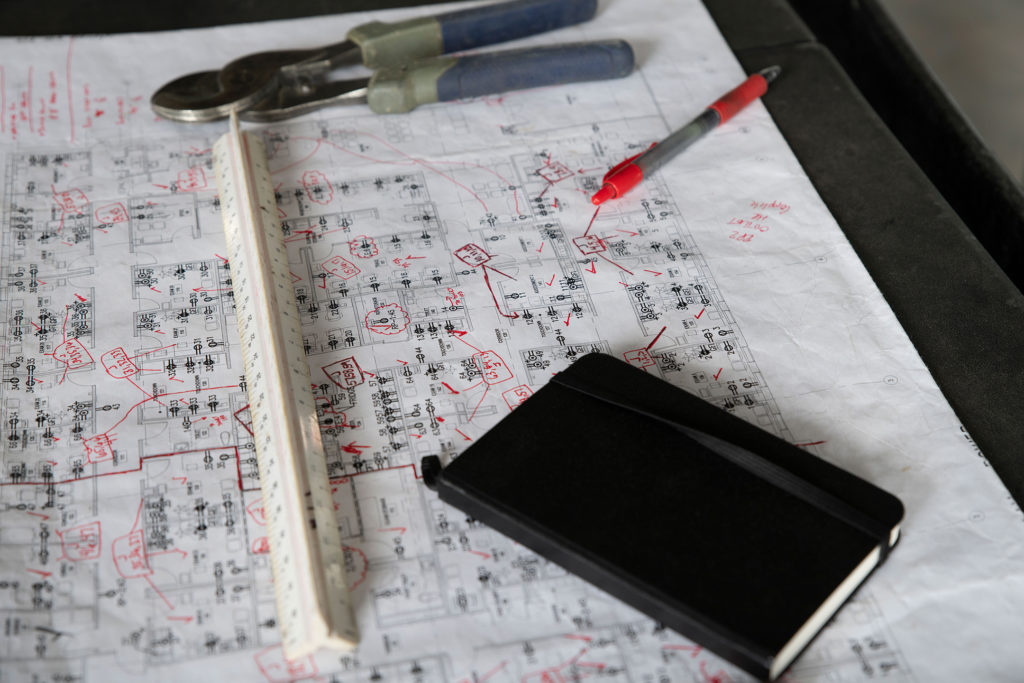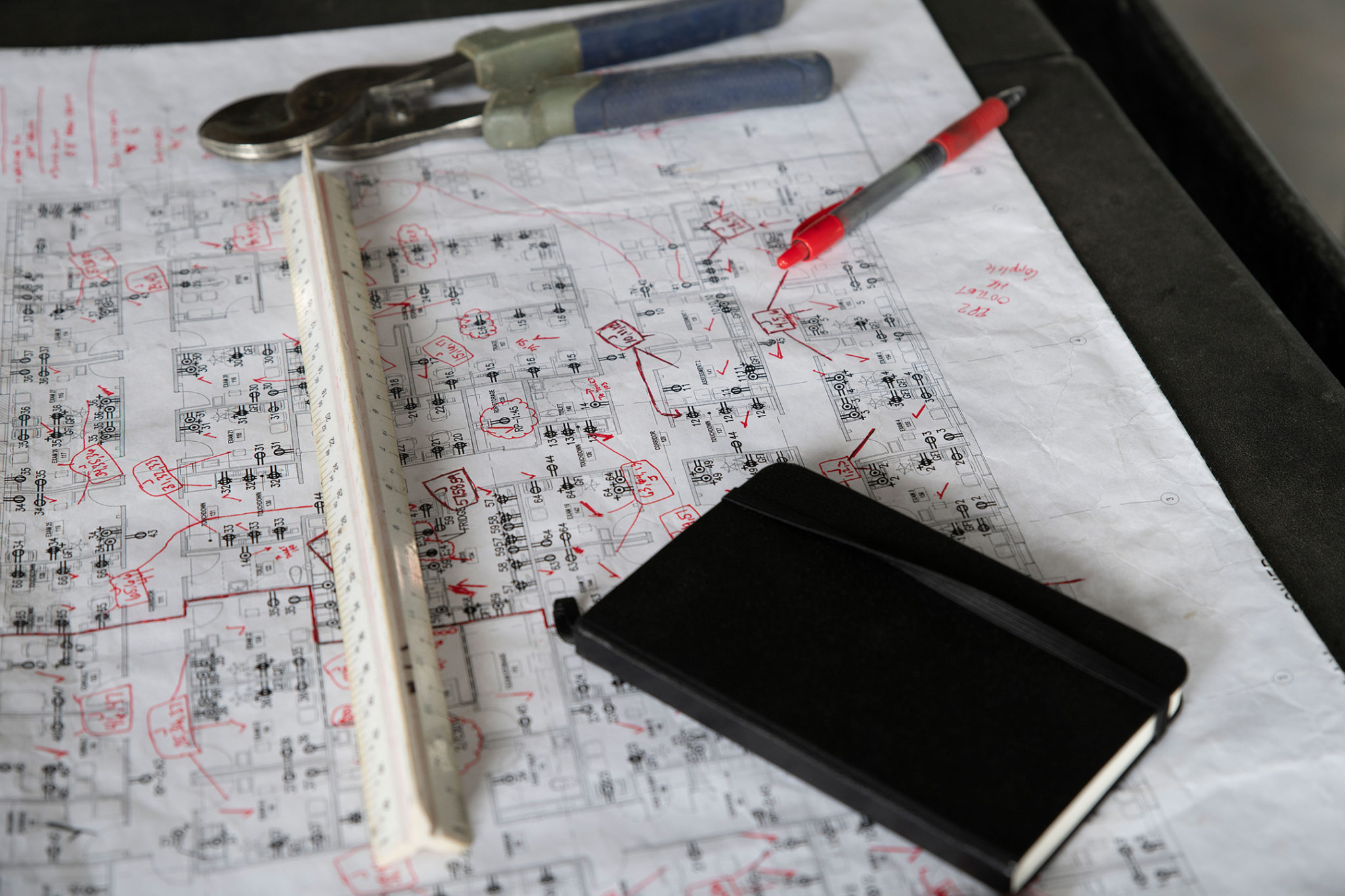 The company's Foreman, Mike, as well as Nick (who John admiringly refers to as "another badass" on the Gillespie team) just recently finished tying everything into the panels, a job that took about a week to complete. "Mike and Nick both completed two different rooms. A lot of times when you have two electricians on the same job you can notice slight differences, but their work looked identical. I couldn't even tell who did which room since their work was so precise," says John.
The Foreman, Mike, has been with Gillespie for 10 years since 2011 and received his Electrical Apprenticeship from Bucks County Tech in 2012. Keith, who sings high praises of his co-worker, says that Mike was a journeyman for nine years and became a Foreman at the company last year. "Interestingly enough, this job is Mike's first job that he is completing from start to finish as a Foreman. It's not every day you win both the core and shell and fit-out phases and are able to be involved in the entire project."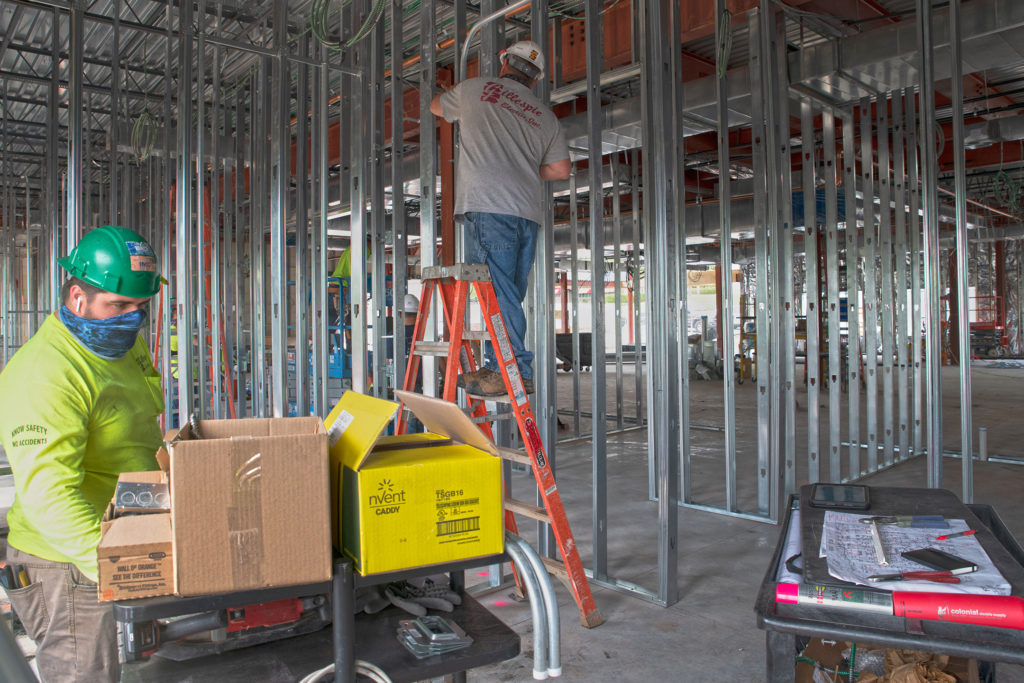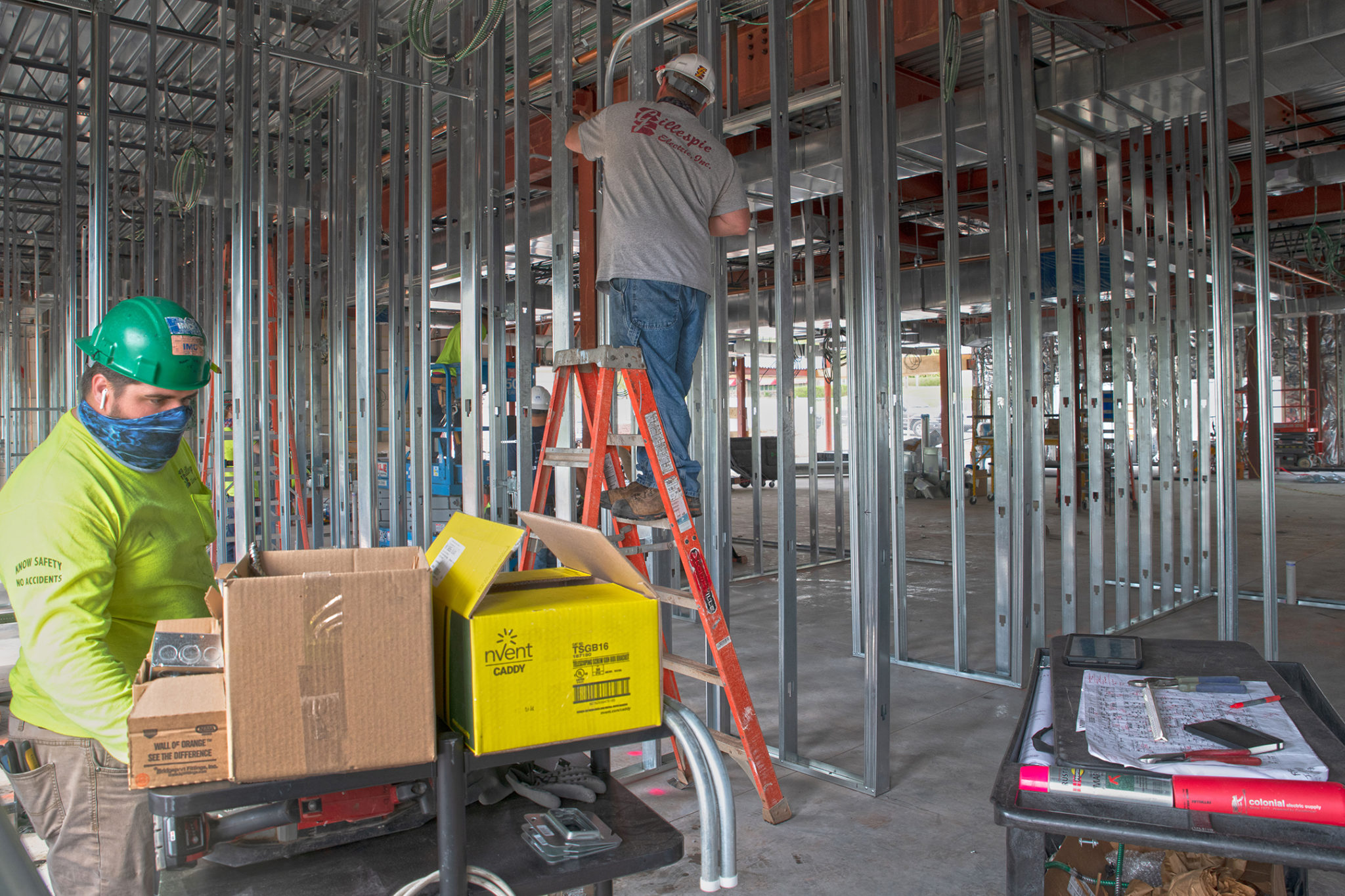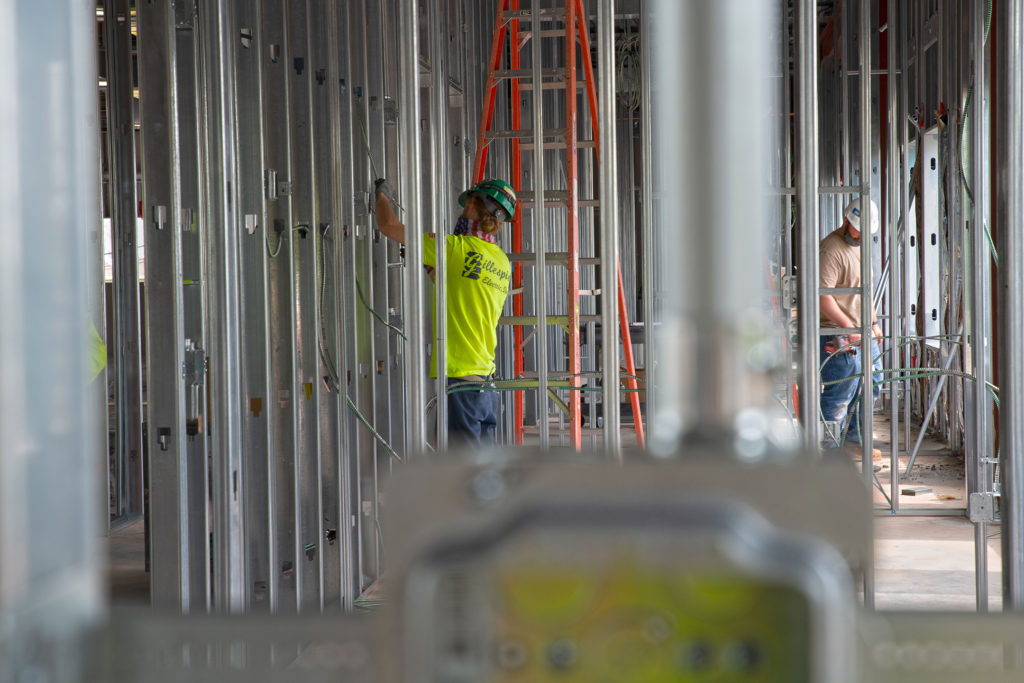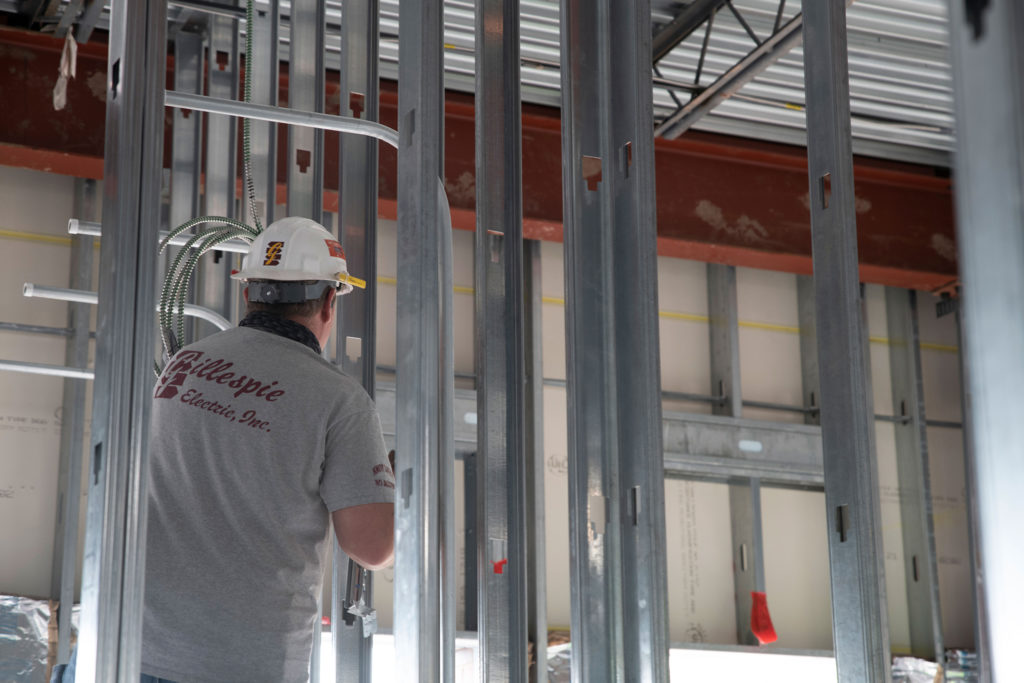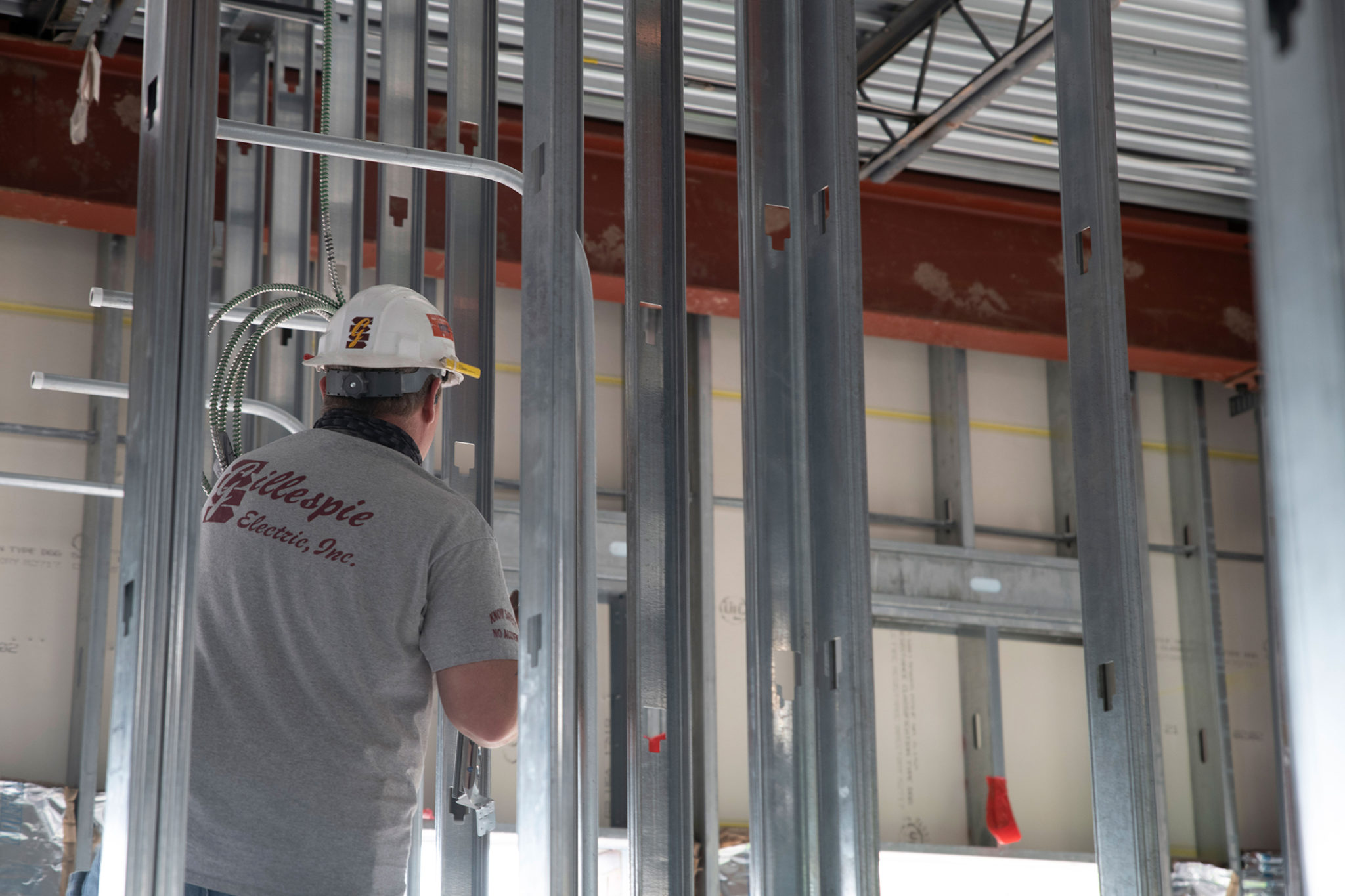 Although Gillespie has completed a number of jobs for CHOP over the years, this is the first job they are completing for D&B. "There are always some challenges when working with a new general contractor," says Keith. "It's like when you first start a new job. You have to feel out your new boss, and they are doing the same with you. But we have had very minimal challenges working with D&B. Communication has been easy, and working with Jim (D&B Project Manager on the job) has been easy, too. It honestly feels like we have been working with them for much longer than we have."
Keith had similar remarks to say about our Superintendent on the job. "John is on top of things. He gets questions answered efficiently and makes good, on-his-feet decisions. If I ask John a question, I know I will have the answer within a day or two. That's unusual. Construction should be fluid, and he makes it that way," says Keith.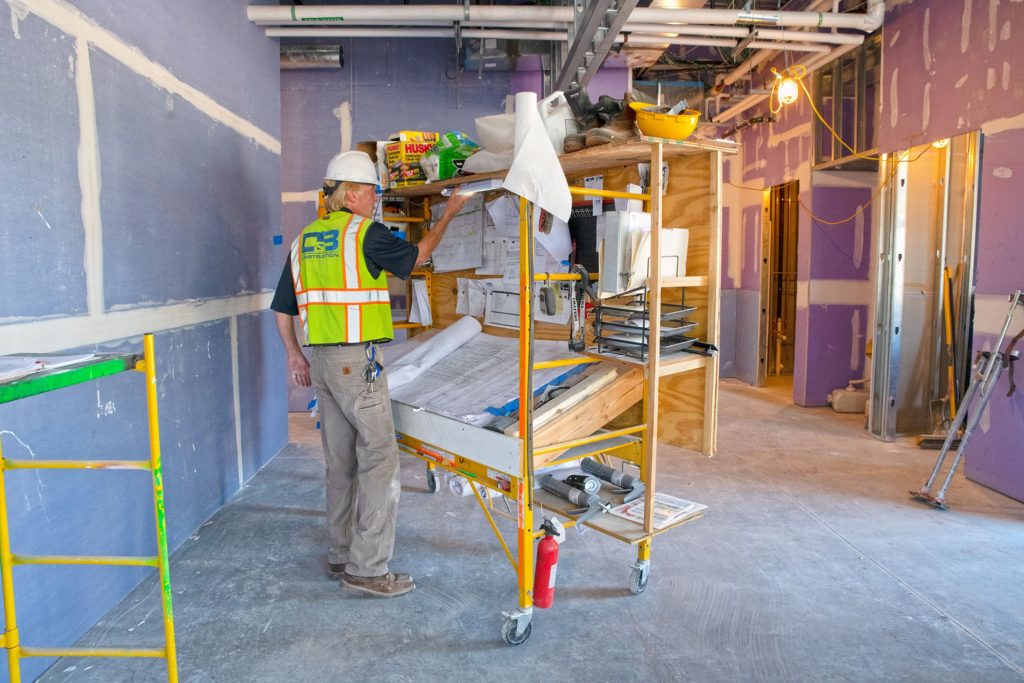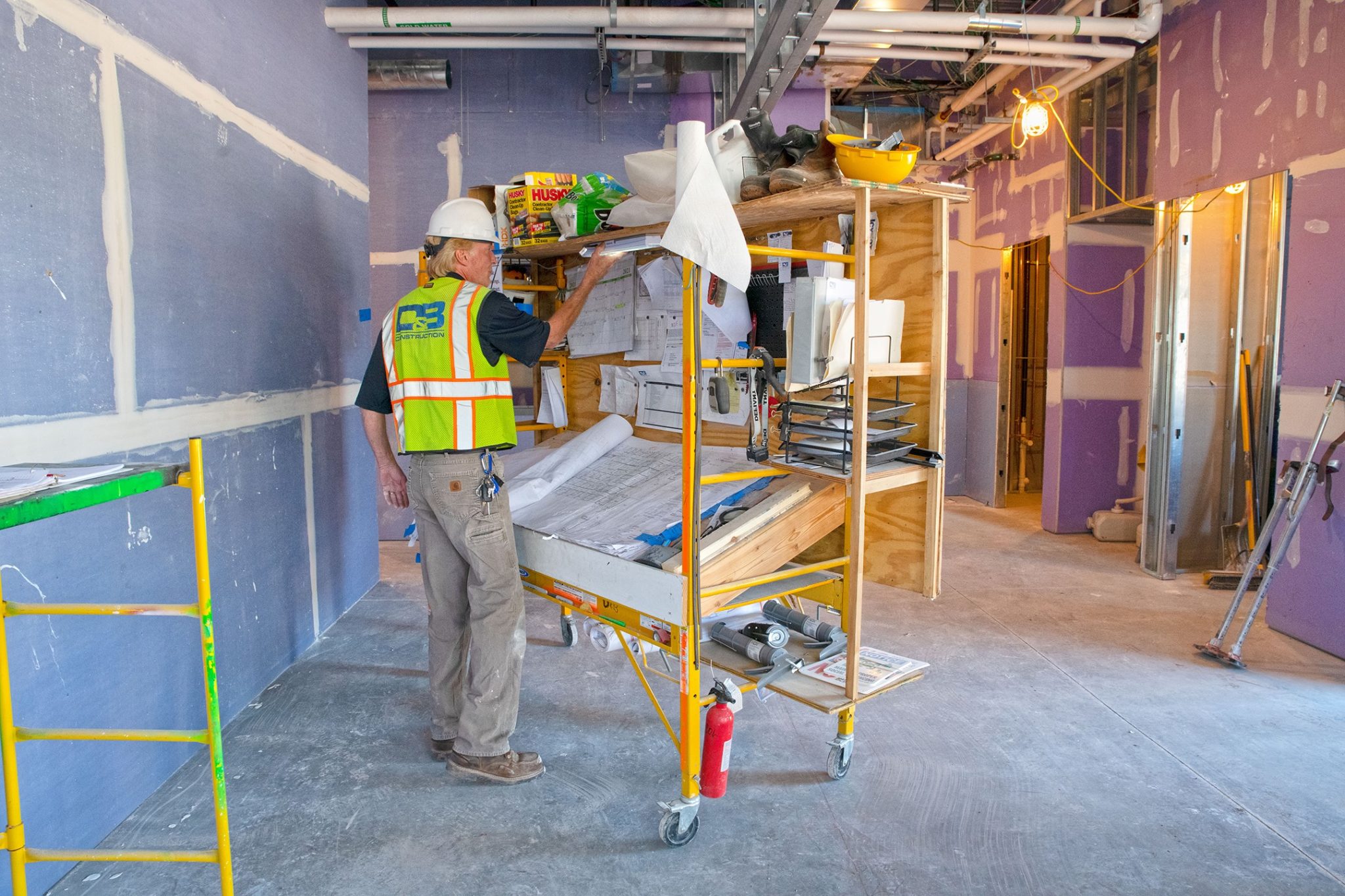 At D&B, we view our trade partners as an extension of our team. That's why we work with trusted trade partners like Gillespie Electric who bring the same level of care that we do to the jobsite.
With the prospects of a slightly warmer than average summer looming, it is important that those within the industry, and anyone working long hours outside, brush up on their knowledge of high heat safety. At D&B, safety is our standard. Our Safety Committee meets monthly (and will actually be discussing this relevant topic at our upcoming meeting) to help ensure that all members of our team and trade partners are safe. In the name of safety and looking out for our brothers and sisters in the industry, we wanted to share these helpful tips from  D&B's Safety Director and Construction Manager, Tom Rinaldo:
1. Stay Hydrated
Tom suggests that all D&B employees and trade partners stay well hydrated during the summer by drinking one cup of water every 15 to 20 minutes. On every D&B jobsite, we provide ample amounts of water for our employees and trade partners. It is important to hydrate the night before and after you work on a jobsite. Doing so puts less strain on the body to replace the fluids you have lost while sweating.
If water is not easily accessible or you are looking for an alternative, Tom recommends trying drinks that have electrolytes, like Gatorade. Gatorade contains valuable electrolytes that can help maintain the ionic balance in your body. Gatorade and similar drinks are also able to replace electrolytes that you may have lost while sweating, and having enough electrolytes is vital to keep your body functioning properly while on the jobsite.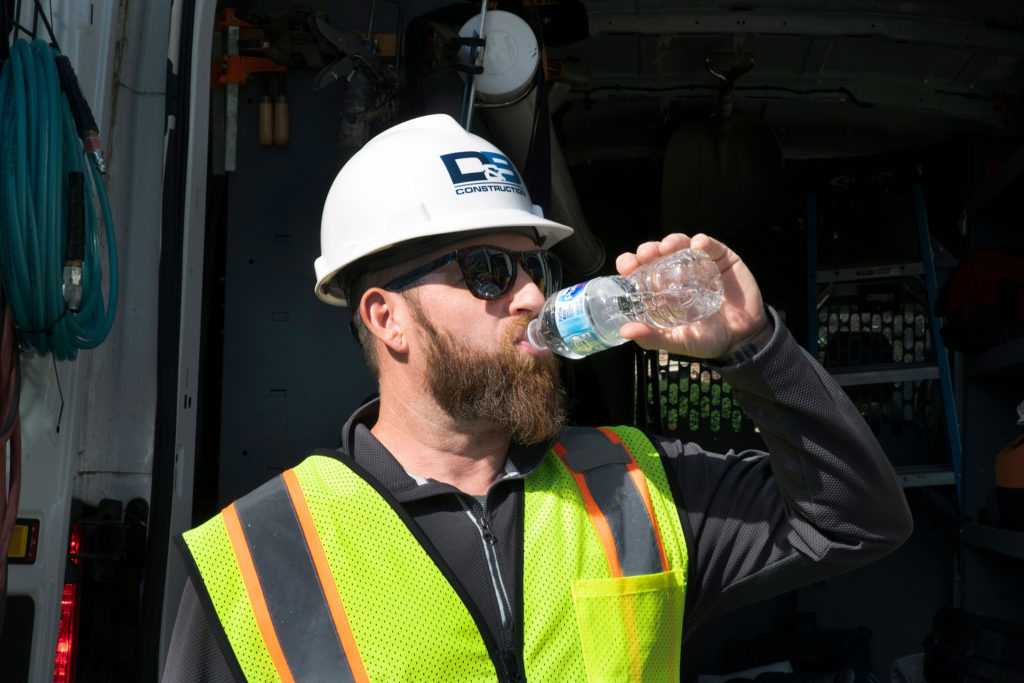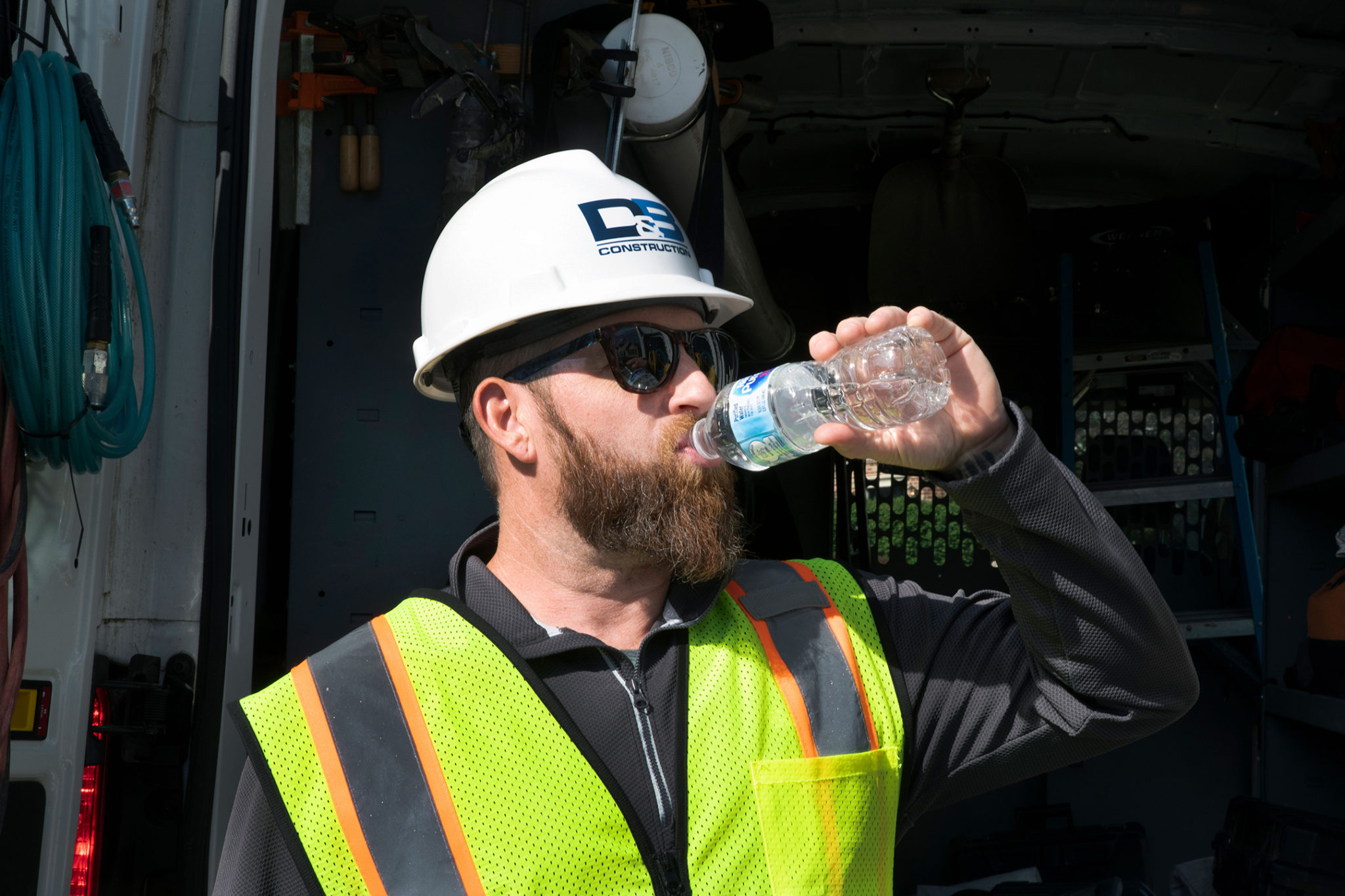 2. Avoid Salty Foods
Tom urges team members to avoid eating salty foods. Why? They dehydrate you. Foods such as pretzels, potato chips, and popcorn can be a great snack, but in the summer months you may want to trade them in for your favorite fruits and veggies.
It can be hard to avoid eating salty foods on the jobsite, especially since the convenience of fast food restaurants can be tempting when you're on the go. Fast foods like McDonald's can be unhealthy – and even unsafe during the summer months – for more reasons than just its high sodium content.
Let's say you're on your way to the jobsite and decide to stop at McDonalds to get a classic Big Mac Meal with fries and a soda. This meal is 1,320 calories; 51 grams of this is fat, 192 grams is carbs, and 1,425 mg is sodium.
Construction workers can burn up to 300 calories per hour while on the job. This is three times as many calories as the average office worker who only burns around 102 calories per hour. Because of this, it is recommended that individuals completing manual labor on the jobsite consume at least 2,500 calories a day. After eating your Big Mac Meal, you have already consumed 79% of your daily fat, 64% of your daily carbs, and 60% of your daily sodium, and you still need to consume 1,180 more calories to obtain the recommended 2,500 calories.
Not only are you consuming too much sodium, but regular consumption of fast food meals such as this can be unhealthy to you and may even influence other workers to follow suit. To stay healthy on the jobsite, we recommend packing protein and complex carbohydrates low on salt, with some healthy snacks (see the next tip for more info on this).
Start your day off right with this easy to make breakfast burrito. For lunch, try saying adios to the usual cold cuts and deli meats high in sodium and nitrates by trading them in for the ultimate trifecta: something delicious, healthy, and safe for your body in the heat. We think this Protein Packed Pasta Salad looks delicious! While you are feeling inspired, check out these 15 tasty and uncomplicated lunches that are packed with protein.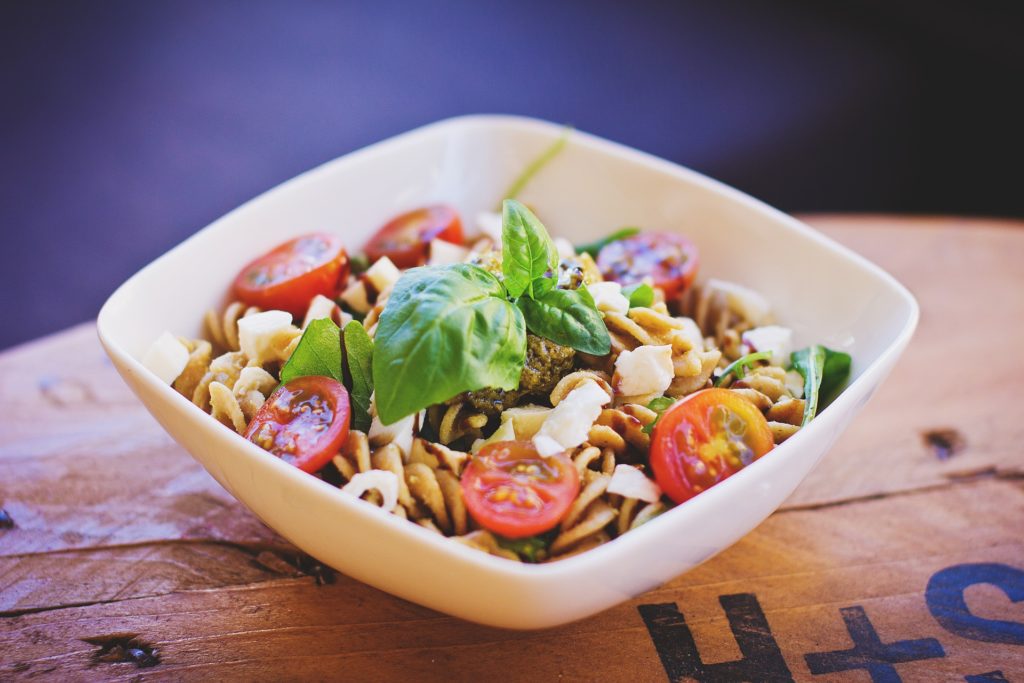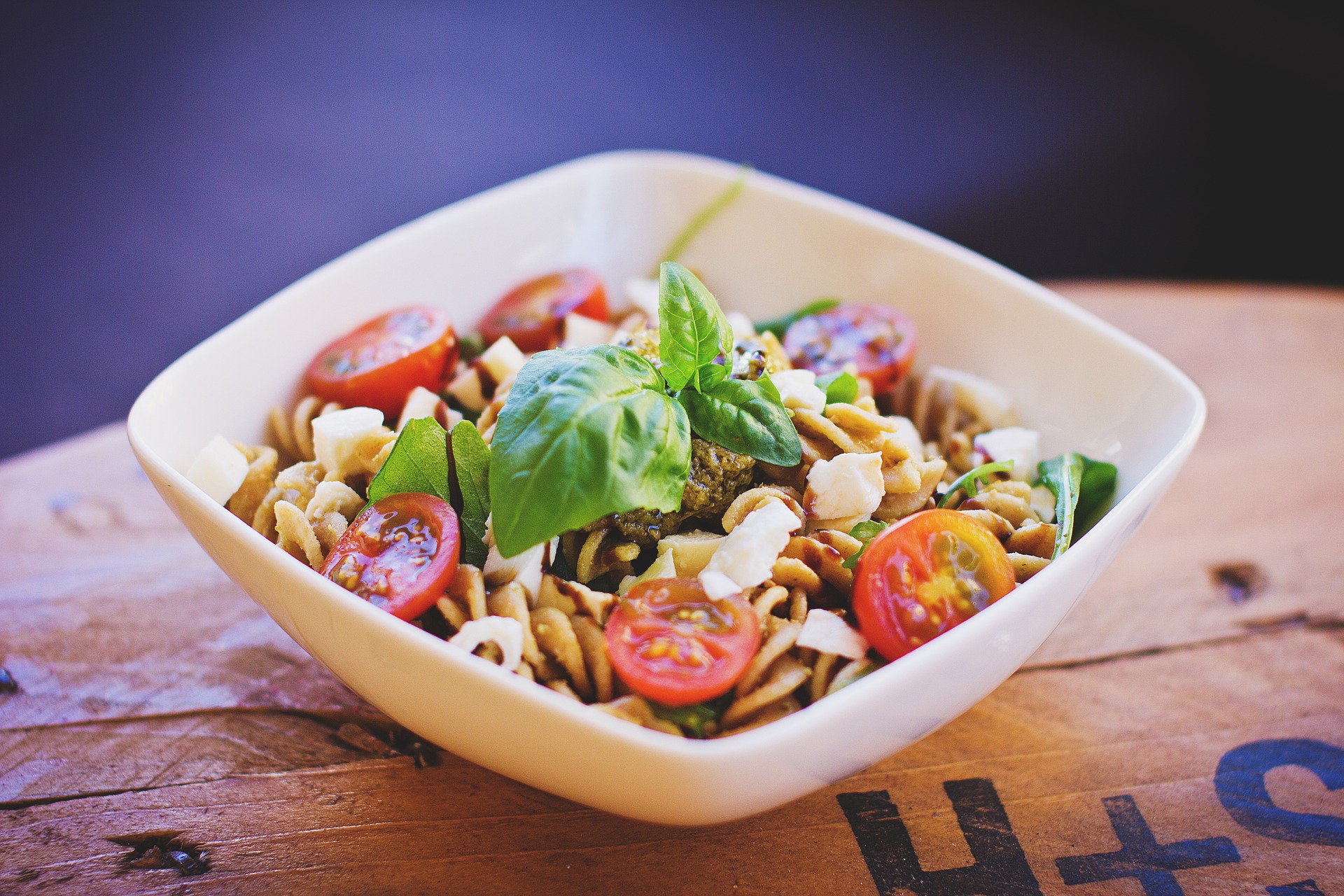 3. Eat Water-Filled Foods
Watermelons, strawberries, oranges, peaches, cucumbers and other fruit are great snacks, especially in the summer while on the jobsite. In addition to drinking water, eating water-filled fruits and other snacks is a great (and healthy) way to stay hydrated.
One great lunch option is a cucumber-watermelon salad with avocado and bell pepper. Aside from being tasty, it is simple, too! All you need to do is cube these foods and add the dressing of your choice.
Another very simple – yet effective – snack that will keep you hydrated is frozen grapes. Find more inspiration for delicious recipes that will help keep you hydrated here and here.
Let us know which recipes you'd like to try and what your go-to healthy lunch is on the jobsite in the comments below!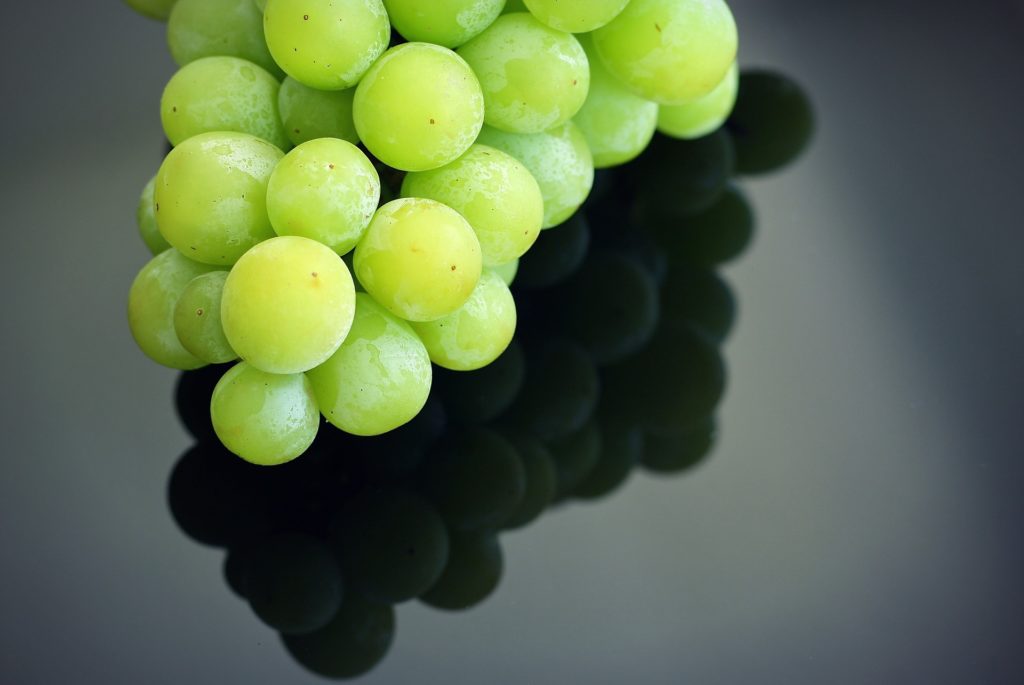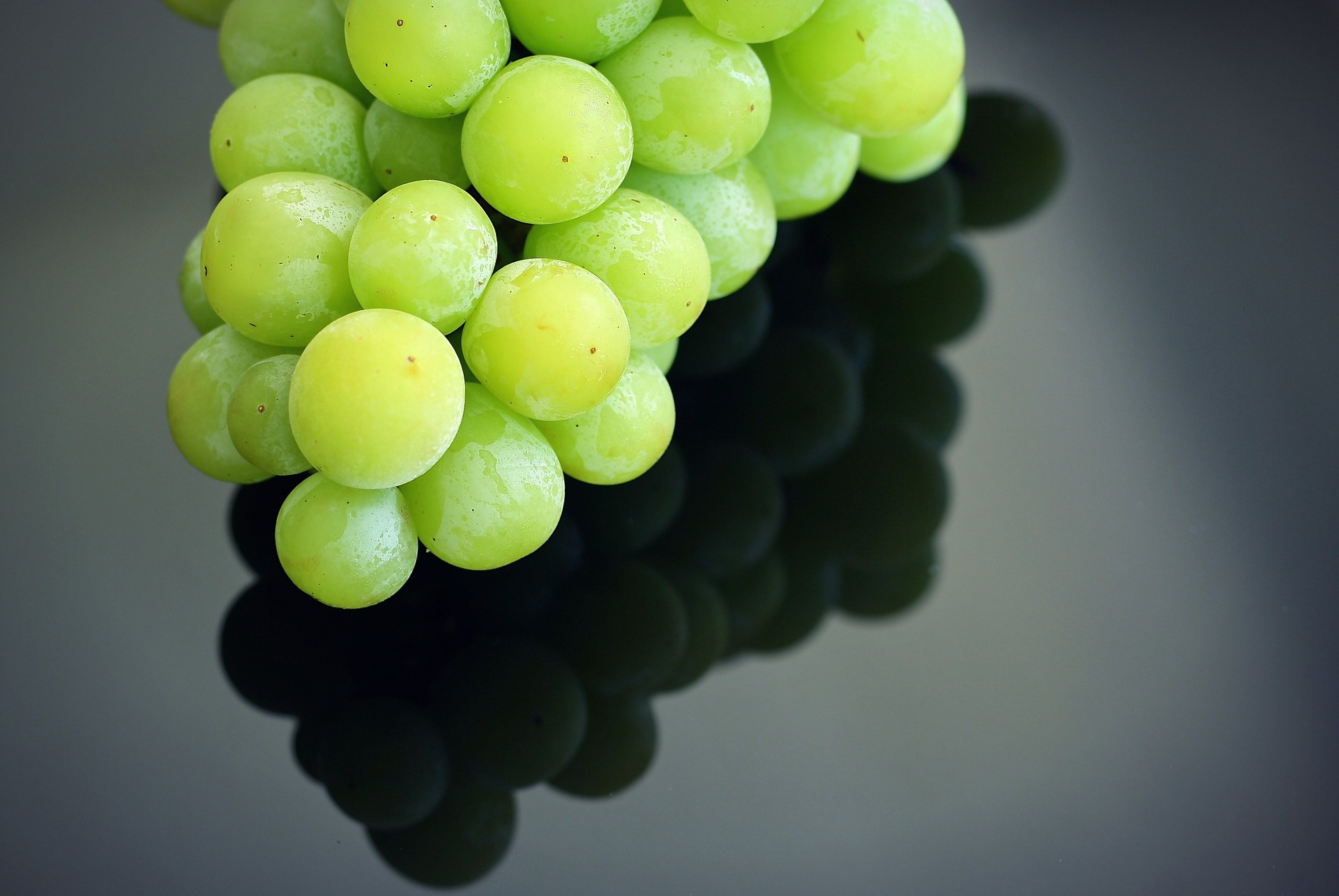 4. Wear Loose, Light Colored Clothes
Darker clothes attract more sunlight. Naturally, this rule applies on the jobsite in the summer. Our Safety Director, Tom, suggests this simple tip that can make quite the difference: wearing loose, light-colored clothes.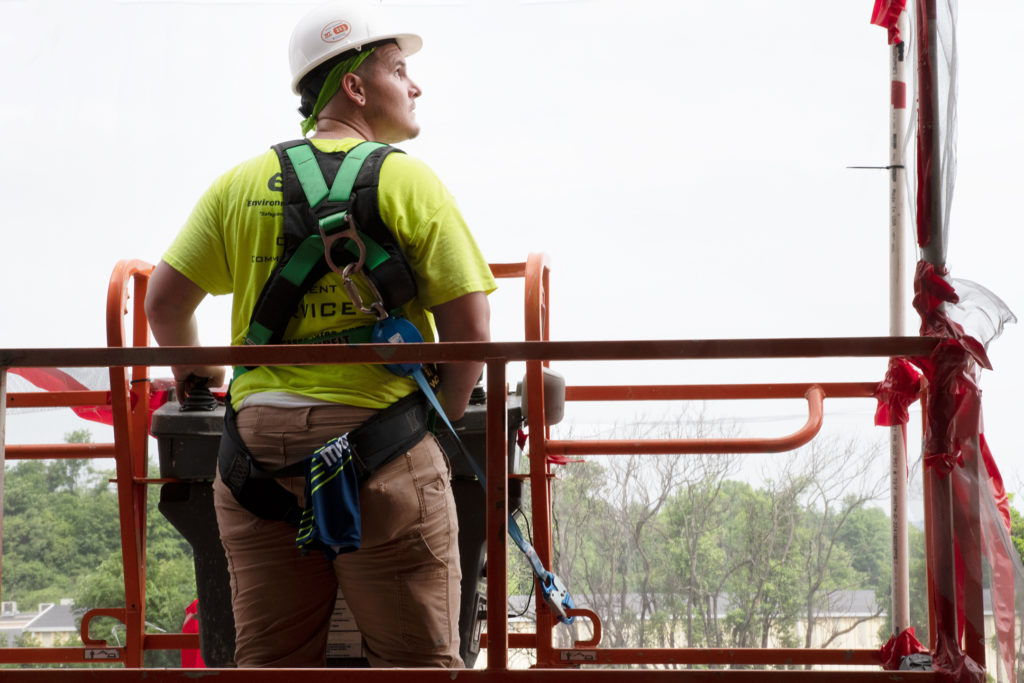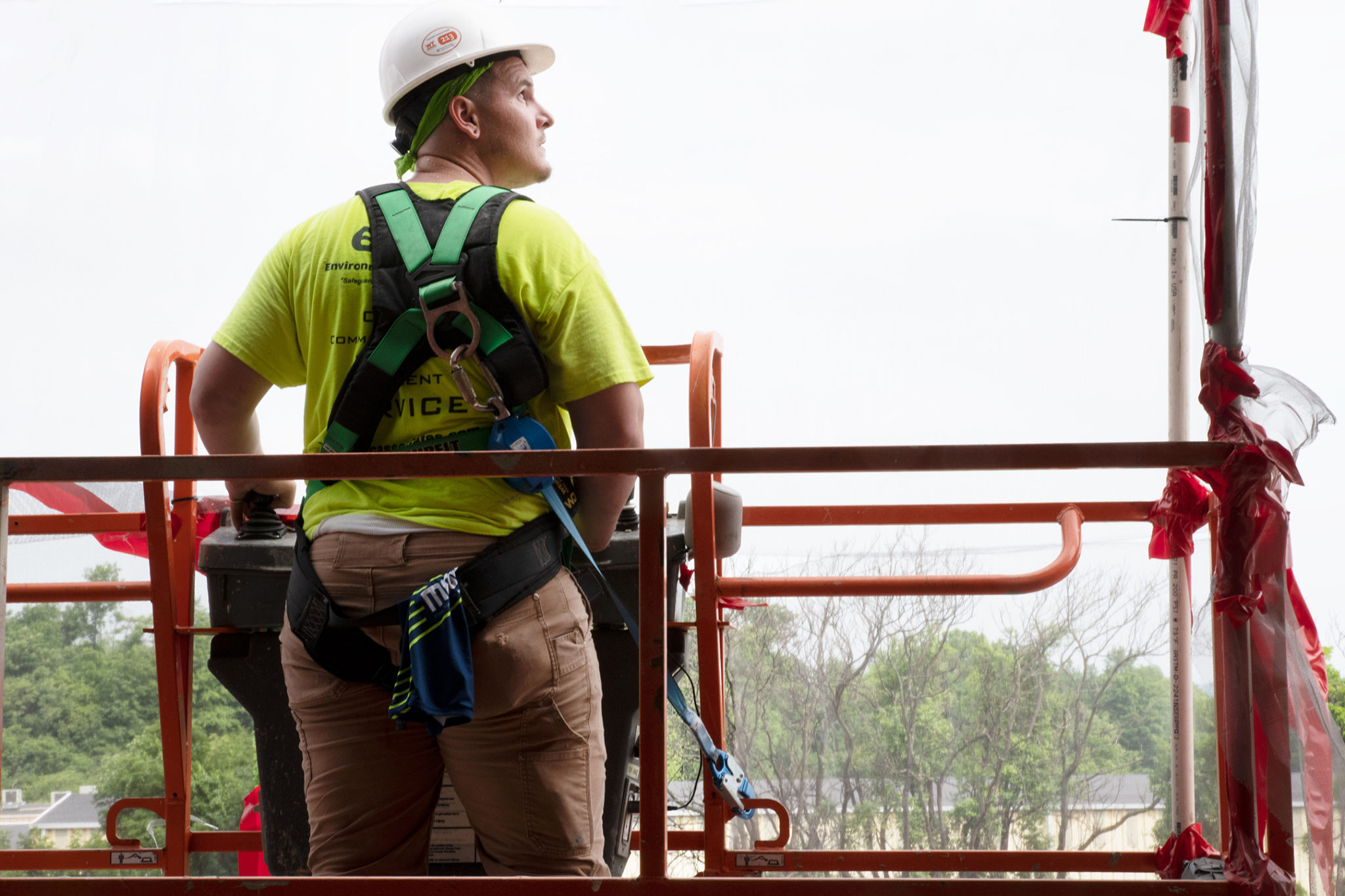 5. Get Some Shade
Potentially the most important tip out of the five, make sure to get some shade. Naturally, jobsites can get extremely hot in the summer months. Our Safety Director encourages all workers to take breaks in the shade to cool down and to be vigilant for signs of exhaustion, both for themselves and their co-workers on the jobsite. Having a buddy system may work well here. It is important to watch for the following signs of heat exhaustion and heat stroke for everyone on the job: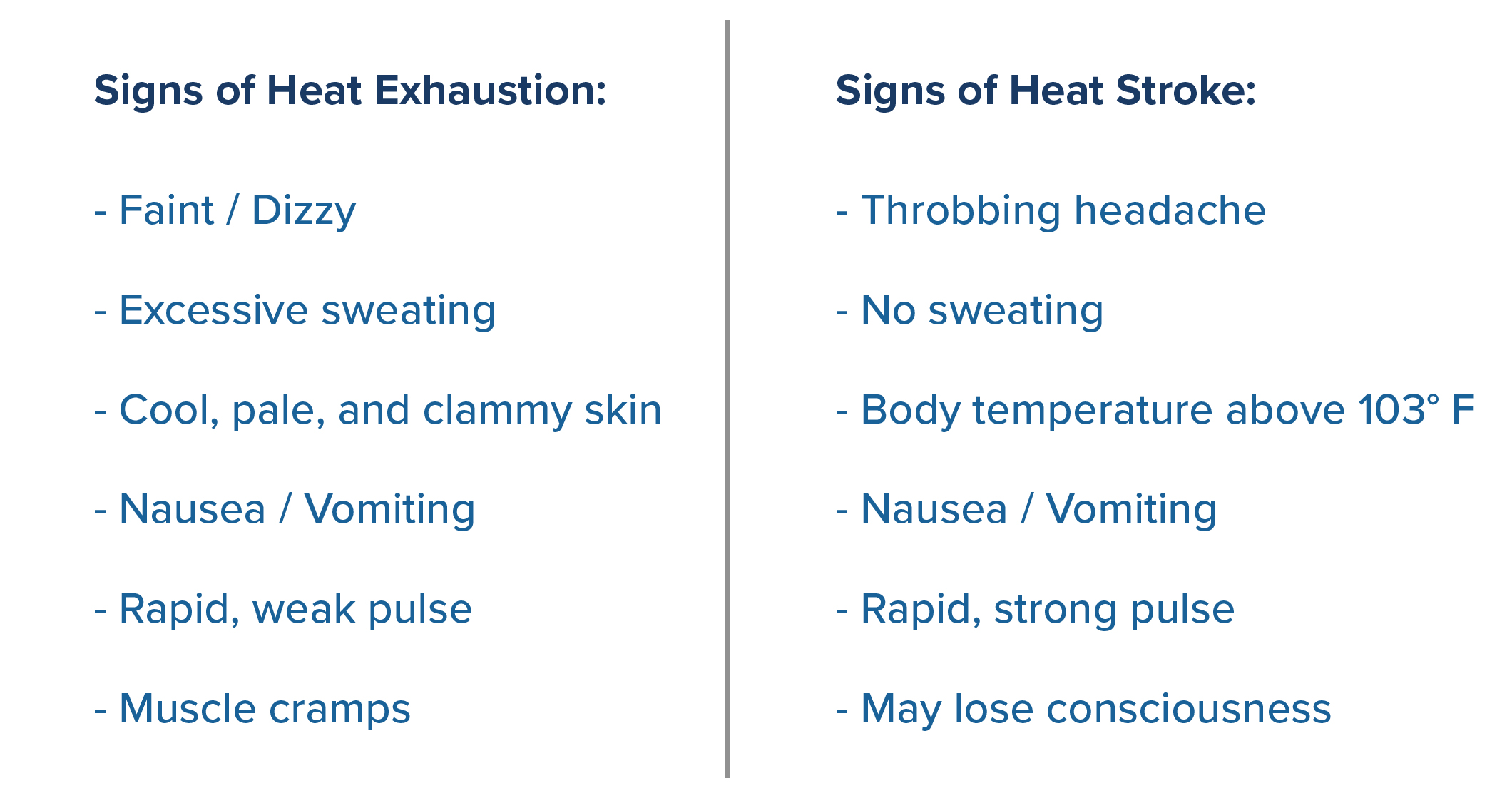 The Benefits of An Acclimatization Plan
Implementing an acclimatization plan is one way to prevent heat exhaustion. Simply put, this allows workers to get used to the high-heat conditions of the summer. This should take place over a one to two-week period. For new workers, the schedule should accommodate for no more than 20% exposure to heat on day one, with an increase of no more than 20% each day. If the worker has had experience on the job, you should do the same sort of process over a four-day period. Start day one at 50%, move to 60% on your second day, and 80% on your third day. By the fourth day you will be at 100% exposure. Tom supports this kind of plan if he feels the situation is right for it, although the tri-state area that D&B covers usually doesn't require this since the seasons are well-balanced.
Trend 1: LEED and Green Building

"A 'Green' building is a building that, in its design, construction or operation, reduces or eliminates negative impacts, and can create positive impacts, on our climate and natural environment. Green buildings preserve precious natural resources and improve our quality of life" (WGBC). In response to the COVID-19 pandemic, Green or LEED construction is changing. The U.S. Green Building Council, creators of the LEED certification, plans to promote healthier and safer air quality indoors with adjusted certification criteria incentivizing the creation cleaner air systems. In 2021, there will be more building materials and components that help get LEED certification. One interesting and somewhat new development is a form of self-healing bio-concrete. This is a compound of concrete and bacteria that produces limestone when exposed to air and water, which helps with the impermeability of the surface. It costs around $240 per cubic meter. For reference, normal concrete usually costs between $200-$300, making it still cost efficient. Green building will continue to grow throughout the next decades and new technology and policy will come out to reinforce it as time goes by.
Trend 2: Modular Construction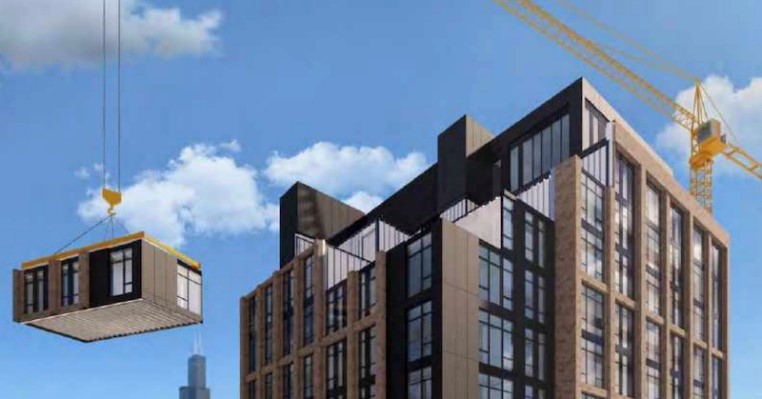 The construction industry is rapidly moving towards modular materials because of its cost and time efficiency. Modular building is anywhere from 20% – 50% faster than traditional construction. It is also around 20% more cost efficient to build modular instead of traditional because of the reduced labor and time costs. Modular building also cuts the waste output almost in half due to optimal fabrication and pre-planned units. Everything is built off the construction site, which reduces the challenges of regular construction such as weather, limited working hours, and space. Overall, modular building is great for symmetrical and repeating buildings where sections can be made and stacked or attached to each other easily like in apartment or office buildings.
Trend 3: Safety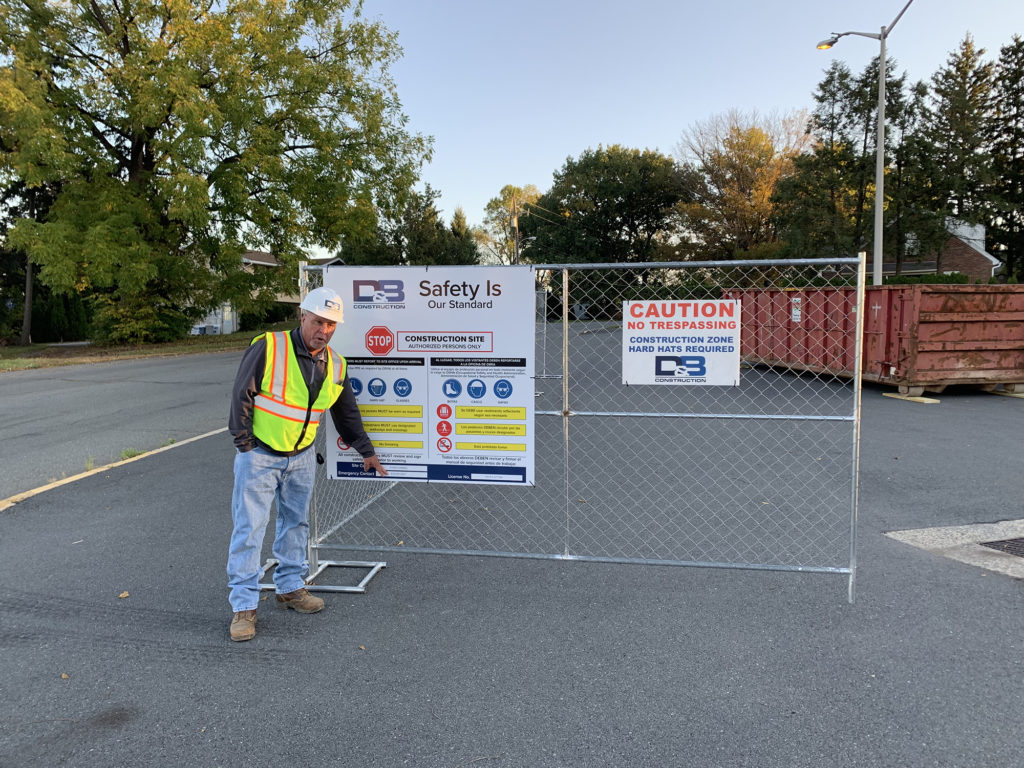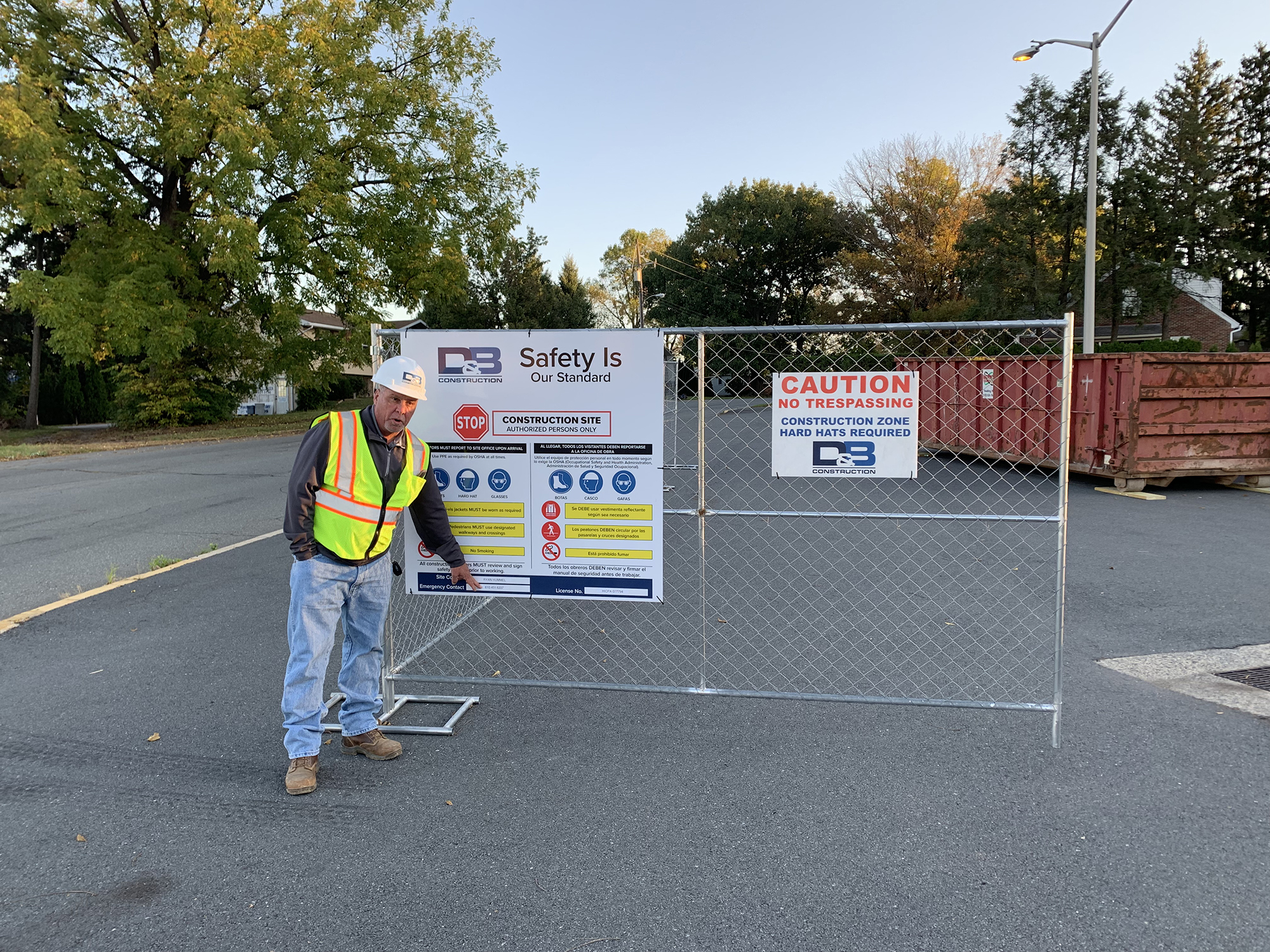 As it should be, safety is a huge trend in 2021. The old workplace safety system focused on recognizing problems and fixing them after someone gets hurt or a problem occurs. The new system getting pushed in the industry is based on prevention through education and training and recognizing issues before anyone gets hurt. This is why we have our Safety Committee meet monthly to discuss different topics of safety. Another large change in the safety category is better technology with Personal Protection Equipment (PPE). With more women entering the field, there is an increased awareness of the need for PPE to properly fit all employees to ensure safety. In addition, because of the COVID-19 pandemic there are policies across most companies including D&B that promote safe environments using masks, social distancing, and sanitization. When the pandemic hit, our team implemented a sign in and sign out sheet at every job site, making it easy for us to accurately perform contact tracing in the event that someone developed COVID-19 symptoms. D&B will continue to enforce this rule across all job sites moving forward. Learn more about our safety standards here.
Trend 4: Multi-Family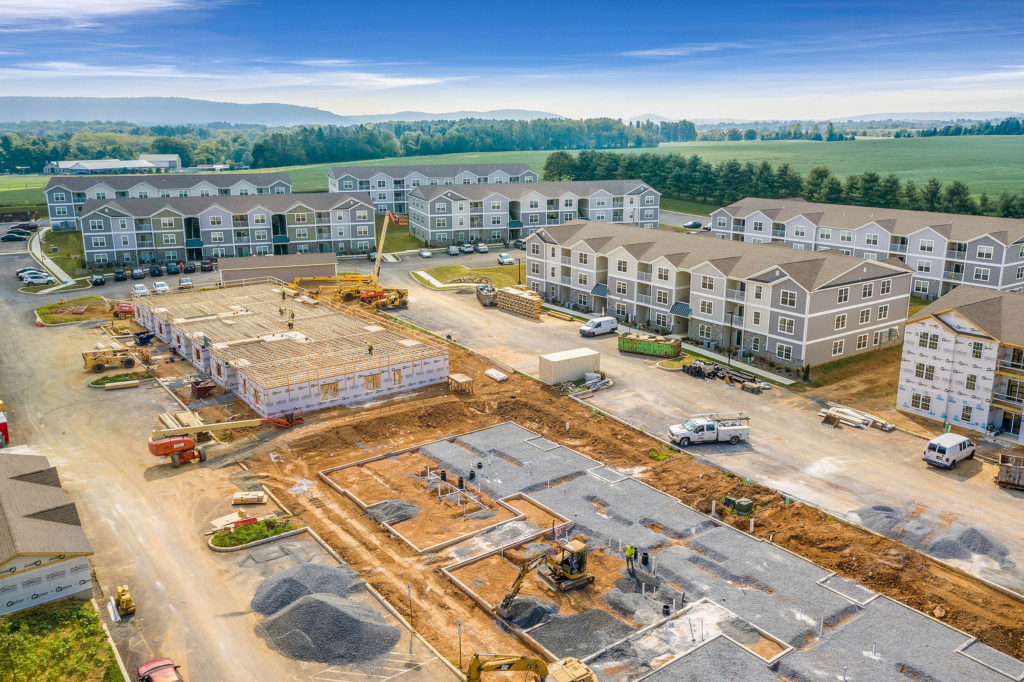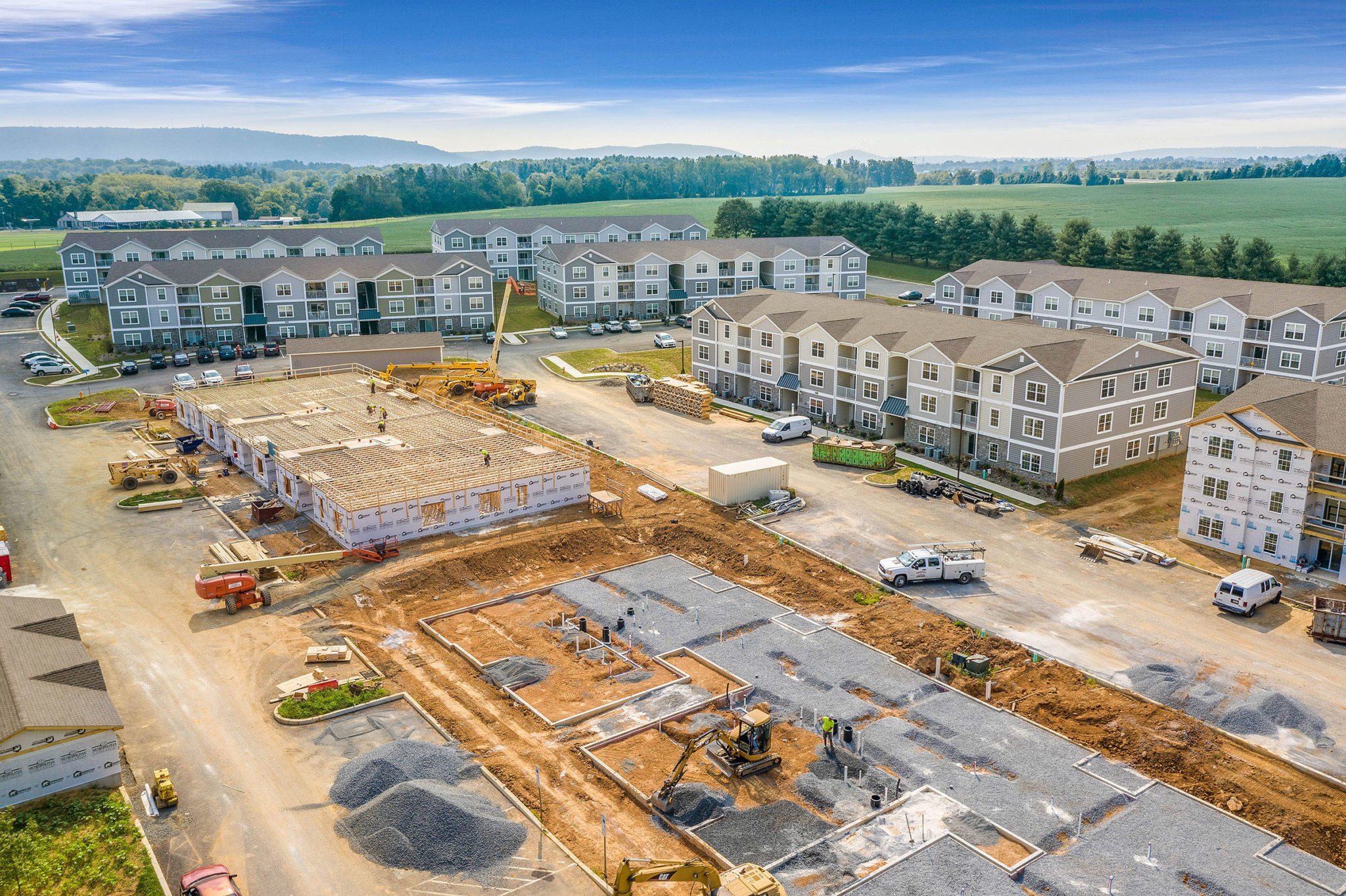 Multi-family construction is one of the fastest growing sectors of the commercial construction industry. Because of the lack of inventory in the housing market and changing demographics, multi-family construction is in high demand and will continue to grow in the following years. More people are looking for smaller, more affordable homes and condominiums with less maintenance than a normal single-family house. Research shows that 33% of people who are reaching age 55 are on their own. This is much different than what was the case 20 years ago. Currently D&B has multiple multi-family jobs under active construction and in the pre-construction phases. Throughout my internship, I shadowed the construction of The Reserve at Gring's Mill, which you can view here.
Written by: D&B Intern, Alex Wolf
Alex culminated this list based on what he learned during his time at D&B. He is a Senior at Wilson High School who began shadowing various D&B employees in September of 2020. Alex will be attending Virginia Tech for Architecture in the Fall. "My internship experience at D&B made me realize that I want to pursue a career in residential remodeling and construction," he explains. "I gained a lot of knowledge about the construction process and enjoyed being able to see entire construction projects from start to finish."
It's hard to believe it has already been one year since we completed renovations that converted two existing administrative office spaces into a state-of-the-art orthodontic office! Aside from this healthcare project's stunning design, this project was special to us because it was the start of Wyomissing native and local orthodontist Molly Hottenstein's dream of owning her own practice. Molly knew she wanted to be an orthodontist since high school. It was then that she shadowed various doctors because she always knew she wanted to work with people in the medical field. She shadowed an orthodontist and immediately knew it was for her. "I loved the science behind making smiles beautiful… The perfect balance of physics and biology and art. I also loved being able to hang out with cool kids, teenagers and parents all day while really getting to form relationships with them over the course of their treatment. I loved that I could be part of an amazing community and hopefully make a difference in some of their lives," explains Molly.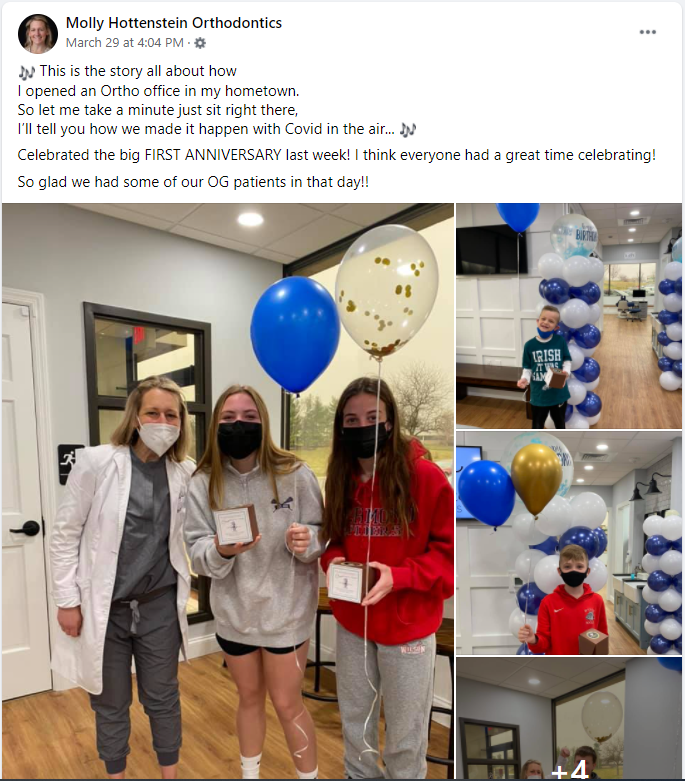 Now, she didn't always plan on opening her own office. That wasn't on the horizon until after she had worked four years as an associate at different offices. "It was then that I realized I wanted to bring something different to Berks County," she recalls. She dreamed of opening an office that offered patients something more personal and a bit slower paced, allowing for more one-on-one time. In doing this, her patients would become her friends and family, not just another case. "I wanted to bring a little 'Disney magic' to my office, making it a place people wanted to come. I wanted them to feel like there was something different about what we were offering, and the only way to do that was to take the plunge and create it." And take the plunge she did! It was the D&B team's pleasure to be able to watch Molly's hard work turn into a reality before her eyes through the construction of her one of a kind office!
Today, Molly Hottenstein Orthodontics is still loving their office as much as (if not more than) the day they first laid eyes on it. We've loved watching them grow since first opening their doors on March 10 of last year, and we are so happy to see them celebrating one year in their office space. Of course, it doesn't take a math whiz to figure out that the date Molly's business opened unfortunately coincided with state-wide shutdowns due to the spread of COVID-19. They actually had to shut down operations just two business days after their grand opening… Definitely not something that Molly was anticipating! In reality Molly and her team were planning two grand openings, one for the dental community and an open house for the entire community as a whole.
Like many local business owners, a lot of perseverance and adaptability from her team had to take place within the last year. We sat down with Molly to reflect on the rollercoaster of emotions that she and her team went through after having to shift gears from "grand opening of their beautiful office space" to "closing down operations due to a global pandemic" in a matter of just 48 hours. Here's what she had to say:
"It was heartbreaking and terrifying. I was six months pregnant and would walk around my empty, beautiful office and cry because I just wanted people to be able to use and enjoy it," recalls Molly. However, she didn't let herself wallow in her pity for long. "After a few weeks of crying, I pulled myself out of the pit" she says with a laugh. "Fortunately, the office is laid out in a way that I can easily keep families separated and manage the flow in and out."
Molly and her team continue to "learn, adapt and grow," just as any start-up would – pandemic or no pandemic. "Honestly, I don't have experience with any other start-up NOT during a pandemic," she says. Molly applauds her staff, who have been "incredible at adapting, learning and being flexible." The team of three has also received amazing support from the community and other dentists throughout the area. With a smile on her face, Molly says: "At this point, I feel like we are thriving despite the difficult timing!"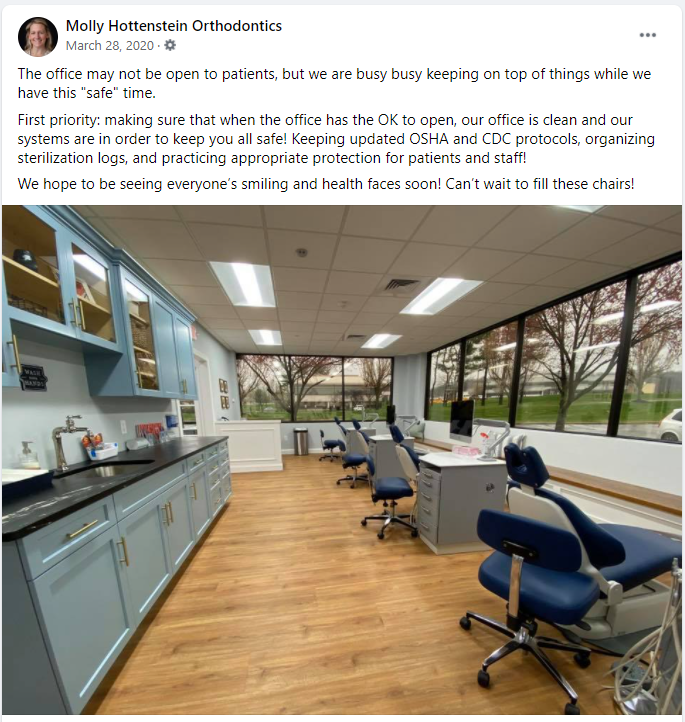 Transforming an Office Space to an Orthodontics Space
What all went into transforming Molly Hottenstein Orthodontics' office space into the area the community knows and loves today? The team at D&B actually renovated two separate spaces and connected them into one larger space. Molly recalls the spaces being "pretty much bare bones" when she first saw them. Even still, she fell in love with a few key elements that our crew kept and highlighted in her new office space. Molly knew she wanted to have a lot of natural light to help keep her office cheerful and bright. "I love spending time outside, and I wanted my staff to not feel like they were stuck in an office all day," she explains. Luckily, the space already had large windows around the exterior walls, and it was a no-brainer that they were here to stay. Another added bonus to these windows? Molly didn't have to worry about decorating bare walls! "I love that nature is my best decoration. The property management group does an amazing job keeping the area landscaped and clean, too," she says.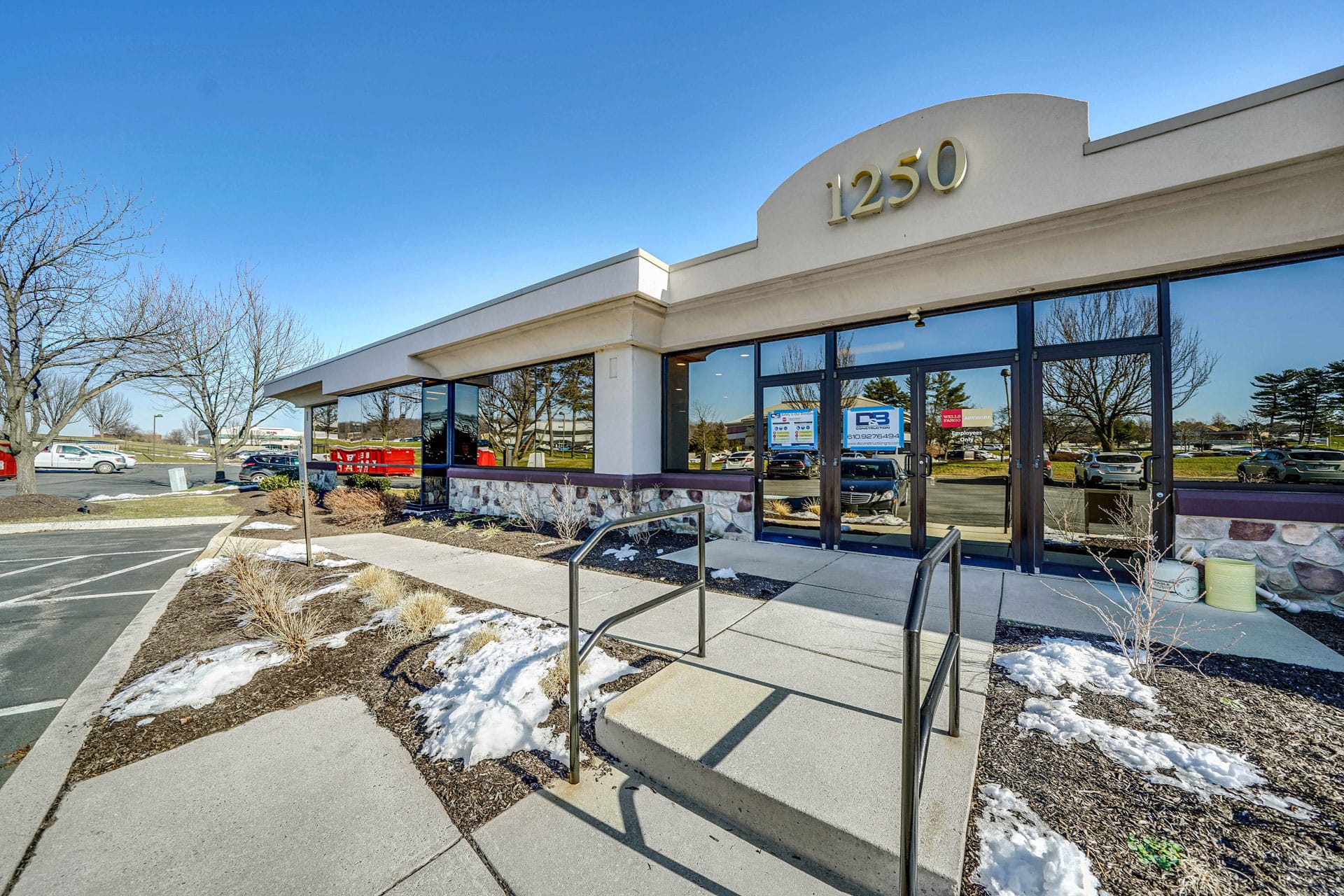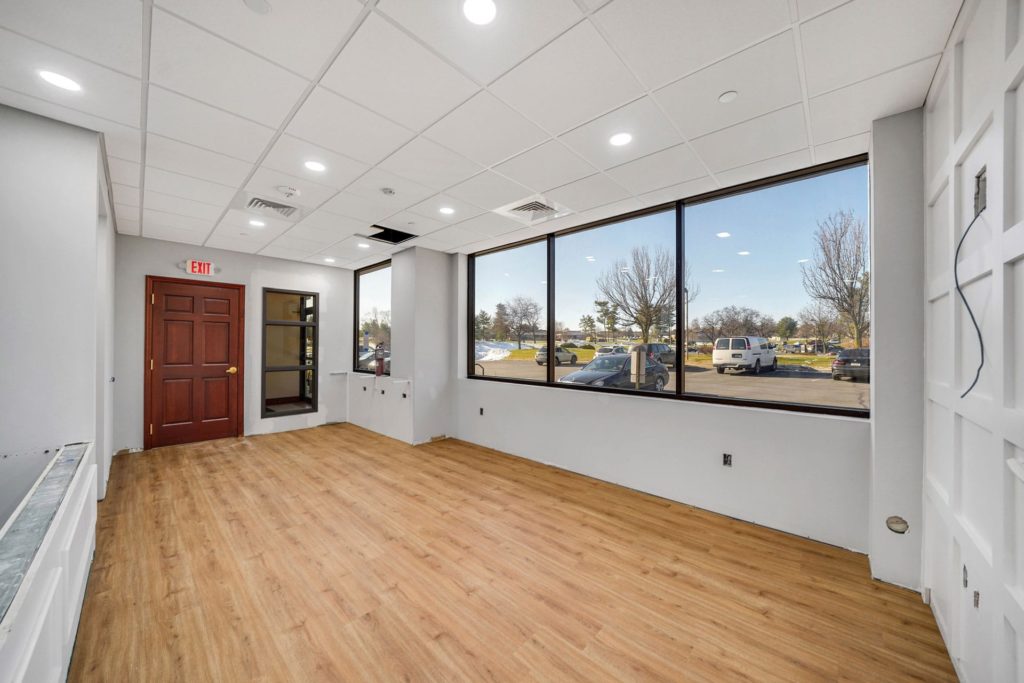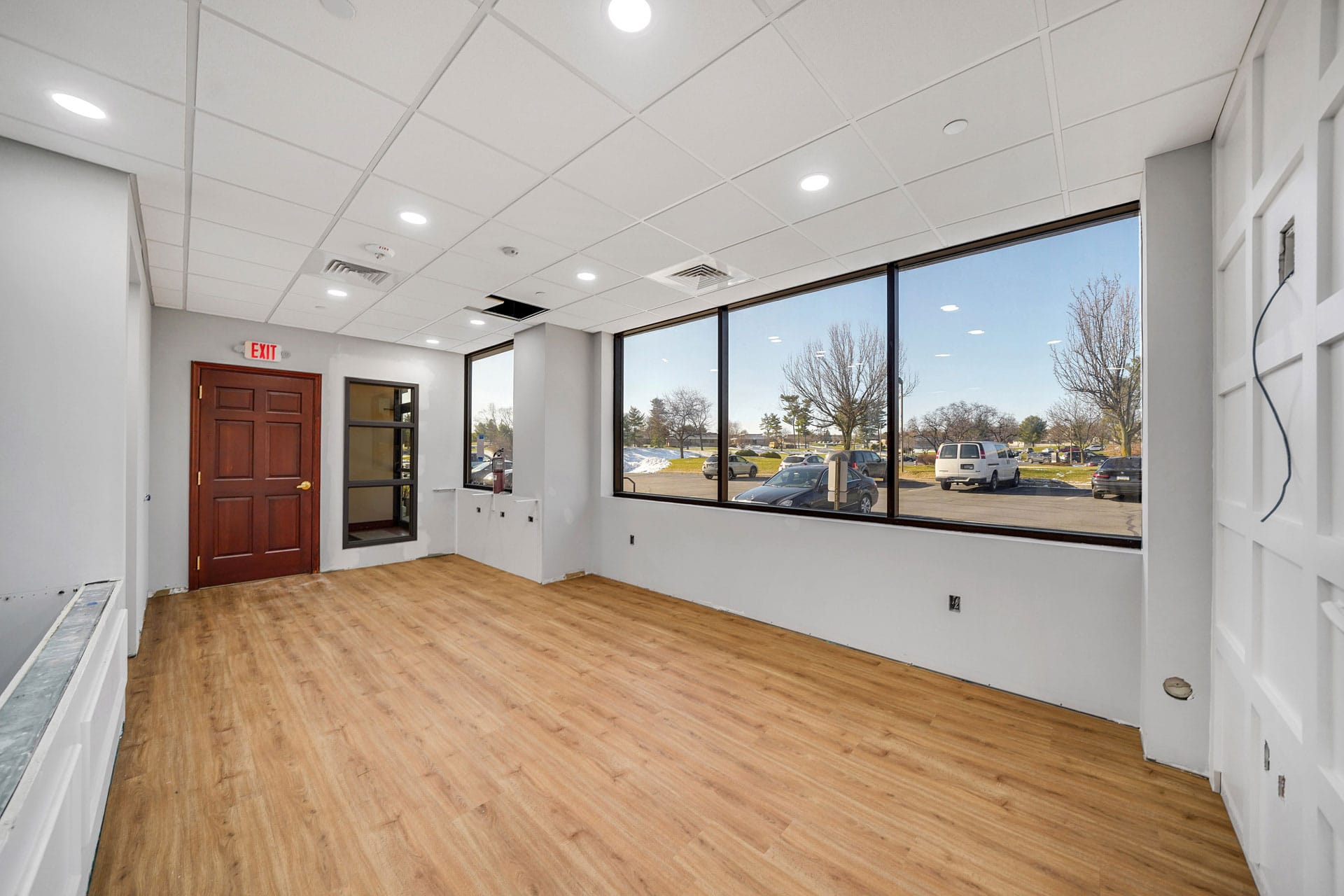 When it came to creating the vision for her office, Molly's husband, Kyle, was by her side! "We always had a very focused vision for the look and feel we wanted for the office," she recalls. "My husband and I are the perfect team because we have very similar taste. I have a very specific vision for the big picture and feel, while he is very particular and good at digging in to the details and making everything perfect."
It also helped that this wasn't their first rodeo. The couple worked together to decorate their home, and Molly's husband even completed their home renovations. "We really wanted to have a professional space that looked and felt more residential. We met with three potential contractors and D&B was the first that completely embraced and understood that!"
Molly and Kyle took care of the design and selection, while the D&B team gave this dynamic duo direction so it was easy for them to find exactly what they were envisioning. Molly recalls spending A LOT of time on Pinterest and Houzz looking at architectural and design aspects so they could gain an understanding of what they loved and wanted to incorporate into the space. Kyle even made an extensive PowerPoint showing all of the images and aspects they loved to illustrate where they wanted to utilize them. From there, D&B helped make the vision possible.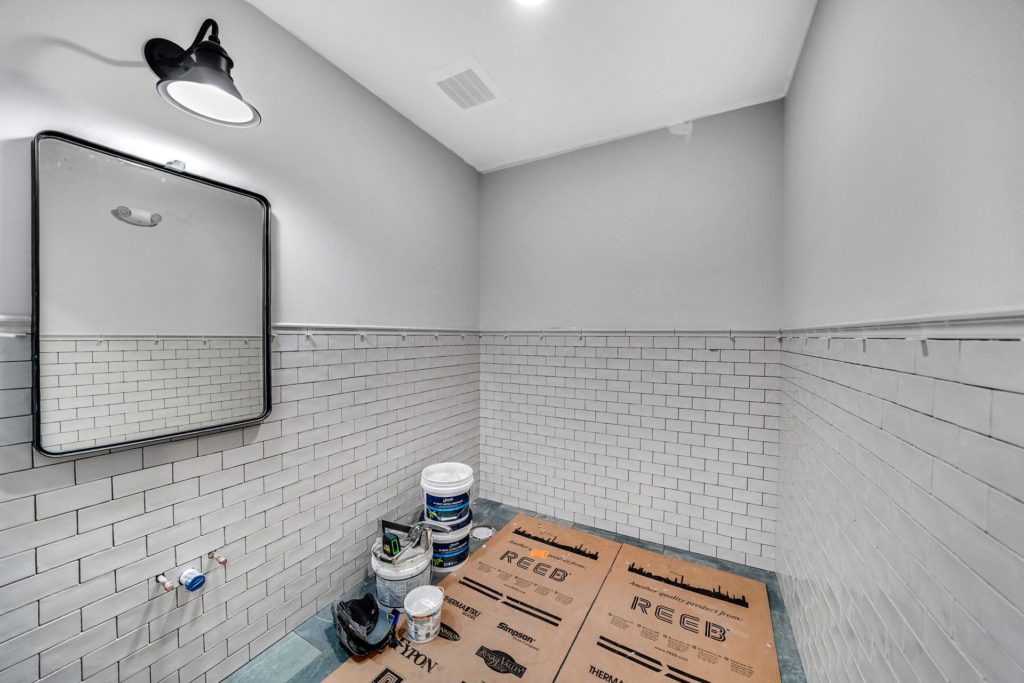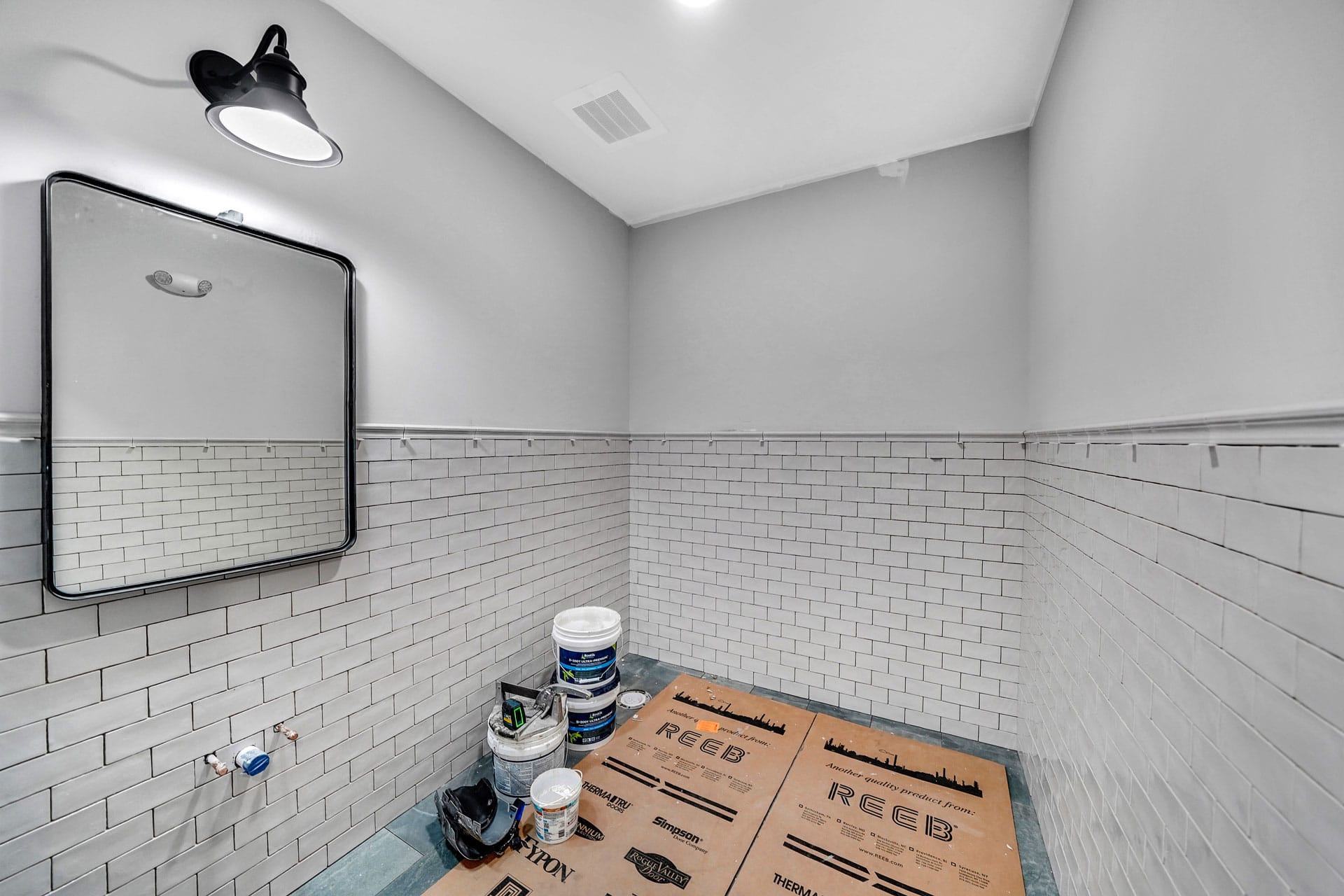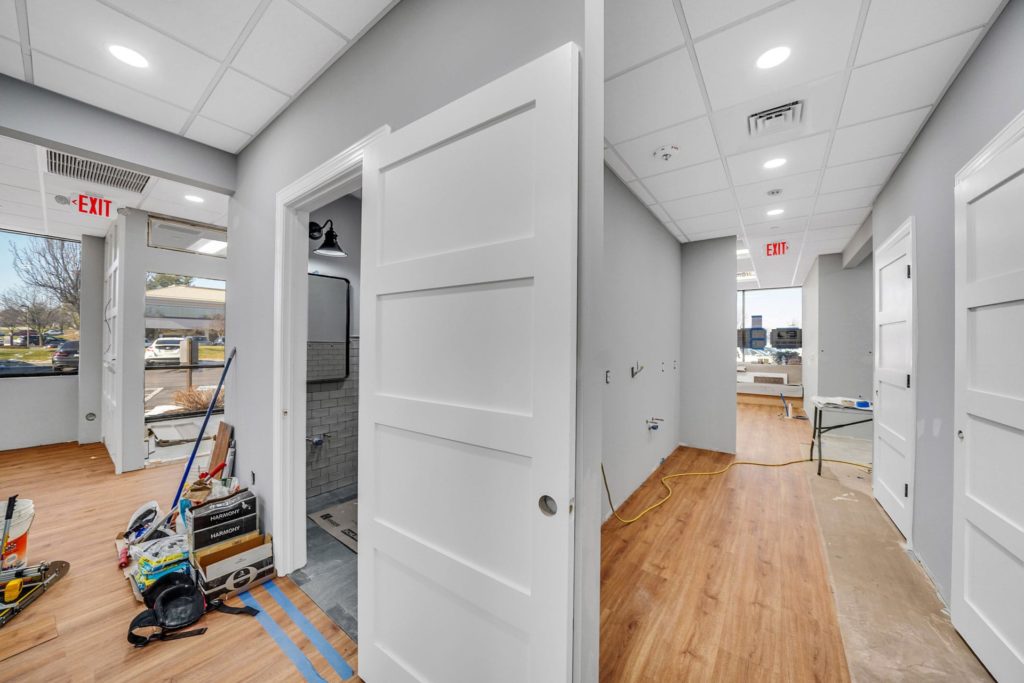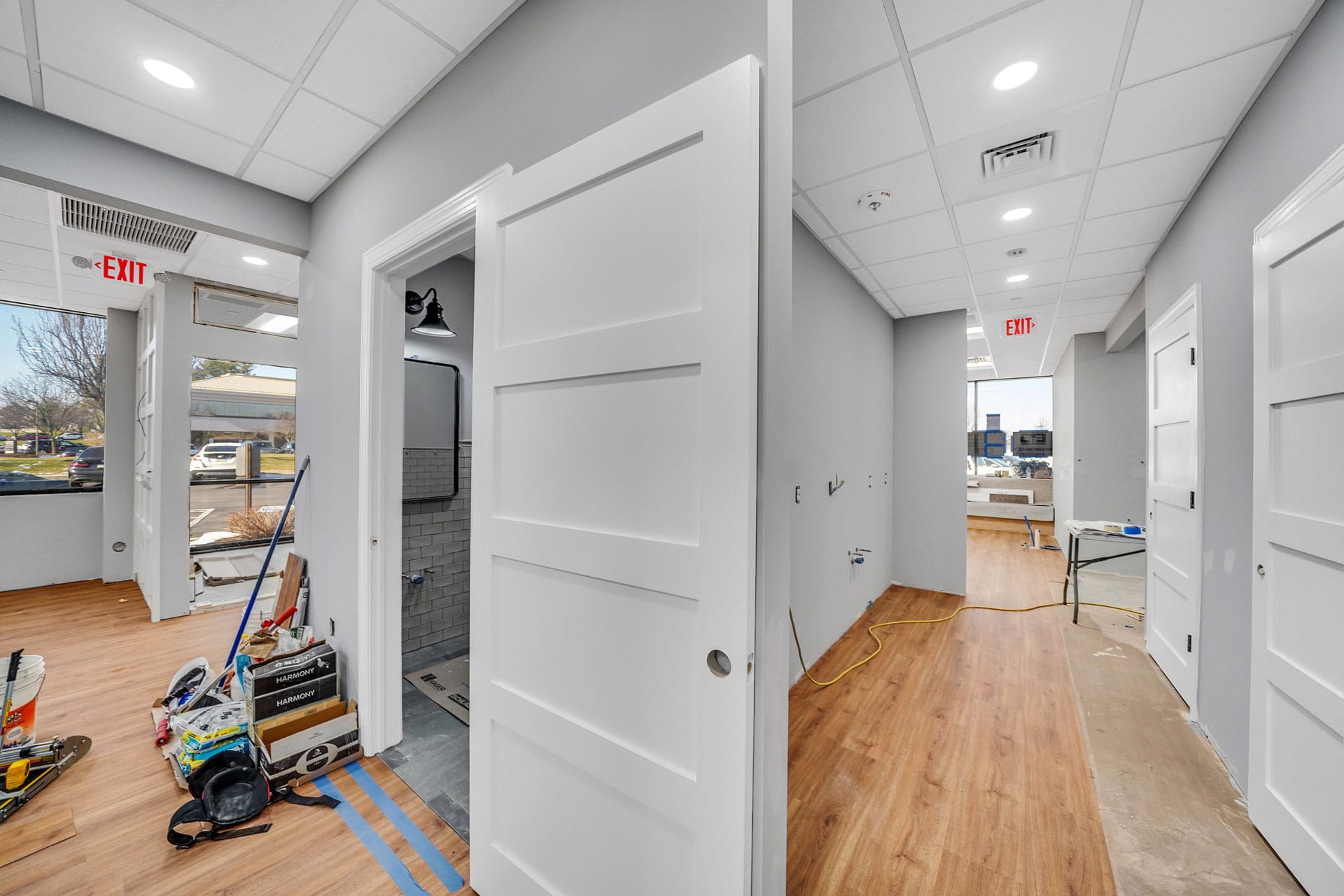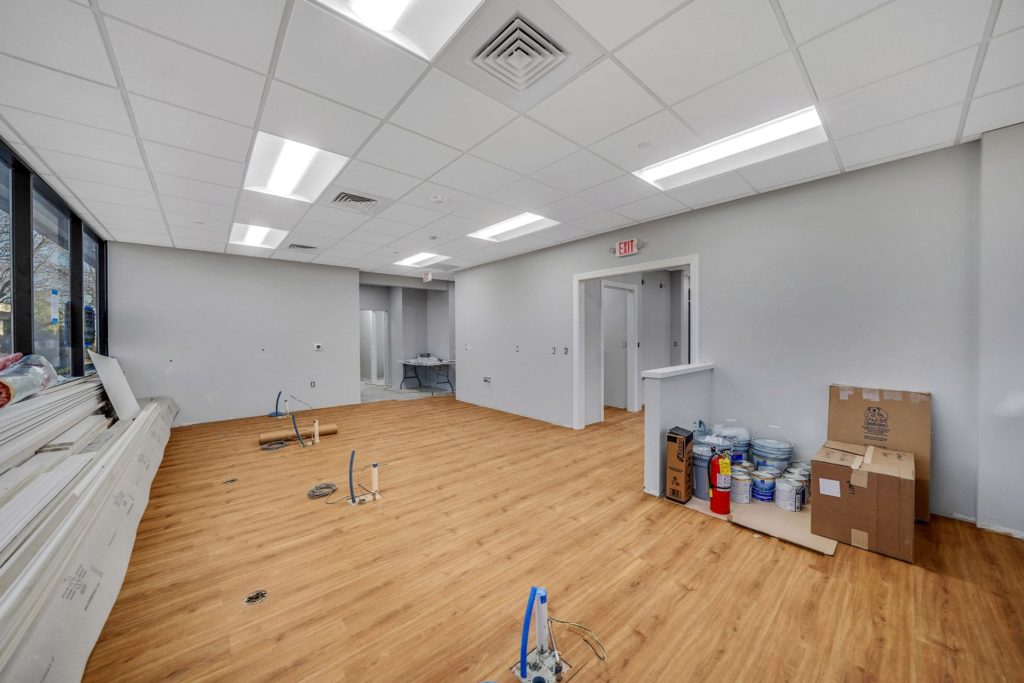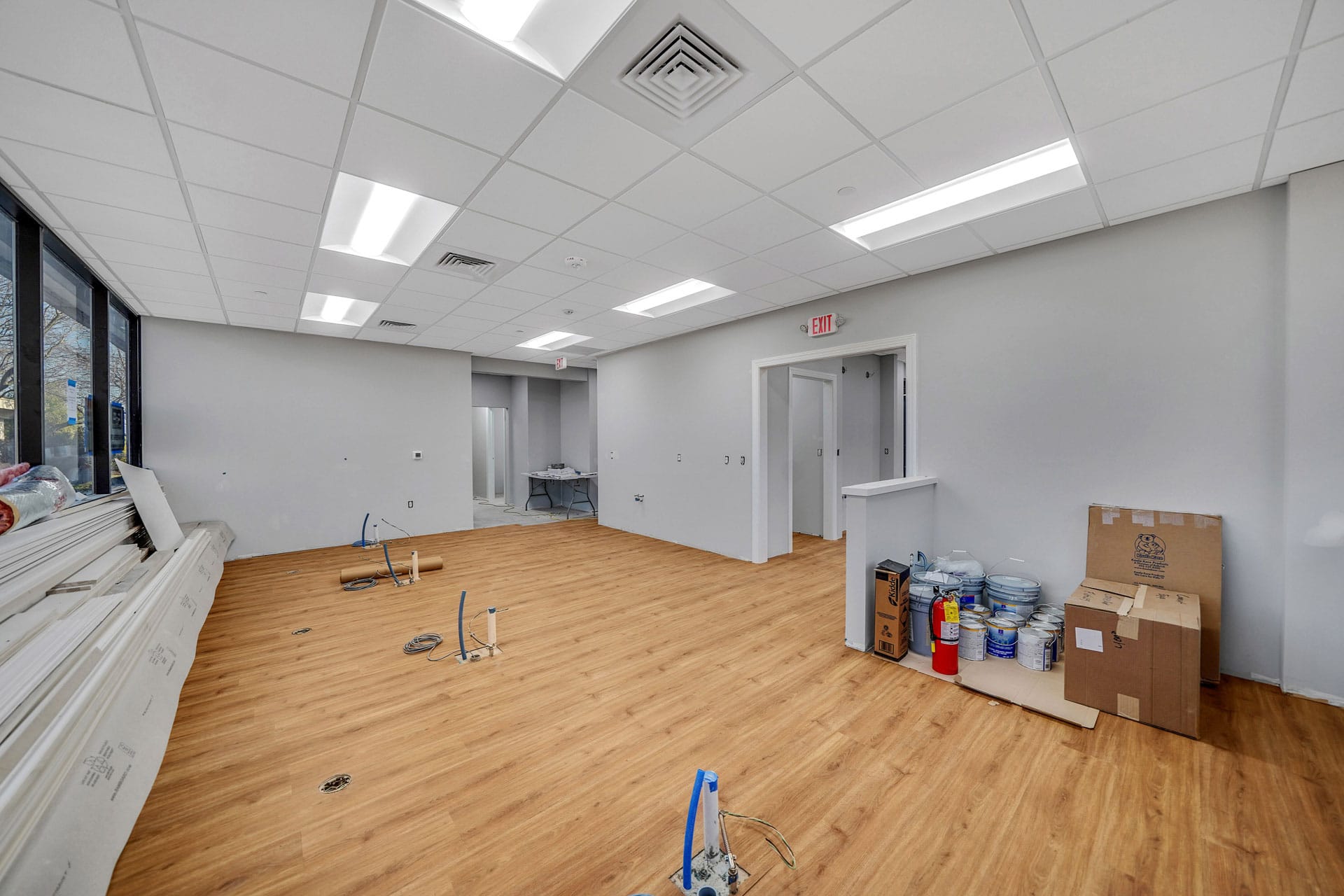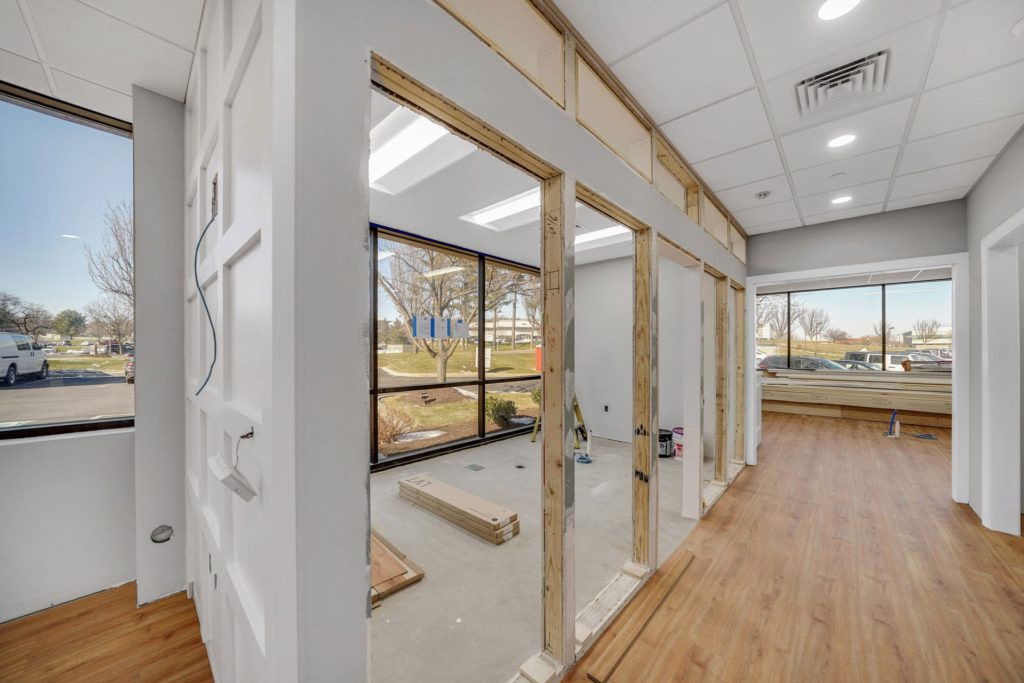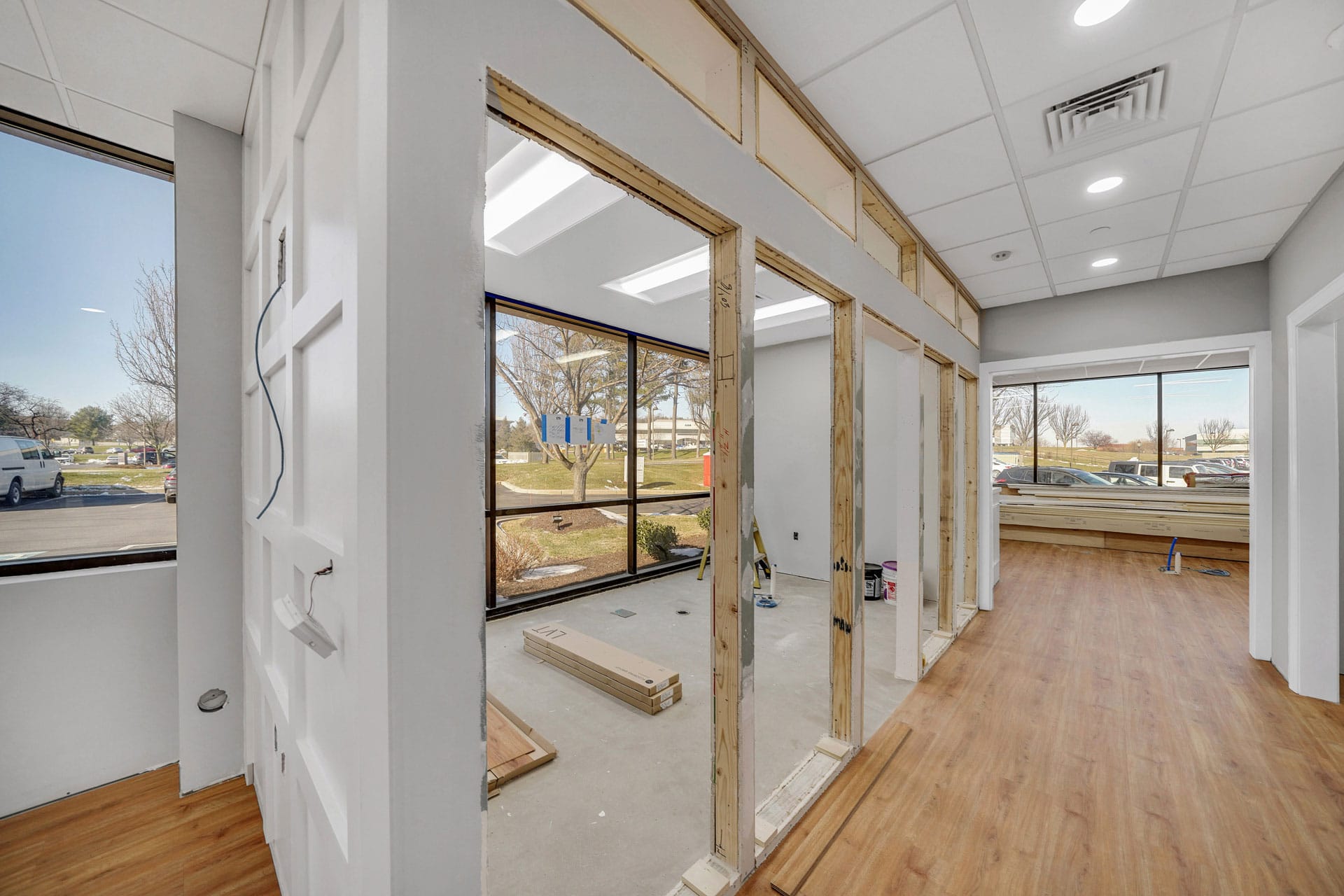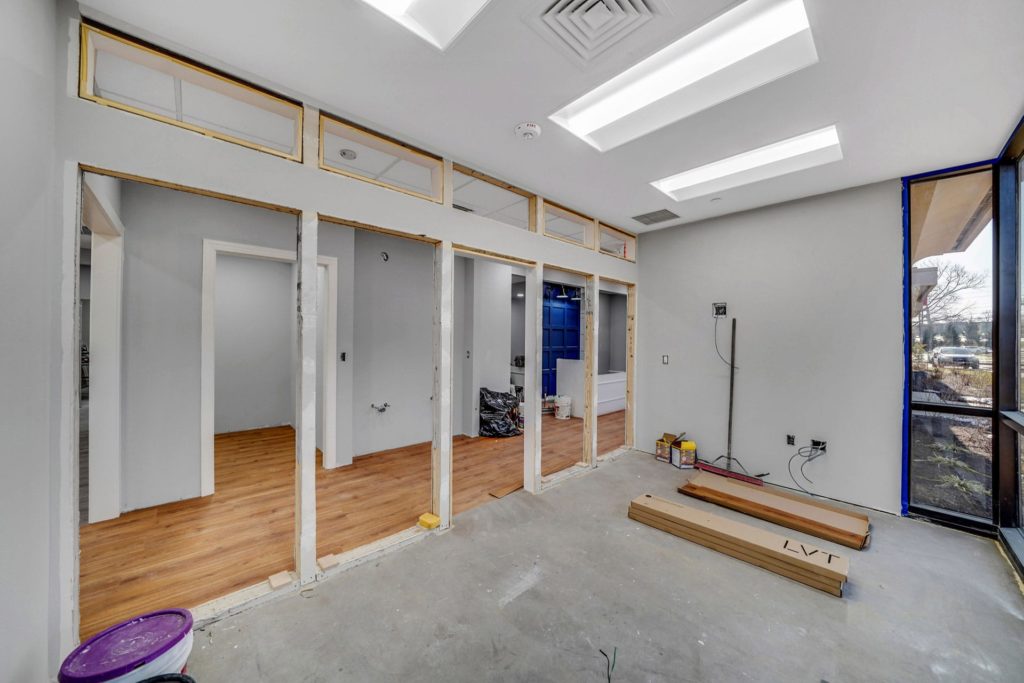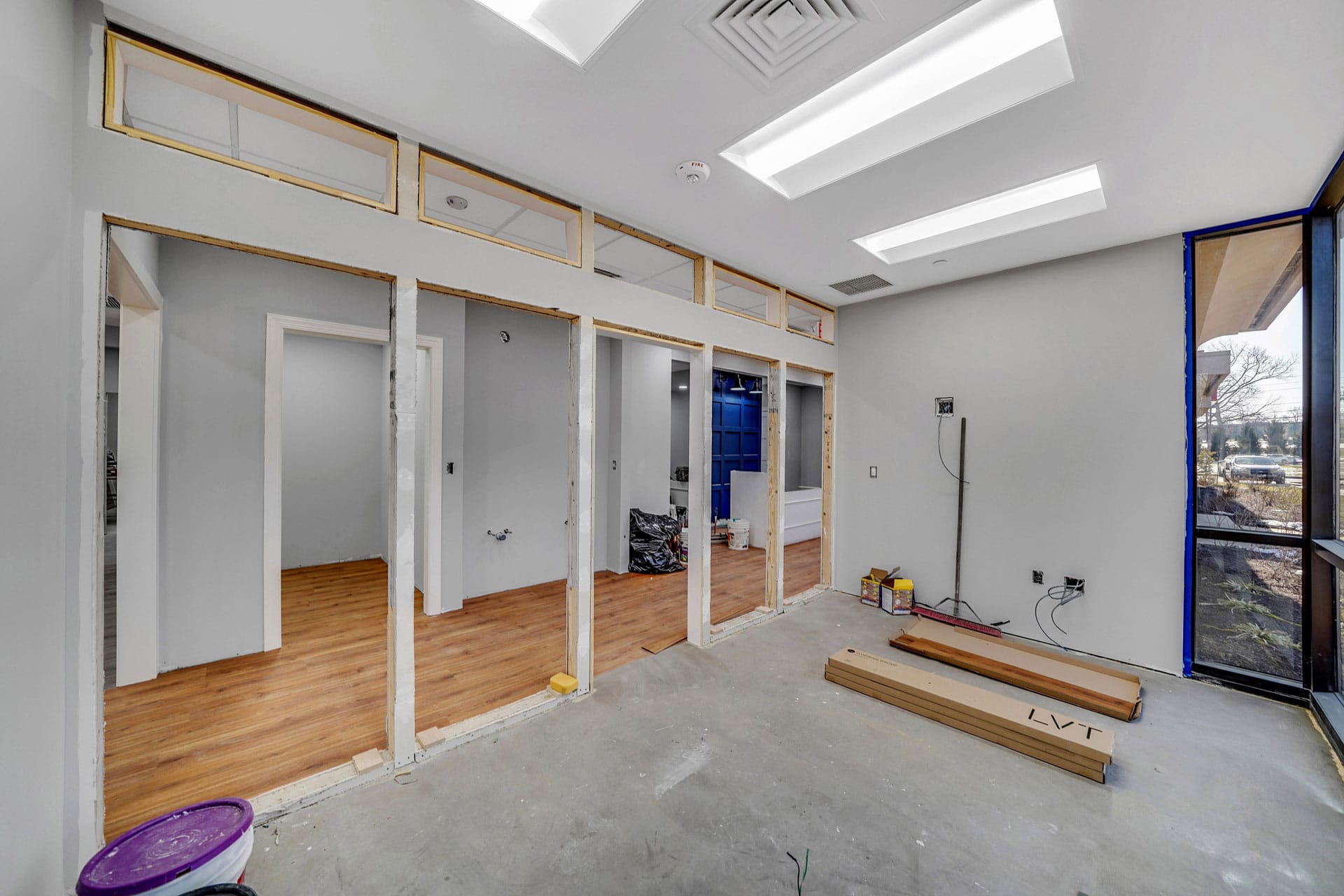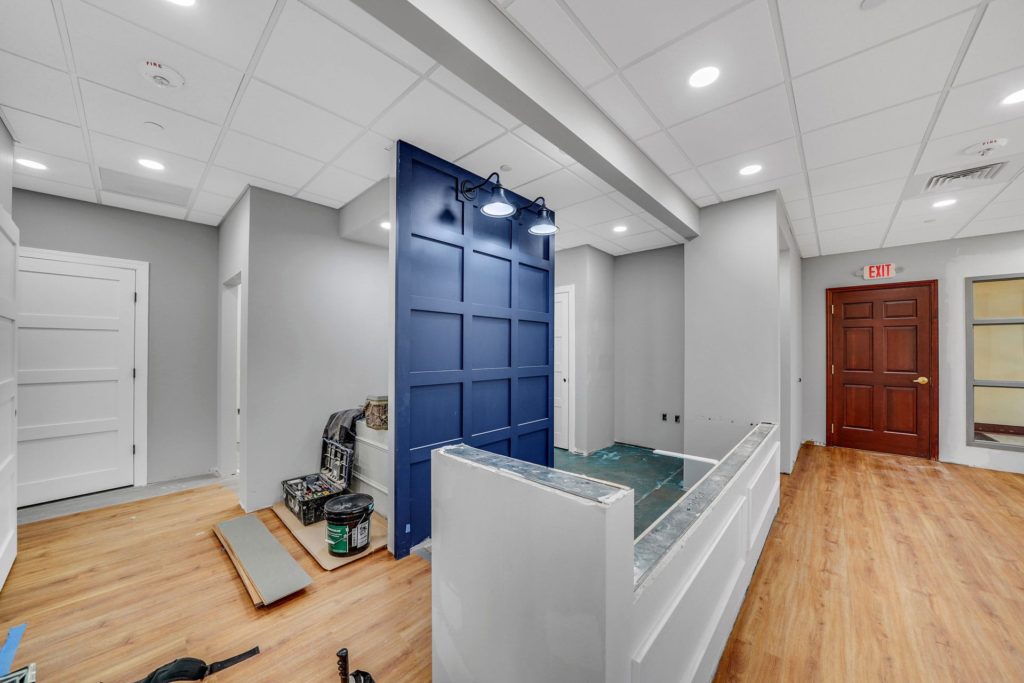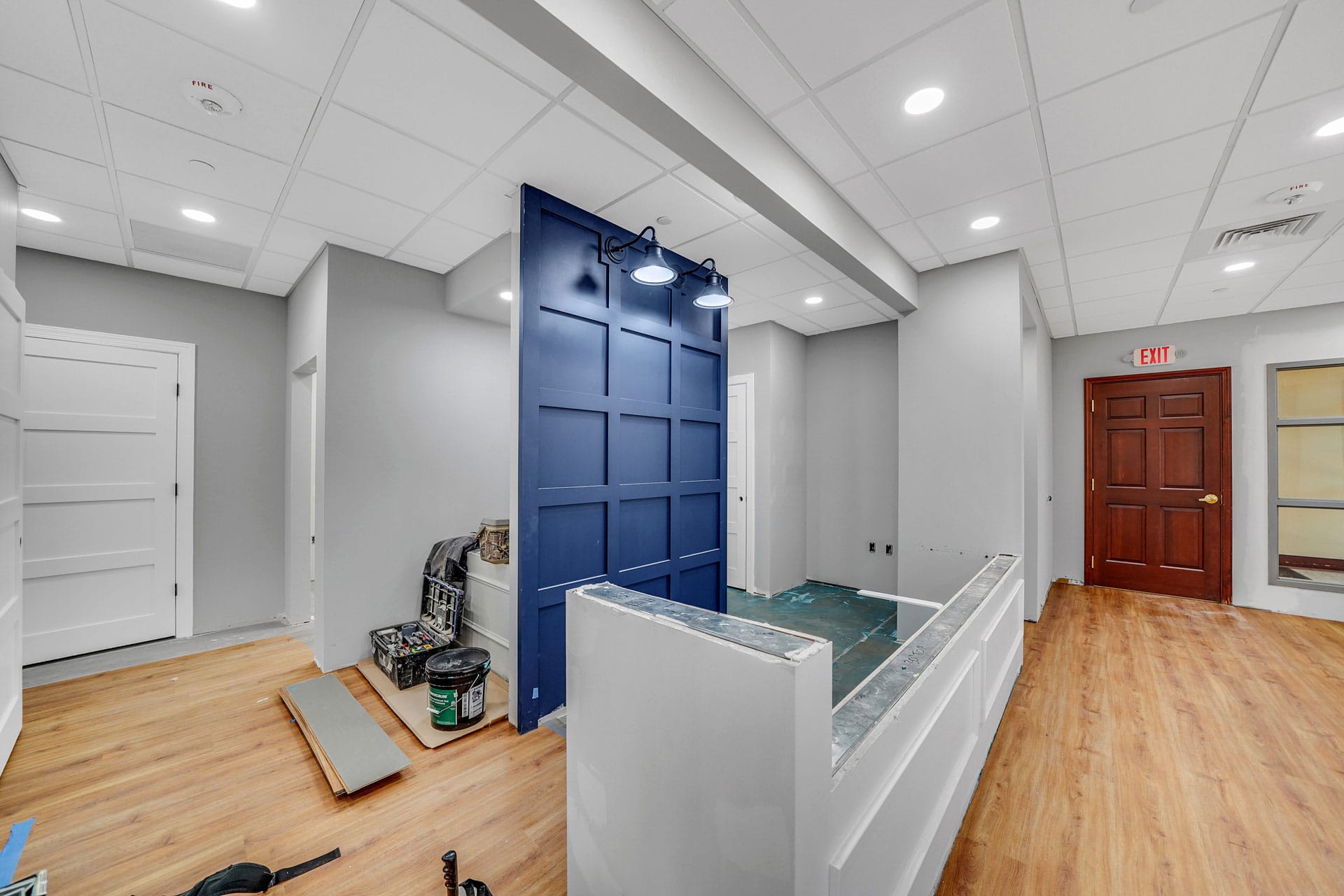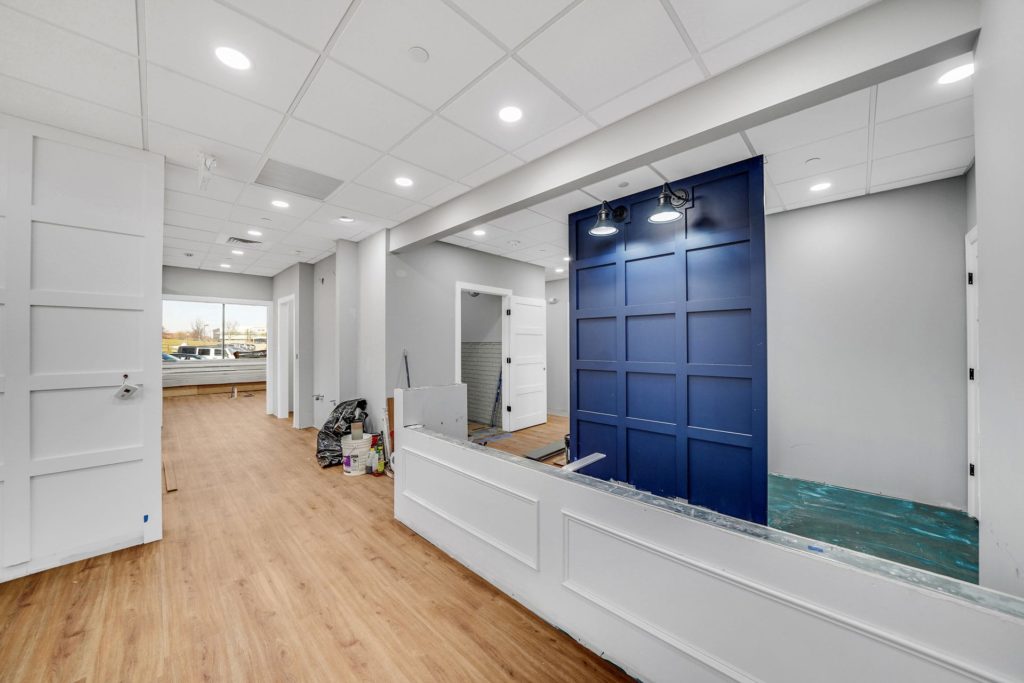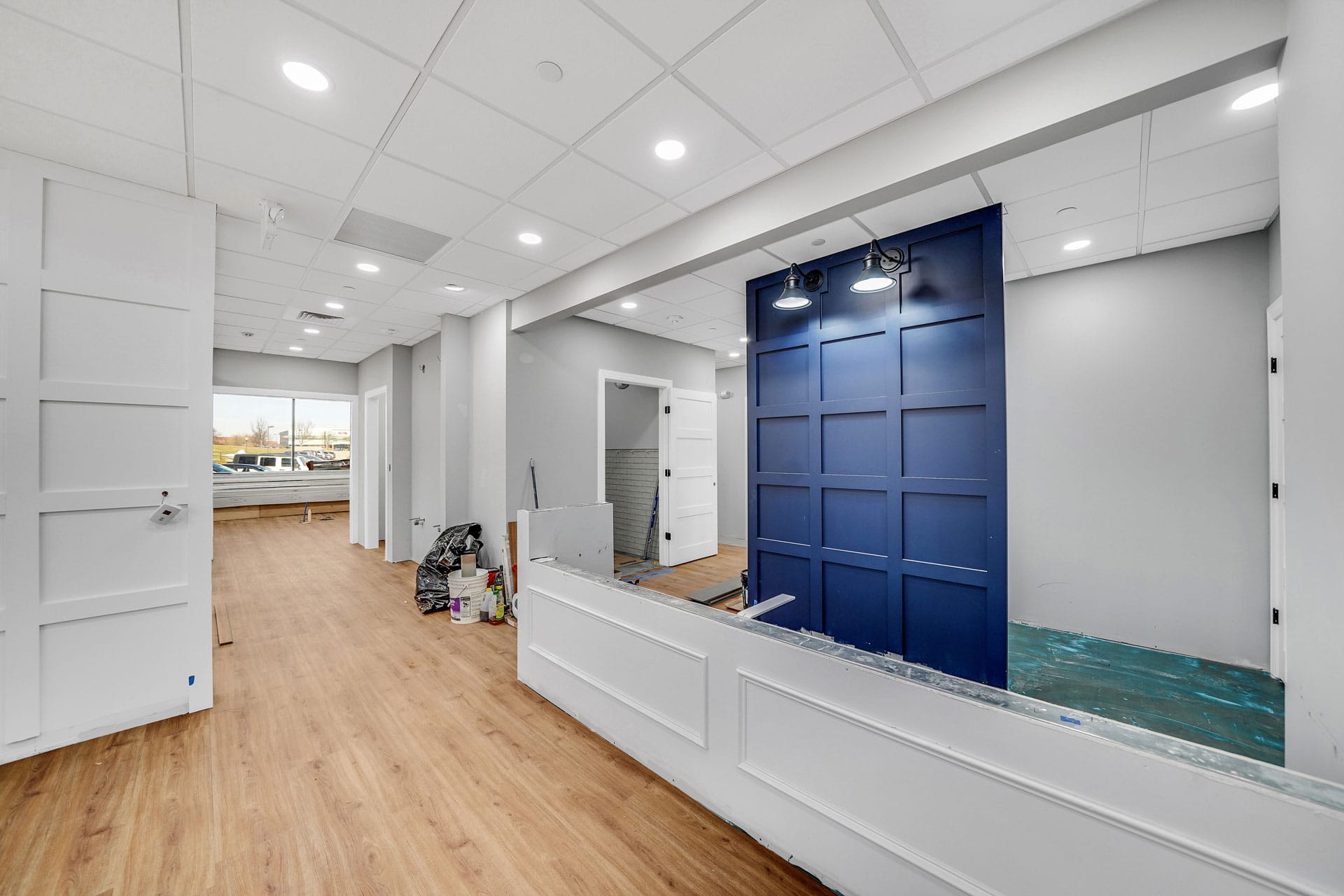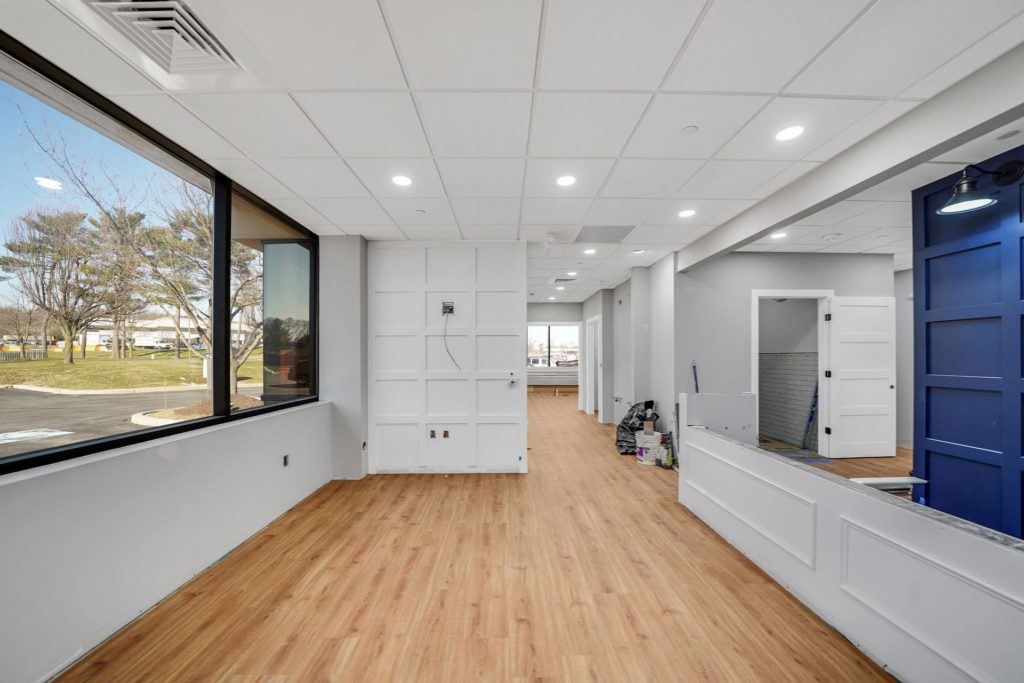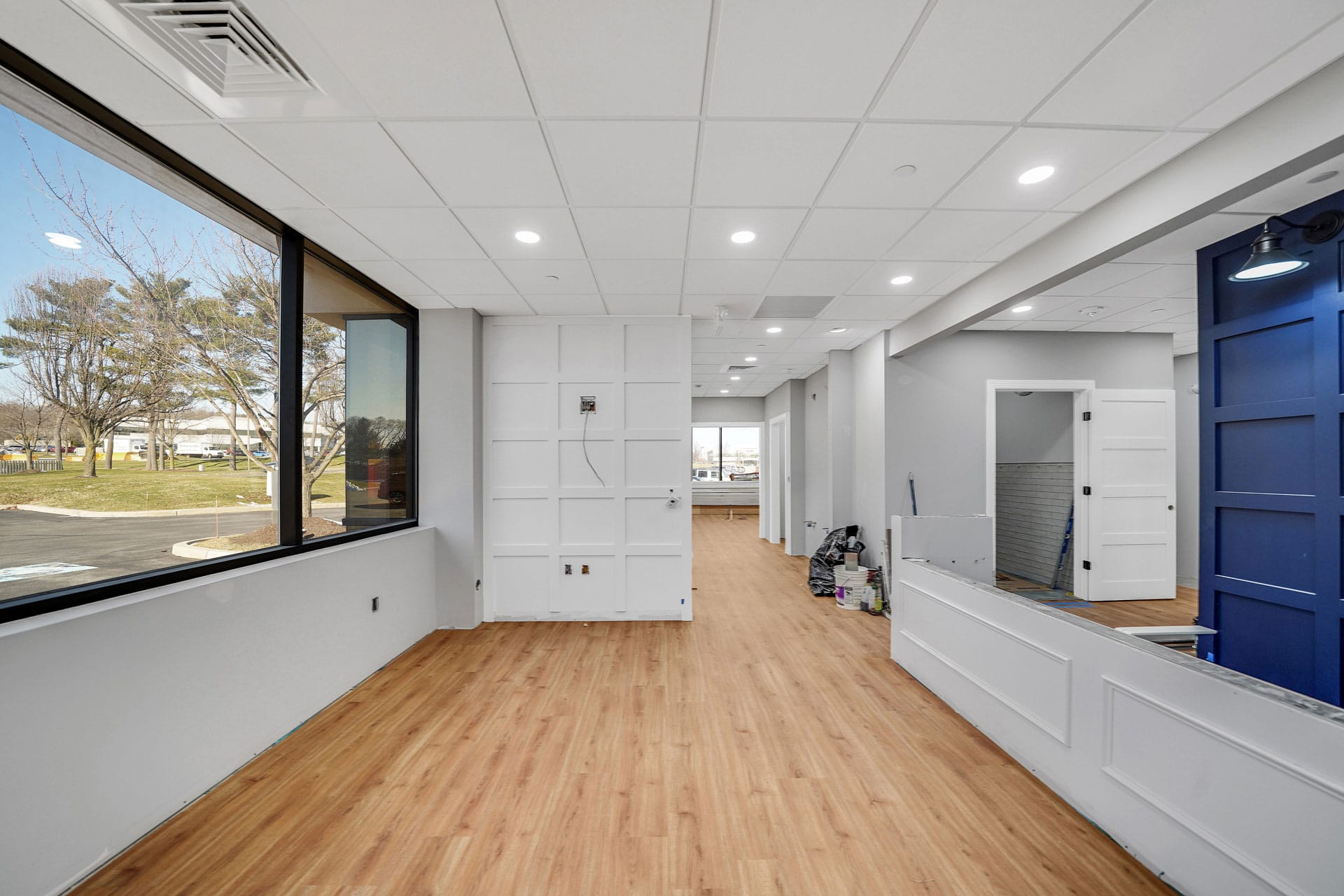 From Rendering to Reality
One of Molly's favorite parts of the construction process was meeting with the subcontractors and seeing how all of the little pieces fit together to start making her vision come to life. Molly's husband, Kyle, enjoyed seeing the progress made every single day and how each small step got them a little closer to the beautiful finish!
"Honestly, Kyle was the most involved with the entire process. He is amazing! This wouldn't have happened without his hard work and dedication, and I am forever grateful for that," Molly says. "Kyle was very hands-on throughout the entire process, and D&B was amazing at staying on schedule and keeping us informed."
Molly and Kyle had known of D&B through friends. "We knew they had done amazing work with different offices, and honestly, we had the most amazing experience with D&B. I can't imagine having it go any better. The amount of detail and communication they had with us was unmatched. I was so impressed with how thorough they were and how well they kept us in the loop and on schedule. My husband and I already talk about how we will use their residential services for our home project when that time comes. In fact, my co-resident even used D&B's Philadelphia office to renovate his office after our experience," says Molly.
Once construction was complete after just five months, Molly was moved in and all ready to go in less than a week! She was in disbelief when she first saw her new office space. "I felt like 'WOW! No way is this mine. It's here. It's done. It's better than I could have imagined,'" recalls Molly.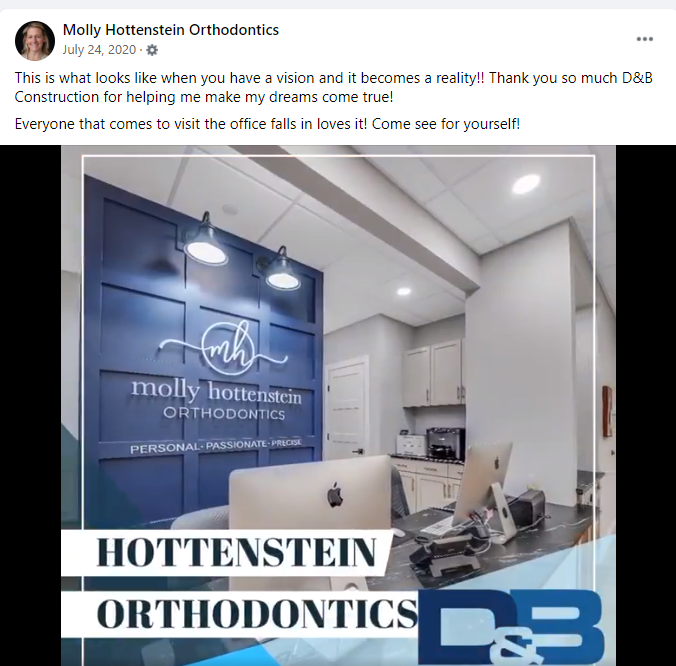 A Little Grit Goes A Long Way
After nine weeks of being closed, Molly and her team were able to open up their office and enjoy the new space! Although they weren't able to have the two grand openings they had been planning and many things they originally envisioned did not look exactly the same due to safety precautions, they were thrilled to be starting this chapter in their new office.
"The team has really grown into the space and gotten into a groove with our patients," says Molly, who has two favorite spaces throughout the office. She loves her doctor's perch because it allows her to be totally present with all of her patients, while also being available to her staff and still able to get work done. Another favorite spot is the consult room, which is the first space that families see. "I am absolutely obsessed with the windows," exclaims Molly. They remind her of her time in college at Villanova. It was here that she fell in love with the beautiful side sun rooms that all of the older Main Line homes had. "I've wanted that look so bad since then, and we made that happen in the office. People LOVE it!"
With confidence Molly reports that "within the first five minutes of arriving, 99% of patients will comment on how much they love the office. They love how inviting, clean and homey it feels. People even take pictures for inspiration for their own projects!" Molly's patients love the farmhouse sinks at the toothbrush station, and parents tend to love the bench at the foot of the clinic chairs because it allows them to enjoy the view outside the window. "We also always get comments on the colors and the counters… Everyone just says it has a good feel."
Katelyn, Head Orthodontic Assistant, and Lyn, Patient Coordinator, appreciate the hominess of the office, just as the patients do. They describe the office as their "home away from home," both feeling so comfortable at the office that they almost feel like they are at home and not at work. The beautiful space definitely makes it easier for them to not dread coming to work!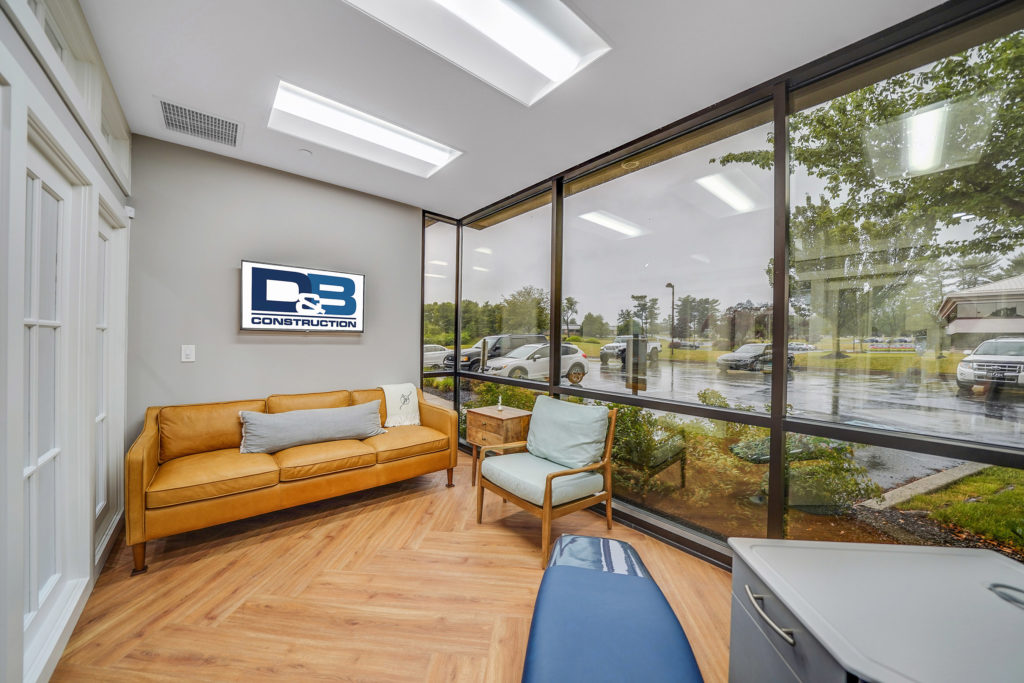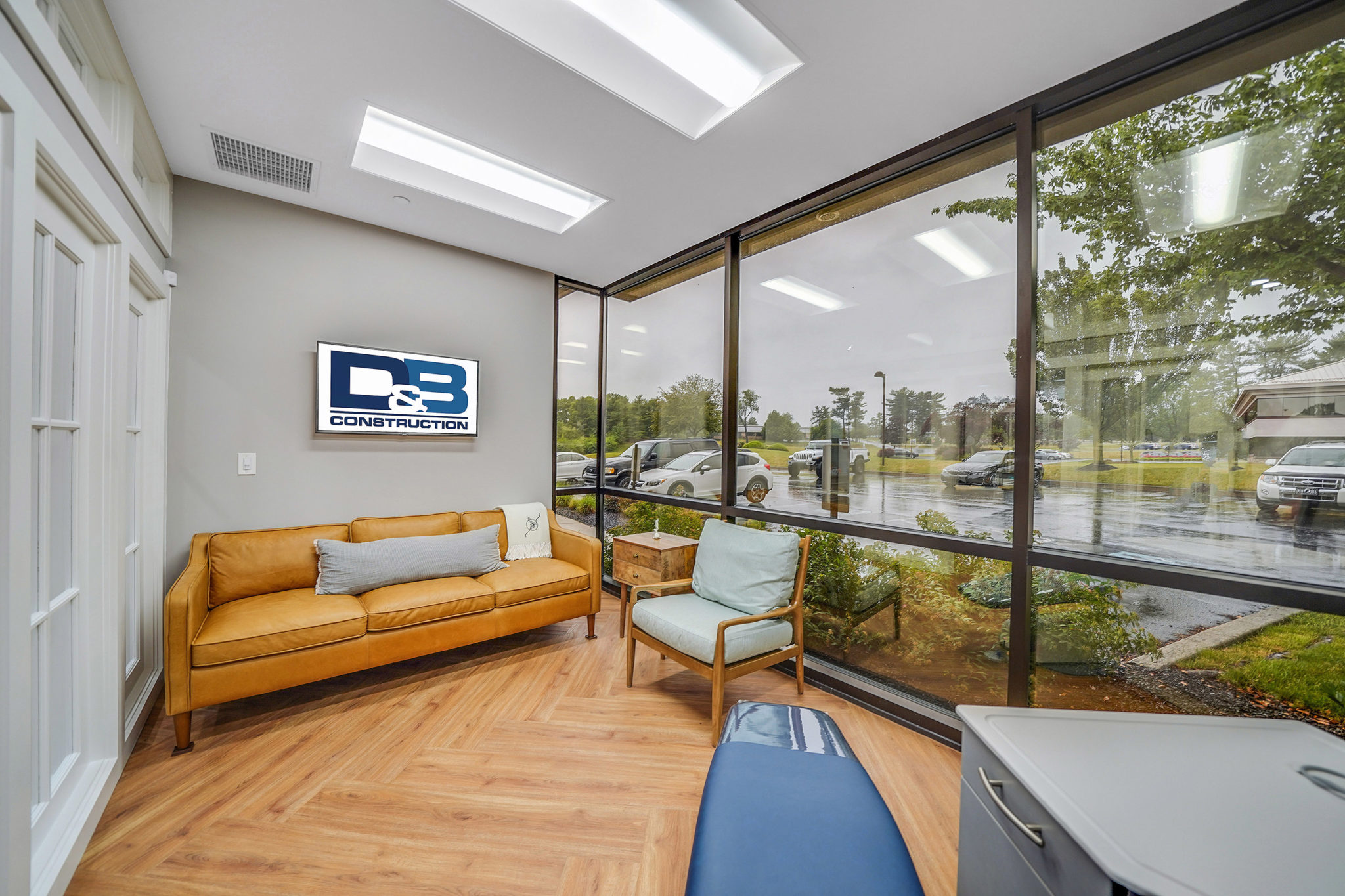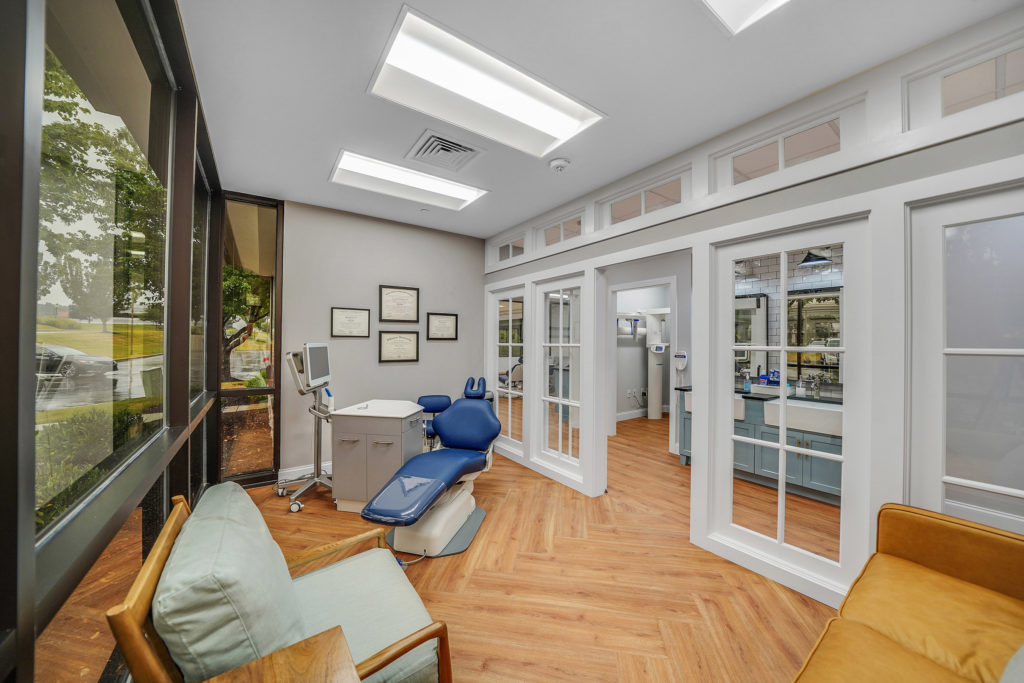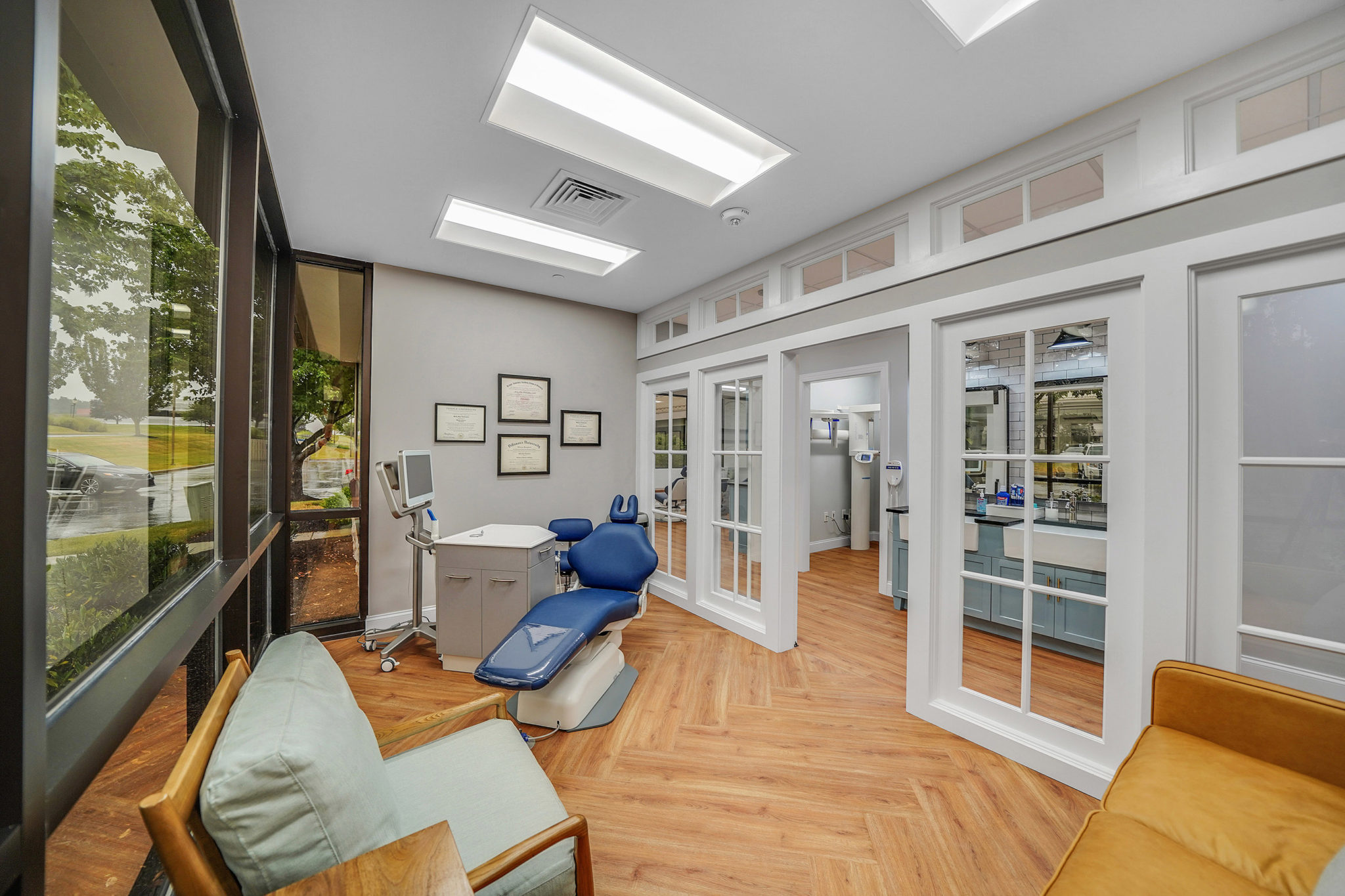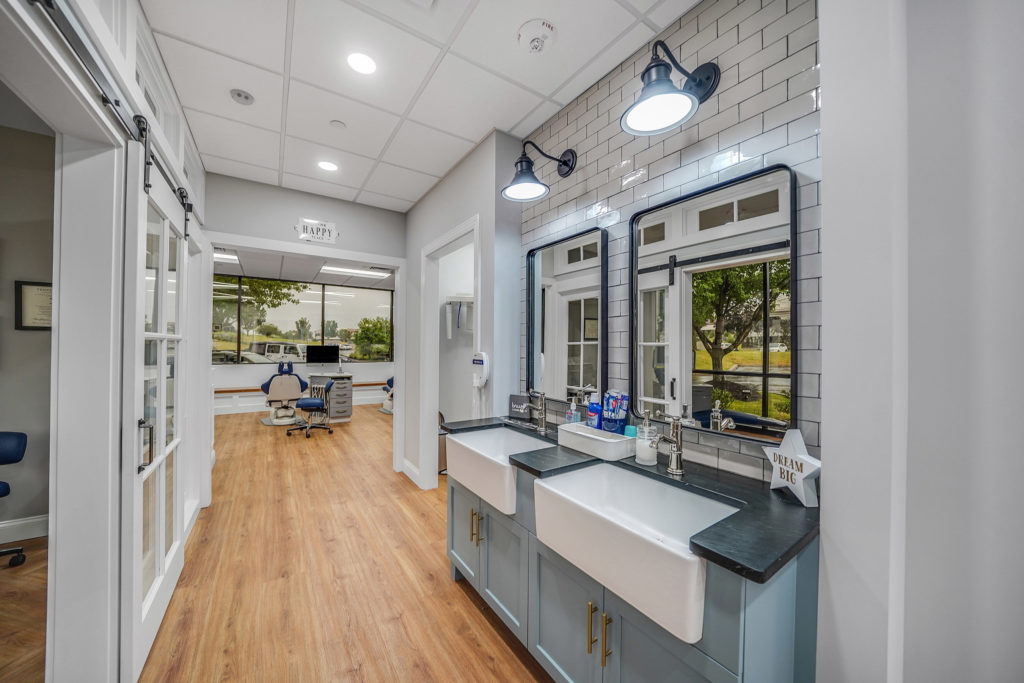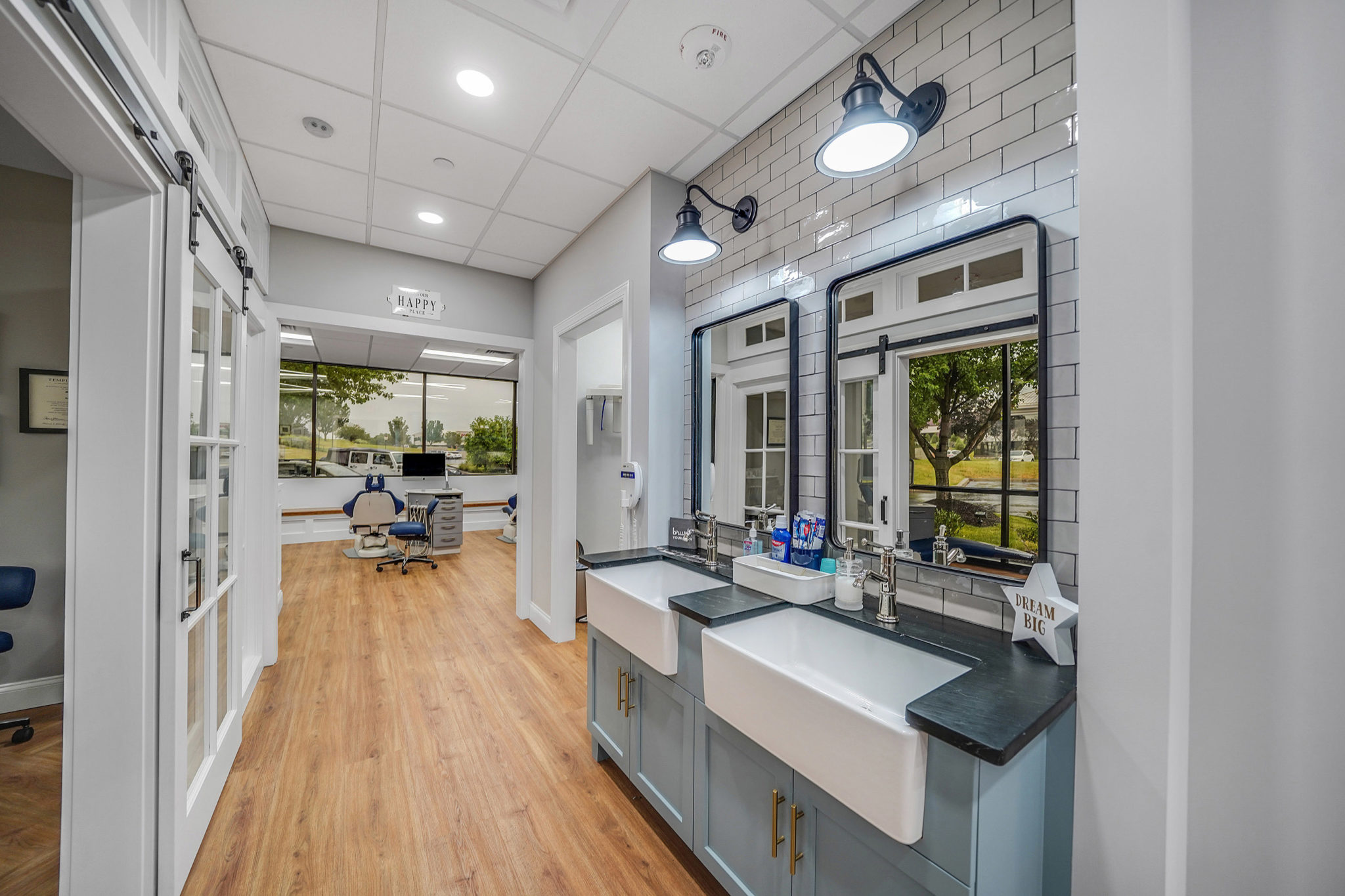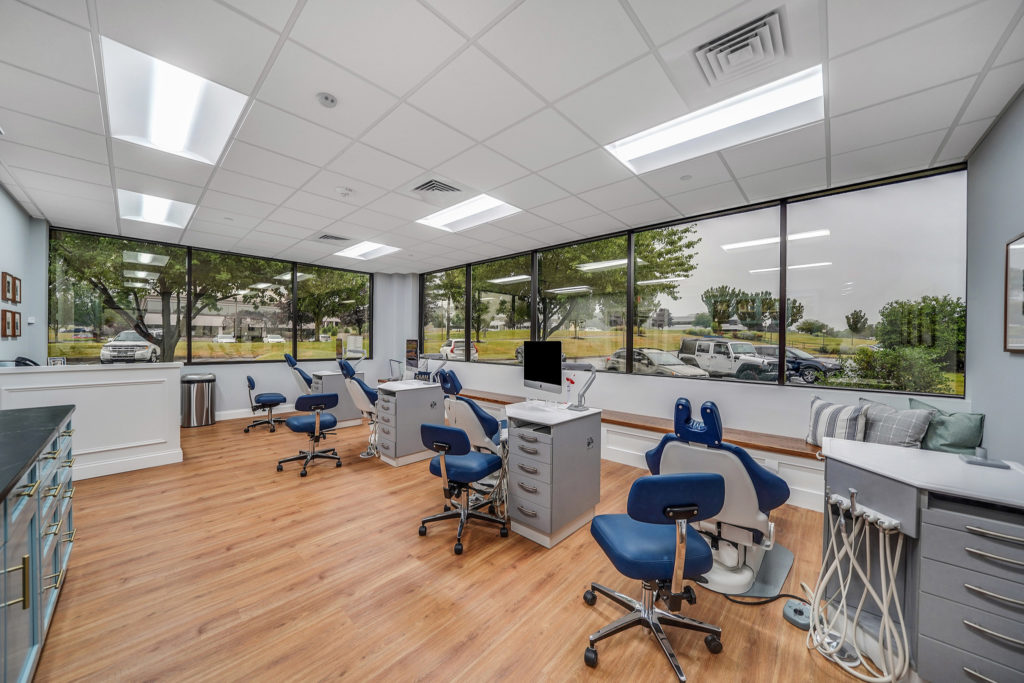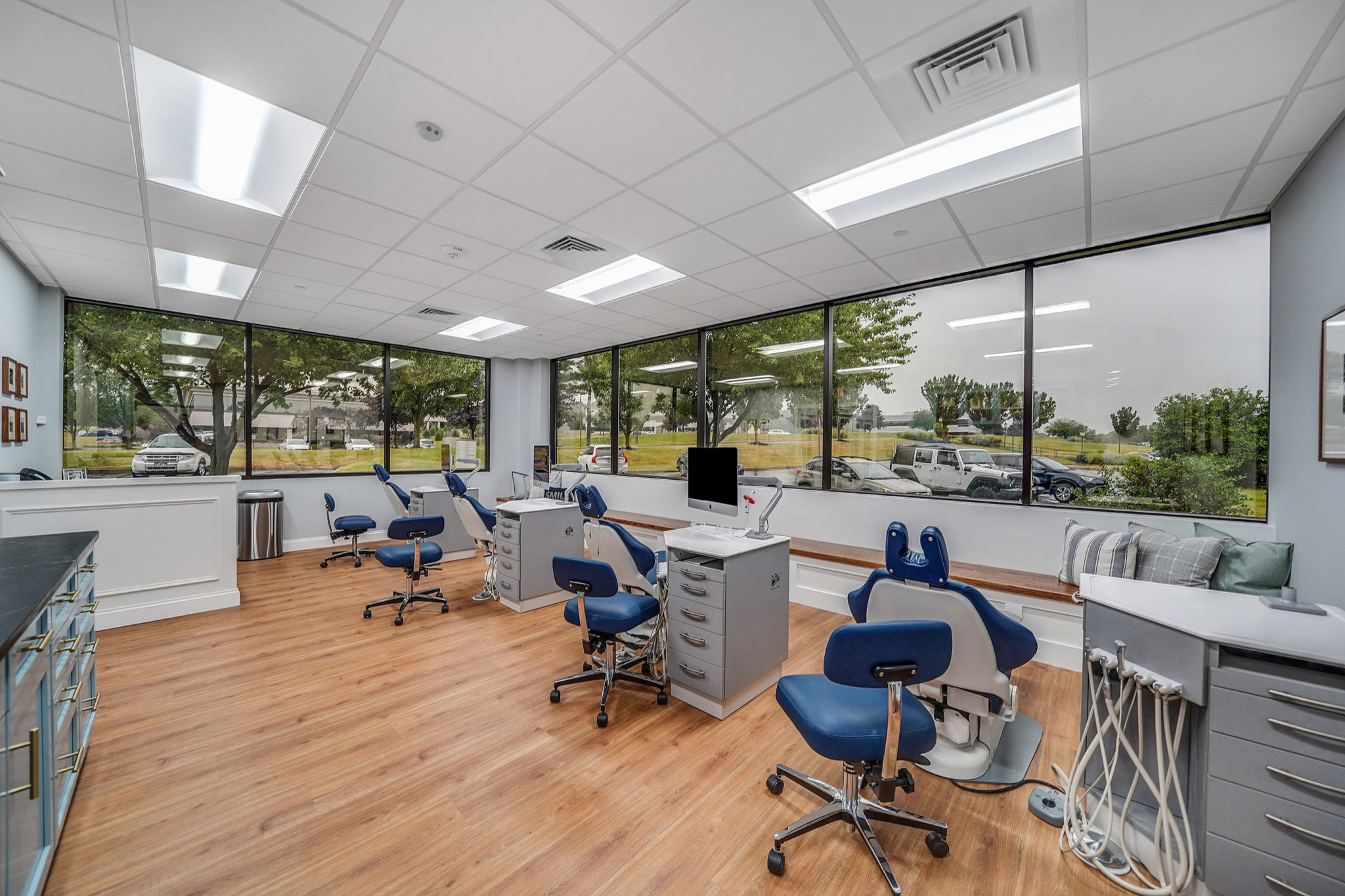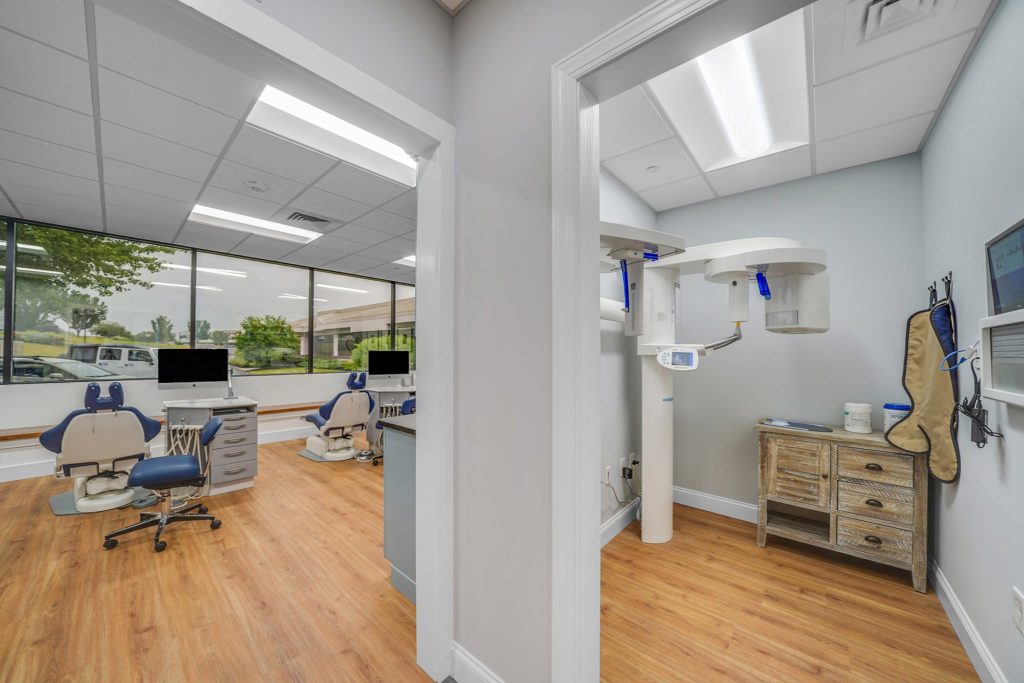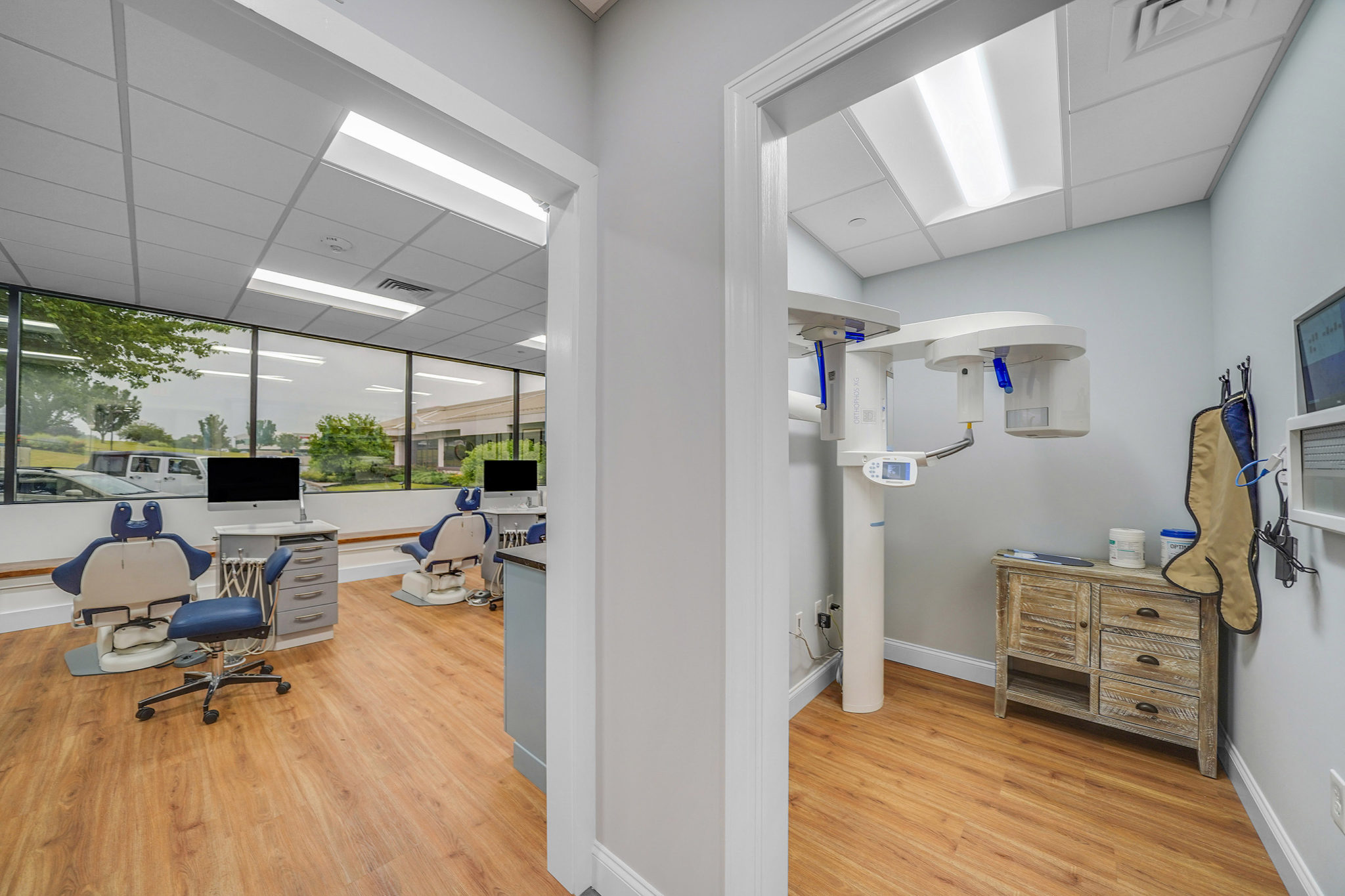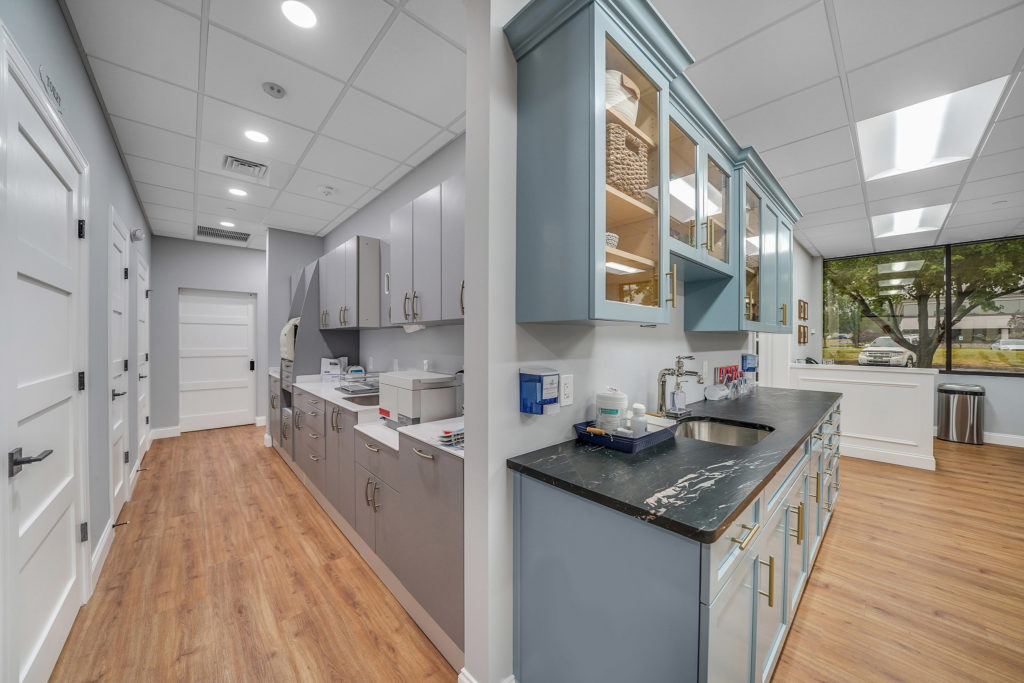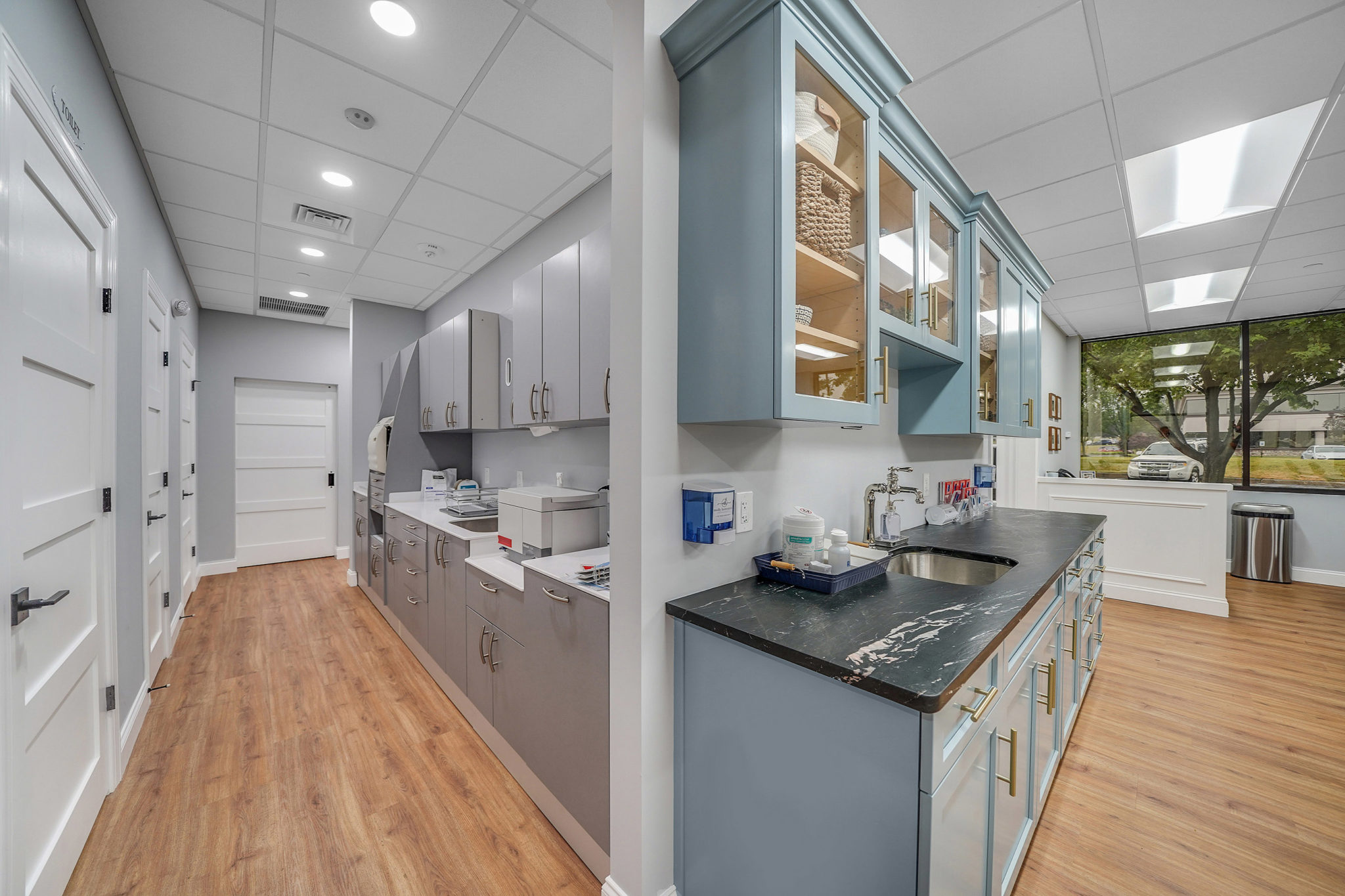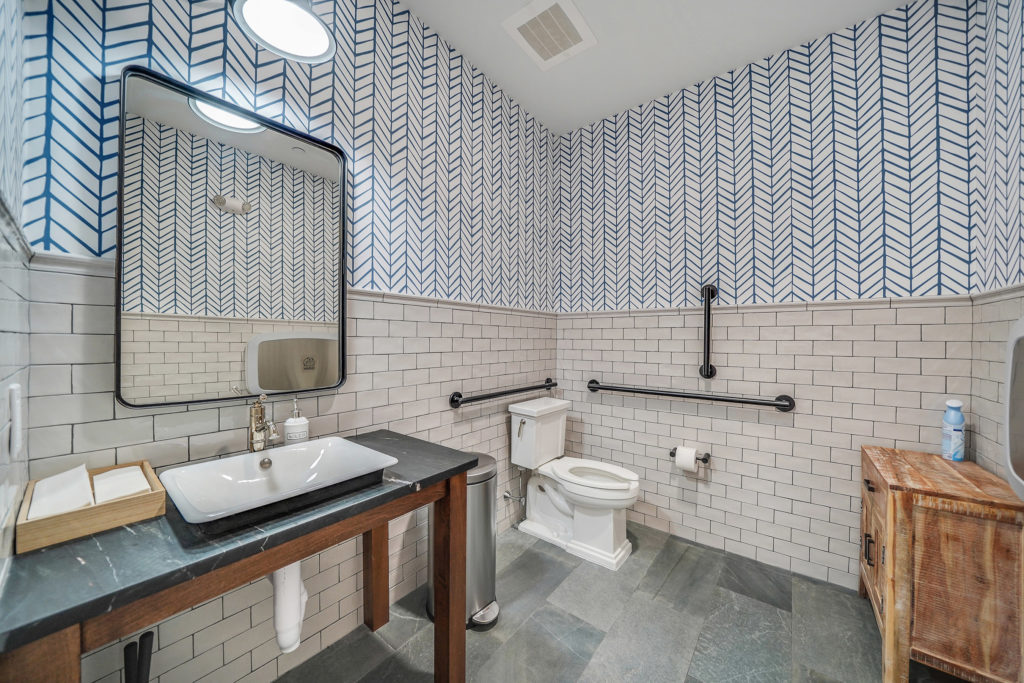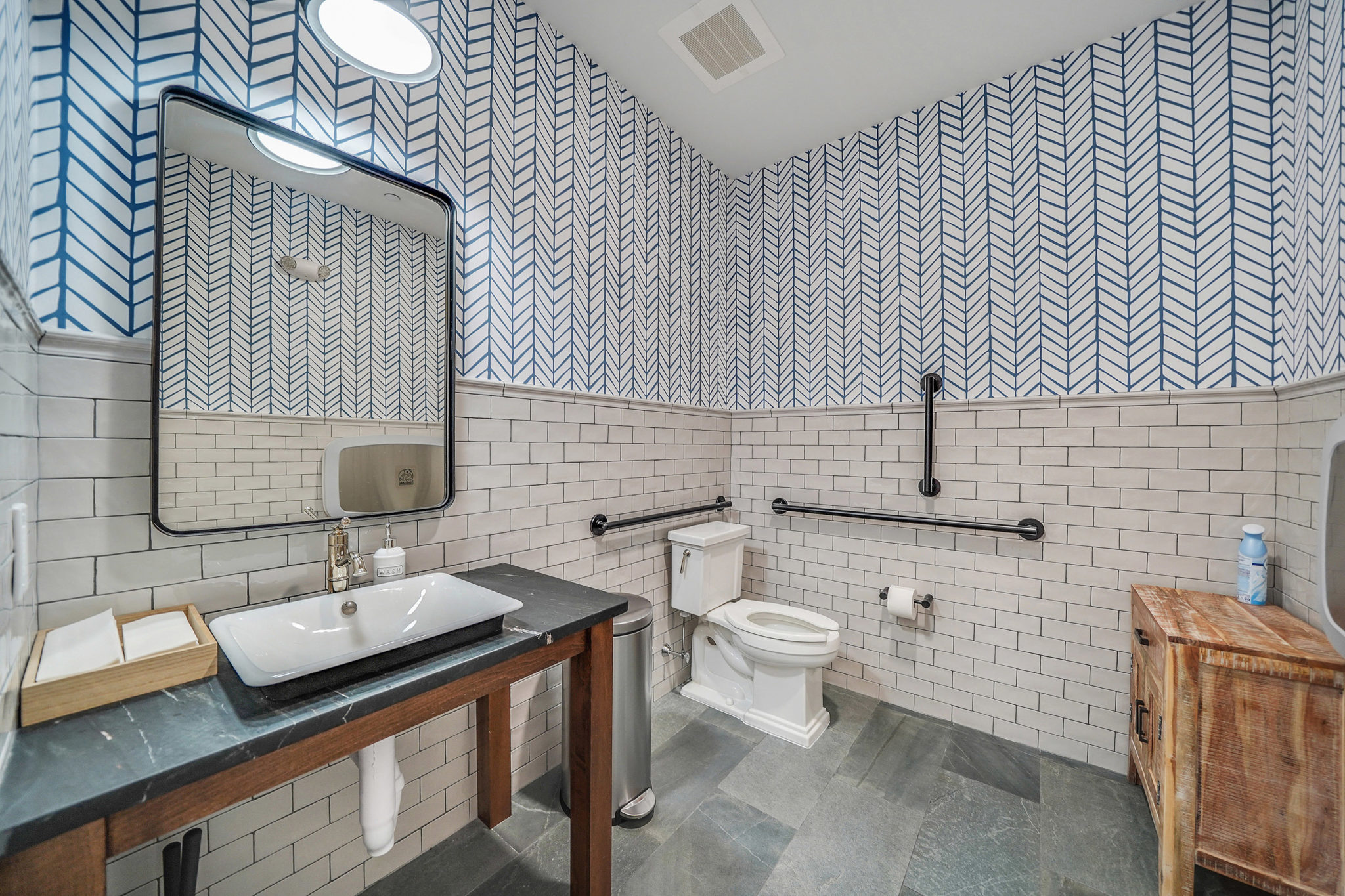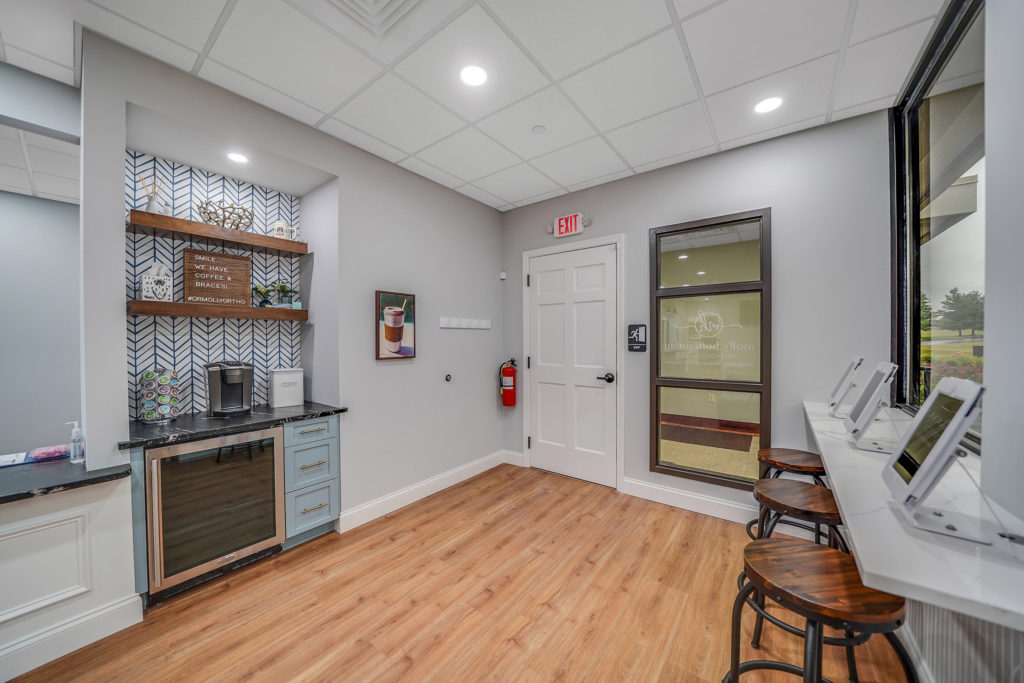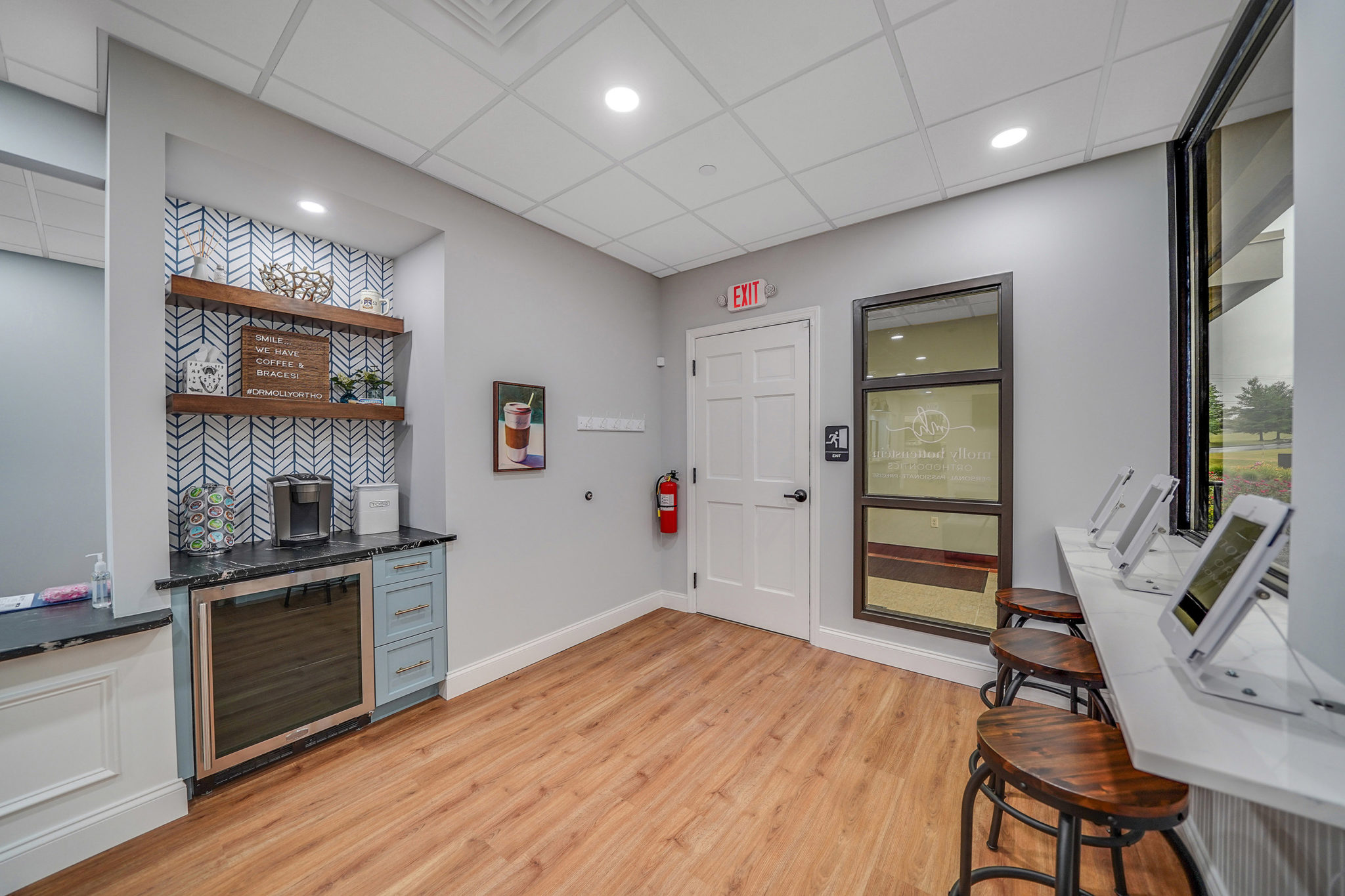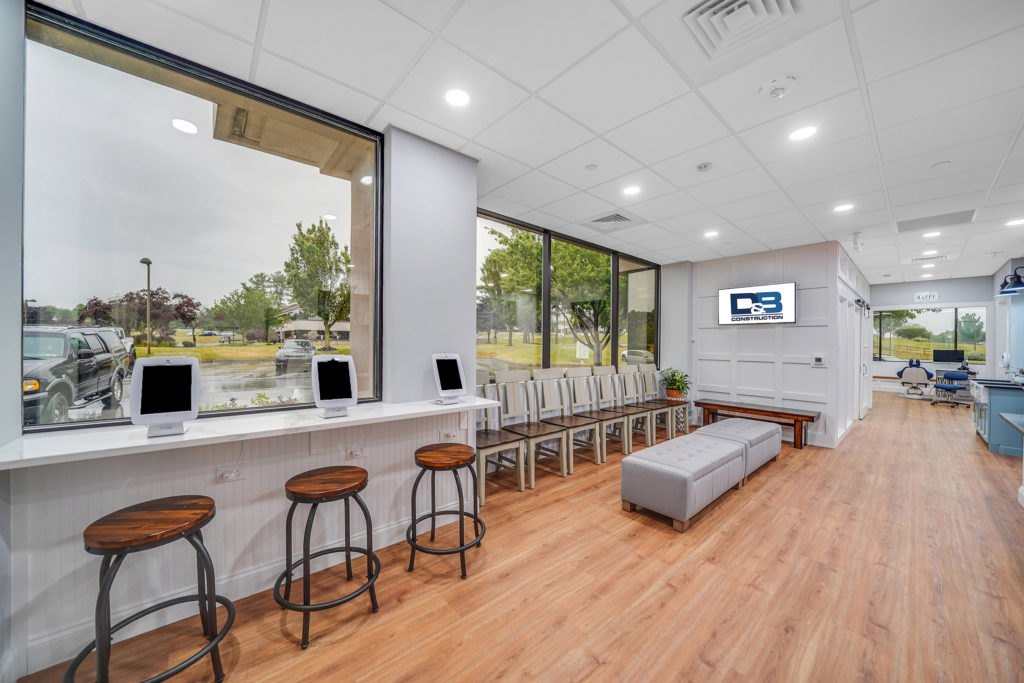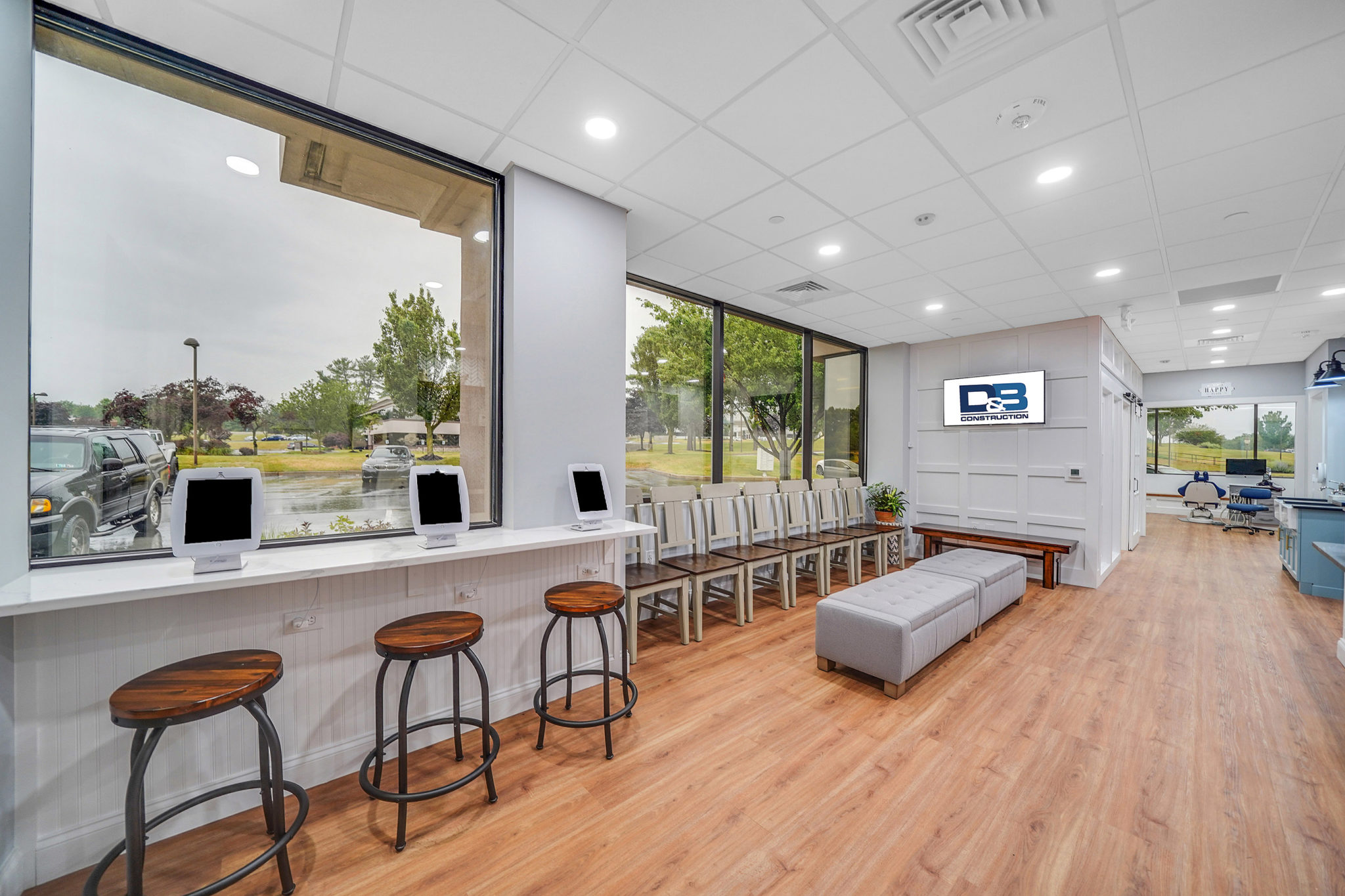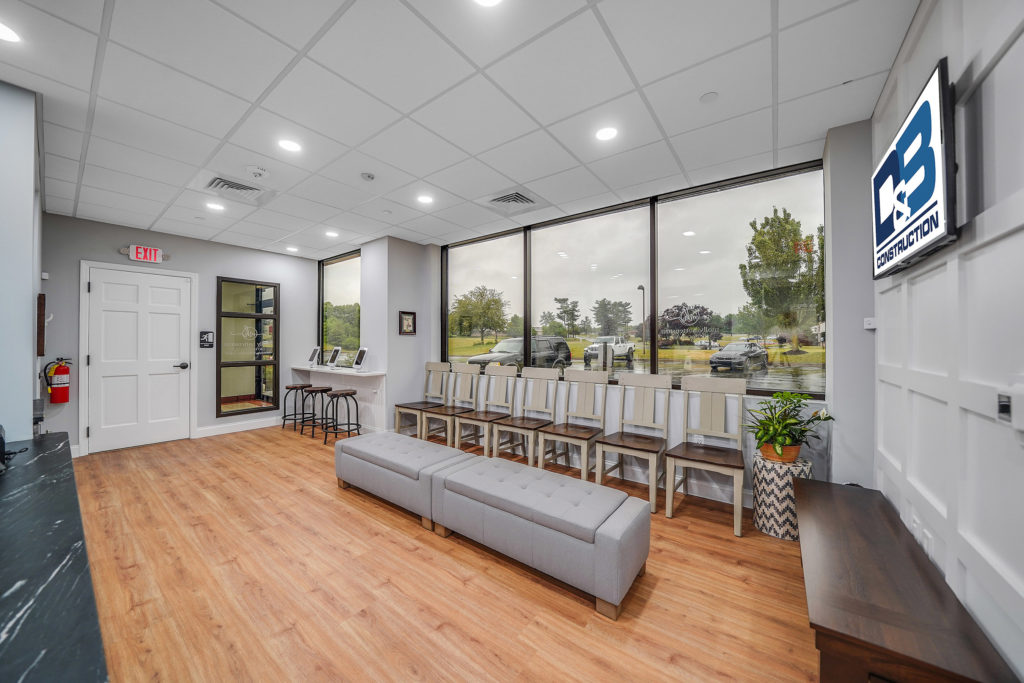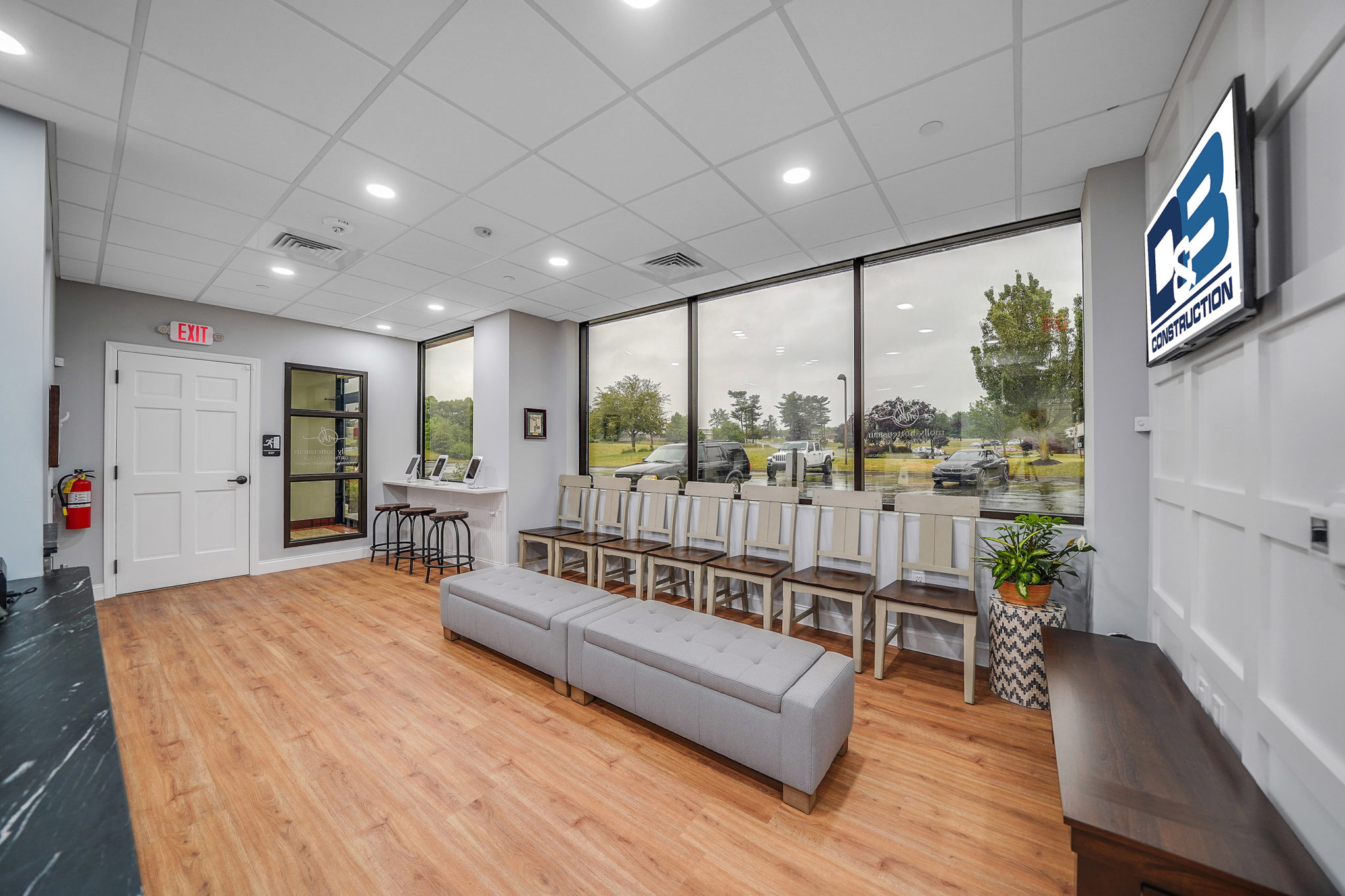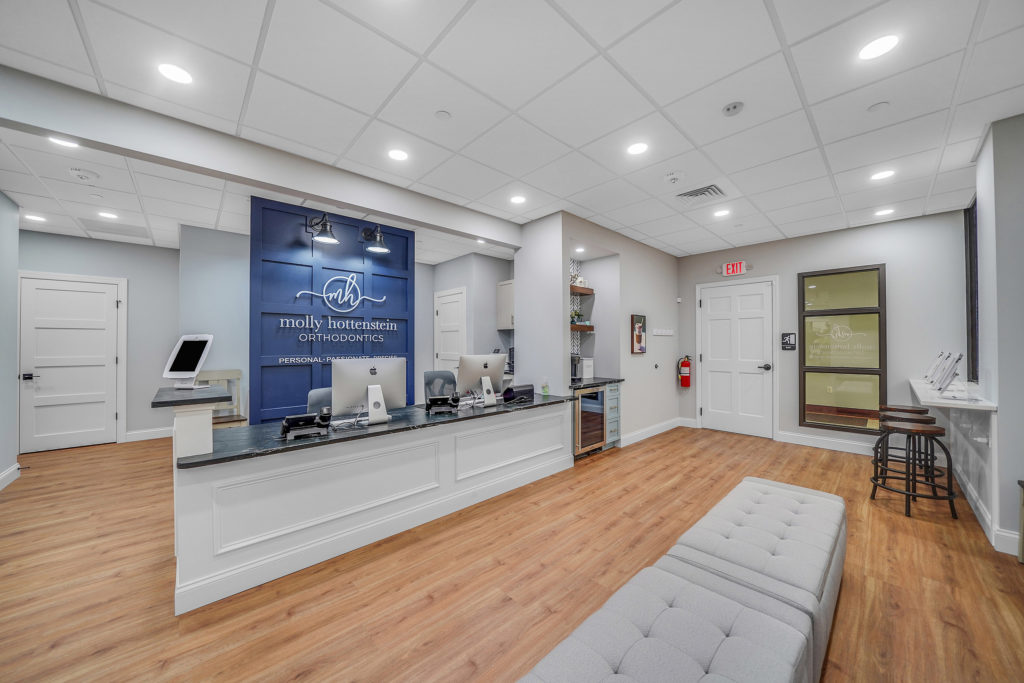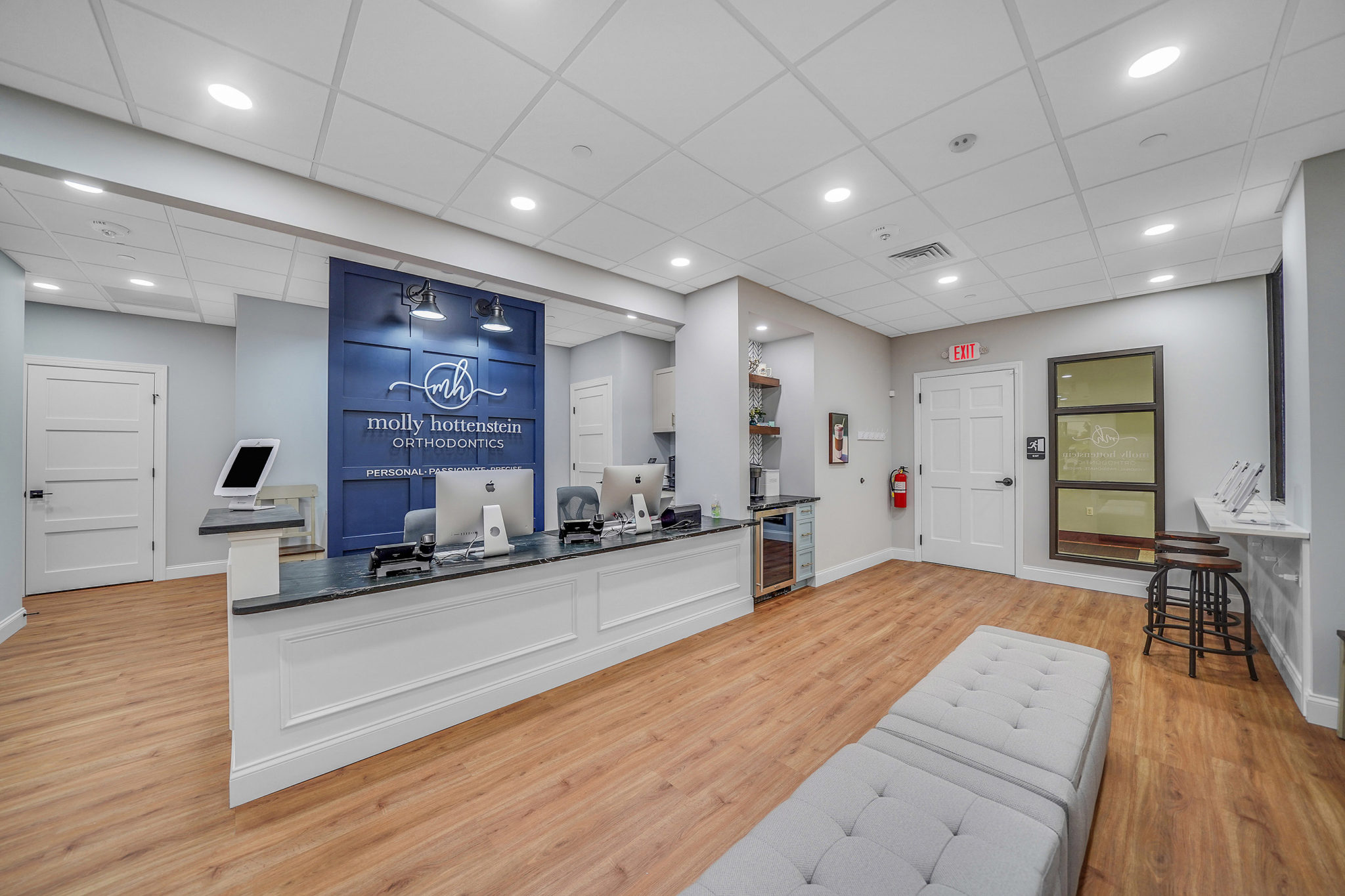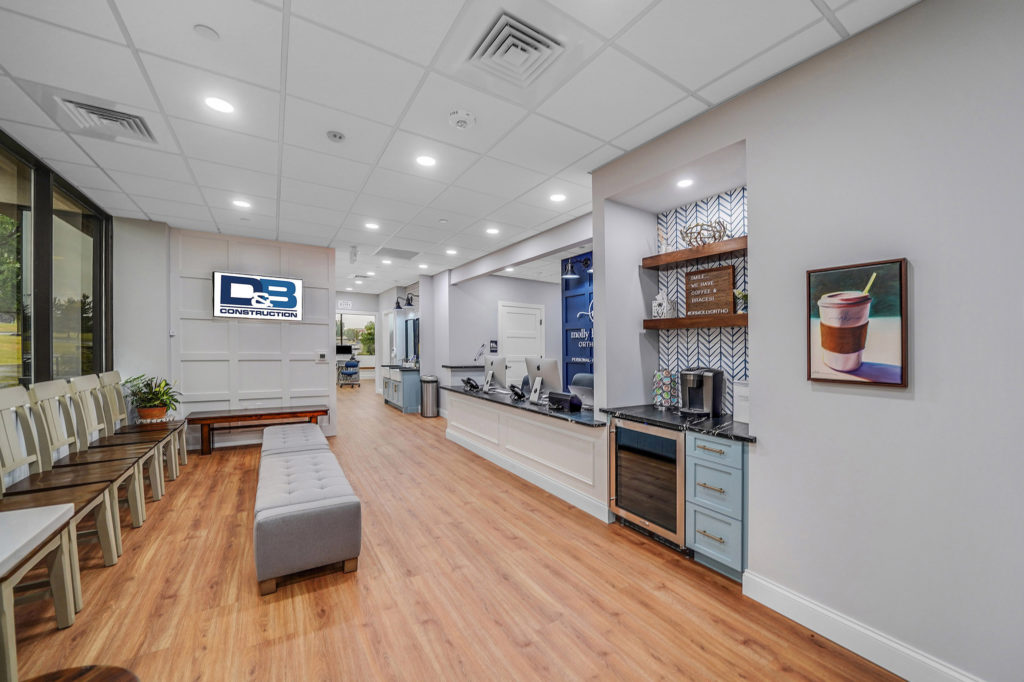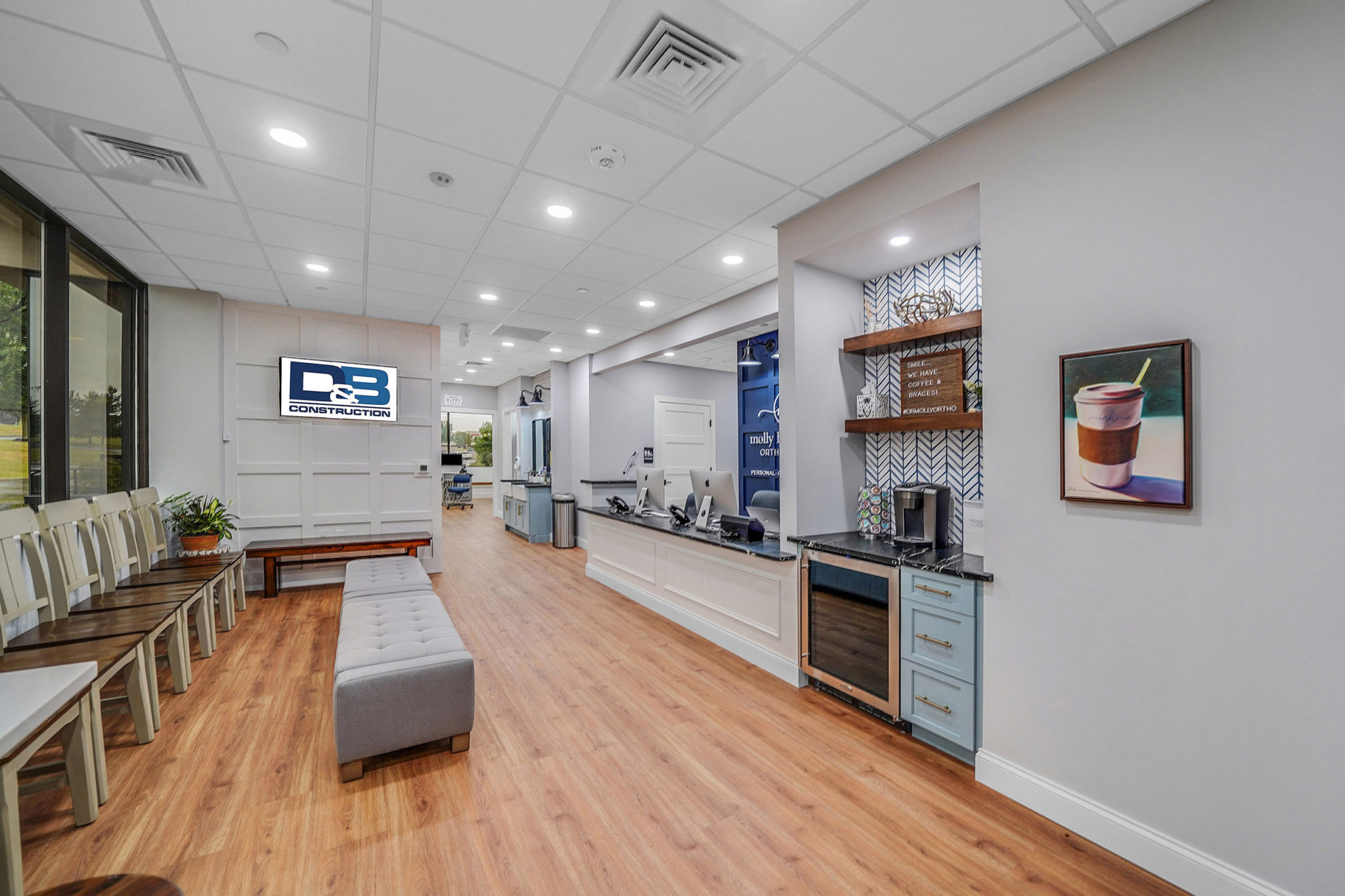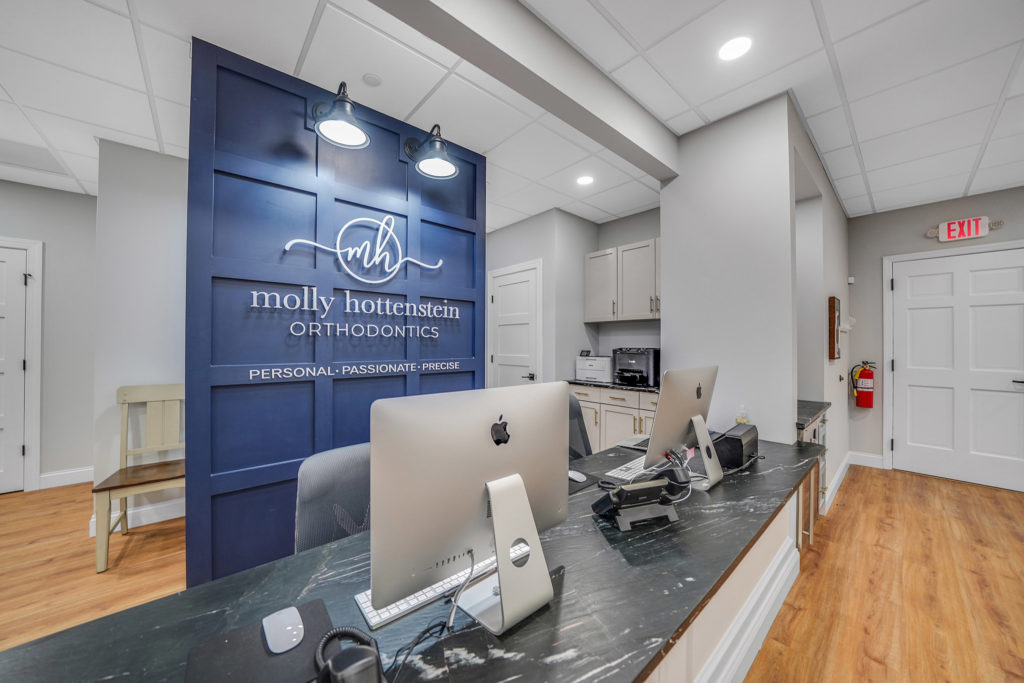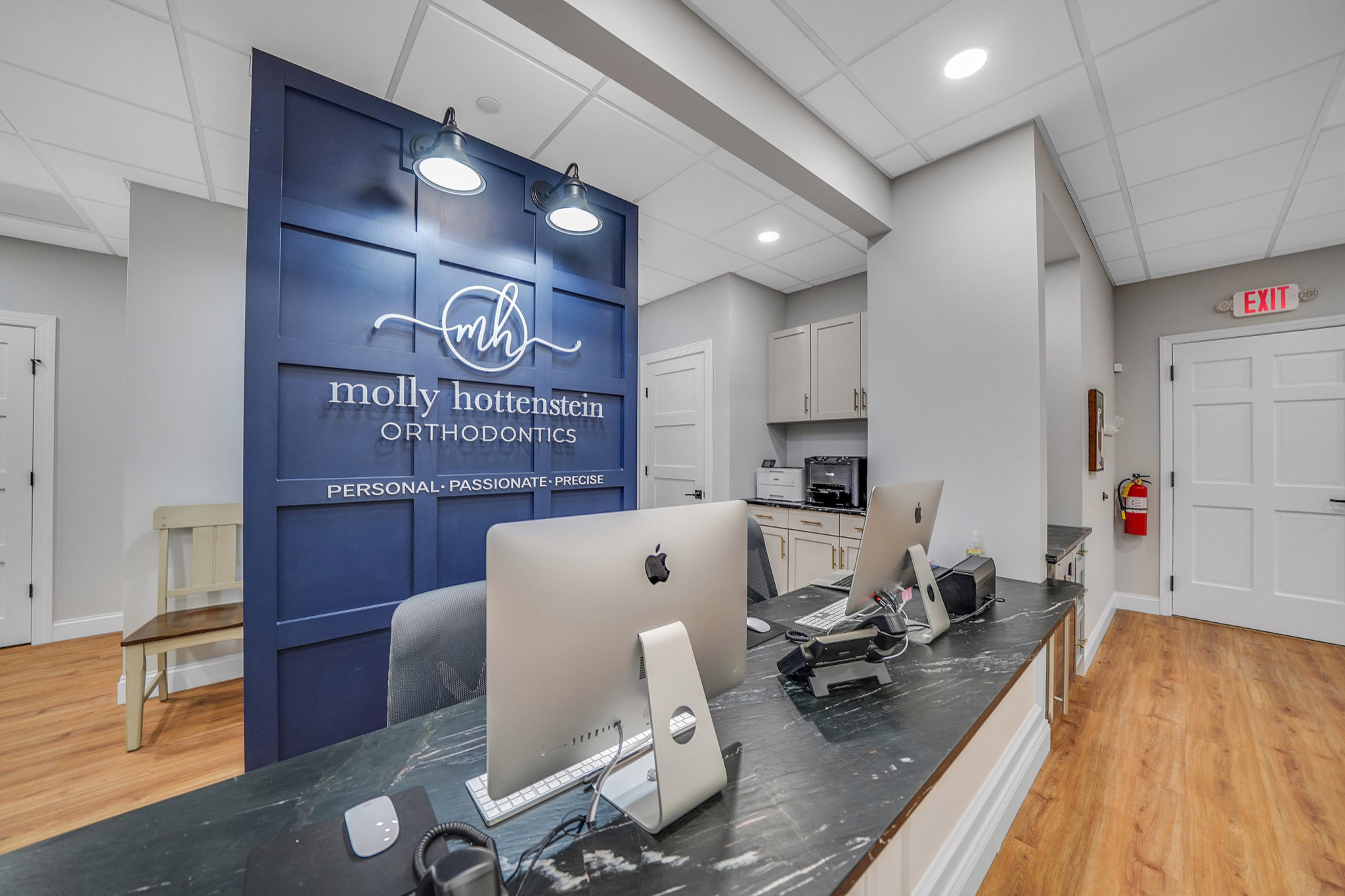 Aside from the overall aesthetic and design of this office space, another aspect that makes it so enjoyable to visit and work at is the atmosphere. Molly's motto is "Personal. Passionate. Precise," and a quick visit to her Facebook or Instagram will show you that her office is big on bringing fun and friendliness back to orthodontics.
"I think the number one key to anything in life is being genuine," says Molly. "You can't force yourself to be something you aren't. To be happy and successful, I knew my office had to be a genuine reflection of who I am. I love to joke and have fun, while also being honest and a good communicator. I don't 'try' to make my office fun… it just happens. My staff members are naturally this way, too. They are naturally kind and focused, and they smile and laugh. I want them to be themselves. The rest just follows," she explains. Molly prefers this natural, organic approach over getting hung up on what her competitors are doing or feeling. "I want people to choose our office because they feel comfortable here. Orthodontics isn't a once and done thing. It's a relationship over a series of a few years," she says. For that reason, she wants people to feel like her practice is the right fit for them. She doesn't want people to come to her because she has contests, prizes, or toys. She wants them to come to her because they trust her and feel comfortable.
"I think people are starting to talk about their experience with us, and we are starting to be a little more known in the area. I hope this is just the start to the forward momentum. I am so thrilled with the outcome and so proud. I feel like the space is a true reflection of who I am and the type of service I am offering," says Molly, with a lovely smile – of course.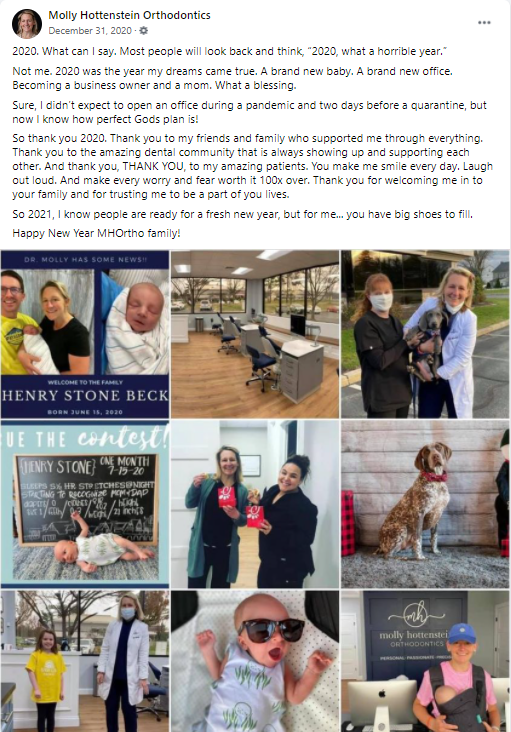 If you caught our social media post about Jessica's suspiciously cute boots on our active jobsite at the future new headquarters for Riverfront Federal Credit Union, you are likely here to find out the official verdict from our Safety Committee Director, Tom.
The votes across our social platforms were pretty evenly split, but for those that know Jessica and know she would always put safety first, you win! For those still in denial that these shoes follow safety protocol, surprise! Jessica's boots are both OSHA compliant and ASTM certified. (We know, we know… They looked way too cute to be). But we wouldn't lie to you! They are I/75 C/75 steel-toe boots that are impact and compression resistant. They also have an oil and chemical resistant outsole that is completely slip resistant on dry and wet surfaces, too. Some of this brand's products even have their electrical hazard certification for up to 18,000 volts!
If you are still in denial that these are steel toe boots, check out this video from our Safety Director, Tom, as he verifies that they meet safety standards. He also tells us what he originally thought when he first saw Jessica's Xena boots on a job site.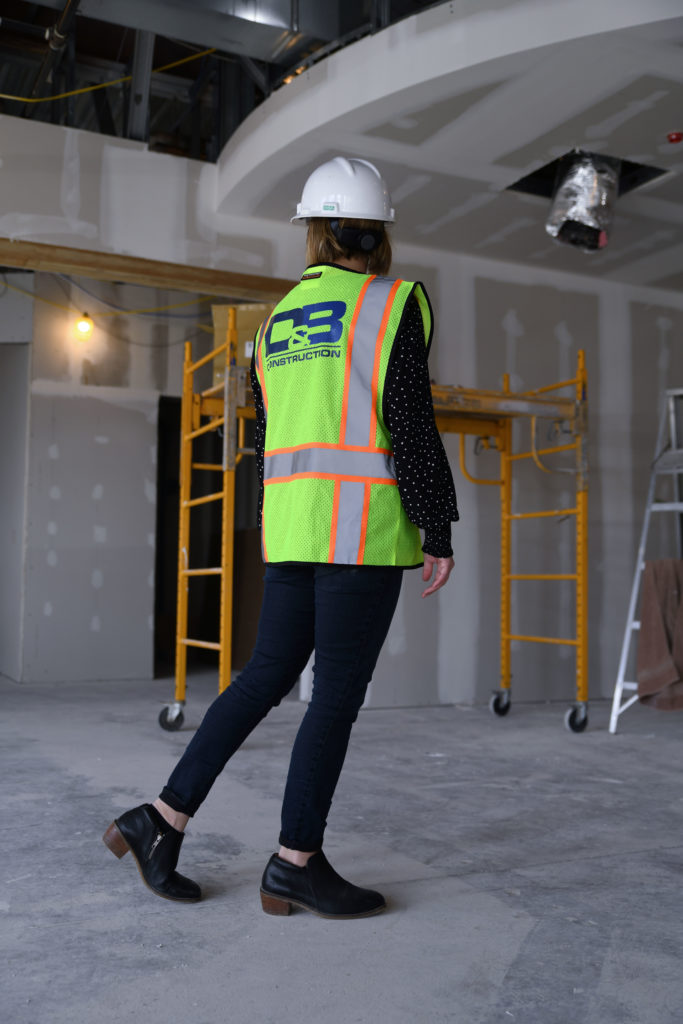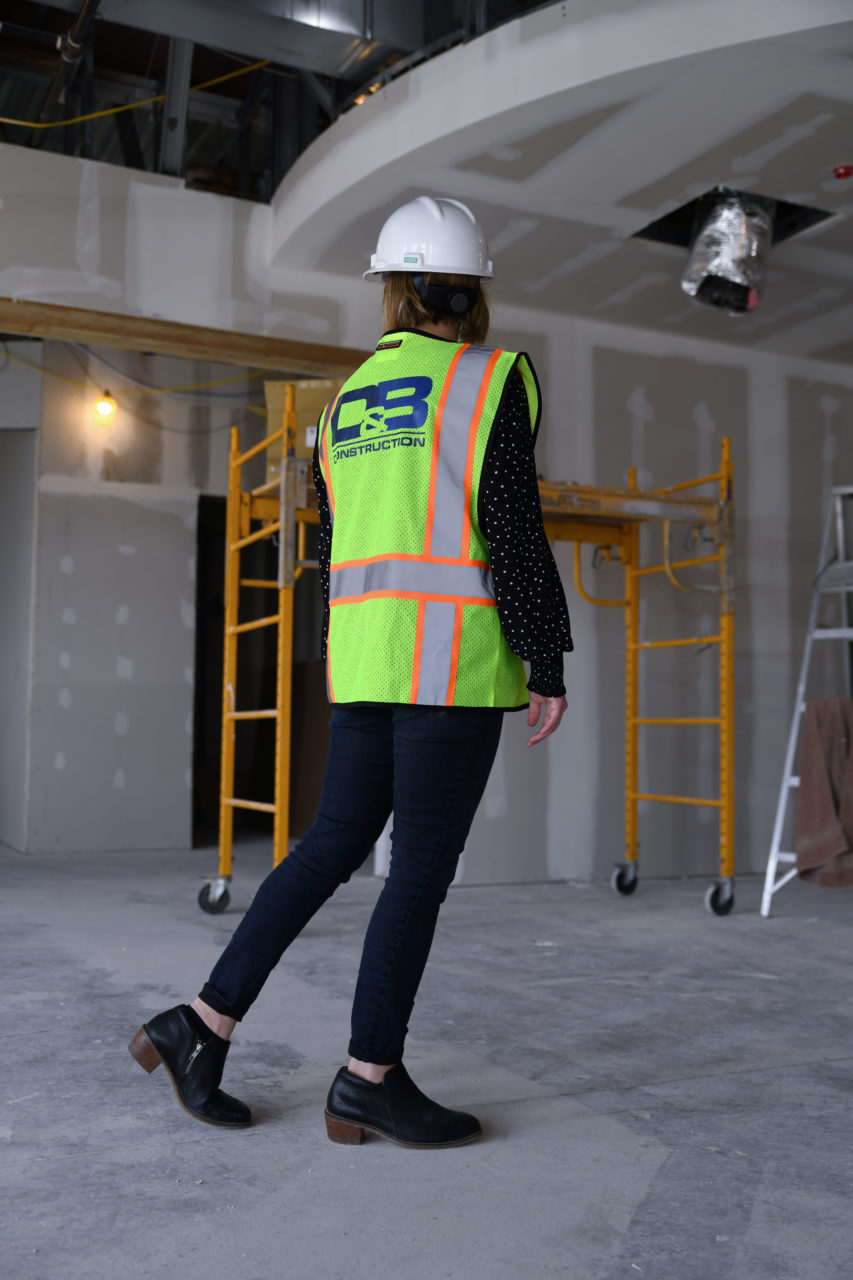 So what are these nearly mythical boots called!? Not to worry – At D&B Construction Group, we're all about efficiency and helping out our industry brothers and sisters. And that's because we care. So of course, we will spill the beans about these handy full-grain leather boots. They are made by a company called Xena workwear for women. Best of all, they are made for women by women right here in the United States.
Xena workwear was founded as a result of the CEO's own frustration from "working in a manufacturing environment where the only options were bulky, manly work boots." Their CEO, Ana Kraft understands the importance of how what you wear can impact self-confidence and many other job-related factors that play a huge role in long-term career success.
So how did Jessica score these beauties?! It all happened about a year ago through a simple Google search. "I was searching for something better suited for me. I needed something more stylish that I could wear in the office," she recalls. "I was also tired of the old, muddy, and uncomfortable boots I had been using for years."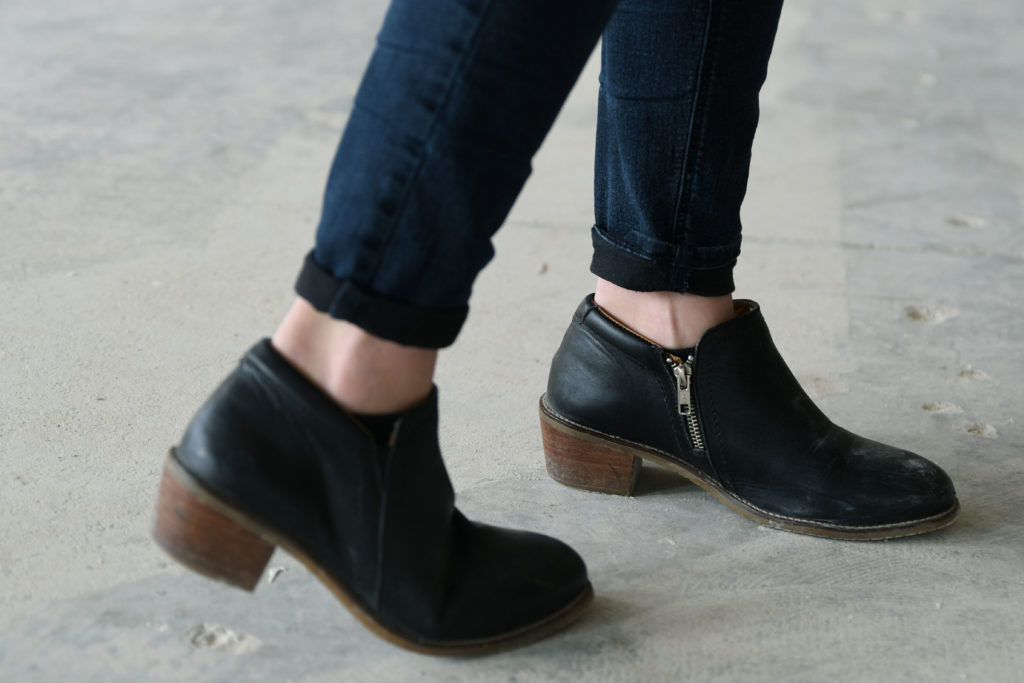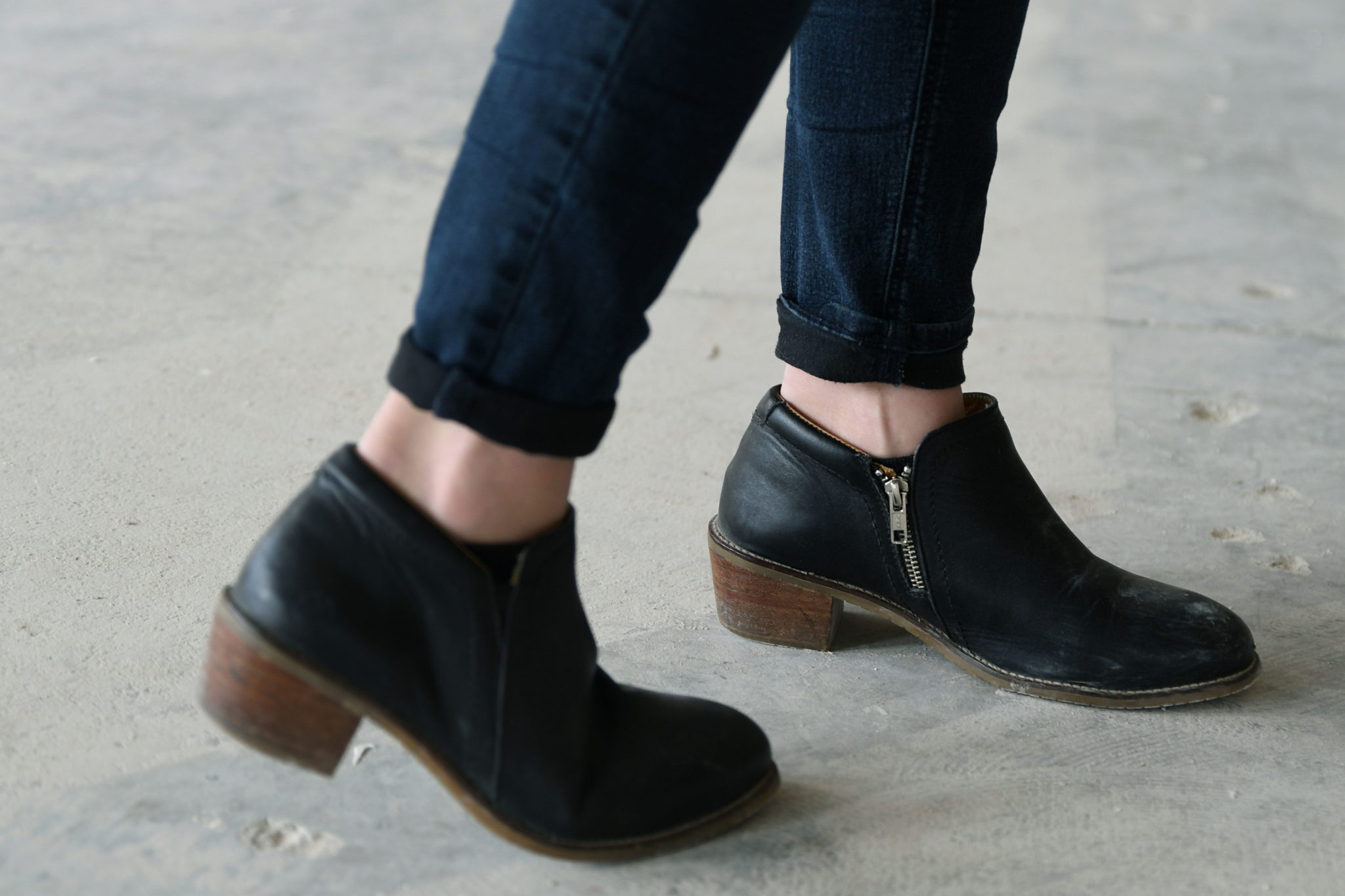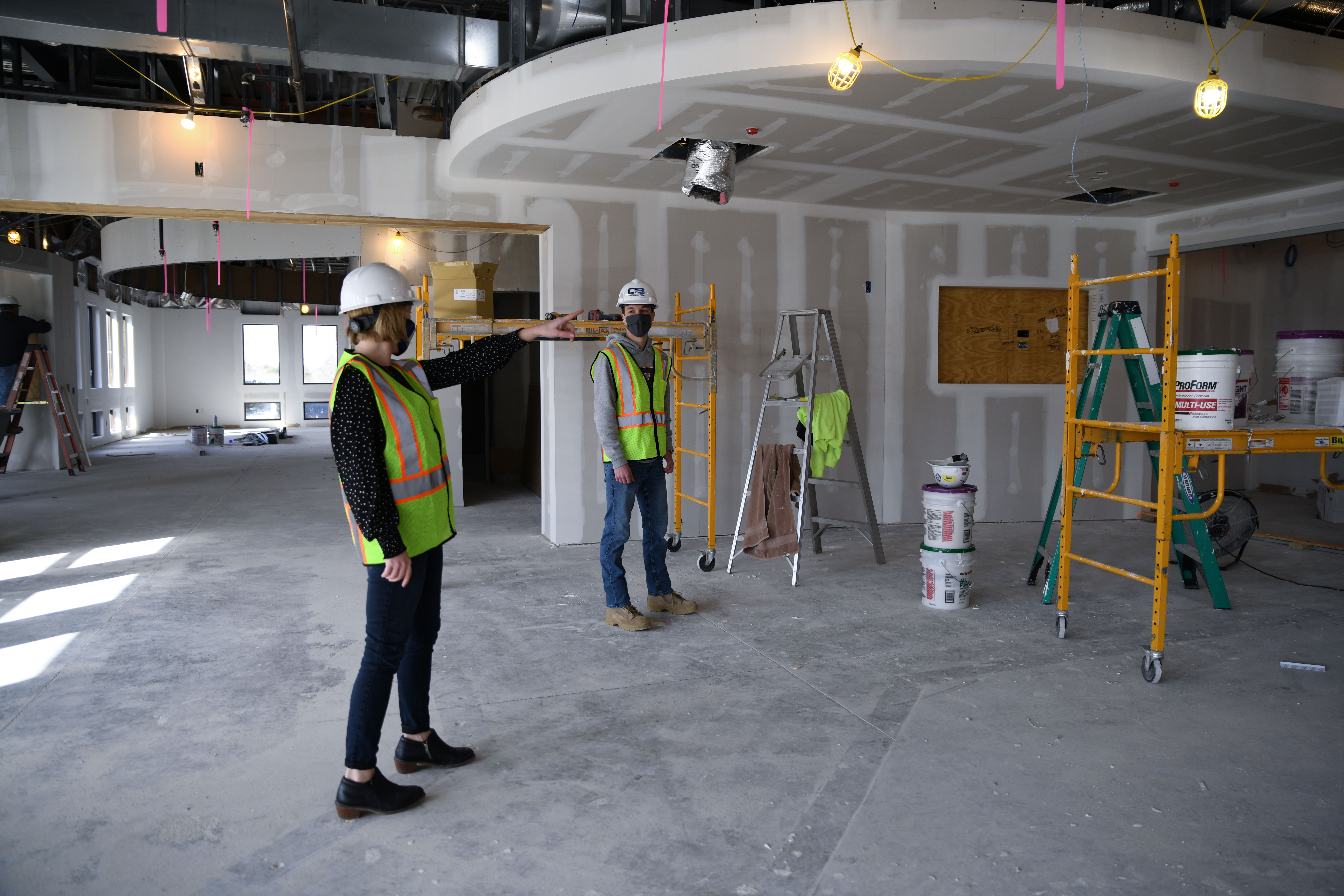 5 Stars for Xena
A year in, Jessica is more than happy with these shoes. "They are way more comfortable than the old shit kickers I had," she says with a laugh. Jess has the Gravity Safety Shoe, which come in three other cute styles. They also make safety boots, like this pair that another one of our D&B team members, Angela, recently purchased for when she is on our active job sites.
Although new to the construction industry, Angela is already hooked and thankful Jessica made the recommendation. Meanwhile, Jessica has been with D&B Construction Group for nearly 4 years. She is an LEED AP certified Project Manager that has managed design and construction projects for some impressive buildings across the United States for well-known clients like Harley Davidson, Calvin Klein, The North Face, Birkenstock, and Michael Kors to name a few. Likewise, Jess has also completed many impactful projects locally for Tower Health, Penn National Gaming, Hottenstein Orthodontics, S&T Bank, Gold's Gym and more.
Both ladies regularly have to leave the office to head out on the jobsite. "Not having to worry about changing shoes as I go back and forth between the office and job sites just makes my day to day easier," says Jessica. As a vital part of D&B's operations here at the office, Jessica's Xena's have been a game changer in her day to day by making it easy to transition from office to job site.
"These boots are so comfortable that I sometimes forget I'm wearing them once I get back from a job site," she explained. And it is no wonder, since they feature comfortable ankle padding, a lightweight design, breathable lining with air-flow tech, and an impact absorbing insole. Plus, just look at how on point their packaging and branding is! Xena boots even come with a card verifying that they are OSHA compliant and ASTM certified. This may definitely come in handy for those that think your shoes are too stylish to also be safe on the job.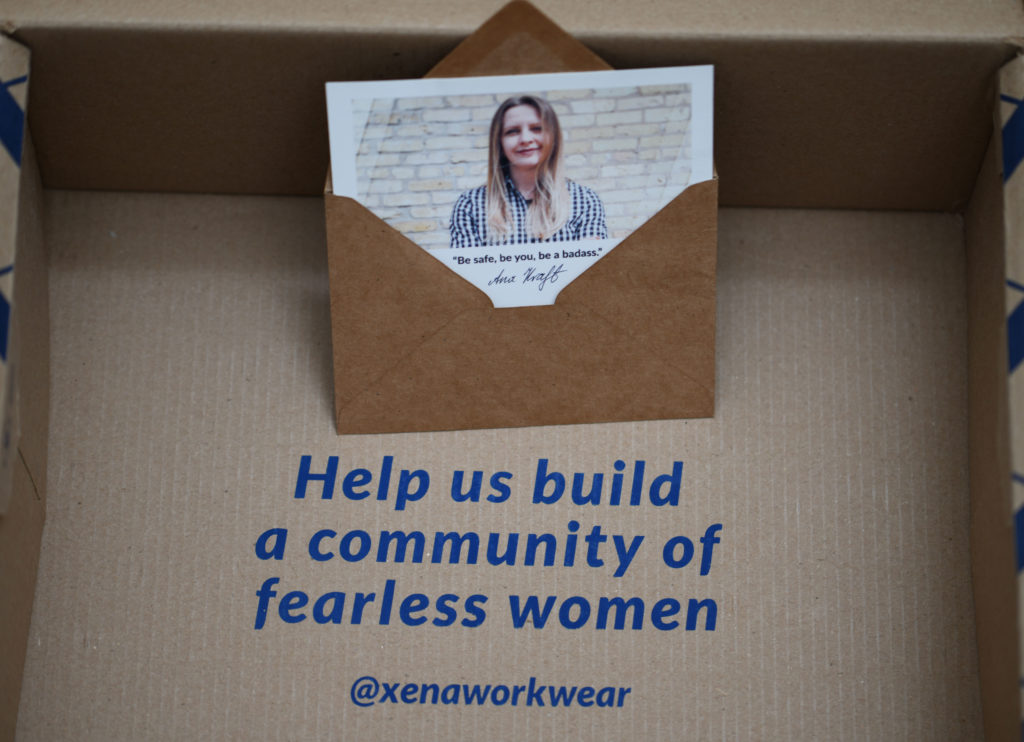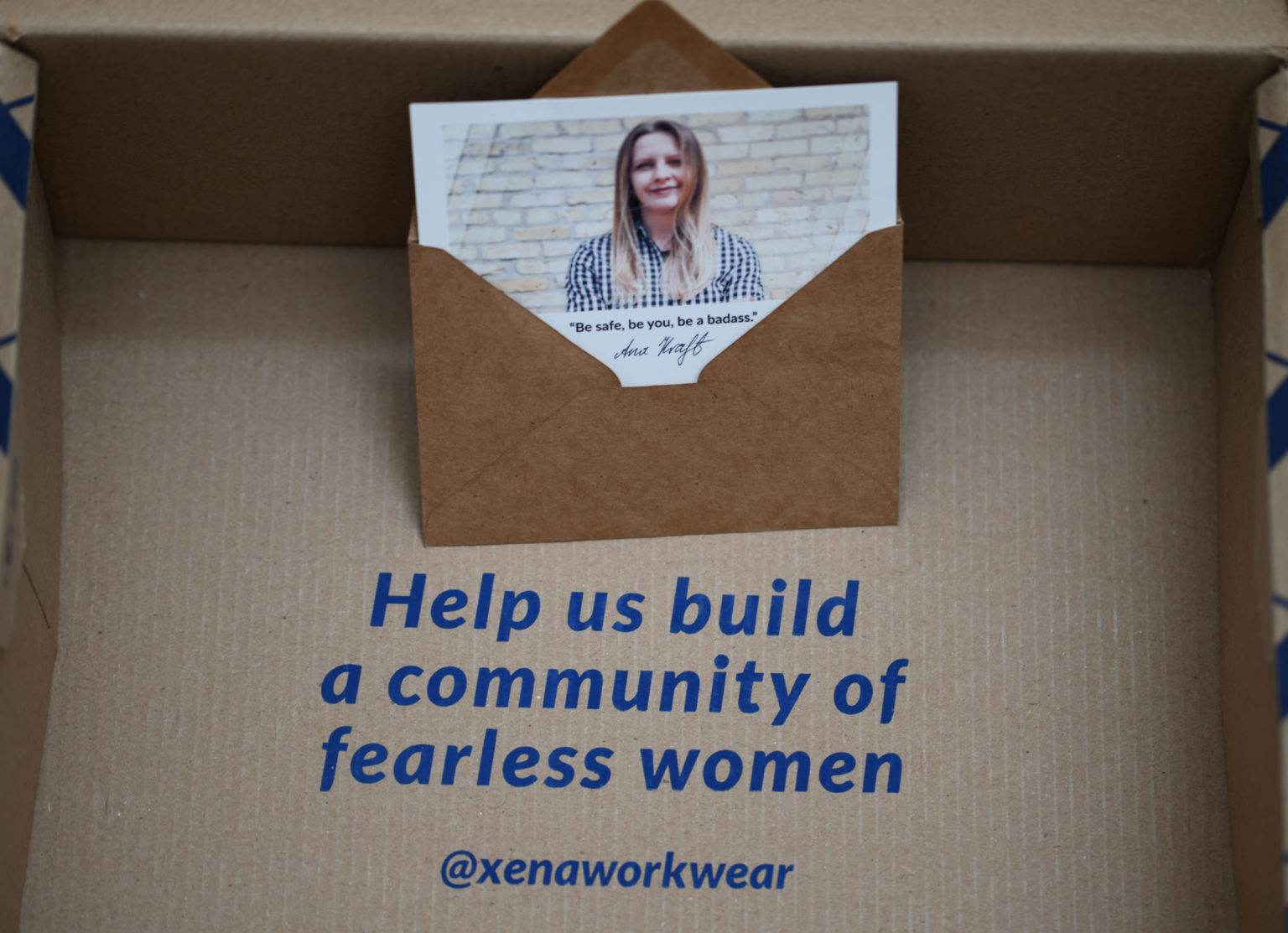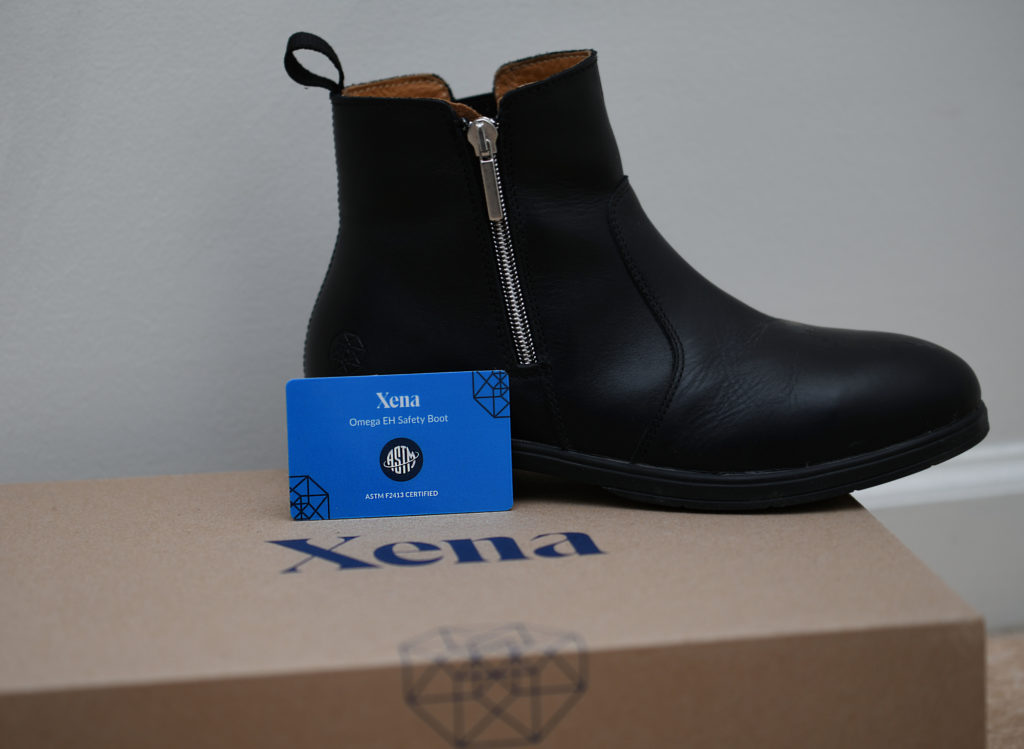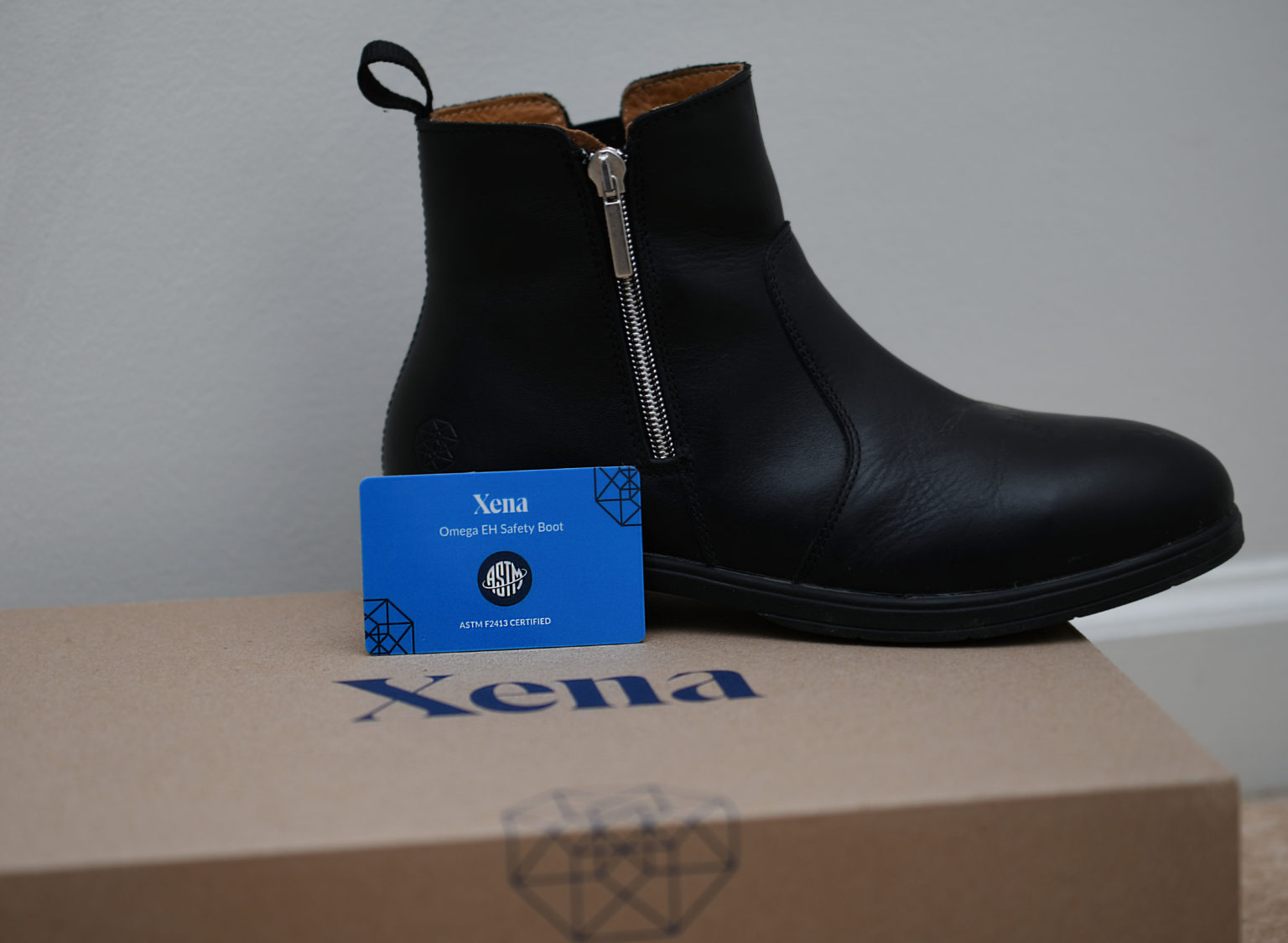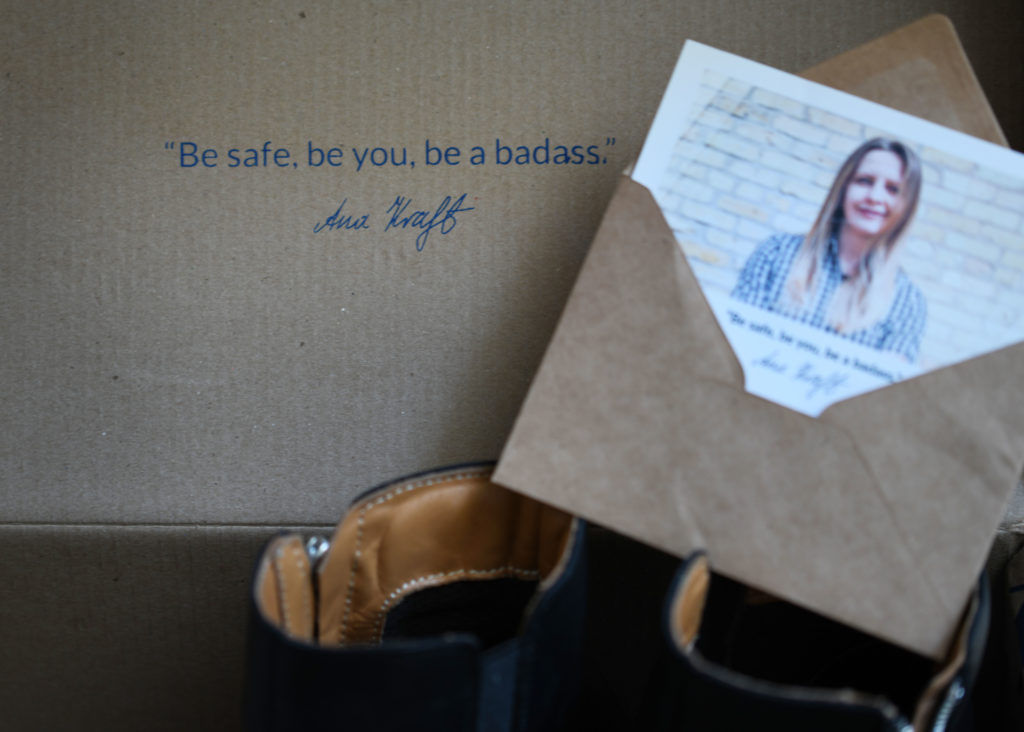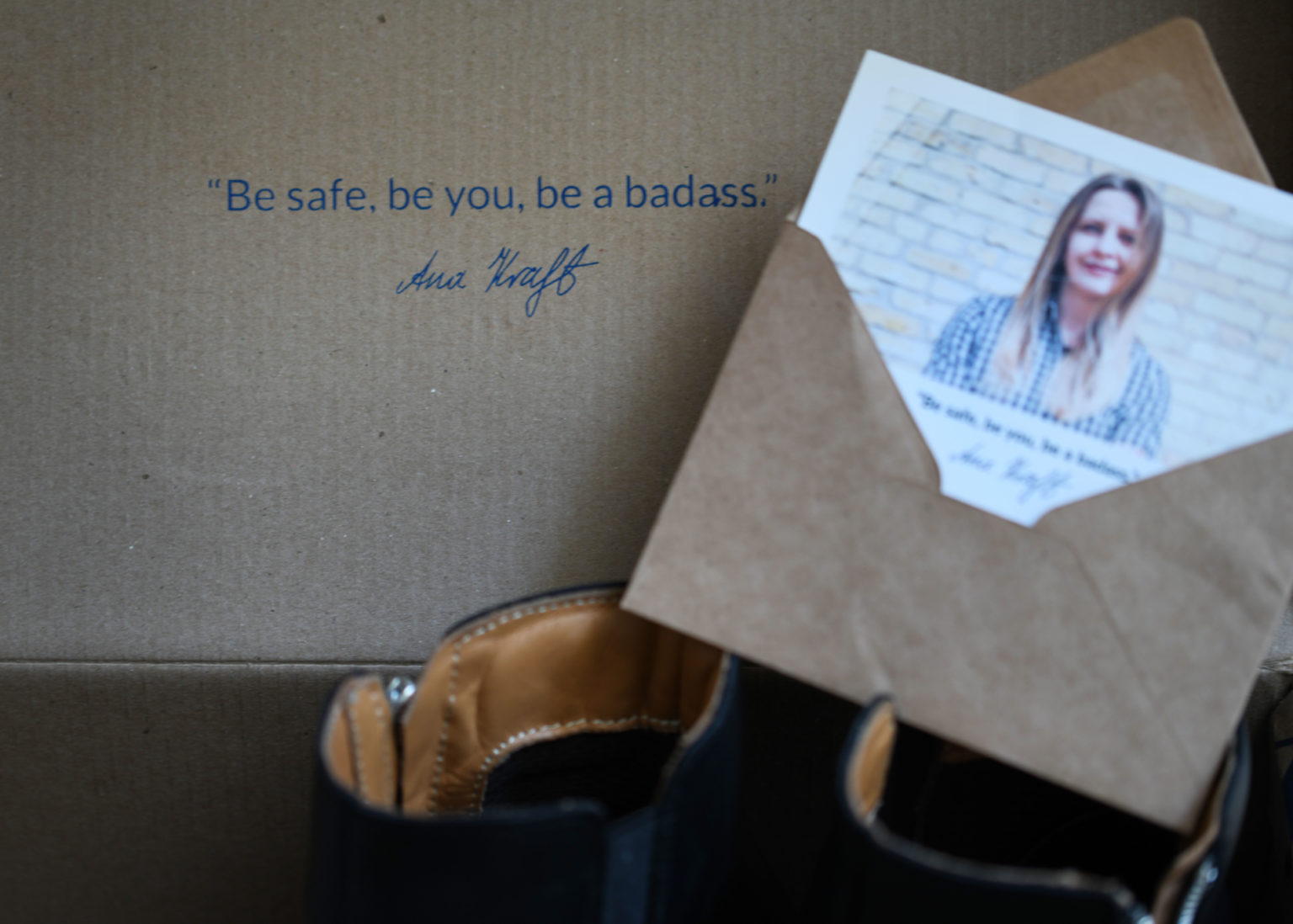 Be sure to pass this brand along to other women in construction and other STEM-related careers. Ladies: Check out Xena's Facebook group Xena Moves. This group was created for women in STEM and the Trades who are looking for a safe haven to connect with like-minded professionals and to share fun work style ideas! This is how the Team D&B ladies wear their #xenasatwork: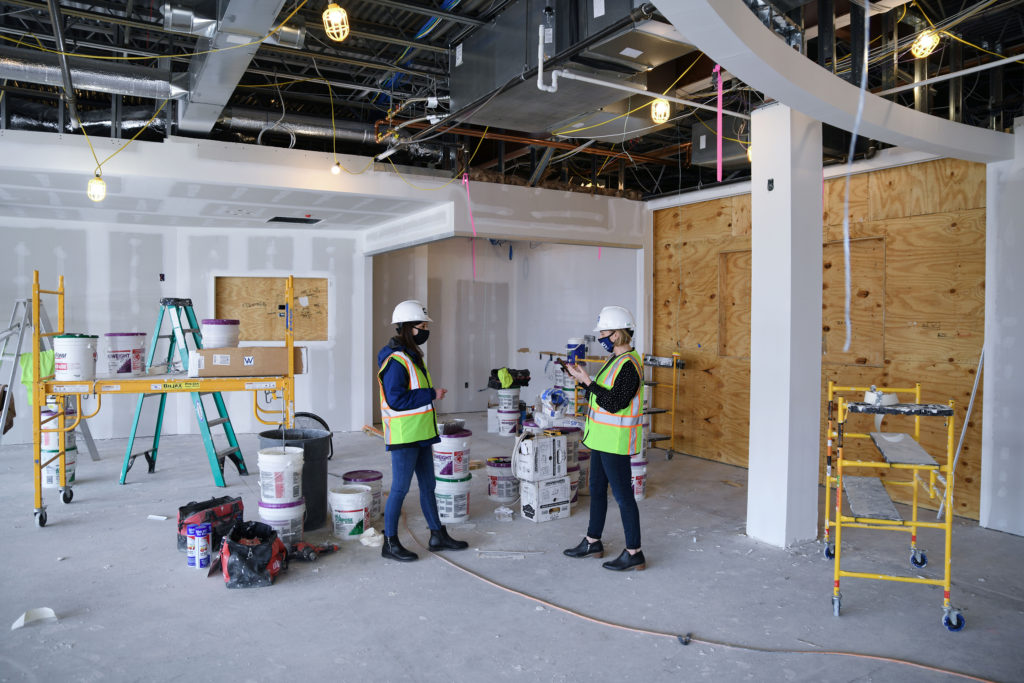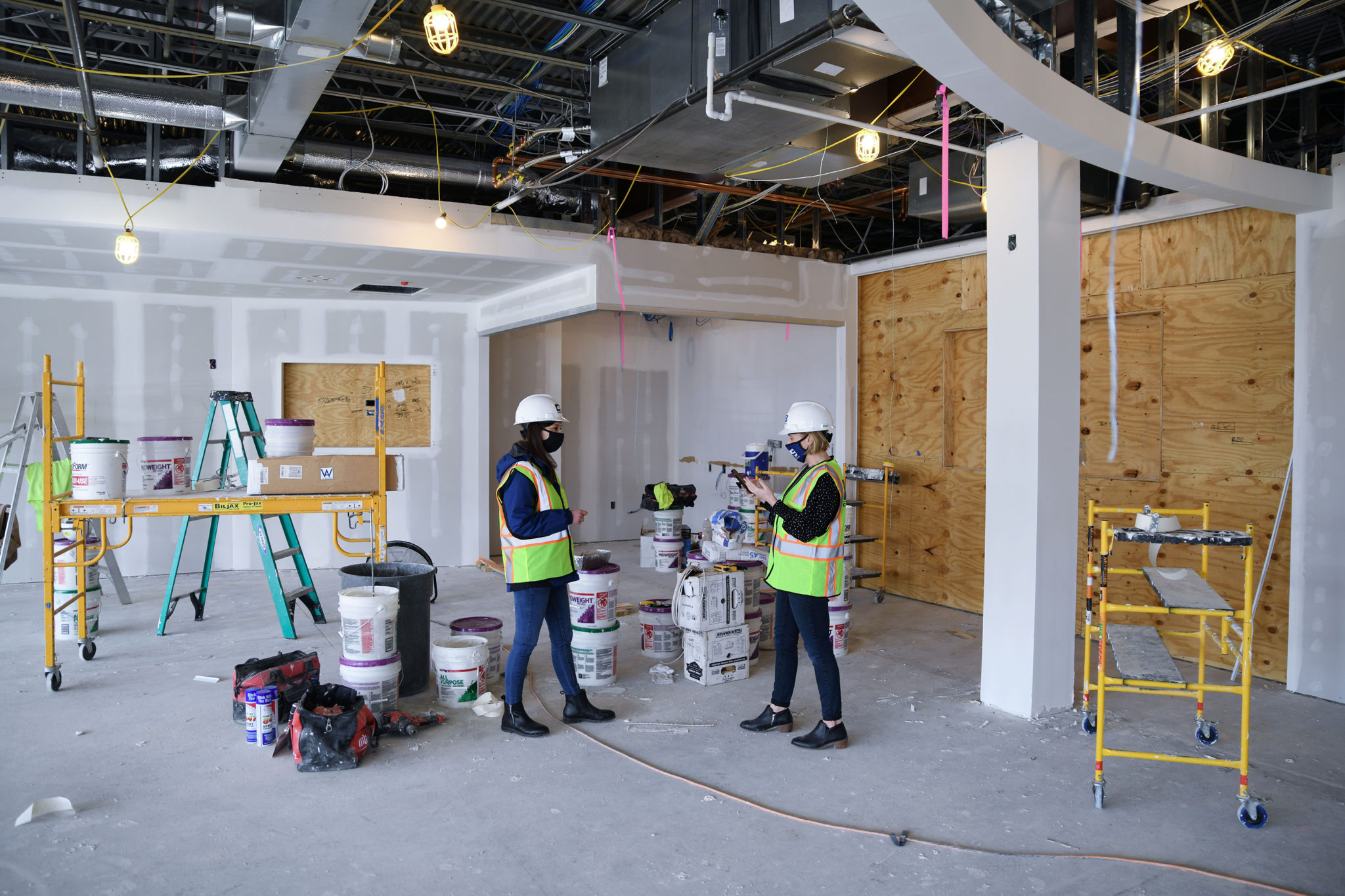 PS: For those of you who may have guessed wrong about Jessica's boots being OSHA compliant – Don't fret! "I get questioned all the time," she says. "People ask me if they are legit, and I just encourage them to step on my toes."