Labor shortages is a hot topic right now. In the construction industry alone, there are approximately 400,000 job openings. Currently, 67% of construction companies are experiencing skilled labor shortages across the globe. Couple this with an increase in material cost (we're talking nearly quadruple the cost of plywood wholesale prices from $400 to $1500 per thousand square feet that we saw during the first year of COVID-19) and you have a minor reason to panic.
According to our Chief Operating Officer, Brennan Reichenbach, the cost of construction has doubled – and in some cases nearly tripled – in the last approximate five years alone. The substantially cheaper costs of a fit out vs. ground up construction are all the more reason for a developer to consider adaptive reuse projects over new construction – especially in the current climate.
As the icing on the cake, mix these two factors together with the dwindling amount of available development space in metropolitan areas, the current housing market and the nation's housing shortage, and you get the perfect recipe for a high demand in multi-family housing. Despite all of the stressors currently weighing on the millions of people who touch the construction industry in some capacity, when looking at the current climate through the eyes of a developer, it may just be the perfect cocktail for opportunity. Read on to find out how:
The Housing Inventory Issue Coupled with Available Development Space:
Inventory of houses is an issue across the nation right now. It's no secret that the prices of reselling a home is at an all-time high, and that is due in part to the fact that new construction is expensive thanks to all the hurdles that need to be jumped in order to reach the finish line of complete construction. A rather stubborn supply chain has been no help in driving down the cost of housing either.
Berks County has been a Seller's Market since September of 2021, with homes in the county selling for 10.3% more than they would have a year ago. The number of homes for sale in Berks County this year is the highest it has been in the last 15 years. For comparison, in May of this year there were 759 homes on the market throughout the county compared to just 530 the month before. This is an increase of 43.2%.
Gallup's annual Economy and Personal Finance Poll, conducted in April and published in early May, revealed that 69% of respondents believed it is a bad time to buy a house. This is the first time that a majority of Americans have felt this way in the poll's 44-year history. The factors likely contributing to this majority statement include rising interest rates and the inability for new housing construction to have a significant impact on the demand for housing.
A recent interview on Keller Williams Realtor Brad Weisman's podcast Real Estate and You featured Kevin Timochenko, Founder and Owner of Metropolitan Companies, who handles development, building, and management. D&B is currently building a number of multi-family apartments (like The Reserve at Iroquois) for the company, who is also scheduled to build between 200 and 300 single-family homes from Pittsburgh to Delaware within the next year.
Timochenko discusses how developing in Berks County is a different story than the other areas his company typically deals with. Although land is available, it is harder for developers such as Kevin Timochenko to make money on this investment since land and improvement costs are so high in this area, thus making it difficult to build. The amount of preserved land in the area also can complicate things – especially when land is being preserved in the middle of commercial corridors that would better serve the community if developed. To add insult to injury, Berks County is one of the most preserved counties throughout the state of Pennsylvania with over 75,000 acres of preserved farmland.
If you trade the farmland of more rural areas for the concrete of larger cities, you'll still find the same overarching issue of a lack of available square footage for new development – just in a different setting.
So How Do All These Negatives Make A Positive?
The solution may just be repurposing the commercial square footage already available. Currently, society as a whole is seeing more and more real estate developers buying office buildings so they can convert them to residential use. A recent high-profile example was announced in Washington D.C. with plans to convert two older office buildings – Universal North and Universal South – near DuPont Circle on Connecticut Avenue. The buildings, which total 700,000+ square feet, marks Philadelphia-based real estate firm, Post Brothers, debut into the metro Washington D.C. area.
The firm may be onto something, as they found success in redeveloping a former warehouse in Northern Philadelphia into The Poplar, which includes 285 apartments and high-end amenities including a world-class fitness sanctuary rooftop dog parks, and three infinity-edge saltwater pools.
Time will tell how this transition fares, but it looks like many metropolitan areas throughout the country – with our nation's capital as the main experiment – will be serving as case studies for converting former commercial space into residential housing or even mixed-use development. In an article in the Washingtonian, Senior Editor Marisa M. Kashino was told by John Falcicchio, Washington D.C.'s Deputy Mayor for Planning and Development, that adaptive reuse is needed to "save downtown." In the metro D.C. area alone, approximately 325,000 units need to be added before the end of the decade in order to keep up with the demand. Many have their eyes on the recently estimated 157.9 million square feet of rentable office space in the D.C. area as a potential solution for this issue.
The Push for Office-to-Residential Conversions
Many other metropolitan areas aside from Washington D.C. are seeing a strong push for adaptive reuse projects focused on converting office space to residential multi-family living – so much so that legislators are even passing laws to assist with this trend. The latest budget for California included a call to action to spend $400 million "as an incentive to developers to convert commercial and office buildings into affordable housing in the budget years 2022-23 and 2023-24." In early June New York Governor Kathy Hochul signed a bill that made it easier to convert underused hotels into permanent housing. Just last week, city officials in Chicago announced that they would provide tens of millions of dollars to developers willing to convert aging office towers into residential buildings.
New York City's push for such conversions is also apparent with the $1.5 billion transformation of the former home of Irving Trust Bank at One Wall Street in lower Manhattan, marking itself as the largest office-to-residential conversion in the city's history. Take a detour west to Salt Lake City, and you'll find Houston-based developer Hines, an international real estate firm, acquired a 24-story office building – South Temple Tower – which they plan to convert into a 255-unit luxury apartment complex starting in early 2023. Similar projects are also in the works in major cities such as Atlanta and Dallas.
A Look At The Local Forecast
Given the strong trend of these conversions in larger cities, it is inevitably just a matter of time before we see this start to take hold in more sub-suburban areas.
Patrick Zerbe, Commercial Real Estate Agent for NAI Keystone, has been watching this trend start to take hold since the pandemic. "The pandemic fast-tracked transitions in different trends. The largest transition we are seeing in the commercial real estate world are businesses providing remote and hybrid work. With less people in the office, companies and organizations have determined to decrease their footprint, which in contrast has given an influx of vacant office space. We have primarily seen this in larger cities, but this trend is slowly making its way to subsidiary markets," he explains.
Recent data from Co-Star, a global leader in commercial real estate intel, provides a good example of what Patrick discusses. Reading, PA has a 6.3% vacancy rate for the nearly 13.5 million square feet of office space available in the city. In comparison, of the 323 million square feet of office space in Philadelphia, 10.3% (or 33 million square feet) is currently vacant. This is an increase from the historical average of 9.5%.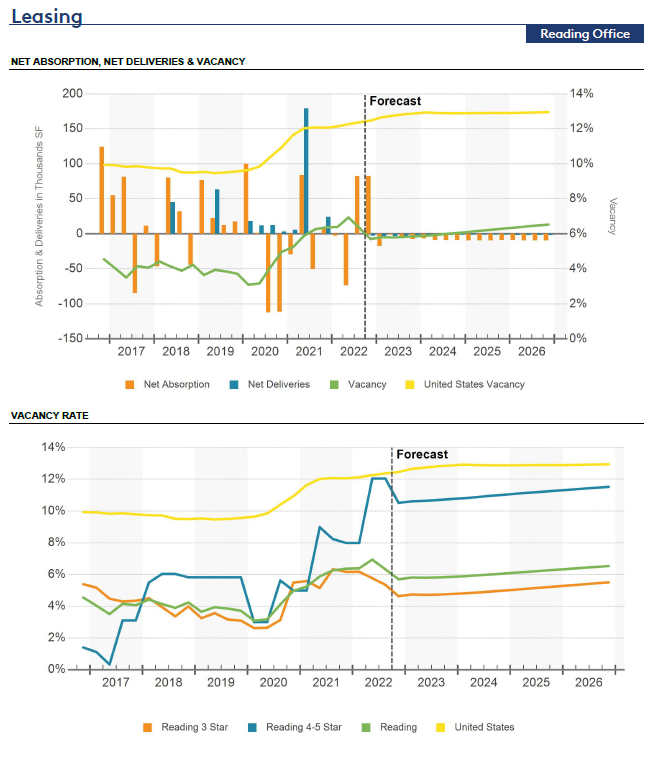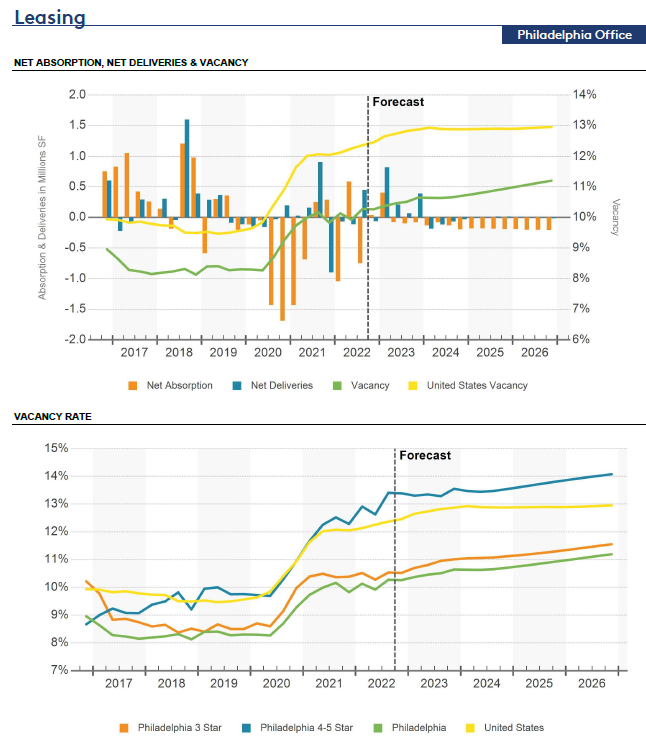 "A lot of companies no longer want to worry about sharing common space, and more people want direct access and direct walk-in space to their offices. A multi-story office building in the center of a city hosts a lot of common areas," he reflects.
As a commercial real-estate agent, Patrick sees many redevelopment opportunities in the multi-family market. "With the prices of land and material, building anything ground-up is incredibly expensive right now. Any chance a developer may have to look at a re-development project to substitute some of these costs is a winning combination," he states.
Aside from the obvious solution of breathing new life into corporate complexes as an adaptive reuse project, Patrick predicts that large retail centers and institutions such as old schools may be a great opportunity for development into multi-family housing to aid the housing crisis.
Let us know what areas you think would serve as the perfect adaptive reuse project for multi-family living in the comments below!