The old perception that construction is a "man's job" is outdated, and there's no better time to shed a light on why that is than during Women in Construction week. You'll find women leading multi-million-dollar job sites and overseeing operations for construction companies across the country. With supportive employers, they're also building a more inclusive industry.
What is Women in Construction Week?
Women in Construction Week always takes place during the first full week in March. The purpose of this week is to highlight the many great initiatives and work of women within the industry, while also illustrating all of the opportunities available to women in construction.
The history of Women in Construction Week is allied with the National Association of Women in Construction, which was founded in 1953 by 16 women working in the construction industry in Fort Worth, Texas. In 1960, just seven years after being founded, Women in Construction Week was introduced in honor of the association. The National Association of Women in Construction was initially created to "support the few women working in construction at the time." The organization has since "gone on to ease the passage of women into construction, helping to create awareness and better working space for those who desire to work in the industry."
Today, you will find 118 NAWIC chapters across the United states, all providing professional development, education, networking, leadership training and public service. We owe many victories in the industry to the 16 courageous women who started this foundation nearly 70 years ago. Some examples include the fact that the overall stigma of women working in the industry has reduced tremendously, and the pay gap between men and women is relatively small when compared to other industries.
Resources For Women In The Industry:
To learn more about resources for women in the industry check out our Women in Construction Week blog post from last year here on our website. We always like to refer people to the two nationally recognized groups that provide networking and mentorship opportunities for women in the industry: Women Construction Owners & Executives (WCOE) and the National Association of Women in Construction (NAWIC).
We also happen to love NAWIC's official podcast, Build. Lead. Succeed., which you can listen to here! The newest episode features an interview with Laura Jones, Project Manager with WW Gay Mechanical Constructors, and discusses what it takes to be able to accomplish maximum career growth while raising children.
Another vital resource? Giving our women in construction access to mentors! LeadHeralliance.com is on a mission to do just that. This program offers monthly sessions, workshops, meet ups and networking opportunities, and was created by women for women. By joining as a mentee, ladies will belong to a network of women in the construction trades. They can be "matched" with their own professional personal female Mentor, who will help grow their career. The group is also always looking for mentors to help recruit, retain and support females new to the construction trades. Feel free to connect with Sarah Hilton, Director of Programs, to learn more!
How Women Help Grow The Industry:
Research has shown that organizations with above-average diversity had 19% greater innovation revenues. There is a clear positive relationship between innovation and diversity, as depicted by The Boston Consulting Group's survey on diversity, which spanned across 1,800 companies in eight different countries.
If you are alive in today's world, chances are you aware of the workforce shortage issue. According to the Bureau of Labor Statistics, approximately 400,000 new jobs will be added to the construction industry from 2020 to 2030. One solution to this growing problem is recruiting women, who make up 47% of the total workforce. It is not only smart – but necessary – to employ, educate, and support women construction workers. Doing so helps ensure long-term industry progress.
Another report by McKinsey & Company revealed that gender-diverse companies are 25% more likely to achieve above-average profitability than companies with less diversity in their Diversity Wins report from May 2020. One highlight in particular that stands out from this report? When women filled 30% or more executive-level positions in a company, the companies were 48% more likely to outperform their least-diverse competitors.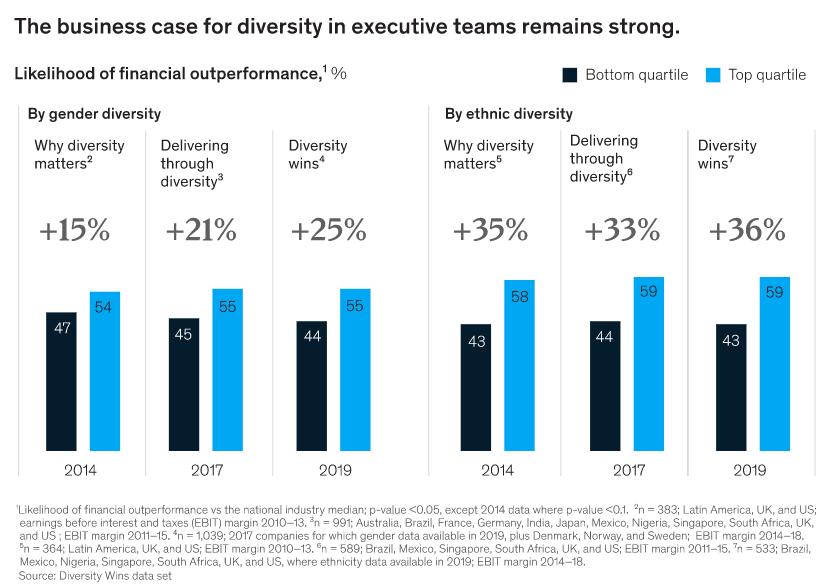 A study by the National Bureau of Economic Research revealed that women are more likely to collaborate than men, a trait highly sought out in construction management since there is no doubt that construction projects require a high level of collaboration. The increase in teamwork and cooperation that women bring to the table can lead to significant improvement in a company's productivity and profits.
Women's ability to be great listeners and communicators and to pay attention to tasks that require precision for longer periods of time make them valuable employees on the job site, too, where tasks such as framing require great accuracy.
Overall, adding a woman's perspective to a male-dominated world can bring a new approach to how things can get accomplished. Their input is valuable and beneficial, and they can greatly help to improve interpersonal relationships.
Despite the many advantages that women bring to the table, only 7% of architects and engineers are women, 5% of contractors are women, and 4% of construction managers are women. Below are some reasons as to why this may be given the set backs women have historically had to face:
Pay Gap: Historically, statistics reveal that 43% of organizations don't actively monitor gender pay gaps. However, this trend has slowly been reversing. The National Association of Women in Construction recently reported that "women earn an average of 99.1% of what their male counterparts make in the field." It has been reported that women working in construction and trade earn 30% more than those working in women-dominated occupations.
Gender Bias: Women are the victim of 60% of gender discrimination cases in the workplace.
Lack of Advancement: Over 70% of female construction workers have felt passed over for roles because of their gender. Women only make up about 14% of staff executive and 7% of line executive positions. The good news? In 2018, it was reported that nearly one in three companies promoted women to leadership roles and other executive-level positions. According to NAWIC, "a significant percentage (44%) of women currently employed in construction projects work as construction managers and other management professionals."
Ways To Empower Women In The Industry And Those Looking To Join:
Lead by example. Help the women on your team feel like part of the solution (because they are). Treat all workers equally – with respect and courtesy – at your construction site.
Provide the women in your industry with female mentors or role models within the industry to help them navigate workplace challenges. (Don't forget to check out com if you are interested in having or being a mentor.) Did You Know: Over 45% of women in construction have never worked with female construction managers?! Reducing this shortage of role models would have a lasting impact.
Offer STEM mentorship. Statistics don't lie and they show that when it comes to who is graduating with a construction management degree, men still "significantly" outnumber women. Why is this? The answer may come down to the simple point that women may not be presented with construction as a career option the way men are. Conducting outreach for young women interested in exploring the field is crucial. STEMblazers does this by inspiring girls to visualize themselves in science, technology, engineering, and math professions. They have a long term goal to reach 1 million girls and influence them to pursue a career in STEM so women can be equally represented in the STEM workforce.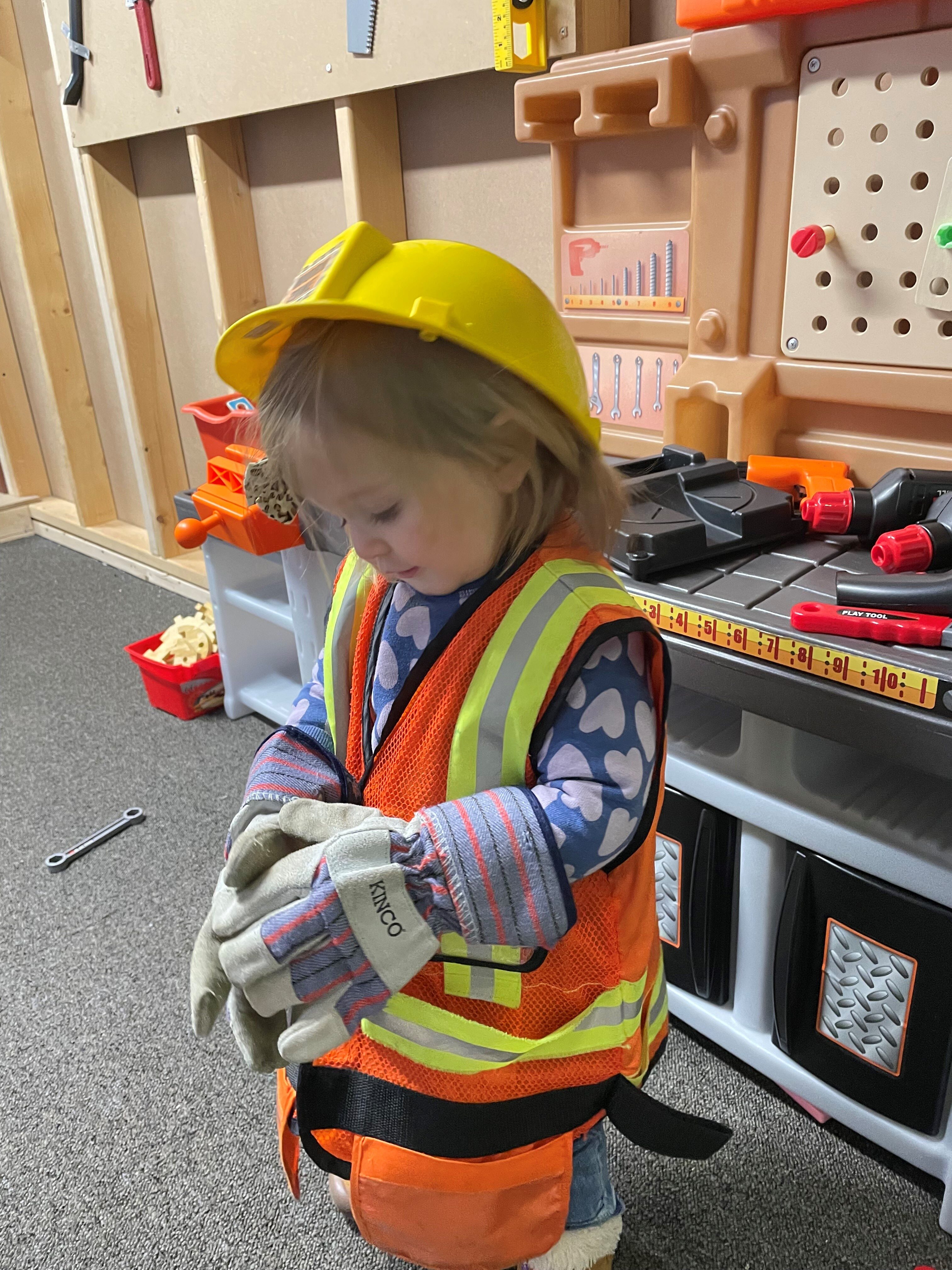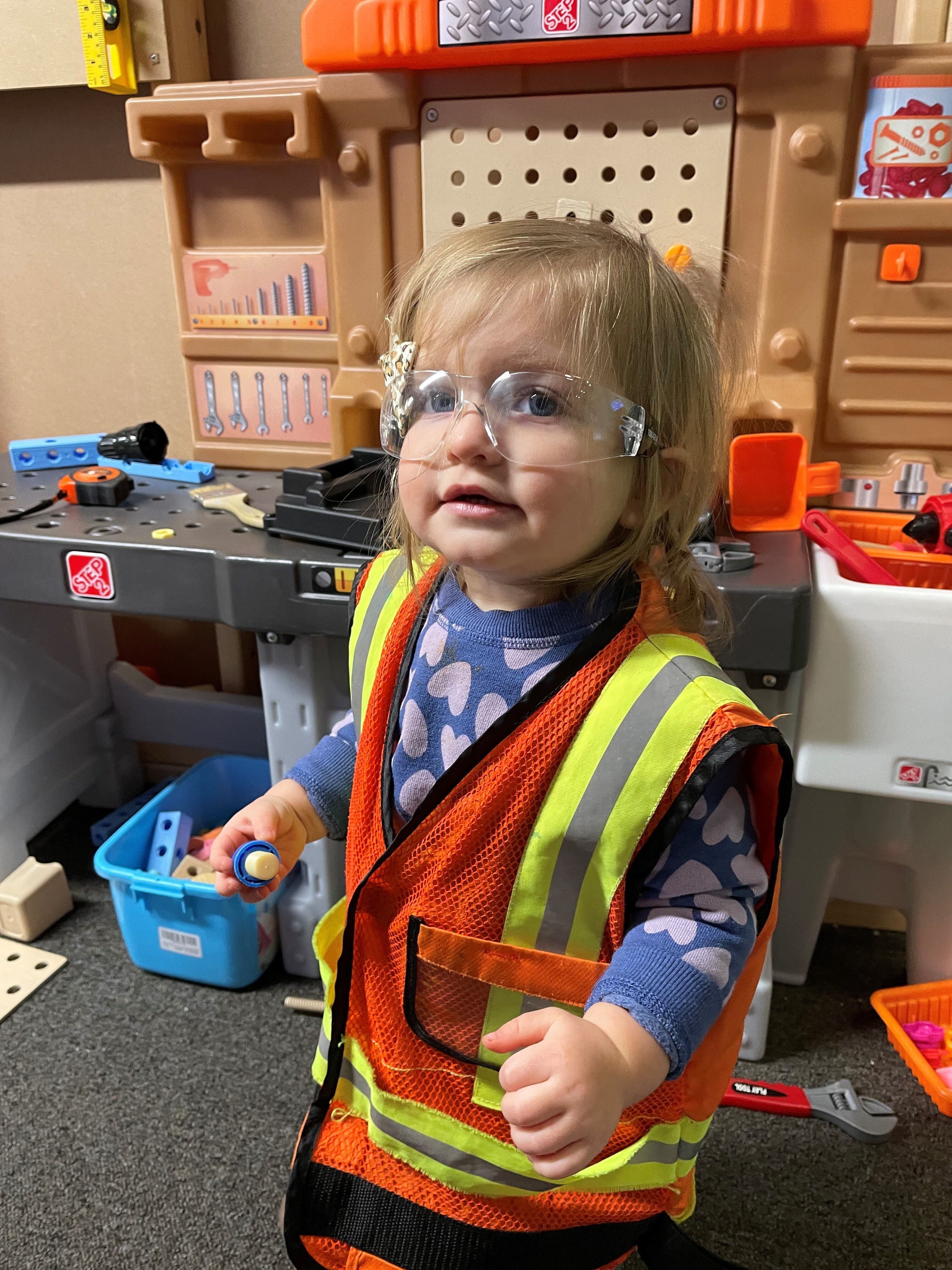 Meet The D&B Ladies:
Last year you met Lesley, Jess, Beth and Angela as we celebrated WIC week. In a year's time the ladies of D&B have since doubled. (Woohoo!) Meet Bryn Heist, RA (Project Manager), Rachel Hope (Office Coordinator), Melany Eltz (Commercial Project Coordinator) and Kellie Mackie (Estimator and Assistant Project Manager) for our sister residential company, D&B Elite Custom:
Meet Bryn, RA – Commercial Project Manager: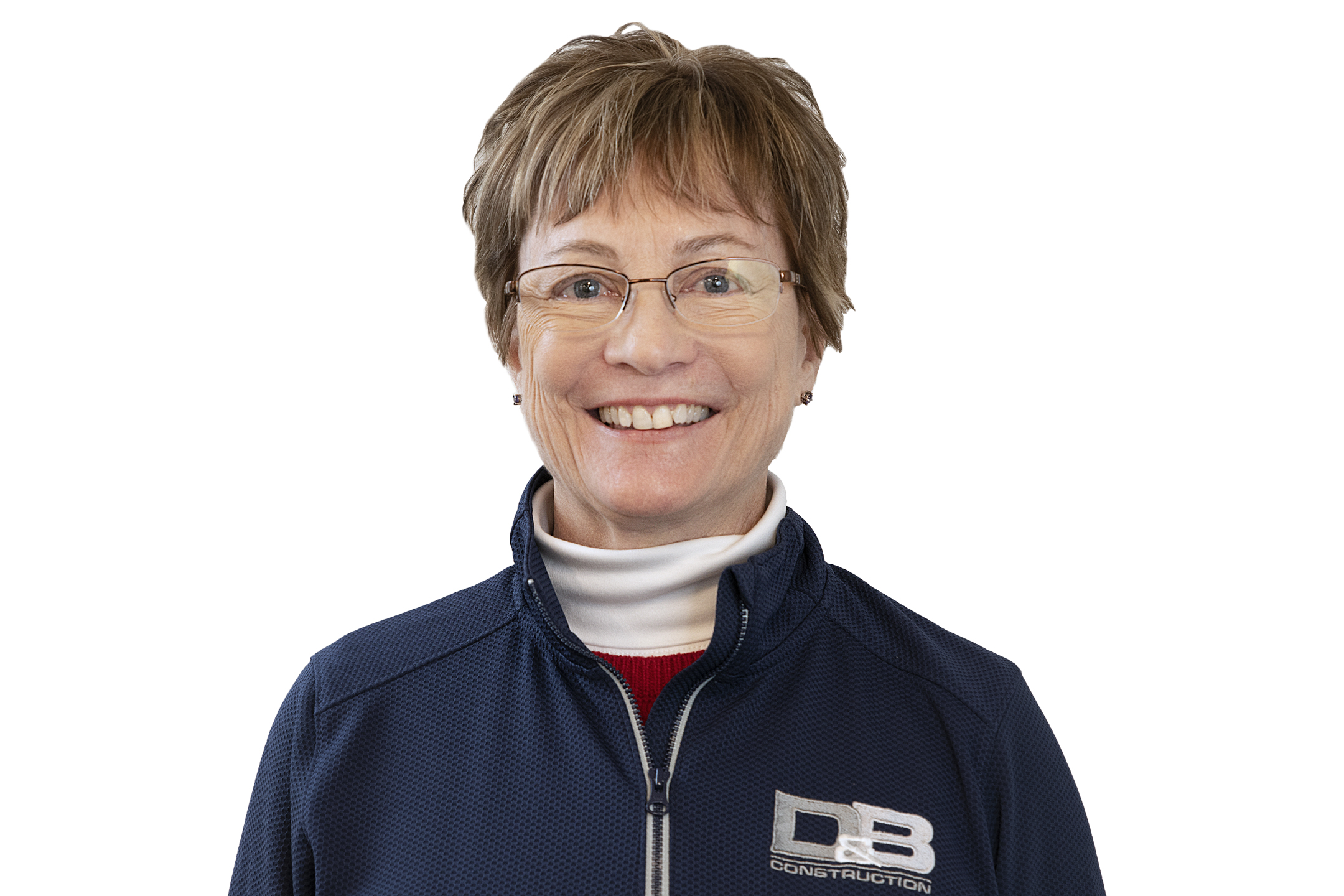 Bryn is a seasoned Design and Construction Project Manager and Architect. She joined Team D&B with nearly 40 years of industry experience. Bryn first joined the industry as an Architect serving clients before making the transition to Owner's Rep, which allowed her to coordinate between the Design Team and Contractors. She is excited to continue to serve clients through her role as a member of the Contractor's team with D&B Construction. Bryn's career experience spans across an array of sectors including healthcare, commercial, institutional, industrial and residential construction.  She has spent the last 20 years of her career with a focus in the healthcare industry as Senior Project Manager for Universal Health Services (UHS) and Project Manager for Tower Health Systems (Reading Health Systems). Throughout this time, Bryn effectively managed multiple projects ranging from $100K to $52M concurrently. She enjoys being involved at the inception of a project and seeing it through from construction to occupancy. Bryn appreciates the problem-solving aspect of design and construction, particularly the collaborative team efforts required to produce the end result of the process – an occupied building which fulfills the Client's needs and exceeds expectations.
Q: What has been the most memorable moment in your construction career and why?
A: "Being the Sr. PM for the design and construction for a 100 bed 82,200 SF Behavioral Hospital facility which came in under budget and on schedule.  The 5-acre site, fall start date in a mid-west region, REIT funding and a JV partnership provided multiple challenges. The Design and CM team were great collaborators and the relationship established and maintained with the City and State made this the success it was. The project provided much needed care for patients across the region, which were otherwise not served. Plus, the building functioned well and was aesthetically pleasing."
Q: How do women enhance profits for companies and what do they bring to the table?
A: "Diversity in general, not just gender-related, is known to provide different backgrounds, skills and perspectives, all qualities which can enhance the workplace.  Companies who are more diverse have a larger pool of applicants which lead to better talent.   Diverse teams are known to perform better with improved decision making and new ideas.  Increased creativity, skills and productivity impact the bottom line."
Q: What are the advantages of being a woman in construction?
A: "Construction provides more variety than many other industries where women are often employed.  It requires new skill sets, knowledge and experience, all of which creates a richer career."
Q: What advice would you give to a young woman entering the industry?
A: "Learn as much as you can both in the classroom and in your work experience. Gain as much experience by accepting all reasonable opportunities. Speak up when you have something that can contribute to the team. Ask questions. Don't be afraid of being in the minority. Listen and continue to learn."
Q: Women make up only 10.9% of all workers at a construction site in the U.S. What makes you proud to be a woman working in the construction industry?
A: "Gaining respect from men who may not have worked with women up to that point after proving you are capable of the job and add value to the team.  Leading the way for other women."
Q: Has there ever been a time throughout your career in the industry where you felt you weren't taken as seriously due to your gender / any specific stories you would like to share?
A: "There are always men who cannot accept a woman on equal ground.  Just do your job the best you can and ignore what you can't change."
Q: Have you ever felt bothered that there aren't more women in construction? Why / why not?
A: "No, I have not felt bothered because I've been in the design/construction industry for 40 years and see the great strides that have been made and continue to improve for women in all industries.  The fact that you can purchase decent looking work boots says it all."
Q: Do you feel you see more women in the field compared to when you first started working in construction?
A: "Twenty years ago, I was almost blatantly rejected as a hospital PM because of my gender.  I was eventually hired for that position.  Now the same company wouldn't even consider that to be an issue.  So yes."
Meet Melany – Commercial Project Coordinator: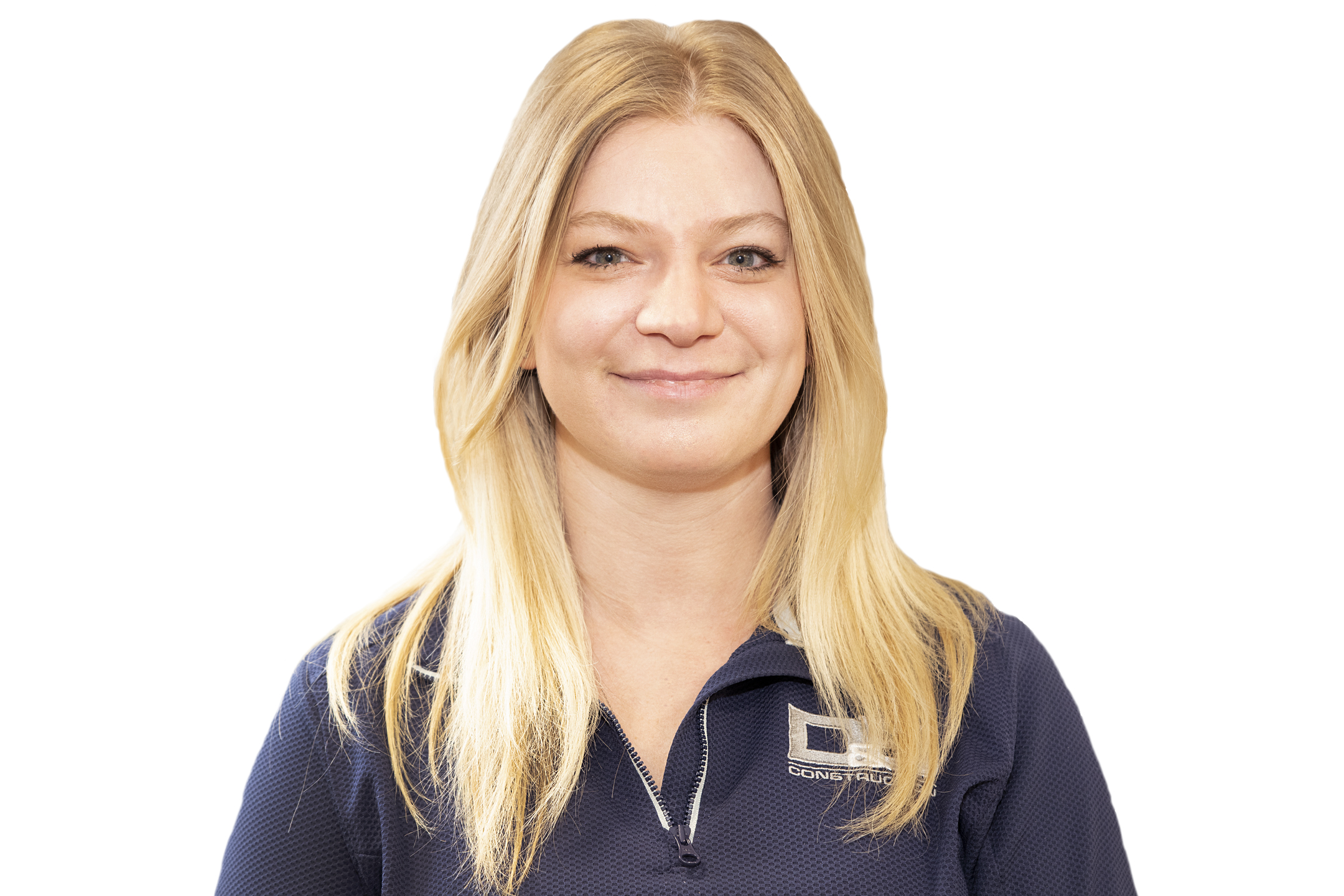 Melany is a testament to the fact that having a female mentor and role model can play a big roll in fulfilling a career in the industry. Melany's mother has worked in the furniture manufacturing and cabinet industry for over 20 years, with 18 years in retail prior to that. She has a wealth of knowledge when it comes to retail stores, office fixtures, and residential spaces.
"I started helping my mom with computer data entry of client sales orders at the young age of 12. This allowed me to become familiar with what a manufactured piece of furniture was and how demands needed to be met. During and after college her business was looking for interns, so I was excited to be part of the company on a new level. Working with my mother for six years taught me how to talk to clients and co-workers to get positive results. She taught me that using kindness, patience, listening to others, never saying you could not help, and setting an example for her team equals respect and admiration. My mother works hard, delegates when needed, and manages people in a friendly way. As a result, people love working hard for her to get the job done on time, and she has a great client following from providing service in excellence."
What advice would you give to young women entering the industry?
"Have confidence in yourself, know you worth, and know that a woman is the best man for the job."
What do women bring to the table for their companies and the industry as a whole?
"I believe that women are creative, innovative and are not as rigid / 'black and white' as men.  It's the grey area that women seem to be able to think more outside the box and can maybe find more creative ways of making money or profits. Women bring sensitivity and compassion to the table, along with being well organized and having that overall drive to always do a job well to make clients and coworkers happy."
Women make up only 10.9% of all workers at a construction site in the U.S. What makes Melany proud to be a woman working in the construction industry?
"The ability to excel in a 'man's world' as a woman is exciting and rewarding."
What do you think is the most important change currently happening in the construction industry and why?
"With the issues and challenges in this world today with material shortages, rising costs and delivery delays, the ability to focus on the big picture, exude patience and understanding and have the ability to reason with clients and co-workers is truly a must have."
Meet Rachel – Office Coordinator: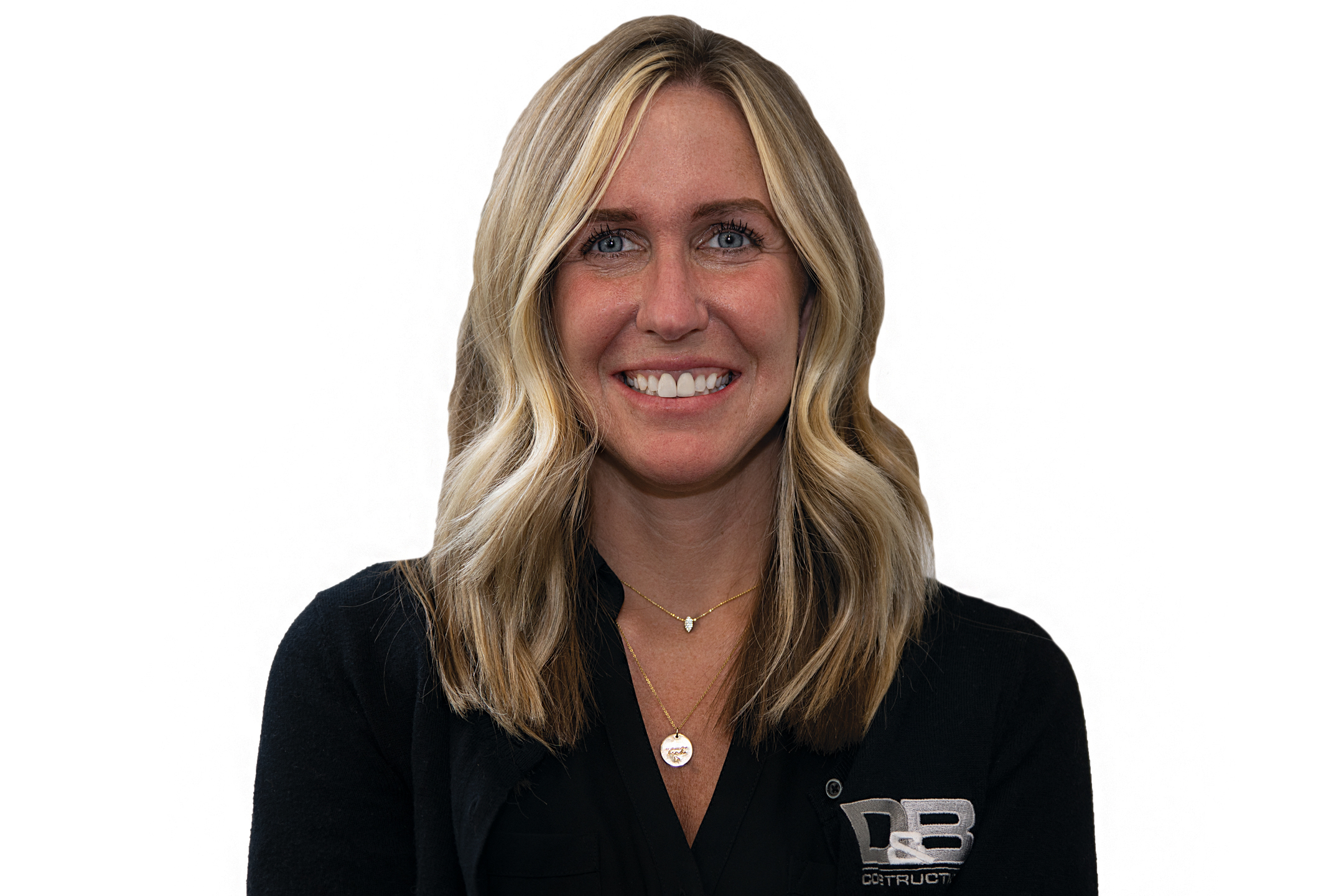 Rachel joined Team D&B with 15 years of experience as an Optical Manager for an eye care office. Although she never worked in construction before joining our team nearly a year ago now, she can attest to the "big impact that having a strong woman leader in the work place has." In the last year since she joined Team D&B, Rachel has "learned how to be strong, prioritize workloads on projects, the construction 'lingo", and the huge impact that safety has in the industry." She is excited to continue to keep learning and growing in construction and is "pleasantly happy to see how many women have been working in this industry for a long time."
What do women bring to the table for their companies and the industry as a whole?
"In doing some research, women have outscored men in their ability to take initiative and drive for results. Women have empathy, are mindful, can multitask and have open communication – all which are great traits and make teams more in sync."
What do the women of D&B bring to the table for our clients, trade partners, and co-workers?
"The women of D&B build solid workplace relationships."
What are the advantages of employing women in construction?
"Women can introduce new methods or approaches that have not yet been explored."
What are some ways that male leaders within the industry can empower their female colleagues?
"Be sure women's voices are heard (in meetings, especially), practice transparency, and listening."
Meet Kellie – Residential Estimator / Assistant Project Manager: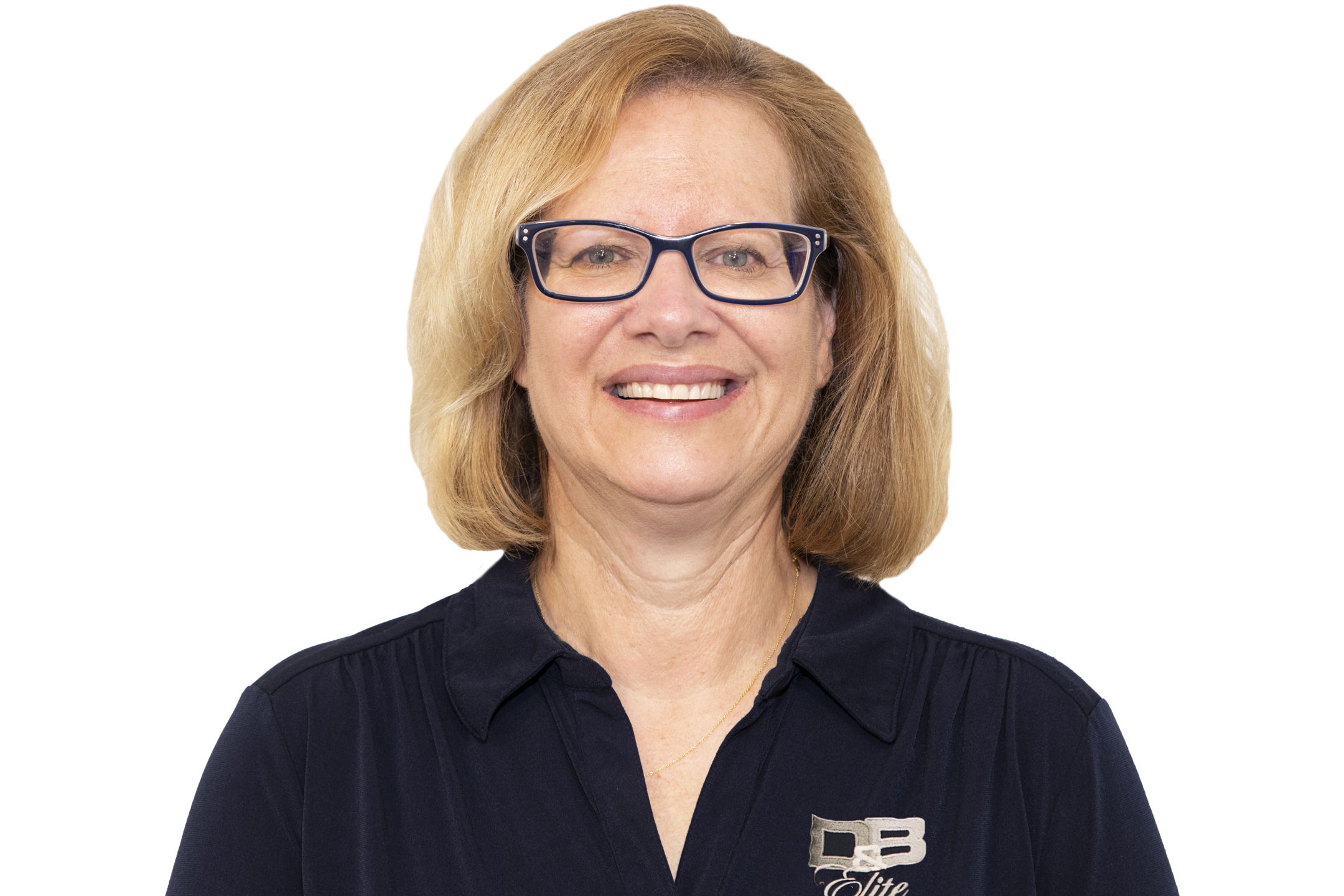 Kellie joined our residential construction company, D&B Elite Custom, in September of 2021. Prior to starting her career with D&B, she worked at Griffiths Construction for nearly four years as a Project Estimator.
What has been the most memorable moment in your construction career and why?
"I have had many experiences in my career but most memorable would be the final walk through with a woman who was planning on moving her aging mother and handicapped brother into an ADA addition we completed at her house. To see the satisfaction in knowing she now could care for her mother and brother in a safe and comfortable setting right at her home was priceless."
What do the women of D&B bring to the table for our clients, trade partners, and co-workers?
"In my experience women in construction bring just as much to the table as our counterparts! My experience values me, not my gender. I love the diversity our company brings to our clients. The gender stereotypical roles of the past are breaking down and we are seeing more females take the lead in designing, coordinating and actually performing the field work. This can only set the stage for future growth as D&B stands out among our competitors."
What are some ways that male leaders within the industry can empower their female colleagues? 
"Without the forward thinking of men in the construction field, women would not be able to achieve what we have to date. Since most of the construction field is male dominated, it takes a smart man to see past a woman's gender and look at them for their experience and not their gender. I am thankful for the men at D&B who have succeeded in achieving this mind set and evaluate each individual on their skill sets and experience rather than gender."
Insight From Our Executives:
In order to encourage more women to join the industry and lift up those already working in construction, it is important to have everyone amplifying the voices of women in construction. Dan Gring, Chief Executive Officer of D&B Construction and Drew Bell, Vice President of Business Development, offer insight on how male leaders within the industry can empower their female colleagues, how the industry as a whole can work to attract more female candidates, and more in their Q&A below:
The number of women that make up D&B's growing team has doubled (from 4 to 8 women) just since last year's Women in Construction week. How can the industry as a whole work to attract more female candidates?
DG: "Focus on women's overall work experience versus just focusing on specific construction experience. There are so many industries that cross-over construction (Engineering, Design, Sales, etc). It is important to look at overall success versus simply construction background. Without changing to this broader thinking, we'll be missing many well-qualified female candidates."
DB: "I think the heavy influence of men in construction comes from trade schools.  Boys/young men get pushed into the trades as a career much more than women.  I think the construction industry as a whole should emphasize that working in the trades is an honorable, noble and lucrative career path for women as well."
What do the women of D&B bring to the table internally for our D&B family?
DG: The experience, knowledge, and commitment our women bring to our overall team is extraordinary.  Our women bring a great emphasis on culture and are committed to a true team atmosphere.  The attention to detail to their day to day helps D&B keep on track to our mission and goals."
DB: "A different and valuable perspective. It's no secret that men and women's brains have variations to digesting and using information.  Our women in construction bring a can-do/get-it-done attitude that is a great asset.  They also have a knack for details which is instrumental to keeping everyone on task and fully completing objectives."
What do the women of D&B bring to the table externally for our clients, trade partners, and suppliers?
DG: "Communication is the most important thing when interacting with our clients, trade partners, and suppliers.  Our female colleagues at D&B are some of our best communicators, and our clients and partners recognize this."
DB: "Everything.  Most importantly could be relatability.  Many of our projects are for companies that are run and/or owned by women.  The ladies of D&B help teach men on our team the best way for conveying information and asking the right types of questions to make sure everyone is on the same page."
Why is equality in the workplace important? How does D&B work to shorten the gap of inequality?
DG: "D&B recognizes the need for equality in the workplace.  It creates more positive and productive working relationships, creates brand reputation, and it attracts the best talent.  D&B is working hard through recruiting and an overall brand to represent ourselves as a place where all people want to work."
DB: "Equality is the best method to create the most cohesive office environment.  Everyone's input and experience are invaluable in making essential business decisions.  It's essential to secure a good balance of influence from men and women in every facet of life, particularly work."
A report by McKinsey & Company revealed that gender-diverse companies are 25% more likely to achieve above-average profitability than companies with less diversity in their Diversity Wins report from May 2020. Why do you think this is? In your opinion, how do women enhance profits for companies?
DG: "By having a gender-diverse company you create those relationships with clients and business partners that help bolster reputation and sales.  We believe gender-diverse companies help to increase creativity within the organization that sets you apart from the competition."
DB: "It comes down to perspective.  Everyone thinks differently.  Diversity in ethnicity and gender is critical for having collective decision making.  Women, from my experience are great at critical thinking.  This plays a significant role in strategic planning and day to day project management."
What are some ways that male leaders within the industry can empower their female colleagues?
DG: "Male leaders can empower their female colleagues to continue to give their thoughts and opinions as their message is powerful and creative compared to the 'standard perspective' of our construction industry."
DB: "Listen, include and value.  I feel it's common for people to be dismissive of input from people who are perceived to be less skilled/experienced.  It's changing the perception that is key.  Men should not be dismissive of a woman in construction because she didn't cut her teeth by swinging a hammer or hanging drywall.  Our female colleagues have learned from experiences throughout their own construction journey that has educated and solidified their understanding of our job's demands."
White-sand beaches, warm weather, great food, and high-end luxuries are everything that Miami is known for. The small town of Surfside is no exception with its reputation of being pleasant, quiet, safe, and affordable. As you likely may have heard, Surfside recently become the center of attention for many people after tragedy struck the small town in June.
On June 24th Surfside's 12-story beachfront condo, Champlain Towers South, partially collapsed at about 1:25 AM with its residents inside. As of Monday, July 26th, the last victim's remains were identified. This brought the final death toll to 98 people after tedious efforts were made to account for every resident, and officials have now confirmed that remains for each person considered missing after the collapse have been recovered. The efforts made were the largest emergency unrelated to hurricanes ever conducted in the state, with search and rescue teams from throughout Florida, many other states, and even Israel and Mexico coming together to bring closure to families.
According to the New York Times, this disaster is one of the deadliest structural building failures in American History. Many residents are still in shock. Community Members Peggy Streter and her husband own The Carrot Café located in downtown Surfside. The two have claimed to know about 50 people who lived in the condo. The Streters are not the exception. Miami's building chief, Charles Danger said, "Everybody in Miami knows somebody from that building or knows somebody who knows somebody."
The rest of the building was demolished on Sunday, July 4th in efforts to continue the search. Once all remains were identified of those missing, officials began steering their focus to determining what could have caused the collapse. Since then the building has continued to be in the limelight, as many of the building's records that would help investigators learn why the building fell could not be found, and the not-so-easy conversation over the fate of the site has started to take place. Here's a quick summary of what is known:
Initial Concerns for the Condo
People living in Surfside Condos, which were completed in 1981, had previously voiced their concerns about the structure of the building they called home, so the collapse does not come as a surprise for some. After a DEA building collapsed in Miami almost half a century ago, taking the lives of seven employees and injuring 16 others, two Miami counties instilled new regulations requiring buildings that have stood for 40 years to be investigated for any problems. Since Champlain Towers South was in one of these counties, their mandatory 40-year inspection took place in 2018.
When the condo was inspected by engineer Frank Morabito in 2018, he identified that there was a flaw in the original construction of the building that was causing structural damage. Morabito mentioned the main issue was that the pool deck and outdoor planters had been "laid on a flat structure." Since there was no slope where the pool stood, standing water was not able to drain off the pool deck. Instead, the water would sit on the waterproofed concrete until it evaporated. At the time of inspection, the water-proofing concrete had failed, causing the water to seep through resulting in "major structural damage to the concrete slab below these areas." The report also pointed out distress and fatigue in the concrete, columns, beams, and walls of the parking garage below the pool area.
Morabito's report said that "failure to replace the waterproofing in the near future will cause the extent of the concrete deterioration to expand exponentially." He could not predict that this may lead to the collapse of the building, however he said that repairs to the concrete were needed for "maintaining the structural integrity" of the building. The waterproofing and structural issues of the condo were never addressed by the owner's association.
Fast forward to 2019 when a neighboring luxury tower was being built. Residents of the Champlain Towers South condominium complained that construction would often cause their building to shake. This led to a resident and board member of the condo association, Mara Chouela, voicing her opinion that workers were "digging too close" to the property. She said they "have concerns regarding the structure of our building." Just 28 minutes later, official Rosendo Prieto responded to Chouela stating that "there is nothing for me to check."
There is no concrete evidence that construction of the condo's neighbor contributed to the collapse of the building, and it is still unclear if the lack of action from the owner's association was a major factor in the building's collapse. Cassie Stratton, a resident who was inside the building during the collapse, reportedly told her husband on the phone that she saw the pool cave in first, backing up Morabito's claim that the waterproofing of the pool was necessary to maintain the structure of the building.
The fact remains that residents were concerned for the structure of the condo, and they felt as if no one took the necessary action to redeem the structural integrity of the building.
Expert's Findings
The city of Surfside hired a structural engineer, Allyn Kilsheimer, to inspect the site and determine the cause for the buildings collapse. Kilsheimer says it is "maybe not an individual cause, but two or three things that contributed and/or caused this failure." While the pool could have been a major issue to the structural problems, it is still unclear and there are many theories that will be examined.
In addition to hiring Kilsheimer, another group was hired to lead the charge to uncover what caused the collapse since this was such a big case. The NIST (National Institute of Standards and Technology) will be working constantly to investigate the situation. They say that "a fact-finding investigation of the building performance and emergency response and evacuation procedures will likely result in significant and new knowledge or building code revision recommendations needed to reduce or mitigate public risk and economic losses from future building failures."
How this Tragedy may Impact the Industry
Like many others, we have been wondering what caused this to happen. Matt Knight, Senior Estimator at D&B Construction, has been working in the industry for over 20 years. He has been involved with the construction of many large, well-known buildings, including the 9/11 Memorial.
Matt did not do any research, but from what he saw "the building collapsed from the bottom up," which makes him think "there would be structural cracks in the floor, columns, beams, etc." As we know now, these structural cracks were found by engineers and deemed to be a major structural concern prior to the collapse of the building. Much like Allyn Kilsheimer, Matt believes that it is likely there are multiple causes for the failure of Champlain Towers South.
One of the theories that Matt believes had a big role in the building's collapse was the fact that the condo had been sinking at a rate of two millimeters per year from 1993 to 1999. Scientists also discovered evidence of other areas nearby sinking as well. Matt says that one of the most important things when constructing large buildings is to make sure you are building on good soil. Since the condo was slowly sinking, Matt believes they likely "built on unsuitable soils and never got the compaction they needed." He notes that if soil is not properly compacted so that it is suitable for the building, everything else will eventually fail. "If you are building from the ground up your soil underneath is, of course, most important," he concludes. For now, Matt is waiting to learn more about what caused the failure once the investigations are conclusive.
What we can Conclude and How to Move Forward
At the end of the day, the collapse of Champlain Towers South was a tragedy, however Matt tries to look at how the industry as a whole can learn from what happened. "Usually a lot of good things will come out of a catastrophic failure. For example, we learned a lot from 9/11, and today those World Trade Center Towers are not being built the same way," he says. Matt believes the industry will learn valuable lessons from this, and it will improve how we are constructing buildings overall. He would not be surprised if there will be changes for older building's codes, especially around that area. Matt also proposes the idea of a new law emerging from this that would make building owners, when aware of structural damages, either make the repairs or move everyone out until they do.
While we wait to learn more, one question many still have is whether or not limitations on technology when the condo was built play a factor in the failure of Champlain Towers South? When the condo building was constructed in 1981 many of the rules and regulations that we have today were not in place. Miami was also known for "slipshod construction," and in some cases they were known to take the look-the-other-way approach when enforcing building codes and regulations. While their construction practices were not nearly as good then as they are now, they also did not have access to the technology we have now.
Specifically, VDC (Virtual Design and Construction) and BIM (Building Information Modeling) are tools that Matt says, "could have helped if they had it during original construction". BIM is a tool for 3D modeling and data input of physical objects, while VDC uses BIM models to plan the construction process from beginning to end. Watch a video to learn more about VDC and BIM here. Using technology like BIM and VDC essentially allows you to build the entire project virtually before building it in the real world, which can decrease cost and time put into a project while also increasing safety. We may often take technology like this for granted, but it is interesting to think about what the world of construction would have looked like in the 80's if society had access to these technologies that we can now use every day.
D&B is interested to hear your thoughts. Do you think new technologies will help to prevent disasters like the one in Surfside? What policies and procedures do you think should be put into place to help increase safety and avoid disasters such as this from happening in the future? Let us know in the comments below!